Narrowing down the best Greek island for couples isn't an easy task. When people think of Greece, they often envisage a romantic getaway, and for a good reason – the country is home to some of the most beautiful and culturally rich islands in the world.
Greek cuisine is delicious, the people are warm and welcoming, and there isn't a single island that doesn't offer incredible views and unique culture.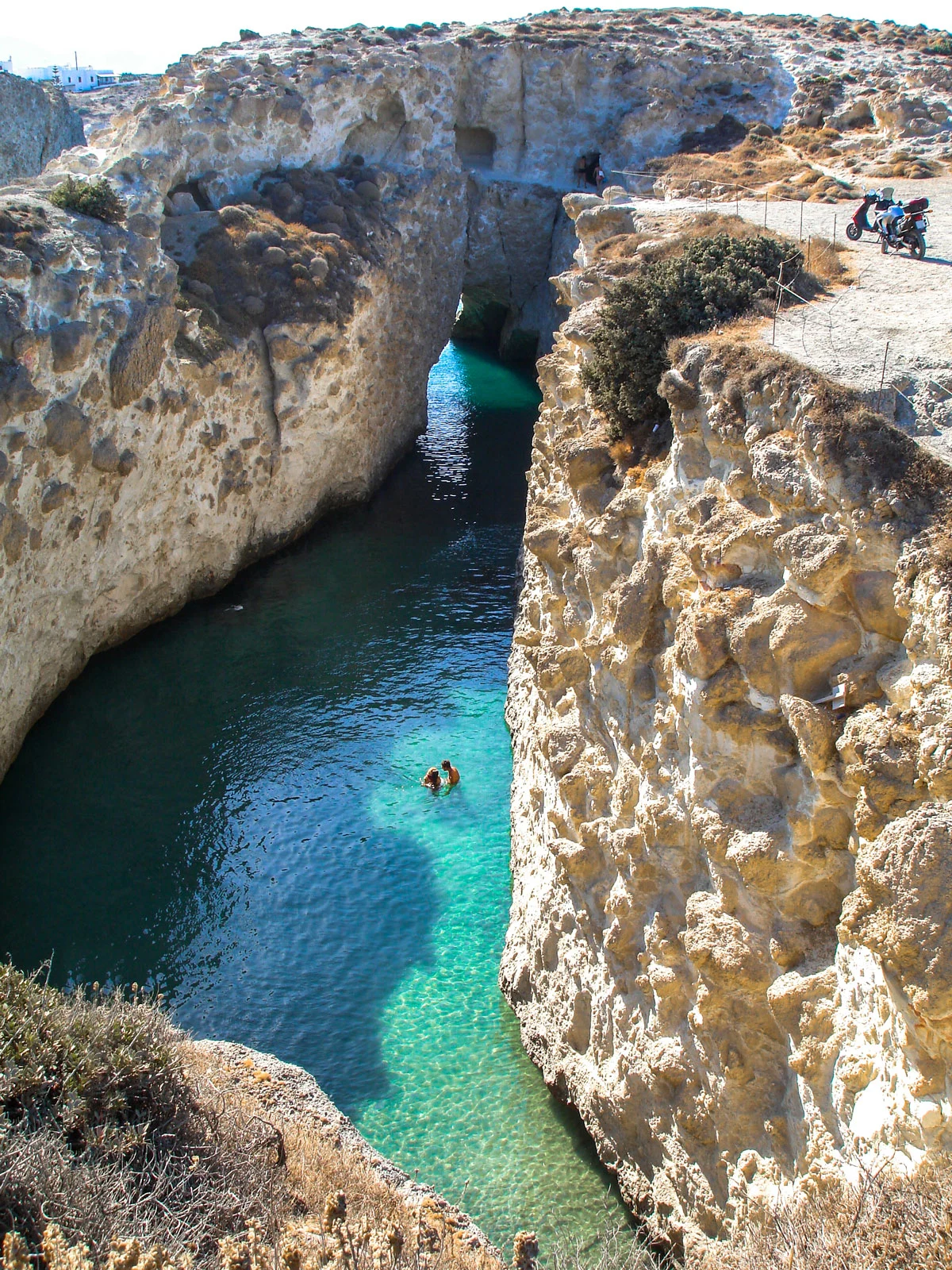 Greece is the ideal destination for a couples holiday, regardless of your shared interests. You can spend all day on pristine beaches, swimming in crystal clear waters. Hike to lookouts for unforgettable sunset views over the ocean or explore castle ruins and hidden chapels.
If you're looking for a place to rekindle the spark on a romantic holiday or enjoy some quality time together, the romantic islands of Greece have some ideal destinations. And if you can't decide which to choose, why not check out some Greek island hopping routes and experience a few Greek Islands in one holiday?
The Most Romantic Greek Islands In The Cyclades
The Cyclades is famous for its incredible white-washed houses and blue-domed churches. But you'd be wrong if you thought this was all the Cyclades offers.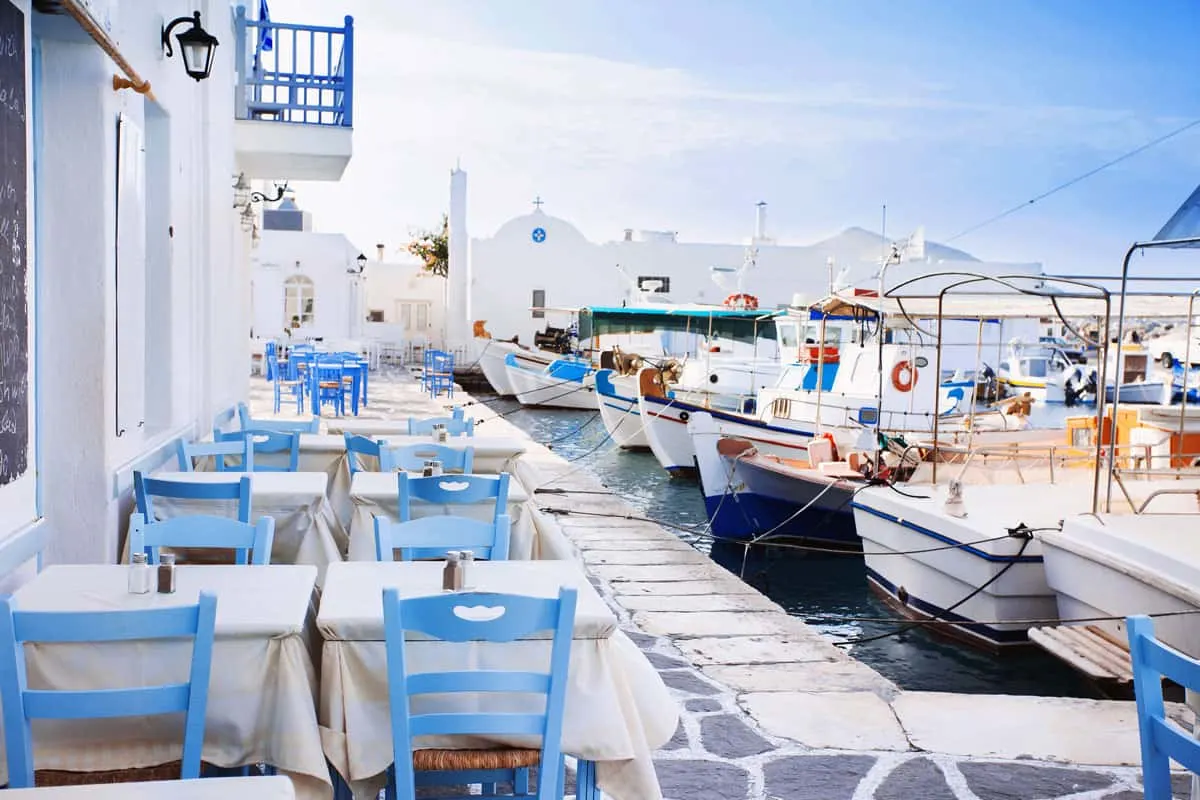 Some of Greece's most beautiful Choras (towns) are in the Cyclades, along with some of the clearest waters. There is also a range of great hiking and water sports activities if you fancy getting active while away.
The weather in the Cyclades tends to be warmer than elsewhere in Greece, which means the season is longer. During July – September, you may experience the Meltemi winds, which blow strongly from the north. Avoid beaches on the north sides of the islands during this time unless you're keen on kite surfing, as the seas will be rougher, and you might end up enjoying rather sandy sandwiches.
The shoulder seasons are the perfect time for a romantic break in the Cyclades, as the weather is slightly cooler and there are fewer crowds.
1. Santorini
Without Santorini, no list of the best Greek islands for couples would be complete. Santorini is one of the most famous Greek islands among couples, and it's easy to see why. Santorini is an island in the Cyclades, easily reached by ferry or plane.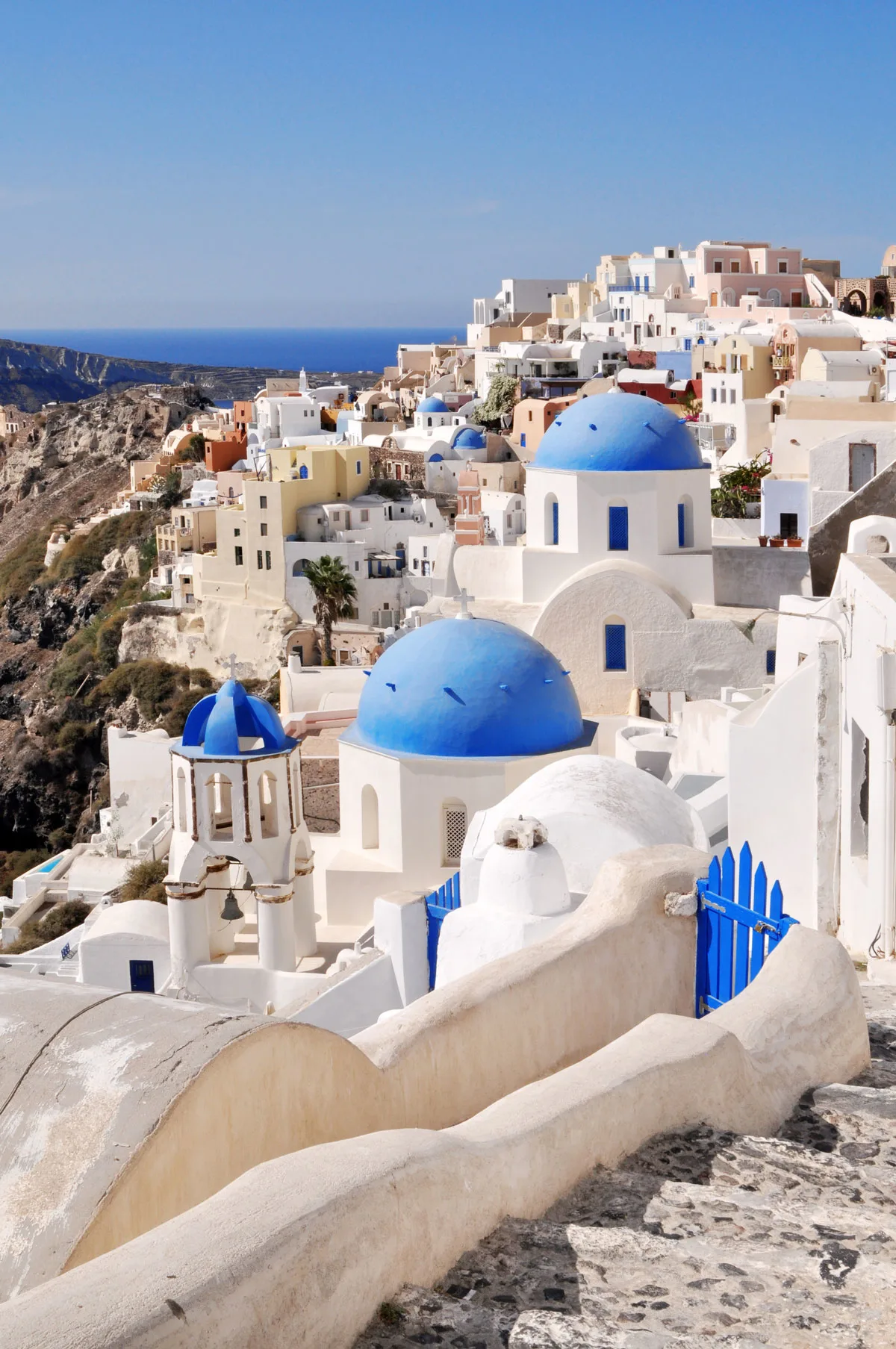 The island's villages are perched atop cliffs, offering stunning views of the Caldera below. You can stroll winding streets lined with blue-domed churches, sip wine at sunset overlooking the ocean, or enjoy a candlelit dinner with a view.
The only downside to a holiday in Santorini is the crowds. If you're looking for a secluded couples holiday, you'll be hard pushed to find it in Santorini during the summer months.
Sometimes that vibrant buzz makes a place even more special, but if you're looking for peace and quiet with Santorini vibes, check out the hidden gem of Astypalea listed below as a great alternative.
Things to do in Santorini
Santorini is set up for lovers, which might be why it's one of Greece's top honeymoon destinations. There's plenty to keep you busy, but it's also the perfect place to relax and enjoy each other's company.
If you're prepared to splash out a little, you will have your pick of dreamy accommodations on Santorini.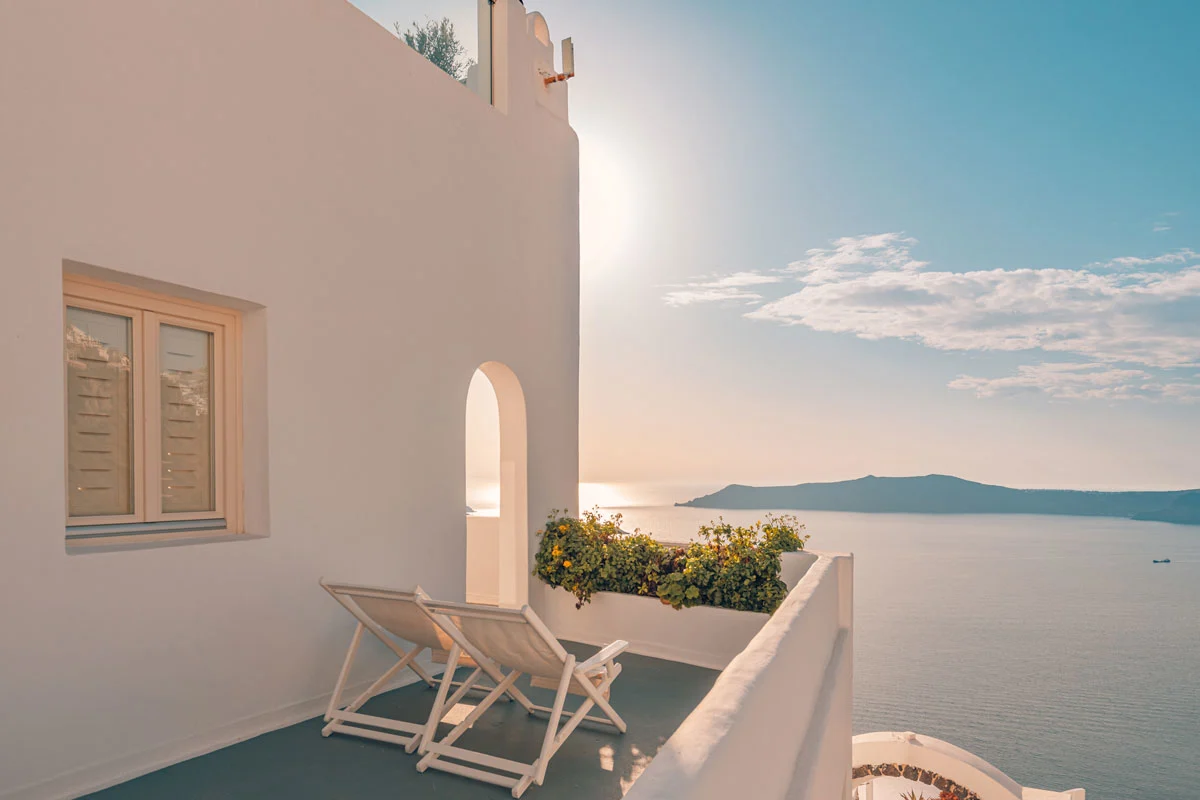 You can explore the island's vineyards, visit the towns of Oia and Fira, or take a sunset cruise on a private catamaran. You can also relax on one of the many beautiful beaches and take a dip in the sparkling Aegean Sea.
Santorini is famous for its black sand beaches, which have unique surroundings. Why not pack a picnic for two and spend the day soaking up the ambience on Kamari beach?
2. Paros
Its neighbour, Naxos Island, often overshadows Paros, but for many, Paros is the prettier of the two. Paros is easy to reach by ferry from Athens, and if you fancy a little island hopping, you have some excellent options.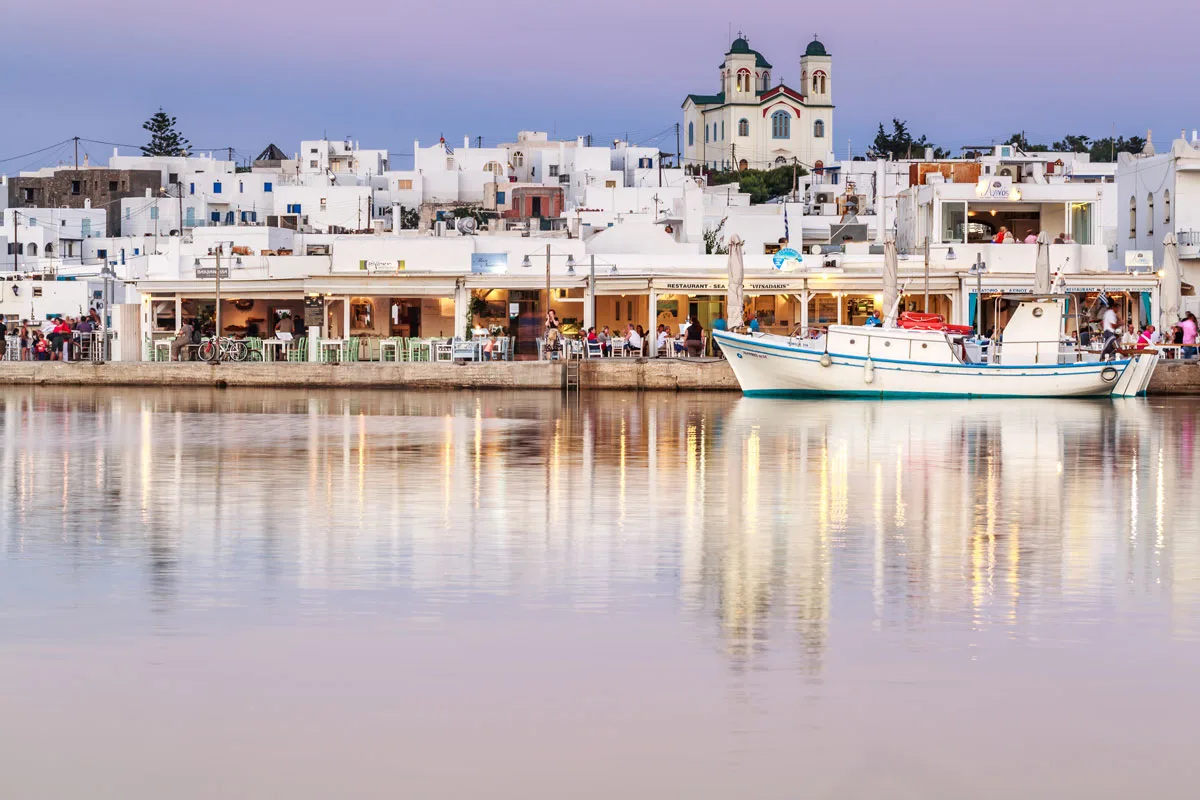 Paros Island is known for its unspoiled beaches, quaint villages, and dramatic landscapes. It's also greener than some of the Cyclades islands, making it all the more appealing.
Things to do in Paros
There's plenty to do in Paros, from exploring the island's many churches and monasteries to taking a dip in the crystal-clear waters at pristine beaches. There are also several day trips to nearby islands that are well worth doing if you have the time.
A few highlights on the island of Paros include exploring the pretty town of Naoussa. Make sure you sample the seafood at one of the harbour front restaurants and enjoy ice cream as you wander the cobblestone streets.
Lefkes is also a must-see. The hilltop village is one of the most untouched spots in Greece, where local life continues as it would have many years ago. Lefkes is a village where you can slow down. Do as the locals do and enjoy a coffee in the village square, or take a leisurely hike down one of the many trails.
3. Milos
Milos definitely deserves to be on the list of best Greek islands for couples. Its incredible scenery alone makes the perfect backdrop for romance, not to mention the welcoming towns and fun things to do here.
Milos is well connected to Greece's mainland, and there are multiple ferries from Athens daily during the summer months.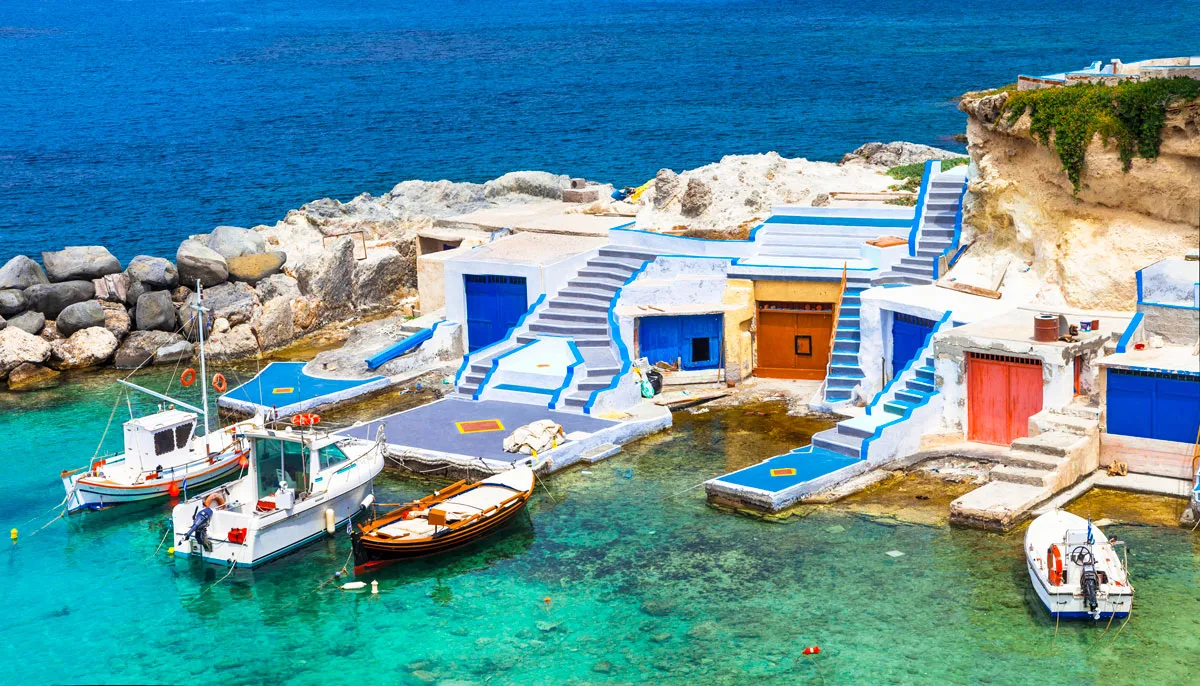 Things to do in Milos
Milos island is famous for its unusual rock formations, where white pillars stand tall in the surrounding deep blue seas. Pack a picnic and head for Sarakiniko beach or Kleftiko rocks, some of the most impressive rock formations in Milos.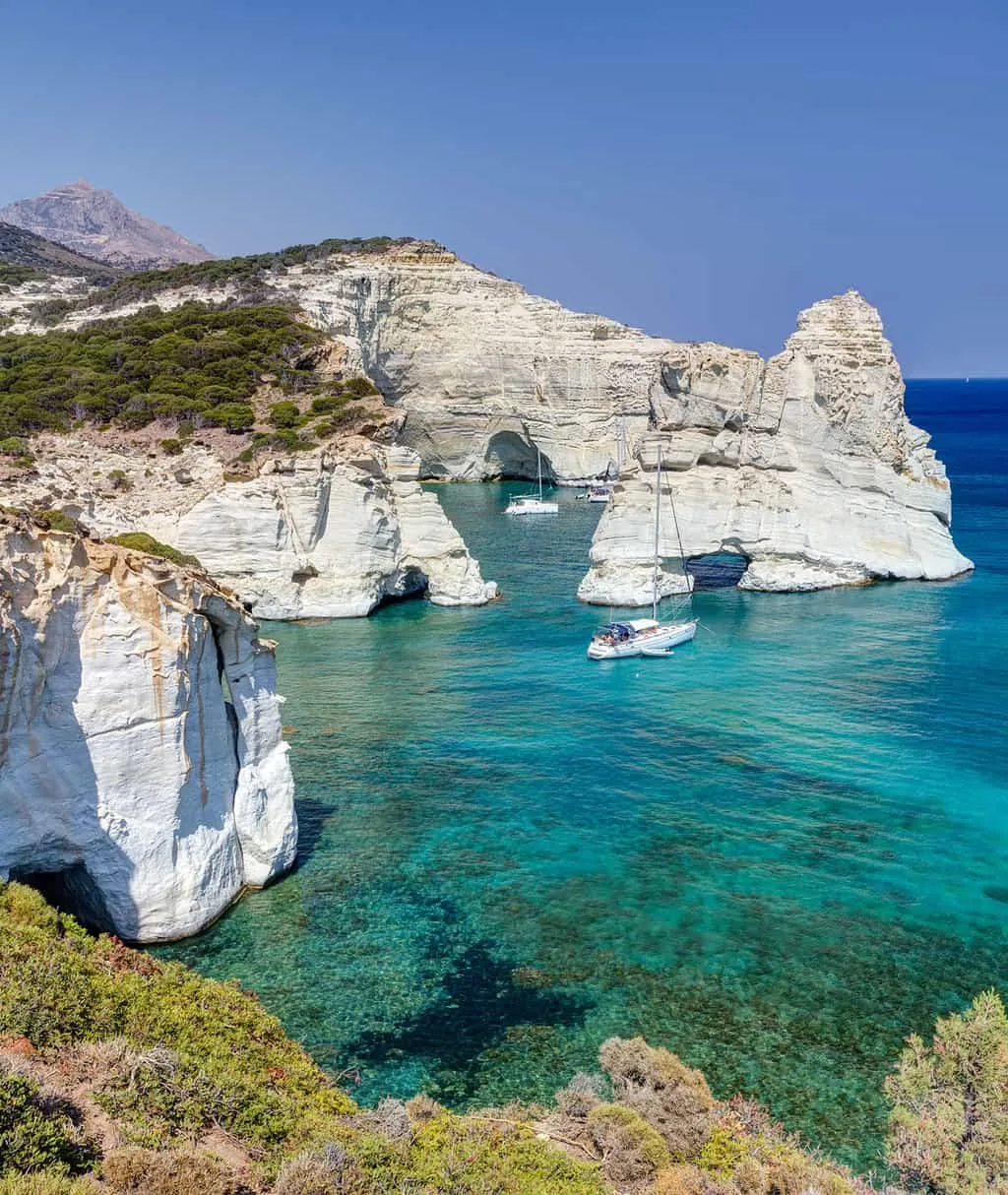 If food is the way to your heart, visit the fishing village of Pollania, where you can enjoy freshly caught and prepared seafood overlooking the pretty harbour.
One of the best day trips from Milos is to the small island of Kimolos, only half an hour by ferry. The pretty little island has some beautiful sea views, and the main town is well worth seeing. You can stay overnight if you want to explore for longer.
4. Astypalea
Astypalea Island straddles two island groups. It sits in the westernmost part of the Dodecanese group, a connector island with the Cyclades group of islands.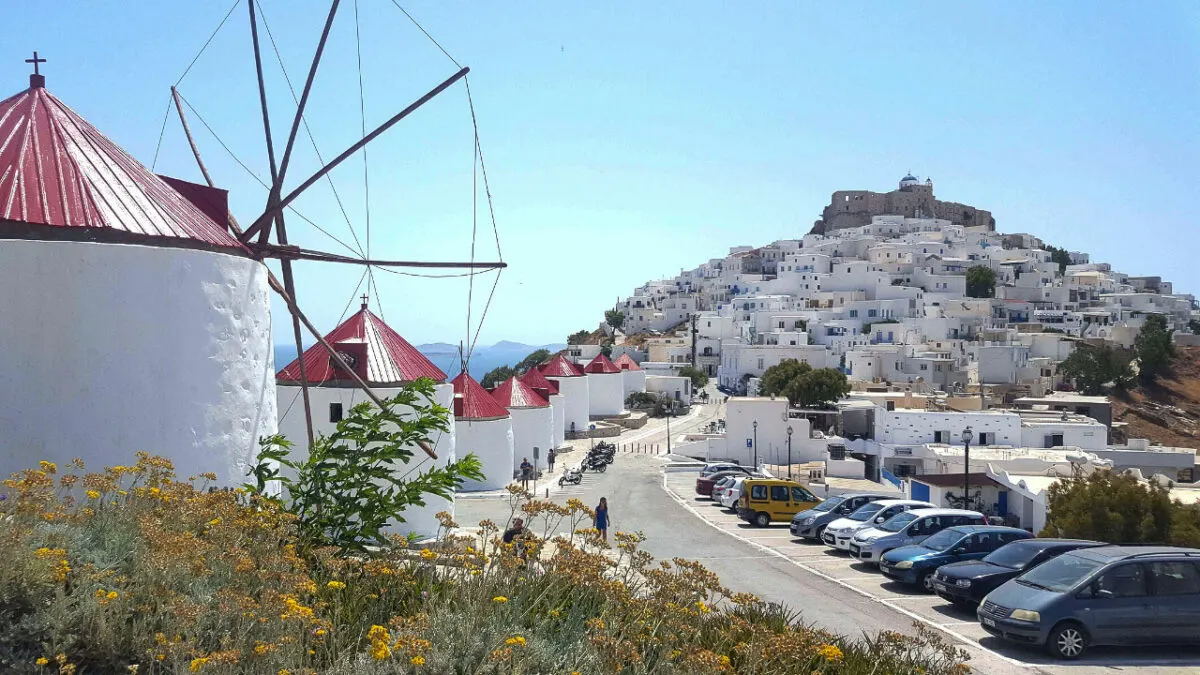 Astypalea is unique and untouched compared to many of Greece's more famous islands. It's a real hidden gem, especially if you're looking for a couples vacation without the crowds. Astypalea is a great choice and an excellent alternative to more popular islands such as Santorini or Mykonos.
Astypalea has its own airport, or you can reach it by ferry from nearby islands.
Things to do in Astypalea
There's a lot to keep you occupied on the island of Astypalea, from exploring its many hiking trails and secluded beaches to visiting the Venetian castle that overlooks the town of Chora.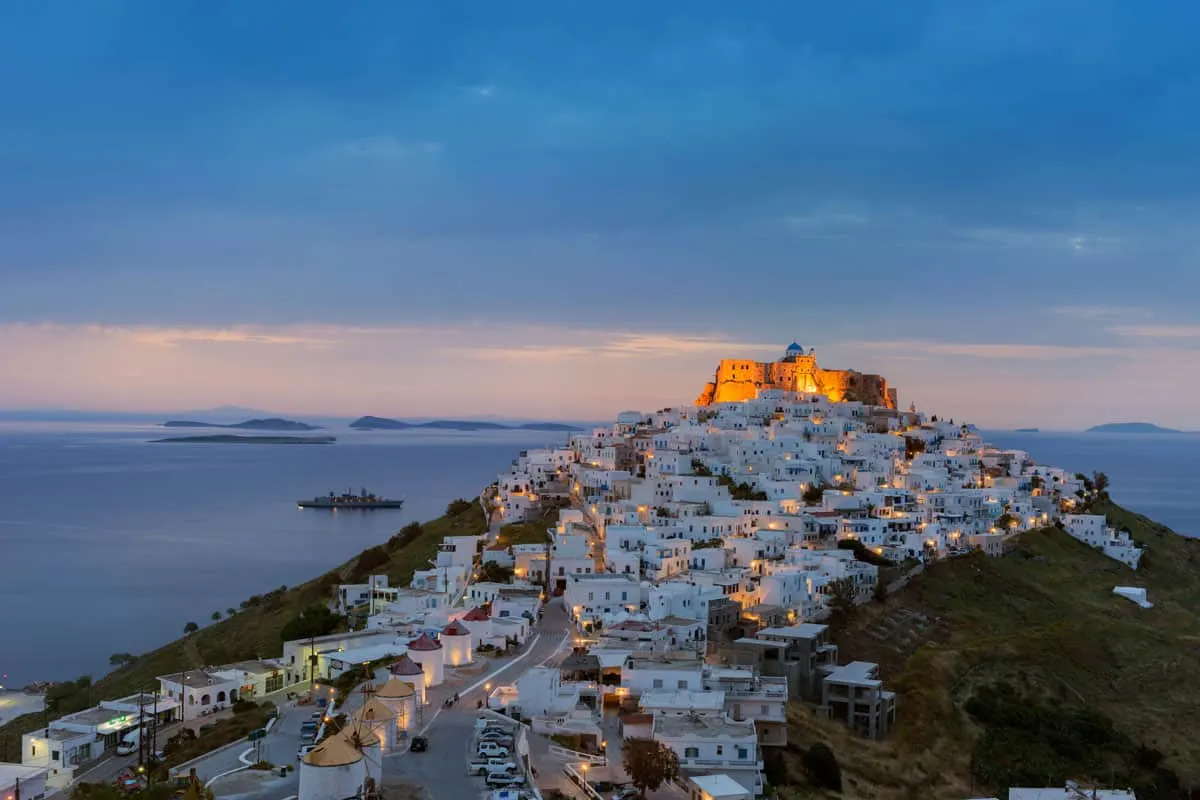 One of the top things to do in Astypalea is taking a boat trip to the nearby islands just off the coast. You can book a tour from the main harbour in the Chora. The shallow sandbars make the water an unreal colour – you'll feel like you just arrived in the Caribbean.
The Best Dodecanese Greek Islands For Couples
The Dodecanese are a group of twelve larger islands and numerous smaller uninhabited islands and islets in the southeastern Aegean. Only a short distance from Turkey's Turquoise Coast, the Dodecanese are often referred to as the sunniest corner of Greece.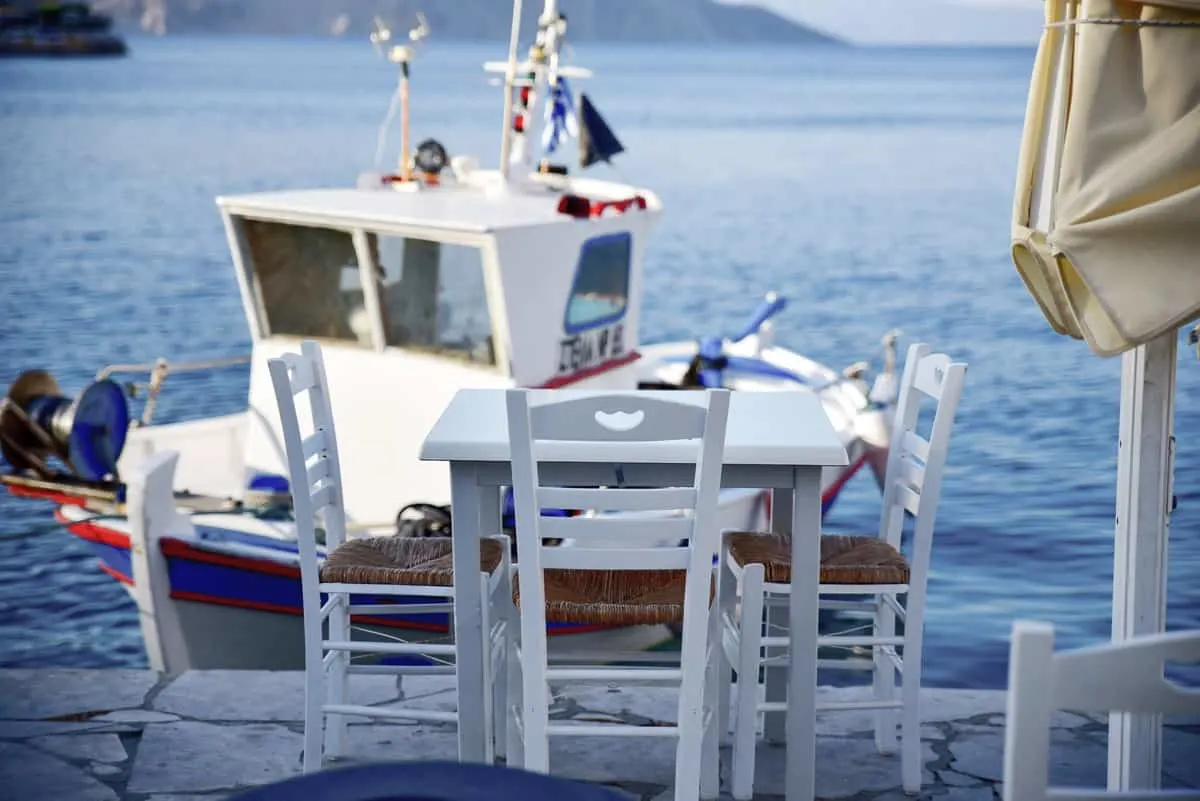 The Dodecanese Islands make an excellent destination for couples as they have the right mix of tradition and tourism. From the laid-back island of Leros, which attracts mostly Greeks and the annual yacht crowd, to the pretty island of Symi or bustling Rhodes, with the right mix of activity and room to escape, the Dodecanese has something for every couple's getaway.
It is also still possible to bypass the tourist and cruise ship crowds some of the more famous Greek Islands attract. There are also some excellent opportunities for island hopping in the Dodecanese.
5. Symi
Symi is a small Greek island next to Rhodes. One of the most beautiful Dodecanese islands, it's perfect for couples who want to get away from it all. You can get to Symi by ferry from Rhodes town.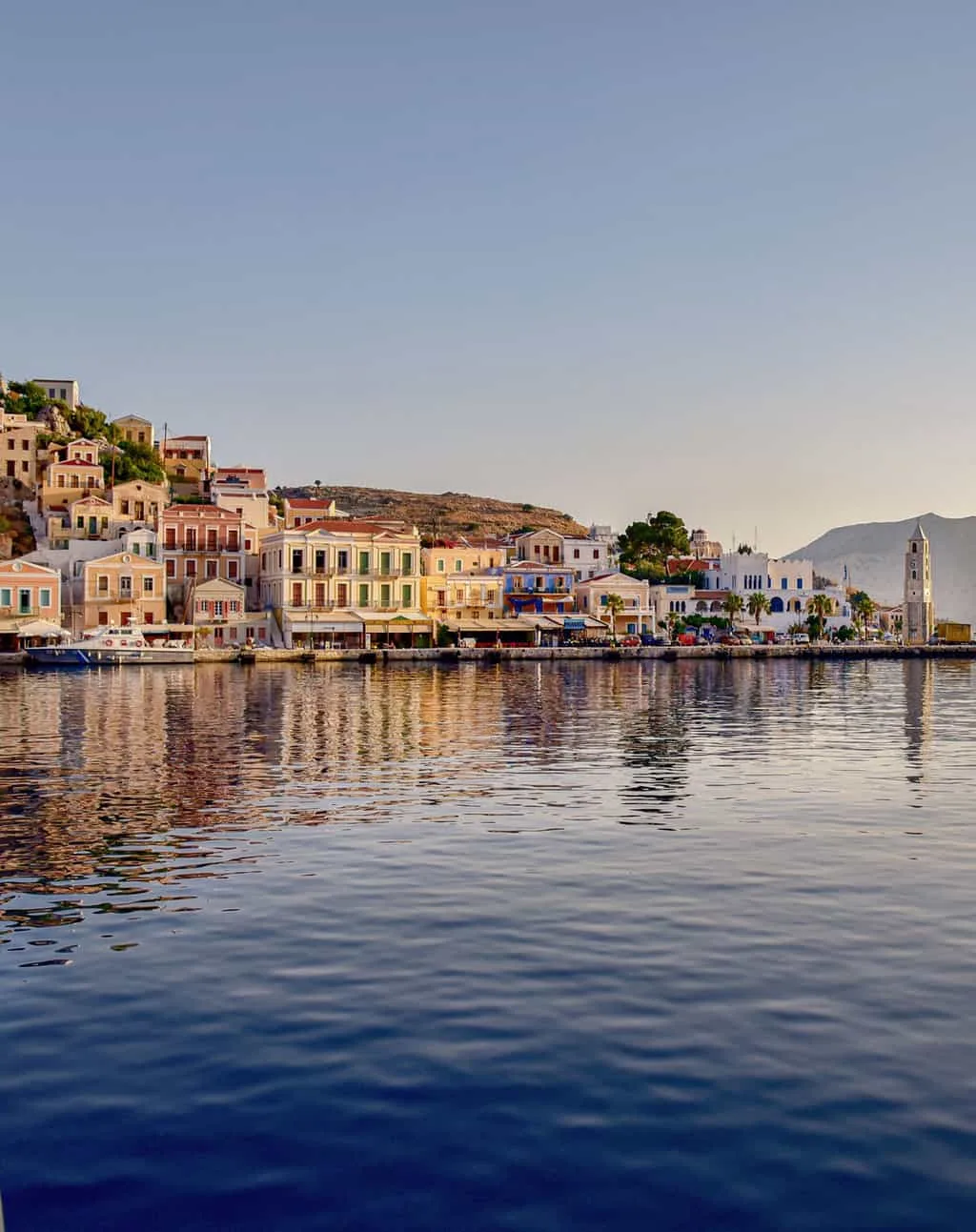 Symi is one of those places that looks like it's straight from a postcard. You won't find the usual white-washed houses here, but rather a tumble of pastel colours running down the mountainside to the harbour below.
Things to do in Symi
Symi is a place to unwind. Spend your time wandering the little streets, sipping cold coffees with the locals in tavernas that spill out onto the street. Relax by the ocean on one of the many quiet and beautiful beaches (Saint George bay is particularly impressive).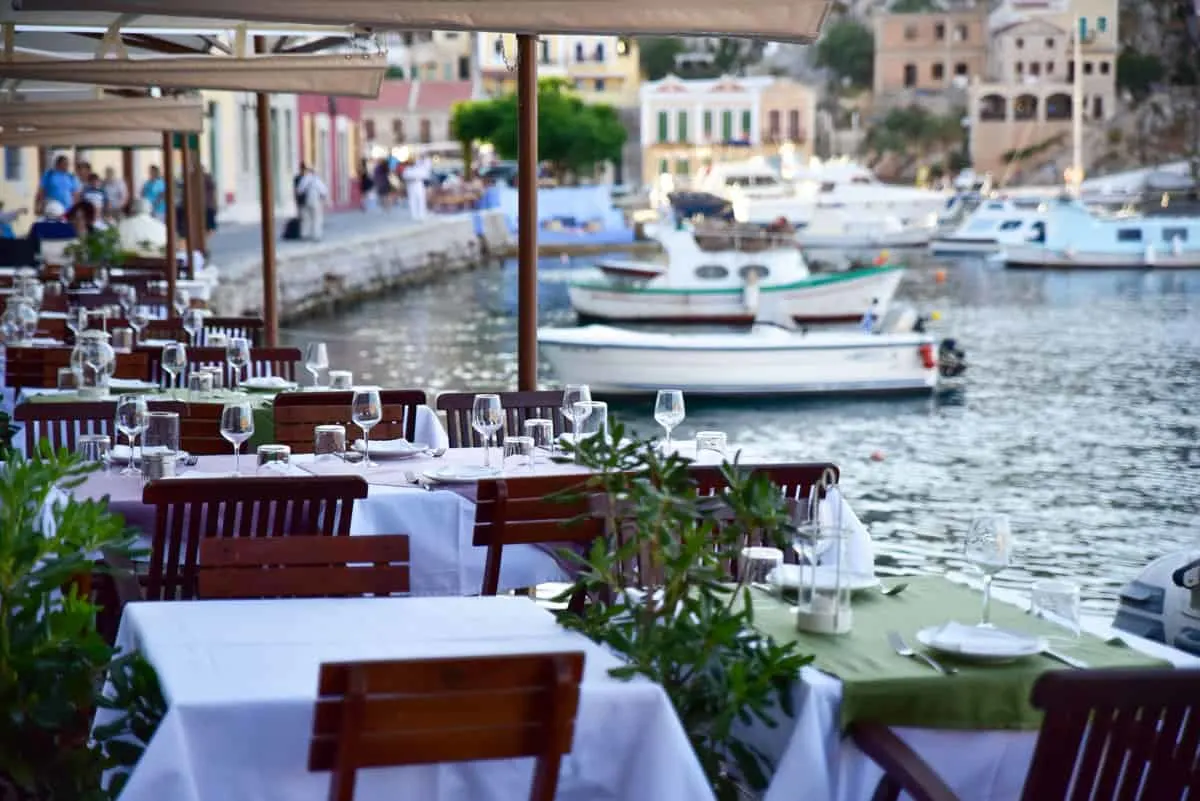 If you want a little more culture, head to Panormitis monastery with its impressive decorations and gardens.
6. Rhodes
Rhodes is one of Greece's more famous islands, but don't let the crowds put you off. Rhodes has everything you could want from a couples getaway. From spectacular ancient ruins to watersports and some of the best cuisine in Greece. Rhodes also has a good selection of adults-only hotels and resorts.
Rhodes is a convenient island to arrive on, as it has a major airport and is connected by numerous ferry routes.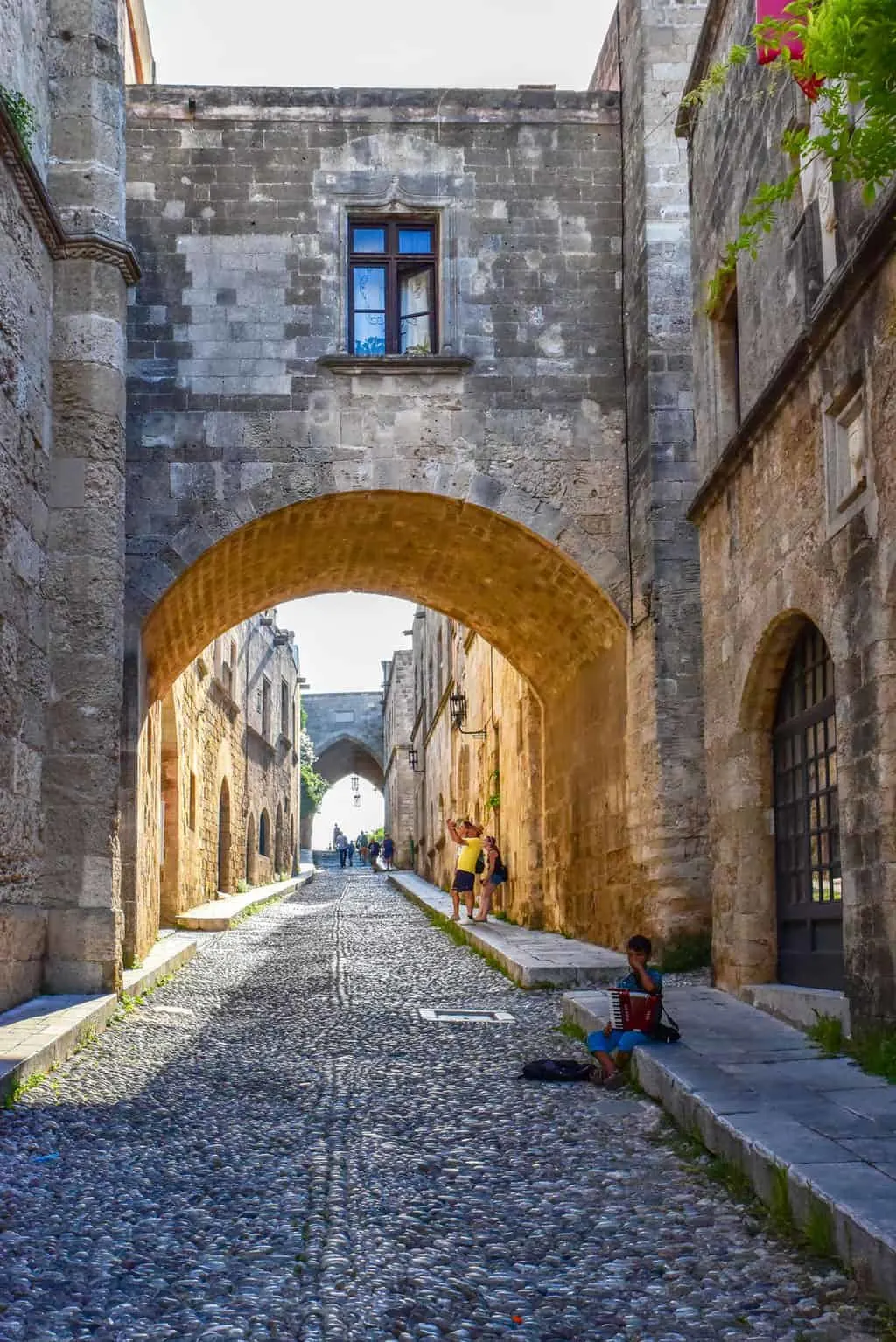 Things to do in Rhodes
There is something for everyone on the island of Rhodes, making it a great option for couples with different interests.
The old town of Rhodes is where you will find fascinating history and culture, and some top-notch restaurants (or head down the little alleyways to discover where the locals eat).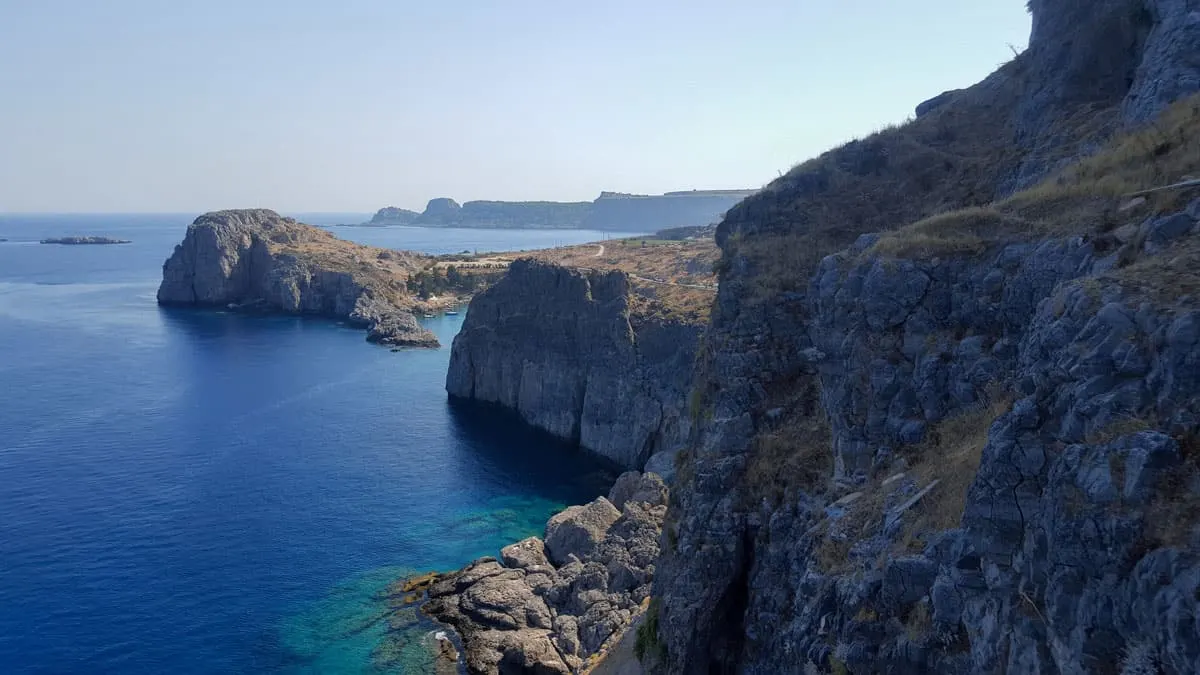 Head to Lindos if you want a little of everything. There's plenty to do in Lindos, including archetypal Greek ruins, impressive columns and intricately decorated temples, some of the best beaches in Greece, rooftop restaurants, and a range of fun water sports activities.
Romantic Greek Islands For Couples In The Ionian
The Ionian has been a favourite area of Greece for many years, and it's easy to see why. You won't find the traditional white-washed towns here, but you will find lush green forests leading down to crystal clear seas and historic towns with stunning architecture.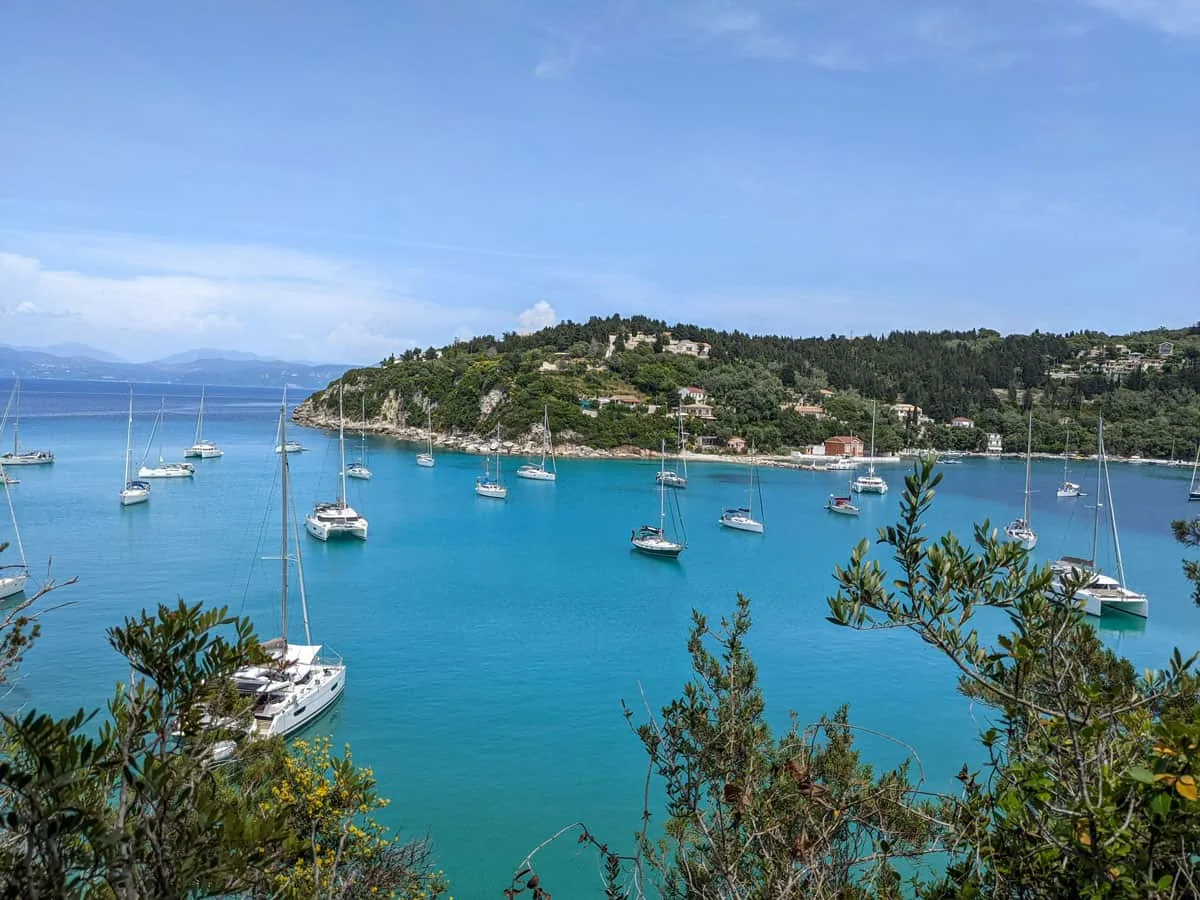 The Ionian islands are a little more spread out, making it harder to enjoy island hopping.
The Ionian tends to be calmer than the Cyclades during the summer, without the high winds to contend with. It is also slightly cooler, so it's the place to go if you're not so keen on the heat.
If you're planning on visiting during shoulder season, you will be better off heading to the Cyclades, as the Ionian gets colder quicker and suffers most of the storms in Greece.
7. Corfu
Corfu is a beautiful island in the north of the Ionian Sea. It has its own airport and is on several major ferry routes, making it a convenient place for a romantic getaway.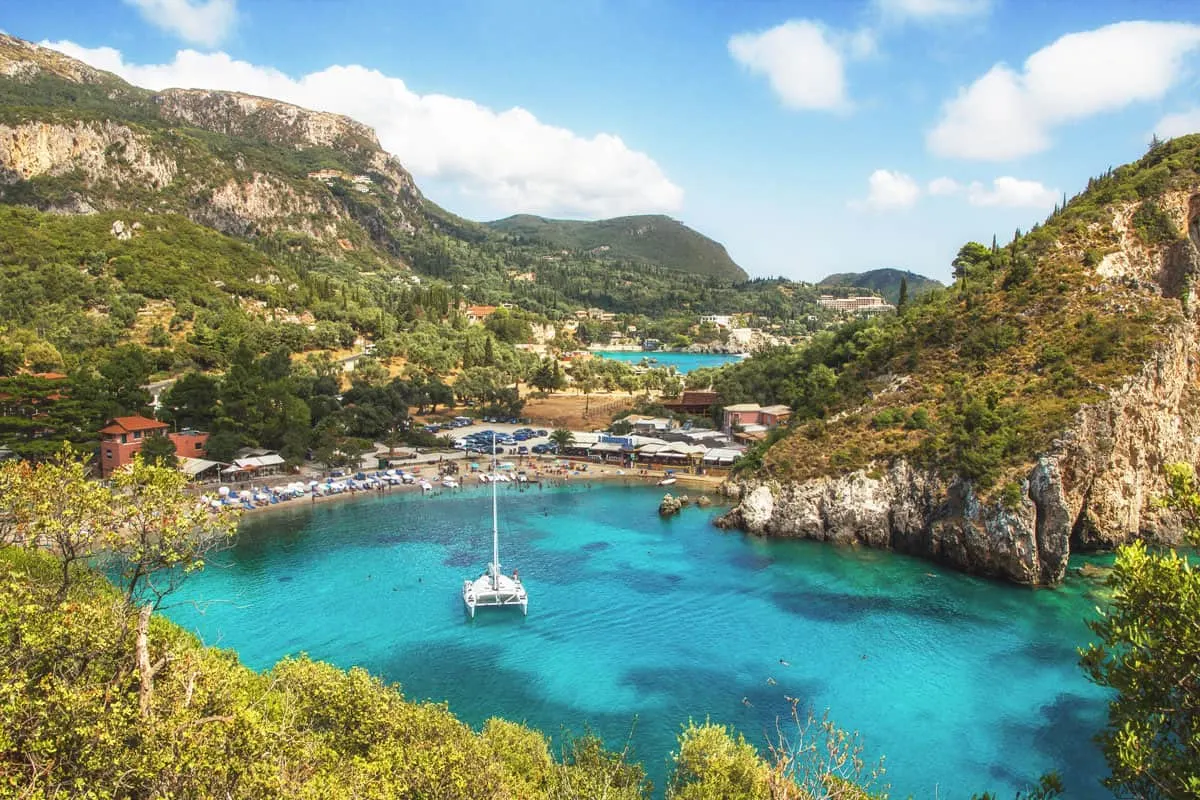 For active couples, there are some fantastic hikes on the island of Corfu. The island is home to several historic villages, stunning beaches and dramatic cliffs. You'll find lush mountainsides and pretty foliage wherever you go.
Things to do in Corfu
There are so many wonderful things to do in Corfu it can be hard to know where to start. Most people stay in Corfu town, where the historic centre is. You can visit the Old Town, which is a UNESCO World Heritage site, or go for a hike in the lush mountains.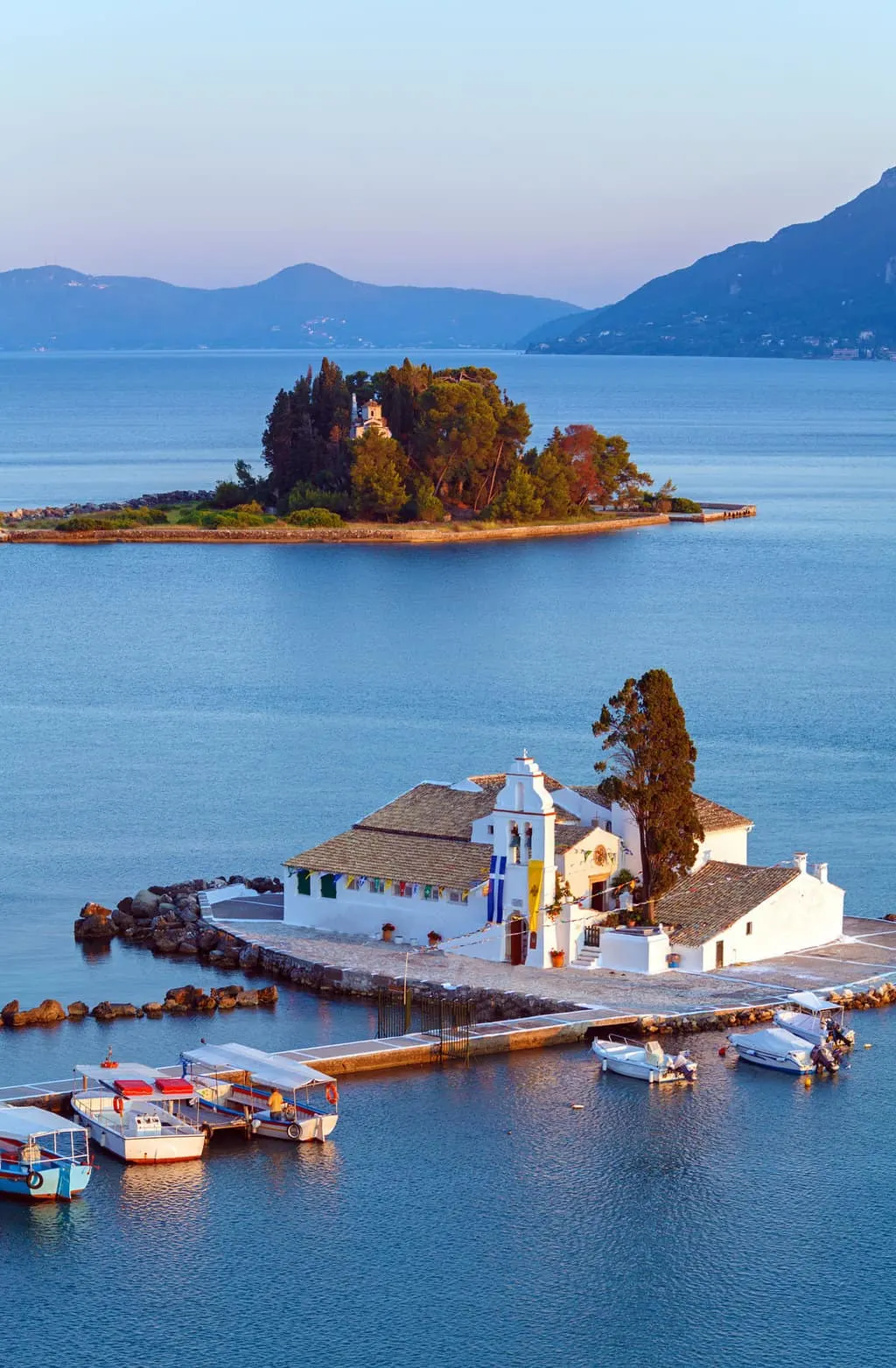 One of the less well-known areas of Corfu, Afionas, is just as beautiful. Take a hike up the mountains to be rewarded with one of the best views in Greece.
There are also some great day trips from the island of Corfu. One of the most popular is the beautiful neighbouring island of Anti Paxos, where you'll find unimaginably blue waters and perhaps even spot one of the endangered Monk Seals that live in this area.
8. Kefalonia
Kefalonia is a gorgeous Greek island perfect for couples who love the outdoors. The island is home to many pristine beaches, hiking trails and breathtaking cliffside views.
The easiest way to reach Kefalonia is by plane. The airport has frequent European and domestic flights.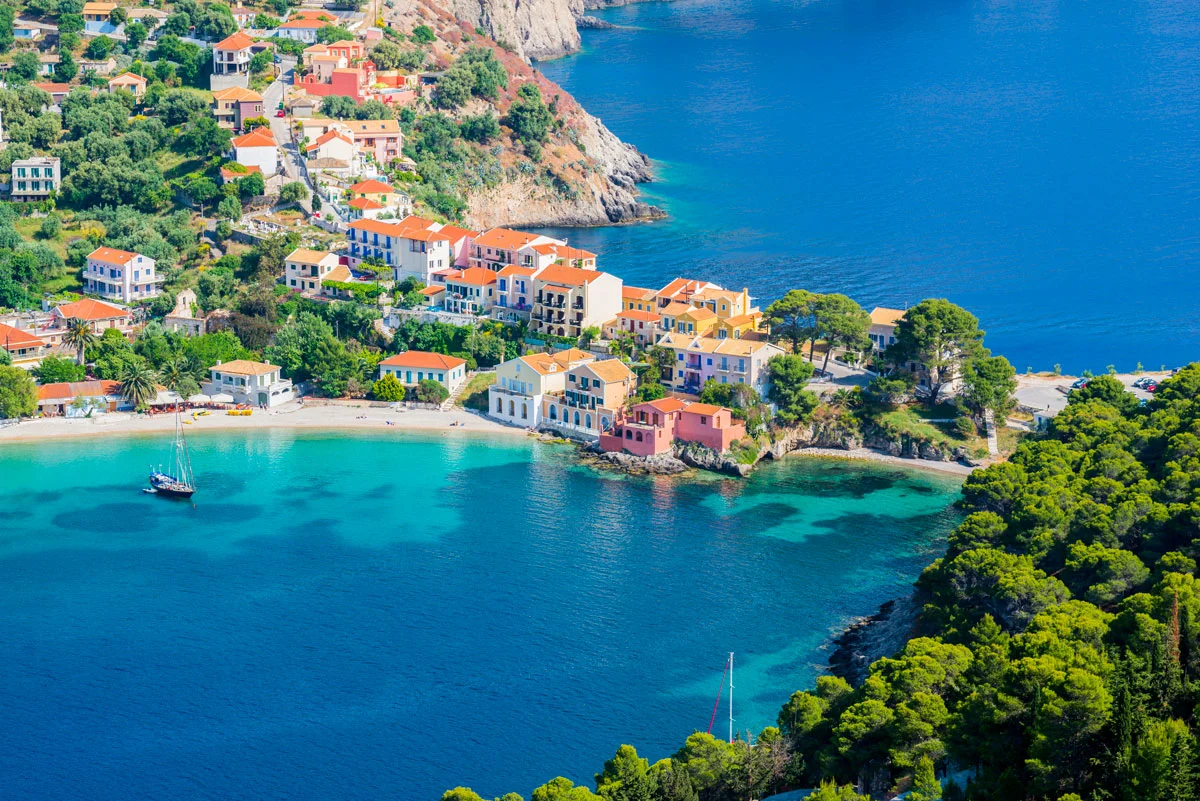 Things to do in Kefalonia
Kefalonia is quite a large island, so you certainly won't run out of things to do.
Some of the prettiest towns in Greece are scattered throughout the island. Assos is particularly beautiful, with its colourful houses, cosy tavernas, and an excellent short trek to the top of the connected island.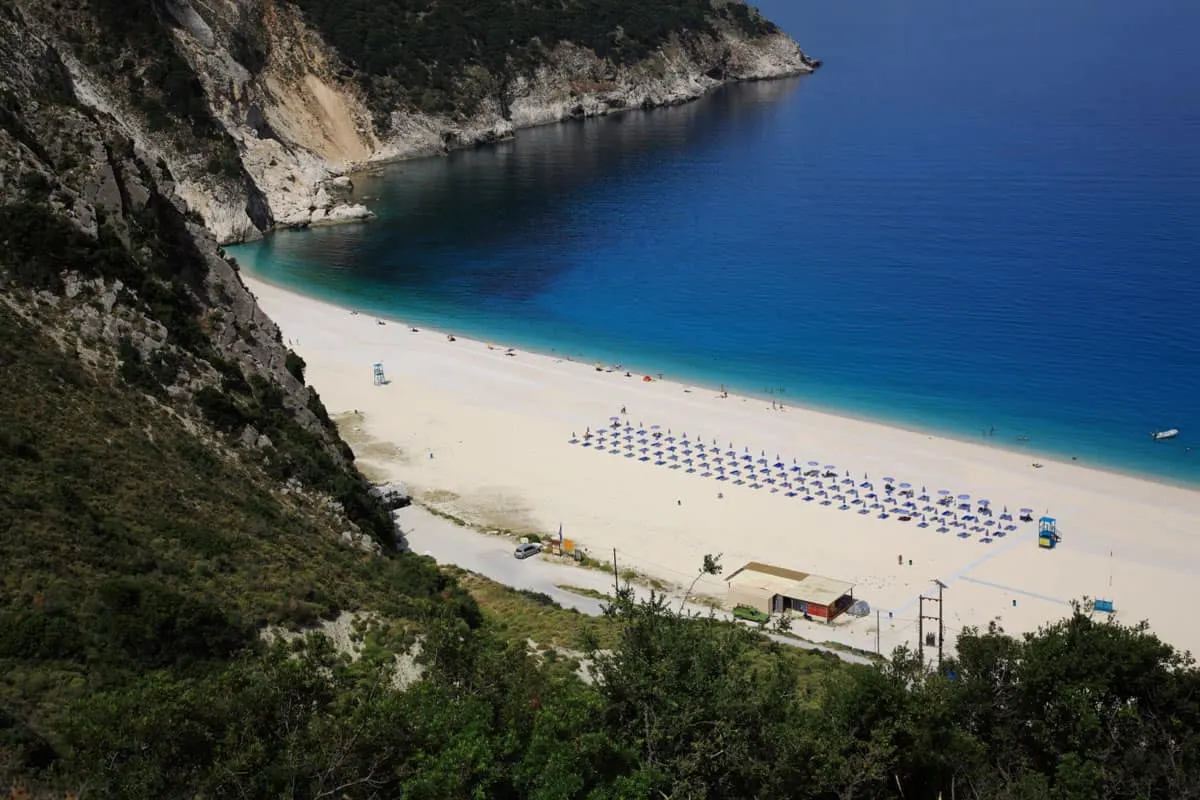 You should also visit the famous Myrtle beach. Make sure you take in the views looking over the beach before you head down to relax on the warm sand or cool off in the clear waters.
If you're after luxury, head to the boutique town of Fiskardo. You can yacht watch from high-end restaurants or hire a boat to explore the hidden coves along the coast. Discover more things to do in Kefalonia here.
9. Paxos
Paxos is a small island in Greece that is renowned for its natural beauty. It's a little less popular than some of Greece's bigger islands, probably because you can't reach Paxos by plane.
However, it is well connected with ferry routes from Corfu and the mainland and is worth the little extra hassle to get there.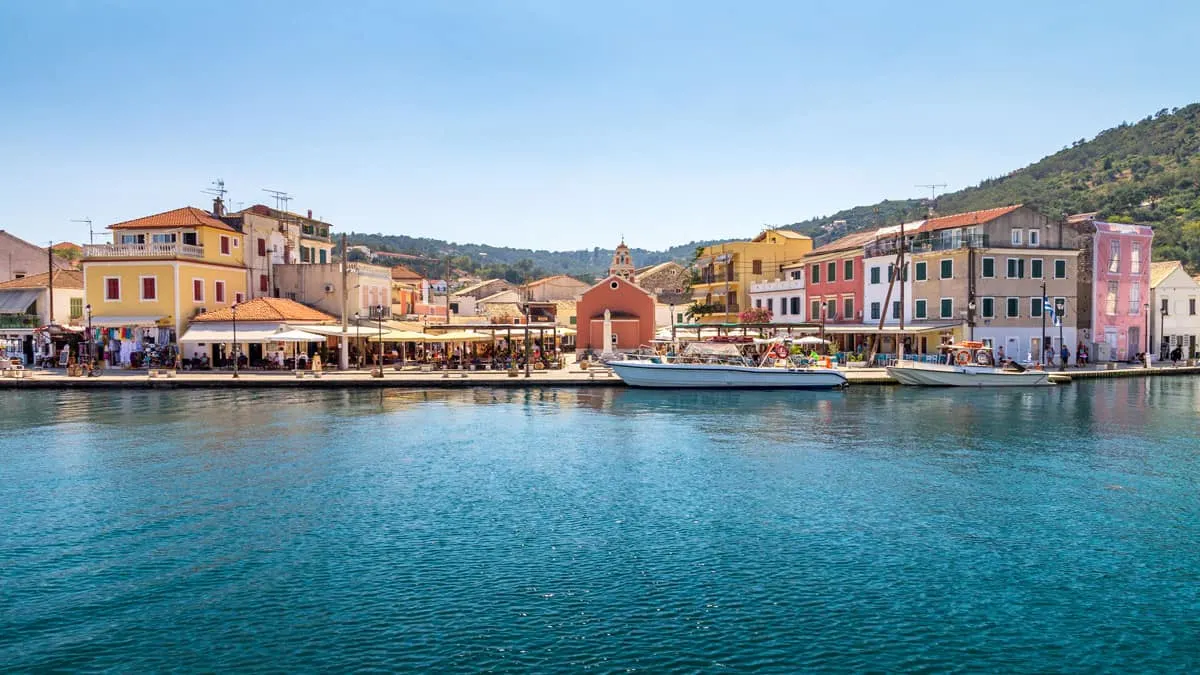 The town of Gaios is the main settlement on the island, and it is here that you will find most of the hotels and shops. However, Lakka is perhaps the most beautiful place to stay on the island with its enclosed bay where shallow, blue waters beckon on a hot summer's day.
Things to do on Paxos
Paxos is a great place to relax and enjoy the simple things in life. There are beautiful walks around the island, and you can hire a boat for the day to explore the coastline and visit one of Paxos' many secluded beaches.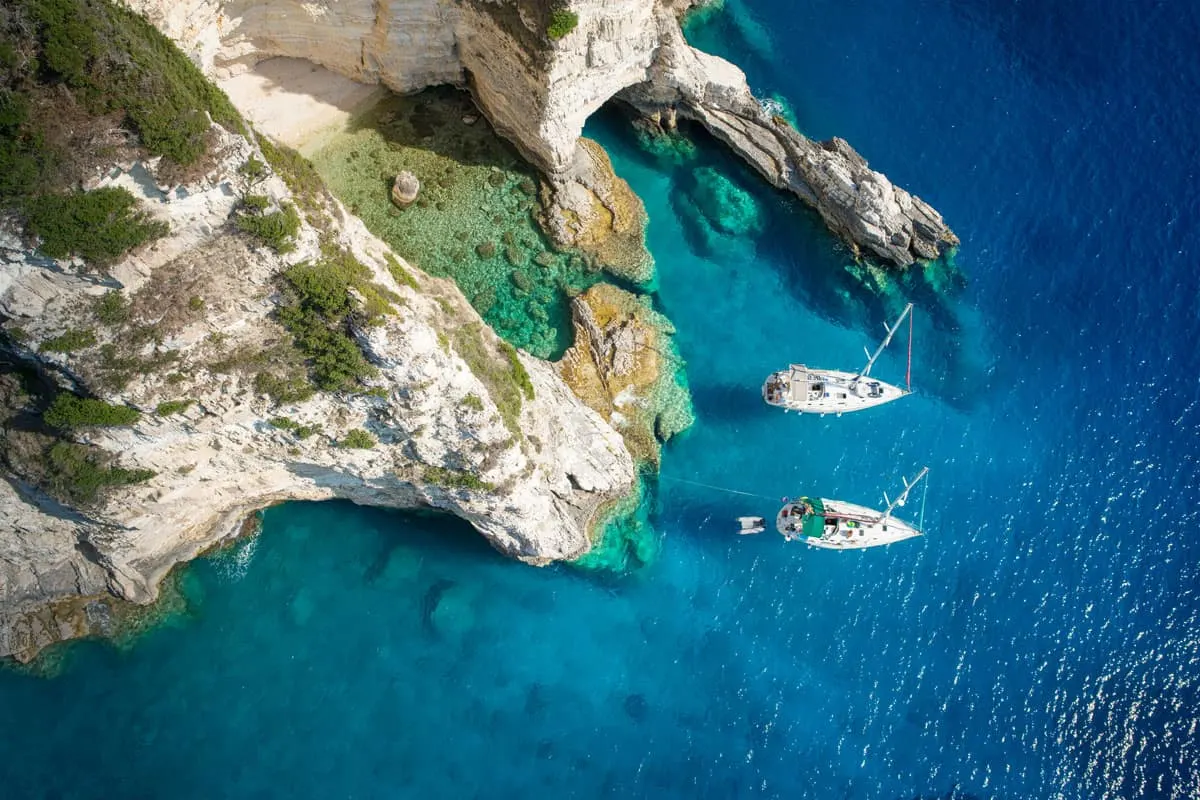 The highlight for many visitors is a trip to the famous Blue Caves, where the sunlight reflects off the white limestone in the water and creates a glowing blue hue.
If you're feeling active, there are also many water sports on offer, including stand-up paddle boarding and kayaking.
10. Meganisi
Meganisi is one of the smaller islands in Greece, but it's no less stunning. The beaches on Meganisi are some of the best in the country, and the scenery is breathtaking.
Vathi, the main town of Meganisi, is full of charm and character. There are plenty of great restaurants to choose from, and the locals are very friendly.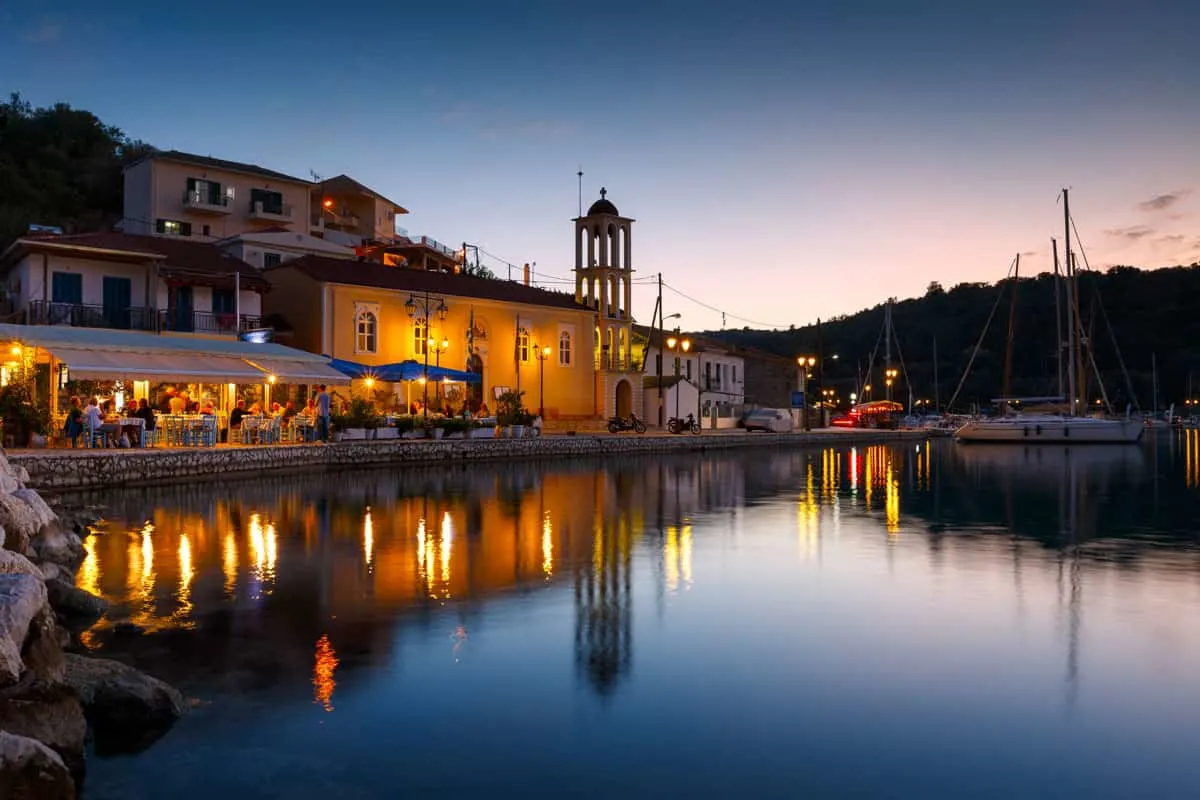 One thing that makes Meganisi stand out from other islands on this list is that it tends to be quieter than some of the more famous Greek destinations. It doesn't have its own airport, so you will need to catch a ferry from nearby Nidri.
If you're looking for a place to relax and enjoy the incredible beauty of Greece, Meganisi is the perfect destination.
Things to do in Meganisi
There are plenty of great things to do in Meganisi, from exploring the charming town of Vathi to relaxing on one of the stunning beaches.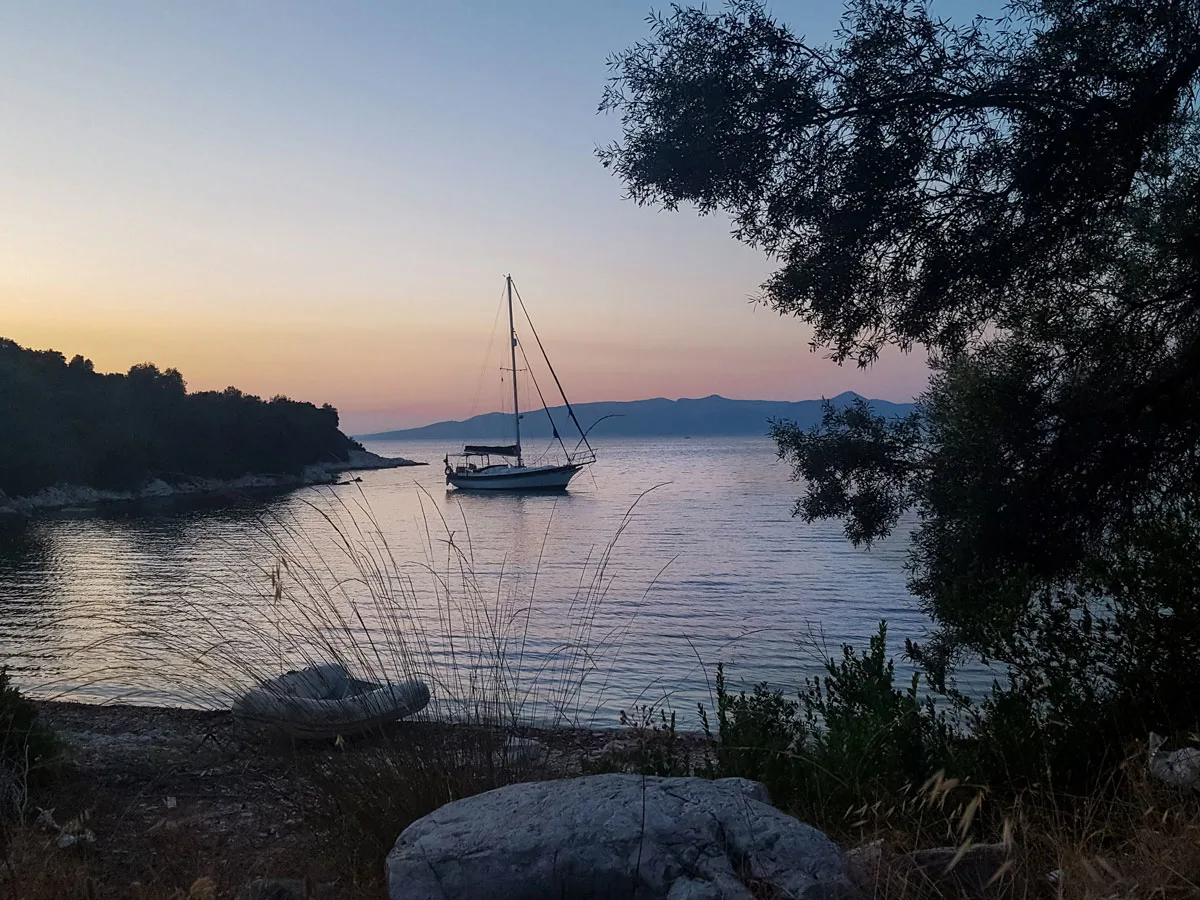 If you're feeling active, there are some great hikes around the island – Just pick a path, they all have stunning views. You can also go snorkelling in one of the secluded bays. Some people have even spotted the rare Monk Seals off the coast of Meganisi, so be sure to keep your eyes peeled.
Conclusion: The Best Greek Islands For Couples
These are the very best Greek islands for couples, and a trip to any of these hotspots won't disappoint. It's easy to see why Greece has been voted time and time again as one of the best honeymoon destinations, and these islands are the perfect place to ignite the passion.
Whether it's peace and seclusion or you're after something a little more active, these romantic islands in Greece tick all the boxes.
About the Author
Emily Nancolas
Emily is an ex-primary school teacher from the UK. She has been living aboard her sailboat in Greece for three years now with her partner and their adopted kitten. She spends her days exploring beautiful islands, dolphin spotting, weathering storms, and writing about it all on her website Two Get Lost. She is passionate about eco-conscious travel and enjoys reaching new destinations through the power of the wind.