A common question for first-time river cruisers is how to pack for a cruise?
Having sailed on a number of Viking River Cruises and Viking Ocean Cruises we realise packing for a river cruise differs from what you would pack for a cruise on one of the bigger cruise lines.
With this in mind, we've put together this Viking River Cruise packing list, loaded with helpful cruise packing tips to help you get ready for your river cruise, or even your first Viking Ocean Cruise.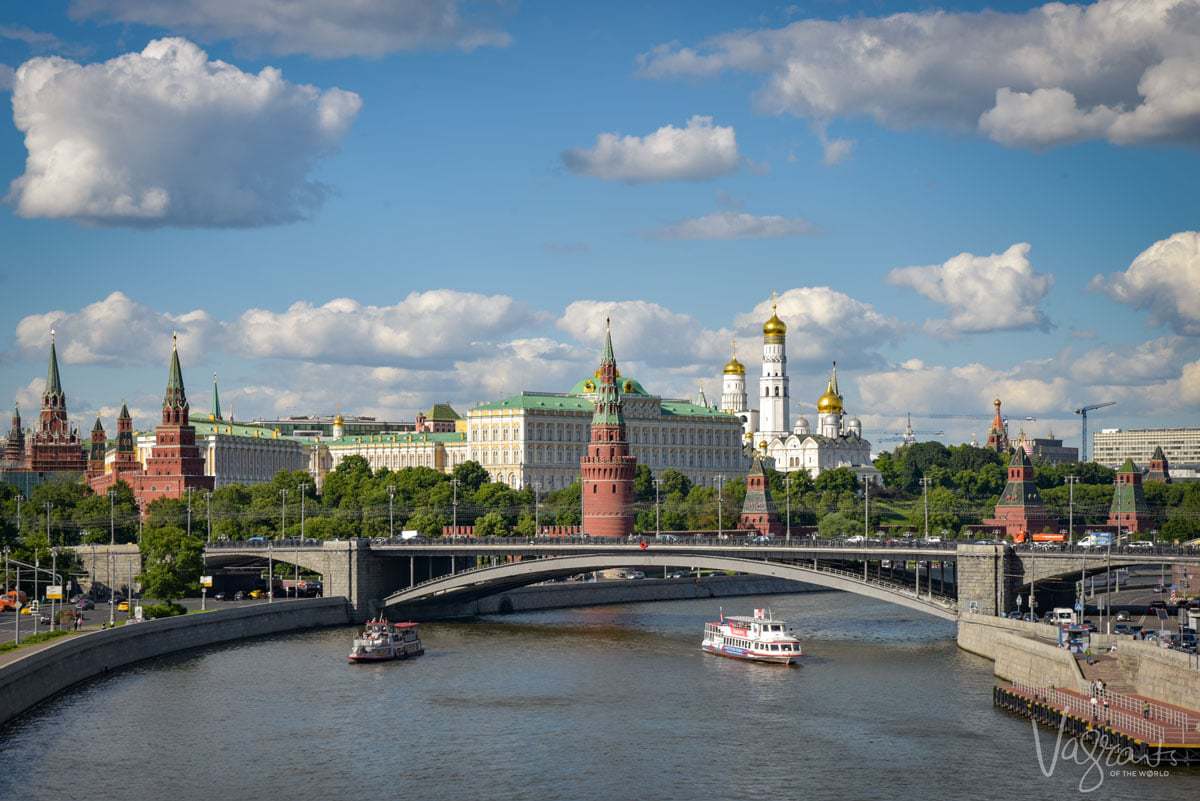 How to Pack for a River Cruise
Pack Light
One of the great advantages of a river cruise is being able to unpack once and relax for the rest of your cruise. However, the secret to packing for a cruise is still to pack light.
River cruise cabins may not be as spacious as a hotel room or on an ocean-going vessel so you don't want to clutter it with unnecessary stuff.
Also, if you're planning a pre or post cruise extension trip, you don't want to be burdened with heavy luggage.
Storage on Board a River Cruise Vessel
One thing we love about Viking River Cruise vessels is the ample storage in the cabins. While the cabin itself may not be that spacious, there is plenty of drawer and cupboard space to stow your things. Empty suitcases or bags slide easily under the beds to minimise clutter.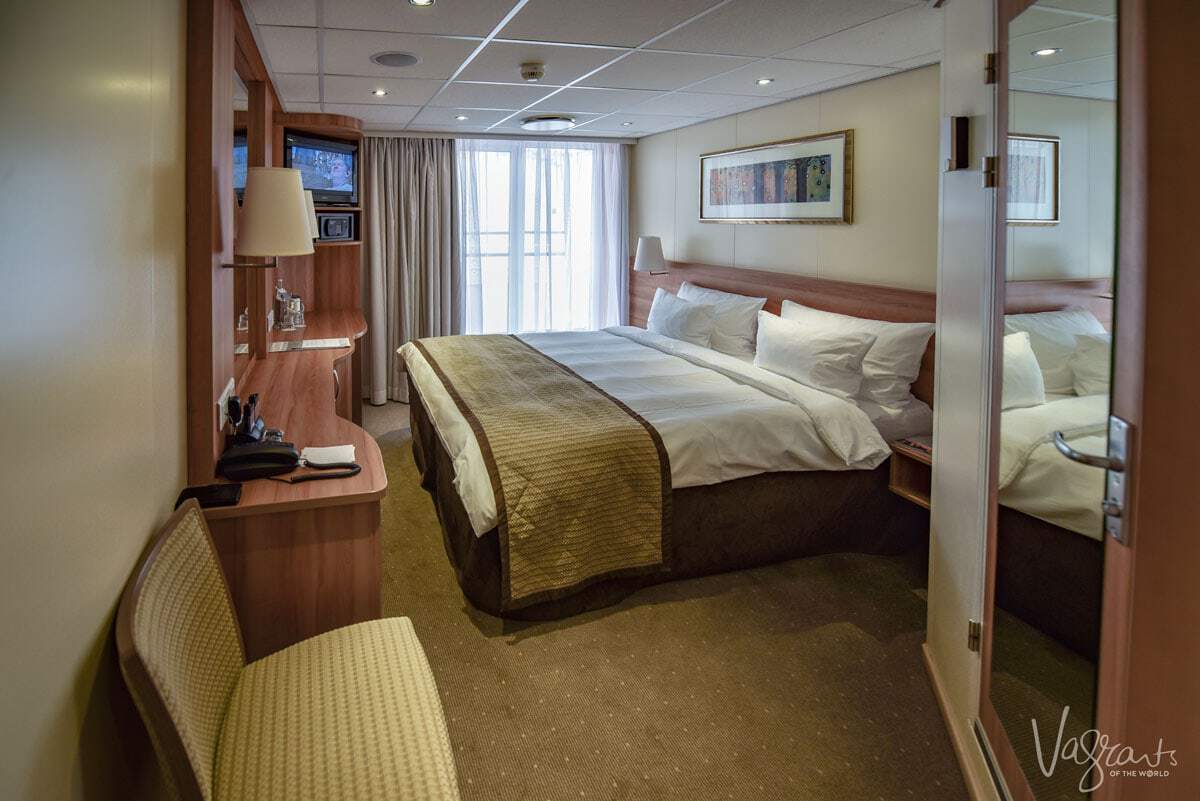 Consider Your Cruise Itinerary
What Season Are You Cruising In
Most people associate river cruising with Europe but you may have chosen a river cruise in China, Vietnam or even Egypt.
When considering how you should dress for a Viking river cruise, depending on the cruise you have chosen, first, think about the season and what weather you may expect.
In Europe, many people choose to take a river cruise in the shoulder seasons of spring and autumn which can mean changeable conditions.
Even the summer months in some parts of Europe can be unpredictable. Whereas, in the summer months in parts of Asia, you can expect a lot of rain.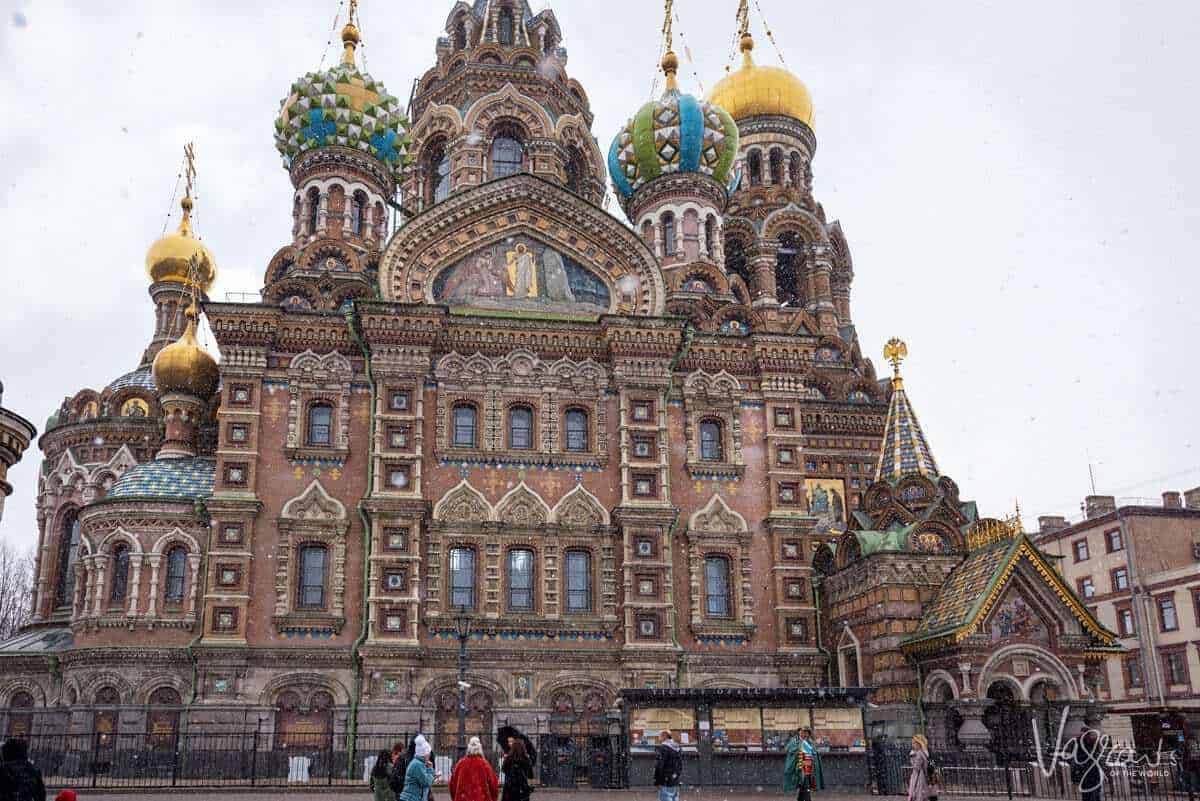 Light snowfall in spring in St Petersburg Russia during a Russian river cruise. Even though it is the best time to take a River Cruise, weather can change quickly in the shoulder seasons.
How Long is Your Cruise
Most river cruises are between 7 to 15 days. You will need to plan for how long you are away taking into consideration clothing, medications and toiletries.
Are there Laundry Facilities on Board.
There is a laundry service on board the Viking river cruises. Expect prices between $2.00 – $8.00 USD per item.
If sailing on Viking ocean cruises there are numerous guest laundries available to use free of charge on each deck.
Review the Shore Excursions
When reviewing the river cruise itinerary look carefully at any excursions you may want to take or have already booked.
Depending on the type of excursion, you may want to pack specific clothing such as a comfortable, versatile hiking/walking shoe for optional easy hikes.
There may be swimming or bathing opportunities such as the traditional Russian Banya or the therapeutic spas in Budapest which will require a swimsuit.
Reviewing the shore excursions is particularly important when considering what to pack for a river cruise in Europe as most cruise itineraries offer a range of cultural evening excursions such as the opera or ballet.
If you choose one of the evening excursions, you may want to pack something a little dressier.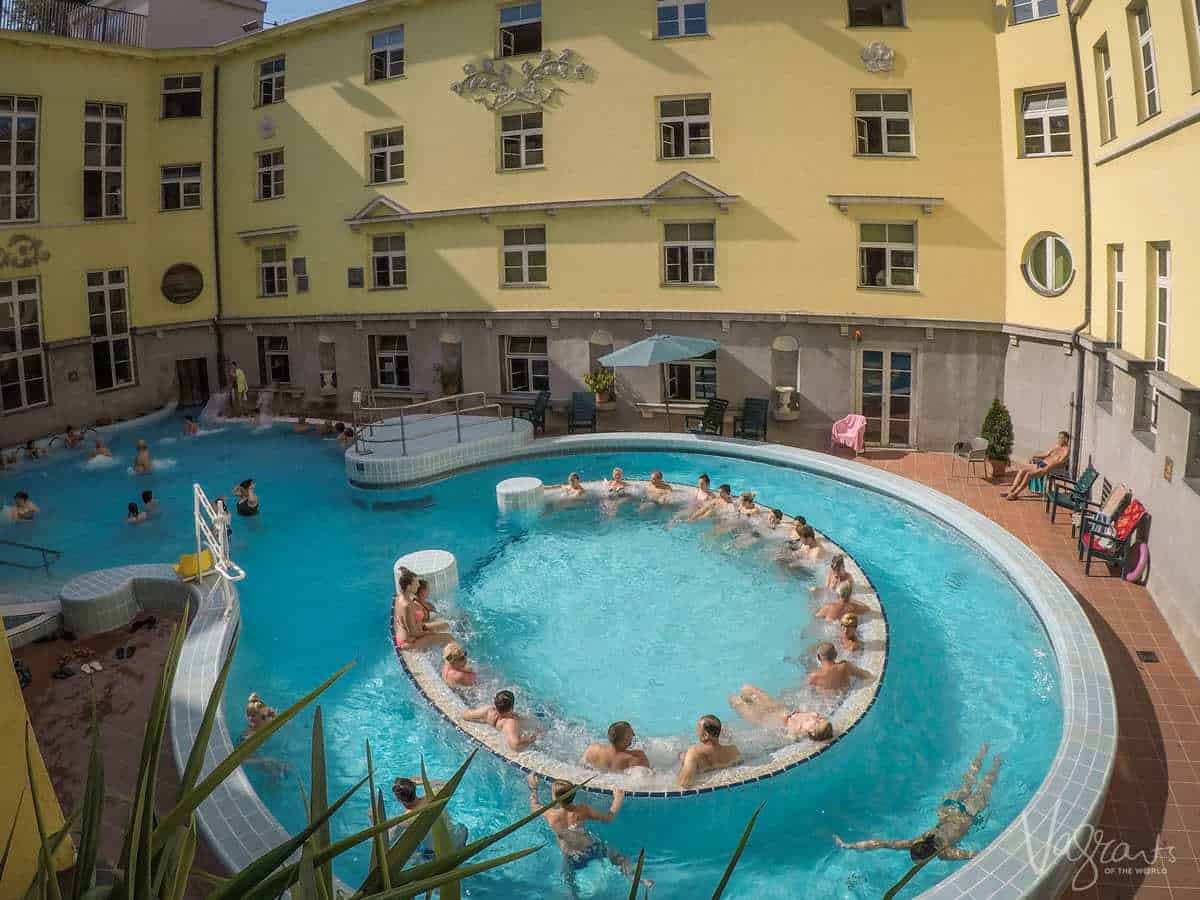 Visiting one of Budapest's iconic thermal spa's is a highlight on the Danube Waltz Cruise – Passau to Budapest
Best Luggage for a Cruise
What kind of luggage is best for a cruise? The best luggage for a river cruise is sturdy, easy to manoeuvre through airports and easy to stow under the bed once you have unpacked on board.
We prefer a soft duffle style bag with wheels and telescopic handle. They are easy to pack, easy to carry and pack flat when not in use. They also are more forgiving if you do overpack a little or pick up one too many souvenirs on your trip.
We like the Samsonite wheeled duffel bags because they are lightweight, easy to carry and with changeable packing options, are so easy to pack. They also come in different sizes depending on your requirement. Perfect for cruises.
Is a Hard Suitcase OK?
A hard suitcase is ok, just make sure it is not so big you have trouble sliding it under the bed as there is limited space inside the cabin.
Pack Your Cruise Carry on Bag Wisely
We always recommend when you travel to pack a change of clothes (or two), some basic toiletries, and important medications and documents in your carry on luggage.
If you are taking a fly-cruise package and your luggage is lost by the airline, it could take time for your luggage to be found and may even have to be delivered to the ship at the next port of call.
Also, it would be rare on a river ship, but if there were delays in delivering your bags to your room, you can still freshen up and set about exploring the ship without waiting for your bags.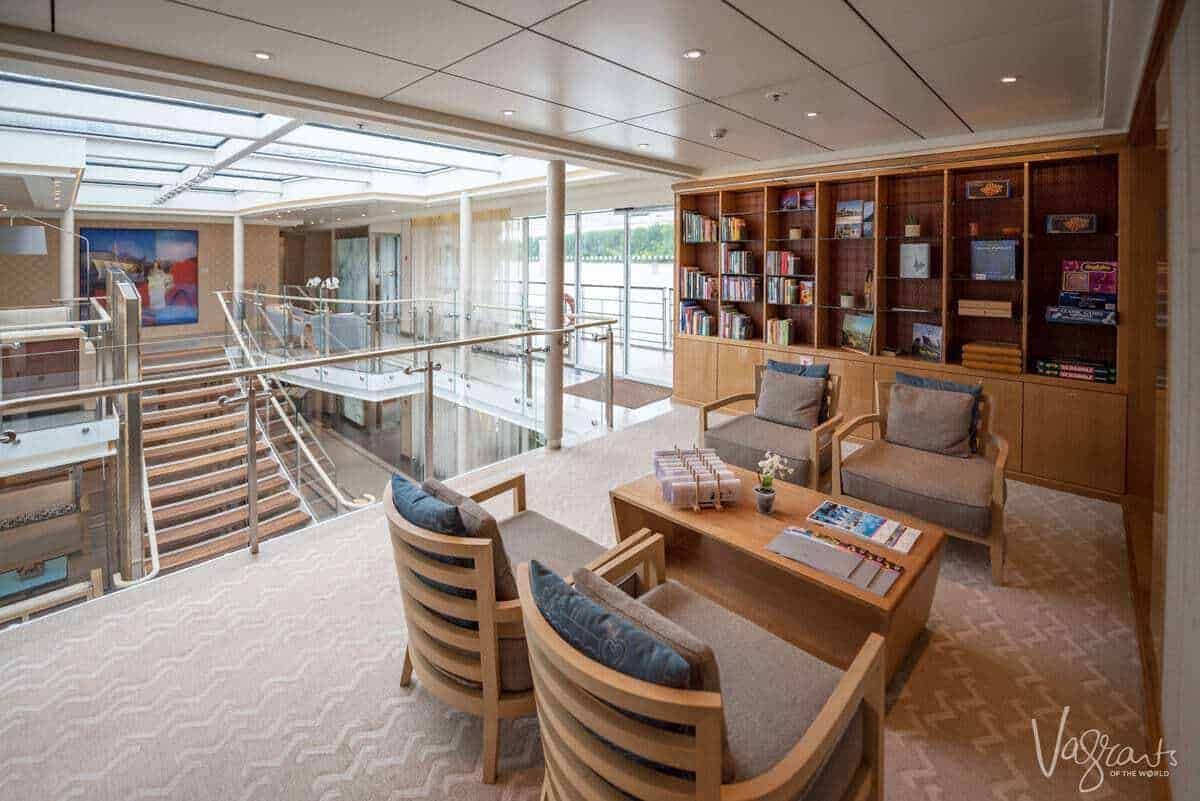 Best Bags for Cruise Excursions
The best bag for a shore excursion is one that is not too bulky, comfortable to wear, practical and has good anti-theft features.
Ladies, forget your fabulously bulky shoulder tote bag that looks great in any season. Think practical anti-theft cross body purses that can't be overfilled (for comfort), don't stand out yet still look good.
You will be doing a lot of walking around towns and cities on a river cruise. You want to be comfortable and don't want to fall victim to pickpockets.
Crossbody Bags for Travel
Daypacks for Travel
If you prefer a daypack for travel, then the best backpack for a cruise is something that has hidden pockets, secure zips, sits firmly on your back and can be comfortably worn to the front in crowded situations.
Too often we see people in tour groups sightseeing with their bag or daypack hanging loosely from one shoulder with zips or drawer string closures gaping wide open. While this is an open invitation to pickpockets, it is also how people often lose phones, wallets and other personal items when travelling.
Best Cruise Purse or Handbag for Evenings and Onboard
If you want to bring an additional purse for evening excursions or for evenings on board, consider an anti-theft handbag for travel that comes with a small anti theft clutch for evenings.
Perfect for carrying your phone, a lipstick, room card and money without having to pack an extra purse.
---
What to Wear on a River Cruise
How Should I Dress for a Viking Cruise?
Dress Code on a River Cruise
Viking has a well-earned reputation for delivering an upscale river cruise experience. While this is undoubtedly true, many equate this with the need to dress up during the cruise.
Happily, for the most part, this is not the case. While a certain level of dress is expected, and always appreciated, on a Viking River Cruise, you will not find the need for formal wear as you might on a big cruise line.
Pack with Mix and Match in Mind
To avoid overpacking for your cruise choose clothing that will work for multiple combinations so you can mix and match outfits.
Start with a predominantly neutral colour scheme -black, white, beige, tan and grey. You can highlight this with one or two pastels or brighter accent colours depending on your style.
---
---
---
---
Always keep comfort in mind when choosing clothing for a cruise. Easy care, wrinkle free, breathable fabrics are best.
Layer Your Outfits
Depending on the season and destination, the weather could be changeable from port to port. Layering is the best way to combat changeable conditions when travelling even from morning to night or when transiting in airports.
Jackets
Allow for one heavier, windproof jacket, although leave overly bulky or heavy clothing at home. They can become cumbersome when on the move. You can find our top-rated women's travel jackets here.
Tops
Pack some long sleeved sweaters or cardigans as well as short and long sleeved tops and shirts. This way you can be warm in the cooler mornings and evenings and shed easy to carry layers as required during the day.
Scarves and Shawls
A nice scarf or pashmina is the perfect travel accessory for layering when it gets a little cool. It can also dress up an outfit for evenings.
A lightweight scarf also makes great layering for sun protection and as a shoulder and head cover for entering places of worship.
Day Wear
True to the ethos of destination focused cruising, you will have plenty of time ashore exploring independently, or on one of the many included and optional shore excursions. So comfortable, casual wear will make up the majority of your wardrobe.
Comfortable trousers or jeans are best, or if the weather calls for it, shorts or skirts are also appropriate.
Lightweight, breathable tops. Both long and short sleeved.
A lightweight jacket or sweater for cooler weather. (a packable down puffy jacket is good for cold or winter weather)
Comfortable walking shoes.
Hat and sunglasses
Consider any places of worship you may be visiting where respectful dress is required. You may be denied entry if you are considered to be inappropriately dressed.
Another good reason to always carry a lightweight travel scarf.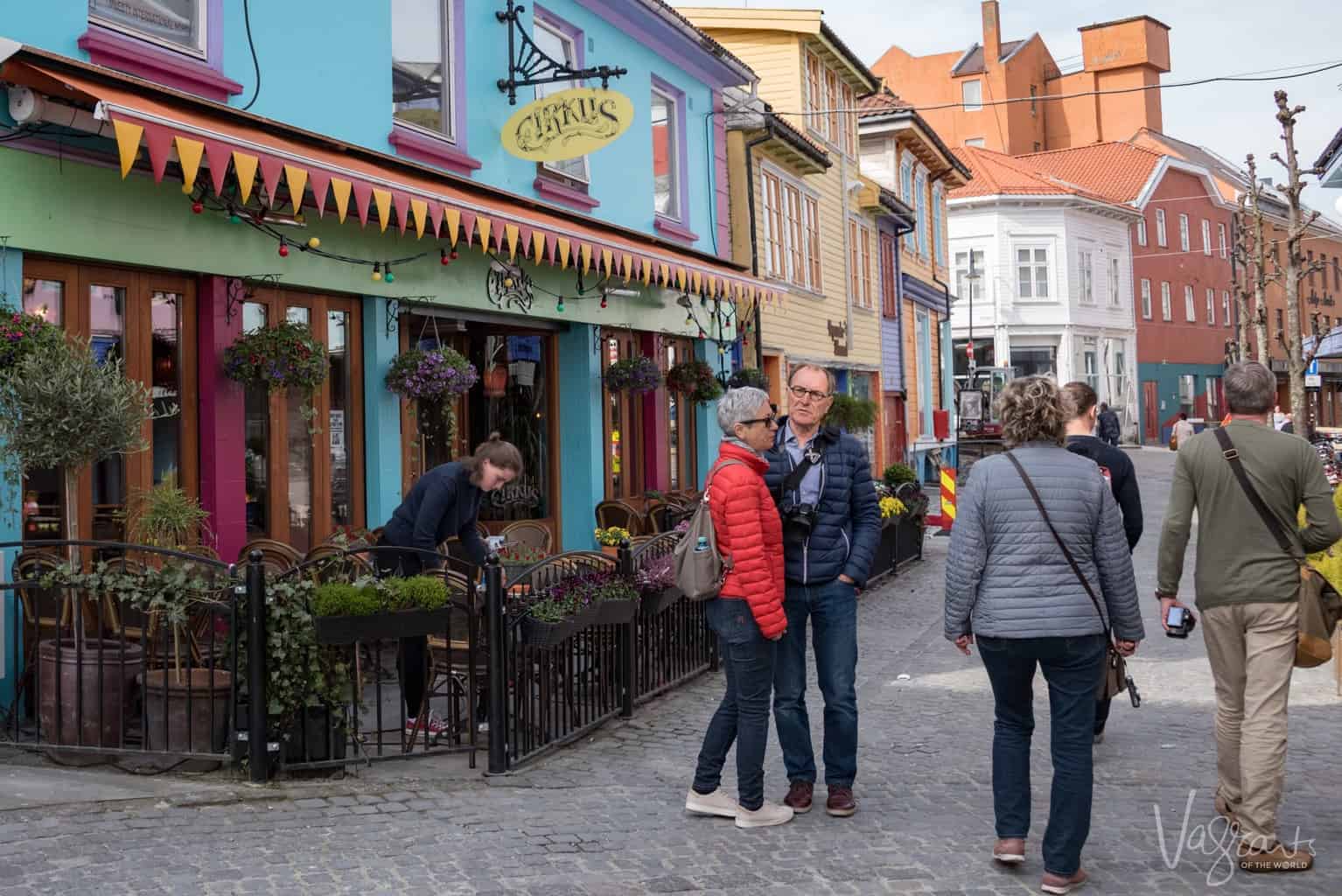 Evening Wear
Except for a few evening experiences such as the ballet, an evening at the orchestra or opera, most evenings will be spent dining on board.
While the restaurants offer a fine dining experience, the dress code is optional. Of course, you may choose to dress up, but many passengers will opt for "elegant casual". There are no "formal nights" on a river cruise.
For ladies – Dresses, skirts or pants with a blouse or sweater is appropriate.
For men – Trousers and collared shirts are acceptable. Ties and jackets are a personal choice.
A river cruise schedule can be quite busy. So much so, some days will barely allow time to change before dinner.
Think about your mix and match. A smart dress shirt or polo can quickly dress up a casual look for men, and a lovely shawl and change of shoes can quickly transform a casual outfit for ladies.
There is no need to bring any fancy jewellery. It will only be something for you to worry about on the cruise.
Best Shoes for a River Cruise
Shoes take up the most room in our luggage and can sometimes add the most weight. Especially when considering some men's shoes. In saying that, consider carefully what shoes you will pack for a river cruise.
Comfortable Walking Shoes
While many consider cruising to be quite a relaxed or even sedentary way to travel, river cruises are quite the opposite. At each port, you will have numerous shore activities and excursions to choose from including lots of free walking tours.
You will be doing a considerable amount of walking and even some easy to moderate hikes on some excursions. Comfortable walking shoes will be very important. Also, choose shoes with a good grip. Walking around Europe on the cobblestones can be perilous at times, especially in the wet.
Thankfully today, you can find some very stylish, practical and more importantly, lightweight walking shoes on the market.
Additional Day and Evening Shoes
You may like to take a second pair of day shoes for around the ship that can transition to evening and one pair of dressier shoes for evening excursions.
We always like to take a pair of flip-flops or a similar comfortable sandal for relaxing in the cabin or making those quick trips to the snack and coffee station.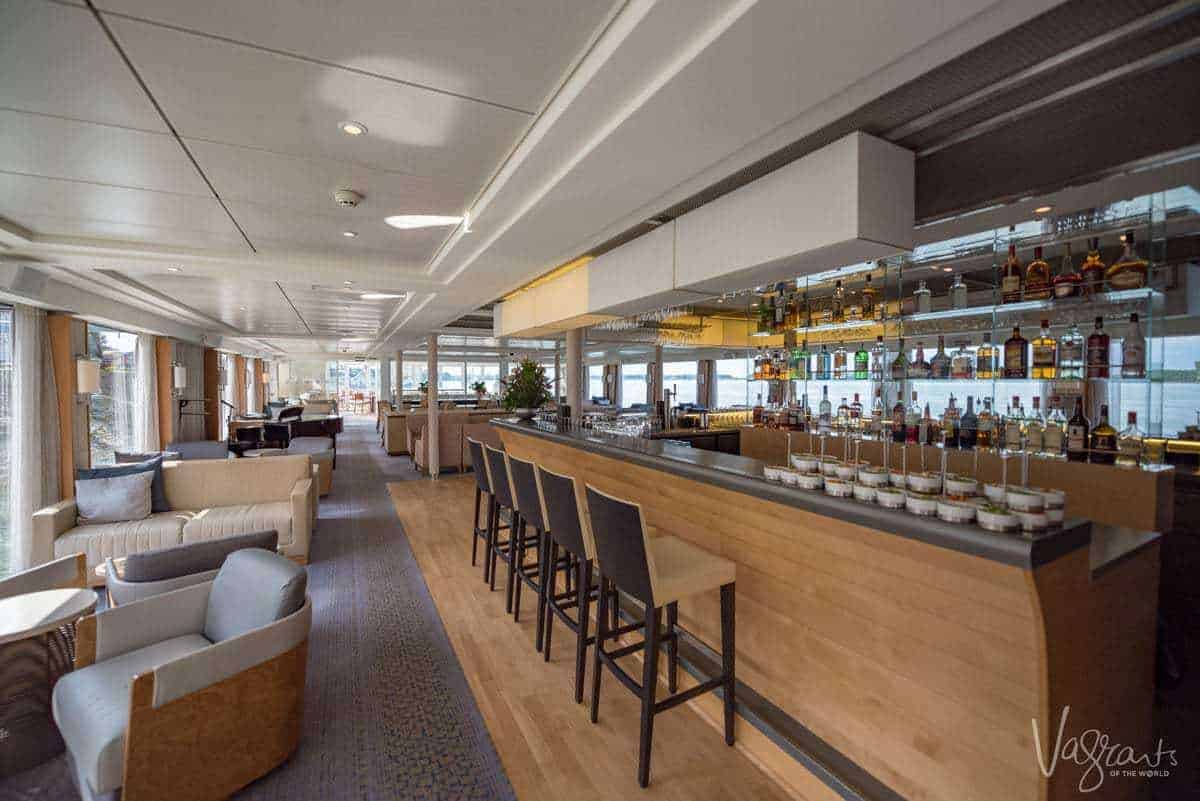 Pack for the Conditions
Cold and Wet Weather
If you are cruising in the shoulder seasons or taking a winter river cruise such as a Christmas market river cruise, you may want to prepare for cold and wet weather.
A pair of lightweight gloves and hat that can slip easily into your daypack or handbag.
A scarf or shawl is great for layering in minor changes in weather and a must if cruising in the winter months.
A lightweight rain jacket or quality rain poncho. Consider a jacket that can double as your day to day jacket for cooler days or choose a waterproof jacket that will fold down for easy storage and carrying.
All river cruises offer complimentary umbrellas on board. However, they are quite large so not always ideal for taking out for a full day of sightseeing. A small, quality travel umbrella is perfect for keeping in your daypack or handbag and then you always have it in case of an unexpected downpour.
Sun and Hot Weather
If cruising in the warmer months don't get caught without sun protection. There is nothing worse than a sunburn on your holiday.
Too many people forget about sun protection when sightseeing around cities and local attractions. Even in the shoulder seasons the sun can be very harmful so always be prepared with at least the basics.
Sunscreen, hat and sunglasses – no matter the season.
Lightweight long sleeved shirts are perfect for hot sunny days. Collared shirts are always better.
A travel umbrella works equally as well as a sun parasol.
A lightweight travel scarf is great for additional sun protection on the neck and shoulders and comes in very handy when visiting places of worship. They are also good if visiting dusty areas for covering your face.
Toiletries and Personal Products
Another bonus of river cruising is the ample time spent ashore means you can easily pick up any necessary toiletries along the way. There is also a small shop on board should you require something urgently.
On Viking River Cruises, there is no need to bring basic toiletries such as shampoo, conditioner, shower gel, soap, or body lotion. Unless of course, you need a specific product. These are things that weigh your bags down and are most likely to leak in your luggage.
Viking has a beautiful premium range of products designed exclusively for them by Freyja. Best of all, they are in good sized bottles (not those tiny hotel style bottles) and are replenished daily or as you need.
Hairdryer
There is no need to bring a hairdryer. Save the space in your bag. Viking provides good quality, powerful hairdryers in each cabin. Not the low power dryers permanently attached to the wall as you find in many hotels.
If you use a straightener or curler, you will need to bring this.
Medications
Don't forget any medicines you might need for the duration of your cruise plus additional just in case of any delays.
Additional Handy Toiletries We Recommend
Don't forget to carry some hand sanitiser with you. We find the ones that clip to your bag are the best as you never leave them behind and they are easy to access when you need them.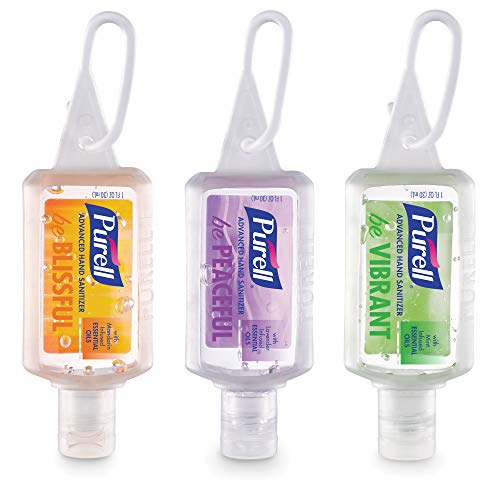 Hand Sanitizer Travel Sized Pump Bottle
One of the less desirable aspects of travel is having to use public conveniences, something you will often do on a river cruise. We always keep some of these handy wipes in our bag. Whether at an airport or on a shore excursion, throw a few in your bag, and you will never get caught out.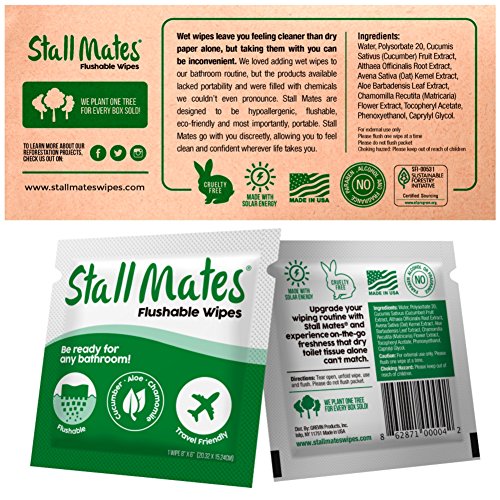 Flushable, individually wrapped wipes for travel.
Adapters and Chargers
Travel Adapters
Viking longships have 110 / 220-volt outlets and USB ports in every cabin so you shouldn't need a power adapter unless you have hotel stays included in your cruise itinerary or either side of the cruise. (Not every cruise company will have this so you should check in advance if cruising with a different company)
You will find power points next to the bed and near the desk which will more than likely be ample power points for most travellers.
If you find you need more charging space for camera's, phones or even a laptop, we recommend bringing a power strip from your home country. We always travel with one just in case.
Charging Bank
A quality, fast charging bank is great for travel days, essential for full-day shore excursions, especially for anyone who uses their phone as their primary camera. They are not expensive and can be a lifesaver when you really need that bit of extra battery.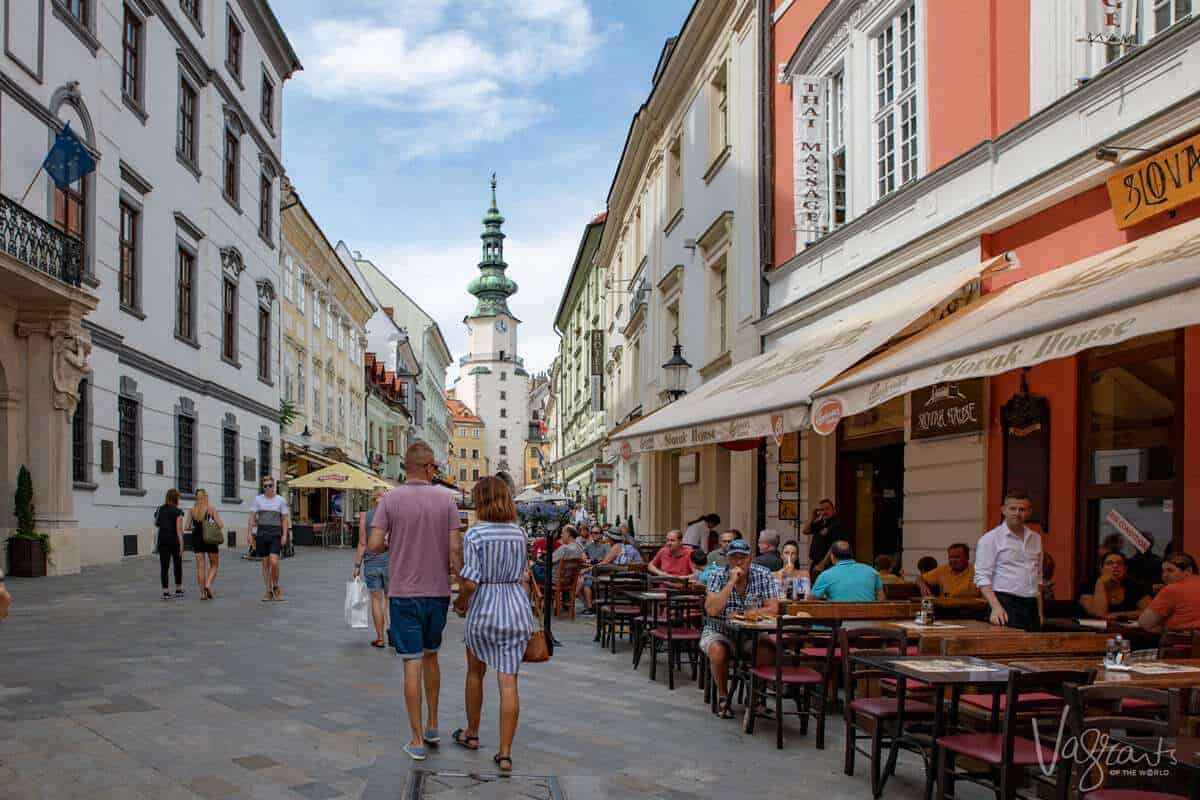 ---