Planning a Viking Ocean Cruise in 2022? Viking Ocean Cruises has taken the cruise market by storm with its fleet of boutique ocean cruise ships.
Taking its cue from the ongoing success of Viking River Cruises, Viking Ocean Cruises offers destination-oriented itineraries on ships boasting the same understated elegance and modern Scandinavian chic design as their river fleet.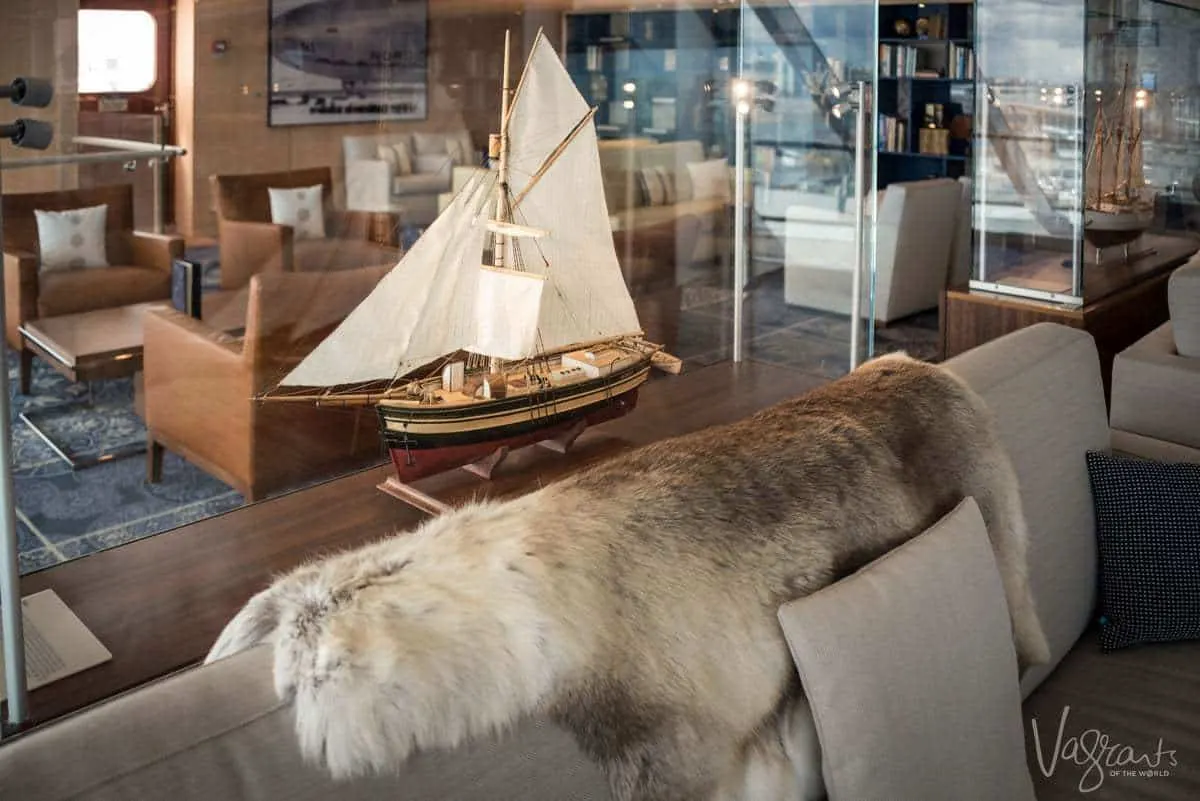 Better Access to the Destinations
Dubbed "small ships" by Cruise Critic, Viking has designed their ocean fleet to a scale that allows for centralised berthing in more ports.
Guests will have more time in port thanks to easier access to many destinations on the itinerary and more late evening or overnight stays.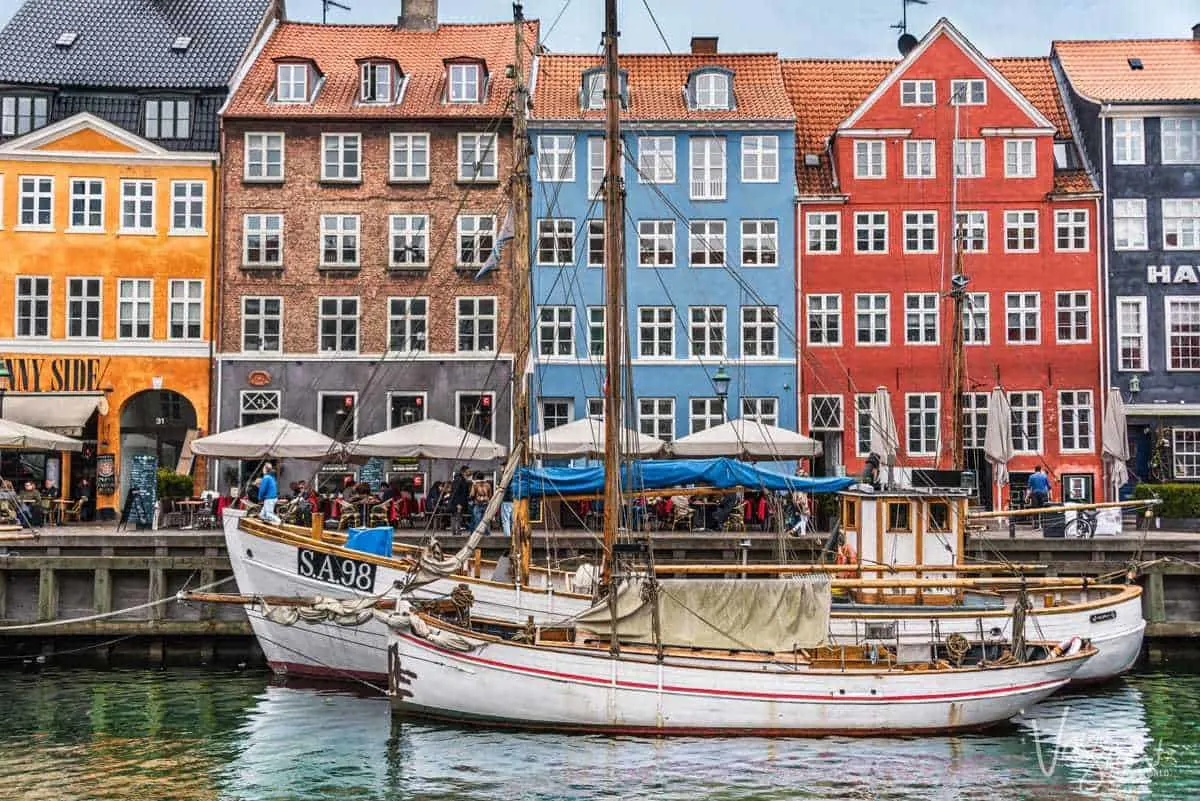 We don't mind admitting, we are cruise novices, especially when it comes to ocean cruising. We have sailed with Viking River Cruises on the Waterways of the Tsars cruise through Russia, the Passage to Eastern Europe cruise and the Danube Waltz from Passau to Budapest, but our voyage on Viking Sea was our first foray into ocean cruising.
Discover More of Our Viking Cruises Articles
Had it not been for our previous experience on Vikings River cruises, we may never have tried ocean cruising.
For wrong or right, our perception of ocean cruising is one of floating cities carrying thousands of faceless passengers with fleeting glimpses of destinations on a promised itinerary.
We understand it is the cruising itself that appeals to many people who choose this mode of travel, but as travellers who prefer a slower, more boutique experience, you can see the lack of appeal.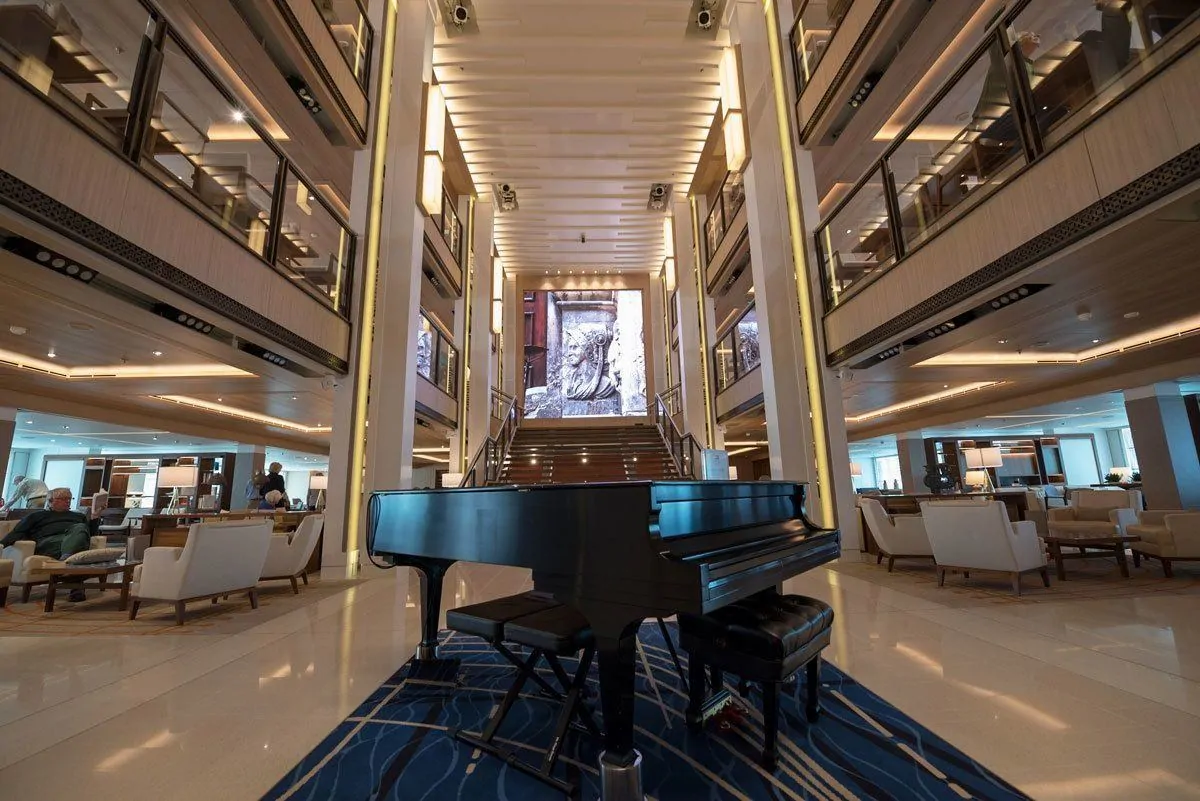 Our two weeks on board Viking Sea on the Viking Homelands Cruise could not have been more contrasted to our preconceived ideas of ocean cruising.
Viking Cruises has taken what seems to us like the vulgar beast of travel and tamed it into an elegant and cultured experience. A nod to the old school class of travel.
This a brief look at the style of ocean cruising that is attracting the more discerning of the die-hard cruise set and swaying opinions of travellers like ourselves.
Stay safe while you travel with our Travel Safety Tips and Anti-theft Travel Guides.
Small Ship Design With Loads of Space
While the "small ship" design of Viking Sea has the benefit of getting you closer to each destination, its small ship size hasn't compromised space onboard.
With a maximum of 930 passengers, Viking Sea has only 465 generously appointed staterooms and suites, all with verandas so you can enjoy views of each destination from your private space.
A ratio of approx one crew to every two passengers means personalised service. The crew on board genuinely do remember your name as well as your preferences. Larger vessels can't deliver this level of service.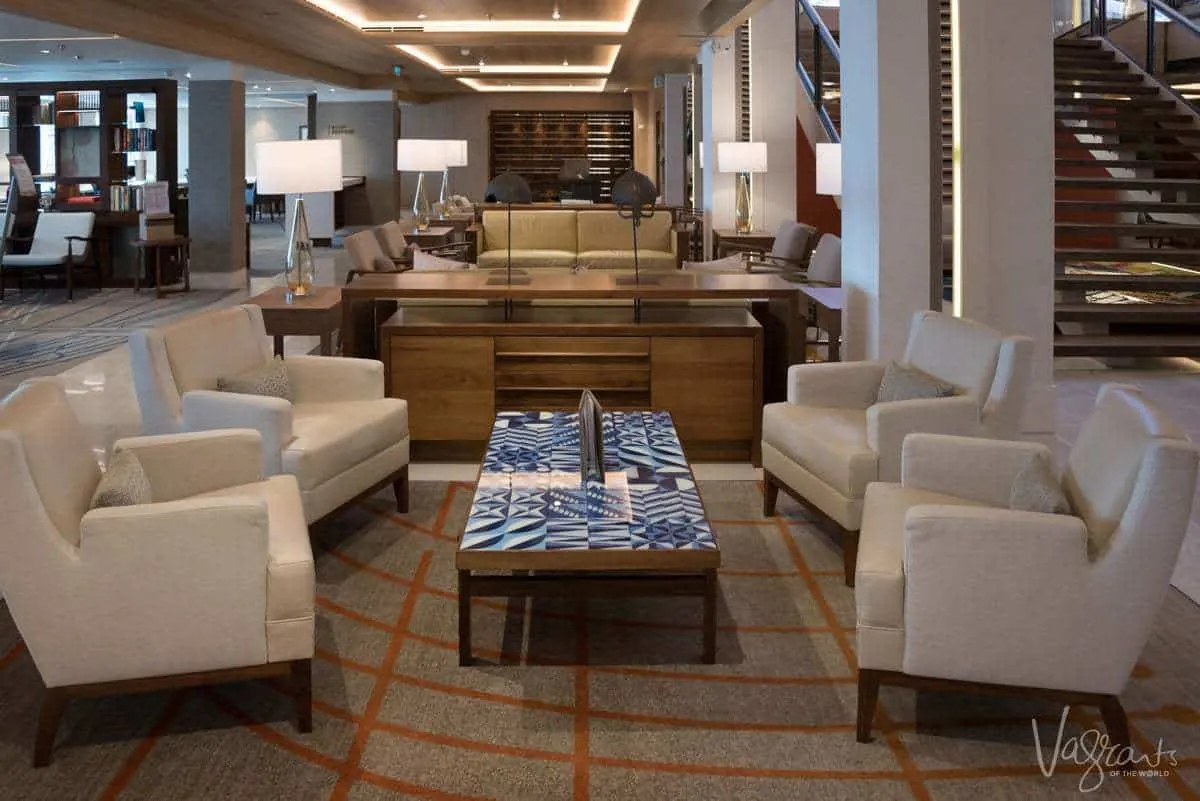 Beautiful Public Spaces.
Throughout the ship, there are large, airy spaces designed with space and relaxation in mind. There is always a secluded nook or comfortable lounge to retreat to read a book or enjoy a cup of tea.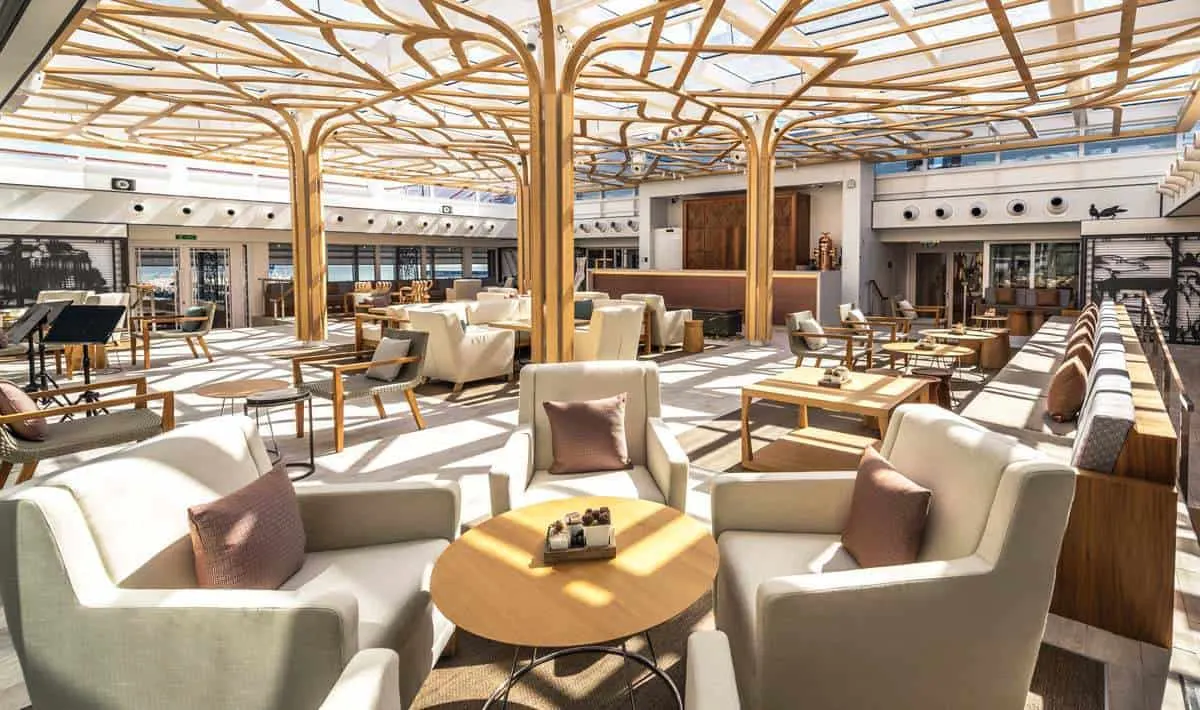 The Winter Garden, a place of serene relaxation hosts the most delightful High Tea each afternoon set to live classical music.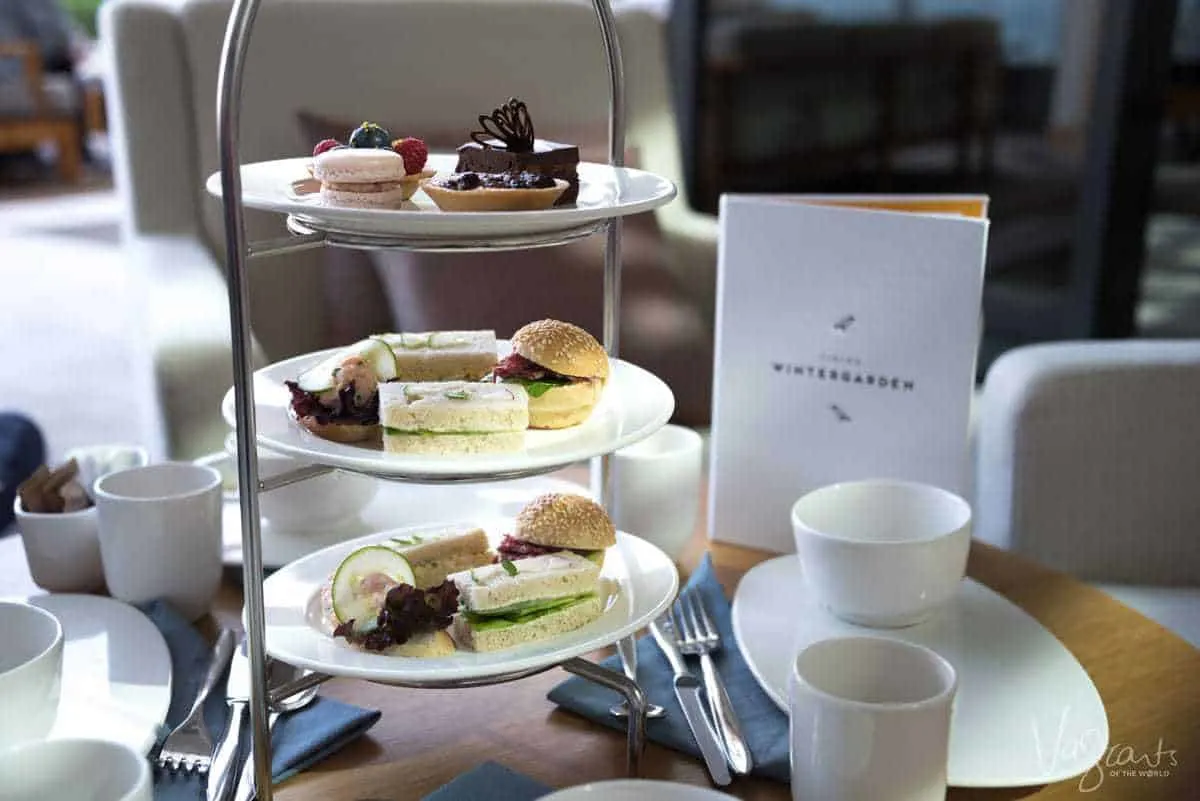 In the two-level Explorers' Lounge at the bow, you can relax in beautiful Scandinavian-designed lounge areas while taking the scenery through full width, double level windows. Perfect for the approach to a new destination.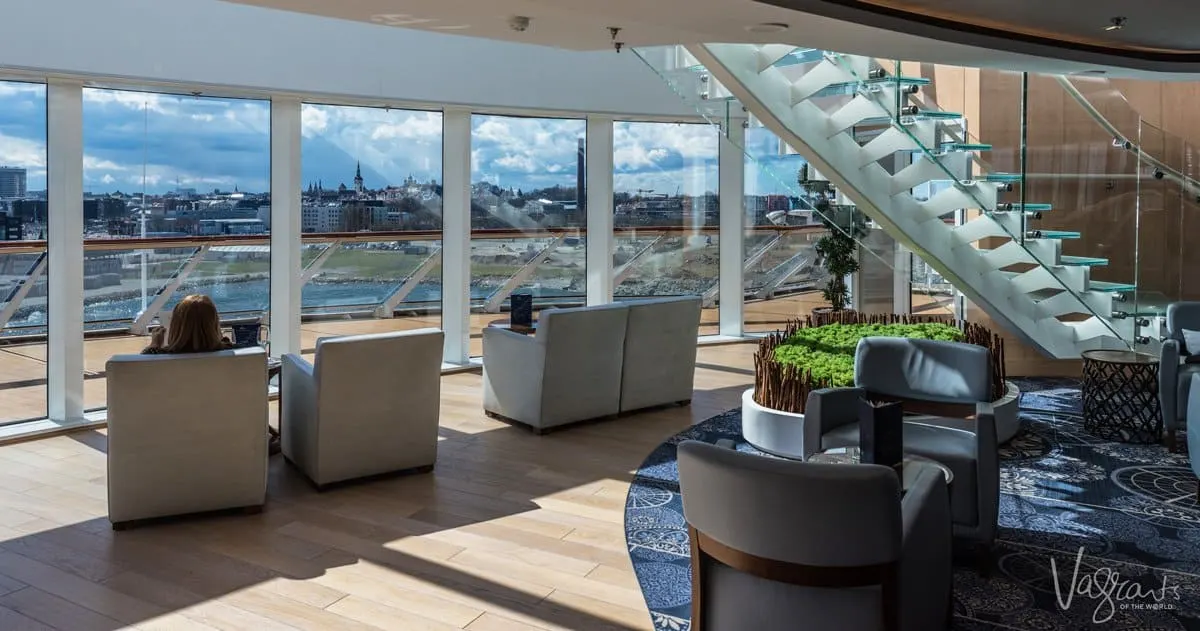 Want to recline and maybe sneak in an afternoon nap? The lounge areas that flank the main pool are the ideal place. Watch the world float by your sun bed while you recline in the ambient atrium space.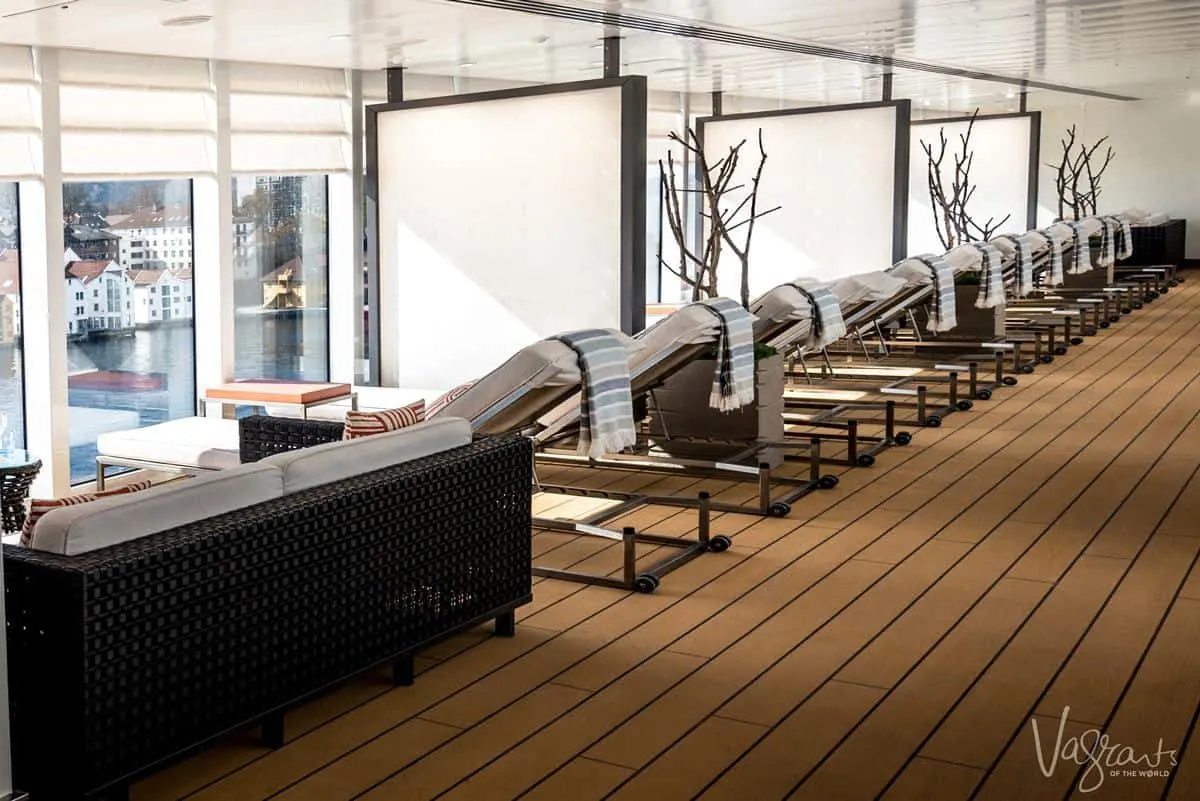 Not One, But Two Pools.
There are two pools on board the Viking Sea. The main pool is in the centre of the ship. A retractable roof means an all season outdoor space. Early in the cruise, the roof was open allowing us to bask in the perfect spring sunshine in Bergen. Days later, guests enjoyed a swim under a snowy Russian sky.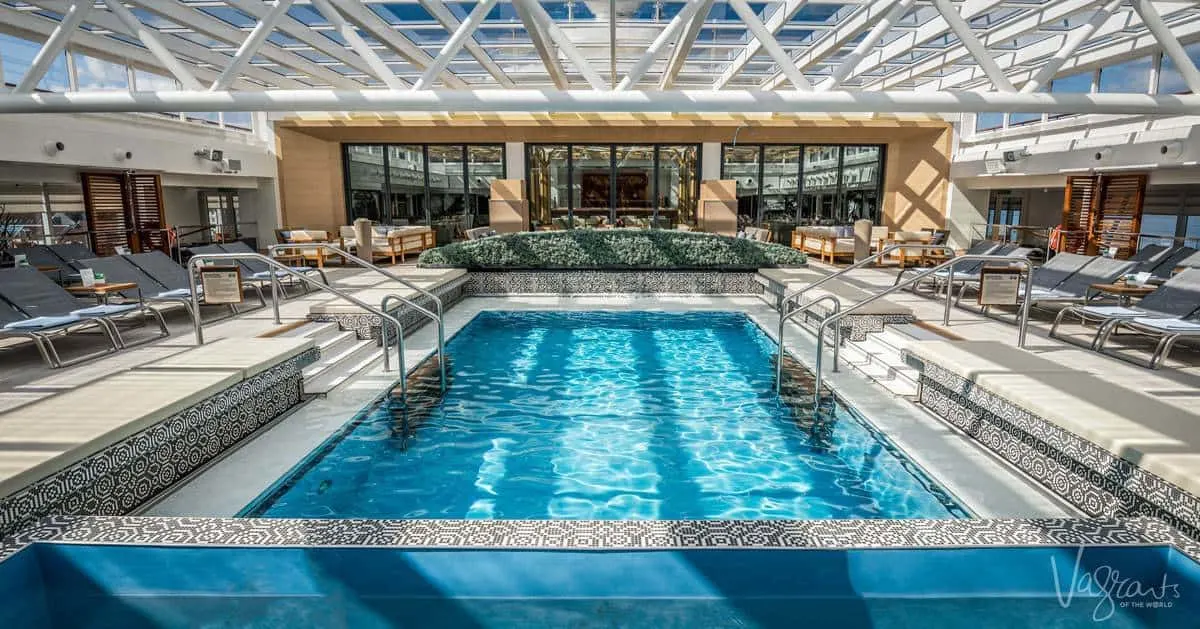 This is a fabulous area with pool bars on both sides of the ship; as well as a casual poolside grill style restaurant. Beautiful lounge areas overlook the pool. Ideal for those who don't like to navigate a sun lounge.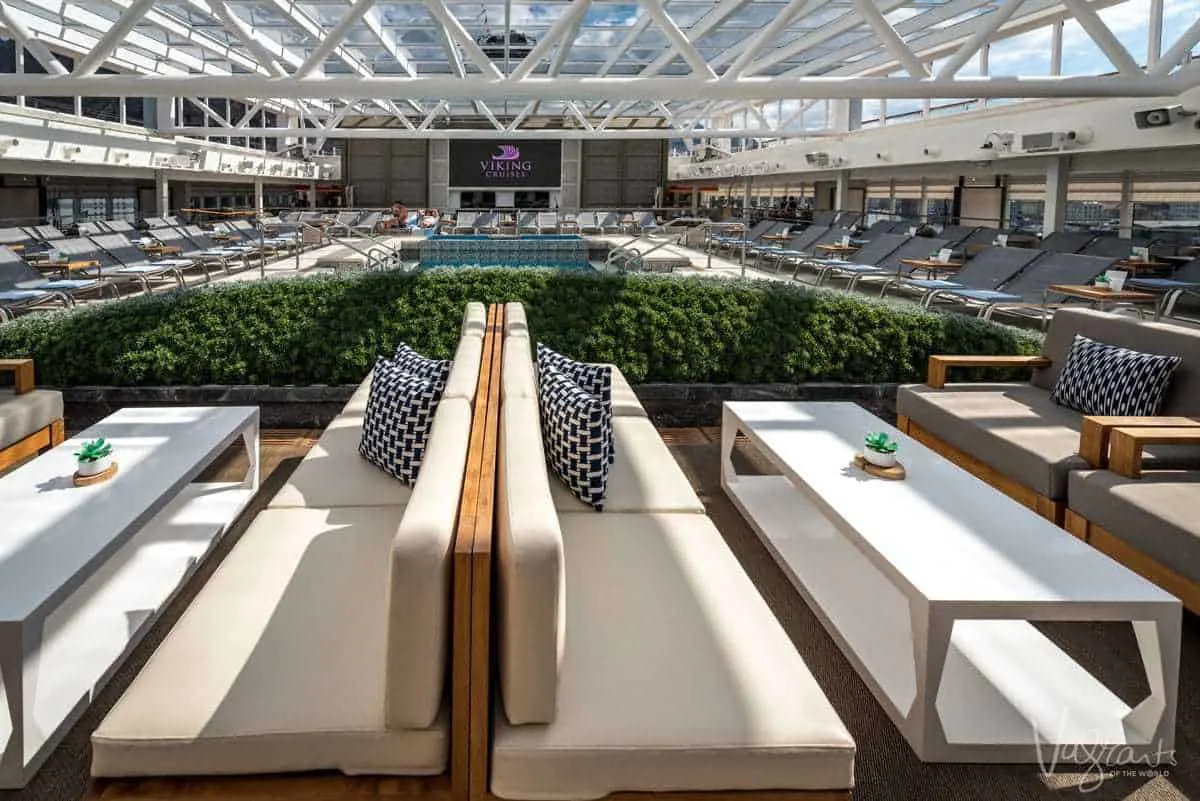 Fancy immersing yourself in the destination? Head to the aft deck and slip into the glass-backed infinity pool off the stern of the ship.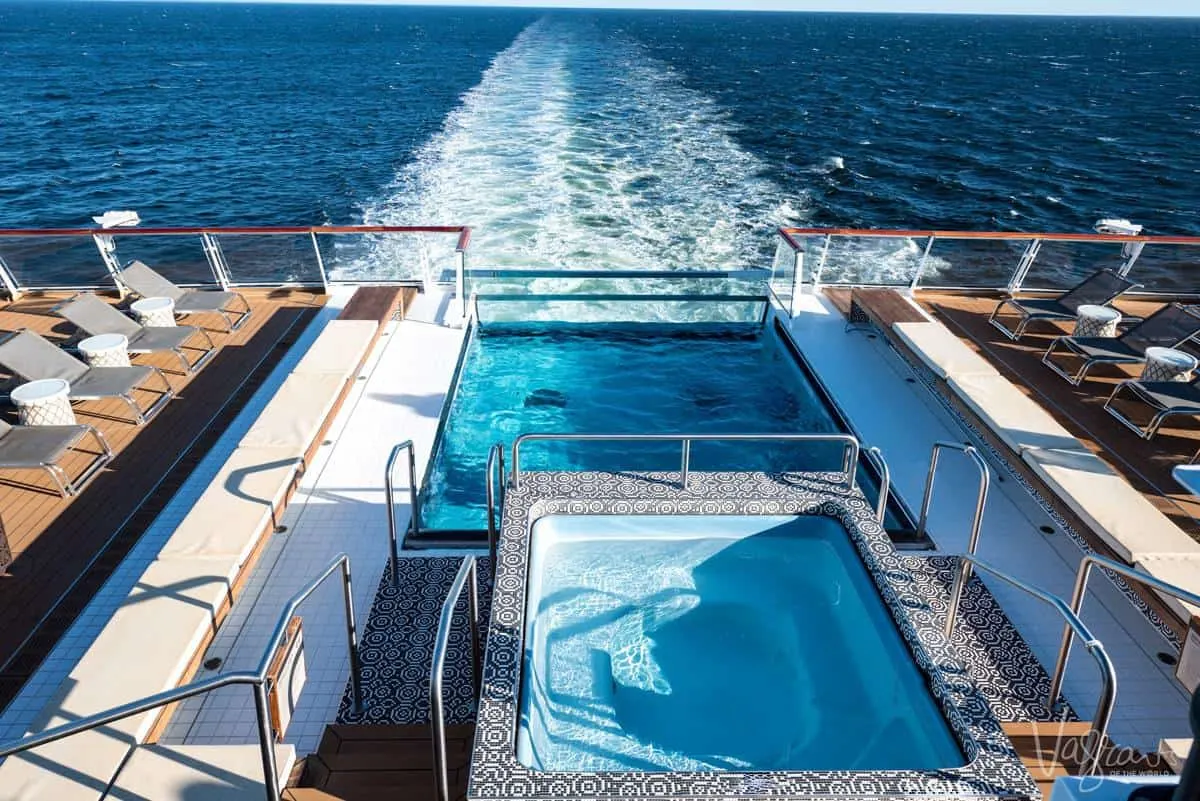 The Aquavit Terrace provides an excellent spot for alfresco dining poolside on a sunny day. It is true waterfront dining, sometimes with the best address in town.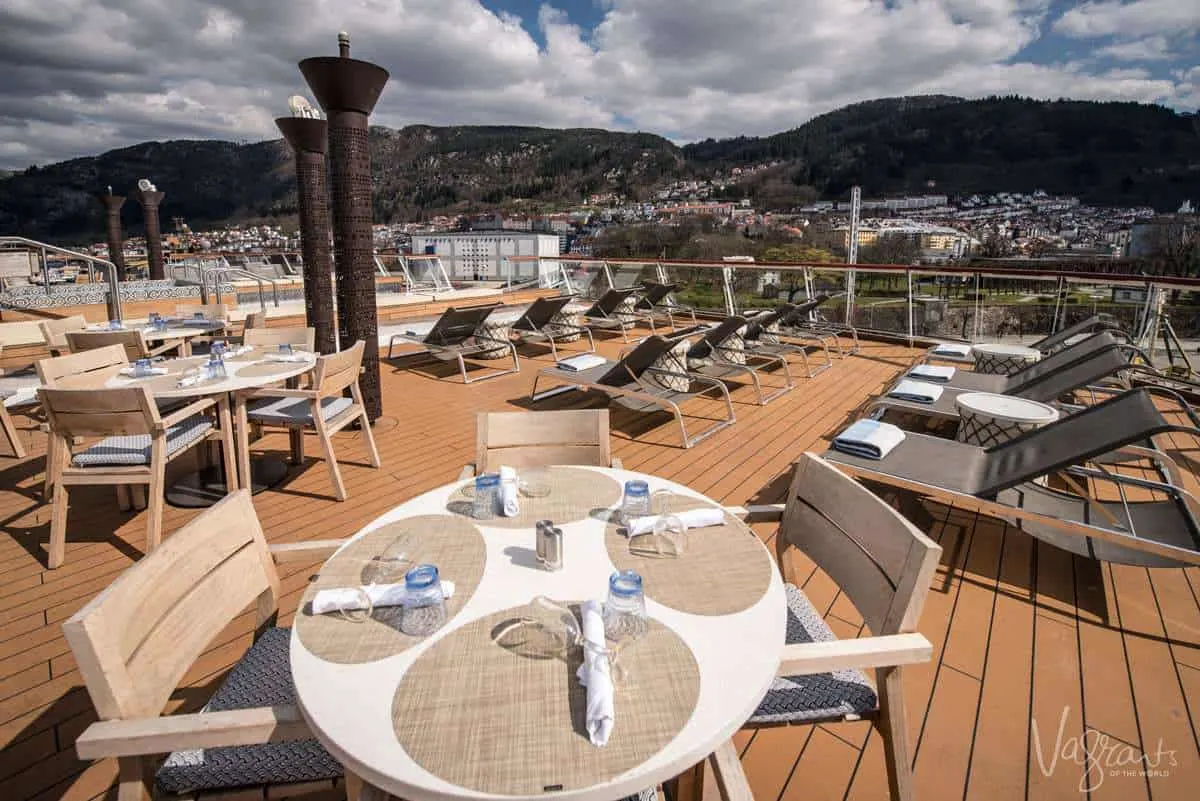 No matter the weather or your mood, you will find ample space to enjoy the scenery or just relax, inside and out. Viking Sea may be a small ship, but it is big on space. A feature that frankly surprised us.
Not being cruisers, we felt 900 people on a ship would feel crowded. We were continually surprised at how spacious and uncrowded the ship felt.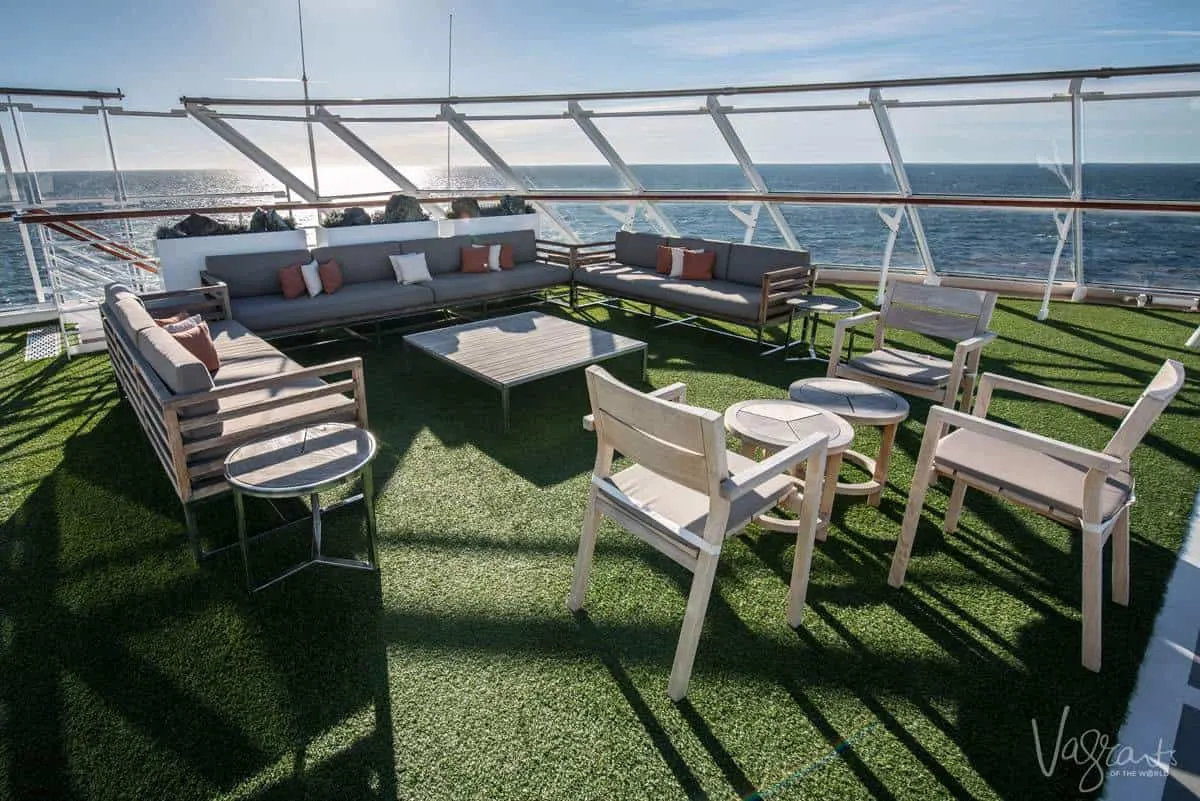 Wine and Dine.
Again, our cruising ignorance may come to the fore here, but we associate cruise ships with glutenous buffets filled with unhealthy food options.
Much like Viking River Cruises, Viking Sea excels when it comes to providing exceptional culinary experiences on board. Although, the variety of dining options onboard Viking Sea takes the cruising culinary experience quite a step further.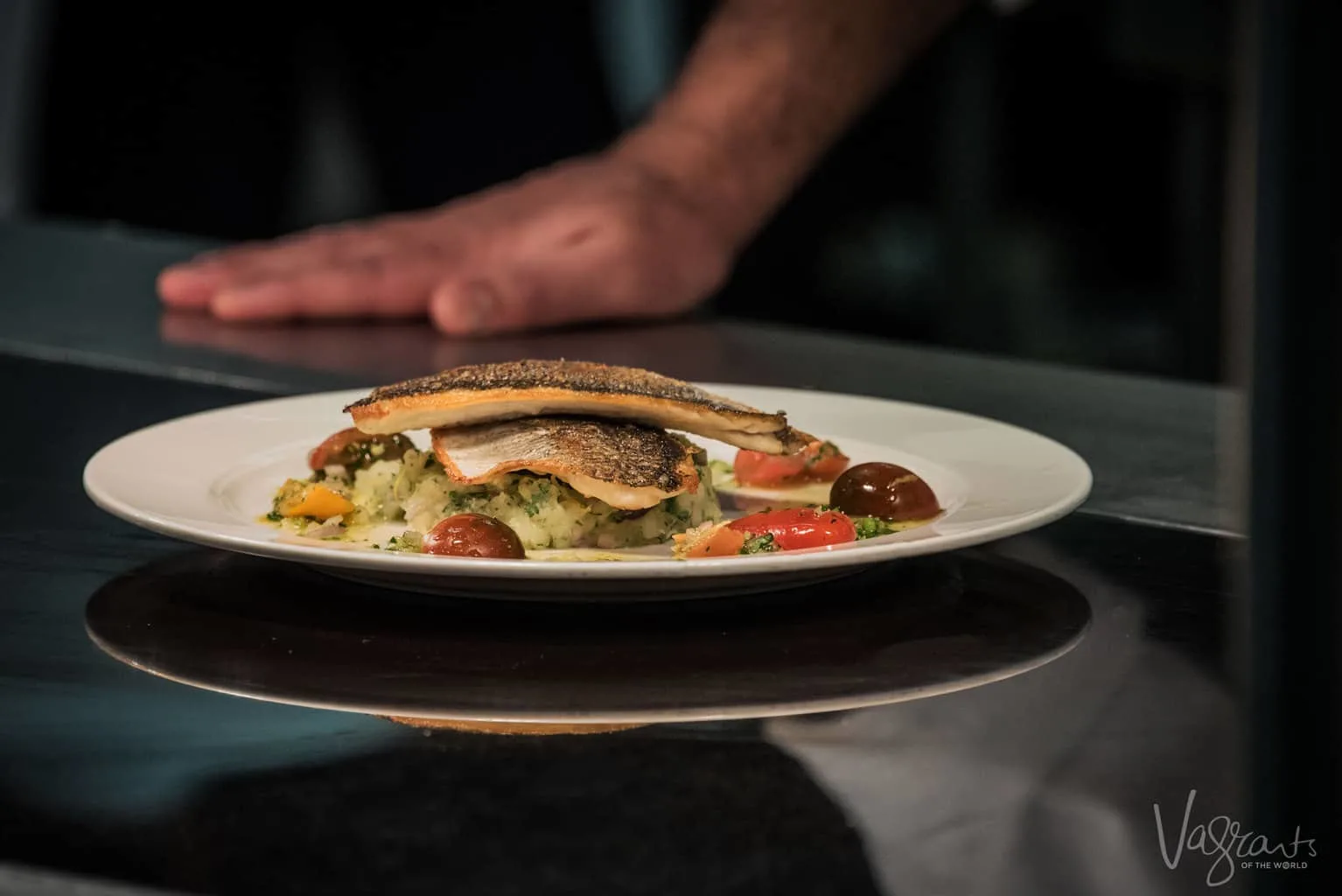 Viking Sea offers plenty of relaxed dining options throughout the ship. The World Cafe has mirrored buffets on each side with open kitchens serving a variety of Norwegian and global cuisine. The menu changes daily and offers a wide range of healthy menu options as well as plenty of indulgent delights.
Pop by the bakery to sample the most delightful desserts or, some homemade gelato may be more your style. A favourite at the World Cafe for us was the nightly sushi kitchen prepared fresh by a dedicated Asian cuisine chef.
À la Carte Dining
"The Restaurant" on level two offers a slightly more formal atmosphere with a la carte dining while Mamsen's in the Explorers Lounge serves a selection of Norwegian deli-style meals and what seems like a never-ending supply of fresh waffles.
Mamsen's is a great breakfast option for early risers or those who like to eat late. And, for those who feel like staying in, 24-hour room service has you covered.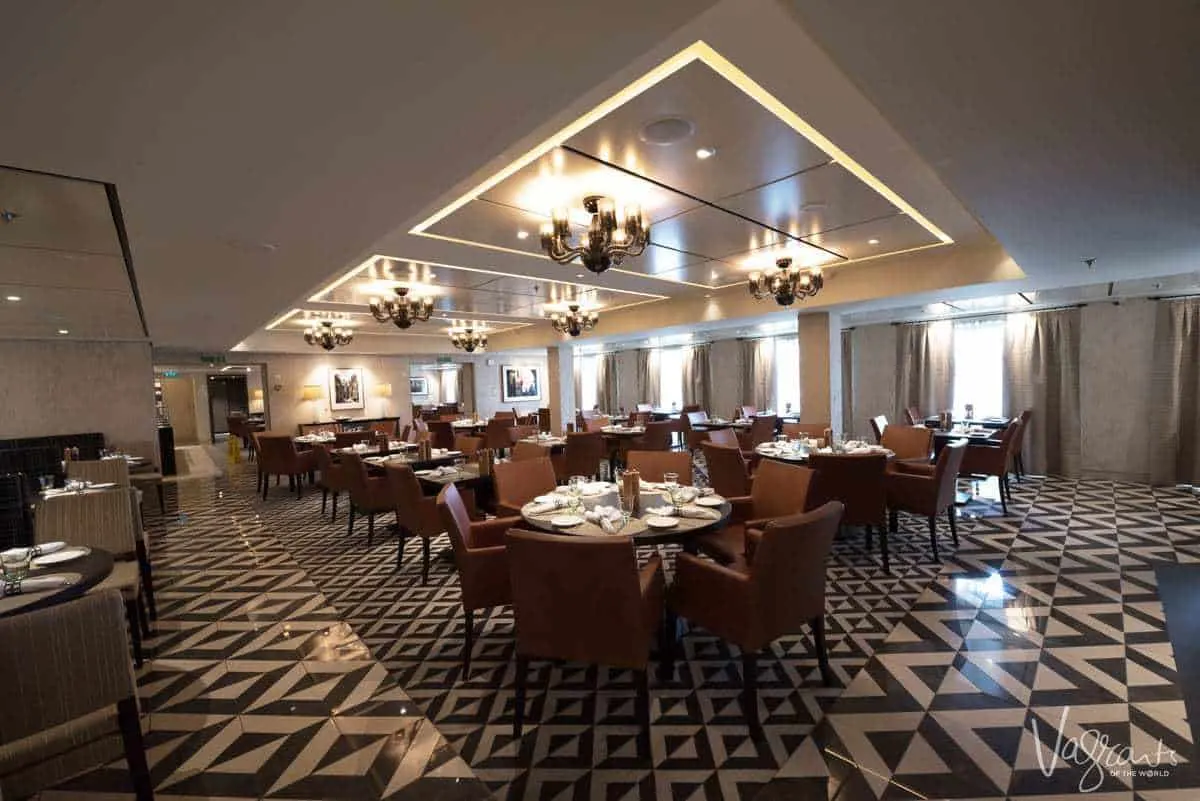 Manfredi's Italian Restaurant
While we enjoyed the main dining areas, a highlight for us was the two reservation only restaurants on deck one.
Manfredi's Italian Restaurant was our favourite of the two. While the menu at Manfredi's doesn't change daily, the chef creates daily fish and pasta specials. Manfredi's is an exceptional Italian dining experience.
Our stateroom category allowed us to make one reservation before the cruise, but we did manage to wrangle a few extra nights once on board.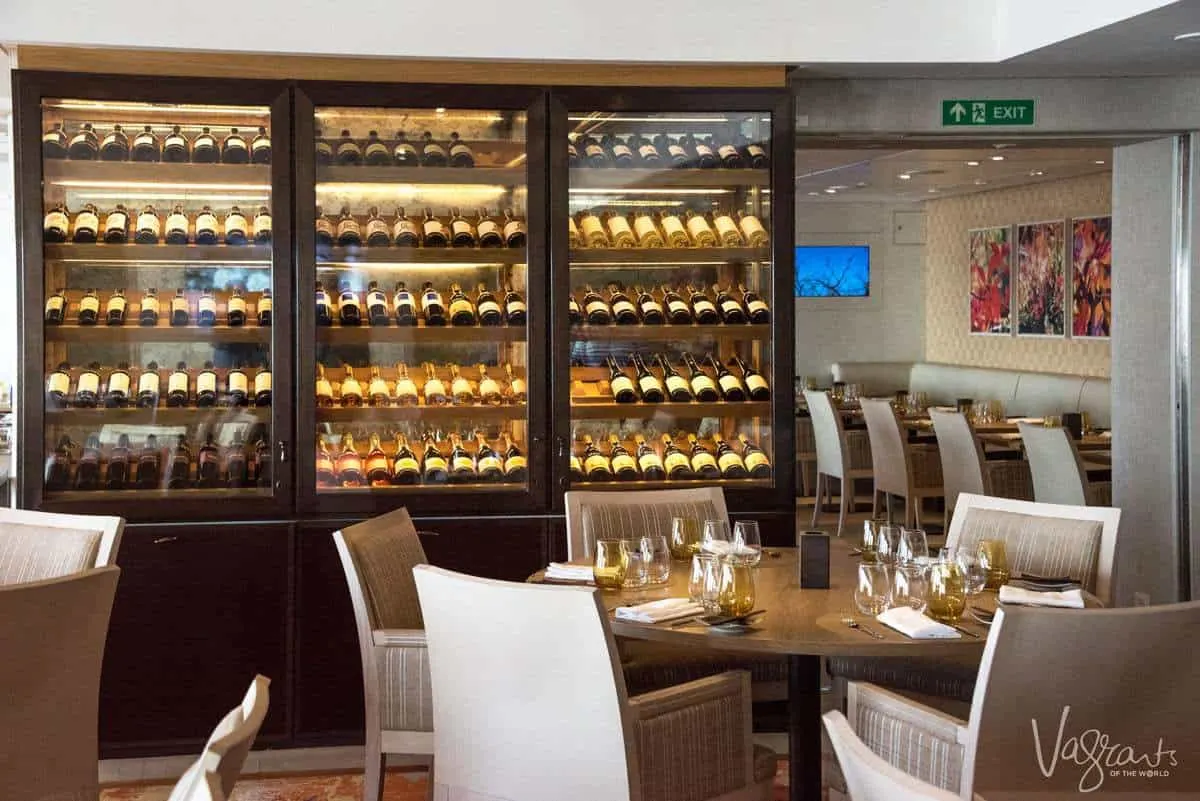 The Chef's Table
The Chef's Table located on the other side of deck one features set tasting menus of five perfectly sized courses with wine pairings. A kind of mini degustation if you like.
Each menu follows a theme or regional style such as Asian or Venetian. While we enjoy this type of dining, we found some guests were not comfortable moving away from the traditional method of à la carte restaurant dining and leaving the dish selection to the chef. Perhaps this style of restaurant is for the more epicurean cruiser.
Menus change every three days so it may be worth making a few reservations to sample different menus.
The Kitchen Table
Another culinary highlight for us was an evening at The Kitchen Table. More of an optional shore excursion than a restaurant, The Kitchen Table is a complete cooking and dining experience.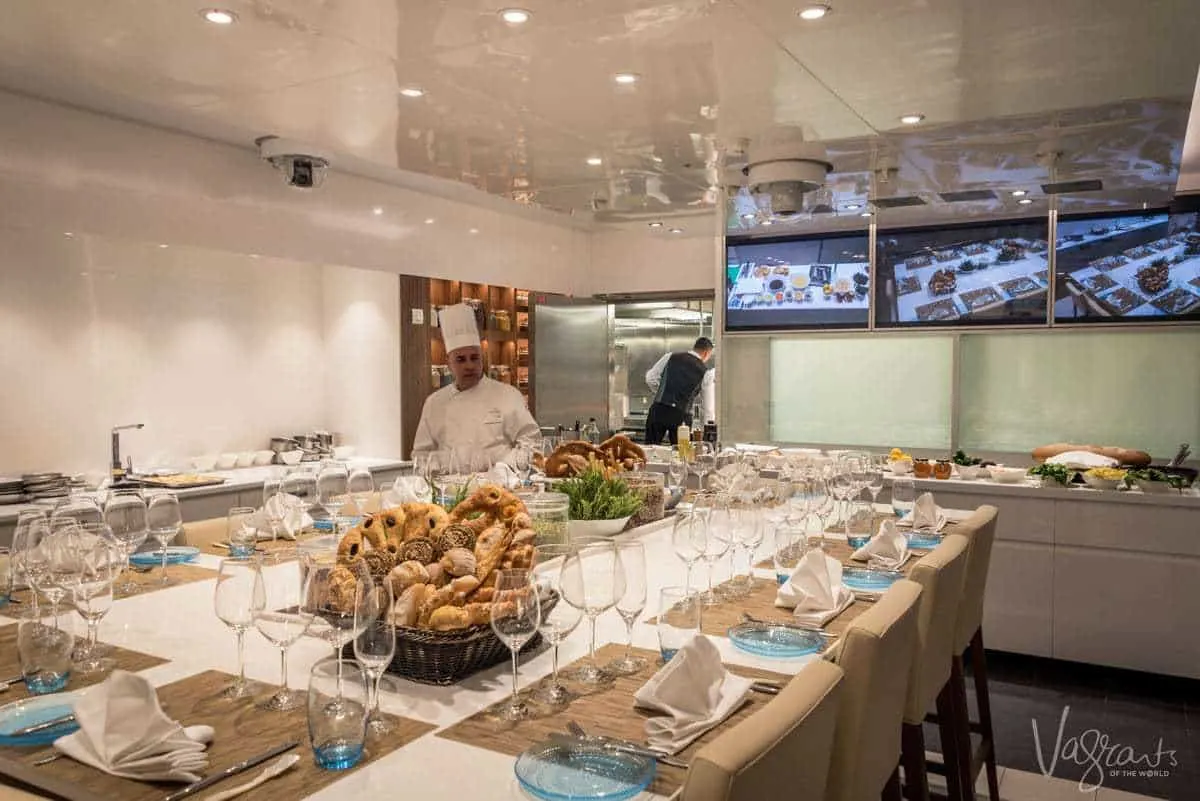 The experience starts with a trip to the local market with the ship's head chef at a selected port on the itinerary. In our case, it was Tallinn Estonia. Together, you will choose the best ingredients on offer on the day while discussing menu possibilities.
In the evening, you will join the head chef and a few assistant chefs in the beautiful Kitchen Table space.
The area has been designed to feel like a home kitchen suitable for eight or so guests. The chef and his team will prepare dishes at the various cooking stations around the room using ingredients purchased earlier in the day.
Flat screen TV's allow guests to view every stage of the menu preparations and those who wish to, can join in with some of the preparation and cooking.
We indulged in the most exquisite 13-course degustation menu with wine pairings. With only eight guests at the table, it was like a private audience with the Chef. Thankfully, the ship also has a good size gym and various exercise areas.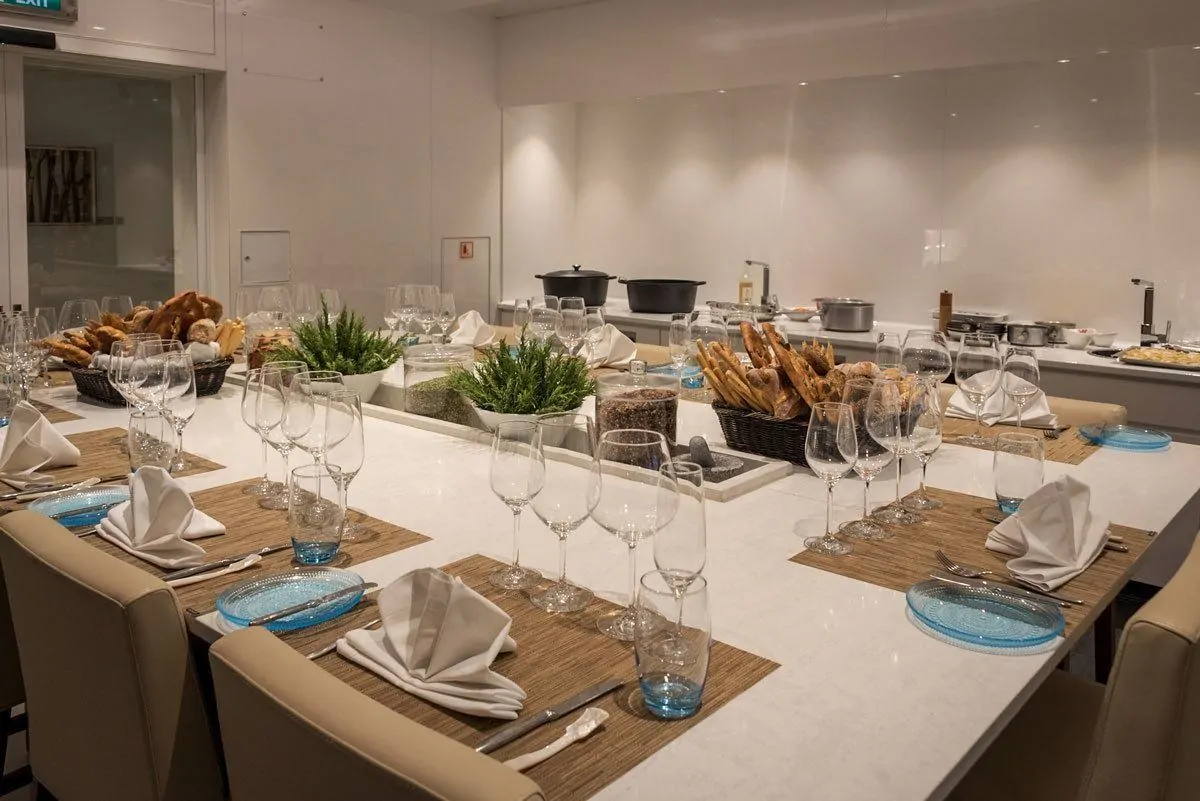 Health and Wellness in the Nordic Spa.
The spa and fitness facilities on board are second to none. Described as a Nordic sanctuary of wellness; the Scandinavian-style spa includes all the elements for traditional Nordic bathing rituals: steam and sauna rooms, hot and cold pools, even a snow grotto.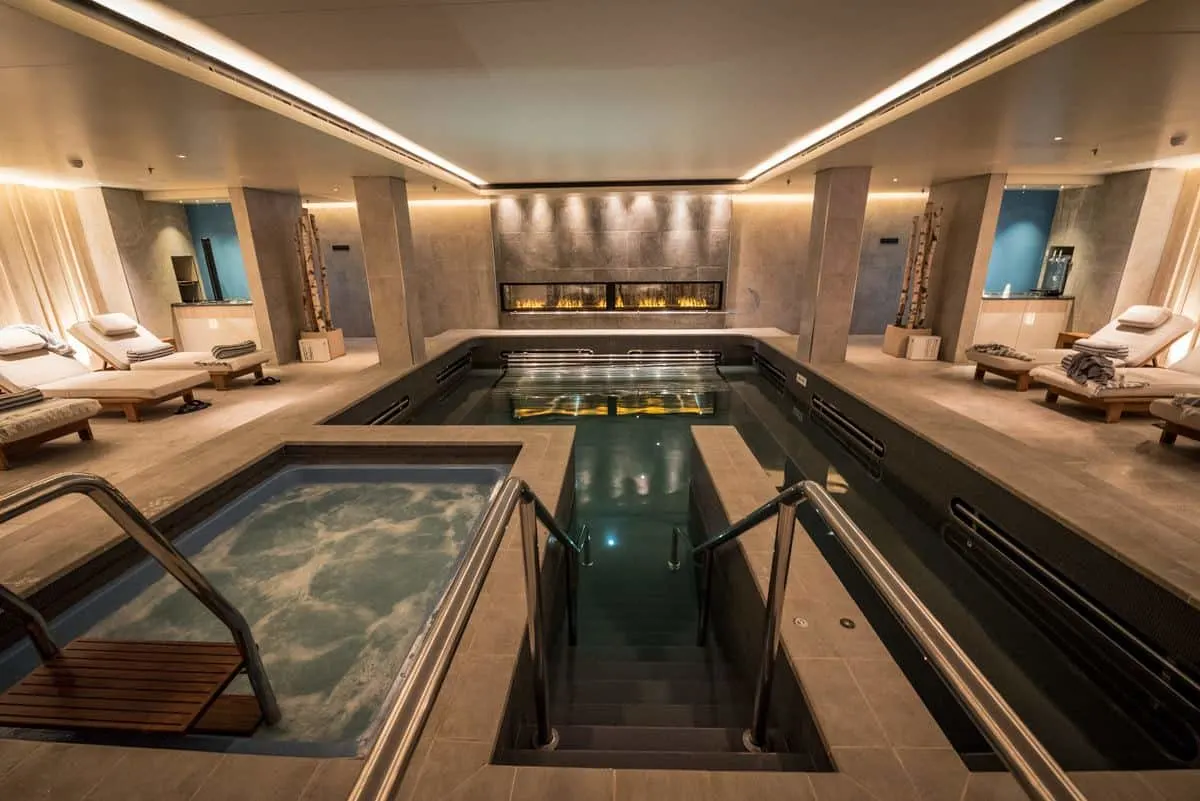 Throughout the cruise, the spa holds Nordic bathing evenings for those uninitiated in the practice. You also receive a small pack of products to enhance the experience.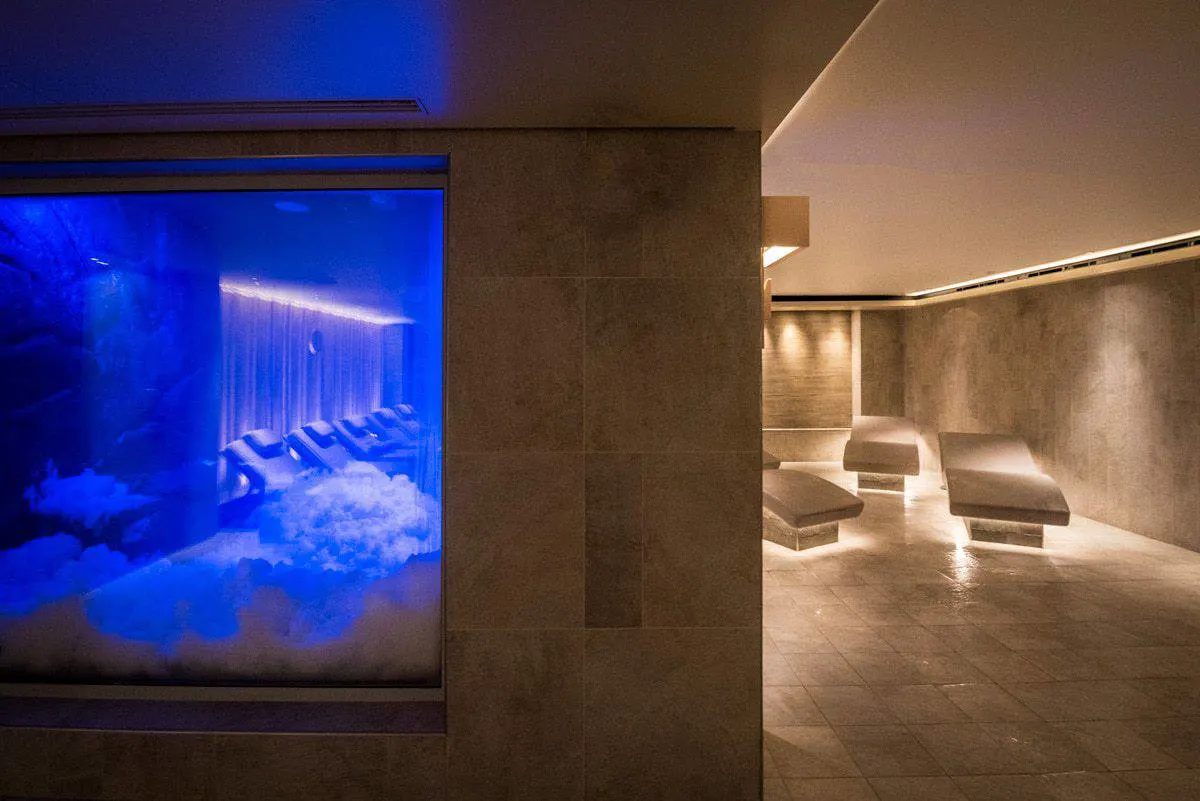 The spa has a team of experienced beauty therapists available and an impressive menu of spa and beauty treatments. There is a full gym with both weight and cardio equipment as well as daily yoga classes. Everything with wellness in mind has been considered.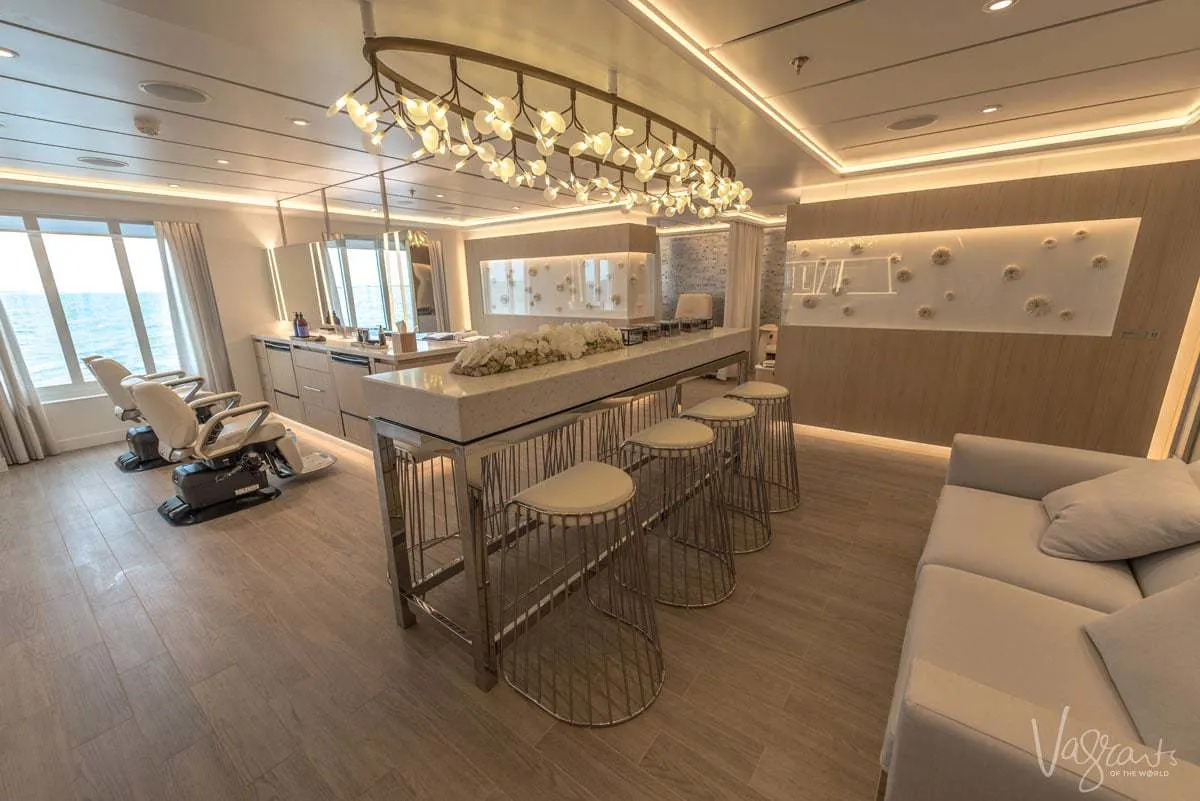 A large hair and nail salon, as well as a dedicated men's barbershop, means you can always get a quick tidy up throughout the cruise — a perfect way to spend those few full days at sea.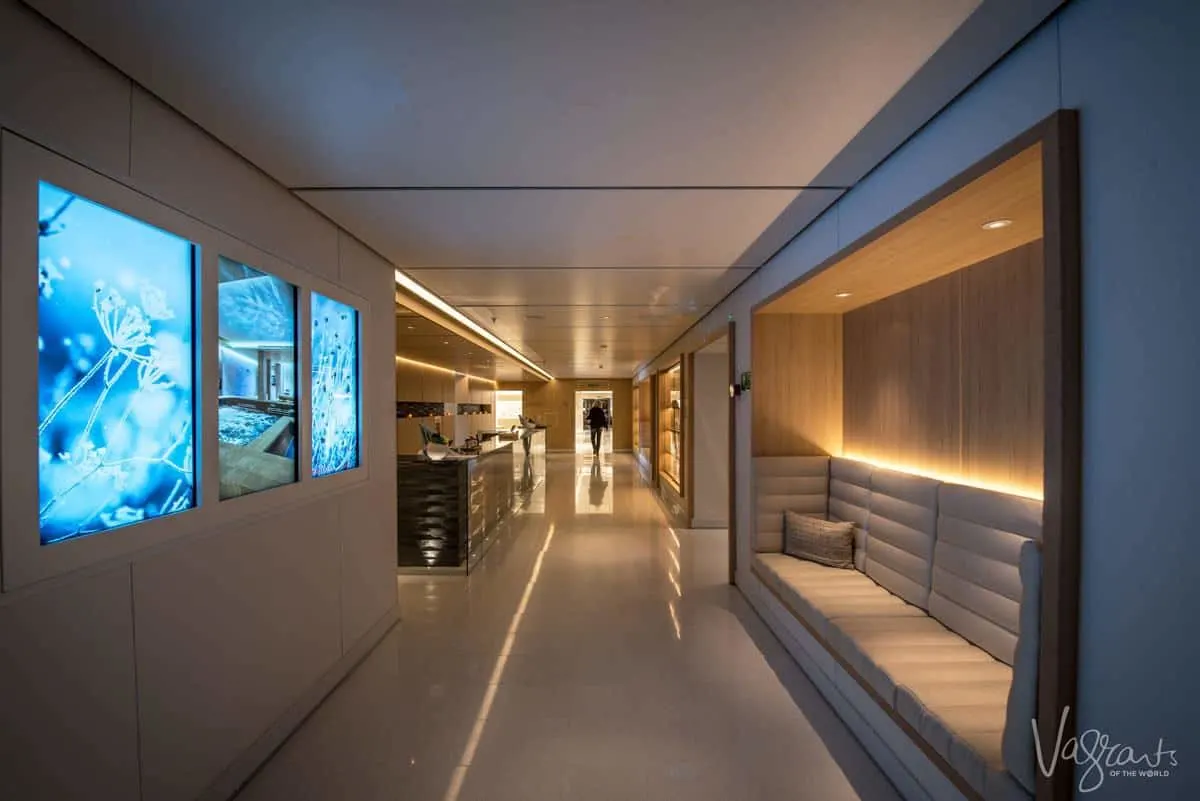 Entertainment and Enrichment.
In keeping with the destination-oriented itineraries Viking prides themselves on, entertainment on board is designed to connect passengers with the destinations further.
Destination Insights are a series of short films which provide an introduction to the destinations you will be visiting to enhance your experience. A lecture program addresses topics such as architecture, art, music, geopolitics and more.
Delivered by experts in their fields such as authors, archaeologists, news correspondents and professors to name a few, you are guaranteed fascinating insight into each destination.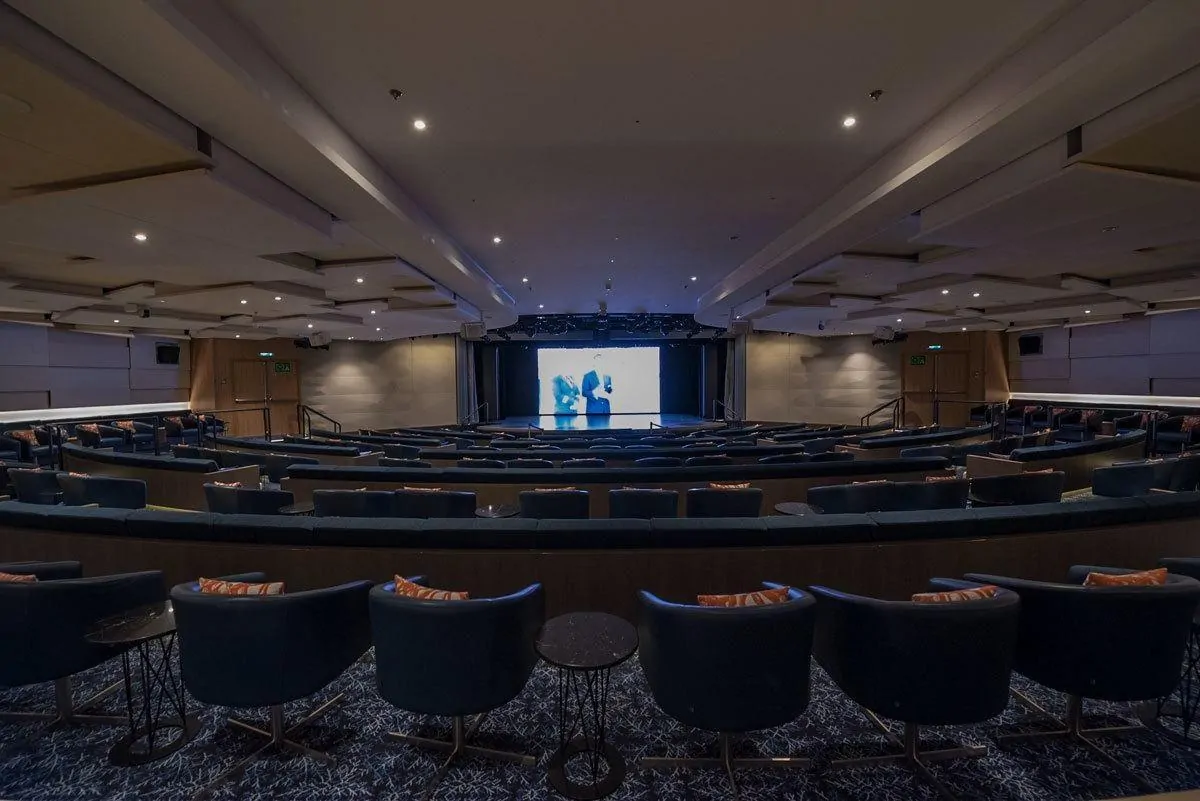 As with Viking River Cruises, cultural enrichment and iconic destination performances are integral to each itinerary. Whether it be an evening at the ballet in St Petersberg or the opera in Italy, Viking seeks out the most iconic performing arts experiences for each itinerary.
Throughout the ship, there are many venues where guests can enjoy a myriad of entertainment. Cabaret shows, live bands, cooking demonstrations or just relax with a drink and some live classical music.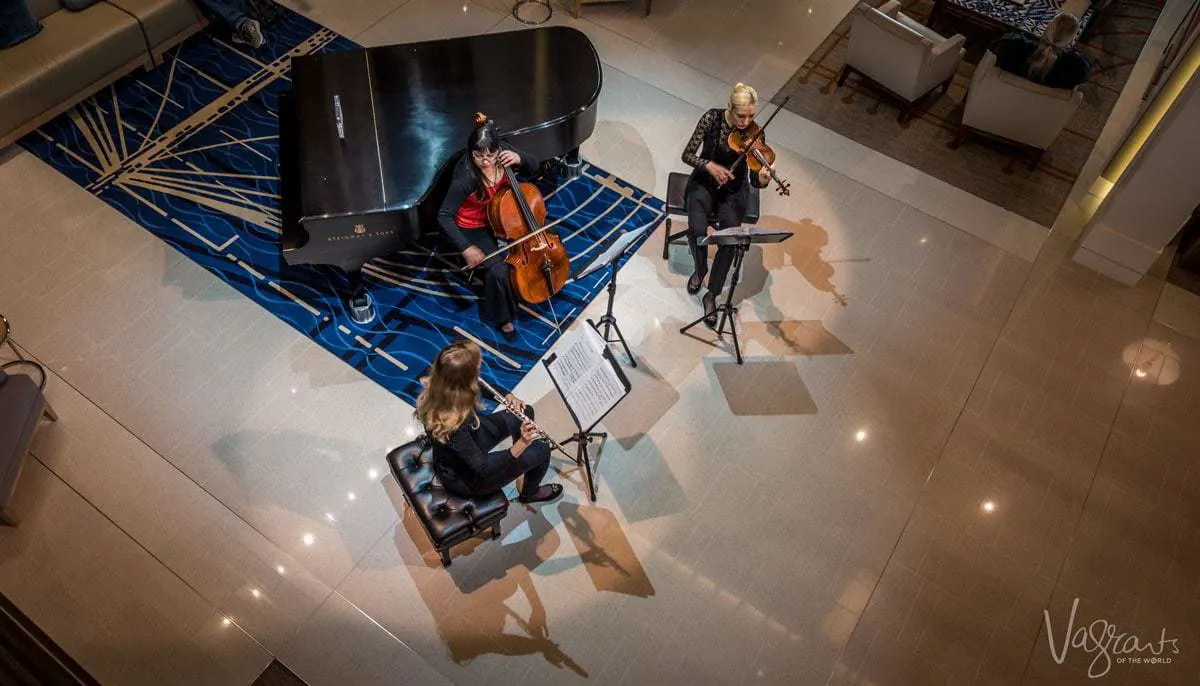 Viking is proud to have been granted the digital rights to the entire collection of Norway's own Edvard Munch. Each evening, the ships magnificent three-level atrium is transformed into an interactive event of art and music. Selected famous artworks are displayed above the master staircase accompanied by the music of Edvard Munch. It is the perfect setting for a pre-dinner drink.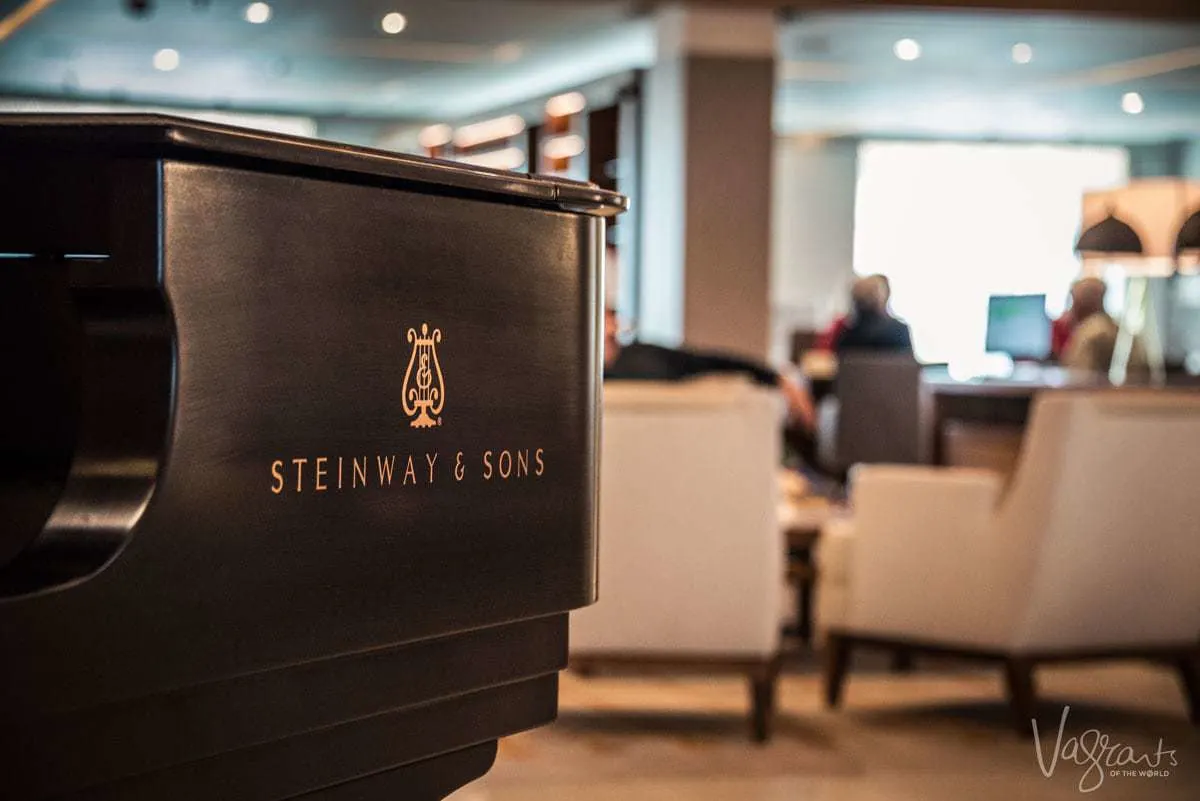 Movies Under the Stars.
Want some light entertainment? Movies under the stars by the pool might be more your speed. After dinner, you will find the main pool area transformed into an outdoor cinema.
Deck chairs are arranged, each with a small blanket and set of noise cancelling Bose headphones. No more having to shoosh that Chatty Cathy behind you. A staff member will be around with small bags of popcorn to complete the experience or swing by the gelato bar on your way through. Movies under the stars was a favourite night out for us during the cruise.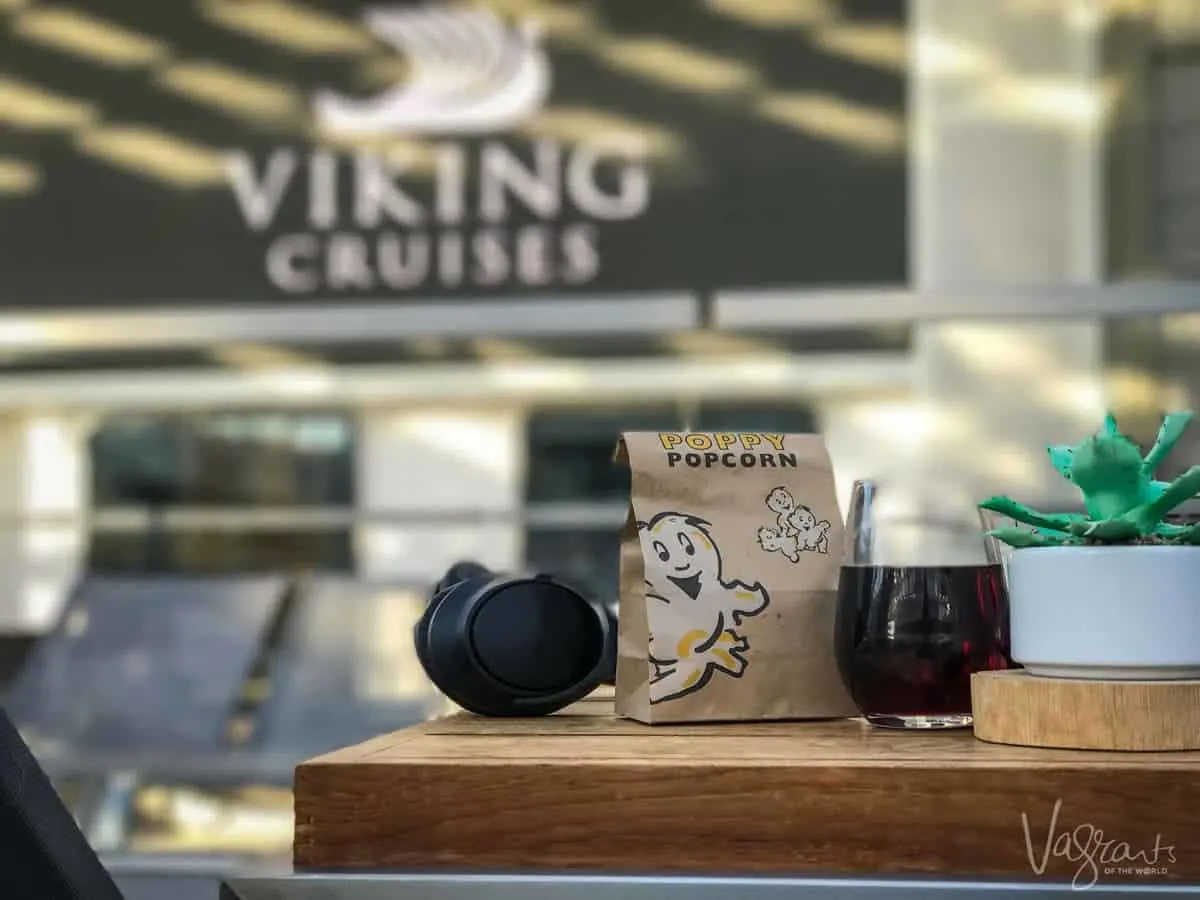 Added Extras and Little Luxuries.
One big complaint we often hear about ocean cruises is the exclusions. Viking goes against the industry grain by surprising guests with loads of added extras. Extras that equate to over $200 pp per day.
At least one included shore excursion in every port.
Free shipwide WiFi Internet. (The wifi is surprisingly good.)
Complimentary beer, wine and soft drink with all on board meals.
Bottled water and, specialised tea and coffee. Many stateroom categories even include an in-room espresso machine.
Free spa and gym access (excluding speciality treatments)
24-hour room service
Self-service laundry
In-room television entertainment including movies on demand.
Airport transfers.
All port taxes and fees.
Some stateroom categories even include free minibar service, replenished daily.
In-suite binoculars, cashmere throw blankets and purified water replenished twice daily are just a few of the in-room luxury touches that speak volumes about the quality of the cruise experience.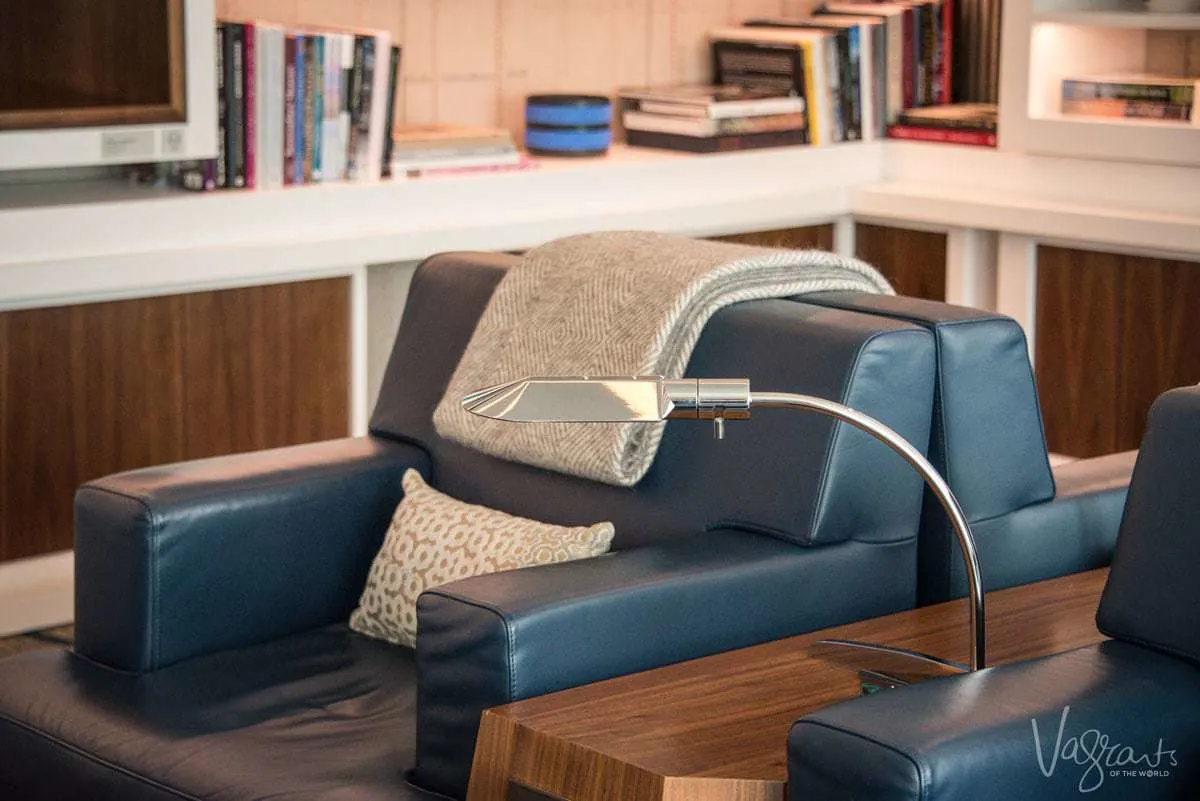 High Tech Features.
As with throughout the ship, all cabins are fitted with ample power outlets and USB ports for easy device charging. The in-room interactive TV system is not just on-demand movies and entertainment. It also manages all your onboard reservations including restaurant, spa and excursion bookings.
There are onboard business facilities for those who don't have the luxury of completely going offline. State of the art, touch screen tabletops keep you up to date with onboard events and give you a choice of electronic games such as cards, scrabble and chess.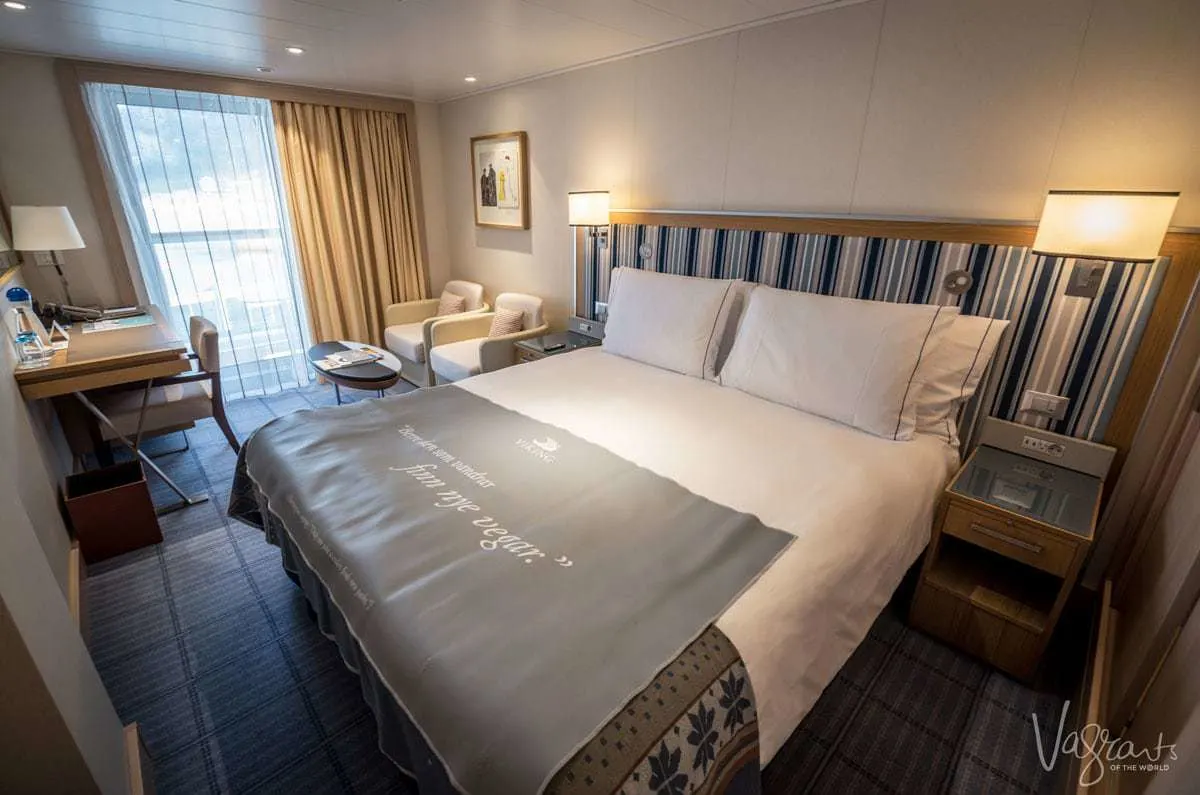 Viking Ocean Cruises Facts.
We travelled on the Viking Homelands Cruise from Bergen to Stockholm – 15 days, eight countries and 11 guided tours.
Prices start from $5,249 pp. We recommend checking Viking Cruises official site for promotional deals such as Early Bird Specials or Two for One Air.
Viking Ocean Cruises currently has four ocean ships in operation – Viking Star, Viking Sea, Viking Sky and Viking Sun. A fifth ship, Viking Spirit is set to debut in 2018.
Contact Viking Cruises for a comprehensive list of both ocean and river itineraries.
We would like to thank Viking Cruises for hosting us on the Viking Homelands Cruise. As always, all opinions are our own.