The best travel daypack for both men and women is a crossbody bag.
Crossbody bags for travel are more secure than a shoulder travel purse or backpack. They are often more stylish than a traditional travel daypack, so they don't make you stand out as a tourist potentially making you a target for pickpockets.
A crossbody travel bag is also often more practical and convenient than a backpack for travel, especially when sightseeing in busy cities.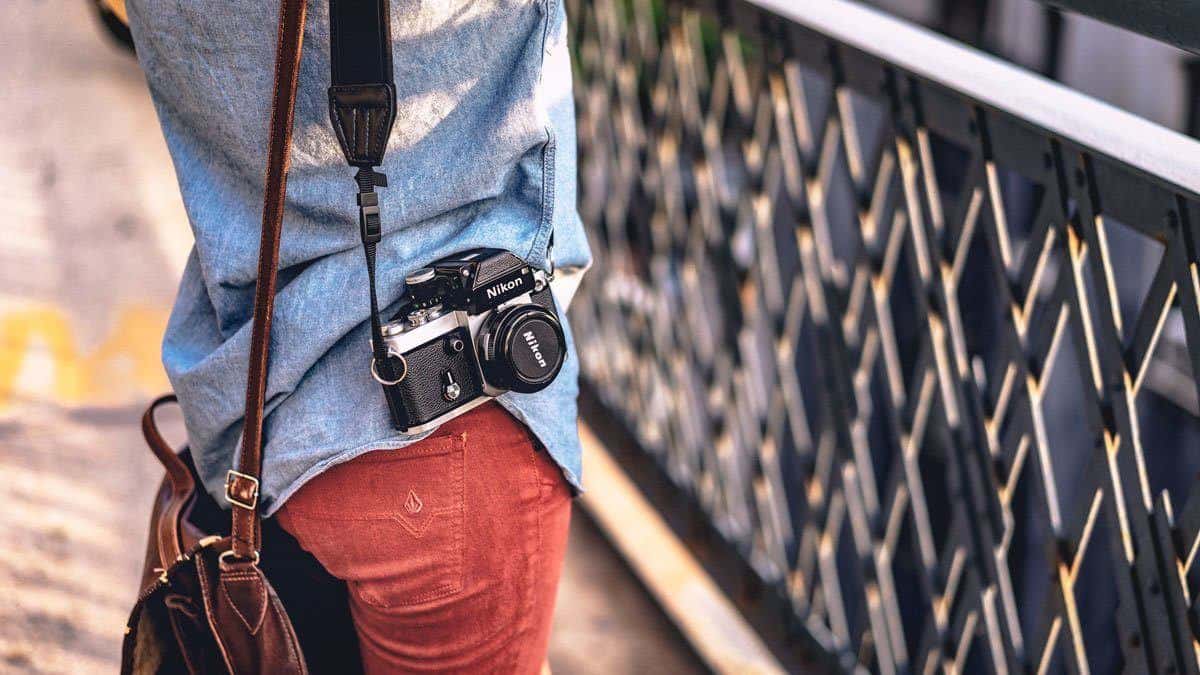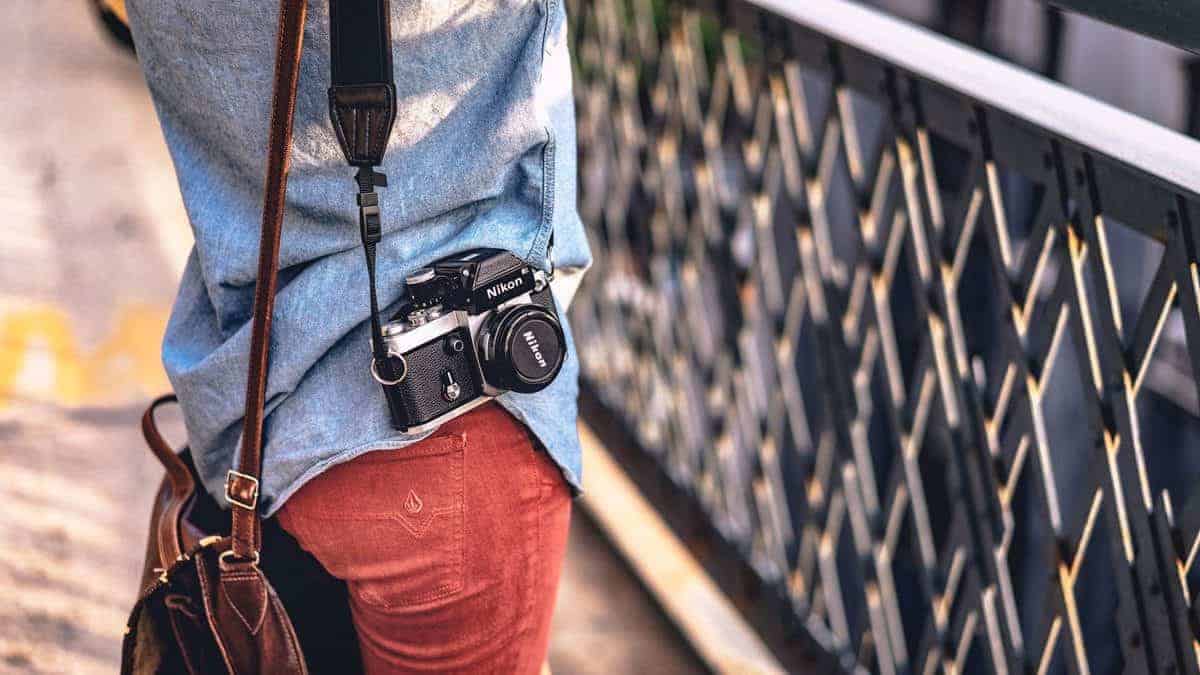 We've put together this guide to take some of the guesswork out of choosing a crossbody bag, to help you find the most practical and comfortable bag for travel. Keeping in mind, the best bag for travel is not just safe, practical, and comfortable. It also needs to suit your style and last the distance.
Related: Best Anti Theft Handbags for Travel
---
---
QUICK GUIDE: COMPARE THE BEST CROSSBODY TRAVEL BAGS
Read a more in-depth review of each crossbody bag below.
CROSSBODY BAGS BUYING GUIDE
What is a Crossbody Bag?
Before we look at our reviews of the best crossbody bags for travel, let's look at what an across the body travel bag is and what features you should consider for when buying one.
A crossbody bag is usually a smaller bag, often a messenger style or bucket bag style. It will have a single, long, adjustable strap that is slung across the body from one shoulder, so the bag sits at the hip on one side.
Not to be confused with a sling backpack or sling bag. These also cross the body from one shoulder; however, the bag usually sits on your back as opposed to the side of your torso or hip.
While both bags are versatile for day to day use and travel, the sling pack style of travel bag can be less convenient and vulnerable to pickpockets as they are more exposed while sitting on your back, especially in crowded tourist areas.
Related: Best Anti Theft Backpacks for Travel
What Features Should a Good Crossbody Bag Have?
Whether you are looking for a dedicated bag for travel or a versatile bag that can also be for everyday use, look for the following features-
Comfort: The bag should be comfortable enough to be worn all day without cutting into your shoulder. Straps should easily adjust to suit your body style.
Size: Choose a size large enough for your requirements but not so large you risk overloading it and in turn, overloading yourself.
Weight: Look for durable yet lightweight crossbody bag construction. You don't want a bag that is heavy before you have even put anything in it.
Material: Look for a waterproof cross body travel bag or at least one with water-resistant materials. It will be more stain-resistant and will keep your belongings safe from rain. The material must also be durable because travel can be tough on your luggage, you want your bag to last.
Pocket Configuration and Compartments: Look at what compartments and pockets you need. Do you need a padded sleeve for a tablet or laptop, pockets for coins and cards, external pockets for a water bottle or travel umbrella? Remember, while some bags will have loads of pockets as a selling point – more is not always best. Pockets should fit what you need.
Zip Closures: Avoid bags with wide or gaping openings that don't close securely. All compartments and openings should have zips or other secure closures.
Features: What features do you need in a travel bag? Aside from design and functionality, one of the most popular features in a good travel bag these days is anti-theft features.
Anti Theft Crossbody Travel Bags
One of the reasons a crossbody bag is one of the best bags for travel, other than convenience and style is safety. A crossbody bag is harder for pickpockets to access and is less likely to be a target of snatch and run theft.
Crossbody bags in particular ladies cross body travel bags were one of the first styles of travel bag to be designed with full anti-theft features.
When choosing your perfect crossbody bag for travel, our advice would always be to look for one with at least some anti-theft features.
The best anti-theft crossbody bags will have what some manufacturers refer to as "5–Point anti-theft features":
Slash-resistant straps.
Locking compartments.
Slash-resistant body panels or outer fabric.
Lockdown hardware.
RFID blocking to prevent identity theft.
Not all anti-theft bags will have all of these features but should have at least a few. Make sure if a bag claims to be anti-theft, you check the features carefully. Some will make this claim based solely on an internal pocket.
Whether you opt for an anti-theft travel crossbody bag or just a regular crossbody travel bag, never trust all your valuables to one bag.
Only carry what cash and cards you need for the day. Make use of other anti-theft travel products for keeping cash hidden on your person or valuables safe in your hotel or hostel.
You can find great tips on staying safe while you travel as well as guides to all the best anti-theft travel gear in our Safe Travel Guide.
---
CHOOSING THE RIGHT CROSSBODY BAG FOR TRAVEL
When you are comparing the myriad of crossbody bags available for travel, think about the type of travel you will be doing, what will you need to be carrying and what kind of compartments and features you will need.
The bag must be practical for the purpose, suit your needs and, you must like wearing it.
When choosing a bag for travel, consider the following:
Where will you be travelling to? Do you need a bag that will transition from city sightseeing to dinner? Or, do you need a bag that is equally practical for day hikes as it is for city sightseeing?

What style of travelling will you be doing? Do you need an elegant bag for dressy occasions, or will a casual look suit the style of travel?

What do you need to carry? – Think carefully about the size of the bag you need and the pocket configuration. Too large could become a burden. Too small could be a problem.

Will you be carrying a large camera, laptop, or tablet.

Will the weather be changeable, and you may need to carry gloves, a hat or even a spare top.

Will you be travelling with children.

Do you want a bag only for the small essentials – money, glasses, phone etc.?

Do you only have the capacity for one bag for all occasions, or do you have space for a second, smaller evening bag?

Do you have any physical or medical conditions that may determine the style or size of bag you can comfortably carry for long periods?
Related: Find The Best Women's Travel Jacket to Pair With Your Crossbody Handbag.
BEST CROSSBODY BAGS FOR TRAVEL REVIEWS
---
---
---
A versatile unisex crossbody bag perfect for travel and everyday use.
Made with durable cotton canvas; the design features suede trim, matte nickel hardware and classic pinstriped lining which lends a stylish casual look for both men and women.
---
---
---
---
---
---
---
---
The METRO crossbody bag is perfectly sized for travel with a modern take on the classic design.
Loaded with anti-theft features such as slash proof shell and strap and lockable zippers, it also includes a removable RFID air mesh pouch for cards, ID, and cash.
The main locking zipper section has two drop pockets, an interior sleeve to hold a water bottle or umbrella and a zippered RFID pocket. There's even a tethered key clip with led light.
The exterior has a rear zippered pocket for frequently used items. The front has two zippered pockets, one which locks for added security.
---
---
---
It is surprising this bag lacks some of the anti-theft features of Pacsafe and Travelon crossbody bags because it is a very well thought out and practical bag for travel.
Designed with travel in mind; this popular crossbody bag has features such as a luggage handle slip on the back and the lightweight, water-resistant material that ensures durability and comfort.
The classic, modern design has loads of practical organisational pockets and compartments with convenient access points, and a removable RFID blocking phone wristlet keeps your personal information safe from being scanned and stolen.
Related: THE PERFECT WOMEN'S TRAVEL PURSE COMBO – BAGGALLINI BACKPACK & CROSSBODY PURSE REVIEW
---
---
Also voted by Travel & Leisure as one of the best small crossbody bags, this anti-theft crossbody bag for travel boasts design features of a sophisticated ladies handbag.
The slash proof outer fabric has an elegant satin look finish, and the feature clasp acts as the locking system for the zip closure.
The small flat bottom profile allows for enough room for daily essentials plus a large smartphone or Kindle. RFID safe pocket keeps cards safe from unauthorised scanning.
A lovely crossbody bag for city travel or a second crossbody bags for travel at night.
---
Don't Forget Travel Insurance
The most important travel purchase you will make before any trip is travel insurance. We always hope we will never need it, but sure glad we have