Finding stylish, comfortable, versatile women's travel pants shouldn't be a mission. Thankfully, the best travel pants for women are now comfortable, packable, practical, versatile, and stylish.
Imagine a pair of pants that will take you comfortably on a long flight and look equally good on the streets of Venice or New York. Travel pants that won't crush are easy to wash and can be dressed up or down.
I rate a quality pair of travel pants highly in my recommended women's travel essentials.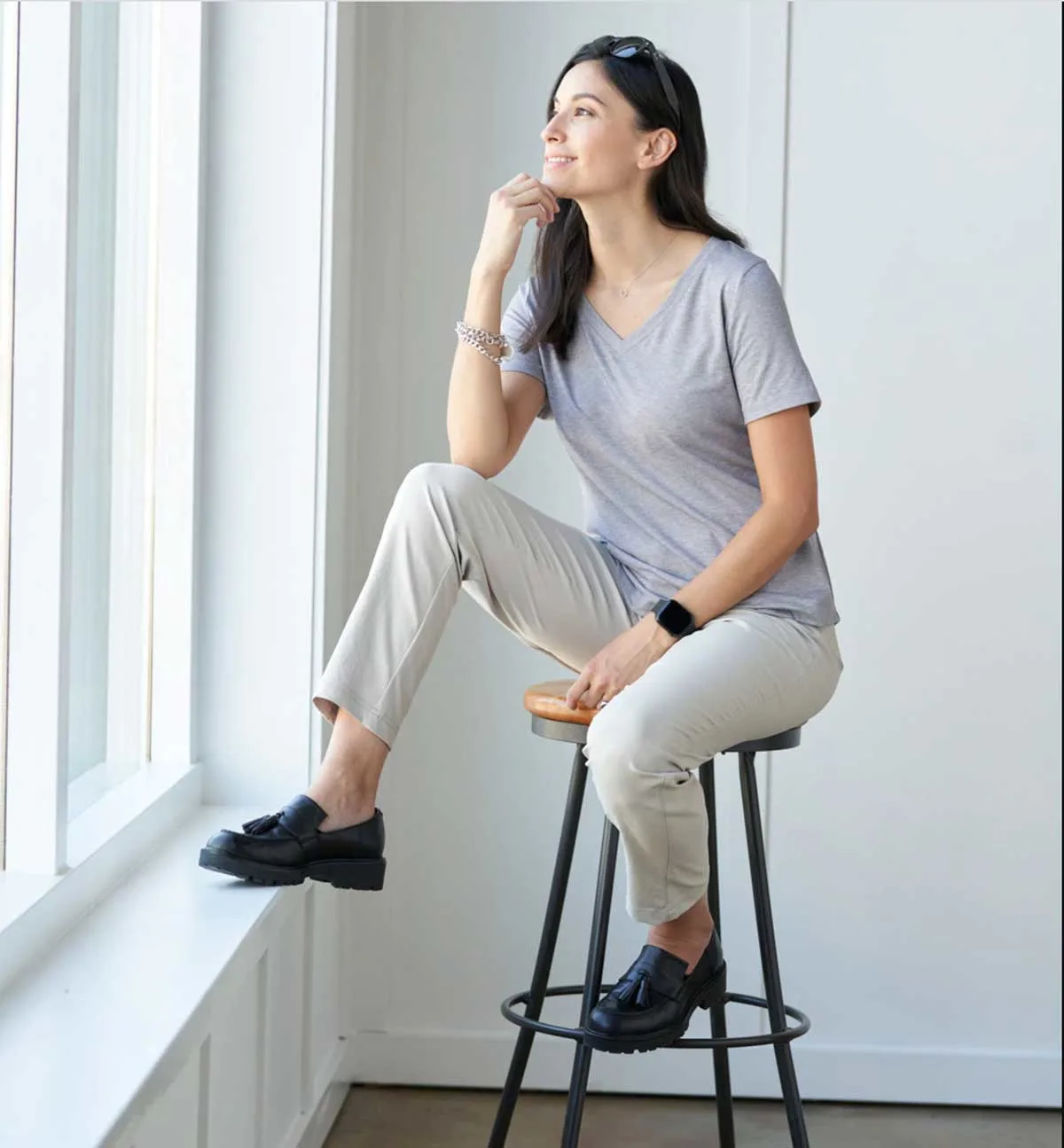 After years of full time travel, I know what to look for in a good pair of versatile and comfortable travel pants, and these women's travel pants are all of that and more.
Complete your travel wardrobe with these gorgeous lightweight travel jackets for women and a pair of comfortable yet stylish travel sneakers. Keep your styling routine on point with these lightweight dual-voltage hair dryers for travel.
Best Women's Travel Pants Reviews
These are my picks for the best women's travel pants based on style, quality, comfort, and versatility. These are all of the attributes I look for in travel pants.
Inspired by the traditional chino cut, these pants have a slightly tapered leg for a feminine look. They also have a very comfortable 9″ rise waist, so you don't feel like you have to hitch your pants up every time you reach down to pick up a bag. You can dress these up or down, and they look great full-length or with a rolled cuff. Wear them with a T-shirt during the day for a relaxed look, and pair them with a blouse or blazer for evenings.
The big winner with these pants is the modern, stylish look and the wash-and-wear and wrinkle-free fabric. You can seriously throw these on straight from your bag without a crease in sight. The fabric is also a quick-dry, wrinkle-resistant twill with a very comfortable four-way stretch, but it has the feel of cotton.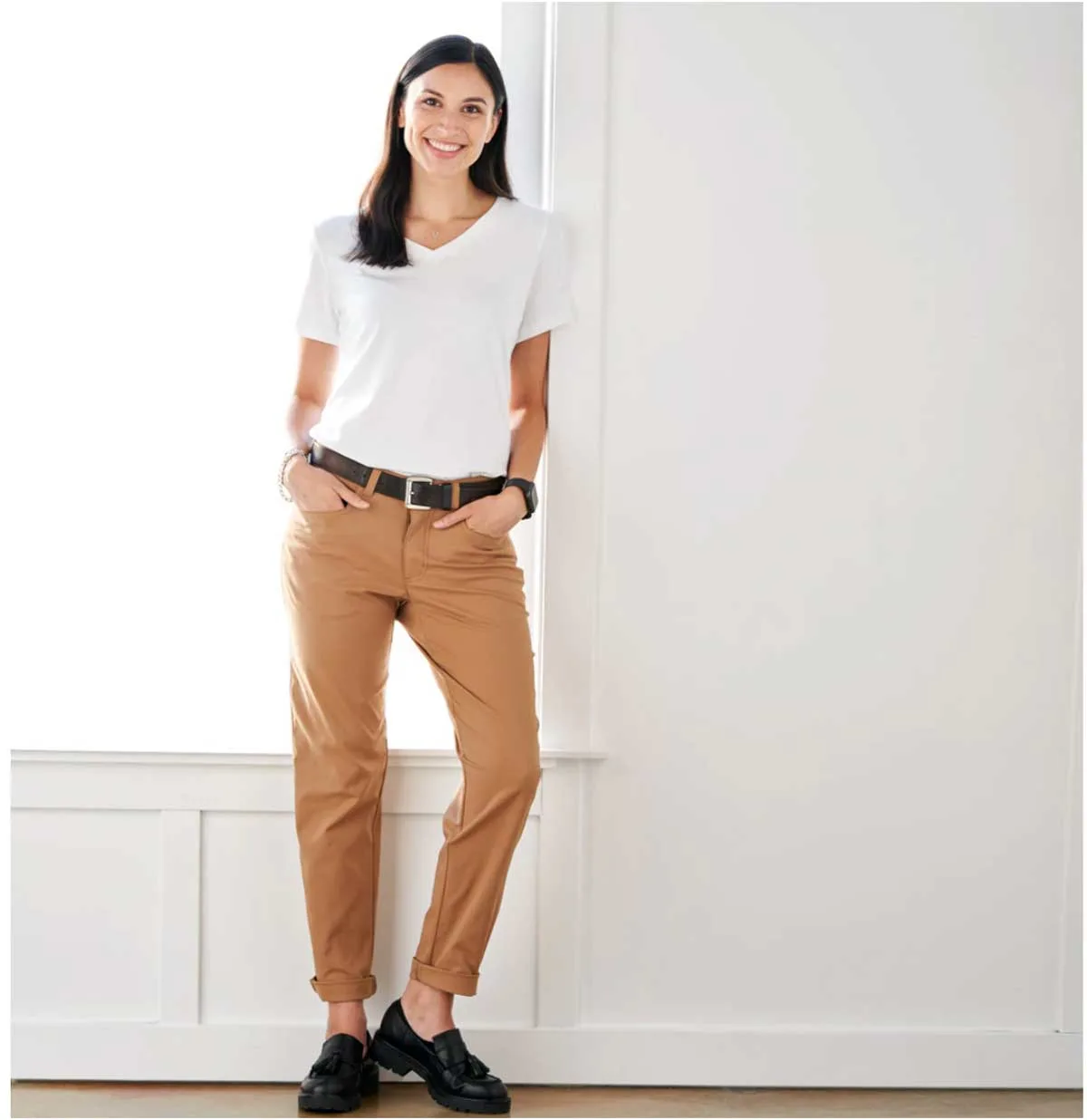 Designed with travel in mind, these pants have oodles of pockets. I wouldn't put them in the category of pickpocket-proof clothing, but they do have some great feature pockets. There are six pockets, including two zippered pockets for extra security.
Aviator Travel Jeans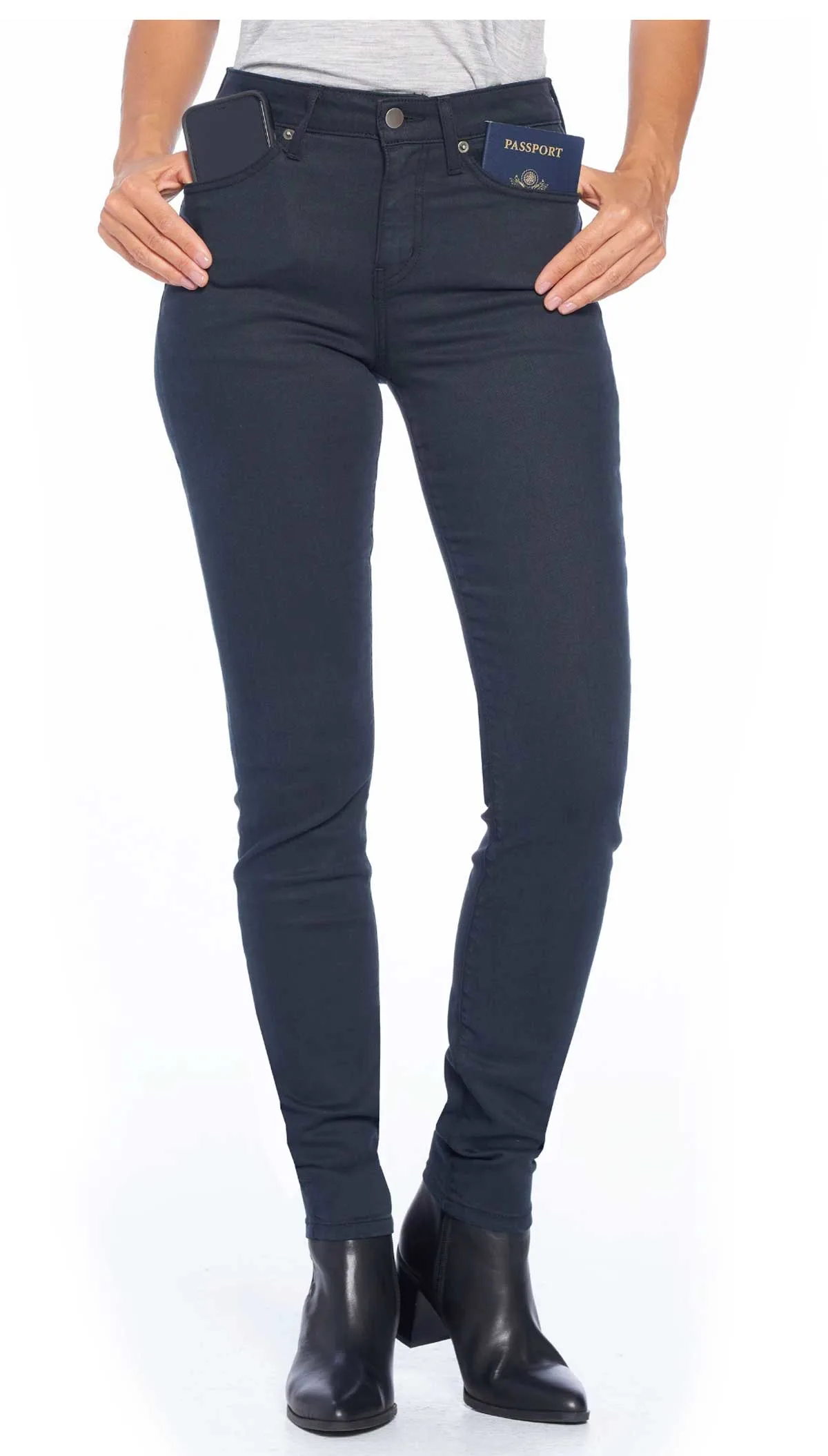 Aviator Jeans are my second favourite travel pants for women. USA Today described them as "the best travel jeans in the world". Forbes describes them as "Super-soft and impossibly comfortable." Perhaps these are the best travel pants for women.
Let's face it, jeans are a fashion staple and are perfect for so many travel situations. However, jeans aren't always comfortable, especially for long travel days, they can be bulky to pack and difficult for quick dry washing.
Aviator travel jeans are made with premium fabrics customised for absolute comfort, stretch and shape recovery. They really do hold their shape – none of that sagginess that comes with jeans after a few days. And, they are quick-drying for easy wash and wear while you travel.
Aviator Jeans offer the same comfort as a premium pair of leggings but with the perks of jeans. You have the luxury of deep front pockets, large enough for a cell phone and your passport or a small purse. There are also two hidden anti-scratch zipper secure back pockets, so you don't have to worry about pickpockets.
Aviator Jeans come in a wide range of styles to fit all fashion types and sizes. I love the classic Skinny in vintage black. It's a classic skinny cut you can dress up or down – It's so versatile. But if you prefer a more relaxed fit, the Boyfriend cut or the Fly Straight 5 Pocket are excellent styles for day to day travel.
Handmade in the US with worldwide shipping, Aviator offers a free hemming service to ensure the length is perfect for you before shipping and has free returns and exchanges if the fit is wrong.
---
prAna Women's Halle Pants
prAna is a favourite among the hiking set for their durable, soft and stretchy clothing range with a relaxed fit. The Halle Pant is consistently one of their best selling pants and continues to attract followers.
While essentially hiking pants, (The Halle model is now available in classic, straight and plus size fit), the design works equally well for travel days and sightseeing.
What makes these great travel pants? They are soft, stretchy and comfortable without being too slouchy – they hold their shape nicely.
The prAna Halle Pant is cut from stretch Zion fabric to wick the skin dry and has a ventilated inseam gusset for added mobility and breathability, so you feel comfortable and fresh all day – especially on long travel days. They are lightweight, quick-drying, wrinkle, water, and stain-resistant with UPF 50 sun protection. I really like these pants for our Morocco packing list, because they are so versatile and comfortable.
The breathable, earth-friendly ReZion™ stretch performance
fabric has a four-way stretch with articulated knees for maximum movability. A mid-rise waist ensures comfort no matter the activity, and easy roll straight legs give you the versatility of a different look with 3/4 pants.
There are lots of functional pockets, including back patch pockets with flap/snap closures, a secure seam pocket with invisible zipper closure, a coin pocket and deeper, more secure front hip pockets.
Available in short, regular or plus fit and in an extensive range of colours.
---
Anatomie Skyler Travel Pant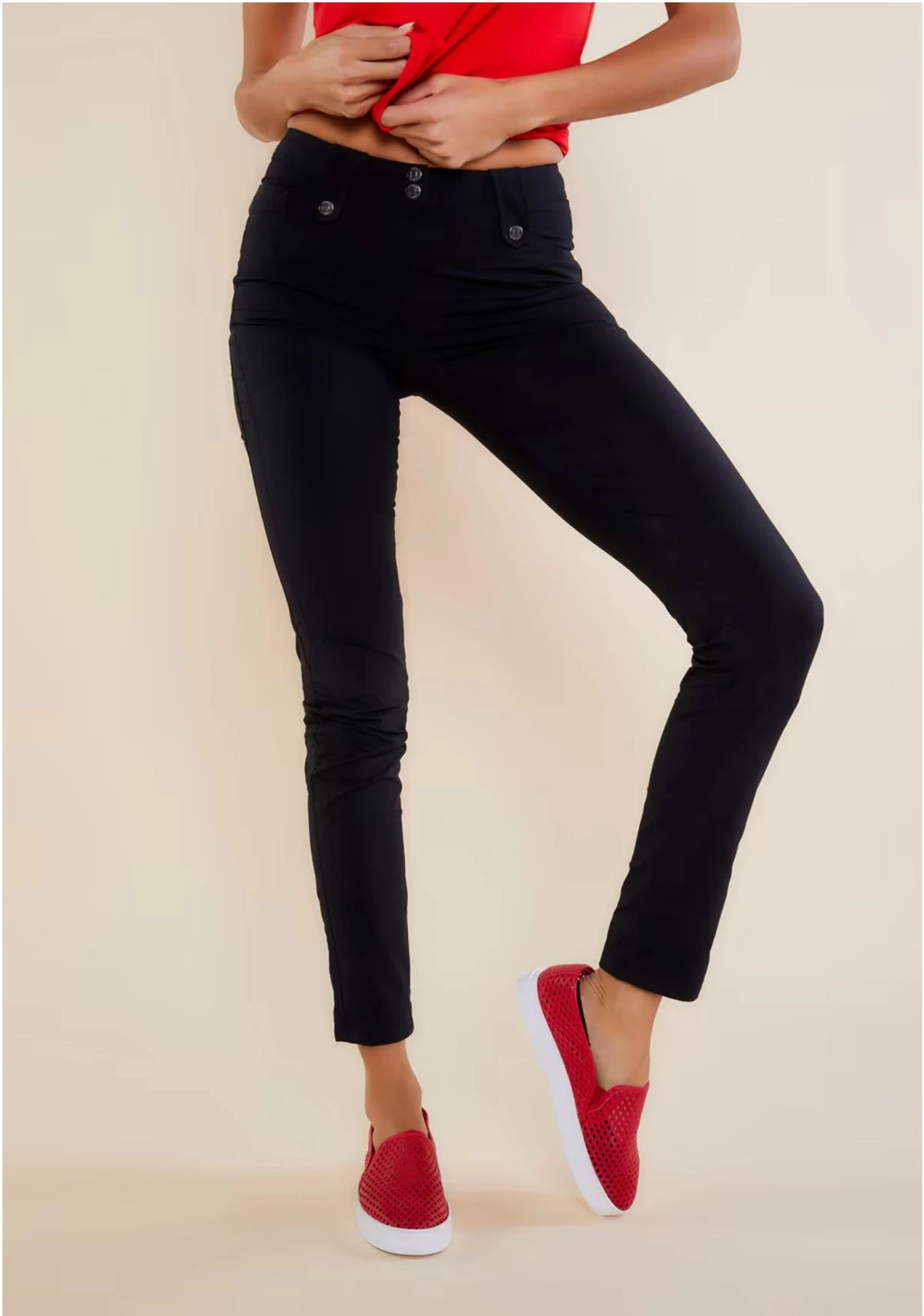 For the travel fashionista who likes a luxe travel pant that will take them from an African safari to dinner in Paris – The Skyler Travel Pants by Anatomie are it.
These high-end slim fit pants are so incredibly lightweight; they are a dream for light packers. Imagine, three pairs of Anatomie pants or one pair of jeans. And even though they are lightweight, it doesn't mean they're not all-weather suitable.
The super curve-hugging stretchy fabric is specially designed for comfort, breathability, and a slimming effect.
The slim fit straight leg design works for everyday travel in ballet flats or sneakers or dressed up with a heel and evening blouse.
If you feel the Skyler is not suitable for your figure or travel style, Anatomie has a fabulous range of gorgeously comfortable and stylish travel pants for all figures.
The Kate Skinny Cargo Pant, The Hollywood Pant or the Peggy Curvy Zippered Pants are just a few – there is an excellent selection of travel pants designed for women with comfort and fashion in mind.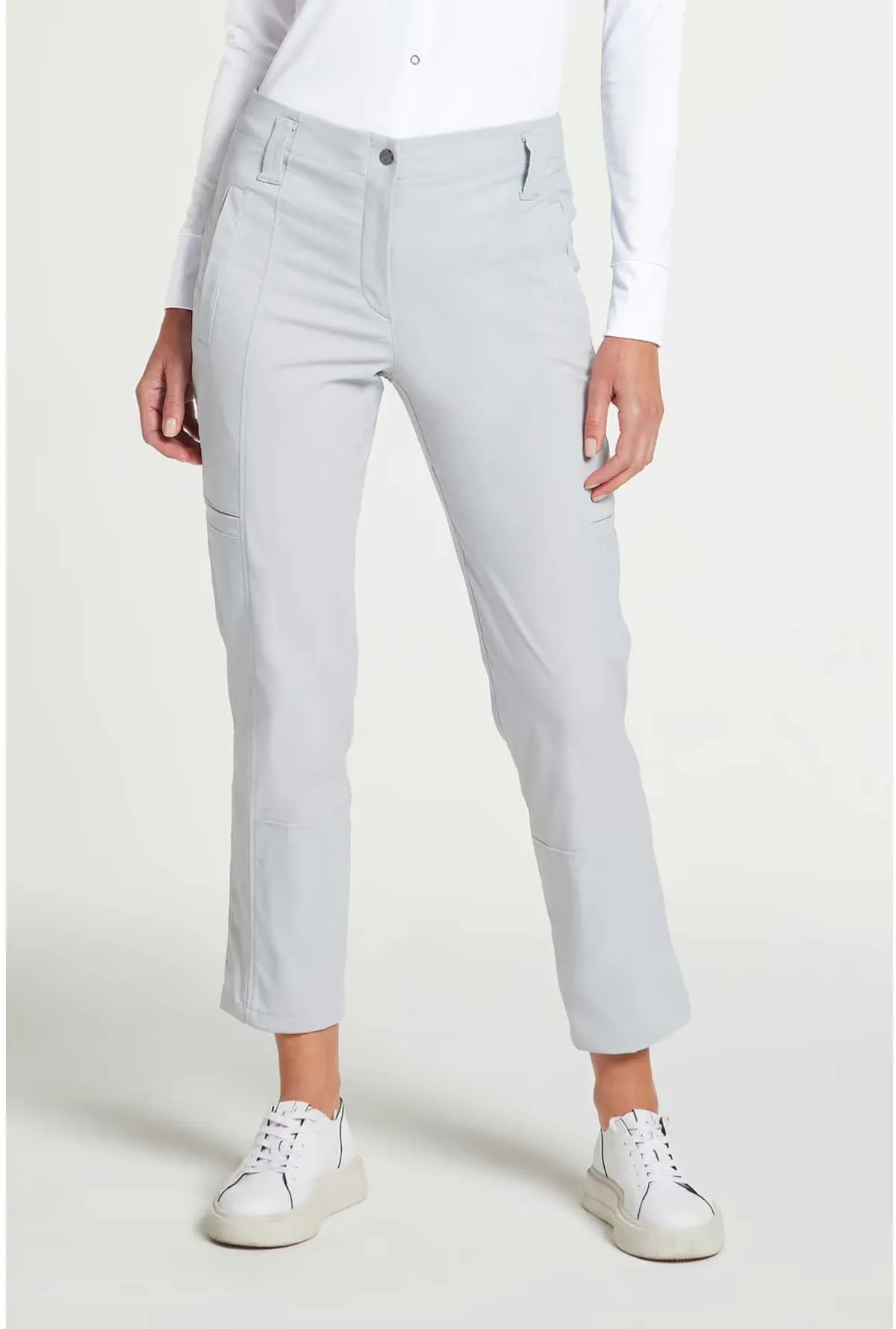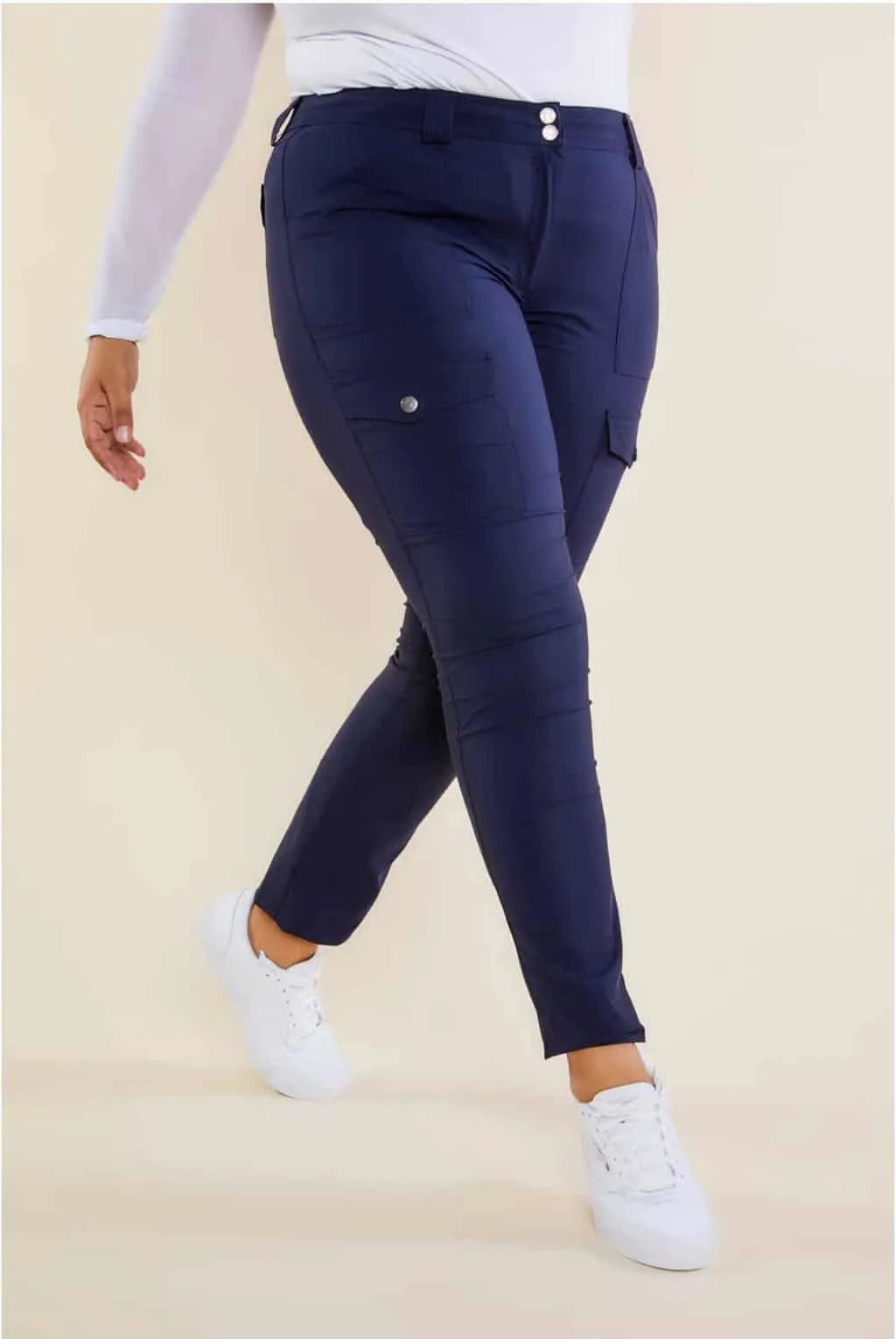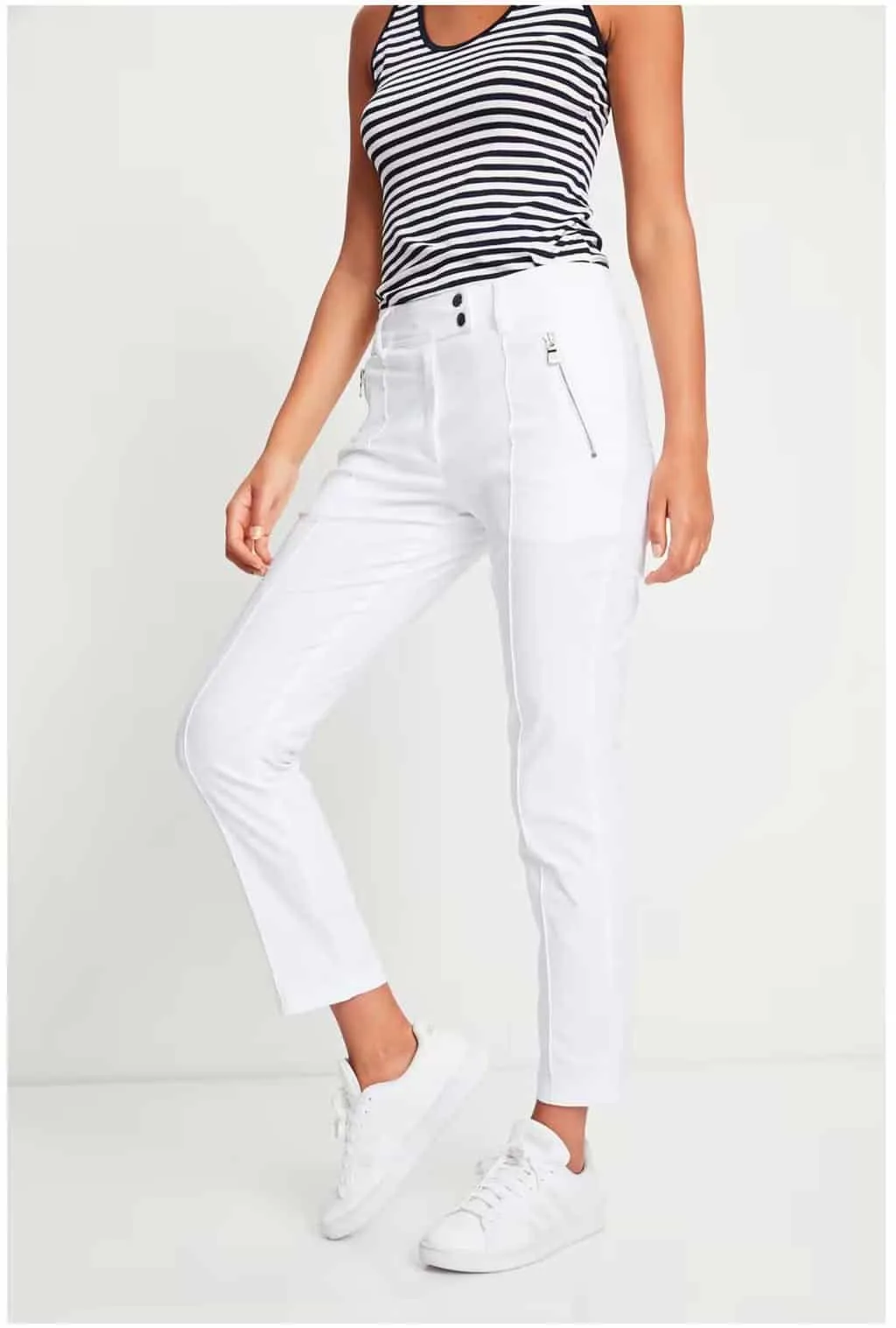 The only downside with Anatomie luxury travel gear is the higher price tag, but you won't hear any regrets from those who have invested in a pair. Anatomie ships worldwide.
---
These women's travel pants may not take you from mountain hiking to a fancy restaurant, but they come close. Kühl is an excellent brand for quality outdoor and everyday wear, and these women's Trekr pants have the most incredible comfort and versatility.
The fabric is not the same as traditional quick dry outdoor wear. These pants are made with a brushed-face, woven fabric that is peached for a soft feel. The exclusive REKOIL™ fabric delivers ultra-stretch and rebound for maximum freedom of movement without losing shape. They also offer 50+ sun protection and are easy to wash and quick dry.
The design of these pants is perfect for hiking and outdoor activities. Still, they also have a modern casual style that works well for sightseeing or casual dinners – pair them with hiking boots or casual sandals or ballet flats. The innovative side seams along the lower leg make these pants so versatile, you can convert them into a Capri.
The "KUHL Kurve" fit makes them extremely comfortable, and the contoured waistband (with an internal drawstring for customised fit) offers a slightly higher rise in the back and lower in the front for a great fit.
In addition to the front pockets, there are two snapback pockets and two hidden zippered thigh pockets.
These are very versatile travel pants for casual travel pants that will take you hiking and sightseeing in comfort without sacrificing style.
---
Complete your travel style: Check out my favourite crossbody bags for travel and anti-theft travel purses. More of a backpack girl? Find the most stylish anti-theft backpacks for women.
What Makes Great Travel Pants for Women?
Comfort
The first consideration when looking for a great pair of travel pants is comfort. Consider, what are the best travel pants for long flights? Pants that don't restrict your movement, dig into you, slide down at the back when you bend over or feel tight around the waistband for long periods of sitting.
The best travel pants will have quality stretch fabric that breathes. Not be too low cut in the waist – especially in the back and not start to lose shape after a few days of wear. Fabric is everything when it comes to comfort in pants for women.
Lightweight and Durable
Still, on the topic of fabric, look for lightweight fabrics. There are a number of reasons for this.
A quality pair of lightweight travel pants will take up less room – think, you can take three pairs of travel pants or one pair of jeans.
Quality lightweight fabrics will breathe better and offer more comfort and movability.
Lightweight fabrics will be easier to wash and wear when you travel because they are quick to dry.
All of the best travel pants for women are made with quality, lightweight fabrics designed to withstand the rigours of travel.
Wrinkle Resistant
Whether you opt for a chic pair of travel chinos or casual travel jeans, wrinkle-free is a must these days in travel clothing. And while some brands spout wrinkle-resistant attributes, the brands listed here really deliver. You want to look fresh all day, especially if you want to go from sightseeing to dinner without looking like a crumpled mess. Or, worrying if your accommodation has an iron for dressier evenings.
Style
Comfort and style should go hand in hand when talking about travel pants for women. The best travel pants will have all of the above attributes built into a stylish package. You don't have to sacrifice style because you want a pair of pants that are great for hiking or sightseeing. And you should have to sacrifice comfort if you want a stylish pair of pants for exploring Rome that will be comfortable enough for the flight there. You can have both.
Versatility
The best travel pants for women should be multi-functional. If you were only able to have one pair of travel pants, would they work for city sightseeing, hiking, travel days, dining out and be suitable for nearly all weather situations?
These pants are possible. Think about what you need from a pair of pants and think about how versatile will they be.
Can you dress them up or down without having to pack your entire wardrobe?
Are they comfortable enough for active situations and travel days?
Will they be comfortable in cooler and warmer weather?
And remember colours. Neutral colours are the building blocks for the most versatile travel wardrobe – think black, grey, tan, and white.
You don't have to choose between how you look and comfort when looking for the best women's travel pants. These pants are all designed to take you on many journeys in style and comfort.