Travel clothing with hidden pockets is not a new concept. Thankfully pickpocket-proof clothing for travel is now more practical, secure, and stylish than ever before.
You no longer have to stand out as a tourist, sacrificing your own personal style and comfort whilst trying to stay safe when you travel. The travel clothing market is now more fashionable than ever.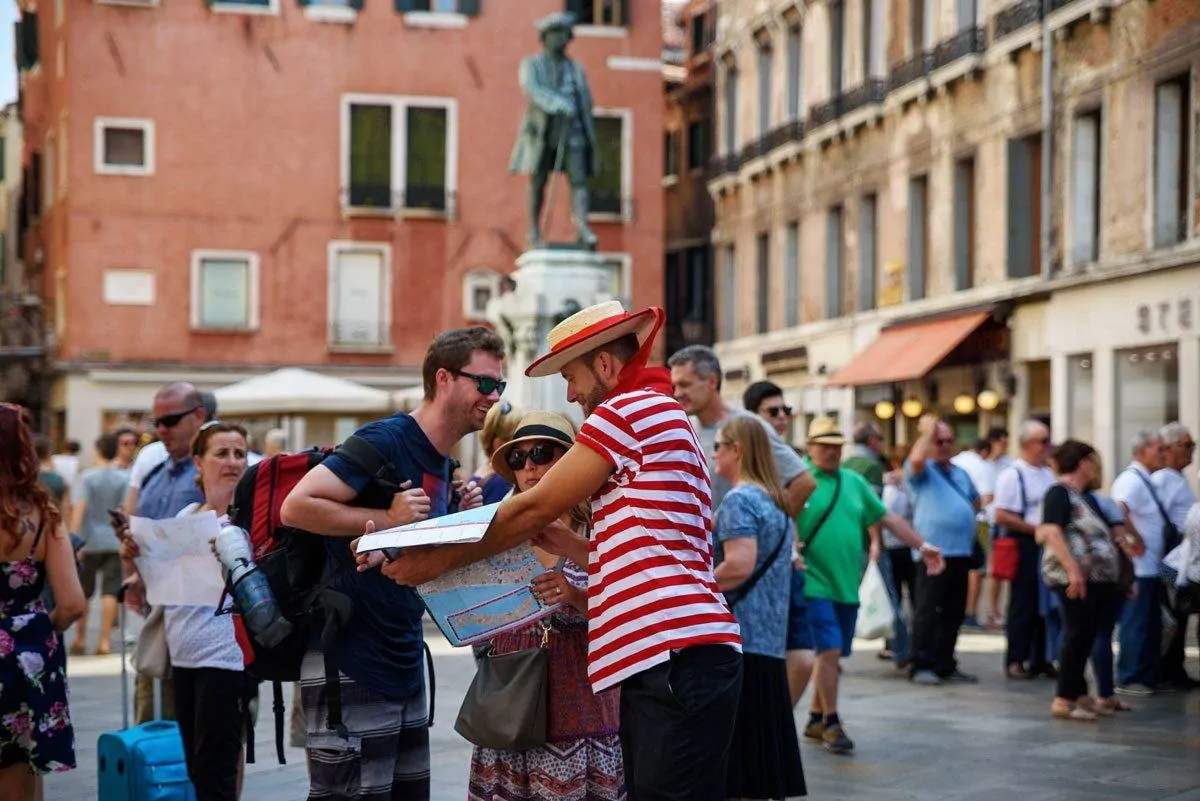 While comfort and practicality are still at the forefront of design, style is becoming an equally important factor in travel clothing lines. A trend that is also becoming more popular in the anti-theft bag market with stylish anti-theft backpacks designed specifically with women and fashion in mind.
Travel clothing companies now apply the same comfort and fashion-forward principles to anti-theft and pickpocket-proof clothing and accessories such as the often used, pickpocket-proof pants.
Or rather – are introducing pickpocket-proof functionality to the latest travel clothing trends and styles.
Related: Read Our Best Travel Safety Tips & Anti Theft Travel Guides
Staying Safe While You Travel
We believe some of the easiest ways to stay safe when you travel is in the preparation before you travel, being aware while you travel, and not drawing attention to yourself as an easy target.
The way you dress is just one way you can minimize your chances of any unwanted attention from thieves and pickpockets, especially in destinations like Marrakech in Morocco or the Bazaars of Istanbul.
We have rounded up some stylish anti-theft travel jackets that will see you through from sightseeing to dinner. Pickpocket-proof pants with classic and sleek lines.
Even some pocket worthy briefs that will keep more than the family jewels safe.
We have covered them all in this handy guide, separated into travel clothes for women and men for easy navigation.
How to Avoid Pickpockets
The easiest way to avoid pickpockets is to be diligent, especially in crowded tourist areas such as Rome or travelling across a country such as Morocco by train. These are just some of the things to consider when travelling.
Keep bags close to you and zipped up — preferably worn crossbody, not over the shoulder. A good anti-theft travel handbag or anti-theft backpack is always a great travel investment. There are also lots of very stylish anti theft fanny packs and waist bags on the market now which can be worn around the waist or crossbody.
Don't flash lots of money around or wear fancy expensive jewellery or clothing arts. You will only attract attention to yourself.
Discreet clothing that doesn't scream tourist is always best. This is why the best pickpocket-proof clothing has discreet pockets and is styled similar to normal fashion trends.
Don't place anything of value in a pocket that does not close securely and preferably never in a back pocket.
Be aware of people creating strange distractions, especially children and don't allow people to crowd you unnecessarily.
If an interaction with a stranger doesn't feel right, it usually isn't. Keep your distance.
Take Care of Your Own Belongings
Too often we see tourists walking around with bags gaping open, wallets and phones hanging out of their back pockets or even handbags swinging from a street-side restaurant chair. A common sight with visitors to Rome and Paris.
When these travellers lose something, their first thought is they have been pickpocketed.
More than likely they have. After all, these travellers have made themselves an easy target. However, it is often a case of things left behind, phones falling out of an open backpack, or cash falling out of a gaping side pocket.
Buying Guide for Pickpocket Proof Clothing For Travel
What is Pickpocket Proof Clothing?
Pickpocket-proof clothing is essentially a piece of clothing with functionality to prevent thieves from accessing and removing valuables from your person.
These features may include internal pockets, hidden pockets, or zippered pockets.
What features Should Good Pickpocket Proof Clothing Have?
Good pickpocket-proof clothing doesn't need to have lots of pockets, although many travel garments do. They just need to have at least one secure pocket.
Pockets should be discreet, not like fashion cargo pants or shorts where the pockets are obvious and easy to access.
Ideally, all secure pockets should have a zip closure, preferably a zip hidden in a seam or be virtually impossible for a thief to slip their hand in by way of a button closure tab or similar.
Hidden pockets with secure closures.
Choosing the Right Pickpocket Proof Clothing for Travel
Many travel clothing companies will advertise garments with lots of pockets as an alternative to using your carry on baggage for travel essentials.
Do not confuse these albeit handy travel clothes for pickpocket proof clothing. Lots of pockets do not always equate to safe – just convenience.
Make sure the pickpocket proof clothing you choose is firstly comfortable and a design you like. The clothing will not keep your valuables safe if you don't like wearing them.
When Choosing Anti Pickpocket Travel Wear Consider the Following:
Function
Check the garment has the pocket configuration you need and like.
There is no point buying a pair of travel pants with 15 pockets when all you need is two secure pockets for cash and passports. Or a travel jacket has 20 pockets, but none of them fit what you want to carry.
Once you have decided on a design, then check the quality of the secure pockets and make sure they suit the purpose – do you need to access the items regularly from the pocket or keep them stowed away for long periods?
These factors will determine the type of pockets you want or need.
Construction & Material
When choosing clothes for travel – comfort, wearability, and durability are paramount.
Check the fabric and the design allows comfortable movement.
Is the fabric breathable or does it have moisture-wicking?
Is the garment quick-drying, is it water and stain repellant?
Is the weight of the garment suitable for the climate you will be travelling to?
Are the secure pocket closures high quality and reliable, e.g. zips or button closures?
Size
Is the design suited for a flexible fit or is the cut right for you?
Think about how much stuff you will want to carry in the pocket configuration and how that may affect the size you need.
Comfort
Again, think about breathable fabrics, stretch, and movability. Do the design and fabric allow for comfortable movement?
Will the design be comfortable and suitable for the type of travel you are doing?
Style
Is the style something you would usually wear? If not, maybe look for something more towards your style; otherwise, you may be inclined not to wear it.
Is the pickpocket proof features discreet in relation to the style and cut of the garment? The best pickpocket proof clothes are ones you don't even realize are.
The Best PickPocket Proof Clothing Reviews
We have picked out the best pickpocket proof and hidden pocket clothing for travel based on anti-theft functionality, style and wearability.
Travel clothing that is comfortable and doesn't make you stand out while keeping all your belongings safe and organised.
Pickpocket proof Travel Clothing for Women
Womens Travel Jacket With Hidden Pockets
When deciding on what makes the best travel jacket think about the design – do you really like it?
Think about the pocket configuration you need, the weight of the jacket for the climate and the comfort and practicality in relation to the type of travel you will be doing.
---
---
---
---
---
---
Travel Vests With Hidden Pockets
You may have opted for a travel jacket that converts to a vest, but some people like to have a travel vest independent of a jacket.
It could be the design of the vest or the weight for the climate you will be travelling in.
Either way, the same principles apply – first choose a style you will feel comfortable wearing. Look for discreet pockets and remember, lots of pockets don't always make it safe.
Choose a pocket configuration that suits your needs.
---
---
Womens Travel Shirts With Hidden Pockets
---
---
Pickpocket Proof Pants for Women
Never confuse travel cargo pants & anti-pickpocket pants. Women's travel pants with pockets come in a myriad of designs for all kinds of travel, sometimes with more pockets than you know what to do with.
Remember, it is not the number of pockets that will keep your belongings safe, it is the pocket configuration and closures that count.
When it comes to travel pants, comfort is paramount so don't be tempted to go for more pockets than you need.
Two to three secure pockets are usually enough for normal travel, especially if you are wearing a pickpocket-proof jacket or have an anti-theft handbag.
Go for more pockets if the style of travel calls for it, just make sure they are secure.
---
---
---
---
Pickpocket Proof Shorts for Women
While there are plenty of cargo-style shorts for travel on the market, you don't have to completely forego style for function.
These travel shorts all feature at least one security zip pocket while staying lightweight, comfortable, and practical for different travel styles.
---
---
---
---
---
Travel Skirts & Dresses with Hidden Pocket
We don't automatically think of skirts and dresses as being pickpocket proof. It is possible to have a stylish skirt or dress for travel that features at least one security pocket.
Perfect for when you don't want to carry a bag and only need to keep a few items secure. Paired with a pickpocket-proof shirt, you have loads of pockets to keep your valuables safe without feeling weighed down.
---
---
---
Read our Buying Guide to The Best Anti Theft Handbags & Purses for Travel
---
---
Underwear With Pockets For Women
Underwear with pockets is the security garment of choice for many. Whether it be a pair of briefs with a secret pocket or two or a bra stash pouch that sits snug under your shirt, there is no doubt these undergarments will keep your small valuables safe.
---
---
---
---
---
Pickpocket Proof Travel Clothes for Men
---
Men's Travel Jacket With Hidden Pockets
The same goes for the men as the ladies – when deciding on what makes the best travel jacket, think about the design – Do you like it, does the cut feel comfortable, the climate you will be travelling in and is it practical for the style of travel you will be doing?
Then, think about the pocket configuration. How many pockets do you really need, how big do they need to be in relation to what you need to carry and how will this affect the size you need. You can find more men's travel jacket with hidden pockets and reviews here.
Versatile and fashionable, the Revolution Jacket features 25 pockets to securely store and organize all of your travel gadgets and essentials.
It also includes an oversize "Pad Pocket" to comfortably carry tablets or small laptops securely as well as "Clear Touch Pockets for in pocket device use. The weight management system prevents that weighed down a bulky look.
The perfect travel jacket for changeable conditions, removable sleeves convert the jacket into a stylish travel vest, and the adjustable and detachable hood rolls up into the collar for storage or, zip it off and store in one of the pockets.
Water-resistant fabric and magnetic wind-flap over the main zipper give you additional protection against the elements — a fantastic jacket for winter and shoulder season travel.
---
---
---
---
Travel Vests With Hidden Pockets
If you want a travel vest independent of your travel jacket, again, look for one that has the pocket configuration you need.
There is no need to opt for old-fashioned style travel vests loaded with outside pockets when there are some really stylish and streamline vests with hidden pockets on the market.
---
---
Mens Travel Shirts With Hidden Pockets
---
---
---
---
---
---
Read Our Complete Buying Guide to the Best Anti Theft Backpacks for Travel
---
Mens Pickpocket Proof Pants
The best travel pants for men should be comfortable and practical. While travel cargo pants are great for travel, you can now also get a variety of stylish pickpocket proof pants without needing to have countless pockets.
Lightweight pants for warm-weather travel, pickpocket proof jeans or even a traditional cut that will take you from sightseeing to dinner.
---
---
Pickpocket Proof Shorts for Men
These are all great travel shorts for summer – lightweight, quick-dry and practical. The discreet pocket configuration will deter pickpockets and the designs will keep you comfortable in the warm weather.
Keep your gear safe from pickpockets as well and prevent items from falling out of loose short pockets.
---
---
---
Mens Pouch Underwear
Much like the ladies, many male travellers opt for underwear with pockets over the traditional neck pouch or fanny pack.
These secret pocket briefs come in on top for the quality of the garment and the hidden pocket, comfort, and allowable space for smaller valuable items.
---
---
---
Unisex Pickpocket proof Clothing and Accessories
---
---
Unisex Long Johns
---
Travel Money Belts
---
---
---
---
---