Morocco is as geographically diverse as its cultural influences and the experiences it offers visitors.
Morocco, in parts, still provides authentic travel experiences lost to so many destinations. Exuding an old-world, exotic atmosphere; it is not surprising phrases like "sensory overload, overwhelming intensity, vibrant and chaotic" are often used to describe this captivating country.
From the rugged mountainous interior to the vast expanses of the Sahara Desert and coastlines along both the Atlantic Ocean and the Mediterranean Sea, Morocco has such a diversity of landscapes to explore.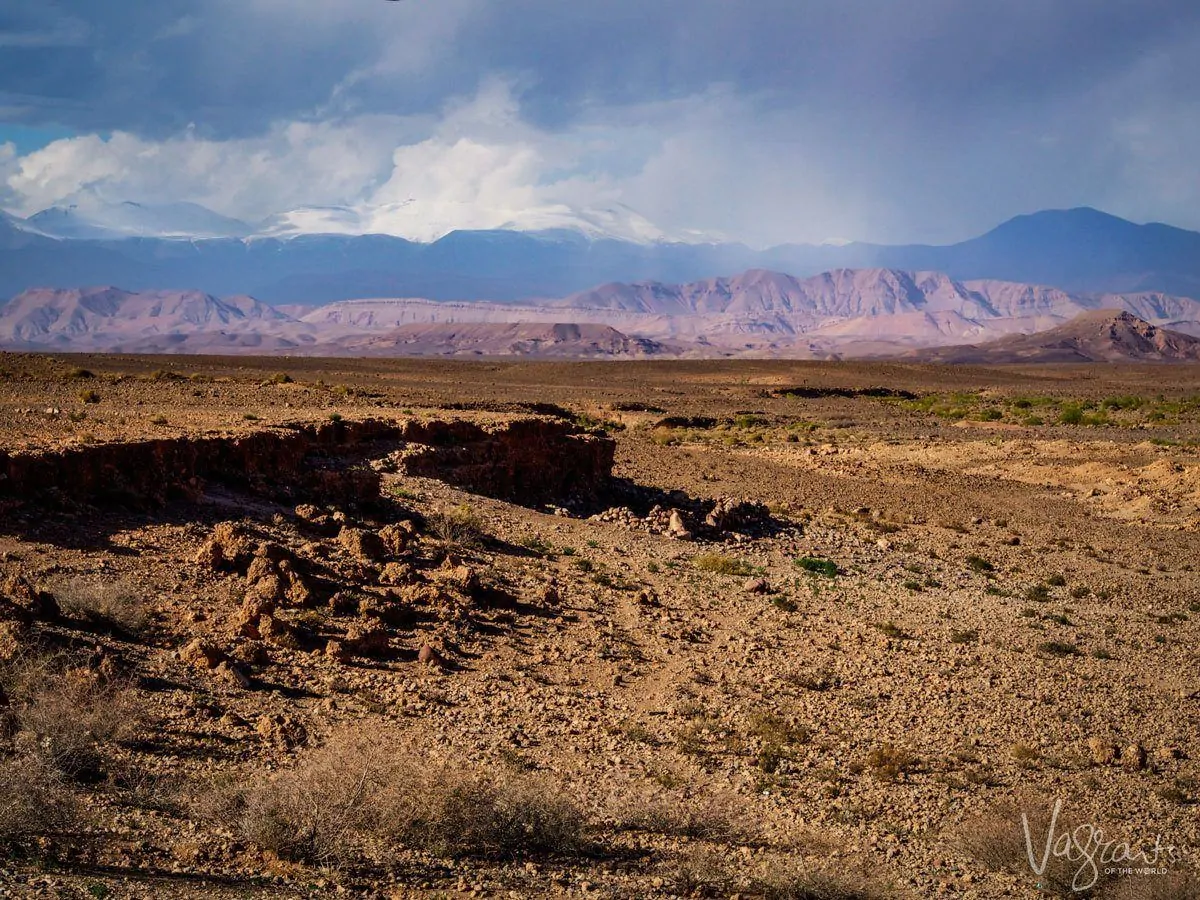 Discover the exotic cities of Morocco from Marrakech to Tangier and indulge in unique travel experiences such as hiking the High Atlas or riding a camel into the sunset in the Sahara. With such a mixed bag of experiences on offer, it can be difficult to decide on the best places to visit in Morocco.
We help you fine-tune your Morocco itinerary with a brief insight into each of Morocco's best destinations and tips on what to visit in Morocco and the best time to visit.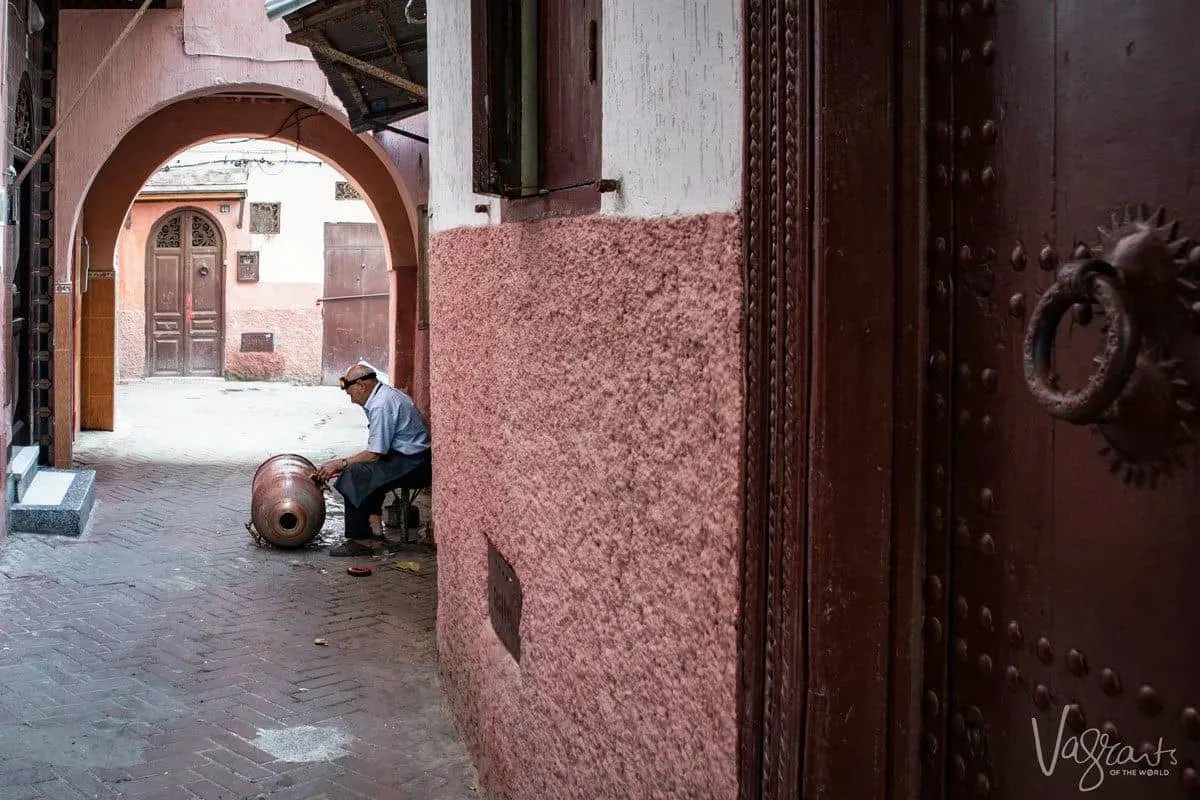 ---
What to Pack for Morocco: With cultural considerations, a climate as diverse as its geography and a myriad of experiences on offer, knowing what to pack for Morocco is not always easy. Here is a Practical Packing List for Morocco that covers all the travel essentials for a trip to Morocco no matter your style of travel.
---
Best Time to Visit Morocco
Spring & Autumn
The best times to visit Morocco are the shoulder seasons of spring (March to May) and autumn (September to November).
The weather is pleasant; the surrounding landscape is lush, and tourist numbers are generally lower than the peak summer months of June – August. A perfect time of year for exploring the cities or enjoying outdoor activities such as hiking.
Summer in Morocco
Ironically, Morocco's hottest months are also the busiest tourist months.
If visiting between June to late August expect temperatures in the Sahara to be brutally hot while cities along the Atlantic coast such as Casablanca and Essaouira are bearably hot. The Rif Mountains and north coast experience a typically Mediterranean climate with long hot sunny days.
While summer is not the best time to visit from a climate perspective, some of Morocco's most iconic cultural festivals take place in summer.
Winter in Morocco
Throughout winter (November to February) temperatures in the south remain mild with cold evenings. The north experiences wet and windy weather and the Atlas Mountains are exceptionally cold with snow still visible until late June, early July.
Festivals in Morocco
These are just some of the more popular or unique festivals and events throughout the year in Morocco.
Ramadan
During Ramadan, you may find some interruptions to services, reduced opening hours and some businesses may close for the month. The date of Ramadan changes each year so you should check before booking your trip to Morocco to see if this will affect you. You can find more information about visiting Morocco during Ramadan here.
Geminids Meteor Shower
Head to the Sahara Desert in mid-December for one of the most spectacular astronomical displays of the year. The slow-moving Geminids Meteor Shower is caused by debris falling from an object believed to be an asteroid making it the only meteor shower not caused by a comet.
Migration of the Berbers
Twice a year in May and September the native Berber tribes of Morocco undertake the arduous journey between the Dades Valley and the Atlas mountains to move hundreds of head of livestock, a journey made by their ancestors for over 4,000 years.
For the adventure traveller looking to get out of their comfort zone and experience this ancient migration, it is possible to join a Berber family for part or all of the migration.
You can find out more about the Migration of the Berbers tour here.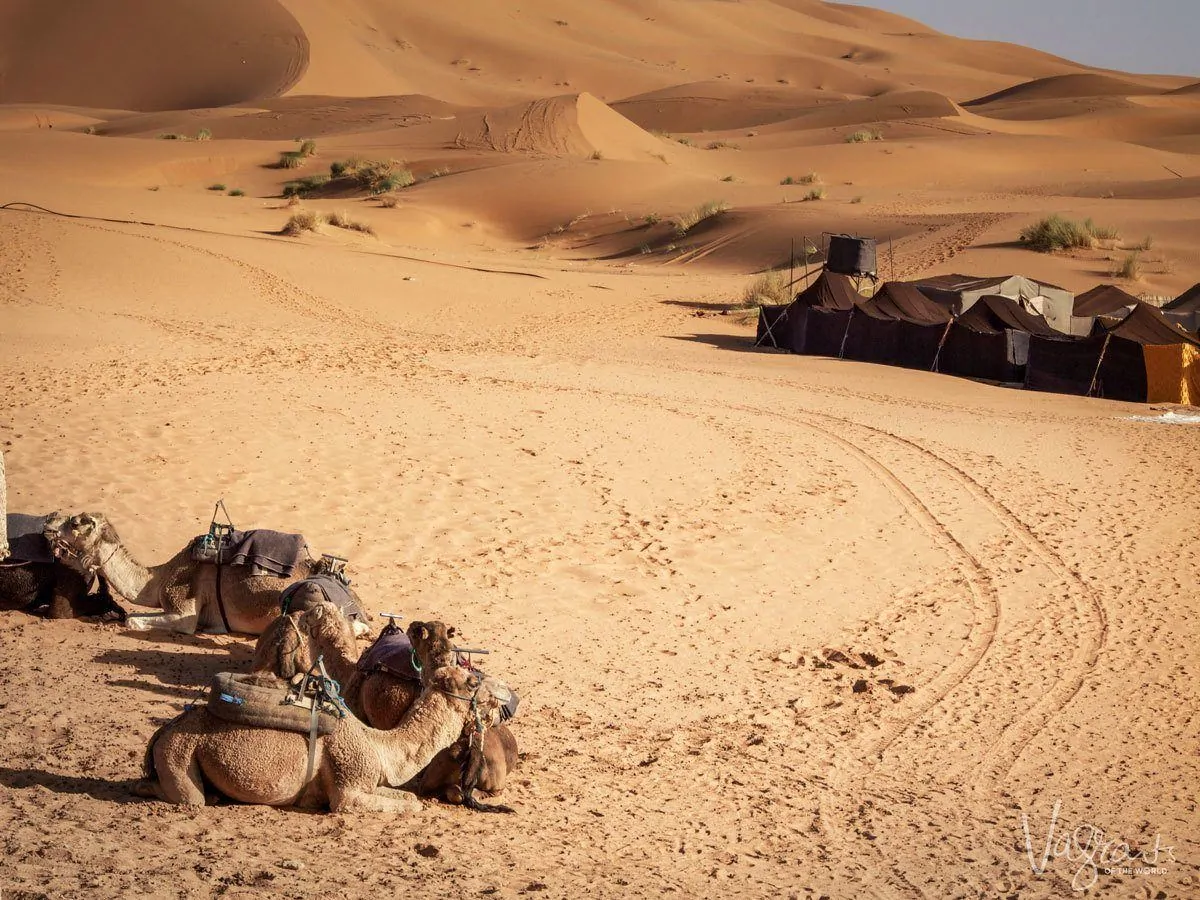 Rose Festival
The Rose Festival is held each year in the first half of May in the Dades Valley to mark the harvesting of over 700 tonnes of rose petals. The festival features delicious local food and traditional song and dance performances from local Berber tribes. There is even the crowning of the festival Rose Queen.
Gnaoua and World Music Festival
In late June, the coastal town of Essaouira hosts the popular Gnaoua and World Music Festival. The four-day festival, which attracts nearly half a million visitors every year is a creative fusion of the mystical Gnaoua musicians with jazz, pop, rock and contemporary musicians from all over the world. Many performances are free to the public. See the Gnaoua and World Music Festival site for details.
TANJazz Festival
The TANJazz festival is held in Tangier for seven days from mid-September. The festival attracts Jazz performers from all over the world to perform in hotels and bars all over the city.
International Nomads Festival
Held in the desert in M'hamid El Ghizlane for four days late March, early April. The outdoor festival celebrates cultural activities highlighting the tangible and intangible heritage of nomadic tribes with music, theatre, storytelling and folk art. See the International Nomad Festival site for details.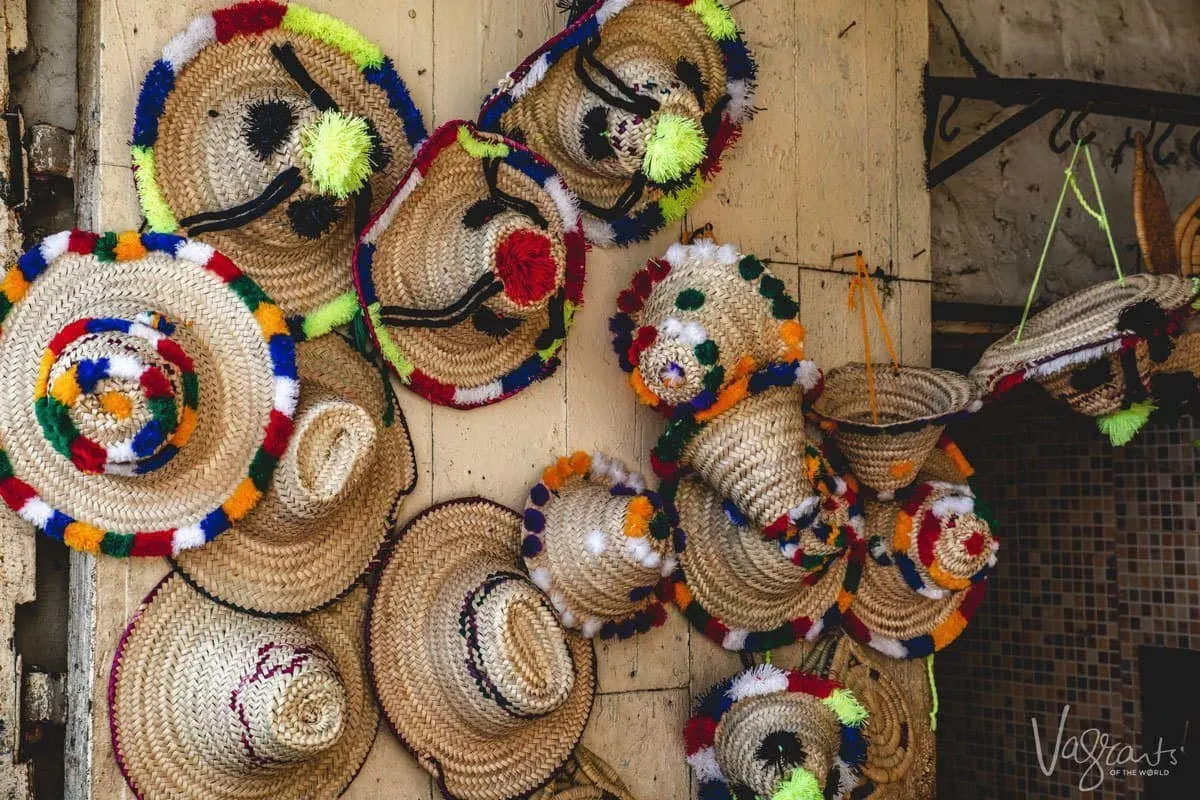 ---
Best Books to Read Before You Visit Morocco: These books are the essential reading list for Morocco beyond the guidebooks which will give you a better understanding of Morocco's rich history, culture, customs and geography.
---
How Many Days in Morocco
To see many of Morocco's highlights including hiking in the Atlas Mountains, the cities and imperial cities, the Sahara desert and perhaps even some chill time on the coast, we would recommend two weeks.
One week would be sufficient for visiting the main touristic cities such as Marrakech, Fez, and Chefchauen as well as a visit to the desert.
With less than a week, you may want to focus your time either north or south –
North: Casablanca, Fez and Chefchaouen with a possible trip to Tangier depending on how fast you want to travel or if you are travelling on to Spain (See further on for information on travelling between Morocco and Spain).
South: Marrakech, Essaouira, and the Sahara.
---
Learn to make delicious Moroccan cuisine with these Authentic Moroccan Recipes you can make at home
---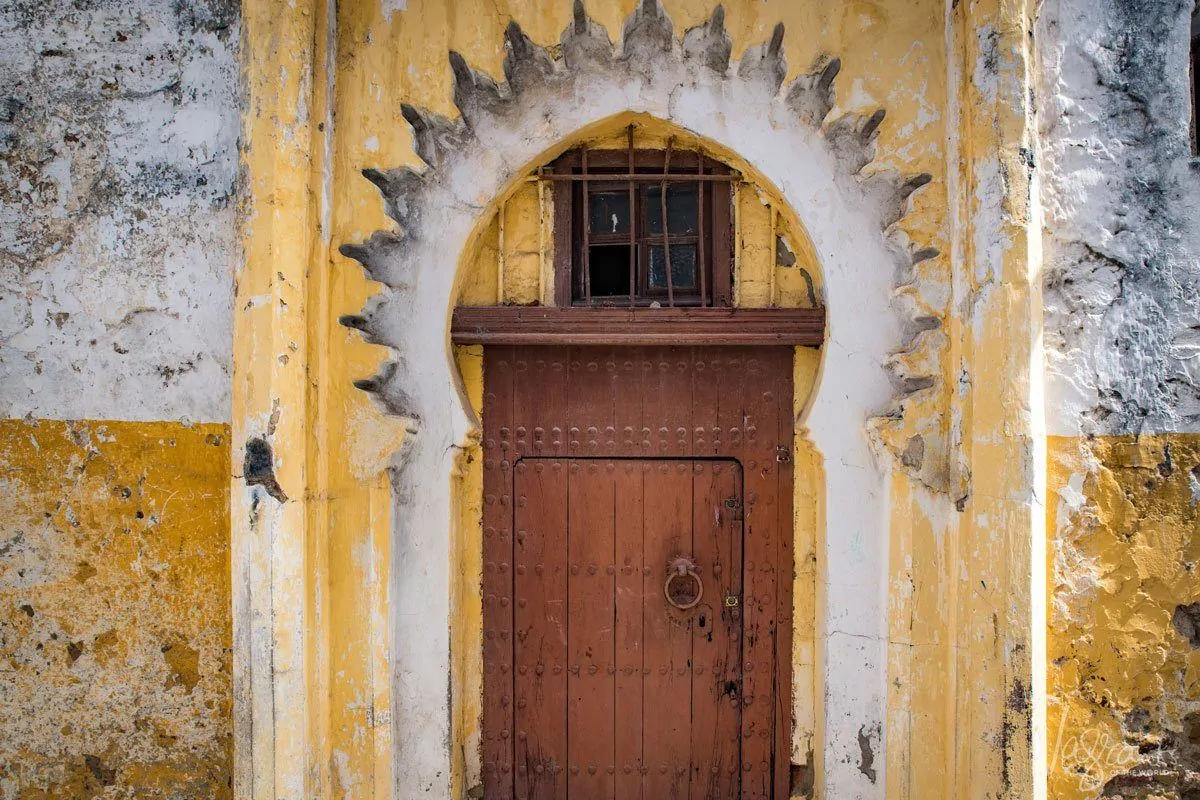 Stay Safe in Morocco
Overall, Morocco is safe for tourists. However, as with any travel situation, you must exercise caution.
Petty theft is prevalent in crowded areas, especially in tourist-dense cities like Marrakech. You need to be wary of touts and false guides trying to fleece you out of a buck in the cities. In the crowded medina's, be very vigilant of thieves.
Women travelling solo in Morocco may experience minor harassment, but with simple precautions such as appropriate dress and not walking alone at night, there should be no issue.
A few simple precautions can go a long way to ensure you and your belongings stay safe when you travel.
Our Safe Travel Guide has loads of tips on staying safe when you travel and guides to the best anti-theft travel gear.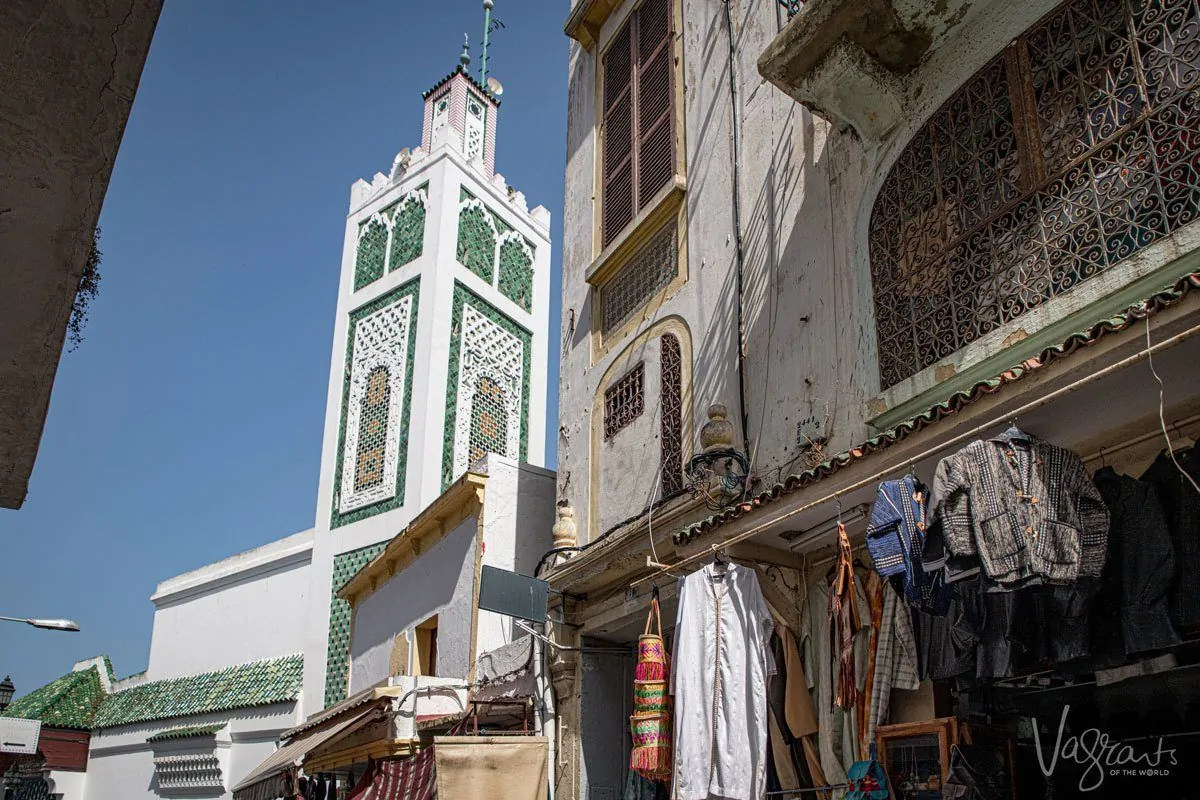 ---
Book A Tour in Morocco
If you don't want to experience all of Morocco's attractions independently, leave it up to the pros and book a group or private tour. These are some excellent tour options for Morocco.
---
Incredible Places to Visit in Morocco
Discover the best places to visit in Morocco and plan your perfect Morocco itinerary with tips on how to get around and day trips.
Marrakech
Marrakech, one of Morocco's most popular places to visit, is a bustling ancient city with a vibrant and chaotic rhythm.
There is so much for visitors to enjoy in Marrakech. The razzle and dazzle of the historic Djemma El-Fna square, bartering in the ancient souks and exploring palaces of immense beauty. There is also an astonishing array of luxury experiences in New Marrakech from high end restaurants and hotels to designer shopping. Marrakech is so many experiences in one city.
Located in the foothills of the Atlas Mountains, Marrakech is also well positioned for some fabulous day trips.
We have some great day trips from Marrakech here to suit all travel styles.
Marrakech can be intensely overwhelming for first-time visitors, so we have put together a comprehensive travel guide on the Best Things to do in Marrakech to help you plan an incredible Marrakech itinerary.
We also have a guide on Useful Travel Tips for Visiting Marrakech to help you have the best experience and avoid any of the pitfalls the Red City is famous for.
Getting to Marrakech
Marrakech has an international airport. It is also well connected by train to the rest of Morocco. Many visitors choose to arrive in Casablanca and take the train to Marrakech. We have all the information on the Casablanca to Marrakech train services here.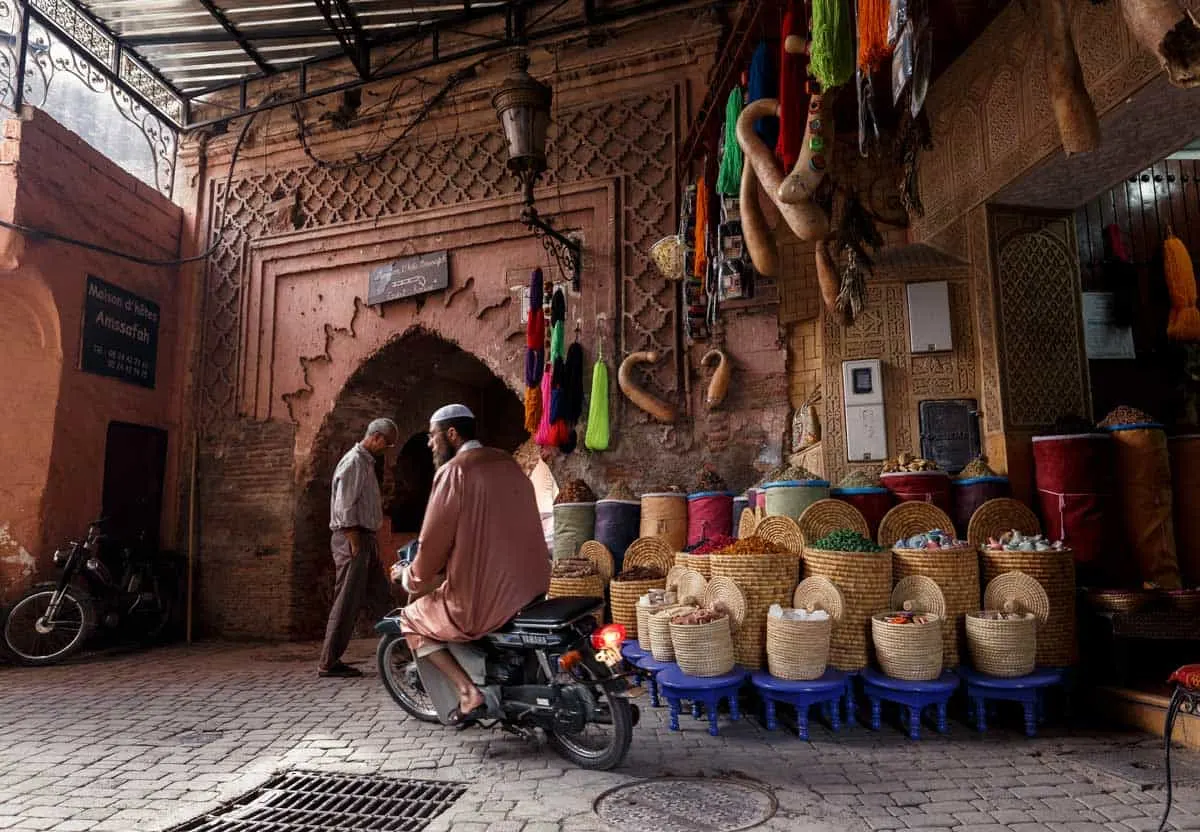 Ouzoud Waterfalls
A perfect day trip from Marrakech, Ouzoud Falls are a jungle oasis in the El-Abid River gorge. A welcome relief from both the city and the Moroccan sun.
An easy trail leads you through the misted jungle to the bottom of the canyon, where you can take a dip in the beautiful pools at the base of the multiple falls. Take the trail to the lookout point at the top for sweeping views over the falls. Enjoy lunch at a local restaurant with front row seats to the beauty of the waterfall.
Take time to enjoy the antics of the local family of the cute but cheeky macaque monkeys – beware though, they are always on the prowl for something to steal.
Tip: When you first arrive at Ouzoud, locals will try to hustle you into a guided tour. A guide is unnecessary; the falls are very easy to explore independently.
Getting to Ouzoud Falls
Roughly 3 hours from Marrakech, there is no public transport to the falls. If you don't have a car, the best way to reach the falls is to book a day tour.
You can take a day tour with comfortable transportation, a guided hike of the falls, a boat ride, and time to explore on your own and enjoy lunch overlooking the falls for around 220 Dirhams (~$22 USD) See here for tour options.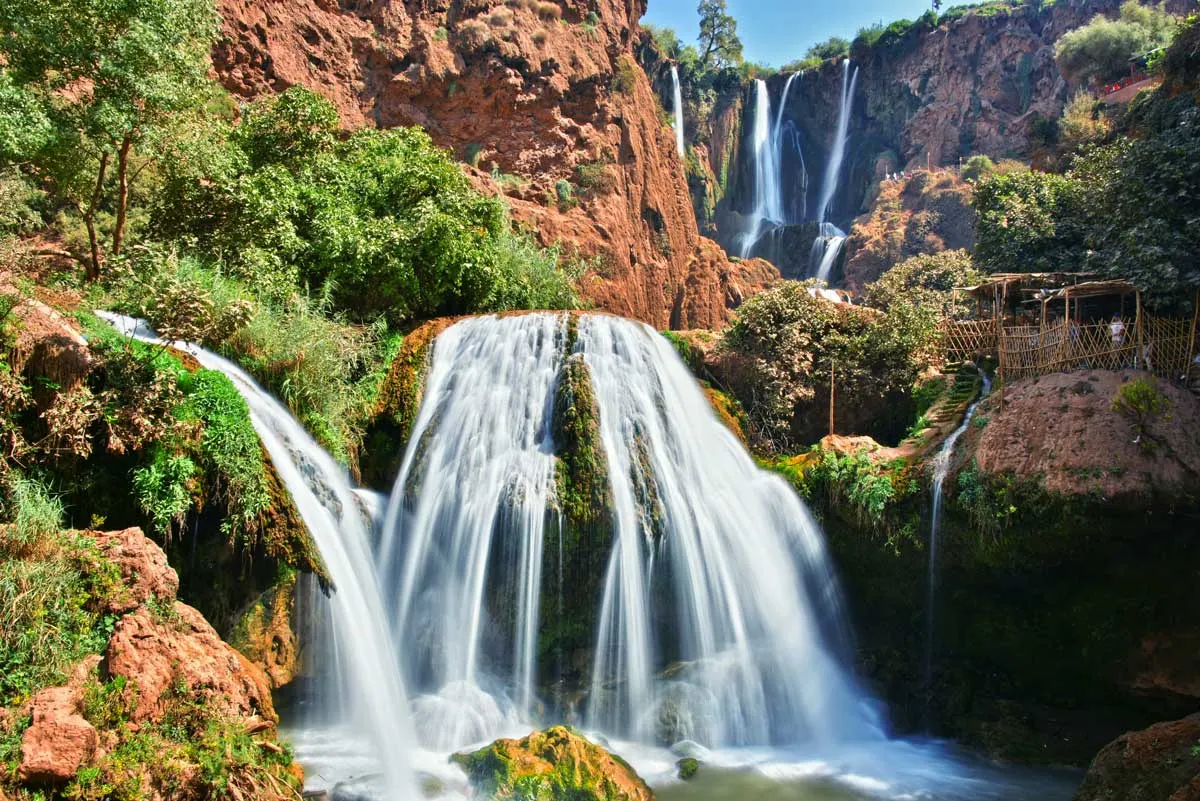 Essaouira
Considered by many as the most beautiful town in Morocco, the seaside city of Essaouira oozes charm, history and a breath of fresh air compared to the hectic buzz of cities like Fez and Marrakech.
A perfect example of an 18th-century walled city, the port city set the scene for Game of Thrones, but fame has not changed the traditional way of life around the stunning medina or among the fisherman in the port.
It's not surprising Essaouira is a favourite destination in Morocco. From the chill coastal vibe, fresh regional cuisine, flourishing art scene and traditional culture, the busy port town is the perfect place to chill and recharge your batteries in Morocco.
Getting to Essaouira
There is no train station in Essaouira, so the bus is the best option. There are direct daily CTM buses from Casablanca(6 hours) and Marrakech (2.5 hours). You can also take a Grand Taxi from Marrakech. There is the small Essaouira Mogador Airport which has connections throughout Europe and the UK with many low-cost airlines.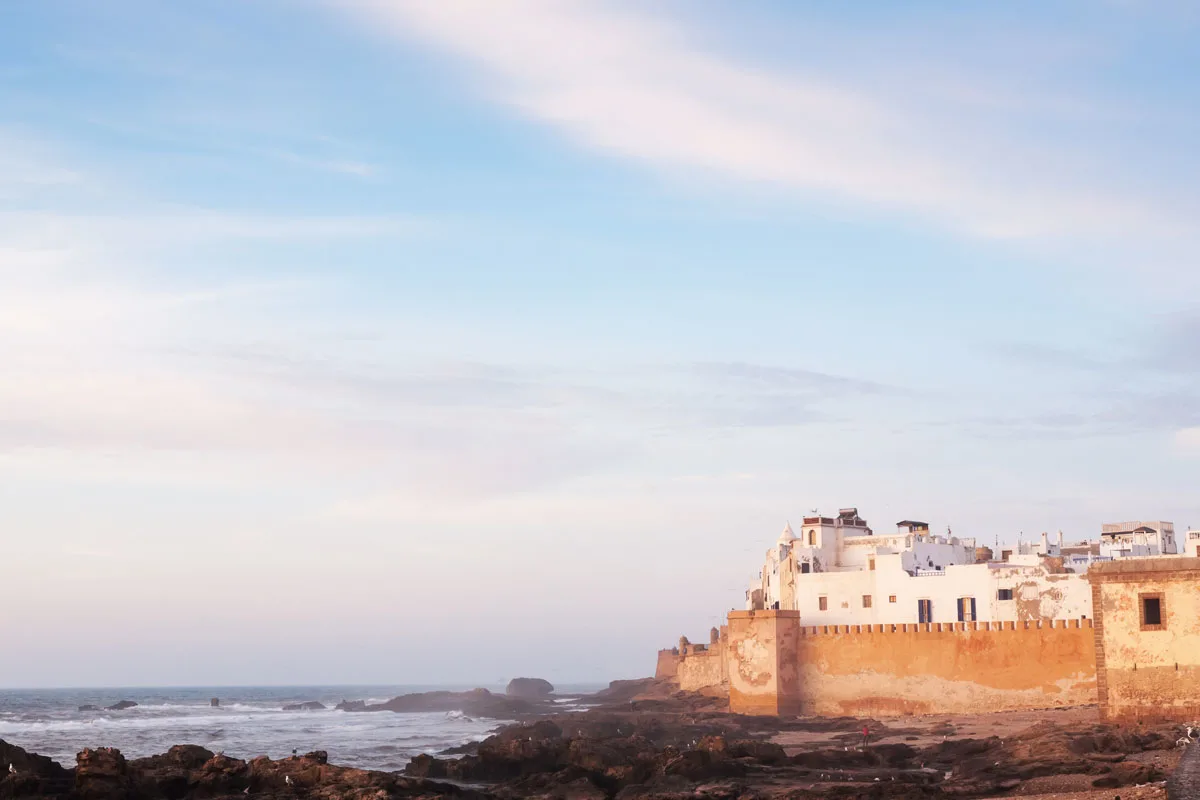 Casablanca
While Casablanca may lack some of the atmosphere of Morocco's imperial cities, Casablanca offers a unique insight into Morocco's French colonial past and a peek at a more cosmopolitan Morocco.
The economic heart of Morocco, Casablanca is where Moroccans come to seek their fortune and where businesses and creatives thrive.
Casablanca is a once glamorous and sophisticated city on its way back. Beautiful French Colonial architecture, grand old hotels are being restored while crowded Frech style cafes line the sidewalks. In stark contrast, the ancient walled medina remains unchanged with the daily hustle of traditional Moroccan trade. Casablanca may not be as touristy as Marrakech, but herein lies much of its appeal.
Ironically, Casablanca is where many visitors first land in Morocco. Instead of immediately hopping on a connecting flight or train to Marrakech, spend a day or two in Morocco's biggest city.
You can find all the Best Things to do in Casablanca here to see why Morocco's largest city warrants a few days.
Getting to Casablanca
Casablanca has Morocco's largest international airport. Casablanca is also well connected to the rest of Morocco by train including the new Al Boraq high-speed trains.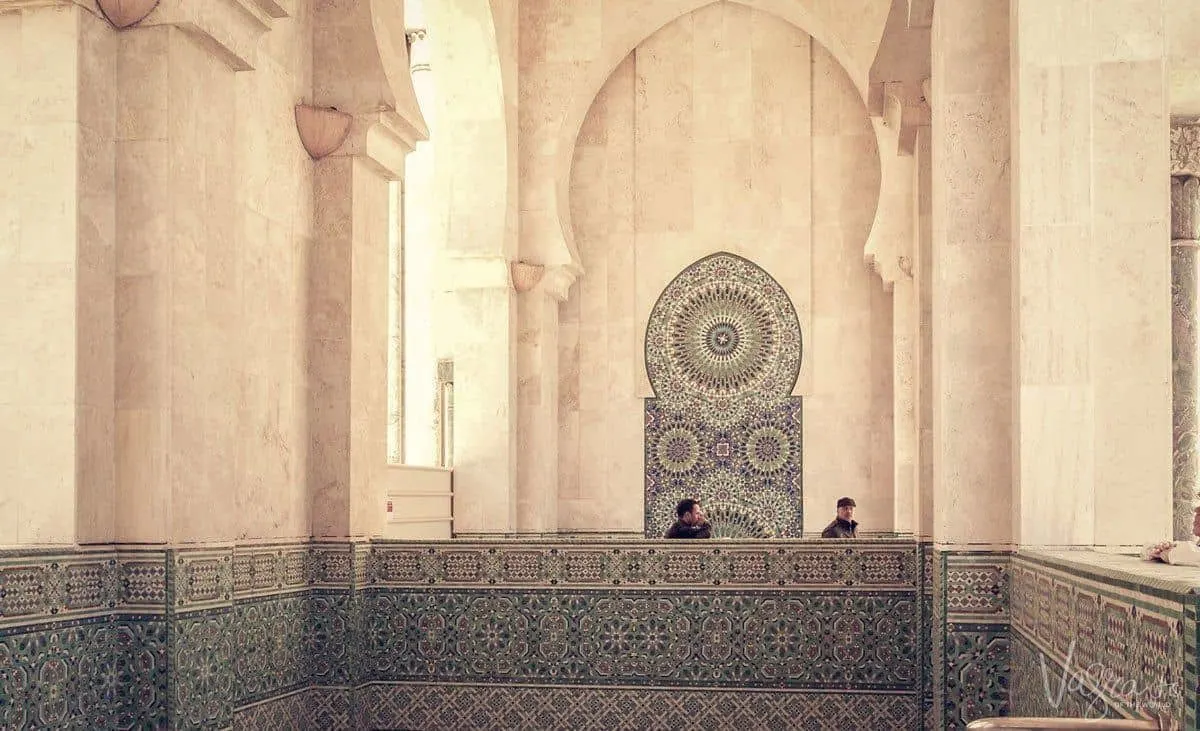 Rabat
Morocco's capital, Rabat, is often overlooked in favour of Marrakech and Casablanca but is well worth visiting.
Situated on the Atlantic coast, Rabat boasts a very agreeable climate with lovely beaches, but there is a surprising amount to do in Rabat beyond the beach.
Much like Casablanca, you can experience a mix of new and ancient Morocco within blocks of each other, where wide breezy palm-lined boulevards meet tangles of ancient streets. Thanks to the city's modern tram network, getting around Rabat is easy, with many of the main sites located along the Bou Regreg River, which runs through the city centre.
Visit the Rabat Medina, which is refreshingly tourist-free compared to Marrakech. Stroll through the old Kasbah, take a tour of the Royal Palace, the Mausoleum of Mohammed V and the Hassan Tower, which was intended to be the tallest minaret in the world but remains unfinished.
Getting to Rabat
As with all the cities in Morocco, Rabat is well connected by the train network, including the new high-speed train. There are also buses running from the city.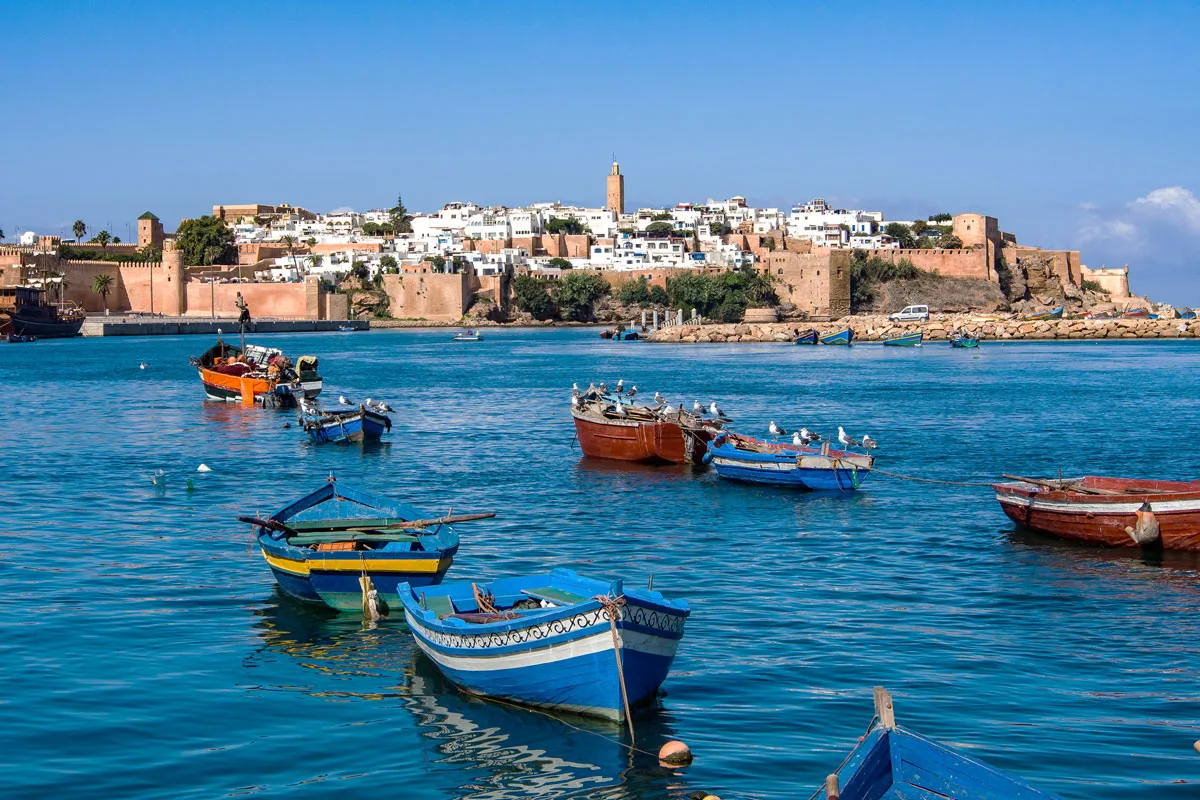 Fez
The oldest of Morocco's imperial cities Fez offers one of the most atmospheric city experiences you can have in Morocco.
While often bypassed in favour of the more popular Marrakech; Fez is now gaining popularity thanks to a growing appreciation for its authenticity.
The spiritual and cultural capital of Morocco, there are so many fascinating things to see and do in Fez, which is why the ancient city is the destination of choice for travellers seeking a genuine Moroccan travel experience.
We have created a guide to the Best Things to do in Fez to help you discover one of the most intoxicating cities in Morocco.
Getting to Fez
Fez has a medium-sized international airport but many prefer to arrive in Fez via another Moroccan city by train. Fez, is well connected by train to Marrakech, Casablanca, Rabat and Tangier.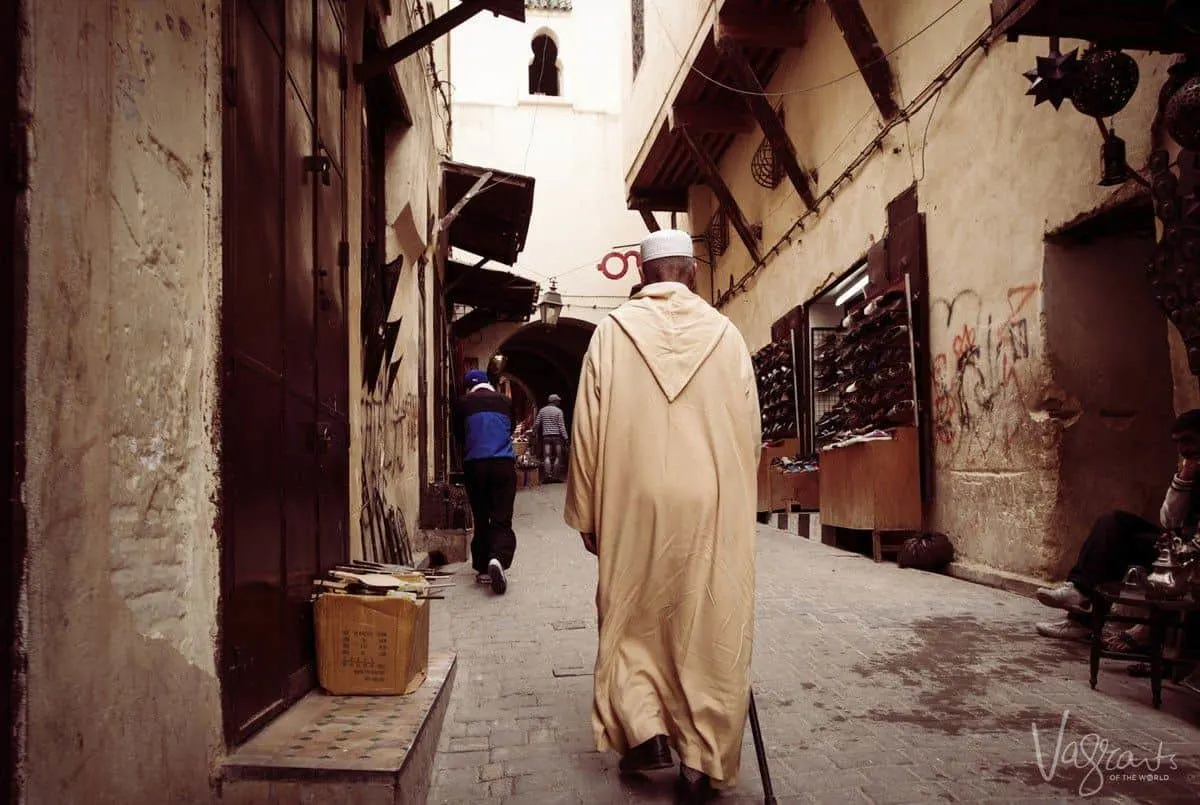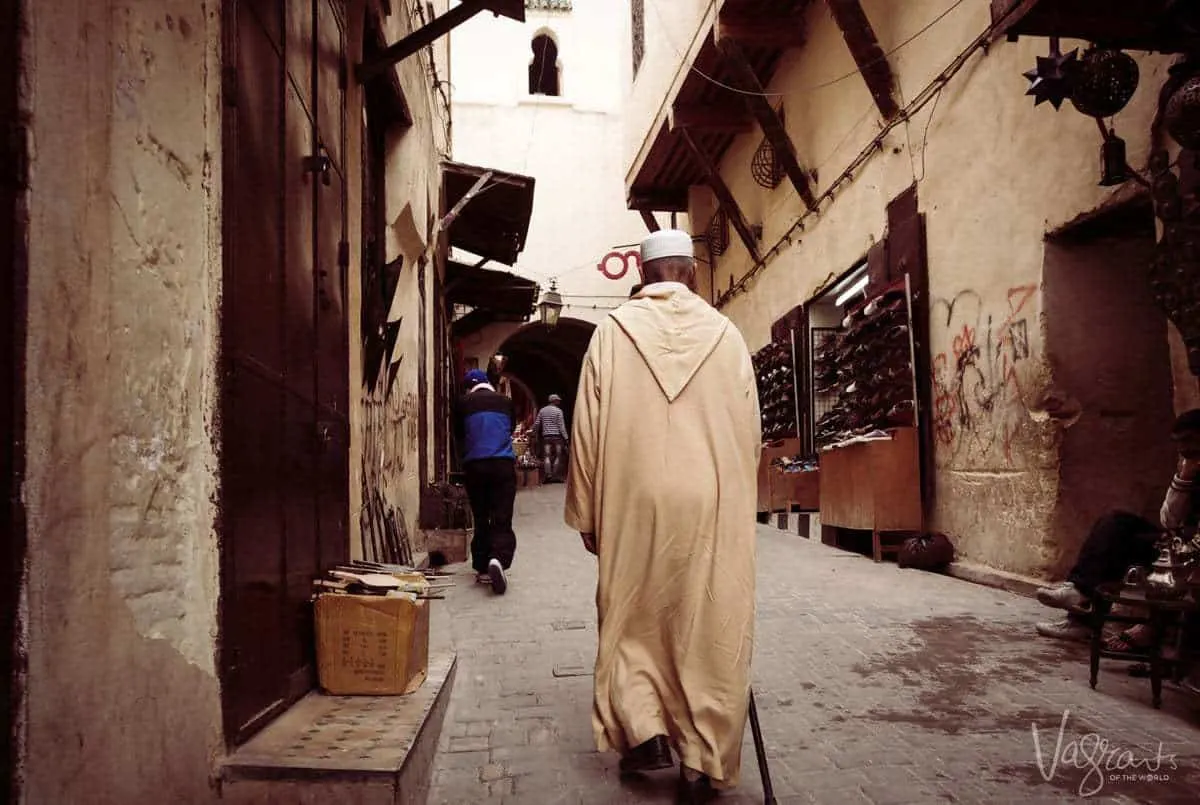 Tangier
Europes' gateway to Africa; Tangier is a fascinating city with a unique international, cross-cultural influence.
A city brimming with a literary and artistic past from the heady days of the International Zone and a reputation as a haven for foreign spies, it is not surprising Tangier still invokes a sense of the exotic.
We've got you covered with all The Best Things to do in Tangier here from exploring the Tangier Medina or sipping mint tea at the famous Cafe Baba in the Kasbah to enjoying the coastal vibe where the Mediterranean meets the Atlantic. Tangier is also well located for a day trip to the blue city of Chefcaouen.
Getting to Tangier
Tangier has an international airport although not all major airlines service Tangier. The city is also well serviced by Morocco's rail system including the new Al Boraq high-speed trains.
Tangier is only 20 miles from the coast of Spain (you can see the Rock of Gibraltar on a clear day. There are frequent ferries that make the short crossing from Spain across the Strait of Gibraltar each day. See our complete Guide to Catching the Ferry from Spain to Morocco here for more information.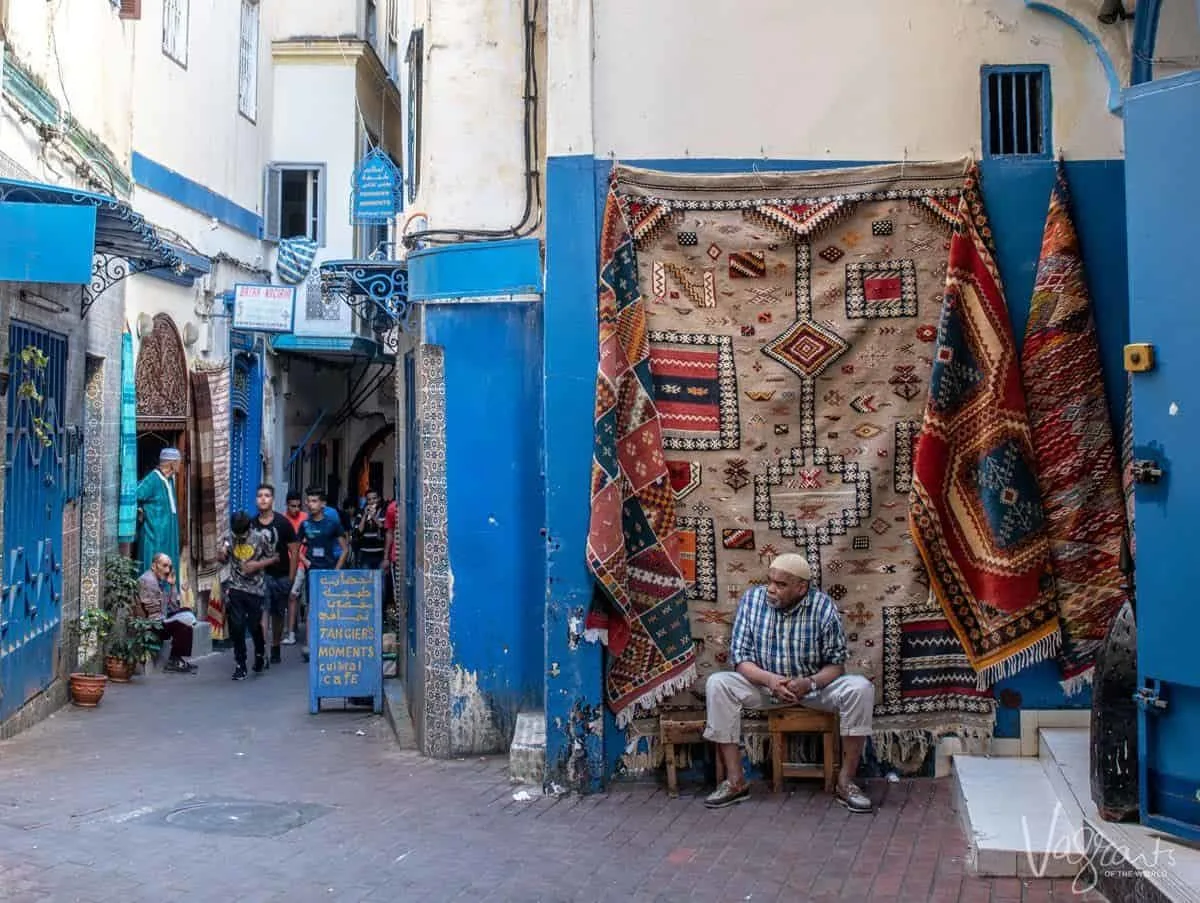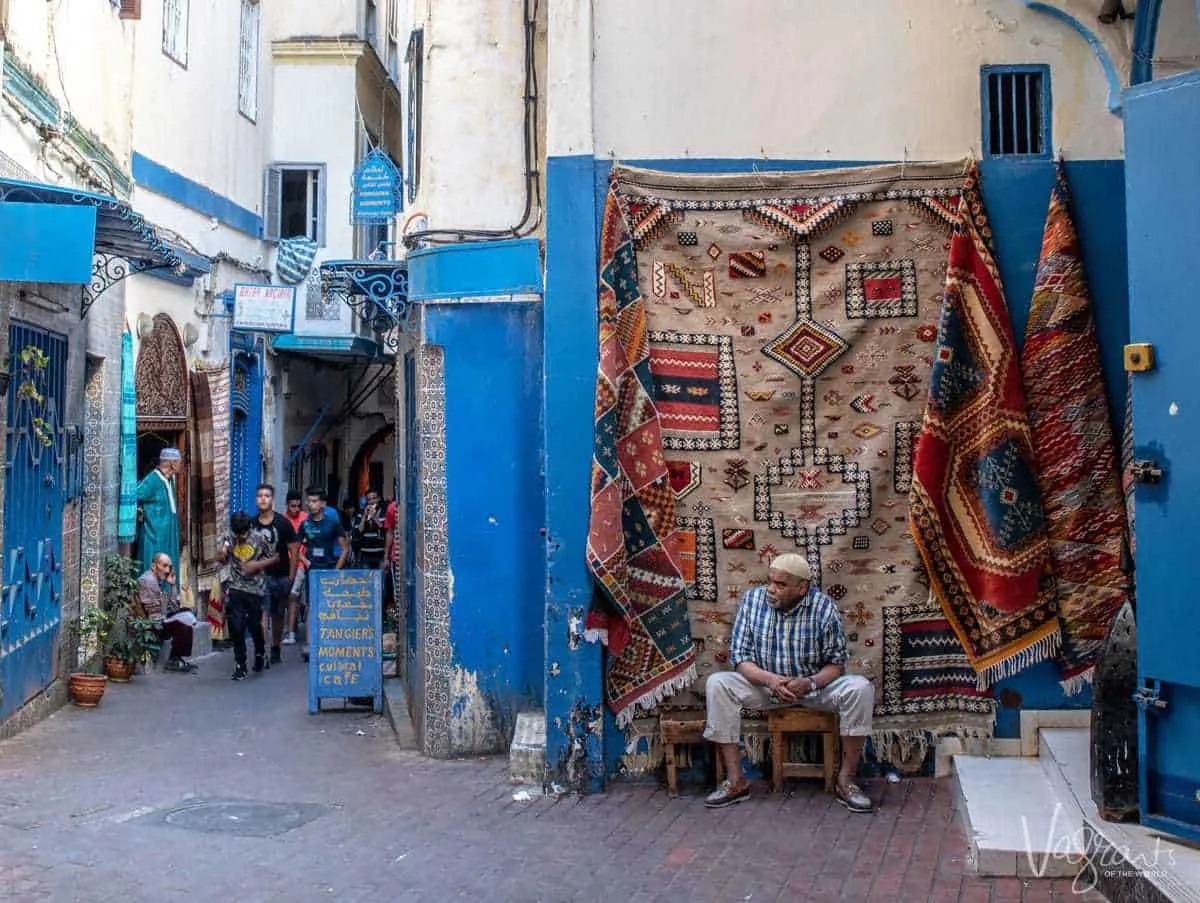 Meknes
Located in the northern central region of Morocco, the UNESCO World Heritage Site of Meknes is a historical and cultural treasure.
The capital city of Morocco in the 17th Century and one of the four imperial cities, Meknes is known for evoking architecture in the Spanish Moorish style, high medieval walls, the beautiful 9th-century medina and the intricate city gates such as the Bar Mansour Gate.
An easy day trip from Fez, you can enjoy highlights such as the Mausoleum of Moulay Ismail and the Royal Stables and one of Morocco's most famous and well-preserved ruins, the UNESCO World Heritage Site of Volubilis, just north of Meknes.
Getting to Meknes
Meknes has two train stations with regular services to all major cities. The CTM buses also have regular services to major cities and secondary towns.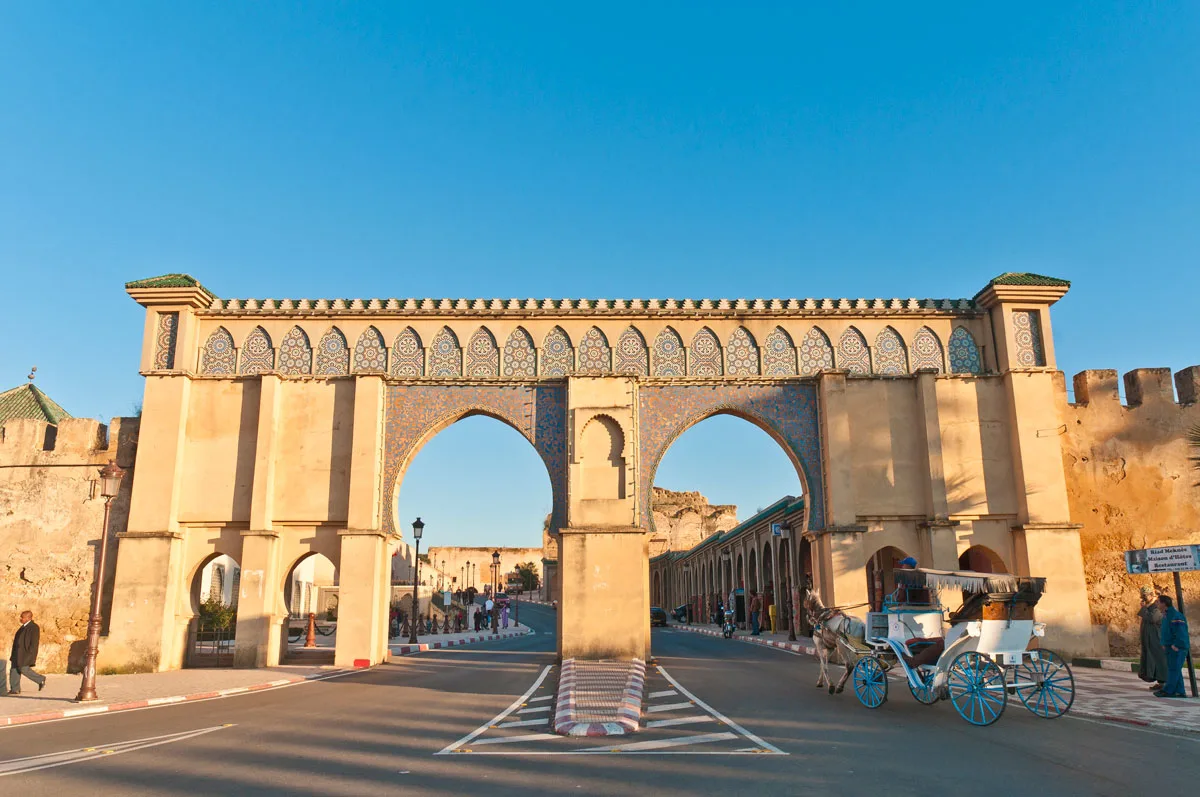 Asilah
A summer holiday hot spot for Moroccan's Asilah is one of those overlooked treasures by visitors to Morocco.
On the north coast, only 30 km from Tangier, Asilah has a magnificent history from the Phoenicians in 1500 BC to the Portuguese in the 15th century. It was even a base for pirates in the 19th and 20th centuries.
A historically multicultural marvel, Asilah cuts a pretty picture of whitewashed buildings and fortifications set against a stunning coastline. You could be forgiven for thinking you were in Greece.
With a cosmopolitan vibe that caters well to the holidaymaker, there is a good selection of hotels and restaurants. There are also two beautiful beaches close to the city – Asilah Beach and Paradise Beach.
A thriving art scene is evident in the town, in particular at the Thursday market and the famous art gallery Aplanos. Visit in August for the Annual Asilah Arts Festival.
Getting to Asilah
Asilah is very easy to reach as it is only 35 minutes from Tangier airport, and is also on the train line. There is also a limited CTM bus service.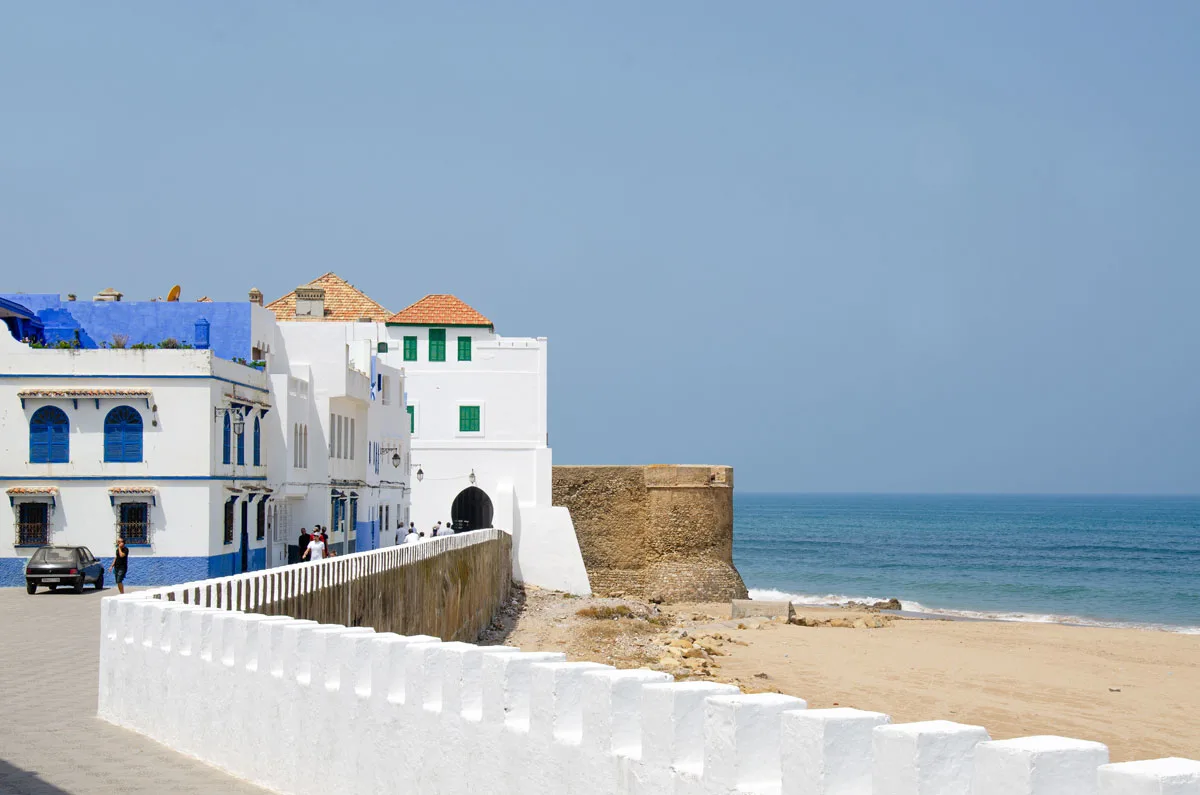 Chefchaouen
The "Blue Pearl of Morocco" Chefchaouen is one of Morroco's most photographed cities. Spend a day or more in Chefchaouen and find out what draws people to this charming blue mountain city.
Situated in the Rif Mountains of northwest Morocco at an elevation of 564 m, the vibrant blue-washed buildings of Chefcaouen nestle into the sloping mountains boasting enviable vistas of the adjoining valley and beyond.
Once the pilgrimage of die-hard travellers on the hashish trail thanks to the lax marijuana laws and the regions extensive cannabis agriculture industry. Chefchaouen is still very much known for its cannabis tourism but has also found new fame via Instagram. How could influencers and Insta wanna-be's resist the photographic charm of Morocco's Blue Pearl?
We have a 2 Day Chefchaouen Itinerary Planner with tips on how to get to the Blue City, what to do and see, day trips, shopping and more.
Getting to Chefchaouen
You can take the CTM bus from Fez (4 hours) or Tangier (3 hours).
You can take a private "Grand Taxi" from either major city. Expect starting costs of around 700 DH (~USD$68) one way, plus tips. This can be a very efficient and economical way to travel if you are ride-sharing. Just be sure to agree on a price before setting off on your trip.
Car rental in Morocco is also very affordable, especially for a compact – mid-size 4 door which is perfect for travel between and around cities.
Discover Cars have excellent car rental rates from the best local car rental companies in Tangier with no fees and free cancellation. They also make searching and booking online very easy. Find car rental deals here.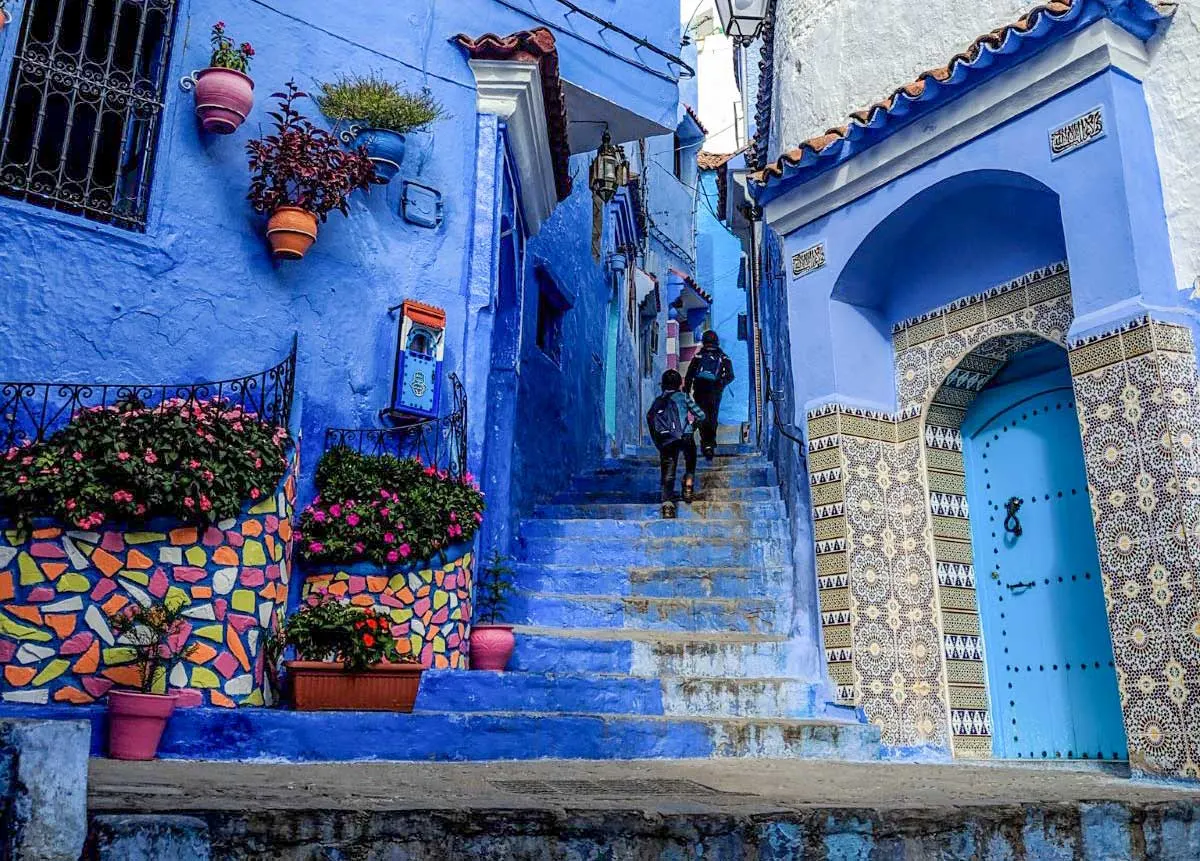 Erg Chebbi Dunes Merzouga (The Sahara Desert)
Visiting the Sahara Desert in Morocco is a once in a lifetime experience. An experience that is a huge contrast from the hustle of the imperial cities.
The most extensive desert in the world, many don't realise you can experience a startling array of landscapes in the Sahara. The Sahara region in Morocco dishes up flat, rocky and arid landscapes, scenic gorges and beautiful oasis towns set against the backdrop of the majestic Atlas Mountains.
Then, of course, there are the incredible sand dunes, some reaching over 520 feet high. One of the most incredible things to do in Morocco is to spend a night in the Sahara Desert at a traditional Berber camp. While there are many variations of ways to do this, the most popular is to take an overnight camel trekking adventure into the Sahara.
We have a complete guide on a Sahara Desert Camel Trekking Tour here. You can find everything you need to know about visiting the Sahara and what to expect from an overnight camel trekking adventure.
Getting to the Sahara
The best place to jump-start your Sahara adventure is from the small town of Merzouga on the edge of the famous Saharan dunes of Erg Chebbi.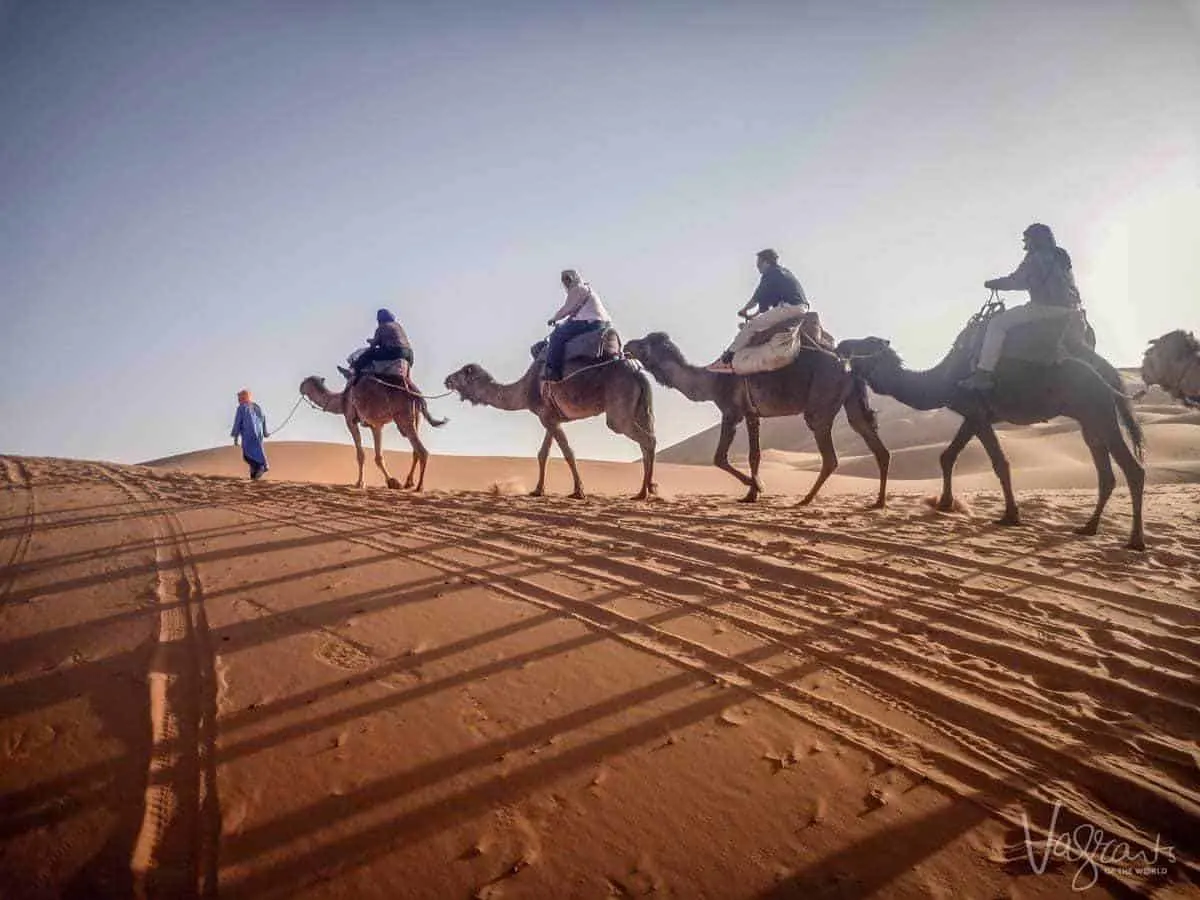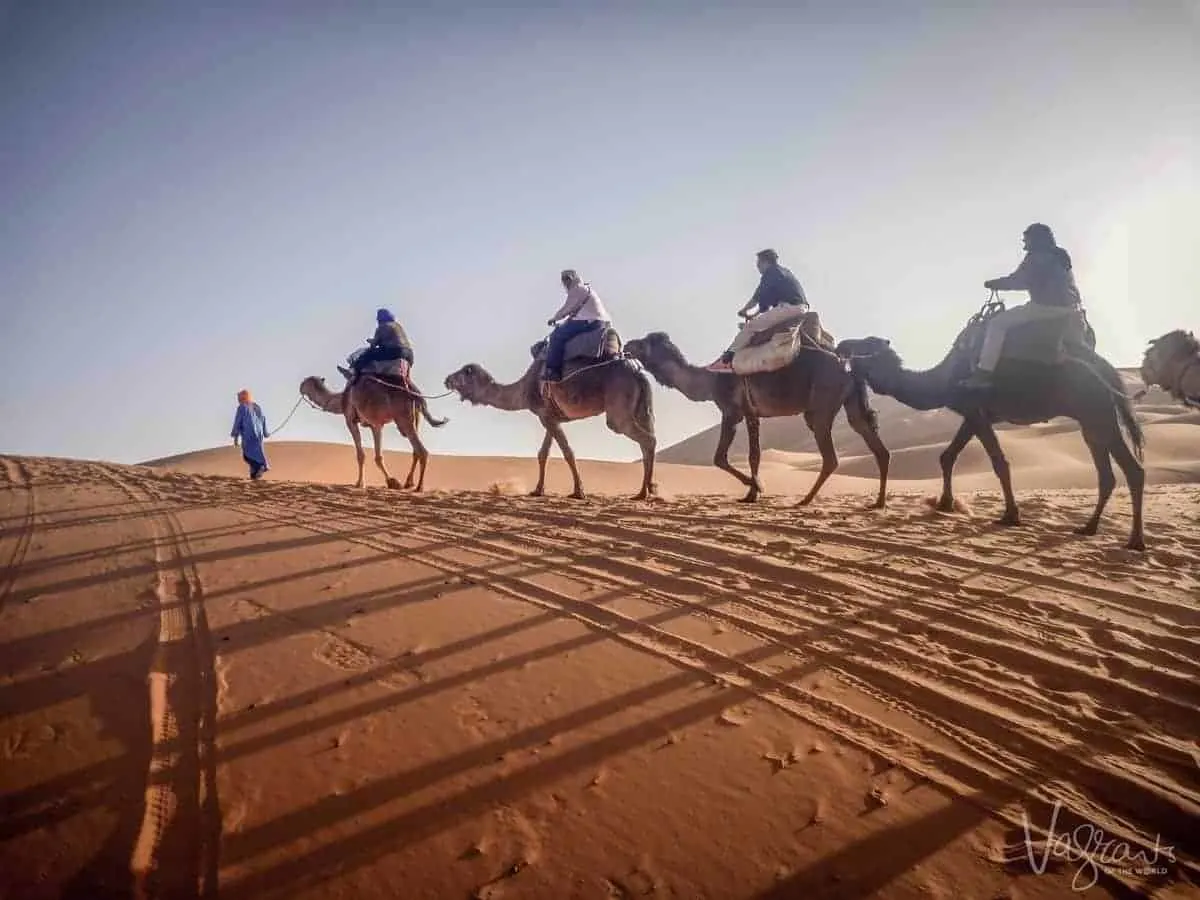 The Atlas Mountains
A trip to Morocco would not be complete without experiencing the diverse and breathtaking beauty of the Atlas Mountain Range.
North Africa's tallest mountain range run across Morocco for almost 620 miles (1000km), separating the Mediterranian and Atlantic coast from the Sahara. A hikers paradise all year round; you can also enjoy snow sports in the highest regions between September and May.
Year-round rivers flowing towards Marrakech create pockets of fertile valleys where you can explore traditional Berber villages and find ideal hiking.
Whether you choose to visit as a day trip from Marrakech or take a multi-day journey across all three ranges, the Atlas Mountains offer many exhilarating experiences.
The town of Imlil is a great starting point from Marrakech. From Imlil, you can embark on a multi-day trek to the highest peak of the ranges and Morocco – Mount Toubkal at 4,160 meters/13,670 feet in the Toubkal National Park. Toubkal National Park also offers many more leisurely day circuit hikes through villages and waterfalls.
Another popular place to visit in Morocco and the Atlas Mountains is the Todra Gorge in the High Atlas. Explore the impressive canyons carved out from the Todra and Dades Rivers.
Visit the ancient UNESCO listed mud-brick city of Aït-Benhaddou on the edge of the High Atlas. The traditional village is a star in its own right appearing in films such as Lawrence of Arabia, Gladiator and the TV series Game of Thrones.
Take the hair raising drive on the famous Tizi n' Tichka Pass. The death-defying tight winding road carves its way through the highest reaches of the Atlas Mountains, offering jaw-dropping views.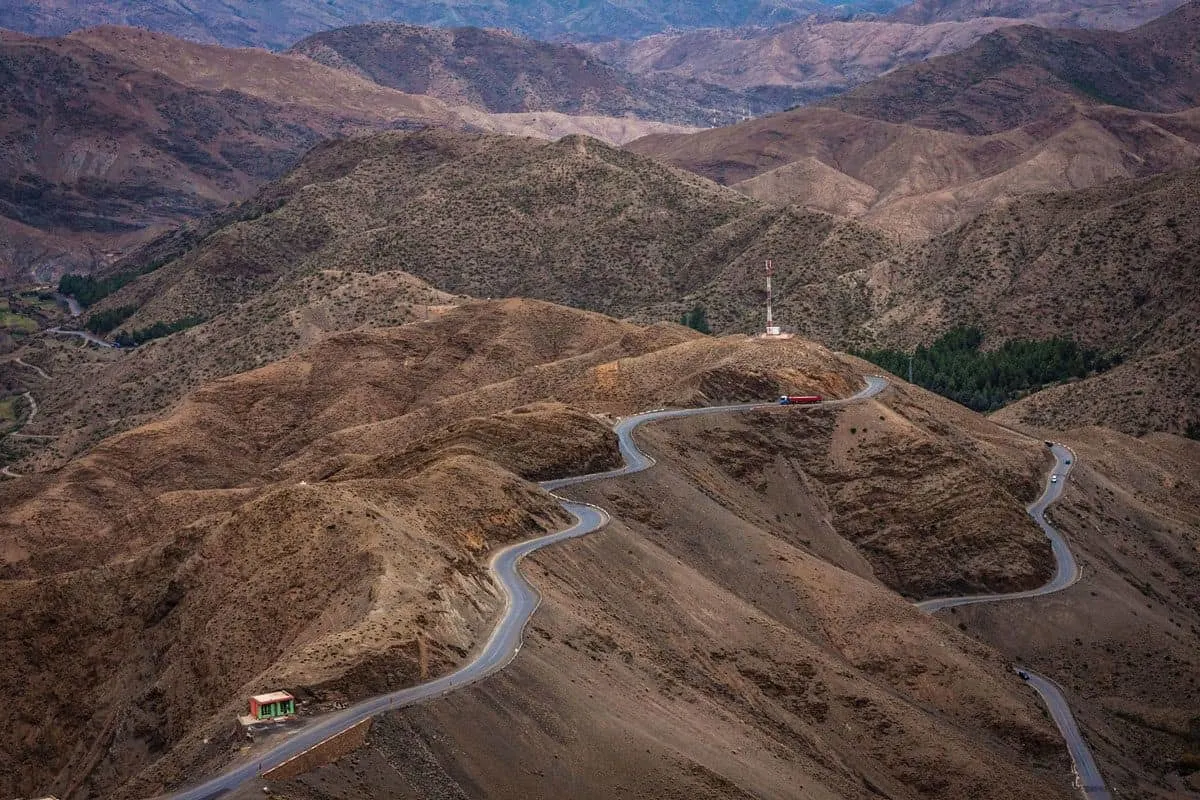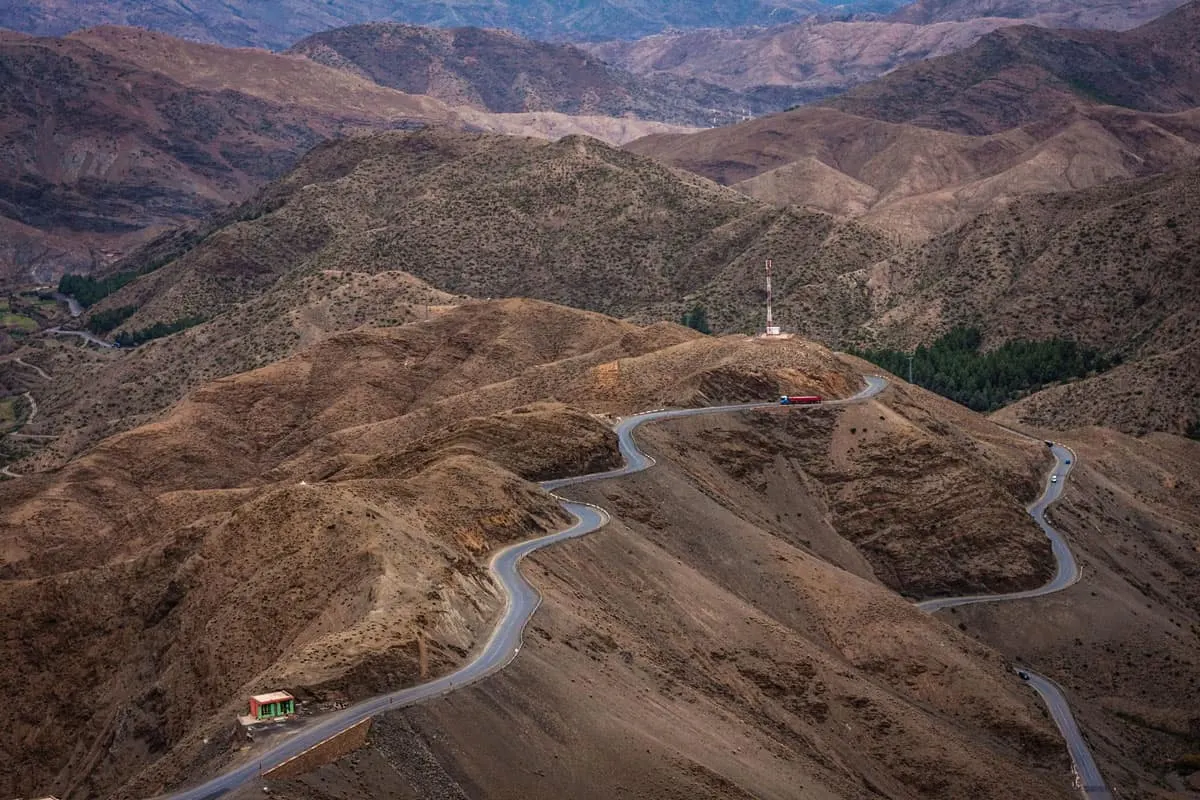 Ouarzazate
The "Hollywood of Morocco", Ouarzazate, located between the Atlas Mountains and the Sahara, has welcomed Hollowood directors since the '60s.
The region is a rugged landscape on the doorstep of the Sahara dotted with ancient kasbahs and palaces that attract filmmakers from all over the world. Ouarzazate has set the scene for over 200 movies such as Ben Hur, Gladiator, Star Wars, Mummy, The Hills Have Eyes and Kingdom of Heaven. And, of course, the hit TV series Game of Thrones.
You can take a tour of Atlas Studio's, which has been in the movie business since the early '80s and explore an eclectic collection of old film sets from Gladiator cells to Egyptian palaces to the entire set of Kingdom of Heaven. There is also the Museum of Cinema which is well worth a visit.
A major stop on the caravan routes, you can also explore an exciting collection of kasbahs such as the 300 room Kasbah of Taourirt, the famous Ait Benhaddou and Kasbah Aksar.
Getting to Ouarzazate
You can get to Ouarzazate by CTM bus from Agadir, Casablanca, and Marrakech, the closest at 3.5 hrs. You can also take a bus from the nearest regional centre of Tinihir – 2.5 hrs. There is a small regional airport in Ouarzazate with cheap flights from Casablanca and Marrakech. You can also take a guided day trip with all transportation from Marrakech. See full tour details here.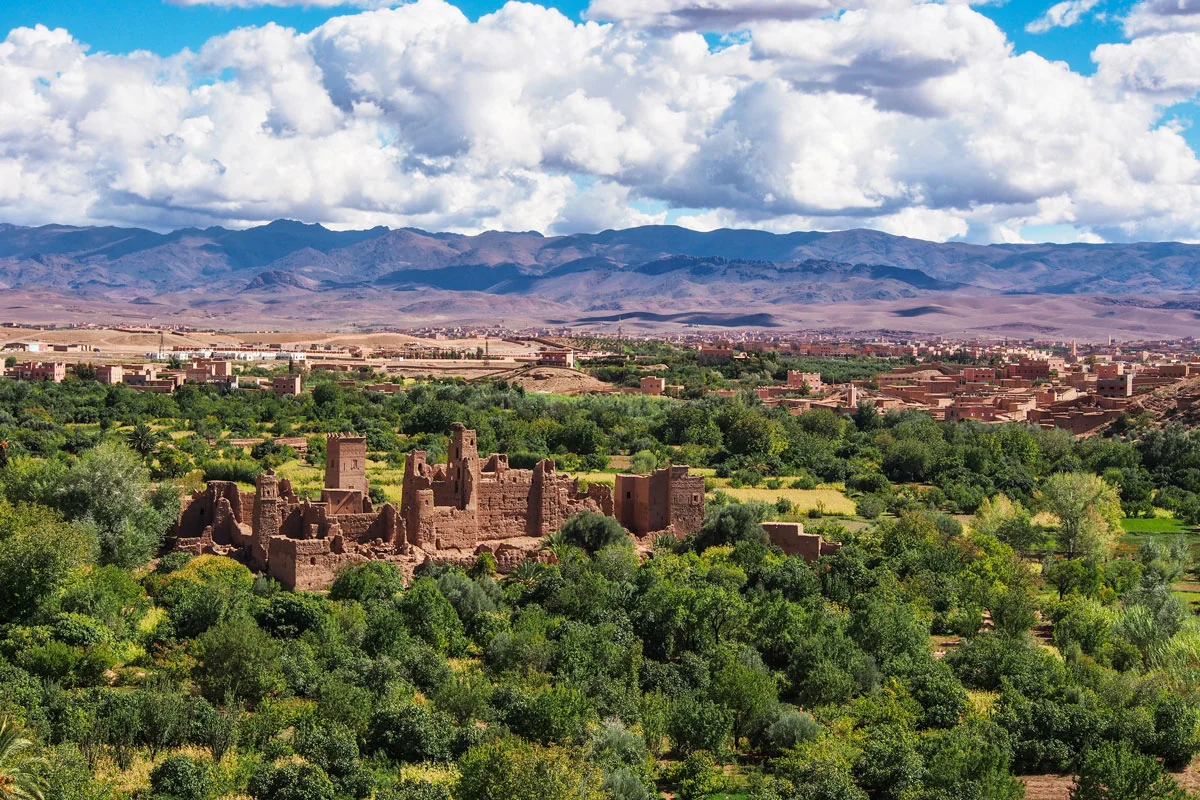 Skoura Oasis
Only an hour from Ouarzazate is an idyllic and impressive scene of a dense palm grove surrounded by the red rock of the Draa Valley.
Deep inside the "palmeraie"(palm grove) is a network of dirt tracks and an ancient underground irrigation system that supports an unexpected bounty of crops from tomatoes, pomegranates, almonds, dates, figs, alfalfa, mint, apricots and herbs. An agricultural system that has carried on for generations.
Ancient mud-brick kasbahs and fortified villages blend with stylish guesthouses in the palmeraie offering a luxe farm to table experience that makes you want to linger in the unhurried nature of the oasis.
Getting to Skoura
Skoura is only 45 minutes from Ouarzazate. There are bus services from both Ouarzazate and Marrakech. It is also included on many private multi-day all-inclusive Sahara Desert Tours from Marrakech. See here for a tour example.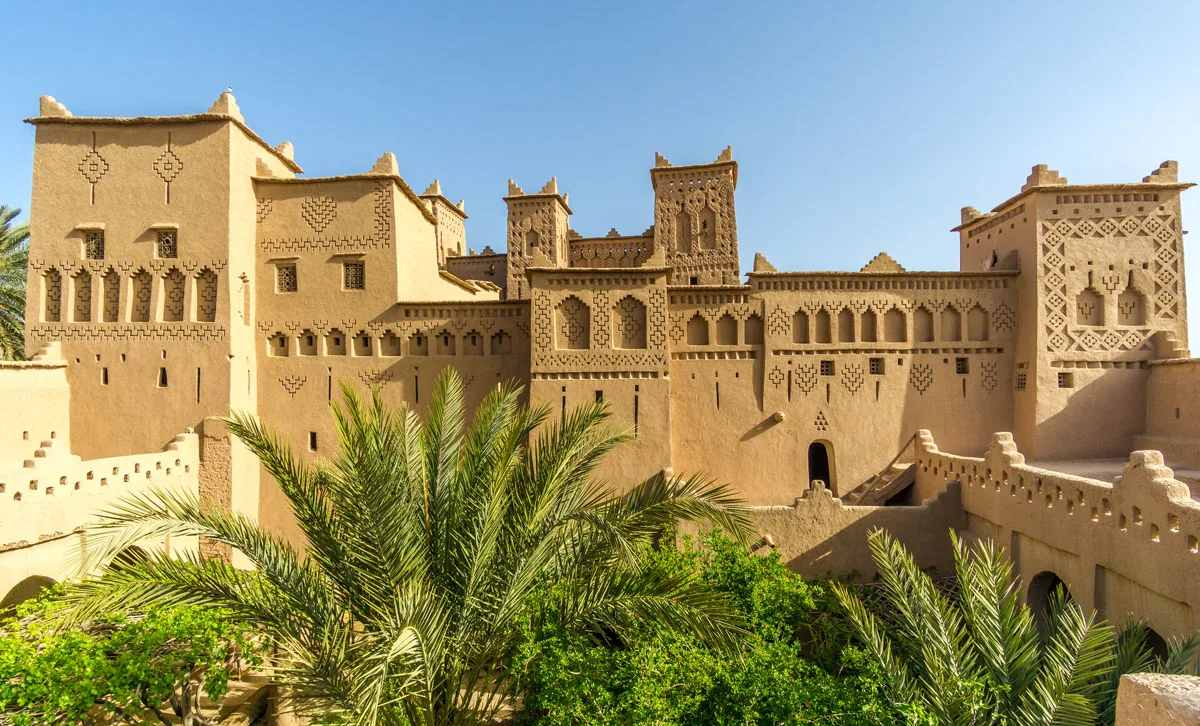 Valley of the Roses
For those seeking a less travelled destination in Morocco, the Valley of the Roses has so much to offer.
The Assif M'Goun river has carved the Valley of the Roses to create a fertile agricultural oasis surrounding the town of Kalaat M'Gouna.
Set against the snow-capped Atlas Mountains, Rose Valley is a magnificent vista of colours and landscapes. Red soil and rock formations frame pristine rivers and lush hues of green, and in April and May, the valley floor is carpeted with roses. In May, you can enjoy the Festival of the Roses, and any time of year, you can visit the distillery and learn about Morocco's precious rose oil and rose water production.
Getting to the Rose Valley
The best way to reach Rose Valley independently is to travel to Kalaat M'Gouna from Ouarzazate. If you don't have a car, you can take the CTM bus heading to Tinghir or take a Grand Taxi.
We visited Rose Valley as a stop on our private road trip from Marrakech to Fez en route to the Erg Chebbi dunes at Merzouga. You can do similar private tours – see an example of a trip like this here, which includes a driver and overnight accommodation on all stops and activities.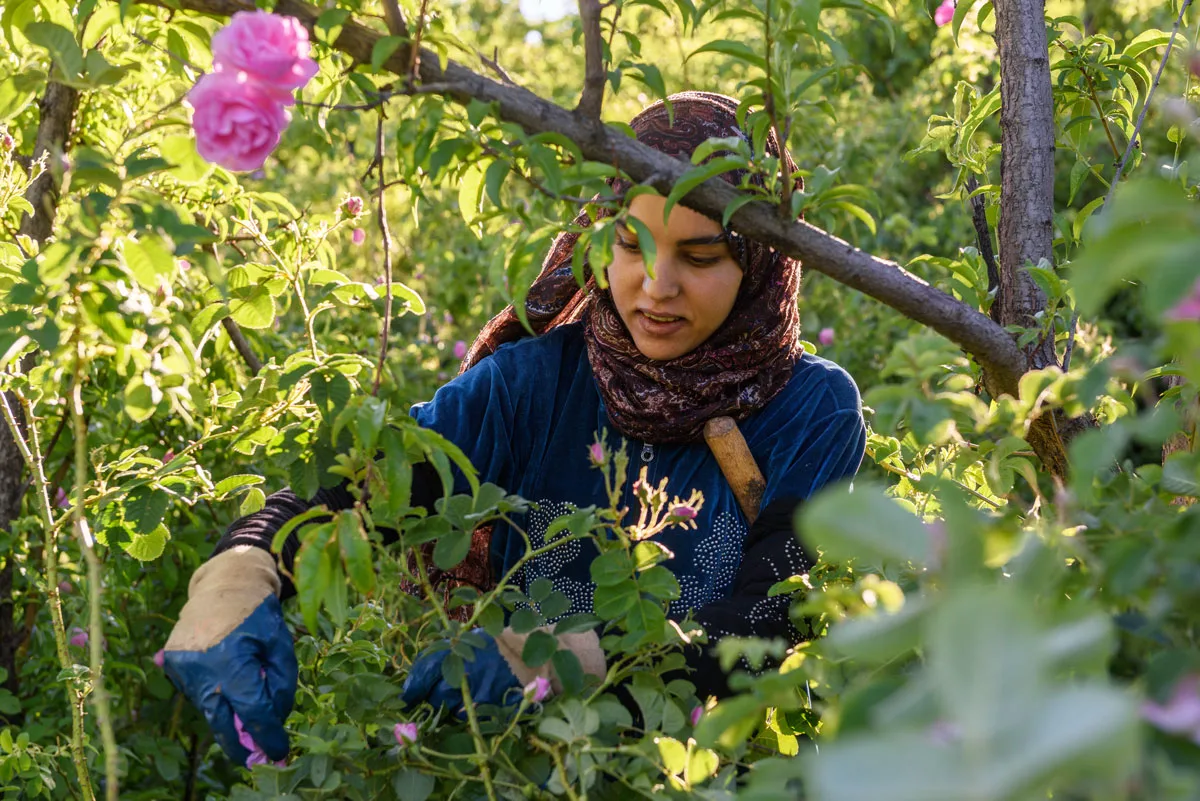 Agadir
The modern portside city of Agadir on Morocco's southern Atlantic coast is a bustling seaside town despite suffering significant damage in a 1960 earthquake.
The modern resort town known for its golf courses and chilled holiday vibe also boasts a marina and beautiful beachfront promenade lined with restaurants, cafes and bars. With a modern fun in the sun attitude, it's not surprising it's one of Morocco's most popular tourist destinations.
While the earthquake destroyed many of Agidar's heritage sites, you can still see the old walls of the Agadir Kasbah on the hilltop and immerse yourself in Moroccan culture in the busy souks.
From Agadir, you can take a day trip to the Souss-Massa National Park.
Getting to Agadir: An international airport is 20 km south of Agadir with connections to many major European cities. There are no train services to Agadir, but regular CTM bus services are from Marrakech and Casablanca.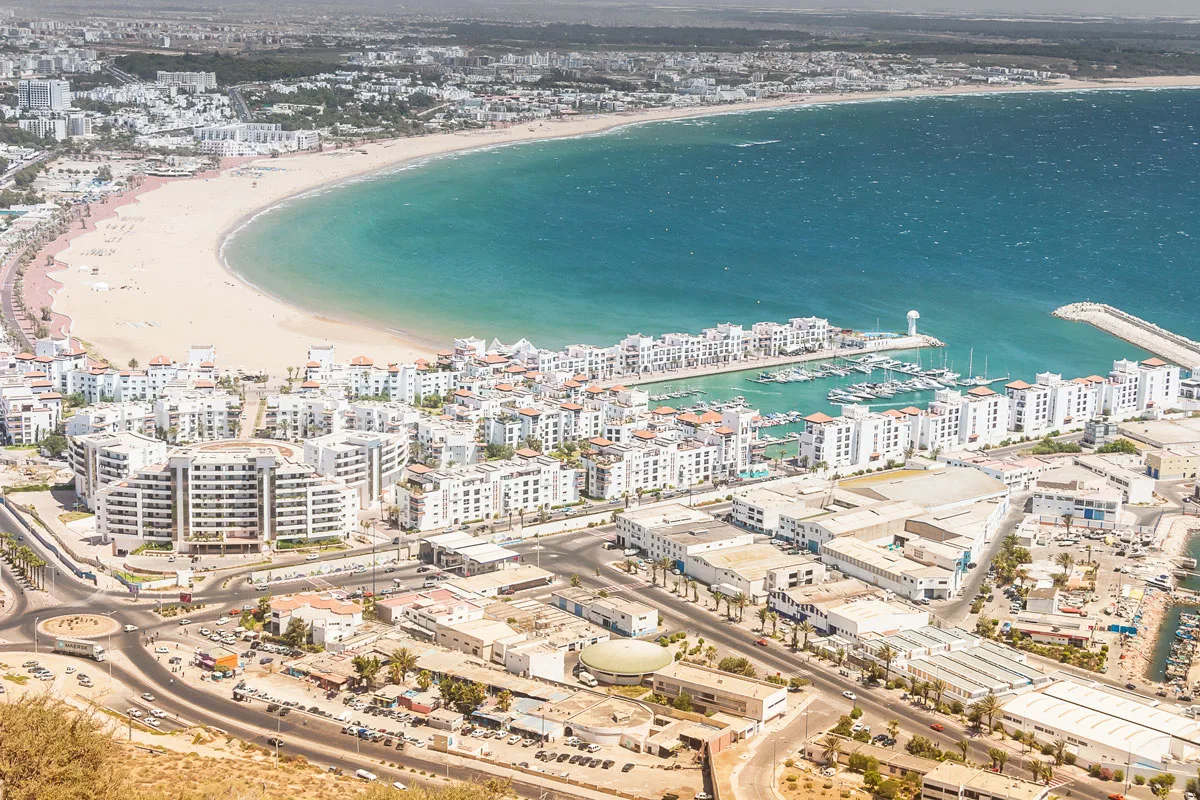 Sidi Ifni
Looking for a chill Moroccan get away with some pretty impressive beaches and vistas, Sidi Ifni ticks the boxes.
A Spanish enclave until 1969, the fishing town of Sidi Ifni on Morocco's southwest coast is one of the most charming places to visit in Morocco.
While not bursting with attractions what this laid back coastal town does have to offer is a year-round good climate, great beaches, a lively surf culture, restaurants, cafes and bars.
The town still has a good amount of Spanish flair as does its inhabitants – don't be surprised if you are caught unawares by "siesta". Along the waterfront, you can explore the souk and Old Spanish Town all of which is painted in blue and white which creates a cheery contrast to the stark surroundings.
Along with a friendly holiday town atmosphere, the biggest drawcard is the beautiful beaches, especially Legzira Beach with its iconic 30-metre rock arch.
Getting to Sidi Ifni
Other than self-driving, the bus is your best bet to get to Sidi Infi. CTM and Supratours stop here on all trips south into Western Sahara. Departures from Agadir and Marrakech are the closest.