Chefchaouen. The beautiful "blue city" in the Rif Mountains of northwest Morocco.
Vibrant blue-washed buildings nestled into the sloping mountains – at an elevation of 564 m, Chefchaouen boasts enviable vistas of the adjoining valley and beyond. For a small city, there are a lot of things to do in Chefchaouen including easy day trips.
We show you the best way to enjoy two days in Chefchaouen, including how to get there and tips on what to look out for, where to eat and more.
Why is Chefchaouen Blue?
There are several myths around why Chefchaouen is painted blue – while very few other cities in Morocco are (only Essaouira, Asiliah, and Tetouan).
Some theories suggest it's nothing more than a strategy for repelling mosquitoes. Others claim the city was painted by the Jewish communities that arrived in the area from Europe in the 15th century. Blue is a symbol of the sky and heaven. A reminder to lead a spiritual life.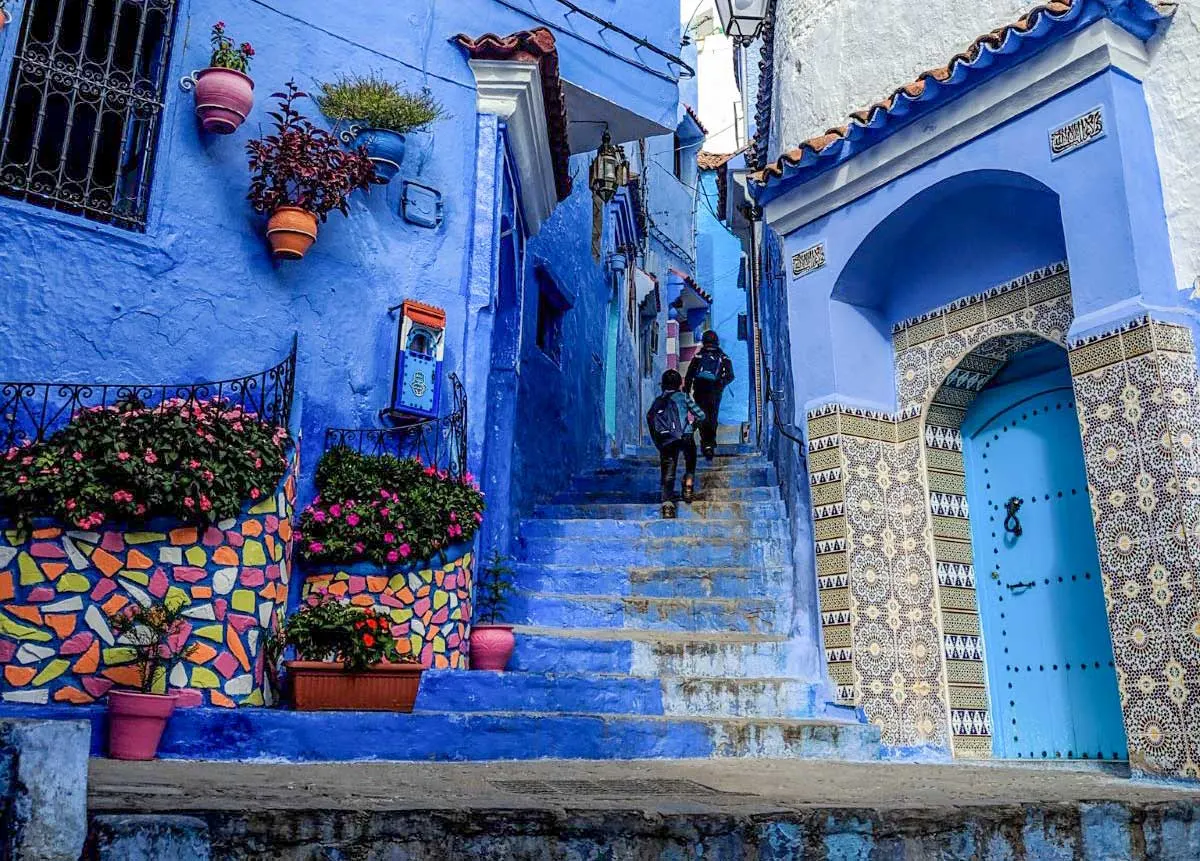 One of the more unknown versions is the blue walls indicated to potential customers that narcotics were available for sale within the walls. Some claim it was a mandate from the '70s to attract tourists.
Which is true? Nobody truly knows, which only adds to the Chefchaouen allure.
One thing is sure if there is one city that has become world-renowned via Instagram, it's Chefchaouen. It truly is a photographer's playground.
Whether you are a photographer or just passing through, The Blue City is a must-see on every Moroccan itinerary.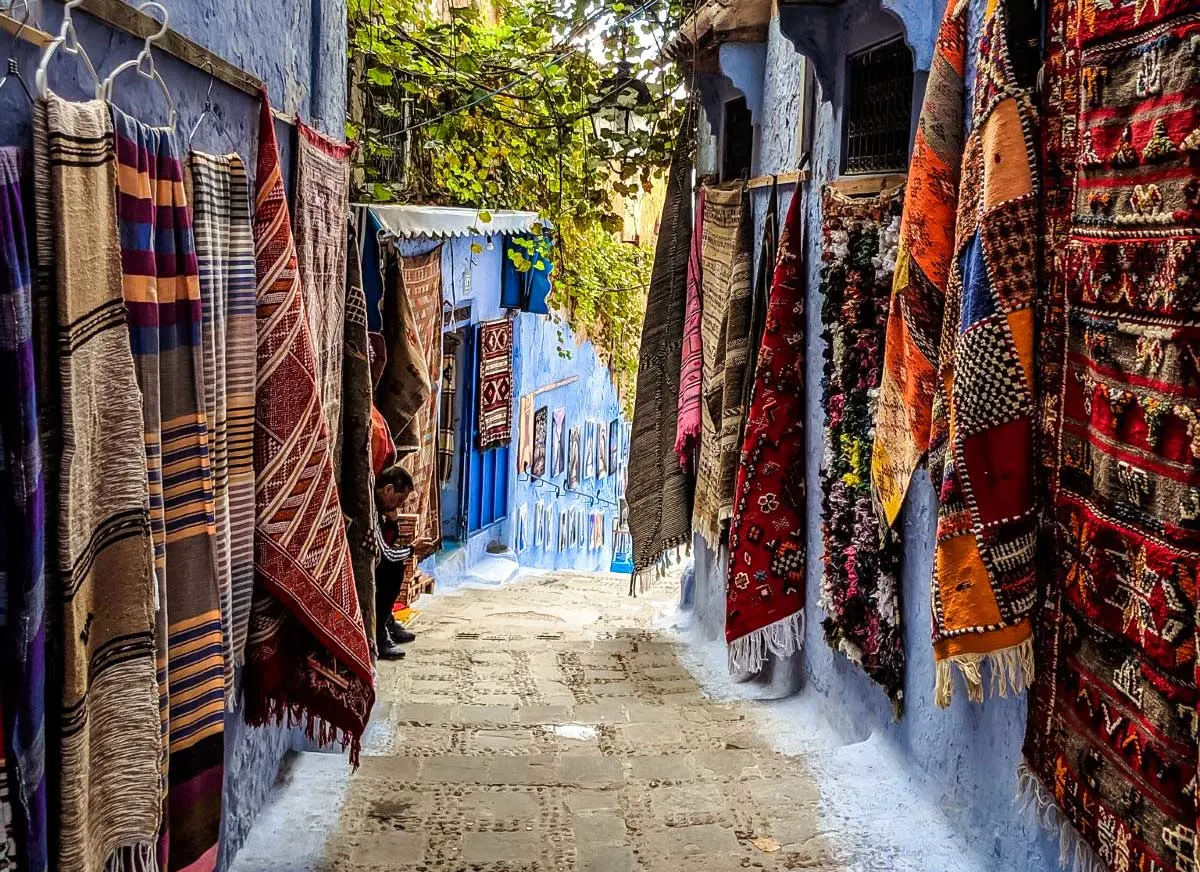 How Long to Spend in Chefchaouen
It is possible to make a day trip to Chefchaouen (Fez to Chefchaouen 3.5 hrs | Tangier to Chefchaouen 2.15 hrs). Making a day trip from Marrakech or Casablanca would be too far.
However, to get the whole experience of the stunning blue city, it's highly recommended to stay at least two days in Chefchaouen.
What to Know Before You go to Chefchaouen
If you want to be one with the locals, drop the "Chef" and call the city Chaouen.
Don't be surprised if you get a lot of locals approaching you to buy marijuana. The region is one of the primary cannabis producers in Morocco.
Parking is tricky but is possible. Expect to pay around 50 MAD (~USD$5) for two nights.
One of the most surprising things about the city is many locals speak Arabic and Spanish – compared to the rest of Morocco, which is predominately Arabic and French-speaking. The Spanish were allocated a zone of land (that included Chefchaouen) to provide stability within the country while protecting the kingdom's sovereignty. Although the Spanish Protectorate ended in 1956, the influence and the cultural connection remains in the region.
---
Chefchaouen is Just One Incredible Place to Visit in Morocco: Discover the best places to visit in Morocco to help you plan the ultimate Morocco itinerary.
---
2 Day Chefchaouen Itinerary
Day 1
Travel to Chefchaouen
Bus
The CTM bus company has coach services to Chefchaouen from Fes (travel time 4 hours) and Tangier (approx. 3 hours). It should be noted both options take you through windy mountain roads, so be prepared for motion sickness if you are prone.
If you are coming from Fes, there is a rest stop halfway along to stretch your legs and get some fresh air.
Private Taxi
You can hire a private driver in a "grand taxi" which will take you from your starting city and drop you off in Chefchaouen. While this is the most expensive option for getting to Chefchaouen, it is probably the least hassle and fastest. Costs can start around 700 DH (~USD$68) one way, plus tips.
Rental Car
Roads in Morocco are in reasonably decent condition making the drive from major cities into the mountain town relatively low-key. If you have limited time and want to be cost-efficient, renting a car to get around Morocco can be an excellent option for some travellers.
Car rental in Morocco is also very affordable, especially for a compact – mid-size 4 door which is perfect for travel between and around cities.
Discover Cars have excellent car rental rates from the best local car rental companies in Tangier with no fees and free cancellation. They also make searching and booking online very easy. Find car rental deals here.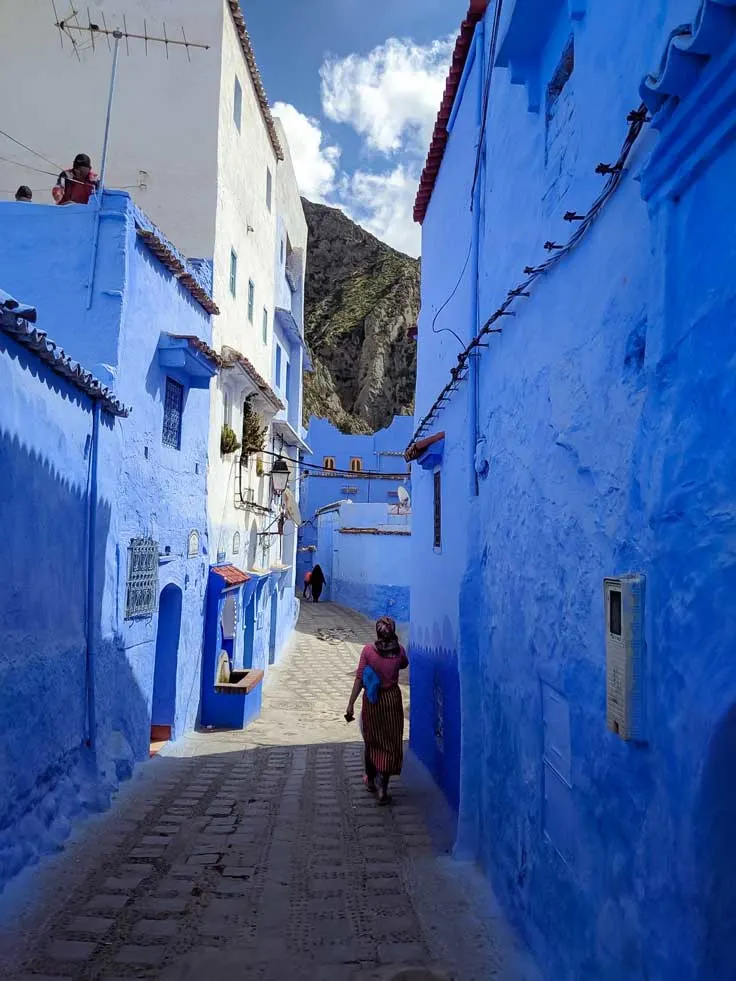 Arrive in Chefchaouen
After you check into your hotel, drop off your luggage, enjoy a traditional mint tea, then head out and explore the blue city.
Moroccans always serve mint tea on arrival. It's an almost ceremonial gesture to signify friendship and hospitality.
---
Stay Safe in Morocco: Read our best travel safety tips and anti theft travel gear guides before you leave.
---
Bear in mind; that the town is perched on the side of the hill and covered in cobbled lanes; it's recommended to wear sturdy shoes to navigate your way around the winding alleys of Chefchaouen.
Once inside the medina, there is no vehicle access, so walking is the only transportation option. But don't worry, it's not a big medina and is easily walkable for most people.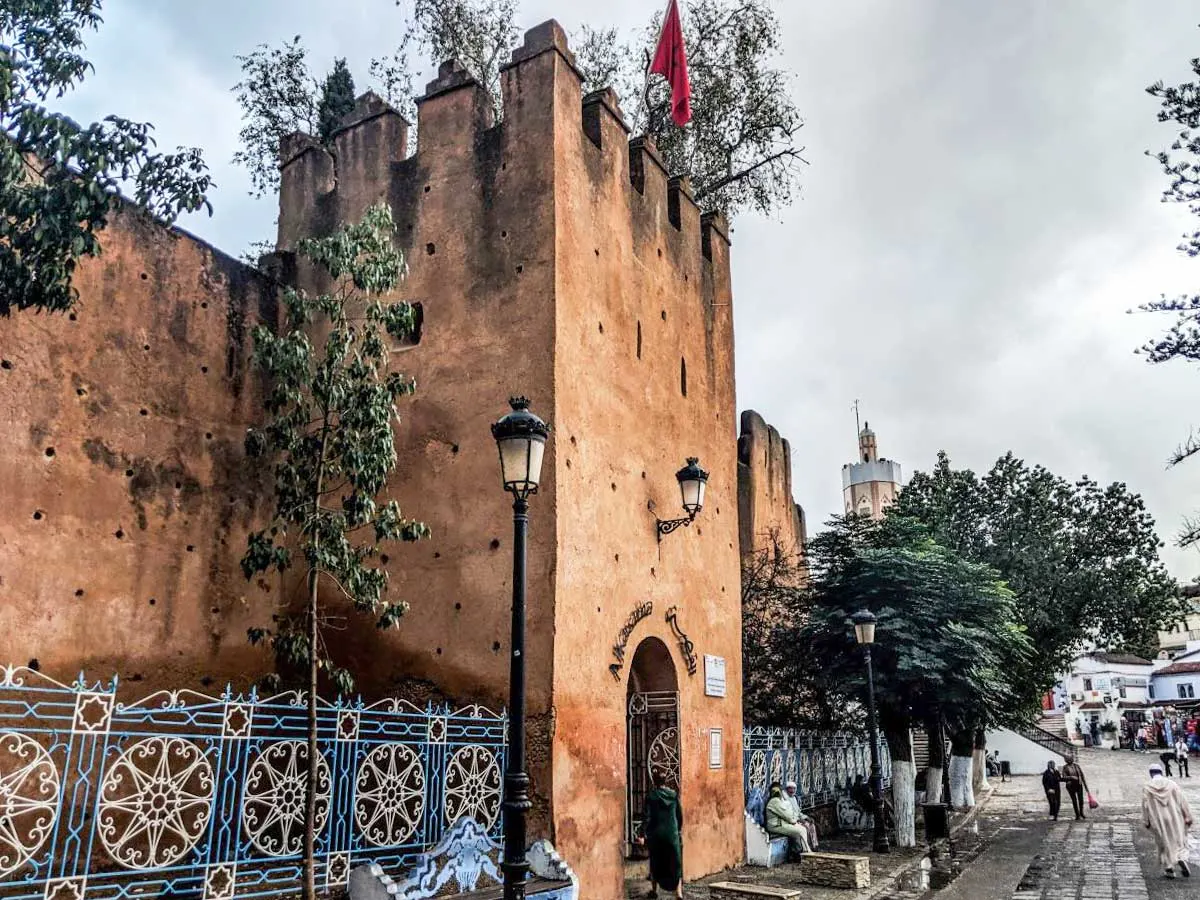 Lunch
Depending on your arrival time, you may be needing a food stop. There is no better place to eat in Chefchaouen for authentic Moroccan food than Bab Ssour. It is hands down one of the best restaurants in town. The number of tourists and locals that dine here is a testament to the quality.
Going during the non-peak dining hours will spare you wait time if patience is not your virtue. Make sure you try the Kefta (spicy meatballs) and the figs for dessert.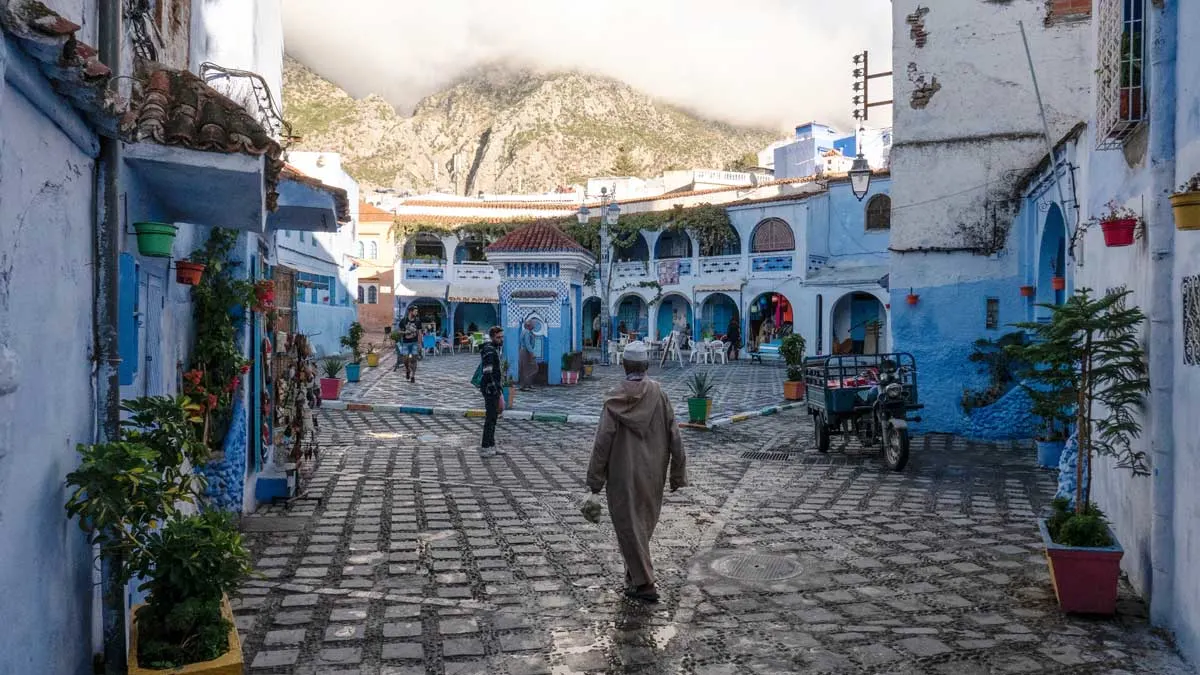 Explore Chefchaouen City
Place Outa el-Hammam
From Bab Ssour, start walking off your lunch in the direction of Bab El Sor, which is just around the corner. The city gate brings you into the main square of Place Outa el-Hammam.
Place Outa el-Hammam is filled with artisan vendors, and tourists and holds a few must-see attractions such as the entrance gate to the Kasbah monument, the Grand Mosque, and the entrance to the Ethnographic Museum of Chefchaouen.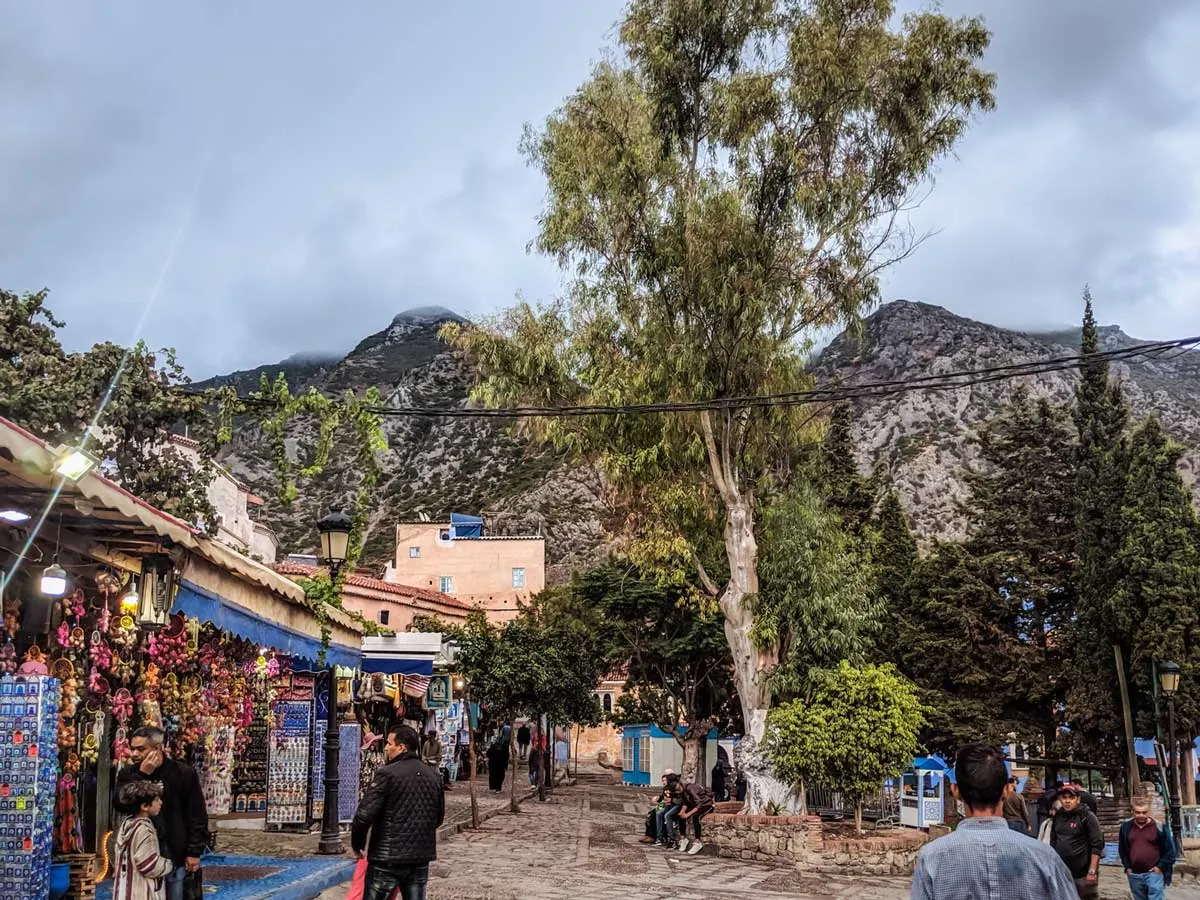 Explore Chefchaouen's Endless Photographic Opportunities
The best way to spend your day in Chefchaouen is to wander around the winding streets of the "blue pearl of Morocco".
A sunny day provides the perfect lighting to highlight the blue walls for those vibrant photographs you probably came here to take. No filter is necessary.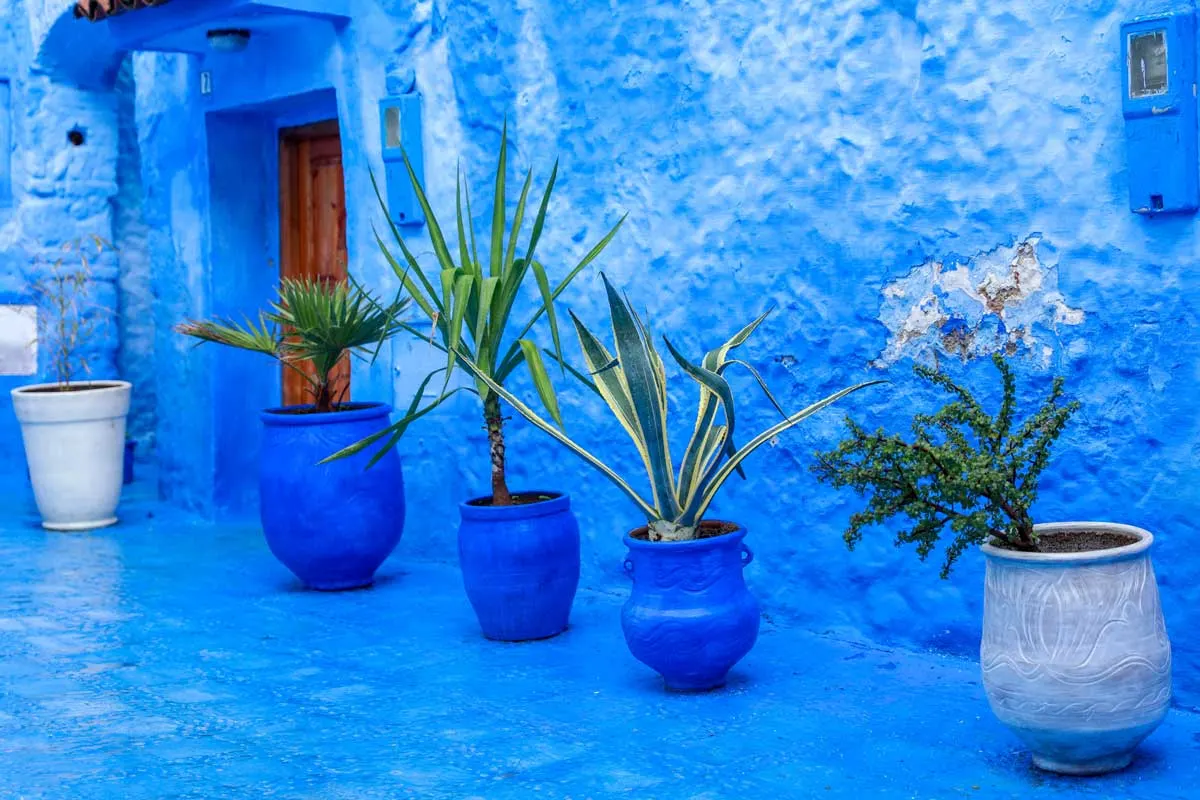 Don't be shy and look around the alleys in the medina. You might be surprised by what you find. Locals have been known to set up picturesque backdrops that tourists happily partake in for a small fee.
Some streets are bluer than others; some have more decorations, while some have a more local feel – Explore.
Keep an eye out for the kittens wandering around Chefchaouen (and most other Moroccan cities). They provide exciting photography opportunities, as well.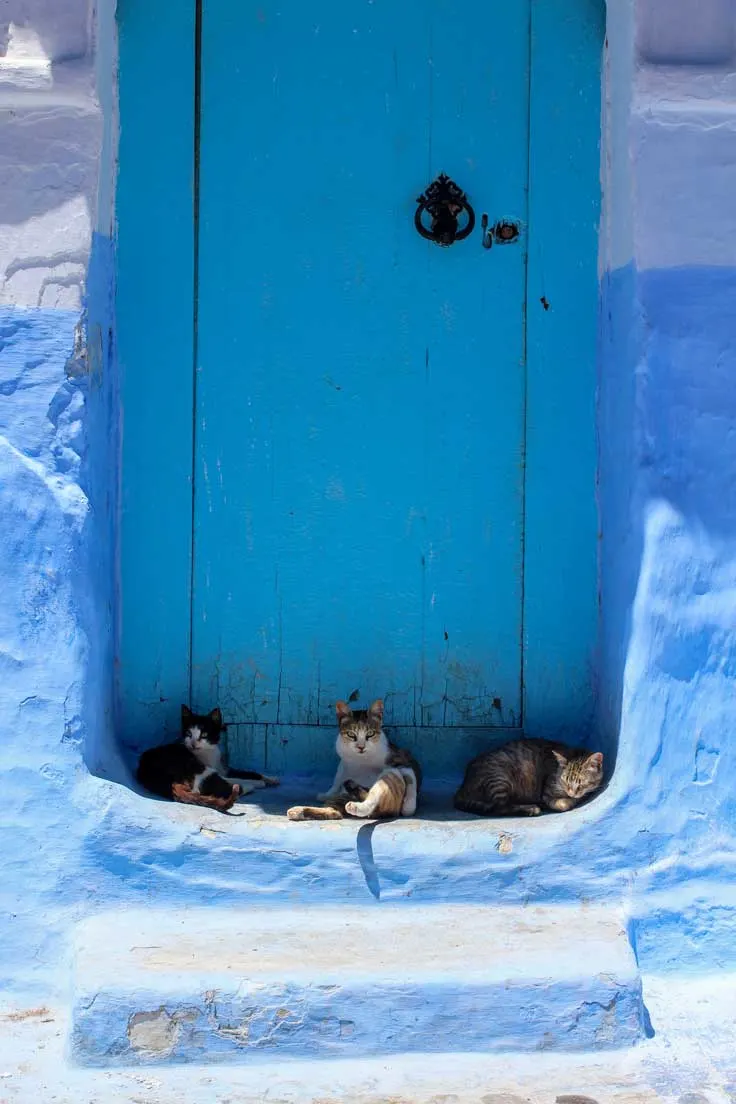 Sunset
At the end of your first day, head up the hill to the Spanish Mosque (or Mosquée Bouzâafar), where you will find an incredible view over the blue-washed city and beyond to the neighbouring mountains.
Keep time in mind for the sunset, as this uphill climb should take you about 30 minutes.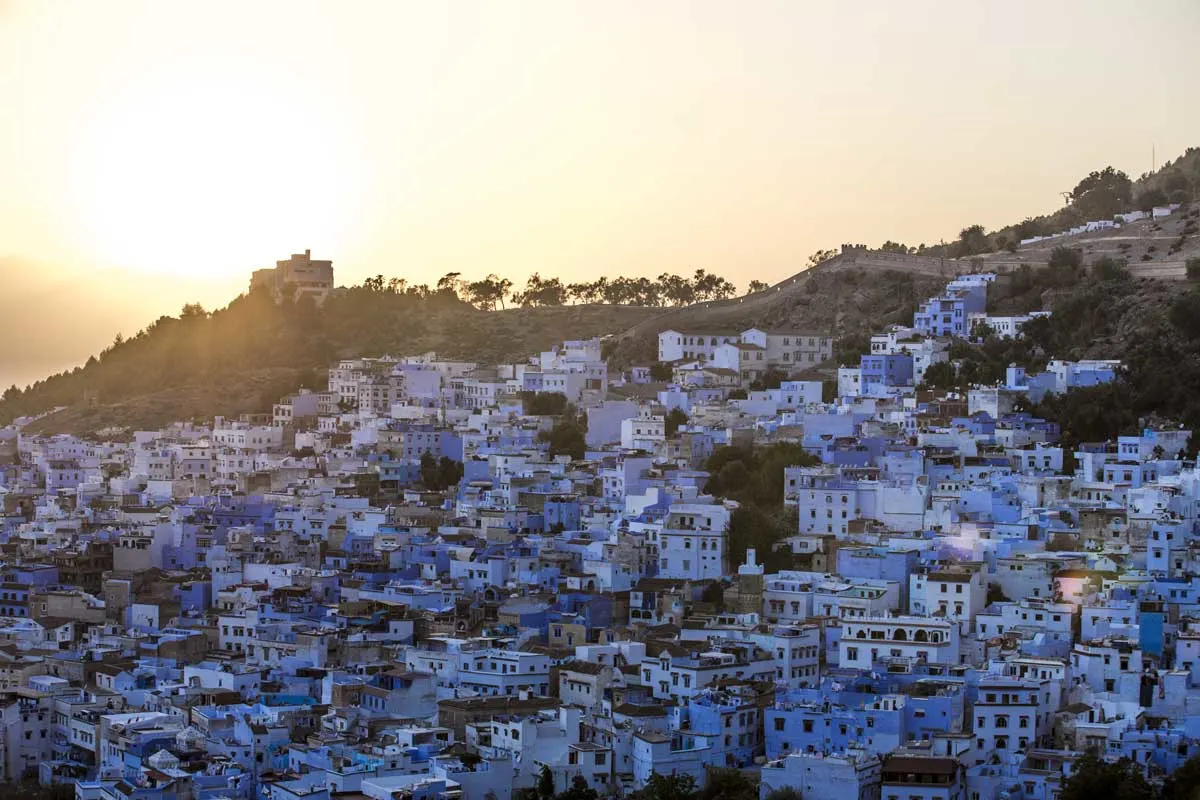 ---
Wondering What to Pack for Morocco? We've got a complete Morocco packing list to cover every Moroccan adventure.
---
Day 2
Breakfast
Most hotels, or Riads in Morocco, provide breakfast for guests. Beware that Moroccans have an affinity for bread and pastries – especially for breakfast. If you are gluten-free, speak to the hotel owner about other food options.
If you enjoy bread, then a Moroccan breakfast will please. Jam varieties, butter, and honey are all provided. You can also expect a traditional Moroccan mint tea and coffee for breakfast.
If you'd prefer to have breakfast outside your hotel, stop by Hamsa Cafe, which serves crepes, homemade cakes, teas, coffees, and fresh-squeezed juices.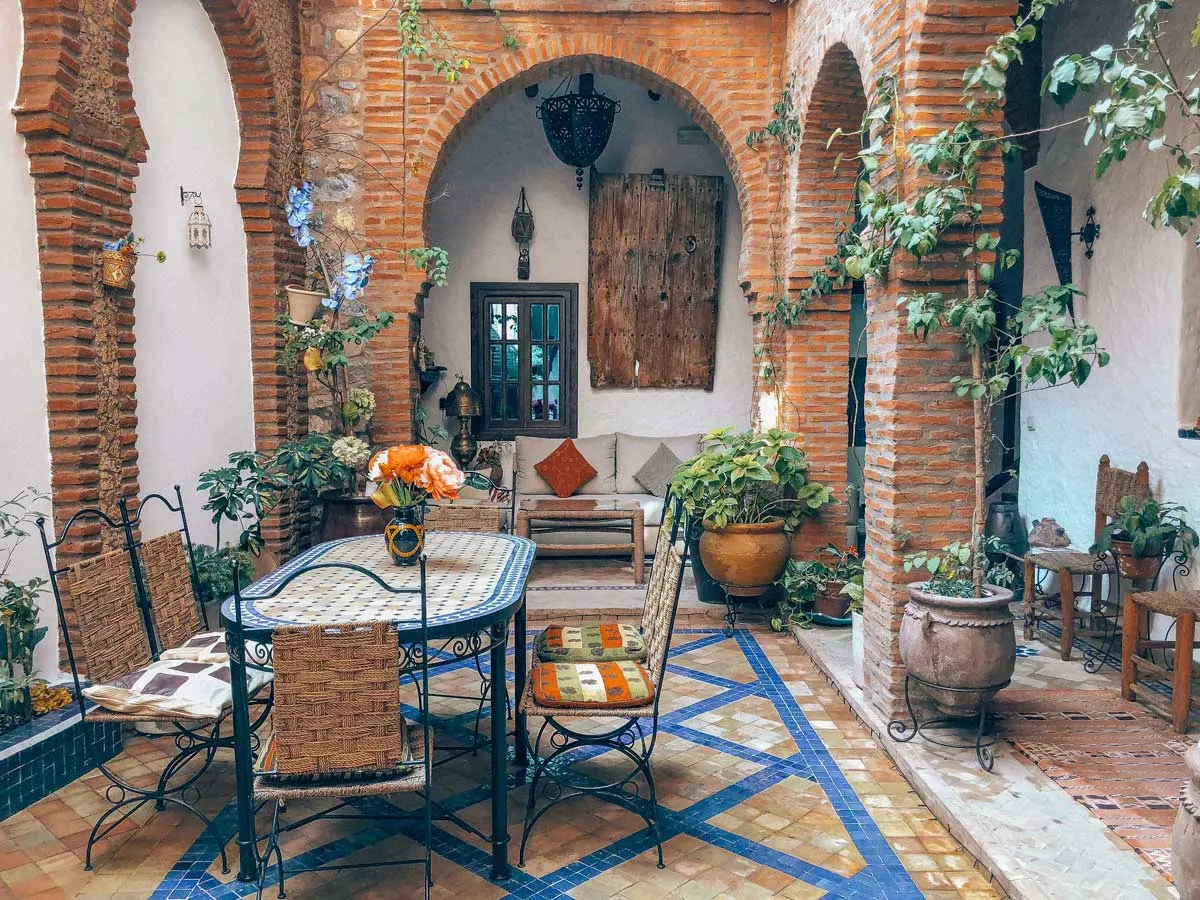 On day 2, you have two options on how you would like to spend your day.
Shopping & Sightseeing
Most tourists find shopping in Chefchaouen to be some of the best in the country. Soaps and argan oils are an excellent option for light packers, while rugs and leather goods are incredible for those who have ample luggage space.
You can put your bartering skills to use here. Just make sure you shop around and don't buy all your goodies from the souvenir stalls at the main square of Place Outa el-Hammam. There are some fantastic vendors in the winding alleyways of the medina. Half the fun is finding them.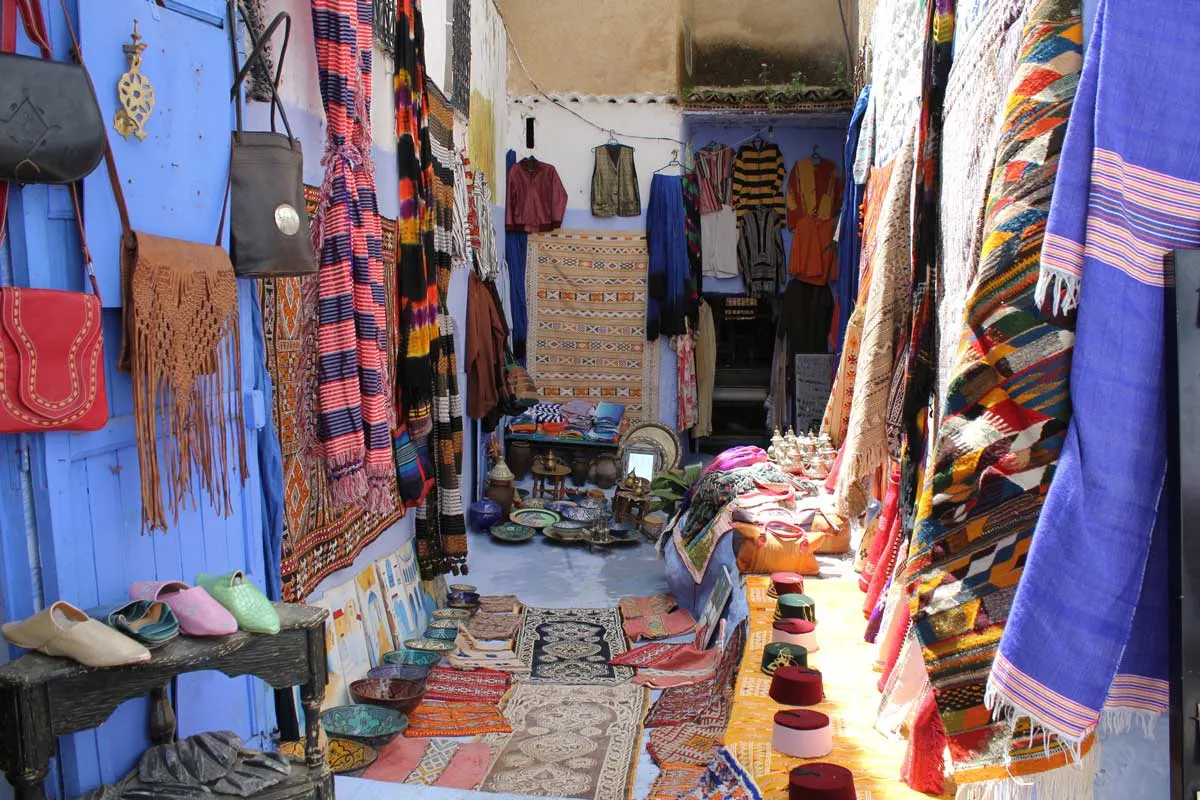 When you have had your shopping fill, wander the medina again. Depending on the cloud cover or time of day, the street you have already walked along yesterday may look completely different today. Go early in the morning to avoid the crowds and get your picture-perfect image.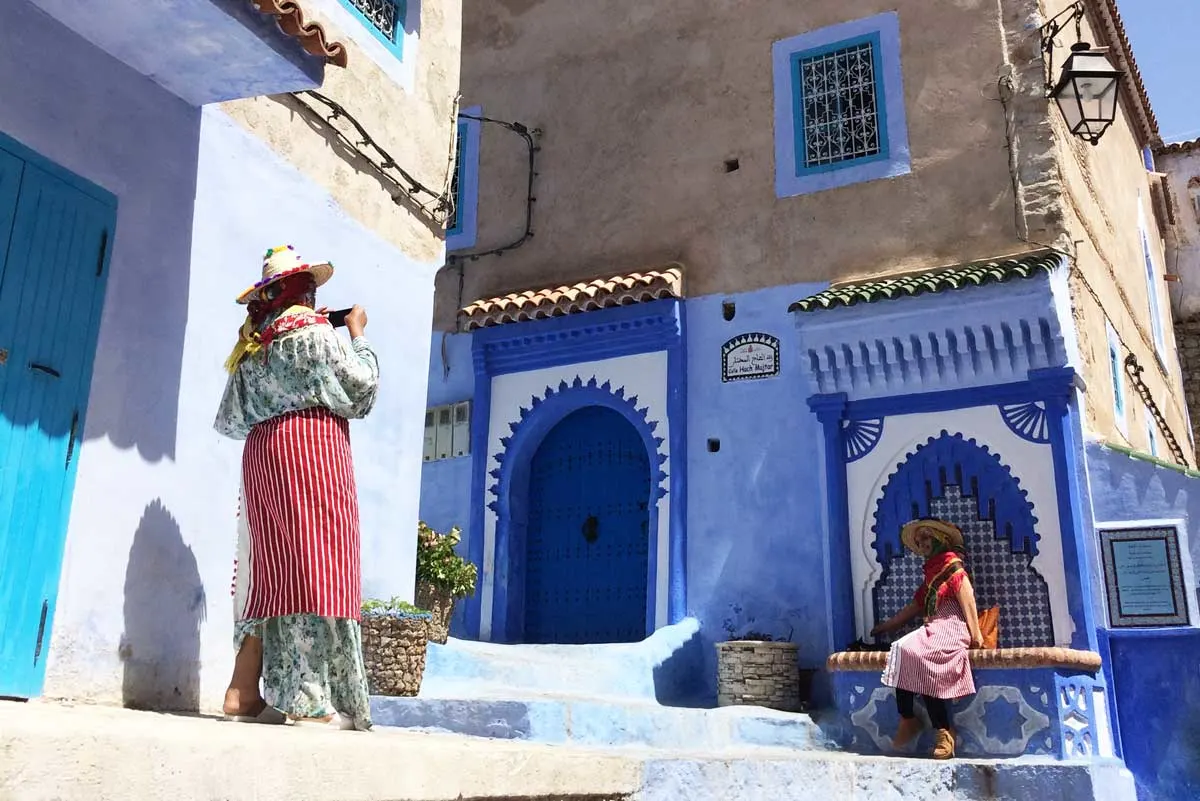 If you want to catch locals in the middle of their daily washing tasks and enjoying each other's company, head over to Ras El Ma, which is the main water stream that flows through the city from the Rif Mountains.
Cascades d'Akchour Day Trip
If you are not interested in shopping and would like to explore the Rif Mountains, you might want to add a half-day trip to the local waterfall instead.
You might be surprised to know the northern part of Morocco is covered in lush forests with overflowing rivers and waterfalls that swell after the autumn rains come in.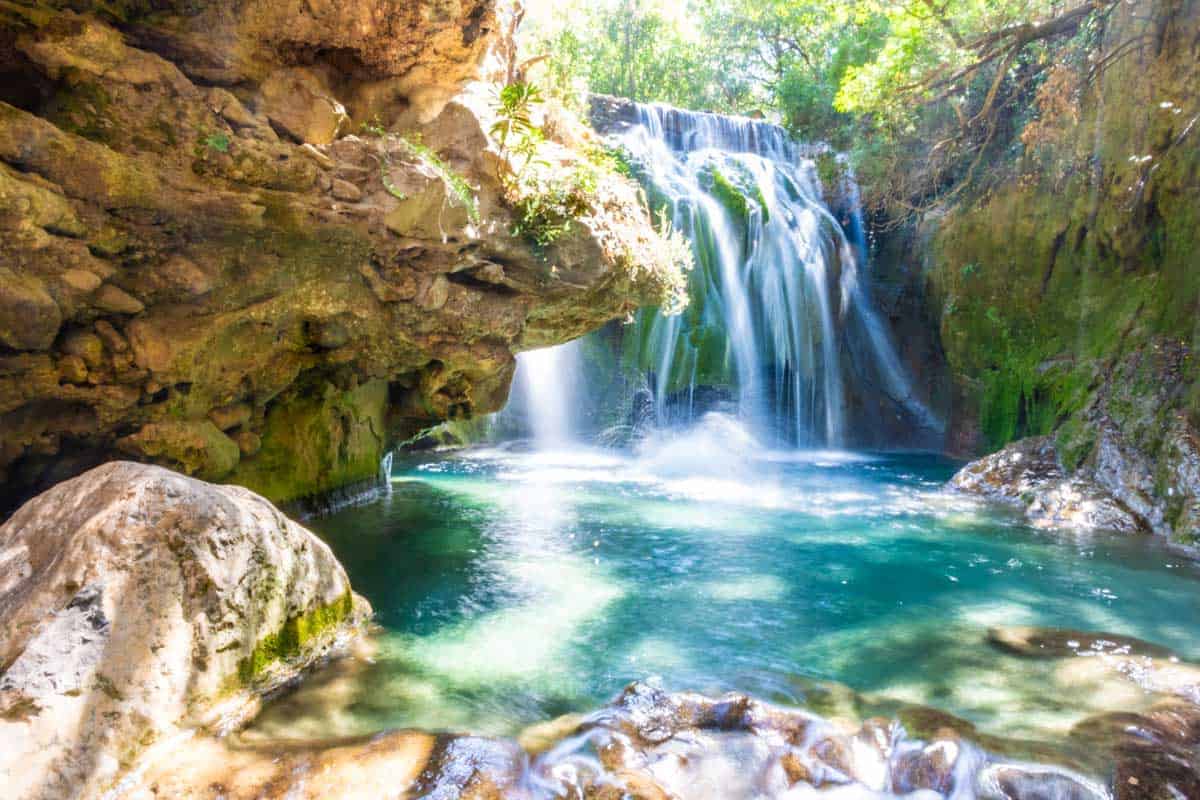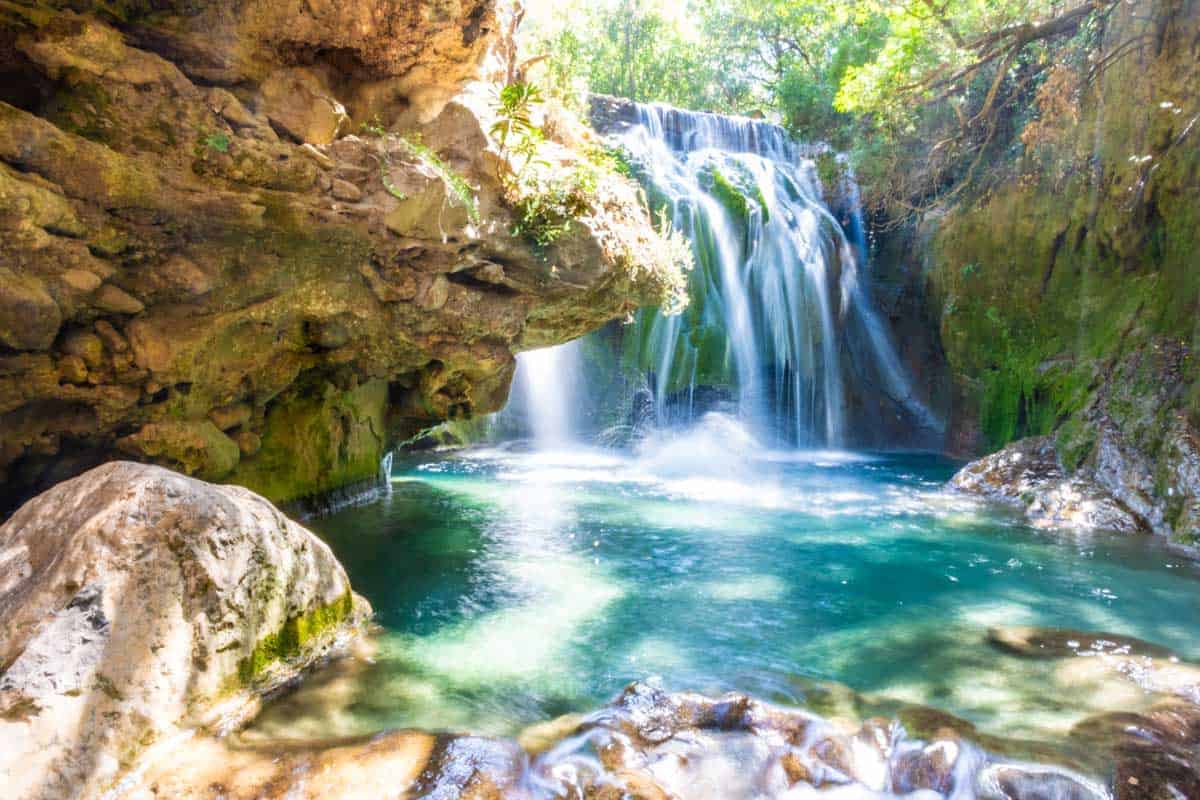 If you are visiting Chefchaouen during this time, a hike to the Cascades d'Akchour is highly recommended. These waterfalls are about a 45-minute drive from Chefchaouen.
If you don't have your own car, you have three options:
Take a private taxi
Share a Grand Taxi. Grand Taxis (cheaper than a private taxi) leave when they reach maximum capacity, which is about 4-6 people. They usually fill quickly; so you shouldn't wait long.
Take a full-day all-inclusive guided tour with transportation.
If going it alone, Journal of Nomads has an excellent guide for getting to the Akchour Waterfalls with detailed instructions on what to look for and expect on your journey.
Dinner
Once you are back in Chefchaouen from your waterfall excursion, or if you are exhausted from your day of bartering and shopping, head over to Cafe Clock for a delicious dinner and refreshments.
The famous Moroccan restaurant has locations in Fes and Marrakech, offering a variety of high-quality, local dishes. They also have an active cultural program that includes cooking classes, concerts, movie nights and more.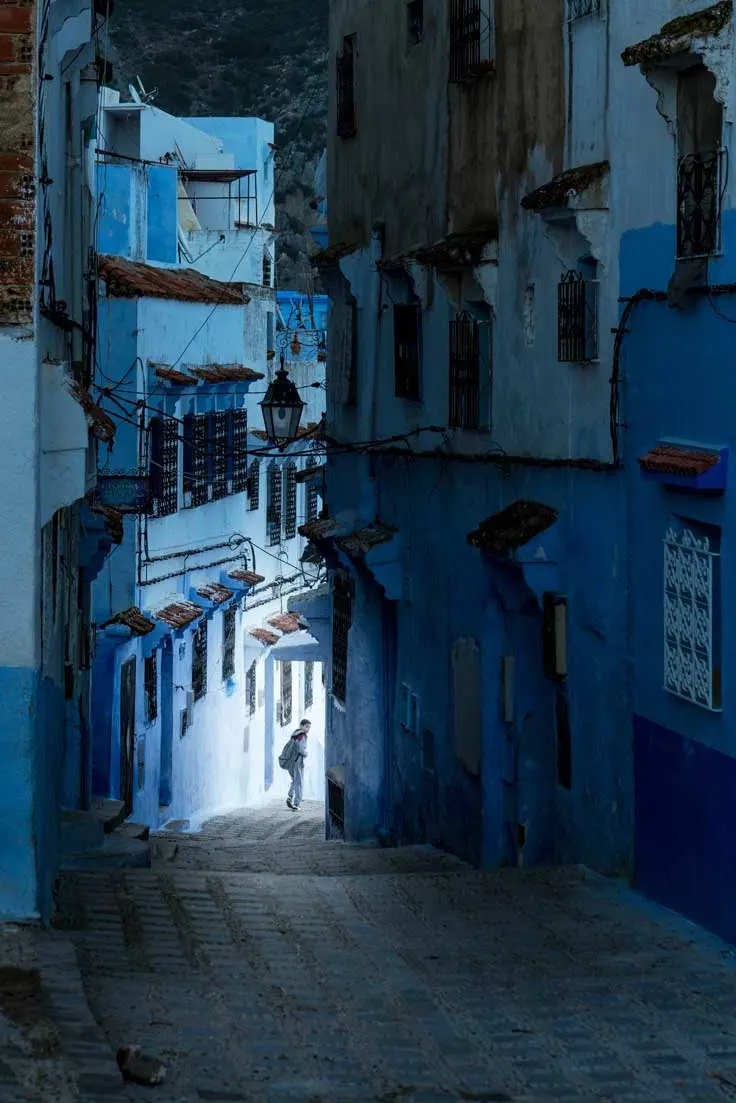 Parting Ways
Whether you are leaving on the evening of the second day or the morning of the third, two days in Chefchaouen will have shown you the highlights of the gorgeous blue city in the mountains and left you with beautiful memories (and photos) of Morocco's Blue Pearl.
About the Author
Ashley Winder
Ashley is one half of the bloggers behind Impact Winder, an unconventional lifestyle blog that highlights slow travel, financial independence, and environmental impact. She has been travelling the world with her husband since 2015, to impact and encourage others to push beyond the boundaries of 'normal'.
When she's not immersing herself in the local culture of her current' home country', she is copywriting for soulful small businesses, making herself comfortable at the nearest third-wave coffee house, or researching their next destination.