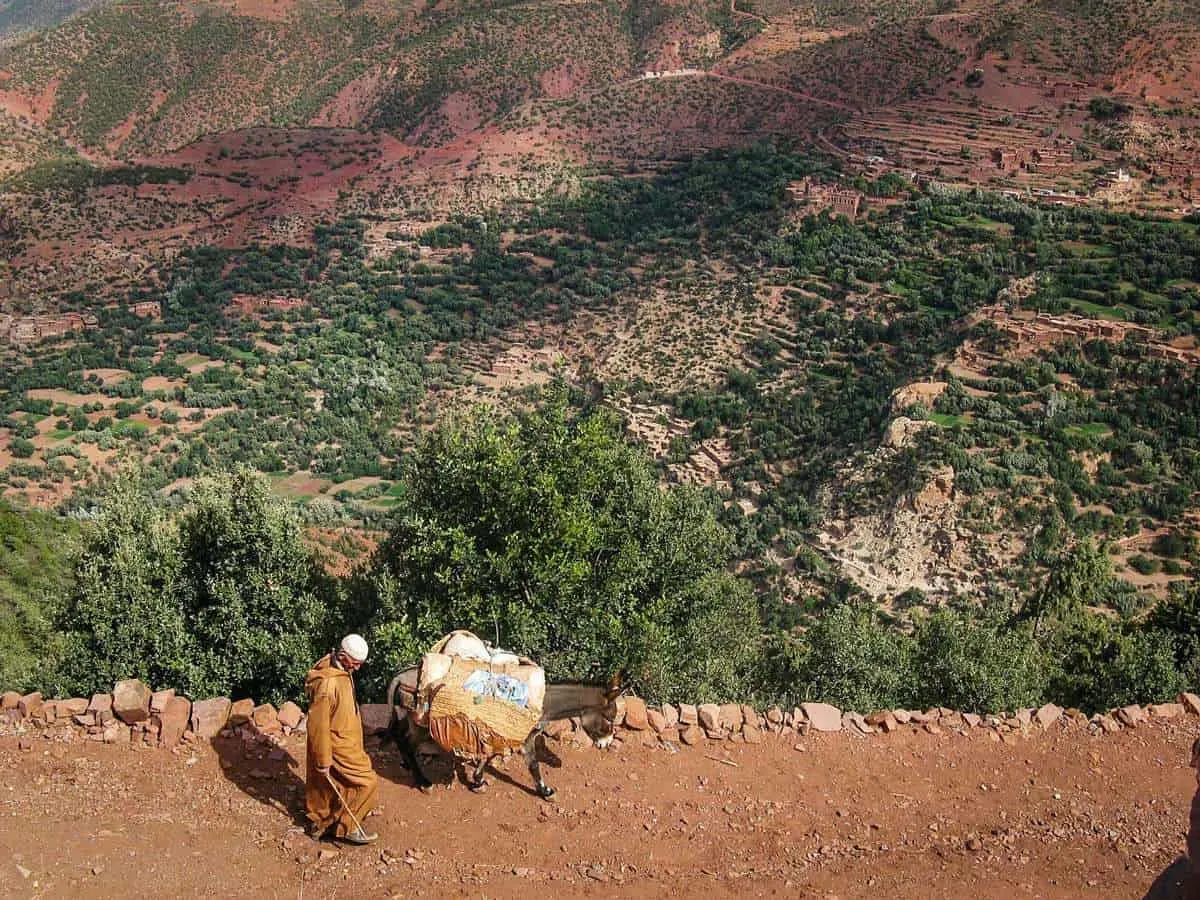 ---
Know what to pack for a Moroccan road trip with our complete Morocco Packing List.
---
Getting from Marrakech to Fez.
The distance from Marrakech and Fez is only 530 km. So sure, it would be pretty quick to take the direct route. It would actually take less than 6 hours on the A7. Or, the Marrakech to Fez train takes a little over 7 hours.

But why not make the most of it by taking a few detours and extending your travel time by a day or two?
You can include some of the best things to see in Morocco like all three Atlas Mountains and enjoy the sights on a big detour to the Sahara Desert. After all, camel trekking in the Sahara is one of the best things to do in Morocco.
---
You Might Also Like : Plan Your Morocco Itinerary – Best Places to Visit in Morocco
---
This is the Ultimate Guide for a Morocco Road Trip Itinerary.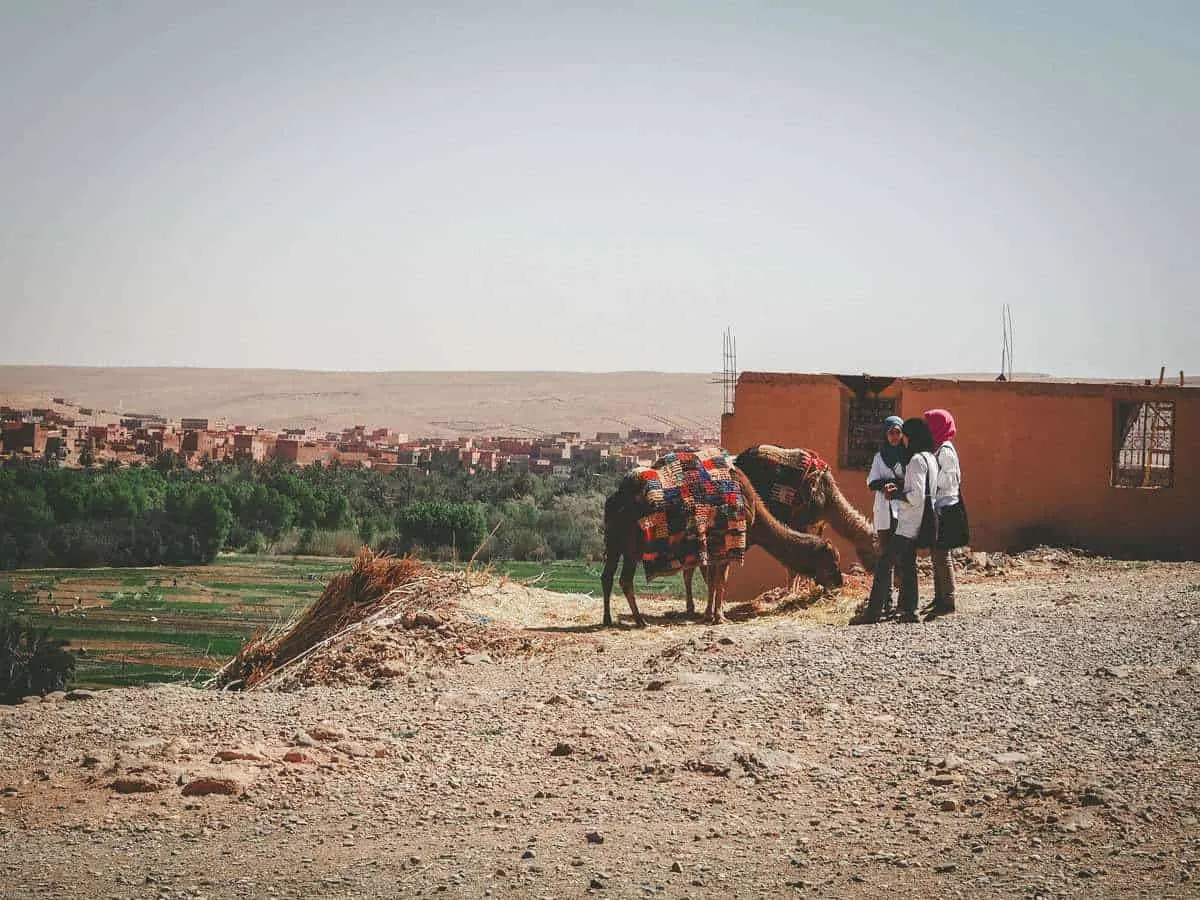 Driving From Marrakech to Fez
We looked at all the options for getting from Marrakech to Fez with some detours to include the must-see sights of Morocco.
Buses, trains, even hire cars. Everything was either too expensive or would take us too long. We didn't have unlimited time or budget.
We looked at tour companies. Very few had an itinerary that included what we wanted to do. If they had something close, their itineraries were either too long or were with very large tour groups which is not our style.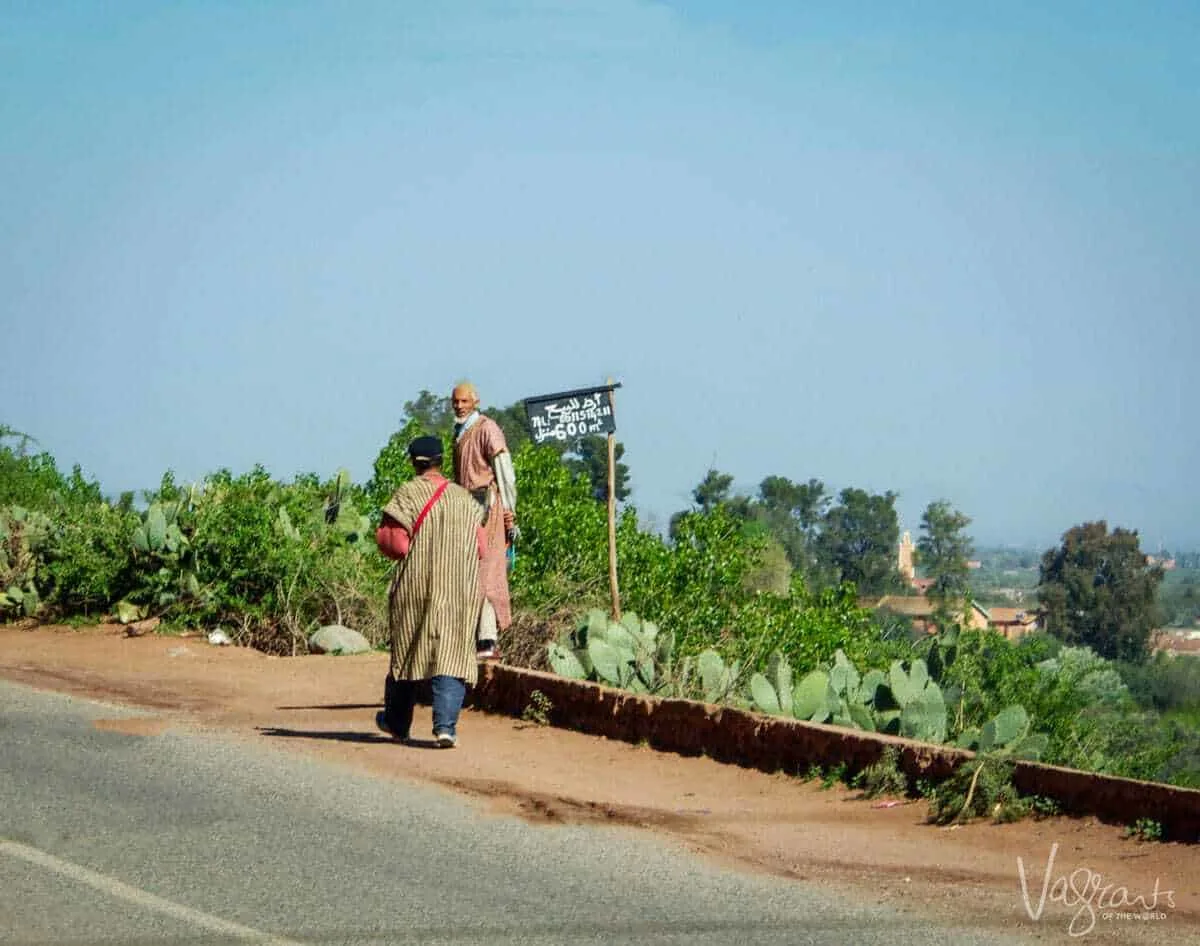 Many of the tour operators could provide drivers to take us directly from Marrakech to Fez but not for what we wanted, they all said: "it's too far".
After contacting so many Moroccan Tour companies and even speaking with private drivers, we were about to give up and take the most direct route.
At the last minute, we stumbled across a company that said: "Sure, we can do that". We told Morocco Explored what we wanted to see and how long we had and they worked out the rest.
---
Discover the Best Things to do in Marrakech as well as Useful Travel Tips for Marrakech
---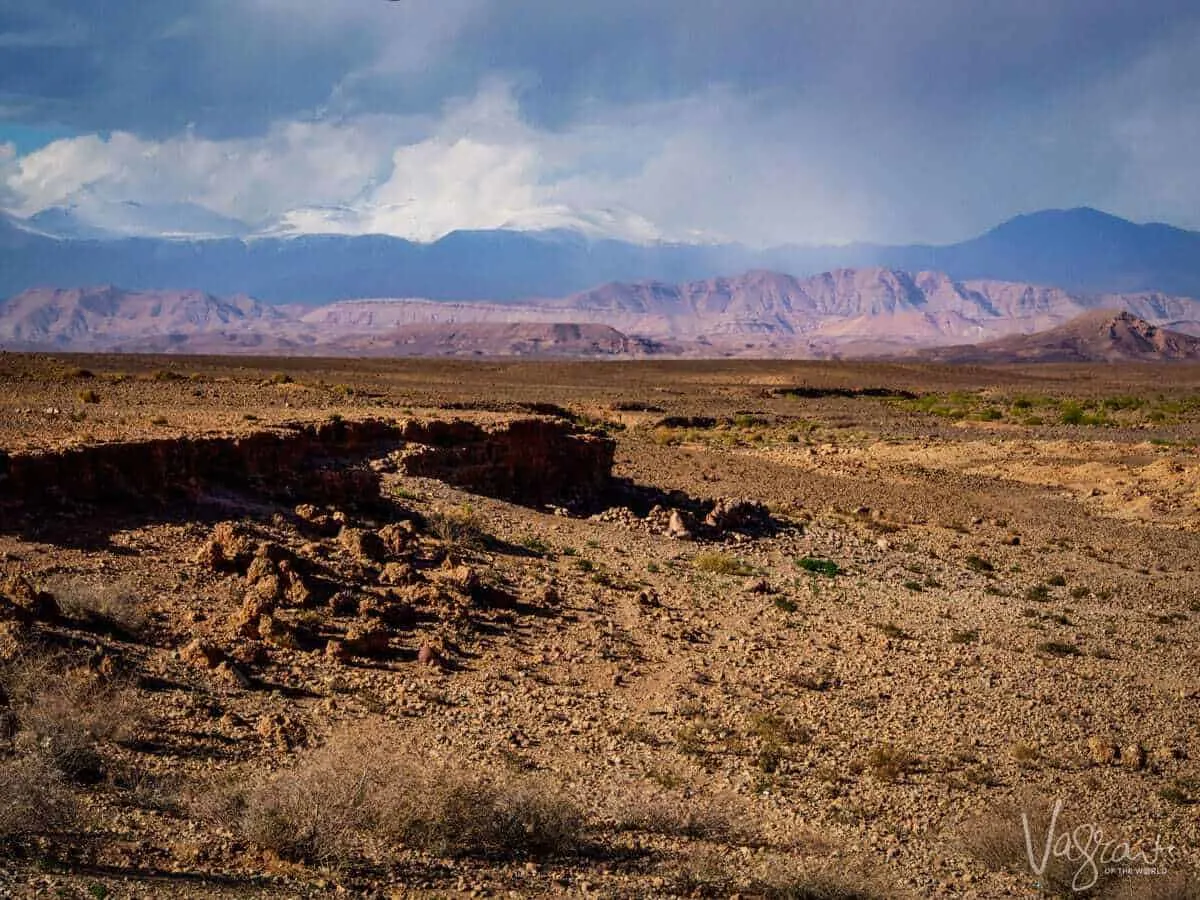 Marrakech to Fez Road Trip Itinerary
The trip would take three days and cover over 1500 km.
We would cross the Middle Atlas, High Atlas and Anti Atlas Mountains Ranges.
Our stops would include:

Ait Benhaddou
Ouarzazate
Todra Gorge
Zaida in the Midelt province.

We would head south-east towards Merzouga, a small town in the Sahara Desert near the Algerian border. The gateway to a huge expanse of dunes known as Erg Chebbi and where we would trek into the desert to camp in the Sahara.
Finally, we would then head north towards Fez.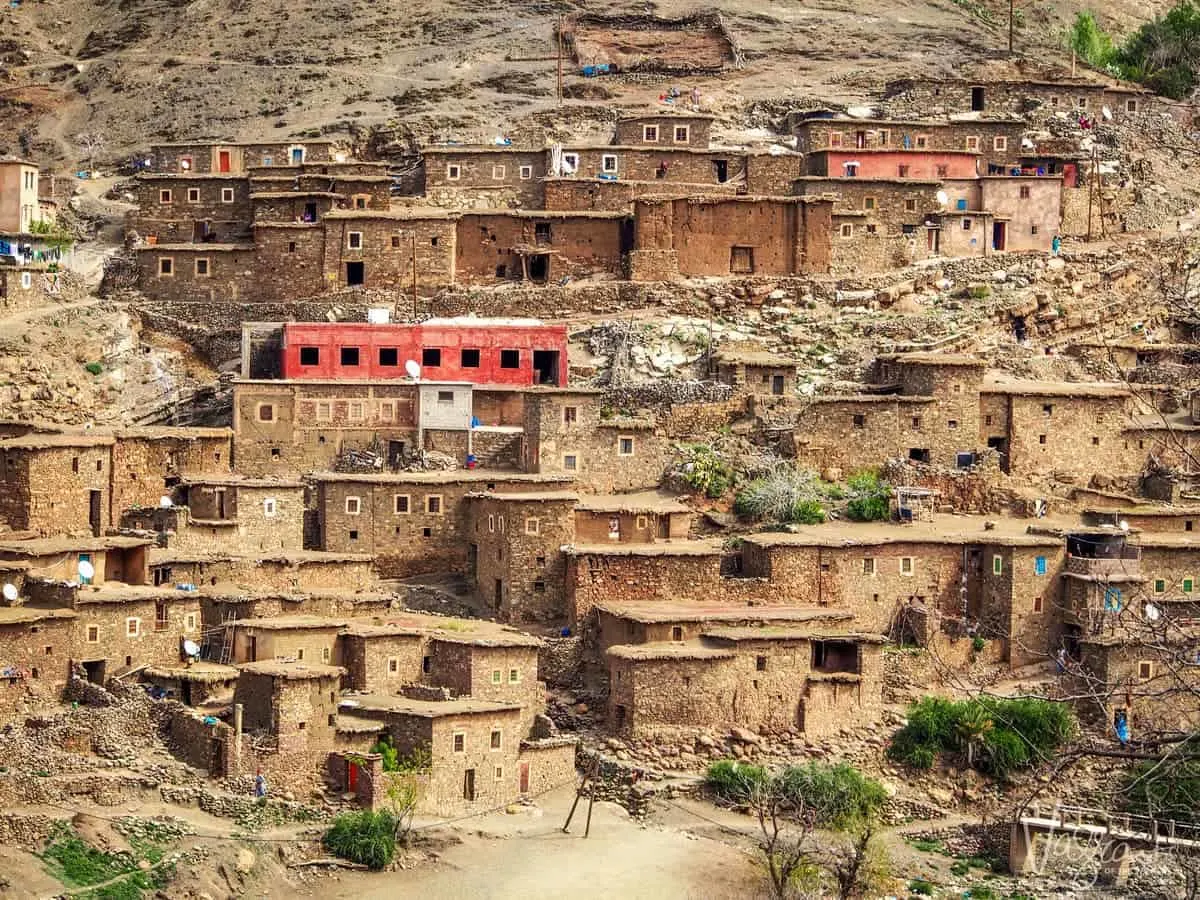 Marrakech to the Atlas Mountains
Leaving Marrakech early morning, we headed to the Middle and High Atlas mountains on the Tichka pass.
When you say Morocco, people often don't think of snow-capped mountains, but the Atlas Mountain Ranges are not only spectacular but so diverse with constantly changing landscapes.
Passing through landscapes of cherry blossom, densely wooded forests and apple plantations in parts of the Middle Atlas reminded us of Europe.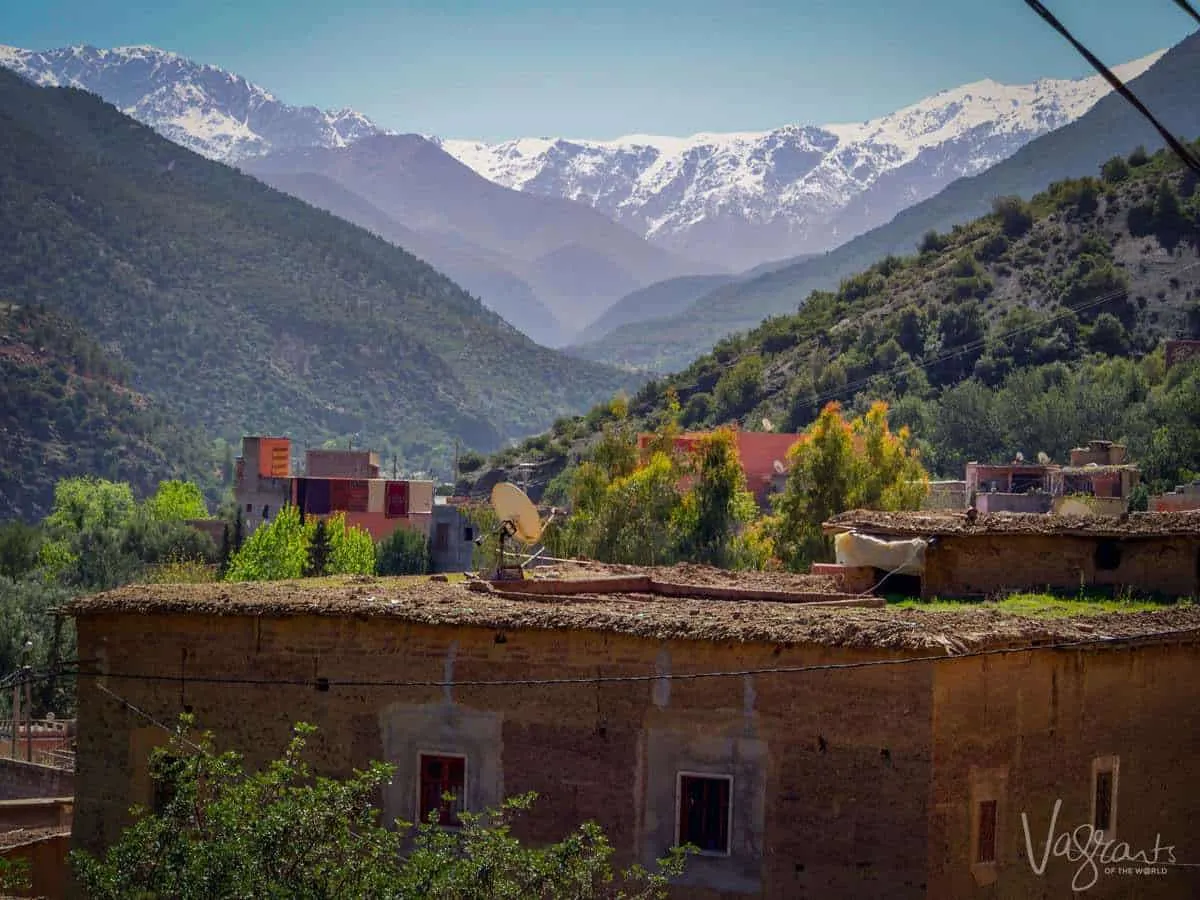 Hiking in The Atlas Mountains
Then the landscape quickly changes to rocky, arid and steep. Above the city of Fatima, we hiked to the waterfalls in the mountains.
It was a little hairy and at times a little less than dignified. Especially when a local Berber boy pushes you by the butt up a rock face, but worth it for the view at the top.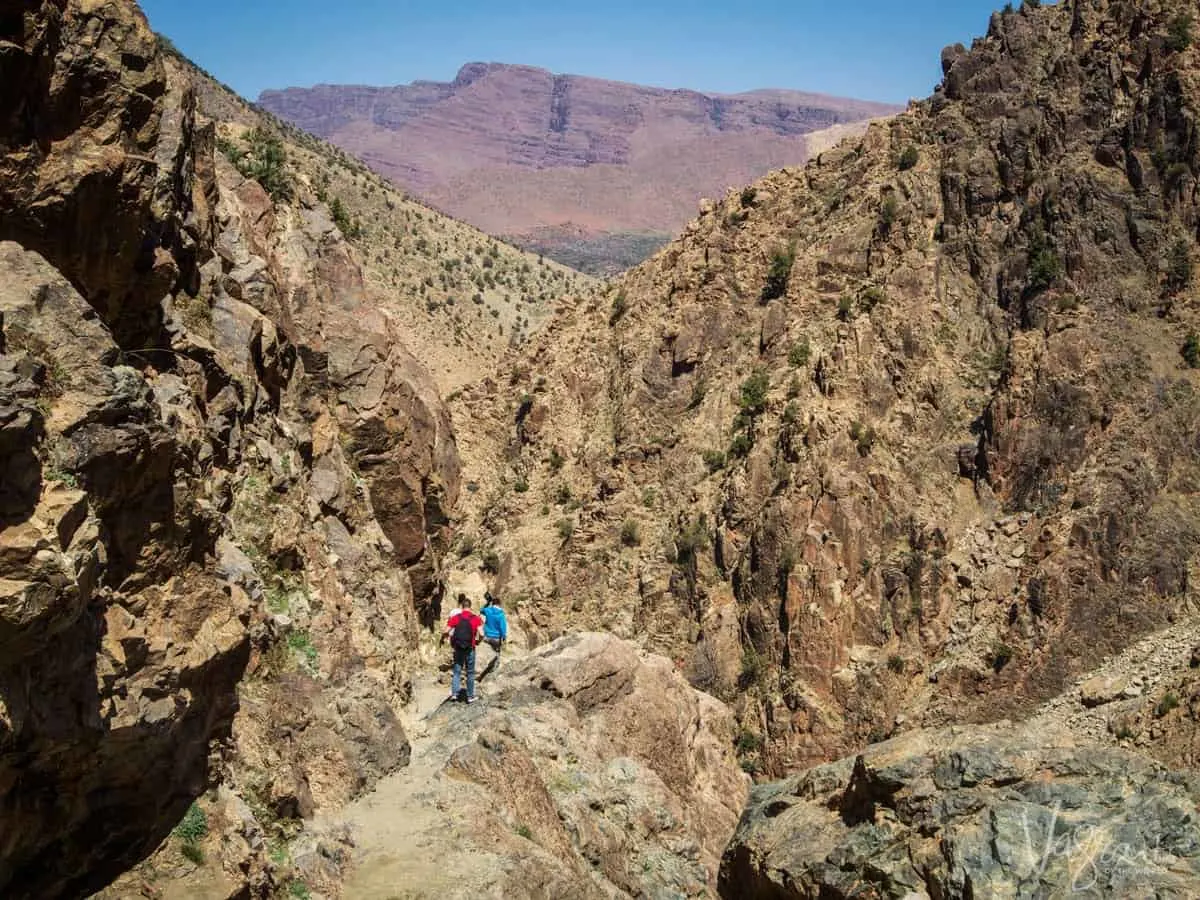 Throughout the Middle Atlas charming, colourful restaurants line the river banks offering beautiful Moroccan tagines, homemade couscous and, of course, olives and mint tea. And when we say the restaurants line the river, you may actually get your feet wet!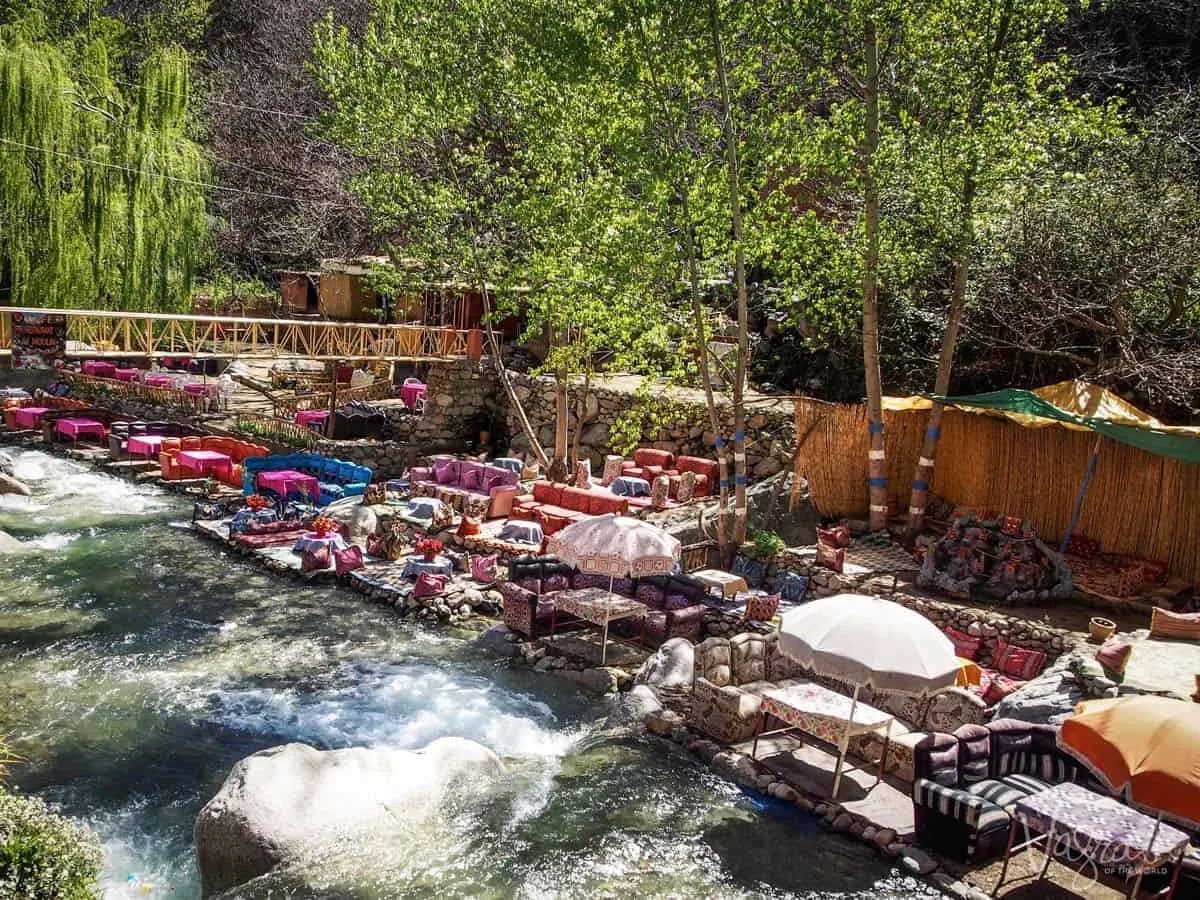 The Atlas Mountains are home to Morocco's traditional Berber tribes. Small villages dot the side of the road, as well as those perched impossibly on the sides of the highest peaks.
The High Atlas reaches over 4,000 metres, so it's mind-boggling to think people still live up here traditionally with only a donkey and their own steam for transport.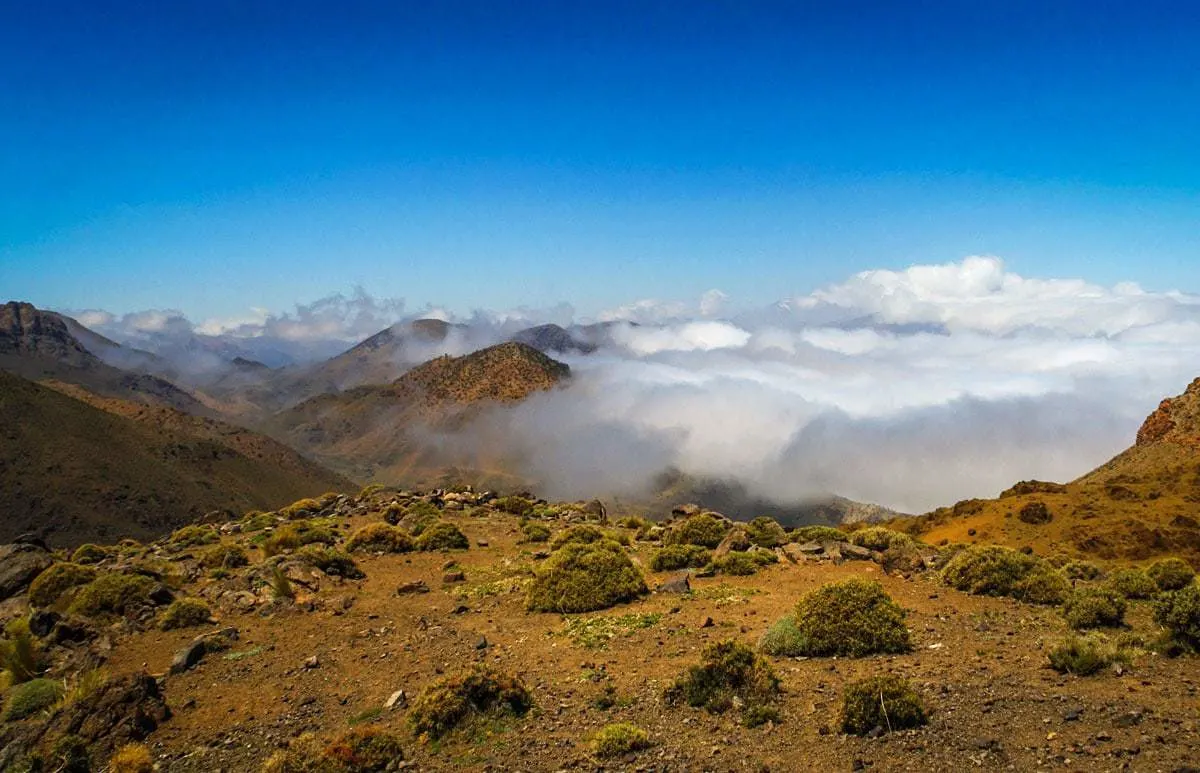 One young man who guided us up to the waterfalls walks five hours each way up and down the mountain to find work in Fatima. Not surprisingly; he only works three days a week!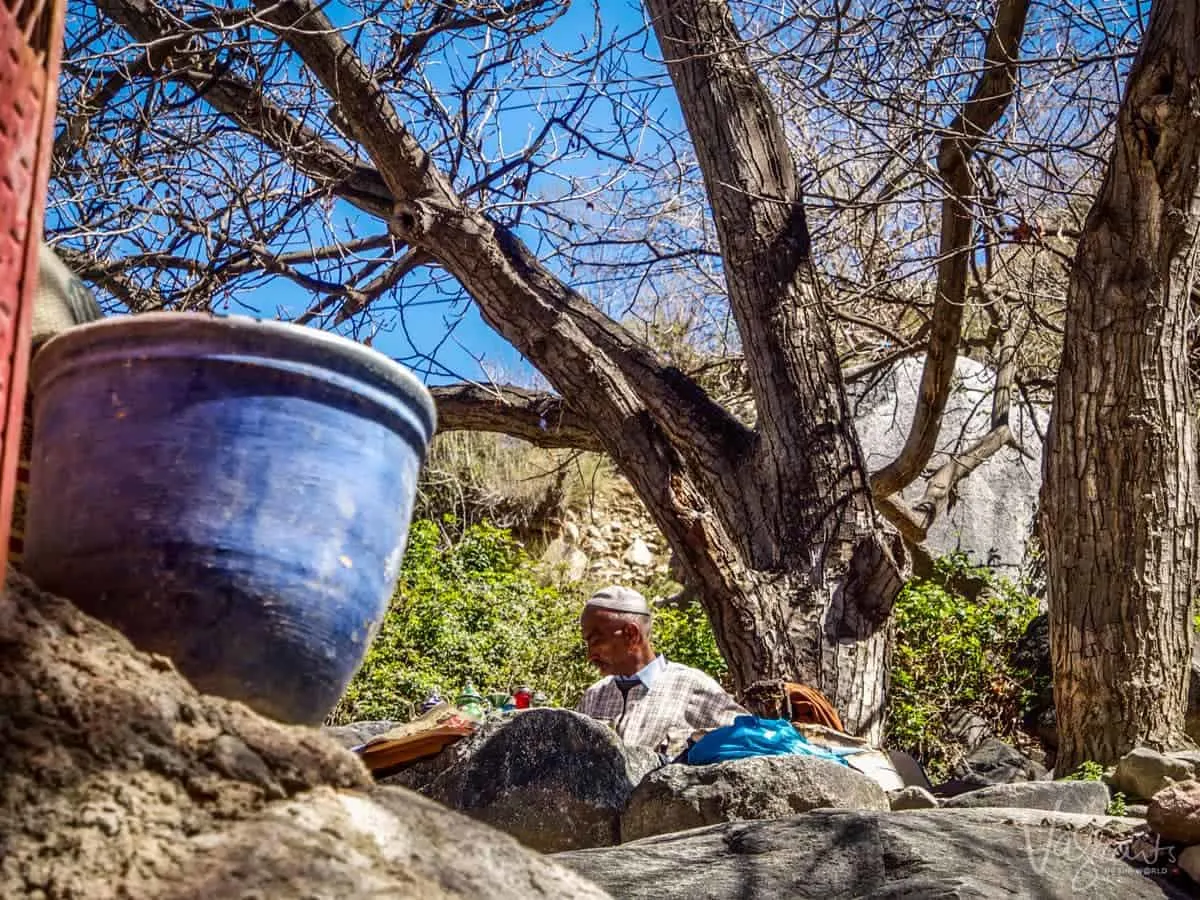 Moroccan Argan Oil
Aside from farming, local Berber women have established women's cooperatives throughout the Atlas Mountains, harvesting and producing the scarce Argan oil from the Argan nut endemic to the area.
Harvested in spring by the women, traditionally the nut was fed to the goats who then digest them breaking down the outer coating. The nut was later retrieved from the goat dung, not unlike the coveted Lewak coffee of Indonesia, toasted and processed into a range of products ranging from oil to beauty products.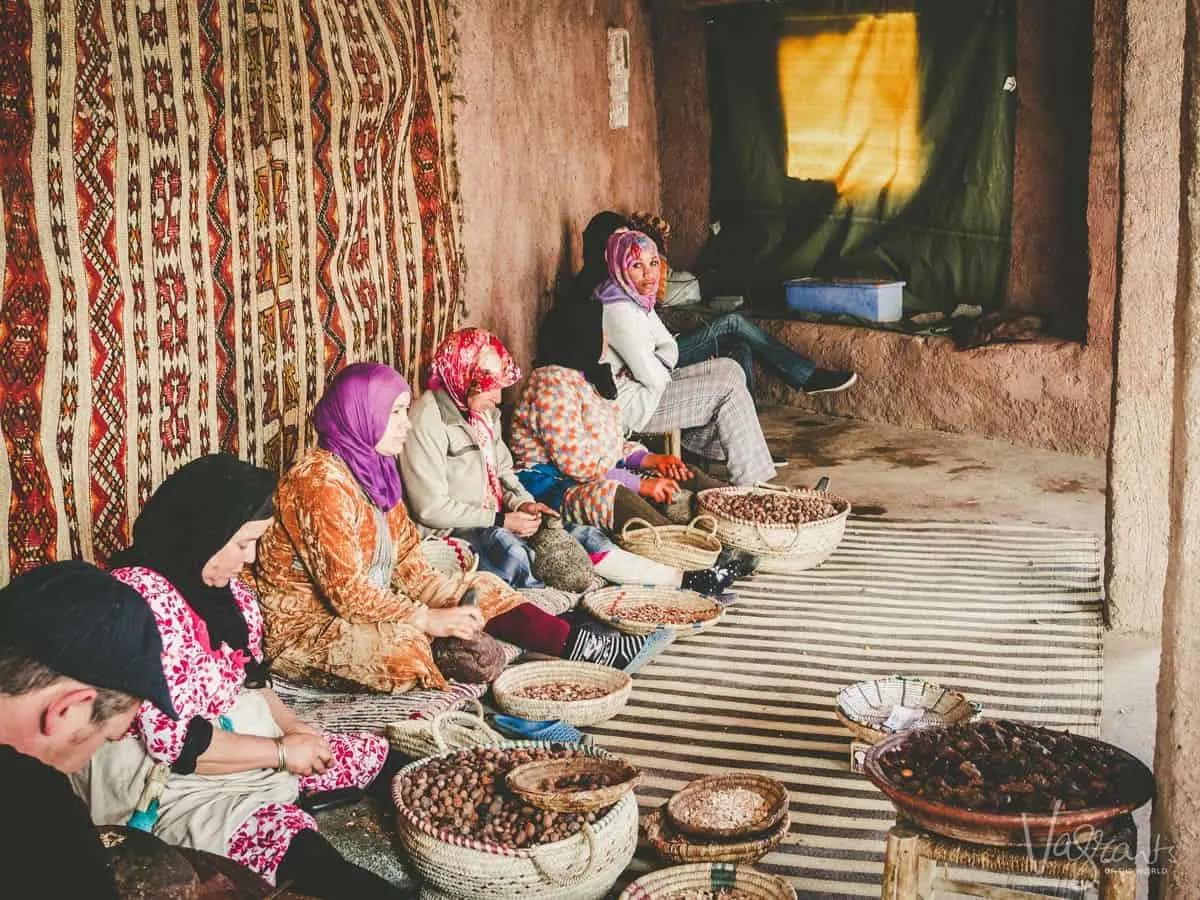 While sifting through goat dung is not everyone's cup of tea, and the process may not sound savoury, the result is beautiful. Especially the lovely butter type dip served with a light roti style bread. It is nutty, chocolaty and incredibly delicious.
This small industry is vital to the local economy along with the cultivation of numerous herbs which are processed into medicinal, culinary and beauty products.
After making it over the dizzying heights of the High Atlas, we start to head closer to sea level on our way to the World Heritage Site of Ait Benhaddou.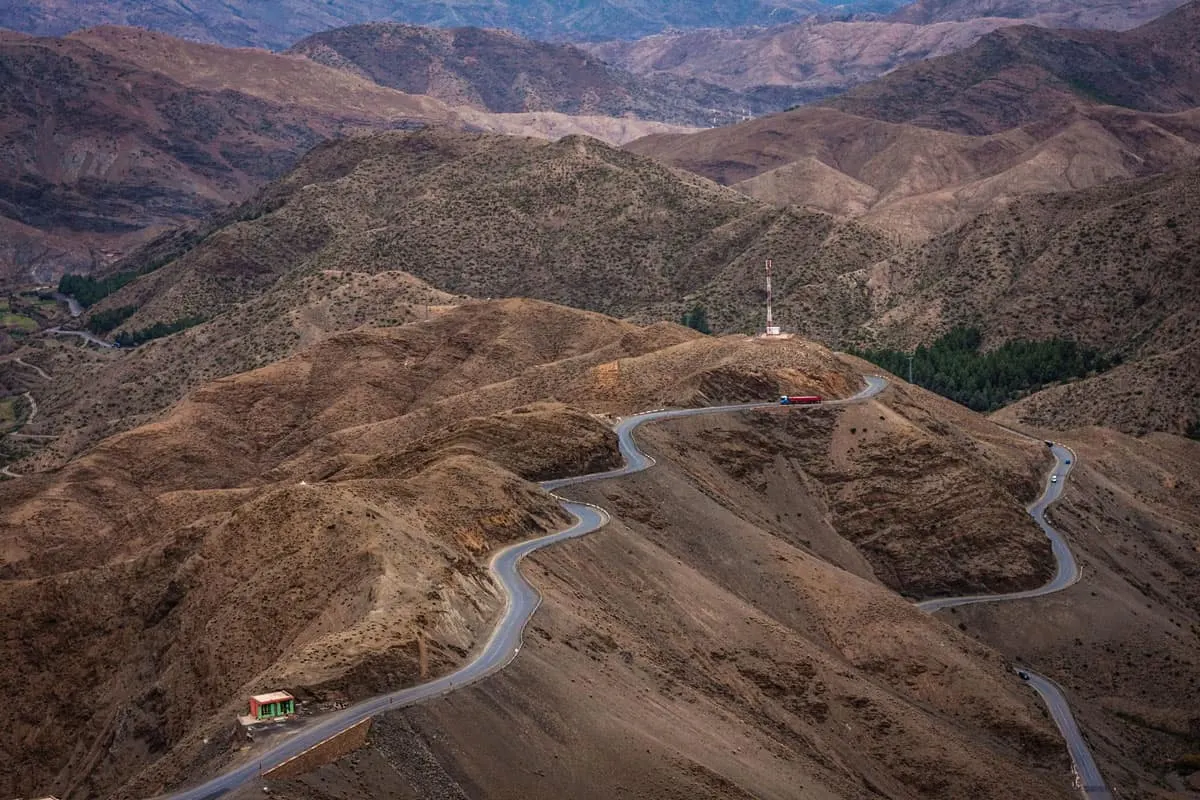 Ait Benhaddou
Ait Benhaddou is a village of clustered Berber Kasbahs dating back more than 12,000 years. The site was once one of the most important fortress strongholds on the old Salt Road when caravans brought slaves, gold, ivory and salt from Saharan Africa to Marrakech and beyond.
More excitingly, it has been used as the location for more than 20 films and popular TV series. Starting to look familiar?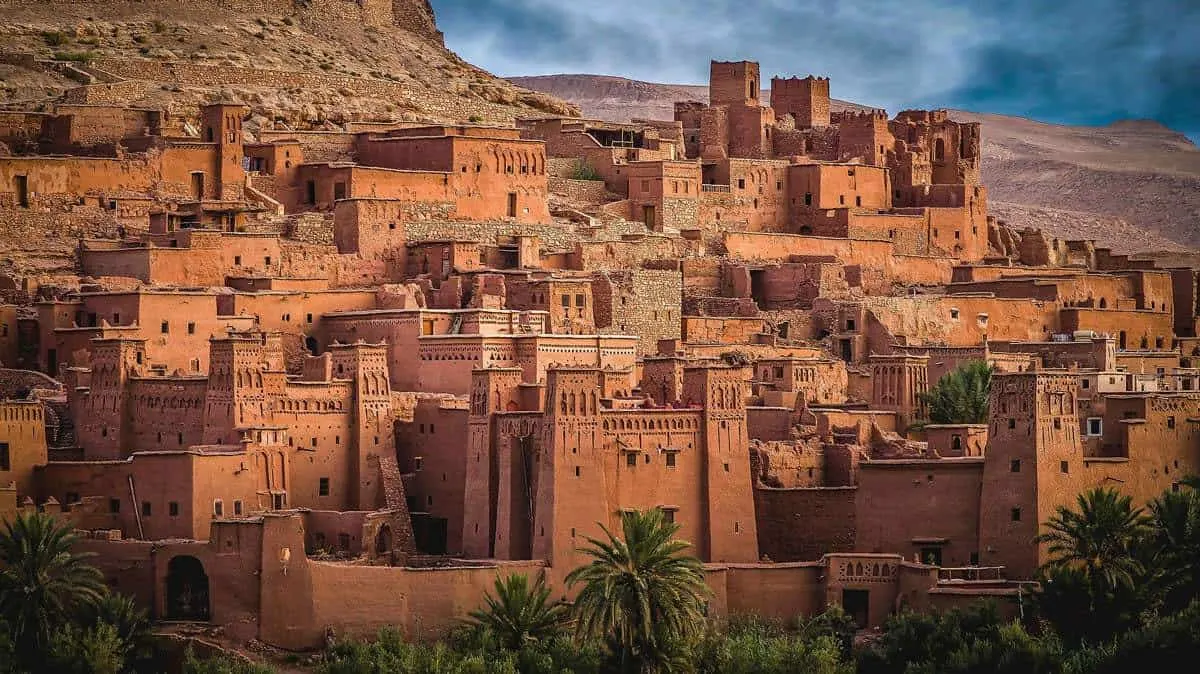 Some of the films made here have included Lawrence of Arabia, Indiana Jones, Gladiator and more recently Game of Thrones, season 3. This is the setting for Yunkai, the Yellow City.
Walking through these ancient Kasbah's you have to remind yourself this is not a movie set but was once a busy and thriving trade stop.
Check Latest Accommodation Rates for Ait Ben Haddou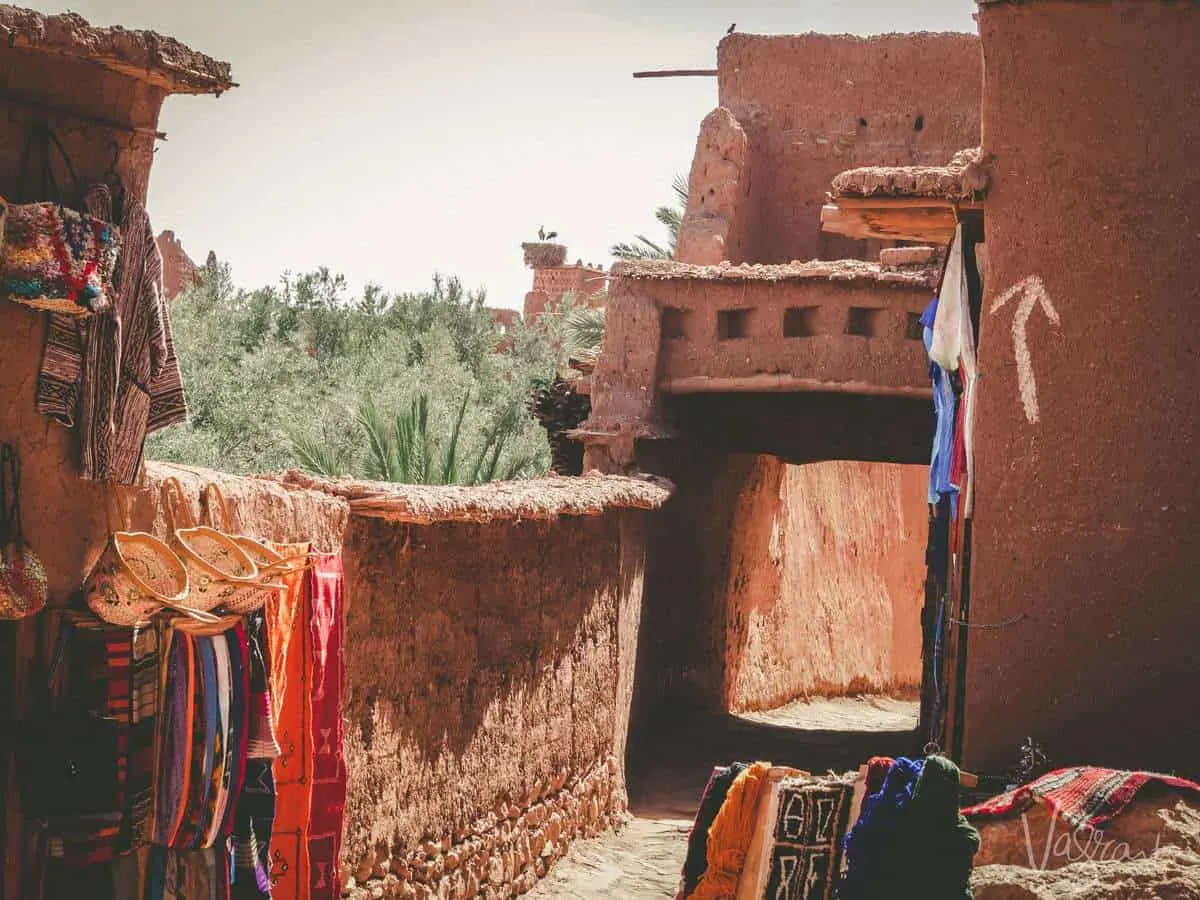 The mud brick, incredibly ancient structure has been declared a UNESCO world heritage site. It is also still home to local Berber people who live in parts of the old Kasbah, maintaining it by the same building methods used 12,000 years ago.
This explains the suspicious but faint odour of donkey manure in the walls as you walk through the narrow lanes and buildings.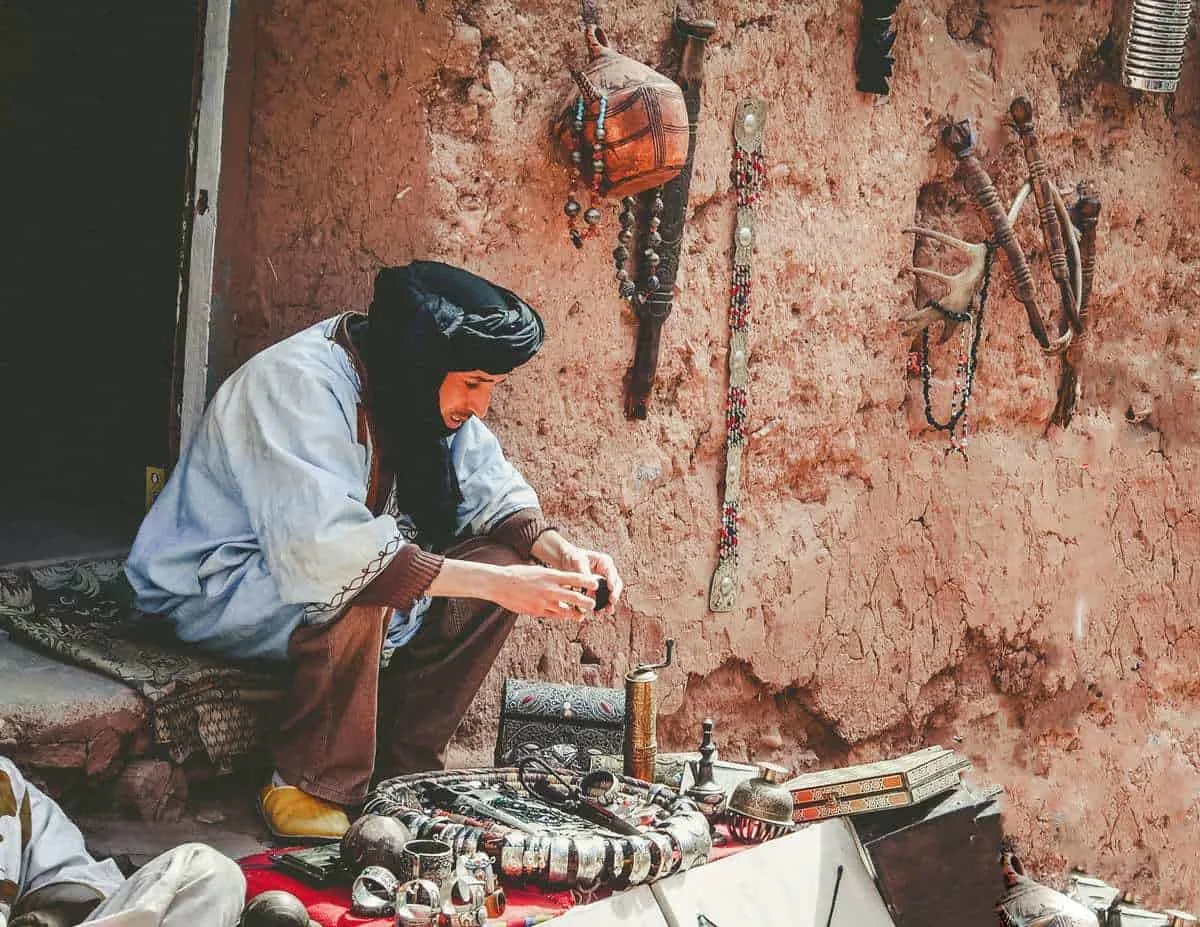 Ouarzazate
Passing through Ouarzazate and many Berber villages sprinkling the Skoura oasis we spend the night in the Valley of Roses.
Early the next morning we are taken by a lovely local man through the old Jewish village. An oasis of small farming plots, hidden in the middle of a busy little province surrounded by barren hills and an otherwise dry landscape.
These little plots have been handed down from generation to generation and are integral to the local community.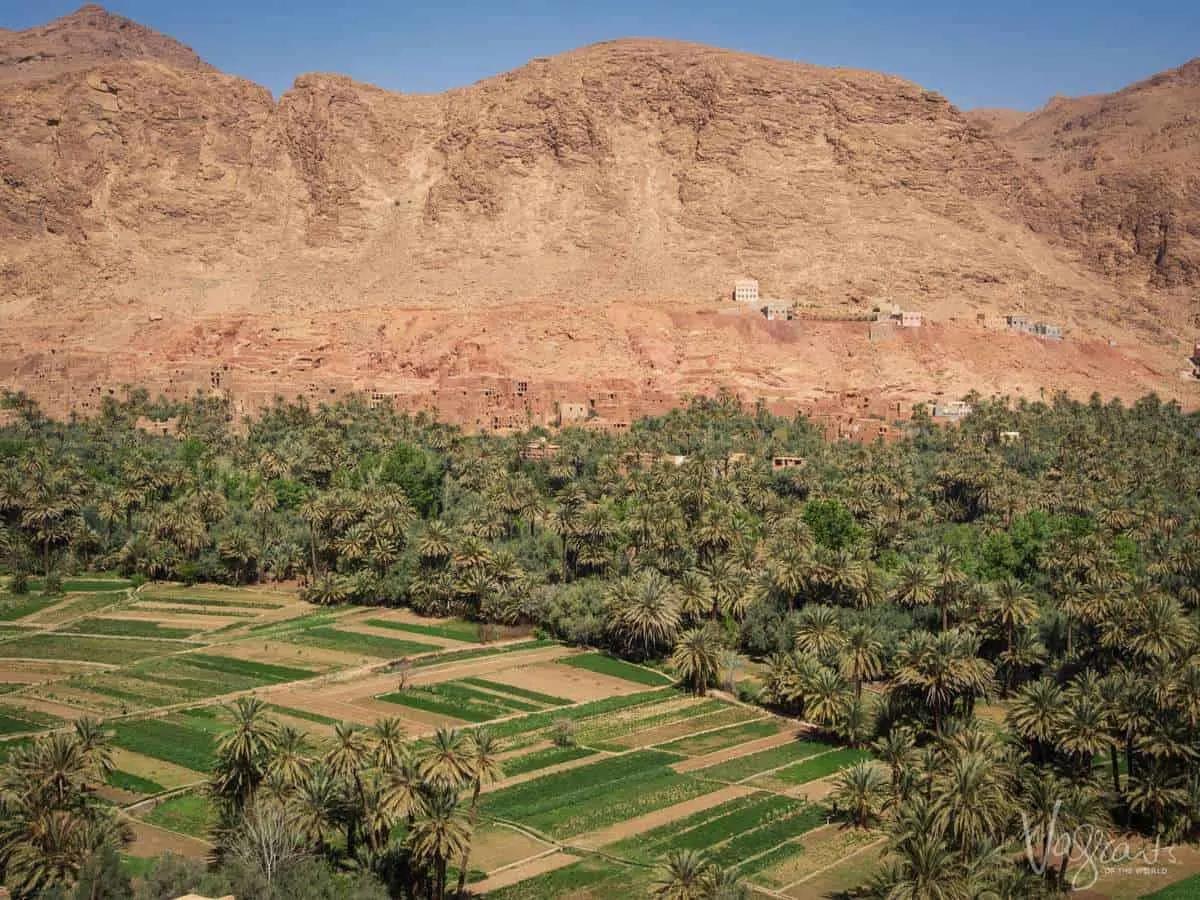 As we walk through the incredibly serene garden environment, we notice the small plantations of alfalfa and wheat. Orchards of almond trees, dates, apples, cherry blossom, apricots and much more. It is peaceful, beautiful and more incredibly; abundant!
This central oasis also houses small clusters of ancient kasbahs. Among these kasbahs, a mosque dating back hundreds of years, which is still in use today. Lit by the same olive oil lanterns used over 200 years ago, the building is still functional in its original form.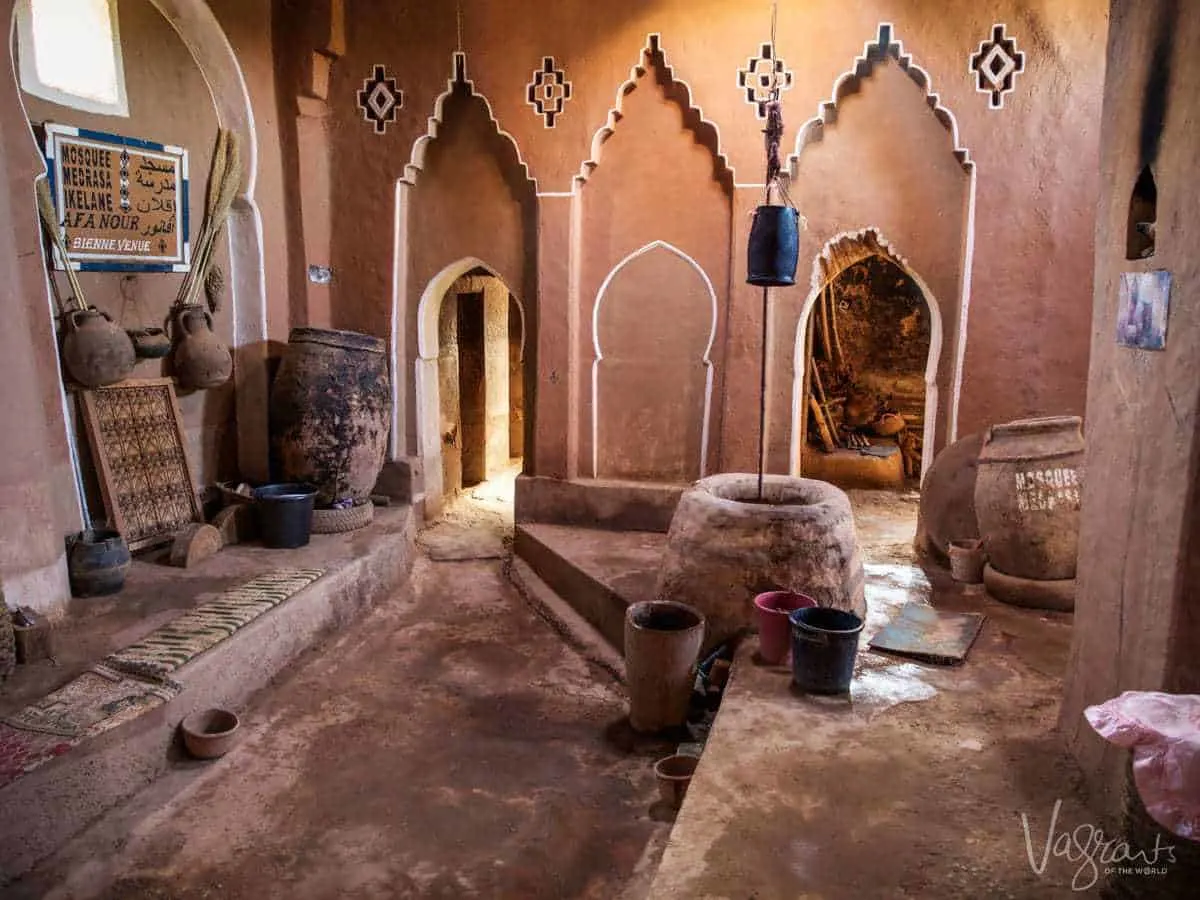 Berber Medicine
After some local Berber chiropractic techniques, a visit to a local Berber pharmacy was in order as we were all suffering various ailments that come about from travelling. One of them being the flu. The only answer according to Mohammed was Berber medicine.
A strange substance was crushed, wrapped in fabric and rubbed vigorously across Mohammed's hand. It was then jammed up our noses with the order to inhale. Our sinuses were clearer than they had been in days.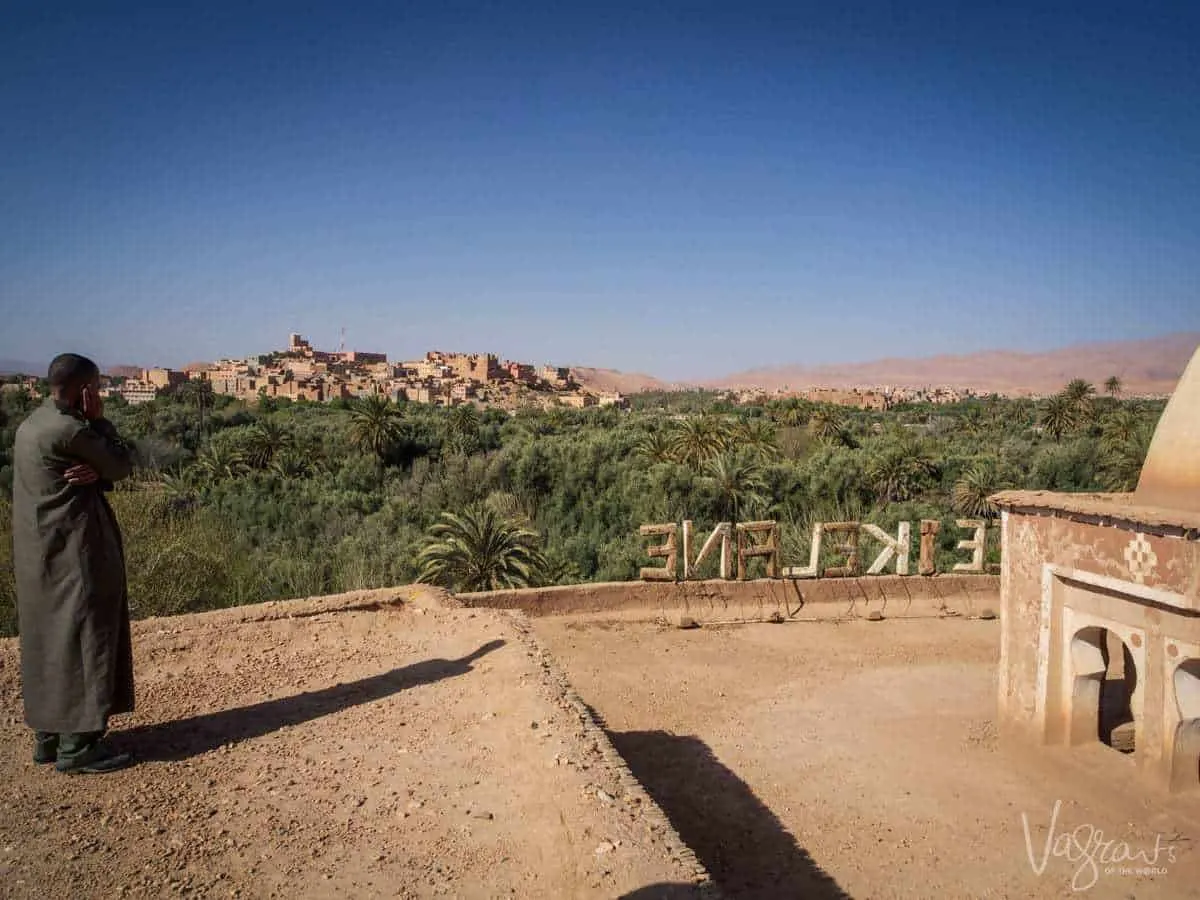 The Todra Gorge
It was in the Valley of the Rose we had to coordinate with a new car and new driver. This was part of the well organised, last minute coordination that made this road trip possible.
Back in the car for a short drive to the massive fault dividing the High Atlas mountains; the Todra Gorge- the sheer rock walls rise to 300m in its narrowest part.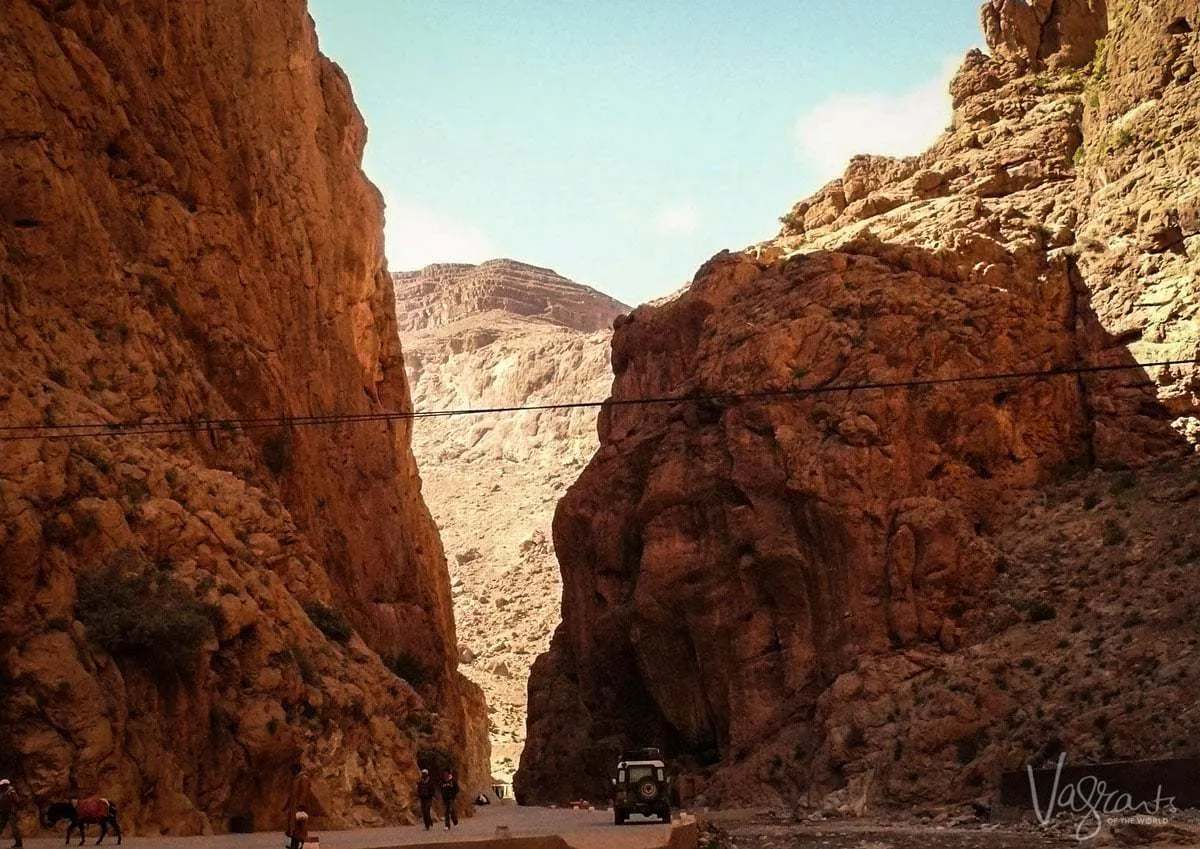 Anti Atlas Mountains to the Sahara Desert
For the rest of the day, we travel alongside the Anti Atlas mountains in the desert country to get to Merzouga for our night in the Sahara.
Two big days of driving down and as a reprieve from the car, we now had to negotiate our camels and travel into the Sahara for a night in a traditional Berber camp.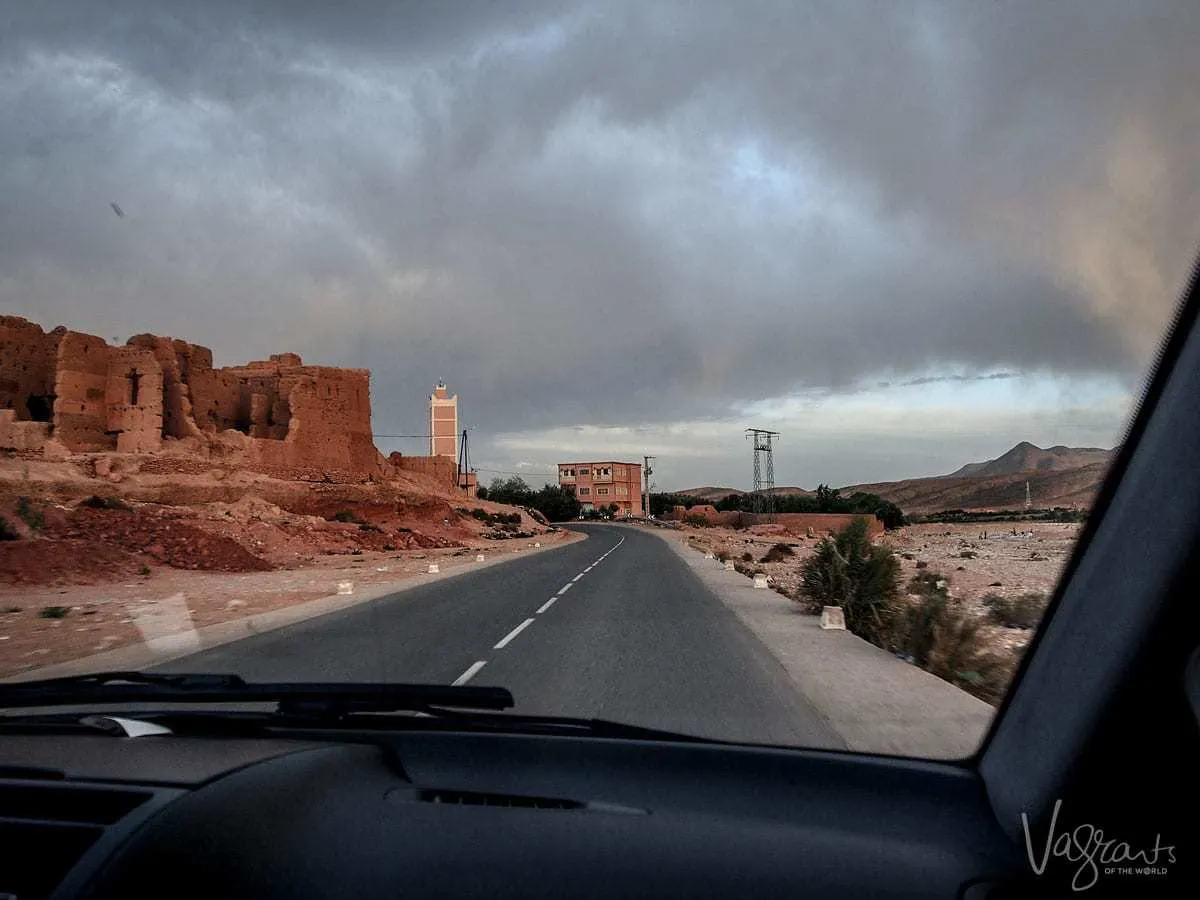 After an incredible night in the Sahara, we still had another full day of driving to get to Fez. This meant an early start on the camels to meet our driver and start heading north.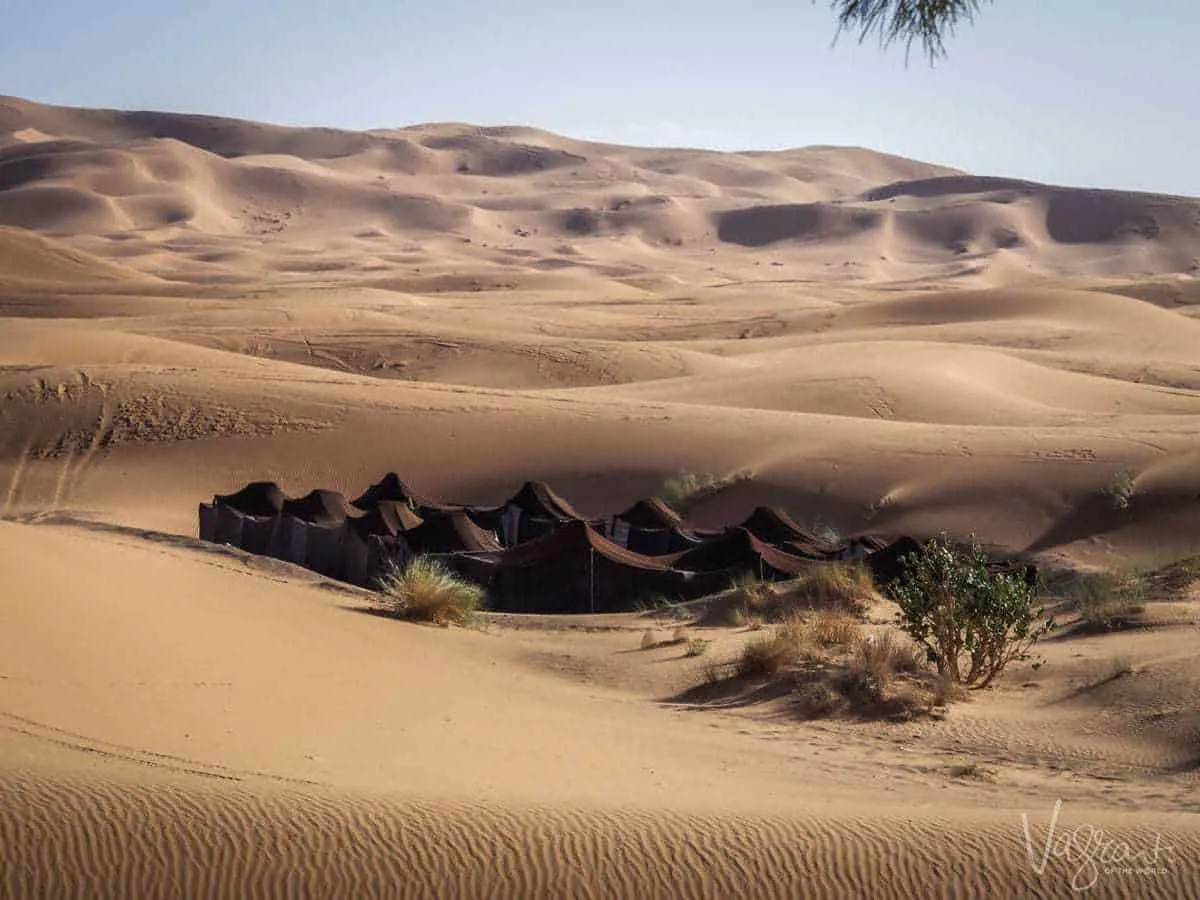 Local Food in the Midelt Province
One of the highlights of this road trip was the local food stops recommended by our second driver. He knew we weren't into the tourist type lunch stops, so went out of his way to ring local places in advance to order authentic Moroccan food such as Nomad Pizza.
Imagine a cross between a calzone and a pizza made traditionally by the Nomads. Flat dough stuffed with finely chopped, meats, almonds, onions herbs etc. Amazing.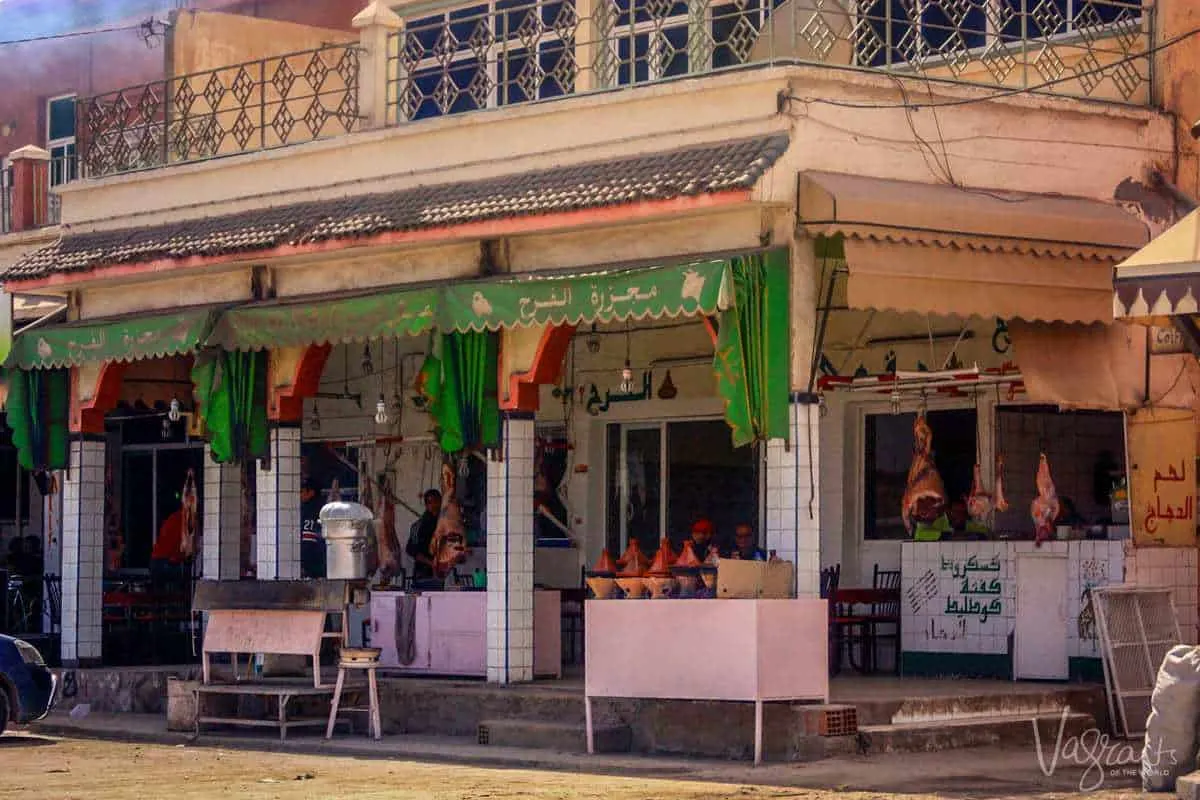 The town of Zaida in the Midelt province has an incredible street lined with restaurants. Each of these establishments is both local butcher and restaurant.
Displays of fresh meat hanging in front of the shops. Smoke wafts like an advertisement as the men fan small traditional wood burners cooking an array of tagines.
Tagine and Kefta
This town is known as a traveller's stop. Moroccan people say they are obliged to stop and eat here on a long journey to support the local Berber people. I think they all stop because the food is amazing.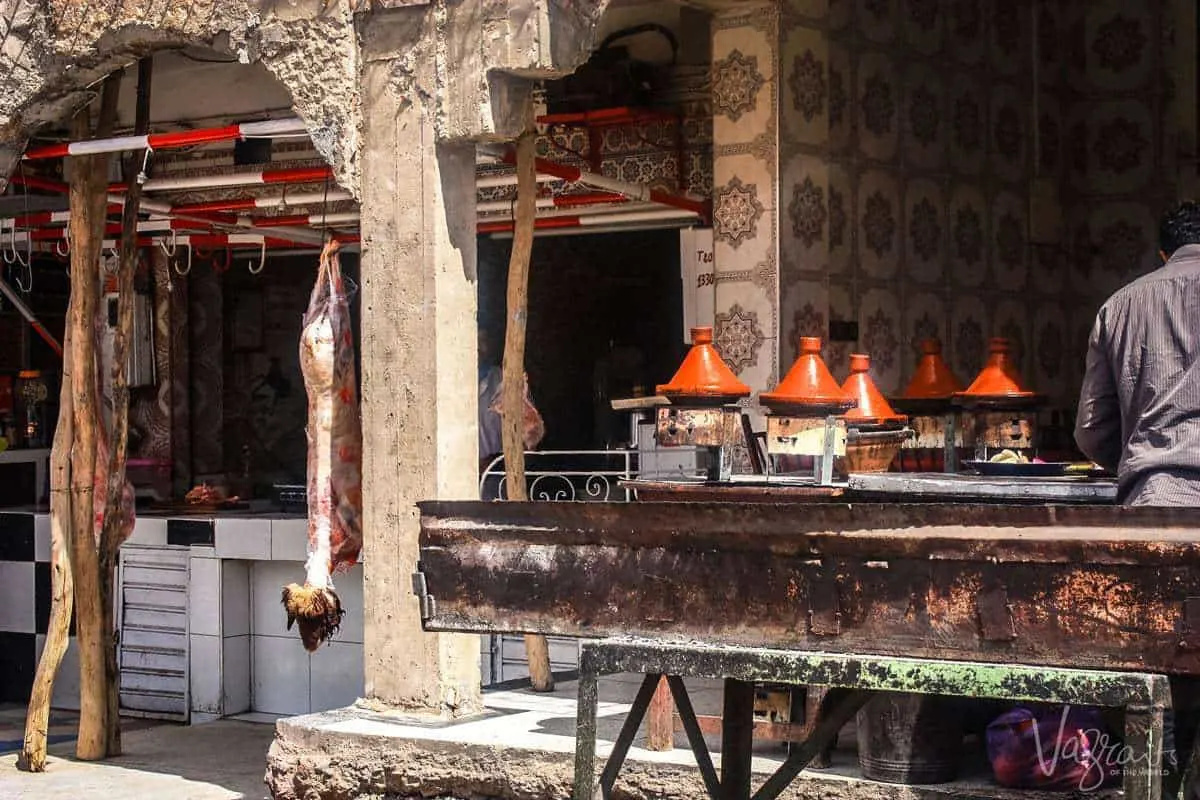 Choose your tagine and make sure you order the Kefta. This is like a lamb rissole or burger patty. Minced lamb seasoned and grilled, usually served with slices of tomato and cooked onion on top.
Zaida did the juiciest most tender Kefta we have had. Maybe because the meat was so fresh from the in-house butcher. A huge meal of Moroccan salad, lamb & vegetable tagine and a big plate of kefta and we were glad we had a driver, it was siesta time in the car!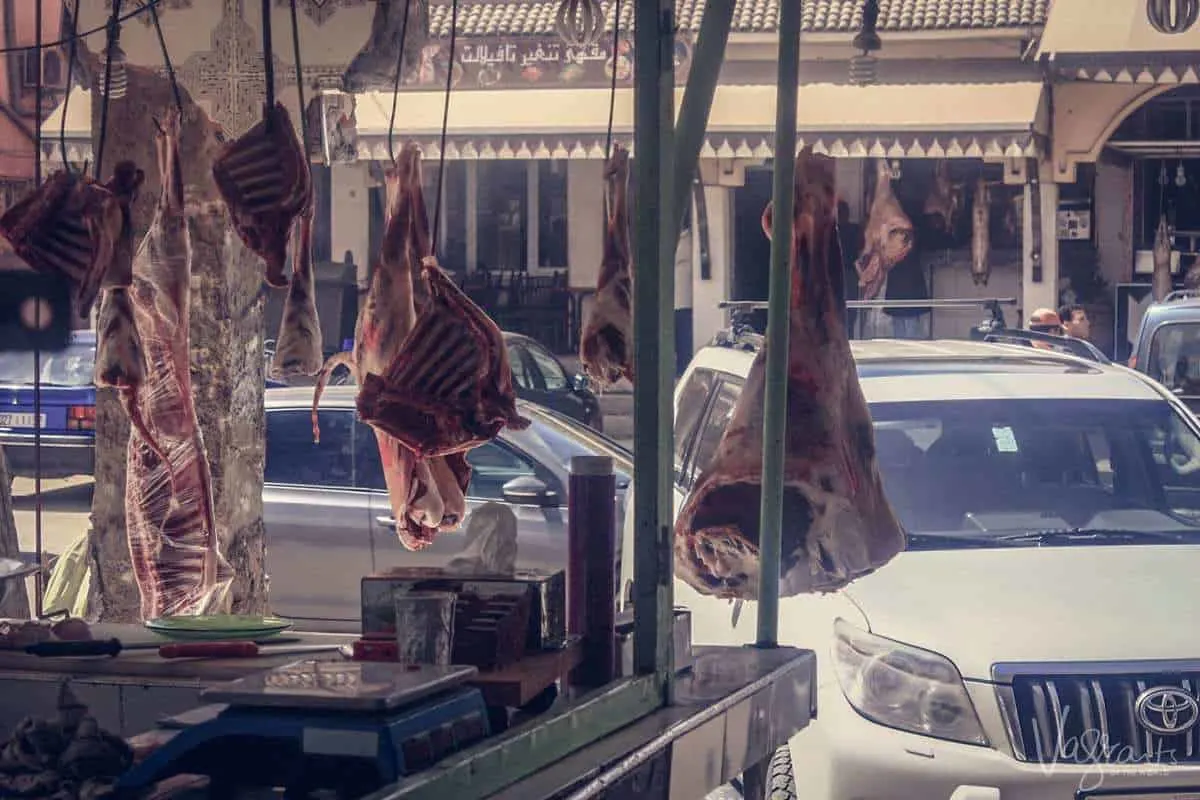 On the Road to Fez
Back past the Anti Atlas, over the High Atlas and the Middle Atlas again on our final leg to Fez . Another long and very interesting day of incredible changing landscapes.
Three full days of driving, camel trekking in the Sahara, some incredible stops along the way and we finally made it from Marrakech to Fez. A road trip was the most amazing experience and absolutely the best way to see Morocco.
---
Plan Your Fez Itinerary with the Best Things to do in Fez
---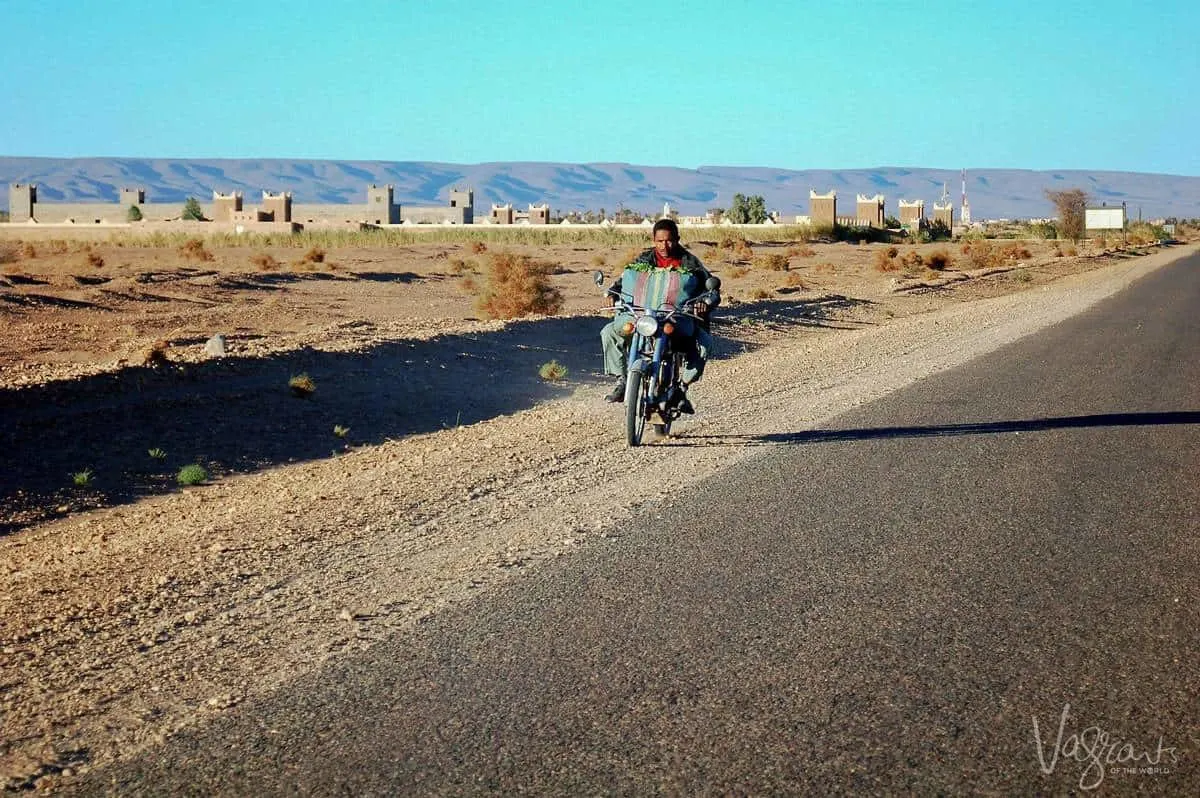 Facts
We booked our road trip from Marrakech to Fez with Morocco Explored
Cost :
~$400 USD pp. For three full days. We were a group of three.
Inclusions:
The cost included a very comfortable car with driver. The car and driver were swapped half way.
Accommodation on both nights including the camel trekking safari in the Sahara and overnight accommodation in the Berber camp.
We paid for any meals not included in accommodation which were only lunches.
---
Plan Your Trip to Morocco
We have a few go to websites for planning and booking our travel. These are some we trust for the best deals:
Flights to Morocco: Our first stop for researching flights is Google Flights. It's the easiest way to compare fares, look at the cheapest times to travel or find alternative airports you may not have known about.
Accommodation in Morocco: If we're not staying in an Airbnb, Booking.com is our go-to resource for hotels and self-contained apartments. It is often cheaper than Airbnb as there are no service or cleaning fees.
Car Rental in Morocco: If you want to do a self-drive trip around Morocco, we suggest Discover Cars. They always have the cheapest rates with no fees and free cancellation.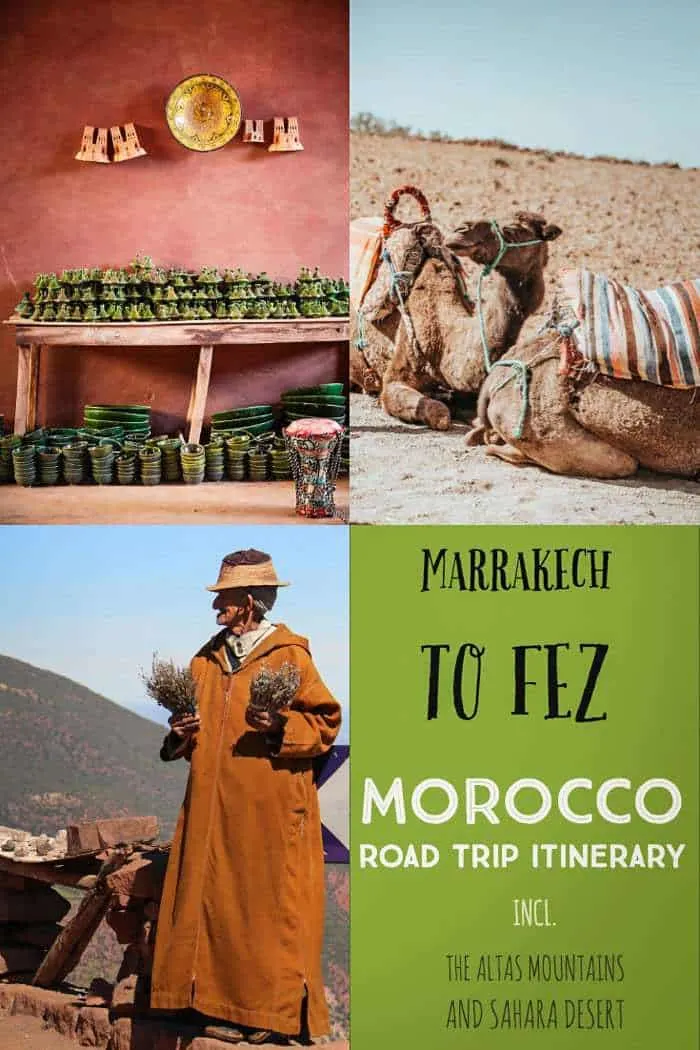 ---