León has long been considered the political and intellectual centre of Nicaragua. Laying claim to some of the countries most important poets and musicians as well as some of Nicaragua's most beautiful historical buildings.
It is also home to the revolution that shaped Nicaragua as we know it today.
These are some of the best things to do in León Nicaragua
Take a City Tour
As the city of the revolution and one of the oldest Spanish colonies on the continent, Leon is hard to beat for interesting history. If you want to get a true appreciation and understanding of León, a city tour is a great way to scratch the surface.
To understand León is to have a greater understanding of Nicaragua. So much of the cities history was pivotal in the shaping of the beautiful country Nicaragua is today.
Being a university city, you will often find guides who are incredibly knowledgeable and very enthusiastic about the future of Nicaragua. A passion for the countries past and more importantly, the country's future we had seen throughout Nicaragua.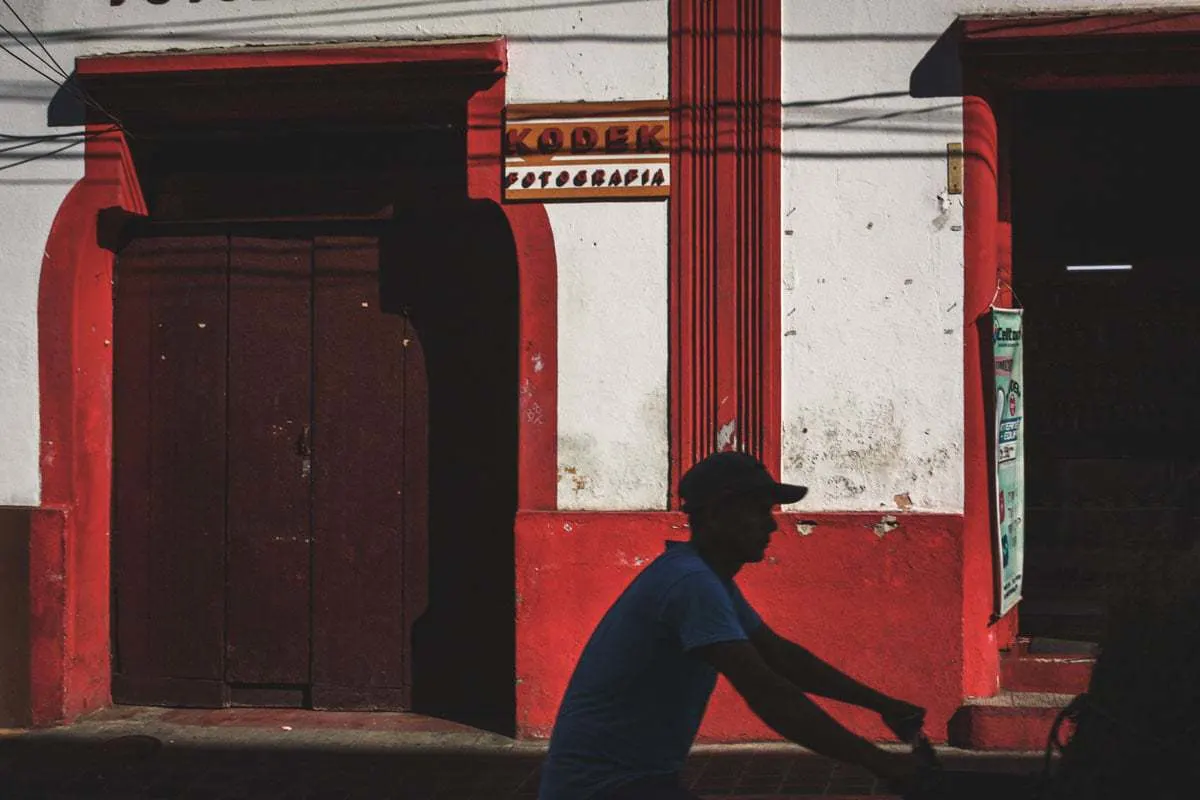 ---
See our complete Nicaragua Packing Guide for tips on what to take for every kind of Nicaragua adventure whether you're boating down the Rio San Juan, climbing volcanoes, or chilling on the Corn Islands.
---
You will find shorter Small group walking tours or more comprehensive City Tours run by local guides. Most of these will cover off on Leóns best attractions and include entry fees and transport. Some will offer additional inclusions such as lunch or refreshments.
Visit the Cathedral of León Nicaragua
Visit the iconic Cathedral of León or the Basilica Cathedral of the Assumption of the Blessed Virgin Mary. This important and historic landmark of Nicaragua has been awarded UNESCO status and rightly so.
Built over a period of 67 years, ending in 1814 and consecrated by Pope Pius IX in 1860 this magnificent building still maintains the status of being the largest cathedral in Central America. Our first impressions of this imposing structure were when we went to purchase our tickets to climb to the roof. An incredible room at the back of the cathedral filled with religious statues and church relics in various states of repair.
Our first impressions of this imposing structure were when we went to purchase our tickets to climb to the roof. An incredible room at the back of the cathedral filled with religious statues and church relics in various states of repair.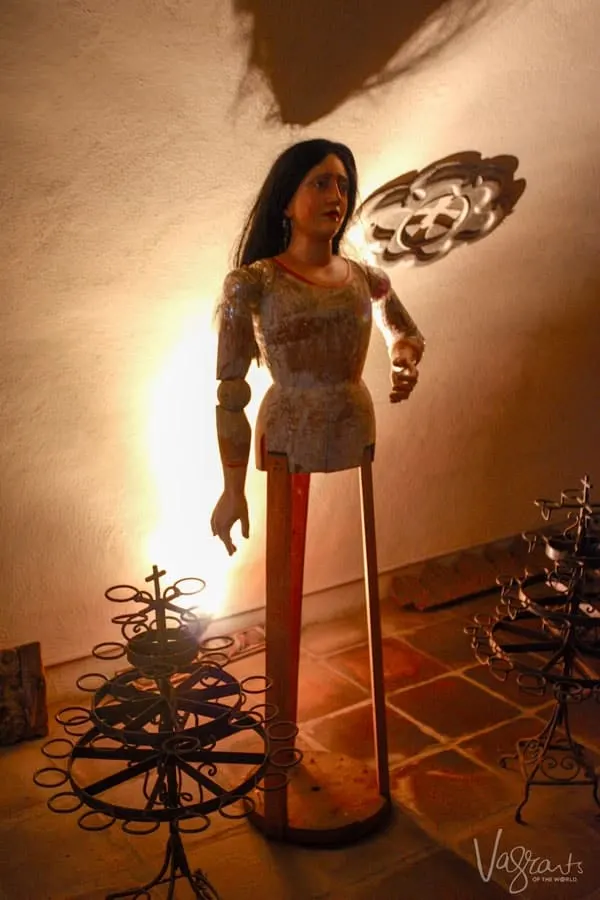 Like the Granada Cathedral, there are also tunnels leading to other churches in the region, with five known access points and two secret access points, well, secret to the public at least. One of the known tunnels runs a distance of 15 km. These tunnels also house crypts, designed to serve as earthquake shelters. They now hold the remains of 27 people including Bishops and some of Nicaragua's most celebrated poets and musicians.
Many of the church's most precious commodities were also funnelled out through these tunnels when Nicaragua was under threat from pirates. At certain times you may find three of the seven tunnels are open to the public, unfortunately, they were closed while we were there.
Acces to the tunnels is with a guide only. At the rear of the cathedral, you will find the desk where you can hire a guide. Cost is $2.00. Again, if you take a city tour, this entry fee should be included in your tour.
Tip: If you take a city tour, entry to the museum will be included.
Climb the León Cathedral Roof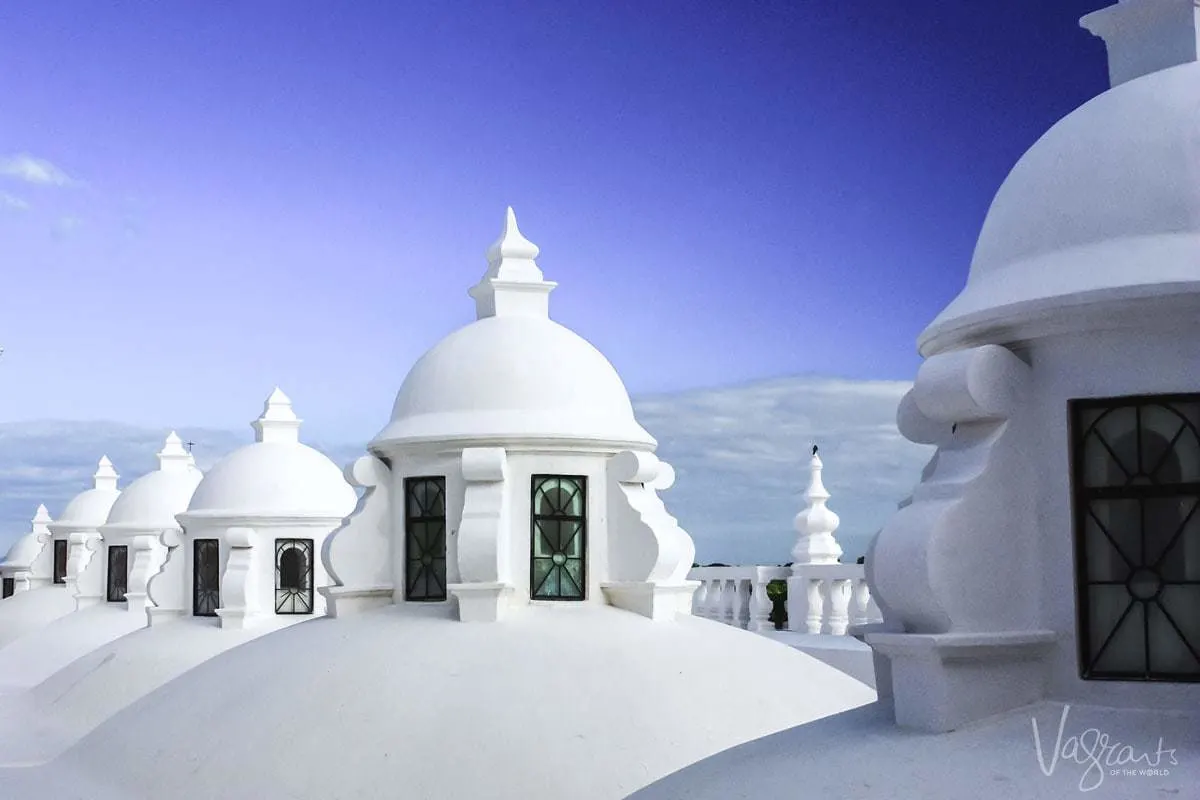 Climbing the roof of the León Cathedral is one of those "Must Do" things to do in Nicaragua. There has been a massive restoration taking place to restore this rain stained historical monolith to its former pristine white glory.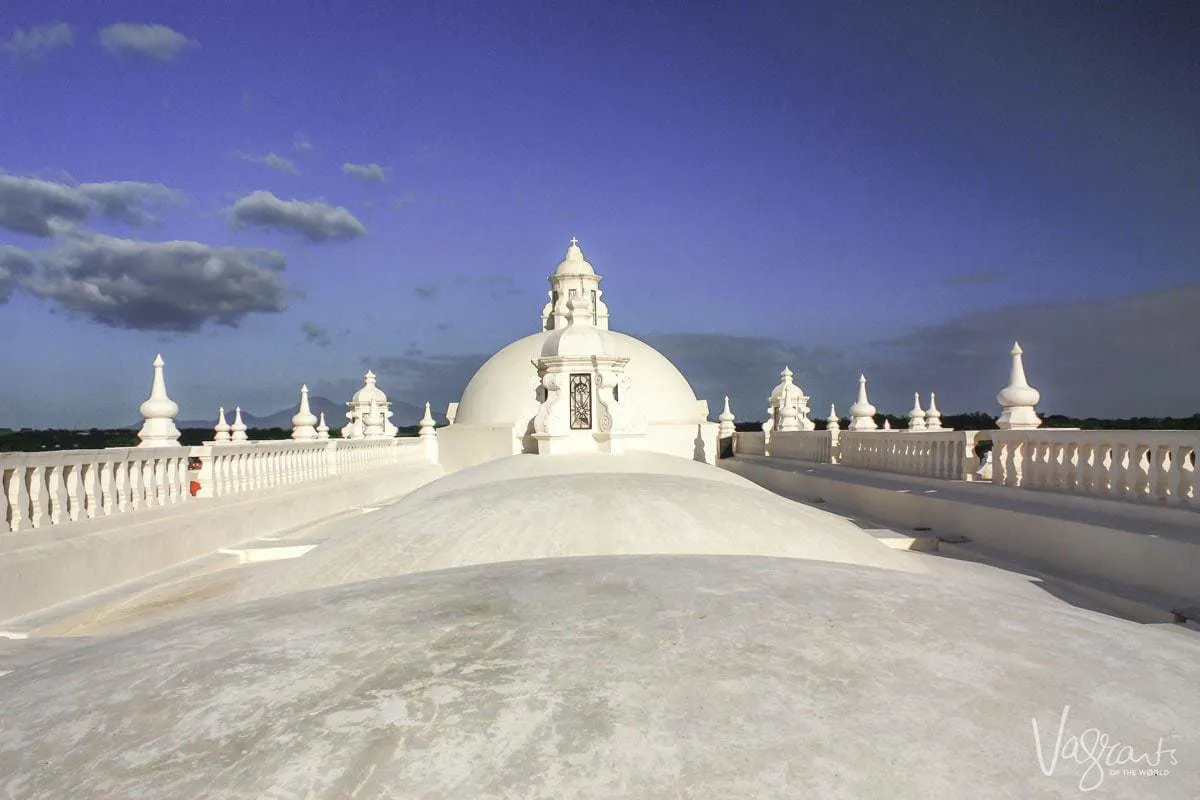 34 domes cover the cathedral creating a whole different perspective from above. León is the second hottest city in Central America. In complete contrast to the street below, the roof was so cool, clean and quiet. Imagine an oasis above you in the hustle of a busy city.
Every aspect of this cathedral, whether standing on the roof or admiring the facade, you will be overwhelmed with how intricately beautiful and historically fascinating this building is.
León Cathedral Opening Hours:
Monday – Saturday 8.00 am – 12.00 pm and 2.00pm – 4.oo pm
A guide is required to access the roof which will also cost $2.00. This fee should also be included if taking a city tour.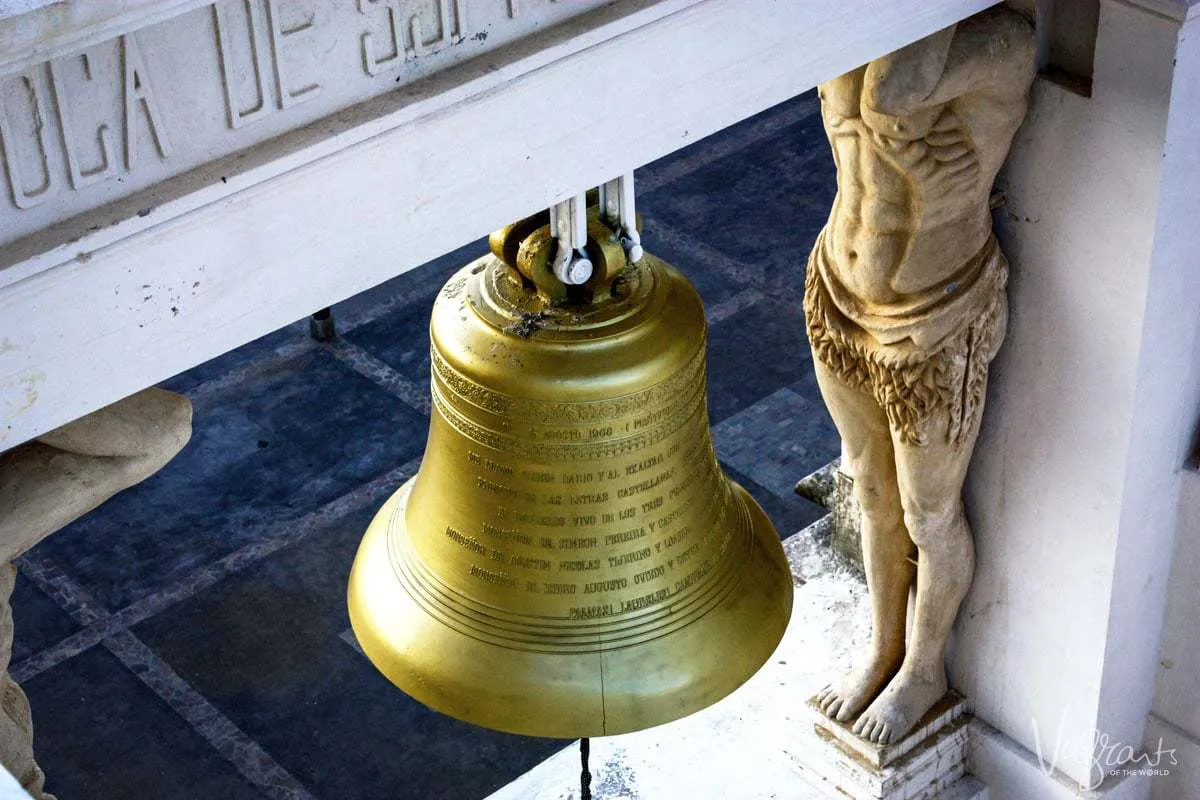 Hear the Story of The Revolution of Nicaragua
Across from the main plaza, you will find the real heroes of Nicaragua. At the Museum of the Revolution, there are tours led by a group of men who fought to bring peace and opportunity to the country.
The museum is still being put together, a work in progress by the men who fought. For a small fee, one of those men will walk you through the history saved and tell you the story of the civil war and revolution as they lived it.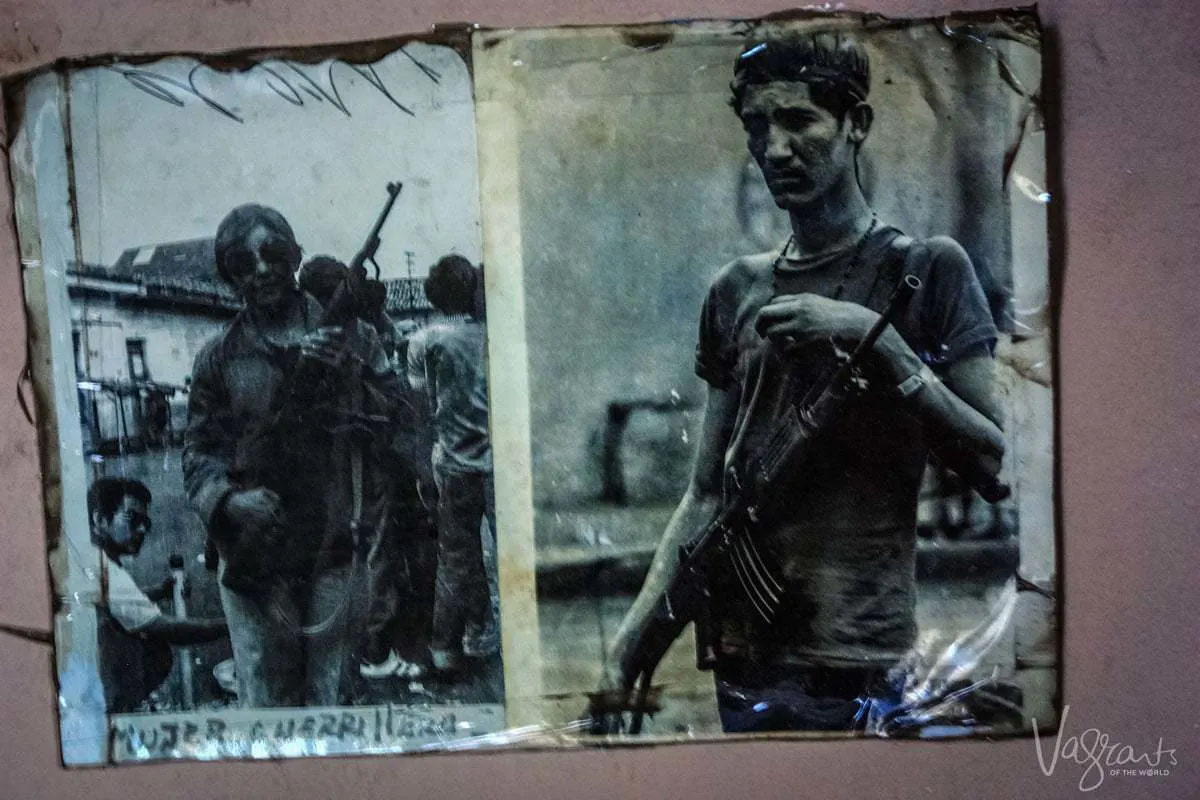 Unlike most countries, these men receive no pension or compensation for the contribution they made to their country. Some had guns handed to them at the age of 16 and can show you photos of their younger selves in the museum. Now they only have one of the most important stories of their country to tell.
Entry to the museum is $2.00 plus a tip to a guide if you choose to have one. We highly recommend the small extra expense.
Tip: If you take a city tour, entry to the museum will be included. Additional donations or tips to the volunteers of the museum are always appreciated.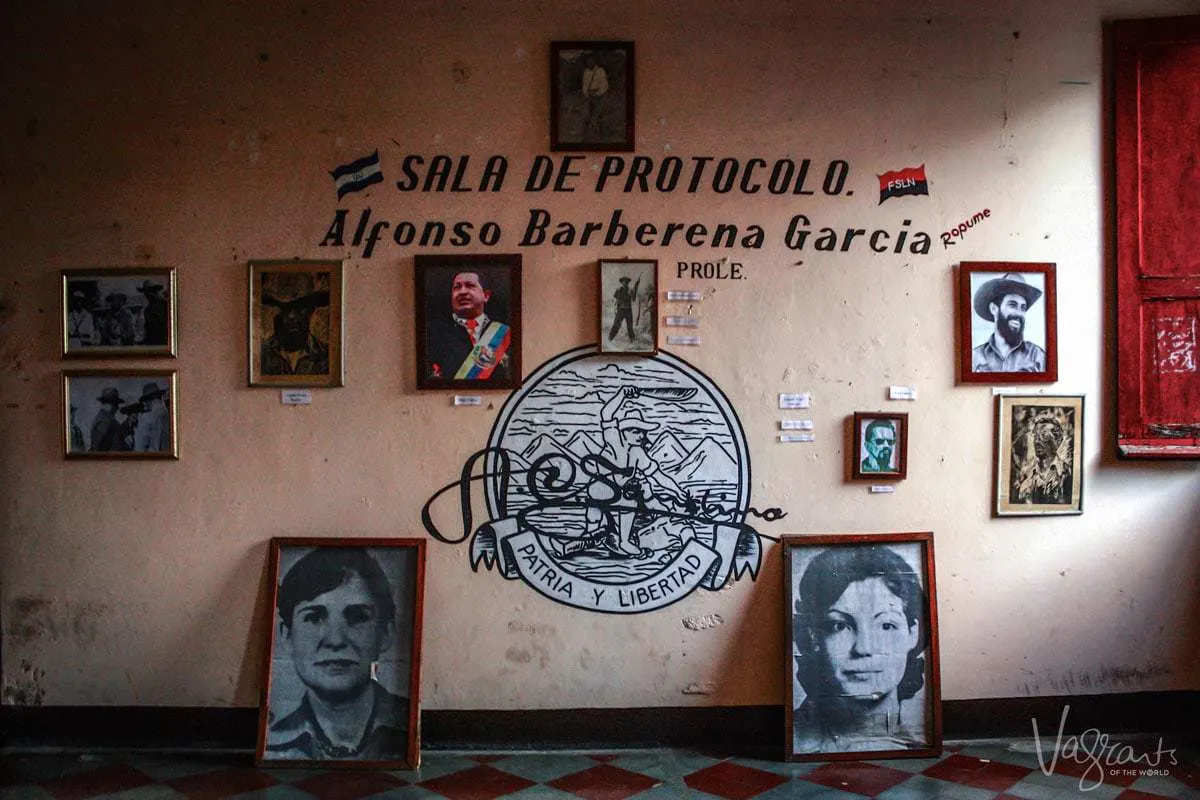 One of the less-known sites in León is an old fort that overlooks the city. Constructed around the late '30s, early 40's the site was instrumental in the civil war. Left to neglect and used as a garbage dump, it has recently been cleared and work is being done to restore the site to acknowledge its importance to the city's history and the heroes that fought for the revolution.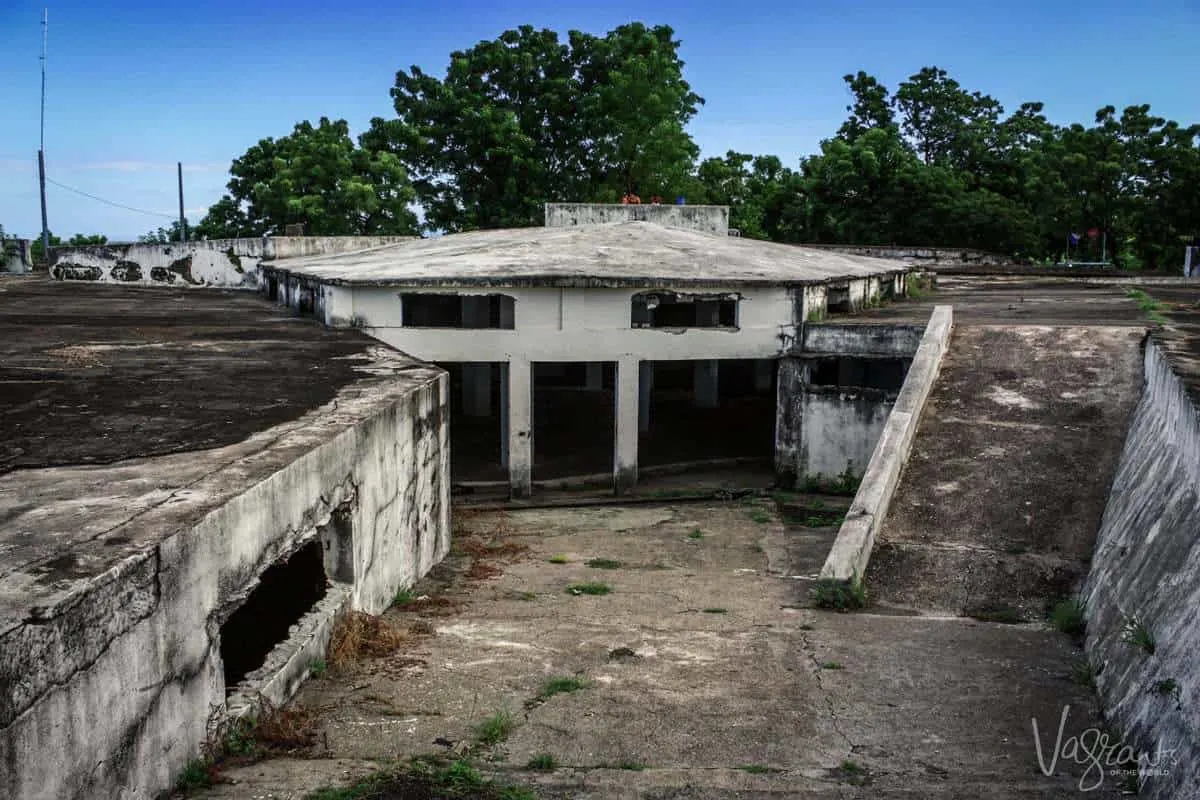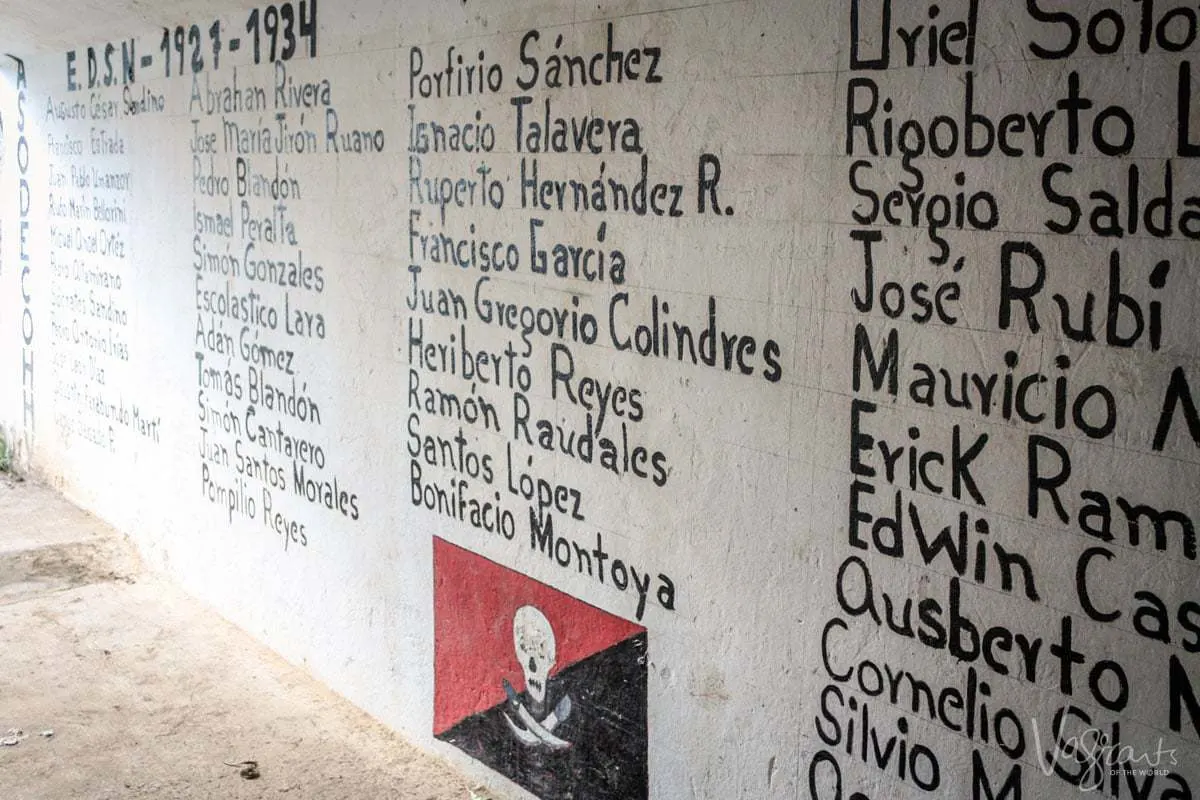 See The Murals of the Revolution
As you walk around León you will notice murals all over the city that depict the civil war and the revolution. These are a testament to the importance of what took place both here in Nicaragua and León and very much part of León's identity.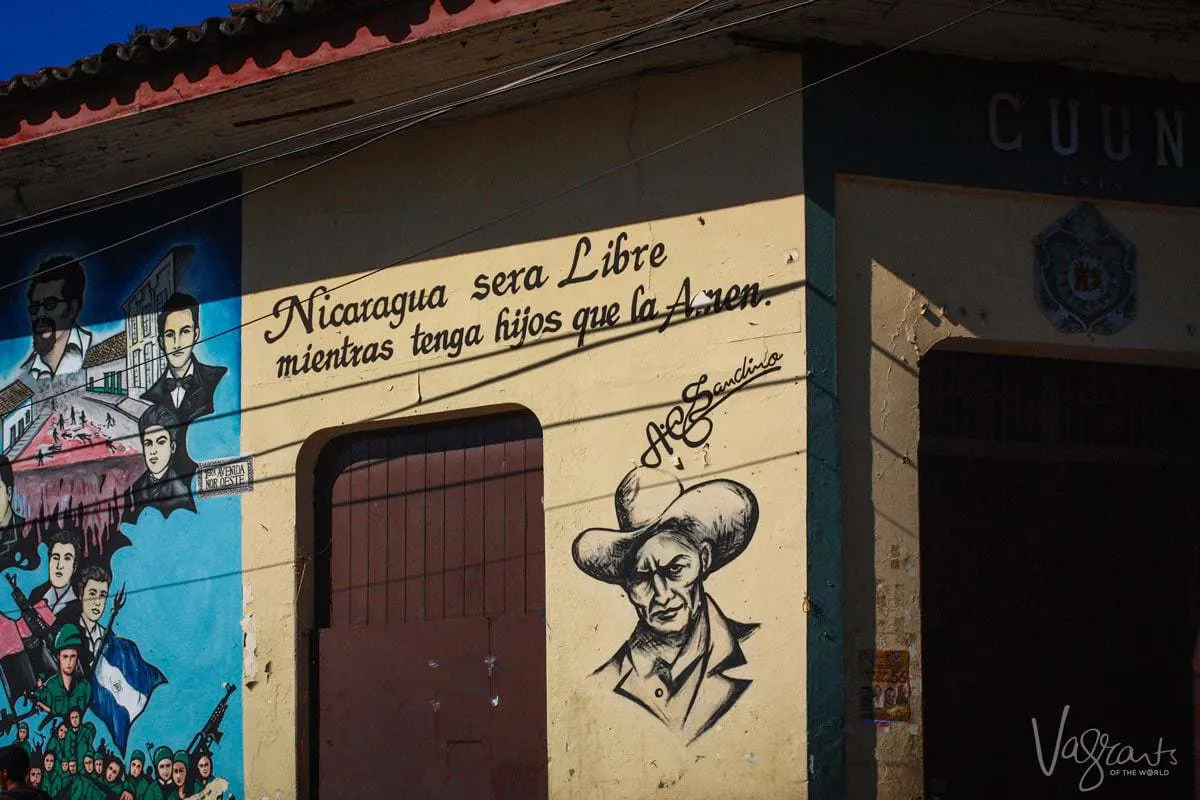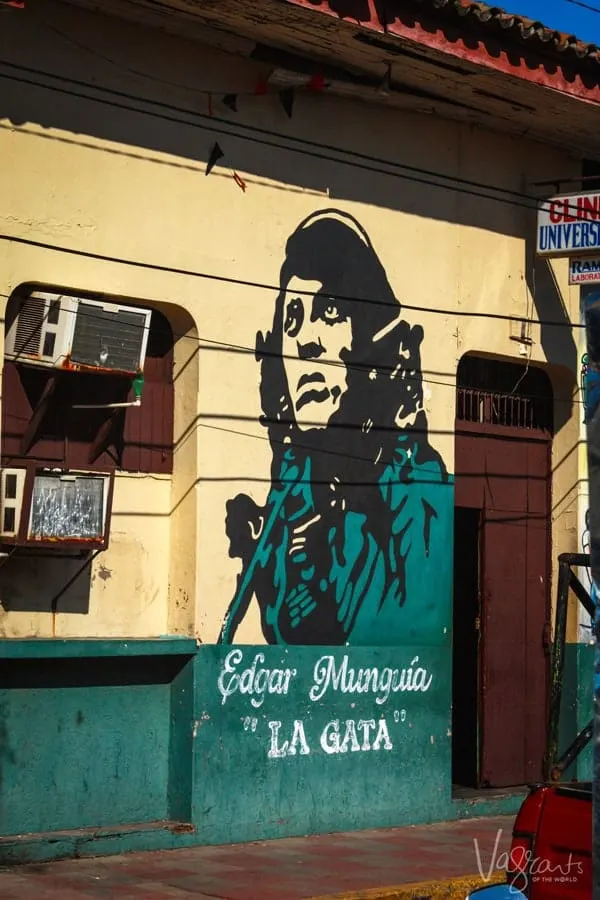 Discover Indigenous León
Barrio Sutiava is home to the Sutiava tribe, the first people to settle León long before the Spanish conquered the area. The Sutiava neighbourhood is still recognised for its large indigenous population, its cultural and historical significance and is also home to León's oldest church, San Juan Bautista Sutiava. This is the only remaining church, although now rendered on the outside, built entirely from timber.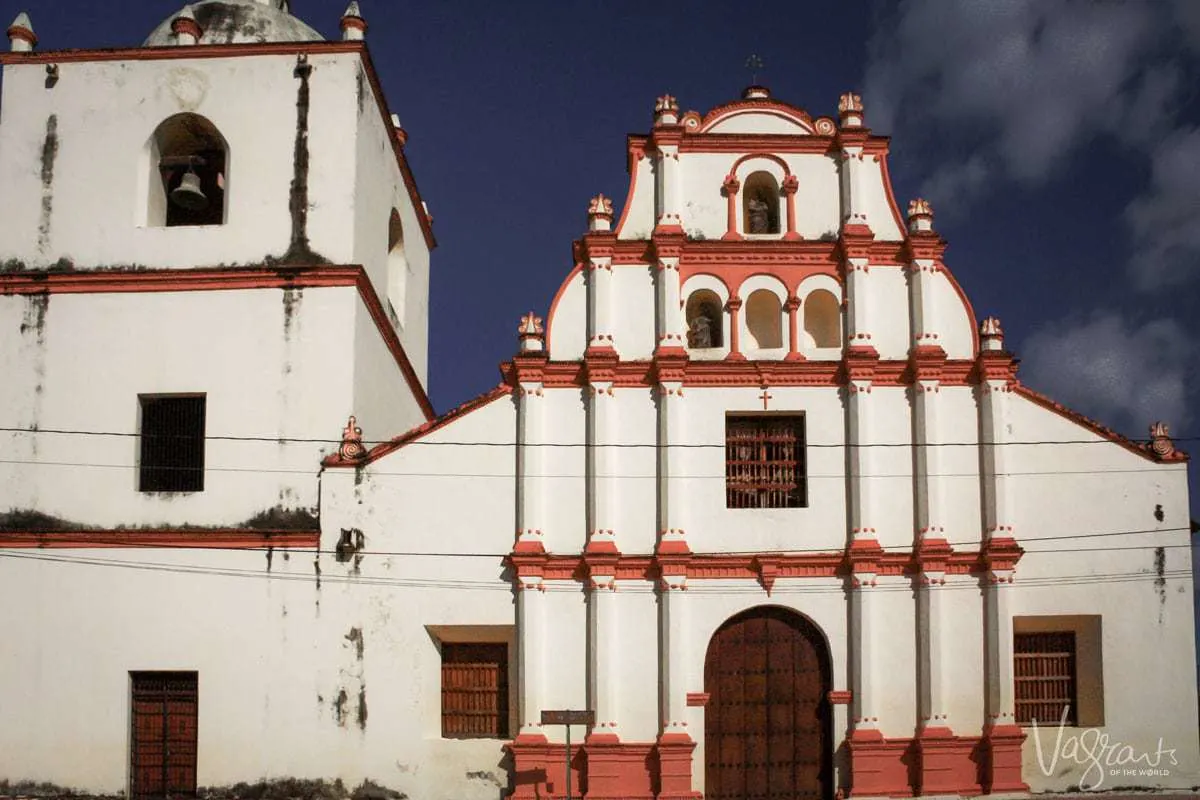 Large murals painted by young teenagers as part of a local initiative depict the neighbourhoods history, traditions, beliefs and its future. It's hard to believe these murals were painted by children averaging 12 years old.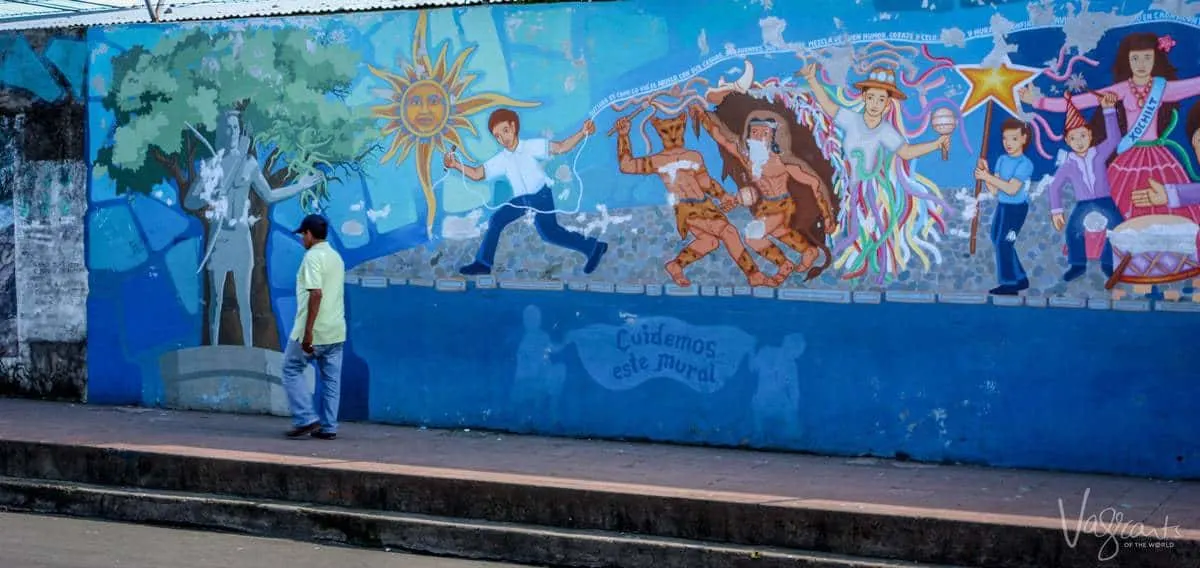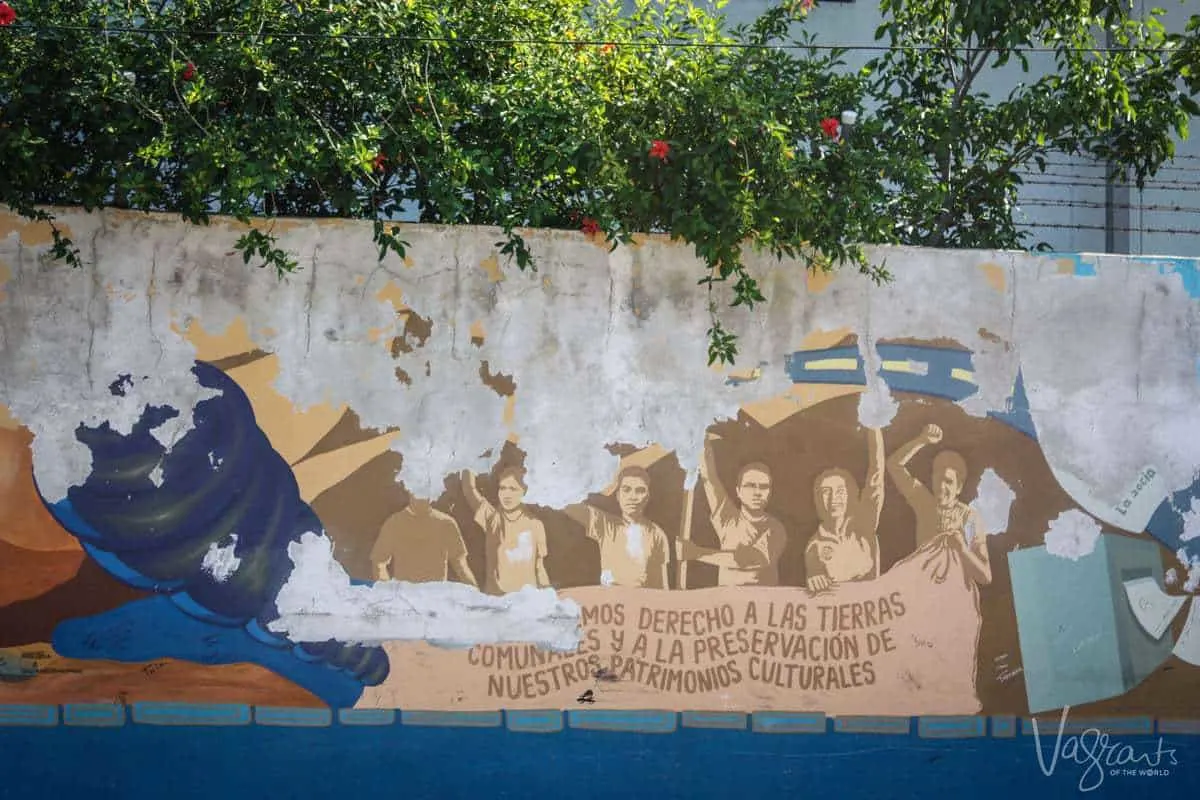 Head to the Beaches Near León Nicaragua
Las Peñitas and Poneloya beaches are roughly 20 kilometres from León. About 15 minutes by car or 30-40 minutes by chicken bus. Considering León is one of the hottest cities in Central America, having such beautiful beaches near the León city centre is a very welcome reprieve.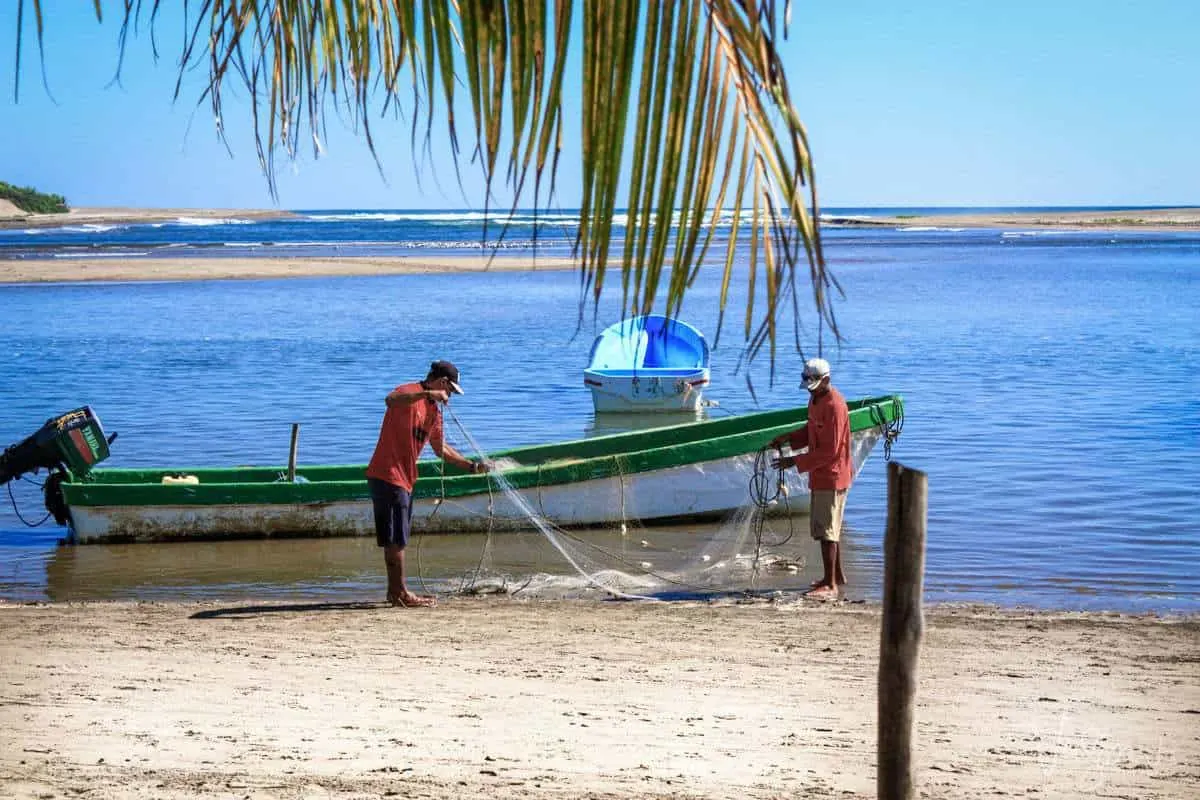 These small fishing villages offer stunning stretches of sandy beaches lined with beach bars and cafes. Good to great surfing, excellent fishing and horse riding. It is also the access point to the Reserva Natural Isla Juan Venado, a popular place for wildlife and turtle migrations. Of the two villages, Poneloya has a more local, low-key vibe while Las Peñitas beach attracts more visitors.
We found Las Peñitas the perfect place to chill on the beach without the hectic party vibe or tourist trappings of the popular San Juan del Sur.
How to get from León to Las Peñitas:
Buses leave every hour or so from the Sutiava Market, also known as El Mercandito. The bus will cost around 12 cordobas and take 40 – 45 minutes. A taxi should cost around 250 cordobas and take approx. 15 minutes. Be careful not to get overcharged by the taxi driver. There are some good tips here about getting from León to Las Peñitas beach.
Where to Stay in Las Peñitas:
There is quite a good selection of accommodation in Las Peñitas considering it's quite small. We stayed at the Barca de Oro.One of the more popular places for their location, price and their food draws a good crowd too. You will find both private ensuite rooms and dorms here.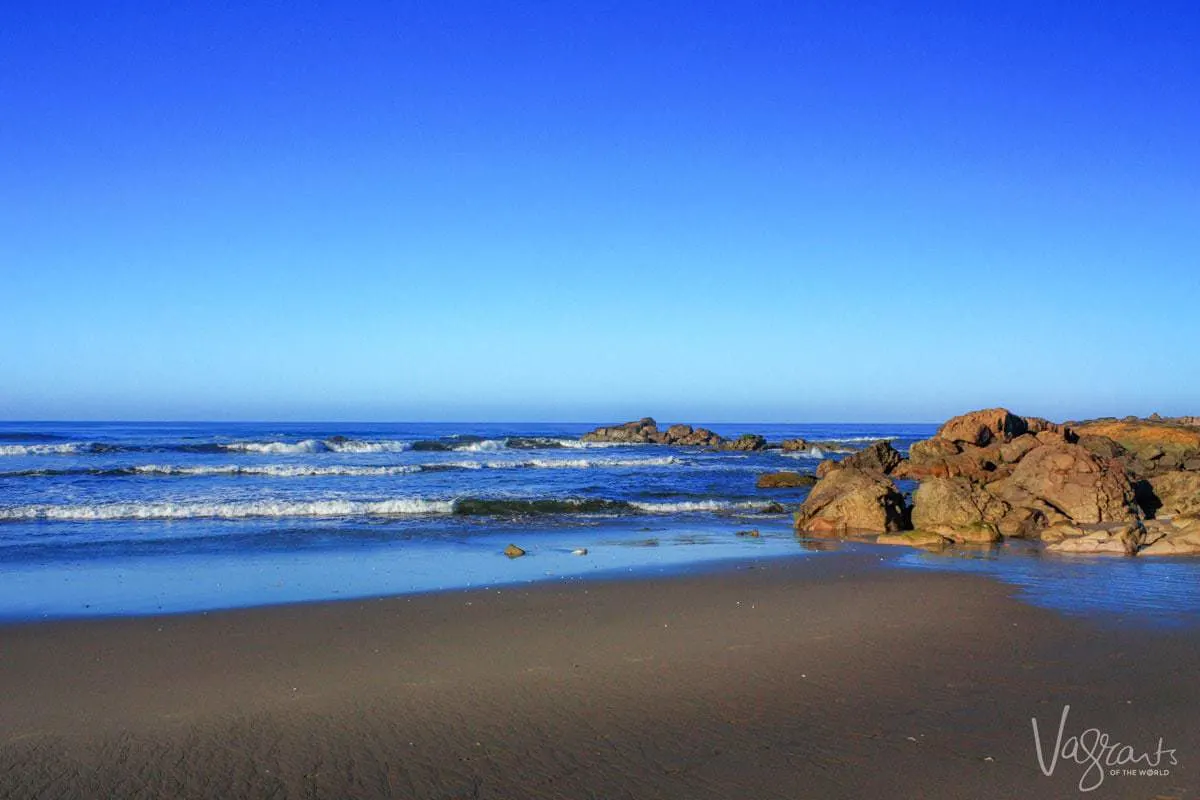 Take A Cooking Class
If you're not familiar with Nicaraguan cuisine you are in for a treat when you visit Nicaragua. -Fresh corn tortillas, jalapeño chicken, tostadas con queso. The versatility of the humble plantain shines with fresh tostadas served as a staple with nearly every meal.
A fabulous homemade cheese called Cuajada, and, of course, the wonderful simplicity of Gallo Pinto – good old rice and beans.
Discover These 5 Must-Try Nicaraguan Foods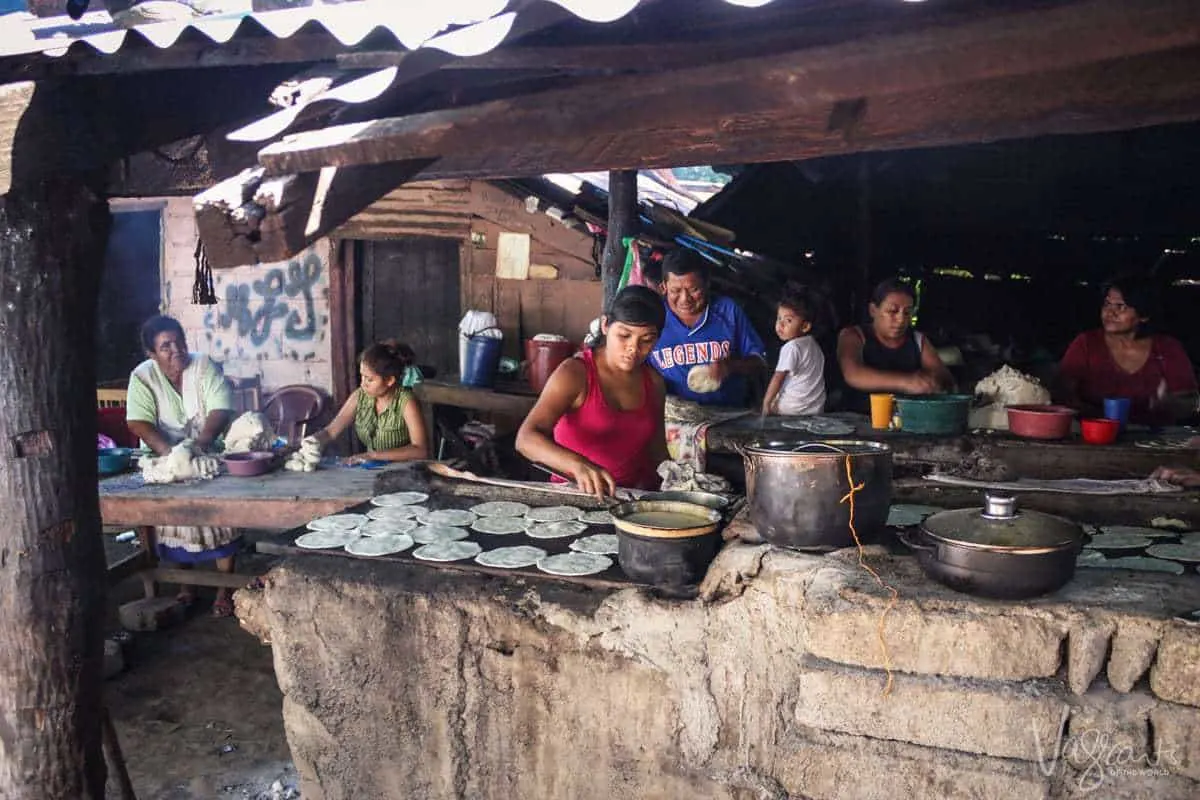 Nicaraguan food is fresh, home-style cooking that is always plentiful and, for the most part, good for you. Nicaraguan cuisine is also such an integral part of the country's culture, a cooking class is a great way to meet some locals and learn more about Nicaraguan cuisine and culture.
Volcano Boarding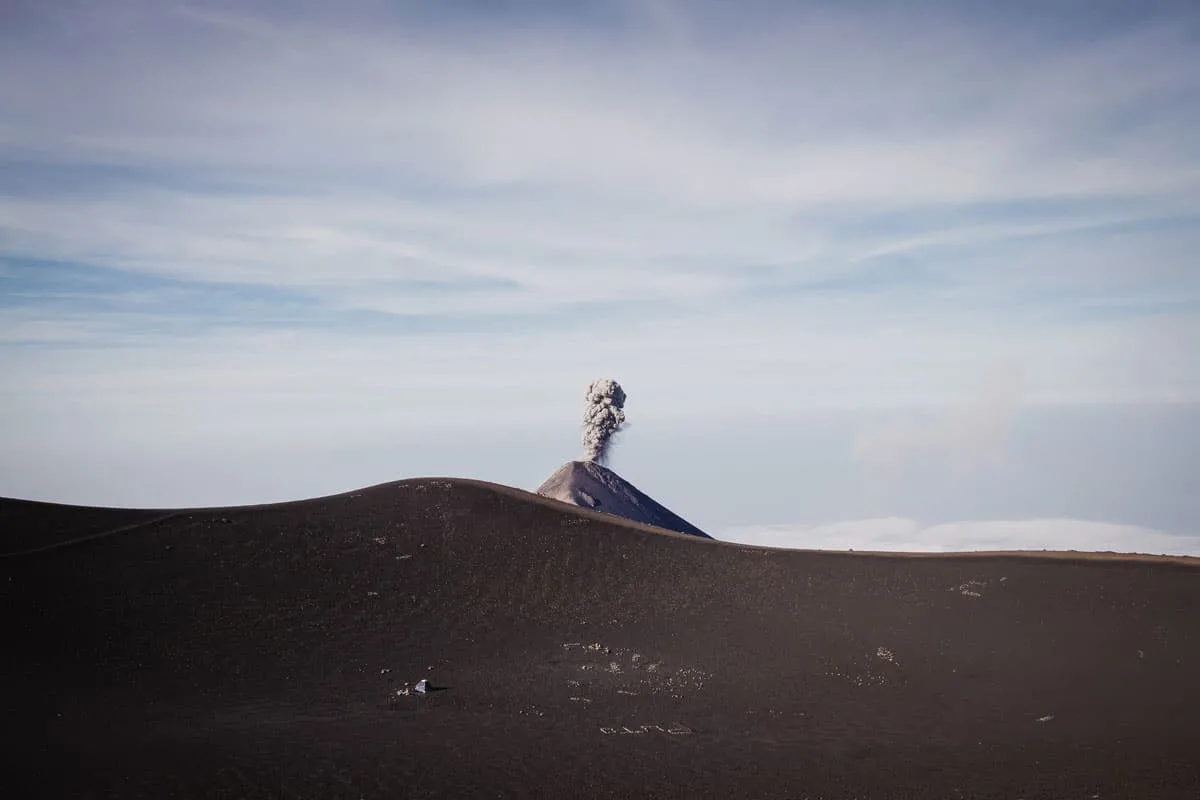 One of the most popular things to do in Nicaragua is volcano boarding, although we did pass on this while we were in León. We were more than happy to leave our volcano experiences at climbing Concepción Volcano on Ometepe Island and staring into the Gates of Hell from the top of Masaya Volcano on our day trip from Granada.
But for those who want the rush of hiking to the top of a live volcano and sandboarding down its ashen face at great speeds, there is definitely a tour available for you. Take a full or half-day trip to Cerro Negro volcano for the thrill of a lifetime as you tackle a live volcano on a plank of wood.
Half day volcano boarding tours start at around $35. You can find out more about volcano boarding tours here.
Get A Hair Cut and Shave
Last but not least, one for the men. Treat yourself to a haircut and a good old-fashioned cut-throat shave. For about $2.00 you will be pampered old school style for one of the best shaves of your life. An hour and $2 well spent.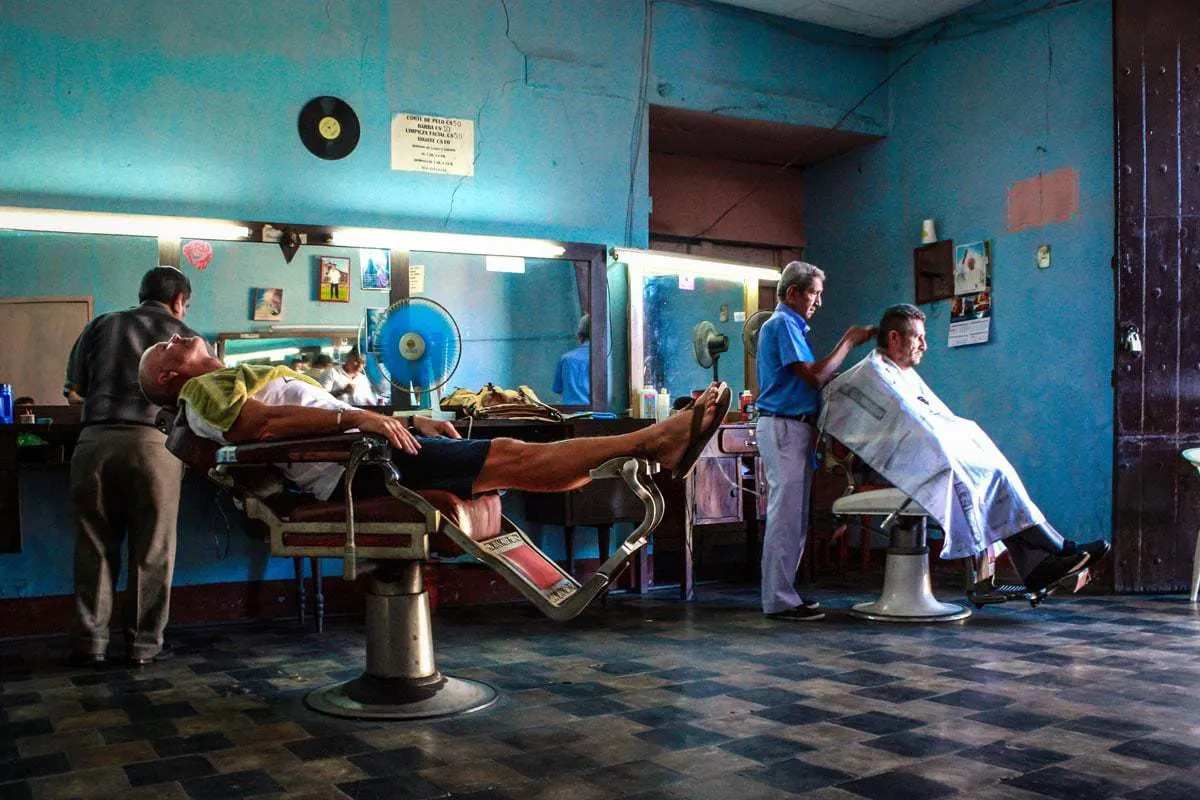 Just pop into any one of the men's barber shops dotted throughout León. You'll find it's also quite a social affair.
Plan Your Trip To León and Nicaragua
---
Best Time to Visit Nicaragua:
November – April is the most popular months as it is the dry season in Nicaragua. Between these months, the majority of places will experience sunny days and mild temperatures. Although it is dry, from December through to March can be very hot and dusty in some regions.
Where we stayed in Le
ó

n:
Getting to Le
ó

n Nicaragua:

We travelled to León from Granada so came by shuttle.

If you are flying into the capital Managua, you have the following transport options-
Microbuses every half hour or so from the Managua UCA Bus Station. Expect around $2 pp. The ride will take around 1.5 hrs.
Taxi – Expect as high as USD25 pp from the airport, although you will have to bargain.
Airport shuttles are available for around $20 pp
Getting to León from Granada:
Driving: If you have a rental car, the distance between Granada and León is approx. 134km (83 miles) on the highway.
By Bus: You can take a microbus from Granada to Managua UCA Station and then transfer to another microbus to León. This will take around 2 hours and cost approx $3.50 USD for the two trips.
By Shuttle: Most Hostels and hotels offer a door to door shuttle service between Granada and Leon. This is on a shared basis and will cost anywhere from $20 USD pp up to $100 USD depending on how many sharing the shuttle and the arrangement.
Flights to Nicaragua:
The main international airport in Nicaragua is in Managua.
We use Google Flights for researching the best flight deals and times. It's the easiest way to compare fares, look at the cheapest times to travel or find alternative airports you may not have known about.
Car Rental in Nicaragua:
We only rented scooters occasionally in Nicaragua, but Nicaragua is a very easy country to drive around. You can check the latest car rental rates through Discover Cars from Managua. We have always found them to have the best rates all around the world with no fees and free cancellation.