Ometepe Island Nicaragua ticks all the boxes no matter what type of holiday you are looking for.
Admired for its diversity of experiences; adventure, nature reserves, rainforests, diverse wildlife populations, beautiful beaches, crystal clear freshwater pools, archaeological sites and friendly hospitality that is specifically 'Ometepe'.
All set beneath the dramatic profile of two majestic volcanoes that make this island. There is just so much to see and do on Ometepe Island.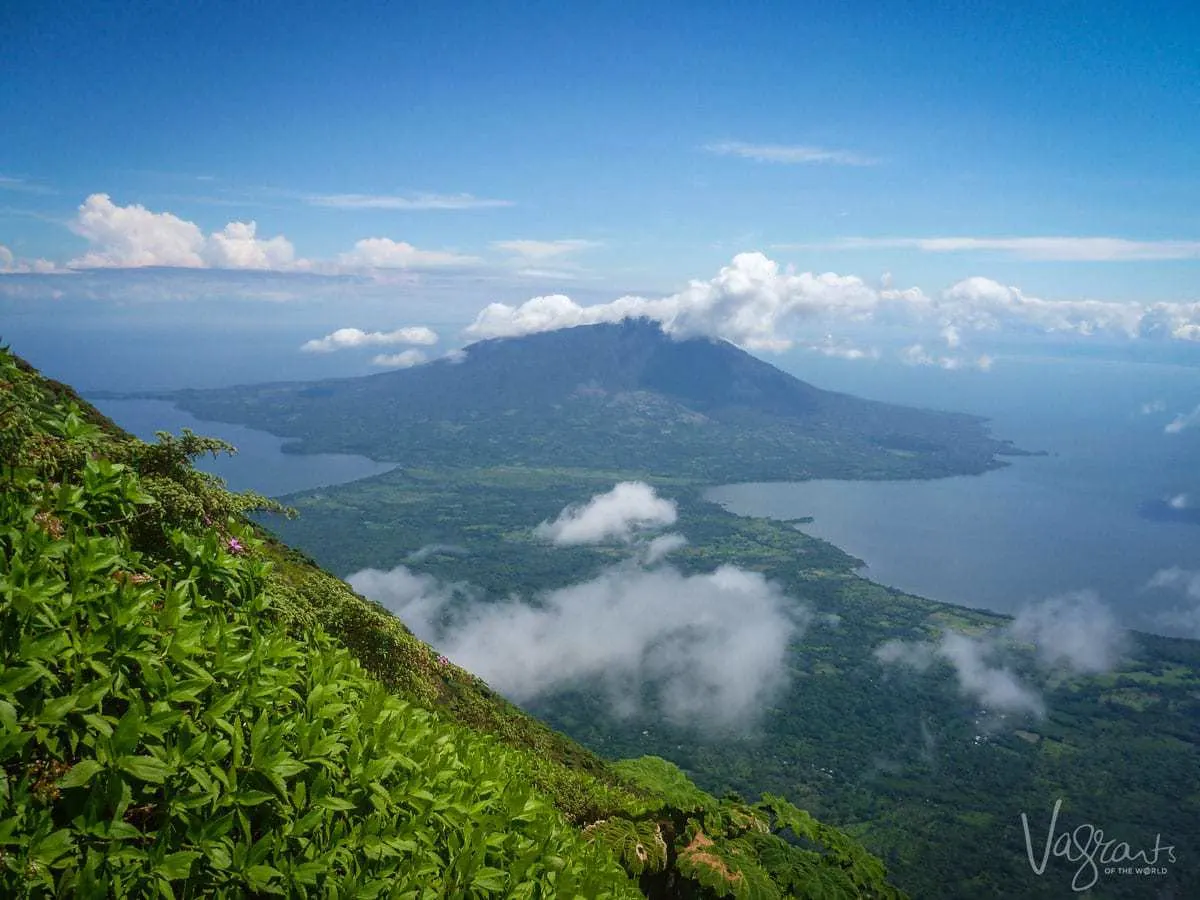 About Ometepe Island
While Nicaragua is fast becoming Central America's new tourism star, Ometepe Island is becoming a must go destination in its own right. The island, measuring 276 km² (106.6 sq miles) with a population of approx. 30,000, is the largest island in Lake Nicaragua. A body of water referred to as a 'freshwater sea' due to its sheer size.
In the middle of this lake, isolated from the rest of Nicaragua, rise two majestic volcanoes joined by a narrow, flat isthmus – this is Ometepe Island.
To the north of this hourglass, shaped island sits Volcán Concepción, a perfect cone-shaped active volcano. To the south, the extinct, or 'prehistoric' Volcán Maderas. In stark contrast to the lava stained Concepción, Maderas is covered in cloud forest with a lagoon in its centre.
Add a rich history of different tribes and cultures, stories told by the petroglyphs, ceramics and statues found throughout the island and you can start to imagine a paradise with all of the allure and mystique of Fantasy Island.
---
Here are some of the best things to do on Ometepe Island
Volcano Climbing
When you first arrive on Ometepe, whether by plane or ferry, you cannot help but crane your neck in awe at the twin volcanoes. Often the tops will be swathed in cloud giving them a dramatic appearance, reminiscent of a scene from an old King Kong movie. On a clear day, you can see the waft of volcanic gases drifting away from Concepción's crater.
We arrived on Ometepe by plane from the south, so were lucky enough to fly around the rim of Concepción's crater on our descent. This was our welcome to Ometepe Island.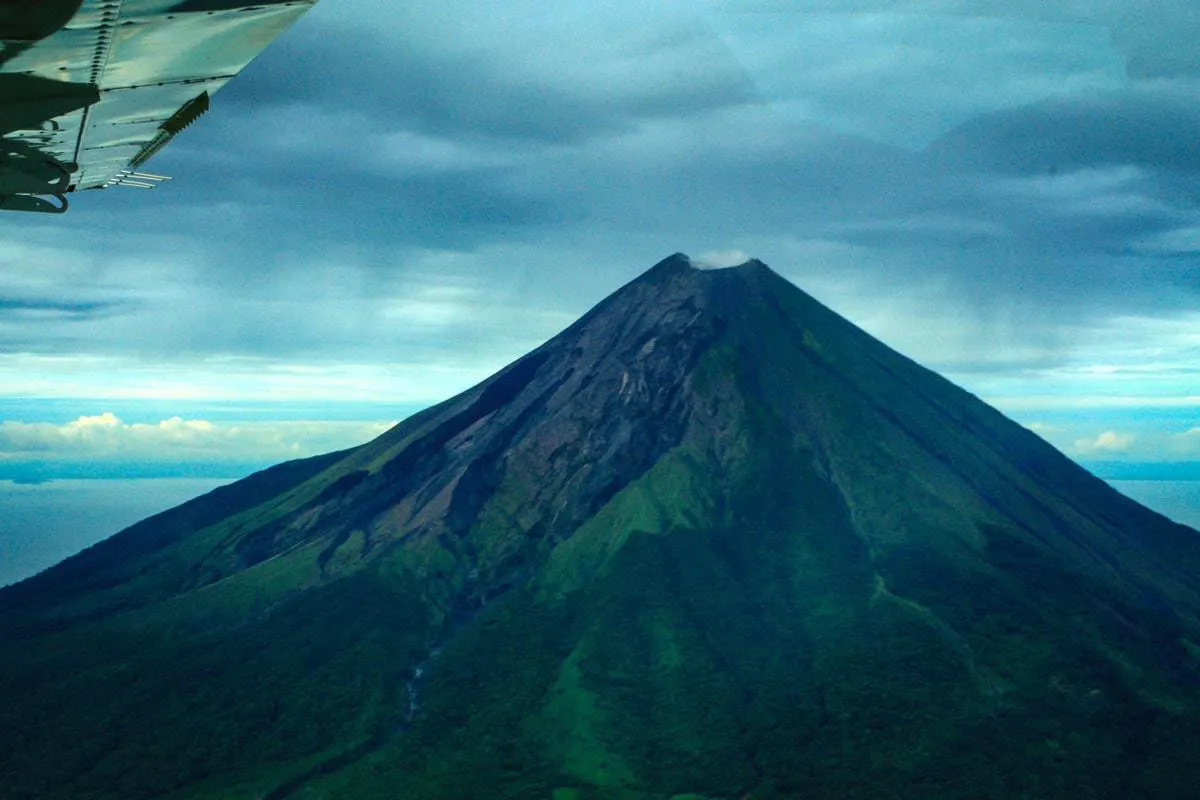 You can climb both volcanoes. Guides are available for both and highly recommended.
Climbing Maderas Volcano
Maderas stands at 1,394 meters, and while it is an easier climb than Concepción due to the established cloud forest, it is still by no means an easy feat.
Climbing Time
Expect a 6 – 8 hour round trip to the top of Maderas volcano.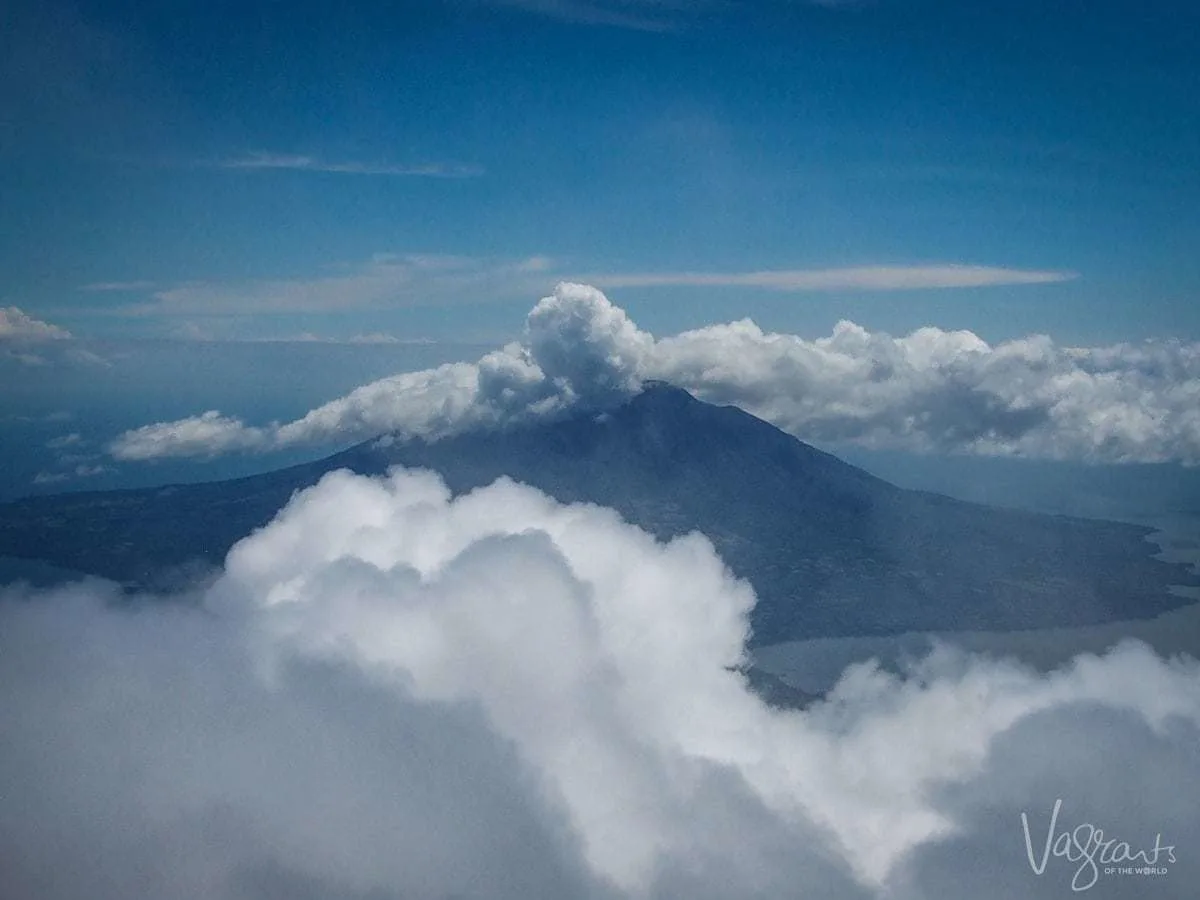 Climbing Concepción Volcano
Concepción stands at 1610 meters high, a steep climb up mostly loose rock and scree. When we climbed, there had been severe landslides two weeks prior that had ripped down any established growth, upturning and gouging the earth from the base up to around 900 meters.
This could be a factor to be considered at any time when climbing this volcano.
Climbing Time
Expect around an 8-11 hour round trip to climb this monolith depending on your fitness levels.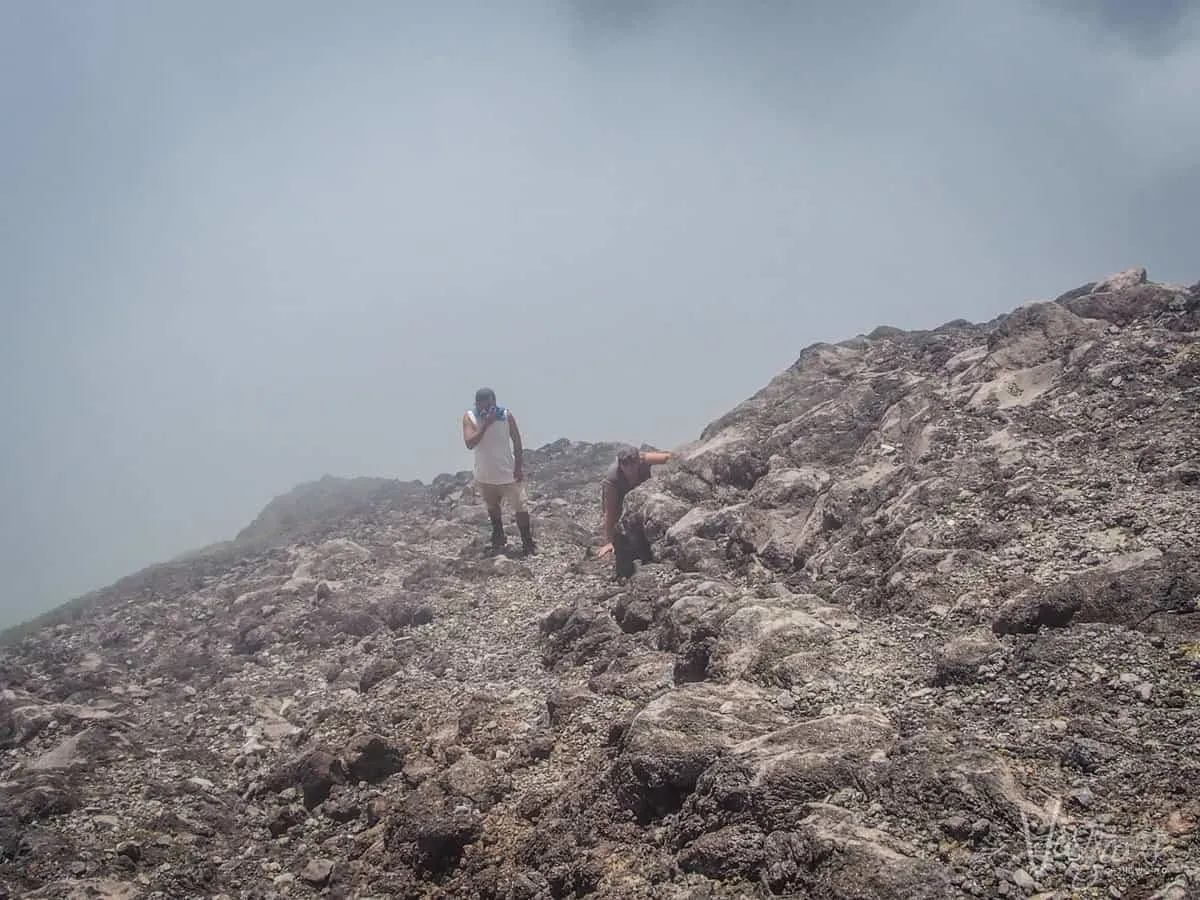 Volcano Climbing Guides
Our guide cost USD $20 each for a 10.5-hour climb.
A car to take us to the start point of the climb and back in the evening was USD $25.
Most of the hotels and hostels should be able to recommend a good guide who will collect you from your accommodation.
If climbing to the top of an active or even prehistoric volcano is not on your bucket list, there are some great hikes around the base of both.
Kayaking Ometepe – The Rio Istian
Spend a lovely morning kayaking across Lake Nicaragua until you reach the mouth of the Rio Istian. The river and swamplands run across the centre of the isthmus making the island one.
Rio Istian is teaming with wildlife, and the constant loom of the volcanoes make for a spectacular backdrop.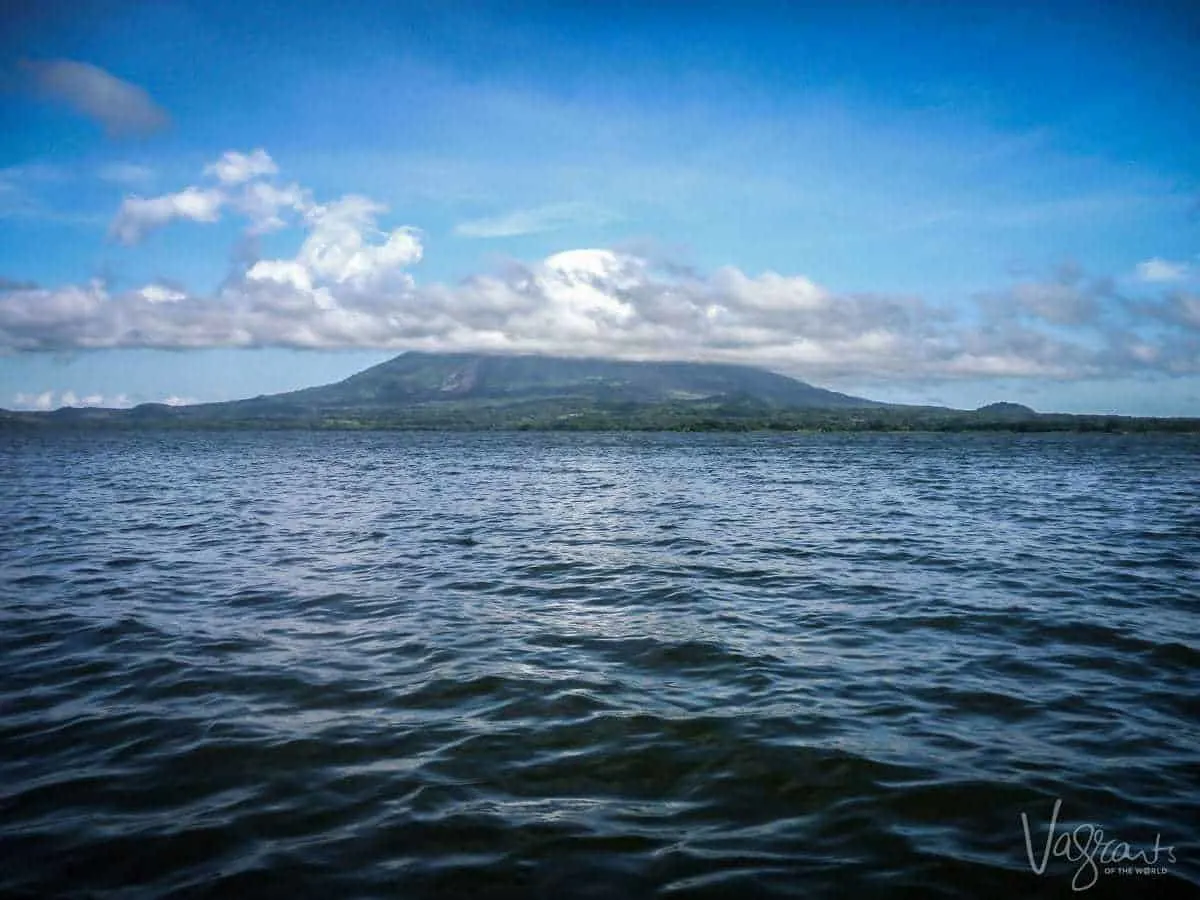 Ometepe Wildlife
Quietly cruising down the river, you can spot caiman taking the sun on the banks, white-faced and howler monkeys in the trees and an array of birds that would make any Twitcher twitch. A lovely and relaxed way to take in some of the island's diverse wildlife.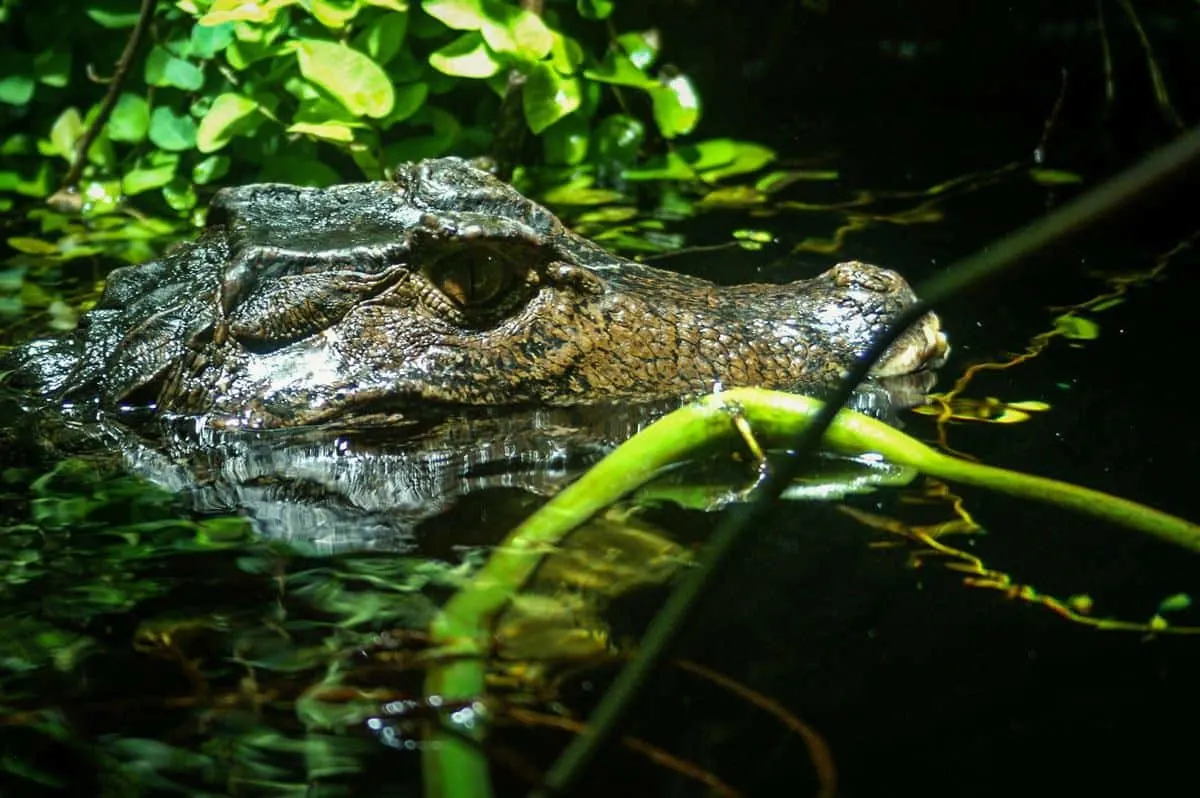 Kayak Tours
We took a three-hour kayak tour which included a double kayak and guide. Mornings are recommended before the wind picks up on the lake. It is also the best time for wildlife spotting.
Cost:
Expect to pay around USD $25 each.
Most of the kayak companies for the Rio Istian are located off a dirt road that requires 4×4 to access. A driver to collect and return us to our hotel was an additional USD $20.
Ojo de Agua Ometepe
Dive into crystal clear lagoons at Ojo de Agua. There are many beautiful black beaches around the island, offering safe swimming in the clean, clear waters of the "freshwater sea" that is Lake Nicaragua.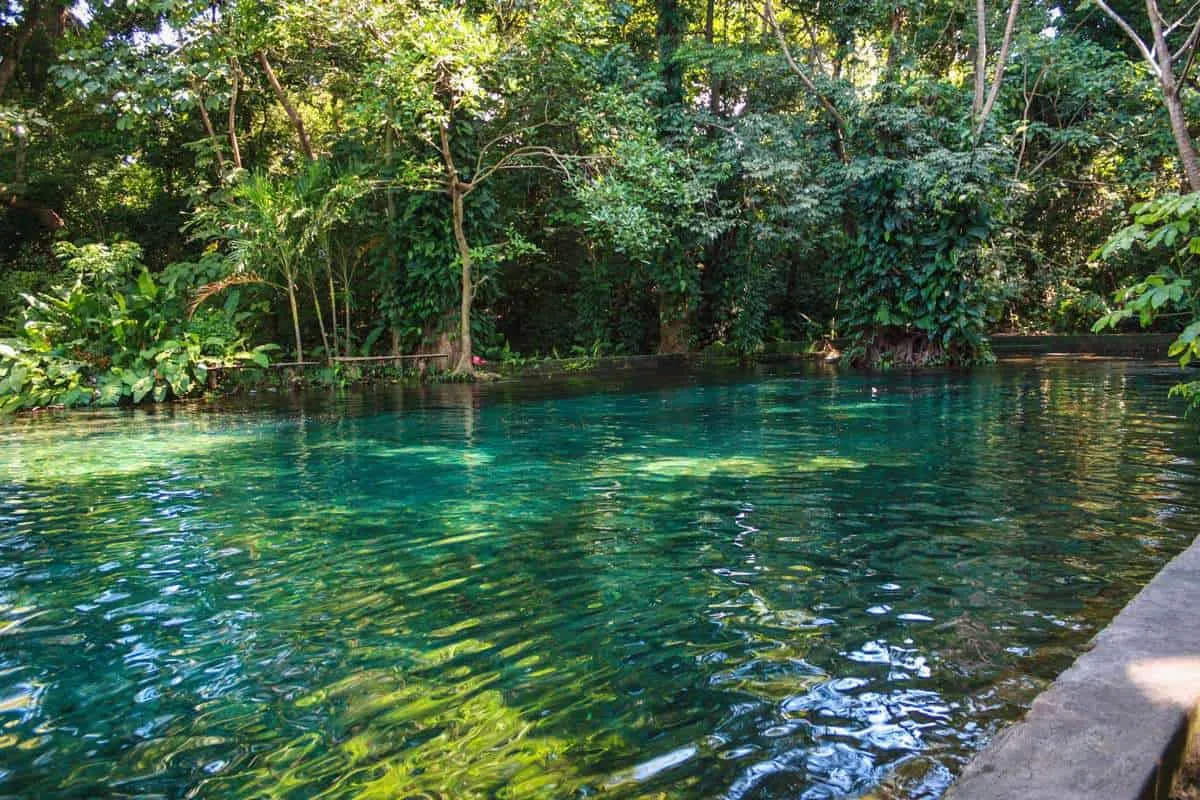 Then there is Ojo de Agua (Eye of Water), one of those little oasis' you will remember every time you dream about an idyllic holiday.
Swimming at Ojo de Agua Ometepe
Ojo De Agua is situated on the north-eastern side of the island's isthmus. It has two pools fed by thermal spring water from an underground well in the upper pool. The continuous stream of fresh water flowing through the pools is said to have unique qualities.
The lower pool is over 40 meters long and around 2 meters deep making this crystal clear swimming lagoon, set in lush tropical surrounds, the perfect place to laze away an afternoon.
Wooden lounge chairs and gazebos line the shore, and a small restaurant overlooks the lush green surrounds. Waiters will serve meals and drinks to you poolside. Toilets and dressing rooms are provided, making this one of those magic little places where nature blends perfectly with hospitality and service.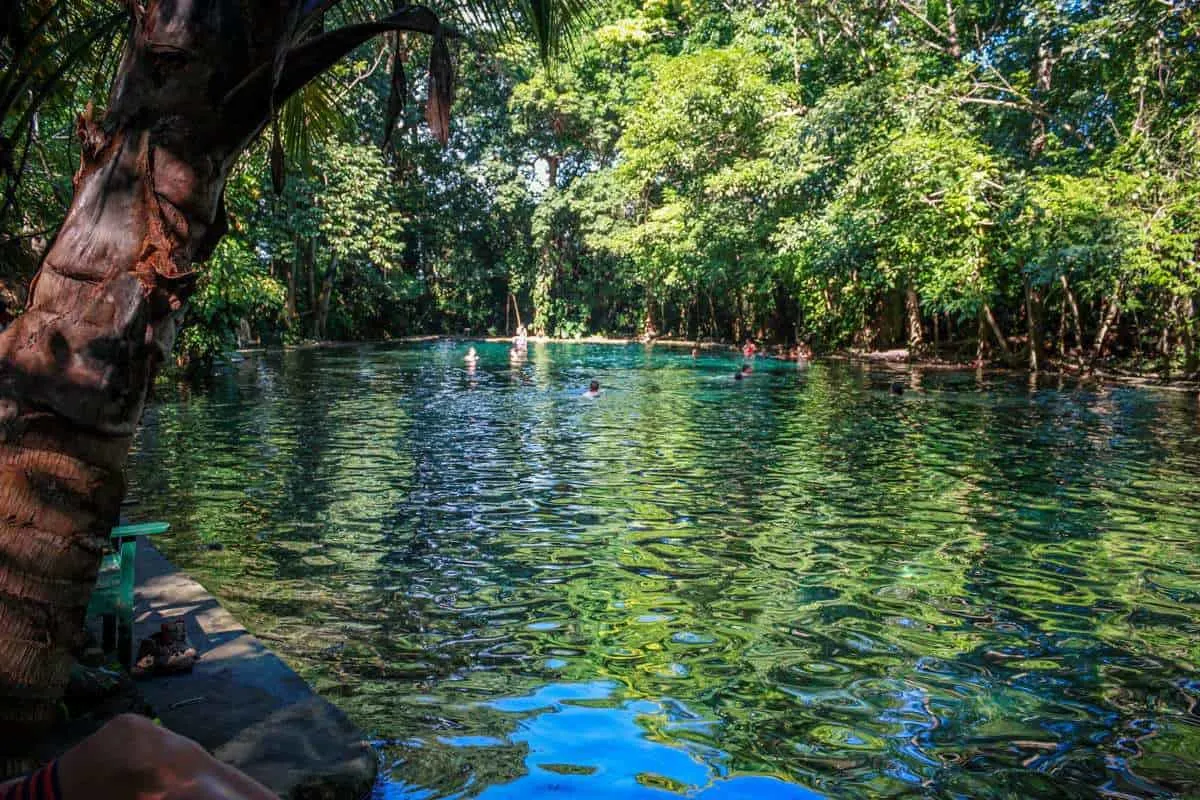 Entry to the Ojo de Agua Reserve:
USD $4, and meals and drinks are on par with the rest of the island (around USD $5 for a substantial meal and around USD $1.50 for a beer).
Ancient petroglyphs and stone statues or idols can be found all over the island, with some sites containing ceramic urns and utensils. It is said the ancient Indians considered Ometepe as the promise land with volcano Maderas being the sacred place of the sun and Concepción being the brother of the moon.
Petroglyphs dating back to 1000BC have been recorded as well as carvings that demonstrate the use of calendars and stones that suggest human sacrifice may have taken place.
These archaeological sites can be found all over the island. Sites are marked on all maps, as well as in the archaeological museum of La Ceiba, in the Charco Verde area.
Hike Through Nature Reserves and Rain Forests
Charco Verde is a 20-hectare ecological reserve, a tropical dry forest which is home to an abundance of wildlife. Within the reserve is the mystical pond of Charco Verde. It has a distinct emerald hue due to an abundance of algae.
Legend states this was the area used by the ancient Indians to make sacrifices to their gods. Marked walks through the reserve will bring you to a beach which offers views across Lake Nicaragua to Maderas and Isla de Quiste.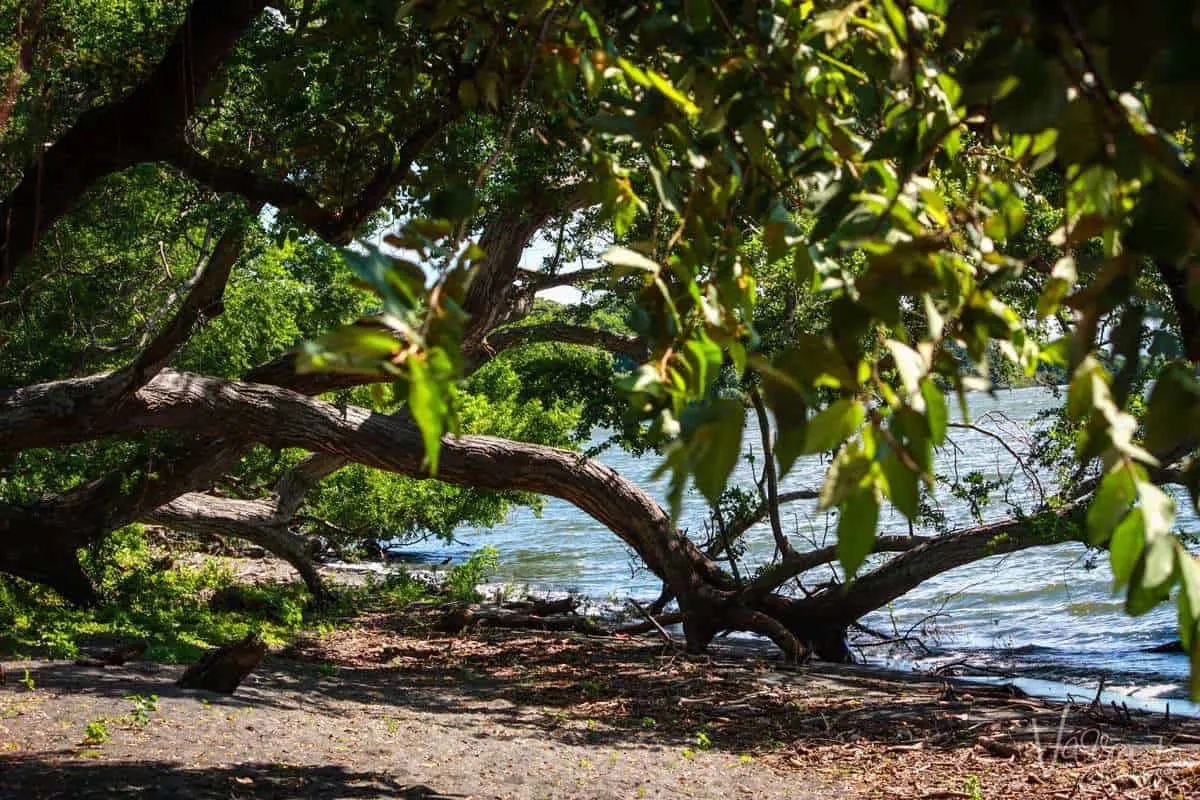 A hike to The Cascade of San Ramon, a 50-meter waterfall on the southern slope of the Maderas is a 4 hour round trip. It offers great views of Lake Nicaragua. The trails take you through dense jungle where a wide variety of wildlife can be seen.
This is a hike best done in the rainy season, as there will be little water in the peak of the dry season.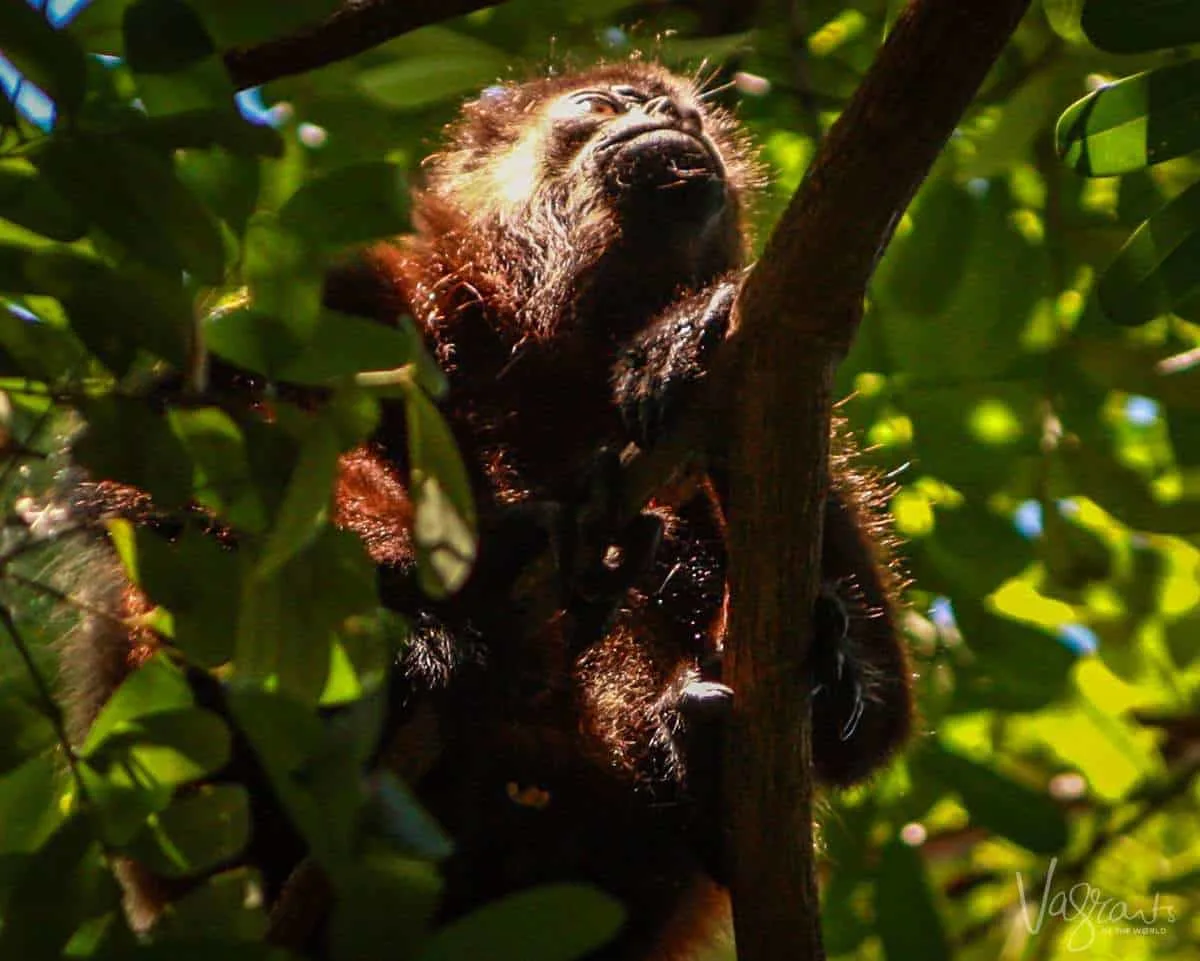 Punta Jesus Maria
This narrow spit of sand is formed by water currents and sediment build up. At certain times of the year, the sandbank extends more than a kilometre so that you can stand with water splashing up on either side of you.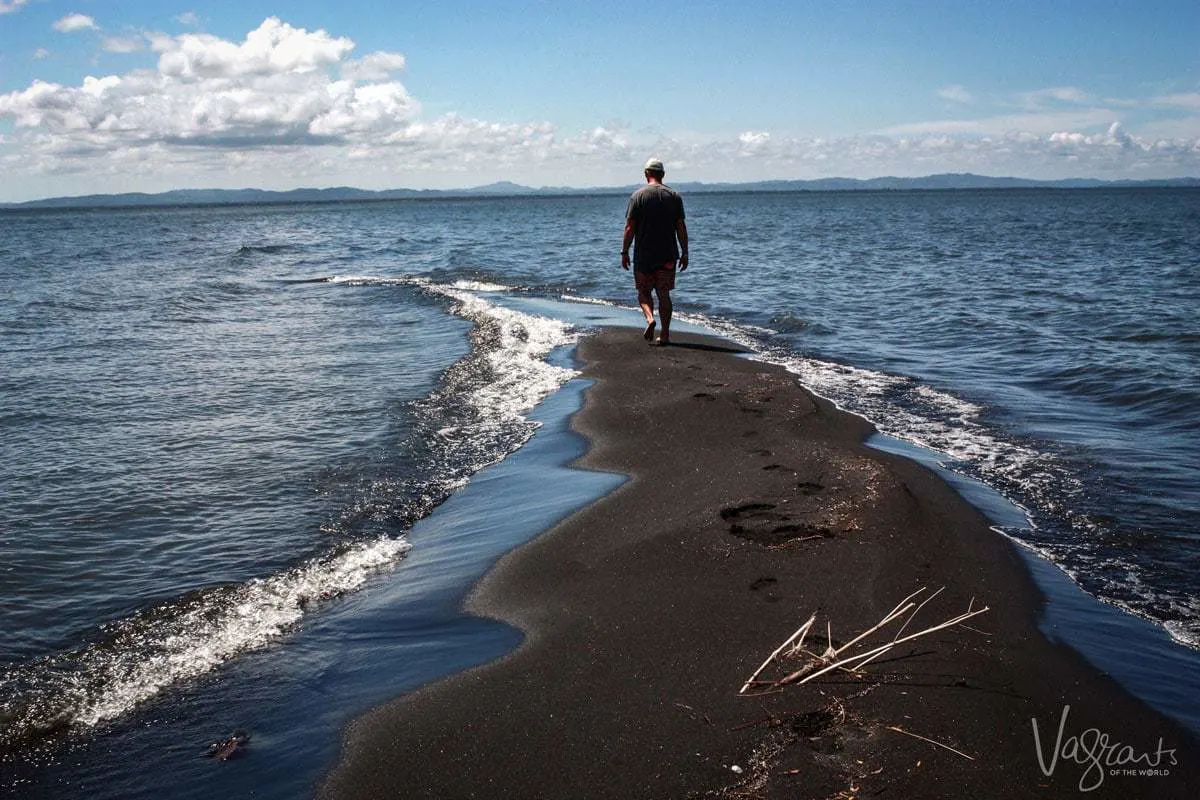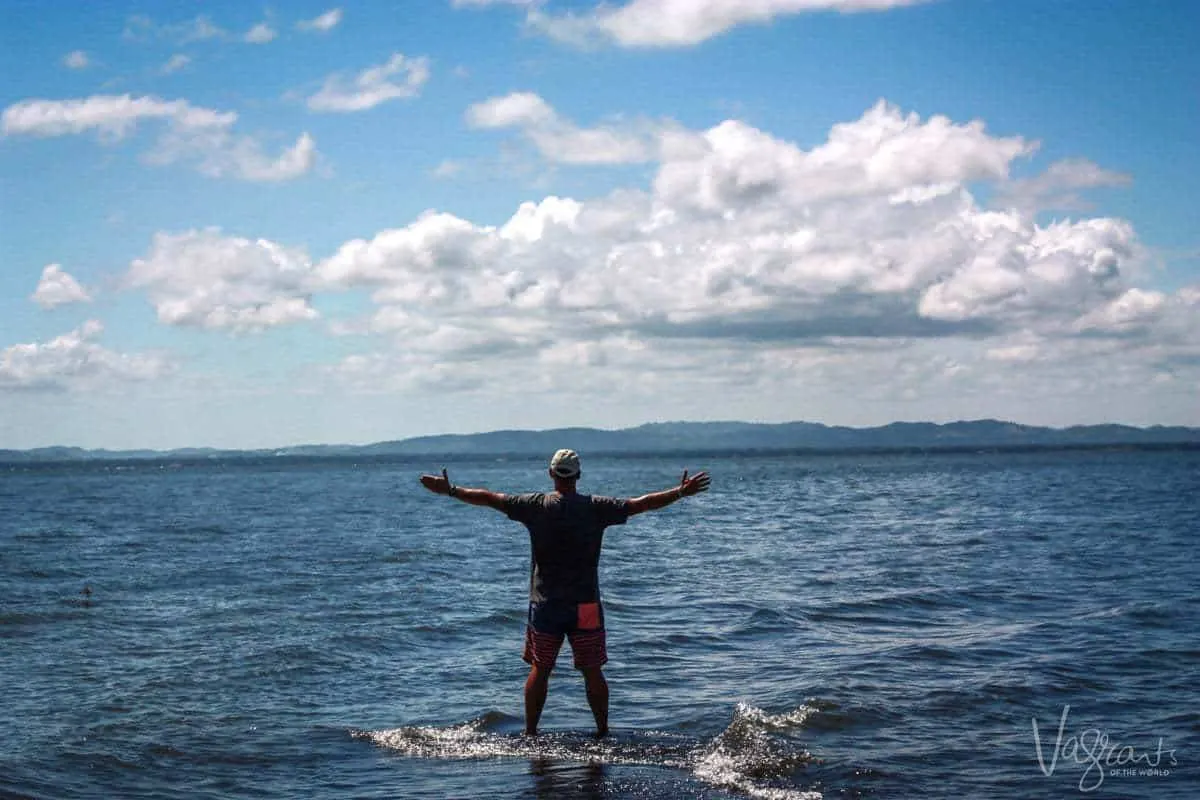 From here you have a panoramic view of the island and the two volcanoes. Looking towards the mainland, Volcano Mombacho can be seen. This is also a popular spot for swimming in the calm shallows or watching the sunset.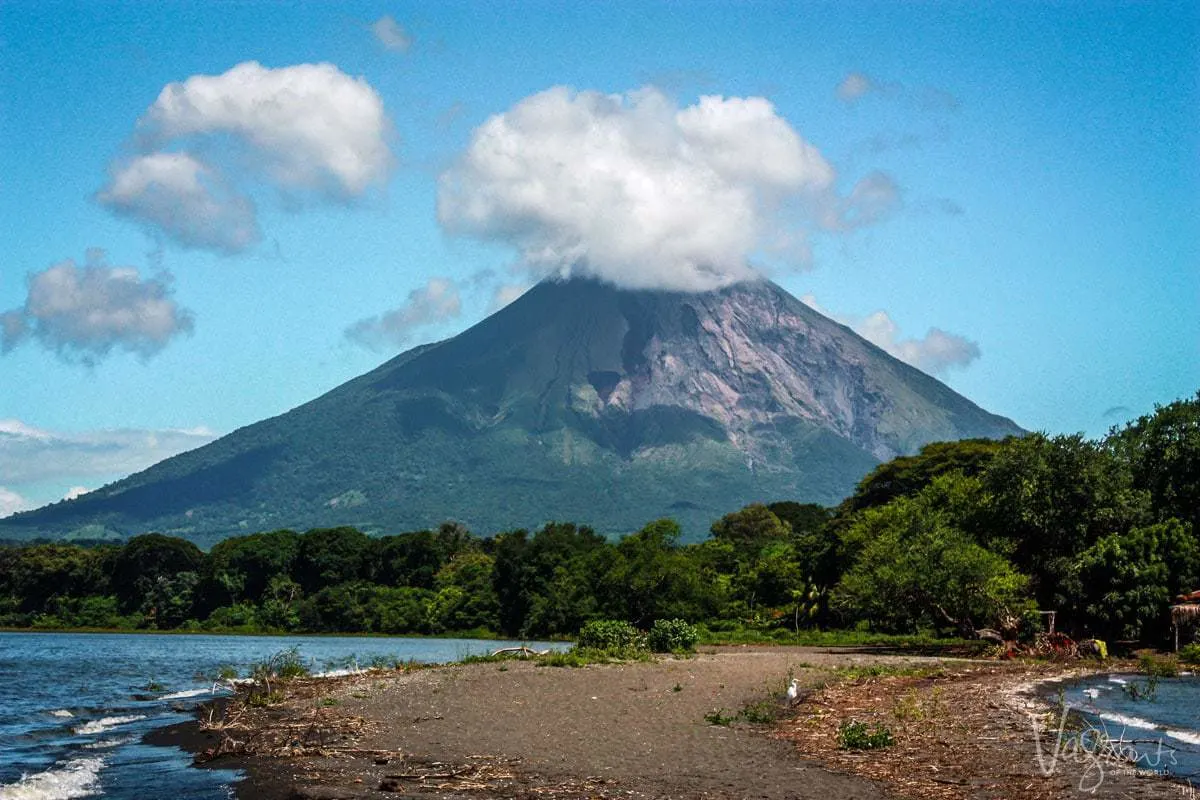 Get Out And About, See The Towns.
Moyogalpa
Head into the main towns of Moyogalpa and Altagracia. Moyogalpa is the commercial centre and gateway to Ometepe, serviced by the ferry from San Jorge one hour away. This little metropolis offers a good base for exploring Ometepe, with a number of hotel options, restaurants, bars and services.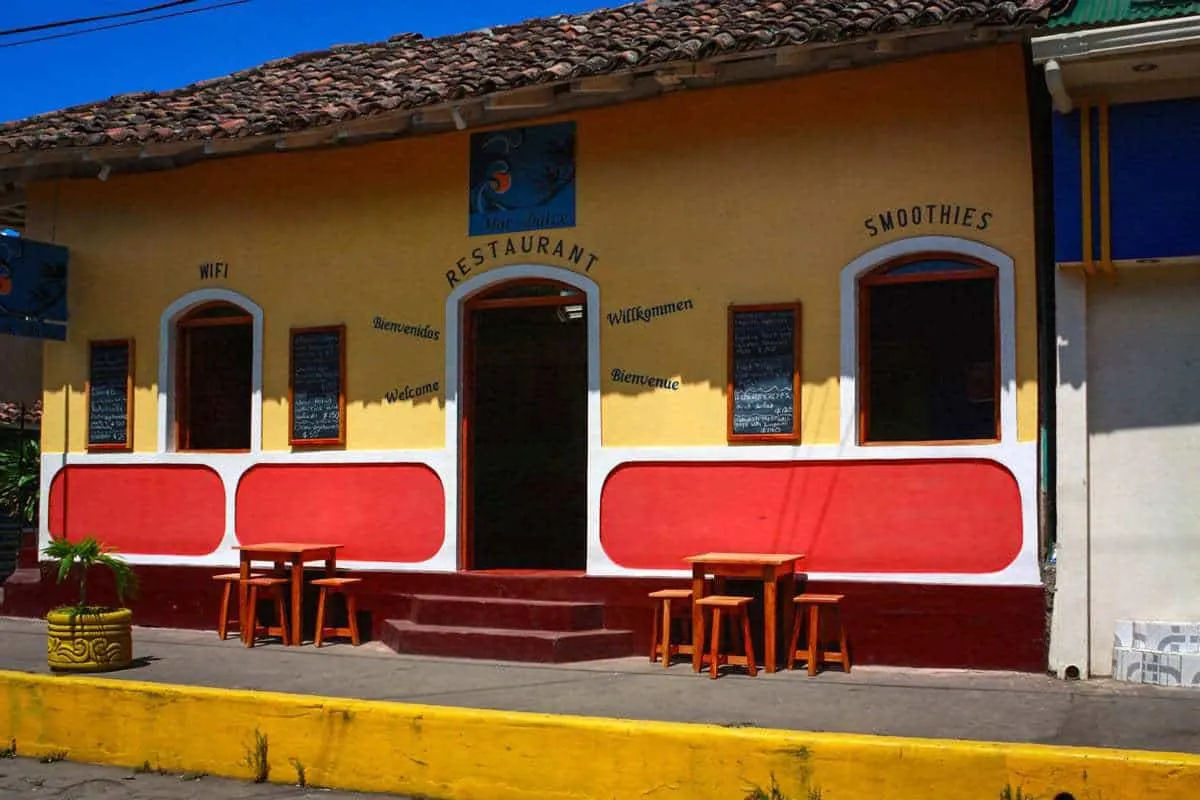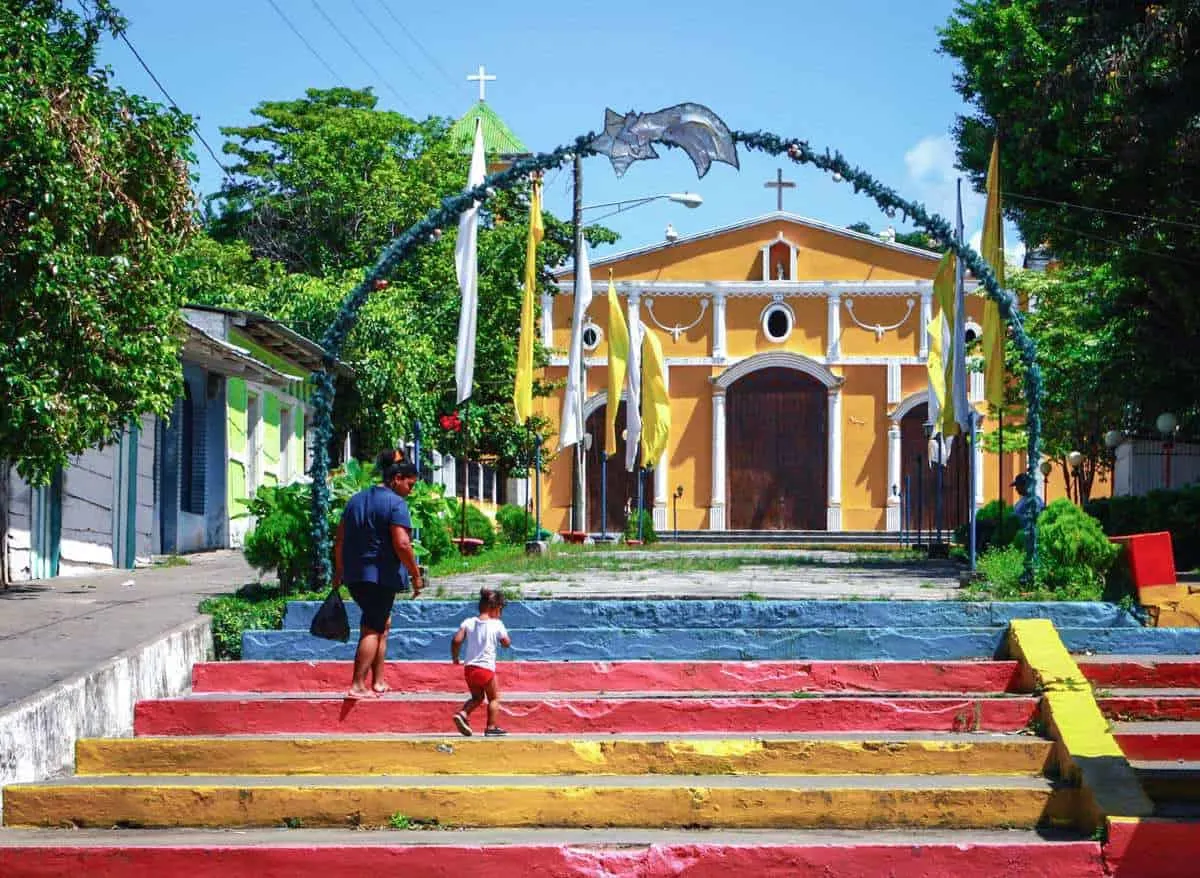 Concepción provides a constantly changing and always dramatic backdrop to this charming village atmosphere. Moyogalpa is a lovely spot to stop for a coffee and watch the Ometepe world go by.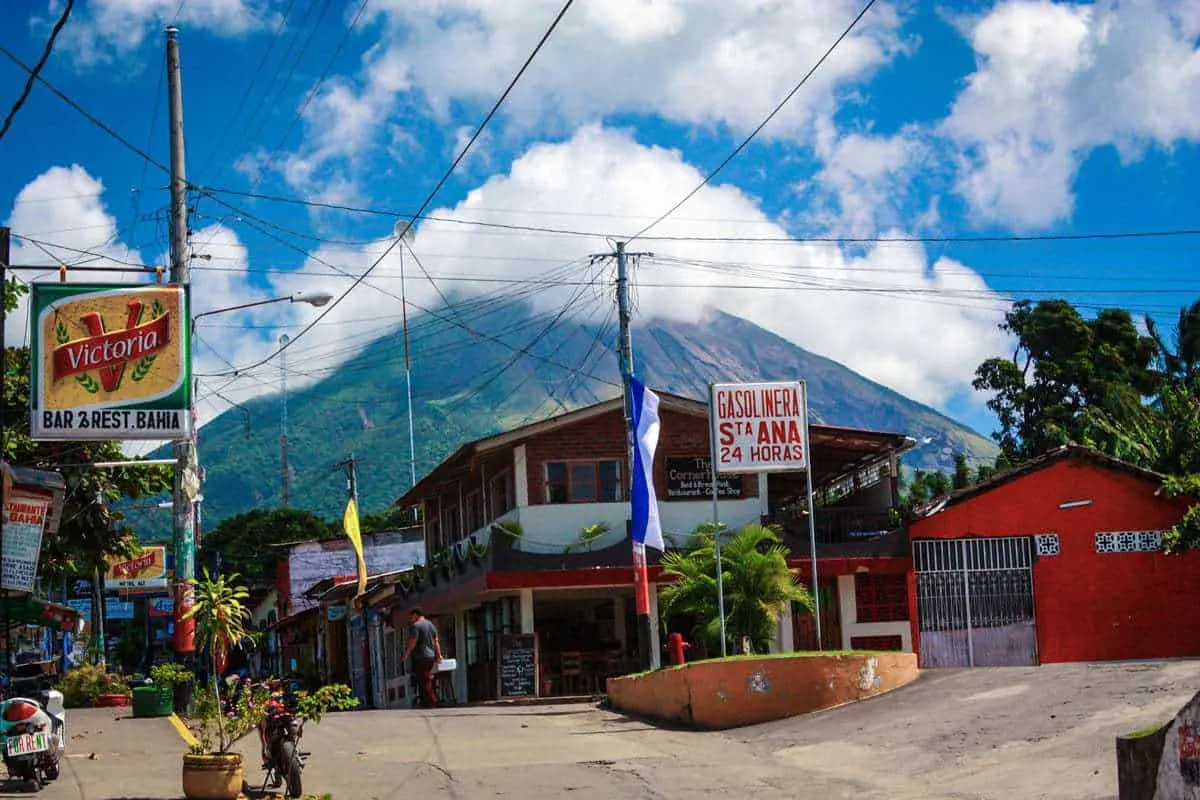 Altagracia
Altagracia is a more authentic, historical town situated on the northeastern side of Concepción. In this quaint little town, you will find a lovely relaxed atmosphere, some of the biggest examples of stone idols and an archaeological museum. There is also some nice low key local eateries and bars.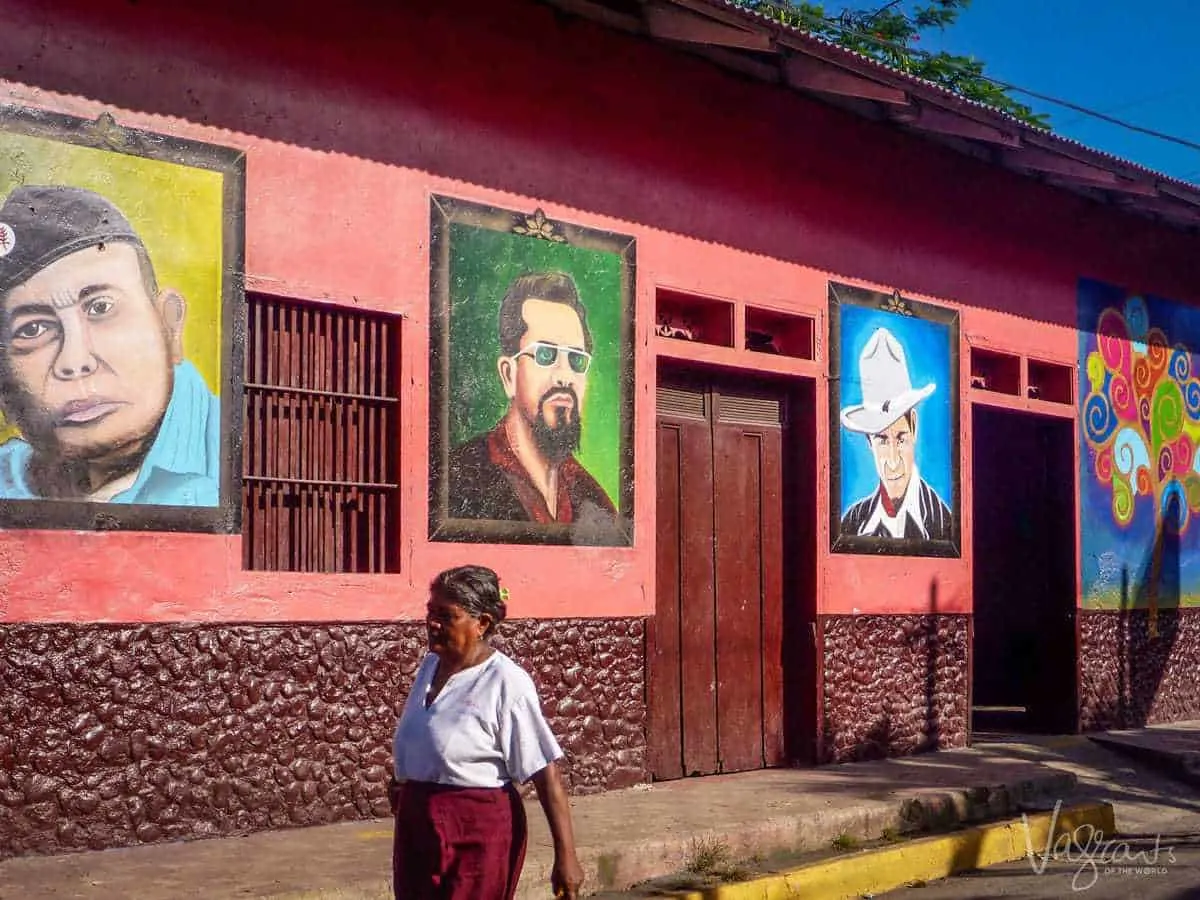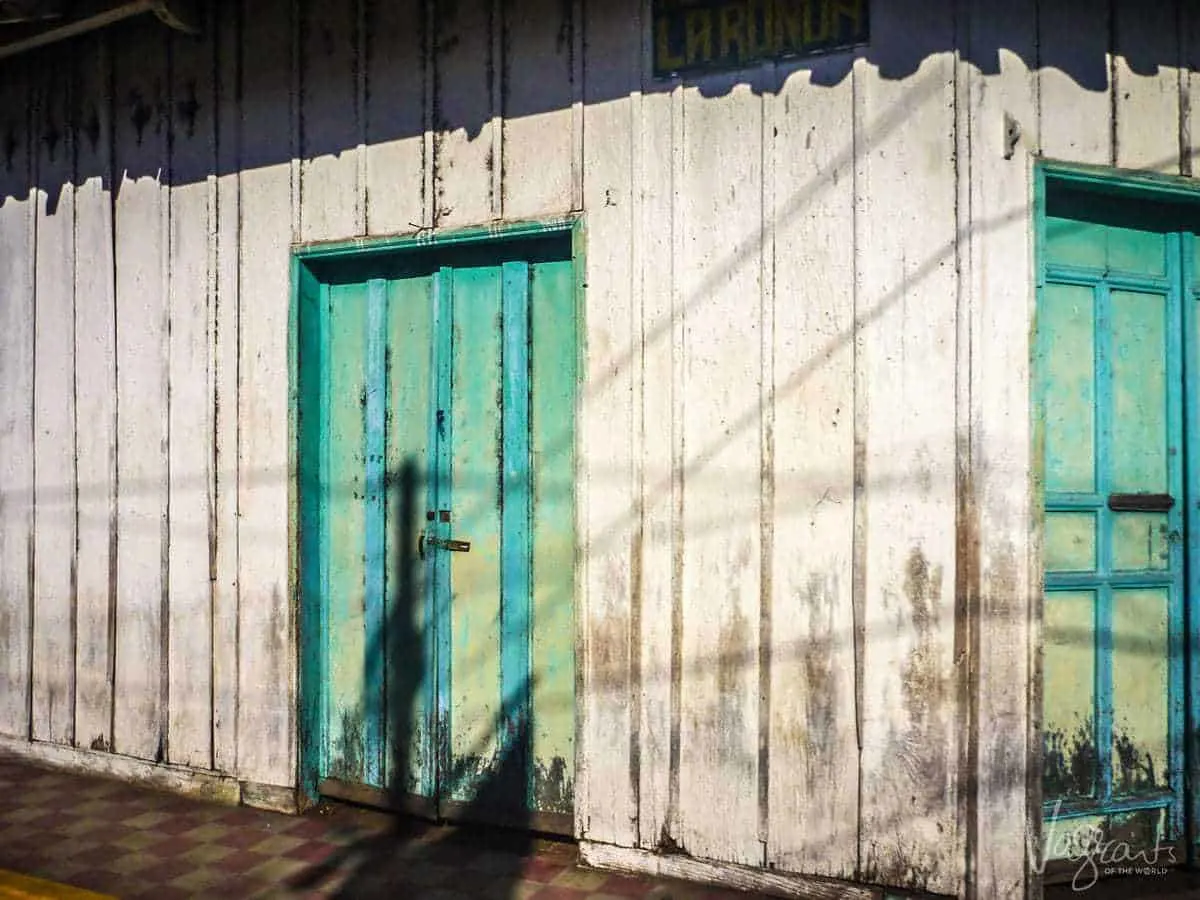 Hire A Bike Or Scooter – Take in the sights, see the villages and meet the people.
The great beauty of Ometepe is the friendly people, the landscapes and the simpler way of life. This is an island where you can really switch off and relax. Take a ride around the islands various villages, and you will find lovely eateries by the beach, how horse and oxen are still so integral to daily life and the many smiling, friendly people. While Ometepe is by no means a fancy island, it is very rich.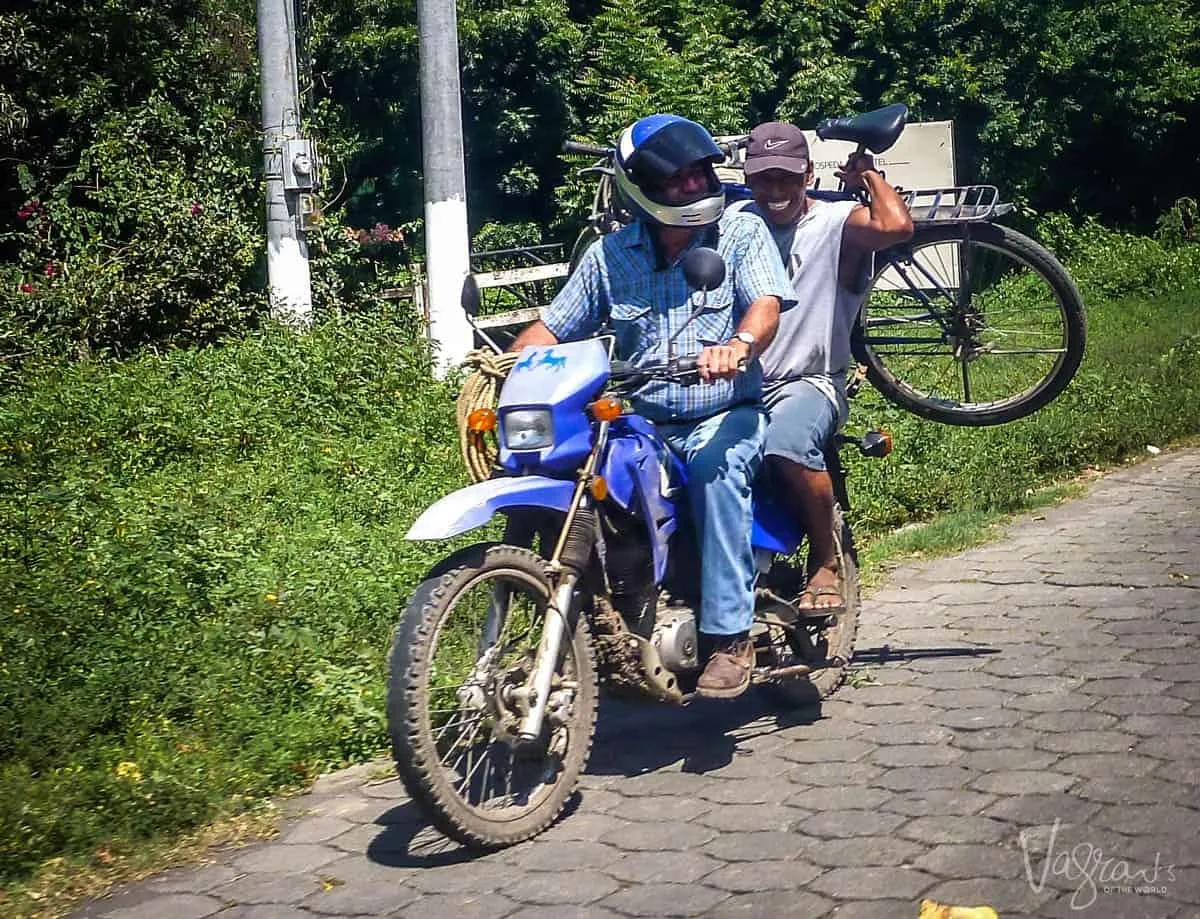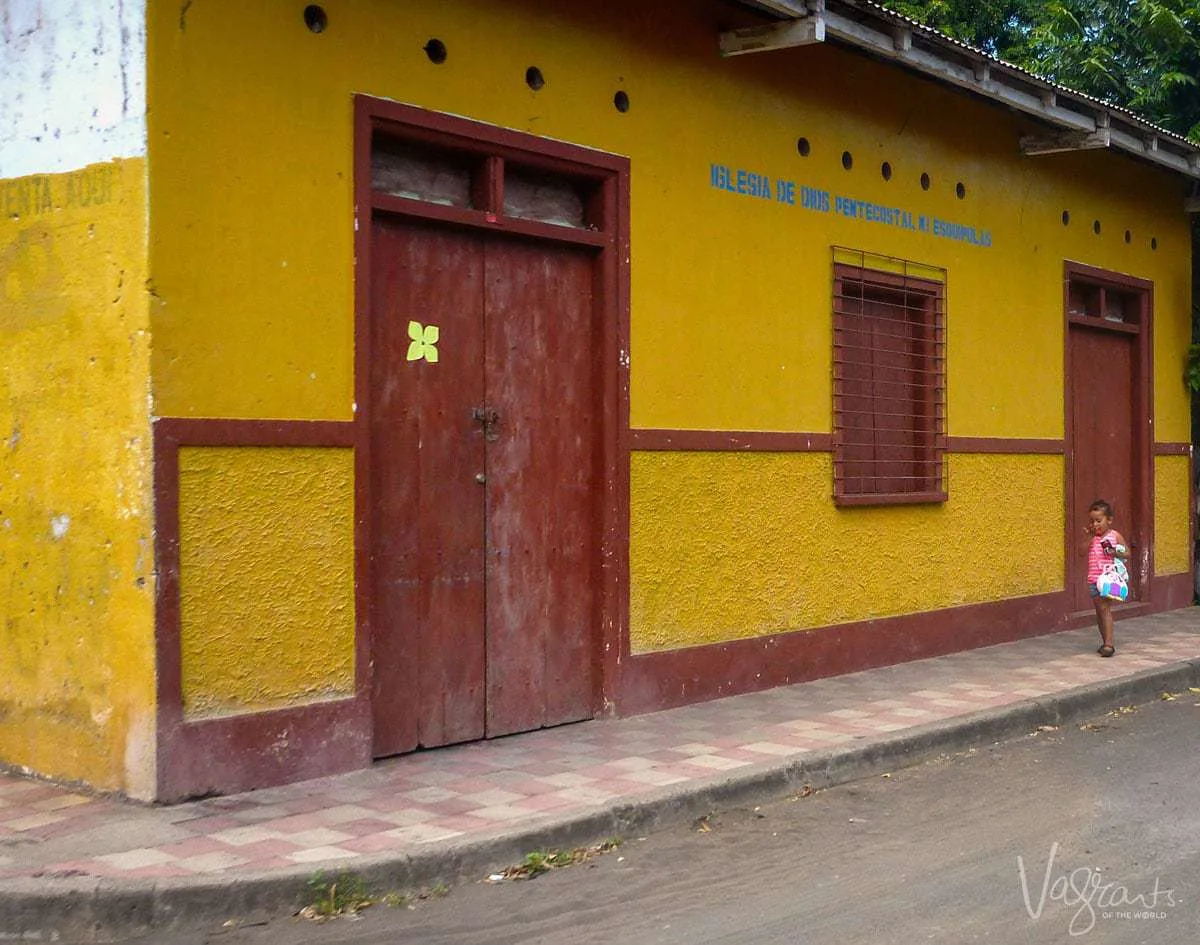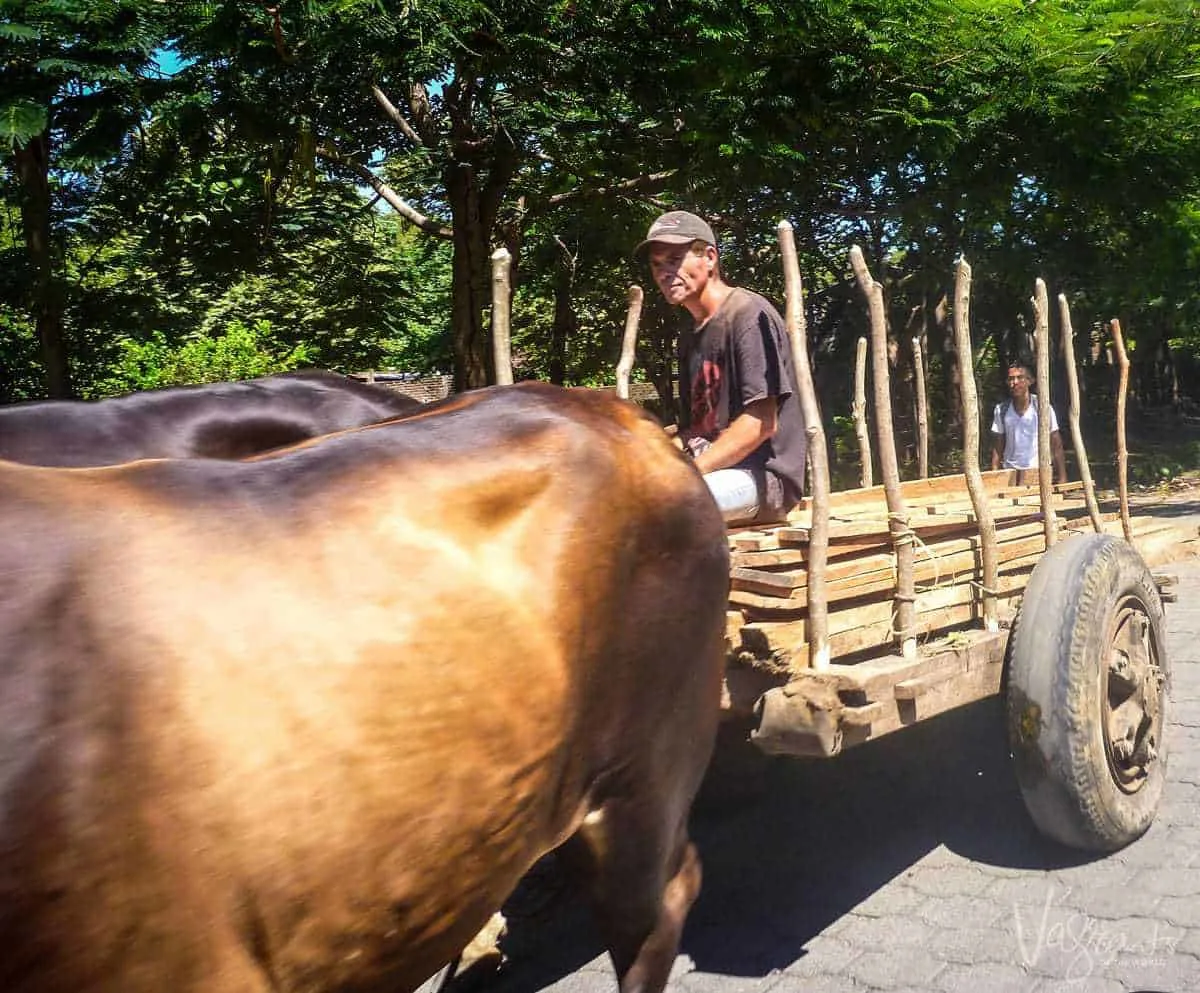 ---
Costs on Ometepe Island
Tours or guides on Ometepe Island are more expensive than anywhere else in Nicaragua but still reasonable.
Taxis are more expensive than on the mainland or even The Corn Islands. This is attributed to the high fuel costs on the island. Expect around USD $20 for most trips.
Food is still as cheap as you would find anywhere in Nicaragua. Expect around USD $1.25 for a beer and around $3 – USD $7 for a restaurant meal.
How to Get Around on Ometepe Island
As there is only one main road around the island that is sealed, getting around can be slow. If you bring your own car or hire car from the mainland, a high clearance 4×4 is recommended. Especially if you want to explore off the beaten track.
Scooter: Scooters can be hired for around USD $20-$25 for 8 hours and are a great way to get to most places. Motorbikes and bicycles can also be rented.
Bus: There is a bus service running between Moyogalpa and Altagracia for around USD $1 but it is very slow, expect around 1 hour to take what should be a half hour trip.
How to Get To Ometepe
Ferry
There are Ferries operating daily (except Sundays) from San Jorge (weather dependent) A one hour journey will cost ~ USD $3 per person and ~ USD $25 per person with a car.
There are also ferries operating between Granada (Tues/Fri) and San Carlos, Rio San Juan (Mon/Thurs) that stop at Ometepe (Altagracia) twice weekly. This is an overnight ferry ~ 11 hours San Carlos- Ometepe.
A 1st class ticket costs around $9 ($4-second class). This gives you access to the AC cabin on the 1st class deck where you can watch TV, or hang your hammock (if you have one). There is no sleeping accommodation on the vessel.
Fly
La Costeña Airlines operate flights to Ometepe from Managua and San Carlos on Thursday and Sunday. Expect ~USD $50 for a one way ticket.
Day Trips to Ometepe Island
If you are running short on time, there is the option of day trips to Ometepe Island from Granada.
Where To Stay on Ometepe.
Ometepe has many accommodation options with a lot more high end options starting to emerge. We stayed at The Eco Lodge El Porvenir in Santa Cruz which is pretty indicative of the hotel options on the island. For USD $20/night we had a basic but comfortable double room with ensuite and a spectacular view of Volcán Concepción.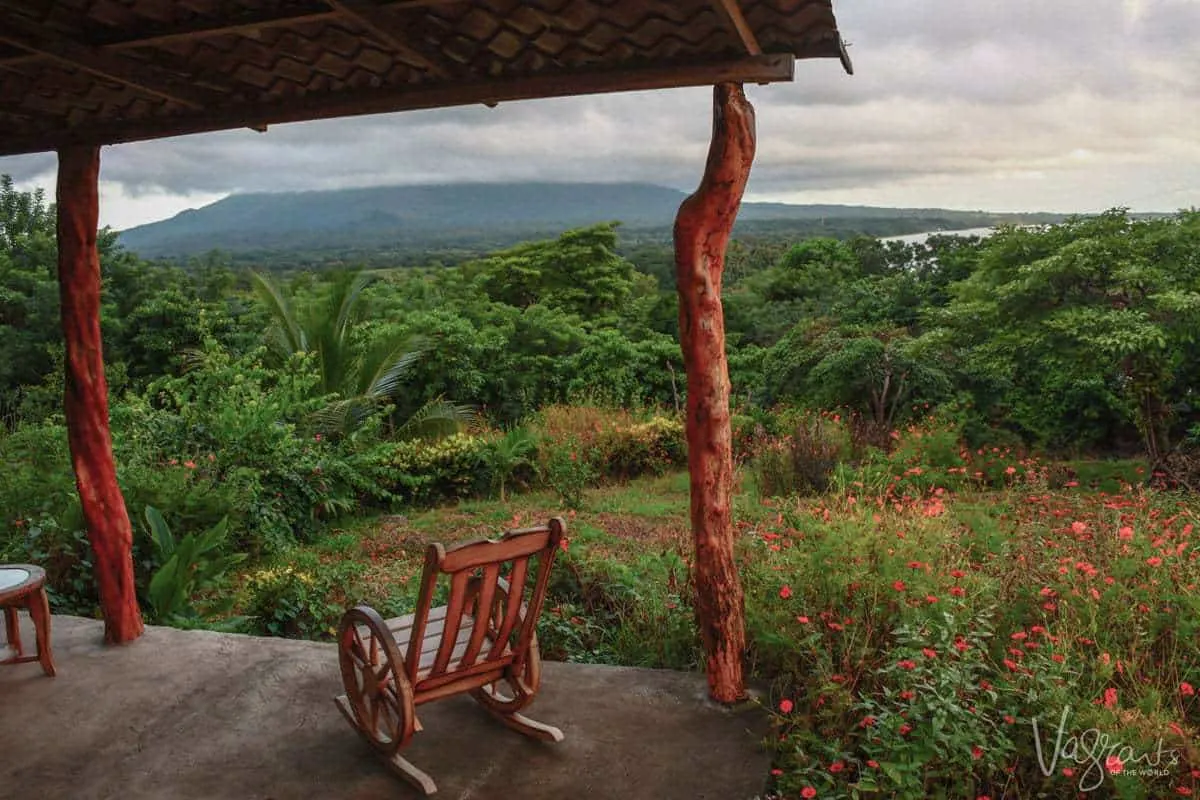 They had a great restaurant and bar serving excellent meals at very reasonable prices. The staff were very friendly and helpful. They arranged tours, cars, bike hire and taxis for us with absolute ease and professionalism.
We received some of the best service on Ometepe, especially at Santa Cruz Hotel. As with most regional areas of Nicaragua, don't expect to find hot showers.
Search The Best Accommodation Deals on Ompetepe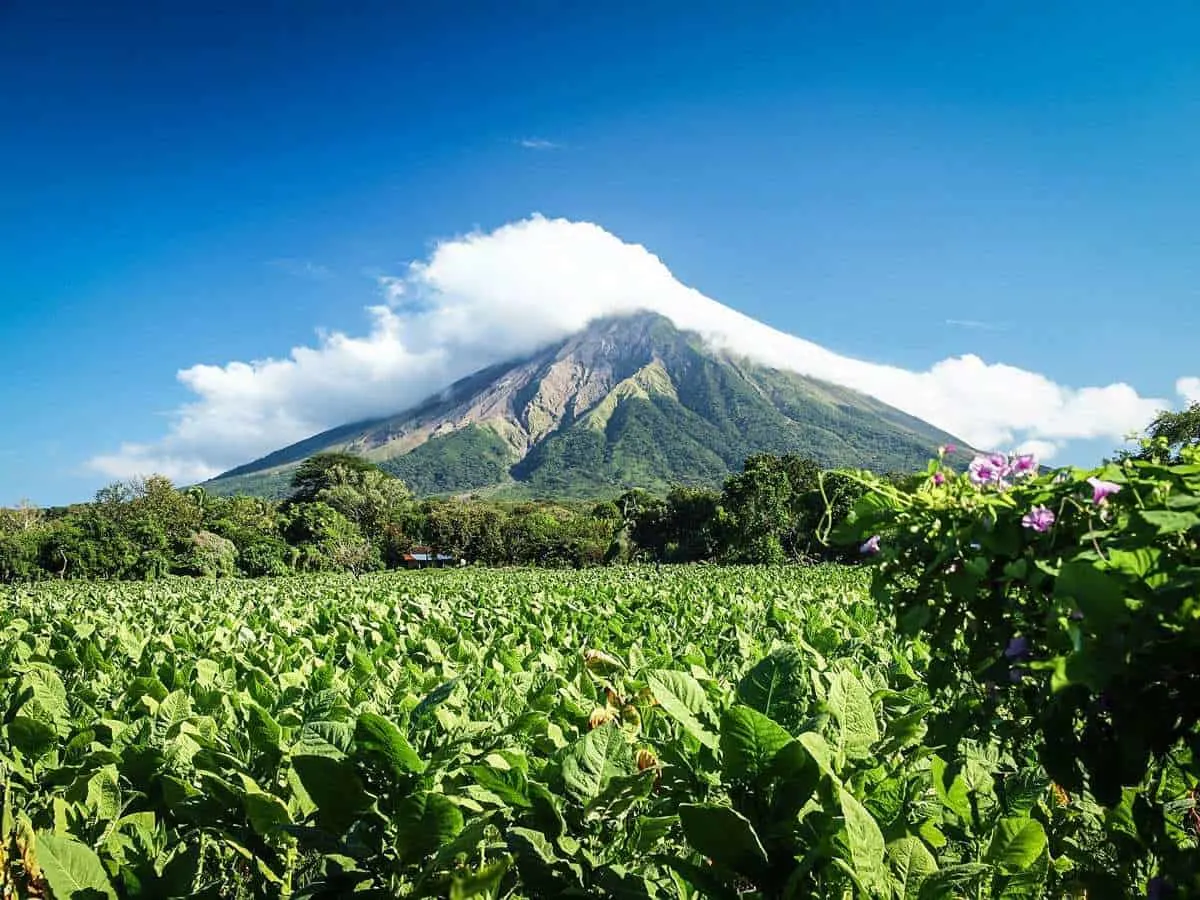 Plan Your Trip to Ometepe Island
Car Rental in Nicaragua: We suggest Discover Cars for car rentals all around the world. They compare all the major companies, and we have always found them to have the cheapest rates with no fees and free cancellation.
---