While we were in Nicaragua one thing we really wanted to do was a Nicaraguan cooking class.
We had taken quite a shine to Nicaraguan cuisine – fresh corn tortillas, jalapeño chicken, tostadas con queso or just tostadas served with nearly every meal. The versatility of the humble plantain!
An amazing homemade cheese called Cuajada is served with the traditional Nicaraguan breakfast. And, of course, no meal is complete without Gallo Pinto, good old rice and beans! Nicaraguan food is fresh, home-style cooking and always plentiful.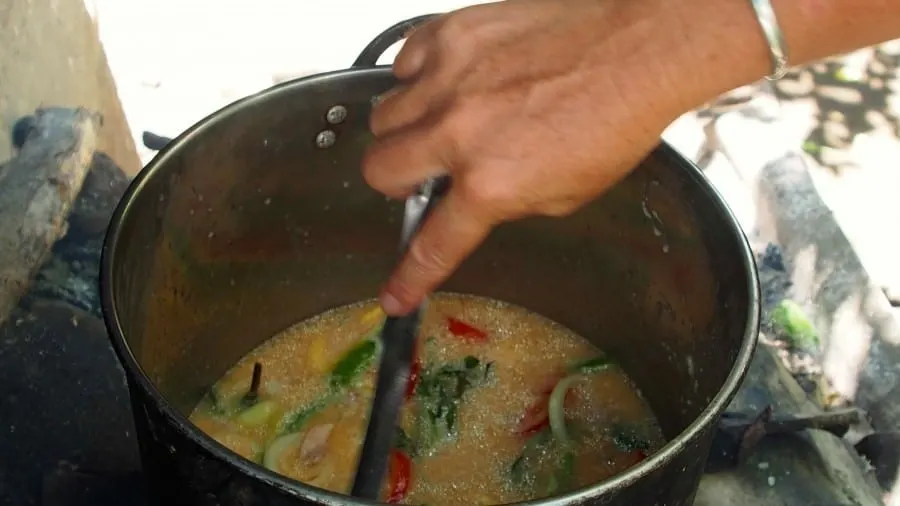 Nicaraguan Cooking Tour
I like to cook and Mark loves to eat, so it kind of made us wonder why we haven't done cooking classes before on our travels. For our first try at international cooking, we chose a cooking workshop with NicAsí Tours in León.
NicAsí Tours specialise in social-cultural activities in León and the Nicaraguan Cooking Workshop is just one of the great activities they have on offer. Their aim is to share and educate visitors about Nicaraguan life and let you experience some of what happens in day to day Nicaragua. You can participate in a Silver Workshop to make your own jewellery with a local craftsman, become a cowboy for a day on a local ranch or even attend a traditional rooster fight (something we have experienced before in Puerto Rico). They have a number of ways you can experience the local lifestyle with locals. They even arrange a Pedicure & Cocktail package with traditional Nicaraguan pampering because they understand that travelling can be demanding (Ladies!).
Food Shopping at León Central Markets
Heading off to the León central Markets with our guide, we had to make a decision on what we would like to cook. The Nicaraguan recipes we had to choose from were – Iguana soup known as Garrobo or a dish called El Indio Viejo – The Old Indian.
Whilst we love to experiment with new foods and try local delicacies, after much discussion we decide to opt for something we may have a chance of cooking once we left Nicaragua. Last time we checked we were not going to come across too many iguanas when we got to Europe, so The Old Indian it was!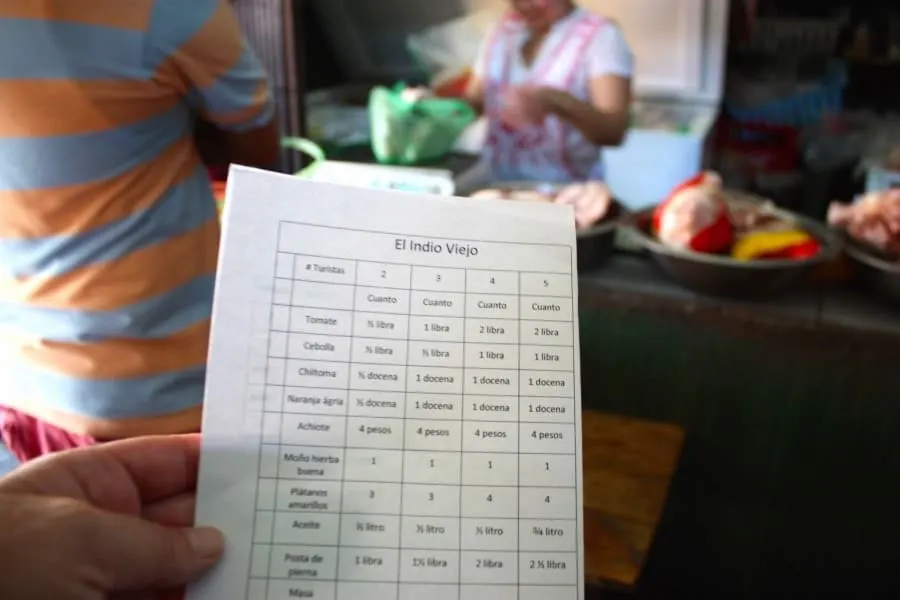 Cooking El Indio Viejo
El Indio Viejo is a very old traditional recipe dating back some 500 years so we also felt this was a much better choice of typical Nicaraguan food.
Armed with the recipe and shopping list, Hector guided us through the market to the stalls we would need to find all the ingredients He also challenged our limited Spanish by insisting we barter with the stall holders for our requirements.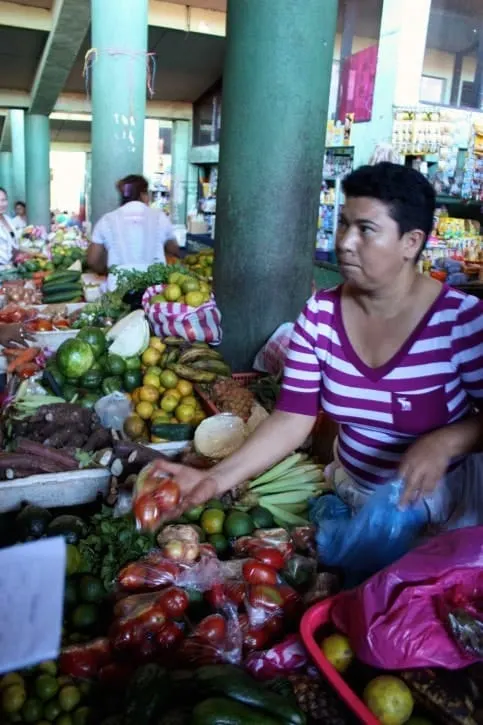 Most of the ladies were very forgiving, we think this was perhaps not the first time Hector had taken gringos on a shopping trip to make some Old Indian!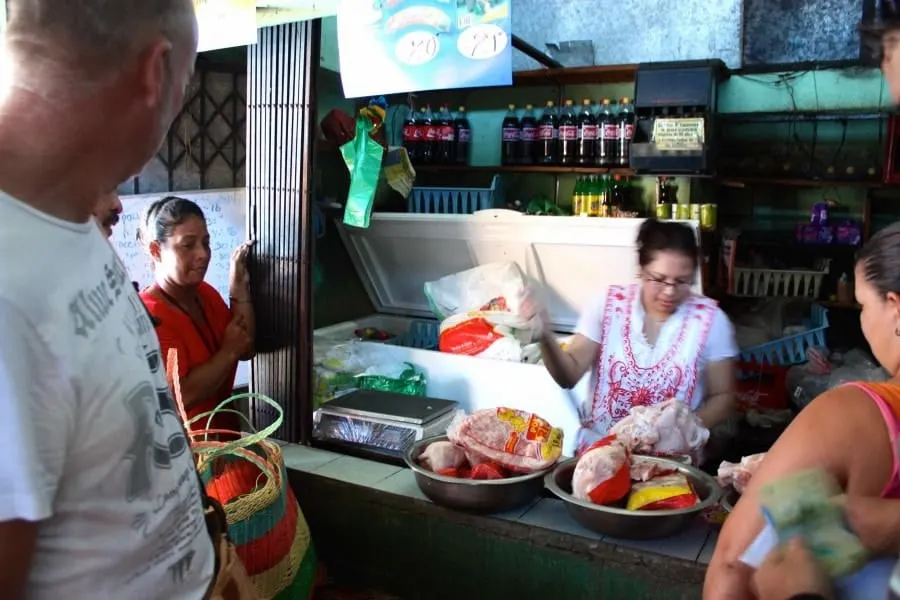 Sutiava Neighbourhood
With all our ingredients in hand, plus a few extras, it was on to the chicken bus to head to our home kitchen in the Sutiava neighbourhood.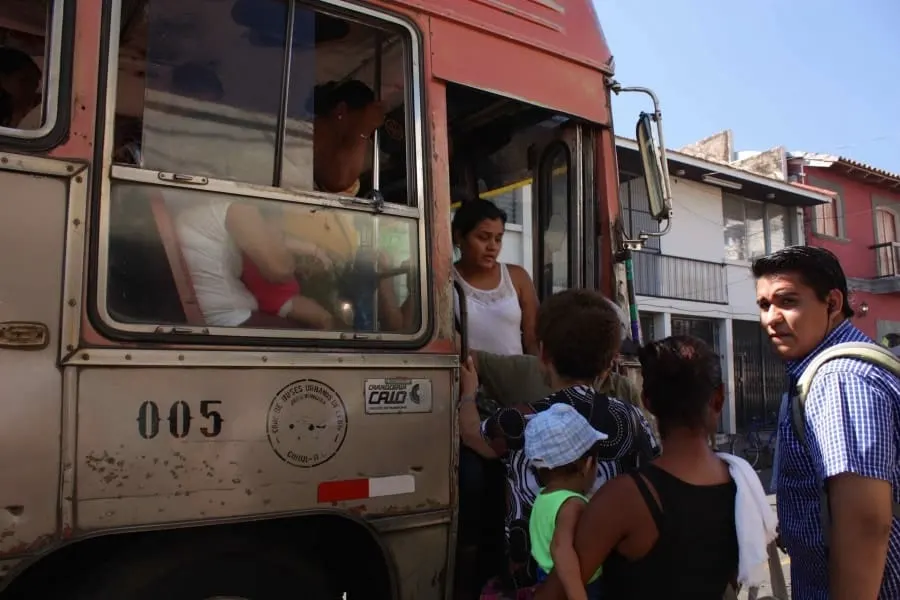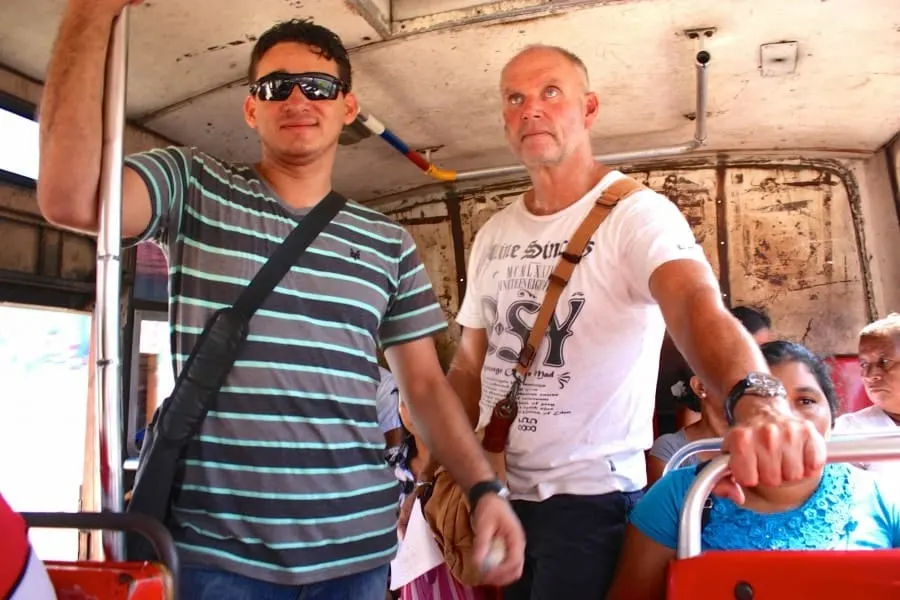 We had visited this neighbourhood on our city tour because of its traditional and cultural significance and high-density indigenous population, this was to be the perfect place to learn to cook traditional cuisine.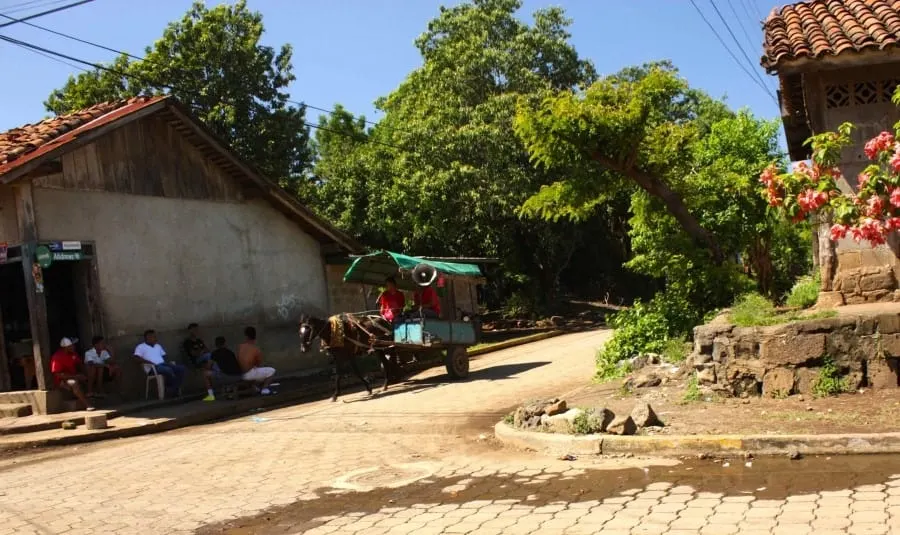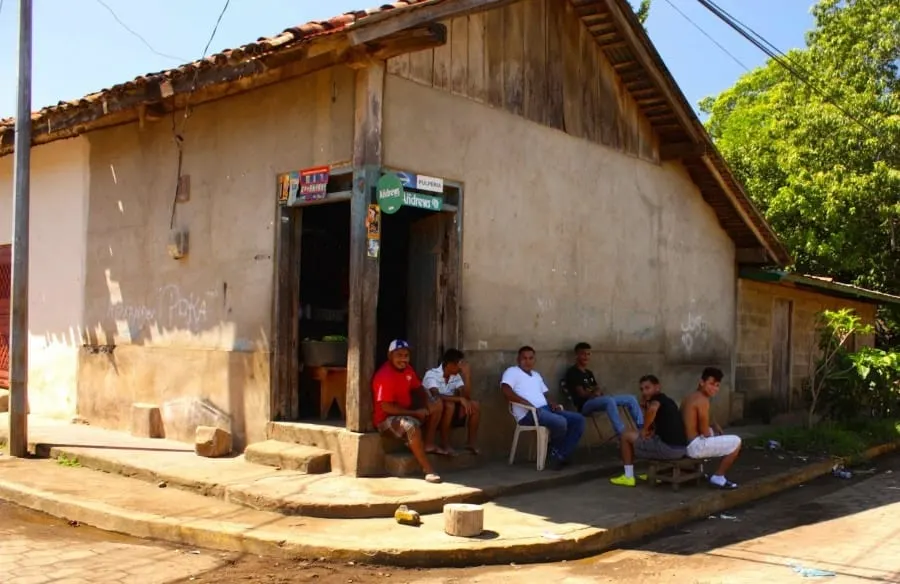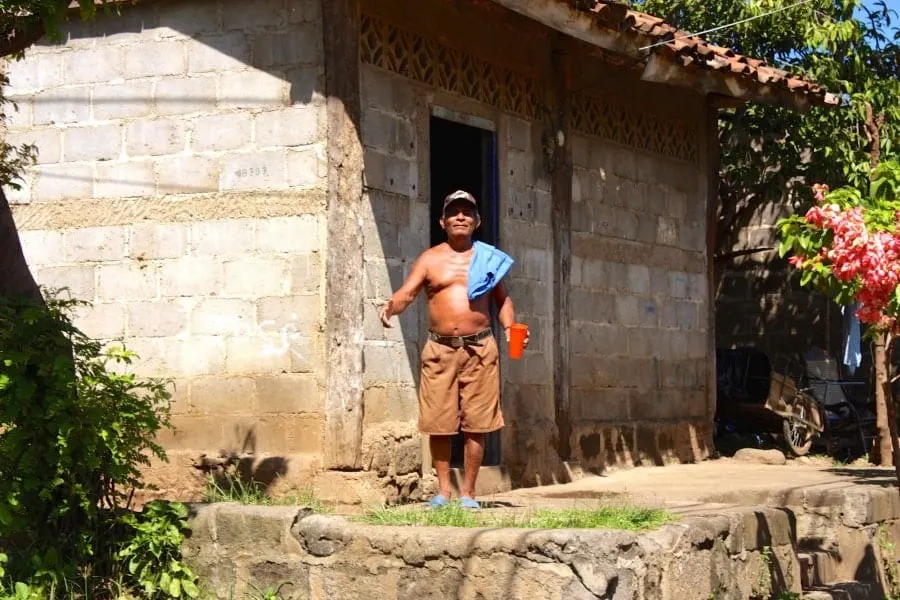 Fresh Tortilla
On arrival in Sutiava Hector tells us that our shopping is not complete, we will require fresh tortilla so must visit the tortilla factory. Okay, so we had in mind a big shiny factory with machines that pump out thousands of packages of tortilla ready for the supermarket shelf. This was pretty cool, we were heading straight to the source for our tortilla.
The tortilla factory was definitely not what we expected, a small backyard operation, of mostly women, hand making enough tortilla to supply local restaurants, shops, universities even the hospital.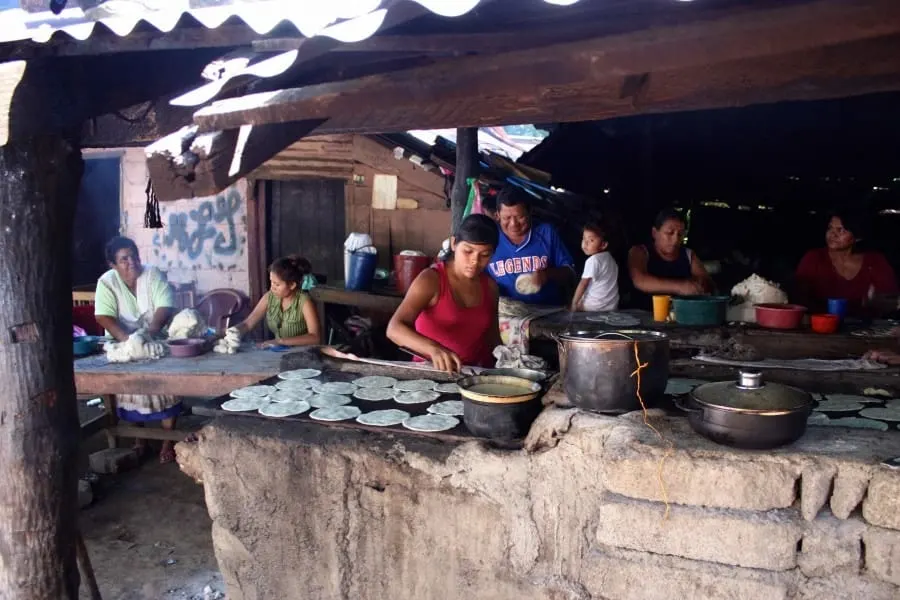 These women were incredible. Day after day, they start work at around 3.00 am to fulfil huge orders of fresh tortilla.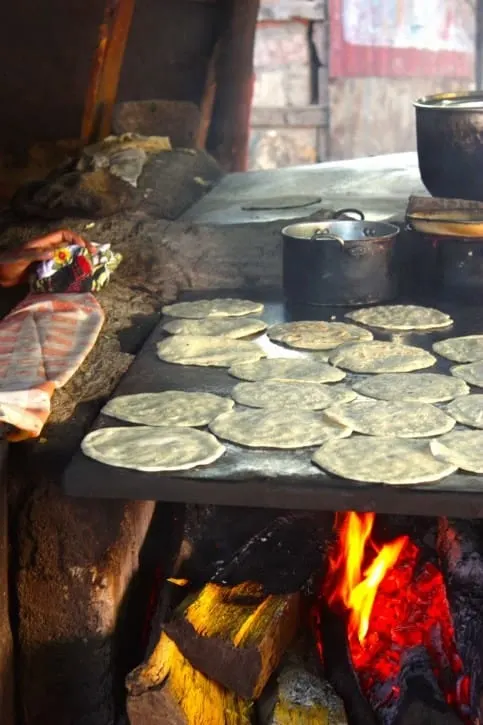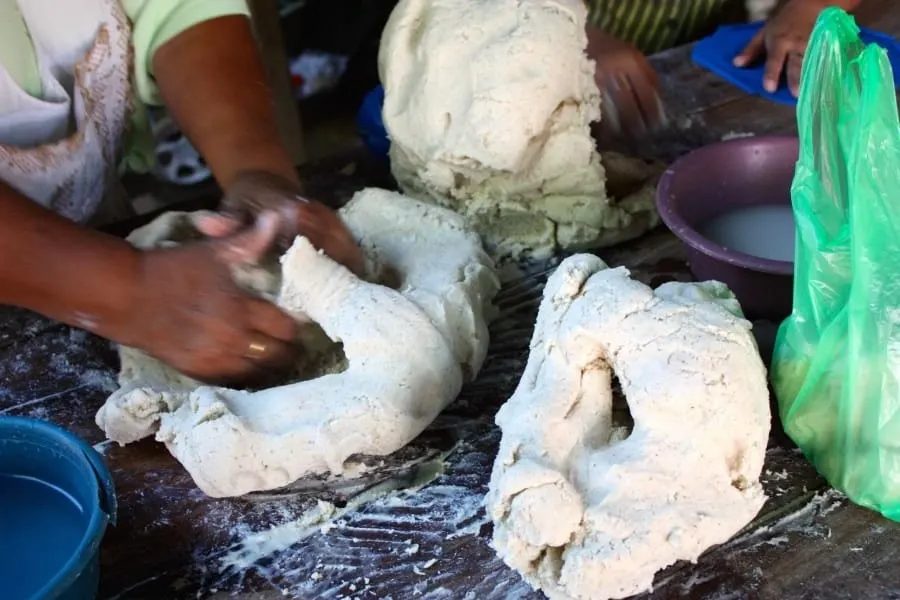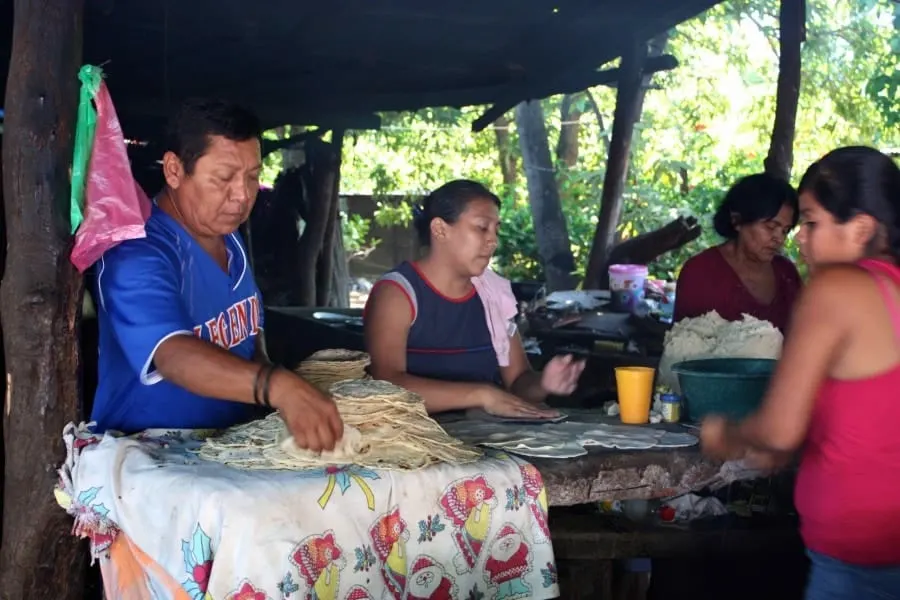 We pop into a small wooden shed across the road to find the man who supplies these ladies with the ground corn to make the tortillas. We realise without him there is no tortilla, he must have to start work at midnight to keep ahead of the demand of these ladies and their tortilla enterprise.
Everything is done by hand, and work is non-stop for around 8 hours or until the orders are all filled.
The ladies humoured me by allowing me to make one tortilla, but with my inferior tortilla making skills, they clearly did not have time on their production line for my mucking around. We were grateful they were able to fill our small order at the last minute. Off we go with our dozen fresh tortilla and a big handful of uncooked tortilla dough which is essentially just ground corn. I didn't know what this was for…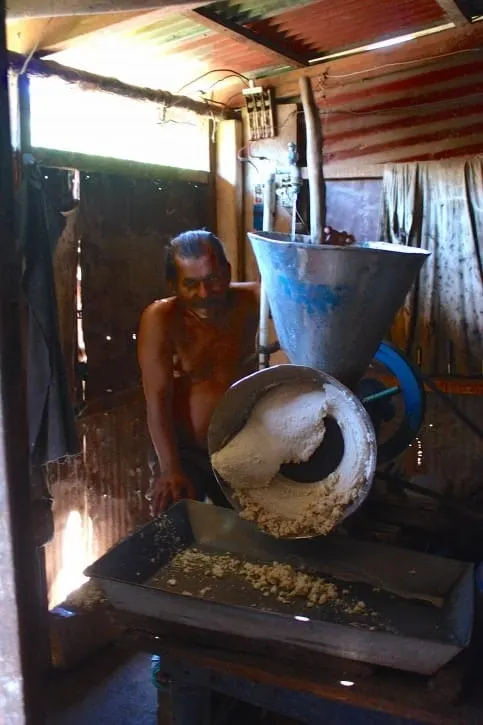 The Cooking Workshop
Back through the neighbourhood and to the home of Pedro. Pedro, a widower lives with his sons, son's wives and grandchildren, he is also considered a kind of patriarch of the neighbourhood. Welcoming us into his home he introduces us to his daughter in law, Claudia who will be my teacher today.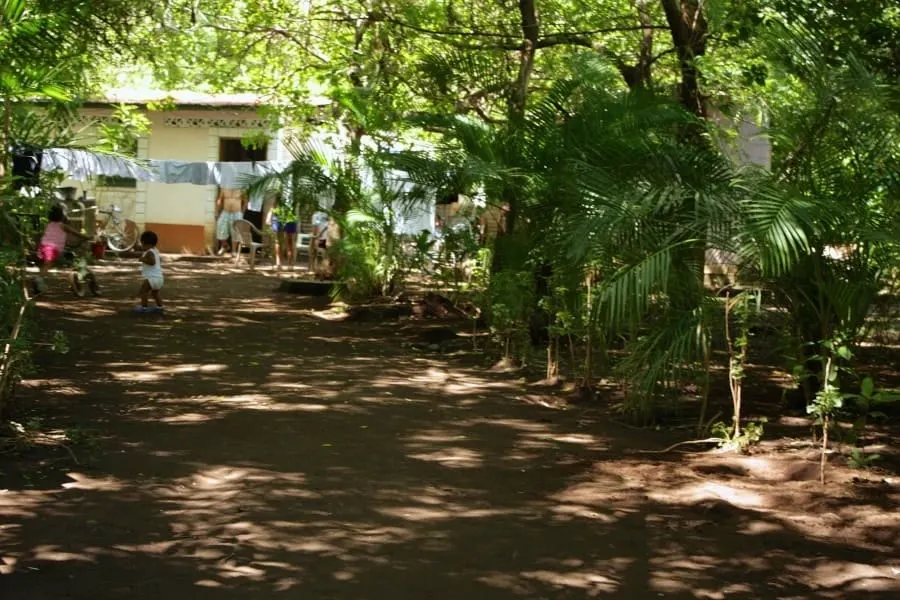 Claudia does not speak English and my Spanish is terrible so we quickly establish a kind of shorthanded sign language to work our way through the recipe. Pedro takes the responsibility of lighting the fire while the boys take a seat and relax (As they tend to do!!!).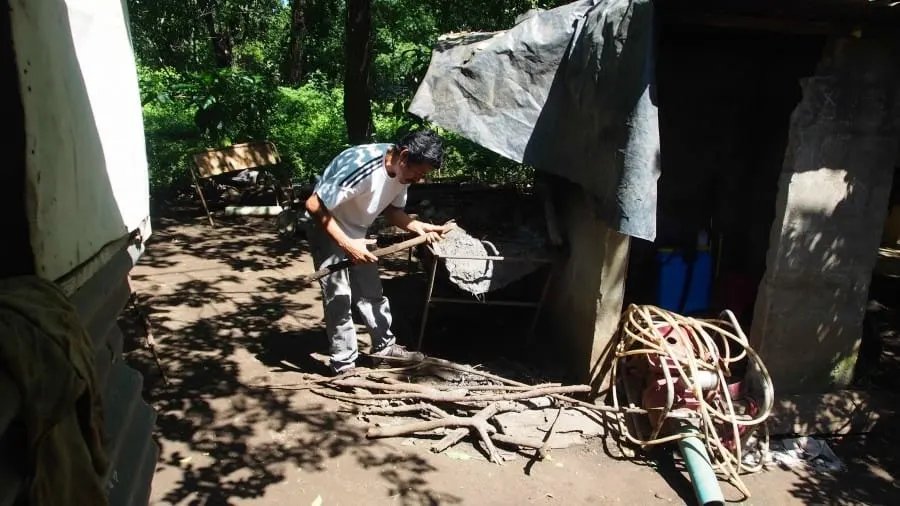 So down to the business of cooking.
We start by making a small salad of diced tomatoes, onions, green sweet peppers and a squeeze of sour orange juice. This is a really simple, clean and fresh salsa type salad, great with a tortilla.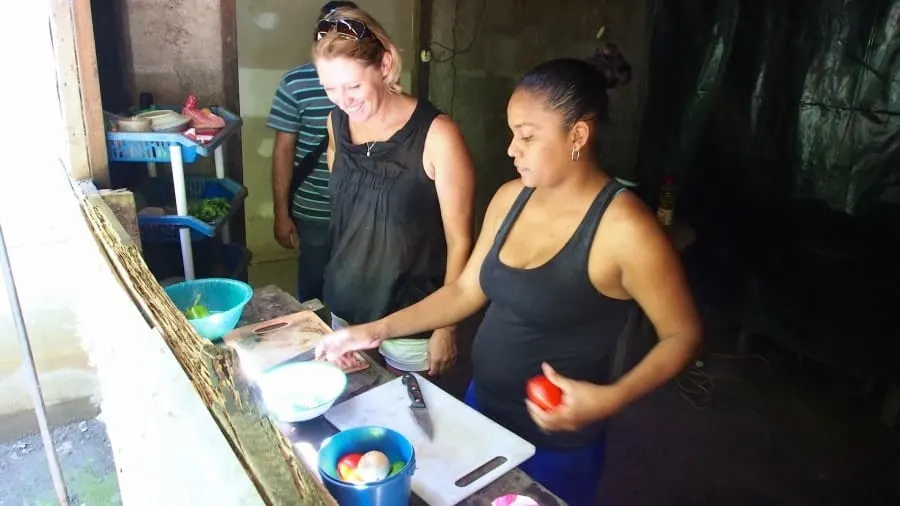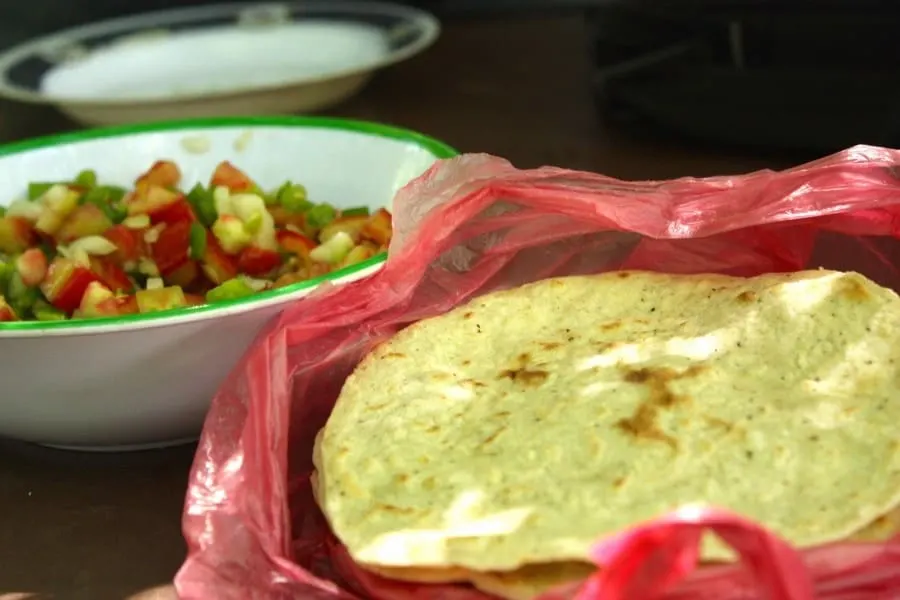 Making Chi Cha Drink
Next, we make a traditional drink called Chi Cha. This is made from a naturally flavoured corn maize and syrup type substance we bought at the market, we opted for the berry flavour.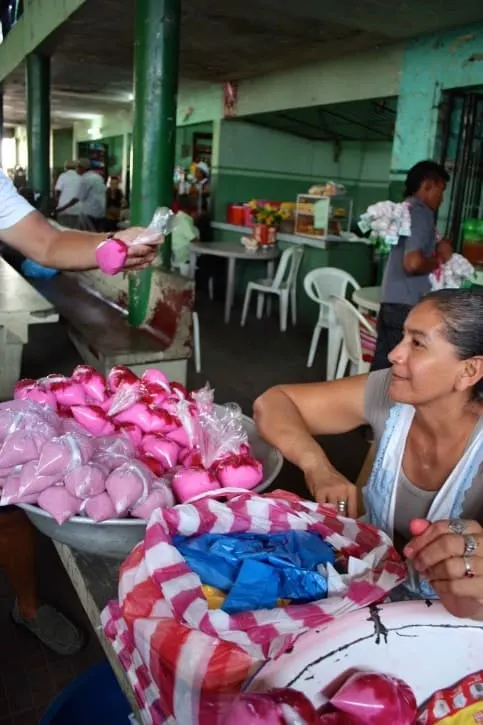 Emptied into a bucket, we add water and Claudia instructs me to put my hands into the mix and work the corn mixture until it is completely dissolved. Add sugar to taste (according to Hector, I didn't use enough sugar) and chill on ice.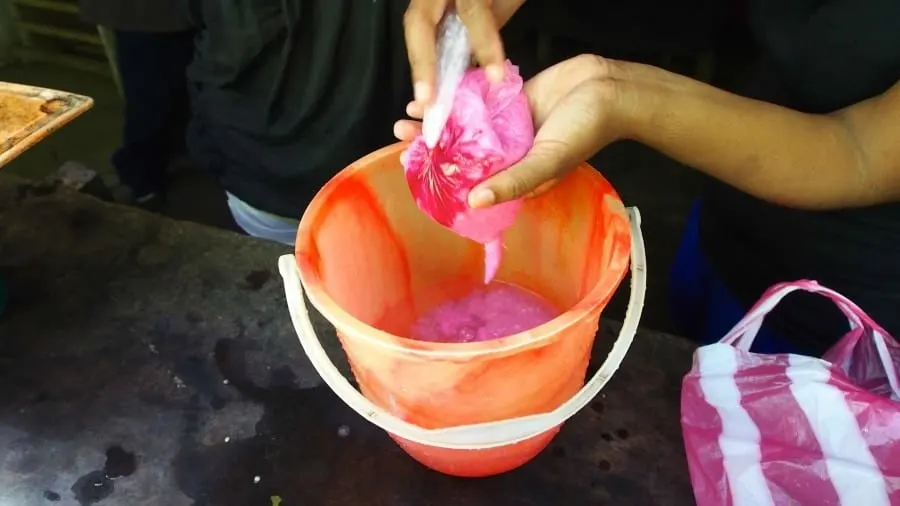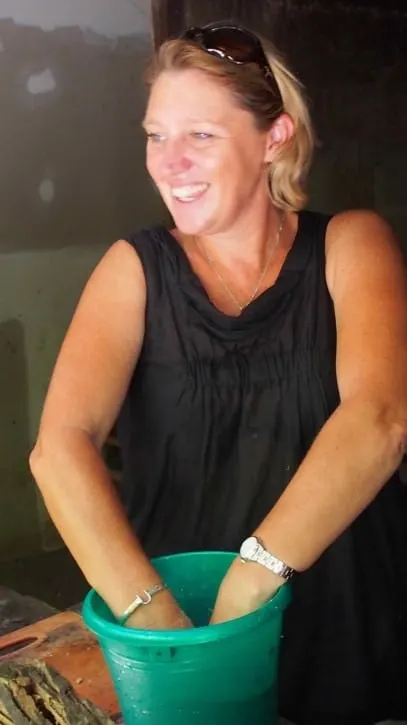 While we have been making salads and cool refreshing summer drinks, Pedro has been busy with the fire and cooking our chicken for the El Indio Viejo. I chop all the veggies for the dish as instructed by Claudia while she strips the chicken meat from the bone.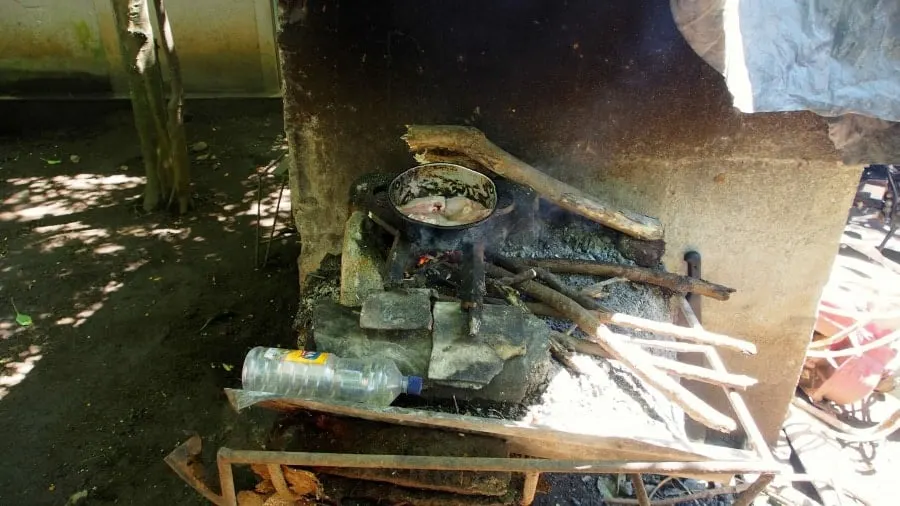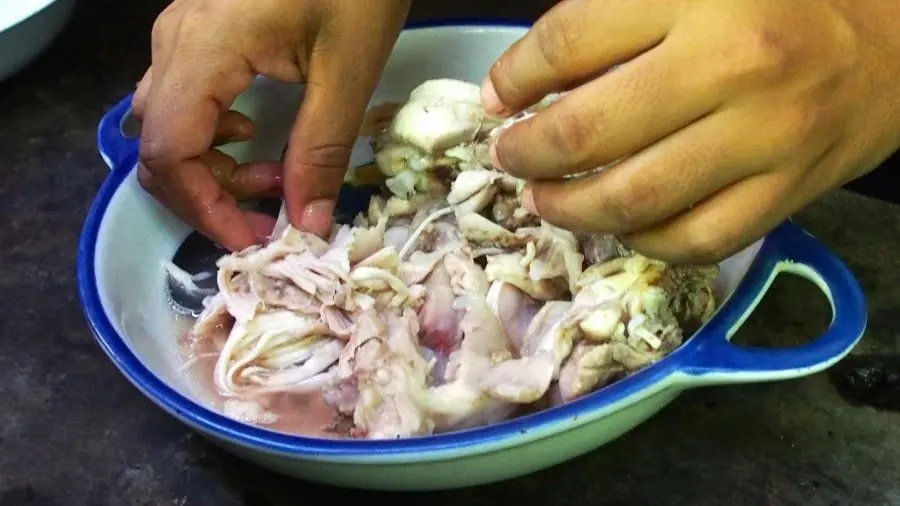 Again I am up to my elbows in a bucket working the ground corn mix from the tortilla factory, (Ahhh, thats what it is for! tortilla dough is a very versatile ingredient!) into water seasoned with achiote, a spice similar to paprika.
Then its everything in the pot and back to the fire. Under the watchful eye of Pedro I stir the mix to ensure no lumps form and he adds more tortilla dough and achiote as he deems necessary.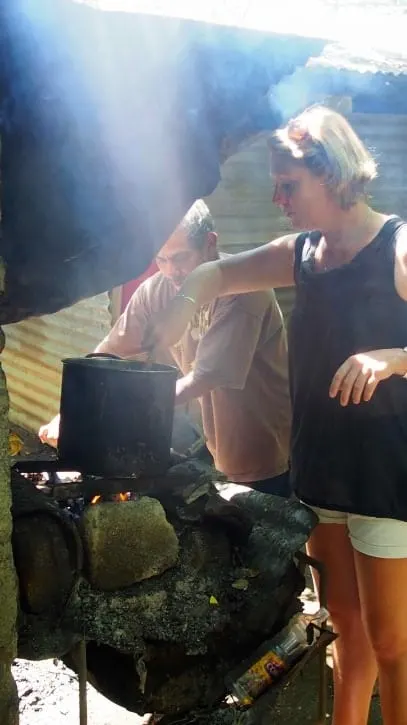 Voilla! we have a meal that is absolutely delicious and even better, completely fresh. This is a very hearty meal, a kind of stew about the consistency of a polenta dish. Loaded with vegetables and plantain it can also be made with beef.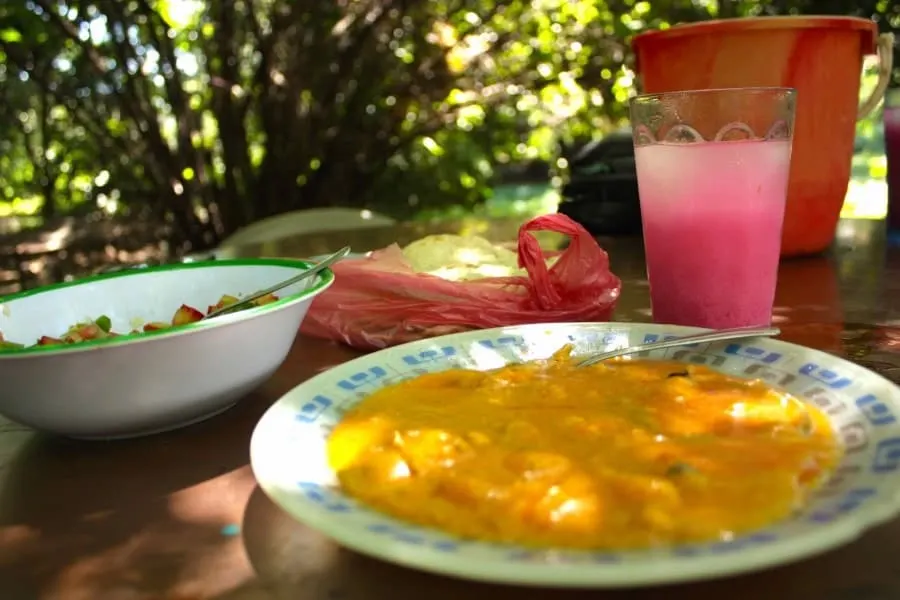 Feeling very full, we thank Pedro and his family and jump on the bus back to León.
When we decided to book a cooking workshop, we had a preconceived idea of what to expect; a group of people in a large kitchen, all cooking the same dish to the beat of an orchestrated class. We had not expected what a joy it would be to visit the homes and business of local Nicaraguans, not just to learn a recipe, but to gain a true insight into local living. The additional beauty of these tours is the knowledge locals and small local business all benefit instead of just the big tour companies.
If you want to try your hand at a dish of Old Indian, it really is very easy, check the recipe below, complete with tips on substitute ingredients.
Buen Provecho!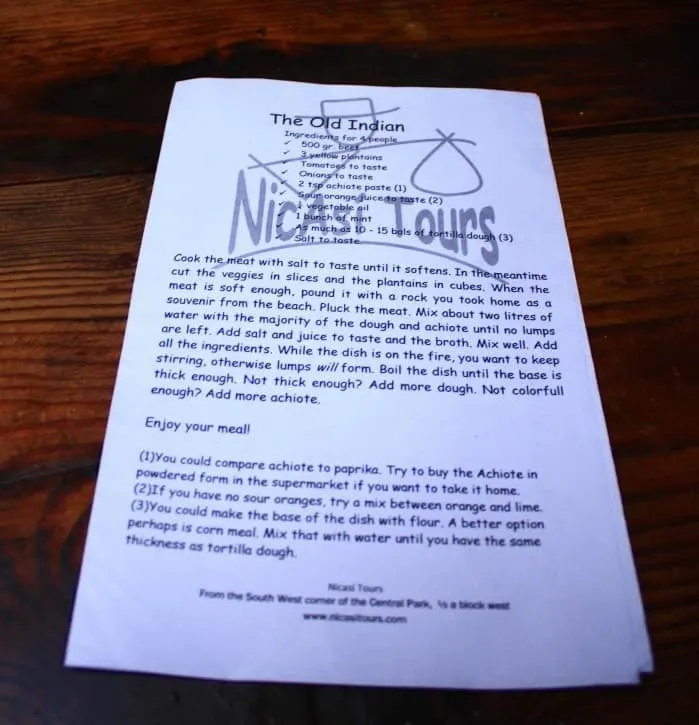 ---
FACTS
NicAsí Tours in León run the cooking workshops daily from 9.00am – 1.00pm. Cost is $22/ $26 pp depending on numbers
We combined this with a city tour in the afternoon which makes a great way to spend a day in León
For information on other NicAsí Tours social-cultural activities in León visit the website on the link provided or email [email protected]
---
Thankyou to NicAsí Tours, as always, all opinions expressed in this review are our own and have not been influenced in any way.