Rome is one of the most popular tourist destinations in Europe and the world. The Eternal City is home to so many incredible attractions, including the independent state of Vatican City.
There is so much to do and see on any Rome itinerary, but tickets to major sites such as the Colosseum and the Vatican Museums start to add up quickly. Thankfully, there are plenty of free things to do in Rome to balance out both your budget and experience of Italy's magnificent capital.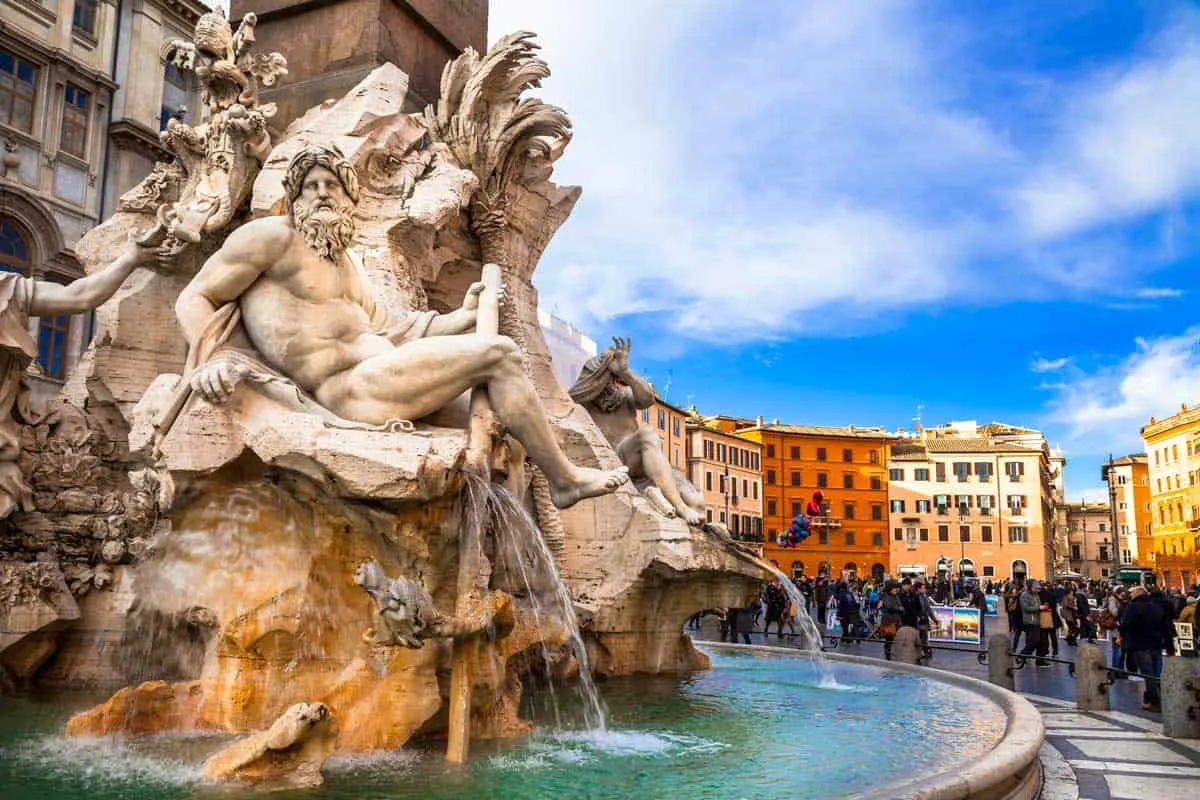 You Might Also Like: Rome is a great base for some fantastic day trips – see our pick for the Best Day Trips from Rome and the Best Places to Stay in Rome. The capital s also a fantastic starting or finishing point for some incredible road trip itineraries. See our best Italian Road Trip Itineraries for a few days to a few weeks.
The architecture in Rome is nothing short of breathtaking, so a stroll through the streets is one of the best ways to enjoy the city. Along with an endless array of magnificent historic buildings, statues, and monuments, there are also plenty of quiet parks and quaint squares where you can soak up the local lifestyle.
Daring to go a bit off the beaten tourist track can reward you with free entry to some less famous sites that may not be the big tourist drawcards but are no less impressive.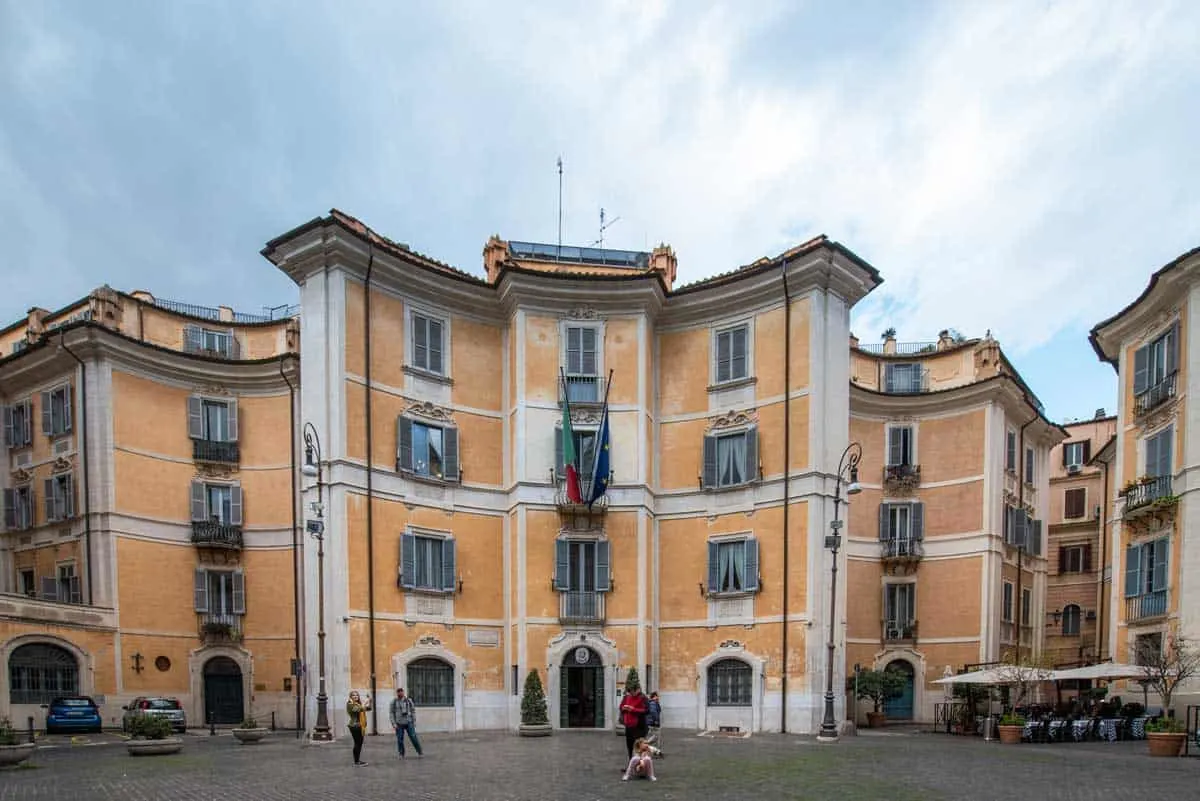 Things to do in Rome for Free
You don't have to spend a small fortune to experience the Italian capital. Spare some time in your Rome itinerary and reward yourself and your budget with some of Rome's best free attractions. You might even glean a different view of the Eternal City.
Whether you're on a tight budget or want to splurge on other things, these fabulous free Rome attractions will set you on the right track.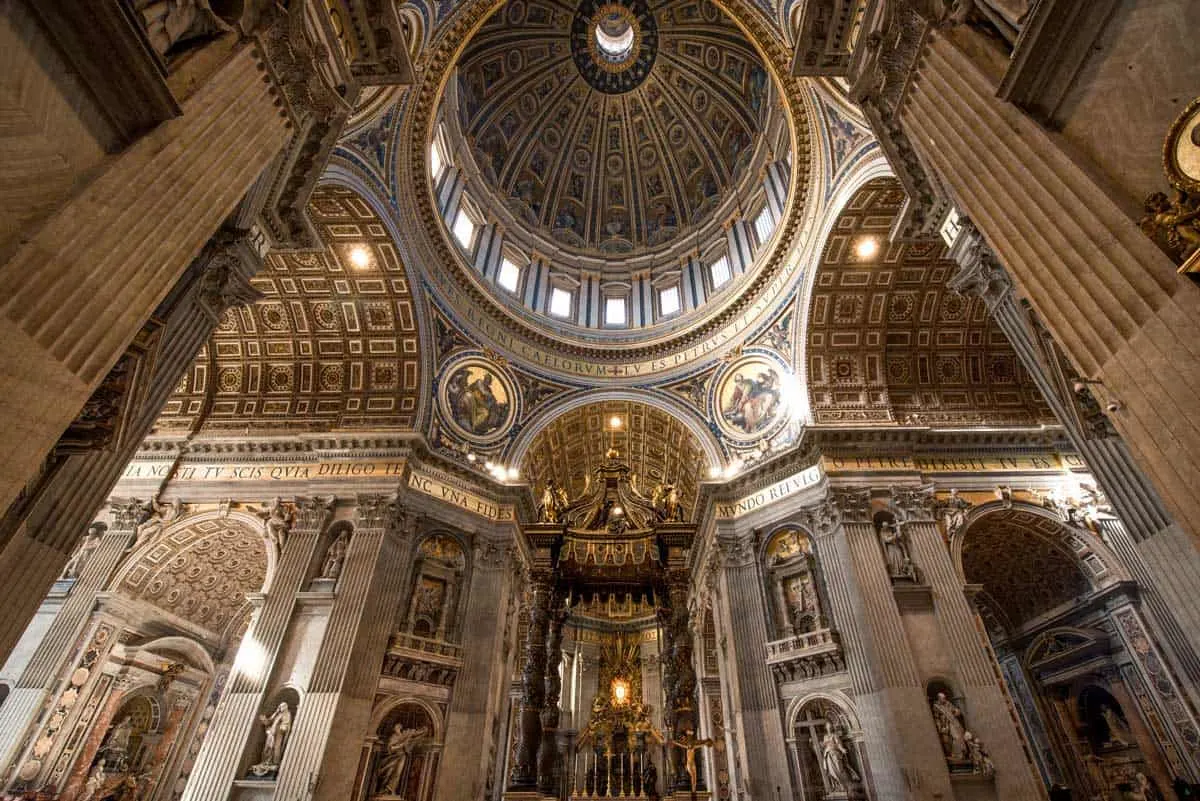 Wander Through Trastevere
Trastevere, the colourful and vibrant neighbourhood across the river Tiber, is perhaps Rome's loveliest and most picturesque neighbourhood.
If you're a fan of cobbled, narrow alleys lined with quintessential Roman restaurants and bars, then you'll fall in love with Trastevere. Unlike similar neighbourhoods in other major cities that attract tourists, Trastevere has never really lost its traditional atmosphere or charm. That's why even locals love to spend an evening strolling through Rome's prettiest neighbourhood.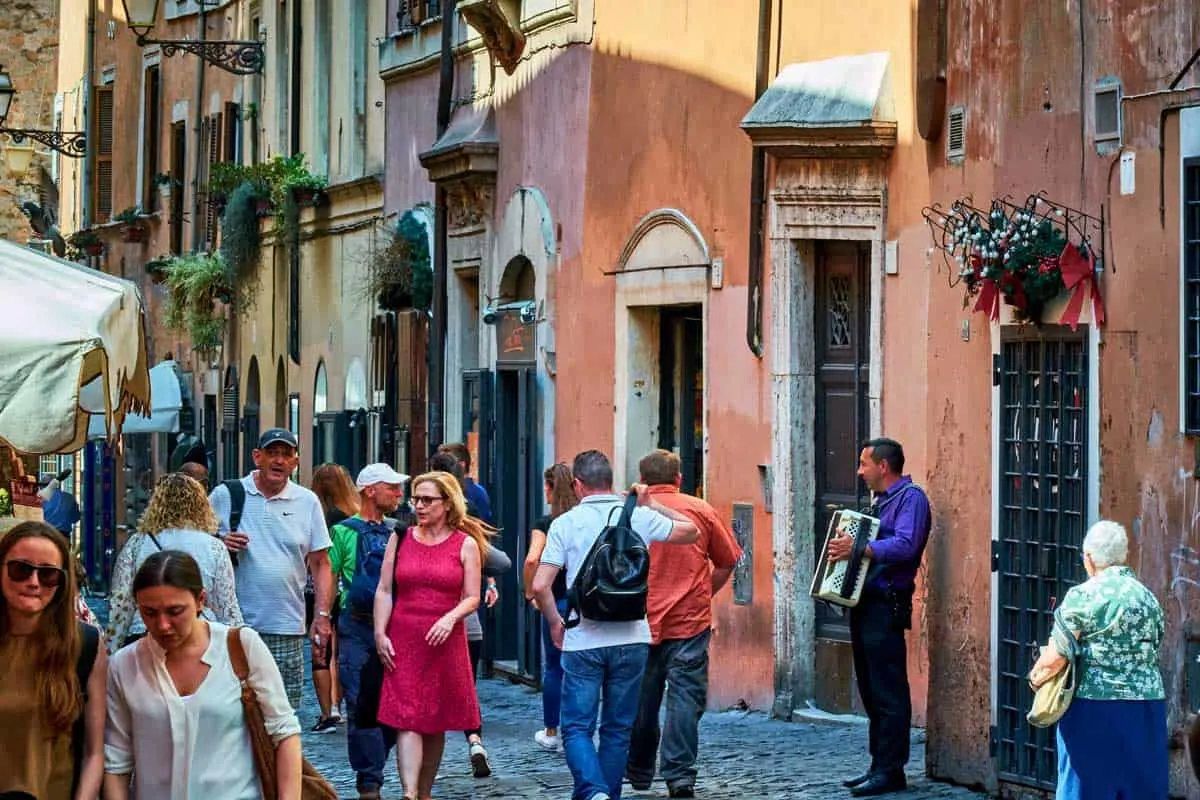 Trastevere is a great neighbourhood to have dinner for the atmosphere and try some good traditional Italian food. Even if you're visiting Rome as a vegan, you won't feel left out. Although there are no strictly vegan restaurants in Trastevere, you will find plenty of vegan options.
On Sunday mornings, you can browse the flea market at Porta Portese at the edge of the Trastevere neighbourhood.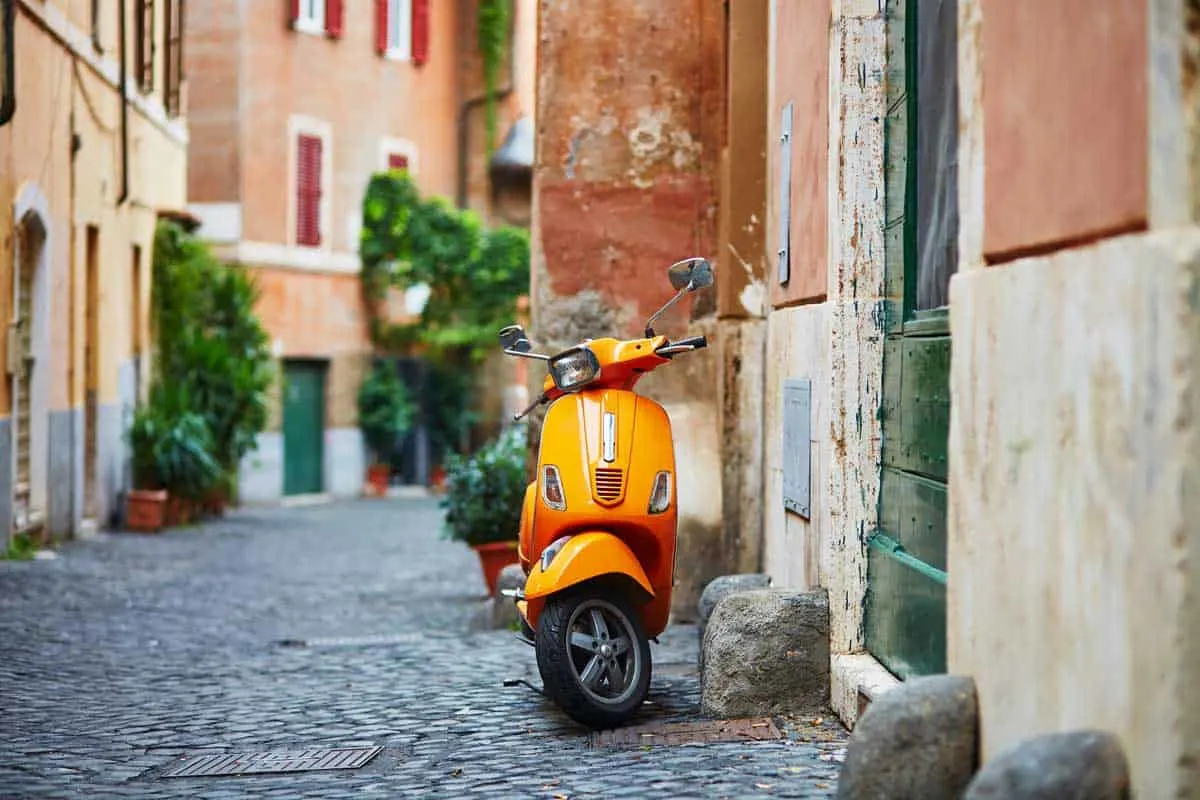 Join a Free Walking Tour
Free walking tours are a great way to get your bearings in any new city. They usually last around 2-3 hours taking you to the main sites for an overview of the city and what there is to see and do.
Tour guides on free walking tours are also a wealth of knowledge about the best locals tips on what to do, how to get around, where to eat etc. And of course, the best free and discounted stuff in Rome.
After the tour, you'll have a better understanding of the city, its layout and an idea of which sites are worth spending money on and which to skip.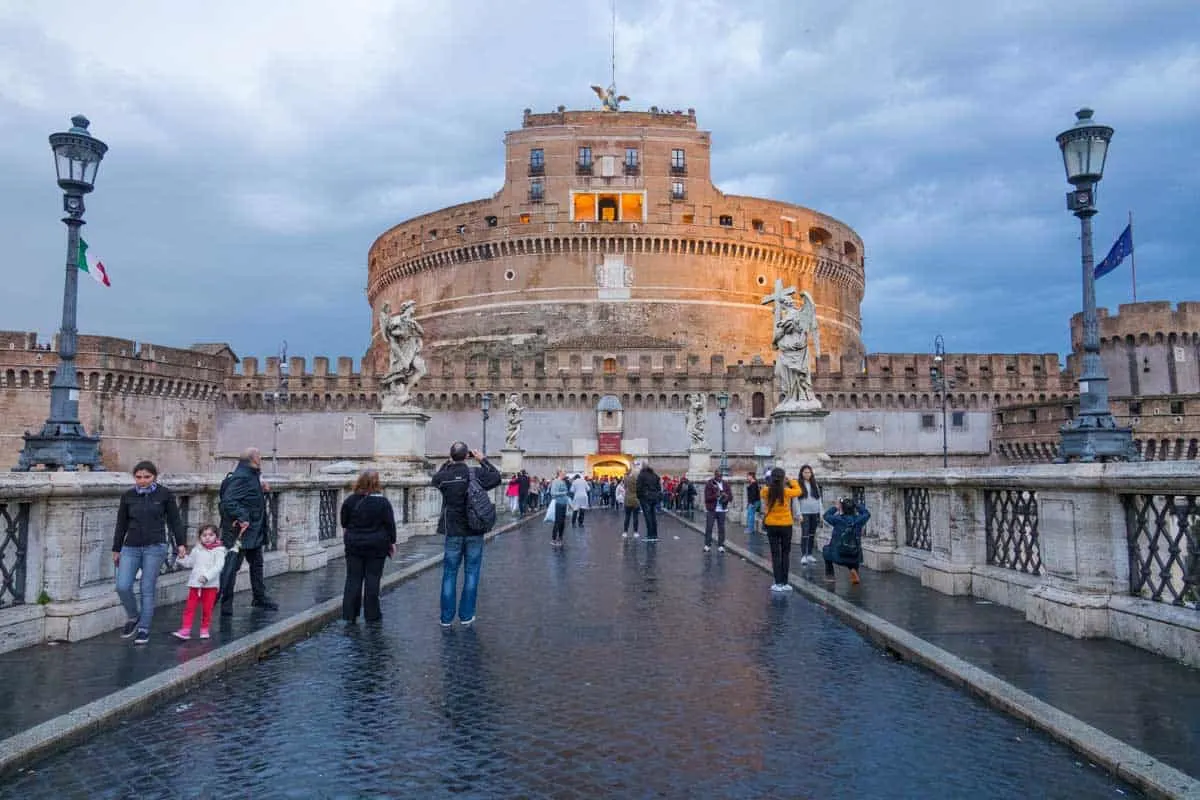 There are also themed tours that deal with specific topics that might particularly interest you. These could be street art tours, history tours related to a particular period, or less-known topics that many tourists might miss. You can do as many free walking tours as you like. The first time we did a free walking tour was in Venice – we did three, all with different themes. We still recommend them as the best way to see Venice and start your time in Rome.
We advise taking a free tour when you first arrive in Rome. It's a great way to dive into the atmosphere of this fantastic city and get all those valuable local tips before setting off on your own.
It's customary to leave a tip at the end of a free walking tour depending on how satisfied you are, but it's not mandatory.
Visit the Pantheon
Many visitors to Rome are surprised to learn, one of Rome's main sights is entirely free. The Pantheon, now officially called Basilica di Santa Maria ad Martyres was turned into a church after almost 500 years serving as a Roman temple. Dating back to 125 AD, the building has been in constant use since it was built, accounting for its superb condition.
One of the most interesting aspects of the Pantheon is the hole in the centre of the domed ceiling. The unique design feature not only creates a fantastic atmosphere when the sun shines through, but it also makes a visit in the rain or snow exceptional.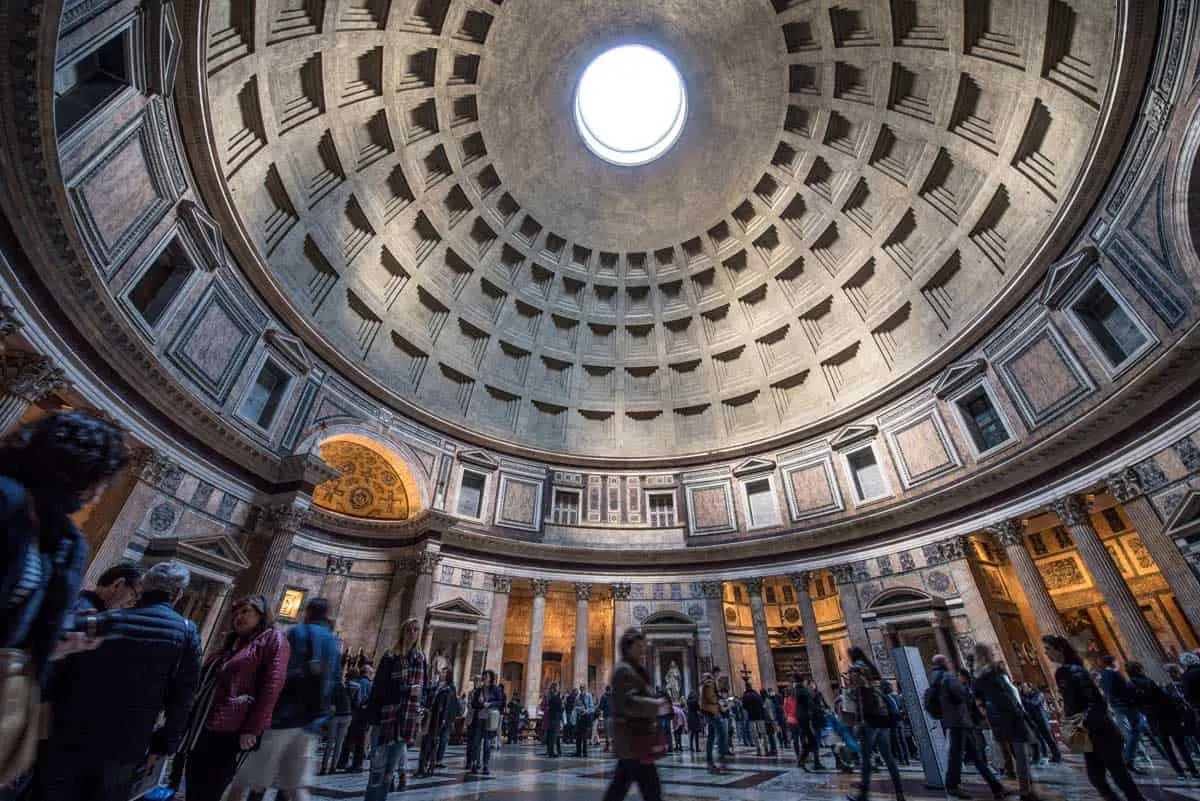 Because the Pantheon is a functioning church, please be respectful and quiet when you visit, as many people may be there to worship.
The square in front of the Pantheon is called the Piazza della Rotonda. It's easy to find the Pantheon because there is signage throughout the Old Town, which isn't the case for all the sights in the city.
Look at Fascist Architecture in the EUR Neighborhood
The residential EUR neighbourhood is not on many tourists' radar, but if you're interested in modern Italian history, it's well worth a visit. Mussolini chose the area in the 30s as the 1942 World Fair site to celebrate 20 years of Fascism.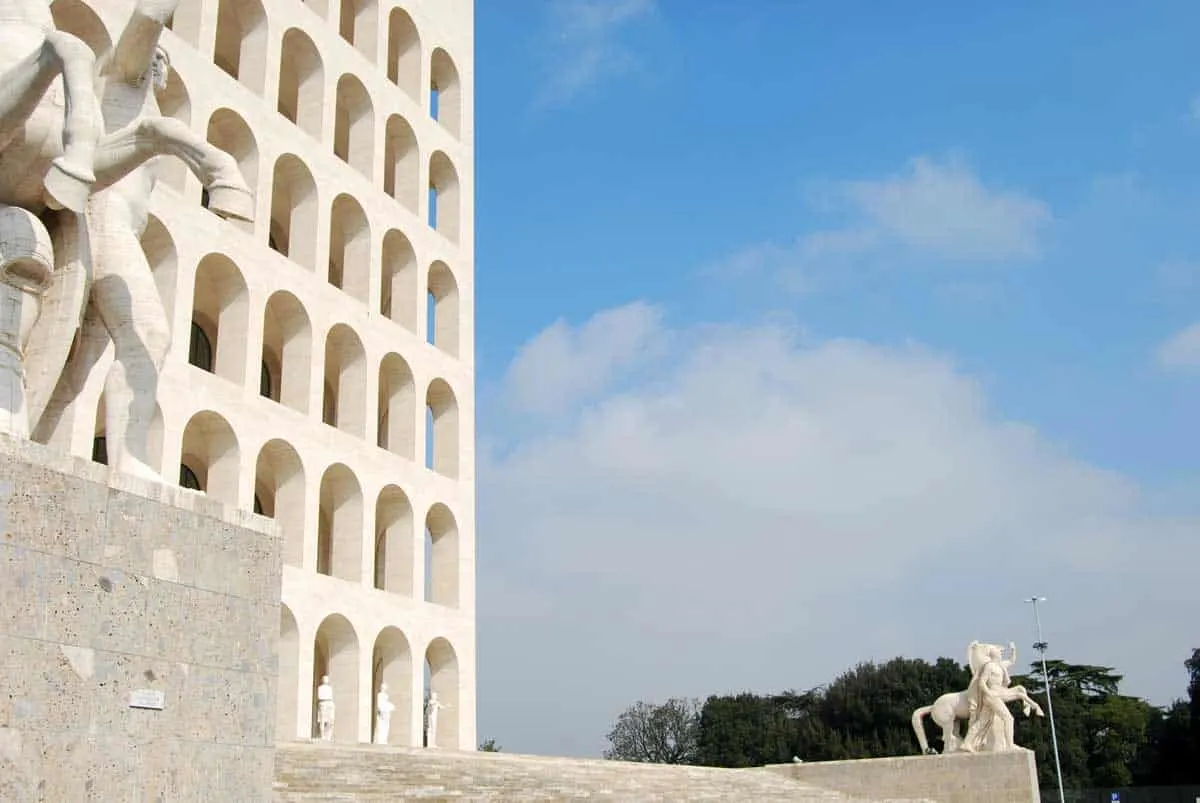 The EUR was inspired by Fascist ideology drawing on classic Roman urban planning with Italian Rationalist art deco elements. The results – an open layout with streets wide enough to parade an army and imposing buildings in white marble – a nod to the classic monuments of Imperial Rome.
Interestingly, one of the finest examples of Mussolini's favoured Rationalist style outside Rome is on the Dodecanese Island of Leros in Greece.
A stark contrast to the ancient monuments that are Rome's most famous attractions, which makes the EUR area even more fascinating.
Head to the Trevi Fountain
Without a doubt, one of Rome's most famous free attractions, we recommend an early start for the magnificent Trevi Fountain – or, even late at night. The beautiful baroque fountain gets inundated with tourists during the day, right through to the evening.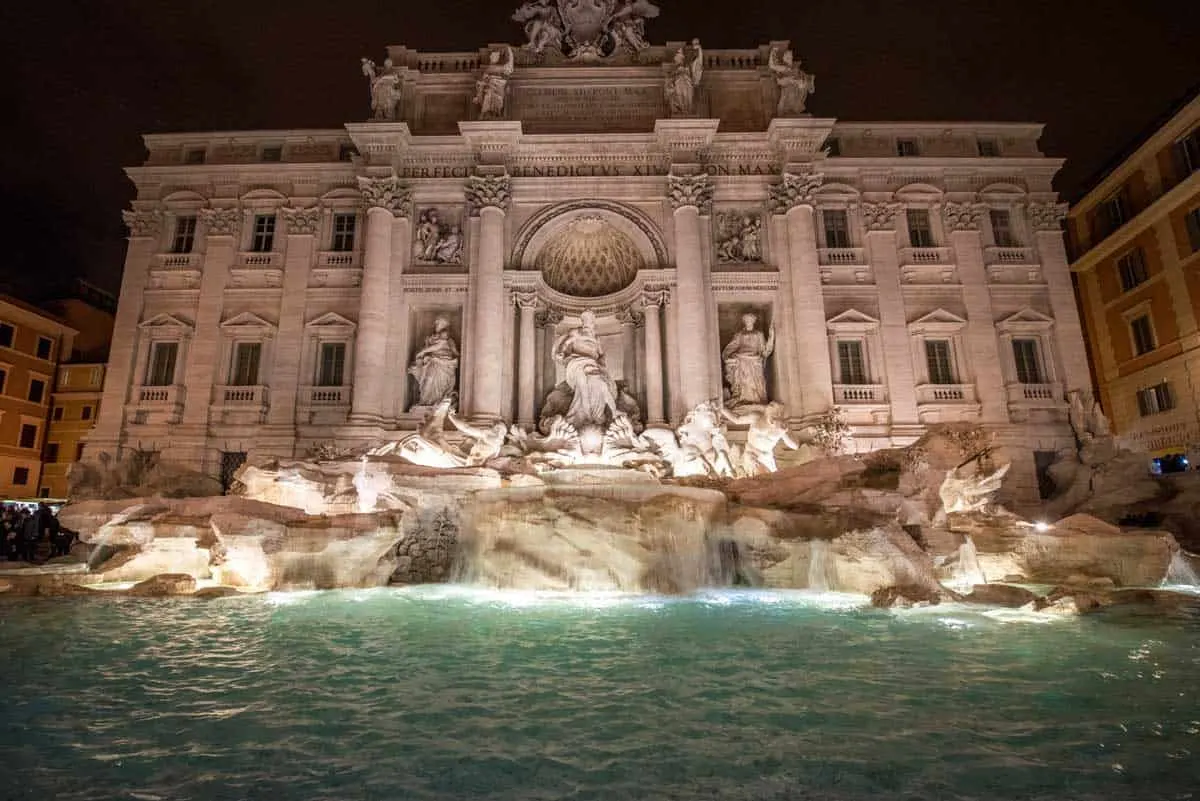 A visit to the Trevi Fountain isn't necessarily entirely free if you follow the custom of throwing a coin in the fountain. Tossing a coin with your right hand over your left shoulder into the Trevi Fountain is supposed to ensure you return back to the city one day. Throw in a second coin if you want to fall in love with an attractive Roman and a third one if you want to marry them. Be careful what you wish for.
A must-see attraction in Rome and well worth battling the crowds for if you're not an early bird.
Galleria Sciarra – The Secret Art Nouveu Courtyard
Not far from the Trevi Fountain and the Via del Corso is a largely unknown hidden courtyard and a magnificent display of Art Nouveau – the beautiful Galleria Sciarra. It was built in the late 19th century for the wealthy Sciarra family and adorned with brilliantly coloured frescoes by Giuseppe Cellini. The beautiful works depict a celebration of women in the various phases of life.
The palatial courtyard was intended as a shopping mall, which, had it come to fruition, would have been the most beautiful in Rome.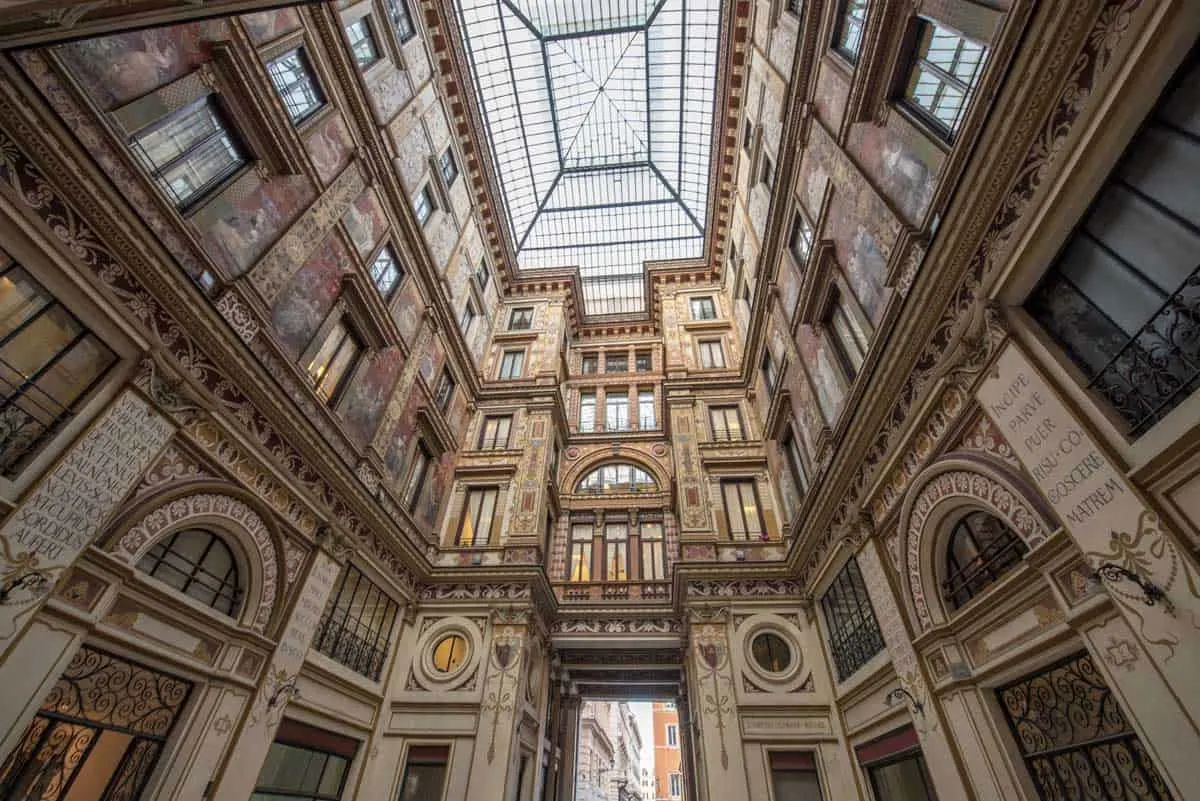 Go to Piazza Navona
In Piazza Navona, you can find several magnificent fountains, much less busy than the Trevi Fountain but by no means any less worth seeing. While they don't have the power to bring you back to Rome, they make great photo opportunities.
Piazza Navona is a lovely place for a stroll because it's a pedestrian-only zone and is home to some of the most beautiful buildings in the old town of Rome. For the best photos, head out early when the streets are quiet and you can have the fountains to yourself.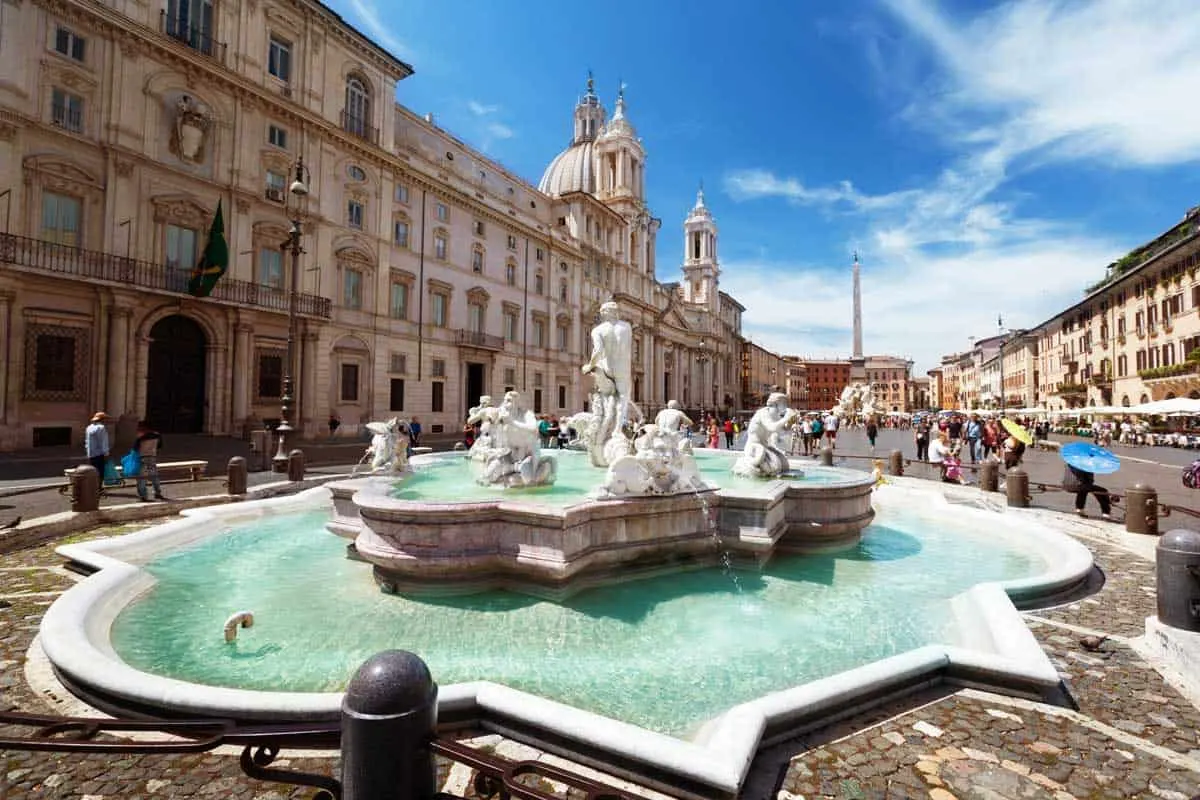 Visit the Free Churches
Most churches in Rome are free to visit despite the incredible works of art you can find in them. Sometimes you may have to pay a fee or make a donation if you want to take photos or visit additional parts of the church, but entry is free.
As a staunchly Catholic city, there are, of course, numerous churches you could choose to visit in Rome. Some of the best are Santa Maria Maggiore, Santa Maria in Trastevere, Sant'Ignazio di Loyola, Santa Maria del Popolo, and San Giovanni in Laterano.
You'll be surprised at the priceless works of art you will find in some of the most unsuspecting churches in Rome.
Marvel at the Spanish Steps
The Spanish Steps are one of the most famous and loved sights in Rome. Located by the Piazza di Spagna, they have set the scene for so many classic films – seeing them for yourself is a must when visiting Rome.
They are named the Spanish Steps because they connected the Spanish Embassy to the Holy See. Likewise, the Piazza di Spagna is so named because the area used to belong to Spain.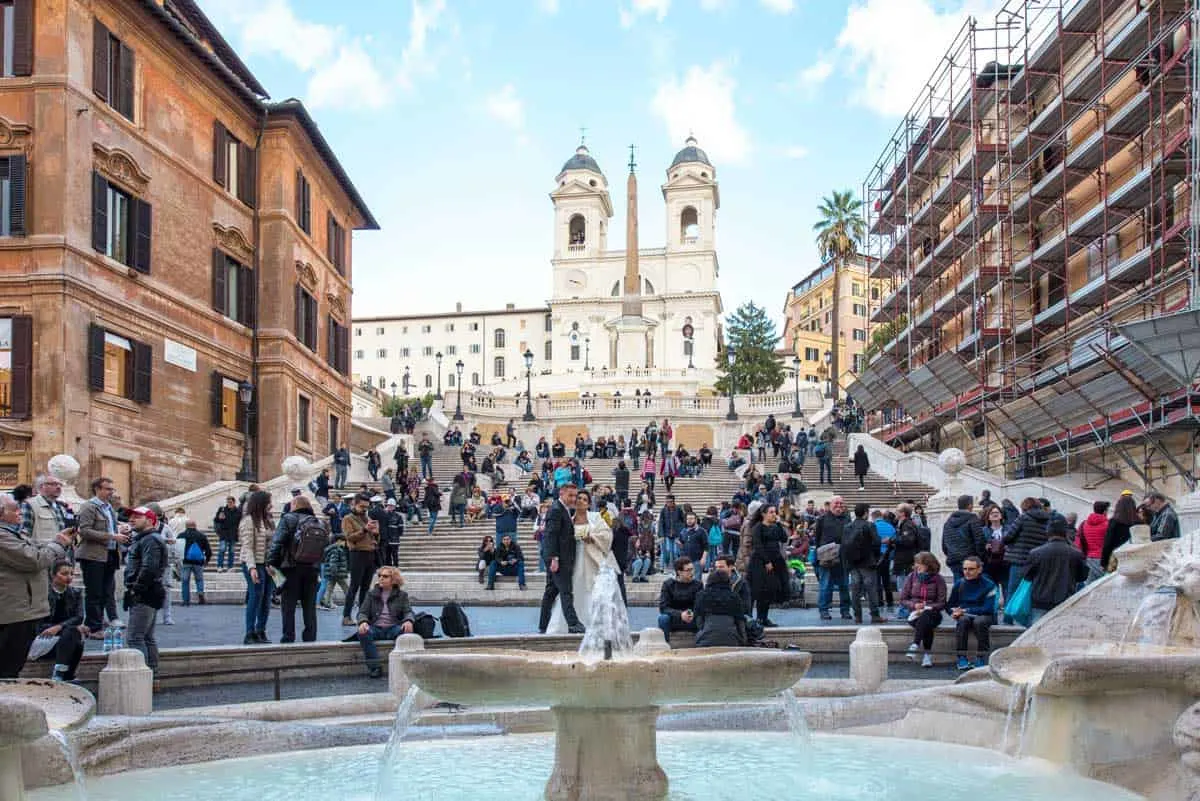 Visit St. Peter's Basilica
Although many of the churches in Rome are free to visit, St. Peter's Basilica in the Vatican City deserves its own spot on this list of free things to do in Rome. After all, it is the most famous and largest church in the world. You can read more about visiting the Vatican here.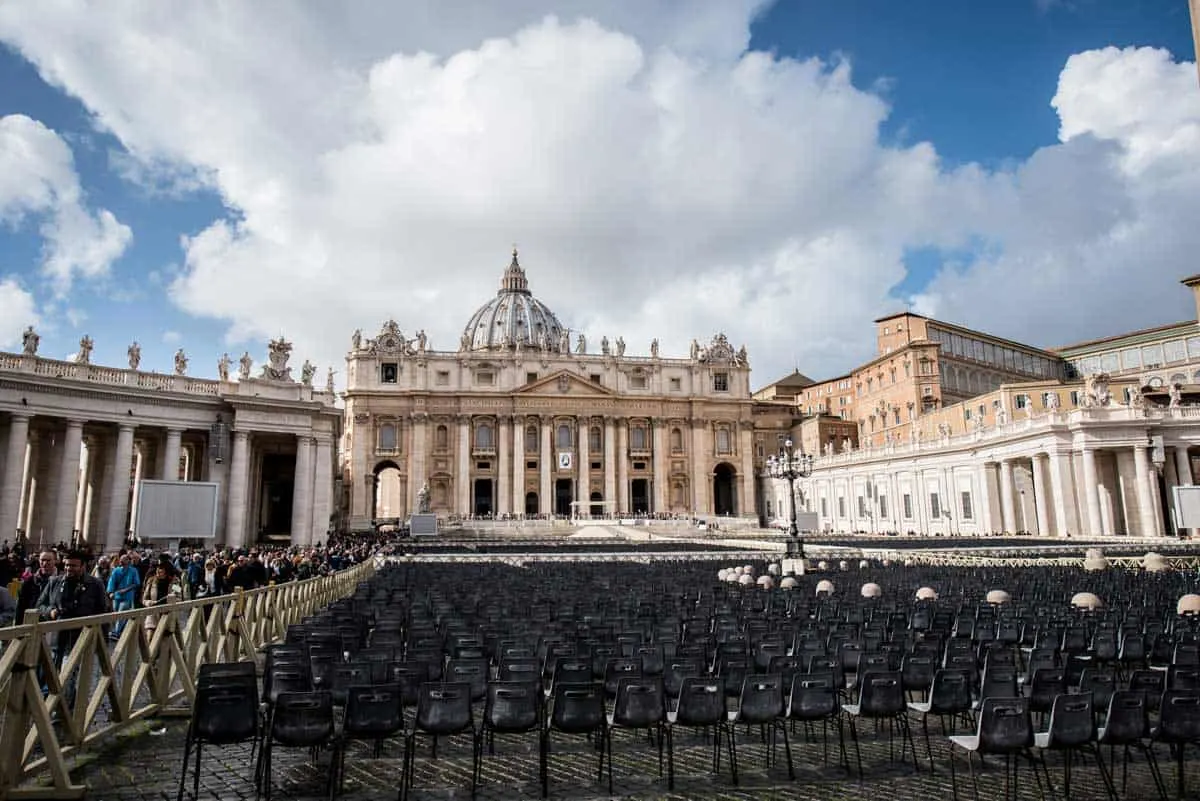 Entrance to the basilica is entirely free of charge, but you need to prepare your visit well to make the most of it. While you don't have to pay to enter the church, the line outside can be incredibly long, especially on certain holy days and Papal audience days. It is advised to check the Vatican website before planning your visit to miss the most crowded days – unless, of course, you wish to see the Pope.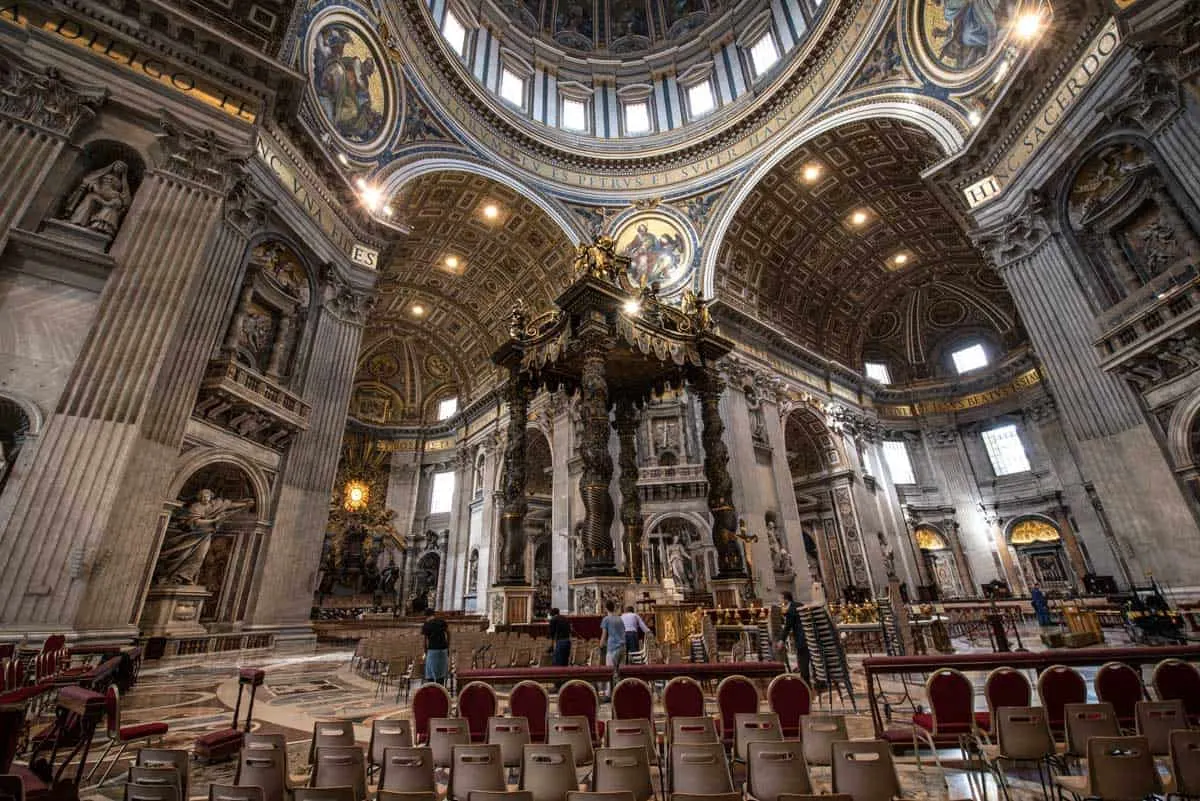 There are very stringent security checks on entry to St Peter's Square, which can also slow the entry process. You can purchase skip the line tickets with Sistine Chapel entry for around €21, in which case the visit is obviously no longer free.
The best way to make sure you don't pay and don't wait in line for hours is to head to St. Peter's Basilica early, if possible, as soon as it opens at 7 am.
Take a Stroll Through the Jewish Neighborhood
Another lovely neighbourhood to wander around in is the former Jewish Ghetto.
You can reach the Jewish neighbourhood from Trastevere by crossing the Garibaldi Bridge. The area is much smaller than Trastevere but is also home to plenty of lovely cafés and restaurants, many of which focus on Jewish cuisine.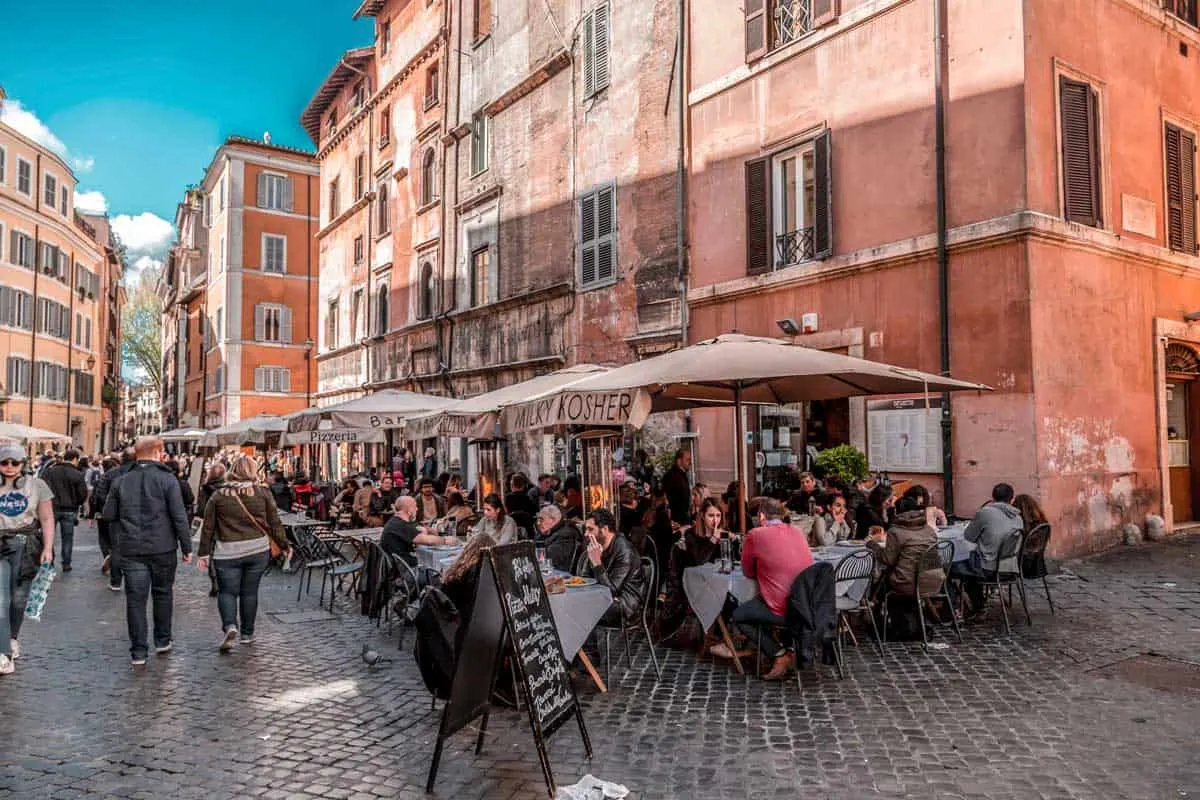 As picturesque as the neighbourhood is today, its history is much less charming. For around 300 years, all Jews in Rome were mandated by papal law to live in the area. A wall the Jews had to pay for, was built around the neighbourhood to prevent people from leaving or entering the area after dark.
The area was constantly in danger of floods from the river, and because of the many restrictions placed on the Jewish population, it was an extremely poor neighbourhood with appalling living conditions.
Watch the Sunset From Gianicolo Hill
From Trastevere you can also make your way up Gianicolo Hill, also called the Janiculum. It offers some of the best views of Rome, especially at sunset. Due to its location between Trastevere and Vatican City, you also get really lovely views of St. Peter's Basilica from here.
Gianicolo Hill is actually the second-tallest hill in Rome which explains the excellent views, but it's not considered one of the traditional "seven hills" on which Rome was built. As it sits west of the Tiber, it fell outside the boundaries of the ancient city and so was not originally part of Rome.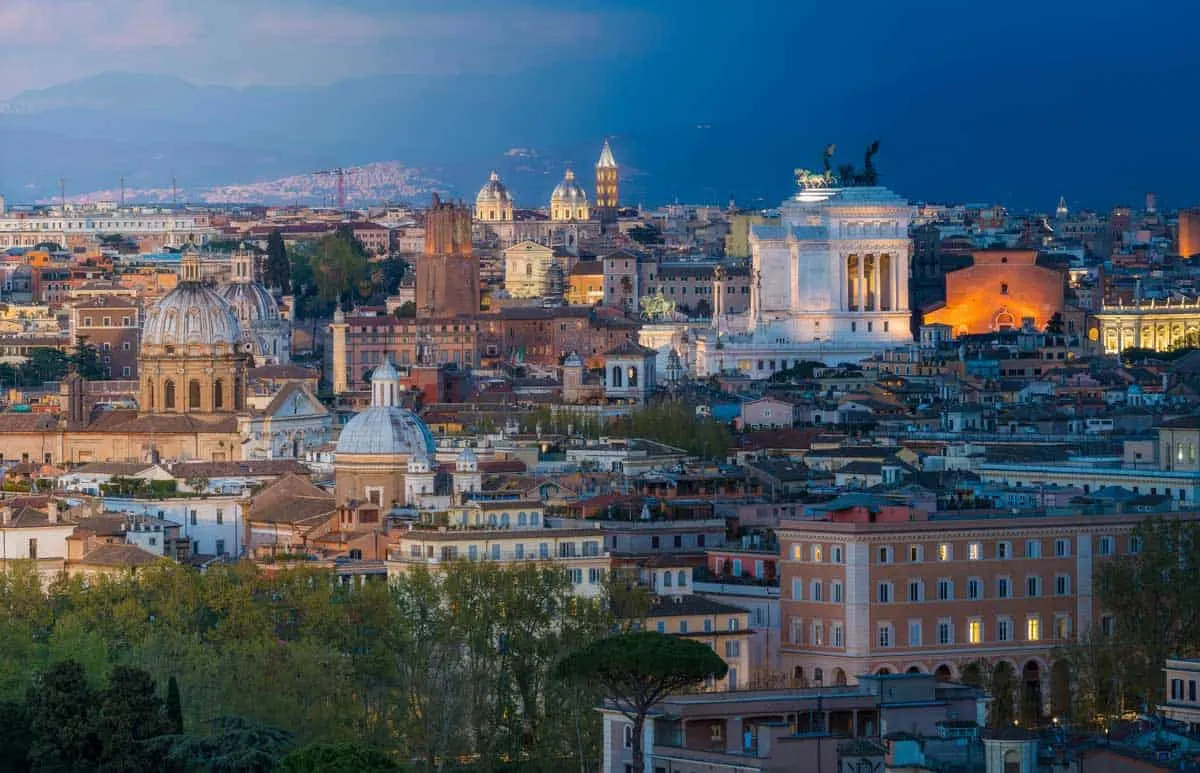 To reach the top of the hill, walk north on Via Garibaldi until you reach the Passeggiata di Gianicolo. You will reach Garibaldi Square which is home to a Garibaldi monument. Because the area is not extremely busy with tourists, you will have some great photo opportunities from the hill. On New Year's Eve, this is also a nice spot to see the fireworks over the entire city of Rome.
Aside from the view and photo opportunities, Gianicolo Hill is also an excellent place for a leisurely stroll away from the hustle of the city. There are also some interesting monuments such as the Fontana dell'Acqua Paola, the Manfredi Lighthouse, the Church of San Pietro in Montorio where St Peter was crucified, and the Garibaldi Monument.
Budget Friendly Rome
As you can see there are plenty of things to do in Rome for free including some of Rome's most famous attractions. From churches and picturesque squares to famous fountains and parks, as well as exploring the different neighbourhoods. There is a lot to see in Rome that doesn't require high entrance fees.
About the Author
Nina Ahmedow
Nina is a travel content creator who has travelled to more than 20 countries on three continents. Born and raised in Germany but currently living in Greece, she loves exploring the world through vegan food. She is the voice behind Lemons and Luggage, a travel blog dedicated to vegan and responsible travel.