A road trip through Italy is the trip of a lifetime. We have enjoyed numerous Italian road trips and never tire of exploring one of Europe's most charismatic countries by car.
Italy offers glorious road trip possibilities with beautiful historic cities, stunning countryside, majestic lakes and mountain regions, and quaint coastal towns and islands. And, of course, such varied regional cultures and cuisines to explore.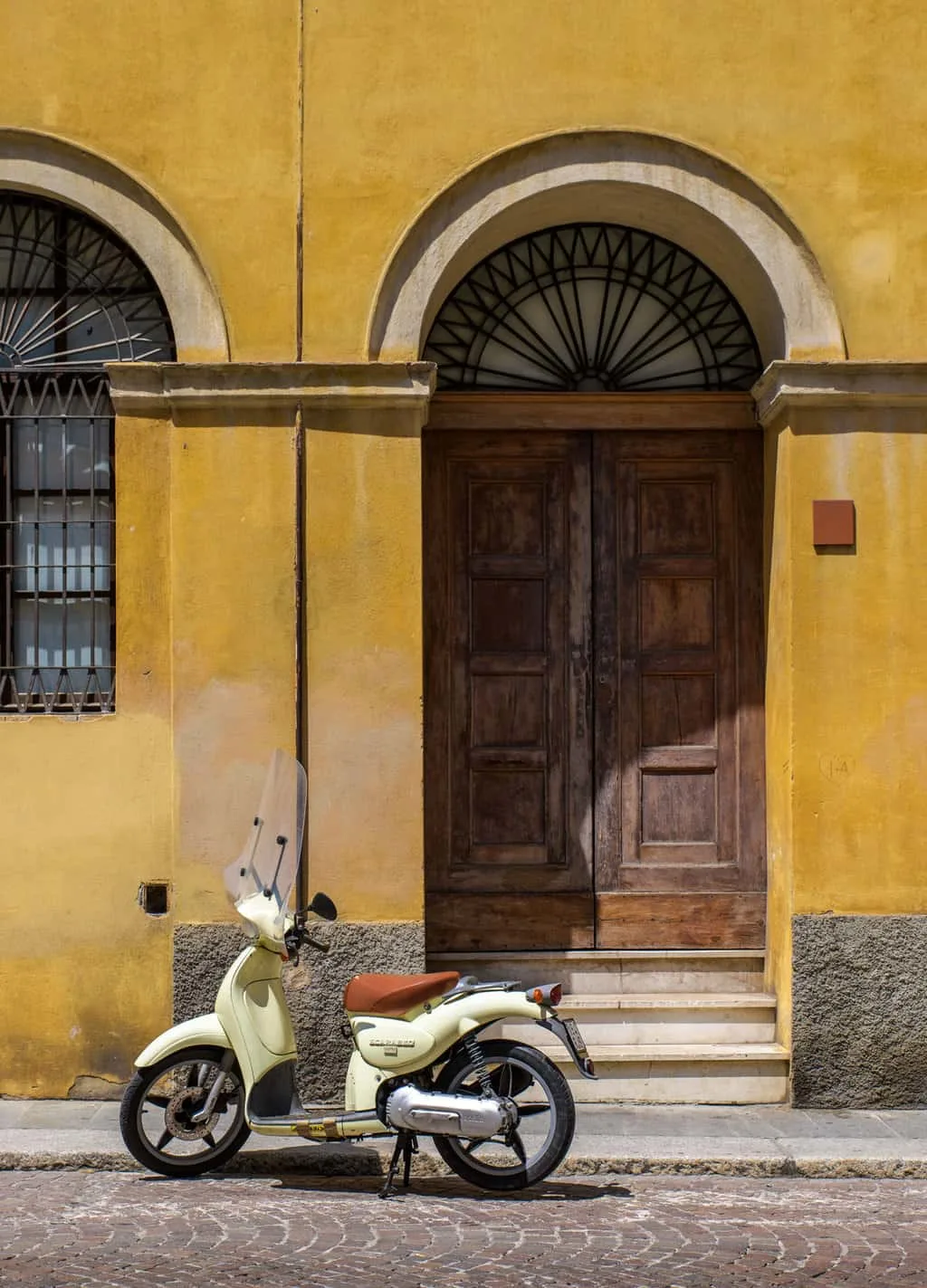 Whether it's an extended road trip from north to south or one region of Italy, we've rounded up some fabulous itineraries for each area – from a few days to four weeks to help you plan the perfect Italian road trip.
Tips for Renting a Car and Driving in Italy
Always take photos when you pick up your rental and when returning it. Some agencies may try to accuse you of damaging the vehicle after you have returned it.
Read your rental contract, and be aware of the excess fees and type of insurance.
If possible, rent a small car. Streets can be narrow in small towns, and parking garages in cities and larger towns can be very tight.
Collecting your rental car from an airport is always less stressful than in a city.
Download the Parclick App to pre-reserve parking all over Italy (and Europe). It can save you up to 50% on parking fees. Select the garage that suits you, book for the required days, and show your reservation (or use the license plate recognition) on arrival. You can come and go from the garage as much as you like during your booked time. We have used it all over Europe and saved ourselves so much stress and money when parking in cities and larger towns.
Be careful not to drive into any restricted zones in historical centers. They are called ZTL zones (Limited Traffic Zones) and are monitored with cameras. You can check for the zones online before arriving in a city. Unauthorized vehicles will automatically be issued hefty fines.
When it comes to speed limits in Italy, while many people don't seem to respect them, you can get hefty fines if caught on camera, and there are a lot of speed cameras in Italy.
The same goes for parking. It can be difficult to work out where you can or can't park sometimes but never risk it – In Italy; you will either get a huge fine or worse – they just tow you away. Always look for the ticket machine or park in a paid garage.
Find the Best Car Rental Deals for Italy
When we travel, we always use Discover Cars for car rental as they aggregate the best local deals, have no hidden fees, and offer free cancellation.
Tip: Always check if you have car rental insurance included on your travel insurance or with your credit card company before paying any additional to the rental car company.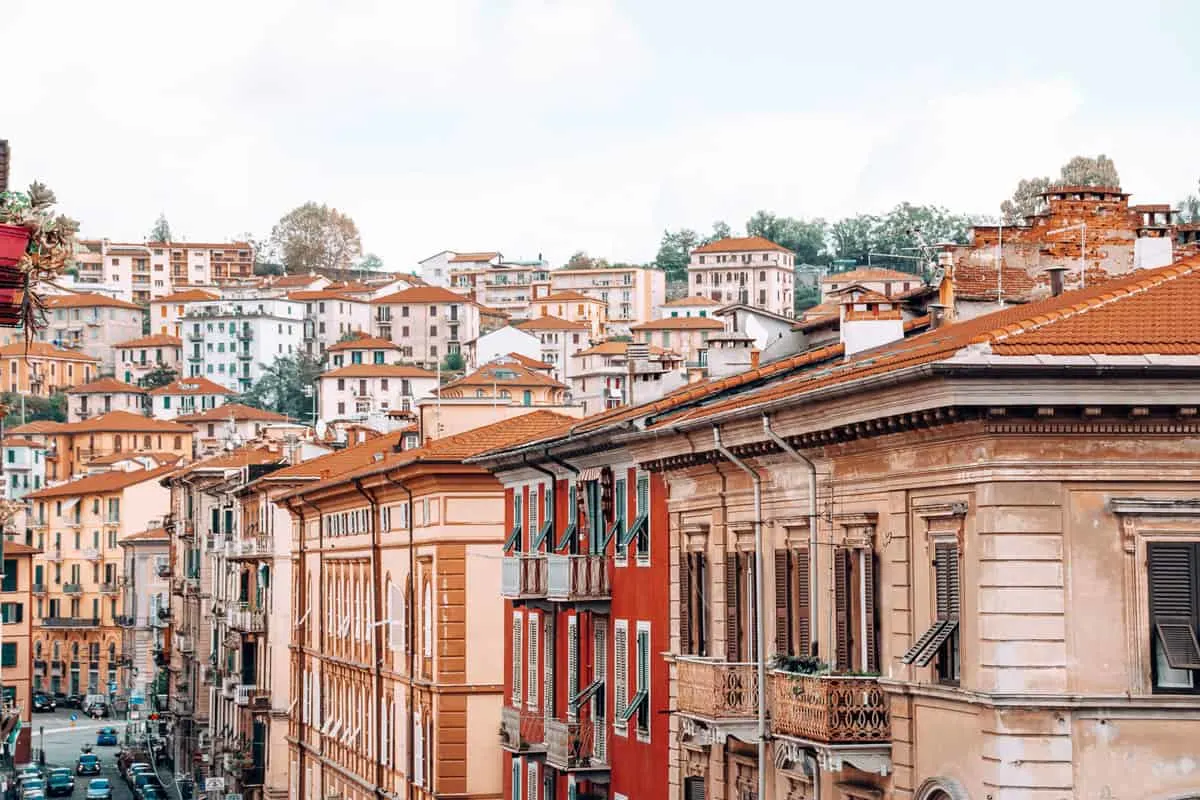 16 Fabulous Italian Road Trip Ideas
Northern Italy To Southern Italy-South Tyrol to Bari
Recommended Duration: 3-4 Weeks
Distance: Over 1400 Kilometres
Destinations: South Tyrol – Venice – Bologna – Brisighella – San Marino – Perugia – Sorrento – Amalfi Coast – Naples – Capri – Pompeii – Ischia – Matera – Bari
For the ultimate Italy road trip, head from north to south. This Italian road trip itinerary starts at the border with Austria, visiting South Tyrol and ending in Bari in the south, where it is possible to head over to Croatia if you choose.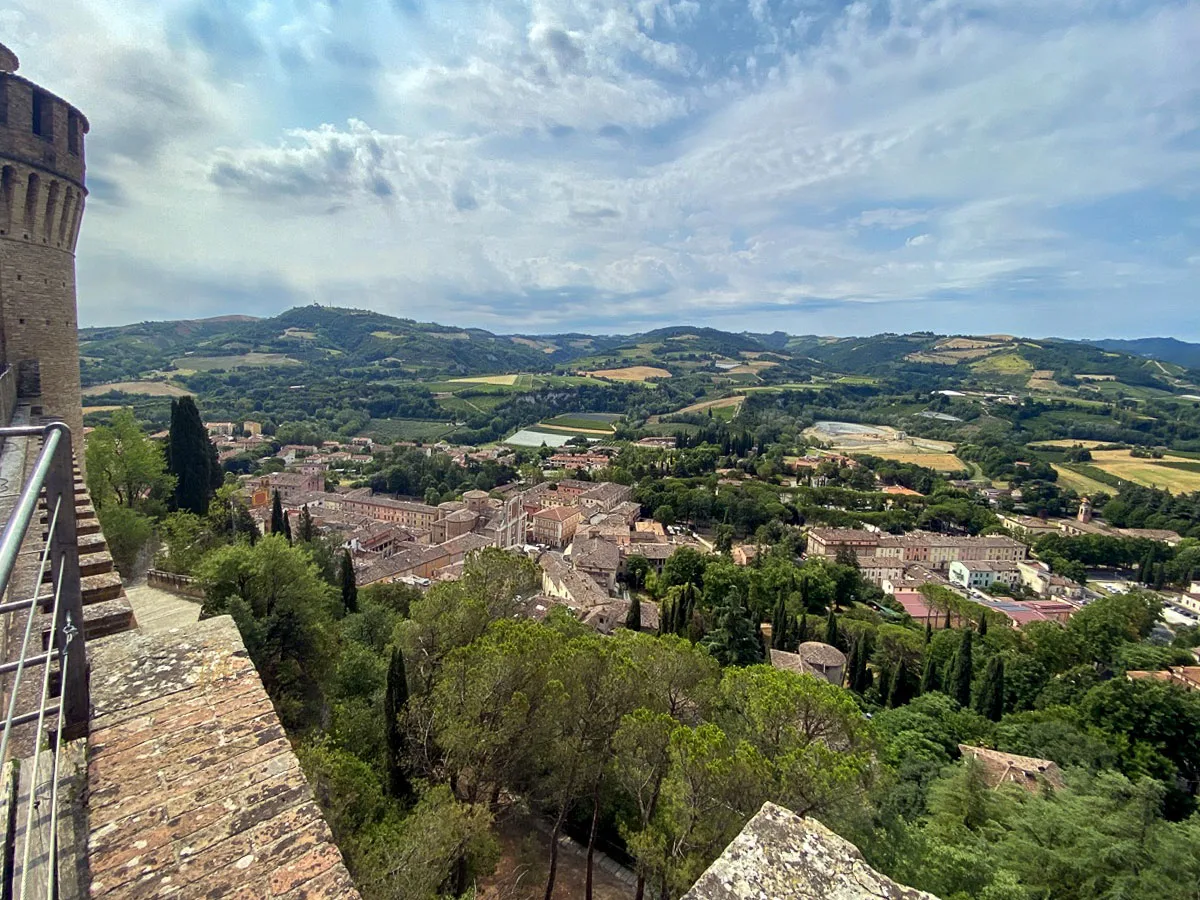 Covering over 1400 kilometers and traveling through many regions of Italy, you need to allow 3-4 weeks for the optimal experience.
The best time of year is spring – May/June and autumn – September/October for great weather without the summer crowds. However, this itinerary is great at any time – winter is especially good in South Tyrol for skiers.
Suggested Itinerary
Start in South Tyrol for stunning mountain scenery and a mixture of Austrian and Italian culture. The German-speaking towns add a very different feel to this slice of Italy. Hike Lago do Baies to see the best of this area.
Next, head to Venice for the quintessential Italian bucket list experience. Take a gondola ride, walk over the Rialto Bridge, and experience the unique ambiance of Venice. We have a fabulous Venice itinerary if you can allow at least a few days in the magical city.
On your way south, stop in at Bologna. Bologna is renowned for its fantastic food, so indulge in the region's typical dishes while exploring the atmospheric Old Town.
Brisighella is the perfect rural stop to enjoy the Italian countryside. This gorgeous town has the must-visit Rocco Manfrediana fortress.
Pop out of Italy for a moment with a stop on your way south at San Marino. One of the world's ten smallest countries at 61 sq km, this tiny republic is the world's oldest surviving sovereign state with glorious views and a beautifully preserved medieval walled town.
Soak in the history of Perugia. The center is gorgeous, with interesting museums and many historic churches.
Next up is Rome. There is so much to do in Rome (we have a great 3-Day Rome Itinerary to help you plan your stay). From the Colosseum, Pantheon, Trevi Fountain, and Vatican City, Rome is a highlight on any Italian itinerary. If you need a budget-friendly Rome itinerary, there are many great things to do in Rome for free.
It's now time for southern Italy with a week in the Sorrento/Amalfi coast area – one of the most romantic places in Italy for couples. Make a day trip to Naples and Capri, explore the towns of the Amalfi coast by sea, and head to Pompeii and Ischia. There is so much to do in this region, so spend as much time as you can spare. For those that like walking and hiking, see our Amalfi Coast hiking guide.
Finish up with a final stop at Matera before getting to Bari. Matera is famous for its cave dwellings which have been inhabited for 9,000 years. It's amazing to walk around.
Recommended by Sharon Gourlay – Dive Into Germany
---
Northern Italy Road Trip Itineraries
Road Trip Through Piedmont Italy
Recommended Duration: 7-10 days
Distance: 290 Kilometres
Destinations: Turin – Bra – Barolo – Alba – Asti – Biella – The Sanctuary of Oropa
The Piedmont region of Italy is situated in northwest Italy, bordering France and Switzerland. Backdropped by the majestic Swiss Alps, its rolling hills and vineyards eventually give way south to the Ligurian sea.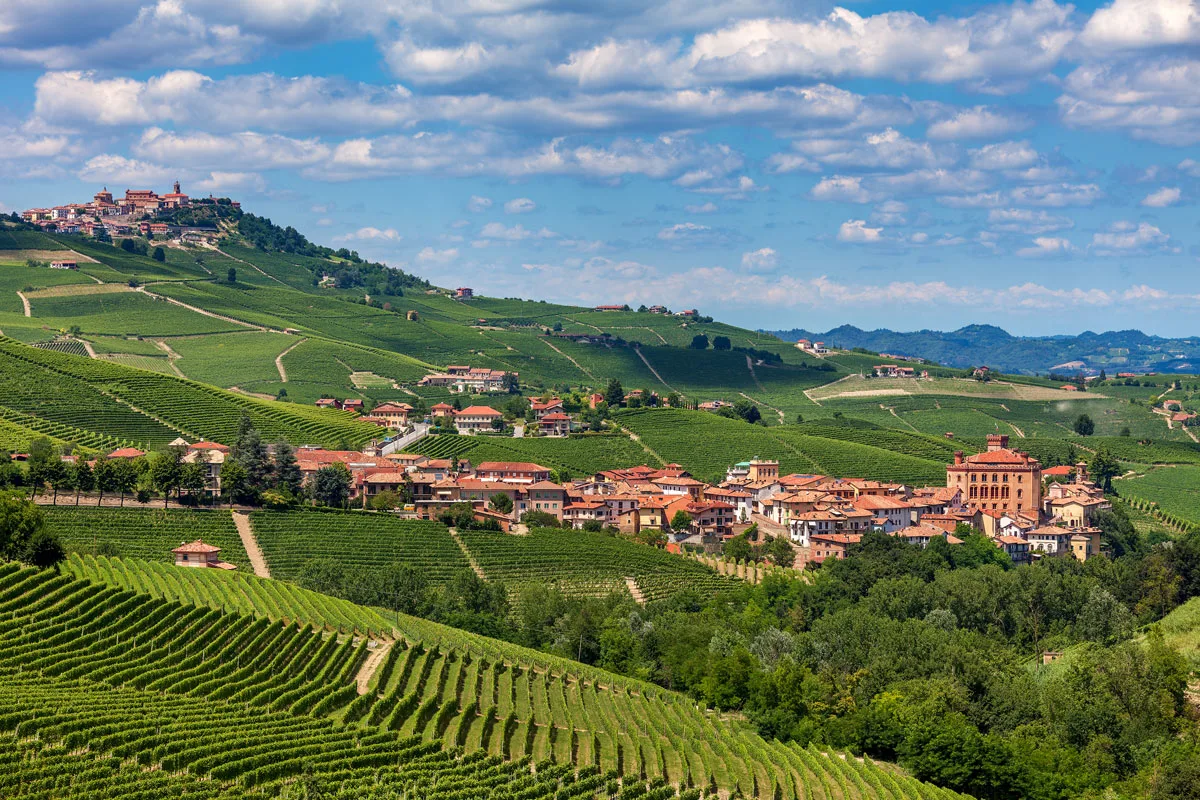 Piedmont has everything a traveler could want, from welcoming small towns, unique cuisine, and amazing wine, the most famous of which is Barolo, the King of wine.
Highlights of the Trip:
Turin, the Imperial capital of Piedmont
Bra – Birthplace of the Slow Food movement
Barolo – Taste Barolo wine and local cuisine
Alba – Home of the rare white truffle
Asti – Much more than Spumante wine
Biella – Famous wool town supplying the fashion capital of Milan
The Sanctuary of Oropa
Suggested Itinerary
Start your 290 km road trip in Turin, a large but walkable city with dozens of Savoy Royal Palaces to tour, loads of historical attractions, decadent chocolate, and the outstanding Egyptian Museum.
Drive 74 km south of Turin to Monforte d'Alba, a hilltop town with many enotecas, restaurants, and historic sites. It's a perfect base to explore the surrounding wine towns of Bra, Barolo, and Alba.
Spend a day in Asti drinking the sweet Moscato wines for which the town is named, then head north to Biella, 125 km north of Asti.
Biella is known for producing wool and exquisite cashmere, surrounded by rambling rivers and mountain scenery. Be sure and visit the Sanctuary of Oropa, one of the many sacred mountains in the region.
Sixty kilometers north of Biella on the eastern shore of Lake Orta is the quaint medieval village of Orta San Giulio and a great place to end your road trip. Tour the Sacre Monte of Orta and Isola San Giulio just offshore. You can stay at the centrally located Hotel Rocco San Giulio and walk anywhere in town.
Travel to Piedmont in late Spring through Fall to avoid wintery road conditions.
Recommended by Lori Sorrentino – Travlinmad
Northern Italy's lakes
Recommended Duration: 10 days or more
Distance: 700 Kilometres. Circular route starting and finishing in Milan.
Destinations: Milan – Lake Garda – Lake Como -Lake Maggiore – Cannobio – Lake Orta
An easy circular route from Milan's airport, a road trip through northern Italy's lakes is a must-try bucket list experience. You'll cover approximately 700 km in one week, though extending the itinerary to 10 days or more is easy.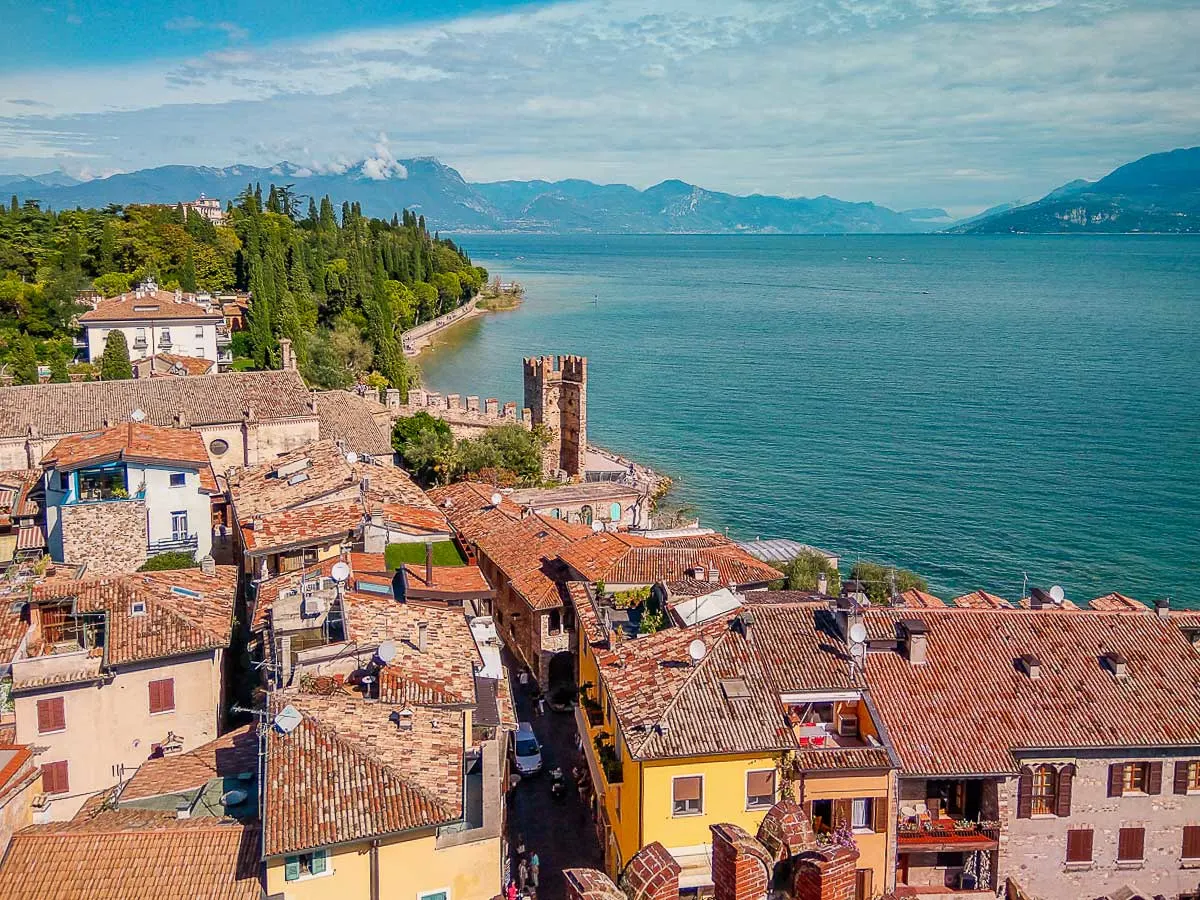 Suggested Itinerary
The first four days must be dedicated to Lake Garda, the largest lake in Italy. Boasting enchanting coastal towns and beautiful natural scenery, you'll want to stay forever.
Focus each day on another part of the lake – visit the unique Lemon orchard of Limonaia del Castèl in Limone sul Garda, take a morning stroll around the turquoise Lake Tenno, roam the colorful Malcesine, enjoy wine tasting near Bardolino, climb the Scaligero Castle in Sirmione.
Continue to the luxurious Lake Como for one day. Visit the picturesque towns of Varenna and Bellagio and the stunning Gardens of Villa Melzi.
Next, spend a day on the lovely Lake Maggiore. Base yourself in the city of Stresa, and opt for a boat tour to the nearby Borromean Islands, one of the most beautiful islands in Italy. See the picture-perfect centuries-old villas and gardens still owned by the noble Borromeo family.
Have a relaxed last day with a visit to the serene town of Cannobio and a final cup of coffee in the medieval Orta San Giulio on Lake Orta before returning the car to Milan.
Late spring or early fall are the ideal times for this road trip in terms of weather and crowds. Also, many attractions in the area are only open from April to October.
Recommended by Or – My Path in the World
Emilia-Romagna, Lombardy, and Piedmont. Bologna to Milan and Turin
Recommended Duration: 7 -14 days
Distance: 370 Kilometres.
Destinations: Bologna – Modena – Parma – Milan – Turin
This fantastic road trip through historic Northern Italy is perfect if you want to taste some of the best ingredients and dishes produced in the country.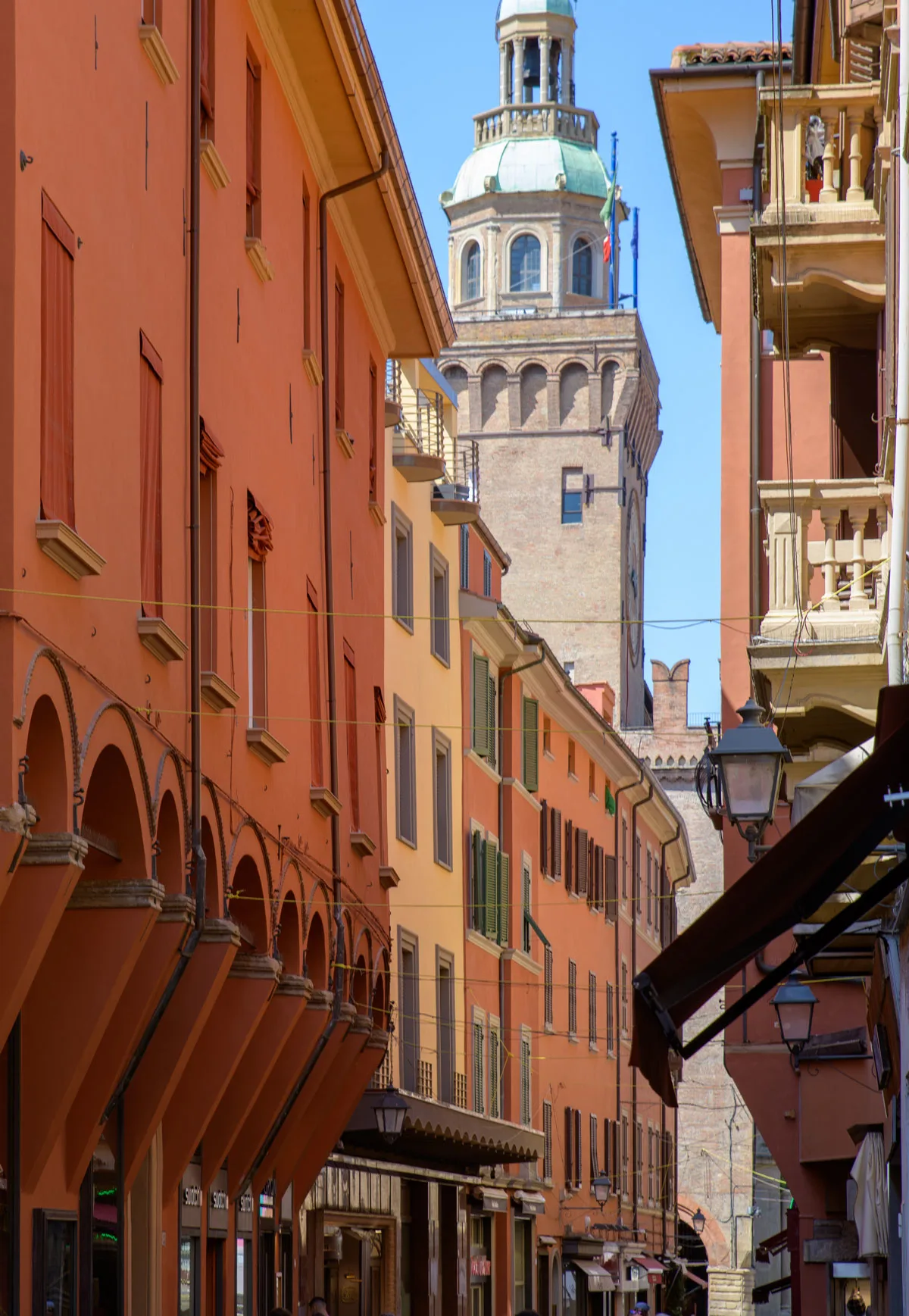 The entire distance of this Italian road trip itinerary is only 371 Kilometers, which means you will have plenty of time for small side adventures if you spread it out over two weeks. You could, of course, stay to the major stops and complete it comfortably in a week.
One thing is certain; there is no way you will finish this road trip hungry. You will wish you had just a bit more time to try just one more dish.
Suggested Itinerary
The trip starts in Emilia Romagna, where you will make stops in Bologna, Modena, and Parma for a whirlwind culinary tour of the region.
Some must-experience stops include learning how Parmigiano Reggiano is made in Parma and tasting 100-year-old Balsamic in Modena.
Bologna is a highlight of the road trip, with historic sites like the Piazza Maggiore, its Renaissance buildings, the city's incredible food scene, and charming cafes.
From Emilia Romagna, head northwest toward the Lombardy region for a stop in Milan, the world's fashion capital and home to the famous Risotto Milanese.
The road trip then continues to the city of Turin in the heart of the Piedmont region. You will want to take some time to go truffle hunting or take a day to taste some Barolo or Barbaresco.
The best time for a road trip through these regions is during truffle season in the late fall – you will experience fewer crowds and accommodation, and car rental prices are lower. It is also a great time of year for food festivals after the harvest season.
Recommended by Gabriel – Chef Travel Guide
Pisa to Genoa
Recommended Duration: 2-7 days
Distance: 330 Kilometres.
Destinations: Pisa – La Spezia – Cinque Terre – Portofino – Genoa
One of Italy's best coastal road trips is from Pisa to Genoa. This road trip starts in Pisa in the region of Tuscany, tracing the Ligurian Coast to the capital of Liguria, Genoa.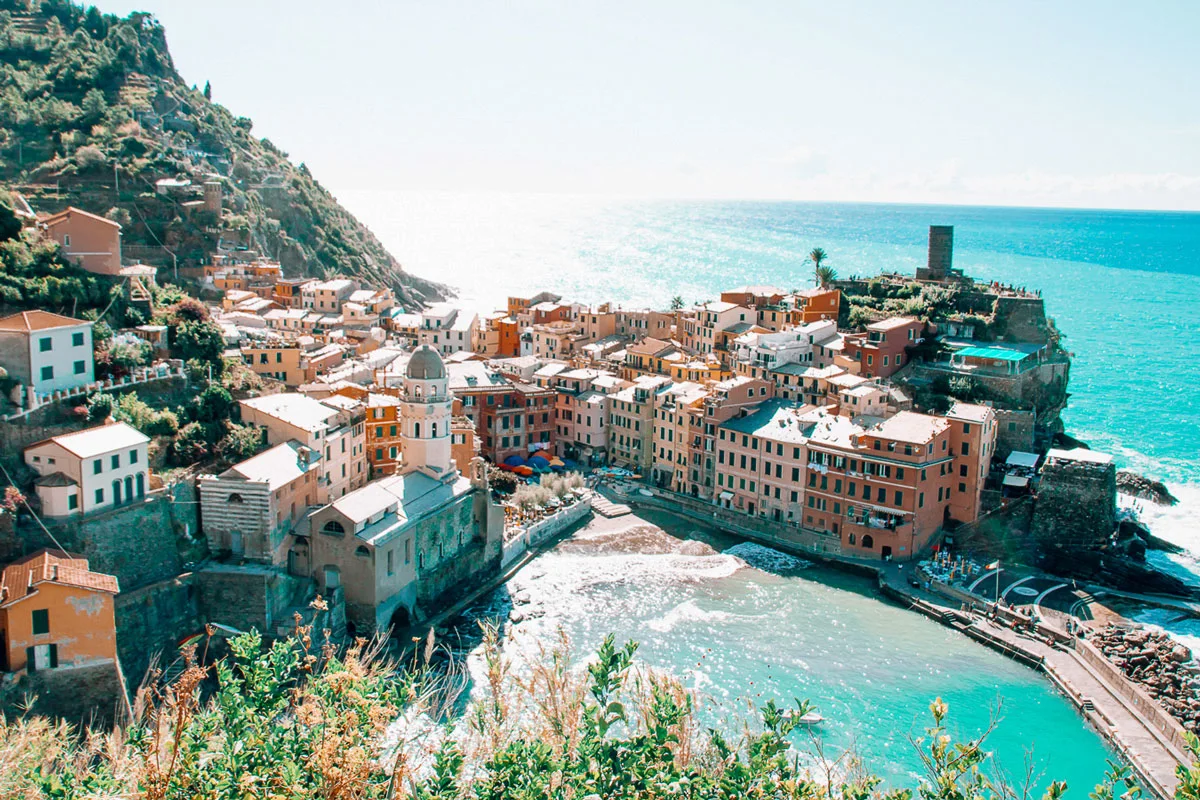 It is possible to complete this road trip in two days, with an overnight stop in one of the Cinque Terre Villages.
However, this itinerary would be lovely spread over a week, allowing for at least one night at each destination between Pisa and Genoa. We have a fantastic two-night Cinque Terre itinerary to help you plan extra time in the famous five villages.
Highlights of the Trip:
See the Leaning Tower of Pisa and climb to the top
Visit the Technical Naval Museum in La Spezia
Enjoy the viewpoints and Instagrammable places in Cinque Terre.
Go to Castello Brown in Portofino
Taste focaccia in Genoa
Suggested Itinerary
On the first day, you'll discover Pisa and the remarkable monuments in the so-called "Square of Miracles, including the iconic leaning tower.
Head to La Spezia, the second largest city in Liguria and the gateway to the famous Five Villages. The pretty coastal city of La Spezia is also home to a major Italian naval base and the Technical Naval Museum.
Head north to Cinque Terre to stay in one of the five villages for a night or two. Make sure you try tasty bruschetta at Nessun Dorma in Manarola and catch the sunset from one of the villages.
Visit one of the prettiest fishing towns on the Italian Riviera, where the colorful village clusters around a small harbor. Since the late 19th century, Portofino has attracted European aristocracy and the celebrity jet set to its pristine shores, high-end restaurants, and glitzy boutiques. You never know who you might see in Portofino.
You can spend an evening (or two) in Portofino or head directly to the final destination, the capital of Liguria, Genoa.
This road trip is best in the shoulder seasons to avoid summer traffic and crowds. However, if you plan to take advantage of the stunning coastal beaches, try for early or late summer. Avoid August if possible.
Recommended by: Dymphe Mensink – Dymabroad
Sanremo to Cinque Terre
Recommended Duration: 3-5 days
Distance: 260 Kilometres.
Destinations: Pisa – La Spezia – Cinque Terre – Portofino – Genoa
Embark on a memorable Italian road trip from Sanremo to Cinque Terre. Enjoy the breathtaking views of the Italian Riviera as you drive along the Mediterranean Sea. This road trip itinerary can be completed in as little as 2-3 days or stretched over a week.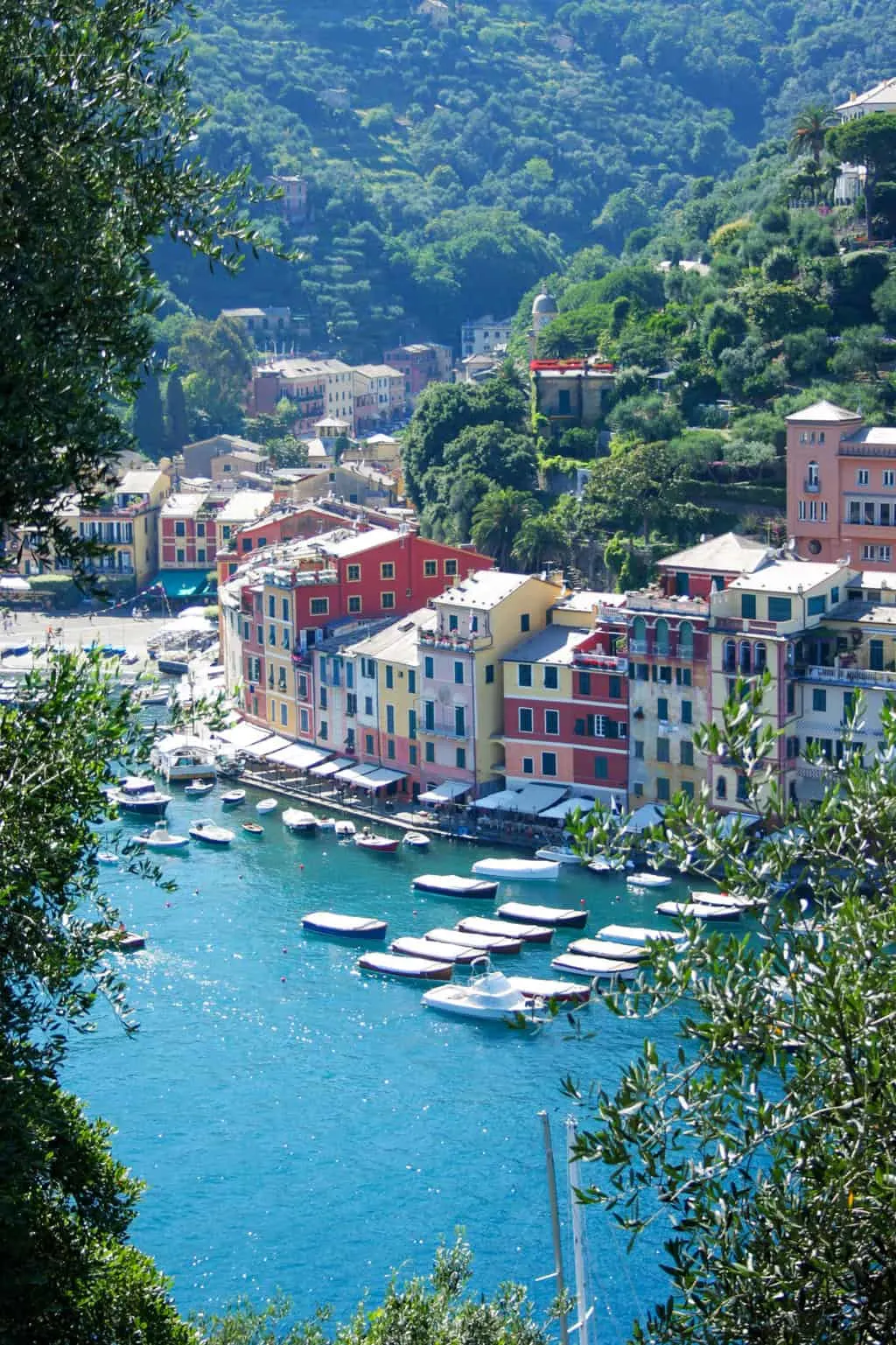 Suggested Itinerary
Sanremo is a charming and animated town right next to the French border. It's a perfect starting point for an Italian road trip after exploring the south of France. You will find good restaurants and bars to get a first taste of the culinary talent and kindness of the locals.
Drive along the Ligurian Coast from Sanremo for two hours until you reach Genoa, the capital of Liguria. Spend the afternoon visiting the Royal Palace Museum, Piazza De Ferrari, or Cattedrale di San Lorenzo.
For the second day of your road trip, head to the marvelous Portofino, less than one hour from Genoa. You will be mesmerized by the colorful waterfront houses that line the harbor of the beautiful coastal town.
You can spend the rest of the day (or overnight) in Portofino or head to the world-famous cliff-side fishing villages of Cinque Terre.
You should spend at least two days in Cinque Terre to see it all. Explore each colorful village, from Monterosso al Mare to Riomaggiore, making unforgettable holiday memories while savoring some of Italy's best seafood dishes.
Recommended by: Soline Le Page – On the Road Diary
Central Italy Road Trip Itineraries
Rome to Pisa Along the Tyrrhenian Coast
Recommended Duration: 10 days or more
Distance: 350 Kilometres.
Destinations: Rome – Cerveteri – Santa Severa Beach – The Tarot Garden – Argentario Peninsula – Elba Island – Pisa
A road trip along the Tyrrhenian Coast from Rome to Pisa is especially pleasant in summer. Traveling between the cities along the ancient consular road Aurelia allows you to discover beautiful beaches and small villages off the beaten path.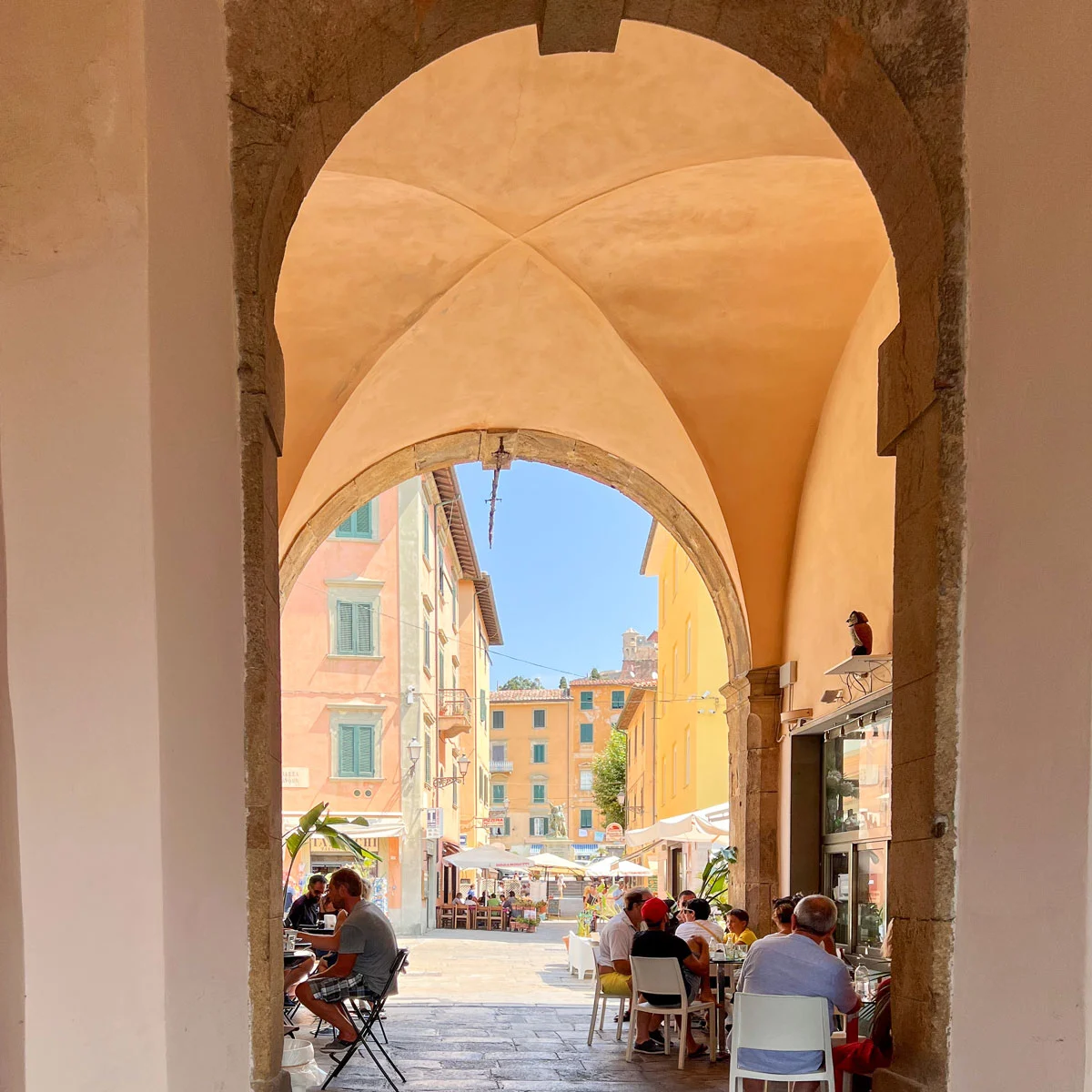 Suggested Itinerary
Start in Rome, where the city's historic center is dense with things to see. Aside from the main attractions – the Colosseum and the Trevi Fountain, there are wonderful piazzas, such as Piazza Navona and Piazza del Popolo, to explore.
From Rome, head to Cerveteri. One of Rome's most popular day trips, it is home to a UNESCO World Heritage archaeological site, the Etruscan Necropolis of Cerveteri—a fascinating city of the dead with thousands of tombs carved into the rock.
Santa Severa Beach is the most beautiful beach near Rome. The beach is home to a well-preserved medieval castle and is washed by a clear sea.
The Tarot Garden is a contemporary art park a few kilometers from the town of Capalbio. The park is home to 22 fascinating sculptures representing the tarot's major arcana. The creator is French-American contemporary artist Niki De Saint-Phalle.
Visit the peculiar Argentario Peninsula linked to the mainland by three narrow strips of land. The perimeter of the Argentario peninsula hides small bays bathed by crystal-clear sea, accessible by fairly steep walking paths. Cala Gesso is the most picturesque of these bays.
Visit the largest island in the Tuscan Archipelago National Park, Elba Island. Take one of the regular ferries from the port of Piombino to explore the island's unique and glorious beaches, such as Fetovaia Beach, and discover Elba's rich history and the legacy of its most famous resident, Napolean Bonaparte.
Finish in Pisa. The small city full of artistic treasures can be toured in a day. Its heart is the Piazza del Duomo, which houses the Leaning Tower, the Cathedral, and the Baptistery.
Tip: Pay attention to the speed limits along Aurelia road, as there are many speed cameras.
Recommended by Lisa – Travel Connect Experience
Siena Region of Tuscany
Recommended Duration: 2-3 days
Distance: 70 Kilometres. Siena and Florence are the possible start and finishing points.
Destinations: Montalcino – Pienza – Montepulciano – Cortona
One of the quintessential Italian experiences is a Tuscany road trip. The Tuscan region of Siena borders the province of Florence in the north, the province of Arezzo to the northeast, Umbria and Lazio to the south, and Pisa to the west.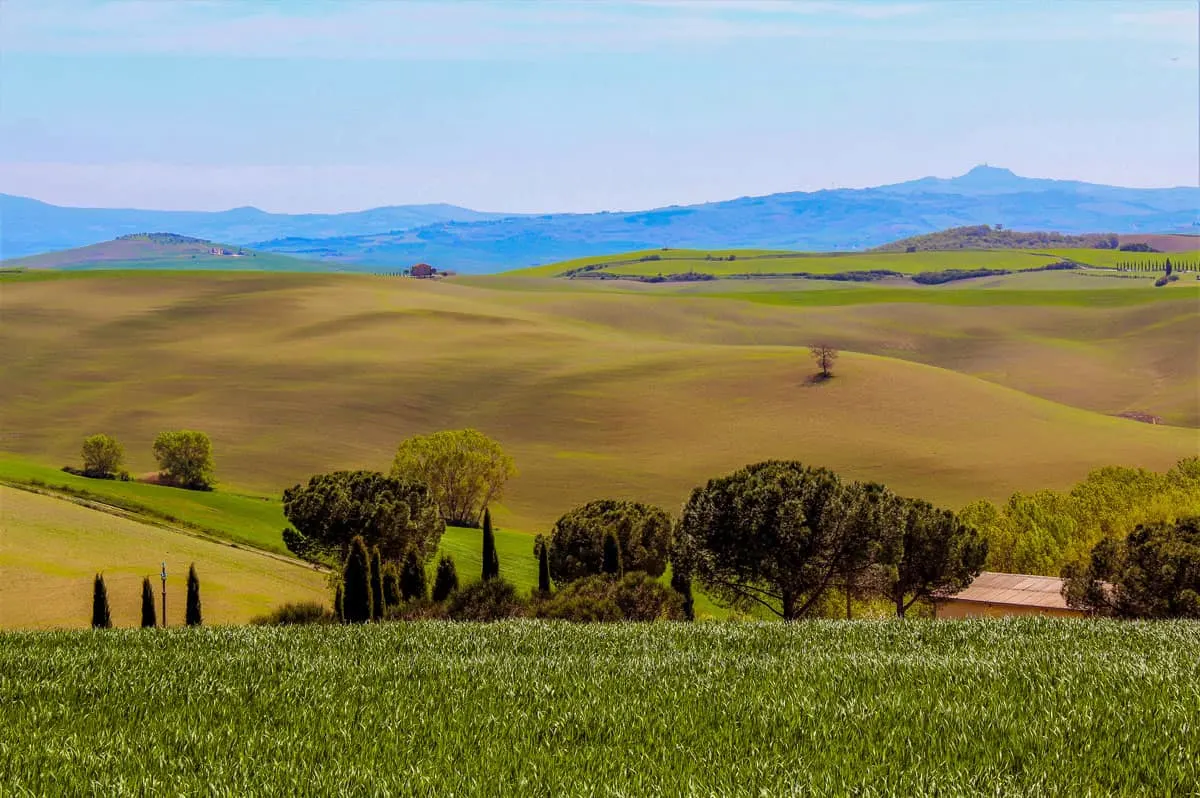 You can complete this road trip as a loop, starting and finishing in Siena. Or as this region is one of the most popular and accessible day trips from Florence, you could start or finish in Florence.
Suggested Itinerary
You can start from either Siena or Florence.
First, head for the tiny hilltop village of Montalcino, famous for its delicious Brunello wine. Visit the wine-tasting room in the fortress of Montalcino, where you can sample most of the local producers in one place.
Next, head to Pienza, the hilltop UNESCO-designated town, arriving through the sublime landscape of cypress trees and gently rolling hills. On the way, stop at Cipressi di San Quirico d'Orcia, a scenic viewpoint. Pienza, known for its Pecorino cheese, is a well-preserved Renaissance town that has remained untouched since the 15th century. Linger over a long meal at La Terrazza del Choistro or Osteria Sette di Vino.
Visit the pretty village of Montepulciano. Sip on some of the village's finest wine in one of the cozy wine-tasting cellars dotted throughout the town.
The last stop is Cortona, the town made famous by the book Under the Tuscan Sun by Francis Mayes and the subsequent movie. The town's buildings span the 11th to 15 centuries. Grab a gelato from the delicious Gelateria Snoopy and lose yourself in Cortona's endless winding alleyways and epic views of the Tuscan countryside.
Return to either Siena or Florence.
For a relaxing road trip to this part of Tuscany, plan for 2 to 3 days and enjoy a lovely stay at Siena House, a charming boutique B&B or explore some of Tuscany's best wine hotels in the region.
Recommended by Renee – Dream Plan Experience
Tuscany-Round Trip from Florence
Recommended Duration: 7 days
Distance: 471 Kilometres. Starting and finishing in Florence
Destinations: Florence – Lucca – Pisa- Siena – Cortona – Arezzo – Val d'Orcia – Chianti
A road trip through one of Italy's most famous regions, starting and finishing in one of Italy's most beautiful cities, Florence.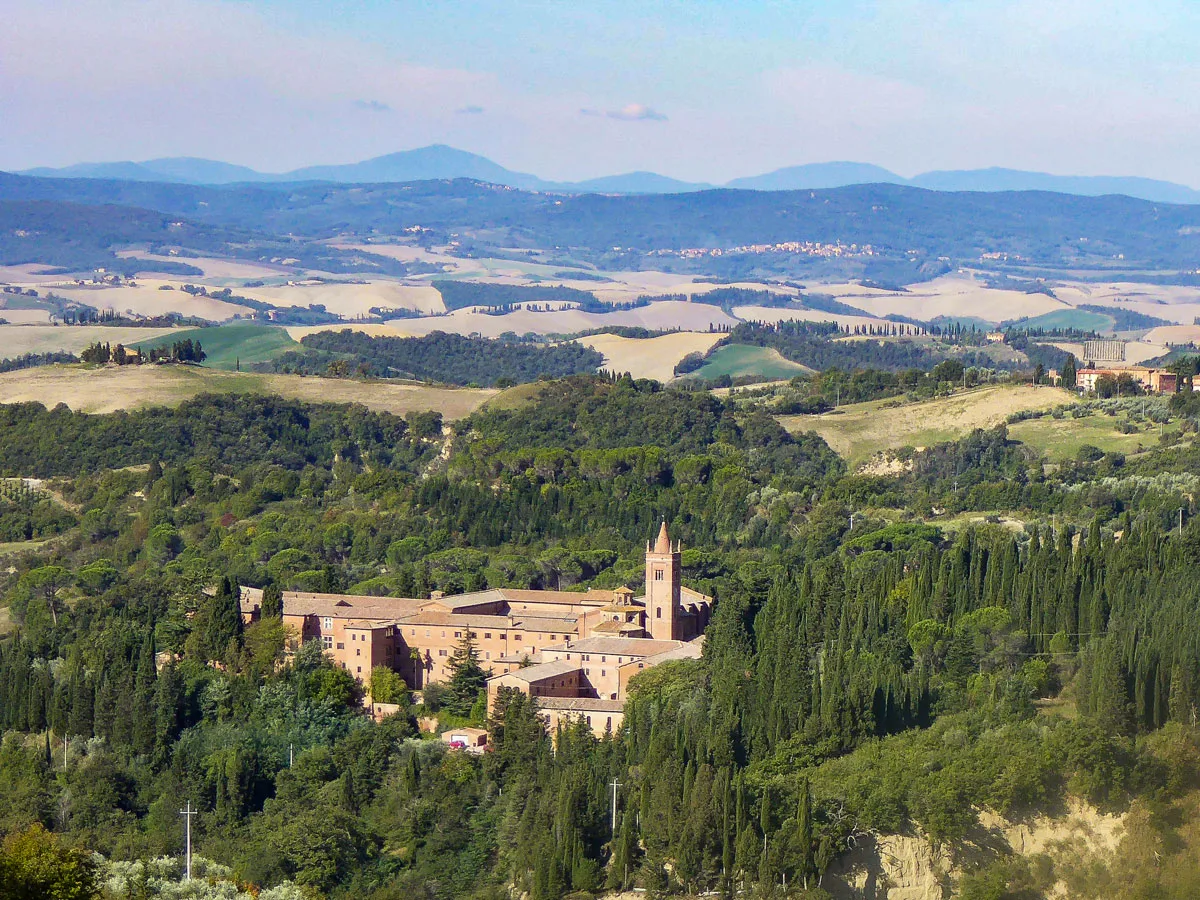 Spring, summer, and fall are particularly beautiful in Tuscany. The hills will be green in the spring, and poppies will bloom in the countryside. In the summer, sunflower fields are a draw, and the golden, bare rolling hills look stunning after the autumn harvest.
From a weather perspective, spring and fall offer the most pleasant temperatures, with fewer crowds than in the summer.
Highlights of a road trip through Tuscany include:
Charming hilltop towns that offer historical landmarks, local cuisine and culture, and charming ambiance.
See the world-famous art in Florence.
Wine tasting at some of the renowned wine-growing areas in the region, including Chianti and the Val d'Orcia.
The opportunity to photograph one of the most picturesque regions in Italy, with its rolling hills, stately cypress rows, and picturesque farmhouses.
Taste the region's cuisine with its pasta, cheeses, meats, and the famous ribollita soup.
Suggested Itinerary
Driving in a loop, you'll start and end this Tuscany road trip in Florence. You can find our guide on what to do in Florence here.
Head west of Florence to the city of Lucca, famous for its well-preserved Renaissance walls encircling the cobbled maze of the historic city center.
On to Pisa, a small city best known for its leaning tower in the Piazza del Duomo. The so-called "Square of Miracles" is a treasure trove of remarkable landmarks, including the cathedral, baptistery, and the camposanto (cemetery).
Make your way south toward the stunning medieval city of Siena to explore the city's 17 historic districts that extend outward from the unique fan-shaped central square, Piazza del Campo. Visit Palazzo Pubblico, the Gothic town hall, and the 14th-century Torre del Mangia for sweeping views of the city.
Continue on to the Val d' Orcia region for stunning landscapes and local wine – Plan some tastings in Montepulciano and Montalcino in the Val d'Orcia, where you can also taste the local pecorino.
Head east to visit Cortona. The walled hilltop town, one of Tuscany's prettiest towns, is famous for its beautiful medieval center and the Etruscan museum.
Continue on to Arezzo in the east, an elegant city with an easy-going atmosphere often bypassed by tourists. Yet, the beautiful city is rich with monuments, parks, archaeological remains, churches, and historic squares.
Make your last stop in the famed wine region of Chianti just south of Florence before heading back to the city.
If you have more time, you can add many small picturesque towns along the route to your itinerary.
Make sure you book at least one stay at an agriturismo. They capture the region's essence and allow you to appreciate the countryside.
Recommended by Dhara – It's Not About the Miles
Chianti Region Tuscany
Recommended Duration: 2-3 days
Distance: 100-150 Kilometres.
Destinations: Montefioralle – Monteriggioni – San Gimignano – Radda in Chianti
One of Italy's finest short road trips is a 2-3 day drive around the Chianti region of Tuscany. Chianti is situated between the tourist hotbed of Florence and the stunning medieval city of Siena.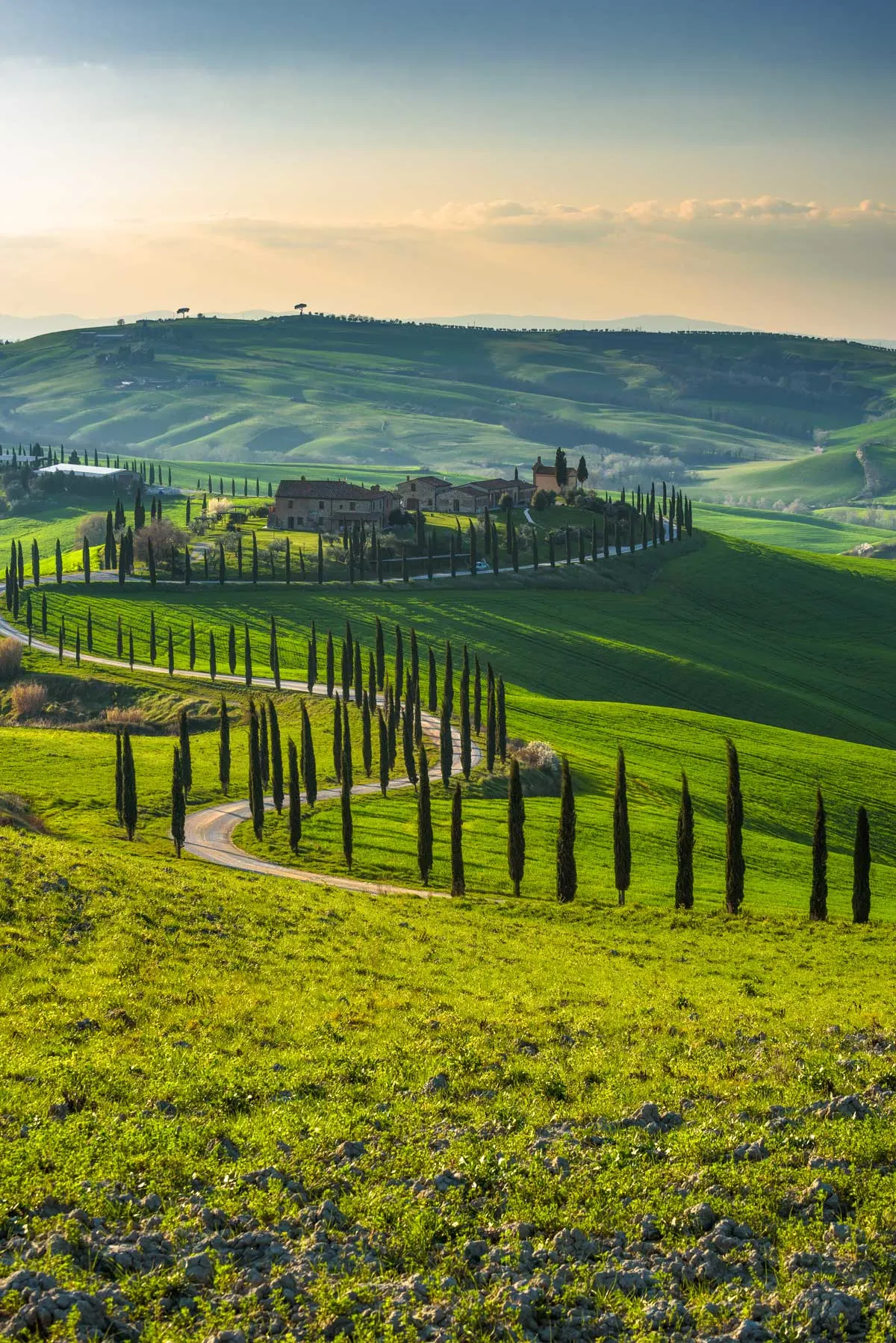 A road trip between the two cities through Chianti only covers about 100-150 km, but there are so many beautiful places to see along the way that you won't want to cover more ground.
A region of rolling hills covered in vineyards and stone masonry villas, Chianti is what many people think of when they imagine Tuscany.
Chianti is mostly known for its wine. The region produces some of the finest wines in the world, especially the local specialty Chianti Classico. Vineyards are scattered throughout the region, mixed in with fairy-tale Tuscan villages and ancient castles.
Plan your road trip to avoid the motorways. While driving the winding back roads, be sure to include the following towns and villages in your itinerary:
Montefioralle
Monteriggioni
San Gimignano
Radda in Chianti
Most importantly, stop by some of Italy's best wineries. Just be sure there is a sober driver in the group, as the local wineries can be generous with the pours.
Some of the top picks for Chianti region wineries are:
Castello di Verrazzano
Pogglio Amorelli
Azienda Agricola Campocorto
Fattoria di Montemaggio
Be sure to contact the wineries before visiting to arrange tours or tastings. Most of the more popular wineries require reservations. For a true Tuscan experience, spend the night at a castle vineyard like Castello Vicchiomaggio.
A road trip through Chianti will leave you longing for more time in the Tuscan hills.
Recommended by: Chris Heckmann – Around the World with Me
Val d'Orcia Tuscany
Recommended Duration: 4-7 days
Distance: 350 Kilometres Starting in Florence or Siena.
Destinations: Florence or Siena – Pienza – Montepulciano – Monticchiello – Bagni San Filippo thermal baths
The charming Val d'Orcia in Italy is a true jewel of Tuscany and a fantastic Italian road trip destination.
Most start their tour in Florence (approximately 1.5 hrs from Val d'Orcia), but you can also start or finish in Sienna (approximately 1.20 hrs from Val d'Orcia). You can plan around 350 kilometers for the entire route and 4-7 days.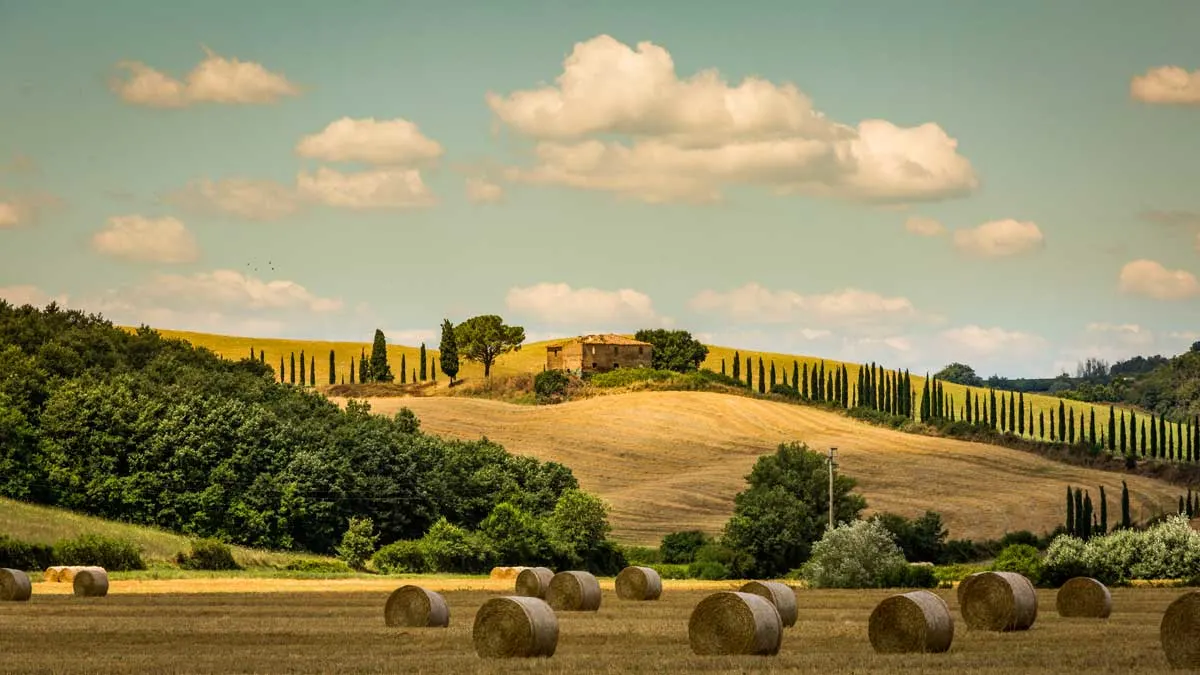 On a road trip through Val d'Orcia, you will discover Tuscany you only know from movies. Endless hilly landscapes, breathtaking viewpoints along the panoramic roads, and the typical cypress avenues conjure up a picture-perfect ambiance.
The stunning landscape dotted with small medieval villages and Renaissance towns is considered so unique it was given UNESCO World Heritage status in 2014.
Suggested Itinerary
Explore the numerous small, charming Renaissance villages, where you can stroll through medieval alleys and discover Tuscany from its most beautiful side.
Some must-visit villages include:

Pienza is considered the cradle of the Renaissance. Make sure you try the local pecorino di Pienza cheese.
The medieval walled town of San Quirico d'Orcia is considered one of the prettiest villages in Tuscany.
Montepulciano. The stunning medieval hilltop town is a paradise for wine lovers. Make sure to try the delicious local red Vino Nobile di Montepulciano.
Montalcino is another beautiful town for wine lovers. The town's vineyards produce some of Italy's most famous and delicious wines, Rosso di Montalcino and Brunello di Montalcino.
The beautiful village of Monticchiello, with its famous winding road, becomes an open-air theatre in summer with performances by the local inhabitants.

For the onward journey, it is best to choose the Strada Provinciale 146 between Pienza and San Quirico, considered one of the most beautiful panoramic roads in the region with its numerous viewpoints.
visit the Bagni San Filippo thermal baths – beautiful natural hot springs in a peaceful forest setting. The water is loaded with calcium, giving the water a milky blue/white color like milk, and leaves white calcium deposits on the rocks, creating a stunning setting to bathe in.
You will find lots of lovely agrotourism accommodations to stay overnight, which will add to the Tuscan experience. A road trip through Val d'Orcia is a wonderful mix of landscape, culture, and wine, which should not be missed on any trip to Tuscany.
Recommended by Martina – PlacesofJuma
Southern Italy Road Trip Itineraries
Puglia Road Trip
Recommended Duration: 7 days
Distance: 580 Kilometres.
Destinations: Bari – Manopoli and Polignano a Mare – Alberobello – Locorotondo – Ostuni – Lecce
A Puglia road trip is the best way to explore one of Italy's most charming regions. The ideal time for this road trip is around seven days in spring, early summer, or early autumn.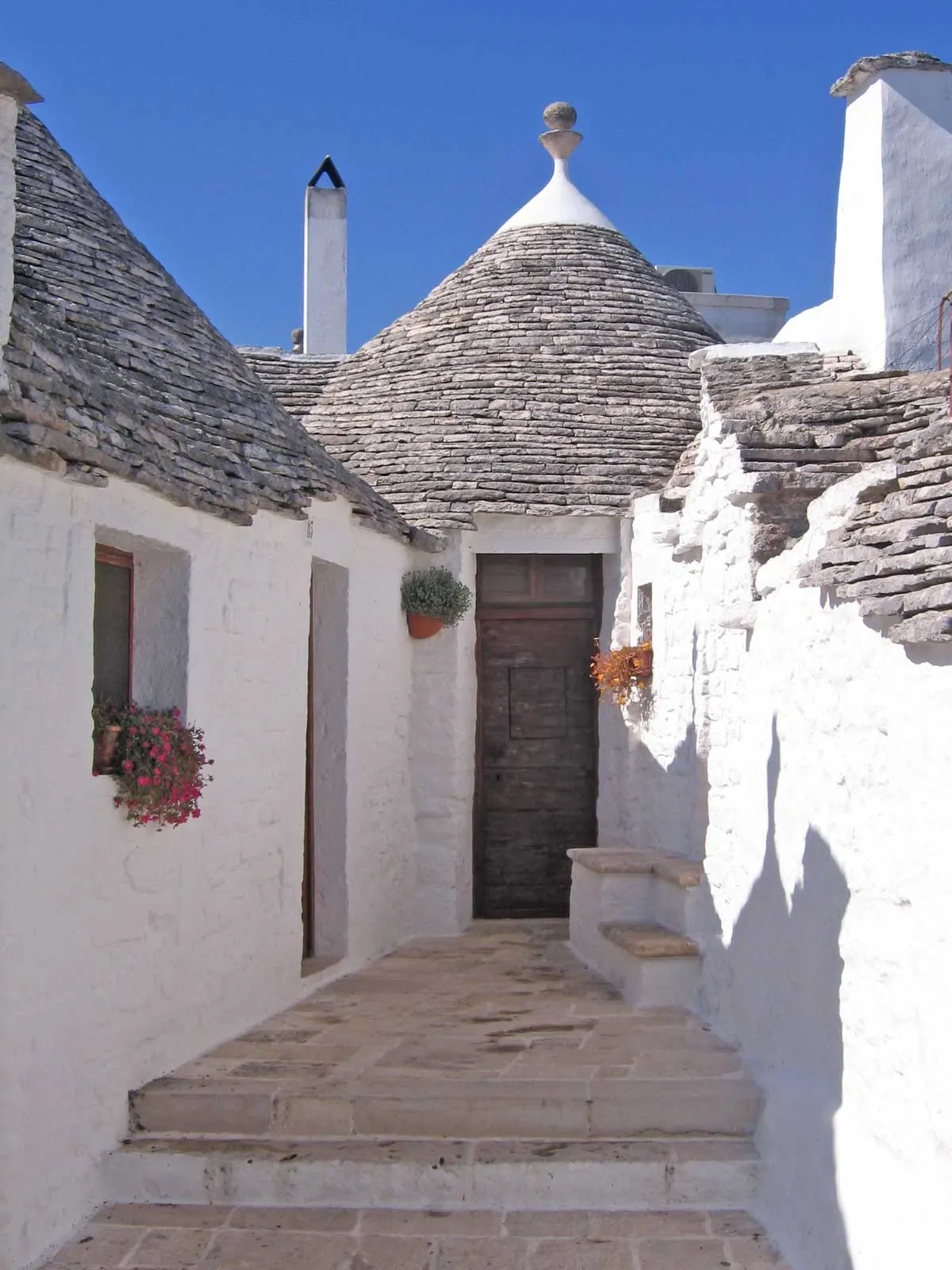 Visiting Puglia, you can fly into one of two airports, Bari or Brindisi (in the South). Both airports have car rental options to begin your 580 km road trip around Puglia's best sights.
Suggested Itinerary for Puglia
It's worthwhile beginning your Puglia road trip in the historic city of Bari, Puglia's capital. Bari has beautiful architectural sights, including the Basilica San Nicolo and Bari Cathedral.
From Bari, head to Manopoli and Polignano a Mare, where you will find the region's best beaches.
Head inland to see the famous trulli houses of Alberobello. The white cone-shaped houses of Alberobello are a recognized Unesco World Heritage Site.
Locorotondo, a picture-perfect town (often missed by tourists), is a real treat. Visit during holidays such as Easter and Christmas when the locals adorn the town in traditional decor.
The white city of Ostuni is a maze of white-washed buildings, sitting below a hill-topped citadel with ancient fortified walls.
Before heading back to Bari, if your Puglia road trip itinerary allows, stop at Lecce, known as the 'Florence of the South,' with exquisite baroque architecture, including the Piazza del Duomo.
It's also worth stopping in Gallipoli: an old fishing village with a stunning port backed by ancient walls and pretty beaches.
Recommended by: Jasmine – The Life of a Social Butterfly
Calabria in the Toe of Italy's Boot
Recommended Duration: 7-9 days
Distance: 153 Kilometres.
Destinations: Costa degli Dei and Costa Viola – Pizzo – Zambrone – Marinella – Michelino – Tropea – Costa Viola – Bagnara Calabra
Often overlooked by visitors to Italy, Calabria is a fabulous region in Italy's south. If the idea of visiting picturesque villages perched in the Pennine mountains, the glowing sun, and relaxing at the beach sounds like your type of road trip, Calabria is perfect.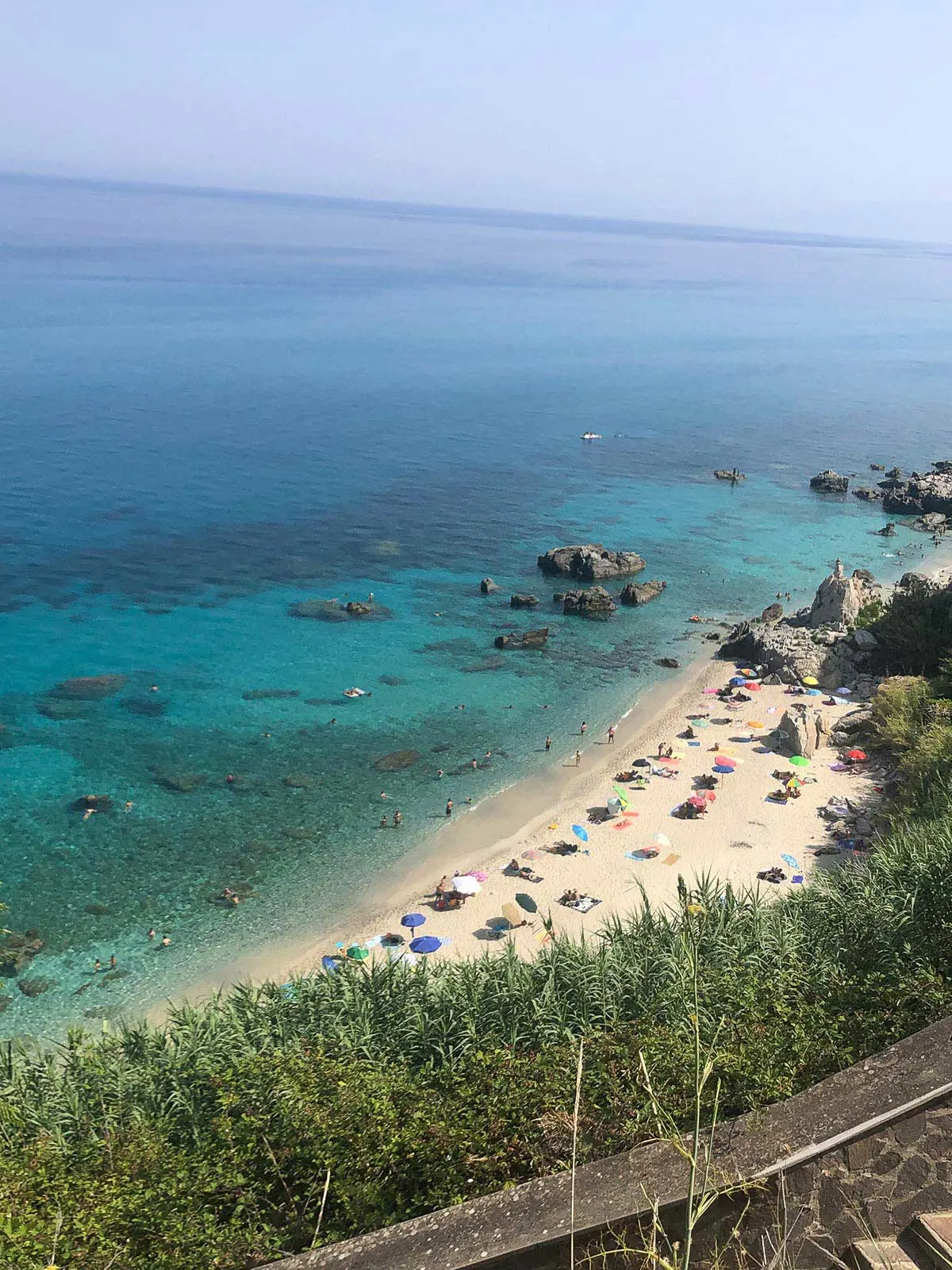 If you find yourself in cities such as Venice or Rome, you can take an internal flight to Lamezia Terme Airport. Your road trip will start from here and ends in Scilla.
Taking between seven and nine days, you can drive 153 kilometers down the Costa degli Dei and Costa Viola.
First, stop in Pizzo, where you can taste the delicious Tartufo (a gelato based dessert).
Visit the beaches in Zambrone, Marinella, and Michelino, then the last stop along the Coast of the Gods, Tropea. The tourist town of Tropea is worth visiting for its lovely old city set on high cliffs overlooking the sea. Don't miss trying the typical Calabrian pasta dish, Fileja alla Tropeana, when in Tropea.
Continue towards the Costa Viola with Bagnara Calabra, known for its long stretch of sandy beach and Scilla.
In Scilla, you can spend some time snorkeling in some of Italy's most crystal clear waters and visit Chianalea, the charming fishing village. Make sure you try a swordfish sandwich in Scilla.
The best time of year to be in Calabria is in June or July, right before it gets too busy in August.
This Calabria road trip is an alternative way to explore the Tyrrhenian coast and includes popular places and lesser-known villages.
Recommended by: Maddalena Visentin – Venice Travel Tips
Sardinia
Recommended Duration: 2 weeks
Distance: 600 Kilometres.
Destinations: Cagliari – Villasimius- Cala Goloritze – Gorrupu – Orgosolo – Cala Luna – Cala Brandinchi – Olbia – La Maddalena – Alghero – Bosa
A Mediterranean island road trip through Sardinia offers some of the world's finest beaches, picturesque hikes, breathtaking natural beauty, and charming towns.
A trip to Sardinia is an incredible Italian road trip experience.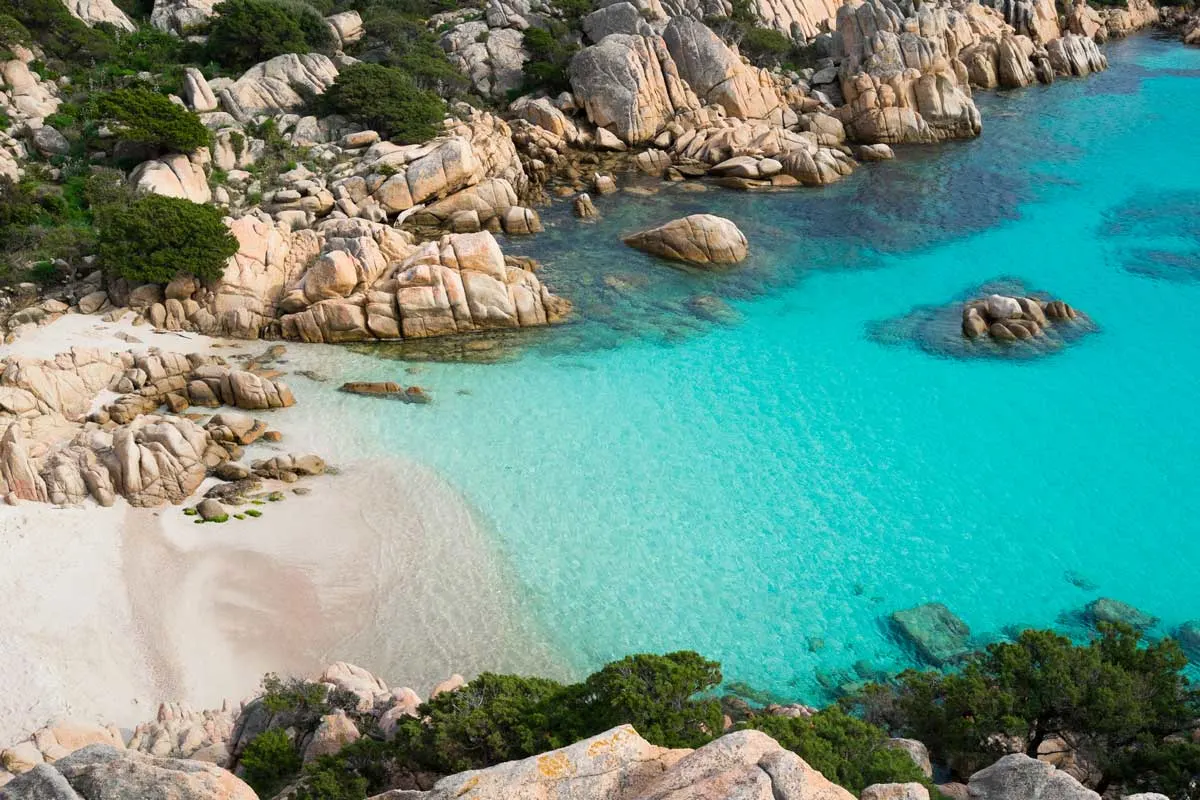 A suggested 600 km, two-week itinerary would be to start in the capital city of Cagliari and end in Bosa. The best stops are Villasimius, Cala Goloritze, Gorrupu, Orgosolo, Cala Luna, Cala Brandinchi, Olbia, La Maddalena, and Alghero.
Suggested Itinerary
Once you have explored the capital Cagliari, drive along the coast to Villasimius, where you can enjoy the famous Sardinian beaches.
Another must-see spot is Cala Goloritze, where a hike leads to one of the island's most spectacular beaches with crystal-clear water.
Gorropu, an impressive canyon, is a reminder that Sardinia has more to offer than just beaches. Inland villages such as Orgosolo, known for its street art and political graffiti, also provide a glimpse into the "real Sardinia."
Another highlight includes the stunning La Maddalena Island. While there, visit Caprera Island, Cala Coticcio, the Garibaldi Museum, and Cala Napoletana.
Finally, back on the mainland, visit the charming city of Alghero, Neptune's Grotto, and the colorful town of Bosa.
The best time for a road trip around Sardinia to avoid the crowds and enjoy milder weather is the shoulder season from May to June and September to October. It is still warm enough to go to the beach, but there are fewer crowds to battle – Sardinia is extremely busy in the summer months. See here for more tips on visiting Sardinia.
Recommended by: Rachel – Average Lives
Western Sicily
Recommended Duration: 10-12 days
Distance: 580 Kilometres. Starting and finishing in Palermo
Destinations: Palermo – San Vito Lo Capo – Trapani – Marsala – Caltabellotta – Agrigento – Enna – the Parco delle Madonie.
Sicily is the ideal setting for an Italian road trip. This efficient itinerary starts and ends in Palermo and makes a tidy loop around the western part of the island.
We also have a 10 day Sicily road trip looping the entire island.
Covering both the coast and the lush interior, stops include San Vito Lo Capo, Trapani, Marsala, Caltabellotta, Agrigento, Enna, and the Parco delle Madonie.
This road trip covers a distance of approximately 580 km and requires a minimum of 10-12 days to complete.
The best time of year to explore this part of Italy is early autumn when temperatures are pleasant, the summer crowds have dissipated, and harvest festivities sweep through the vineyards.
Highlights of the Trip:
Embarking on a street food tour of Palermo
Swimming and snorkeling at San Vito Lo Capo
Exploring the salt flats near Trapani
Shopping for traditional Sicilian souvenirs at the carpet ateliers in Erice
Doing a fortified wine tasting in Marsala
Getting lost in the ancient streets of Caltabellotta
Visiting the UNESCO World Heritage-listed Valley of the Temples
Touring the incredible Cathedral of Enna
Hiking in the Madonie Regional Natural Park
Suggested Itinerary
After a few days in Sicily's biggest city, pick up your car and depart Palermo. Follow the coastal road to San Vito Lo Capo, where gorgeous white-sand beaches and ultramarine waters await.
Continue along the coast to Trapani, the 'City of Salt and Sail', to explore the crystal pans before continuing to Marsala, a picturesque city of honey-colored stone known for its fortified wines. For a unique experience, tour the cellars at Cantine Florio.
Detour inland to spend a night in the tiny village of Caltabellotta before making your way down to Agrigento, the departure point for exploring one of Sicily's most important archaeological sites, the Valley of the Temples.
Turning inland, make a quick stop in medieval Enna before spending a few nights on the fringe of Madonie Regional Natural Park, where you can enjoy the area's hiking trails before returning to Palermo.
Recommended by Emily – Wander-Lush
Italy is such an incredible country to explore leisurely by road. With so many incredible and diverse experiences, it's hard to choose just one Italy road trip itinerary.