Naples is the capital city of Campania in South West Italy, on the Gulf of Naples and at the foot of Mount Vesuvius. It is also the gateway city to the famous Amalfi Coast.
Naples is often overlooked by visitors to Italy in favour of the grandeur and romance of cities like Rome, Venice, and Florence. But once you experience your first taste of Naples, you'll be glad you visited this more authentic, spirited and charmingly chaotic part of Italy.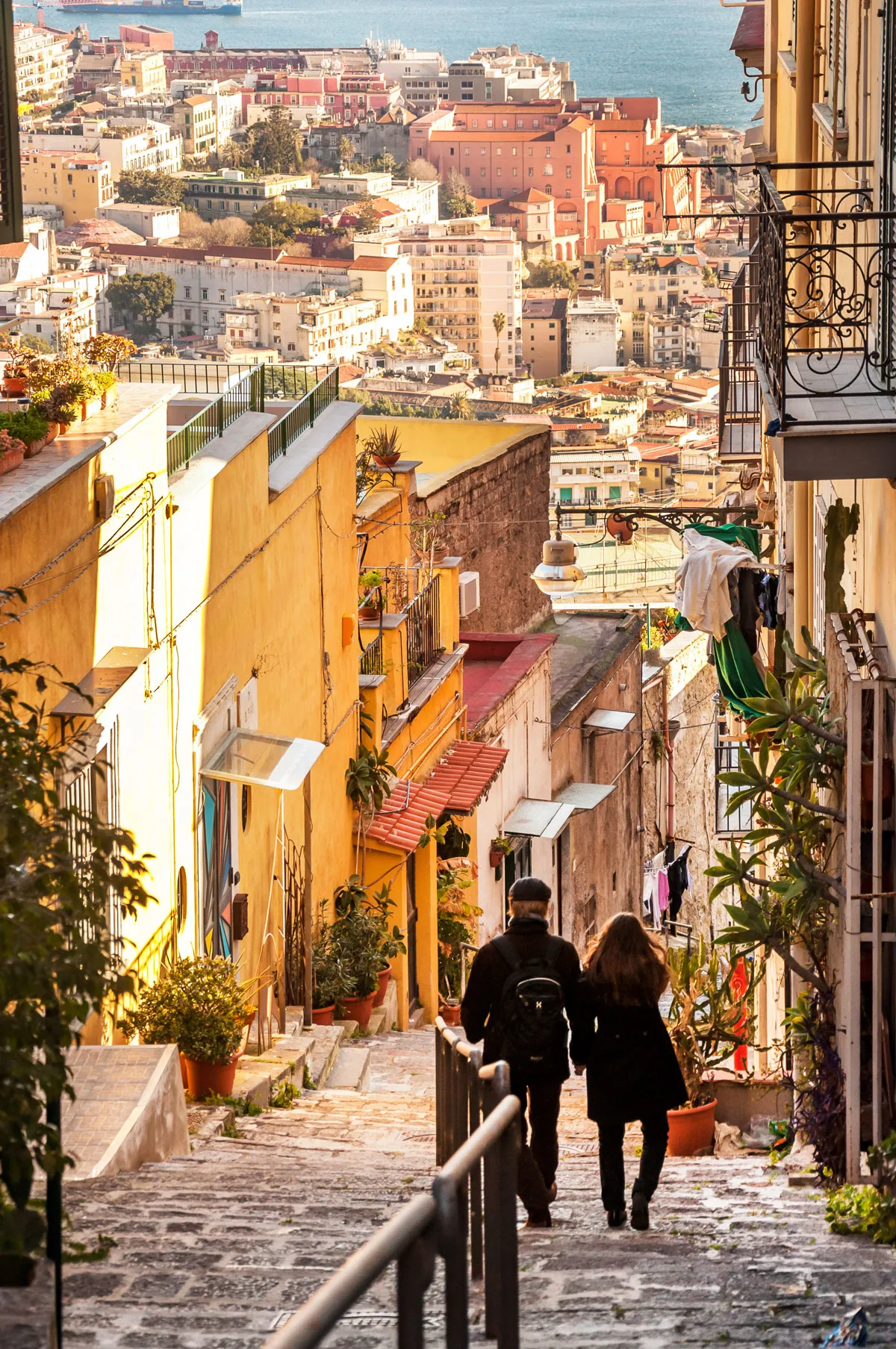 How Many Days in Naples
While it is possible to visit Naples on a day trip from Rome (just over an hour by train), four days is an ideal amount of time to spend in Naples. This gives you two days to enjoy all the things to do in Naples city and a chance to taste the incredible Neapolitan cuisine. Then, another two days for day trips from Naples (where you can continue the tasting quest of the region).
Add a day or two if you want to overnight on one of Italy's most charming islands off the coast of Naples (details on the islands further on). Naples is a recommended stop on our road trip itineraries of Italy that include the Amalfi Coast for its atmosphere and convenient location.
Search The Best Accommodation Deals in Naples
What to Do in Naples Italy (15 Things You Shouldn't Miss)
Naples is chaotic, gritty and in places, even a little seedy. But beneath the grit and crumbling facade of the city, you can appreciate the historic beauty and culture that is uniquly Naples.
With so much history and heritage, there is a diverse range of things to do and see in Naples. From admiring the historic churches and castles to embracing the city's love for football and eating Napoli's best pizza in the city where it originated.
All of this is in the shadow of Mount Vesuvius, a volcano still classified as active just six miles from the city. You will not be bored in Naples.
Tour Tip: If you are also a die-hard football fan (like much of Naples), you can take a guided Maradona themed city tour. Your guide will take you to famous sites such as the San Paolo Stadium, Napoli's football history museum, and local tributes to the champion. Get all the details of the Maradona Guided Tour of Naples here.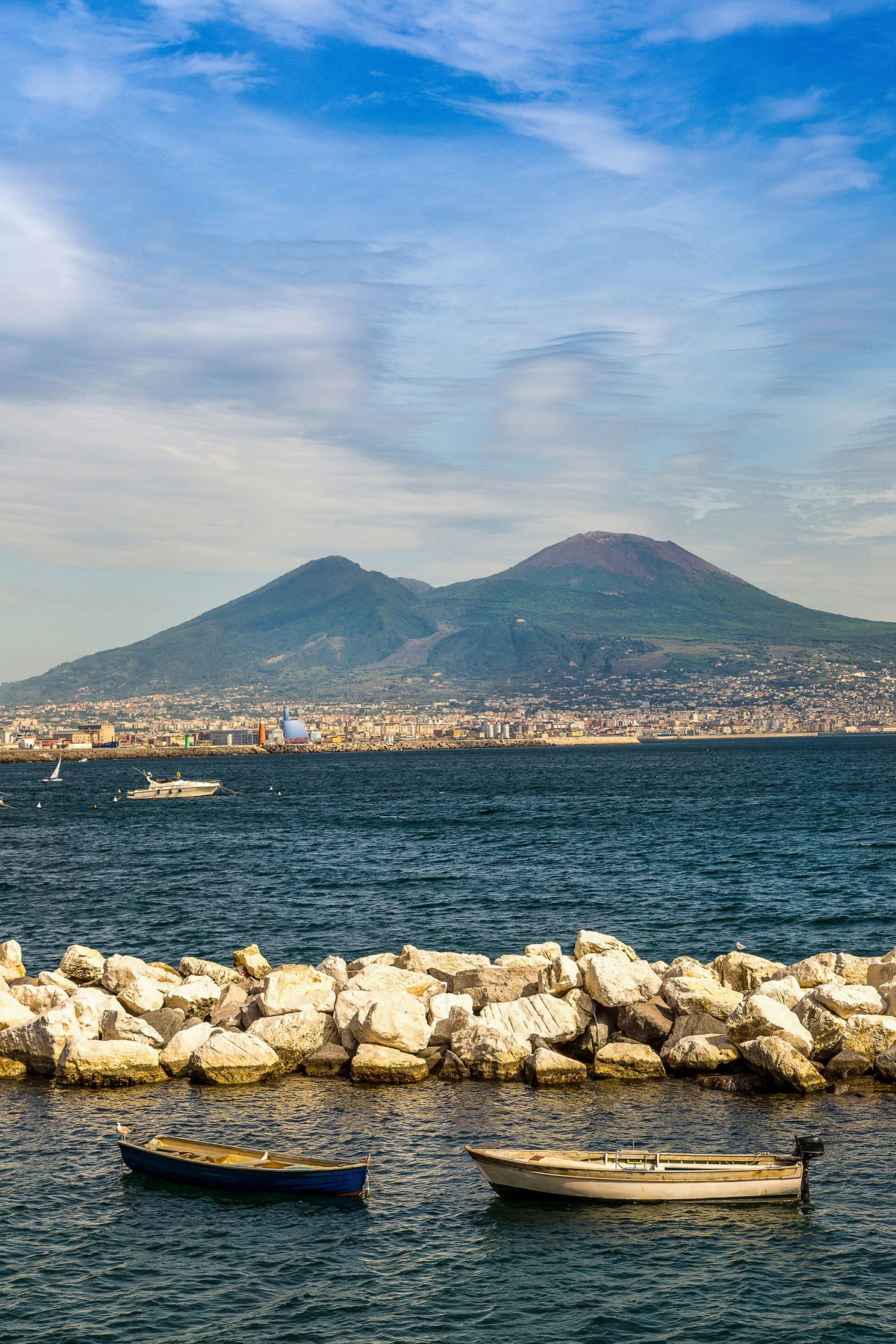 Taste the Food of Napoli
There isn't an article about Italy that shouldn't start with food. As Naples lays claim to some of the best dishes in the country, food is where we will start our discovery of Naples, Italy.
You can't leave Naples without tasting local specialities like Spaghetti alla Vongole (pasta with clams), traditional sweet dishes like Baba Rum (rum cake) and Sfogliatella (a flaky pastry), and famous Naples street foods like Cuoppo (fried seafood in a cone) and Frittatina (deep fried pasta in pastry).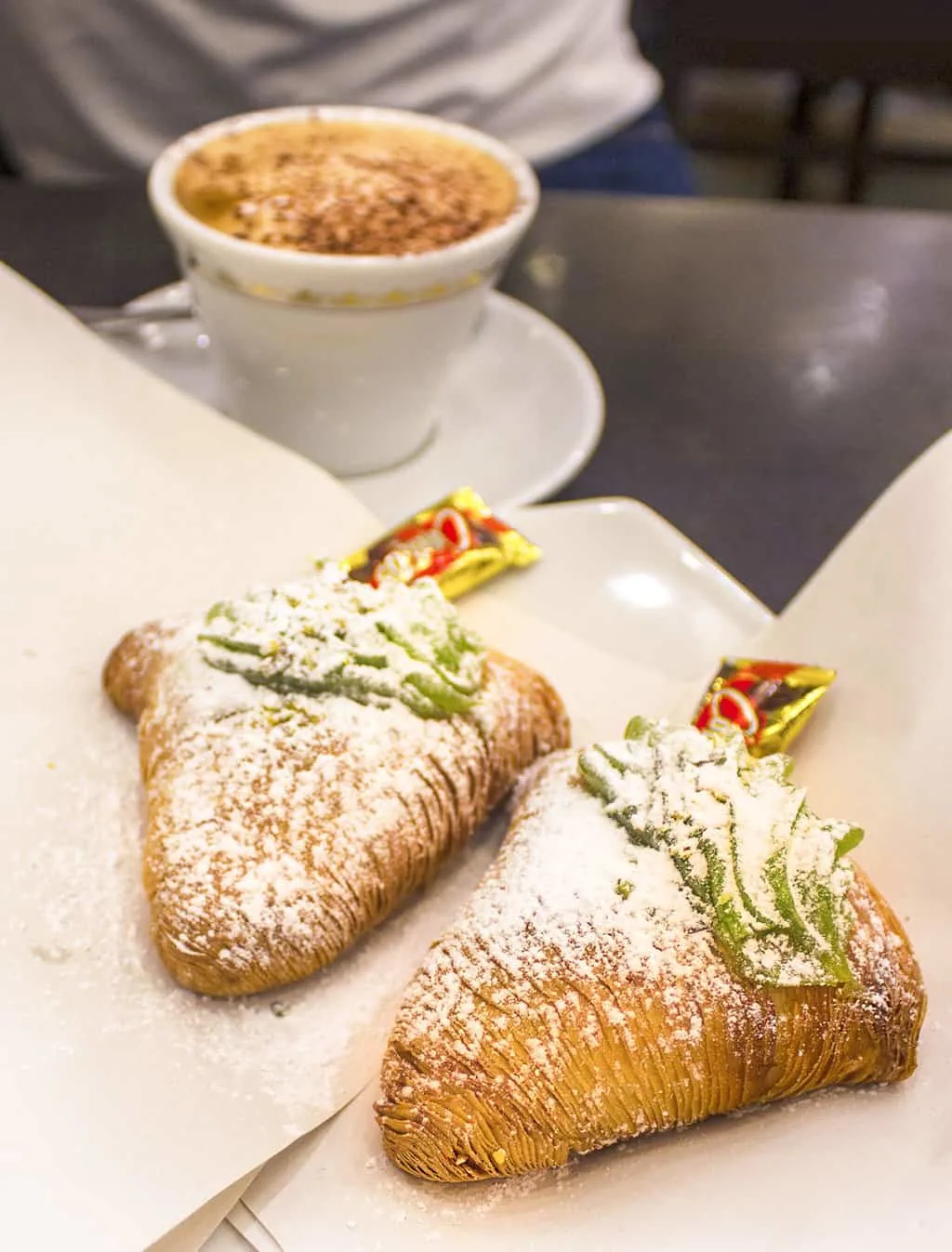 Eat the Original Naples Pizza
Many classic, world-renowned Italian dishes originated in Naples, but none more famous than the most universally-loved street food, pizza.
You won't find a bad pizza in Naples, but you should look for some of the best such as L'Antica Pizzeria da Michele, a Michelin-star restaurant adored by locals. They do only two types of pizza at Pizzeria da Michele – marinara (tomato, oregano and garlic) and margherita (tomato and mozzarella).
A ticket system ensures the restaurant never gets too crowded, but don't be surprised if it is a long wait to be seated or to collect your takeaway, but it's more than worth it. Best of all, a pizza from acclaimed Pizzeria da Michele will only set you back around €7.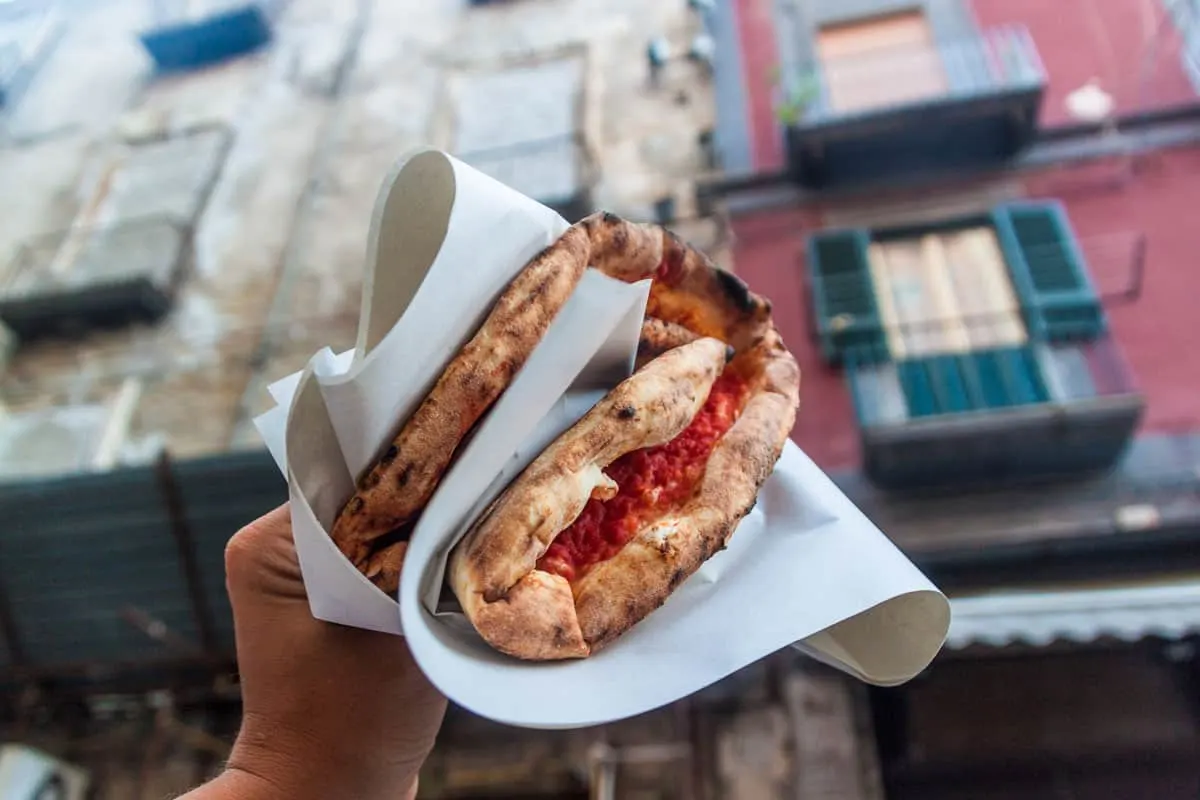 Take a Pizza Making Workshop
Being in the birthplace of pizza, a pizza-making class is one of the best things to do in Naples. You won't find a cooking class like this anywhere else in the world.
Learn the art of making traditional pizza dough from a local chef, create and bake your Neapolitan pizza and enjoy your creation over a glass of wine. See here for full pizza workshop details.
Indulge in Naples Food Tour
If you prefer to eat great Italian food than cook it, A Private Naples Walking Food Tour is a great way to sample and learn about Napoli's most celebrated dishes.
A private food tour with a guide takes you on a tasting tour of the best Neapolitan dishes and drinks, from savoury to sweet, enjoying the city highlights in between. You will learn the See here for Private Naples Food Tour Details.
Drink Coffee (the Italian way)
It's hard to say which is the official coffee city of Italy but in Naples, drinking coffee is next level. The coffee culture in Naples is everywhere you turn, in all the cafes, on the street, in the supermarket, your accommodation and transport stations.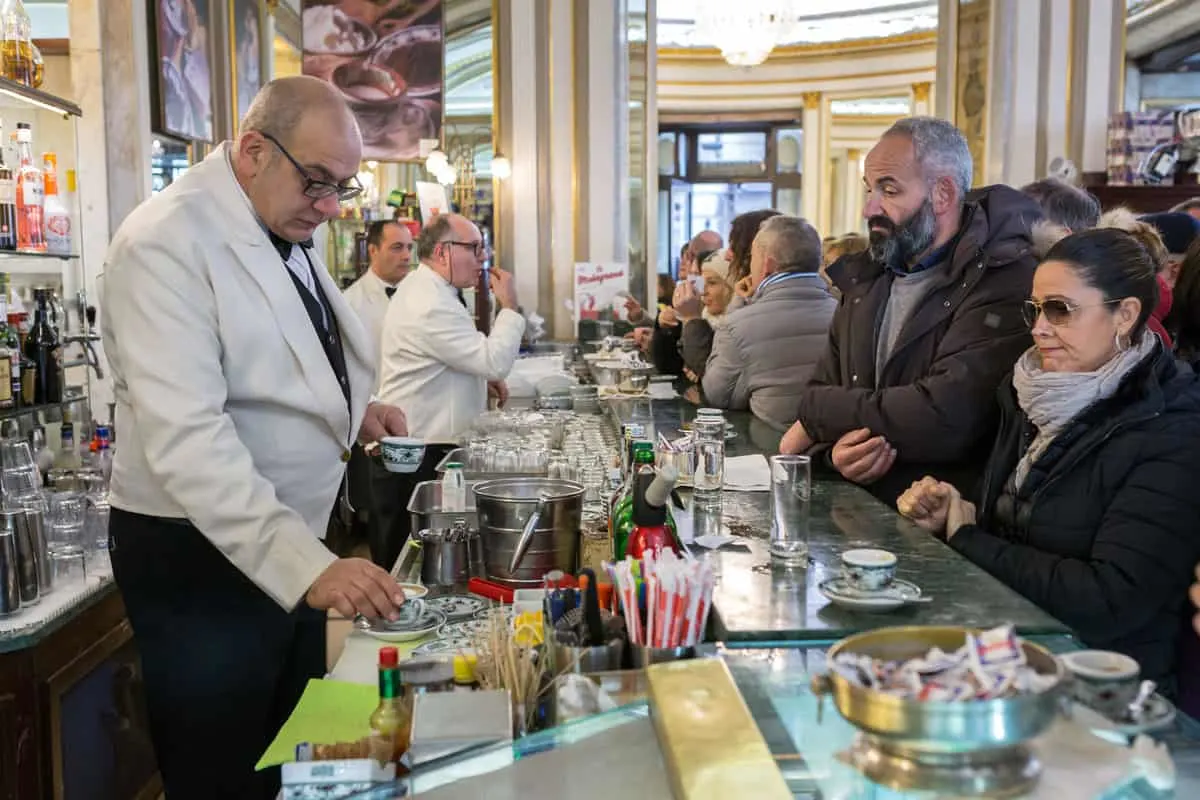 When in Naples, take your coffee cue from the locals, which means enjoying your daily espresso standing at a cafe bar. A Naples espresso will be strong, so locals will often add a good dose of sugar. In the mornings, you can enjoy a cappuccino or other milk coffee sitting leisurely in a piazza. In Italy, milk coffee is considered a breakfast drink and is often taken before 10 am (no one in Italy orders a cappuccino or coffee with milk after 12 pm).
Your coffee will be served with still or sparkling water to cleanse your palette before drinking the coffee to help you better enjoy the taste.
Enjoy Apertivo
Apertivo is a beloved ritual all over Italy and a must-do in Naples. This tradition is a pre-meal drink with bite-sized snacks to socialise with friends.
The hours for Apertivo are usually between 6 pm and 8 pm. Popular drinks to have at Apertivo include Aperol Spritz, Negroni and Campari Spritz with finger food like bruschetta, taralli, olives and arancini.
Lose Yourself in the Old Town
The third most populous city in Italy, Naples is one of the oldest continuously inhabited cities in the world. There are more than 100 narrow alley's weaving their way from the centre to the outskirts (alley is "Vico" in neapolitan). Each alley ( or, o vico) tells a story of the cities past from the Ancient Greek, Romans and Byzatine eras.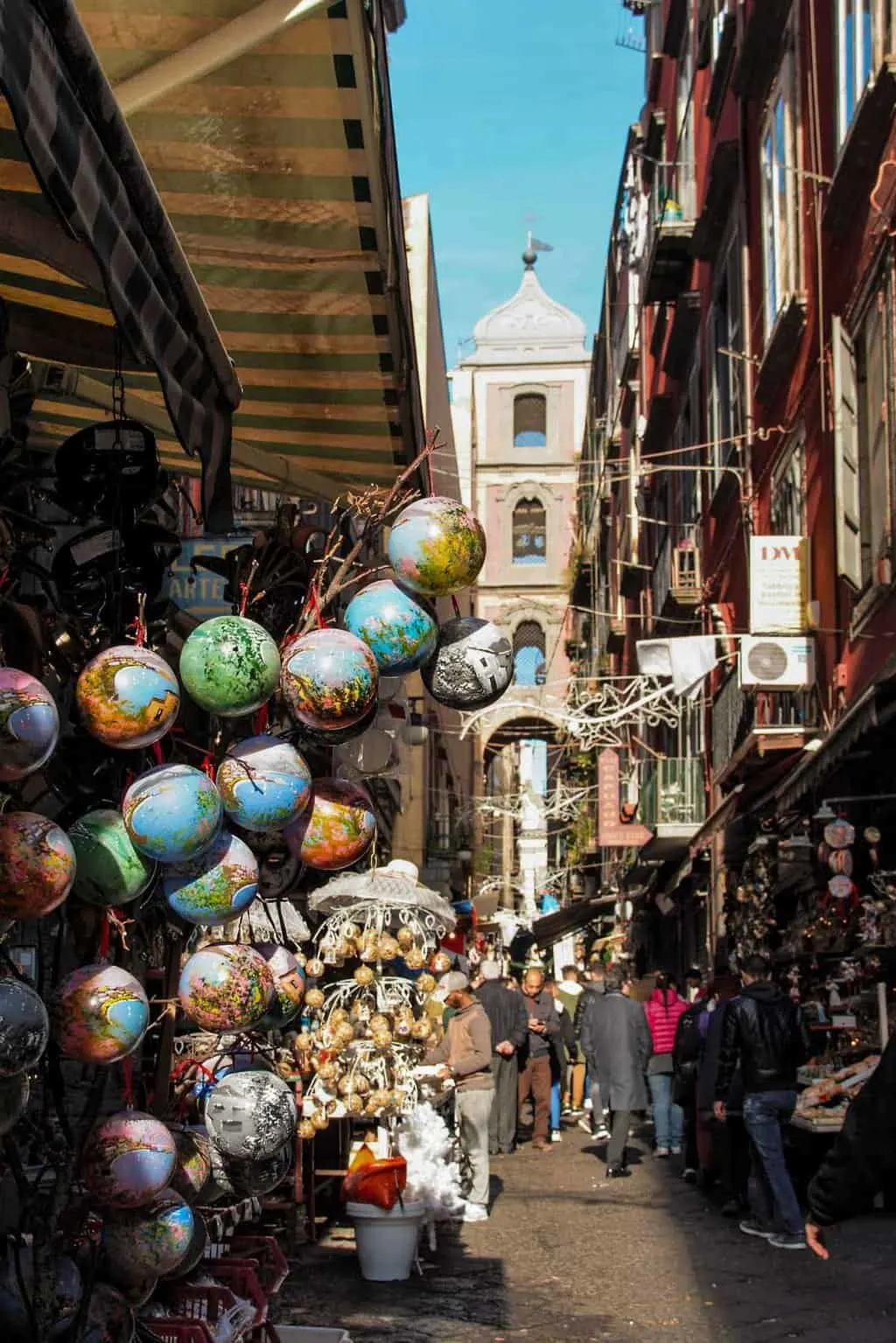 The Vico is as much a symbol of Naples as pizza, San Gennaro or Maradona. Throughout history, with the city's evolution, the vicos were given unusual names such as Alley of the Bakers, Alley of the Spinsters, Alley of Purgatory's Fig, Alley of Peace and Alley of Sun.
Exploring the alleys is where you discover the character of Naples in all its colourful, sometimes pungent, noisy, crowded and bustling daily routine.
Three alleys of particular note are:
Vico Fresco a Rua Catalana (The Cold Alley). The alley always remains cool, even in summer, thanks to the sea breeze from the port. The street was assigned to the tin workers of Catalan by the Queen of Naples, Giovanna I d'Angiò and to this day remains an artisan area with an open-air museum of contemporary art.
Vico Scassacocchi (The Alley of Carriage-Breaker) in the historic centre. Named possibly because carriages were scrapped and sold for parts here. Or, the street was too small for carriages to pass.
The famous vico of San Gregorio Armeno (the alley of the nativity scene makers. Also called the Christmas Alley of Naples). In 2016 Dolce&Gabbana famously transformed the alley of San Gregorio Armeno into a runway to show the Alta Moda collection, a dedication to Sophia Lauren and the city of Naples.
Stroll Via dei Tribunali
Located in the historic centre of Naples parallel to the equally famous Spaccanapoli, Via dei Tribunali is one of the city's most lively streets and most important historic avenues. As with all the city's alleys, Via dei Tribunali dates back to the Ancient Greeks, Romans and the city of Neapolis. You will discover some of the city's most important monuments and Neopolitan culture along this half-mile thoroughfare.
Take a walk along the avenue (although it feels like it should be a pedestrian street – it's not, so watch for cars) to discover excellent places to eat and traditional apertivo spots. Browse shops selling everything from Napoli souvenirs to typical cured meats and cheeses.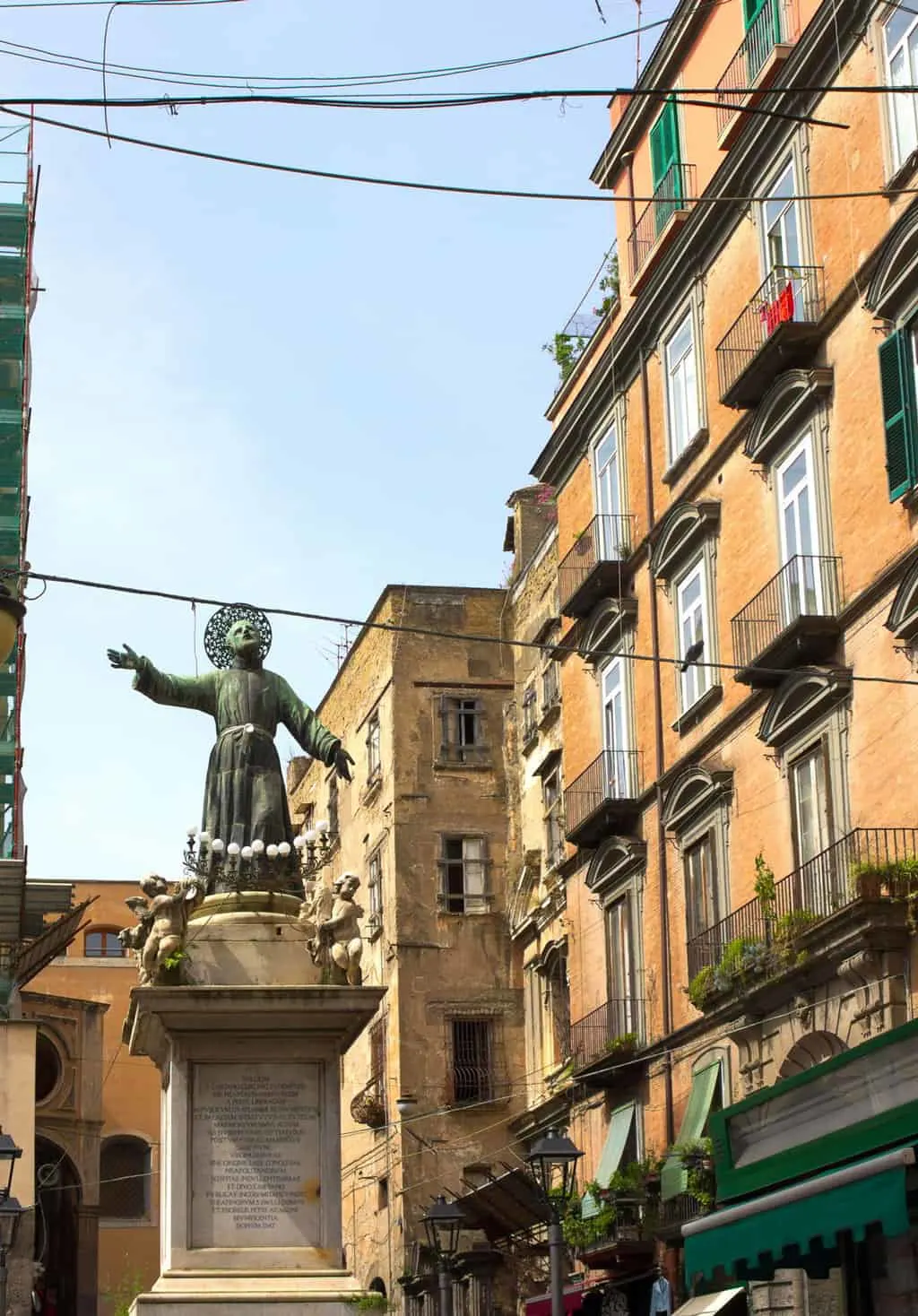 There are more than 20 churches along the street, including the Naples Cathedral and the San Lorenzo Maggiore Basilica and Monumental Complex (you can visit the ruins of an ancient two-storey Greco-Roman market under the basilica). You'll also find the crumbling but beautiful palaces of nobility, the music school, and city treasures such as the statue of Pulcinella, where people will queue to rub the gnome's nose for good luck.
From Via dei Tribunali, you can find one of the most fascinating and popular attractions in Naples – Napoli Sotterranea, an enormous network of underground tunnels under Naples dating back to the ancient Greeks. The tunnels were also important during Roman Times and saved hundreds of thousands of lives during the bombings of WWII.
Explore the Famous Filming Locations in Naples
Such a distinctive and atmospheric city, it's no wonder Naples has served as a location for so many hit movies, TV shows and documentaries.
One of the best free things to do in Naples is to find all the most famous filming locations in the city, like The Sopranos, Eat Pray Love, The Talented Mr Ripley, The Bourne Supremacy, The Hand of God and My Brilliant Friend, to name a few. (You can find a complete list of films shot in Naples here).
Recreate the scenes and take photos in the same spot as some of your favourite films and shows. Walking these famous routes is a fun way to explore Naples.
See the Churches of Naples
Because of the number of churches in the city, Naples has been dubbed The City of Churches (Rome also holds this title), Some of the best churches to visit because of their design and grandeur include:
Gesu Nuovo
Duomo di Napoli
Basilica of San Lorenzo Maggiore
Santa Chiara
Naples Cathedral
All churches are free to visit but are still functioning places of worship, so remember to be respectful in any church you visit. You may need to consider the dress code before entering, which usually means covered shoulders, and knees for both men and women and no hats inside the church.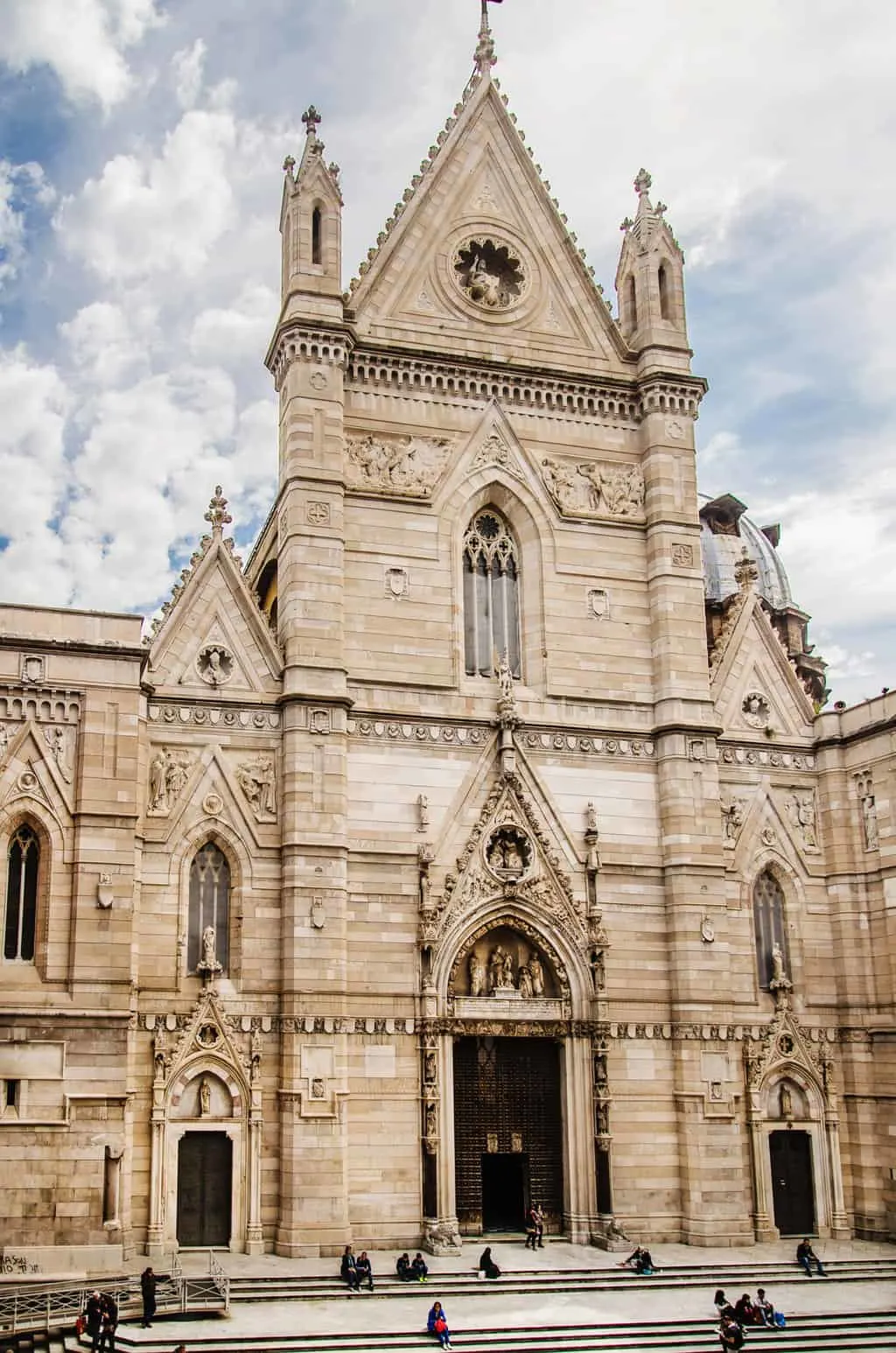 Explore the Castles of Naples
Seven castles are still standing in Naples, both on the seafront and within the old town. Two of the best attractions in Naples include these castles:
Castel Nuovo, also known as Maschio Angioino, is the most popular. Castel Nuovo is over 800 years old and serves as the city museum today.
Castell dell'Ovo is the oldest castle in Naples, constructed in Roman times. The castle is on the seafront opposite Via Partenope with stunning ocean views. Next to Castell dell'Ovo, is the monumental 17th century Fontana del Gigante, the Fountain of the Giant, one of the most beautiful fountains in Naples.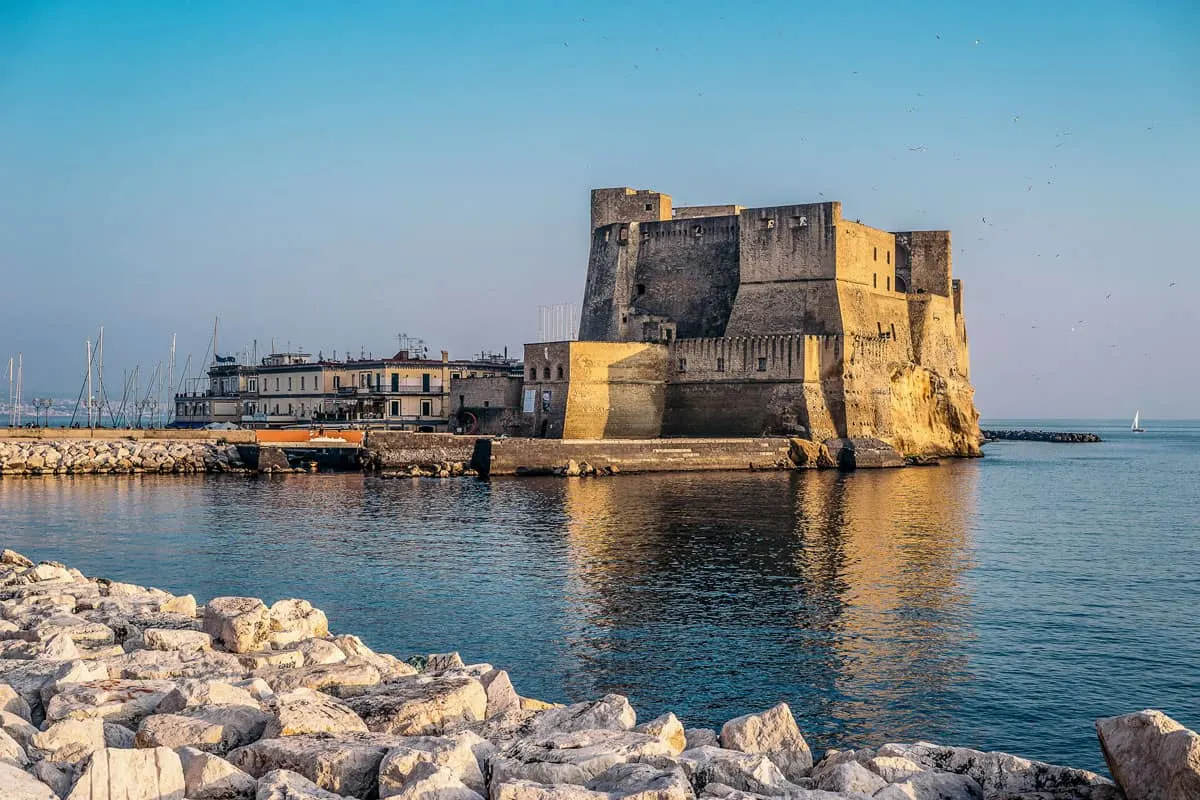 Visit Piazza del Plebiscito
Piazza del Plebiscito is a fabulous example of an elegant public square in Naples. The largest piazza in Naples and one of the largest in Italy, it was constructed in the early 1800s using volcanic rock from Mount Vesuvius.
From the centre of the piazza, you have magnificent views of the majestic buildings and statues surrounding the area, such as the Royal Palace of Naples, the Palace of Salerno, and the Basilica of St. Francis of Paola.
Incredibly, the striking Piazza del Plebiscito was used as a car park between the 60s and early 90s. The piazza is now a pedestrian zone which serves as a lovely reprieve from the chaos of the traffic in Naples and hosts many public events throughout the year.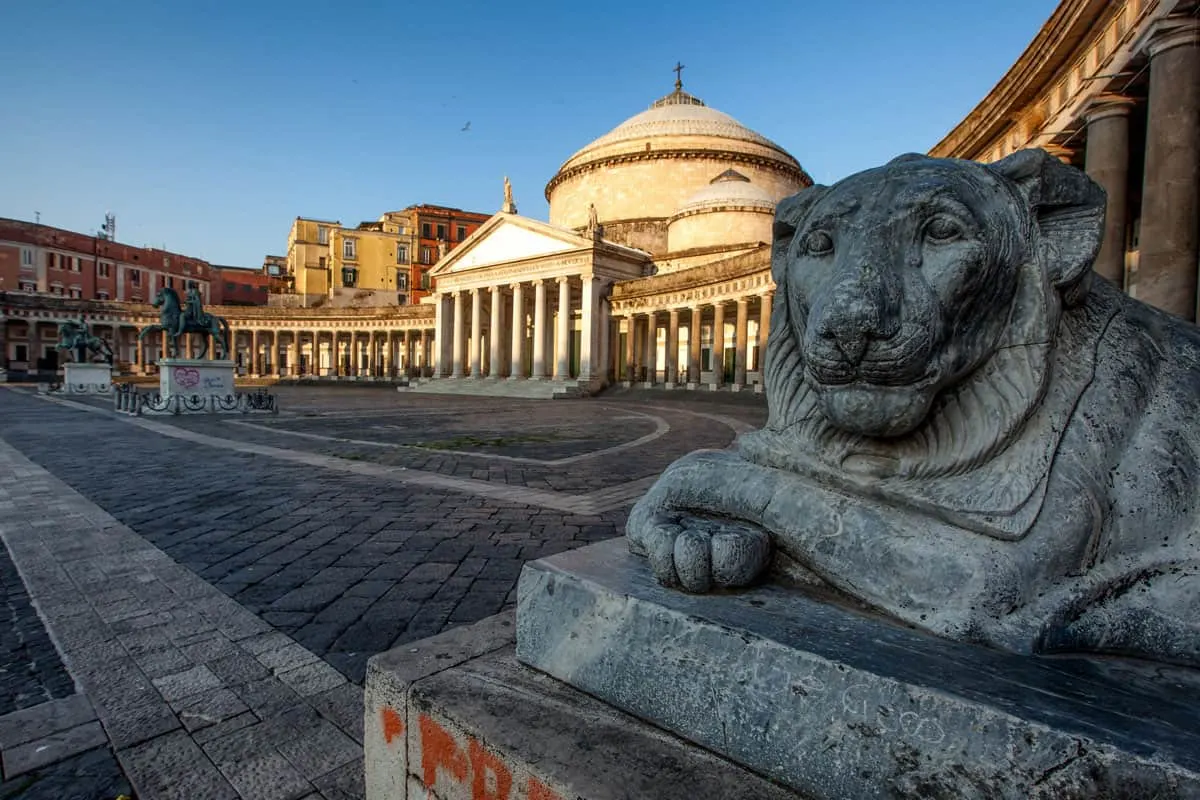 Promenade Along Lungomare
The 3 km Naples promenade on the seafront is one of the best place in Naples for scenic sunsets and clear views of Mt Vesuvius, where a buzzing vibe of local life and culture rubs shoulders with tourists.
Along the Lungomare, you will enjoy the waterfront atmosphere of souvenir and trinket stalls, gelato shops, families enjoying the seafront, and people jumping into the water from the rocks.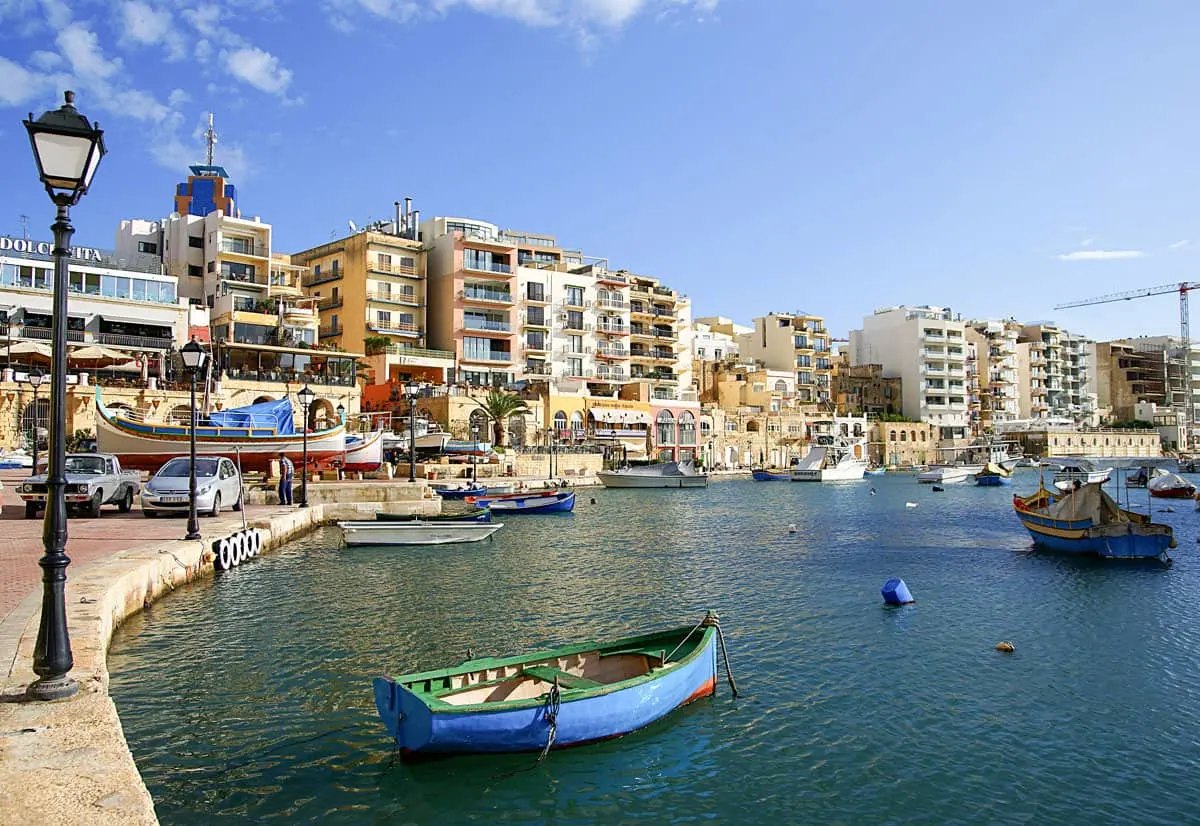 Day Trip to Mount Vesuvius and Pompeii and Herculaneum
Overshadowing the city is Mount Vesuvius, an active volcano and a constant reminder of a tragic history and possible future disaster. Vesuvius has eight major eruptions on record.
There are many ways to see Mount Vesuvius National Park, including guided tours and day trips where you can take a vehicle or hike the volcano yourself via one of the many different paths (each with varying difficulty levels).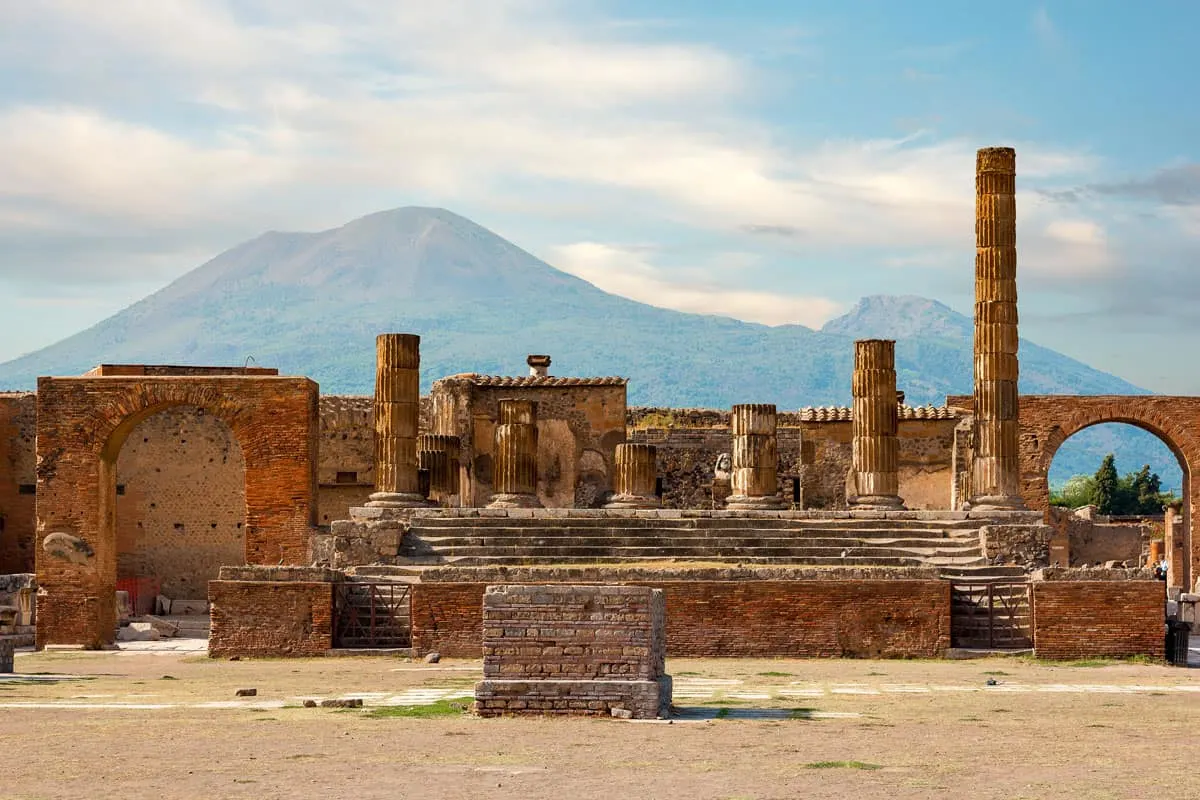 Many visitors choose to do a joint tour, including hiking to the volcano and visiting Pompeii and Herculaneum, the ancient cities completely destroyed in 79 AD by an eruption. The cities, completely buried in volcanic ash, were excavated so you can see the famous ruins of Pompeii and Herculaneum.
These are some Vesuvius, Herculaneum and Pompeii tour options available: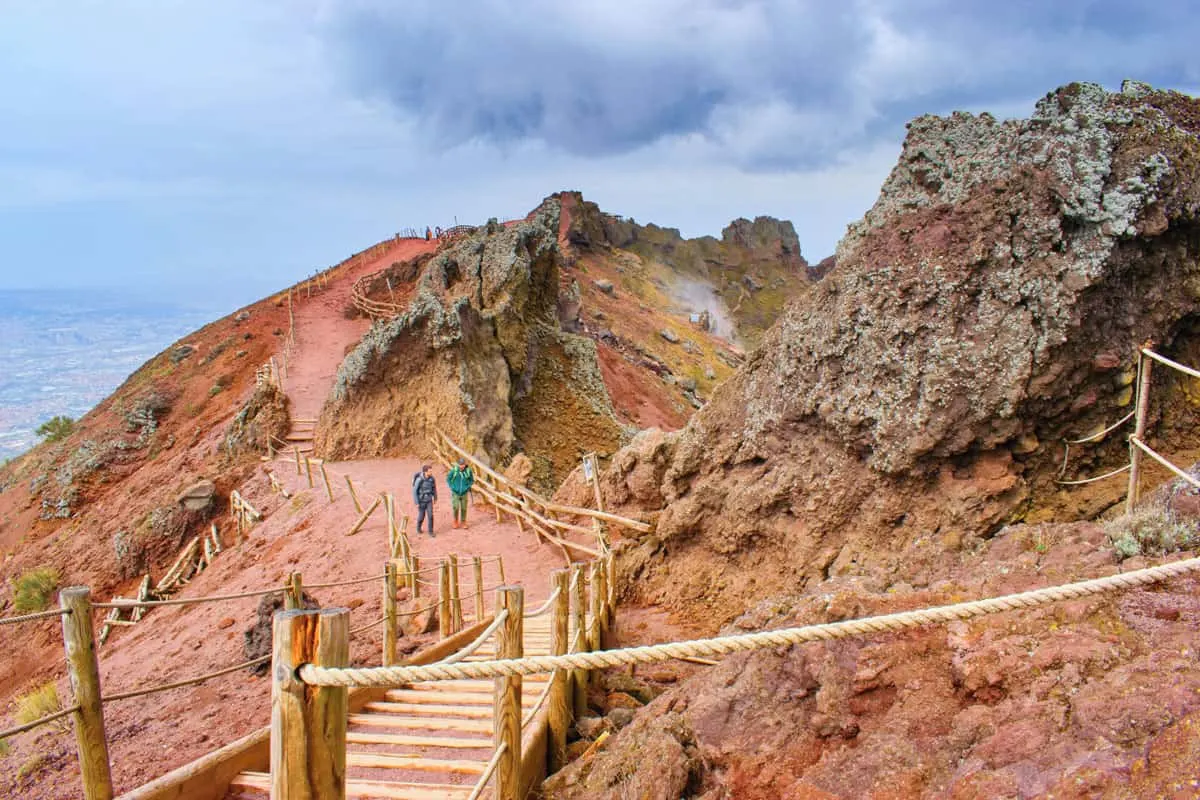 Day Trip to Islands
Being on the coast, one of the best things to do near Naples is an island-hopping boat trip to some of the most beautiful islands in Italy.
Choose between world-renowned Capri (See our guide for visiting Capri along with the best things to do on the island), the island of Procida, Italy's capital of culture for 2022, or Ischia, home of natural springs and thermal spas.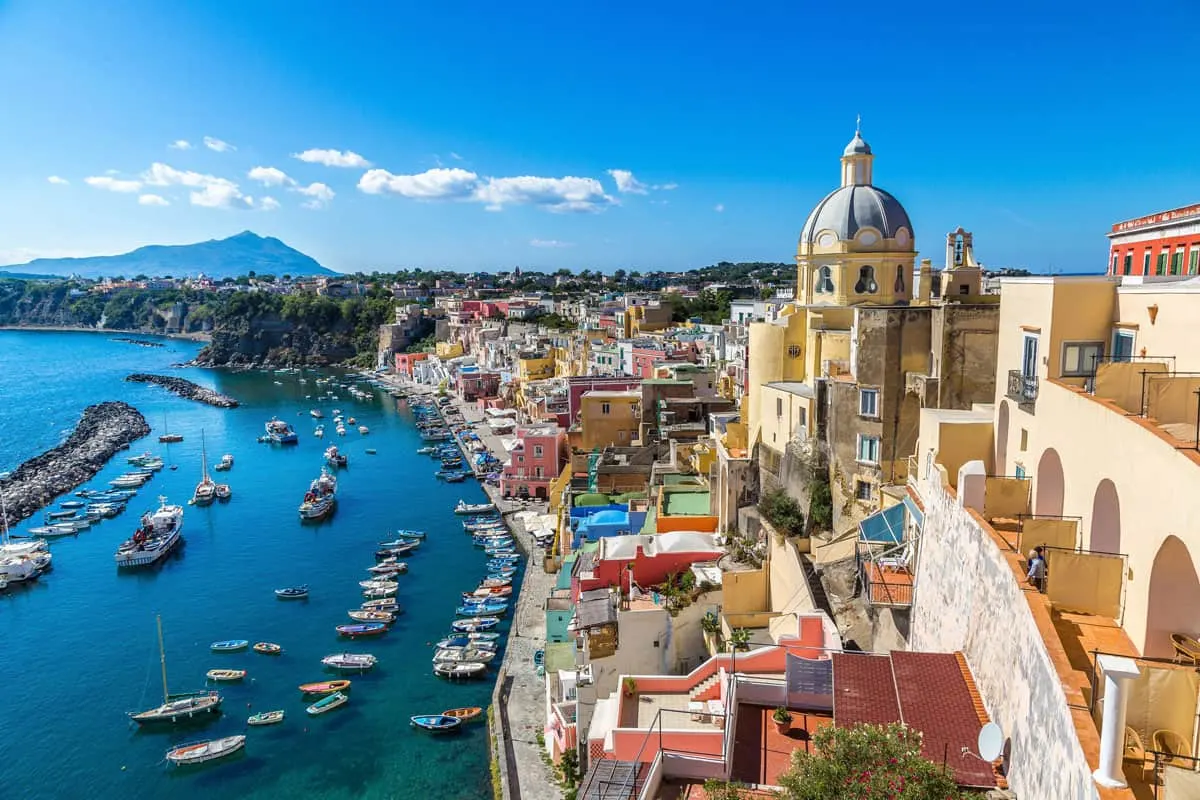 These are some of the boat tour and ferry options for the islands off Naples:
Is Naples Safe?
Despite a reputation for being a dangerous city, Naples is relatively safe for tourists. However, you must be dilligent of petty theft crime of convenience such as bag snatching or pick pockets which is quite prevallent, and not uncommon in any big European tourist city.
Also use common sense when out at night, try to avoid any neighborhoods or areas of the city considered dodgy such as around the central train station. See our Safe Travel Guides for simple, no nonsense tips on how to safeguard against petty crime when you travel.
Naples is one of Italy's most charismatic and authentic cities, with a rich history and stunning culinary heritage. Make time for Napoli's best attractions, but leave time to soak up Campania's capital's incredible atmosphere and unique heritage.
About the Author
Shireen Ahmed
Shireen writes at The Happy Days Travels, a travel blog focusing on food and literary travel including finding the best filming locations worldwide. Shireen has travelled to 30 countries and lived in Wales, Australia and Canada. Her favourite things to do when travelling include eating the best street food and reading travel books.