Thinking of celebrating the festive season a little differently this year? Athough there is nothing quite like cozying up at home during the holidays, there's something magical about spending Christmas elsewhere. What is better than visiting the most gorgeous Christmas destinations? The 2023 best places to spend Christmas in the USA take the holiday season to new heights.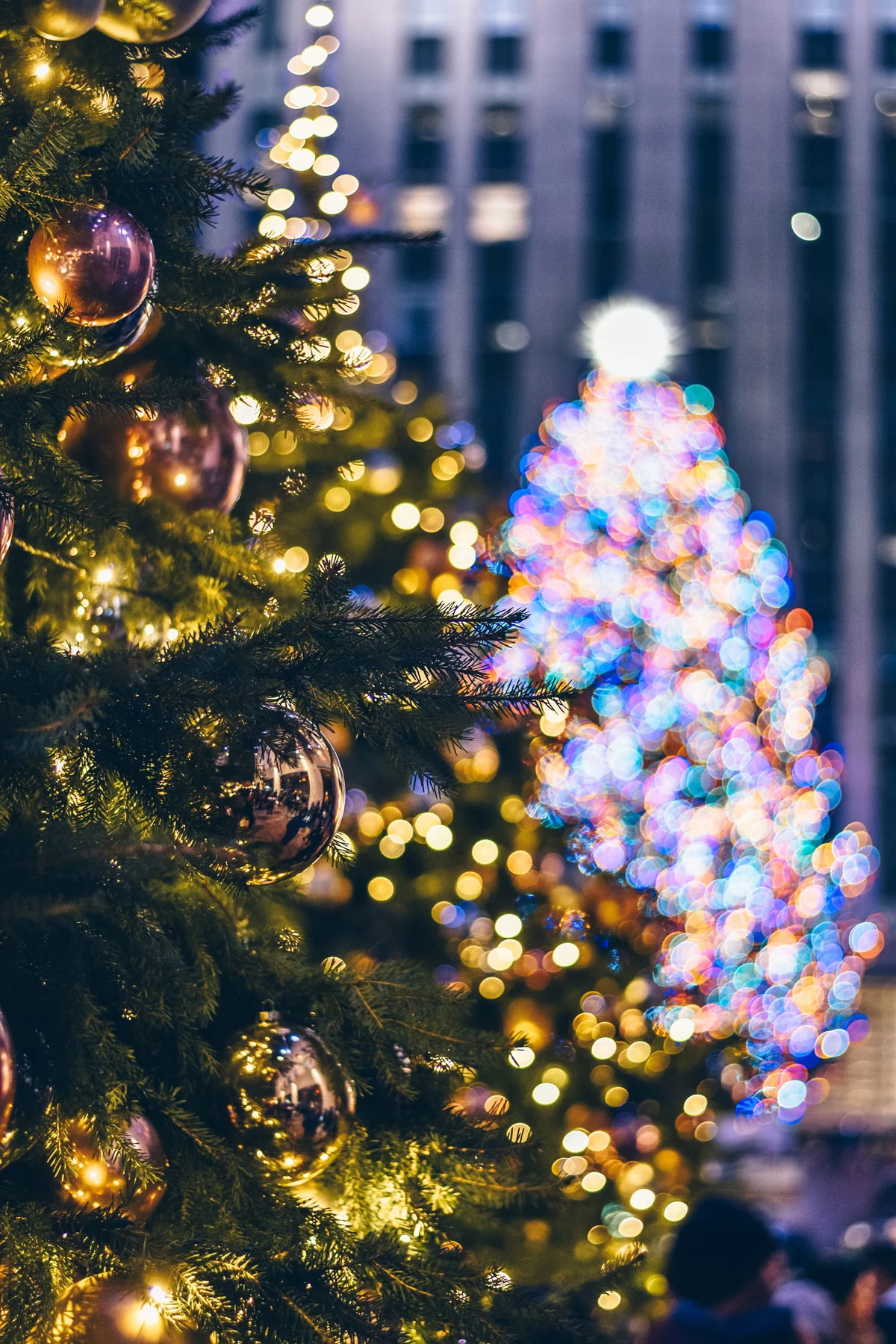 From the alpine towns that make you feel as though you're celebrating Christmas in the German Alps to an Alaskan town called the North Pole and cities where you can enjoy world-class events and celebrations.
Or, perhaps you want to spend Christmas with a completely different vibe than you are used to? Whether it be a tropical holiday season or a traditional winter wonderland, we have some wonderful places to visit during Christmas.
21 of the Best Places to Spend Christmas in the USA
A Christmas Vacation in the North Pole
As unbelievable as it might sound – there's a town called the North Pole in Alaska. The Mayor's office is at Snowman Lane, North Pole, where you will find a man named Santa Clause in the City Office. What a magical place to spend Christmas!
While technically not located in the real North Pole, this quaint Alaskan town near Fairbanks is the perfect Christmas vacation if you want to get an extra dose of Yule Tide spirit this year.
You can read the history of North Pole Alaska here, but in simple terms, North Pole, Alaska is about as close as you'll get to Santa's North Pole.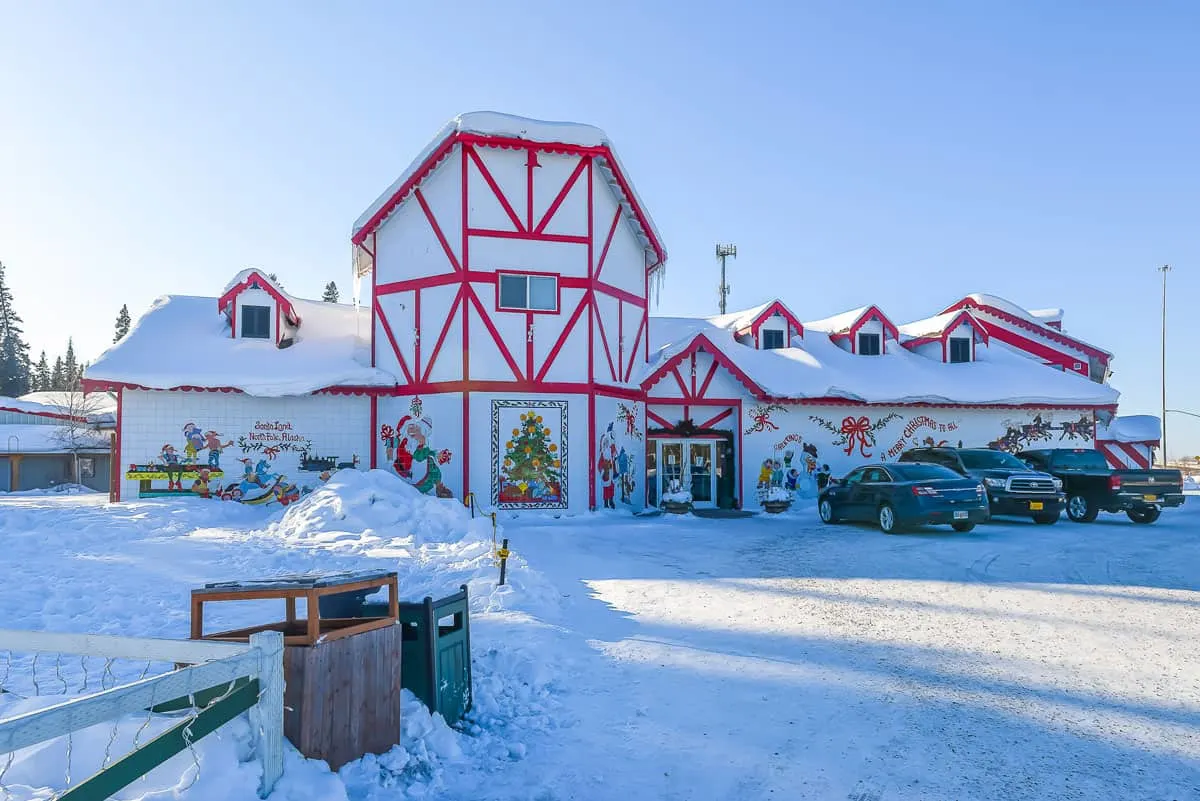 The city is known for its year-round Christmas spirit, where candy cane street lights line streets such as Kris Kringle Drive and Mistletoe Lane, and buildings are painted with Christmas motifs. In Santa Clause Lane, you will find a larger-than-life 42 ft high statue of the jolly fella himself. Santa Clause House, "the official house of Santa," is a store filled with Christmas ornaments, toys, and keepsakes. The walls in the store are covered in letters to Santa from all over.
The North Pole community kicks off the festive season with a Winter Festival. Expect a big Christmas extravaganza, including fireworks, the community tree lighting, a candle lighting ceremony, and the Christmas in Ice ice carving festival. Winter is also the time to witness the magical northern lights of the Aurora Borealis.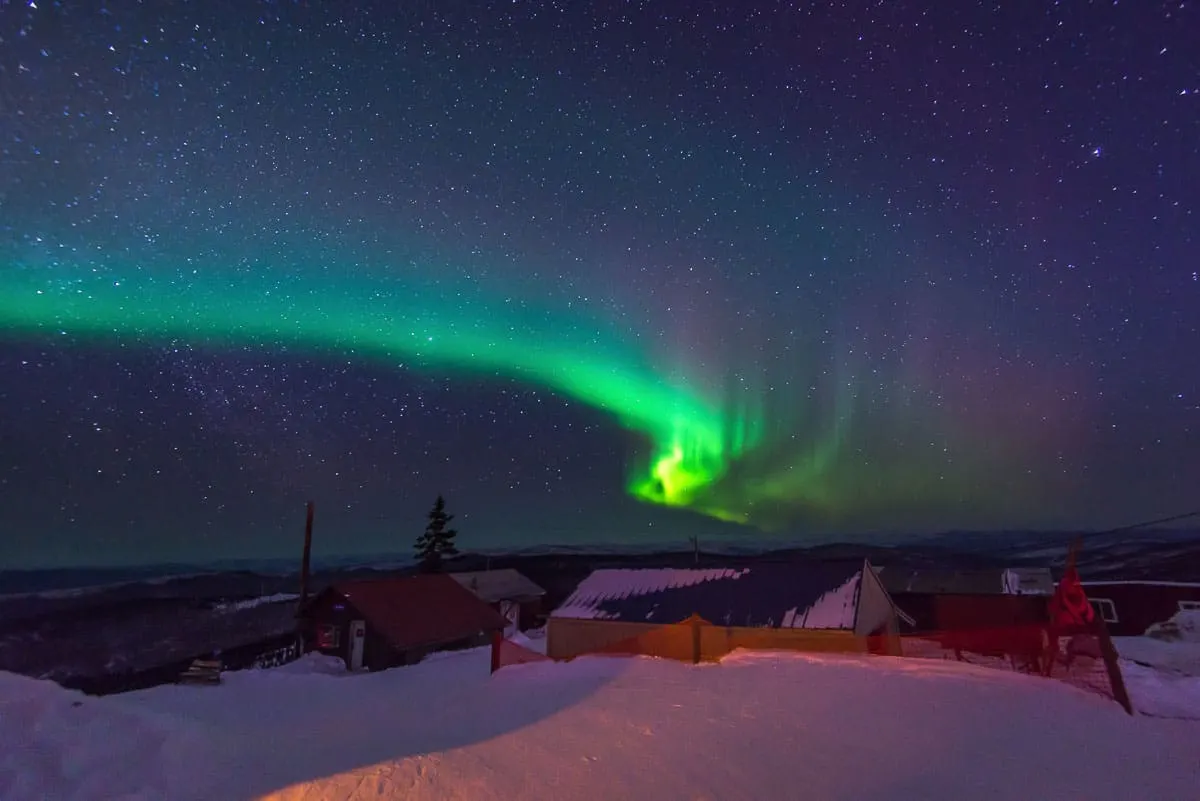 Santa Clause House is open all year round, where you will find live reindeer, and there's always an opportunity for a photo with Santa, even in his off-season. I think North Pole Alaska might be one of the best Christmas vacations you can have.
Bethlehem
One of the best places to spend Christmas is a town in Pennsylvania called Bethlehem. It is a quaint US town with German heritage that sure knows how to celebrate Christmas. From its traditional German Christmas market to an incredible calendar of Christmas activities, there's no shortage of ways to make a Christmas in Bethlehem, PA, incredibly magical.
Bethlehem, PA, was named on Christmas Eve in 1714 by a German Count, Nicolaus Zinzendorf, and a small group of Moravians who had settled in the area. Despite the name association with the Nativity, Bethlehem, Pennsylvania, didn't earn the title of one of the best Christmas towns in the US until the late 30s. Nearly a century on, it remains one of the best places to spend Christmas in the USA.
Visit the Christmas City Village and the German-inspired Christmas Market that has been recognized twice as one of the best Christmas markets in the U.S. Shop for unique gifts and Christmas ornaments from more than 150 artisans at the traditional Christkindlmarkt wooden huts. The Christmas Village runs around Main street every Thursday to Sunday from the start of November until Christmas Eve. Don't forget to pop into the Santa Haus for a photo with the fat man himself.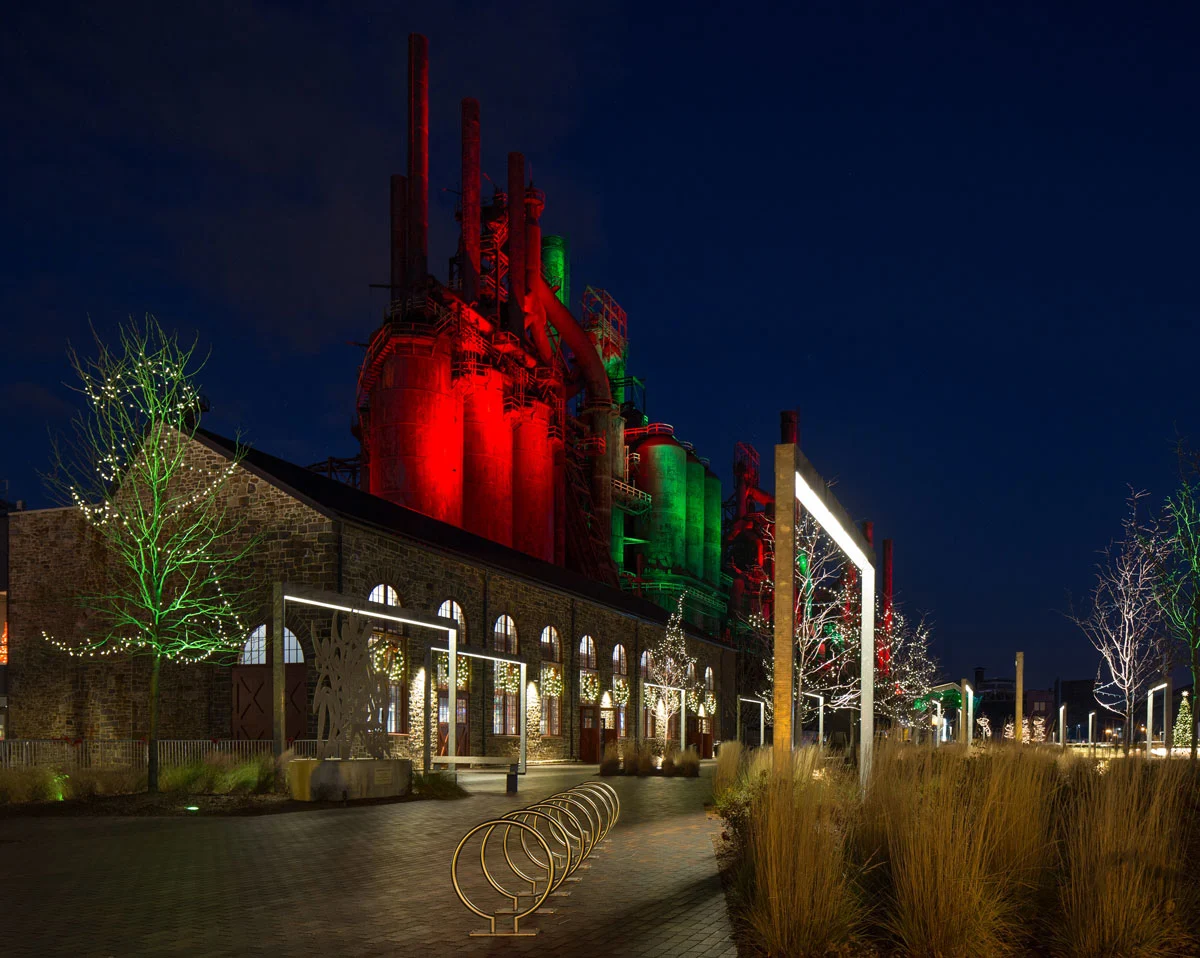 While you browse the market vendors, you can also soak up the festive atmosphere of the beautiful decorations around the historical center. "Get in the Spirits" on the Annual Historic Bethlehem Holiday Cocktail Trail through the historic district over the first two weekends of November. There are loads of Christmas-themed activities throughout the holiday season, such as The Gingerbread Games, Clash of the Carols, the Live Advent Calendar, Story Time with Santa, 12 Days of Giveaways, Christmas City Strolls, and loads more.
Bethlehem, Pennsylvania, takes Christmas celebrations to the next level, so there's plenty to do for both kids and adults.
Woodstock
A beautiful destination year-round and a popular day trip from New York. Come Christmas, Woodstock, Vermont embodies the charming Christmas vibe every seasonal Hallmark Christmas movie has tried to replicate.
Wreaths, bows, and twinkle lights make the picturesque historic downtown even more gorgeous. And it's not just aesthetics; Woodstock hosts all kinds of Christmas fun.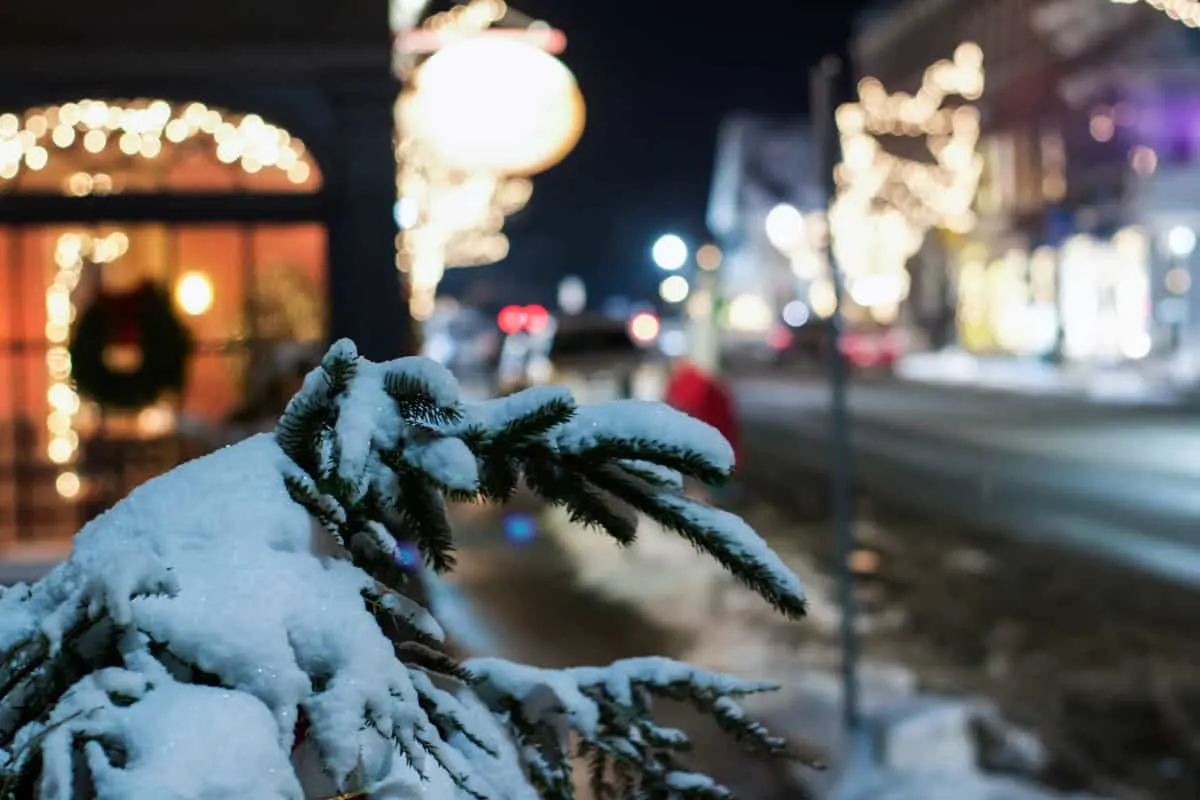 There's Wassail Weekend with festive holiday offerings like horse-drawn sleigh rides, traditional Wassail punch, a Christmas parade, and caroling. Christmas at Billings Farm has lots of classic Christmas activities like candle dipping and toasting s'mores.
Do you like to ski? Head up the road to Saskadena Six Ski Area for proper outdoor winter fun.
Once you've worked up an appetite, check out Soulfully Good Cafe downtown Woodstock for scrumptious breakfast and lunch options (try the Maple Latte). Or, for a perfect award-winning dinner/date night spot, visit The Red Rooster at Woodstock Inn & Resort; they also do a traditional holiday feast on Christmas Day.
If you're looking for luxury, book a room at the Woodstock Inn & Resort and enjoy the full-service spa. The lovely Sleep Woodstock Motel is a popular place to stay in Woodstock for a more budget-friendly option.
While much of Woodstock is fairly walkable, having your own car is best to get around in winter. Pack for freezing temps and snow, but if you need to pick up some warmer gear, head to F.H. Gillingham and Sons for some cool souvenirs of your Christmas in Woodstock trip. It's one of the oldest general stores in Vermont.
Recommended by: Amy Hartle – New England With Love
New York City – A Top Christmas Destination
Looking for a fabulous city festive escape this holiday season? Then look no further than New York City. It is hands down, one of the best places to spend Christmas in the USA.
Christmas is a wonderful time to experience New York City. The Big Apple is alive with sparkling lights, seasonal decorations, and festive cheer. There are also plenty of Christmassy things to do, from visiting the iconic Christmas tree at Rockefeller Center, the stunning window displays on Fifth Avenue, or browsing the Christmas markets at the Bryant Park Winter Village.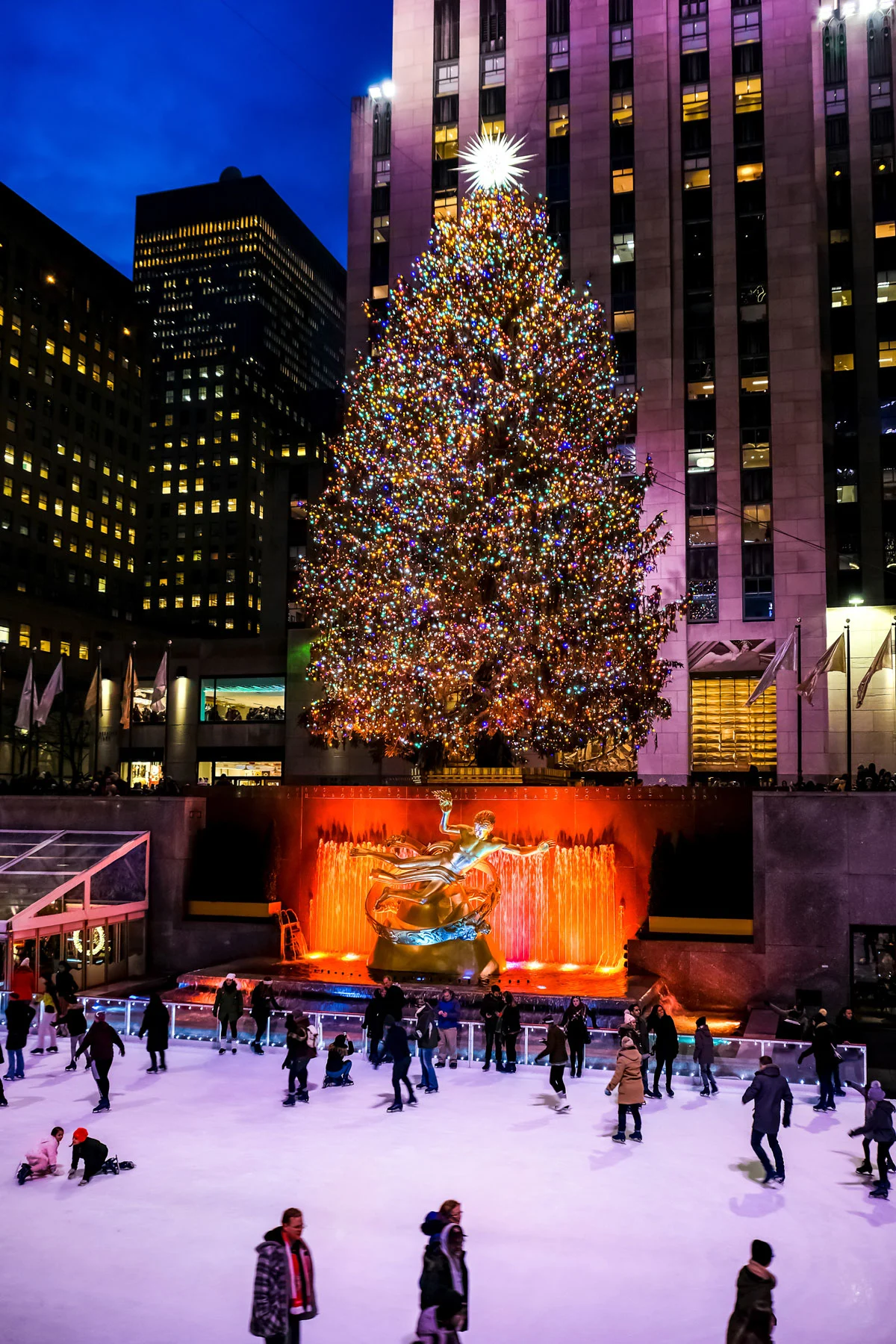 And if you're lucky enough to experience a white Christmas, there's nothing more magical than sledding in Central Park or ice skating in one of the city's many world-renowned skating rinks. Of course, no trip to NYC during Christmas would be complete without a little shopping. Be sure to add a visit to Macy's Herald Square and Saks Fifth Avenue to your New York itinerary. Just be prepared for crowds and busy streets.
New York City can be very cold during the holiday season. It is not uncommon for temperatures to be near freezing, so pack layers and warm clothes.
When it comes to where to stay, there are endless options in NYC. If you want to be in the heart of the action, you will want to stay in midtown. The Hyatt Place in Midtown South is both centrally located and a budget-friendly option.
Recommended by: Taima Ramsey – Poor in a Private Plane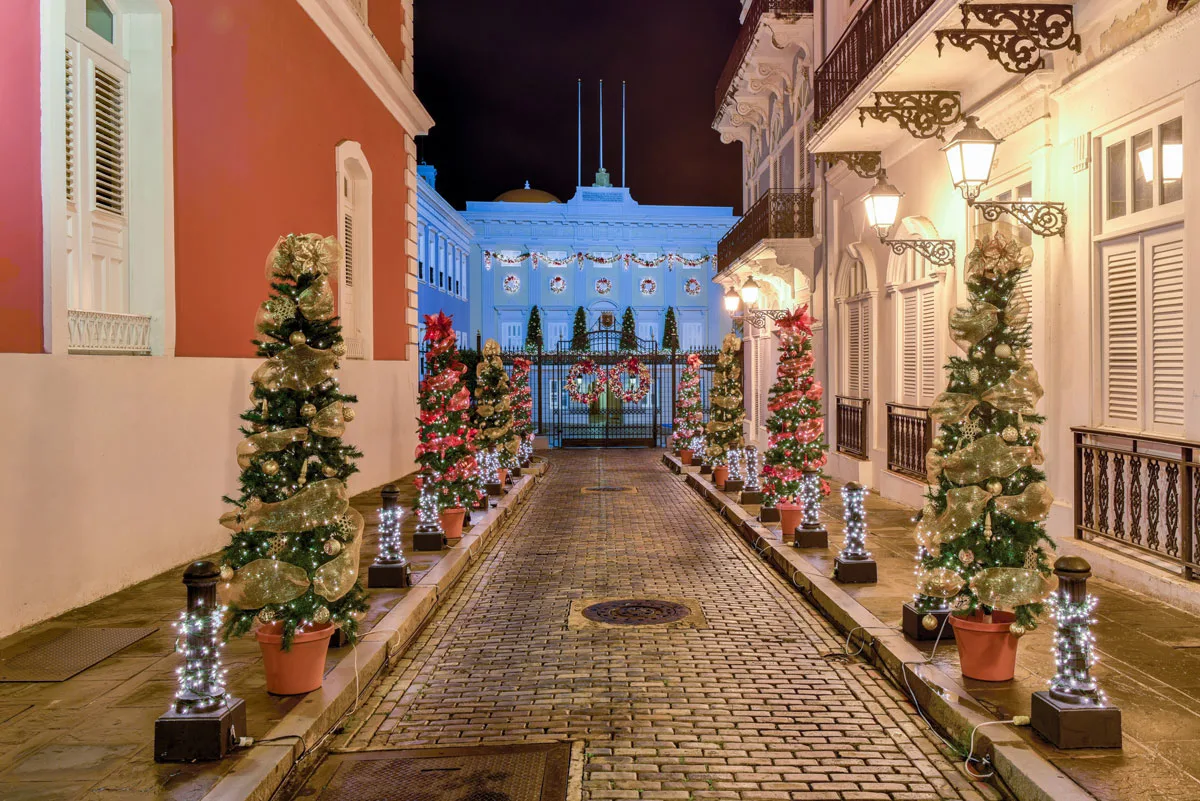 Puerto Rico's holiday celebrations are some of the longest in the world, starting just after Thanksgiving and ending in mid-January with the Fiestas de la Calle San Sebastián. Old San Juan overflows with live music, dancing, and artisan-filled markets during this glorious multi-day festival.
And don't forget to check out year-round favorites such as strolling the El Paseo del Morro National Recreational Trail. History buffs will enjoy exploring San Juan's fortresses, El Morro and Castillo de San Cristóbal.
Sample some Puerto Rican specialties, like mofongo, at Barrachina. This restaurant in Old San Juan claims to have been the birthplace of the Piña Colada, Puerto Rico's national drink.
Stay in downtown San Juan at the Hotel El Convento, just across the street from the Catedral Basilica Menor de San Juan Bautista. This cathedral is the second oldest church in the New World.
Recommended by: Lisa Garrett – Waves and Cobblestones
Portland
Throughout the month of December, Portland, Oregon, has some of the best Christmas spirit in the U.S, making it one of the best places to spend Christmas. The traditional kickoff starts the day after Thanksgiving in the Pioneer Courthouse Square with the Christmas Tree lighting. Then there's a celebration for everyone in Portland.
For the kids, there's the twinkling ZooLights display at the Zoo. Grown-ups can enjoy the adult version, BrewLights, with local beers, ciders, and seltzers. For the cultured, the Oregon Ballet Theatre performs the Nutcracker. Watch the annual Parade of Lights from the Willamette River or the Columbia River. Music lovers have a plethora of holiday choices, from the Oregon Symphony, Portland Gay Men's Chorus at the Newmark Theater, and Gospel Christmas at the Arlene Schnitzer Concert Hall.
December temperatures average highs of 46℉ and lows of 37℉, so Portland rarely sees snow, but it can be rainy. But, hey, it's Portland, so that should always be expected.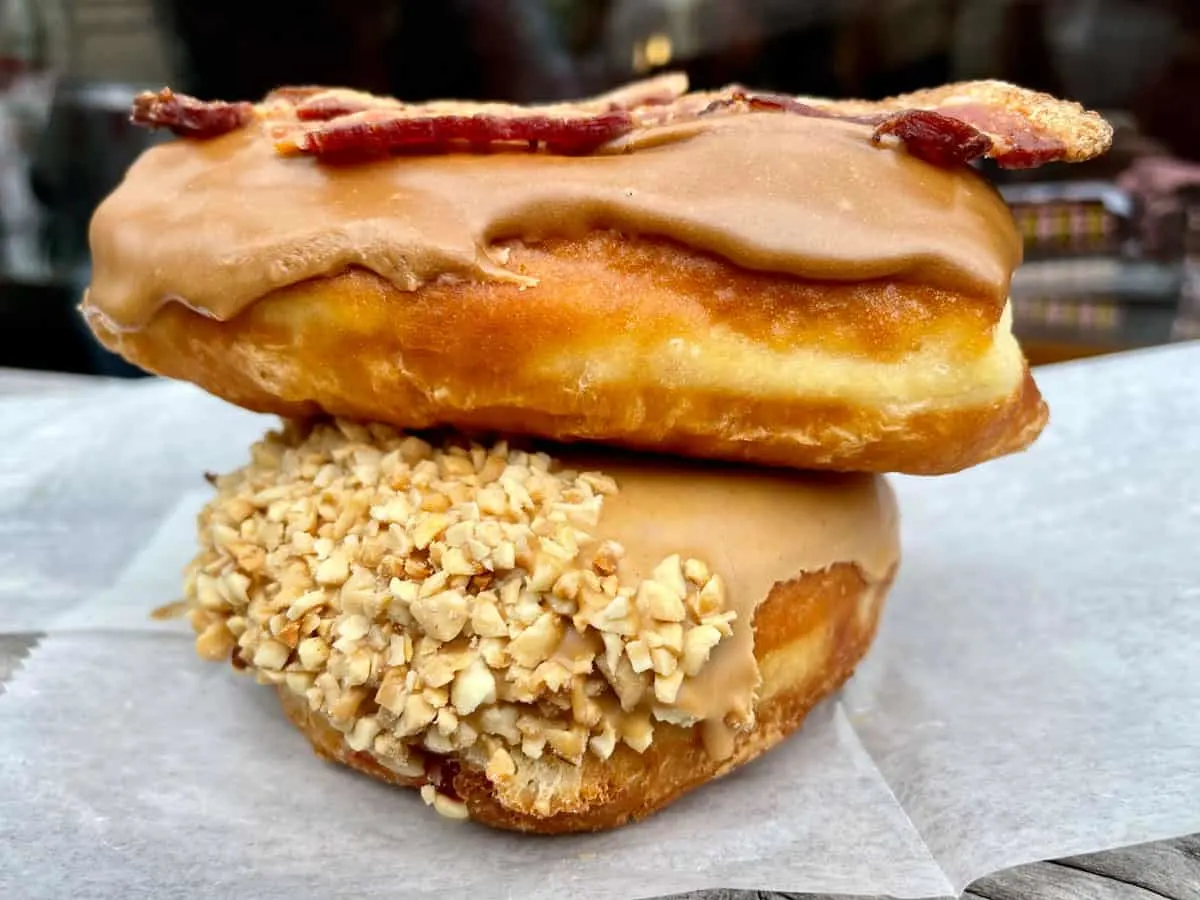 Rain or shine, Portland is one of the best foodie cities in the U.S. On a sunny day, head to Mississippi Street and check out one of the best Portland food cart pods. For legendary Thai food, Eme should not be missed. And if you can get into Ox for dinner, you will not be disappointed. The best part about visiting Portland in the winter may be the shorter lines at the iconic Voodoo Donuts. Try the maple bacon bar.
Stay at the Hyatt Centric Downtown Portland, and you can walk to most of the sights and tons of restaurants, bars, and carts.
Recommended by: Deinse Macuk – Chef Denise
Frankenmuth
Frankenmuth, Michigan's Little Bavaria, is one of the best places to spend Christmas. The charming city is known for its German heritage and Christmas atmosphere – some refer to Frankenmuth fondly as "Christmas Town USA." The town embraces the season's spirit with decorated storefronts, holiday lights, and festive events. There are plenty of things to do in Frankenmuth over the Christmas season.
The town is best known for its authentic German ChristKindlMarkt with handmade artisan holiday gifts, decorations, and delicious goodies. It is held on the first weekend after Thanksgiving and the first two weekends of December. You will find gorgeous one-of-a-kind Christmas decor pieces and unique gifts.
Frankenmuth is also home to the largest Christmas store in the world, Bronner's Christmas Wonderland – over 27 acres full of Christmas decorations. The Silent Night Memorial Chapel is also on the grounds of Bronner's, a replica of where the song "silent night" was first performed in 1818 in Salzberg, Austria.
Another Frankenmuth tradition is the Spectacular Musical Tree Show in front of the Visitor Center. The 40-foot-tall tree has over 23,000 lights. Musical shows are held twice daily during Christmas to the beginning of January.
Visitors can enjoy horse-drawn carriage rides, go ice skating, or enjoy the incredible number of Christmas trees around town (the last count, there were 175+).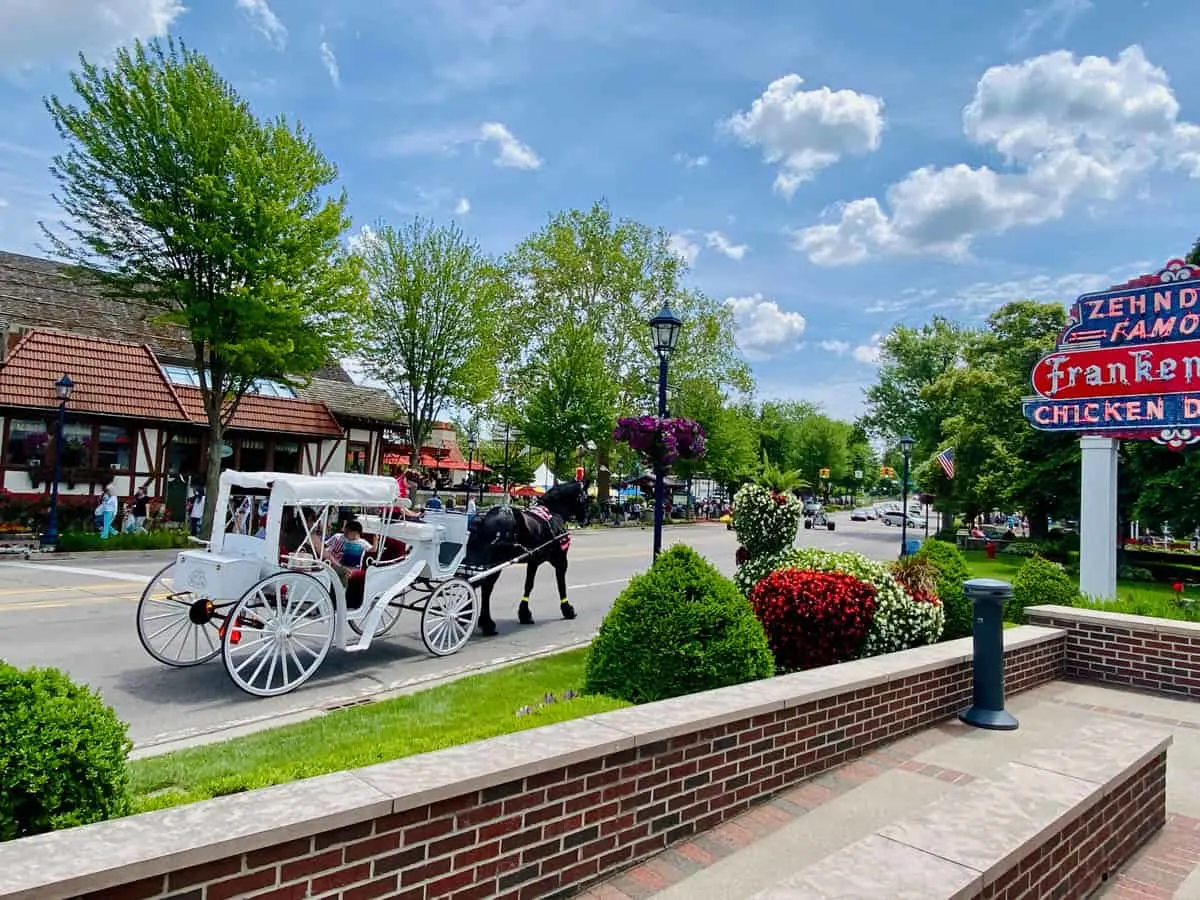 Don't miss the famous chicken dinners at Zehnder's with the possibility of dining with Santa. Zehnder's is also one of the top places to stay in town – it has an indoor waterpark and an 18-hole golf course.
Recommended by: Erin Blakely – Erin's Travel Tips
Solvang
Solvang is the perfect place to escape for the holidays and spend some quality time with family. The charming Danish village located in beautiful central California has a European flair that feels like it was built for wintertime festivities.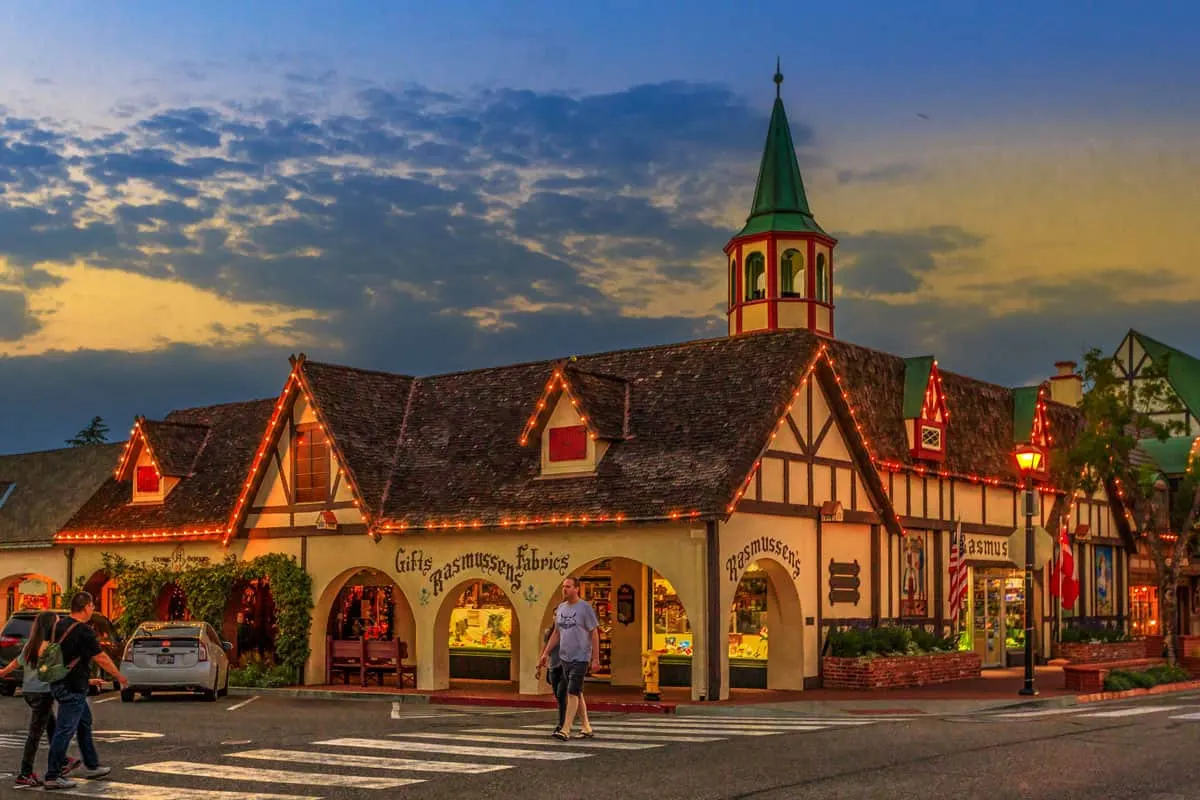 Time Magazine has named Solvang one of the "Most Christmassy Towns in America." It truly does feel like a magical winter wonderland throughout the holiday season. Solvang rises to the festive occasion with a dazzling display of Danish-style Christmas celebrations and decorations with magically decorated trees, twinkling lights, and festive treats.
From November 27th to January 1st, you can enjoy Solvang's annual Julefest Christmas Celebration. Highlights of Solvang's Christmas season festivities include the Tree Lighting Ceremony and the Julefest Parade, which closes with the tree burning on January 7.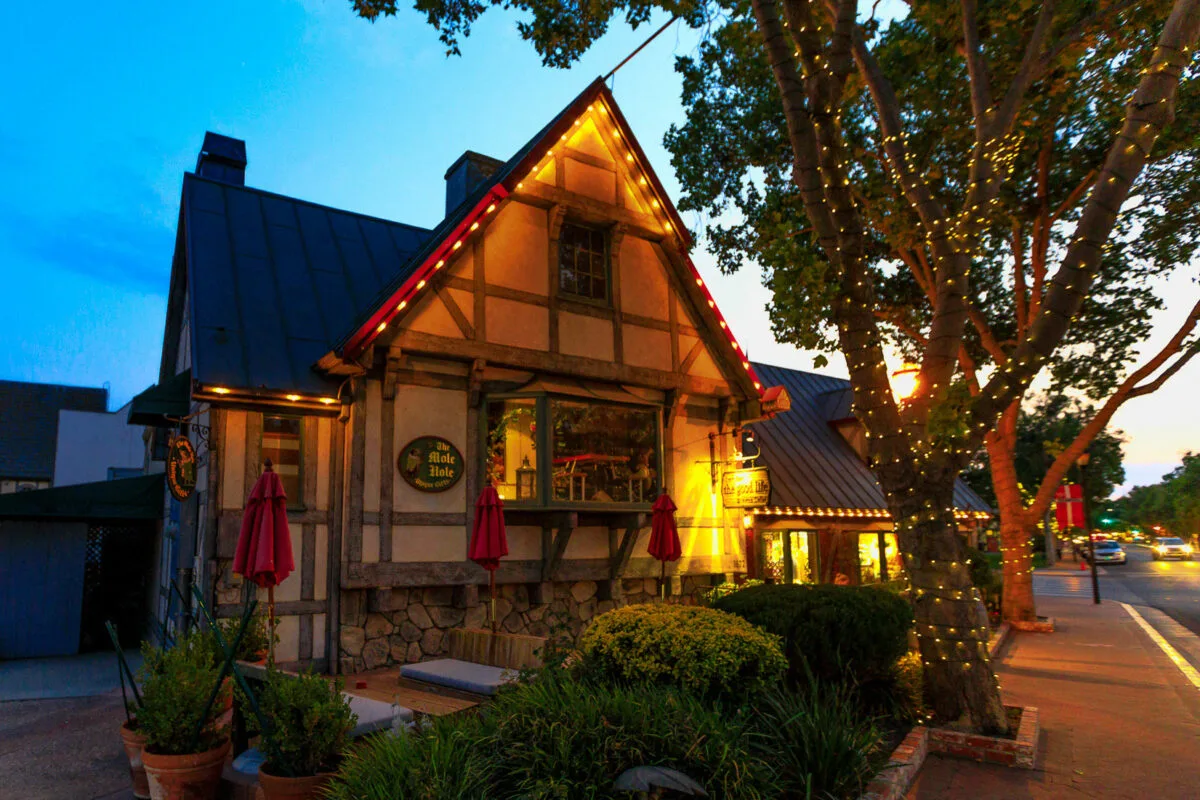 There is plenty of caroling, candlelight tours, live entertainment, and music, plus incredible food, beer, wine, and shopping. Santa's Village is open every Saturday leading up to Christmas Day, so make sure to bring the little ones to meet Santa.
For a very Danish tradition, join the Nisse Adventure, a city-wide hunt for the mischievous Solvang Nisse (Danish for "gnome"), and earn special prizes.
Beyond the Christmas activities, the bakeries and restaurants in Solvang offer delicious and authentic Danish pastries and tasty American favorites. There are also some amazing local vineyards with wine-tasting opportunities. For shoppers – this little town has everything from holiday-inspired souvenirs to fantastic antique and boutique finds.
Solvang is just one hour north of Santa Barbara or 2.5 hours north of Los Angeles. You can stay in Solvang at one of the boutique hotels or cute inns in town. Or, many people visit as a day trip from Santa Barbara. During December, you can also enjoy relatively fair weather in Solvang, with temperatures ranging from about 40°F to 67°F. All of these things make Solvang one of the best places to spend Christmas.
Recommended by: Janelle Axton – Make the Trip Matter
Lake Placid
One of the prettiest and best places to spend Christmas is in Upstate New York's Adirondack Mountains. Lake Placid is a beautiful lakeside village recognized for its winter sports. It was home to the 1932 and 1980 Winter Olympic Games.
If you want a taste of an authentic Christmas market, take a stroll around Lake Placid's Holiday Village. From early to mid-December, you can enjoy magical Christmas displays, a Jingle Bell Run, Santa visits, an ugly sweater party, ice skating, and dances. There is also some great shopping with authentic festive trinkets.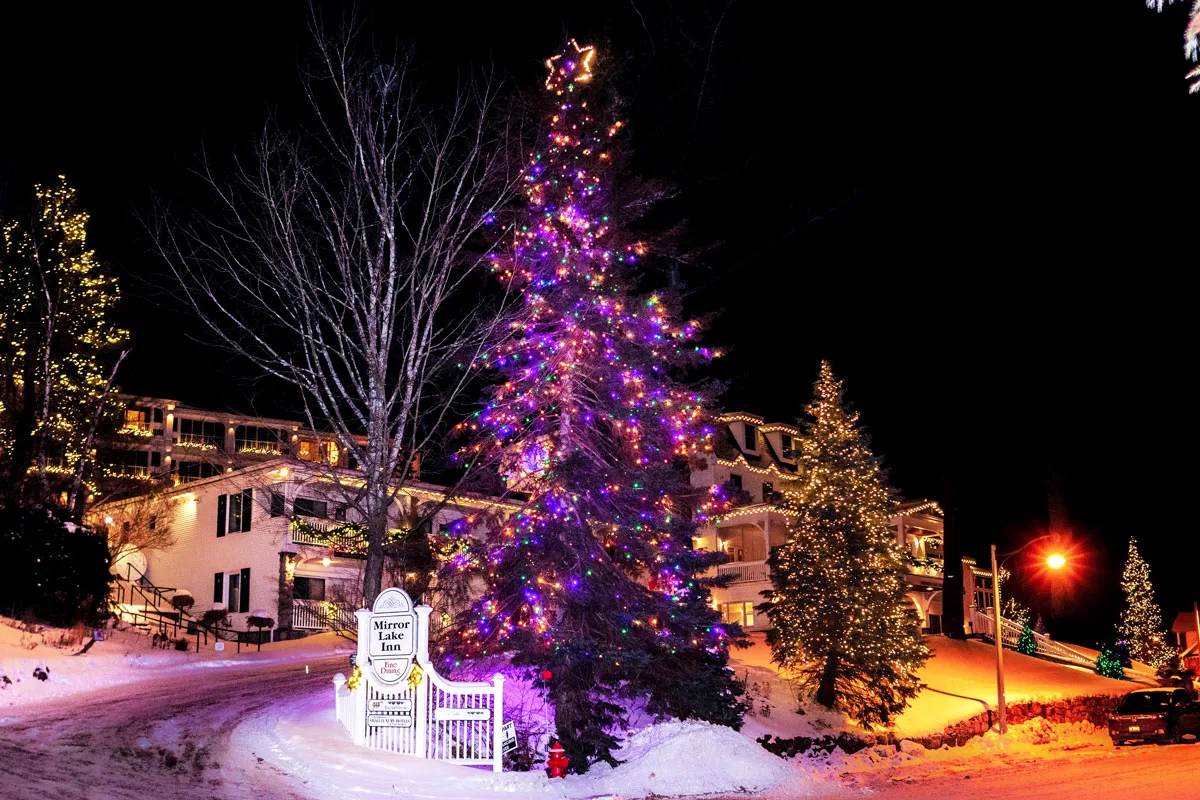 Because the mountain town has been home to the Winter Olympics – twice, there are some incredible activities to enjoy during a winter weekend trip to Lake Placid. Nordic skiing at Mt. Van Hoevenberg, skiing or snowboarding at Whiteface Mountain, ice skating on the speed skating Oval ("The Oval"), tour the Olympic Ski Jumping Complex or try dog sledding on Mirror Lake.
As Lake Placid is situated on the snow belt, you can expect a lot of snow and ice in December, which helps create the perfect Christmas atmosphere.
Pop into one of Lake Placid's breweries, such as Lake Placid Pub & Brewery or Big Slide Brewery, for a cozy evening out.
One of the best places to spend Christmas in Lake Placid is Mirror Lake Inn. The historic inn overlooking Mirror Lake is luxuriously cozy. During Christmas, the hotel is lavishly decorated with lights and decorations. Head to the Cottage Restaurant at the Mirror Lake Inn for a meal with scenic views and special winter touches. Cozy up around one of the fire pits or book in advance for dinner or a drink in one of the repurposed heated Gondola cabins for dinner with a difference.
Recommended by: Taylor Deer – Brown Eyed Flower Child
Key West – A Warm Christmas Vacation
One of the best places to spend Christmas in a warm climate is Key West, Florida. The Southernmost point in the country remains relatively warm throughout December, with daily highs of 77℉, lows of 70℉, and only three days of rain per month.
If you can, try to plan your visit for early December to enjoy as many holiday activities as possible, like the annual Key West Holiday Parade. Over that same weekend, you can also see a free Holiday Classic Car Show at the Historic Seaport.
However, if you can only enjoy one holiday-inspired event in Key West, let it be the Lighted Boat Parade. It's a truly unique event of sailboats adorned in holiday lights gliding through the Key West Bight for an incredible parade that glimmers off the water.
Take time to admire some of the town's historic architectural beauty during a Historic Inns Holiday Tour. Local bed and breakfasts open their doors to the public for two days during the holiday season for guided tours, allowing visitors to marvel at the stunning holiday decor inside their businesses.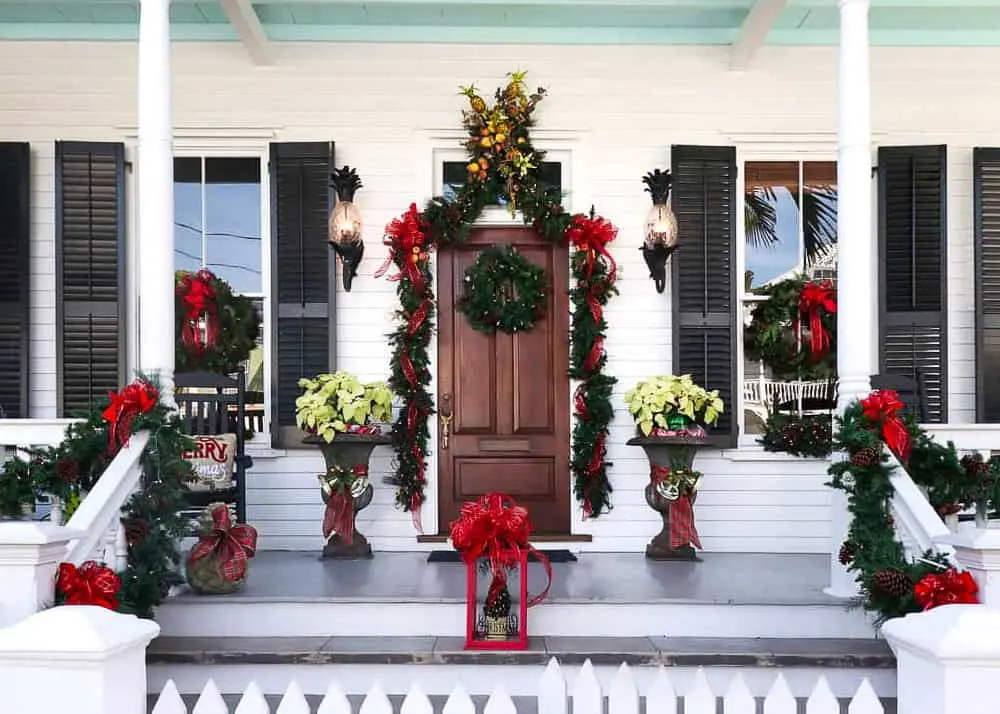 Catch the most impressive sunset in the area at Mallory Square before soaking up some history at the Ernest Hemmingway House. Enjoy some of the best things to do in Key West, like grab a drink at Skippy Joe's Bar on legendary Duval. Skippy's has been around since 1937 and is rumored to have been Ernest Hemmingway's favorite haunt.
Then, spend the night enjoying a bit of luxury at the Opal Key Resort and Marina before enjoying a surf n' turf feast at Tavern n' Town on Christmas Day.
Recommended by: Victoria – Florida Trippers
Pagosa Springs
Pagosa Springs, Colorado, is a delightful small mountain town for your next Christmas vacation. The quaint downtown is decked out in lights and hosts an annual "Old Fashioned Christmas Celebration," including a parade, live music, and games. Sleigh rides and dog sledding excursions are also offered over the holidays.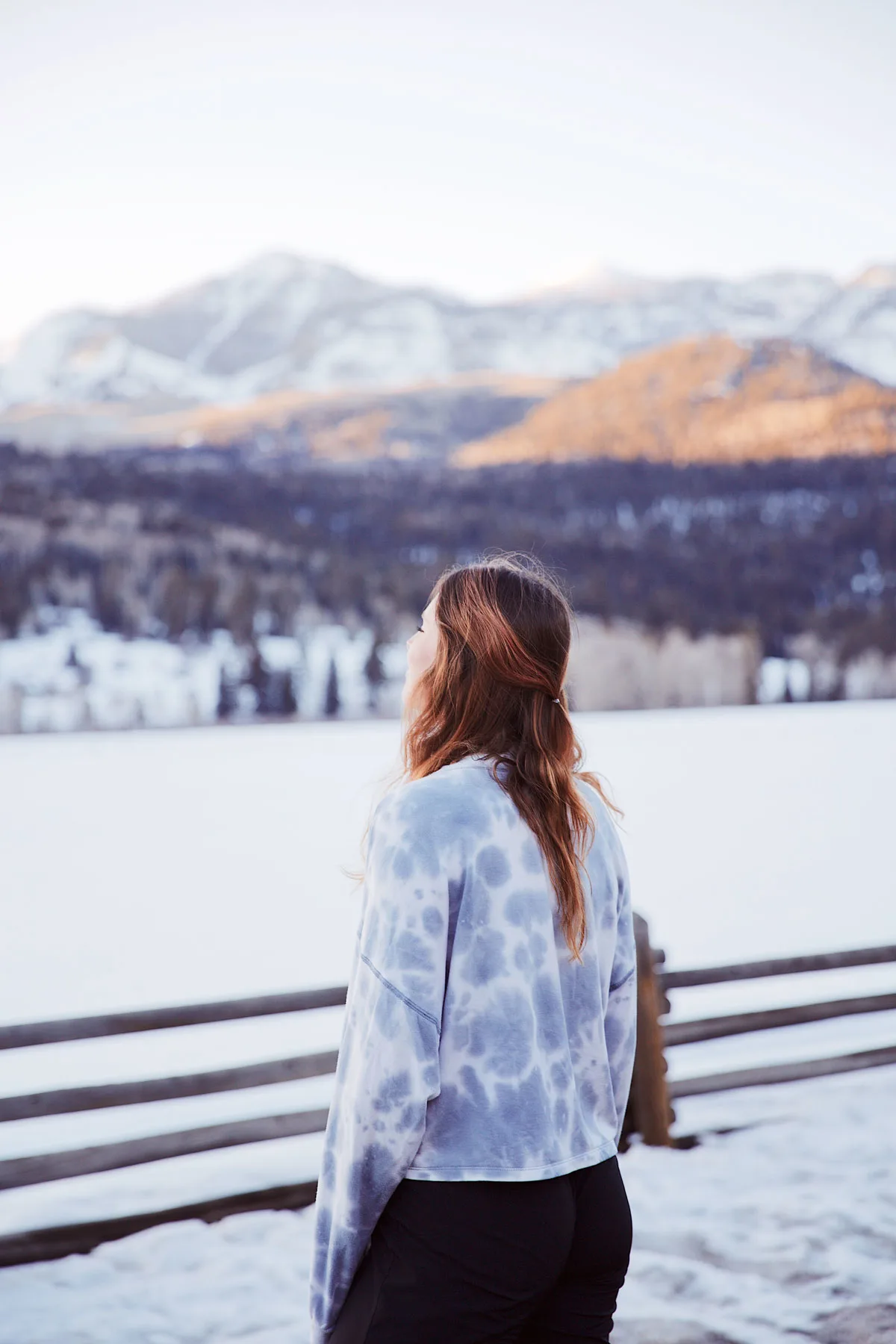 Looking for a white Christmas? Pagosa is known for world-class snow. Thrill seekers can hit the slopes at Wolf Creek Ski Area, and adventurers can explore the 30+ miles of groomed cross-country skiing and snowshoeing trails. At the end of a snowy day, the entire family can meet up at any of the beautiful free and paid hot springs for a soak. I recommend staying at The Springs Resort & Spa for the ultimate Pagosa Springs experience.
Pagosa Springs sits in a valley, but the elevation is still over 7,000 feet. If you are coming from a low elevation, plan on spending your first day or two acclimating to the high altitude. Expect highs around 40℉ with lows in the single digits and plenty of Colorado sunshine.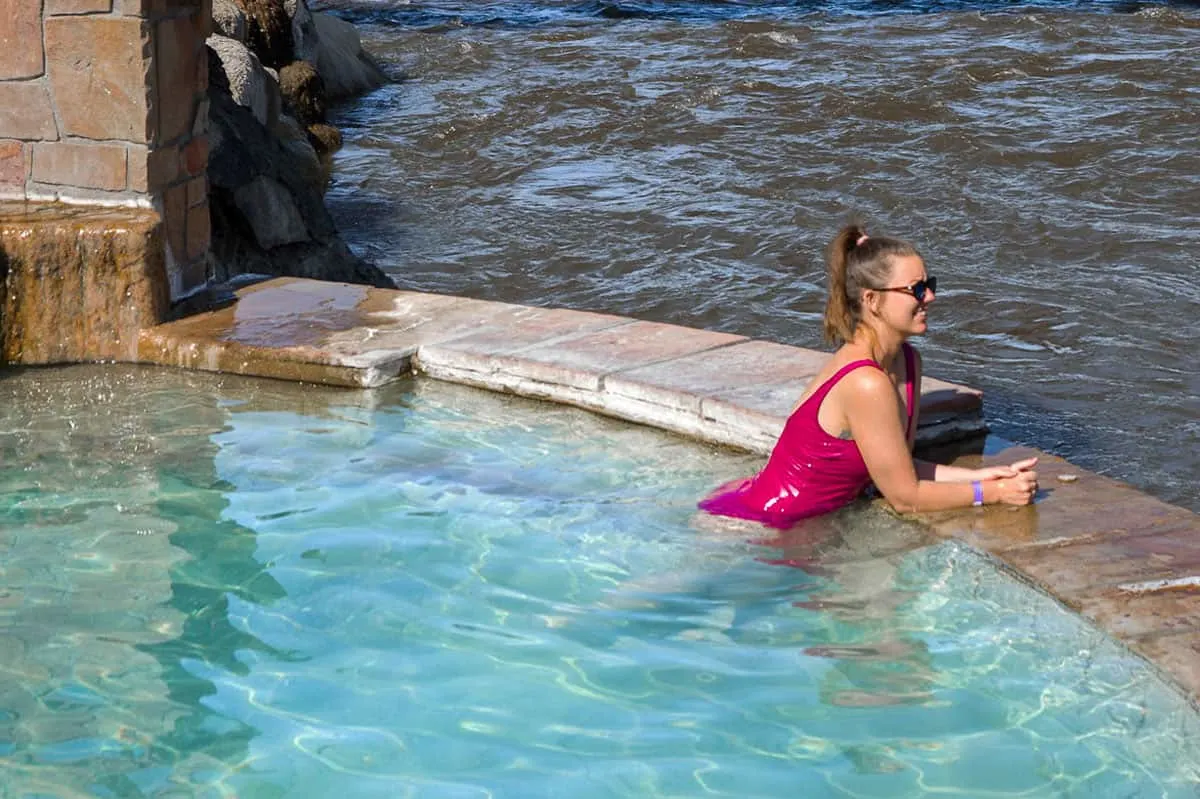 Winter in the San Juan Mountains can be extreme, so make sure you come prepared. Having a 4WD / AWD car is recommended, and tire chains are necessary. Check the road conditions before you start your drive, specifically on highway 160. If you are flying in, Albuquerque is the closest large city at 3.5 hours away. Denver is a 5 hour's drive.
Recommended by: Taylor Schlesinger – Nomads in Nature
Helen – A Warm Christmas Vacation
Helen, Georgia, is one of the most charming and best places to spend Christmas in the USA. The bustling alpine town is best known for its unique Bavarian architecture set against dense forests and mountains. Helen makes you feel like you've stepped into a fairytale or been transported to the cobblestone streets of one of Germany's northern Bavarian towns.
During the holidays, the charms of Helen shine, making it one of the most popular Christmas towns in the USA.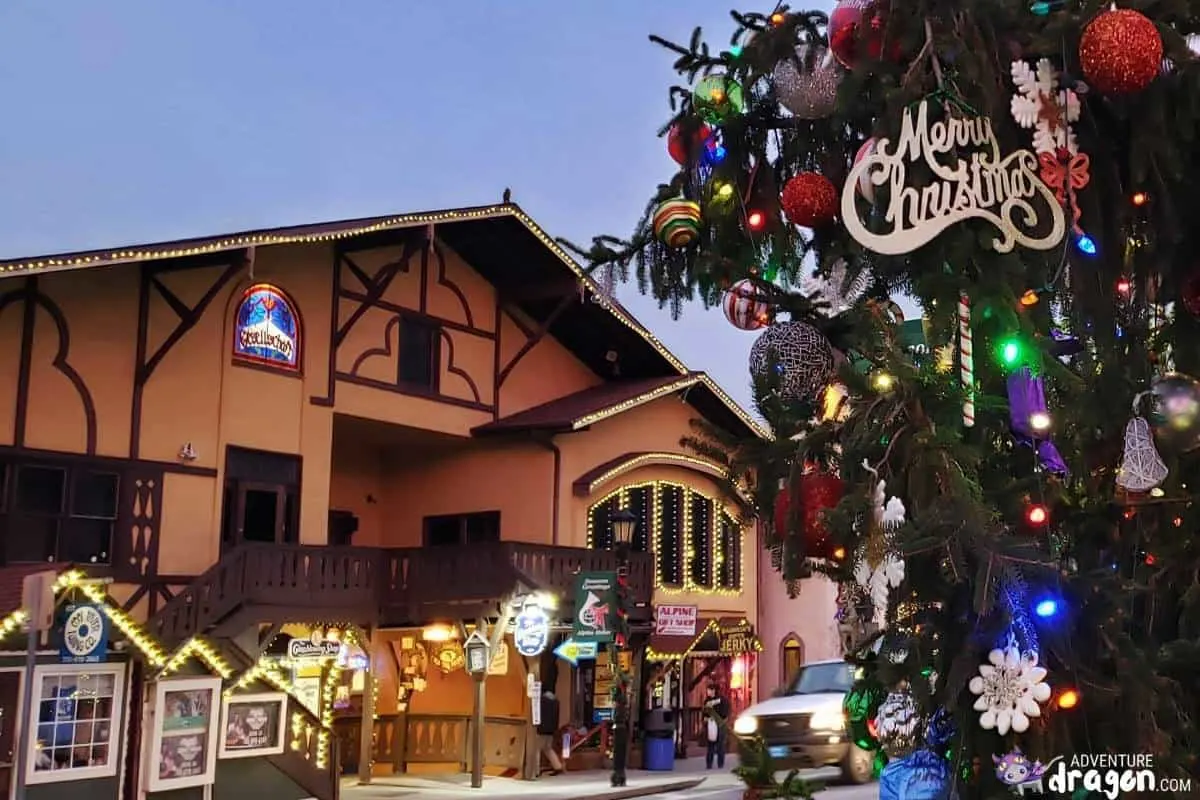 Christmas in Helen, Georgia, begins with the Lighting of the Village. During this free annual event, Mr. and Mrs. Claus arrive in the town's main square to turn on Christmas lights and signal the start of the holiday season.
Following the lighting ceremony, the annual traditional German Christkindlmarkt on the Marktplatz runs for two weekends, the last weekend of November and the first weekend of December. Like the traditional Christmas markets in Germany, you can shop for Christmas gifts, holiday candy, and festive decor. The following weekend, Helen hosts its annual Christmas parade.
If you miss any scheduled Christmas events, there's still plenty to do in Helen during Christmas. You can enjoy the quaint village dressed in holiday lights at night, shop for fudge at the Hansel and Gretel Candy Kitchen, mine for gold, see Anna Ruby Falls, or go for a leisurely stroll along the riverfront.
For the best German food in town, dine at the Troll Tavern. This cozy restaurant is under a bridge, and its outdoor patio has amazing views overlooking the river.
For a hotel with a view, stay at the Castle Inn, and request a room with a balcony facing the river.
Recommended by: Jillian Michelle – Adventure Dragon
Washington D.C.
Washington, D.C., one of the most historic cities in the States, is magical any time of year. But come wintertime, it's also home to some of the best Christmas events in the country.
From the annual tree lighting ceremony to ice skating at the National Gallery of Arts Sculpture Garden. There are plenty of ways to get into the holiday spirit in our nation's capital.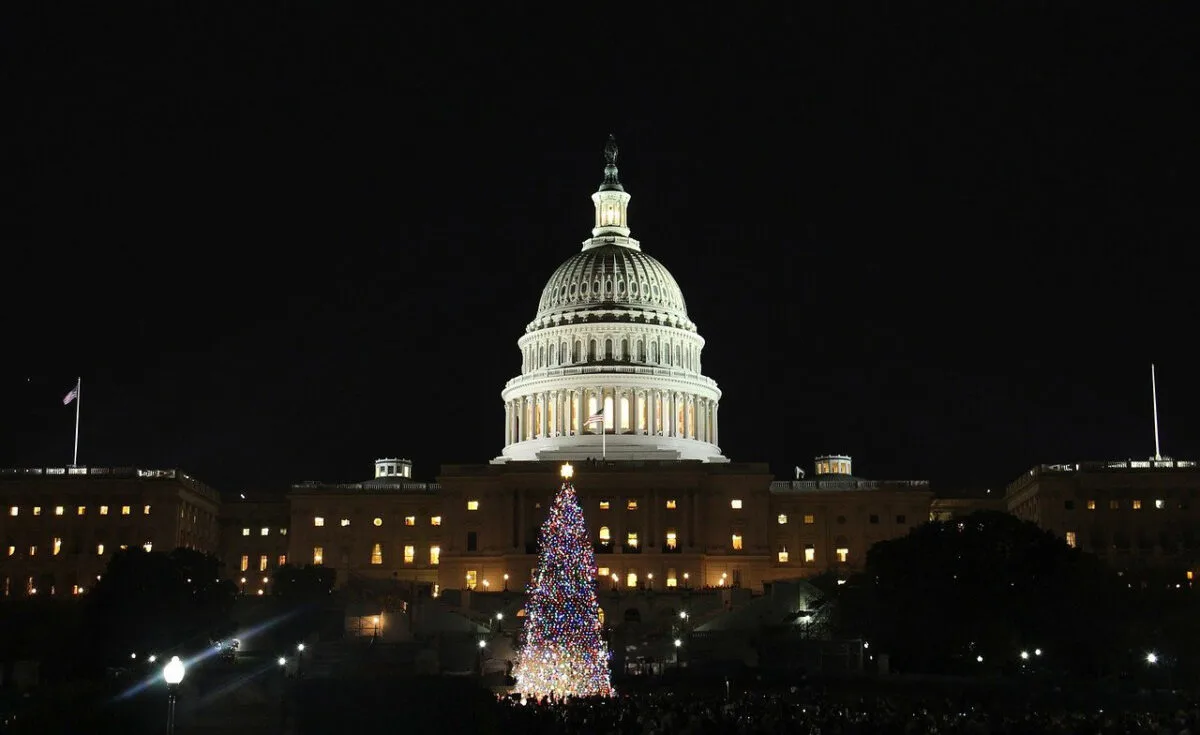 Here are some of my favorite festive things to do in Washington D.C. during December:
Christmas at Union Station–The historic train station offers a month of festive fun with live music, food trucks, and Santa appearances. The Christmas Market is fun to browse for both kids and adults and has everything festive you need to have an exciting holiday.
National Christmas Tree Lighting–Lighting the National Christmas tree is a yearly event in our nation's capital dating back 100 years. The event kicks off with performances by local school choirs and famous musicians – 2021 saw LL Cool J, Billy Porter, Keb Mo, Patti La Belle, and more take the stage. There are also dance groups followed by fireworks over Constitution Avenue. Surrounding the national tree are 58 small trees representing a different state or territory.
The Nutcracker – The National Ballet Company performs this classic ballet yearly at the Kennedy Center Opera House. This iconic ballet is a great way to get into the festive mood.
Washington is one of the most spectacular Christmas towns in the USA to get you into the holiday spirit.
Recommended By: Stephen – A Backpackers Tale
Asheville
If you're looking for cozy small-town charm, then Asheville, North Carolina, is easily one of the best places to spend Christmas in the USA.
Yes, the weather is a bit brisk, with daily highs in the 50s℉ and lows in the 30s℉, but that just adds to the holiday spirit. With an average of seven days of rain throughout December, a warm waterproof jacket should be on the packing list.
Winter weather aside, you can enjoy a unique array of festive things to do in Asheville, like a trip to the magnificent Biltmore Estate.
Sign up for a daytime or evening tour of this incredible Vanderbilt property from the 1800s to enjoy the opulent displays of gorgeous Christmas trees, holiday lights, and garland.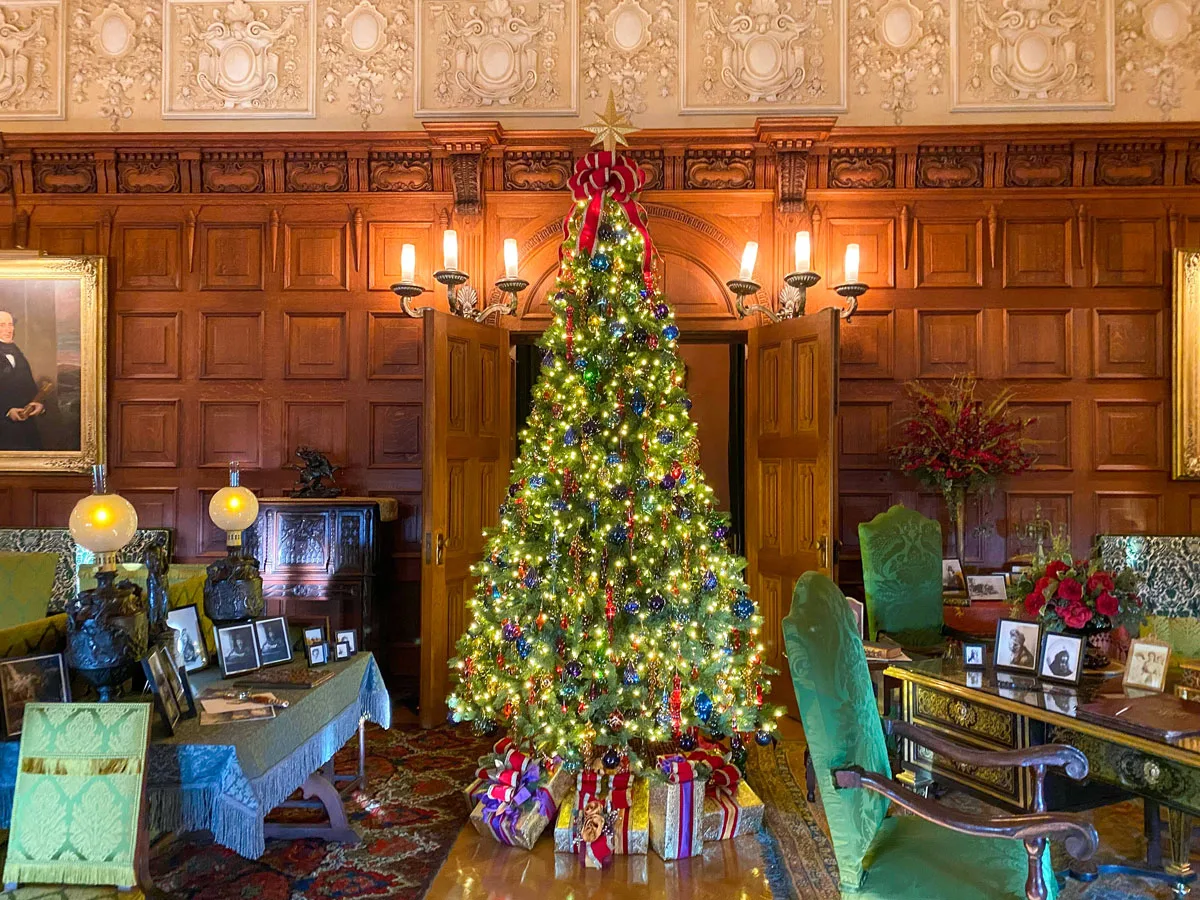 Don't leave Asheville without sampling some red and white Christmas wines during a complimentary wine tasting at Antler Hill Village & Winery.
Next, head to the North Carolina Arboretum and see stunning holiday light displays during the Winter Lights event before visiting the elaborate gingerbread houses at the Omni Grove Park Inn. Many of these creations are submitted to The National Gingerbread House Competition and regularly take over the lobby during the holidays.
You can actually step inside a full-size gingerbread house and enjoy festive holiday drinks and sweet treats before spending a night inside the 1889 Whitegate Inn and Cottage. This 4-star bed and breakfast is a magical place to stay any time of year, but at Christmas time, the holiday decor is truly marvelous.
Recommended by: Victoria – Southern Trippers
Leavenworth
The quaint little town of Leavenworth, nestled in the Cascade Mountains of Washington, is one of the most beautiful Christmas towns in the US. We recommend this charming little town and its beautiful surroundings as a great road trip destination from Seattle all year round. But this jolly town is famous for its Christmas celebration, which starts in November and lasts until the end of December.
You'll find endless possibilities to fill out your holiday checklist when visiting the bustling small town that attracts travelers worldwide.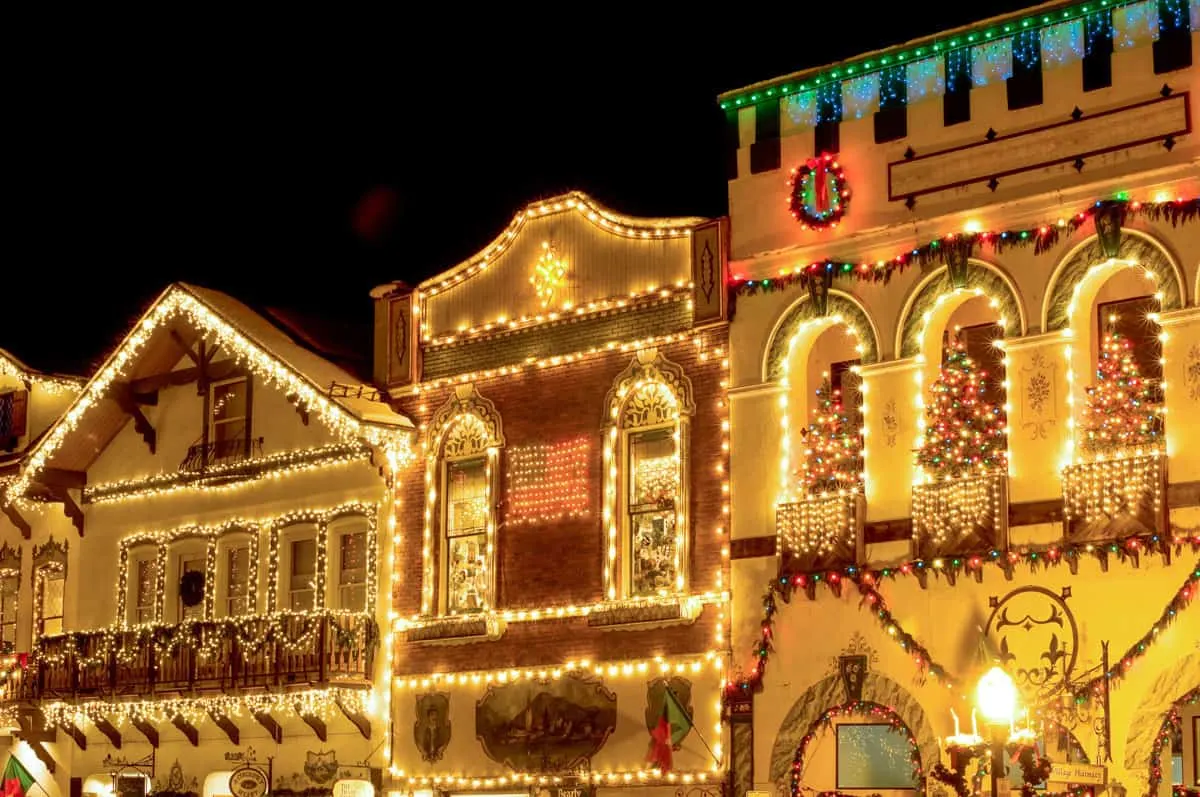 One of the best things to do in Leavenworth is explore all the cute shops tucked in every nook and cranny of the town. These mom-and-pop shops feature unique gifts, delicious souvenirs, and edible and non-edible treasures. Each of these delightful shops share a little insight into the town's history and the culture that shaped this unique Bavarian-styled town.
If the festive season is your motivation for visiting Leavenworth, take a walk around the city after sunset to see the spectacular Christmas light displays and the staggering Christmas tree that takes center stage at the heart of the alpine town.
One thing this German town in Washington does in spades is excellent Bavarian food, local beer, and wine. Pop into one of the ale houses, grab some traditional German food, and wash it down with locally made ale, ciders, or wines.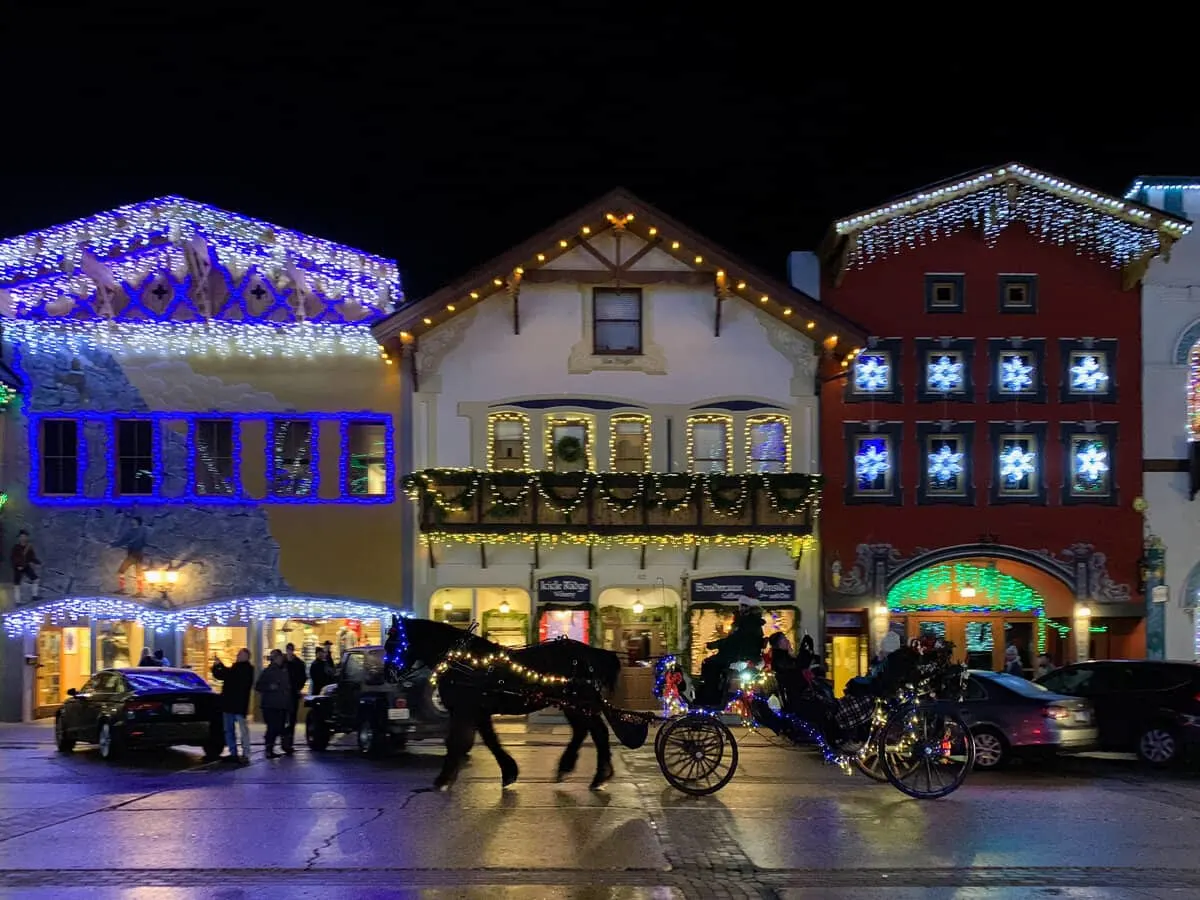 If you're into wine, there are a few wine-tasting rooms worth a visit. Make sure to stop by the Baroness, which offers the German specialty Engelwein, a steaming hot cup of white glühwein, a Riesling with white cranberries, spiced with ginger – a welcome tipple when the temps in December average between 20℉ to 34℉.
Considering the cold weather and snow, you will need an all-wheel drive when traveling to Leavenworth. The average drive time coming from Seattle is around 3 hours but can take longer depending on road conditions. The Icicle Village Resort is a popular lodging choice and is centrally located in downtown Leavenworth.
Recommended by: Yesenia and Sierra – The Sisters Who Voyage
Jackson Hole
Jackson, Wyoming, is a rustic mountain town with an extra enchanting feel during the winter season. The glorious snow-capped Teton Mountain Range surrounding the Jackson Hole valley adds to the town's scenic appeal and makes it one of the best places to spend Christmas. But the festive activities, frequent Santa sightings, and Christmas decor illuminating the town will certainly put you in the holiday spirit.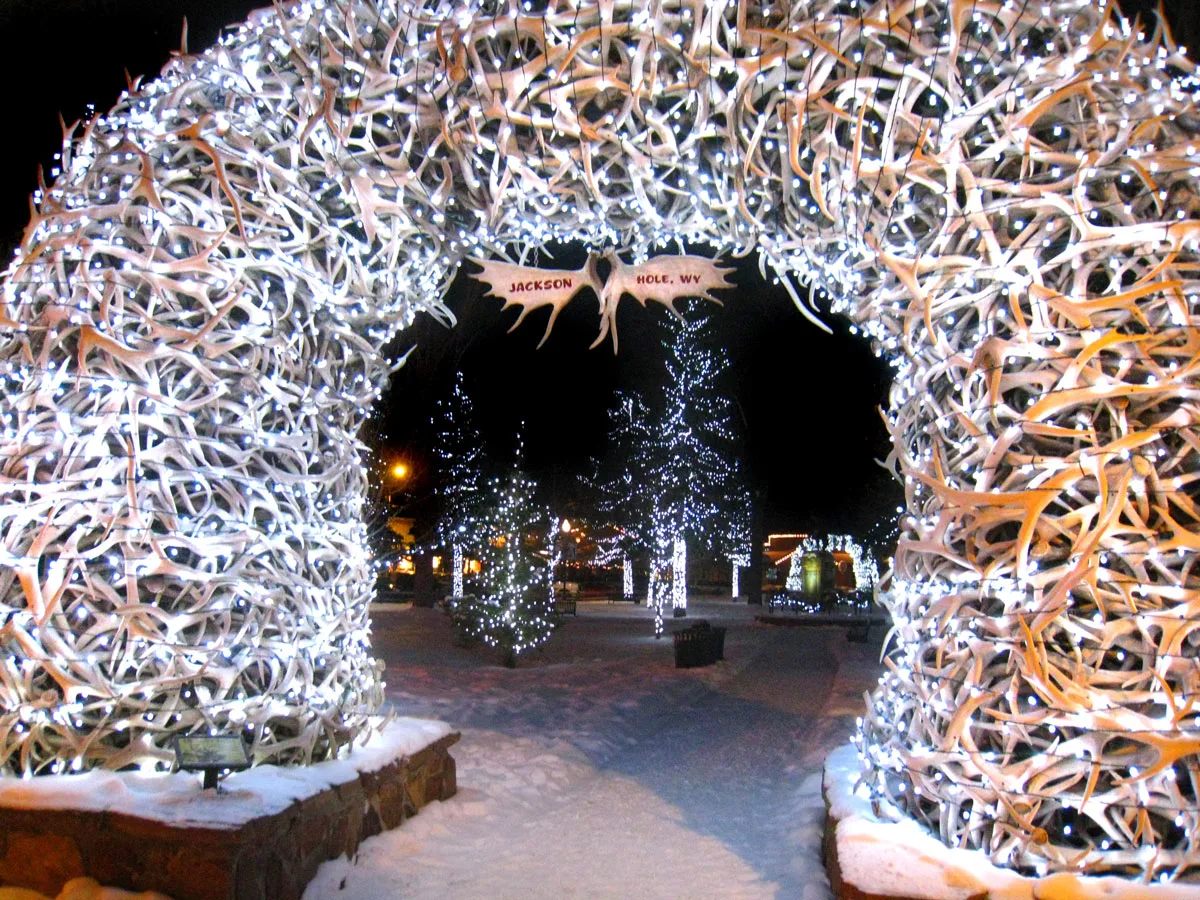 Garland drapes the covered wooden walkways in the Wild West town, and Christmas lights dangle above the streets, casting a radiant glow on the snow.
In Jackson Hole Town Square, the famous antler arches that greet visitors at every corner are also wrapped with white lights.
There are plenty of winter sports at the three ski resorts, as well as snowmobiling and fat tire biking in the snow. Don't miss one of the guided sleigh rides through the snow-covered landscape of the National Elk Refuge, where the elk migrate to over the winter.
Temperatures in Jackson don't climb above freezing much during winter, which adds to the holiday atmosphere. But there are plenty of things to do in Jackson to stay warm over the festive months.
Head to the Jackson Hole Playhouse for a holiday performance, and stay at one of the town's many cozy winter lodges. Book a visit at the historic Wort Hotel, where you can warm up by the fire while enjoying their large Christmas tree and the poinsettias adorning their grand staircase.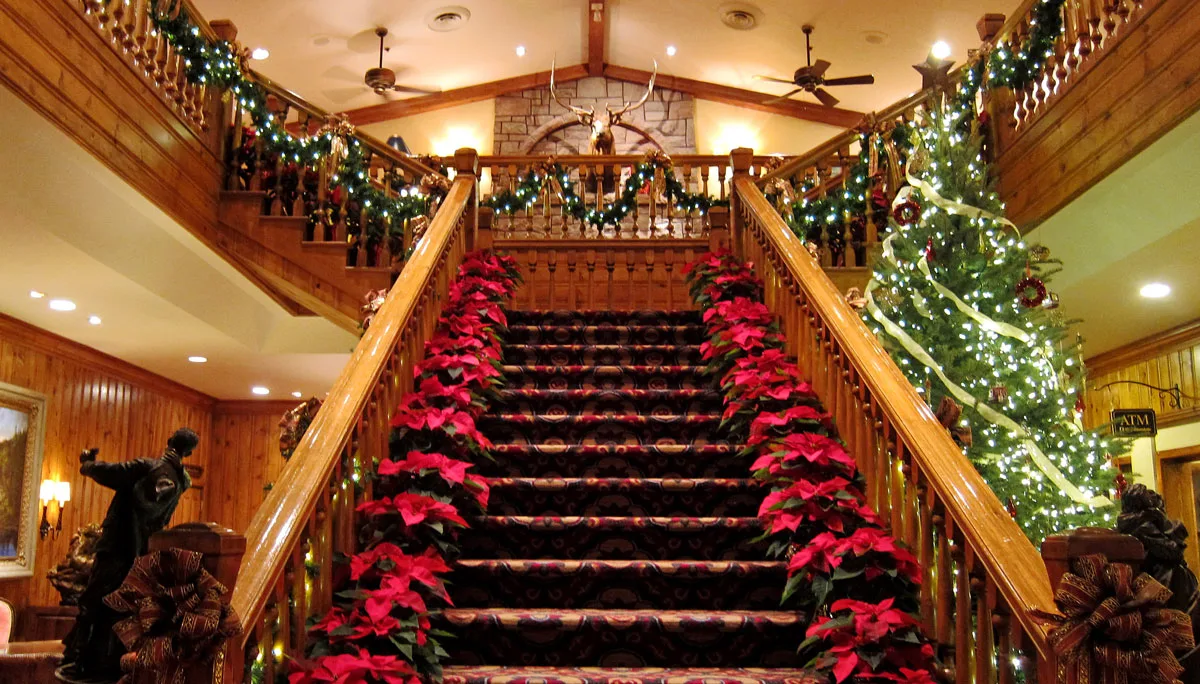 If visiting Jackson Hole with kids, the Wort Hotel also hosts Christmas activities like gingerbread house decorating. And, of course, don't forget to visit Old Saint Nick himself while he is in Jackson. You'll often find him at Town Square, the Teton Mountain Village, and special events like the town's holiday street lighting night.
Recommended by: Melissa Smuzynski – Parenthood and Passports
Boston
Boston is a charming city to visit in New England during the holiday season. There's no shortage of decorations and a festive atmosphere to spread holiday cheer. The Christmas festivities in Boston begin with lighting the three main trees around the city at the Boston Common, Seaport, and Copley Square.
Once the festivities have officially commenced, the rest of the city follows suit with a Christmas wonderland display of lights, beautiful Christmas trees, and displays, including twinkle lights at the Public Gardens, Frog Pond, and the music and light show at Faneuil Hall Marketplace.
For a classic Christmas experience for kids and adults, see the Boston Ballet's Nutcracker performance at the Opera House. Characters from the ballet mingle with the crowd in the beautiful lobby of the Boston Opera House before the show, which is a special holiday moment for children.
If you're hoping to shop for unique gifts, head down to the Snowport Holiday Market, where you'll find over 60 vendors and a heated tent with delicious winter-warming food and special, holiday-themed cocktails.
Head to Boston Common to the Frog Pond Ice Rink for ice skating under the Christmas lights. You can rent skates and enjoy the festive atmosphere of the park.
Recommended by: Samantha Hamilton – New England Wanderlust
Cleveland
Cleveland, Ohio, is one of the best places to spend Christmas in the US for many reasons. Not only is Cleveland family-friendly and less crowded than many of the larger cities, but there are a ton of holiday-themed things to do. After all, Cleveland is home to the iconic Christmas Story House.
The Christmas Story House is a must-see attraction for any movie fan. You take a guided tour of the house and museum and immerse yourself in one of the most iconic Christmas movies. You can even spend the night in the famous Christmas Story House – see here for information and reservations.
Cleveland's Public Square is where you will find an incredible display of Christmas lights, a skating rink, a Santa booth, and the famous Christmas windows at Higbee's. Public Square also hosts fun festive art installations, like a life-size Elf-on-the-Shelf.
There are several great hotels to stay at right in downtown Cleveland. The Drury Plaza Hotel Cleveland Downtown is perfect for a family-friendly visit, or for a more romantic getaway, try the Renaissance Cleveland Hotel.
Cleveland also has some great places to eat. Try The Bourbon Street Barrel Room for southern comfort food, the Chocolate Martini for some incredible desserts and drinks, or the West Side Market for a quick bite.
Recommended by: Marianne – Pasta, Pretzels, and Passports
Yosemite National Park – A Magical Christmas Destination
While it might not be the typical time people think to visit, Yosemite National Park, one of the most iconic national parks in the US, is beyond magical at Christmas time. It is definitely one of the best places to spend Christmas. With the snow-dusted soaring granite walls of Half Dome and El Capitan combined with the lack of crowds, Yosemite is one of the most striking natural winter wonderlands.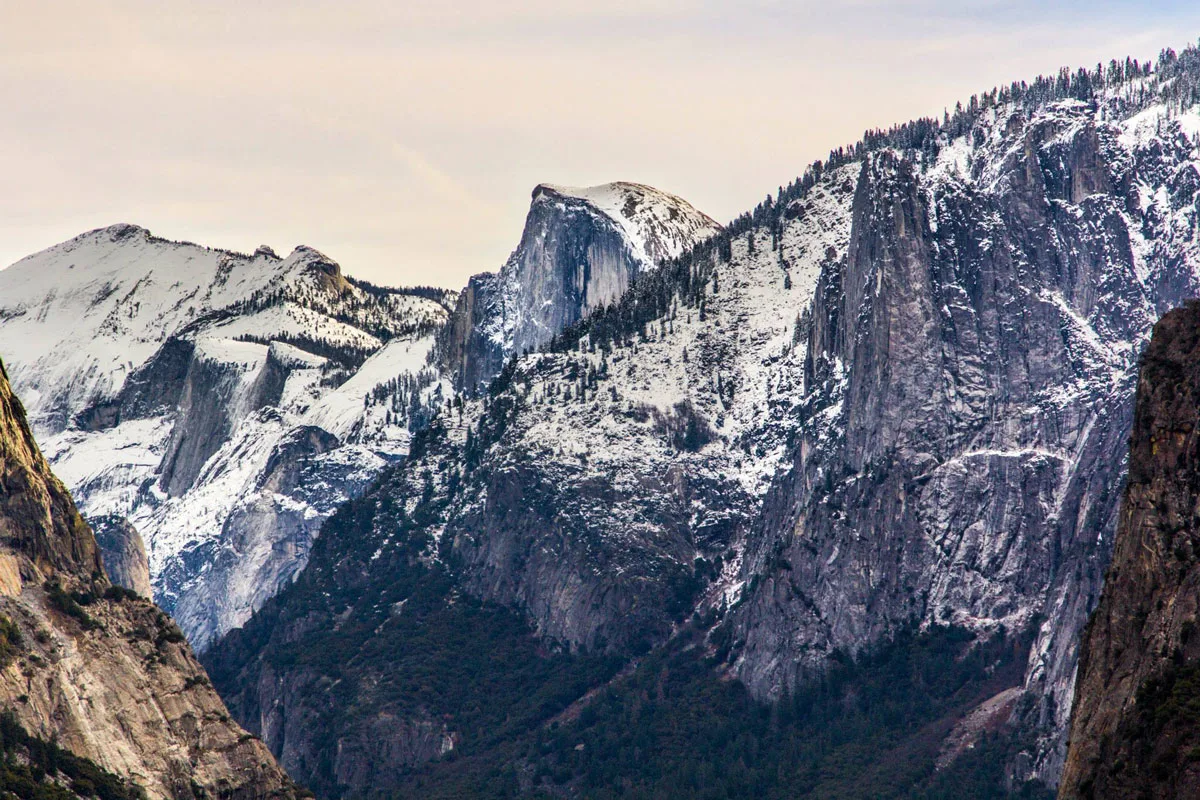 You need to be more discerning about the trails you explore in the winter because snow and ice can make hiking a little more intense, but if you come prepared with the right gear, many of the best hiking trails in Yosemite can be very special to snowshoe.
The average daytime temps in Yosemite in December are around 47℉, so hiking can still be quite pleasant as long as you layer up.
You'll also find lots of other fun winter adventure options in Yosemite, including ice skating on the rink at Curry Village and skiing at Badger Pass Ski Area. When visiting Yosemite in the winter, be aware that Tioga Road is closed, so you'll have to enter Yosemite from the east side and mainly spend your time in the Valley.
The Ahwahnee Hotel, Yosemite Valley Lodge, and Wawona Hotel all celebrate the season with various holiday festivities. They are lovely places to stay when it's too cold to camp. So pack your winter best and make your way to Yosemite National Park for a merry Christmas you'll remember for a lifetime.
Recommended by: Alison – She Dreams of Alpine
Salt Lake City
There are so many things to do in winter in Utah, and Salt lake City makes up one of the best places to spend Christmas. You can enjoy world-class ski resorts, beautiful Christmas displays, and loads of festive activities and local traditions in downtown SLC.
Temple Square is decorated with over 100,000 sparking lights. There is a live nativity and concerts with local performers throughout the season. The Tabernacle at Temple Square hosts a fantastic annual Christmas concert with celebrity performers.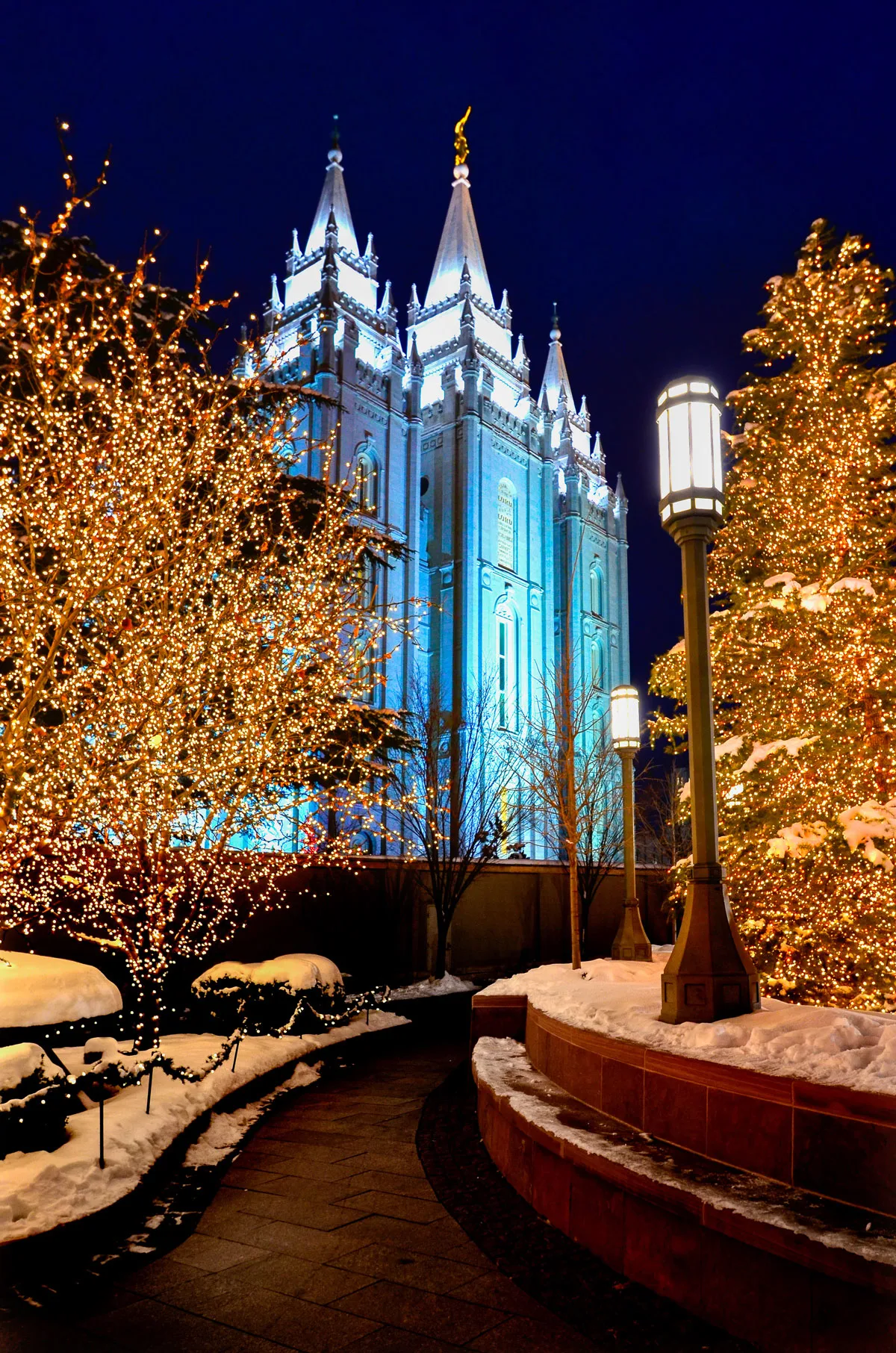 Salt Lake City has some of the best ski resorts in the US, including Deer Valley Resort and Park City Mountain Resort in nearby Park City. Both resorts were major locations in the 2002 Winter Olympics so they offer a good array of winter sports and activities within easy reach of SLC.
Take a ride on the Polar Express (aka Heber Valley Railroad) and enjoy hot cocoa and Mrs. Claus' famous chocolate chip cookies on the 90-minute ride with Santa and his elves. After, you can head over to the Midway Ice Castle and explore the magical frozen ice castle hand-built by teams of ice sculpture artists every year.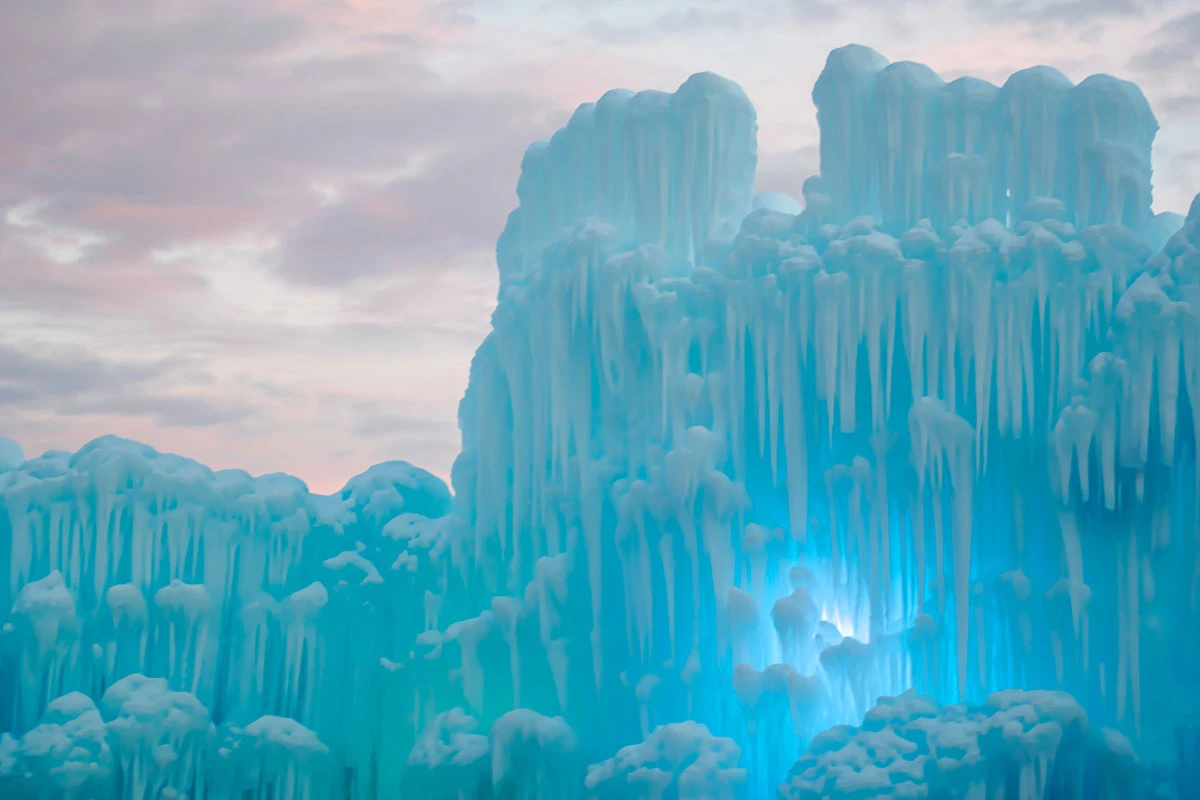 Soldiers Hollow tubing area is also near Midway. Soldier Hollow is in Wasatch Mountain State Park and has the longest tubing lanes in Utah. The lengthy 1,200-foot sliding lanes are open for tubing day or night under lights and have a lift service for towing people up the hill.
Staying at the Grand American for Christmas is fantastic. Located downtown, they have beautiful rooms, but also, every Christmas, they have a two-story gingerbread house and a "Night Before Christmas" window display. Even if you don't stay there, you can still visit the Christmas displays in the lobby.
Recommended by: Lisa Manderino – Planning Away
Milwaukee
One of the most popular things to do in Milwaukee during Christmas is to see the Milwaukee Holiday Lights Festival. The six-week festival wow's visitors with an abundance of twinkling street decor, animated sculptures, and interactive displays.
Visiting the BMO Harris Bank Christmas display is a Milwaukee tradition. BMO Harris Bank has delighted Milwaukee for almost half a century with its annual holiday display of the bank's treasured collection of life-sized Steiff animals in elaborately designed costumes and vignettes.
The Christmas concert at the Basilica of St. Josaphat is another Milwaukee highlight, but make sure you dress warmly with winter temps of around 32°F.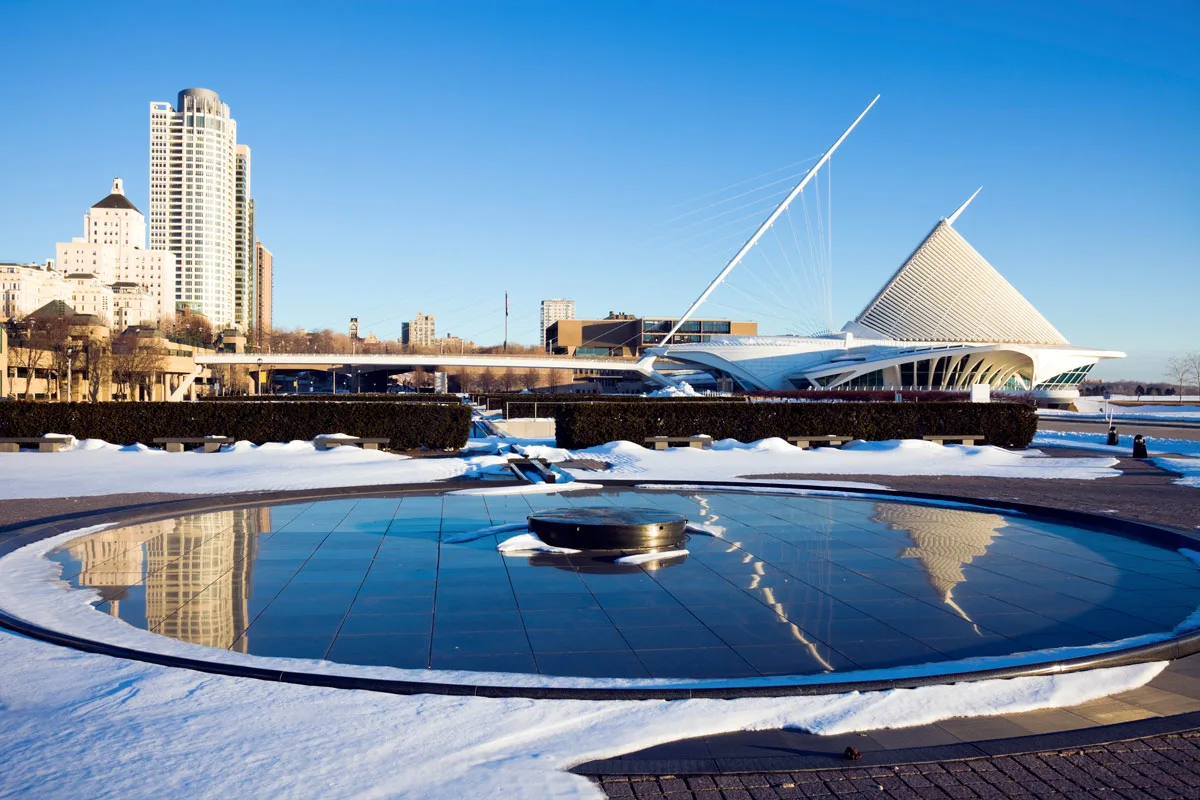 Beyond the Christmas festivities, there is plenty to do in Milwaukee in winter. Visit one of Milwaukee's most loved attractions, The Mitchell Park Domes. A living botanical museum with thousands of plants growing inside tropical, desert and floral domes.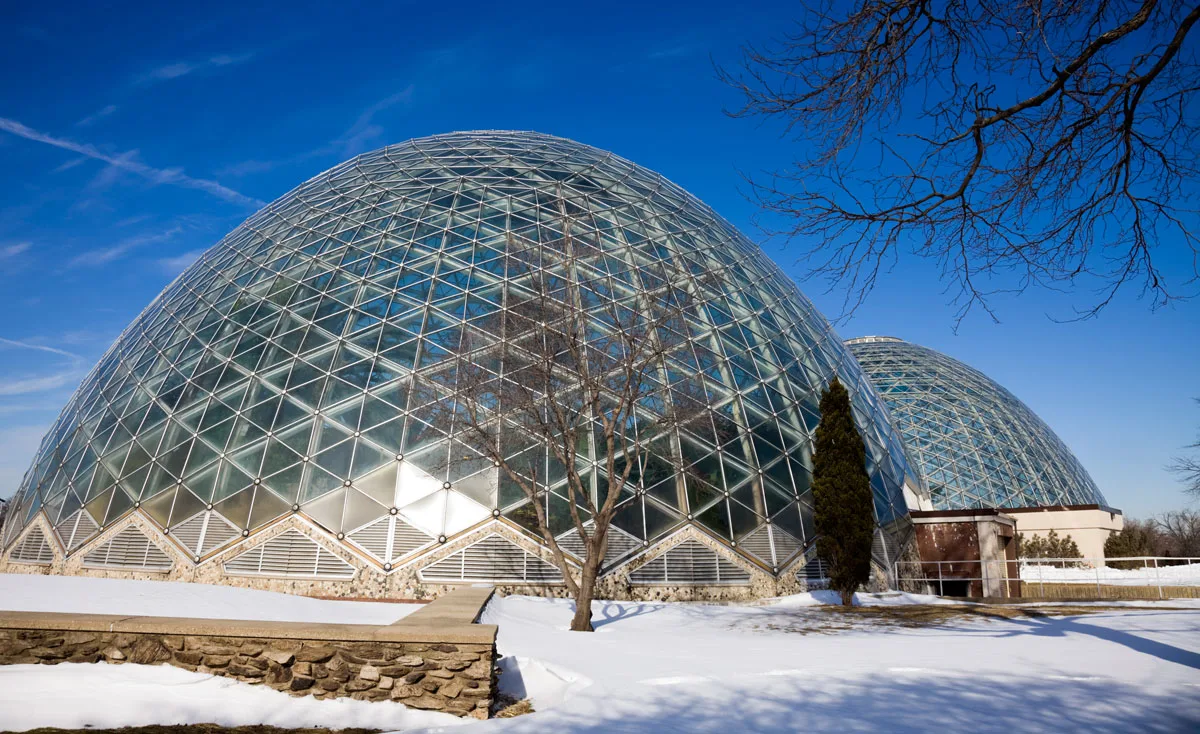 Visit some of the city's museums like Charles Allis Art Museum, Villa Terrace Decorative Arts Museum, and Haggerty Museum of Art. Visit the historical Milwaukee City Hall. Finished in 1895, it was, at one time, the tallest skyscraper in the World
Recommended by: Philipp Muders – Journication
It shows that there are so many possibilities for an incredible Christmas vacation with a difference. From traditional Christmas towns to tropical escapes and famous city festive events.