On the hunt for the best things to do in Jackson Hole, Wyoming? Winter or summer, we have you covered.
A trip to Jackson Hole Valley in the northwestern corner of Wyoming is an absolute must when visiting this part of the US – a region known for its natural beauty and the charming Western towns of Jackson, Alpine, and Teton Village, to name a few. It boasts an incredible array of exciting things to see and do.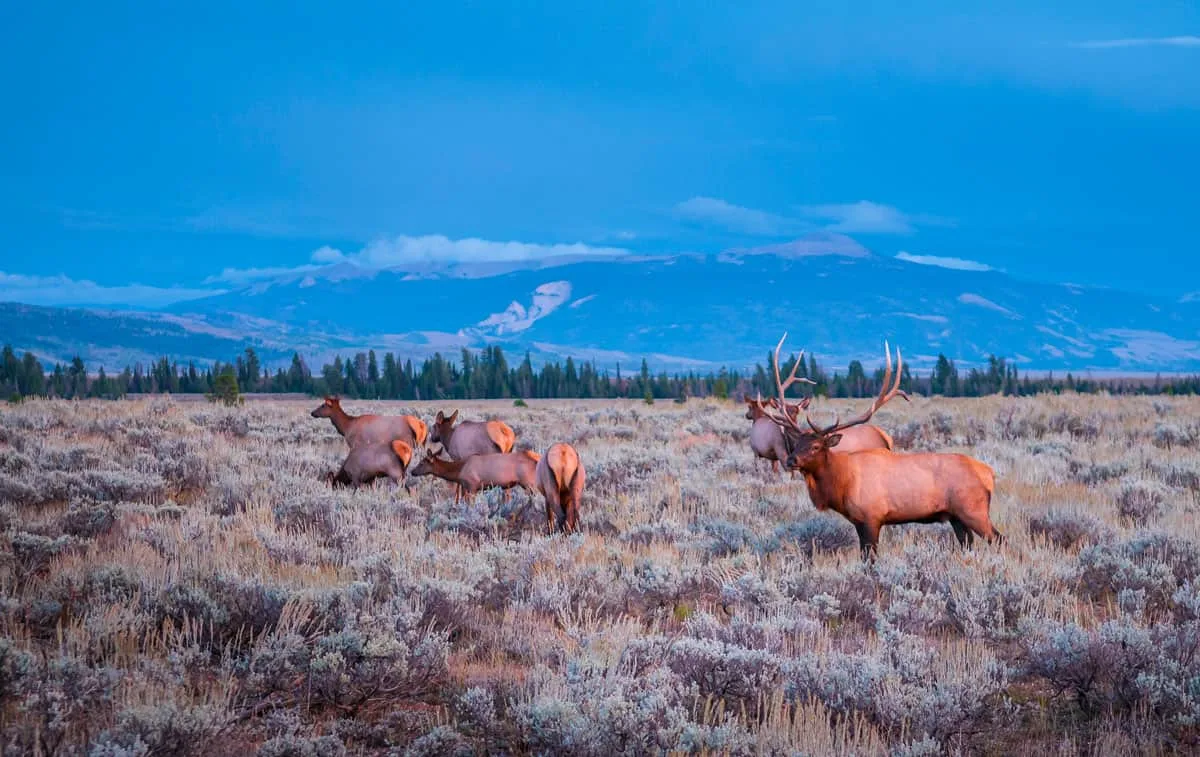 Best Time to Visit Jackson Hole
Jackson Hole is a perfect all-year destination offering an abundance of things to see and do in both winter and summer. You'll never be left wondering what to do in Jackson Hole.
Most ski resorts are open around late November, although late December through March is ideal for winter visitors.
For those seeking warmer weather, the peak summer months of June, July, and August are ideal as the weather is fine and stable with temps in the 70s-80s ℉ (low to high 20's ℃). However, there is a drawback – expect accommodation rates to be high as this is also peak season for nearby Yellowstone and Grand Teton National Parks.
The shoulder seasons of April, May, September, and October are among the best times to visit Jackson Hole for mild weather and a relatively tourist-free experience.
The weather during the shoulder seasons can be unpredictable, with temps in the 60's ℉ (Mid- to low 20s ℃). Still, the payoff will be some excellent accommodation deals and spectacular seasonal displays of color without the crowds.

Where to Stay in Jackson Hole
There are many places scattered around Jackson Hole where you will find good accommodation, but Jackson's especially charming main town makes a great base to explore the area.
There is no shortage of great places to stay in Jackson Hole – From the beautiful 3-star Wyoming Inn to the gorgeous 4-star Cloudveil Autograph Collection Hotel or the 3-star Cowboy Village Resort, for a true western-inspired stay. There really is a diverse collection of accommodation options in Jackson Hole.
Search the Best Accommodation Deals in Jackson Hole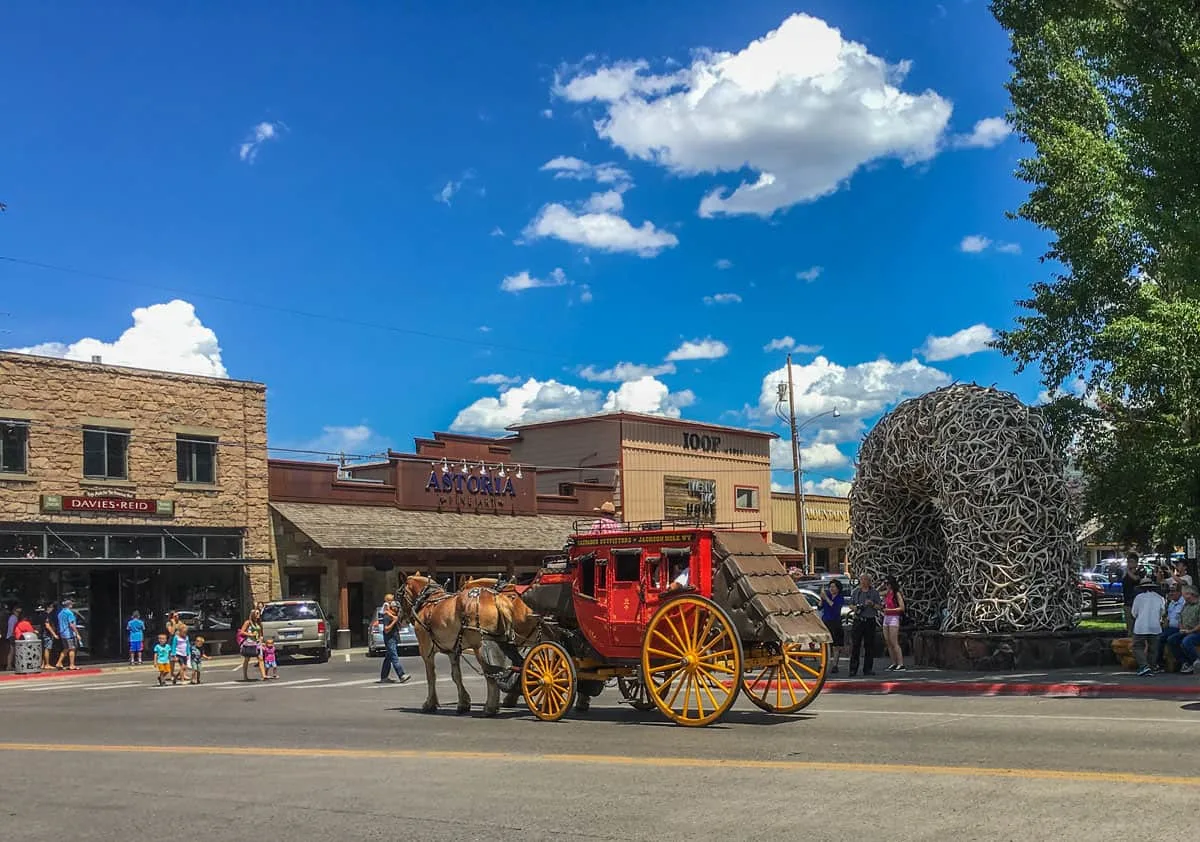 Best Things to do in and Around Jackson Hole
Explore Downtown Jackson
Whether you decide to stay in Jackson or not, exploring the charming Western-style town is an absolute must. The streets are packed with great restaurants, saloons, shops, and not to forget the famous antler arch, one of Jackson Hole's most photographed attractions.
The famous elk antler arch is the town square entry, a lovely park, and the site of the longest, continuously running gunfight in the United States. At the Town Square, six nights a week at 6.00 pm (excluding Sundays) from Memorial Day through Labor Day, you can witness The Jackson Hole Town Square Shootout, a must-see gunfight reenactment that has been running for 65 years.
On Saturday mornings, you can visit the local farmers' market in the square.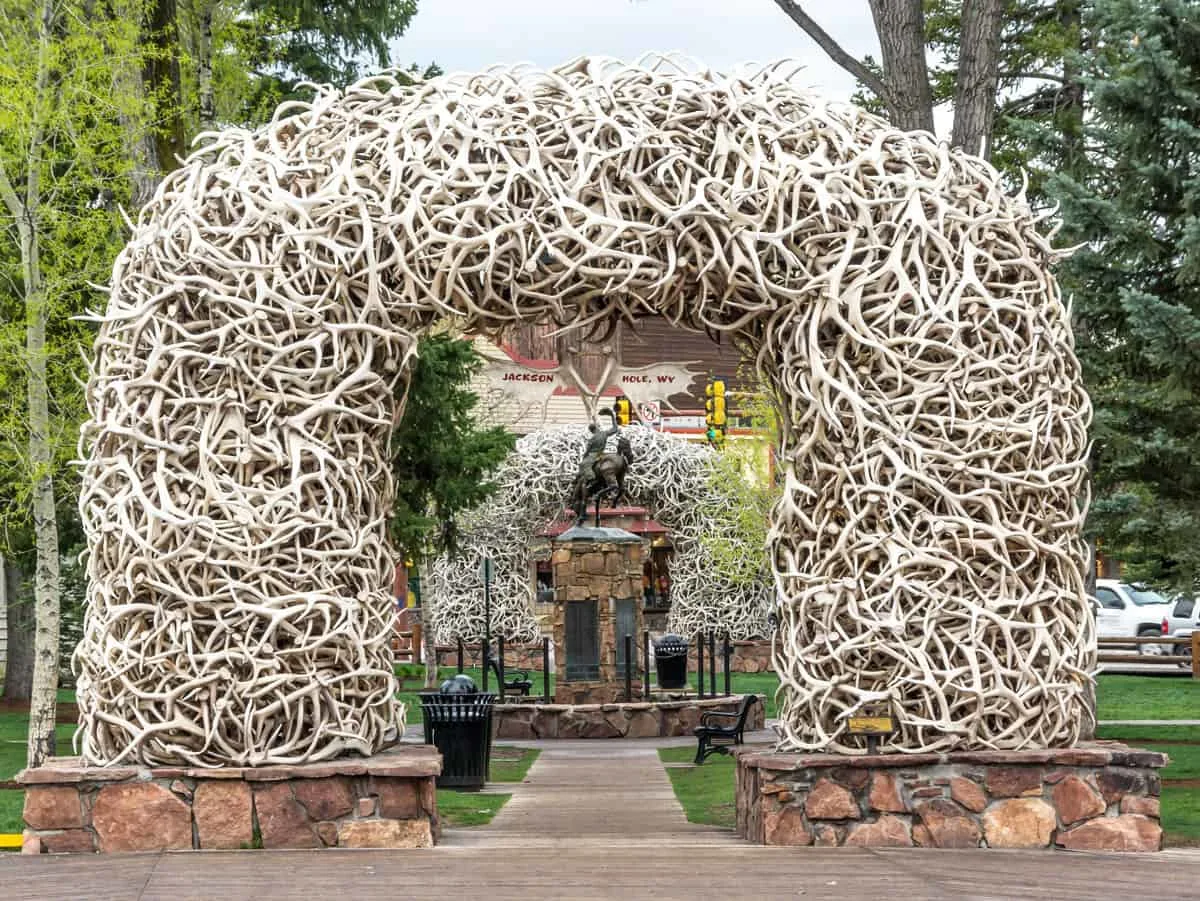 Jackson Hole Festivals and Events
Jackson springs to life with endless events, festivals, and fairs during the summer months. These include the Grand Teton Music Festival, the ElkFest, the Fourth of July Parade, and the daily Town Square Shootout, to name a handful.
Be sure to check out the Jackson Hole Chamber of Commerce's Events Calendar for events during your visit.
Local Museums
National Museum of Wildlife Art
The only museum dedicated to wildlife art, the National Museum of Wildlife Art is an incredible interactive experience for art enthusiasts, nature lovers, and kids.
Experience the wildlife of the world through an incredible array of art mediums. You will encounter larger-than-life animal sculptures along the outdoor Sculpture Trail. The museum has over 5,000 paintings and sculptures from prominent artists, including Georgia O'Keeffe, Andy Warhol, Robert Kuhn, John James Audubon, and Carl Rungius. Works date from 2500 B.C.E to the present.
In addition to the permanent collection, there is a changing calendar of exhibits and events throughout the year. See the NMWA website for details of events. Or you can pre-book tickets here.
A full-service restaurant also offers indoor and outdoor dining with inspirational views across the National Elk Refuge.
Jackson Hole Children's Museum
For a fun and interactive children's museum experience, the Jackson Hole Children's Museum is an engaging educational experience.
A few of the museum's highlights are the wind machine, a dig pit, the magnet wall, a creative studio, the Mountain Market, and Elk Shed. There is so much for kids to do.
Jackson Hole Historical Society and Museum
One for the history buff, this small but fascinating museum connects visitors to the region's history. Divided into two sections – in one, explore the history of the region's indigenous Native Americans, and in the other, the settlers who arrived to make the area their home. It is a fascinating insight into the people who shaped Jackson Hole and the entire region.
Jackson Hole Aerial Tram
Take a ride on the Aerial Tram, dubbed "Big Red", for staggering 360-degree views of the Tetons, Jackson Hole Valley, and surrounding mountain ranges. The tram ride takes 9 minutes to climb 4,139 vertical feet along 4.85 miles of cable to the summit.
Aside from the epic sightseeing opportunity, the Aerial Tram gives riders a launch point for countless other activities. Enjoy the tradition of indulging in a world-famous waffle from Corbet's Cabin at 10,450 feet atop Rondevouz Peak.
Or, you could try to conquer the most famous and steepest run in Northern America – Corbet's Couloir, which is only accessible by riding the tram.
Don't fancy skiing? Take a look over the edge to see why Corbet's Couloir is on every Top 10 list of ski runs to conquer. You can find the summer and winter schedules for the Jackson Hole Aerial Tram here.
Visit Grand Teton National Park
A destination in its own right any time of year, Grand Teton National Park is only seven miles from Jackson Hole. Grand Teton is around 310,000 acres of wilderness with some of the most beautiful mountain scenery in the western United States.
There are over 200 miles of diverse trail systems, offering visitors some of the best hiking in the US and wilderness biking trails – there are over 100 miles of paved roads with views of the Teton range that are very popular with cyclists.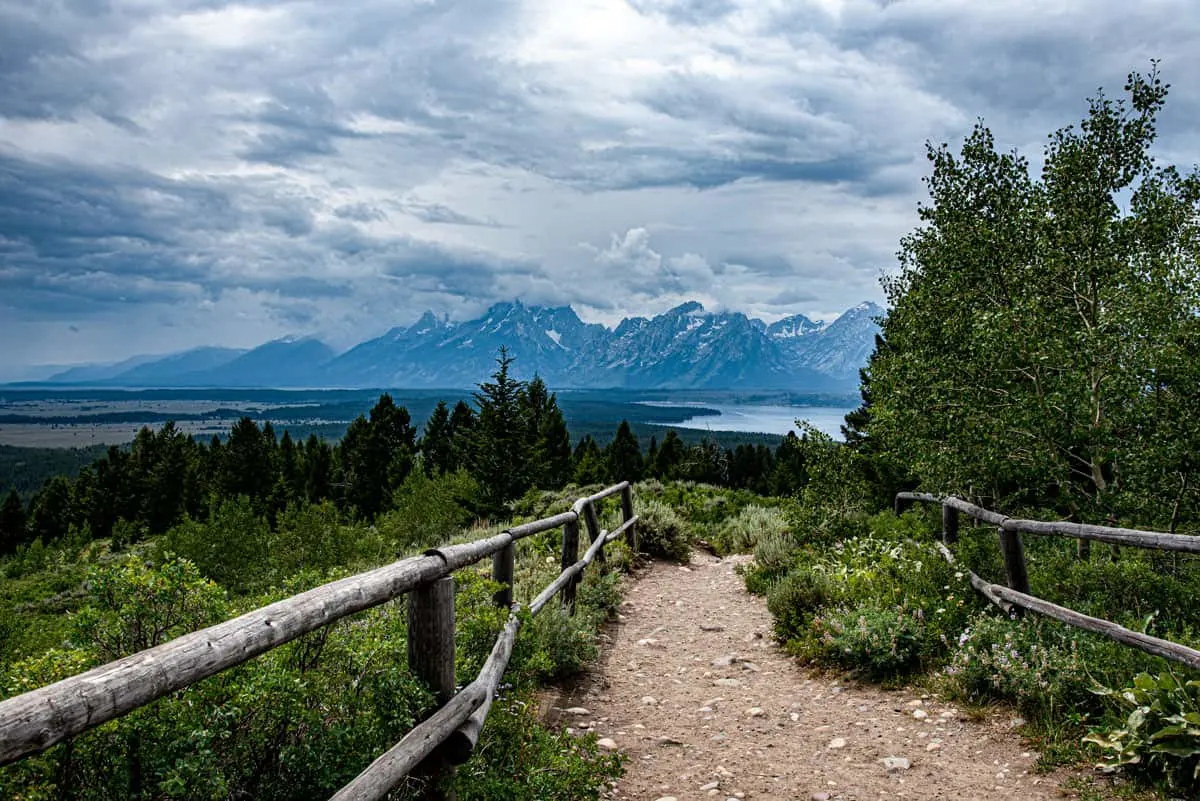 If hiking or biking isn't your thing, You can also drive the 42-mile scenic loop drive through the park, the length of the Teton range, tracing Jenny and Jackson Lakes, with plenty of scenic lookouts along the route. And, of course, there is also camping, fishing, mountaineering, and so much more.
Visit Yellowstone National Park
Another destination in its own right, Yellowstone National Park, is an easy day trip from Jackson Hole. While you could feasibly spend weeks in Yellowstone, it is still a very rewarding destination for day-trippers.
There are so many great hikes in Yellowstone, even for day visitors. And, of course, there is wildlife, magnificent vistas, fascinating geyser basins, and the history of the first national park in the US.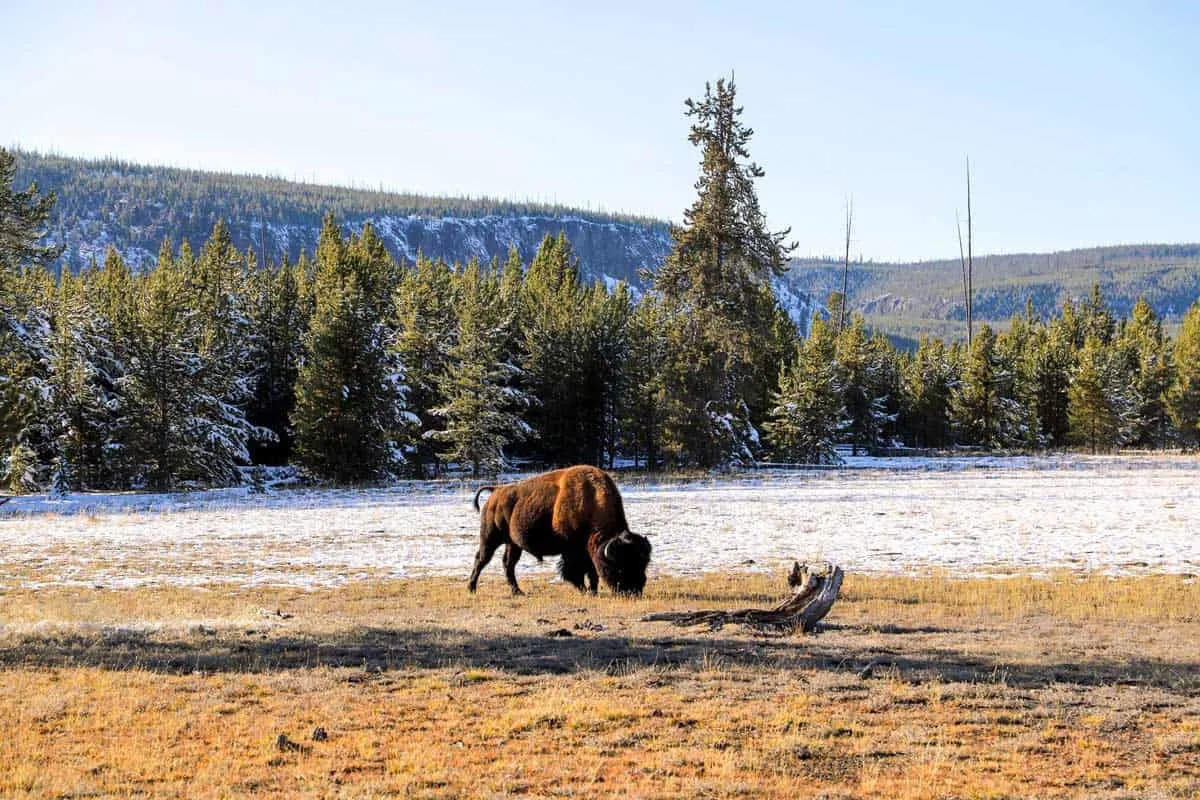 The south entrance of Yellowstone is only 57 miles from Jackson Hole. The drive to the Geyser Basin to see Old Faithful will take approx. 2 hrs, and the Grand Canyon of Yellowstone around 2.5 hrs.
If you want to self-drive, we recommend downloading the Yellowstone National Park Self Drive Audio Tour to enhance your time in the park.
If you prefer to take a tour from Jackson Hole, these are some great options –
Hot Springs
Jackson Hole Valley is home to several thermal springs. Much like the hot springs in Mammoth Lakes, you will find several man-made hot springs carved out of the ground so bathers can easily enjoy the therapeutic warm waters.
Many springs are accessible year-round, and there is nothing quite like taking a dip in the soothing warm waters during the chilly winter months.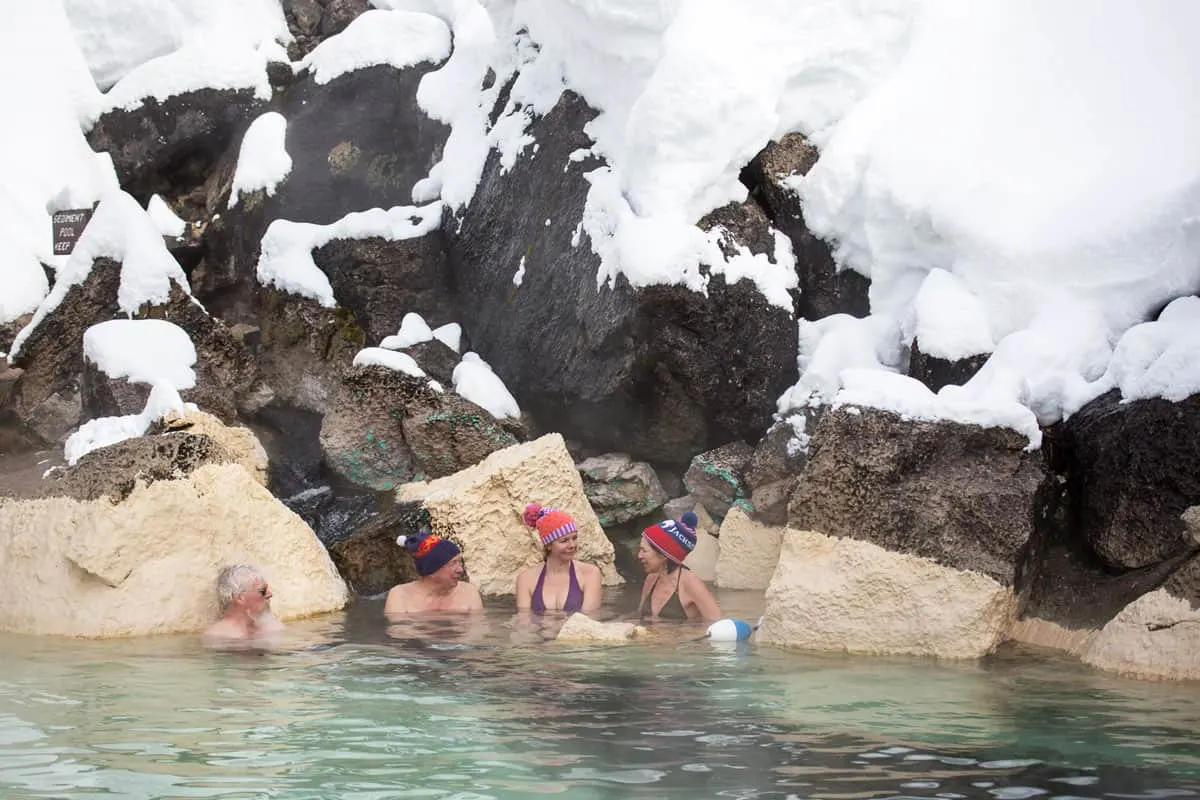 Granite Hot Springs is one of the more popular springs and boasts a natural pool with temperatures of around 110 Fahrenheit almost all year round.
Be aware this spring is only open in summer and winter (not in spring or fall) and only accessible in the winter months via snowmobile, skiing, fat bike, or as part of a dog sled tour. Get up-to-date information here.
Astoria Hot Springs is another good choice. Initially established in the 60s, it fell into disrepair but reopened in 2020. Located 15 miles south of Jackson, it has five natural hot pools. Book ahead, as entry is limited on a per-session basis.
When planning your hot springs visits, enquire with the tourist center or your hotel ahead of time and only visit designated springs open to the public. Visiting non-designated springs may be both dangerous and/or illegal.
Horseback Riding
What better way to embrace Western culture than on a horseback riding adventure? Exploring the scenic countryside and Tetan Ranges on horseback is an incredible experience.
Local ranches offer half, full-day, and multi-day horseback experiences. Heart Six Ranch (which also offers winter Snowmobiling adventures) is the most popular place for horseriding vacations and excursions.
Heart Six Ranch is located north of Jackson Hole in Moran and is a great place to stay (you can check rates for Heart Six Ranch here).
If you don't want to stay at Heart Six, they offer Horseback Riding Excursions in the Bridger-Teton National Forest for day visitors.
Things to do in Jackson Hole in Winter
Snow Sports
Undoubtedly one of the most popular things to do in Jackson Hole during the winter months is to take advantage of Jackson Hole's three ski resorts for some of the best skiing and snowboarding facilities in the US.
Whether downhill, snowboarding, or cross-country skiing, Jackson Hole has plenty of great facilities and snow during the winter months.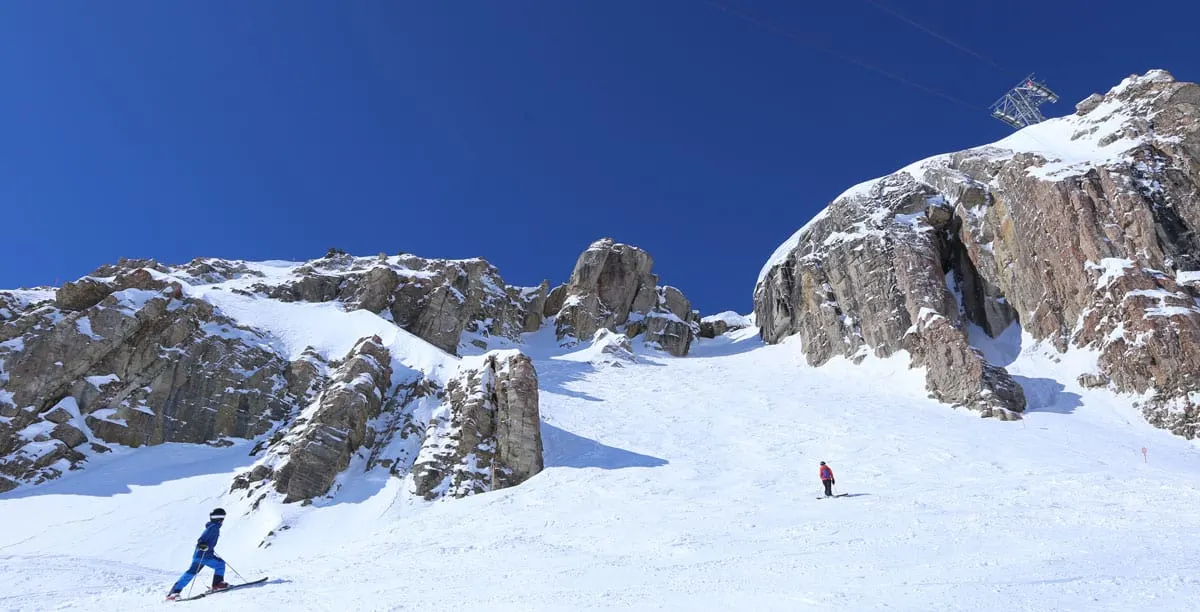 Jackson Hole Mountain Resort, the Grand Targhee Resort, and the Snow King Mountain Resort offer runs suited to all proficiency levels, with around 50% dedicated to intermediate and beginner levels.
As this is the most popular activity during the winter months, even with the laid-back, uncrowded vibe these ski resorts are known for, it is essential to plan and book ahead.
Snowmobiling
Self Guided Snowmobile Rentals
Snowmobiling in Jackson Hole is a favorite for those wanting to make the most of the incredible scenery and landscapes of the area.
There are a number of snowmobile rental operators to choose from if you want to plan some self-guided snowmobile tours of the area.
Guided Snowmobile Day Trips
If you prefer to do a guided snowmobile tour, you can choose from the following snowmobiling adventures: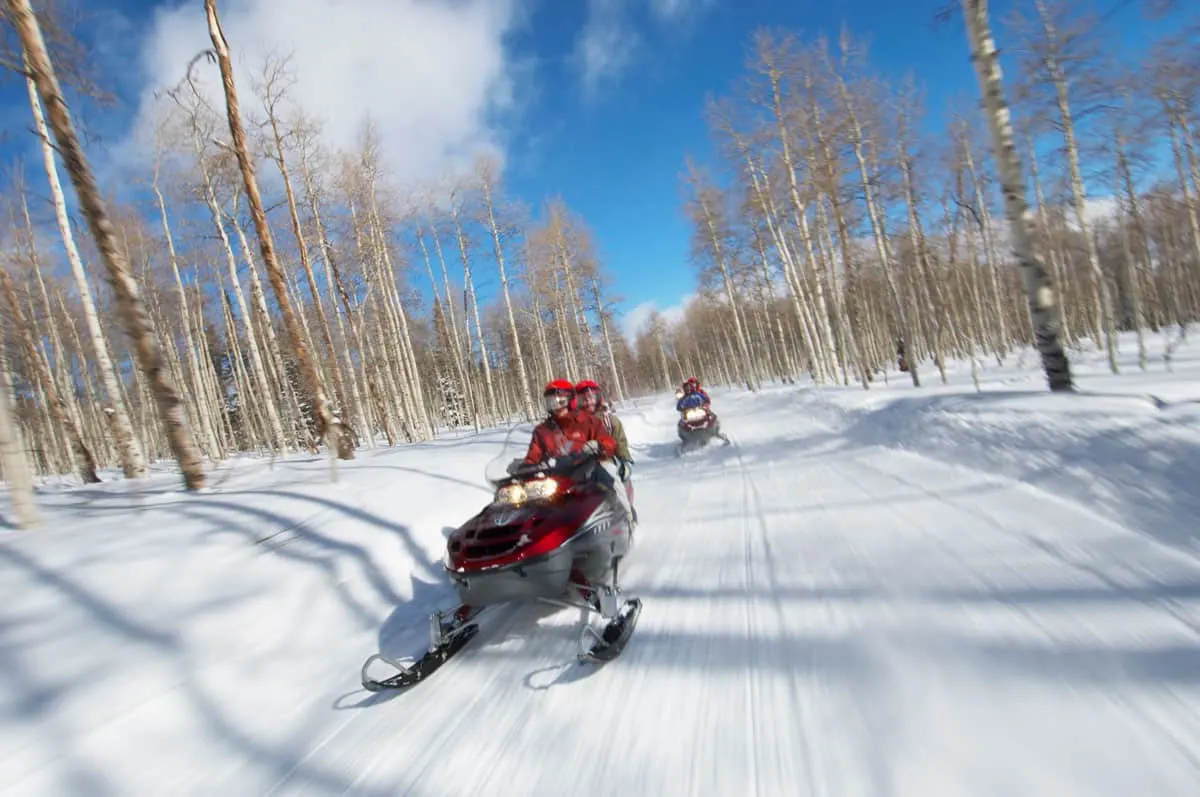 Fat Tire Biking
For a truly unique experience, why not give Fat Tire Biking a whirl? These bikes are suitable for off-road terrain and great on the snow, perfect for staying active during winter. Staff at the bike rental shops in town can suggest trails and maps to help you plan a self-guided tour.
If you've never biked before or consider yourself a beginner, you can opt for a guided biking tour. Teton Mountain Bike Tours offers guided tours through the National Elk Refuge and the Grand Tetons.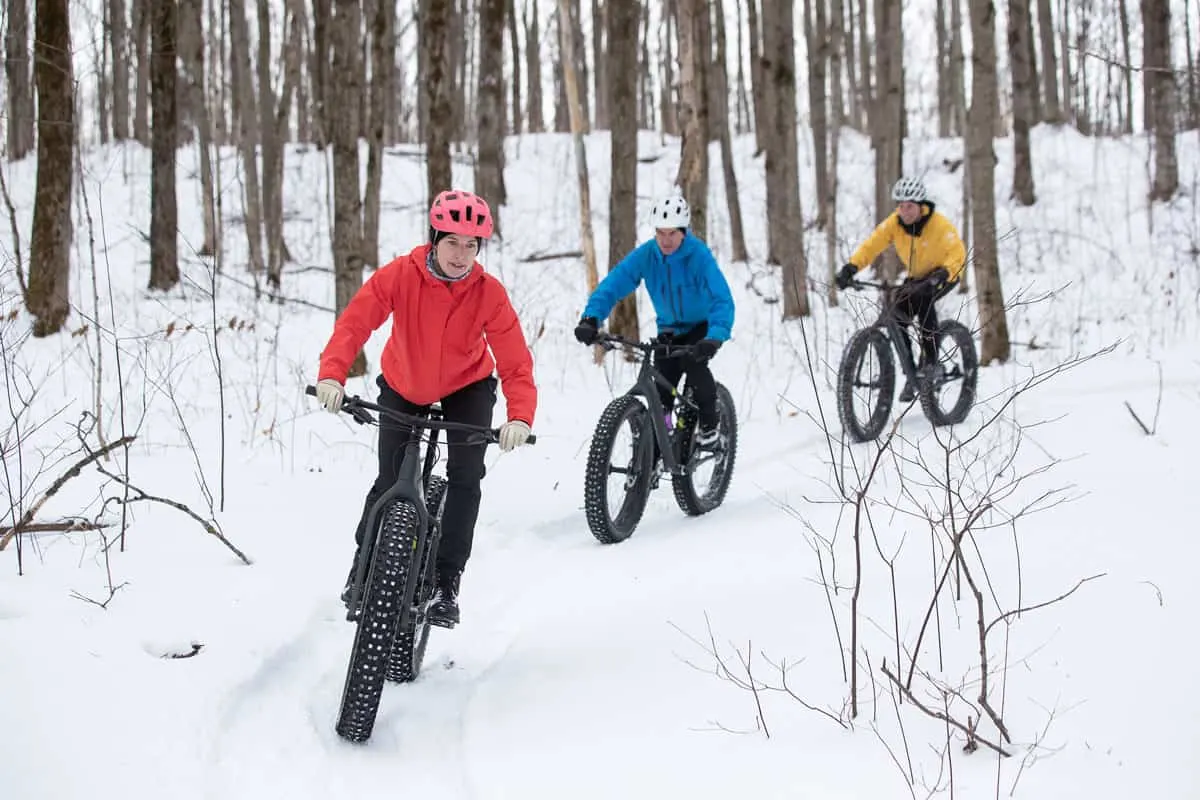 National Elk Refuge
December to April is the best time to visit the National Elk Refuge when you can witness the thousands of elk that migrate here for the winter months. The 25,000-acre wildlife refuge was established over one hundred years ago to create a sanctuary for these magnificent creatures.
You can take a full-day Grand Teton and National Elk Refuge Winter Day Trip, including a guided tour of the Grand Teton National Park in a heated vehicle, a short break for lunch, and a horse-drawn sleigh ride a the National Elk Refuge. You can see wildlife such as moose, bison, bighorn sheep, eagles, elk, and wolves.
If you visit during summer, there won't be elk, but there are opportunities to see lots of other wildlife species and learn about the refuge from local guides.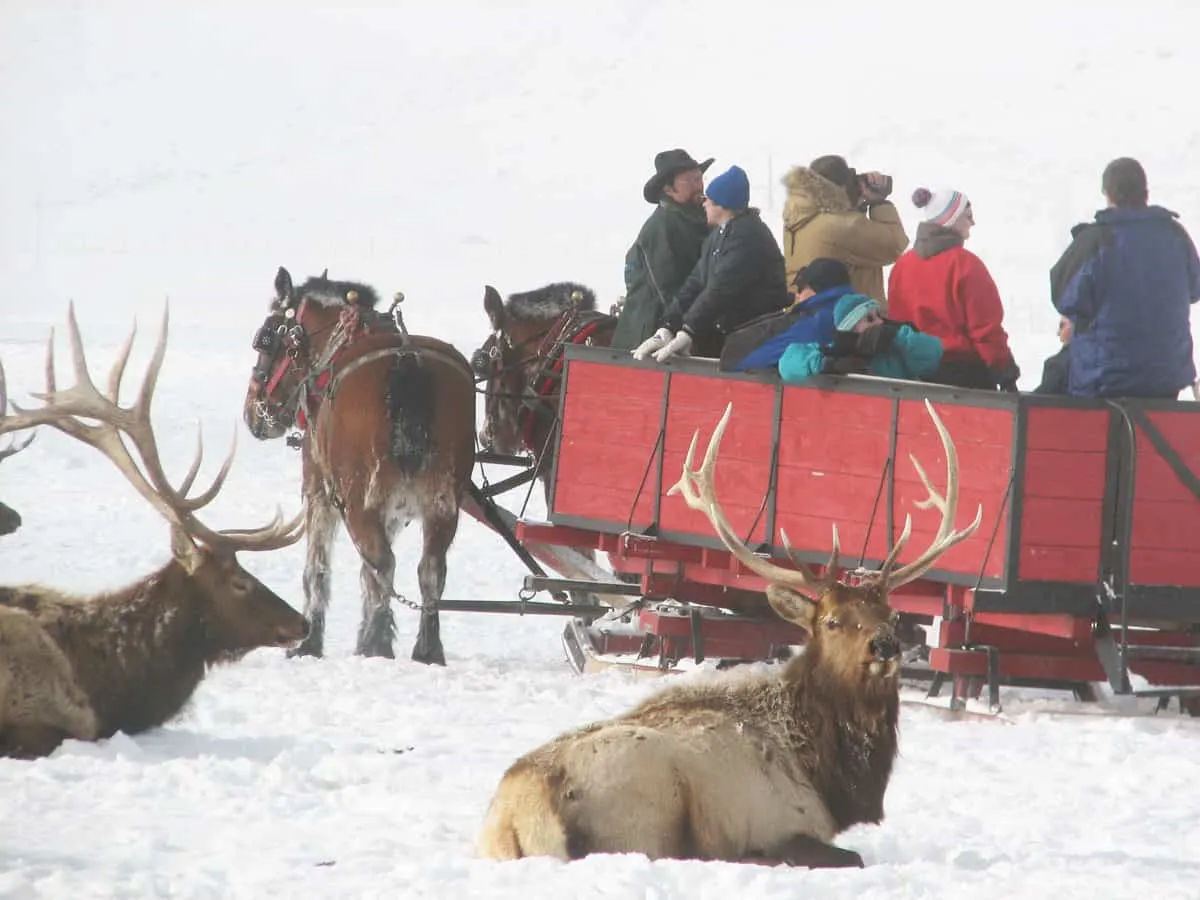 Enjoy a Sleigh Ride
What can be more magical than a guided sleigh ride? Transporting you to a bygone Western era taking in the snow-covered landscape and wildlife of Jackson Hole? It's one activity that makes Jackson Hole a popular place to visit over Christmas.
Visitors can enjoy 1-hour horse-drawn sleigh rides passing through the National Elk Refuge. Although reservations aren't needed, it is advised due to popularity.
Expect to pay around $30 per adult and $15 for children aged 5-12. Unless you are already booked on a combined Grand Teton and National Elk Refuge Winter Day Trip (which includes the Elk Refuge entry and sleigh ride), you can make sleigh ride reservations here.
Dog Sledding Jackson Hole
Thrill-seekers will love the full-day or half-day dog sledding adventures in Jackson Hole. Why not take advantage of a full-day tour and tick two activities off your list?
You can take a dog sled tour through the beautiful forested wilderness soaking up the area's natural beauty, before stopping off at the Granite Hot Springs. Enjoy a swim in the warm thermal waters before being treated to a lunch with soups and hot drinks, arriving back in town in the afternoon.
Along the way, be on the lookout for wildlife, including elk, bald eagles, bighorn sheep, and moose. You can find more information on this type of dog sled tour here.
Things to do in Jackson Hole in Summer
While some winter activities are also possible in summer, such as the Fat Tire Biking and hot springs, there are certain things to do in Jackson Hole that are best in summer.
Snow King Mountain Summer Activities
Are you looking to entertain the entire family? Families traveling with children will love the fabulous selection of Jackson Hole summer activities at Snow King Mountain.
These include the Treetop Adventure Park, the Alpine Slide, the Cowboy Coaster, and the Scenic Chairlift, which will have young and old entertained for hours.
Whitewater Rafting
Jackson has great opportunities for white water rafting on class II and III rapids on the Snake River. A fun activity for all rafting levels in summer, there are rafting trips geared to families and those seeking an adventure thrill.
You can find a wide selection of rafting tours, most around 3.5hrs tailored to suit different abilities and age groups. See a full selection of rafting tours on the Snake River here.
Scenic Float Trip on Snake River
If you prefer to relax and enjoy the view of the Grand Teton Mountains, surrounding wildlife, and nature, take a scenic float trip down the Snake River. Guides lead all tours so you can relax and take in the views.
It is an especially popular trip with families and wildlife enthusiasts on the lookout for deer, moose, and eagles. You can choose a 13-Mile Scenic Float with Teton Views or a 7-Mile Snake River Float. Some tours include a snack lunch, depending on the time.