Boasting a wildly diverse ecosystem and ever-changing landscape, many consider Yellowstone National Park one of the finest national parks in the US National Parks network and one of the top hiking destinations in the US.
Such acclaim is hardly surprising given Yellowstone encompasses a staggering area – over 2.2 million acres of rich and diverse wilderness with geyser basins, stunning waterfalls, mountainous terrains, canyons, meadows, and lush forests.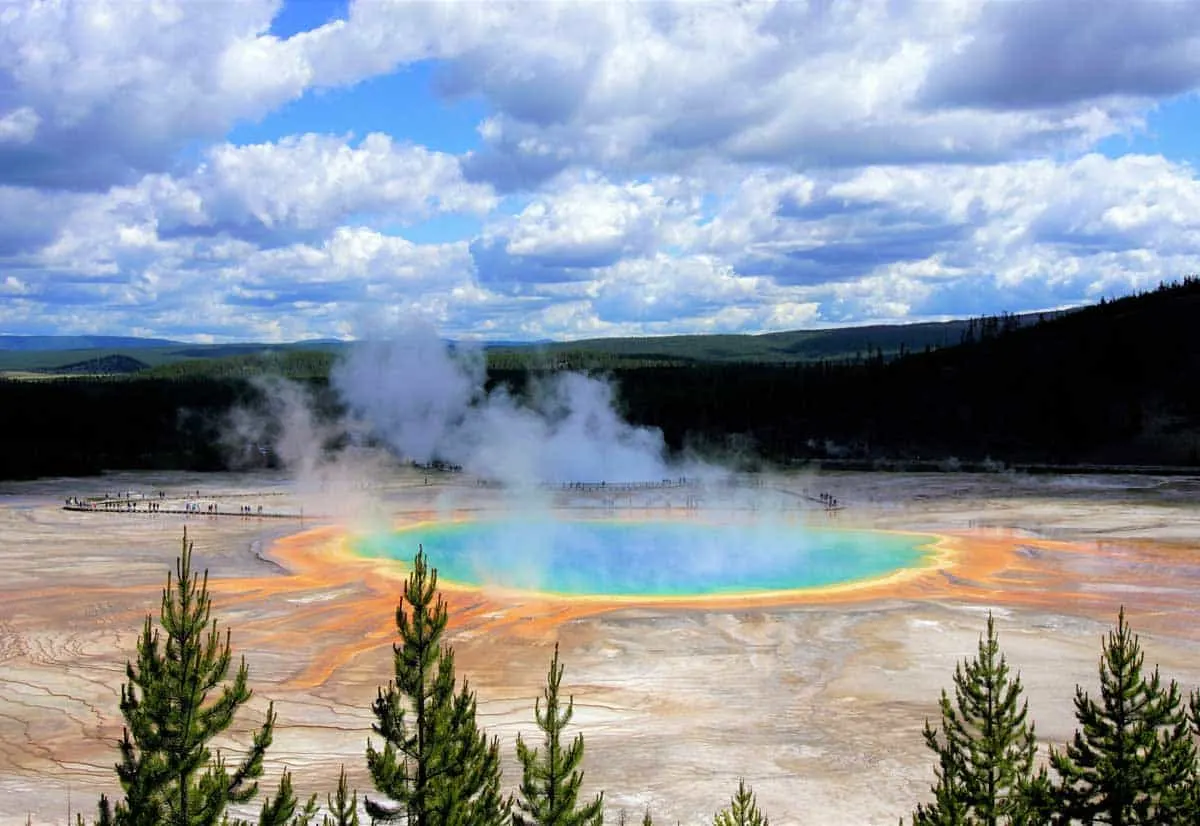 ---
How Many Days in Yellowstone NP
Not sure how many days in Yellowstone is ideal? While you certainly can spend a day in Yellowstone, outdoorsy types looking for an adventure vacation will definitely want more time to explore the Yellowstone hiking trails that span more than 900 miles. Anywhere between 4 – 7 days would give you time to adventure through a handful of the best Yellowstone day hikes without feeling rushed.
Given its vast trail network, it may be difficult to decide which hikes to prioritize. We've highlighted some of the best day hikes in Yellowstone to help you plan your time and discover the best of this stunning national park.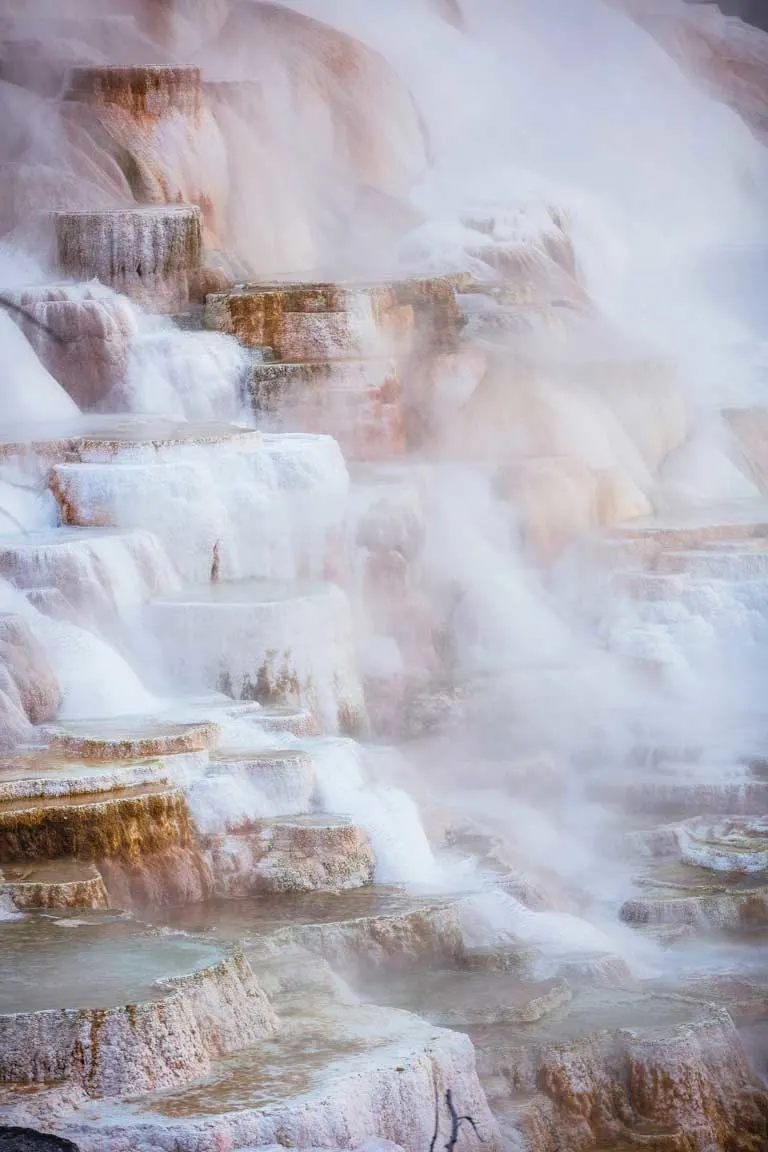 Also, remember there is so much to do in Yellowstone beyond hiking. It is definitely worthwhile allowing some time at Mammoth Hot Springs in the northwest of the park (not to be confused with Mammoth Lakes Hot Springs near Yosemite National Park) to explore the fascinating geothermal site, which has the largest number of hot terraces in the world. It's also a great spot for a post-hike soak in spots like Boiling River or Fire Hole Swim Area. You can find information about swimming in Mammoth Hot Springs here.
Where to Stay in Yellowstone NP
One thing you need to remember about accommodation in Yellowstone is to book as far in advance as possible, especially in the high season. All the best places to stay can be booked out as early as a year in advance. The same applies for camping, don't expect to just turn up and find a spot in peak season.
That said, thankfully, there are lots of options when it comes to accommodation in and around Yellowstone National Park. Inside the park, accommodation varies from lodges to cabins and, of course, camping. If you choose to stay inside the park, expect rates to be higher than the options available outside, and consider what you want to see and do when choosing where to stay.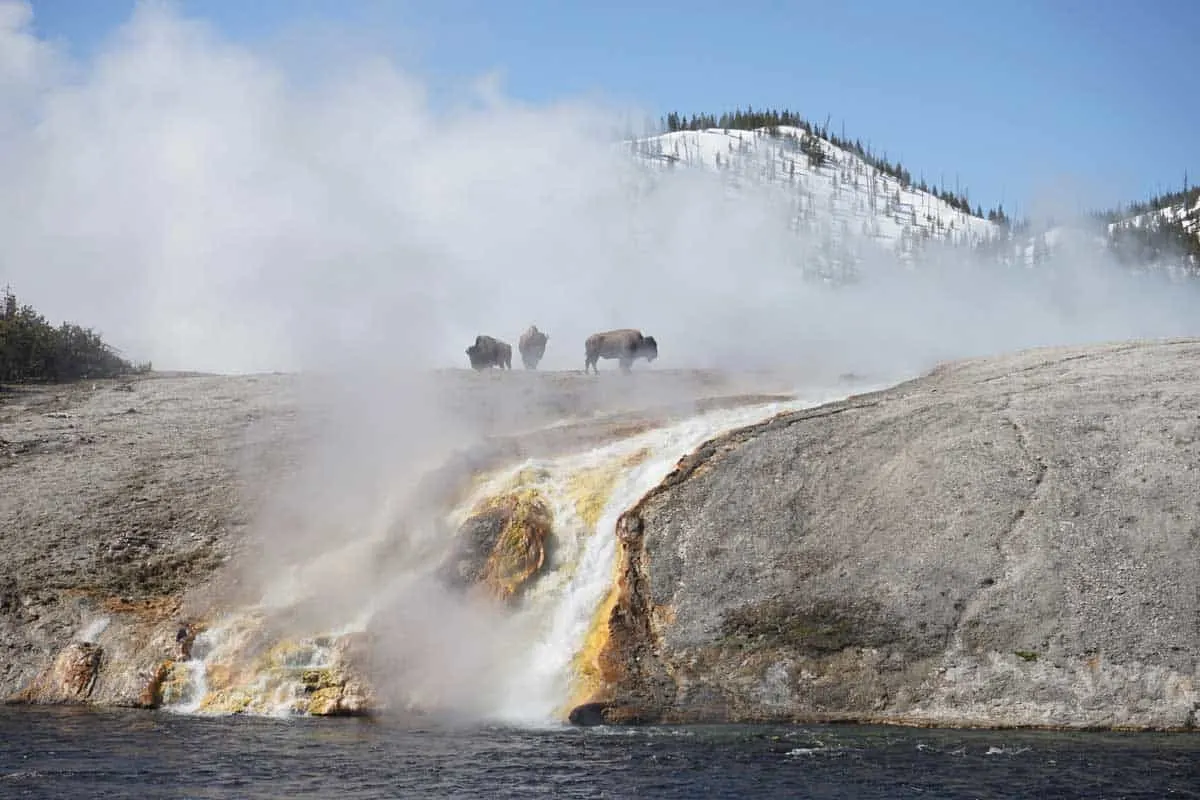 Much like Olympic National Park, the size of the park may mean you choose to break your accommodation up into a few nights spread in and around the park. Canyon Village and Old Faithful are good options for sightseeing and as bases for day hikes, as are the towns of West Yellowstone and Gardiner outside the park.
Some like to combine Jackson Hole, WY with a day trip to Yellowstone. Our recommendation is to either treat them as separate trips or take a guided day trip from Jackson Hole to make the most of your time. Even though there is only around an hour travel time, a tour will maximize your time.
When to Visit and Getting Around
Yellowstone experiences a fairly long snow season with parts of the park experiencing snow from late September through to May. As a result, the months of June to September are generally the busiest period when hikers take advantage of the sunnier spring and summer months.
The small windows of April to May, as well as September to October, are regarded by many as the best time to visit Yellowstone National Park as it is less busy than the peak summer period.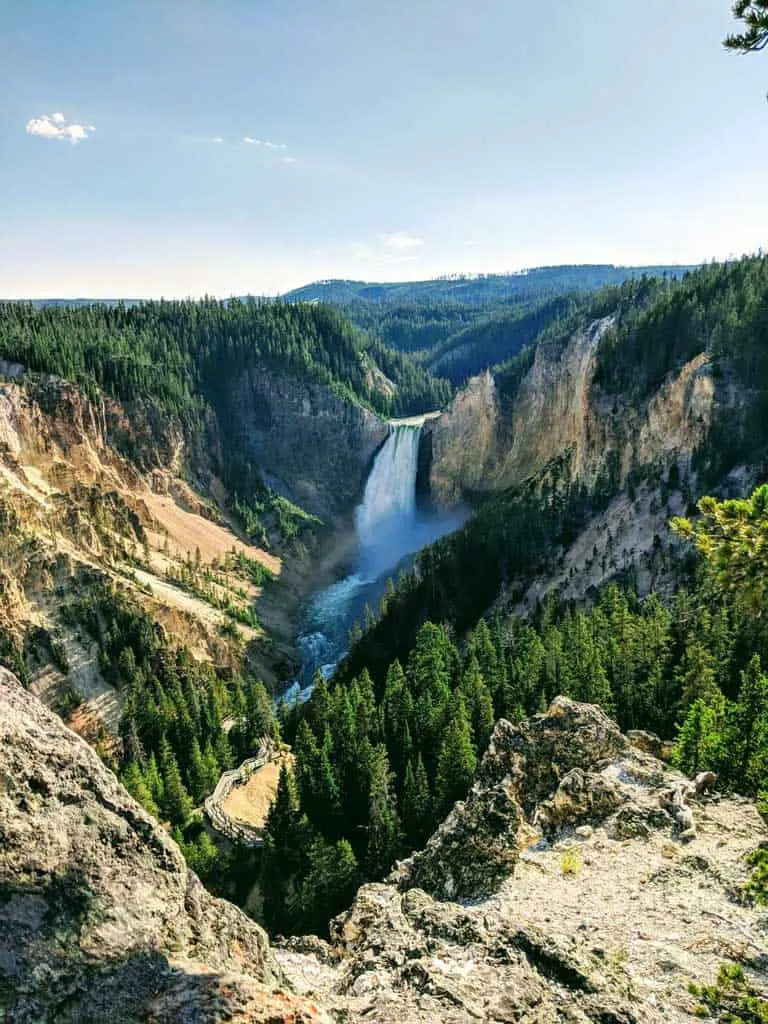 Driving in Yellowstone
Wonder if you can drive through Yellowstone? The main Grand Loop road runs through the park connecting up with the various park entrances on each side, although it would be too ambitious to try to cover this in a day.
Many of the park roads are closed to wheeled vehicles during the winter months, although you can still access the park by car from the North Entrance.
Best Day Hikes in Yellowstone
Storm Point
Distance: 2.3 miles
Type: Loop
Difficulty: Easy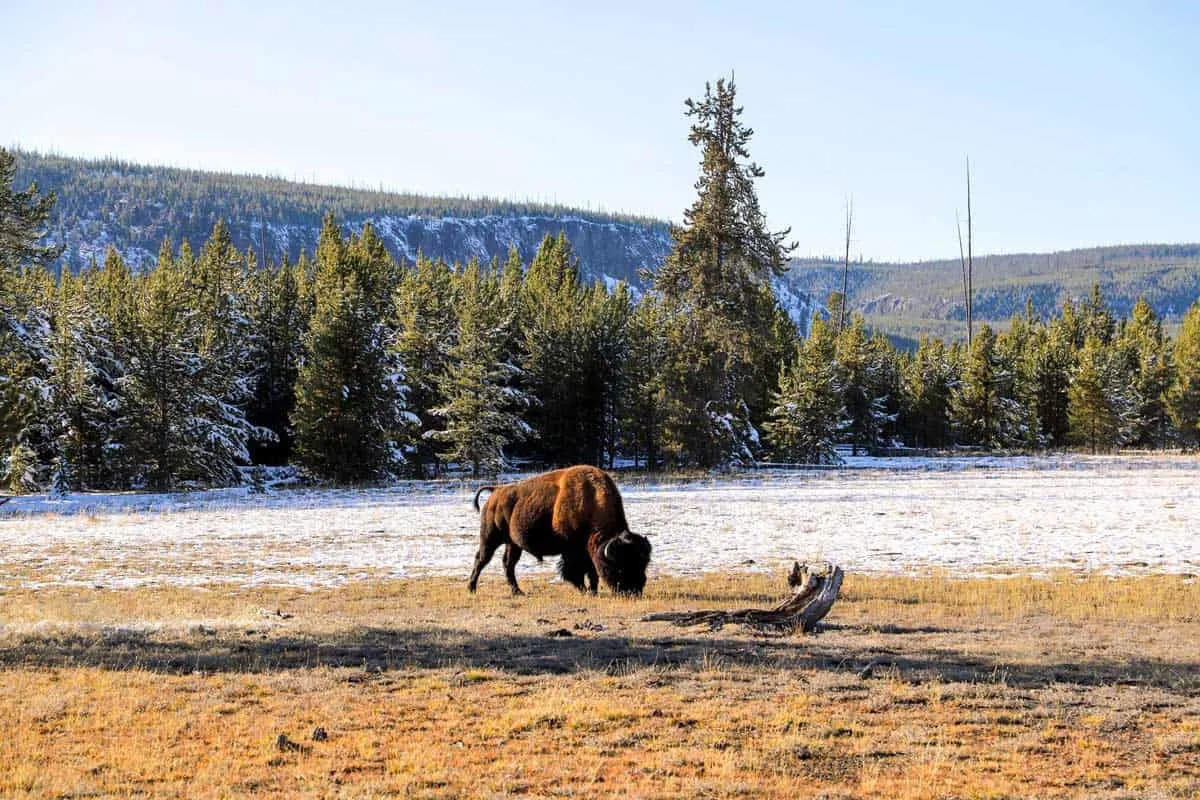 The Storm Point trail is an easy, flat loop trail, perfect for those who want to explore the Yellowstone Lake area. The trailhead starts around 2.5 miles from the Fishing Bridge Visitor's Center. The trail takes you through wildflower meadows and pine forests before opening up onto the lake, offering hikers exceptional views out over the waters and surroundings.
Here you can enjoy some peace and quiet on the beach shore and possibly even spot some wildlife along the way. Bison, chipmunks, elk, various bird species, and marmots are all known to frequent this area.
Note that there may be bear activity through the Spring to early Summer months, be sure to check-in at the visitors center for updates before you hike.
From here you can either loop back following the trail through yet more forests and meadows, or you could decide to return back the same way for an out and back hike instead.
Lone Star Geyser
Distance: 4.8 miles
Type: Round trip
Difficulty: Easy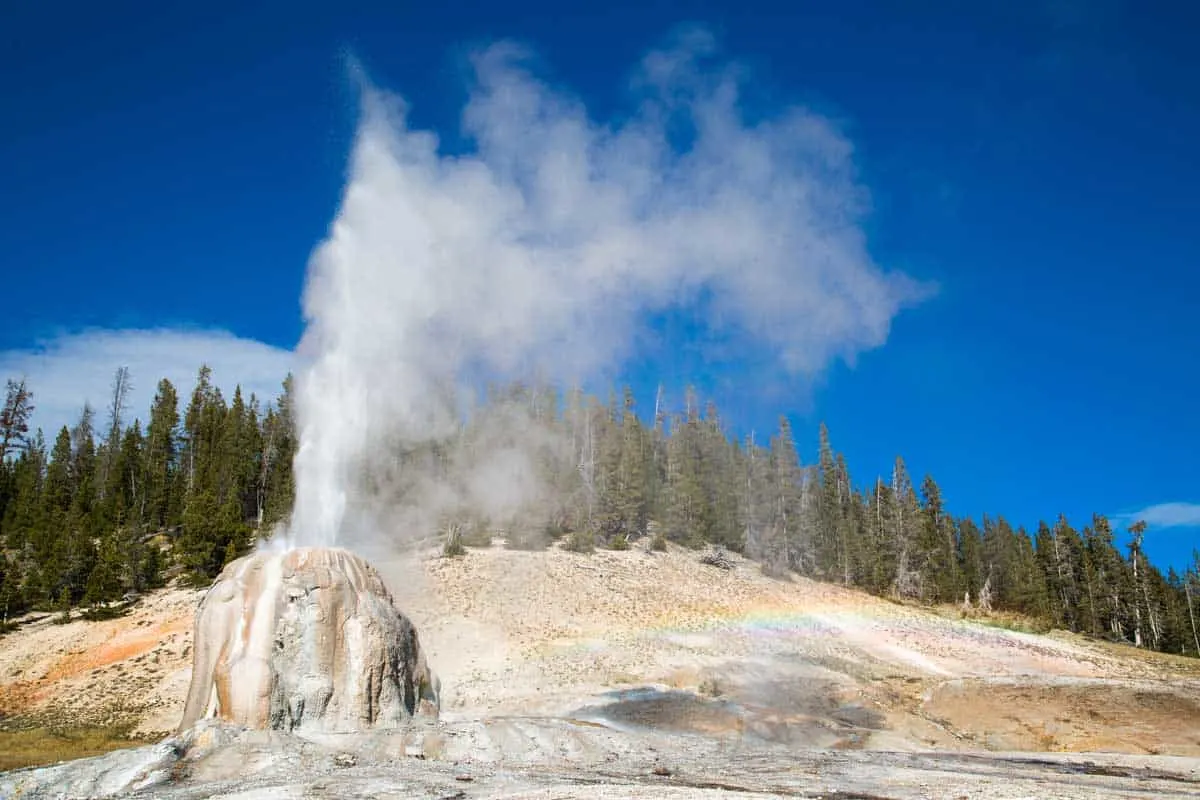 A trip to one of the iconic coned-shaped geysers is a must when hiking in Yellowstone. The 4.8-miles round trip Lone Star Geyser trail is a great easy hike for those wanting to steer clear of the more crowded hiking trails in Yellowstone.
Starting near the Kepler Cascade, this trail should take roughly 2 – 3 hours to complete. Following along the Firehole River, you'll walk through a forested valley until you arrive at the geyser basin, where you'll get to witness the Lone Star Geyser erupting 45 feet into the air. The eruptions take place around every three hours.
Tip: Be sure to check the logbook at the geyser if any prior visitors made a note of the timings of the last eruption.
Fairy Falls
Distance: 5.4 miles
Type: Round trip
Difficulty: Easy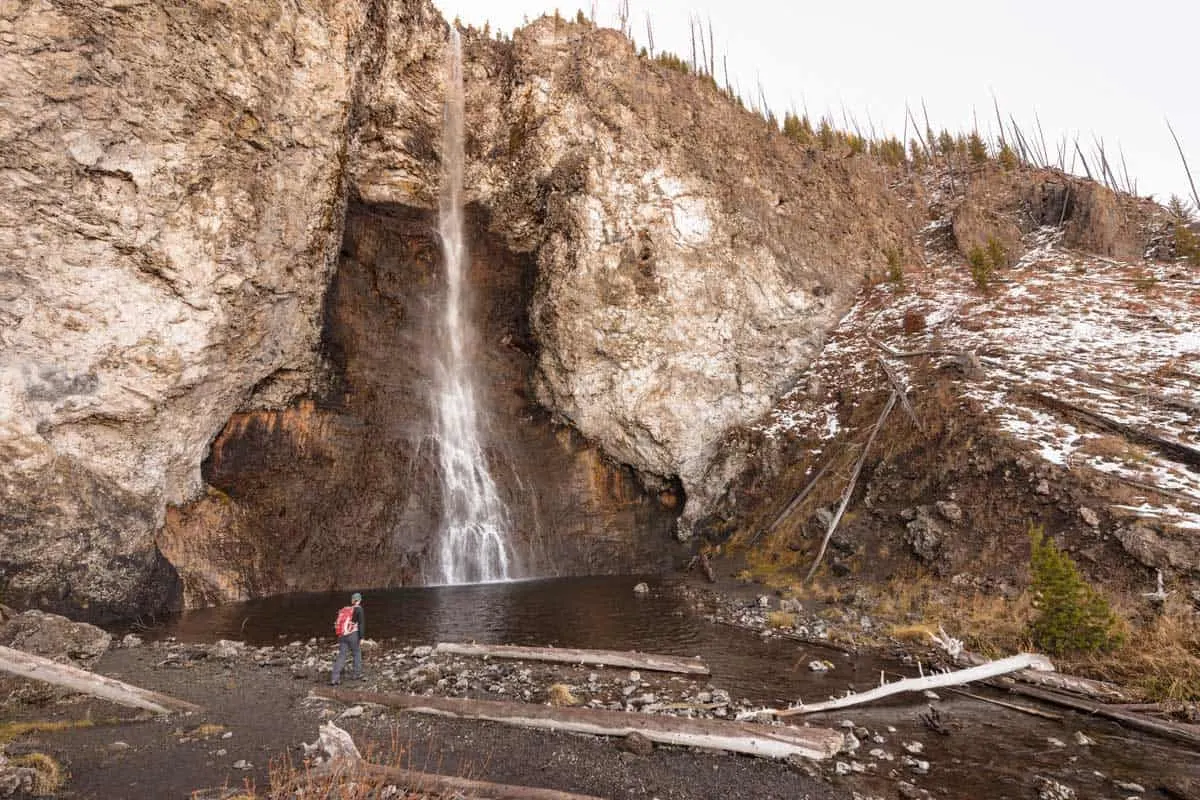 Set in the Midway Geyser Basin, the flat and fairly easy 5.4 miles round trip Fairy Falls Trail leads hikers to the breathtaking 200-foot high waterfall of the same name. This is one of the park's best hikes and also counted amongst the most popular.
The trailhead starts a mile to the south of the Midway Geyser Basin from a small car park and steel bridge crossing the Firehole River. It's best to get there early to ensure you get a spot. The first mile or so passes along the graveled Firehole Flats Road and through gorgeous pine forests with stunning wildflowers to admire along the way.
Roughly 0.6 miles in from the start, you'll have the option to add a short out and back detour that climbs up to a viewing point from which you can admire the Grand Prismatic Spring, the park's largest and colorful hot spring, from above. This is well worth the short detour as it's only a few hundred yards extra.
North Rim
Distance: 7.6 miles
Type: Out and back
Difficulty: Easy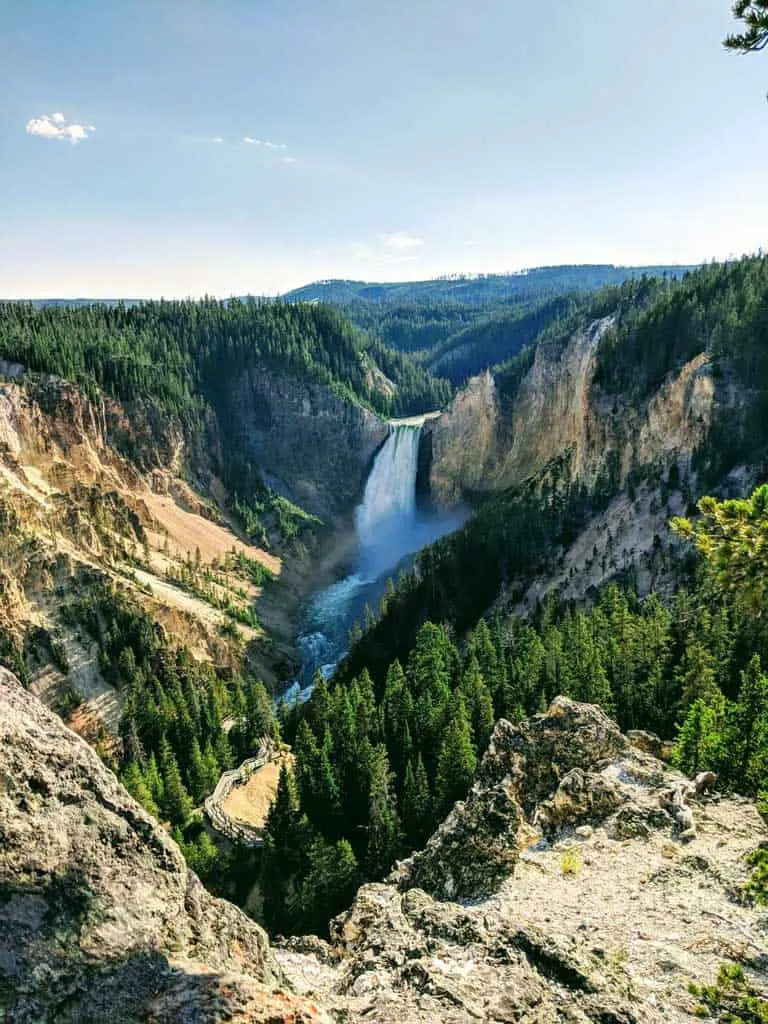 Considered to be one of the most picturesque hikes in Yellowstone, the North Rim Trail, 7.6 miles out and back, is often overlooked in favor of the more popular South Rim Trail, missing some of the most spectacular overlooks in the park.
This easy, mostly flat, and paved trail, offers hikers sweeping views from various viewpoints along the route. These include stunning vistas of the canyon from Inspiration Point and the Lower Falls from both the Brink of the Lower Falls and Red Rock viewpoint.
Mount Washburn (from Dunraven Pass)
Distance: 6.2 miles
Type: Out and back
Difficulty: Intermediate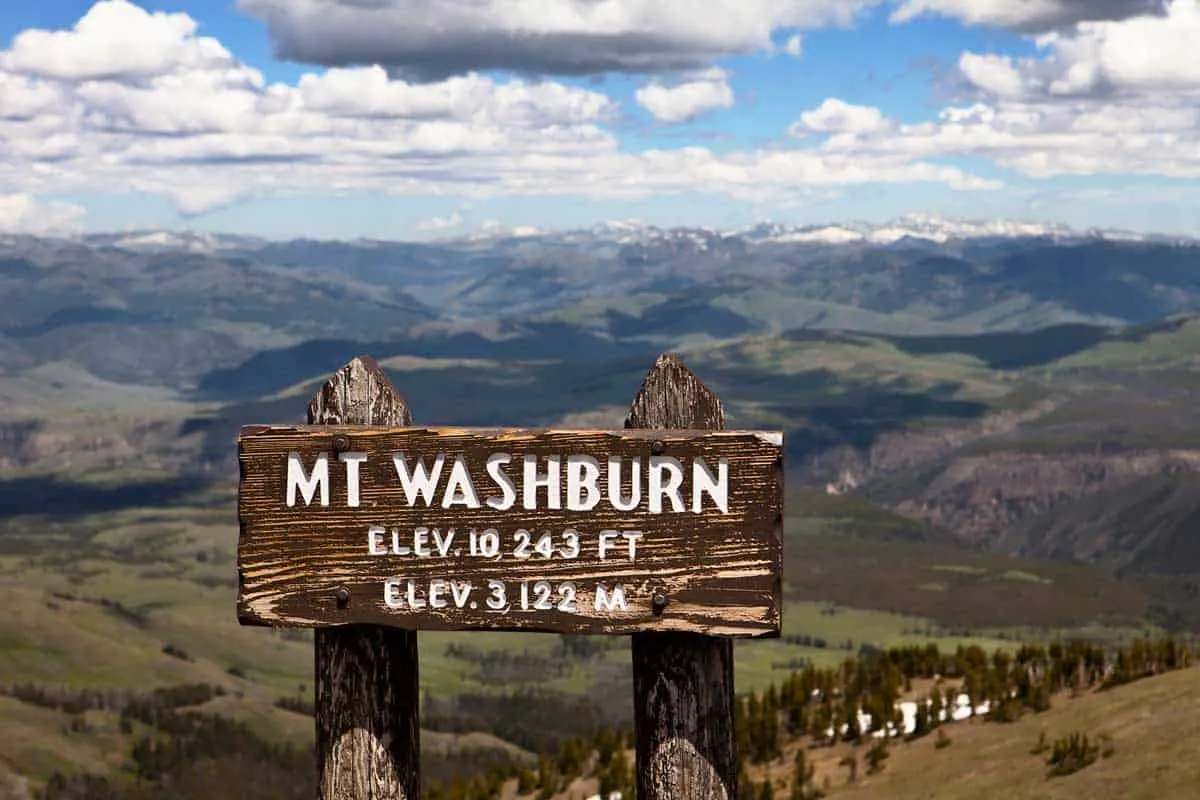 The 6.2 miles out and back Mount Washburn trail sets off from Dunraven Pass, following an old Grand Loop Pass vehicle route. Upon reaching the summit, at over 10,000 feet high, you'll have some pretty awesome views of the Tetons, Absaroka, and the Beartooth Mountains, as well as the Madison Range.
Make sure to head out early on your hike to avoid the possibility of being caught in afternoon storms on the summit. Apart from the stunning wildflowers that cover the mountain throughout July, you may also spot bighorn sheep on this trail.
Point Sublime
Distance: 3 miles
Type: Out and back
Difficulty: Moderate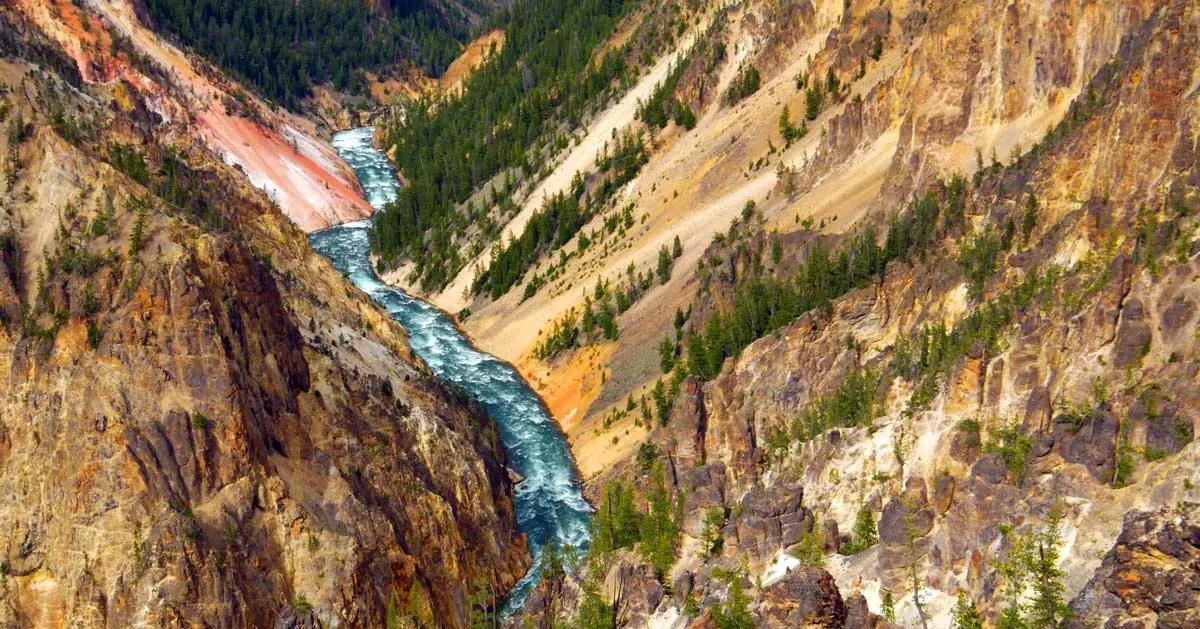 Yellowstone is known for its dramatic landscape and scenery, and it doesn't get better than the spectacular views of the Yellowstone Grand Canyon from the viewpoint known as Artist's Point.
This also happens to be the trailhead for the hair-raising yet breathtaking Point Sublime Trail. The trail itself is unique in that it follows along the unguarded edge of the canyon, so it is not recommended for visitors who don't do well with heights.
The endpoint of the hike, Point Sublime, is guarded and a good resting spot. Although this point itself isn't anything to write home about, what makes this hike so unique is the walk there and back along the sheer cliff edge that offers hikers some of the best and most incredible views in Yellowstone.
Avalanche Peak
Distance: 4.7 miles
Type: Out and back
Difficulty: Difficult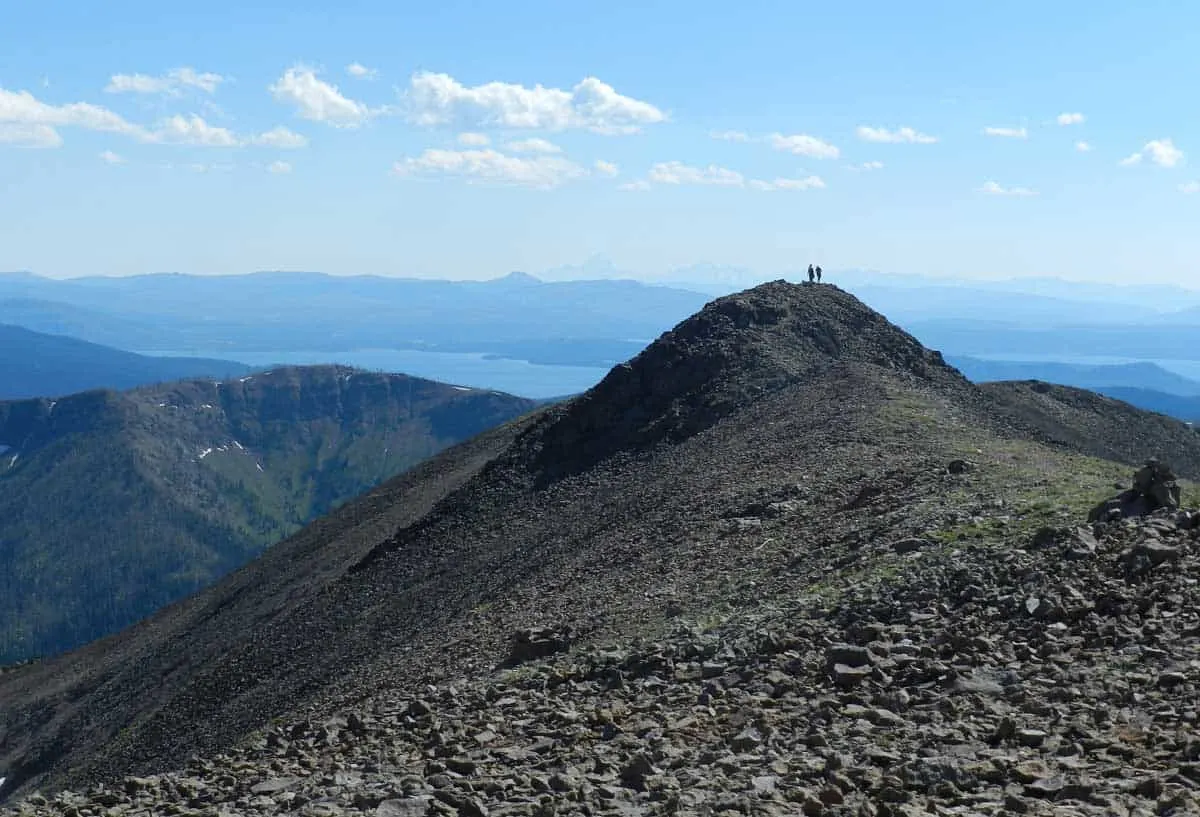 Starting off on this strenuous 4.7 miles out and back trail, you'll hike through forested wildflower meadows as you ascend the 2100 feet elevation gain for 2.1 miles to the summit of Avalanche Peak. Those who make the arduous journey to the top are rewarded with striking views out over Lake Yellowstone.
It's not uncommon to find snow on the Avalanche Peak Trail, even up to early July. As you ascend to the summit, the weather can change with plummeting temperatures or conditions changing suddenly and dramatically. Always be prepared and pack for every eventuality. You can find our tips for packing for a hiking vacation here.
Bear Safety in Yellowstone
Yellowstone is bear country, so bear sightings are not uncommon along most of the Yellowstone National Park hiking trails listed in this guide. It is important that hikers are educated and well-versed in bear safety before embarking on any hike. Check with the Yellowstone National Park Services for information on what to do in the event of bear encounter.