One of the most popular outdoor vacation destinations in America, Yosemite National Park receives in the vicinity of 5 million visitors each year. In summer, between 5 – 7,000 cars can be in the park on any given day.
So, with these figures in mind, can what John Muir described as "by far the grandest of all the special temples of nature," can America's favorite national park still be enjoyed without having to jostle with the crowds? Absolutely.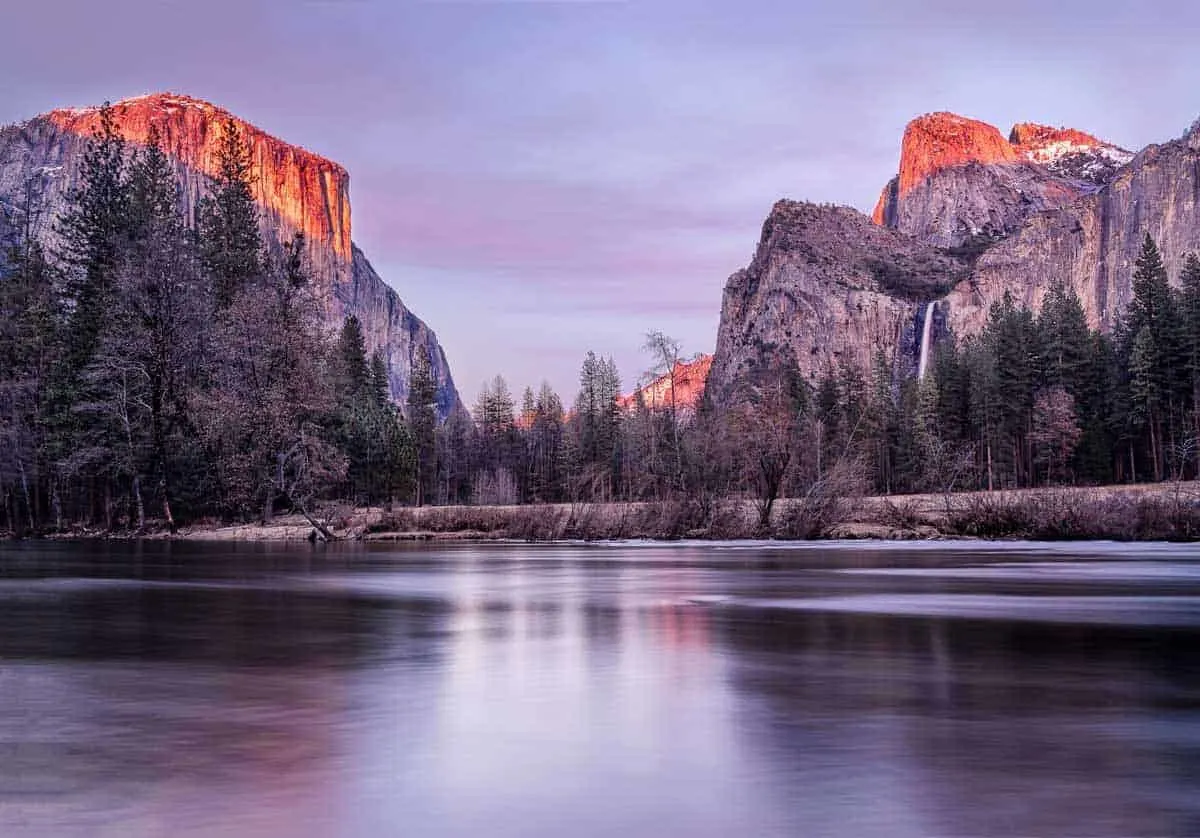 Know what to pack for a hiking vacation with our Hiking Packing Guide.
How Big Is Yosemite National Park
If you want to avoid the crowds in Yosemite, you only have to understand how big the national park is:
Yosemite is huge – Nearly 1,200 sq mi | 3,080 km2 (roughly the size of the U.S. state of Rhode Island).
Within the park, there are thousands of lakes and ponds and 1,600 miles | 2,600 km of streams.
There are 800 miles |1,300 km of hiking trails, and 350 miles | 560 km of roads.
Yet, as Yosemite's most popular attractions are clustered along the 7-mile valley loop, many fail to deviate from this well-trodden path to take full advantage of one of the USA's premier hiking destinations. Which, if you only have one day in Yosemite, makes sense.
With a little planning, it is possible to find solitude in the vast wilderness area to enjoy the breathtaking vistas and waterfalls, giant sequoias, lakes and meadows Yosemite is famous for.
Discover some of the best (and some lesser-known) hiking destinations in the United States
Where to Stay in Yosemite National Park
The beauty of Yosemite National Park is you have loads of great accommodation choices. If you choose to stay inside the park, you can choose from cabins to grand historic hotels. For a more authentic experience, you may prefer the rustic tent-style cabins. If camping is more your style, there are 13 campgrounds and RV camp facilities, including dumping stations.
If you prefer to stay outside the park, there are a vast array of accommodation options available close to each of the five park gates. From full-service resorts to vacation rentals and big chain hotels. There are also loads of unique camping and glamping options offering a unique California experience in local campgrounds and state parks.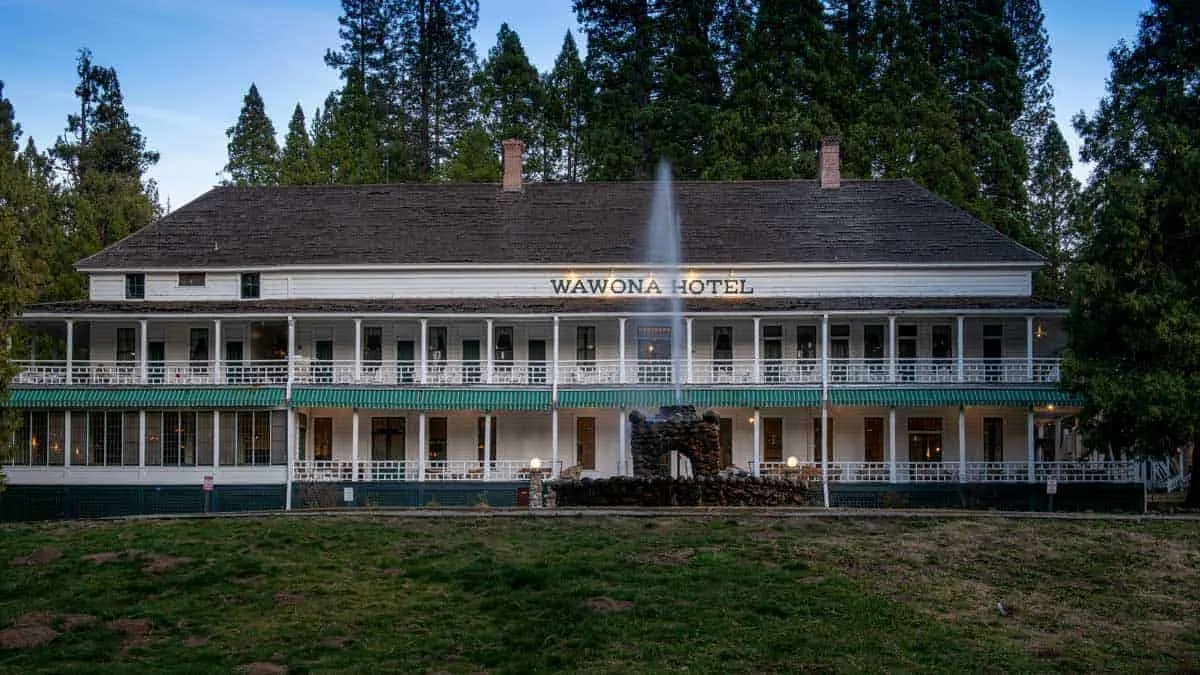 Best Yosemite Day Hikes & Activities and Tips to Beat The Crowds
We put together some of the best hikes in Yosemite and tips to make the most of your time in one of the USA's most famous national parks without the crowds.
Best Time to Visit Yosemite National Park
You don't have to sidestep peak season to skip the crowds at Yosemite. However, the shoulder seasons of fall and spring, and even winter can be very rewarding.
Summer in Yosemite
The peak season for Yosemite is summer – June, July, and August (between Memorial Day and Labor Day). So while the popular sights in the Yosemite Valley may be busy during this time, it is still possible to avoid the bulk of the crowds, even at the most popular sites with a little planning.
Summer is also the best time to enjoy the High Sierra. In winter, the higher elevation trails can be closed or only accessible to advanced hikers experienced in snow and ice hiking.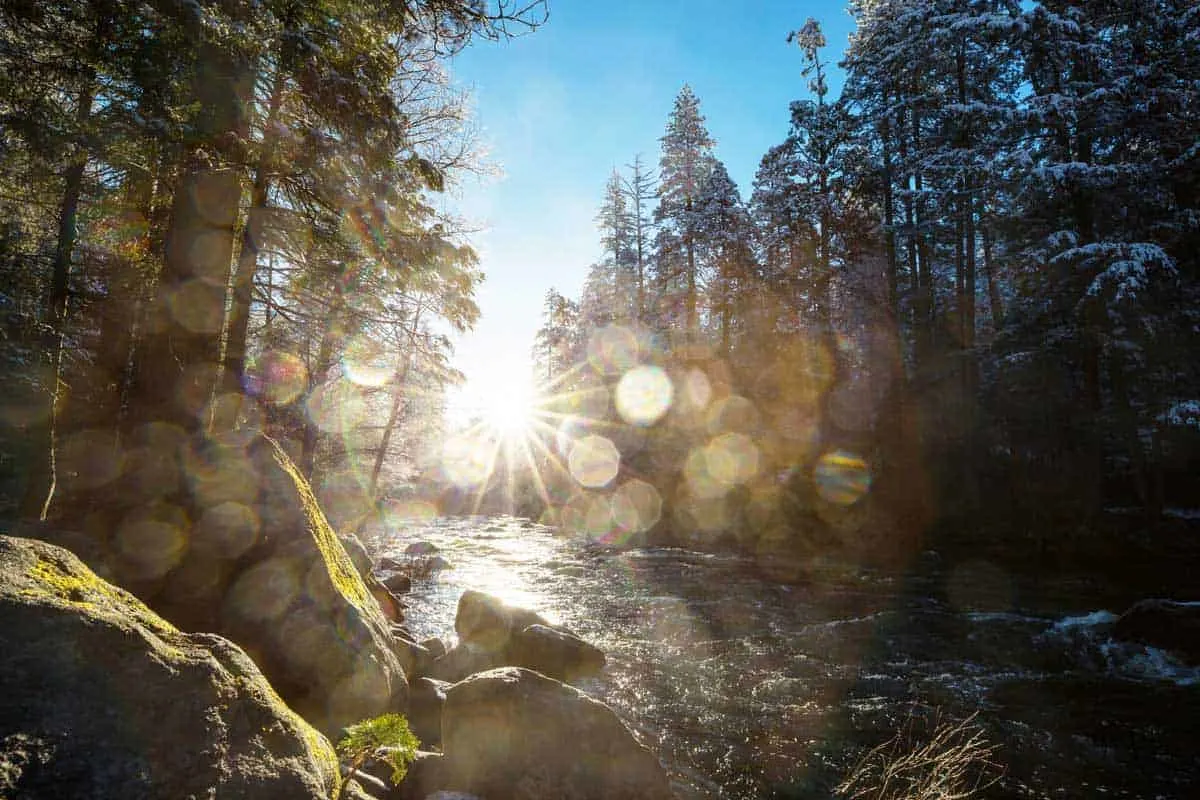 Spring, Fall and Winter in Yosemite
Visit outside of the peak months, and you can be rewarded with a less tourist-dense experience, even at the most famous sights.
Spring
April, May, and early June are some of the best times to visit Yosemite Valley. There are fewer crowds, and the waterfalls are at their peak, especially in May and June.
Fall
The fall months of September, October, and November will also see fewer visitors, but also great weather and an incredible fall foliage display.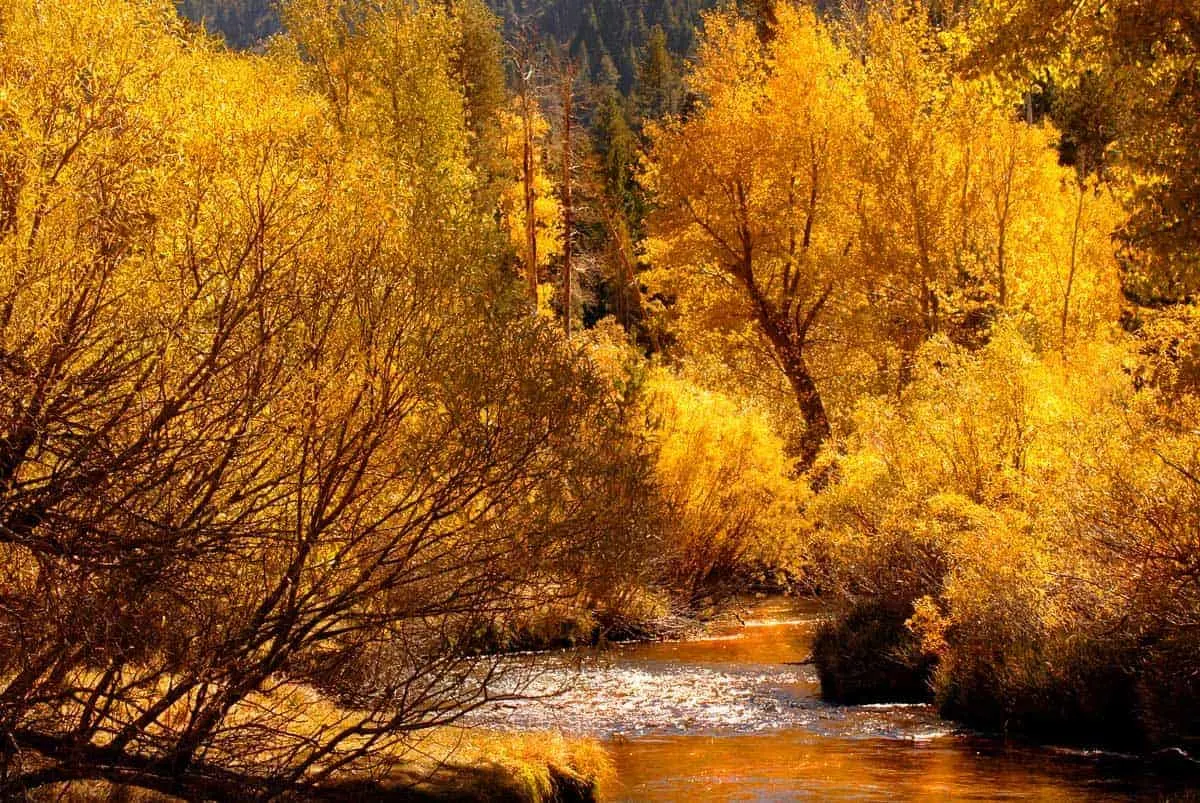 Winter
December, January, February, and March are probably the least popular months to visit Yosemite but also one of the most beautiful and peaceful. Many roads and attractions will be closed, but there are a host of other reasons to visit Yosemite in winter.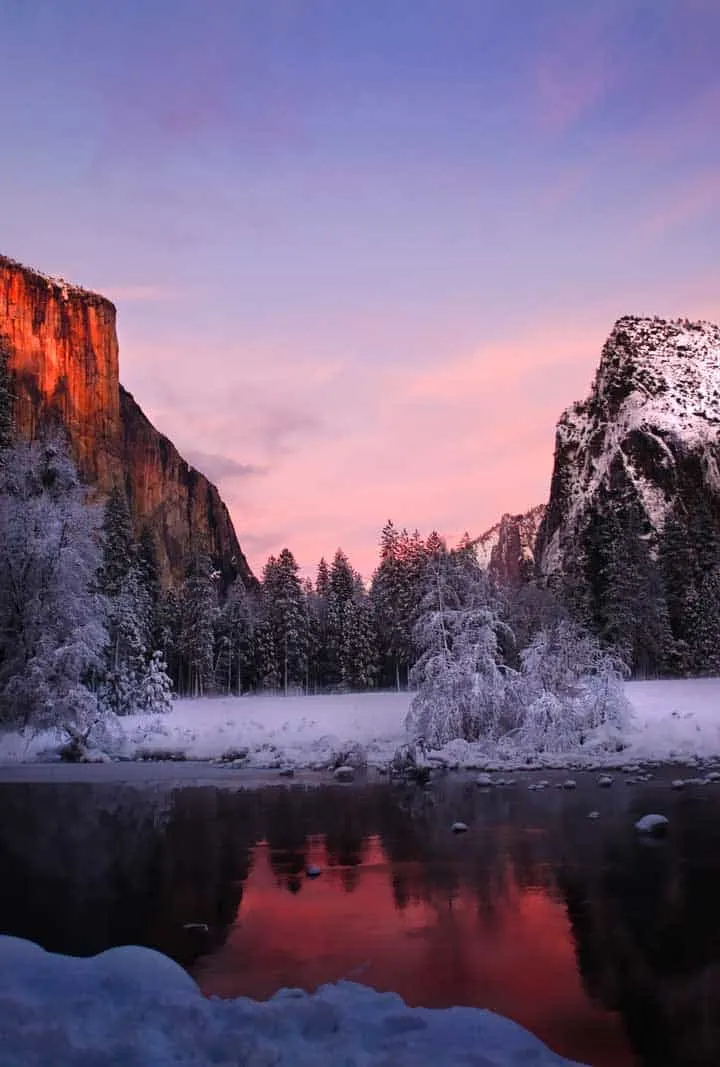 The ski season is in full swing at the Badger Pass Ski Area with downhill, cross country, and snowboarding.
There are several winter events in the Yosemite Valley and the possibility of seeing one of Yosemite's most stunning natural displays – The Firefall at Horsetail Falls. Around the second week of February, when the setting sun hits the upper reaches of Horsetail Fall at the right angle, it illuminates the falls resembling liquid fire. You can get more information on this spectacular natural event here.
Tips to Avoid the Crowds at Yosemite
Start Early
Plan to be on the hiking trails early – before 8 am. Being early is especially important for Yosemite Valley. Many of the shorter hikes won't take you far enough from the road to escape the crowds so being early will mean encountering fewer people and more importantly, beating the majority of the day-trippers.
Pack a Picnic
Yosemite National Park is not short on places to eat, but the park's restaurants can be very busy. During peak months, especially, you can expect long lines and often overpriced and average food. Skip the line and pack a picnic lunch instead, for an alfresco feast with some of the world's most beautiful vistas. It will likely be healthier, cheaper, and more enjoyable.
Yosemite has designated picnic areas throughout the park. Otherwise, ensure you follow the park's guidelines regarding bears and food storage if you are backpacking in the park.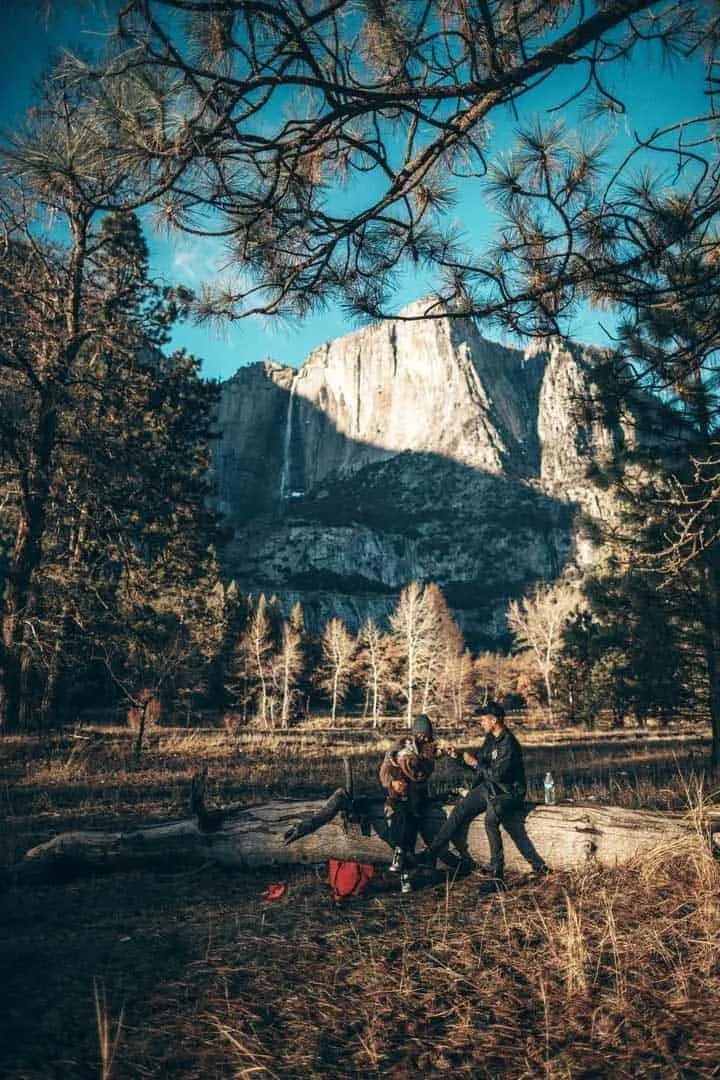 Get Away from Yosemite Valley
As the Yosemite Valley is the most popular and easily accessible part of the park, heading away from the Valley will offer a more tranquil experience. It will also offer some of the park's most spectacular views – especially in the High Sierra.
Head to the High Sierra
Some of Yosemite's most stunning scenery is located above 8,000 feet in the High Sierra. Not only does the High Sierra provide a reprieve from the peak season summer crowds, but it also provides a place to cool off from the summer heat in the Yosemite Valley.
The High Sierra offers draw-dropping viewpoints, spectacular hiking, and some fabulous campgrounds. Do be mindful that such high altitudes can cause altitude sickness so take it easy if you feel lightheaded, have shortness of breath, or have a headache when hiking at these altitudes.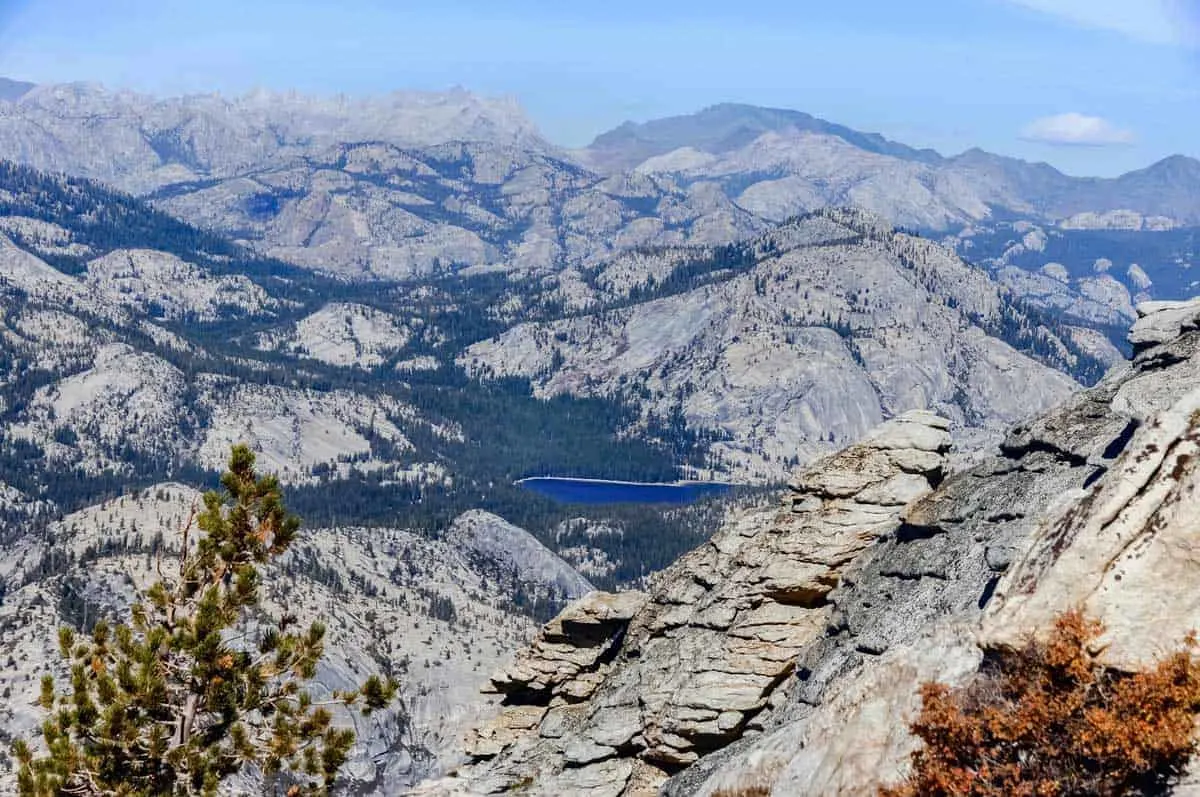 Sunrise & Sunset in Yosemite
Sunrise
With the idea of getting an early start and beating the crowds, why not enjoy a spectacular Yosemite sunrise. In summer you are going to want to be in position as early as 5.30 am for the best sunrise views.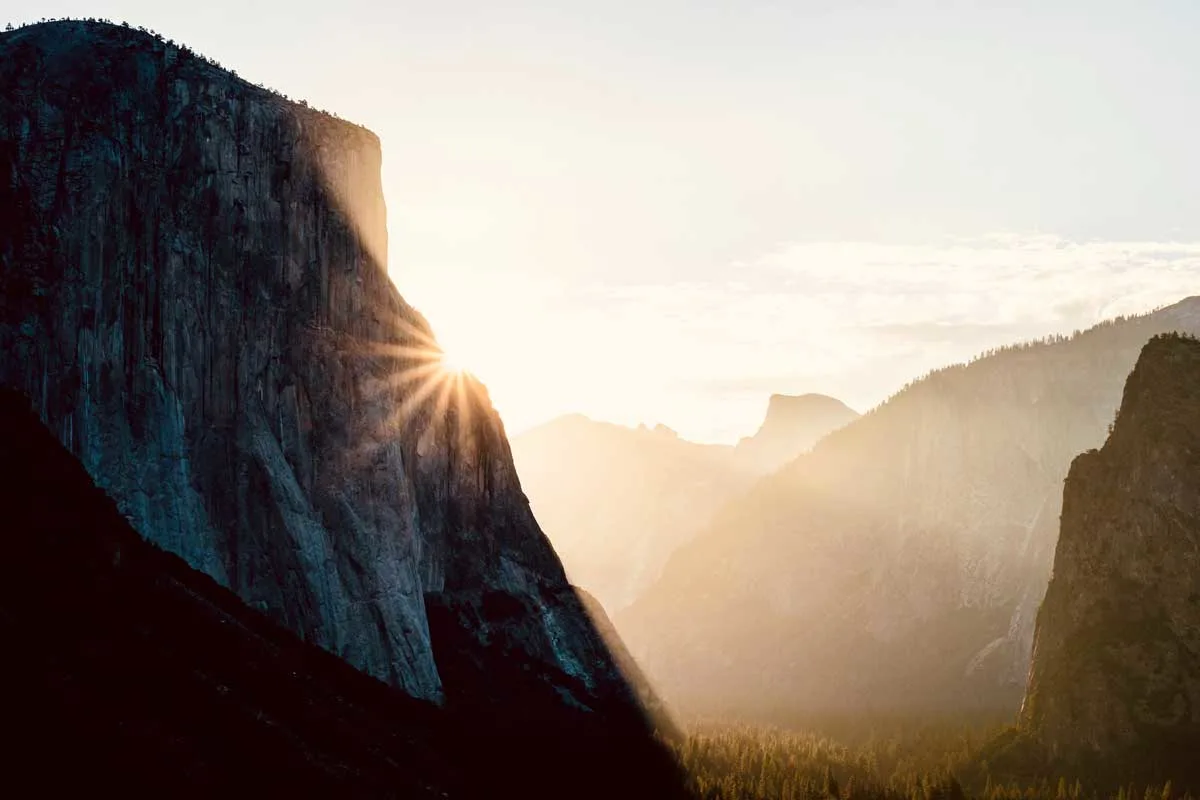 The most popular place for a Yosemite sunrise is the Tunnel View Lookout just outside the Valley. The parking area on highway 41 offers views over the entire Yosemite Valley; Half Dome, El Capitan, and Bridalveil Falls. From the first light on the Valley floor, each of Yosemite's most famous sights is lit up one by one in a magical display. However, as this is the most popular place for sunrise, you may have to jockey for a spot during busy times.
If Tunnel View is too crowded, Inspiration Point offers equally spectacular views without the crowds. Accessible from the Tunnel View parking area, it is a short, albeit steep 1.3-mile climb to the lookout—a small but worthwhile effort for a secluded and stunning panoramic sunrise.
Sunset
Can't bear the thought of an early start or can't get enough of Yosemite bathed in golden hues, plan for sunset in Yosemite. Much like the Grand Canyon, watching a sunset is one of the most popular things to do in Yosemite. But it is still possible to enjoy a quiet moment as the sun dips below the horizon.
There are loads of great places for sunset in Yosemite, but the most popular is Glacier Point, about an hours drive from Yosemite Valley. The sunset panorama encompasses the Valley with views of Half Dome bathed in hues of pink and orange.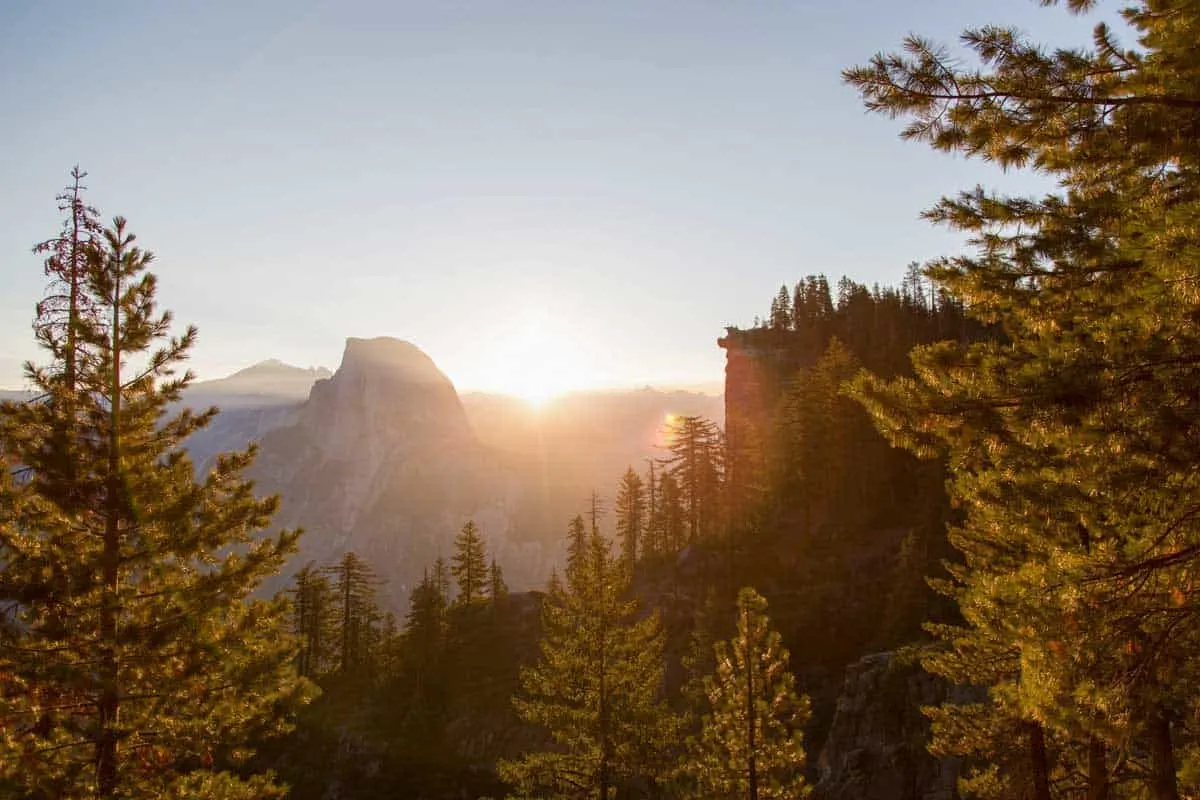 If Glacier Point is too crowded, Sentinel Dome or Taft Point offers a much more secluded spot to view the sunset over the Valley with views of Half Dome and El Capitan. It will require a fairly easy 1.1-mile hike on the Sentinel Dome Trail. Just remember to bring a torch for the trip back to the car.
Olmstead Point off Tioga Road offers a view from the north, giving a unique perspective of all the major sites. It is also a quieter location to take in the setting sun.
Horsetail Falls is a stand out for sunset in the second week of February when you can witness the natural Firefall.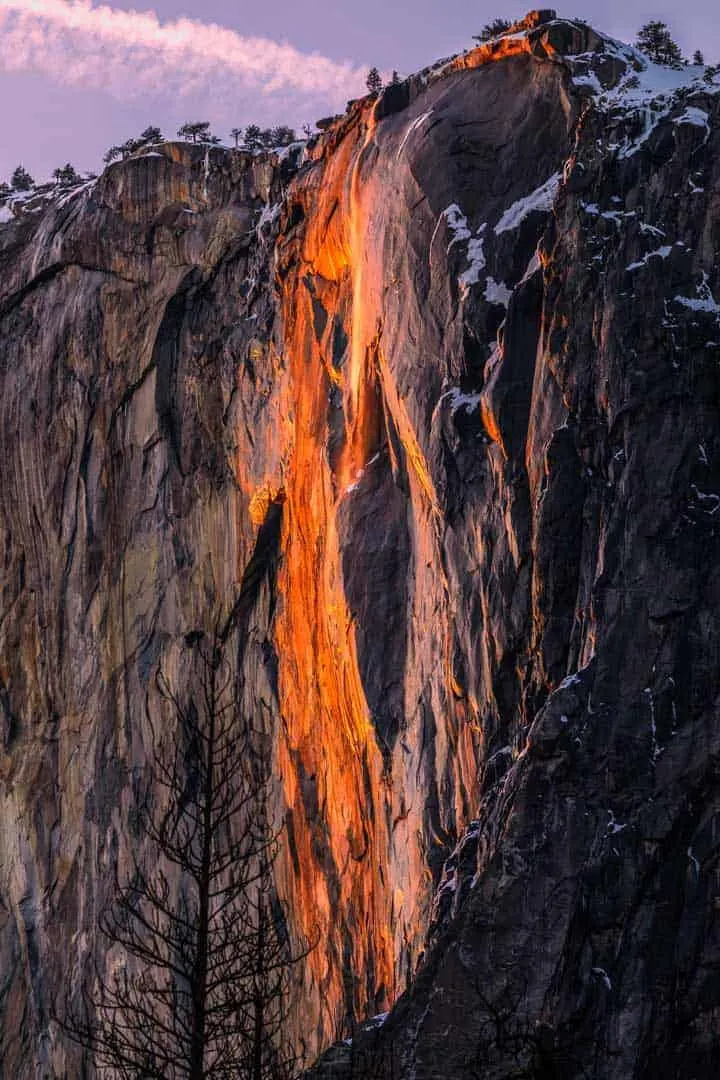 Whichever sunset location you choose, make sure it is within your hiking ability once the sun has set and you have a headlamp or flashlight for the return hike.
Yosemite Day Hikes To Beat The Crowds
Yosemite is one of the premier hiking destinations in the US. Yet, many visitors will either experience the national park from the comfort of their car or will only venture a short distance from their vehicle to see major attractions.
With over 800 miles of hiking trails, pulling on your hiking boots will get you off the beaten track in more ways than one. There are literally hundreds of hikes that will slip you away from the crowds for a more authentic back to nature Yosemite experience. Hikes to suit all fitness levels, and even some short hikes that are surprisingly void of crowds.
Bear in mind, some of the popular Yosemite hikes are still worth doing, but should be done early morning to avoid the bulk of the crowds. Hikes like the Mist Trail.
To get you going, we've rounded up a few great Yosemite day hikes to get you off the road and onto the trailhead to see some of Yosemite's best viewpoints.
West Valley Loop Trail
Distance: 6.5 miles (10.6 km)
Time: 2-3 hours
Terrain/ Elevation: Flat
Difficulty: Easy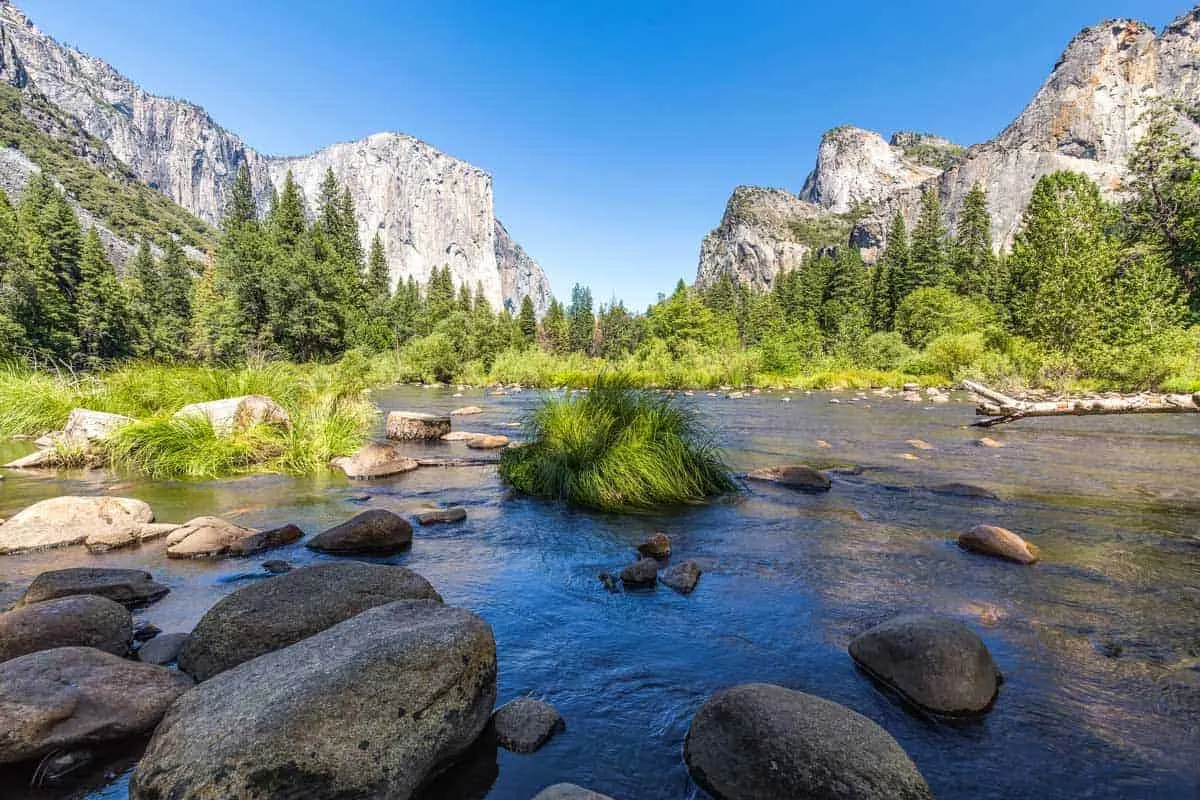 The full Valley Loop Trail (11.5 mi |18.5 km) will take around 5-7 hours, or, you can make a leisurely half loop of either the eastern or western valley. As many visitors will take the Eastern Valley loop to include Mirror Lake, the Western Valley Loop will have fewer crowds. It also includes some spectacular views including; Sentinel Rock, Cathedral Rocks, Bridalveil Fall, El Capitan, and Yosemite Falls.
Complete the easy terrain loop in a few hours or spend a whole day enjoying a picnic by the Merced River. The trailhead is west of the El Capitan Bridge with parking along El Capitan Drive.
Merced Grove Trail
Distance: 3 miles (4.8 km) round trip
Time: 2-4 hours (less for experienced hikers)
Terrain/ Elevation: Elevation gain on return trip 600 feet (180 meters).
Difficulty: Moderate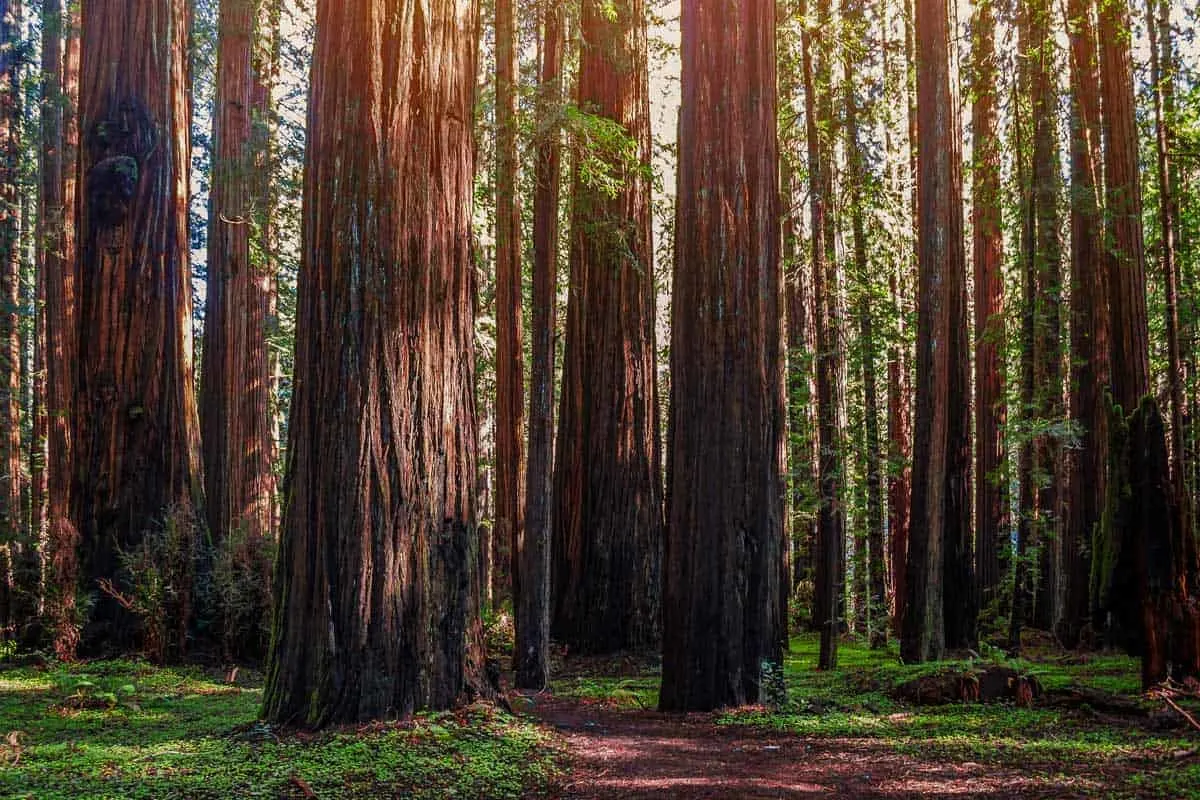 One of Yosemite's most popular attractions is its giant ancient sequoia trees. Yosemite has three Giant Sequoia Groves: Mariposa Grove, Tuolumne Grove, and Merced Grove.
Mariposa Grove near the park's south entrance is the most popular (and crowded) with more than 500 giant mature sequoias. For a private audience with these ancient giants of the forest, head to Merced Grove. While there are only around 20 of these magnificent trees in the grove, the solitude of the experience brings home the benefit of quality over quantity.
While the hike in and out is only short – 1.5 miles each way, the elevation gain on the way back can be a little strenuous. Make sure you bring plenty of water with you.
It is approximately a 45-minute drive from Yosemite Valley. The trailhead is near the Big Oak Flat Park entrance, 6 miles west of Crane Flat at the start of Tioga Pass Road. Parking is very limited.
Taft Point
Distance: 2.2 miles (3.5 km) round trip
Time: 1-2 hours of hiking time
Terrain/ Elevation: Elevation descent on return trip 200 feet (60 meters).
Difficulty: Easy-Moderate
The crowd factor of Taft Point has been described as medium. While it does attract avid hikers and photographers thanks to its "Glacier Point without the guard rails" reputation, it tends not to draw the run-of-the-mill visitor.
From the lookout, you have vertigo-inducing vistas of the Yosemite Valley and an especially worthwhile viewpoint of El Capitan – looking down on the granite monolith instead of craning your head in awe.
Taft Point is a worthwhile hike for sunset, set off about an hour before. Do be careful near the edges as there is no real fencing to prevent you from falling thousands of feet to the Valley floor. Taft Point is possibly not for those who have a severe fear of heights.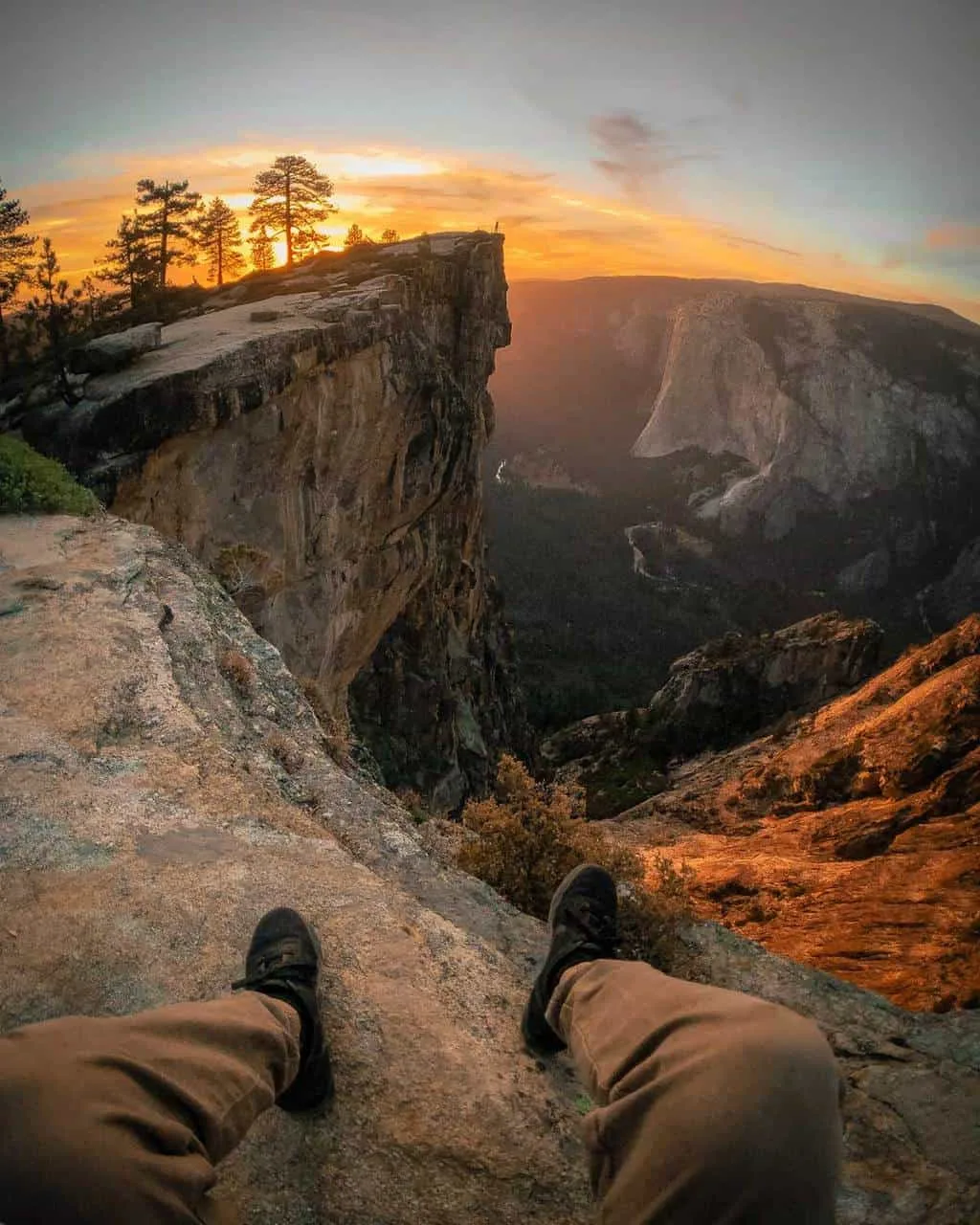 Sentinel Dome
Distance: 2.2 miles (3.5 km) round trip
Time: 1-2 hours of hiking time
Terrain/ Elevation: Mild elevation gain until the end when you will need to scramble onto the dome.
Difficulty: Easy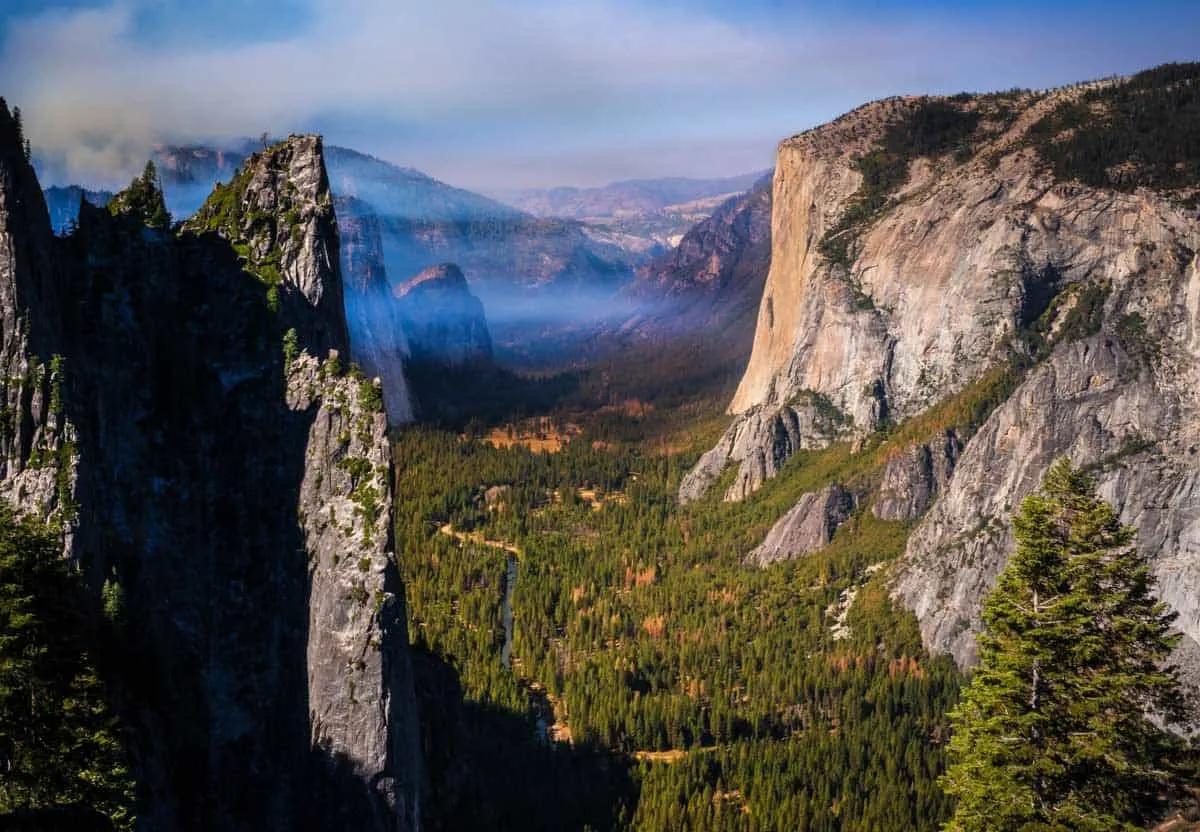 A short and relatively easy hike (some steep elevation at the last stretch) Sentinel Dome offers views similar to Glacier Point but not quite as crowded. From the top of the dome, you can enjoy 360° views of the Yosemite Valley and High Sierra. Another great spot for sunset, just make sure to have a flashlight or headlamp with you for the return hike.
Sentinel Dome/Taft Point Loop
Distance: 5.1 miles (8.2 km) round trip loop.
Time: 3-5 hours of hiking time.
Terrain/ Elevation: 300- 400 ft elevation changes along the trail. Sentinel and Taft summits have short but steep final ascents.
Difficulty: Moderate.
Combine these two great hikes with views of all the parks most notable landmarks into one magnificent and relatively easy day hike. Look for the Sentinel Dome and Taft Point trailhead signed parking lot on Glacier road.
Inspiration Point
Distance: 2.6 miles (4.2 km) round trip.
Time: approx. 1 hour each way.
Terrain/ Elevation: Elevation gain approximately 900 ft. Rocky in parts.
Difficulty: Moderate – short but steep.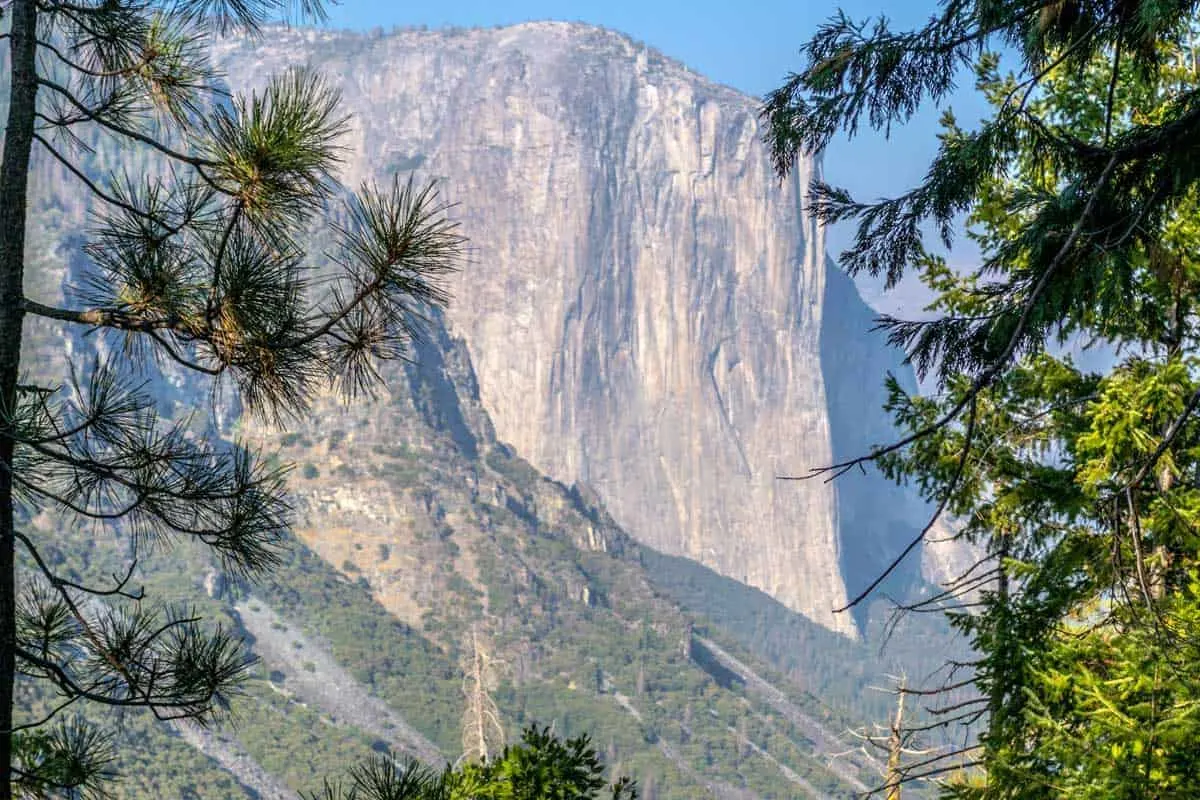 One of our recommendations to beat the sunrise crowds, Inspiration Point offers an alternative to the often crowded Tunnel View. It's a short yet steep 1.3-mile hike for spectacular views of the Valley from above.
A great spot for photographers who want to capture the classic view of El Capitan and Half Dome without having to elbow with snap-happy tour bus crowds. The trailhead leaves from the Tunnel View parking lot.
Dog Lake and Lembert Dome
Distance: 4.6 miles (7.4 km) loop.
Time: approx. 3 hours.
Terrain/ Elevation: Elevation gain approximately 750 ft
Difficulty: Moderate.
Get well off the tourist trail with a Yosemite High Country loop hike. Enjoy scenic lake and meadow views and magnificent vistas from the top of Lembert Dome. As this is a relatively easy hike (albeit a little steep to start), there will be other hikers, but this loop rarely draws a crowd.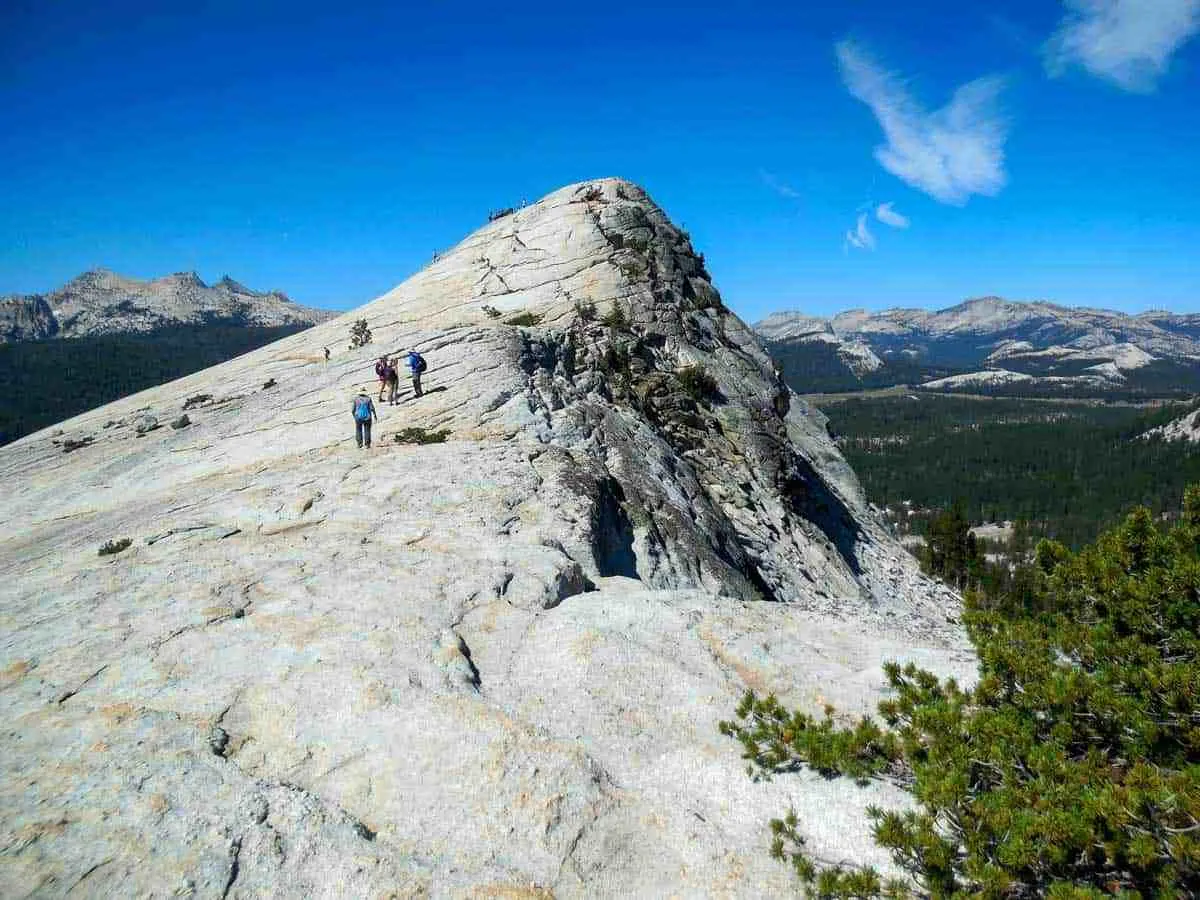 Soak up the serene vistas of Dog Lake and sweeping panoramas from Lembert Dome, high above Tuolumne Meadows with views of the Cathedral Range, Mt Dama, and Mt Lyell. A relatively short hike, you could extend by enjoying a picnic on the banks of Dog Lake. The trailhead is on Tioga Road just past the Tuolumne Visitors Center at the Lembert Dome parking area.
Wapama Falls Hike
Distance: 5.5 miles (8.8 km) round trip.
Time: approx. 2.5-4 hours.
Terrain/ Elevation: Elevation gain approximately 200 ft
Difficulty: Moderate.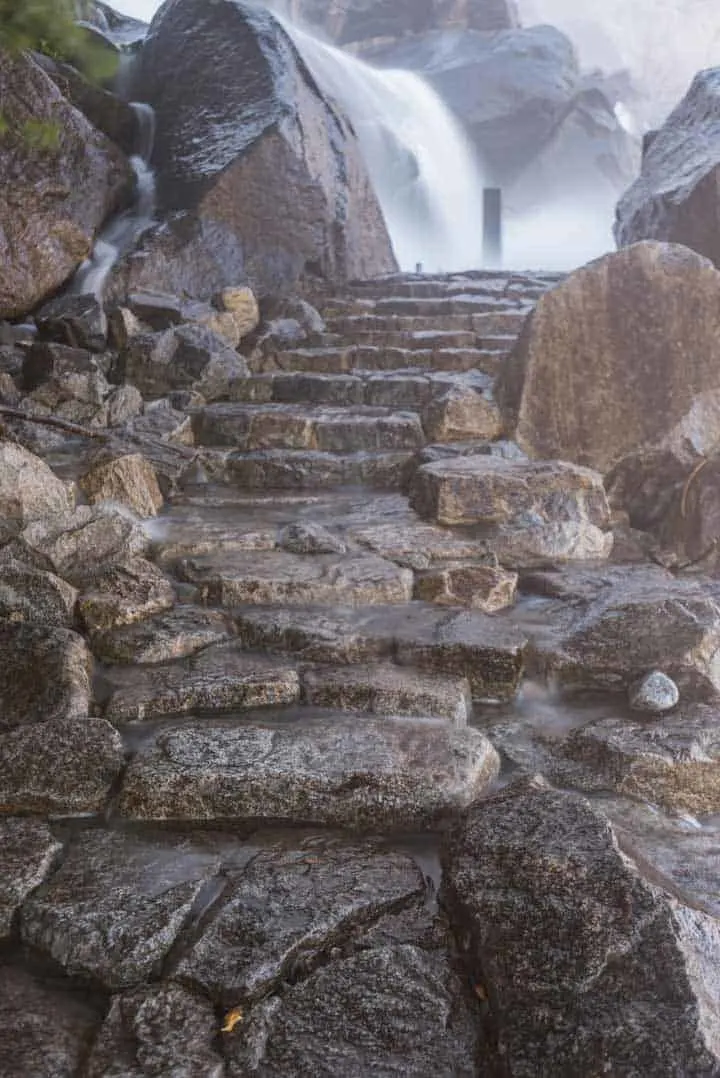 Yosemite is famous for its waterfalls, so it's fair to say, most will draw a crowd. In the least visited part of Yosemite in the Hetch Hetchy Valley is the Wapama Falls, one of the least crowded falls in Yosemite.
One of John Muir's favorite spots, he described the area as "a wonderfully exact counterpart of the great Yosemite." In 1913, the area was dammed and flooded to create a water reservoir for San Francisco which, is still to this day, considered a scar on the national parks system.
The Wapama Falls Hike traces to the reservoir with footbridges at the base of the falls. While the reservoir has taken 400 ft ( 130 meters) from the height of the falls, the remaining waterfall still stands at an impressive 1400 ft ( 420 meters). If you want to venture onto the footbridge below, you will get a decent soaking so you might consider a change of clothes in your daypack.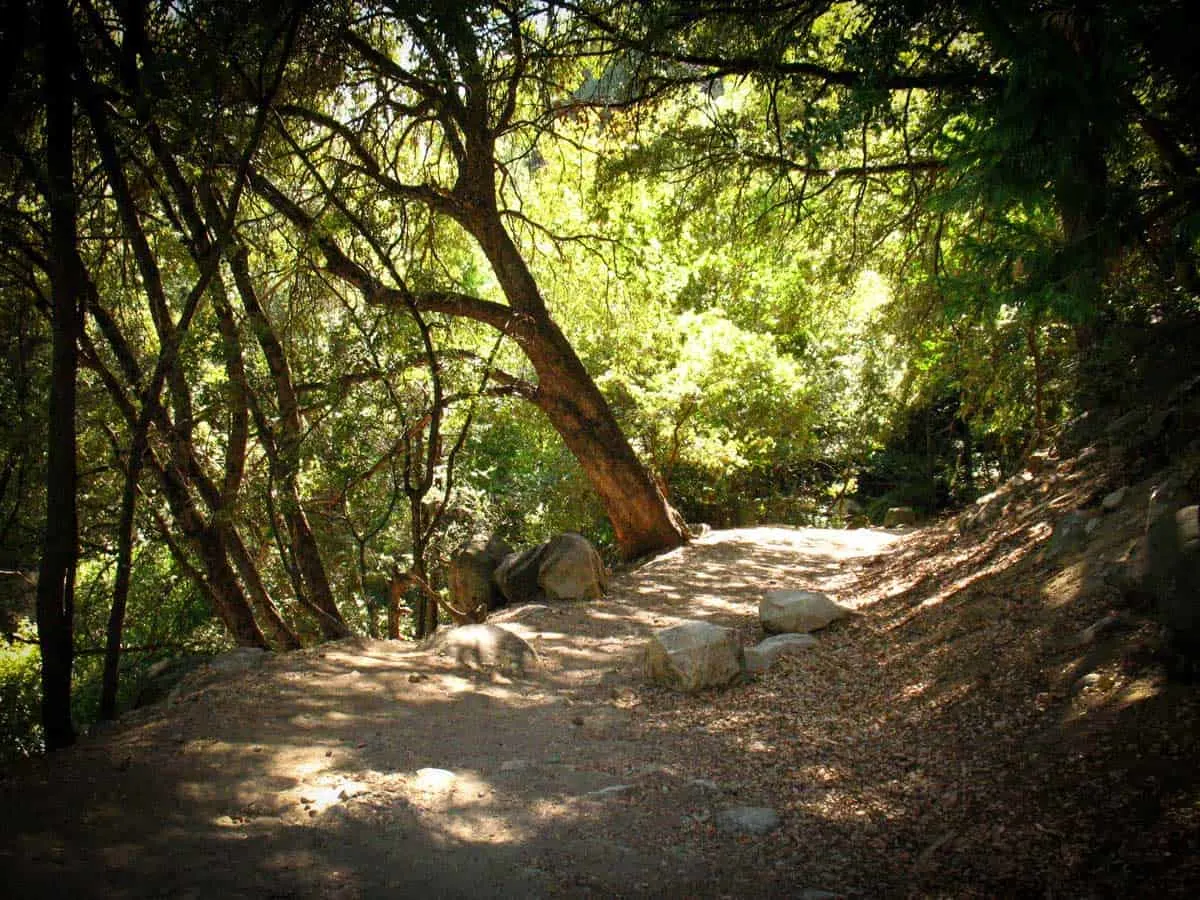 The falls are at their peak in the spring after the snowmelt. Be aware that at some times of the year, the water flow over the bridge and even hiking trails can make the trail impassable and even reach dangerous levels. Always check in advance if the trail is safe.
Places to Visit Near Yosemite National Park
While there is so much to do and see inside Yosemite National Park, there is an abundance of places close to Yosemite that hold equal appeal without the crowds. If you have time to add to your Yosemite itinerary, you may want to check out some of these fantastic natural attractions.
The Mono County, nestled between Yosemite National Park and Nevada is the fifth least populous county in California and has a wealth of natural attractions and national protected areas.

The John Muir Wilderness and Ansel Adams Wilderness. Mammoth Lakes with access to Mammoth Mountain and its ski areas, the Devils Postpile Monument and Mono Lake to name a few reasons to stop in Mammoth Lakes.
The former gold mining town of Bodie might interest you, or maybe the Mono Craters, or Lundy Canyon. The list goes on. There are so many reasons if you have the time, to continue to explore beyond Yosemite National Park.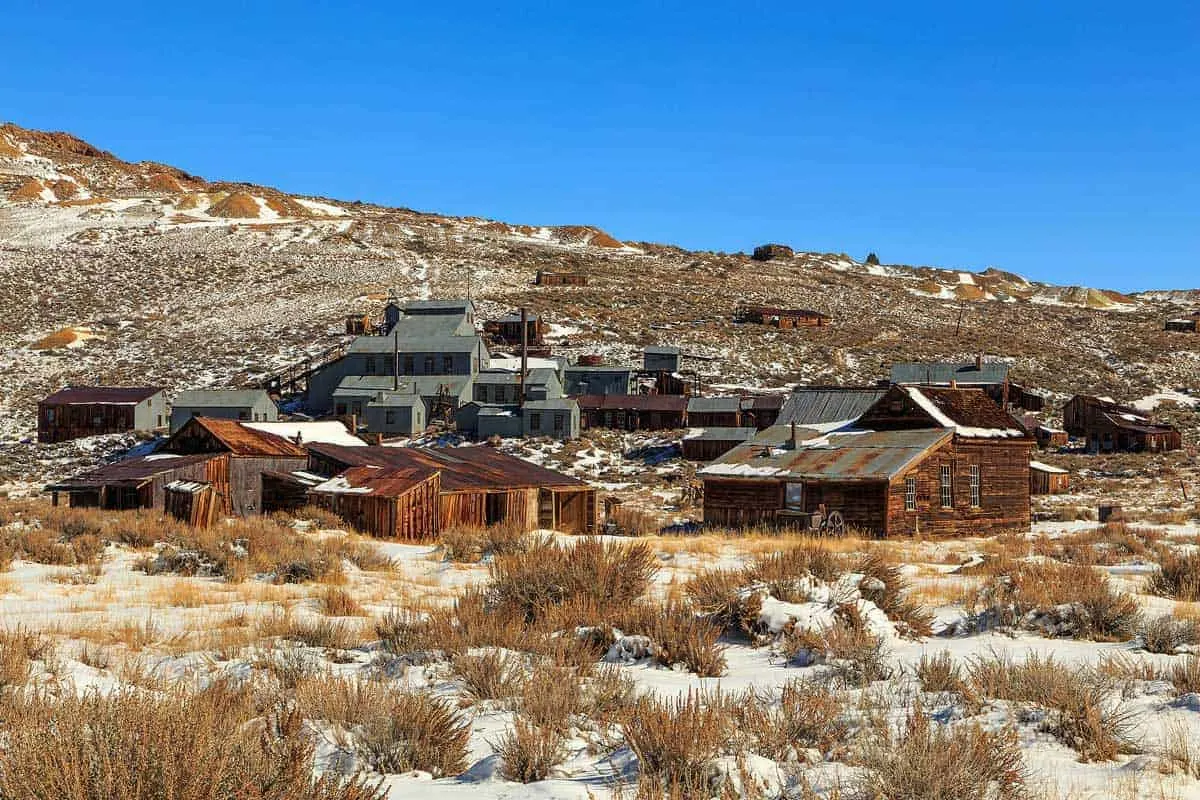 Visiting Yosemite National Park Without The Crowds
It is one of the most popular national parks in the US, attracting millions of visitors each year. Yet Yosemite is large enough to offer every visitor the complete wilderness experience without the crowds. You just have to plan a little and be prepared to stray from the pack.