Mammoth Lakes in California's Mono County sits in the pristine wilderness region between Yosemite National Park and Nevada. Given its location, it's not surprising it is one of the USA's premier hiking destinations.
With a wealth of natural attractions, natural protected areas and historical landmarks, it is also an excellent all-year-round destination for an outdoor adventure vacation.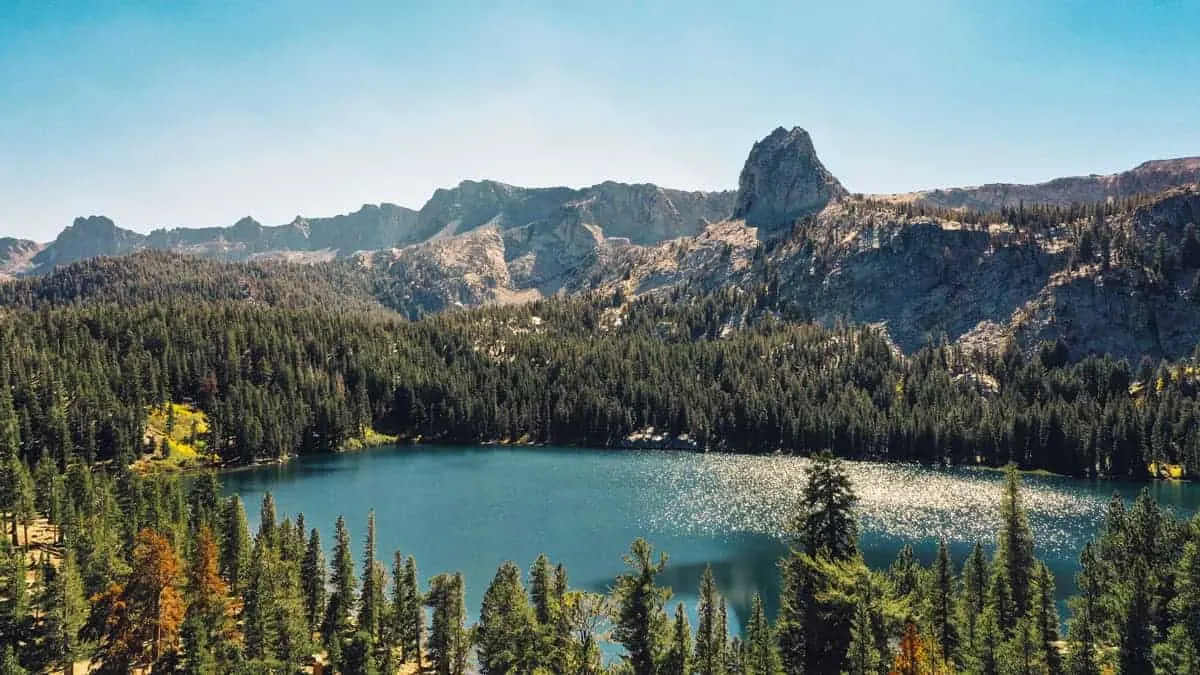 For those who want to escape the rush and get back to nature, enjoy some outdoor adventure or perhaps hit the slopes on Mount Mammoth, there is so much to do in and around Mammoth Lakes.
Mammoth Lakes Hot Springs
One of the unique aspects of Mammoth Lakes is the town is surrounded by a diverse collection of volcanoes on the rim of an ancient volcanic caldera.
More than 750,000 years ago, this supervolcano erupted, leaving behind the natural landmarks that now define the region – the flat basin that cradles Mammoth Lakes, the legendary alpine playground of Mammoth Mountain and the ethereal pumice-covered Mono Craters to the north of the town.
However, it is a truly remarkable natural byproduct of the region's fiery beginnings that is one of the area's most wonderful natural indulgences – a network of natural hot springs.
These natural hot tubs are concentrated between Bridgeport and Lake Mammoth with many of the best not far from Mammoth town. While some can be a little difficult to find, they are definitely worth the hunt.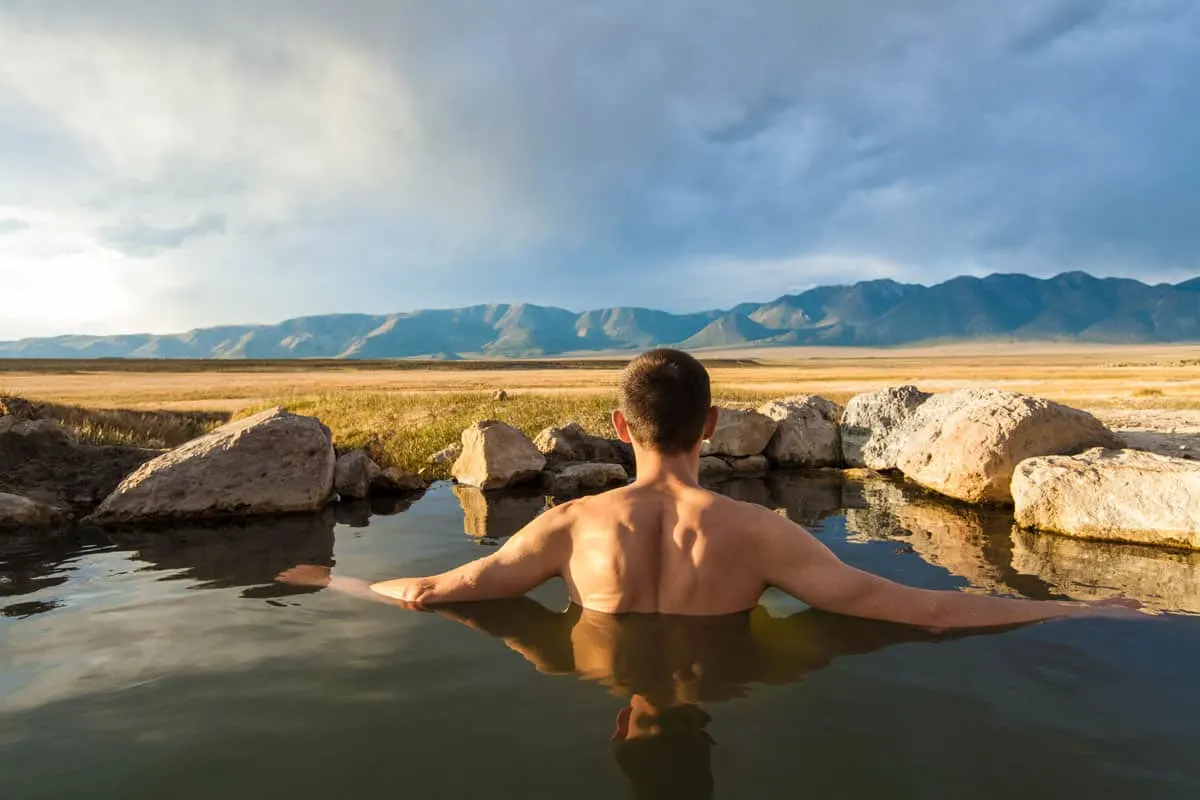 The Best Hot Springs in Mammoth Lakes
Whether looking to soak your muscles after a big hike or just wanting to relax as the sun sets over magnificent mountain vistas, a soak in a natural hot spring is one of the most incredible experiences.
We give you the lowdown on the best hot springs in Mammoth Lakes (not to be confused with Mammoth Hot Springs in Yellowstone National Park) and tips to ensure you have the best experience in this geological paradise.
Where to Stay in Mammoth Lakes
There is no wrong place to stay in Mammoth Lakes; it comes down to your accommodation style and the type of vacation you have planned. The town is surrounded by the breathtaking scenery that draws visitors to Mammoth, so you will never feel far from the adventure.
Mammoth Lakes town is also pretty compact and easy to navigate. There is a very efficient free transit system that can transport you wherever you need to go, so getting around isn't an issue.
Whatever adventure brings you to the Eastern Sierra, Mammoth Lakes has a wide range of accommodation options to suit every vacation. From high end, elegant hotels for couples to multi-room condos for families, cosy forest cabins and ski in ski out apartments. Simply match the accommodation to suit your Mammoth Lakes experience.
What to Expect at Mammoth Lakes Hot Springs
Are There Facilities at the Hot Springs?
Most of the hot springs in Mammoth Lakes are entirely natural so don't expect to find any facilities. This also means there is no cost to use them. They offer a completely natural outdoor experience.
How Big Are the Hot Spring Pools?
Many of the hot springs are relatively small, like a hot tub or jacuzzi. Except for the popular Wild Willy's Hot Springs which has around a 40-50 person capacity, most will only hold less than ten people. Some are a romantic 1-3 person size and some locations will have multiple pools.
How Hot is the Hot Springs?
Expect the temperature of the pools to range between 90℉ – 150℉ (32℃ – 65℃). Although this can vary wildly so, it's always best to test the waters before jumping in to avoid being scolded.
Some pools have pipes with valves running to them so you can control the water temperature a little. If there is a valve controlling the water to the pool, turn it off when you leave, so the next visitor has the best experience.
Do the Hot Spring Pools Get Crowded?
Some of the hot springs can get very busy, especially during peak spring and summer periods. So, it will not be unusual, especially at some of the larger, more popular hot springs, to find people already bathing. For the most part, people are friendly and accommodating and don't mind sharing – providing there is suitable space.
If there isn't enough space, you will have to wait – be patient and accommodating of those who were there first. If you were there first and have had a suitable amount of time in a hot tub, be considerate of any people waiting.
However, it is entirely possible to have a hot tub all to yourself at some of the less accessible or smaller hot springs. If you want to guarantee a private pool, sunrise and off season – fall through to early spring, are the best times to go natural hot-tubbing in Mammoth.
Is Clothing Optional in the Hot Springs?
Be prepared for possible nudity at all hot spring pools. Clothing is optional in the springs, even the ones that claim to be family-friendly so you may see a birthday suit or two.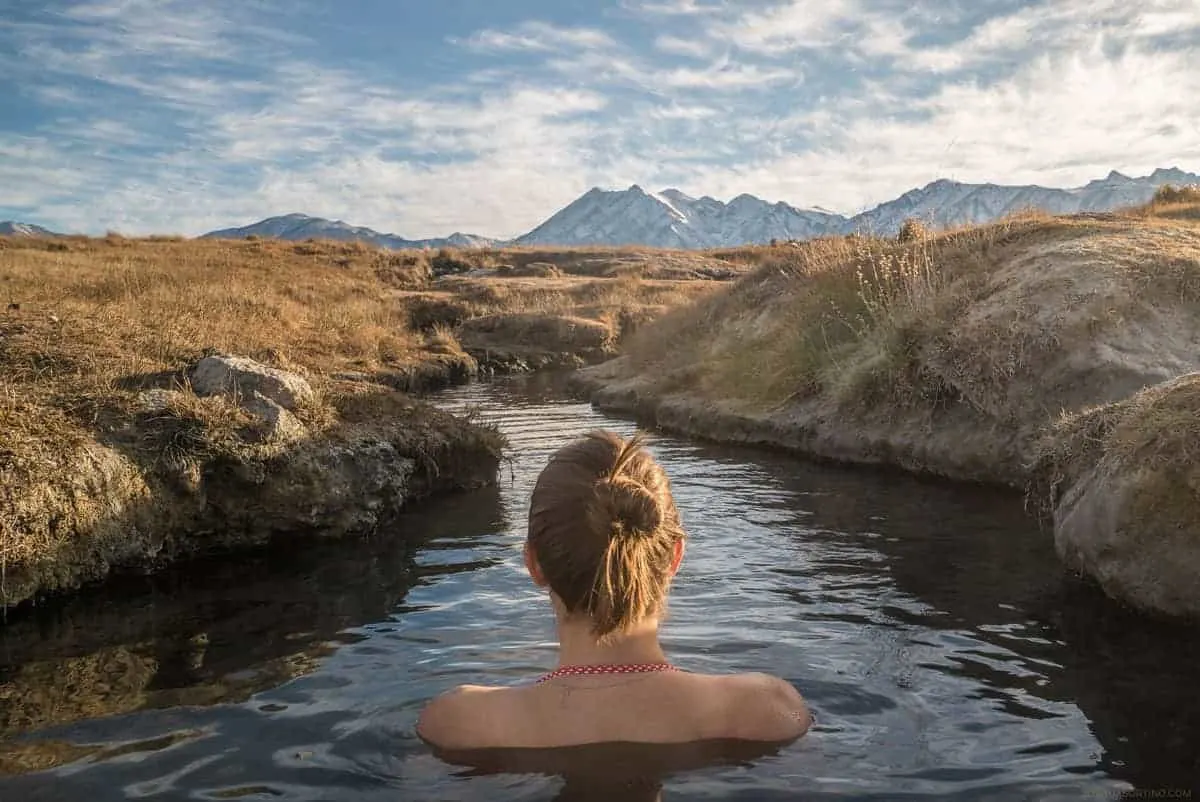 Tips for Visiting the Hot Springs in Mammoth Lakes
Tips for Bathing in the Hot Springs
As we already said, the temperatures can vary wildly. Some springs are significantly hotter than others, so always test the water before getting in.
It is best not to submerge your head in the hot springs. Amoebic meningitis or Naegleriasis is a serious illness caused by a tiny organism called an amoeba that can live in geothermal pools. While it is relatively rare, the amoeba can enter the nose while the head is submerged. Also, depending on the heat of the pool, submerging your head can make you feel faint or lightheaded.
If you are feeling any symptoms of altitude sickness, consider if it is wise to get in or limit your time, especially in very hot pools.
Be careful accessing the pools as it can get very slippery.
Drink plenty of water. You may not realise how much you sweat in the hot springs, so it is easy to become dehydrated. Do not use glass bottles or containers around the pools.
Prepare for changeable weather with layered clothing and sunscreen.
Most of the springs don't have any facilities so be dressed for swimming before arriving if you are shy and be prepared for no toilet facilities.
Pack snacks if you are planning to spend some time at each pool.
Have a suitable lightweight, quick-dry towel, especially if you plan to go to more than one hot spring in a day.
Bring flip-flops or better, wear a pair of easy to slip on all-terrain aqua shoes. Most of the pools are easily accessed, give or take, so you don't have to worry about putting your hiking boots back on after your soak.
Tips for Accessing the Hot Springs
Some of the springs can be difficult to find so be prepared with clear instructions and coordinates if possible. It might still be a bit of a treasure hunt.
With this in mind, cell reception can be spotty at best, so don't rely on having reception. Screenshot maps or download offline navigation apps before you head off.
Many of the roads are gravel so can get bumpy. If you don't have a 4×4, a high-clearance car is recommended.
Stay on trails and boardwalks. The trails are there to protect the fragile environment you are there to enjoy. Also, as it is a geothermal area, you can never tell where you might accidentally stumble on a hot spot.
Enjoy your time at the hot springs but be respectful and ensure you leave no trace. Take all your rubbish with you and try to impact the area as little as possible.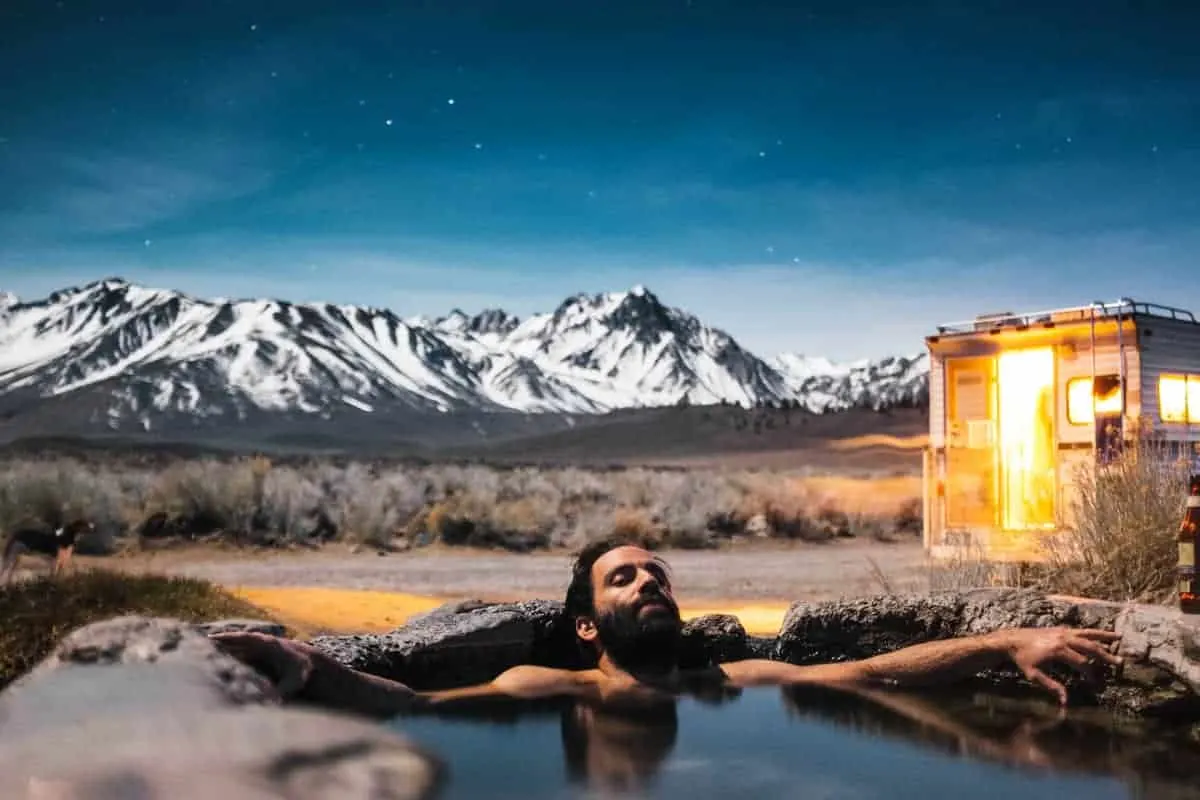 The Best Hot Springs in Mammoth Lakes
Wild Willy's Hot Spring ( Also known as Crowley Hot Spring)
Capacity: approx. 40 people
Only a few miles south of Mammoth lakes, Wild Willy's is one of the largest and most popular of the area's hot springs. There is one large main pool with smaller pools, including the well known heart-shaped pool and a personal tub.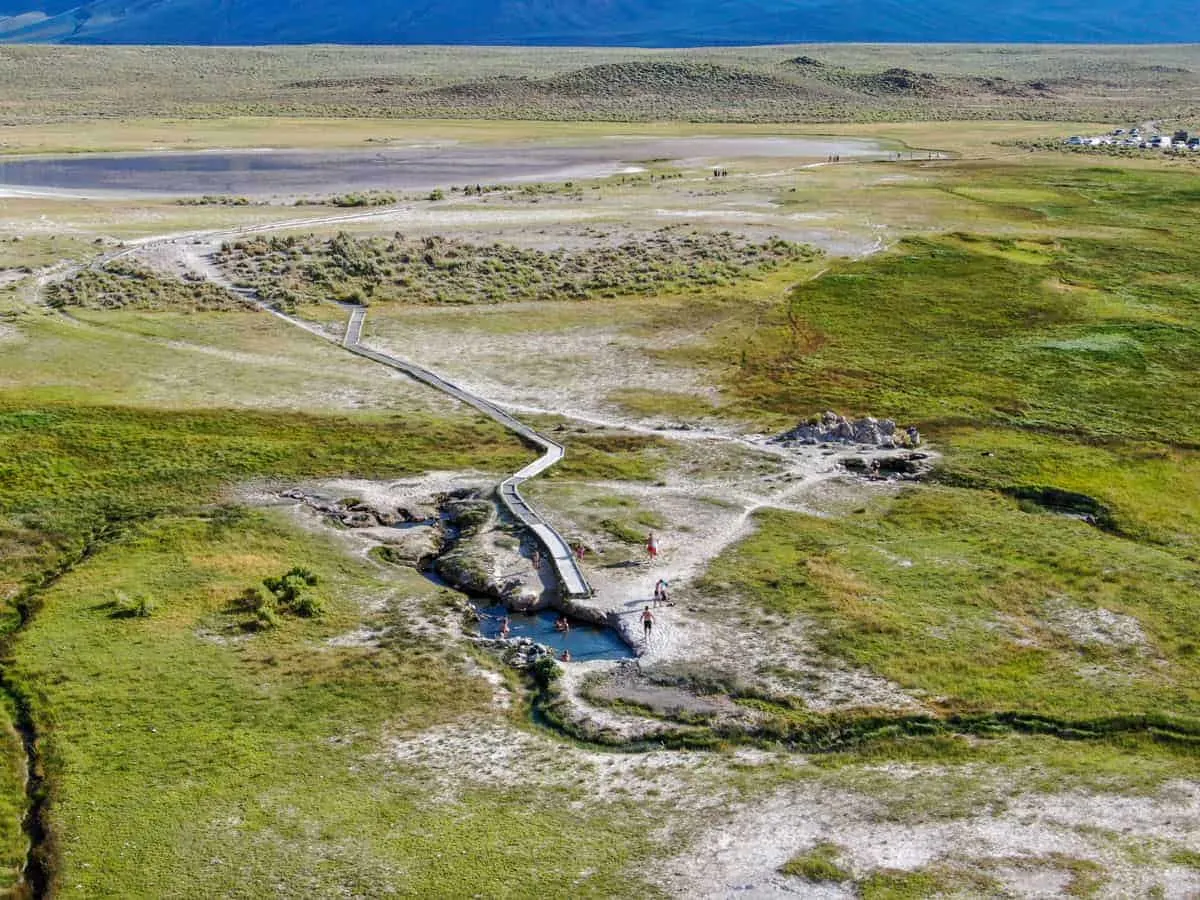 The springs are about a 5-minute walk from the car park (approx. 0.25 miles) along a very accessible boardwalk and well-maintained gravel path. As it is the most popular hot spring in Mammoth Lakes and so accessible, it can get a little busy. It also has a reputation for being a bit of a party pool at night so can get a bit crazy. If you want to enjoy this hot spring in solitude, sunrise is the best time to visit Wild Willy's.
The bathing culture at Wild Willy's hot springs is considered family-friendly despite the "Discreet Clothing Optional" sign. So, whichever way you are inclined, it is recommended to bring your swimsuit. Wild Willy's is best visited in spring, summer and fall as the roads can be impassable in winter.
Directions to Wild Willy's Hot Springs
Head south of Mammoth on US-395 and turn left on Benton Crossing Road (you'll see the green church on the corner). Follow this road until you cross over a cattle guard, then turn right on the small dirt road keeping to the left all the way along until you reach the car park and the start of the boardwalk.
Hilltop Hot Springs (Also known as Pulkey's Pool Hot Spring)
Capacity: 4-6 people
Accessible at any time of year, Hilltop Hot Springs offers magnificent mountain vistas from an intimate hot tub style cement pool. In one of the hotter pools, geothermal waters up to 110℉ (44℃) are transferred from the ground via a pipe running into the pool. The temperature can be adjusted via a valve, and it even has a drain plug to assist with keeping it clean.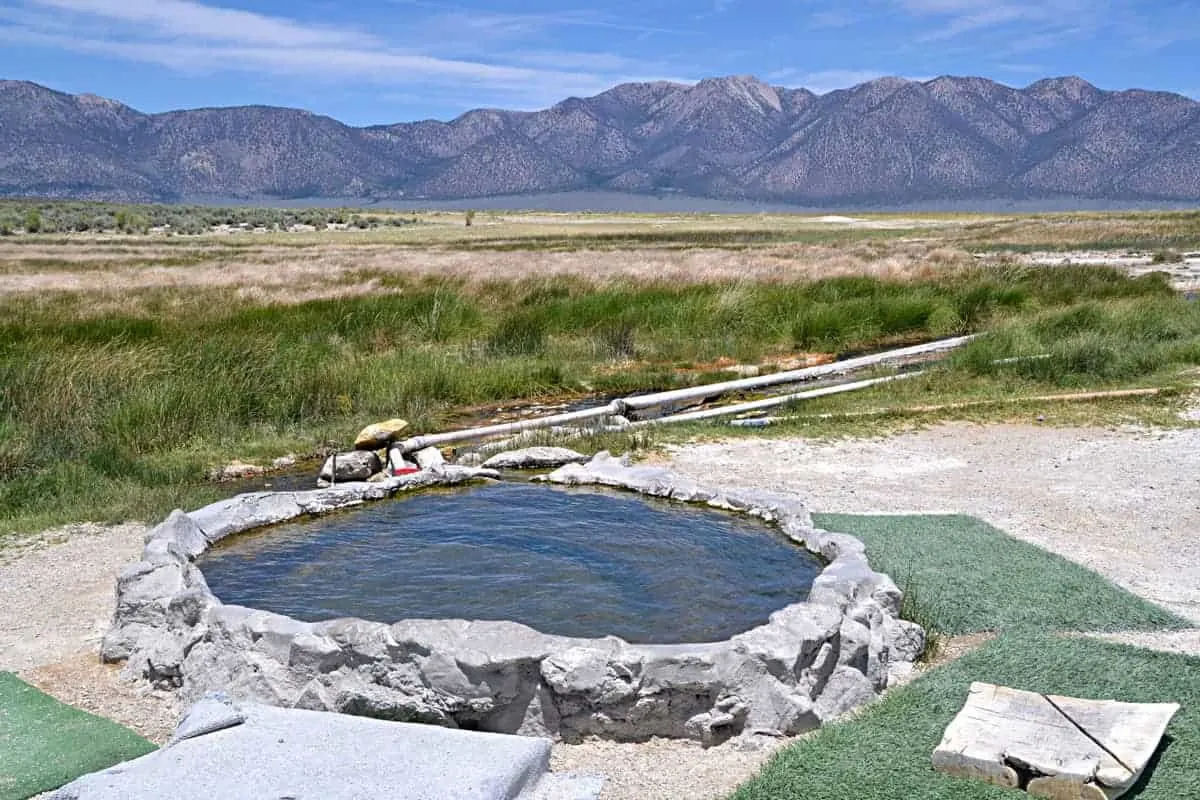 The pool is only around 2 ft deep (0.5 meters) and can accommodate up to 6 people comfortably. Pulky's Pool is a "clothing optional" hot spring so expect to see some nudity here.
The hot spring is a 5-6 minute (approx. 0.2 miles) easy hike from the small parking area. The hike takes you through the alkali field on a gravel trail, then on a wooden plank boardwalk over the marshland.
If visiting in winter and snowfall cuts the dirt road and car park, park near Benton Crossing Road. It is a 0.5-mile hike from there. Pulkey's Pool is a day-use only hot spring.
Directions to Pulkey's Pool Hot Springs
Follow the same directions as if heading to Wild Willy's Hot Springs but instead of taking a right after the cattle guard on Benton Crossing Road, take the next left a little further down the hill. Follow the road along and look for a small dirt car park on the left.
The Rock Tub Hot Springs ( Also known as the Hot Tub)
Capacity: up to 4 people comfortably
The Rock Tub, so named because it is a small tub built from cemented rocks on a small hill offers some of the most magnificent views of Eastern Sierra.
The Rock Tub, while situated near the road is hidden down the hill so gives a sense of privacy if no one is there. However, thanks to the ease of access, breathtaking views of the snow-capped mountains and moderately hot water (not scalding like some of the others), Rock Tub is one of the more well known and loved hot springs in Mammoth Lakes.
During busy times, especially on weekends during spring and summer, aim for a sunrise soak at Rock Tub. Even if it is busy in the tub, the location is worth a stop for the views.
Only a few feet deep and large enough to hold up to four people comfortably (six at a pinch), the pool does not have a control valve like many of the other hotter springs. The water is pumped directly from the ground about 300 feet away so cools to a manageable temperature before it hits the pool. The pool's lower temperature alone makes it a great hot spring to visit in the warmer months of spring and summer.
Water can be drained from the tub by removing a drain plug in the bottom to replace it with fresh water if algae has accumulated.
Easily accessible by any vehicle type, although the dirt access road can be very muddy or develop corrugations after storms. There is parking very close to the tub, so you don't have to walk far.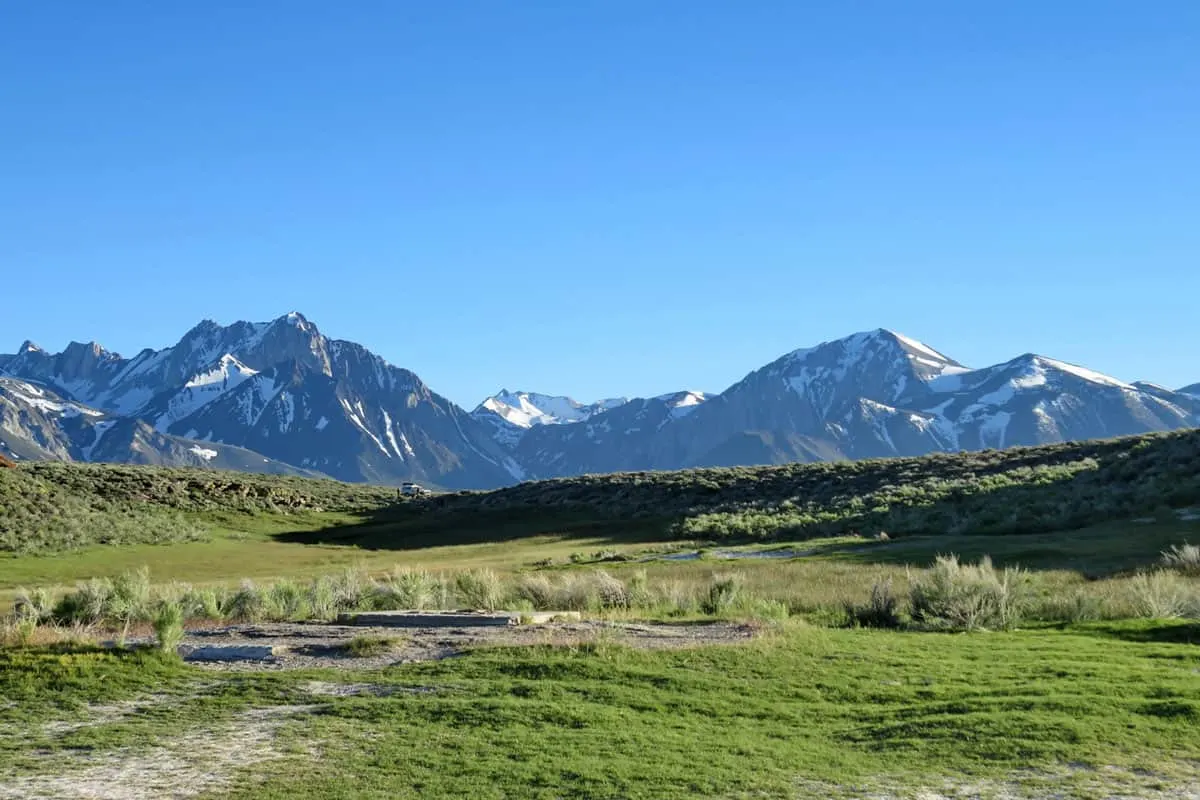 Directions to Rock Tub Hot Springs
As with Wild Willy's and Pulkey's Pool, head south of Mammoth along the US 395 and take a left at Benton Crossing Road (look for the green church). Take the first left onto Whitmore Tubs Road. After about a mile, take the next dirt road on your right, and you'll see the parking area and the hot tub.
Crab Cooker Hot Springs
Capacity: 5-6 people
You will need a high clearance vehicle or 4×4 to access these hot springs, but the views and surrounding meadows are worth the bumpy ride.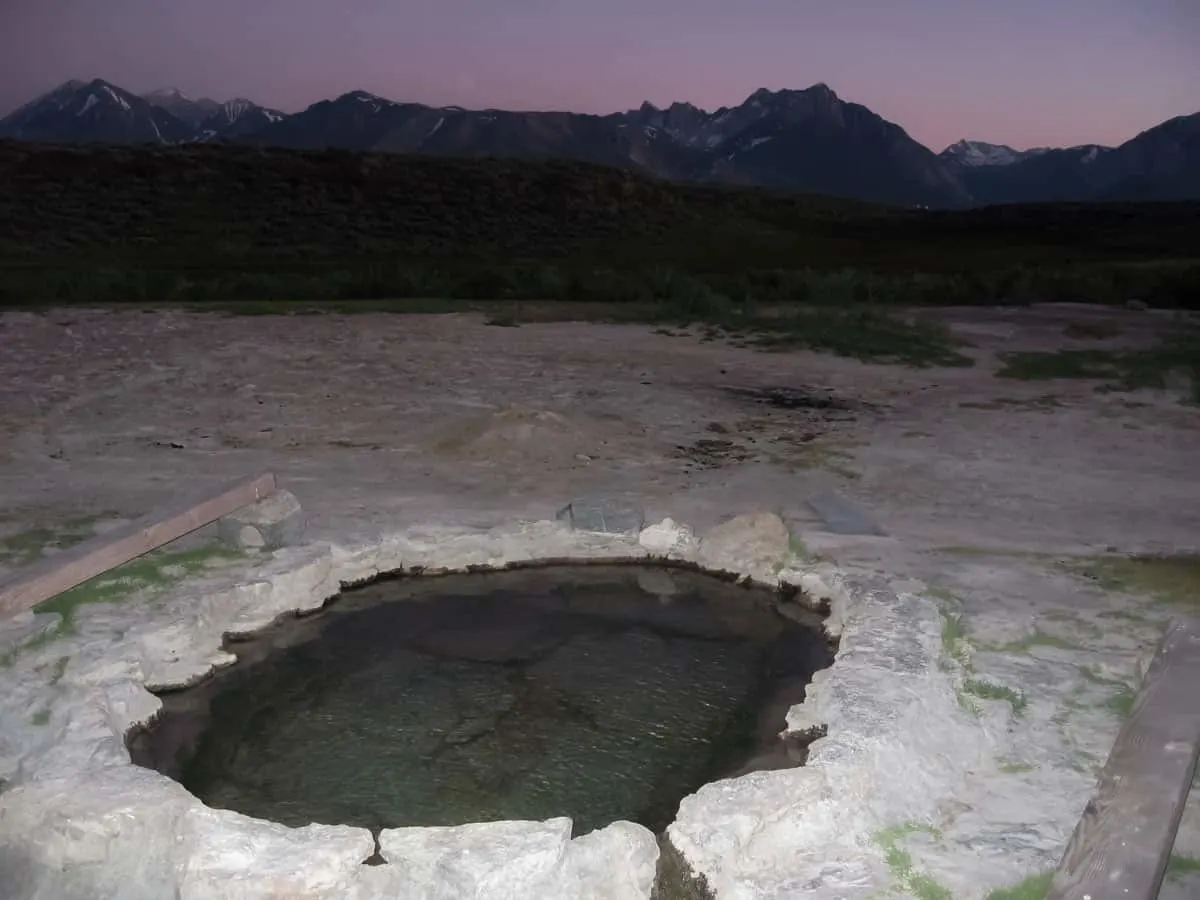 The name of this tub is relative to the water temperature. With temperatures of around 150℉ (65℃), you could literally cook a crab in this hot tub. Thankfully, there is a valve to allow for the control of the hot water – never jump straight in as you could seriously scald yourself.
Some will say Crab Cooker Hot Spring can hold up to 7 people, but in reality, unless you are all very well acquainted, four would be the maximum to fit comfortably in this hot tub sized pool.
Again, clothing is optional, and there are no facilities. Also, cell coverage is spotty at best so make sure you have offline maps arranged before heading out. It is a short hike down a track approx. 100 yards to reach the pool.
Directions to Crab Cooker Hot Springs
Turn left onto Benton Crossing Road off US 395 from Mammoth. Then, as if you were heading to Rock Tub, turn left on Whitmore Tubs Road. Continue along, past Rock Tub and take the second dirt road on the right. Keep veering left for about a mile until you see the car park. The small cut out for parking is easy to miss if other cars aren't already there.
Shepherd Hot Springs
Capacity: 4-6 people
There is something charming about Shepherd Hot Spring – a single cement pool in a meadow with magnificent mountain vistas.
Easy to find via two unpaved roads accessible to any vehicle and with a parking area right next to the pool, Shepherd Hot Spring can be a little more frequently visited than some of the others in busy times. Visit in the quieter months such as fall, and you will be rewarded with few people. It's also a lovely time of year for a hot soak in nature.
The water can be adjusted in this pool as there is a valve on the pipe which is tapped into the source only 20 feet away. The water temperature is often around 100℉ (38℃) direct from the pipe but will cool in the pool thanks to the size. You can also change the water out completely if any algae has accumulated but just be mindful; it may take a few hours to fill again.
Shepherd Hot Spring can hold up to 6 people although it will be cosy. 4 people is probably a more comfortable number.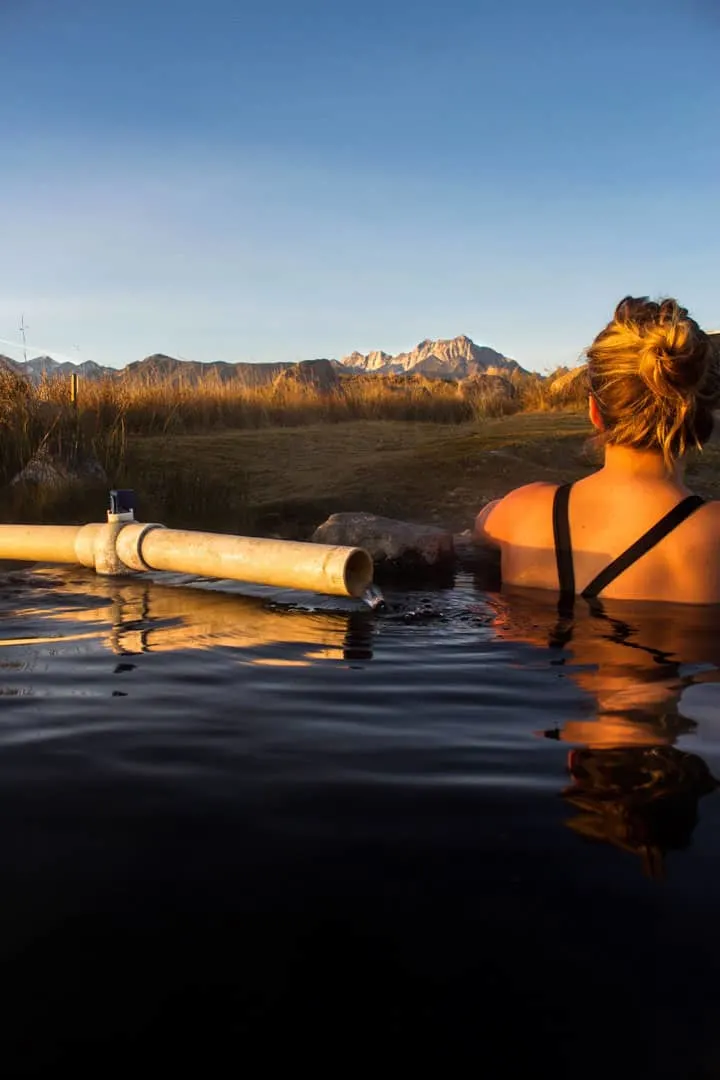 Directions to Shepherd Hot Springs
Take a left on Benton Crossing Road and then a left onto Whitmore Tubs Road as if you are heading to Rock Tub or Crab Cooker. Then take the turnoff to Shepherd Hot Springs Road, the 6th dirt road on the right – the one after Crab Cooker. You will find the hot tub a short distance down this road.
It is also possible to walk to Shepherd Spring from Crab Cooker Hot Spring should you feel inclined as there is a trail that connects the two.
More Hot Springs Near Mammoth Lakes
If you want to venture a little further from Mammoth Lakes, the town of Bridgeport, less than an hour to the north also has some natural hot springs worth visiting. They make a great additional stop for those visiting Bodie Ghost Town.
Travertine Hot Springs
Capacity: approx 18 across four pools
Not quite in Mammoth Lakes as such but Travertine Hot Springs are close enough to warrant a visit. Located in the hills just south of Bridgeport (approx, 50 miles from Mammoth Lakes), Travertine Hot Springs may have the best views of the lot, which is saying something considering the landscape.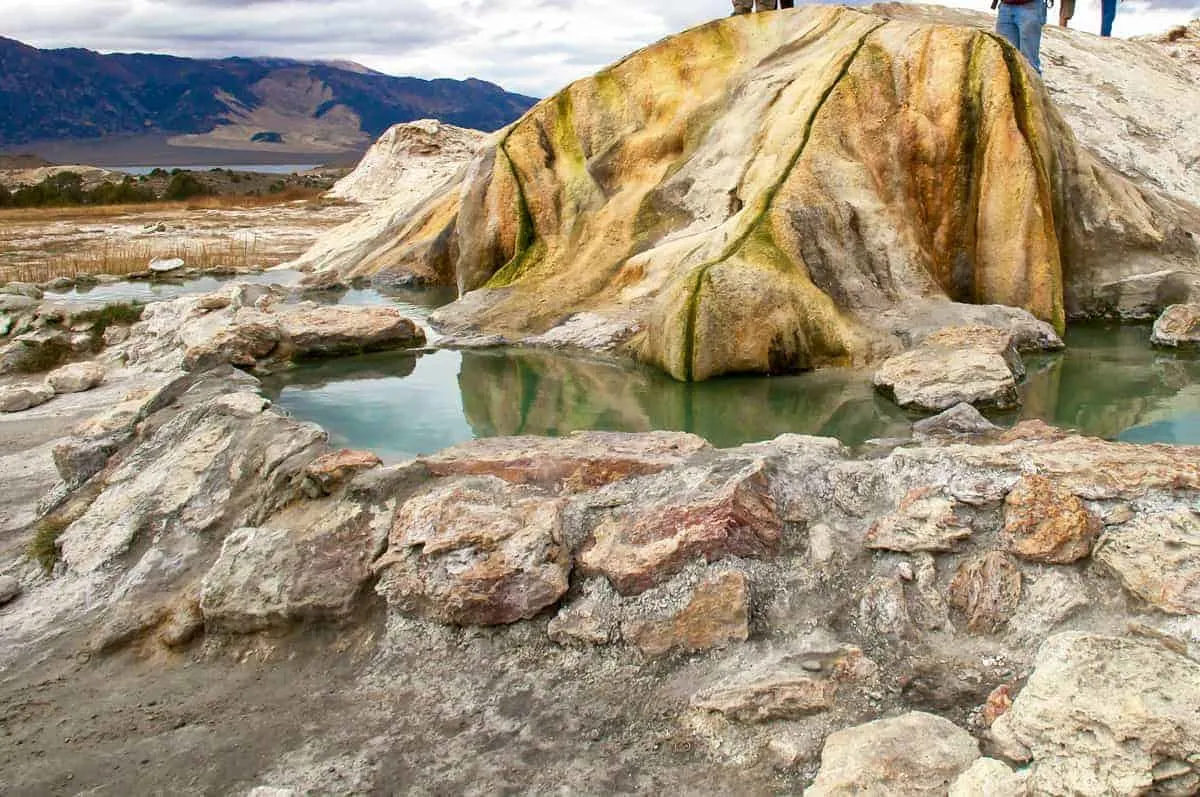 Travertine is one of Eastern Sierra's most popular geothermal sites, thanks to the proximity to Bridgeport, the ease of access, there are multiple pools of varying temperatures and basic toilet facilities. It is also said, the grey travertine mud that lines the pools has restorative properties.
There are three small, fairly rustic springs at Travertine and one larger cement pool, all with varying temperatures. The larger cement tub adjacent to the parking area, which is an ADA accessible pool will be above 100℉ (38℃) depending on the season and suitable for up to 8 people.
Continue further down the path to find three smaller tubs ideal for up to 3 people each. These tubs are formed with the mineral deposits of the springs and rocks. Each will reach temperatures below 98℉ (36℃) depending on the season.
Clothing is optional at Travertine Springs so be mindful if visiting with children.
Directions to Travertine Hot Springs
Head north on US 395 from Mammoth lakes for approx. 50 miles – around 50 minutes. Turn right onto Jack Sawyer Road after the Bridgeport Ranger Station and follow the dirt road for about a mile until you see the car park and toilets. There is a sign for Travertine Hot Springs, so it is well marked.
The road may close in winter after heavy snow.
Buckeye Hot Spring
Located next to a tranquil mountain stream, Buckeye Hot Spring has three soaking pools and is considered one of the most beautiful hot spring pools in the Eastern Sierra. It is also one of the most remote.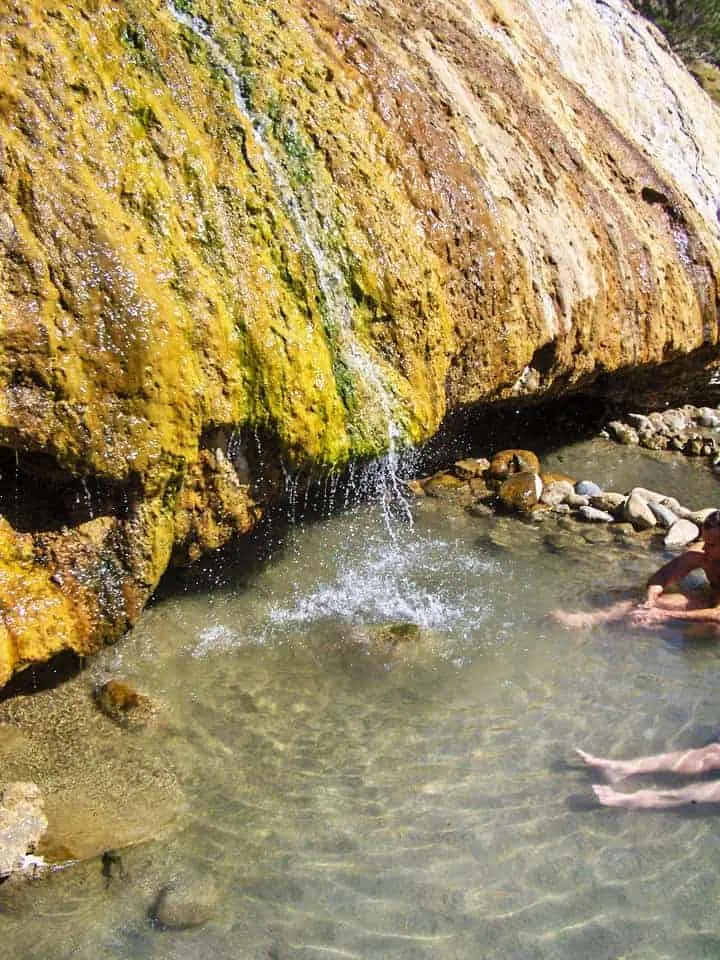 The pools are fed by the flow of water from the springs above, creating a glorious thermal waterfall. If the water gets too hot, take a dip in the cooling waters of Buckeye Creek and start all over again.
While the tranquillity of it all is undeniably alluring, there is a catch. Access to Buckeye Hot Springs is by a short but reasonably steep descent from the car park (~200 yards) to reach the pools. And if you go down, you must come back up. So make sure you have decent shoes on for the hike up and down.
If the thought of the steep ascent after a relaxing soak is too much. Park at the camping area to the west of the steam and take a 10-minute walk through the forest along the stream. Be aware; it can get muddy in parts.
Roads can become impassable in winter although it is possible to cross country ski to the springs.
Directions to Buckeye Hot Springs
From Mammoth Lakes, head north on US 395 to Bridgeport (approx. 50 miles | 55 minutes). Turn left onto Twin Lakes Road to the north of the town. Follow the road until you reach Doc and Al's resort (approx. 7 miles). Turn right onto the dirt road just past the resort following the signs to Buckeye Creek. Pass Buckeye Campground and continue up the gravel road to the large parking area where you will find the track leading down to the springs.
Plan Your Mammoth Lakes Hot Spring Adventure
Skiing on Mammoth Mountain, hiking in the glorious Eastern Sierra wilderness or the crystal waters of Mammoth's glorious lakes. Whatever brings you to Mammoth Lakes, a visit to at least one of the region's natural geothermal pools should be on everyone's Mammoth itinerary.
With so many of the area's best hot springs so close together, there's no reason not to visit more than one natural hot tub during your stay. It will be one of the most magical natural experiences you can have in the great outdoors.