In search of stunning Olympic National Park hikes? We've rounded up the best hikes for all levels to enjoy in one of the best hiking destinations in the USA.
Covering close to 1 million acres in area, the insanely beautiful and diverse Olympic National Park on the Olympic Peninsula west of Seattle is one of the most impressive national parks in the USA.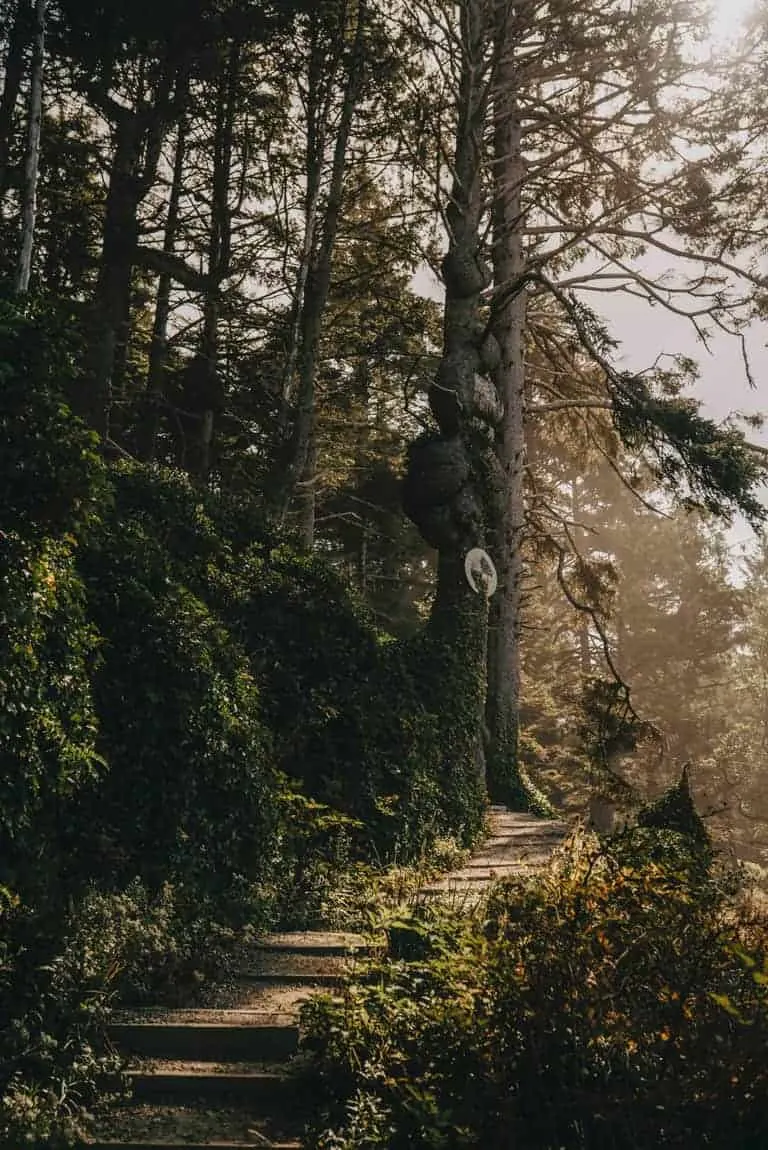 Thanks to its staggering size, the park includes a diverse range of ecosystems and terrains from lush rainforests to rugged coastlines, an alpine region, and a dry area. You'll never get bored hiking in Olympic National Park.
With a combined 611 miles of trails, there's certainly no shortage of hikes and walks suited to all skill levels. It is no wonder an Olympic National Park, an easy day trip from Seattle, is a favorite outing for both locals and visitors to the state and one of the most popular road trips in the US.
We've put together these top Olympic National Park day hikes and multi-day treks to help you plan your visit to this wondrous national park.
You may wish to experience a historic lodge's extravagance or prefer a rustic retreat in a log cabin. Is it a back-to-nature experience in one of the campgrounds or the simplicity of a Bed and Breakfast or motel? Whatever your accommodation style, keep the size of the park in mind.
There are five major regions of Olympic National Park –
Hurricane Ridge – Mountains and sweeping vistas.
The Coast – Beaches, sea stacks, and 57 miles of rugged coastal wilderness.
Kalaloch Beach – Long stretches of sandy beach and bird populations.
Hoh Rainforest – Iconic old-growth moss-covered forest with diverse wildlife.
Lake Quinault – Beautiful lake and rainforest.
Eastern Olympic National Park – The driest and sunniest side of the park. Rivers and forests along the Hood Canal.
You may wish to choose where to stay based on your focus, or you may want to stay in a few different regions, choosing a different accommodation style at each stop. Olympic National Park's size and diversity are what make it such an incredible place to visit.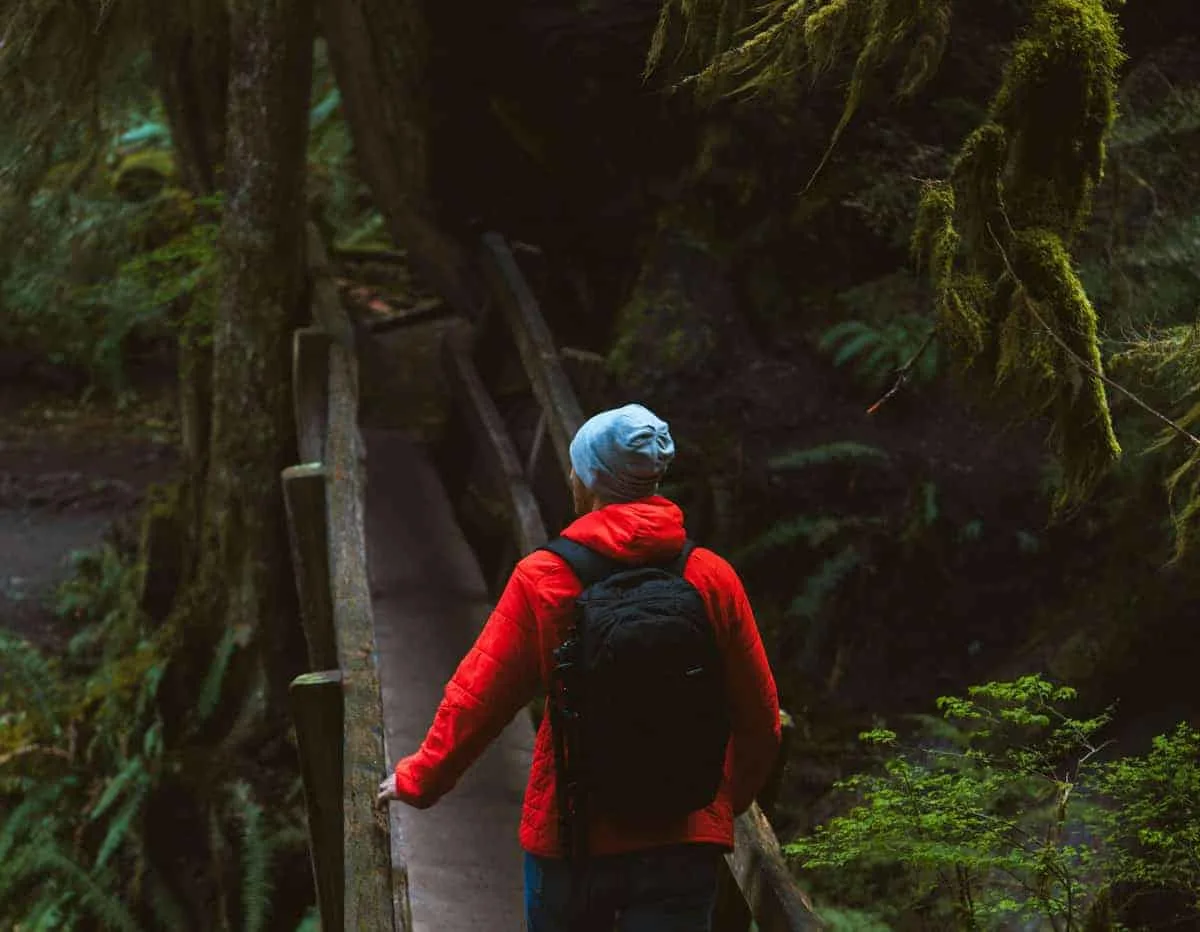 10 Incredible Olympic National Park Hikes
Hoh Rainforest Trail
Distance: 1-mile
Type: Roundtrip
Difficulty: Easy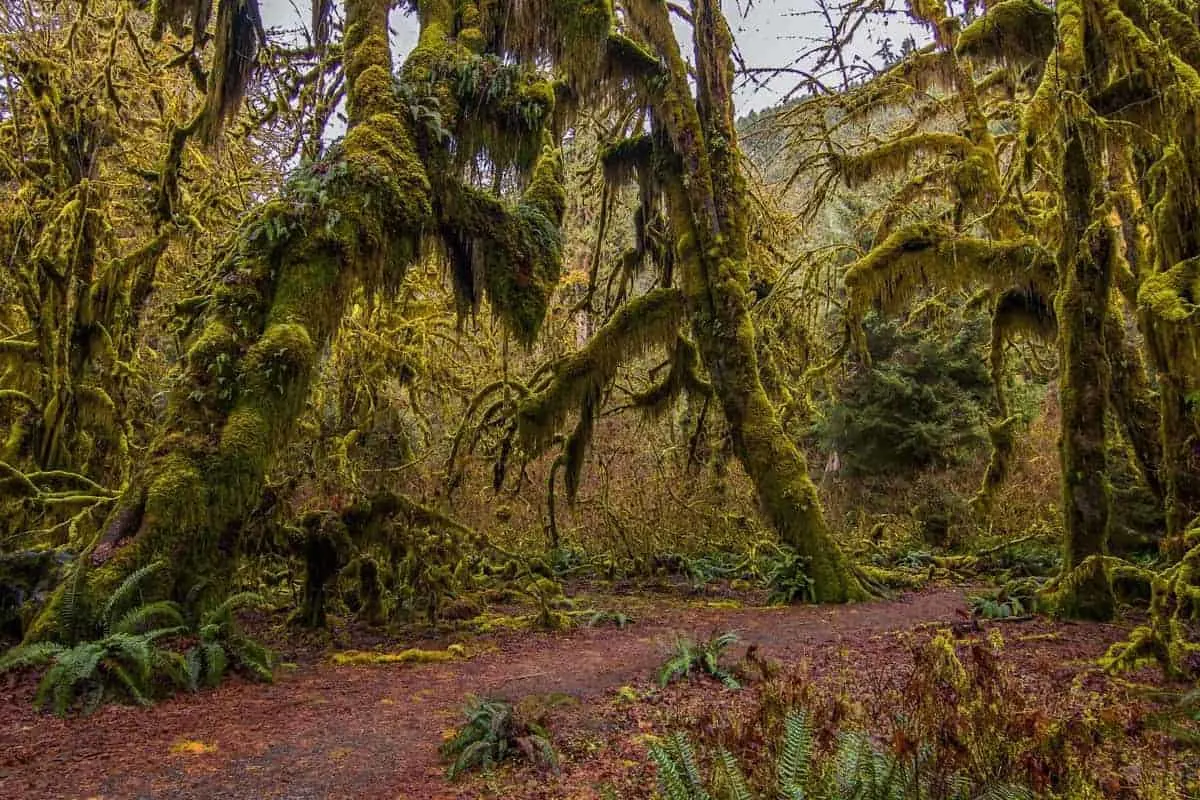 If an enchanted forest sounds like your ideal nature escape, the Hoh Rainforest Trail is perfect for you. Especially popular during the summer months, this magical trail wanders through the verdant and dense Hoh Rainforest.
With tons of greenery and lush vegetation in the moss ladened forest, there is also an abundance of birdlife and wildlife, including Roosevelt elk. Hoh Rainforest Trail is one of those hikes that is always impressive no matter how often you do it.
Fairly easy and relaxing, it is undoubtedly one of the best Olympic National forest hikes. There are several stops along the way, perfect for a lunch break after a morning of hiking through the beautiful terrain.
Do be aware that this trail, while easy, can be wet and muddy, so suitable hiking shoes are advised. There are many other trails through the Hoh Rainforest; you can find them all here.
The Hoh River Trail to Five Mile Island
Distance: 10 miles
Type: Out and Back
Rating: Moderate
Try the Hoh River Trail through temperate rainforest if you've explored the magical moss-covered Hoh Rainforest and are looking for a longer hike. This Trail can be as long as you like, as the complete Trail is 18.5 miles, finishing at the Blue Glacier moraine with views of Mount Olympus. (The last camp area is Glacier Meadows at 17.4 miles)
But, if you are looking for a good Olympic National Park day hike, consider the Hoh River Trail to Five Mile Island and back. Five Mile Island is 5 miles out and is a nice stop for a picnic lunch with views of Bogachiel Peak. If you wish to make it a shorter hike, there are numerous turnaround points before reaching Five Mile Island, including First River access at 0.9 miles, Mineral Creek Falls at 2.7 miles and Cedar Grove at 4 miles.
Spruce Railroad Trail
Distance: 11 miles
Type: Out and Back
Rating: Easy
One of the easier hikes in Olympic National Park. A scenic and flat trail along the shores of Lake Crescent, this easy hike is family-friendly and one of the few trails that allow dogs on a leash.
It may be an easy hike but still an interesting one. You'll come across some tunnels (a flashlight is handy) and several scenic bridges, including the one at Devil's Punchbowl, the hike's highlight. A stunning place for swimming in warm weather.
Spruce Railroad Trail is a paved trail, so be on the lookout as it is popular for mountain biking and horse riding.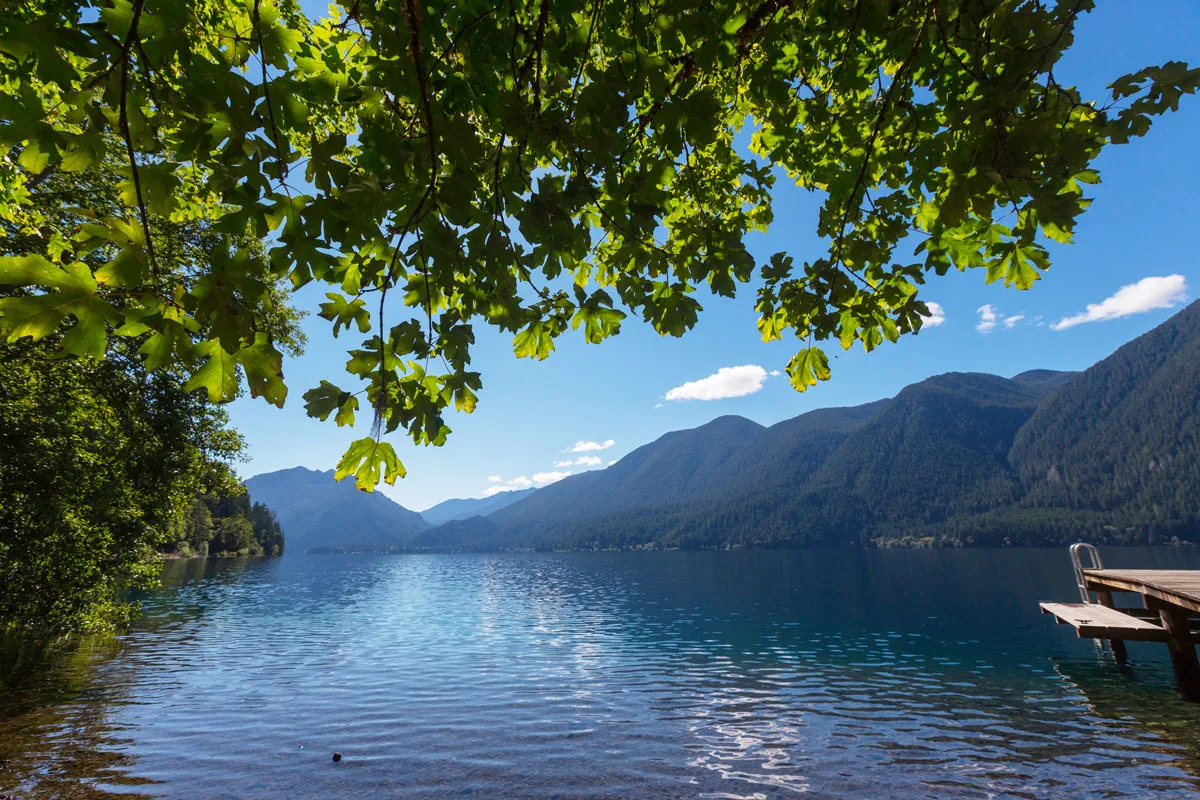 Staircase Rapids Loop Trail
Distance: 2.1 miles
Type: Loop
Rating: Easy
One of the best day hikes in Olympic National Park, the Staircase Rapids Loop Trail is another good hike for families.
Following the North Fork of the Skokomish River, Staircase Rapids Loop is a short hike but with a lot to offer. The complete loop will take around an hour to complete and take you through a gorgeous moss-covered old-growth forest, past waterfalls, and across a suspension bridge.
It's a popular hiking trail, also with trail runners so expect to see other people, especially on weekends.
Ruby Beach
Distance: 6-miles
Type: Roundtrip
Difficulty: Easy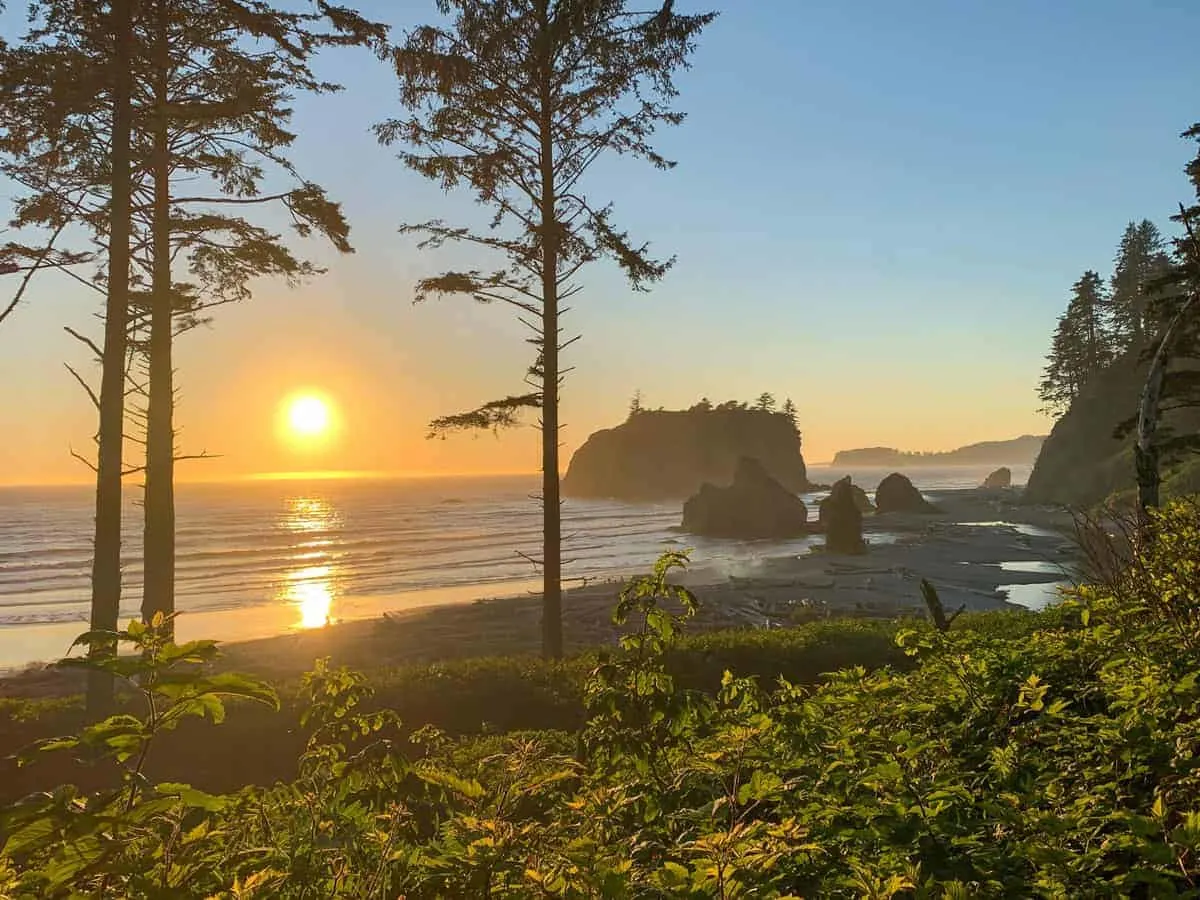 Ruby Beach, located south of where the Hoh River and the Pacific Ocean meet, is another great Olympic National Park hike, especially for day-trippers. A short 0.25-mile trail leads you from the parking lot onto Ruby beach.
Once on the beach, you can wander to your heart's content. Explore the insanely large and interesting driftwood, check out the array of sea life in the tidal pools, and marvel at the rugged sea stacks.
If you opt to head north, you'll stumble upon the Hoh River approximately 3-miles in. Heading south, you'll encounter Steamboat Creek at low tide and even catch a glimpse of Destruction Island.
Hole in the Wall at Rialto Beach
Distance: 3.4-miles
Type: Out and back
Difficulty: Easy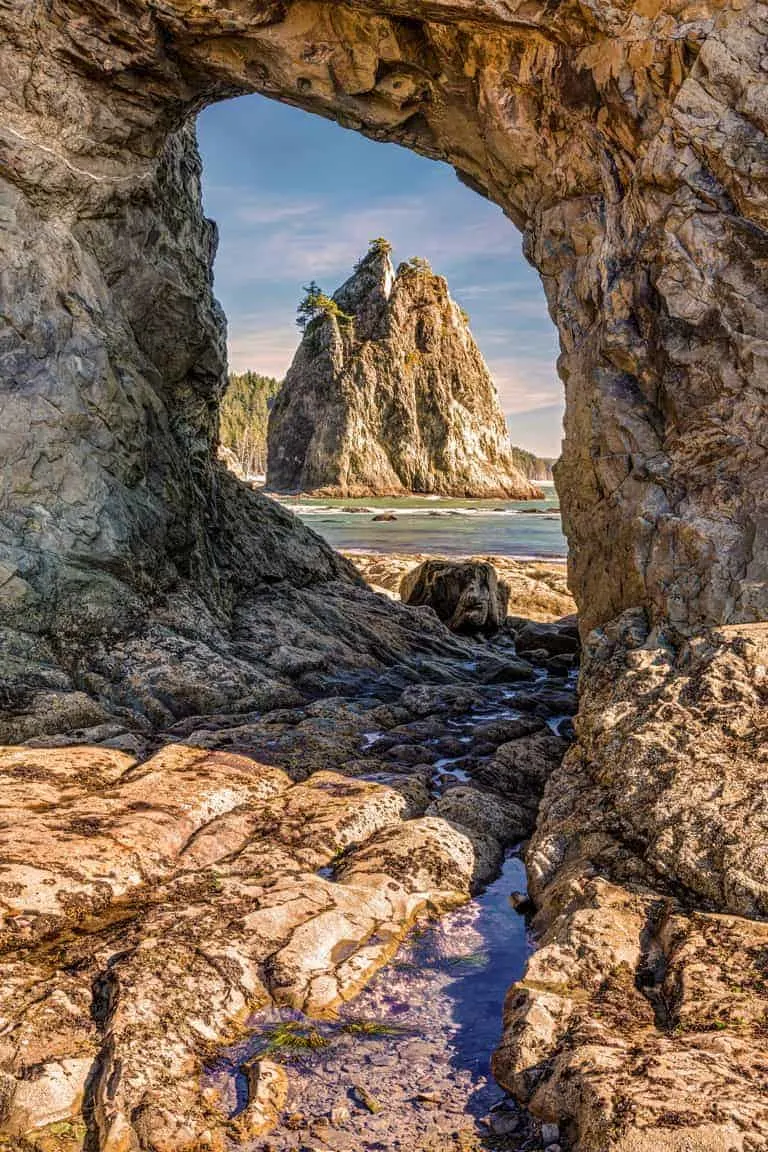 The picturesque Hole in the Wall trail is one of the most scenic taking you 1.5-miles down to the beautiful Rialto Beach, which also happens to be one of the best in Washington.
Once on the beach, you'll reach the Hole in the Wall, a fantastic spot to admire the sea stacks or take in the beautiful landscape at sunset. Be on the look for wildlife, as you're likely to spot sea lions or whales if you're lucky.
Sol Duc Falls Trail
Distance: 1.6-miles
Type: Roundtrip
Difficulty: Easy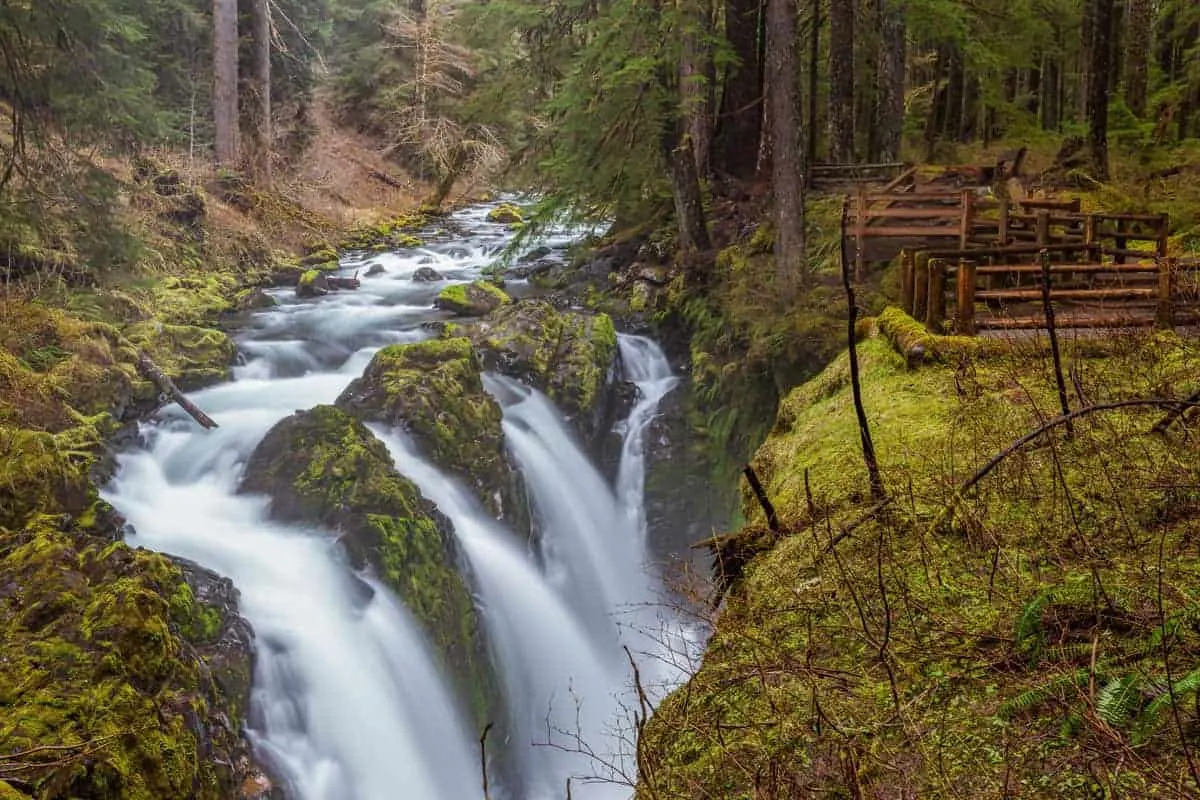 One of the best trails in Olympic National Park for families is the Sol Duc Falls Trails. The trail is tucked away in the Sol Duc Valley and boasts scenic alpine lakes, one of the most accessible waterfalls in Olympic NP, snowcapped mountains, as well as an abundance of wildlife.
One of the top things to see in Olympic National Park, this easy hike to the Sol Duc Falls is especially alluring in the morning when the rain forest glistens and shimmers in the light of the early morning sunrise.
Set off on this 1.6-mile round trip hike just beyond where the Sol Duc Hot Springs and Resort is located.
---
Make sure you've packed the right gear before you set off on a hiking vacation. Read our Walking Holiday and Hiking Packing List.
---
Hurricane Hill
Distance: 3.2-miles
Type: Out and back
Difficulty: Intermediate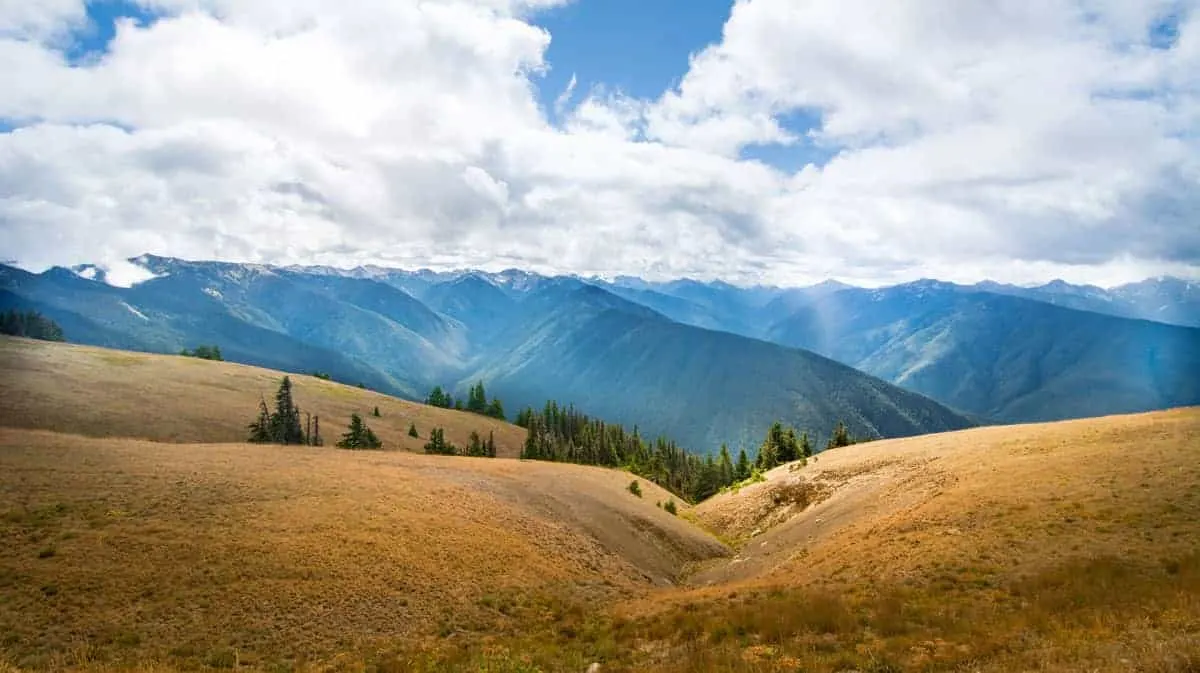 Day hiking Olympic Peninsula offers an endless variety of fabulous hikes and trails to choose from and Hurricane Hill should certainly be one of your top picks.
An easy to intermediate hike, Hurricane Hill is great for families. It starts out fairly easy and includes three switchbacks leading to a summit with unparalleled views over the snow-capped Bailey Range.
From the summit, enjoy the impressive mountain range's vistas, look out to Port Angeles in the north, or glance out across the waters to Vancouver Island.
Marymere Falls
Distance: 1.8-miles
Type: Roundtrip
Difficulty: Easy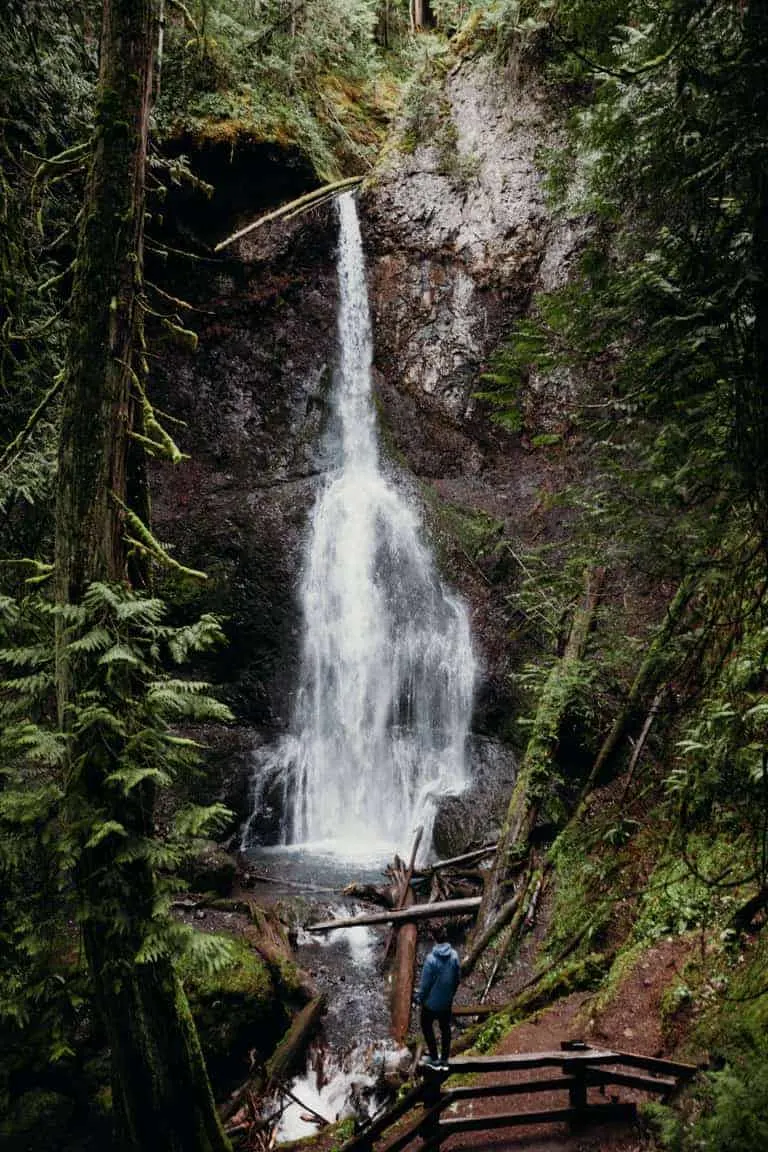 Considering a hike on the more challenging Mount Storm King trail (next up on our list), then why not add on this easy 1.8-mile roundtrip to Marymere Falls.
The trail that takes you through the rich green forest to reach the picturesque falls is a good one for those visiting Olympic NP with kids. Do take note that this trail is a popular one and can get crowded at times.
Mount Storm King
Distance: 4-Miles
Type: Roundtrip
Difficulty: Hard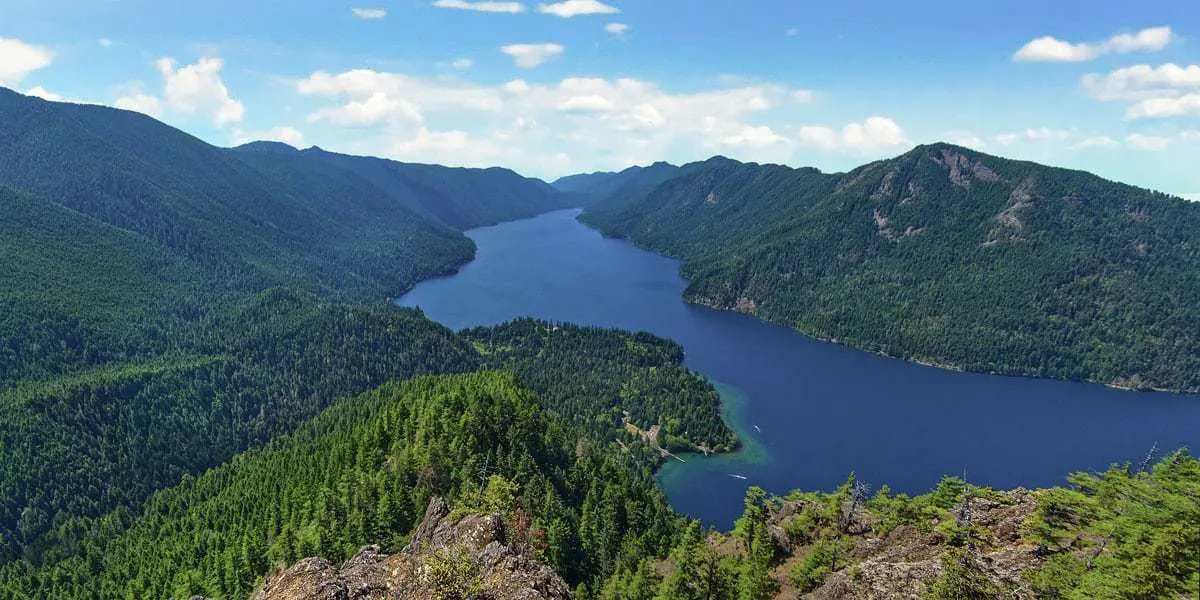 Mount Storm King is likely one of the most photographed hikes in Olympic National Park, thanks to the astonishing views out over Lake Crescent from the rocky summit. By no means an easy hike, the Mount Storm King hike can be especially dangerous during bad weather. Mount Storm King is also not recommended for hikers who don't do well with heights.
However, if you are up for the challenge, the views are worth the uphill trek, managing the roughly 2065 ft elevation gain to the top. If this sounds too daunting a challenge, then why not head halfway up where you'll find alternative outcrops offering pretty much the same views of the lake ahead.
Enchanted Valley via East Fork Quinault River Trail
Distance: 26-miles
Type: Roundtrip
Difficulty: Hard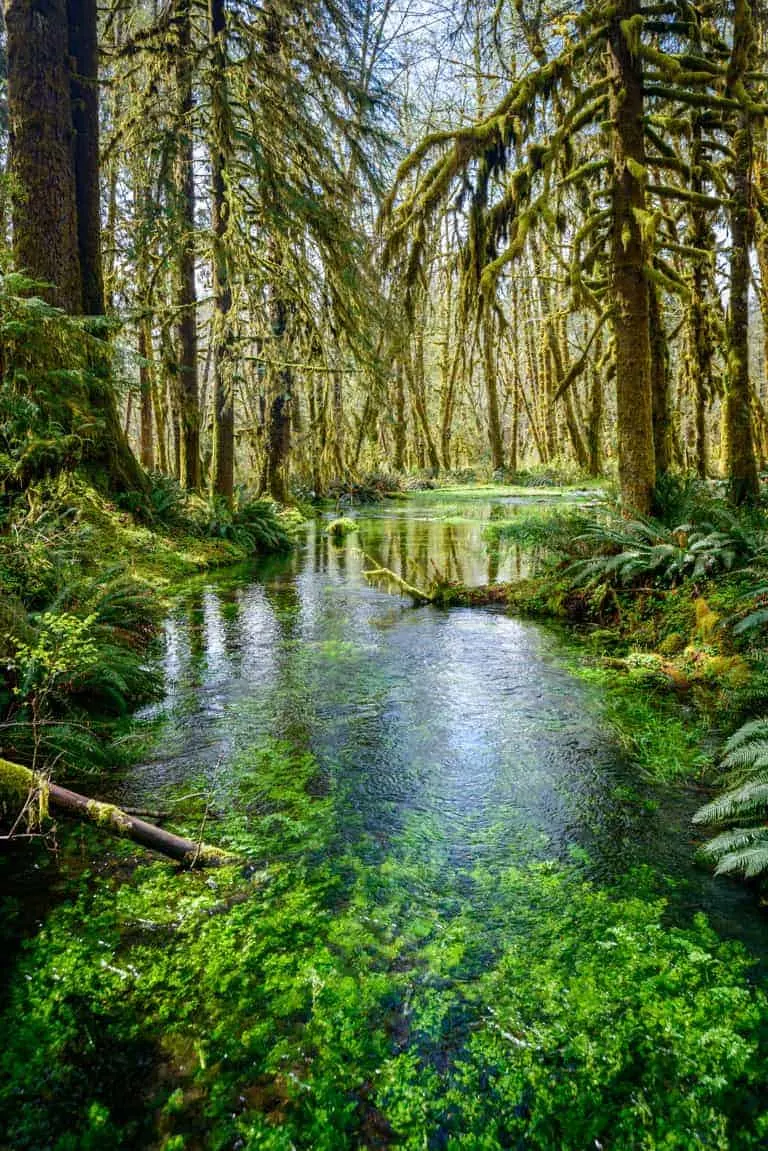 In the southeastern part of the park is the 26-mile roundtrip East Fork Quinault River Trail, which happens to be one of the most popular trails in the area. Many opt for a day hike through Quinault Forest to reach Pony Bridge instead of completing the trail in its entirety.
Meandering through forests, crossing rivers and gorges, you'll pass along stopping points and camps such as O'Neil Creek and cross several streams, eventually reaching Quinault River Bridge. Upon crossing, you'll finally reach the alluring Enchanted Valley at the 13-mile halfway mark.
Note that Bears are commonly sighted in the Valley area so ensure you take the proper precautions regarding food and give them appropriate space.
High Divide Seven Lakes Basin Loop
Distance: 19-Miles
Type: Roundtrip
Difficulty: Hard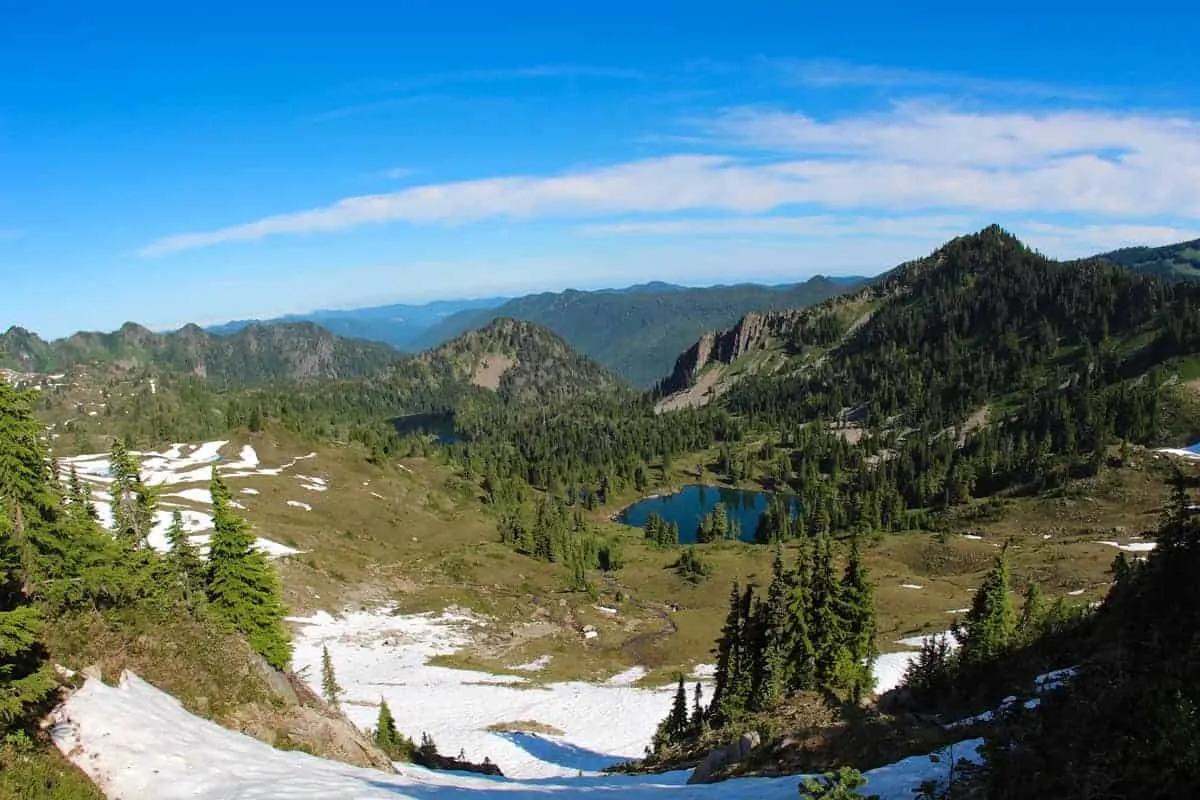 Rounding out our list of the best hikes in Olympic National Park is the High Divide trail, a hike recommended for experienced hikers.
The incredible 19-mile trail will require you to overnight, possibly for a couple of nights. Offering unrivaled tranquility, gorgeous scenery, and plenty of wildlife, an overnight hike is undoubtedly one of the top things to do in Olympic National Park.
Do note, only a limited amount of permits are issued for those wanting to camp overnight, and booking well in advance is definitely advisable, especially during the Spring and Summer months. Also, note that Bear canisters are a requirement for this hike, which you can rent from the Port Angeles Wilderness Information Centre.