There is no shortage of fun things to do and places to see in Seattle. The Space Needle, the Seattle Centre Monorail, the Museum of Pop Culture are just some of the top attractions in Seattle.
The city of Seattle also has loads of excellent picnic spots and outdoor leisure spaces for a breath of fresh air and some back to nature time. But if you want a break from the city or a change of scenery, we have some great suggestions. Destinations that make a wonderful weekend away but are also easily achievable as a day trip from Seattle. Micro breaks from the city to give you a change of scenery.
10 Fabulous Day Trips From Seattle
Mount Rainier National Park, Washington
One of the most picturesque national parks in the States, Mount Rainier, at 14,000 feet, is the tallest mountain in the Pacific Northwest. Approx. two hours (less than 60 miles) from Seattle, it is surrounded by some of the most beautiful landforms in the region.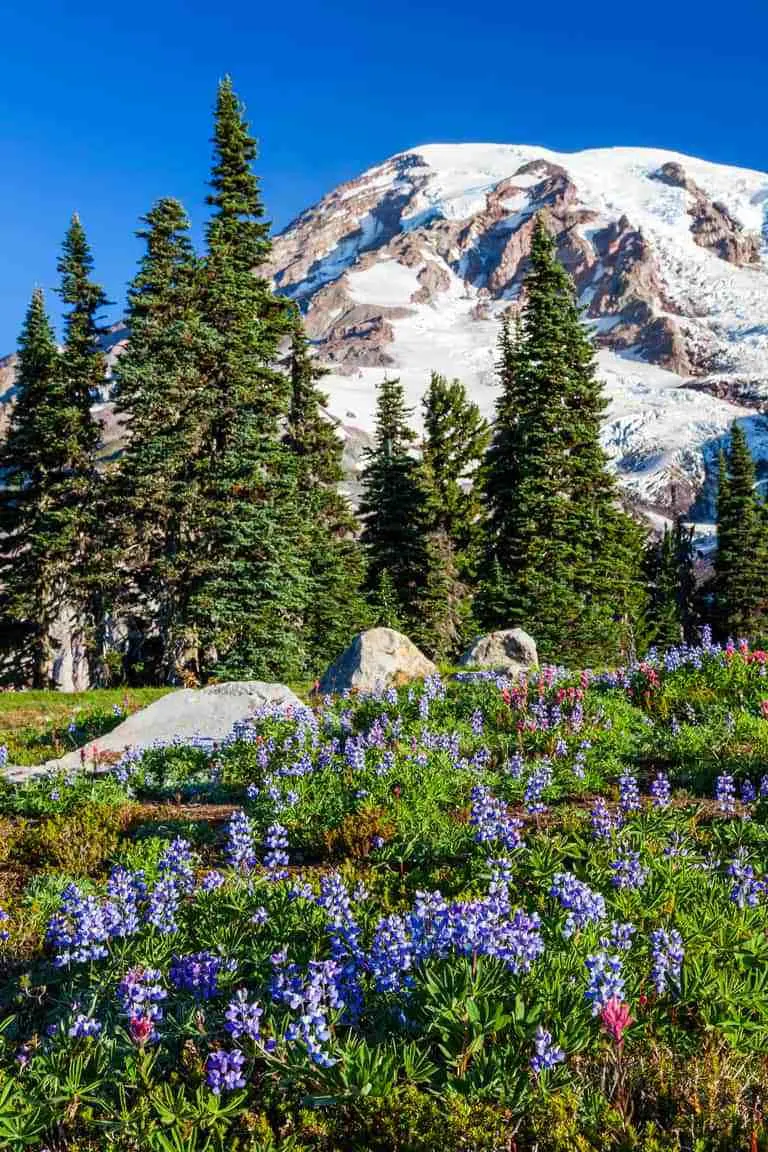 With an abundance of seasonal reasons to visit – Wildflowers in spring, waterfalls in summer, spectacular fall foliage and skiing, snowboarding and snowshoeing in winter, there are also loads of other activities for day-trippers to Mount Rainier.
Take the scenic Mount Rainier Gondola, choose from over 130 hiking trails, follow one of the driving tour routes, mountain bike riding, fishing, horseriding – the list goes on.
Getting to Mount Rainier
There is no public transport from Seattle to Mount Rainier so most people self-drive. (Parking can be a bit of a headache in some parts of the park during peak months). Some people elect to take an all-inclusive day tour from Seattle. You can find some single and multi-day Mount Rainier tour options here. Tour prices start from as little as $65 pp for a full day trip with transport.
Want to Stay Longer in Mount Rainier NP?
Mt Rainier is one of the most popular road trips from Seattle. If you have longer than a day, there are plenty of camping options at Mount Rainier as well as lodges, cabins, and hotels. You can find information about camping in Mount Rainier here and check accommodation rates and availability here.
Victoria, British Columbia
For a very different escape from the city why not take a little day trip country hop into Canada?
Jump on the Seattle to Victoria Clipper ferry which connects the United States with Vancouver Island. The Victoria Clipper ferry travels directly between Pier 69 in downtown Seattle and the Belleville Terminal in downtown Victoria. The trip takes approx. 2.5 hours.
Victoria is one of the prettiest cities in Canada. Famous for its vivid flower displays and abundant parkland, the city has one of the mildest climates in the Northwest and is renown for its outdoor activities.
Spend your day exploring the Butchart Gardens and the Royal British Columbia Museum. The city also has striking Victorian-era architecture, notably, the stately Craigdarroch Castle. Enjoy a quiet afternoon tea at one of the oldest hotels in the city, the Fairmont Empress Hotel. Another popular attraction is the Miniature World that houses intriguing dioramas of various historical events.
You can find all the ferry information here. And don't forget to bring your passport – much like Niagara Falls, people tend to forget because it is so close.
Olympic National Park, Washington
The Olympic National Park is an extraordinary landmark on Washington's Olympic Peninsula. A natural slice of paradise, the park has some of the lushest flora and fauna in the region over several vastly different ecosystems.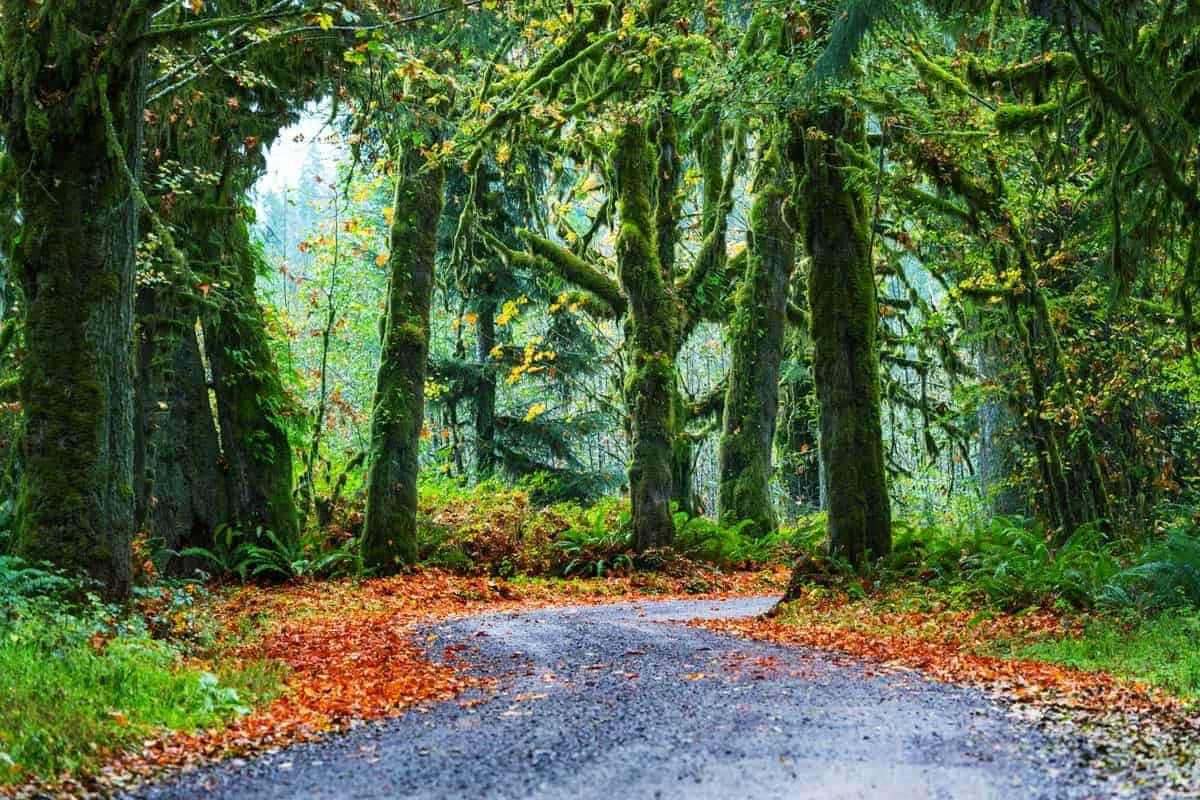 Explore alpine meadows, glacier-capped mountains, wild Pacific beaches to old-growth forests. You could spend a lifetime exploring the terrific natural beauty of Olympic National Park.
Some must-see natural sites are Hurricane Ridge and the Marymere Falls near Lake Crescent if planning a day trip. From some of the best hiking in the US to biking, climbing and skiing to a leisurely day indulging in natural hot springs and treatments, Olympic National Park has something for every day-tripper.
Getting to Olympic National Park
It is a 2-hour drive from Seattle to Olympic National Park. You can also take the ferry, which is the shortest route but not always the fastest. You can find ferry details here. If you don't have transport, there are also some tour options available. Try this all-inclusive Olympic National Park Small Day Tour which includes all transfers, guides, experiences & activities and meals.
Stay Longer in Olympic National Park
If you want to extend beyond a day trip, there are plenty of RV and camping grounds, or you can stay at a variety of hotels or lodges. You can find information about camping here and accommodation rates and availability here.
Tacoma, Washington
A well-developed industrial city thirty miles to the south of Seattle, Tacoma is somewhat of a surprise. Despite its industrial roots, Tacoma is very arts-centric thanks to its traditions of glass blowing. Expect to find a vibrant city filled with museums, galleries, artist studios and plenty of events.
Best known for the glass sculptures by the artist Dale Chihuly, Tacoma attracts glass connoisseur's from all over the world. Visit the Museum of Glass, an architectural marvel and iconic Tacoma landmark. Explore the large displays of Dale Chihuly's glass art at the 500-foot long Bridge of Glass, which connects Washington State History Museum, the Museum of Glass and historic Union Station.
Tacoma also has a lot of natural attractions. Nestled on the banks of the Puget Sound there is ample opportunity for outdoor pursuits set against magnificent vistas. There are plenty of natural spaces to enjoy hiking, biking, kayaking or just a lazy picnic in an idyllic park.
Want something different, pop by to see the LeMay Collection at Marymount. It is the largest privately owned collection of cars in the world as recorded in the Guinness Book of World Records. You'll find a diverse range of vintage vehicles ranging from trucks through to motorcycles. Even non-car enthusiasts will enjoy this collection.
Bellevue, Washington
The city of Bellevue, less than 30 minutes from Seattle sits between Lake Washington and Lake Sammamish framed by the Cascade Mountains. The incredibly scenic city has nearly as much to offer as Seattle but with a high end, small-town vibe you won't find elsewhere in Washington State.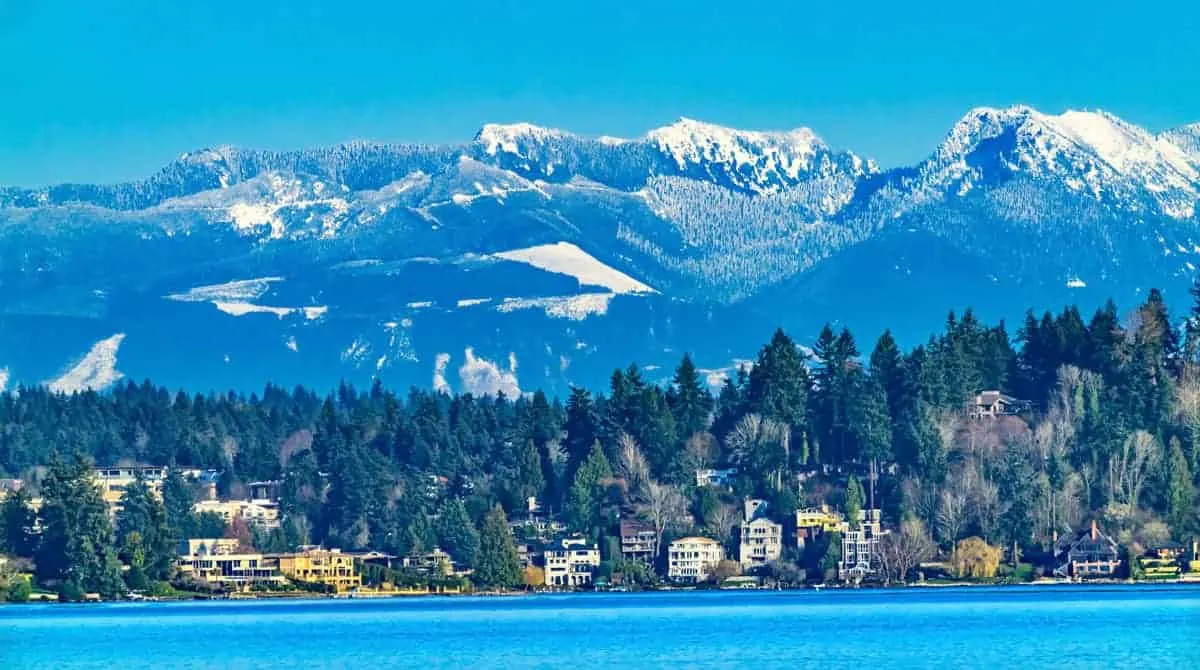 Bellevue has loads of attractions, both high end and local shopping, plenty of dining and nightlife options and lots of parks and natural areas for the outdoor enthusiast.
Visit the Museum of Flight, the Bellevue Arts Museum which features a sculpture garden in addition to craft and design exhibitions or the KidsQuest Children's Museum with interactive science, tech and art exhibitions.
Want some outdoors activities, Downtown Park is worth a visit as is the Bellevue Botanic Gardens and there's always plenty to do around both lakes, especially if you want to hit the water on a kayak or canoe. Bellevue city is also home to a massive collection of the state's flower, the rhododendron.
For a spot of shopping, Bellevue Square is the largest shoppping mall in the city. Much more than a mall, it has over 200 stores as well as more than 50 restaurants, hotels and entertainment venues.
Bellevue also has an incredible selection of great dining options from fine dining through to innovative casual dining so make time for some culinary exploration.
Many recommend at least three days in Bellevue. As it is so close to Seattle, you can make multiple day trips without changing accommodation or, base yourself in Bellevue and day trip to Seattle. You can find accommodation options for Seattle and Bellevue here.
North Cascades National Park, Washington
A two-hour drive from Seattle will take you to one of the most iconic landscapes in the region, the North Cascades National Park.
North Cascades National Park is a vast wilderness of rugged beauty. Characterized by conifer-clad peaks, lakes, forested valley's, waterfalls and over 300 glaciers – more than any US park outside of Alaska.
The park is also home to an abundance of wildlife including grizzly bears, lynx, moose, gray wolves, and more than 200 bird species.
Author Jack Kerouac found solitude and inspiration for two novels in a cabin on Desolation Peak. He was a fire spotter for the Parks Services for 63 days in 1956.
The North Cascades Highway will take you via scenic viewpoints to visit some of the best attractions like Ross Lake, Diablo Lake, or Thunder Creek Trail. There are plenty of hiking trails, picnic spots, boating, biking, and camping. There is also a popular skiing location near the park in Mount Baker Ski Area.
Mount St. Helens, Skamania County, Washington
Located to the south of Mount Rainier and inside the Gifford Pinchot National Forest is Mount St. Helens, an unforgettable testament to the volcanic geography of Washington state.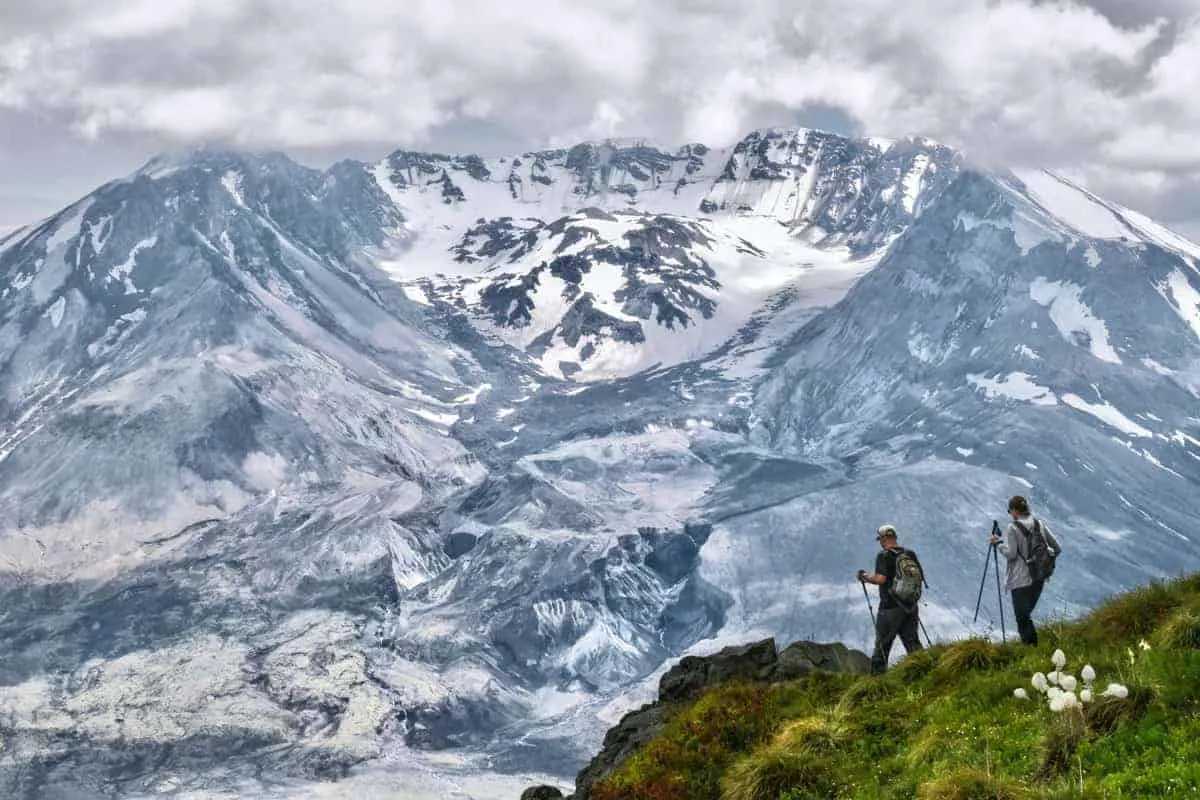 Most visitors are intrigued by the massive eruption in 1980 which spread volcanic ash over 22,000 square miles and scorched more than 200 miles of forest. The Mount St. Helens National Volcanic Monument preserves the volcano and 110,000 acres of both devastated and undisturbed forests.
There are a number of visitor centres where you can learn about the history of the volcano and subsequent eruptions. Other activities include lakes, caves and plenty of hiking trails including a hike through Ape Cave, a 2-mile long lava tube. There are driving routes that will show you the extent of the devastation of the 1980 eruption as well as different viewpoints of the volcano and even the possibility of a helicopter flight for a birdseye view over the only active volcano in the US.
It's roughly 2 hours (121 miles) from Seattle to Mount St. Helen's Visitors Center.
The San Juan Islands, Washington
Ninety miles north of Seattle, the San Juan Islands are an archipelago of islands, islets and reefs between Puget Sound and Vancouver Island.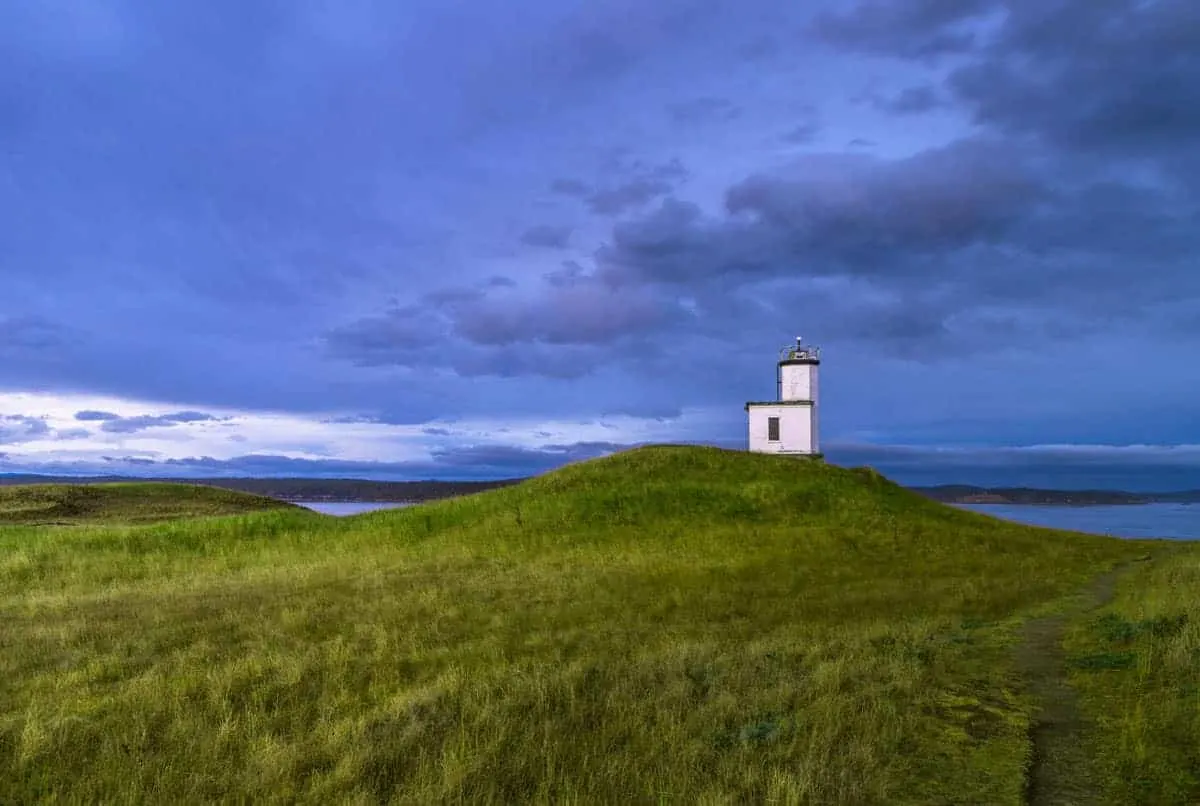 There are 172 named islands and reefs in San Juan County that offer a temperate year round climate and a mellow island vibe world's away from the city.
The three main islands are San Juan, Orcas, and Lopez are the most populous with regular ferry access. These islands offer the best array of accommodation, dining and tourist activities.
San Juan Island is distinguished by the lively seaside town of Friday Harbor and Lime Kiln Point State Park – an orca-whale lookout. Orcas Island is home to Moran State Park's old-growth forest and Mt. Constitution. Lopez Island dubbed the "Friendly Island" lures visitors with its natural beauty and quality of life that has attracted an eclectic mix of year-round residents since the 1850's.
Shaw island is also accessible by ferry but offers limited camping and amenities.
There is a wealth of activities on the San Juan Islands from whale watching, sea kayaking, hiking to wine tastings. You can see a range of San Juan Island tours and experiences here to make the most of your day.
How to Get to The San Juan Islands
There are several ways to reach the San Juan Islands. If you only have a day, it is best to plan your trip in advance to make the most of your time. See here for ferry schedules and alternative ways to reach the islands.
Stay Longer on the San Juan Islands
If you have the time, a longer stay on the San Juan Islands is always a good idea. From glamping to camping, hotels, lodges and farmstays, there are a variety of accommodation options on the islands to suit all types.
You can find rates and availability for San Juan Islands Accommodation here.
Gig Harbor, Pierce County, Washington
Gig Harbor is the name of a bay and a small town in Puget Sound in Peirce County renown for their friendliness and hospitality.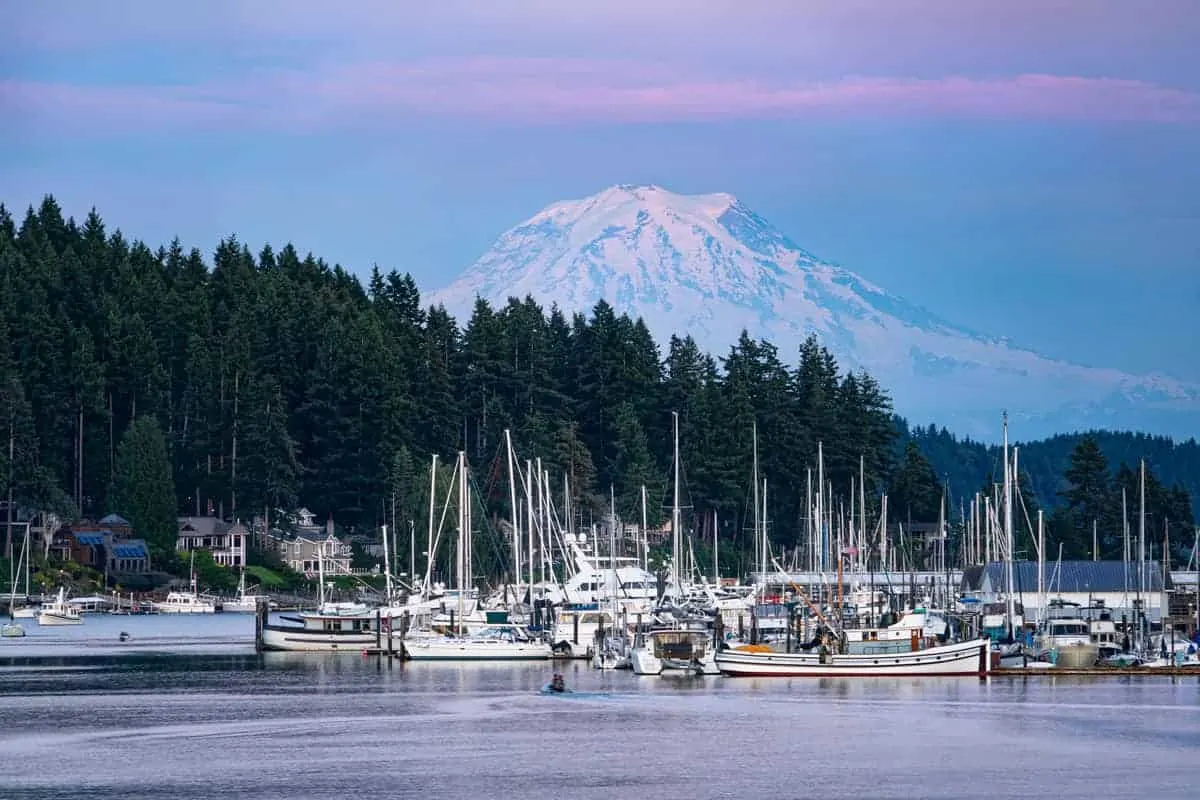 Dubbed "the Venice of Washington" – yes, there are even gondolas, the gateway to the Olympic Peninsula offers a wealth of reasons to visit. With Mount Rainier as the backdrop, stunning vistas are par for the course, there are endless outdoor activities on both land and the water and an amazing food scene along the historic waterfront.
Other than taking a scenic gondola ride, there are ample hiking and biking opportunities. There are lots of different water craft for hire to reach some of the towns otherwise inaccessible gems such as Cutts and Kopachuck Islands.
Visit the Harbor History Museum to learn the story of the city's maritime history or browse the boutiques and galleries along the scenic historic waterfront.
Gig Harbour is less than an hour from Seattle so a very easy day trip. If you did want to stay longer, there are some very charming accommodation options and cosy and unique Airbnb stays.
Future Of Flight Aviation Center, Mukilteo, Washington
For the aviation enthusiast, the Future of Flight Aviation Center is a must-visit. Only half an hour from Seattle, the aviation museum and education center offers an interesting insight into the history of the aviation industry.
Future of Flight is the starting point for The Future of Flight Aviation Center & Boeing Tour which includes a tour of a portion of Boeing's production facility where you can see an array of aircraft in different stages of production.
You'll get a sneak peek into the latest aircraft technologies and flight models along with fun and fascinating interactive exhibits that will help you learn more about the aviation industry and its little known secrets.
The aviation tour takes about four hours to complete. You can visit independently or take an all-inclusive tour from Seattle including entry, guide, and transportation. See full tour details here.
Plan Your Day Trip From Seattle
As you can see, Seattle is well position to offer plenty of day trips no matter your interest. Some may even warrant a longer stay. No matter what day trip you decide on, check official websites in advance regarding local businesses' policies, closures, and status.
Follow safe guidelines of local authorities and take the proper health precautions; always wear a face mask for the safety of you and others, follow social distancing recommendations, pack plenty of hand sanitiser and wash your hands regularly. Stay safe and enjoy.
About The Author
Nikki Ortan
Nikki is a travel and camping enthusiast currently based in Milwaukee, USA. She loves exploring beautiful attractions across America which led her to found Attractions of America, a travel site featuring top places to visit in every US state.