With so many fantastic routes and diverse experiences through the Pacific Northwest, road-tripping from Seattle is easy for a little city escape or a big open-road adventure.
I've rounded up the best road trips from Seattle to help you plan the ultimate Pacific Northwest road trip adventure.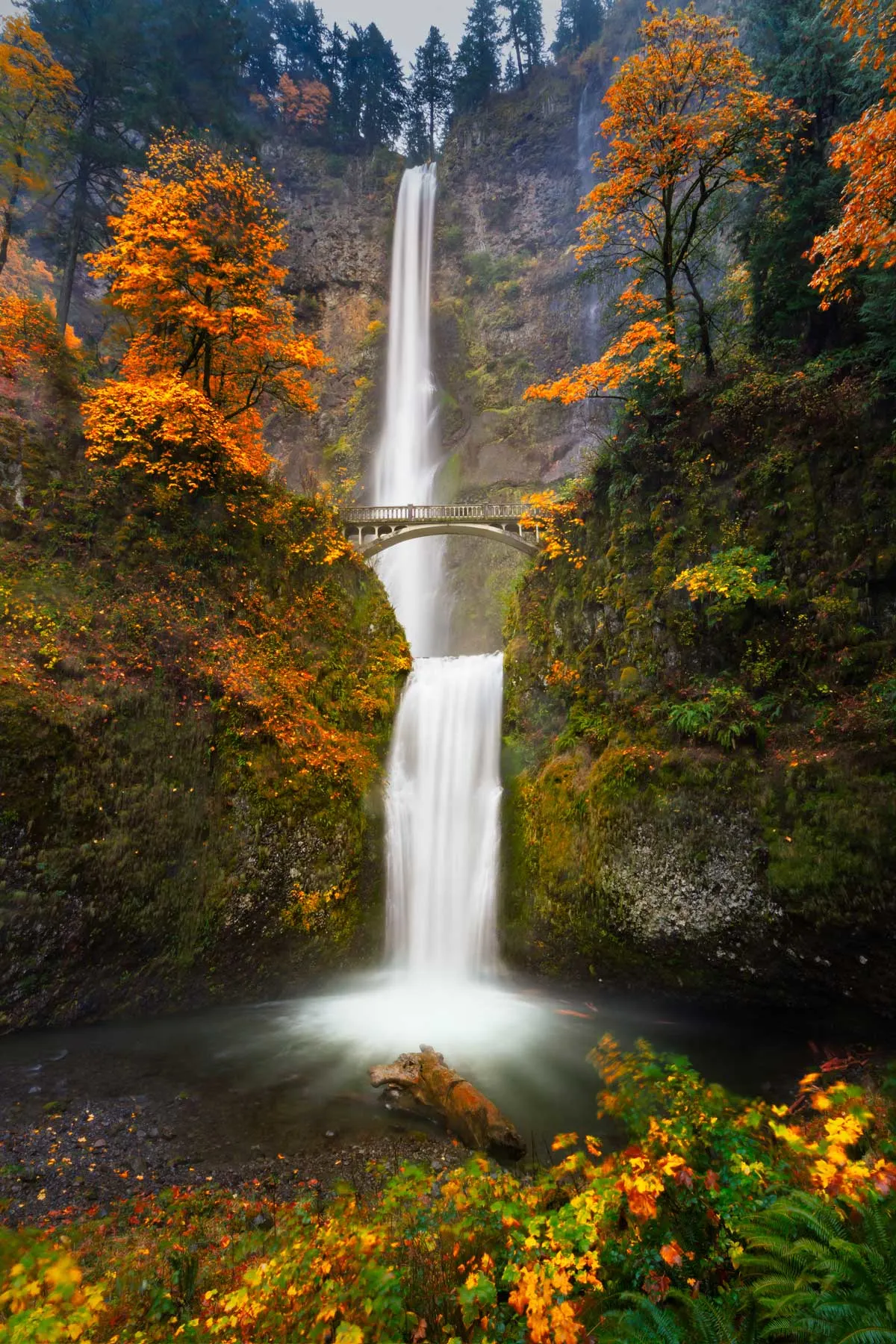 Whether it's big cities you crave or you prefer nature escapes, there are so many options out of Seattle.
From some of the best national parks in the US to pristine islands or brewery hopping and shopping in the city, you're bound to find the road trip you're looking for.
While some of these destinations make great day trips from Seattle, I give you the rundown on how to expand them into an extended road trip adventure.
Best Road Trips From Seattle
These are 15 of the best Seattle road trips (some are rated in the best road trips in America), so you can plan a great adventure from Washington State's largest city.
Columbia River Gorge
Distance from Seattle: 3 hours
Recommended Time: 2+ days
Nestled along the border of Washington and Oregon, the Columbia River Gorge is one of the most beautiful areas to visit near Portland.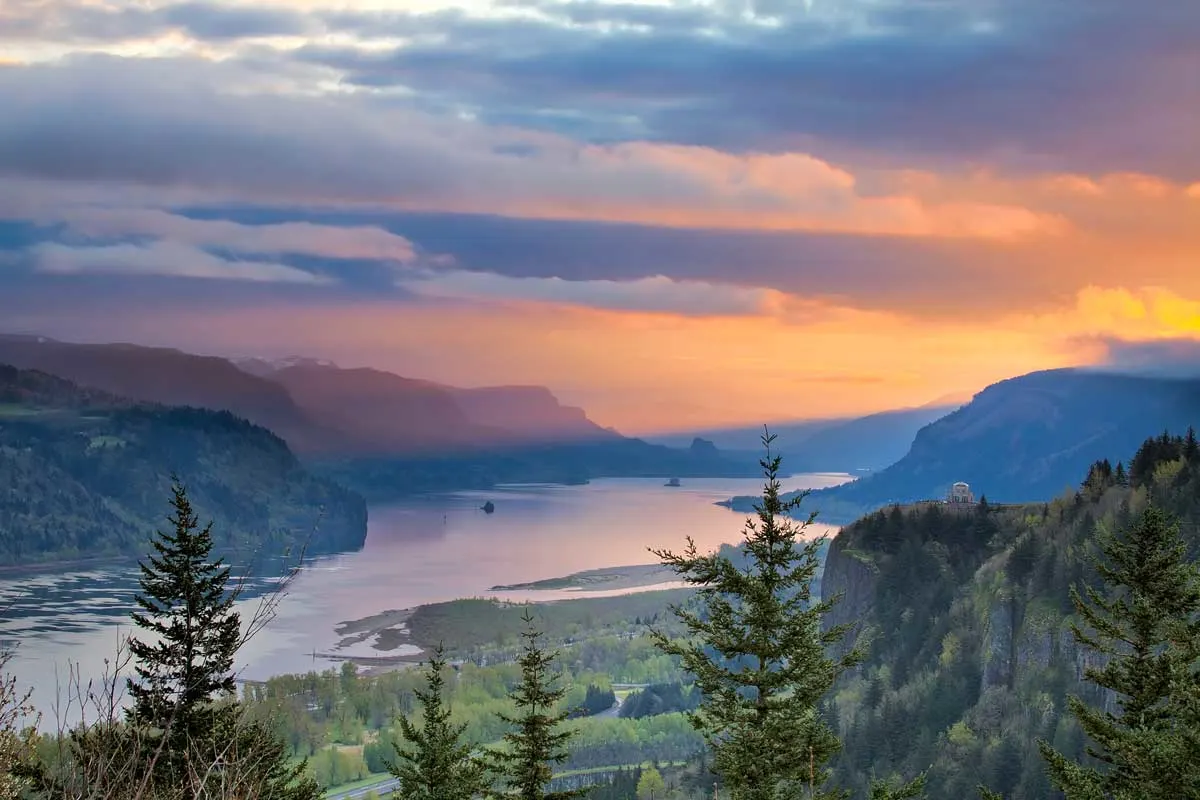 It is the perfect road trip destination for outdoor lovers, with hundreds of miles of hiking trails, nearly 100 waterfalls, and dozens of amazing overlooks.
Start your trip by visiting Multnomah Falls, the tallest waterfall in Oregon. Then continue driving along the Historic Columbia River Highway to the popular Waterfall Corridor section. Here you'll find dozens of waterfalls right on the side of the road.
If you want more, the area has some of Oregon's and Washington's best hikes where you can discover more stunning cascade ladened trails.
A great viewpoint in the gorge is the Vista House at Crown Point, where you'll have amazing views of the entire area.
This road trip will start in Portland and end near The Dalles. After you've finished, you can return the way you came or head up towards Yakima and loop around.
A road trip around the Columbia River Gorge can be done in one day if you want, but to really experience it all, plan for at least two days.
North Cascades National Park
Distance from Seattle: 2.5 hours
Recommended Time: 3+ days
One of Washington's three national parks is nestled in the North Cascades mountain range. It's one of the least visited parks in the country, but it is by no means any less beautiful than others.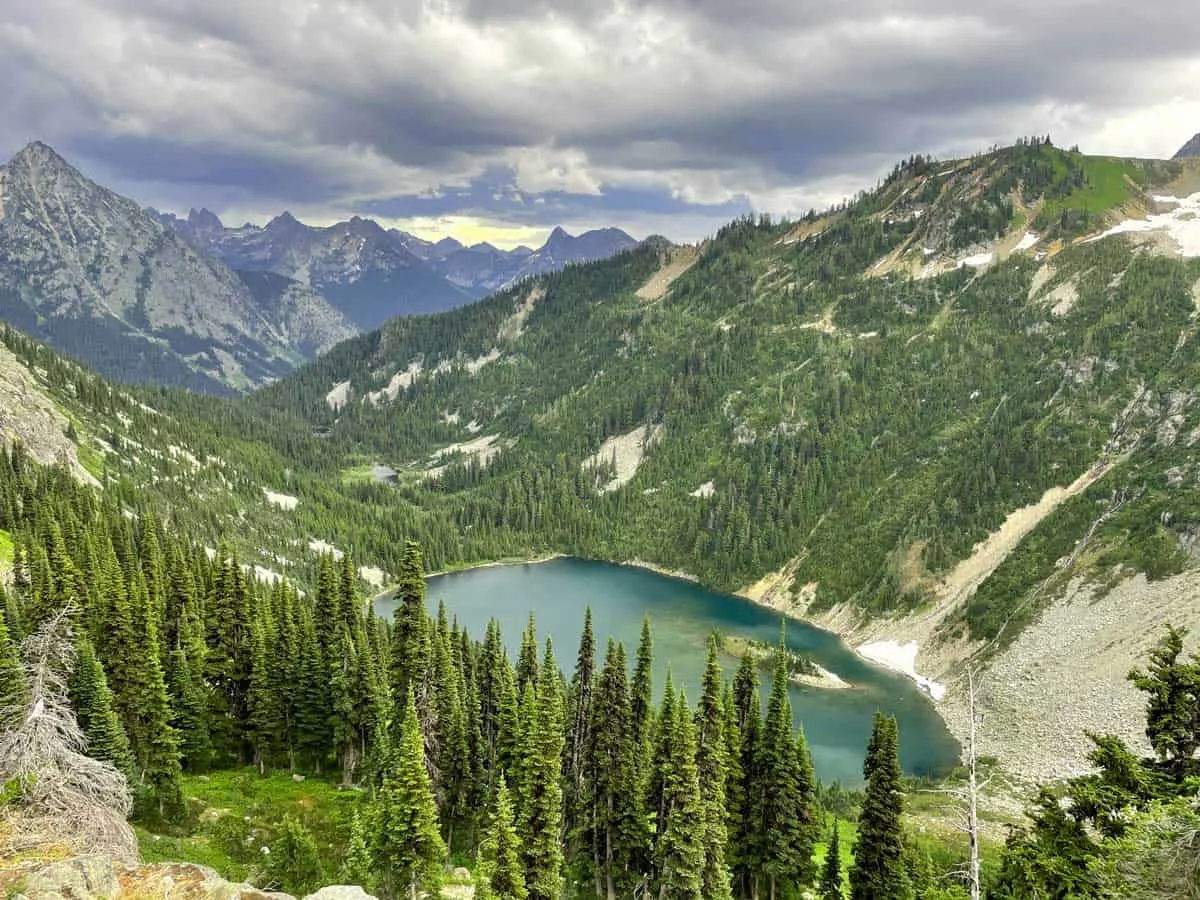 North Cascades National Park is a remote wilderness area that is home to some of the most scenic hikes in Washington. You'll find alpine lakes, roaming mountain goats, jagged peaks, and epic vistas around every corner.
Highway 20, which winds right through the park, is the perfect scenic drive to take in the views. Diablo Lake, as is Washington Pass Overlook, is a must-see pull-off on the road.
As for hiking, Maple Pass Loop and Thunder Knob are two of the most popular trails.
The best route for this trip is to head out on Highway 20 and drive it until you reach Mazama. From there, you can turn around or loop down onto Highway 2 back toward Seattle.
Tip: You can combine this road trip with a visit to Lake Chelan. See further on for details about Lake Chelan.
Olympic Peninsula
Distance from Seattle: 1 hour
Recommended Time: 5+ days
One of Washington's most famous national parks is found on the Olympic Peninsula, just a short distance from Seattle.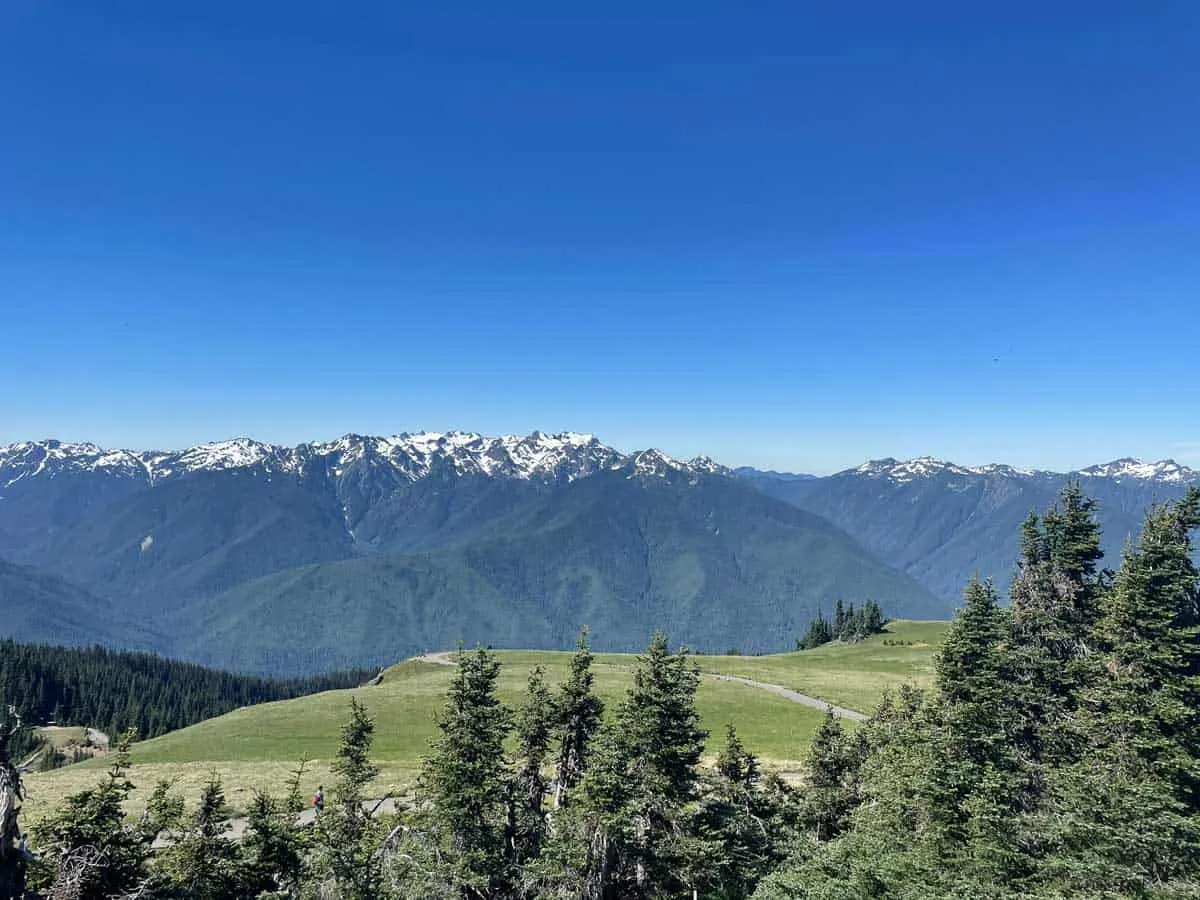 Olympic National Park is incredibly diverse and massive. If you want to see it all, it will take quite a few days to cover, so this could be a great road trip from Seattle if you have a week or more.
The Olympic Peninsula is so diverse it'll feel like you're traveling through multiple destinations simultaneously.
Starting near Olympia, Highway 101 is a ring road that loops around the entire national park. As you follow the highway, you'll come across rugged mountain ranges, miles of ocean coastline, and temperate rainforests.
A few of the best stops to make include the Hoh Rainforest, Ruby and Rialto Beaches, Hurricane Ridge, Sol Duc Falls, and Lake Crescent. You can find some of the best hikes in Olympic NP here to help you plan your time.
Bend Oregon
Distance from Seattle: 6 hours
Recommended Time: 3+ days
One of the best places for outdoor enthusiasts in Oregon is Bend. It's the perfect outdoor adventure vacation destination. Situated right at the base of Mount Bachelor and the Three Sisters, the city offers visitors endless opportunities to get outside and enjoy nature, including on some epic Bend hiking trails.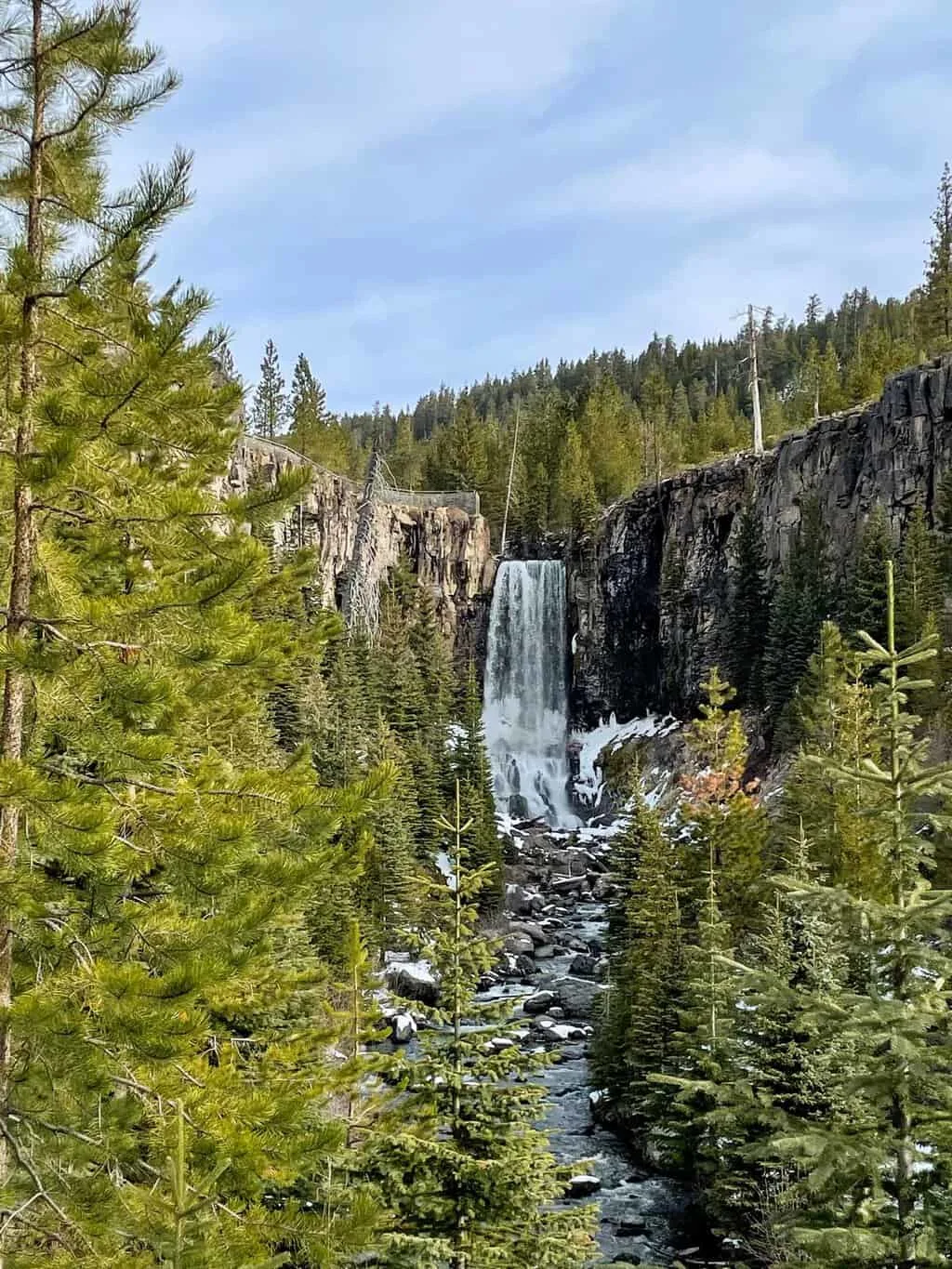 One of the best things to see on your trip is Smith Rock State Park, whose towering rock formations make you feel like you're in the desert. There are also dozens of caves to explore nearby and popular waterfalls near Bend, like Tumalo, Sahalie, and Koosah Falls.
Mount Bachelor is a hot spot for skiers and snowboarders in winter, and the hiking trails are prime for snowshoeing.
When you're heading back to Seattle, you could extend the trip slightly and visit Silver Falls State Park near Salem on your way north.
San Juan Islands
Distance from Seattle: 1.5 hours
Recommended Time: 3+ days
Located just off the coast of Washington in Puget Sound, the San Juan Islands sit between Vancouver Island, British Columbia, and Anacortes, Washington.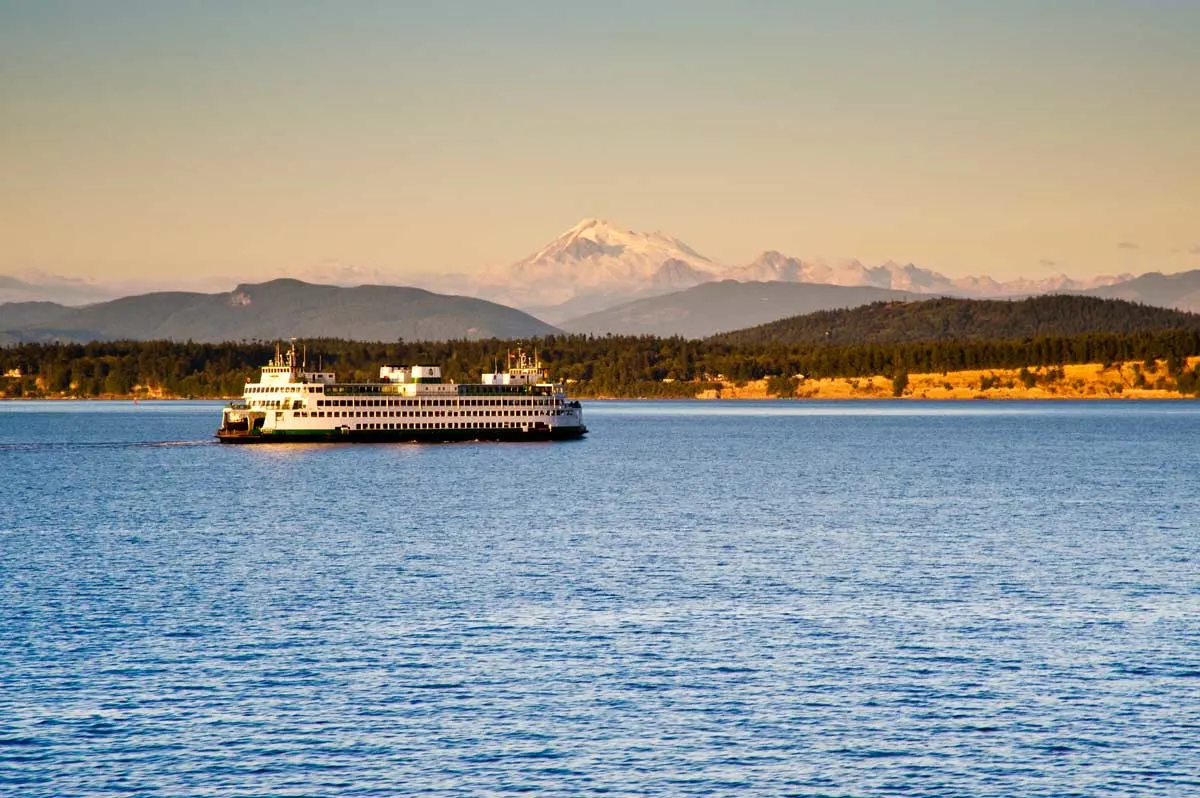 The group of 172 named islands offers a unique escape for visitors. There are a few ways to get to the San Juan Islands, including a ferry, which is best if you hope to bring your car. The ferry port is in Anacortes.
There are many things to do on the San Juan Islands, and the activities differ depending on which island you visit. The most popular are Orcas Island and San Juan Island.
Whether you want to get out and do some hiking or learn about the islands' history, there's plenty to do. There are a variety of historic sites to see and dozens of outdoor activities.
One of the best things to do on the San Juan Islands is whale watching, where you'll have the chance to see orcas and migrating humpbacks in their natural habitat. Although whales are present all year round, the peak season for whale watching is summer – June through September.
If you bring your car, you can ferry hop from island to island for a road trip around the San Juan Islands.
Mount Rainier National Park
Distance from Seattle: 1 hour 45 minutes
Recommended Time: 3+ days
Home to the tallest mountain in Washington, Mount Rainier National Park is a must-see and a perfect road trip from Seattle.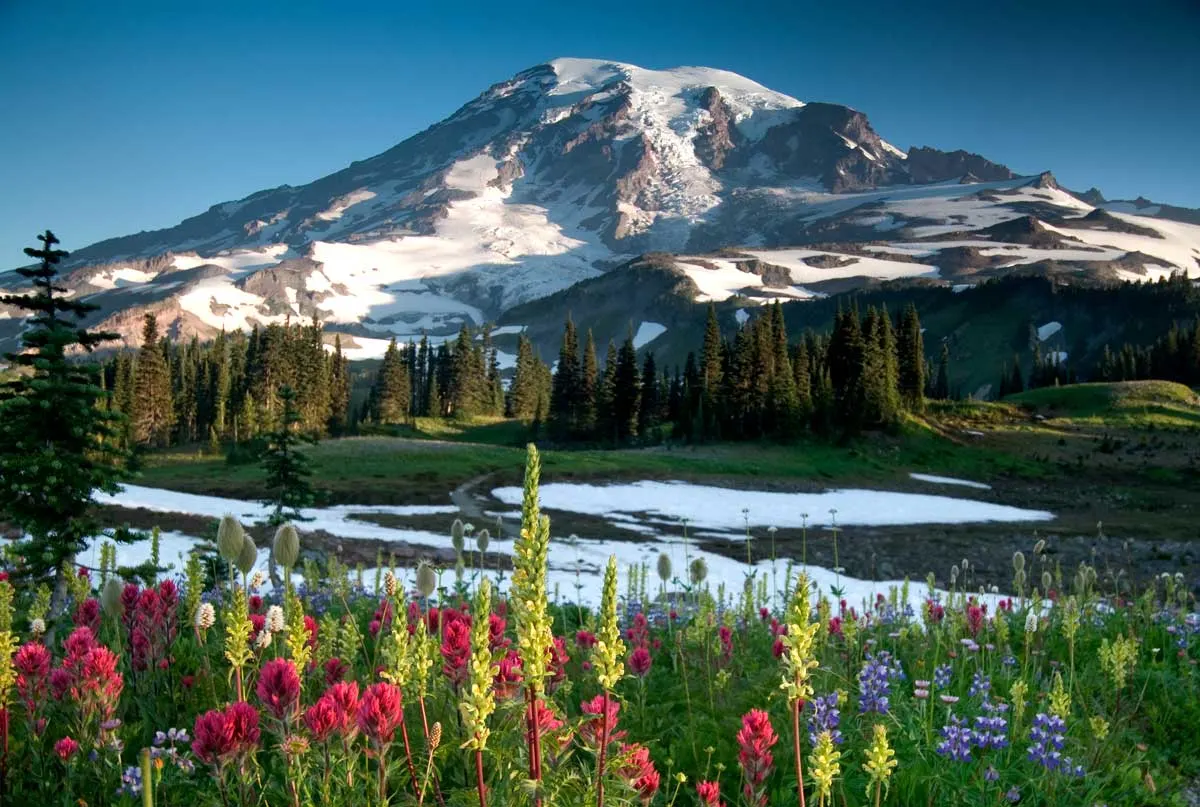 Mount Rainier stands at over 14,000 feet tall and is the dominating feature of its namesake park. You can admire views of the mountain from all over the park, including popular areas like Sunrise and Paradise.
A few of the most popular trails include the Wonderland Trail, which is a hike that loops around the entire mountain, Mount Fremont Lookout, the Skyline Trail, and Naches Peak Loop.
If you aren't a hiker, you can still enjoy Mount Rainier by driving the scenic route, wandering around Tipsoo Lake, and visiting Paradise Inn.
There's so much to cover around the area that visitors come back time and time again.
For a special road trip, you could pair Mount Rainier with Mount St. Helens, just a few hours south.
Lake Chelan
Distance from Seattle: 3 hours
Recommended Time: 2+ days
As one of the largest lakes in Washington, it's no wonder so many people flock to Lake Chelan for their summer vacations. With opportunities to enjoy water sports or simply relax on the shoreline, this spot is well-loved by locals and tourists.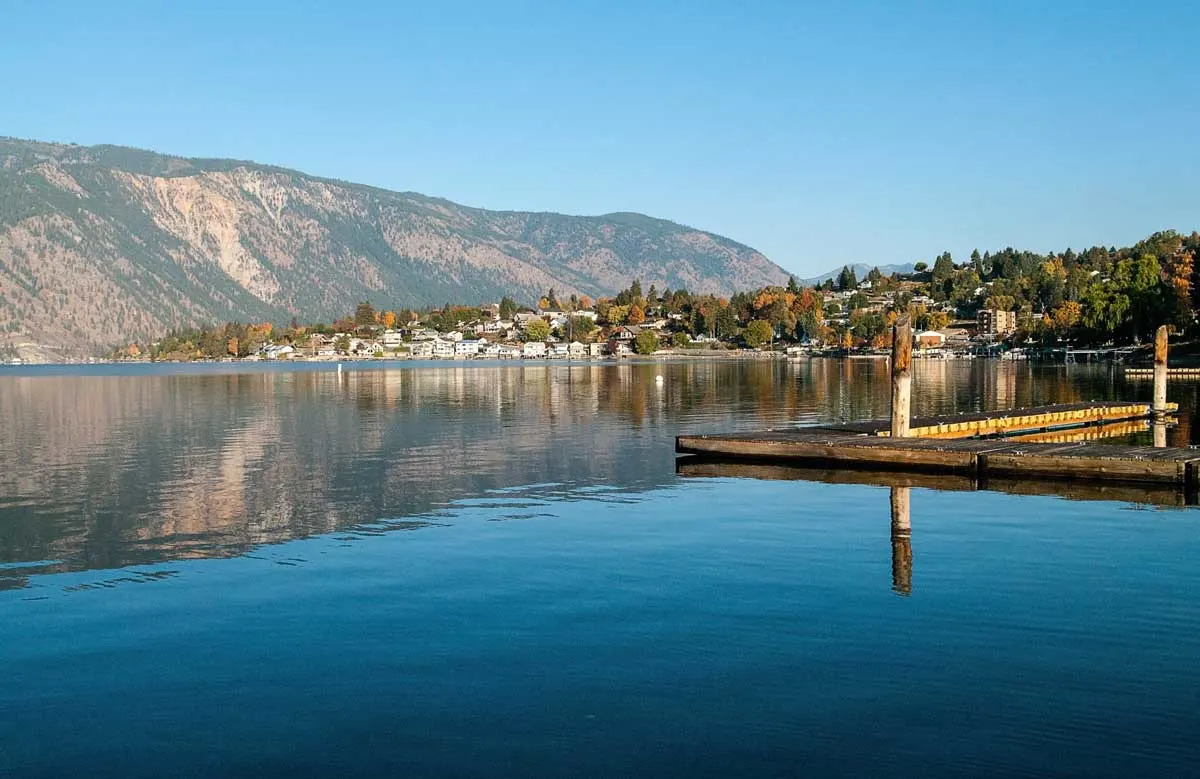 It's the third deepest lake in the United States and sprawls for over 50 miles across the North Cascades.
While at Lake Chelan, be sure to check out Lake Chelan State Park, where you'll find plenty more to see and do. There's a sandy beach and boat rentals to get out on the water. A waterpark for the kids, wineries for the adults, and plenty of spots to kick back and relax.
Another option is to add Lake Chelan to your North Cascades road trip, as they are in the same area. You could then loop back around and into Seattle.
For a relaxing Seattle road trip, Lake Chelan is a great choice.
Leavenworth
Distance from Seattle: 2 hours 15 minutes
Recommended Time: 2+ days
The adorable Bavarian village of Leavenworth is nestled in the North Cascades mountain range along Highway 2. It can be reached two ways – either via Highway 2 or I-90.
For a more diverse road trip, you could make it one big loop and come out one way and back the other.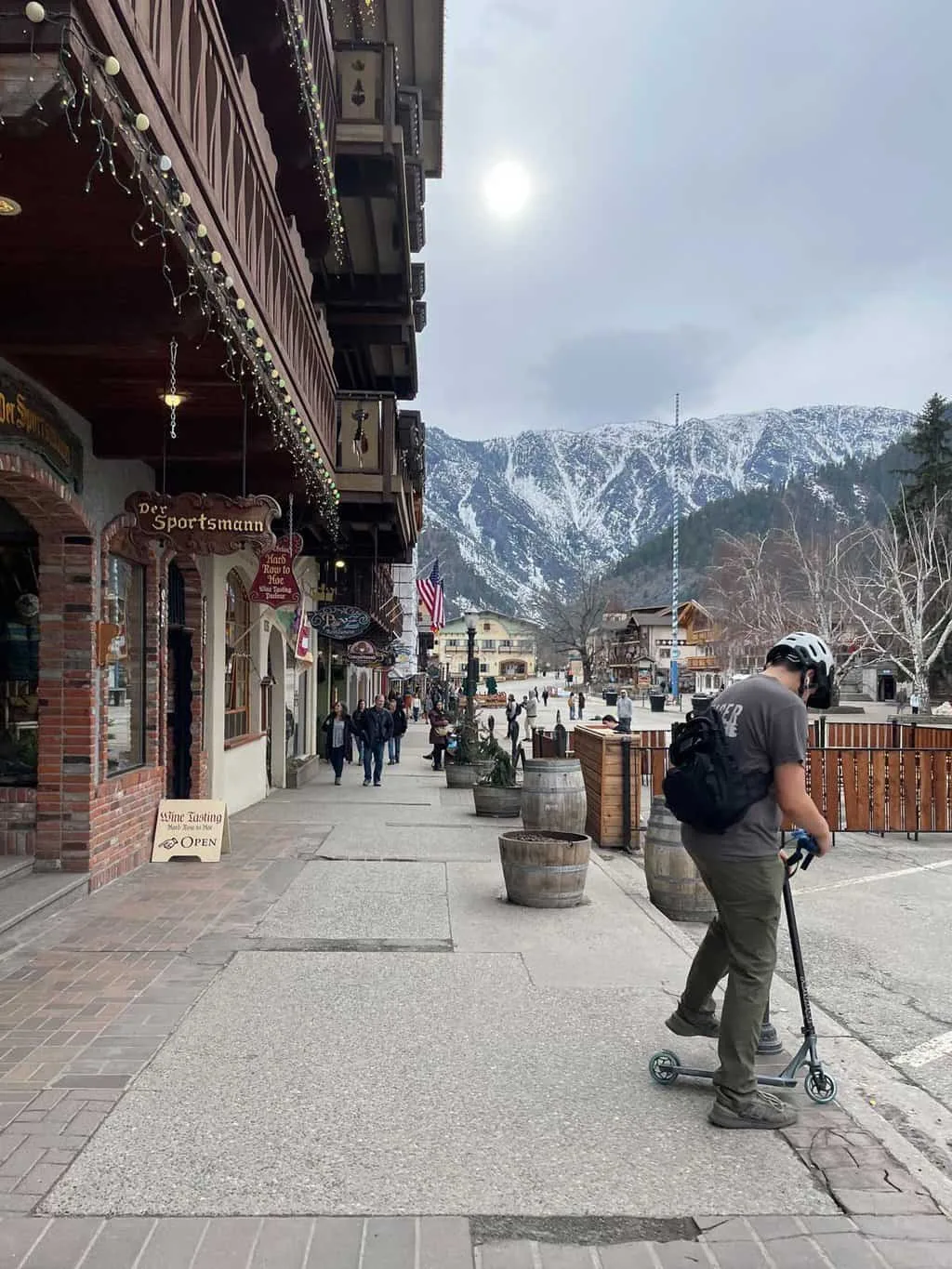 Winter is the best time to visit Leavenworth when it becomes a magical winter wonderland around the holidays – it's one of the top places in the US to visit at Christmas. Sparkling lights are everywhere, skiing is open at nearby resorts, and all of the small shops are brimming with perfect gifts.
During the summer, you can embark on the amazing trails nearby – the popular Enchantments and many other great trails are within 30 minutes.
You'll find lots of people road-tripping to Leavenworth throughout the year, as it's such a charming town with so much to do.
Portland Oregon
Distance from Seattle: 3 hours
Recommended Time: 3+ days
Why not take a trip from Washington's largest city to Oregon's largest? Portland is located right on the border of the two states, making it a great base to explore further.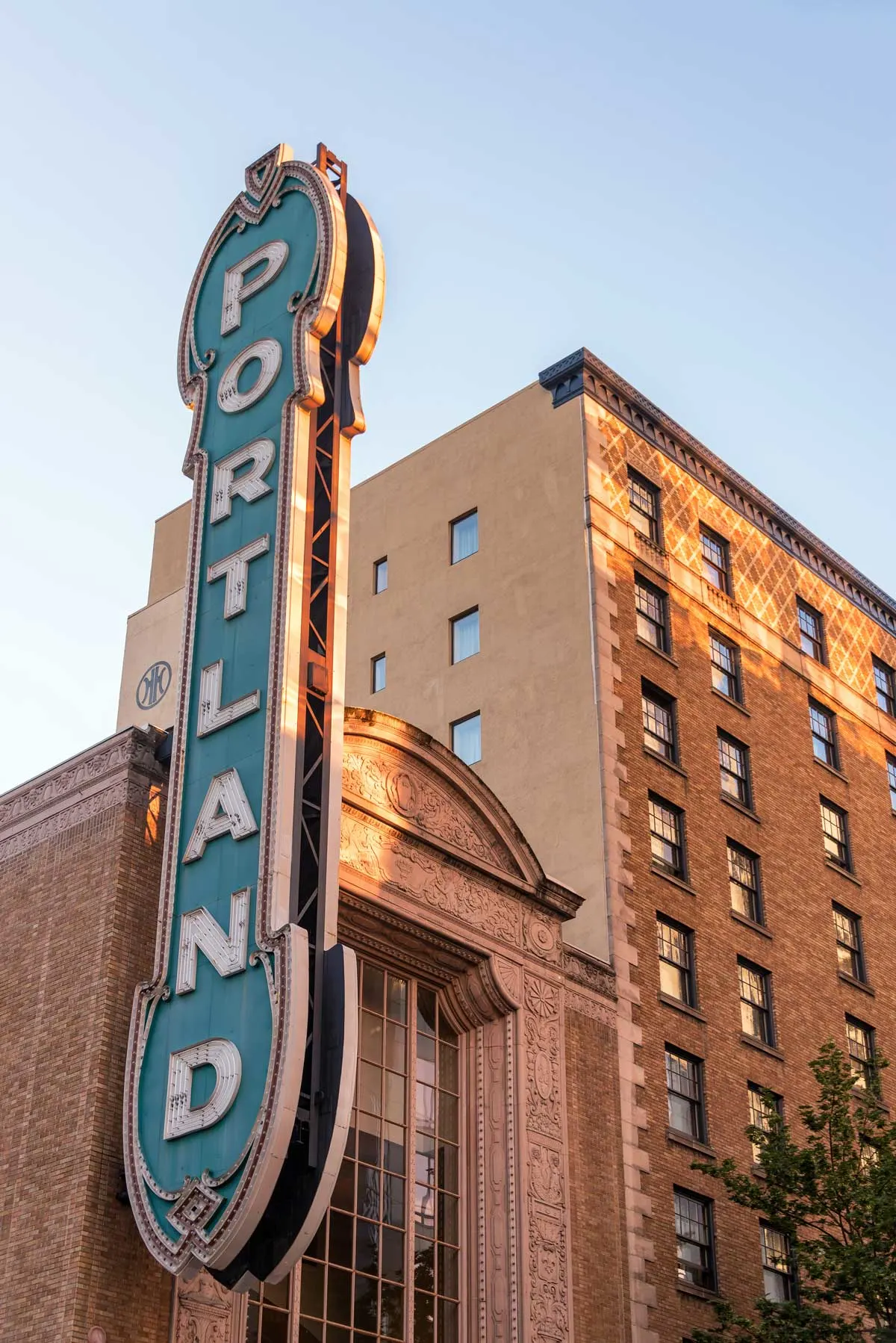 If you like to explore cities, Portland has everything you could want in a city, from endless shopping, culture, and a celebrated restaurant scene. But it also has easy access to some of Oregon's best outdoor recreation locations.
During your trip, wander around Portland, check out things like the Portland Weird sign and Powell's Books, and don't forget to grab some Voodoo Donuts.
Tip: You can also knock off two of the best Seattle road trips in one – pair your visit with a trip into the Columbia River Gorge
You might also be interested in driving to Oregon's tallest mountain, Mount Hood. You'll find endless hiking, amazing views, and three epic ski resorts.
Yellowstone and Grand Teton National Parks, Wyoming
Distance from Seattle: 12.5 hours
Recommended Time: 7+ days
If you're looking for a longer trip to explore outside of Washington, then a road trip to Wyoming's national parks is a great option.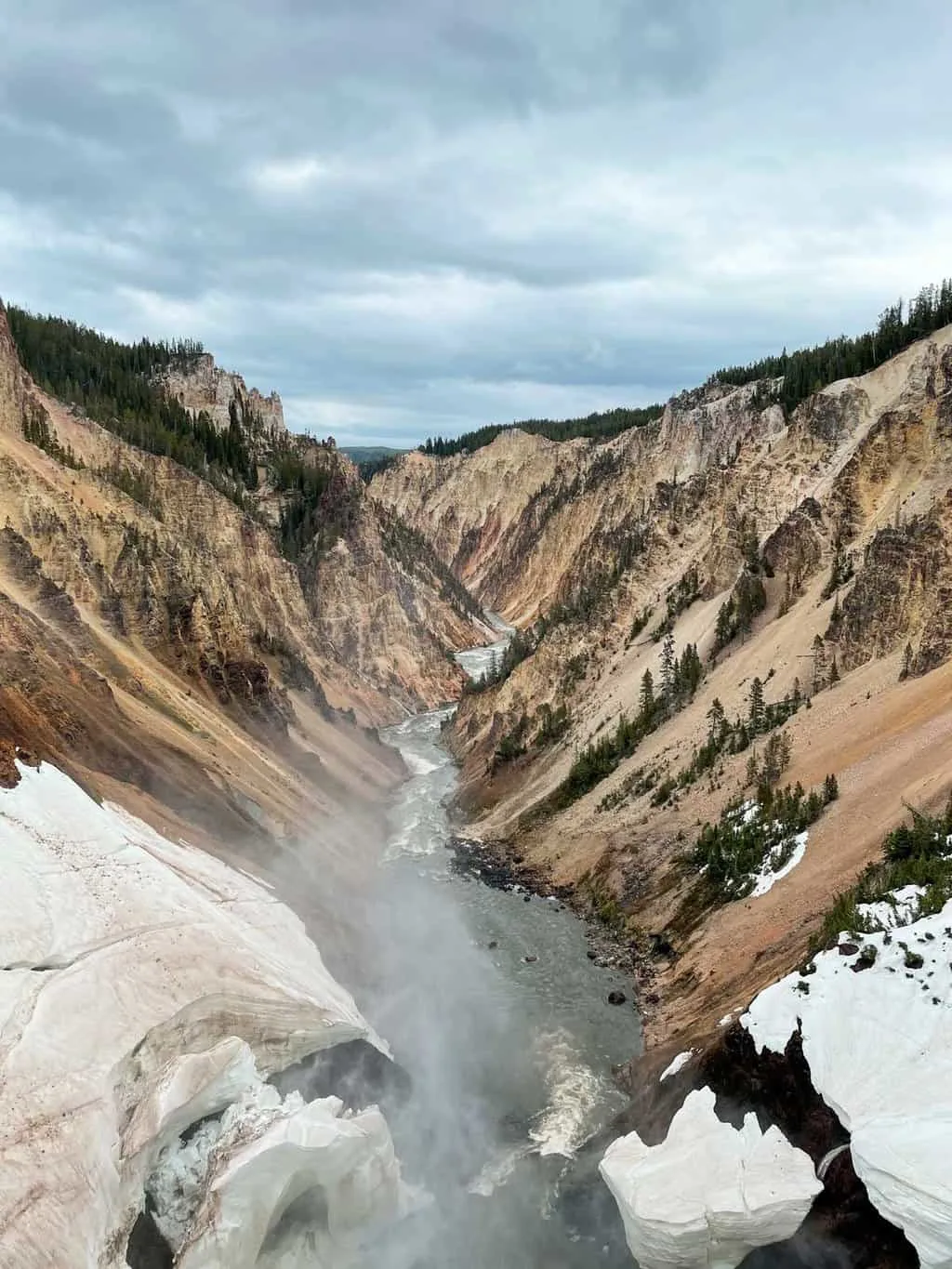 Start your drive through Spokane and then down to Missoula before you enter Yellowstone National Park.
As America's first national park, it's a must-see. Yellowstone delivers wildlife in spades, from bison to bears and moose. The best place to see wildlife is in Lamar Valley.
Yellowstone also boasts a fabulous array of hiking trails for all abilities. You'll find seven of the best Yellowstone trails here.
Next, drive down to Grand Teton National Park, which is almost connected to Yellowstone. Grand Teton is known for its jagged peaks and access to amazing hiking trails. A few of the best are Delta Lake, Scwabacher's Landing, and Taggart Lake.
A stop in Jackson outside of the park is also a good idea to grab some souvenirs and watch the famous Western gunfight reenactment. There is so much to do in Jackson Hole; you may want to stay a day or two.
After Jackson, you can head back the way you came or loop down into Pocatello and Boise, Idaho, before heading back toward Seattle. You could then also add a stop at Craters of the Moon and the Sawtooth Mountains in Idaho.
Crater Lake National Park, Oregon
Distance from Seattle: 6 hours 40 minutes
Recommended Time: 4+ days
A unique national park that should be on everyone's bucket list, Crater Lake is the deepest lake in the United States, famous for some of the bluest water you'll ever see.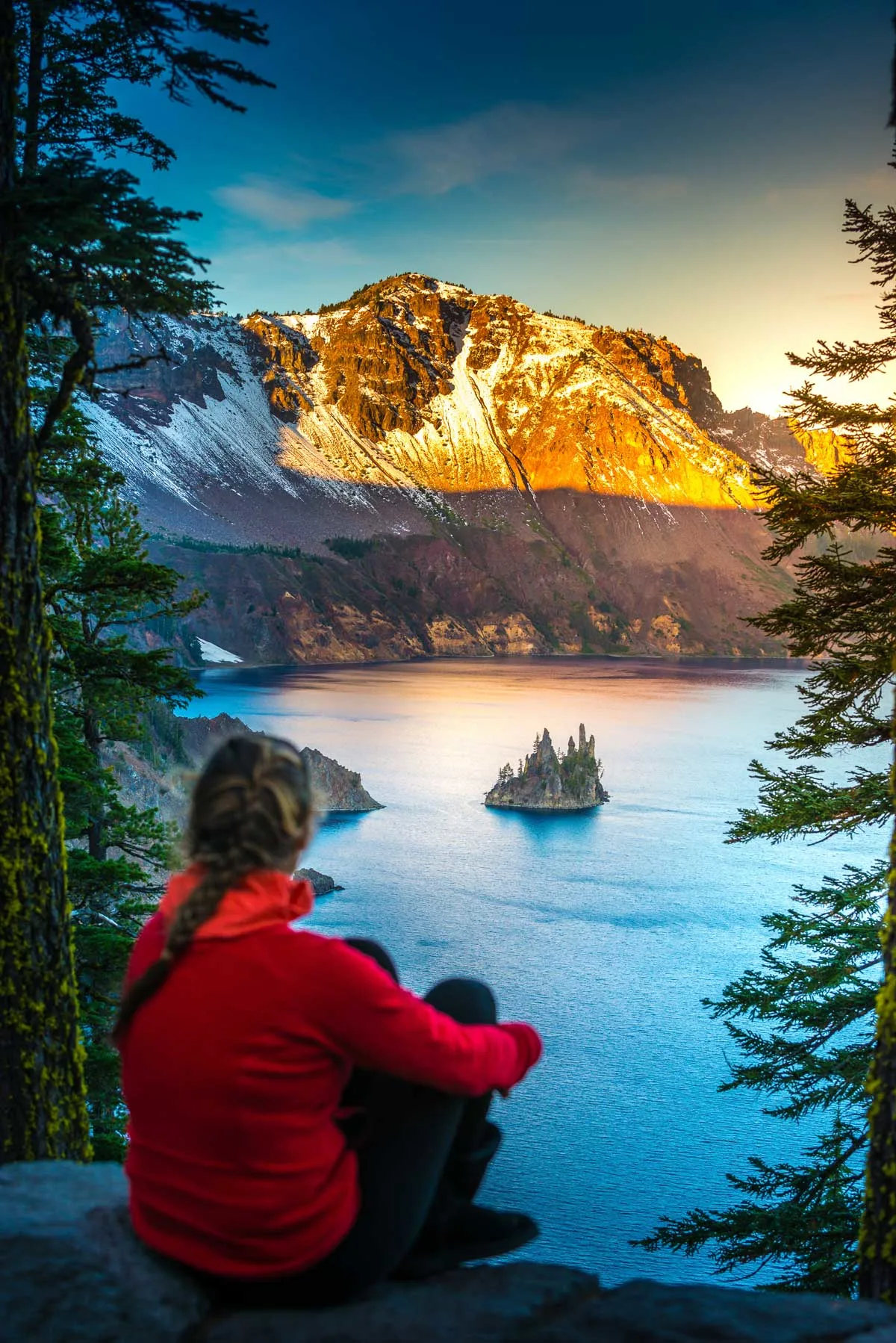 Wandering around the park, admiring the water, makes you feel like you're on another planet. The water is so otherworldly, it almost seems fake.
If you visit during summer, you can head down the Cleetwood Cove Trail and take a dip in the water, but be warned, it's very cold year-round.
On your way back to Seattle, you have two options; head up through Eugene and Salem or through Bend.
If you go through Bend, you'll find lots of great places to stop, like Smith Rock State Park and Mount Hood. Near Salem, you'll find Silver Falls State Park.
Redwoods National and State Parks, California
Distance from Seattle: 8 hours
Recommended Time: 5+ days
Another out-of-state road trip option is Redwoods National and State Parks in California.
Located right on the border of California and Oregon, Redwoods is one of a kind. It's home to coast redwoods, some of the tallest trees in the world.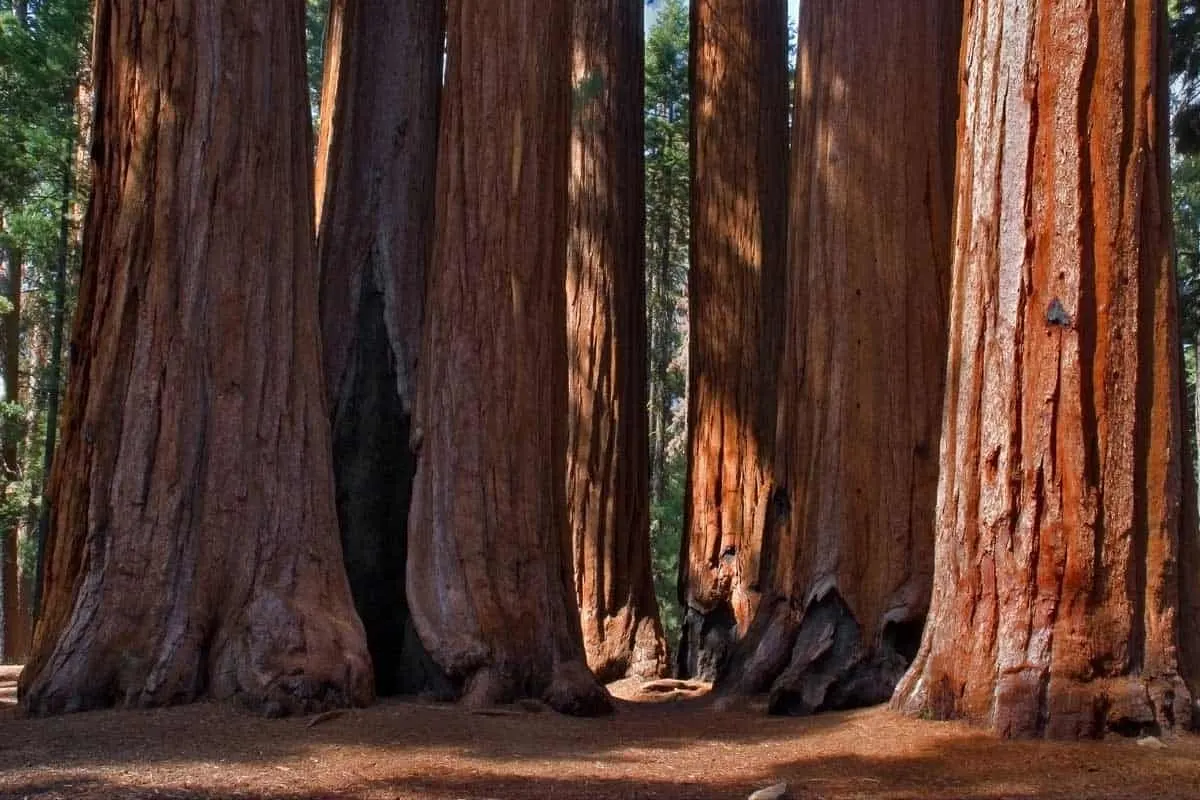 This is the only area in the world where you can find these trees, which is what makes them so special. You can drive through the scenic roads and admire the beautiful trees as they tower over you.
Another way to experience these majestic giants is to get out on a hiking trail. Some short trails will lead you through groves of redwoods where you truly experience their size.
A great option to make this trip even better is to head back to Seattle via the Oregon coast on Highway 101 for amazing views the entire way.
Mount St. Helens
Distance from Seattle: 3.5 hours
Recommended Time: 2+ days
Most well known for its 1980 eruption, Mount St. Helens is another popular destination for tourists in Washington. It's the most active volcano in Washington, which gives it a unique lure.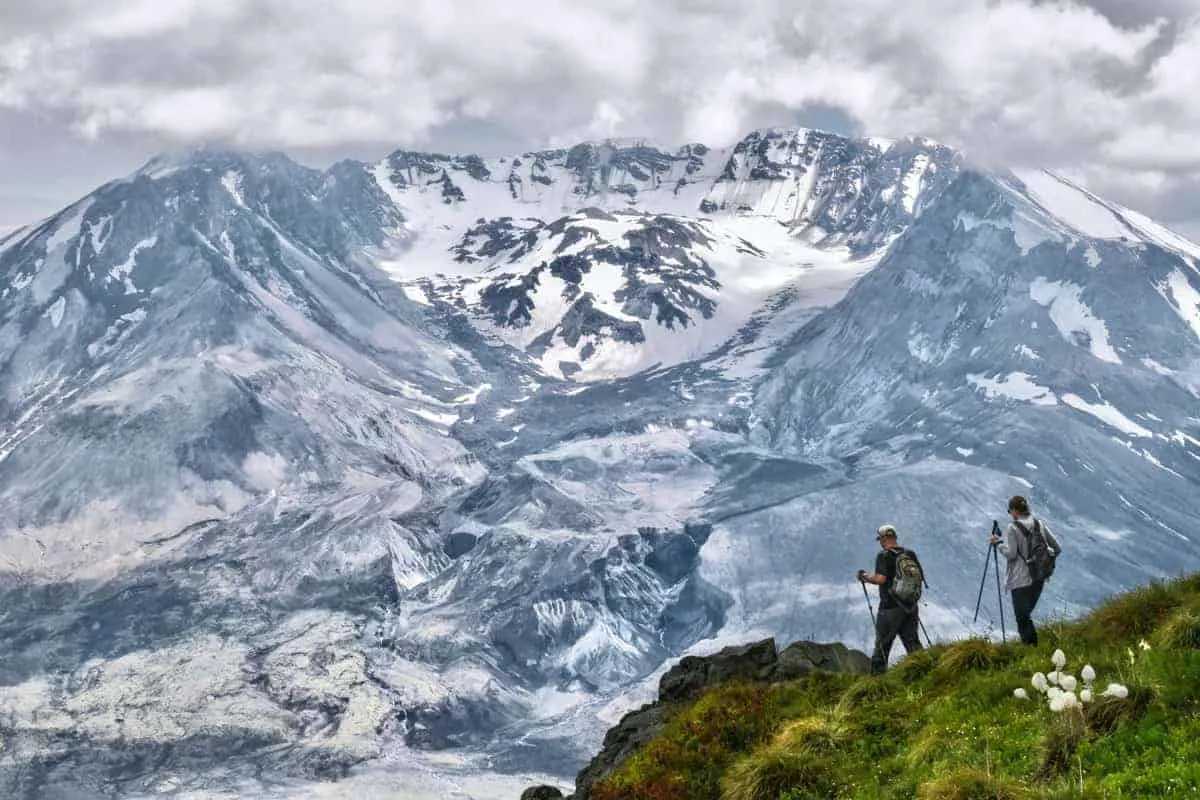 A visit to the Johnston Ridge Observatory offers unobstructed views of the volcano and the chance to learn about the history of the eruption.
There are hiking trails leading down into the blast zone from the observatory, allowing you to get closer to Mount St. Helens and see its real effects on the landscape.
Another great stop near Mount St. Helens is Ape Cave, the third longest lava tube in the United States.
For an extended road trip, loop around and make a stop at Mount Rainier National Park. This route will allow you to check off two of Washington's most iconic mountains in just one trip.
Oregon Coast
Distance from Seattle: 3.5 hours
Recommended Time: 7+ days
While this road trip from Seattle doesn't have a specific destination, it's one of the most popular road trips in the PNW, and for good reason.
The Oregon Coast is one of the most beautiful regions of the Pacific Coastline. You can see almost all of it by following Highway 101 from Astoria to Brookings.
Start in Astoria, where the Columbia River meets the ocean. (this is where the Goonies movie was filmed). Then make your way south, stopping in small coastal towns like Seaside, Cannon Beach, Pacific City, Newport, and Brookings. You'll likely even find a few hidden gems along the way.
A few notable stops that aren't cities include the Samuel H. Boardman State Scenic Corridor, Cape Kiwanda, and God's Thumb.
You can return via Highway 101 or make your way through Eugene and Salem for a faster return to Seattle.
Eastern Washington
Distance from Seattle: 4 hours
Recommended Time: 3+ days
Although often overlooked, Eastern Washington is a veritable gold mine of hidden gems that tourists miss when they explore the Cascades.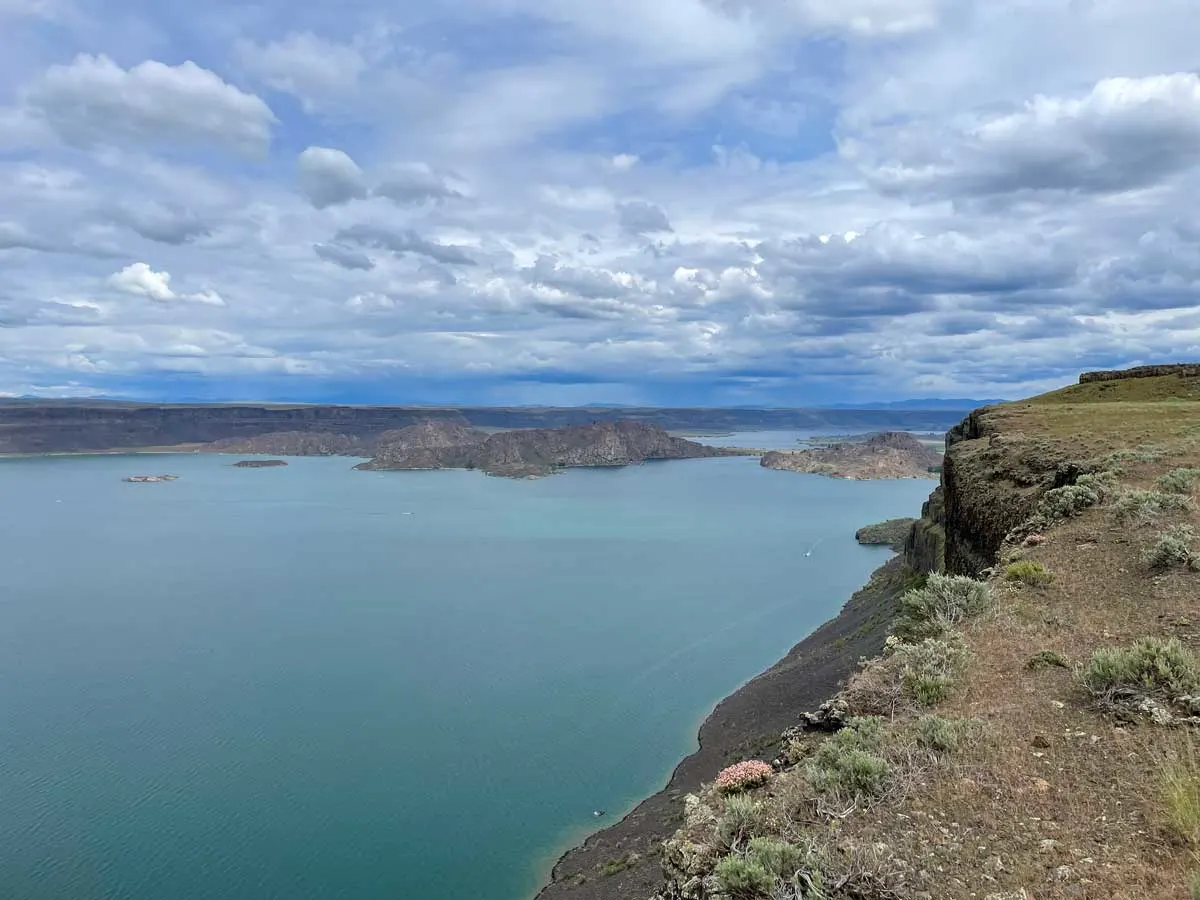 One of the best is Palouse Falls, a massive waterfall that seems so out of place in the desert. You can walk right up to it to experience the power as it drops over the cliff.
Another must-see is the Grand Coulee Dam, which features a unique laser lights show every night during the summer. Nearby is Steamboat Rock State Park, which has plenty of hikes to the top of the rock to admire the views.
If you're a concert-goer, the Gorge Amphitheater hosts some incredible artists throughout the year right along the Columbia River Gorge.
There are many routes to take for this road trip, but all of them are rewarding.
Seattle Road Trip Wrap-Up
The only problem with planning a road trip from Seattle is deciding where to go. With so many unique choices, making that decision can be tough.
Luckily, there's a type of road trip for everyone and every season, whether you explore the charming towns of the San Juan Islands or witness the stunning beauty of the Columbia River Gorge.