Rome is a beautiful, chaotic sprawl made up of 22 different districts. Each of these districts is made up of several neighborhoods. Each of these neighborhoods has a unique vibe and is suited to different budgets.
It's not surprising choosing where to stay in Rome can be difficult.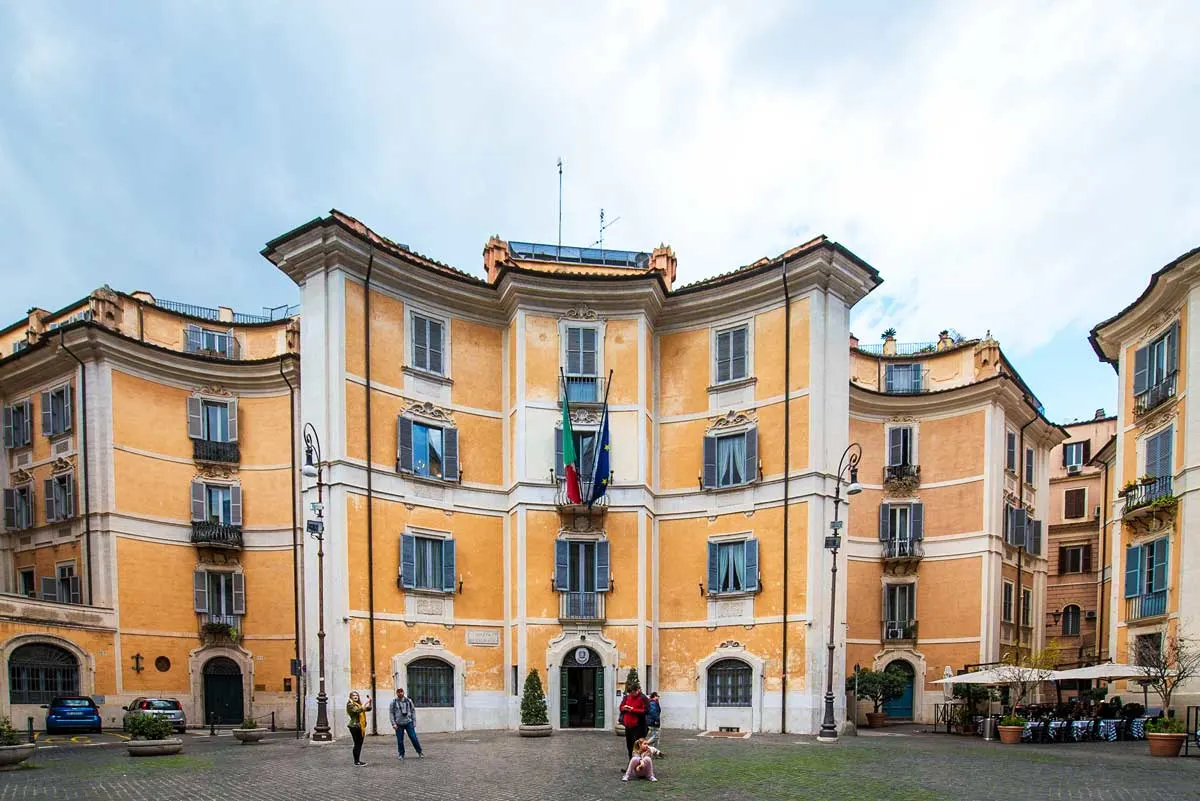 Search Accommodation Options in Rome
Rome's Neighborhoods Quick Guide
Centro Storico: For easy access for first-time visitors. Close to all major attractions.
Piazza de Spagna: For quiet luxury and families. Quieter than centro storico but still convenient.
Pantheon: Best for sightseeing. Charming streets and piazzas. Close to good restaurants and bars.
Trastevere: For nightlife and charming ambiance.
Monti: Close to the Colosseum, Monti is a hip neighborhood for those looking for a more nuanced local experience. Also good for history buffs.
Eaquilino: Best place to stay on a budget with a lively, multicultural atmosphere.
Testaccio: The best area to stay in Rome for foodies.
San Giovanni: Best for a tranquil local experience.
Still Planning Your Trip to Rome? These Rome travel guides will help you plan the perfect visit to the Eternal City:
Rome Tourist Accommodation Tax
When choosing the best place to stay in Rome and comparing rates, make sure you factor in the Tourist Accommodation Tax. The hotel's star rating calculates the tax for up to 10 nights.
| | |
| --- | --- |
| 1,2 Star Hotels – | €3 pp/per night |
| 3 Star Hotels – | €4 pp/per night |
| 4 Star Hotels – | €6 pp/per night |
| 5 Star Hotels – | €7 pp/per night |
Guesthouses, bed & breakfasts and holiday rentals carry different tariffs. See the official Rome Tourism site for more details.
Where to Stay in Rome
Looking at Rome's neighborhoods and finding the right hotel can be overwhelming. With so much to do in Rome and depending on your time and budget, where you stay can be integral to your time in the Eternal City.
We help you narrow down the best neighborhoods for every travel style to help you choose the best place to stay in Rome for your interests and convenience.
Tip for choosing accommodation in Rome: Rome is noisy, so where possible, try to choose accommodation with double-glazed windows and ask for a room on a higher floor to be away from the street noise.
Rome is also very hot in summer, so air conditioning is non-negotiable.
Centro Storico: Where to Stay in Rome for First-Time Visitors
If you are short on time, the historic center is perfect for on-your-doorstep access to all major attractions, such as Piazza Navona, the Pantheon, the Trevi Fountain, and Spanish Steps and more.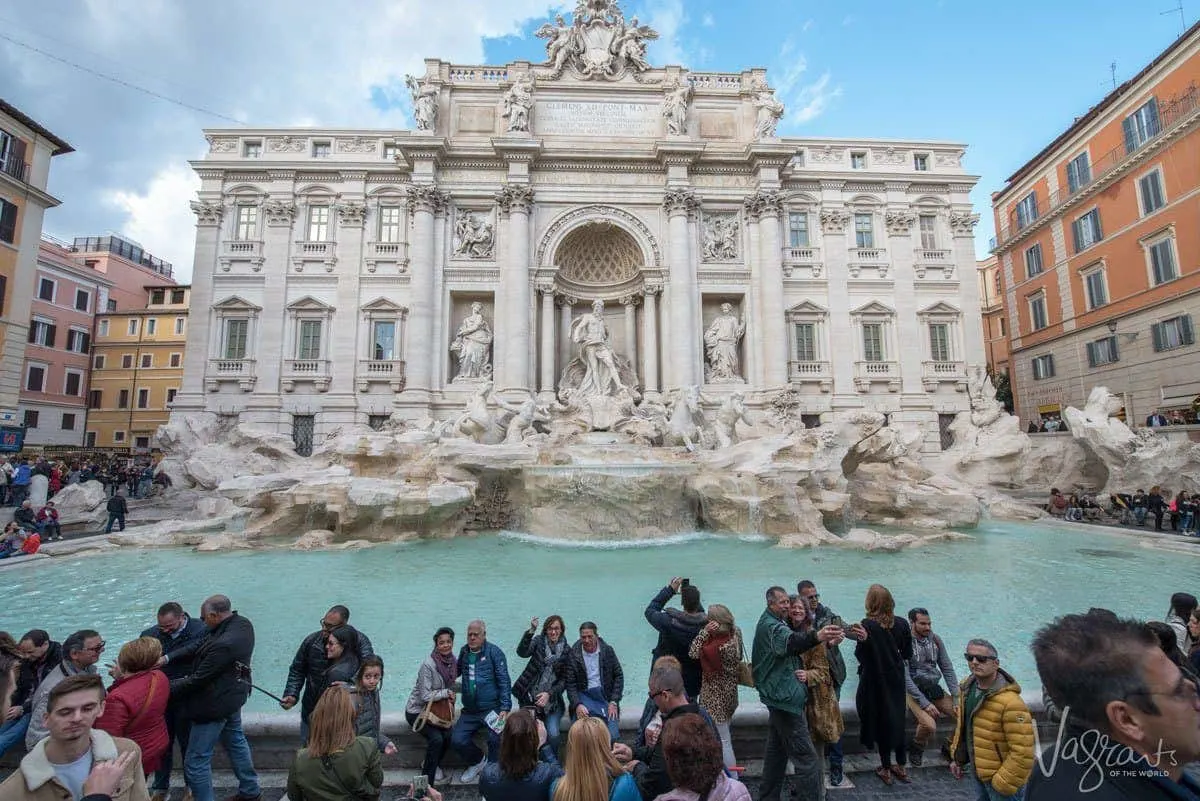 Centro Storico is a large area on the eastern side of the Tiber, covering roughly 5 square miles. Within this area are numerous neighborhoods, each with a very distinct vibe, but you'll find nearly all of Rome's famous attractions within walking distance.
It is crowded and can be expensive but undeniably, very convenient, especially for first-time visitors.
Centro Storico also has good access to major metro stations, allowing you a seamless transition to the city's public transport – another advantage of staying in Centro Storico. Minimizing the travel time between the main tourist spots makes it a great place in Rome for families and elderly travelers to stay.
Piazza de Spagna: Where to Stay in Rome for Families and Quiet Luxury
Although places like the Pantheon and Centro Storico are close to most attractions, they're often very crowded and can be noisy. If you don't want to deal with the hustle and bustle of touristic Rome but still want convenience, the Piazza di Spagna area is a good alternative.
Popular with people looking to indulge in Rome's luxurious side or families looking for a quieter area, Piazza de Spagna is still close enough to the city's central monuments.
You can walk to the Villa Borghese Gardens and Trevi Fountain via the Spanish Steps area. Villa Borghese Gardens is a fabulous place for families to visit in Rome.
The neighborhood is also close to the Spagna and Barberini metro stations for easy access around the city.
Flaminio and Parioli: Best for Culture and High End Restaurants
Flaminio or Parioli are for you if you want museums, fancy restaurants, art galleries, a tranquil atmosphere filled with enormous green spaces, and clean, tree-lined avenues.
Rub shoulders with Rome's upper echelon in this high end residential area close to the Villa Borghese.
Pantheon: Best for Sightseeing
The neighborhood surrounding the iconic Pantheon is a great option for all kinds of travelers. Staying in this central area, you'll be immersed in Rome's rich history, tantalizing cuisine, and bustling atmosphere.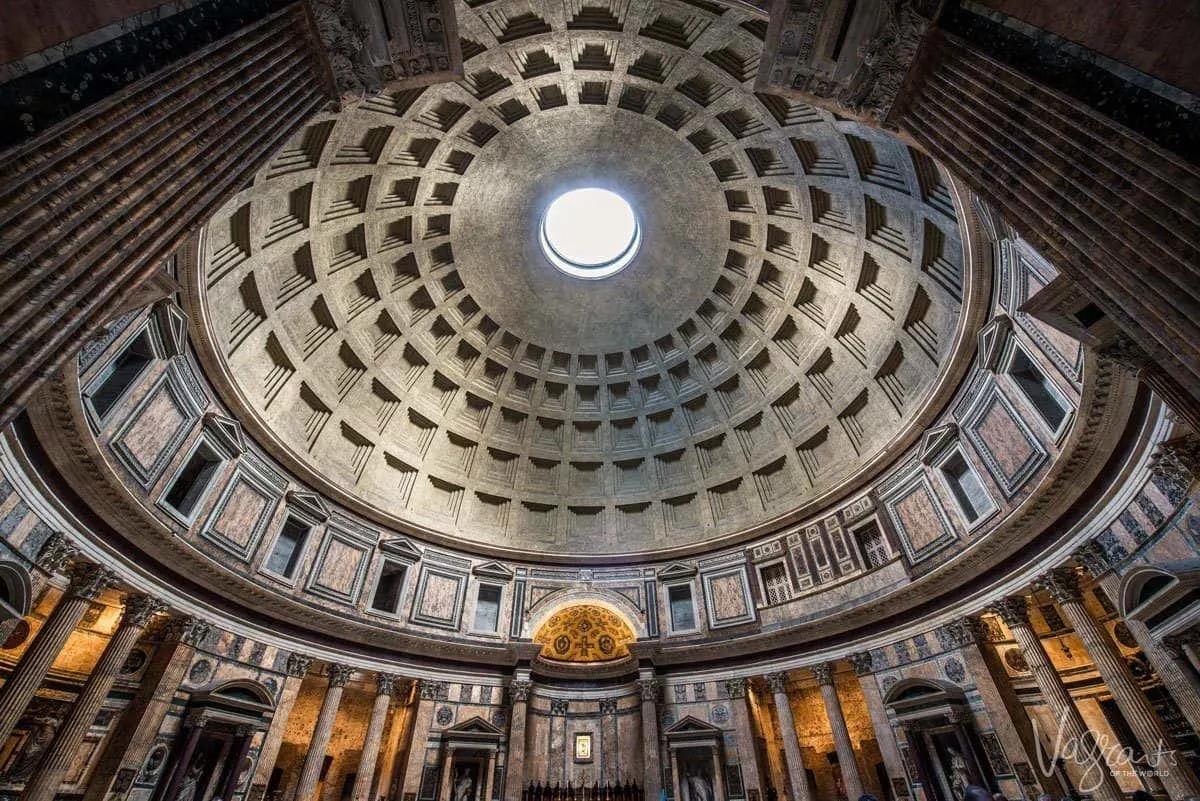 The Pantheon neighborhood is a treasure trove of ancient Roman history. Besides the magnificent Pantheon, you'll be within walking distance of iconic sites such as Piazza Navona, Trevi Fountain, and the Roman Forum.
You'll also find a diverse culinary scene, from traditional trattorias to high-end restaurants. Food lovers can also explore nearby markets, such as the famous Campo de' Fiori.
Pantheon is known for its historic architecture, charming cobblestone streets, and hidden piazzas. Uncover quaint shops, charming cafes, and stunning fountains as you meander through this enchanting neighborhood.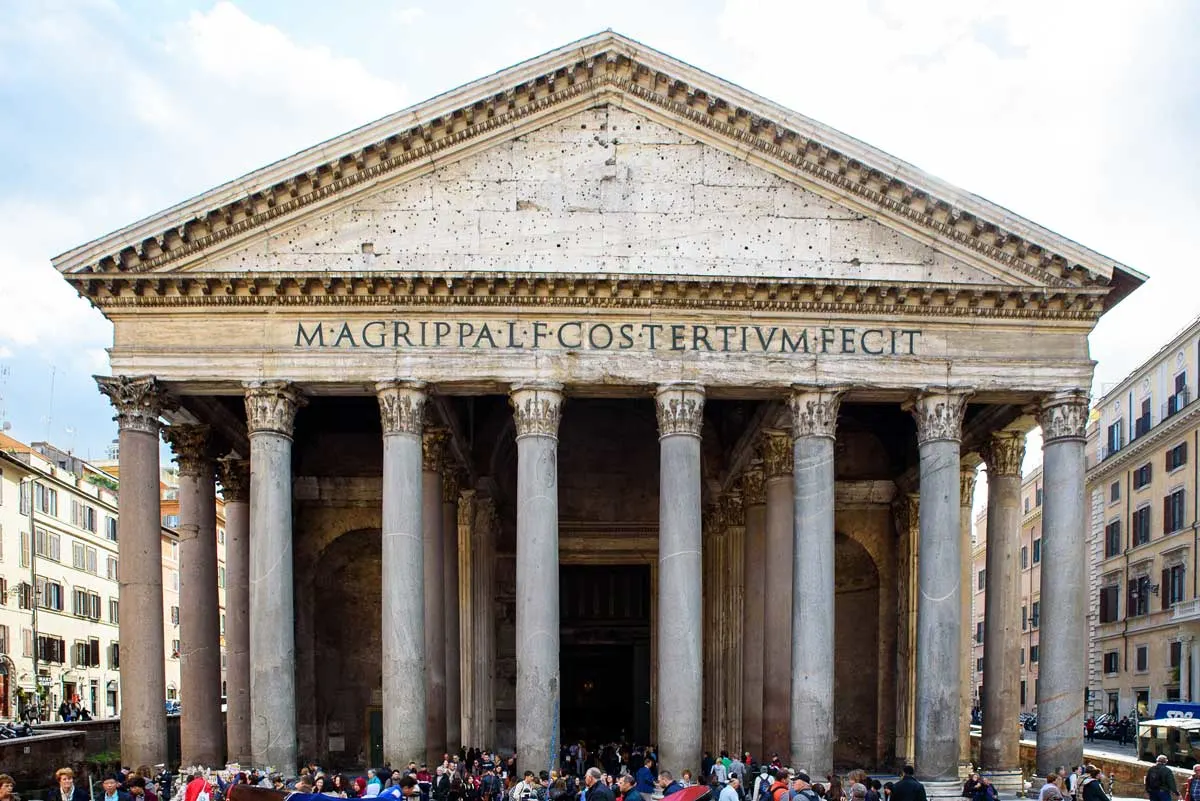 The neighborhood's romantic charm and proximity to some of the city's best restaurants and bars make it an ideal choice for couples.
The Pantheon area is also an excellent choice for families. It offers easy access to the city's main attractions while also providing a slightly quieter and more residential experience.
Aside from its convenient location, there is a good selection of family-friendly accommodations, including spacious apartments and hotels catering to different budgets. Also, the pedestrian-friendly streets make it easy for families to navigate and explore the area together.
Plus, with its central location, you'll have easy access to other must-visit areas of Rome.
Trastevere: Best Place to Stay in Rome for Nightlife and Charming Ambiance
Tridente and Via Veneto
Tridente is one of the most upscale areas of Rome and still technically part of the historical center. You'll find 4 & 5-star boutique hotels and high-end shopping close to the Spanish Steps.
Nearby Via Veneto was the place to stay in the 50s and 60s for politicians, film stars, and paparazzi. While it has lost some of its former pizzaz, you'll still find elegant hotels and classy restaurants.
Trastevere: Best Place for Nightlife, Food and Charming Ambiance
On the other side of the Tiber River, Trastevere is one of Rome's most atmospheric neighborhoods.
Considered hip, lively, slightly bohemian, and even a little offbeat, Trastevere is one of Rome's most visited and popular districts – Exciting nightlife, great restaurants, and a charming character in a tangle of quaint streets.
Know Where to Eat in Rome's Trastevere Neighborhood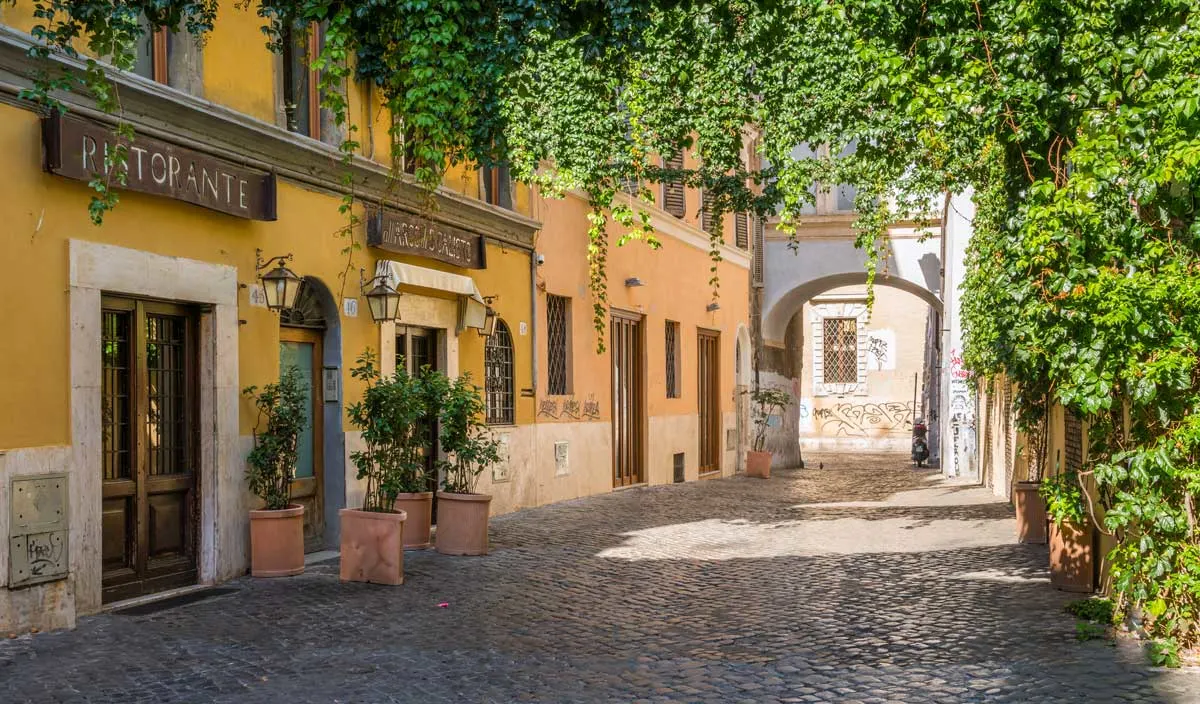 Trastevere's enchanting streets are brimming with fascinating cultural sites and must-see tourist attractions, from the stunning mosaics in the Basilica of Santa Maria in Trastevere to Villa Farnesina, a Renaissance-era palace adorned with frescoes by Raphael and his contemporaries.
Foodies will be in heaven as they traverse Trastevere's bustling food scene. From traditional trattorias serving mouthwatering pasta dishes to high-end restaurants offering contemporary Italian cuisine, there's something to satisfy every palate.
Don't forget to visit the local food stalls to indulge in street food favorites like supplì and porchetta. And for a truly unique dining experience, consider joining a local cooking class or food tour to learn the secrets of Roman cuisine.
Monti: Best Neighbourhood in Rome for History Buffs
People visit Rome for the food, history, and nightlife, but Monti might fit the bill if you're looking for a more nuanced experience.
Monti is one of Rome's most alluring neighborhoods. Combining both modern charm and ancient history, Monti offers an eclectic mix of attractions and experiences.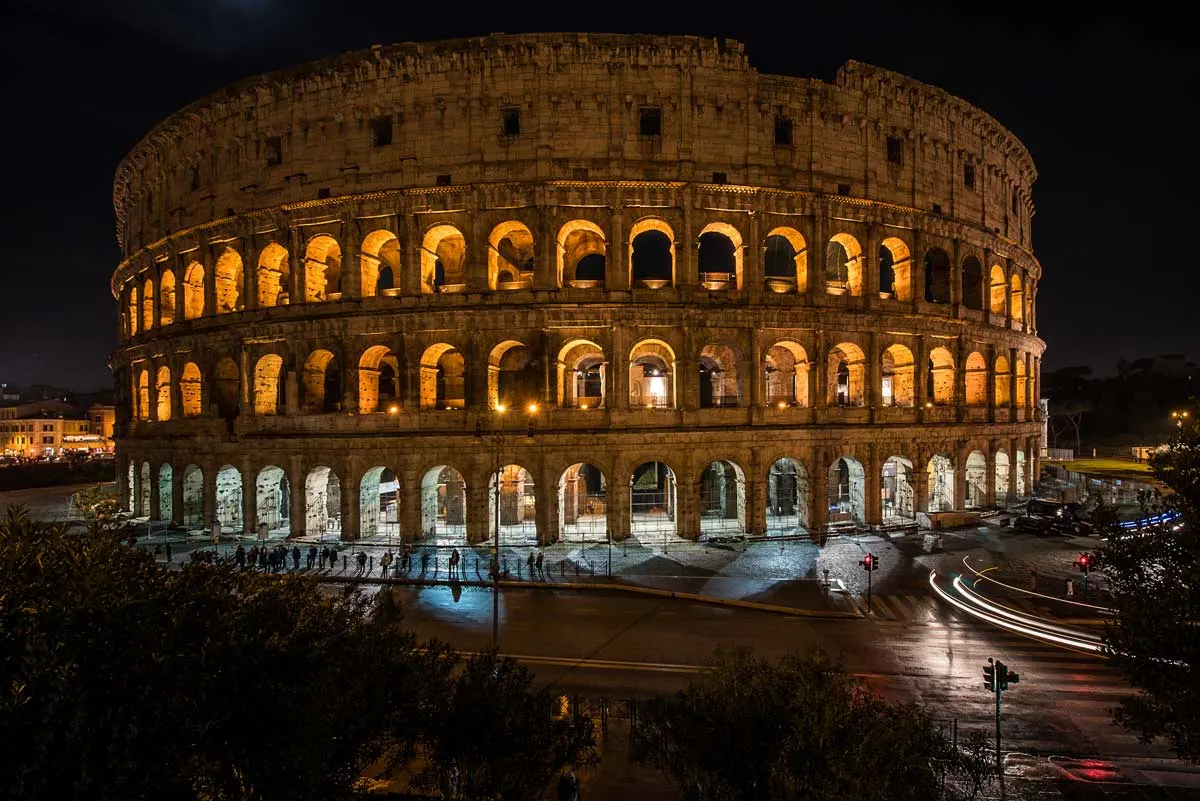 Nestled between the Colosseum and Termini Station, Monti boasts a prime location with easy access to Rome's iconic landmarks and convenient transportation options.
Explore nearby attractions like the Roman Forum, Palatine Hill, and the Basilica of Santa Maria Maggiore, all within walking distance.
The neighborhood is renowned for its hip vibe, so you'll find a thriving art scene with contemporary galleries, artisan workshops, and unique boutiques. There are also plenty of cool vintage shops for hip fashionistas to explore.
The neighborhood's vibrant atmosphere comes alive at night, with bars and trendy eateries offering a taste of Rome's culinary delights.
For cultural immersion, explore Monti's local markets, such as the Mercato Monti, where you can find vintage treasures and handcrafted souvenirs.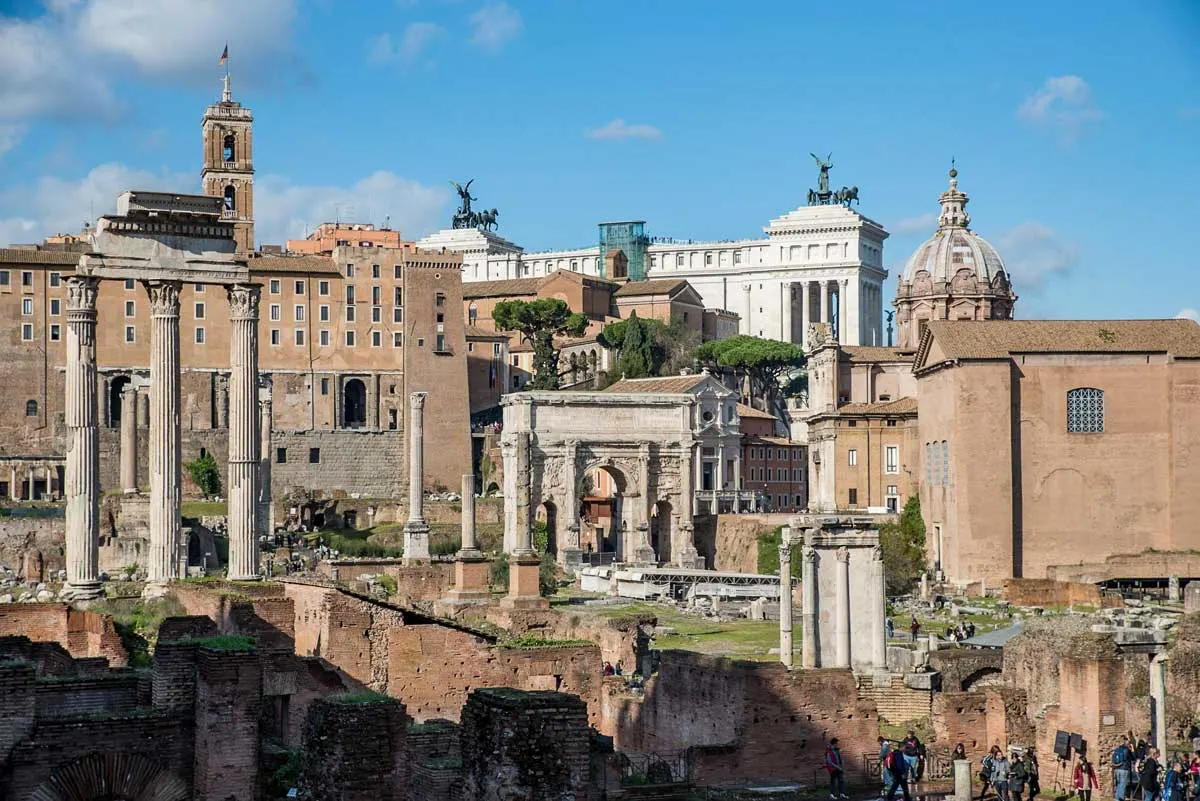 The neighborhood's picturesque squares, like Piazza della Madonna dei Monti, provide idyllic spots for people-watching and leisurely strolls.
The best part about the Monti neighborhood is that even though it's within walking distance of the Colosseum, it's quiet.
With its prime location, diverse accommodations, and vibrant atmosphere, Monti is the perfect base for exploring the Eternal City. You may even snag views of the Colosseum from your hotel window.
Celio: Close to the Colosseum
Not far from Monti, the residential neighborhood of Celio lays claim to the Colosseum at its heart. An area that is slightly crazy with tourists during the day offers some of the best views of Rome by night – The Colosseum and Roman Forum.
Neither Monti nor Celio has many hotels which add to the authentic suburban feel. These are the places to stay if you're big into Roman ruins and want an authentic neighborhood vibe.
Termini and Esquilino: Best Place to Stay in Rome on a Budget
The advantage of staying near Rome's Termini station is convenience and cost. Access to all central public transport systems makes getting around Rome a breeze for those who dislike walking. You'll find lots of budget hostels, low-cost hotels, and B&B's which makes it perfect for the budget traveler and offers ease of access to the airport.
It is also Rome's most multicultural area, so you'll find many hawkers, ethnic shops, and eating options from around the world, including a Chinese-style market.
The diverse charm of Esquilino is ideal for food lovers, culture vultures, and budget-conscious travelers.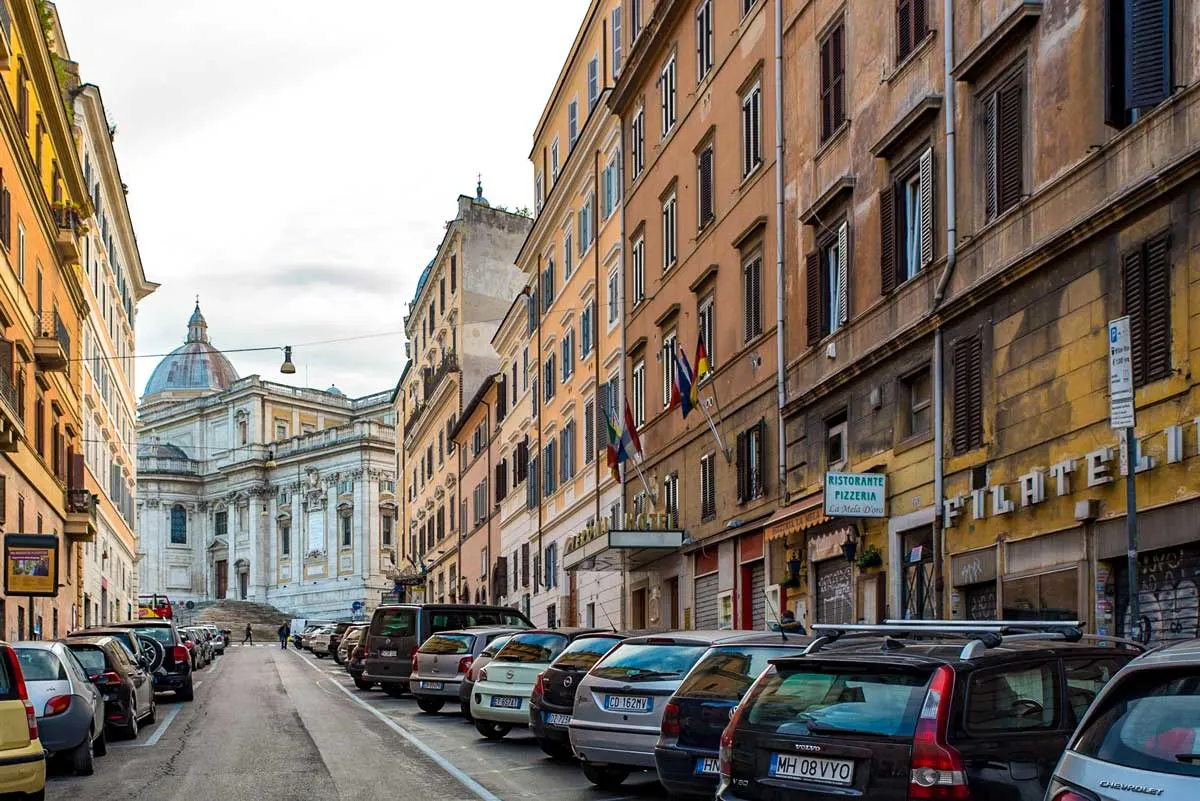 Esquilino provides easy access to Rome's popular landmarks, but you can also explore nearby attractions on foot, such as the Basilica of Santa Maria Maggiore, the National Roman Museum, and the Baths of Diocletian.
Embrace Esquilino's vibrant atmosphere and rich cultural heritage by visiting its bustling markets, such as Mercato Esquilino, where you can find exotic spices, fresh produce, and international delicacies. Food lovers will delight in the neighborhood's eclectic dining scene, offering everything from traditional Italian trattorias to ethnic eateries representing the diverse community.
For art and history enthusiasts, Esquilino is home to impressive street art, ancient ruins, and hidden gems like the lesser-known Palazzo Brancaccio.
Esquilino is a captivating neighborhood for food lovers, culture enthusiasts, and budget-conscious travelers. With its convenient location, diverse accommodations, and multicultural atmosphere, Esquilino is an excellent base for exploring the Eternal City's hidden treasures.
Testaccio: Best Area to Stay in Rome for Foodies
Unearth Rome's authentic and culinary gem. Discover the genuine charm of Testaccio, a vibrant and historic neighborhood in Rome, perfect for travelers seeking a local and gastronomic experience.
Testaccio is situated along the Tiber River, with easy access to Rome's iconic landmarks. You have attractions such as the ancient Pyramid of Cestius, the Non-Catholic Cemetery, and the fascinating Testaccio Market within walking distance.
Indulge in Testaccio's thriving culinary scene, renowned for outstanding trattorias such as Lo Scopettaro and the Michelin-rated Felice a Testaccio (You can't miss their show-stopping Cacio e pepe), innovative restaurants, and street food stalls.
Discover Testaccio's rich history and cultural sites, including the remains of the ancient Roman Emporium, Monte dei Cocci, and contemporary art exhibitions at the ex-Mattatoio, a former slaughterhouse turned cultural center. Wander through the charming streets, where you'll find a mix of modern street art and historic architecture.
San Giovanni: Best for a Local Experience
Discover Rome's elegant and tranquil neighborhood retreat. The serene charm of San Giovanni, a refined and historic neighborhood in Rome, is perfect for travelers seeking a peaceful and authentic residential Roman experience.
Located just southeast of Rome's city center, San Giovanni still has easy access to iconic landmarks by metro and bus within minutes.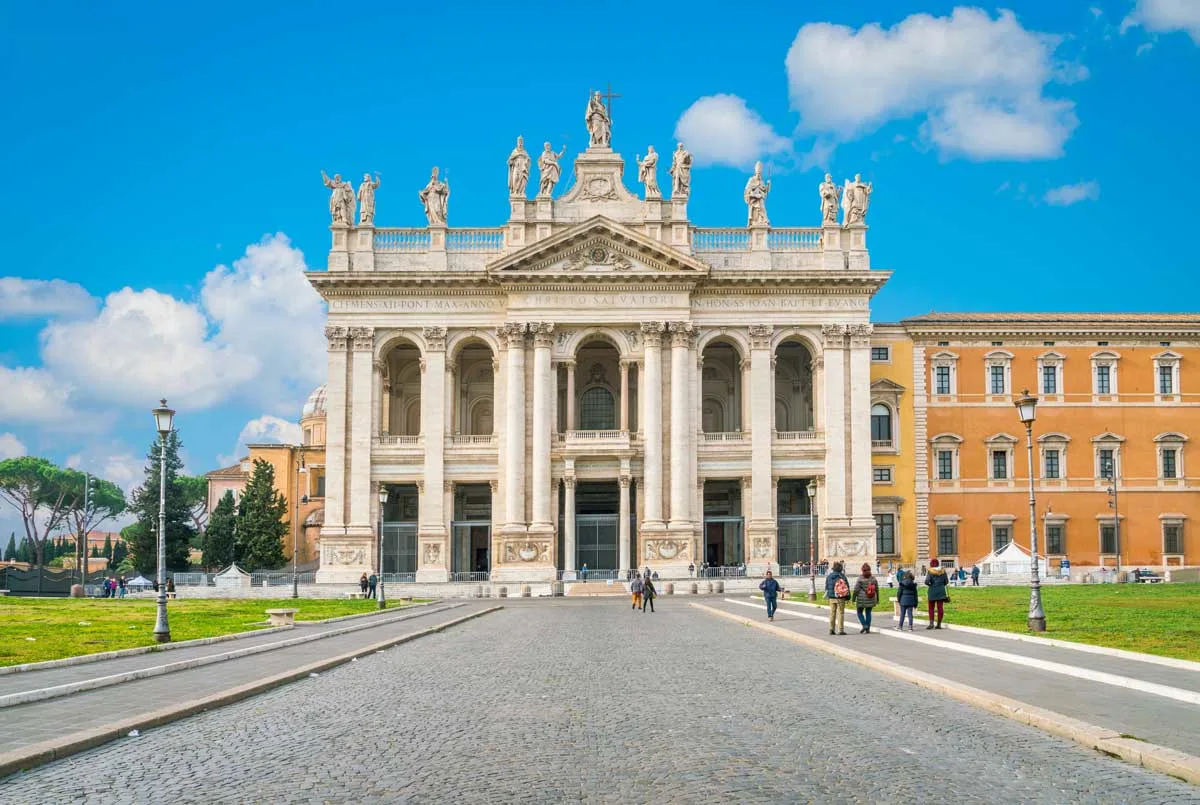 One unique attribute of this neighborhood is its rich history, as it is home to the Basilica di San Giovanni in Laterano, one of the most important churches in Rome.
Visitors can also explore the nearby Appian Way, one of the oldest roads in Rome, the Catacombs of San Callisto, an underground cemetery dating back to the 2nd century, the majestic Scala Santa (Holy Stairs), the ancient Baths of Caracalla, and the vibrant street market of Via Sannio.
Ideal for families, history enthusiasts, and those who appreciate a quieter, more authentic atmosphere, San Giovanni offers a unique combination of attractions and ambiance.
Jewish Quarter: Charming Historic ad Culinary Neighborhood
If you want to be centrally located but a little bit away from the crowds with a charming old-town atmosphere, stay in the Jewish Quarter.
Not far from Centro Storico, the old Jewish Ghetto is filled with beautifully crooked streets running from Piazza Venezia to the Tiber River. It is a renowned culinary district that is perfect for those who want an authentic Roman foodie experience and a fantastic gastronomic encounter.
Vatican City and Prati
If you want to divide your time between Rome and Vatican City, the Prati district to the east of St Peter's Cathedral is a refreshing change to the touristy Borgo district. You'll also find very reasonable hotel prices and be well-positioned for those early starts when visiting the Vatican.
Where Will You Stay in Rome?
Rome is a magnificent city with something to offer to every traveler, and choosing the right neighborhood to stay in can make all the difference. Each neighborhood has unique character and appeal, from Trastevere's historical charm to Monti's trendy vibe, Testaccio's vibrant energy, and San Giovanni's peacefulness.
No matter which neighborhood you choose, Rome is well-connected, so you'll be able to experience the city's rich history, indulge in delicious food and wine, and soak up the local culture.