Rome packs in more sights and attractions than any other city in Europe. There are so many things to see in Rome, we've put together a 3-day Rome itinerary to help you plan your time in the Eternal City.
We've included where to stay in Rome, how to get around, and a fabulous three-day Rome itinerary with an optional 4th day to ensure you see the best attractions.
We've included all of Rome's best attractions, including some surprisingly free attractions if you are on a budget – we have a complete list of wonderful things to do in Rome for free here.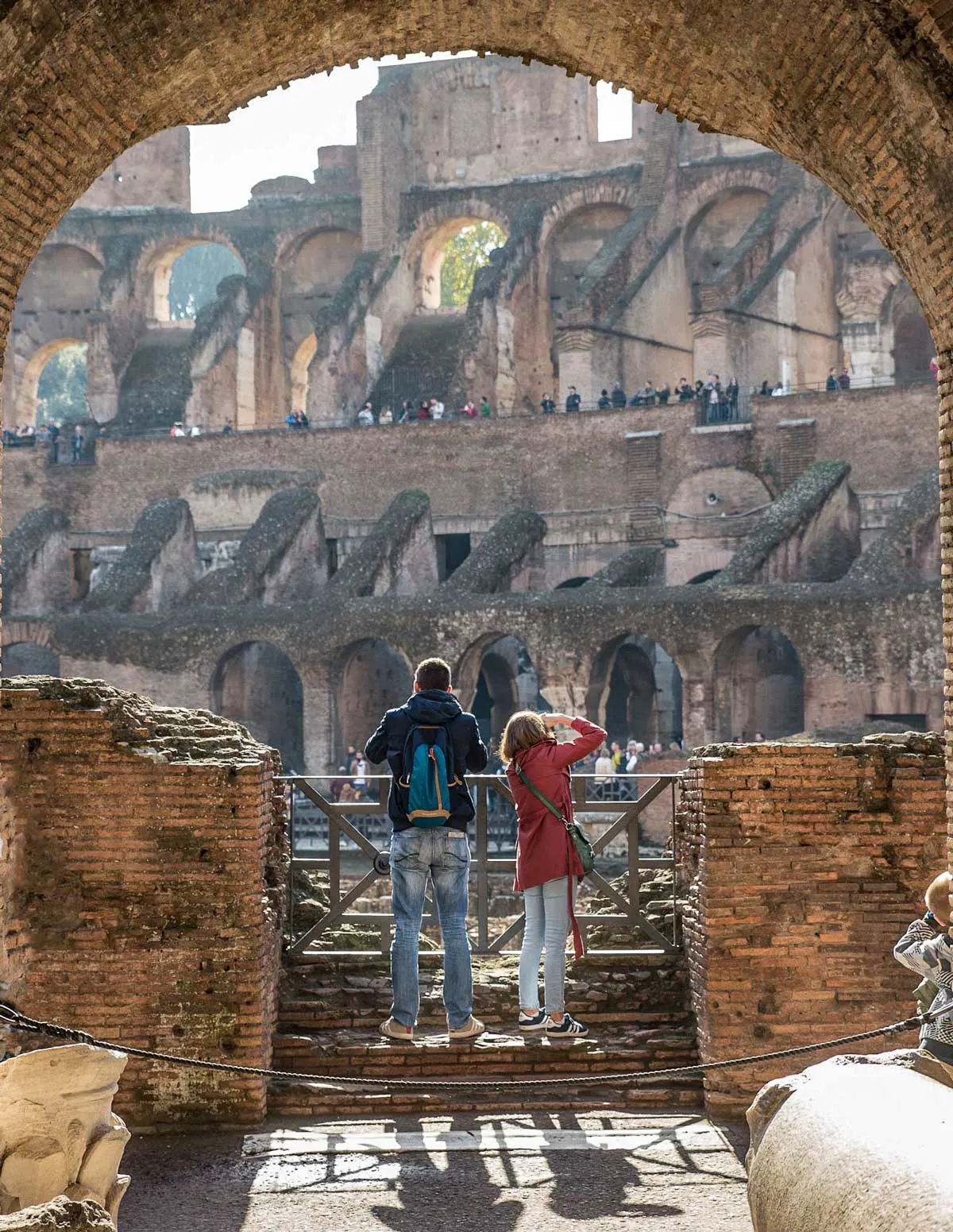 Is 3 Days Enough to Visit Rome?
You can definitely see the best of Rome in three days, but I do recommend adding a 4th day or at least half a day if possible.
At the end of this Rome 3-day itinerary, you'll find that I have included an optional 4th day, allowing you to take more time at each site and see a few more. This is especially helpful during the crowded summer months, when you may spend hours waiting in line.
You Might Also Like: Rome is a fantastic base to see more of Italy- see our guide to the best day trips from Rome to start planning your itinerary. If you want a quick side trip from Rome, check out our guide to Italy's Most Beautiful Islands. Some are closer to Rome than you think. Rome is also a fantastic starting or finishing point for some incredible Italian road trip itineraries.
You Might Also Like: Discover Italy's third largest city's authentic, spirited and charmingly chaotic character. These are the Best Things to see and do in Naples.
When planning your time in Rome, buying Skip the Line tickets for the big attractions such as the Colosseum can save up to a couple of hours of your precious time.
We've mapped out a 3 day Rome itinerary with an optional 4th day to help you plan your perfect Roman holiday.
The first day of your 3 day Rome itinerary begins with a visit to the Eternal City's most iconic ancient sites – The Colosseum, The Roman Forum, and Palatine Hill.
Three of the oldest and most important historical sites in Rome are located in the same area, and all three are accessed with one ticket.
The Colosseum, built to hold up to 80,000 spectators, is still the largest amphitheater ever built. Surviving earthquakes, fires, wars, and riots, 2,000 years later, it continues to draw a crowd.
Once clad in ivory travertine marble, looted over the centuries, The Colosseum was used for the mass entertainment of the people of Rome. While the most notable forms of entertainment were gladiator combats and animal fights, the Colosseum could also be flooded for mock naval battles.
Once the most lavish place in the world. A place where emperors fought to live and where Imperial Palaces were extravagant beyond imagination.
The site of temples and the center for the legend of Romulus and Remus, Palatine Hill is loaded with a remarkable history.
Today, the medieval square is a popular gathering space at any time of day. During the day, a lively market brimming with flowers and local produce makes it an excellent spot for a coffee and a little people-watching. At night, the square comes alive again with bars and restaurants.
True to its origins as an entertainment space for sporting events and festivals, the square still attracts a lively crowd of hawkers, street artists and performers, and tourists.
To this day, it is considered an incredible architectural achievement. Perhaps this is what prompted Michelangelo to question if the Pantheon was the work of angels or humans.
The exact age of the Pantheon is still unknown, although legend states it is built on the site where Romulus, the mythological founder of Rome, ascended to heaven.
As cliche as it might be, don't forget to throw a coin in the fountain. Legend says it guarantees you will return to Rome. Romance will cost you two coins and the promise of marriage- three.
While the Trevi Fountain may be one of Rome's most famous, there are loads of beautiful and historic fountains in Rome. Discover more of Rome's famous fountains here.
Built in 1725 as a symbol of the newfound peace between France and Spain, the steps join the Trinità de' Monti Church at the top of the hill with the Piazza di Spagna below.
Cemented in popular culture with the 1953 film Roman Holiday featuring Audrey Hepburn and Gregory Peck, the steps are considered one of Europe's most enchanting and renowned staircases.
With the baroque Fontana della Barcaccia in the center of the piazza, the iconic steps attract locals and tourists from all over the world. It is also a popular spot for wedding photographs despite the crowds. Climb to the top for iconic views of Rome.
Collected by Cardinal Scipione Borghese in the 17th century, Galleria Borghese is bursting with Renaissance and Baroque masterpieces by Bernini, Titian, Raphael, Caravaggio, and Rubens.
If self-guiding, this is another reason to arrive early at the Museums. You can tailor your visit to have a greater chance of being one of only a few in the chapel.
Considered Michelangelo's most beautiful work, The Sistine Chapel is a highlight of the Vatican.
Trastevere is a vibrant neighborhood with working-class roots on the western banks of the River Tiber. An area considered slightly bohemian, known for its traditional and innovative trattorias, craft beer pubs, and artisan shops.
Besides the Papal Apartment, five hundred years of papal history are on display, including paintings, photographs, relics, liturgical vestments, and other curiosities. You can see the sedan chair of Pope Pius IX, Popemobiles over the ages, and even the BMW used by Pope Wojtyla during his summer stays.
Visiting the Castel Gandolfo Gardens
Tours of the Giardini di Villa Barberini are part of a guided tour booked in advance. See here to book tickets.
---
Day Trip From Rome: Got more time to spend in Rome? In just over an hour and twenty minutes by train, you can travel from Rome to Florence. A Florence day trip from Rome makes a fantastic extension to your Rome itinerary without the hassle of having to change hotels. See all the Best Things to do in Florence here.
Rome Travel Tips
Save Time & Money With A 3 Day Rome Pass
With just three days in Rome (or even four days), it's important to have a plan and to try to avoid waiting in line as much as possible. Depending on when you visit Rome, some of the popular attractions can be PACKED, and you can spend hours waiting in line.
Above, I mentioned several instances where you can purchase skip-the-line tickets in advance, which I highly recommend.
Another great way to save time and money during your three days in Rome is by purchasing a Rome city pass.
I recommend checking each out, especially if visiting Rome during the summer. The OMNIA pass includes a skip-the-line entrance to the famous Sistine Chapel and St. Peter's Basilica, which can save you hours just in the Vatican City.
How to Get Around Rome
Rome is a walkable city, and walking is always my favorite way to explore and get to know a destination. However, Rome also has easy public transportation.
While there are buses, I recommend the metro instead. You'll find most of the tourist attractions along lines A, B, or C, and it's the easiest way to get to the Vatican.
You'll need a BIT ticket to ride the metro, which can be purchased at any metro station, tobacco shop, or newsstand. Any of the Rome City passes I mentioned earlier include free public transport.
A hop-on hop-off bus is another way to get around the best attractions in Rome. It will drop you off in front of the tourist attractions and offer scenic views of the city as you travel.
---
Related: Backpacking in Italy? You Need These Italy Travel Tips
Luggage Storage in Rome
Depending on your arrival and departure times, you may want to explore Rome before you check into your hotel or after you've checked out.
Luckily, there are several options for luggage storage in Rome.
Roma Termini Station. This is the best luggage storage option for most in Rome, as it's where lines A & B stop, along with the airport train and shuttle. The storage is across the street from the station and you can pre-book space online.
Historic Center. City Center Luggage Storage has several locations to drop off your bags, including Venice Square, the Pantheon, and Vatican City.
Shopping in Rome
If you want to add some shopping to your 3 day Rome itinerary, I can't say I blame you. The city is famous for it, after all. Here are the best places to go:
Via Veneto &
Via del Corso
Looking for the best places to shop in Rome, head to Via Veneto and Via del Corso.
Via Veneto is one of the most expensive and elegant streets in Rome. Immortalized in Fellini's La Dolce Vita, Via Veneto has attracted a jet-set crowd since the 50s'. Along with famous hotels, restaurants, and bars, you'll find a great range of shopping options, from antiques and vintage to high-end designer stores.
While not as famous as Via Veneto, Via del Corso offers many shopping options, from international stores to boutique and designer brands.
Related: Keep your belongings safe in Rome – Read our guides to the best anti-theft handbags for travel and the best anti-theft travel gear.
---