Maintaining a travel workout routine can be difficult. Jetlag, busy schedules, lack of access to gym equipment. It's easy to make excuses or let fitness slide when we travel – Not anymore!
The good news is you don't have to put exercise on hold while you travel, even if you plan to travel light. Some of the best travel exercise equipment on the market is more lightweight and portable than you might think.
Staying healthy while you travel doesn't need to be so difficult. Now you can grab a workout anywhere, even without leaving your hotel room.
Get Tips on Staying Safe While You Travel in Our Safe Travel Guide
The Challenge of Balancing Travel and Exercise
In over five years of full time travel, we have learned how quickly you can get out of shape when faced with changes in time zones and jet lag, different climates, and of course, the temptation of new cuisines.
It could be the thrill of a new and exciting destination distracting you from your regular fitness routine or a busy work trip schedule.
Travel May Not Suit Your Style of Workout
Staying fit on holiday can also be challenging because not every destination may suit your workout style. In SE Asia, chaotic traffic, dodgy sidewalks, and sometimes high levels of pollution make the idea of jogging very unappealing.
When traveling in South Africa, it was either crime or wild animals that kept our usual walking routine to specific times and places. You may not be staying in accommodation with a gym and don't have the budget for casual gym fees.
Keep Your Diet on Track With a Portable Blender for Travel. A portable blender can make a great addition to your packing list to maintain a healthy diet when you travel.
Stay hydrated, healthy, and environmentally friendly with a filtered water bottle for travel for safe, clean drinking water on the go.
Find the Right Workout Equipment for Travel
We could have accepted any of these as a good enough reason to put a healthy exercise routine on hold, but we knew it wasn't viable in the long term. So, we changed how we exercise by finding portable exercise equipment for travel so we could work out no matter where we were.
In this guide, you will find the best portable fitness equipment options for staying in shape while you travel, even in hotels and small spaces.
These are just some of the travel exercise solutions we have come up with over the years, and thanks to their size, weight, and portability; they are all suited to those who need to travel light.
You'll also find some great tips on incorporating a workout into your day and staying fit while you travel.
Features of Good Exercise Equipment for Travel
When thinking about the best fitness equipment to buy for your travel fitness routine, consider the following:
It must be lightweight.

Portable fitness equipment shouldn't take up too much space – Will it fit comfortably in your bag?

It should be easy to use and, if required, assemble.

Is the equipment suitable for your fitness level or skill?

Is this an item you will actually use in your travel workout?
Quick Guide: Compare the Best Portable Exercise Equipment for Travel
You can read a more in-depth review of each exercise equipment below.
Image
Title
Weight/Portability
Buy

Top

Top

Speedo Unisex-Adult Swim Cap Stretch Fit
Less Than 4 ounces
Check Price

Top

Top

Zerhunt Swim Goggles - Anti Fog, No Leaking Wide View with Ear Plug Nose Clip & Protective Case
5.5 ounces
Check Price

Top

Top

Water Gear Runner Floatation Belt
2.6 pounds (1.2 kg) Approx. 25″ (65cm) long.
Check Price
Detachable Travel Exercise Hula Hoop for Adults
2 pounds (900 gm) Detaches in eight small pieces for packing.
Check Price

Top

Top

Sonic Boom M2 High Speed Jump Rope
0.51 pounds
Check Price

Top

Top

APLUGTEK Jump Rope, Weighted Ropeless Skipping Rope for Fitness, Tangle-Free Rapid Speed Cordless Jump Rope Workout for Men, Women, Children
0.52 pounds
Check Price

Top

Top

Suspension Training basic Kit and Door Anchor
1.7 pounds (800 gm) Designed to fold down for travel.
Check Price

Top

Top

Fit Simplify Resistance Loop Exercise Bands
Less than 4 ounces. Fold down small.
Check Price

Top

Top

Nakpan Aqua Bag Core and Balance Trainer Adjustable Water Weights Portable Gym
Less than 2 pounds, folds down for easy carrying.
Check Price

Top

Top

Meister Elite Portable Sand Kettlebell - Soft Sandbag Weight - 10lb / 4.5kg
As little as 0.55 pound depending on the size of bag.
Check Price

Top

Top

Reebok Women's Nano 9 Cross Trainer, White/Grey, 5 M US
Running shoes can weigh as little as 9 ounces (250 gm).
Check Price

Top

Top

adidas Men's Energy Cloud WTC m Running Shoe, Black/Utility Black/White, 8 M US
Running shoes can weigh as little as 9 ounces (250 gm).
Check Price

Top

Top

Fitbit Charge 2 Heart Rate + Fitness Wristband, Blue, Large (US Version), 1 Count
Weighs only 1.2 ounces (34 gm)
Check Price

Top

Top

Fitdeck Illustrated Exercise Playing Cards for Guided Workouts, Core Blast
Just like carrying a deck of cards. 10 ounces (280 gm)
Check Price
The Best Portable Exercise Equipment For Travel
Swimming
Swimming is one of our favorite ways to stay fit while traveling. It takes no room to throw a pair of goggles and a swim cap in your bag, and you're ready to go anytime you are near the water or a pool. You might be surprised at the countless opportunities to get an aqua workout when you travel.
---
Take Advantage of the Hotel Pool.
It doesn't have to be an Olympic pool to get some decent laps in. Many hotels have pools large enough to be suitable for laps.
Try Swim Gym or Aqua Jogging
If your hotel pool isn't big enough for laps, a swim gym or aqua aerobics-style workout can be just as good, if not better. Aqua jogging is another great workout that can be done with little or no equipment.
We know people who always travel with an aqua jogging floatation belt, although it can be done just as easily without a floatation device.
Find the Local Pool.
If your hotel doesn't have a pool, scouting out the local pool is often worthwhile. You can get an excellent workout in for a few bucks per visit, and some public pools even have a gym attached.
Head to the Beach or Local Lake.
If the weather is nice, why not take advantage of any beaches or lakes near you that are suitable for swimming?
---
Exercise Hula Hoop for Fitness and Weight Loss
A fitness hula hoop is a surprisingly great cardio workout for core strength and weight loss. You can burn over 500 calories an hour with a simple hula workout!
I started using a travel hula hoop when we were in Vietnam for an extended period. While we had access to a gym, getting outside for a cardio workout like jogging or walking wasn't always possible because of the terrible pollution and traffic.
I'm not going to lie, it took me a bit to master "hooping" as it's called these days, but once I got going, I really enjoyed the workout. The beauty of hooping is you can do it anywhere, including a small hotel room.
What to Look for in a Travel Hula Hoop
A good travel hula hoop will either detach into eight pieces or fold in half for easy storage or packing. I have the detachable hoop shown here, and it packs nicely in the bottom of my suitcase without taking up too much room or weight.
Hula is a really simple and fun way to work out, burn fat and get a slim waist.
Detachable Travel Hula Hoop for Adults
---
Here's a quick introduction to Hula for fitness exercises.
---
Skipping
Skipping is one of the best cardio workouts around. It is a high-intensity cardiovascular workout that requires balance, strength, and agility. Much like hula, skipping can be done almost anywhere, and you'll be very surprised at how quickly you improve and how quickly the results show.
Proven to burn more calories than running, skipping is great for working out legs and arms, especially if you use a rope with weighted handles. It is also an excellent exercise to improve balance and coordination.
You can always find a space at a hotel or a park to fit in a skipping workout. And, if you get good at it, you can always skip on the run.
Sonic Boom M2 High Speed Jump Rope
---
These weighted cordless jump ropes are perfect for small hotel rooms where you need a space savvy tangle free solution to skipping while still getting a maximum workout.
Resistance Bands
We only came across resistance bands as a great addition to your travel workout kit after an injury left me needing some long term physio. I needed to rebuild muscle and improve my strength and flexibility, but I could not lift heavy weights.
They were a great full-body and core workout, starting with mini resistance bands to regain movement and working up to a full suspension trainer.
While there is no substitute for traditional weight training, resistance bands can substitute most exercises you would do with dumbbells –
Bicep curls

Shoulder Presses

Overhead triceps extensions

Bent-over rows.
---
Travel Weights- Dry Bag Dumbbell/Portable Kettlebell
If resistance bands are not going to cut it for your weight training workout, consider packing a portable sand kettlebell or a water weight training bag.
What I love about this travel workout equipment is its versatility as a travel item. When you are not filling the dry bag with sand for your workout, you can use these as a regular dry bag to store your stuff.
These types of dry bag trainers are great for traditional barbell and kettlebell workout movements, such as:
Squats

Presses

Curls

Bent-over rows

Lunges

Even ab work
These bags are designed for strength and durability, so they won't split. They also come with removable semi-rigid soft grip handles to ensure the bag doesn't unfasten during a workout or bite into your hand.
---
Good Training / Running Shoes
Perhaps it sounds slightly obvious, but get a pair of lightweight training or running shoes. Emphasis is on the lightweight. We always try to go for a pair of running shoes that we will happily double as sightseeing shoes.
Again, versatility in your travel gear is key. Some great designs on the market these days will look equally good on the streets of any European city as in the gym.
Taking an early morning jog or even a brisk walk around a new city is a fantastic way to explore a new destination and see a different side of a city. Early morning is also the best time to exercise when you travel, before you get distracted with sightseeing, eating, and drinking. If you have a good pair of runners with you, you are more likely to get active.
On the back of city walking tours, some cities now offer city jogging tours—a great way to sightsee and exercise at the same time.
---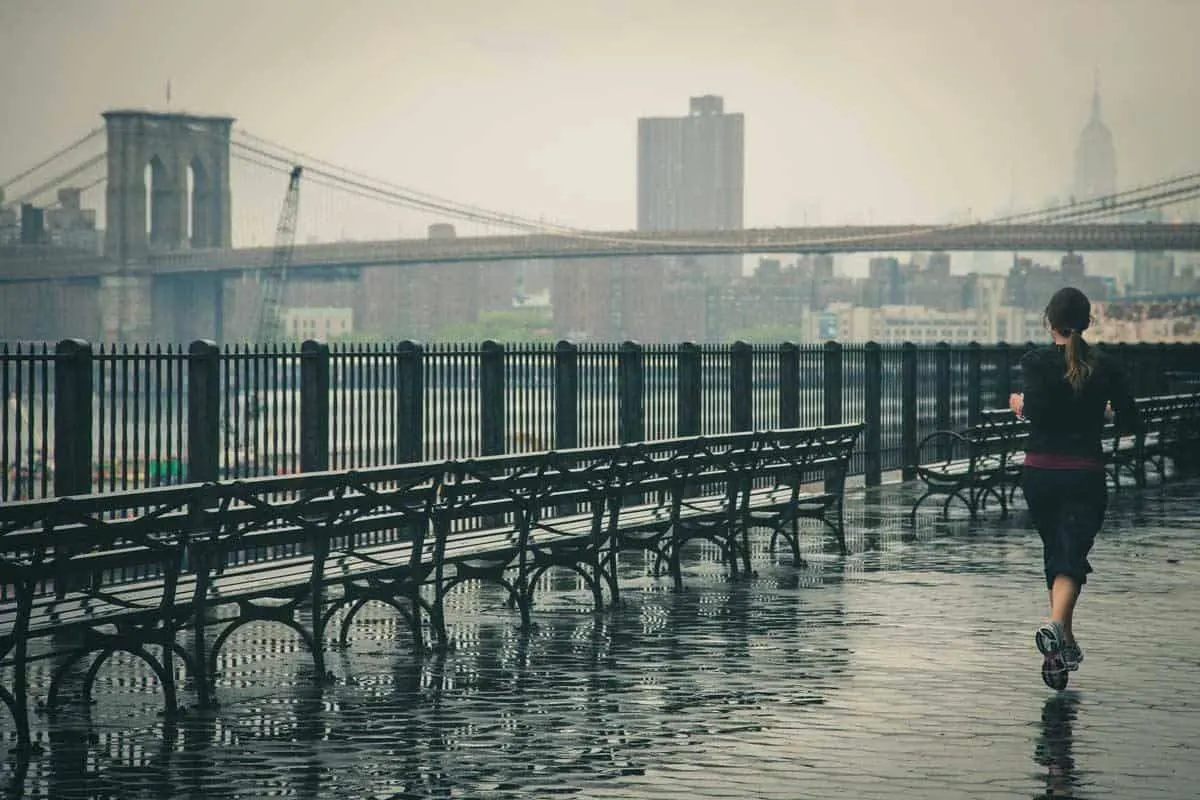 ---
Fitness Tracker
Fitness trackers are great for tracking your activity and providing a motivational tool for increasing activity and steps you take each day.
Wearing one when you travel helps keep you motivated to get active, even on those sedentary travel days. Even a few laps of the aisle on the airplane counts towards your daily activity.
A fitness tracker will also help you monitor your overall health and well-being by monitoring heart rate, calorie burn, breathing, and even quality of sleep patterns. Something every traveler struggles with at some time or another.
---
Guided Workout Cards
Fitdeck Illustrated Exercise Playing Cards for Guided Workouts
Mix up your workouts with this deck of illustrated exercise playing cards. The cards feature illustrations and instructions in three difficulty levels using all types of equipment. Or, as with the Bodyweight deck – no equipment at all, perfect for travelers. Create a new workout every day by simply shuffling and dealing yourself 12 cards and work through the entire routine.
Guided workout cards are also available as an app, but with the cards, you don't risk the distraction of the phone.
---
It goes to show you don't need much to stay in shape when you travel. There are so many innovative ways to combat the bulge while not compromising baggage weight allowances.
What's Your Favourite Travel Workout?