From the stunning beaches to the cascades of colorful houses clinging to steep cliffs, the Costiera Amalfitana is one of the most beautiful places in Italy to visit.
The picturesque 11,231-hectare coastline stretch is also a UNESCO World Heritage Site making it one of the most popular destinations on many Italian road trip itineraries.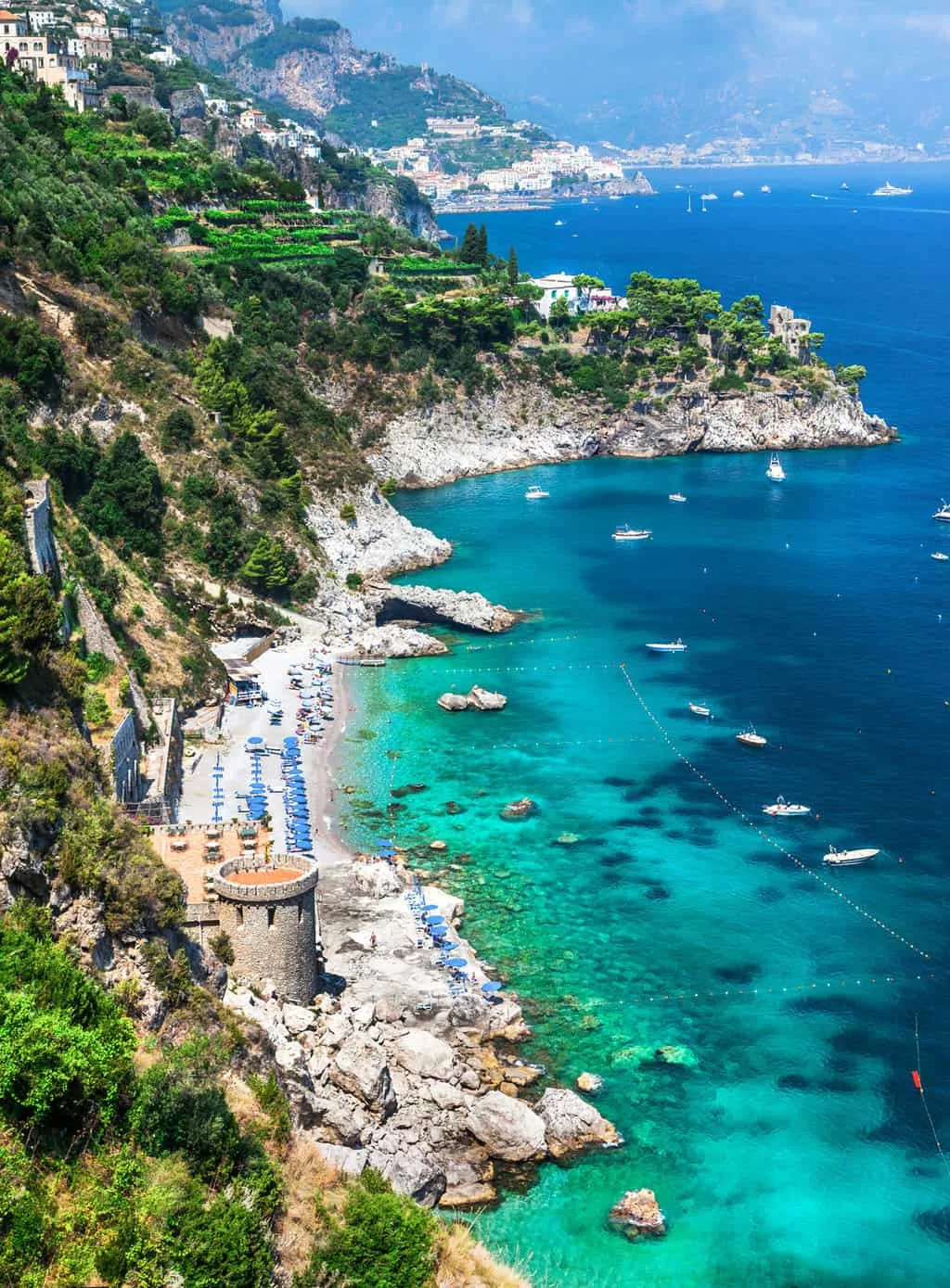 With so much to choose from, which of the beautiful towns on the Amalfi should you head to?
Choosing the best Amalfi Coast towns to visit can be tricky if you don't have time to visit them all. Amalfi and Positano are the two most popular destinations, especially with day trippers from Naples and Sorrento.
But there are also options that take you away from the congestion, like Cetara and Praiano. Perhaps you'd be interested in the charming sister towns of Minori and Maiori?
Find Accommodation on The Amalfi Coast for your Budget
To help you plan your ultimate Amalfi Coast vacation, here are our top 10 towns to visit on Italy's iconic Amalfi Coast.
10 Must-Visit Towns on the Amalfi Coast
There are 15 municipalities in the Amalfi region, but only a handful of towns and villages are popular with tourists.
We've compiled a list of our favorite Amalfi Coast towns that offer unforgettable experiences. We've also included how to get to each and what to do once you're there.
Tip: If you can avoid it, driving along the Amalfi Coast is not recommended from late spring through summer. Traffic congestion is insane, and parking is virtually impossible.
We recommend reaching each town using the regular bus and ferry services. Some towns can also be reached quickly and easily using scenic walking paths and hiking trails- See our Amalfi Coast Hiking Trail recommendations for more information on discovering the Amalfi Coast on foot.
Amalfi–The Namesake
First on our list is the obvious choice: the picturesque town of Amalfi.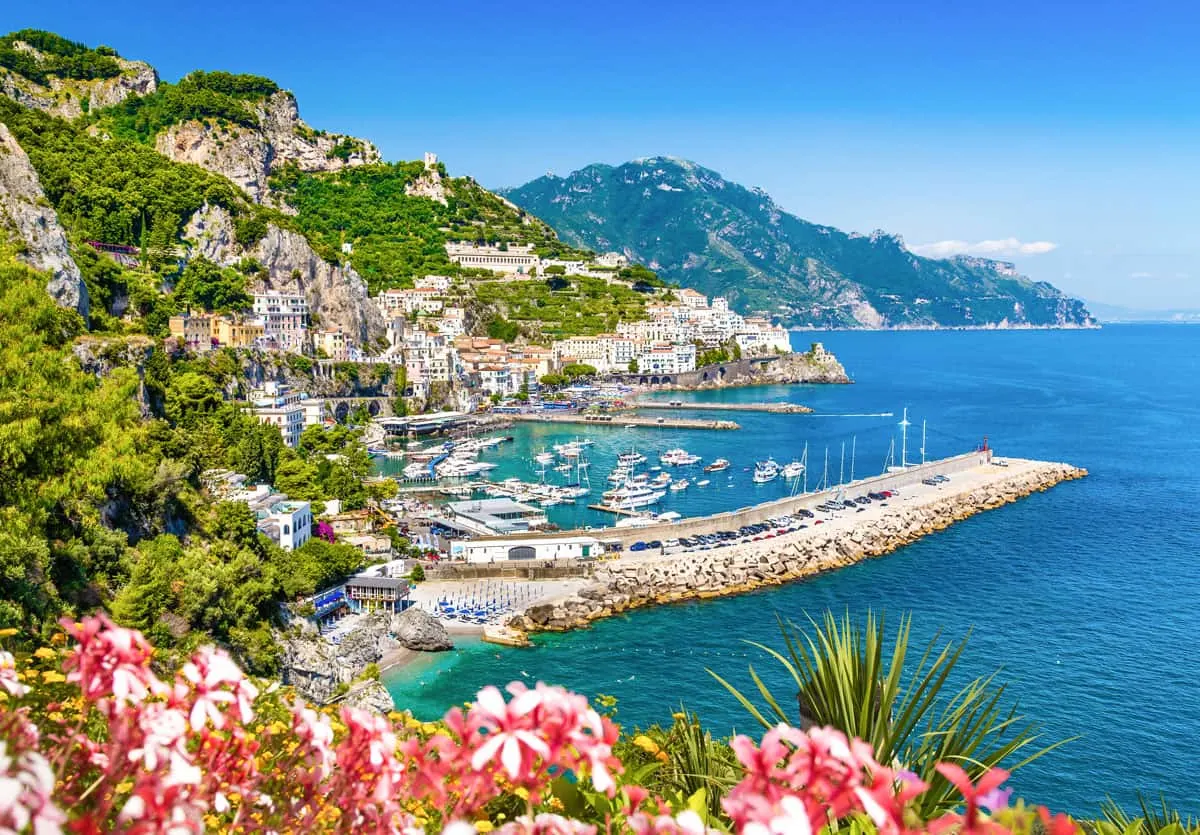 How to Get to Amalfi
Amalfi town is around 25 km from Salerno, so driving there yourself is possible. If you prefer not to drive (which is advisable in summer), you can take the 5120 SITA bus route to Amalfi from Salerno or the 5070 route if you're coming from Sorrento.
We'd recommend hopping on a ferry to Amalfi for a more relaxing and scenic Tyrrhenian Sea trip. There are regular ferry services to Amalfi from Naples, Sorrento, Salerno, Ischia Island, Capri Island, Cetara, Vietri sul Mare, Minori, and Castellammare di Stabia. You can check ferry schedules and reserve tickets here.
Tip: We highly recommend pre-booking your ferry tickets in the summer.
Amalfi is the coast's public transport hub. So, once you get there, it'll be easy to move around to nearby towns and villages.
What to do in Amalfi
Beyond the beach clubs and stunning vistas, there's plenty to do and see in Amalfi, even if it's just soaking up the atmosphere and indulging in local gastronomy in the quaint cafes and restaurants.
The number one landmark in Amalfi is the Duomo di Amalfi Cathedral, with its stunning medieval architecture. To keep up the historic vibe, you can check out the Museo della Carta to learn more about the intricate art of paper production in the 13th century.
If you're just in town for the coast, you can stroll down to the port and rent a scooter for a few hours.
Fun fact: Amalfi Coast is a popular wedding destination, but Amalfi town, in particular, tops the list. Keep an eye out for some of the most romantic wedding scenes in Southern Italy.
Atrani–Amalfi's Tiny Neighbor
While visiting Amalfi, you might want to detour and check out this hidden gem.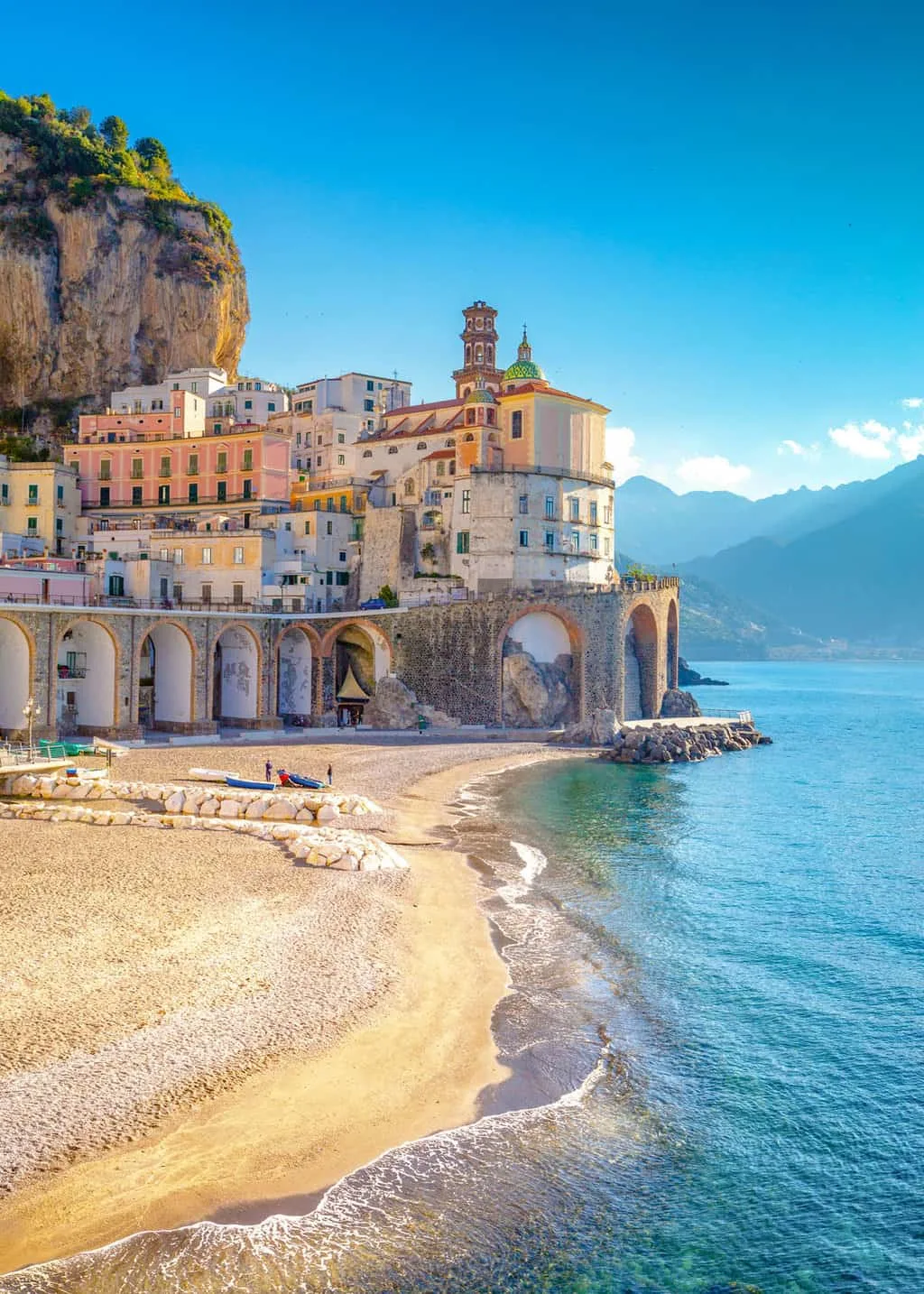 How to Get to Atrani
Atrani is approximately 1 km from Amalfi, so you can walk there—10 minutes or so. The city is also on the 5120 bus line if you'd rather not stop in Amalfi and walk.
What to do in Atrani
Atrani isn't as famous (or crowded) as other Amalfi Coast towns such as Amalfi or Positano. Yet, it's a charming little spot with cobblestone lanes and a laid-back vibe.
In Atrani, make sure to lounge at the sandy Spiaggia di Atrani beach. After soaking in the sun, grab a bite at the Piazzetta Umberto.
Positano–The Vertical City
Now that we've covered the namesake town and its neighbor, let's move on to the Insta-famous town of Positano.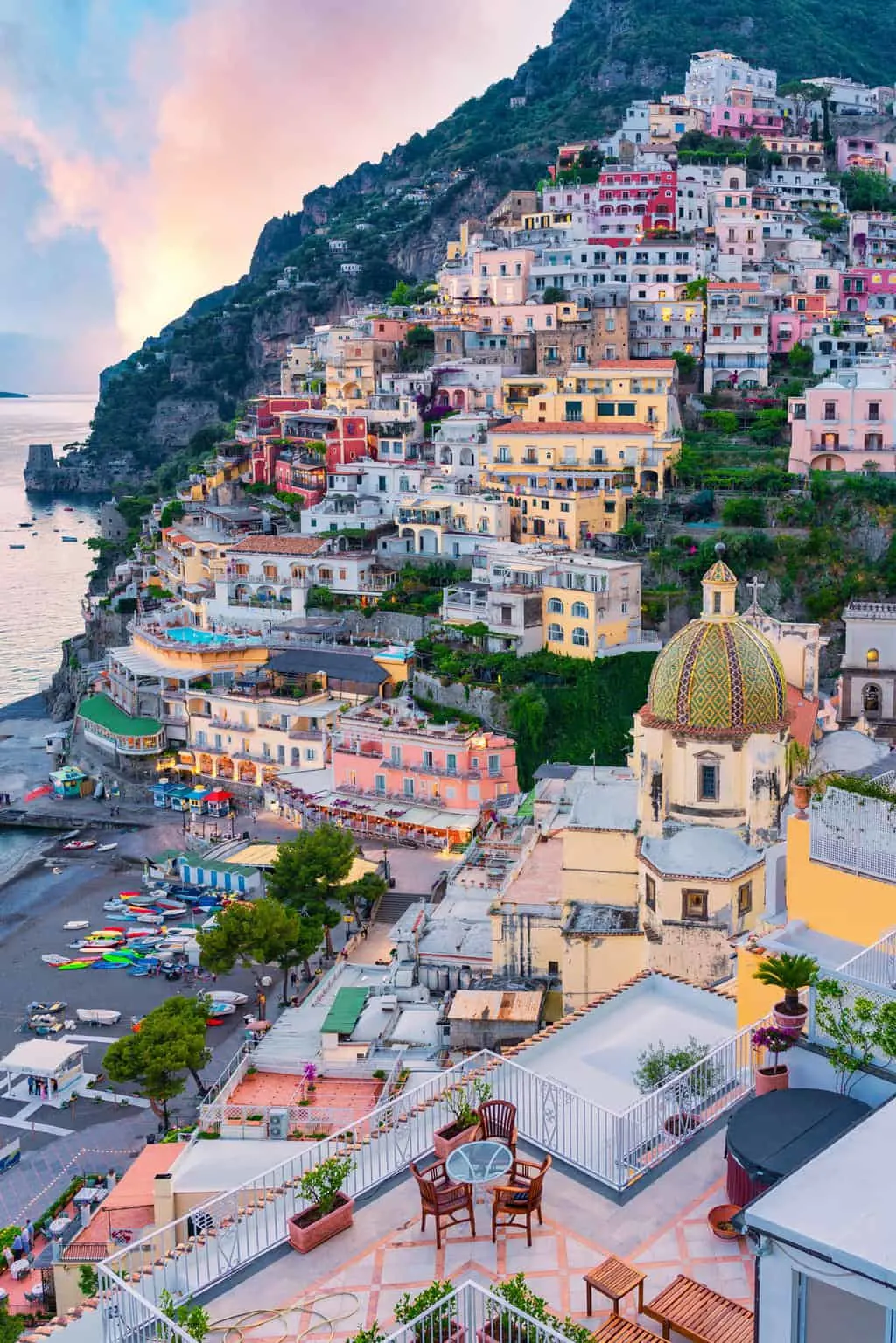 How to Get to Positano
Positano is 40–50 minutes from Amalfi, and it has not one but two bus stops (Sponda and Chiesa) on the 5070 route.
If you're staying in town, contact your hotel and ask which stop is closer.
Again, we recommend taking the ferry to Positano to avoid the traffic on the notoriously curvy Amalfi Coast roads and to enjoy the famous rocky coastline from the sea.
Ferries leave from all neighboring Amalfi Coast towns, Salerno and Sorrento, the islands of the Gulf of Naples, and the city of Naples. See ferry timetables here.
Highlights
To highlight how stunning Positano is, the #Positano Instagram hashtag had more than 2.6 million posts at the time of writing.
What's the fuss all about? Considered one of the most beautiful Amalfi Coast towns, the vibrant cliffside town is the quintessential romantic Italian getaway and, as Instagram proves, famous for capturing highly choreographed pictures in front of pastel-colored houses.
With this in mind, be warned that Positano is slightly more expensive than other Amalfi towns.
The top spots in Positano are the Chiesa di Santa Maria Assunta with its majolica-tiled dome and the pebbled Spiaggia Grande beach.
Just be prepared for quite a workout. With tons of steep stairs to climb, it's not surprising Positano is called the Vertical City.
Alternatively, you can hop on a day trip to the upscale island of Capri for a shopping spree or to lounge at the Marina Grande— Capri is an easy boat ride from Positano.
Recommended Tour from Positano to Capri
9 hr Small-Group Boat Excursion to Capri Island: Cruise along the coast of Capri and swim in pristine waters. See highlights, including the Coral Grotto, White Grotto, and Villa Malaparte, and explore Capri Island independently for 4 hours. Get Tour Details
Looking to add an Italian Island to your Amalfi Itinerary? Discover some of the most beautiful islands in Italy.
Praiano–Sleepy Fishing Village
Praiano might be the perfect destination if you want to avoid the hubbub of the popular Amalfi destinations and visit a quieter town.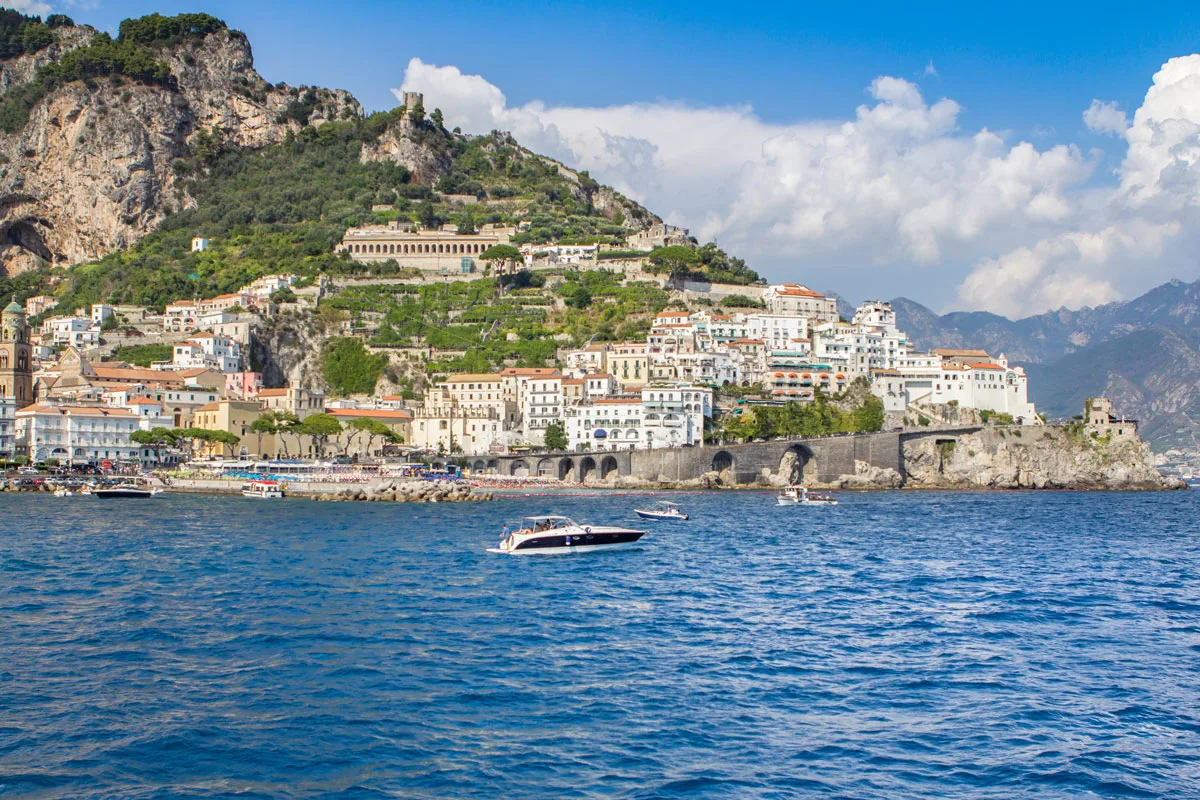 How to Get to Praiano
The picturesque fishing village of Praiano is around 10 km from Positano.
All you have to do to get there is keep going on the 5070 Sorrento-Amalfi bus for 15 minutes after Positano's Sponda bus stop.
What to do in Praiano
If you're in Praiano, don't miss a chance to admire Paulo Sandulli's artwork in the Torre a Mare stone watchtower.
Praiano is also an excellent spot for a private boat tour to Conca dei Marini. (More on what to do there next).
Recommended Tour from Praiano to Conca dei Marini
2 hr Amalfi Coast & Caves Speedboat Tour from Praiano: Tour the beautiful Amalfi Coast and some of the most fantastic grottos in the region – See the Tras e Iesc caves near Praiano, the Africana Grotto, and the Emerald Grotto. Take a swim in the ethereal waters of one of the sea caves. Get Tour Details
Conca dei Marini–City of Sailors
Between Amalfi and Praiano is Conca dei Marini, with its historic churches and nativity scene attractions.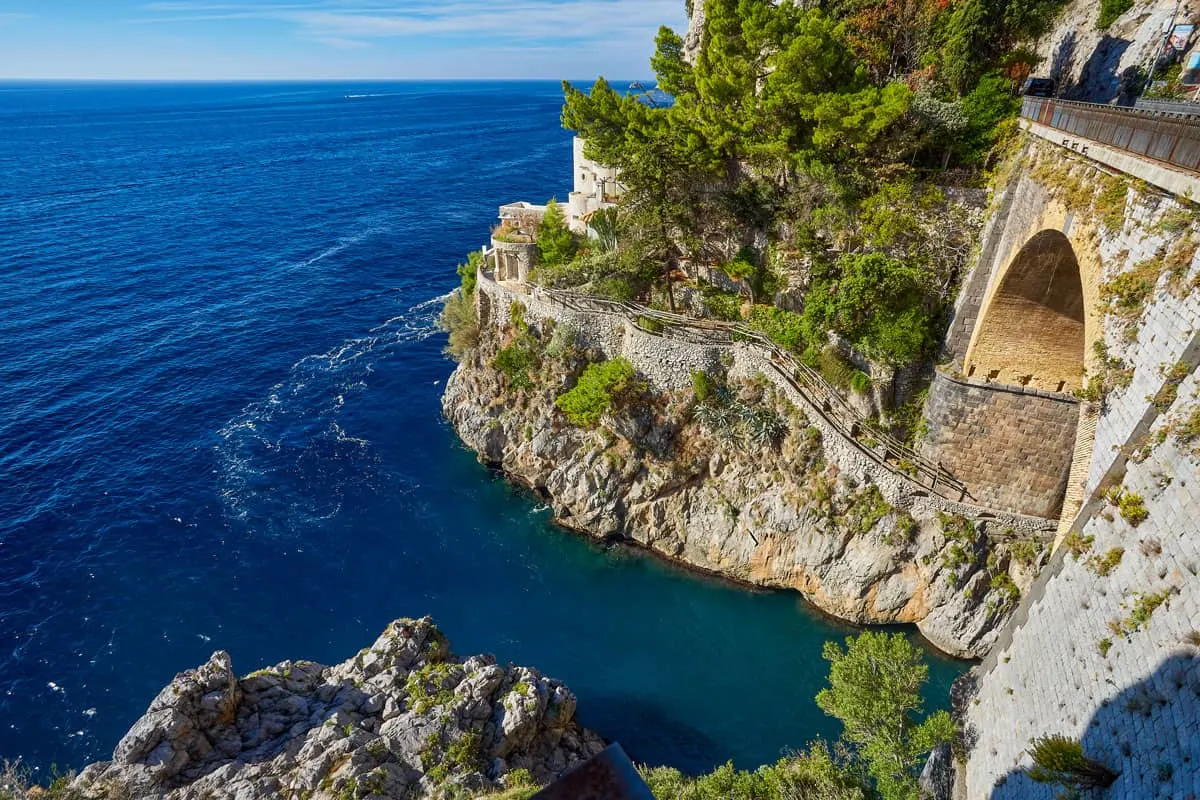 How to Get to Conca dei Marini
Conca dei Marini is next in line on the Salerno-Amalfi 5070 route after Praiano.
What to do in Conca dei Marini
The Grotta dello Smeraldo (Emerald Grotto) is, hands down, the most popular attraction in Conca dei Marini.
Once you step into the natural cave and see how the water takes a brilliant shade of turquoise when the light hits it, you'll understand where the "emerald" in the name comes from.
The magical color isn't the only highlight of the visit. The Emerald Grotto is also where you can see the famous nativity scene with underwater Vietri ceramics.
Ravello–City of Music
The Amalfi Coast is home to the city where Richard Wagner wrote the parts of the Parsifal opera. Yes, that's none other than Ravello, home of open-air concerts, dazzling architecture, and enchanting gardens.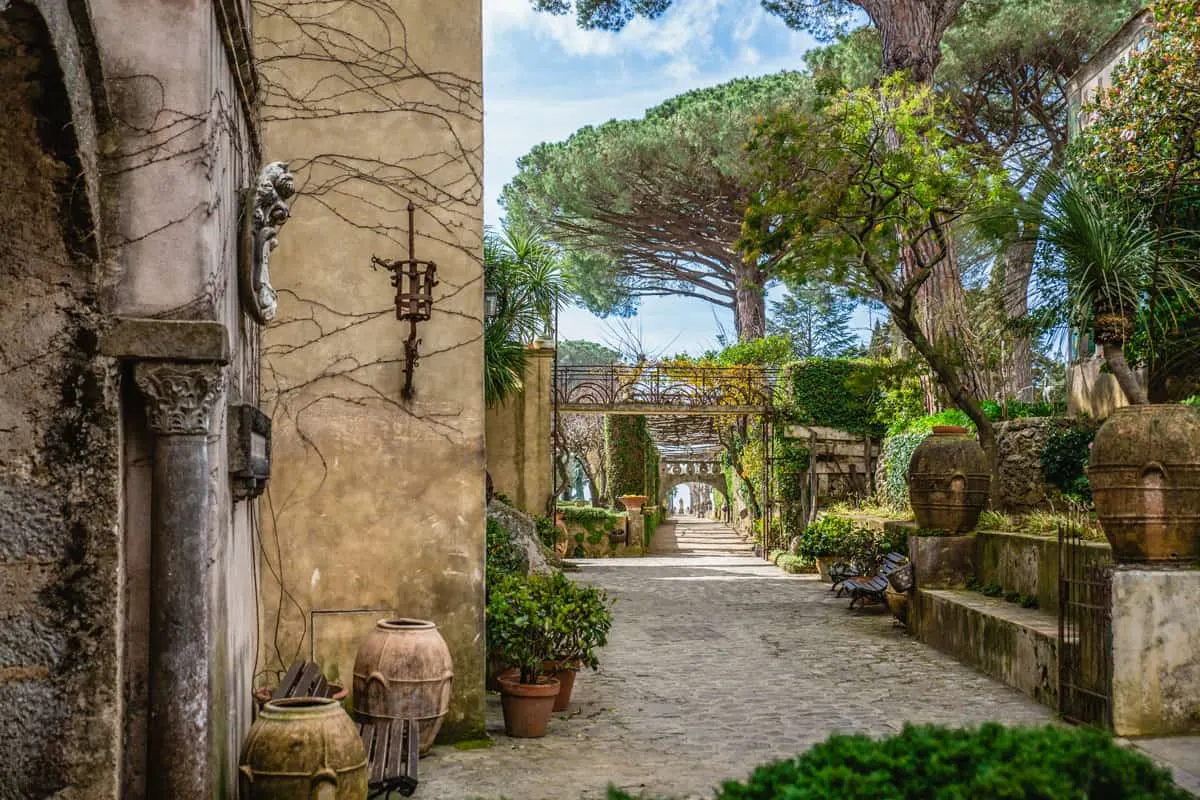 How to Get to Ravello
Ravello is a walkable distance from Atrani and Amalfi. Taking a walking tour covering all three towns in 3 hours is a great way to enjoy their three towns.
Recommended Amalfi Villages Walk Tour
Private Walking Tour Above Amalfi Coast Villages: Discover the small villages of Amalfi, Atrani, and Ravello, following a professional guide on a 3 hr walking tour to discover the ancient secrets and spectacular views along the Amalfi Coast from above. Get Tour Details
If a 3-hour walking tour of the Amalfi Coast villages is too much, hop on the 5110 bus from Amalfi and get to Ravello in around 30 minutes.
What to do in Ravello
There's a lot to see and do in Ravello, but our top picks are:
Villa Rufolo: Tour a 13-century villa with a breathtaking view of the main square.
Villa Cimbrone: You don't have to stay in this prestigious 5-star hotel to stroll in its gardens.
Chiesa San Giovanni del Torri: A must-stop landmark for those doing a UNESCO world heritage tour in Campania.
Minori–City of Taste
You can't visit the Amalfi Coast without getting a whiff of the iconic Amalfi lemon trees—Minori is just the place to do so.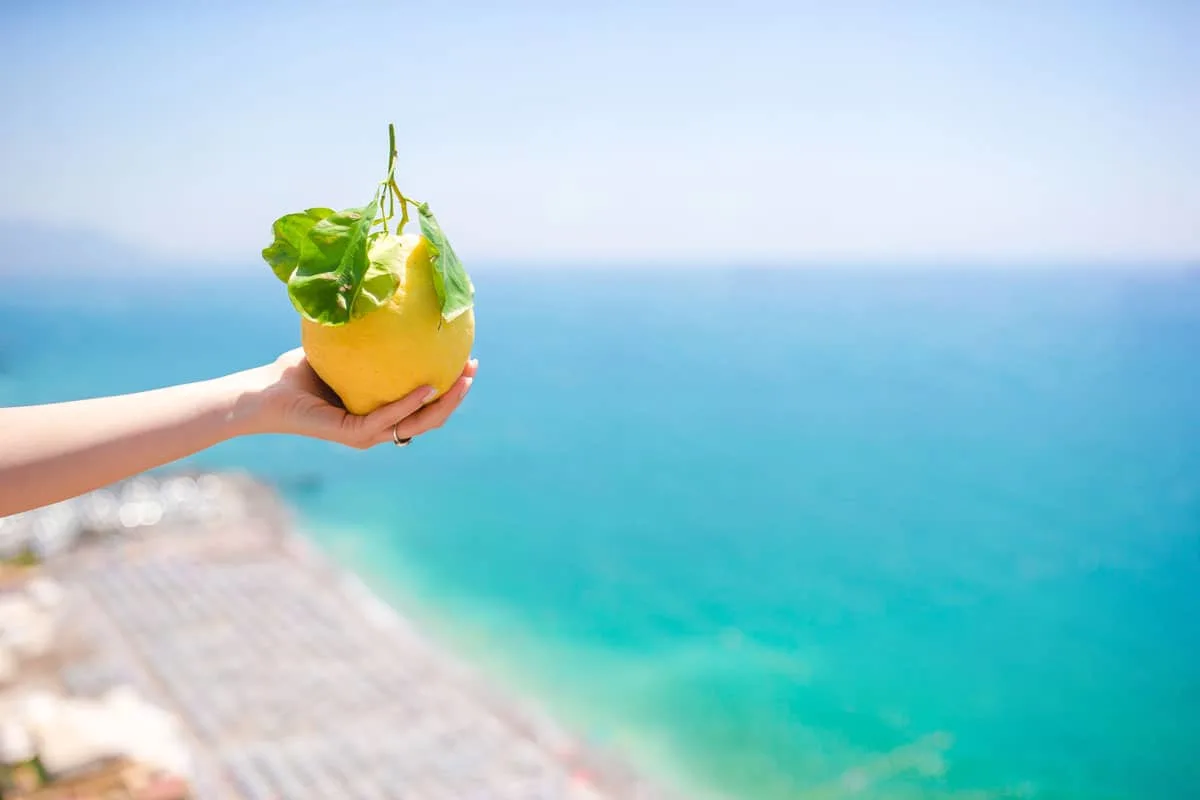 How to Get to Minori
Minori is around 21 km from Salerno and a little over 3 km from Atrani, and it's accessible via the 5120 bus route heading to Amalfi.
Or, you can take the ferry from other towns on the Amalfi. See ferry timetables here.
What to do in Minori
Just as the nickname implies, Minori is the coast's culinary jewel. We recommend heading to Sal De Riso to try pastries like the famous limoncello baba.
Speaking of lemons, hiking the pedestrian Sentiero dei Limoni (Path of Lemons) is one of the top things to do in Minori.
Maiori–Rossellini's Backdrop
With the longest beach on the Amalfi Coast, a rich history, and a lively vibe, it's no wonder Italian filmmaker Roberto Rossellini chose Maiori as a backdrop over and over again.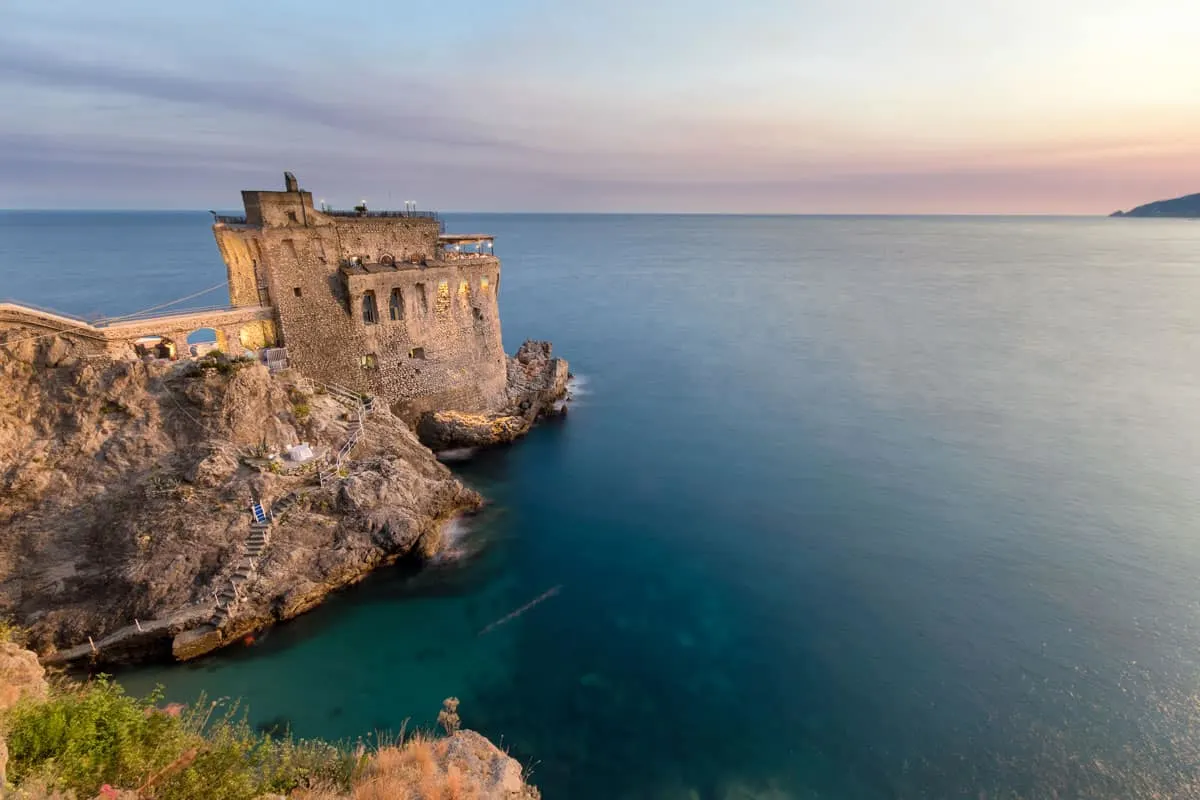 How to get to Maiori
If you keep going on the Path of Lemons, you'll reach Minori's sister town Maiori in around an hour. Naturally, this coastal town is also accessible via the Amalfi-Salerno 5120 bus route.
What to do in Maiori
Maiori might be an excellent choice if you're looking for an authentic experience on the Amalfi Coast.
Although it suffered from terrible flooding in the 50s, there are still plenty of historic buildings to see, including the collegiate church of Santa Maria a Mare and the Santa Maria de Olearia medieval abbey.
As you make your way through the city, try to spot all the backdrops that appeared in Rosellini's neorealism scenes.
Spoiler alert: The Torre Normanna (Norman Tower) is a major one.
Cetara–A Fishing Hotspot
Anchovy fishing is Cetara's specialty—so much so that this little seaside town has its own PDO (Protected Designation of Origin) anchovy sauce called the Colatura di Alici.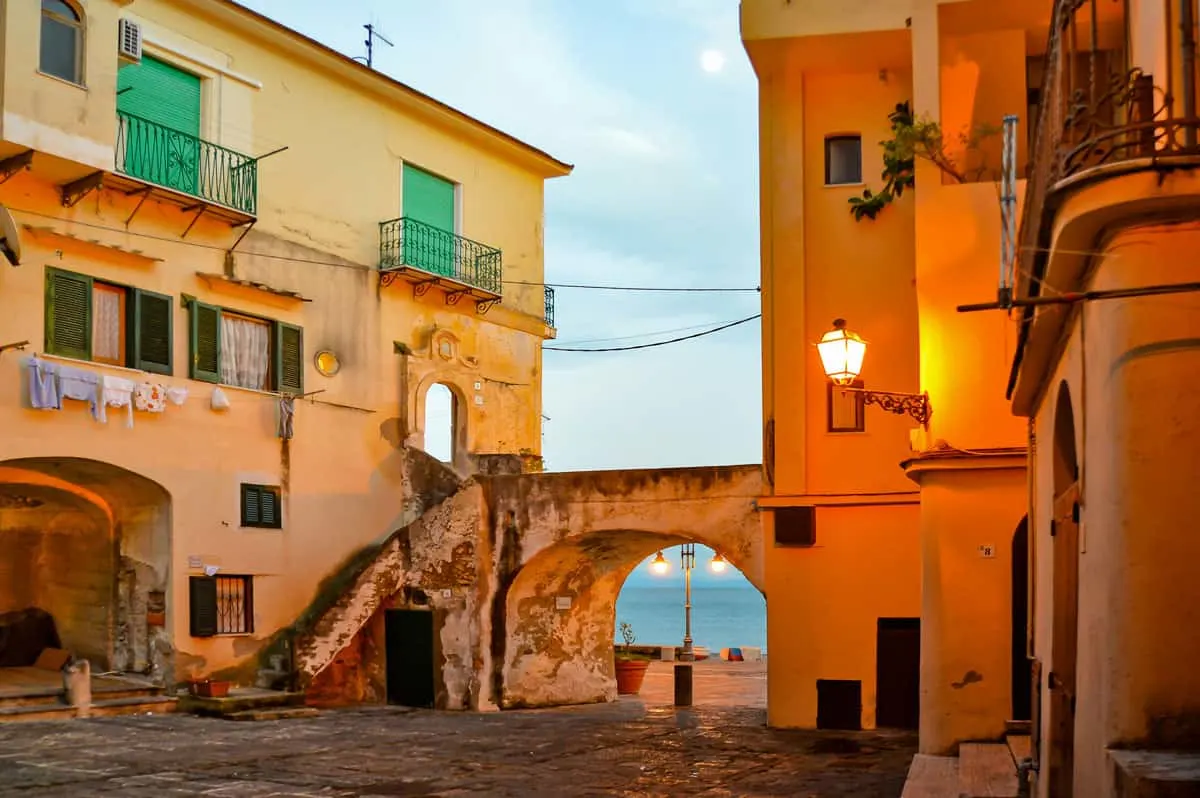 How to Get to Cetara
Cetara is between Vietri sul Mare and Maiori. So, you can get there on the same 5120 bus. You can also get to Cetara by ferry from other towns on the Amalfi. See ferry timetables for schedules.
What to do in Cetara
Visiting the Viceregal Tower is a double win. For one, the building itself is quite a historical monument. Inside, you'll find a civic museum full of pottery, paintings, and a section dedicated to Cetara's fishing industry and the signature Colatura di Alici.
If you want some outdoor fun, hit the beach at the Spiaggia Lannio or soak up the authentic local life of Cetara on one of the town's 34 art benches.
Vietri sul Mare–The Gateway City of Ceramics
We left the nearest Amalfi town for last.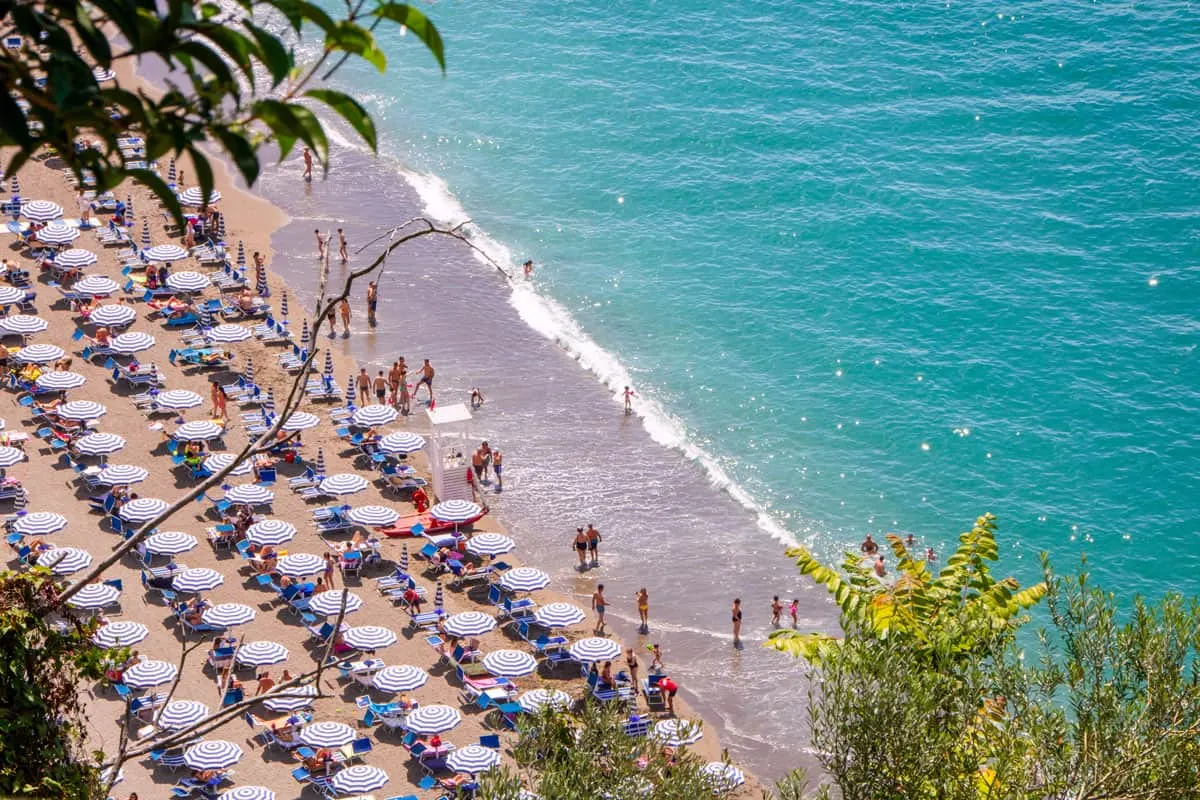 How to Get to Vietri sul Mare
If you're coming from Salerno on the 5120 bus, Vietri sul Mare will be the first stop. It's so close that the ride should take only 15 minutes. It is also serviced by ferries from other towns on the Amalfi.
It's also worth noting that Vietri Sul Mare is the only town on the coast with a train station.
What to do in Vietri sul Mare
Walking down the Villa Communale, you can admire the colorful ceramic work on the railing—another popular Insta spot on the Amalfi Coast.
The town also has one of the few sandy beaches on the Amalfi Coast, the Marina de Vietri. So make sure to check it out before leaving.
Final Thoughts
While some people would pile Sorrento on the list of must-visit towns on the Amalfi Coast, we decided to leave it out. After all, it's technically not one of the Amalfi Coast towns.
However, you can use Sorrento (or Salerno) as a base for your trip if you want more options than the towns on the list.