Sling bags have become very popular over the last few years. Take a look at our Stylish Fanny Packs and Waist Bag edition to see how versatile a bag that can be slung crossbody is. And, a crossbody bag looks great, especially for travel.
It is also why we are starting to see a lot more backpack designs with convertible straps to change from a conventional two-strap arrangement to a single strap sling bag.
We've searched out the best sling backpacks for men and women based on style, quality and functionality.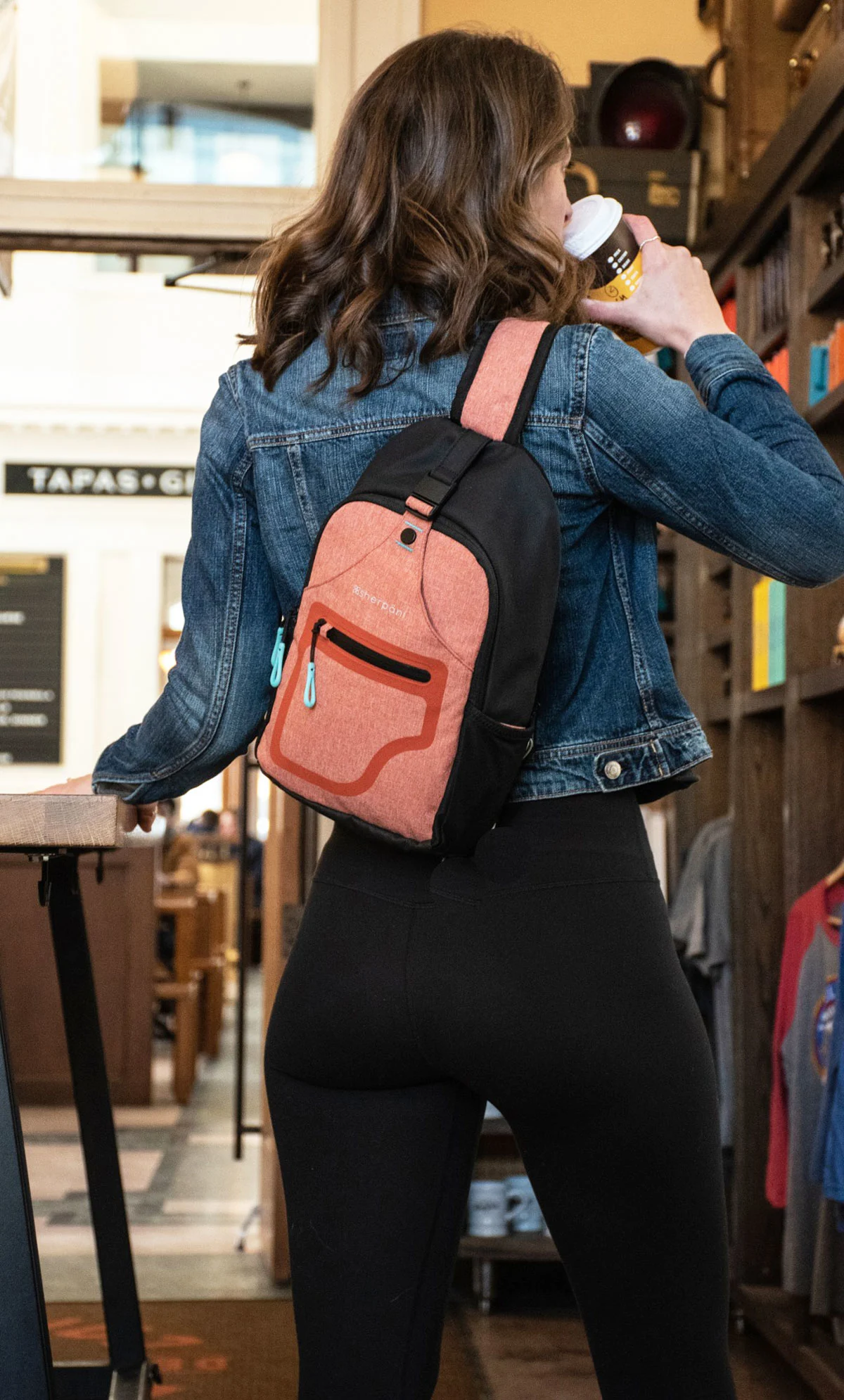 Our Top Picks For the Best Sling Backpacks
These crossbody backpacks have been chosen based on the product's quality, the brand's quality, and our experience with what to look for in a quality travel bag that is versatile for everyday use. They are also great sling bags in their design; they look good and will work for all kinds of occasions. See individual reviews further on.
---
What is the Advantage of a Sling Backpack?
Sling bags look great, but that's not all. Fashion statement aside, a quality sling backpack can be more convenient than a traditional backpack. Especially when we are talking light loads such as day packs. A traditional backpack will always be king for heavy loads.

A sling backpack allows you to keep your hands free like a backpack but feels less restrictive. A sling backpack tends to have a slimmer profile than a backpack as well. Unlike a two-strap backpack, you can quickly and comfortably swing it into the front position for easy access to gear. This is also a winning situation when in crowds or on transport – you can wear it comfortably in front where you can keep an eye on your bag. A tip we talk about in our anti theft travel gear guide.

For lighter loads, sling bags can often be more comfortable. People love crossbody bags for travel; well, the sling backpack is just a snugger, larger take on the crossbody bag. Sling backpacks tend to be favoured in hotter climates as well as they don't cover the entire back.
Are Sling Backpacks Comfortable?
Yes. So long as you are not trying to carry heavy loads in them. If you think about the traditional messenger bag and how they can be quite a strain once loaded with laptops etc.

A laptop and other personal belongings in a sling backpack will be much more comfortable, especially if you have the strap tightened to fit your body properly. A heavy sling bag that is too loose can prove to be uncomfortable.
What is the Difference Between a Sling Bag and a Crossbody Bag?
A sling bag is more of a backpack-style – a kind of combination backpack and traditional fanny pack but worn short and cross body around the middle torso area. A crossbody bag tends to have a longer strap and sits low near the hip – think ladies' crossbody handbag or a men's messenger bag.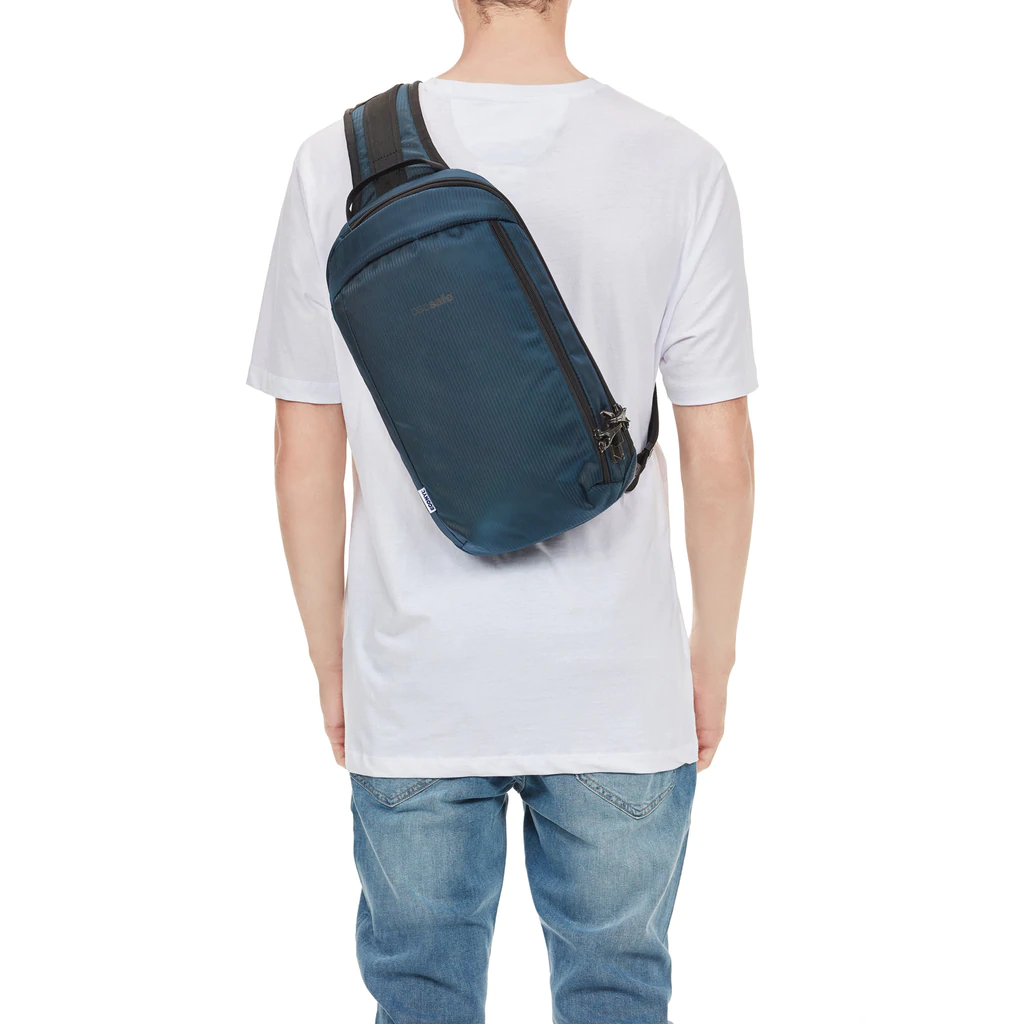 What to Look for When Choosing a Sling Backpack
Straps and Clips
Comfort is key when choosing a sling bag. Look for sling bags with padded straps – wider is often better, depending on the size and look you are going for. Make sure adjustment buckles work well, and any clips are sturdy to prevent the bag from coming unclipped accidentally. Also, look at the length of the strap and adjustment length – too long is just as bad as too short. You want a comfortable, snug fit for the best load distribution ( when looking at men's sling bags, make sure the strap is not going to be too snug).
Comfort and Fit
Comfort and fit are pretty well covered in the shoulder strap design but also look at the size of the bag in relation to your body size. Can it be worn over both shoulders comfortably? This is a big consideration when thinking about comfort.
Size and Configuration
Another aspect of comfort but also practicality is size. Look at the size in relation to what you need the bag for and your frame size. Some sling bags can be pretty large, which is excellent for some situations but cumbersome in others. Conversely, some sling bags might be perfect for a day on the town but too small for travel. Or too small for your frame.
Also, consider carefully the pocket configuration – hidden pockets and easy-access pockets for frequently used items. Will it fit the things you need to carry, such as a tablet or laptop? Or will you need to carry water for hiking?
Anti Theft Features
If you are in the market for any type of backpack, anti-theft features are very important. After all, for the majority of the time, you can't see your bag when it is behind you, which is why an anti-theft backpack for travel is essential. You need to know what features the bag has and what you think you need.
Some bags will advertise as anti-theft but only have RFID protection– this is the minimum. A good anti-theft bag will have locking compartments, anti slash panels and straps, lockdown mechanisms, and RFID. Look closely at what features each bag has to see if it fits your needs.
Durability
Durability is always a consideration, as is easy care. You want a sling bag that will last and keep looking good. Bags with anti slash panels will be long-wearing, and many are easy to clean. Think about this, especially when choosing any light coloured bag.
The Best Sling Backpacks for Travel and Everyday
If you want a practical, lightweight and low profile sling backpack in the budget range, this is it. The Mouteenoo Sling Backpack has a sleek, modern design but is loaded with features. One of the larger backpacks on our list, the Mouteenoo Sling Bag, has a large capacity with conveniently organised storage pockets, but it is still compact enough to store under the seat when flying.
A very comfortable sling backpack, this design can also be comfortably swung around to the front as a chest bag. Perfect for crowded situations where you are worried about pickpockets. Although, there is a hidden anti-theft pocket for smaller valuables.
This bag is very well thought out, from the detachable cell phone pocket to a separate laptop sleeve that can take a 15″ laptop. There are also thoughtful pockets, such as the quick grab zipper pouch on the belt for keys and smaller items and a mesh water bottle holder.
Key Features
Sleek, modern design
Large capacity
Separate sleeve for a laptop up to 15″ and a large detachable smartphone pocket.
Hidden anti-theft pocket
Convenient hip belt zipper pouch.
Water bottle mesh pouch
Water-resistant fabric
Comes in black and grey
CONS:
The fabric is water-resistant, but the zippers are not, so be aware in heavy rain. But it is in the budget range, so still very durable for the price point.
---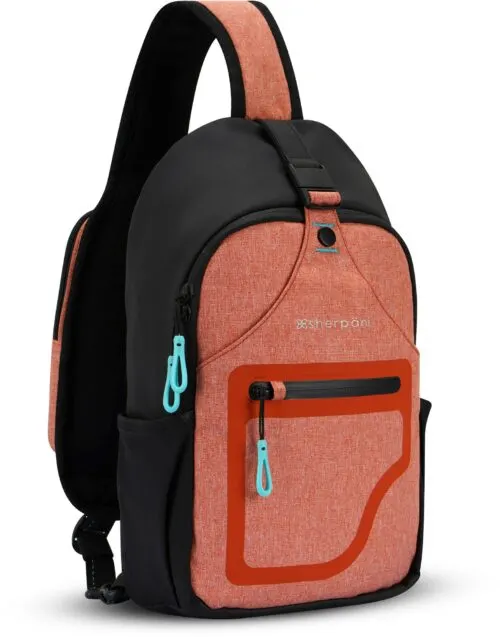 I've been really excited about the Sherpani Brand. The company is founded on an ethos of responsible manufacturing with a strict code of conduct covering labour, social and environmental impact and compliance. But they are also a breath of fresh air in the anti-theft market.
They have gorgeous modern and practical designs with seamlessly integrated anti-theft features, and their new sling backpack is no exception.
The Pike Travel Sling Bag is lightweight, comfortable, and versatile. Sleek features such as magnetic buckle flaps for easy access items, waterproof exterior pockets, a jacket pocket, and 10 " interior tablet sleeve make the bag very functional and a pleasure to use.
Anti-theft RFID technology is integrated with high-tech fabrics instead of bulky wires, and the body-friendly shape fits comfortably worn on either shoulder.
This sling bag is marketed as a sling purse for women (one I recommend in my women's travel essentials guide), but I think the blue and grey lend themselves to a modern unisex vibe, especially for men who want a smaller day bag.
Key Features
Sustainable manufacturing process
Durable and waterproof
Has a 10″ tablet sleeve, water bottle holder, and jacket pocket.
Anti-theft features include locking compartments and chair locks, anti-slash features, and RFID blocking.
Large shoulder strap pocket for quick access to your phone and ID.
Available in three colours.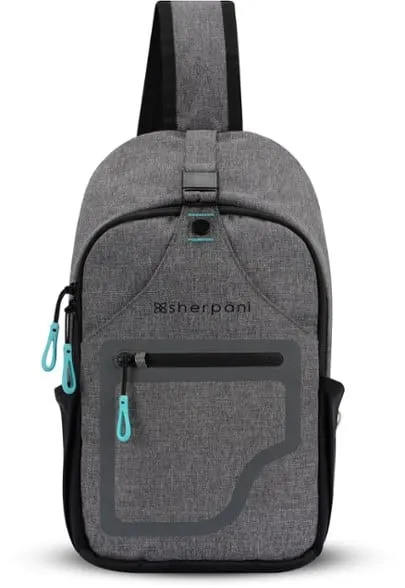 See more of our favourite Sherpani bags featured in our Guide to Women's Antitheft Purses edition.
---
Another leading brand in the anti-theft market, this Travelon sling backpack is a tried and true classic. The Urban Collection Sling Backpacks have style and organisation at the forefront of their design. Travelon's incredible 5 Point Anti-Theft System integrates seamlessly, so style and practicality are never compromised.
With multiple storage pockets inside and out, the Urban Collection Sling has an interior wall wallet, so you don't have to carry a stand-alone wallet. The main compartment has a padded tablet sleeve with an organisation panel. There are slip pockets, a zippered mesh pocket, front and rear zippered quick grab pockets, and the mesh water bottle pocket can be closed when not used.
Key Features
Sleek modern design
Loads of organisation pockets
5-Point Anti-Theft Security System :
Lock-down slash-resistant straps
Locking compartments with locking zip pulls.
Slash-resistant body to prevent slash-and-grab theft.
RFID blocking pockets
Padded tablet sleeve
Water bottle pocket
Available in black and slate
Cons:
This is an eight cubic litre bag, a perfect day pack size. It might be on the small side for those wanting a large backpack to carry laptops, or a large flight carry on.
Pacsafe Unisex Stylesafe Anti-Theft Sling Backpack
From another leader in the anti-theft market, the Pacsafe Unisex Stylesafe Anti-Theft Sling Backpack is about as versatile as it gets. You can easily convert this sling bag from a single crossbody strap to dual straps to wear it on both shoulders like a traditional backpack.
This bag has loads of practical storage features, but the real stand out is Pacsafe's anti-theft features.
Locking zippers and lockdown straps, RFID protection, slash-resistant shell and straps, and hidden pockets – the Stylesafe Anti-Theft Sling Backpack packs all that into a stylish design. There is also room for an 11″ tablet. Available in three colours.
Key Features
The versatile design can be worn in two ways.
Smart locking zippers and cut-resistant materials.
Cut-resistant anchor strap secures around a fixed object.
RFID blocking pocket.
Fits an 11-inch tablet
Internal organisational pockets, including a hidden pocket for valuables.
Phone pocket
Internal attachment point for wallets and keys
Cons:
The design of this sling bag is unisex, but I feel it leans a little towards the feminine on the design scale.
---
Pacsafe Vibe 325 10 Liter Anti Theft Sling Backpack
If you want a streamlined sling pack design with solid safety features, this deceptively spacious backpack is it.
This bag is made from recycled PET and designed with city use in mind. You can also wear it comfortably across your front to access things quickly or in crowded situations where you want to keep an eye on things. Although, from a safety perspective, you can feel pretty comfortable knowing the bag has all the Pacsafe anti theft features, including slash-proof shell and straps, locking zips and compartments, RFID protection and a chair lock mechanism.
Despite the streamlined design, there is plenty of room with two lockable and two internal compartments and a padded sleeve.
Key Features
Slim profile with spacious storage space
Good organizational pockets, including an internal padded sleeve
Complete anti theft features, including slash-proof shell and straps, locking mechanisms and RFID protection.
It can be worn comfortably front or back.
It comes in various colours and pattern designs depending on where it is purchased.
Cons:
The Pacsafe Vibe 325 Anti-Theft Sling Pack will fit a 13″ laptop but be aware, this is in the main compartment, not in the padded sleeve. The sleeve will take a 10″ tablet.
---
Osprey Daylite Shoulder Sling Pack
For a no-fuss, versatile day pack that will take you from city to hiking and everywhere in between, you won't get better than the Osprey Daylite Sling.
I say "no fuss", but that doesn't make this bag short on features.
It's designed to be carried comfortably on either shoulder using soft, breathable spacer mesh. It's not loaded with anti-theft features but does have a slash-proof front zip pocket.
It has convenient dual zips and a small expanding outer mesh pocket for quick-grab items – this is great for hiking. It also has internal organisational pockets.
At 6 litres, it's not a big bag. It's designed to carry day-to-day essentials or gear for short day hikes.
A breathable and comfortable strap for left or right over-the-shoulder fit and carry.
Versatile for city use or hiking.
Slash proof zippered front pocket.
Multi organisational interior pockets.
Stretch mesh pocket in the strap for quick-grab items.
Dual U-zip easy access large main compartment.
Up to 8 colour and design choices are available.
Cons:
The Osprey Daylite is a small design that may not suit larger build men. Also, consider if you need to carry a tablet device. There is a suitable internal pocket, but it will not hold an 11″ iPad.