baggallini Explorer Backpack & Take Two RFID Bryant Crossbody Bag Review
I am always in search of the perfect women's travel purse combination. So, when I was asked to put some of baggallini's travel bags to the test, naturally, I was very interested.
On a recent trip to Lisbon, I took along the new baggallini Explorer Backpack and the Take Two RFID Bryant Crossbody Bag.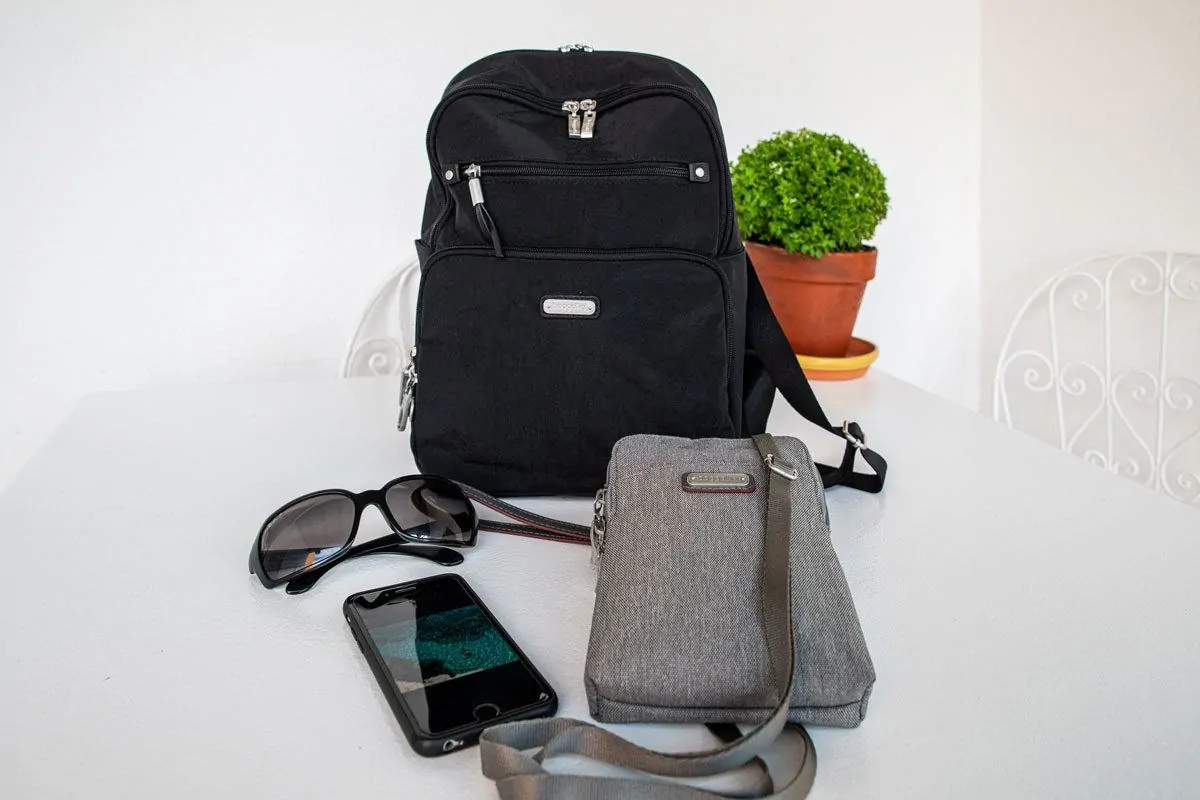 See Our Guide to The Best Travel Essentials for Women for more packing tips for easy travel.
What to Look For in a Good Women's Travel Purse
Versatility – The best women's travel bags work equally well for long travel days transiting airports as they do for city sightseeing.
Stylish design to suit your look and travel style. A classic look works best for many travel situations.
Durable – Must be tough wearing with easy-care fabric that will look good trip after trip.
Practical – Think about size, pockets, and compartments you need for the trip. Does it fit your needs, or, is it too big, have too many compartments, or not the right access configuration?
Weatherproof – A travel bag or purse does not need to be entirely waterproof but will it protect your belongings in a heavy downpour?
Anti-theft features – A good travel bag must have at least some anti-theft features to keep your belongings safe.
Secure closures – while a snap-lock tote or drawstring purse might look stylish or cute, it is not a safe or secure option for travel. Zip closures are a must.
Lightweight – You don't want a bag that is heavy before you even put anything in it.
Comfort – Does the bag feel comfortable to wear for long periods?
How Do These baggallini Travel Bags Stack Up?
In short, I was impressed.
Both bags met my criteria in regards to quality, features, and practicality for travel. In this instance, they also allowed me the luxury of having two travel handbags without feeling like I had overpacked — something I would rarely do.
I loved the handsfree aspect of using a smaller purse style backpack during the day and the convenience of a small crossbody purse which converts to a wristlet purse for evenings.
I found these two bags complement each other making the perfect travel purse combo, especially for city travel.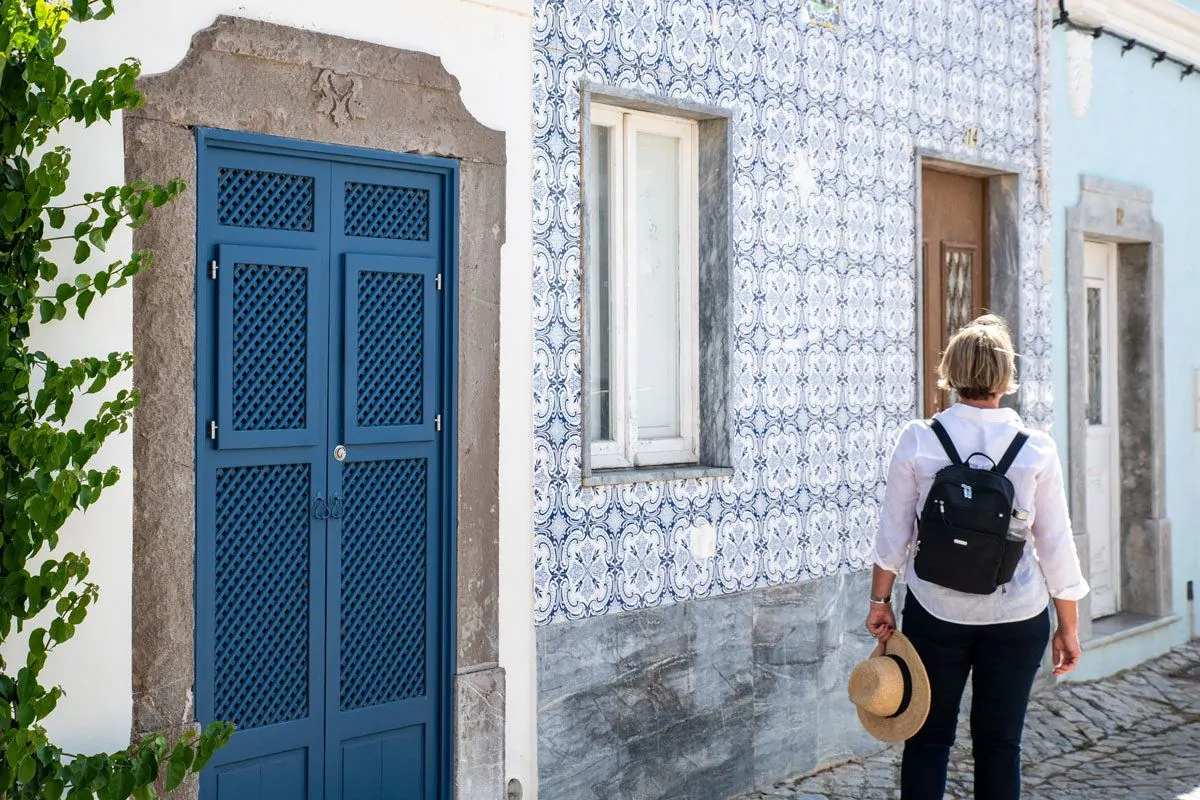 baggallini Explorer Backpack Review
baggallini Explorer Backpack Details
Size: The backpack is 9 inches wide, 12 inches high and has a relatively slim profile of 4 inches deep. (23cm w x 31cm h x 10cm d)
Anti Theft Features: Locking zippers & internal RFID blocking card slots.
Material: Lightweight, water resistant nylon. The backpack weighs only 1 lb 2 oz (544 g)
Colours: Comes in 2 colours
Overview
I was never a big fan of the backpack style of handbag for travel unless of course, it was my camera backpack. I have always been a die-hard for a good crossbody travel bag. And in many ways, I still am.
I always thought backpacks were awkward in trying to access things quickly and, felt a backpack left me more vulnerable to pickpockets.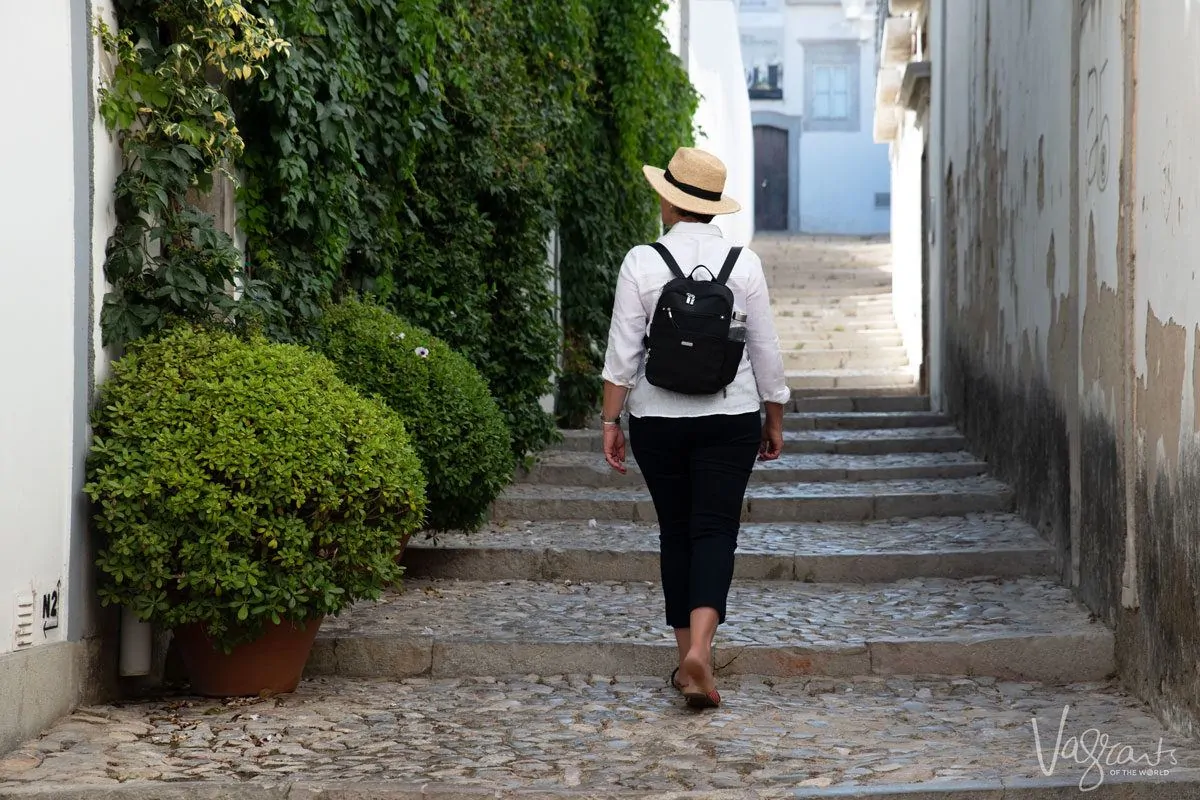 After lugging overloaded crossbody bags around the world for years, I now see the merit in a good ladies backpack. The Explorer Backpack is the perfect size for what I need to carry. With the adjustable straps, I don't have the weight dragging on my neck and shoulders, and I love the hand's free aspect of not having a bag swinging around.
As for the safety concern with a backpack, lockable zips mean I don't have to be as concerned about pickpockets in every crowded situation.
The Explorer Backpack is a perfect allrounder for travel from short city getaways to long term adventures.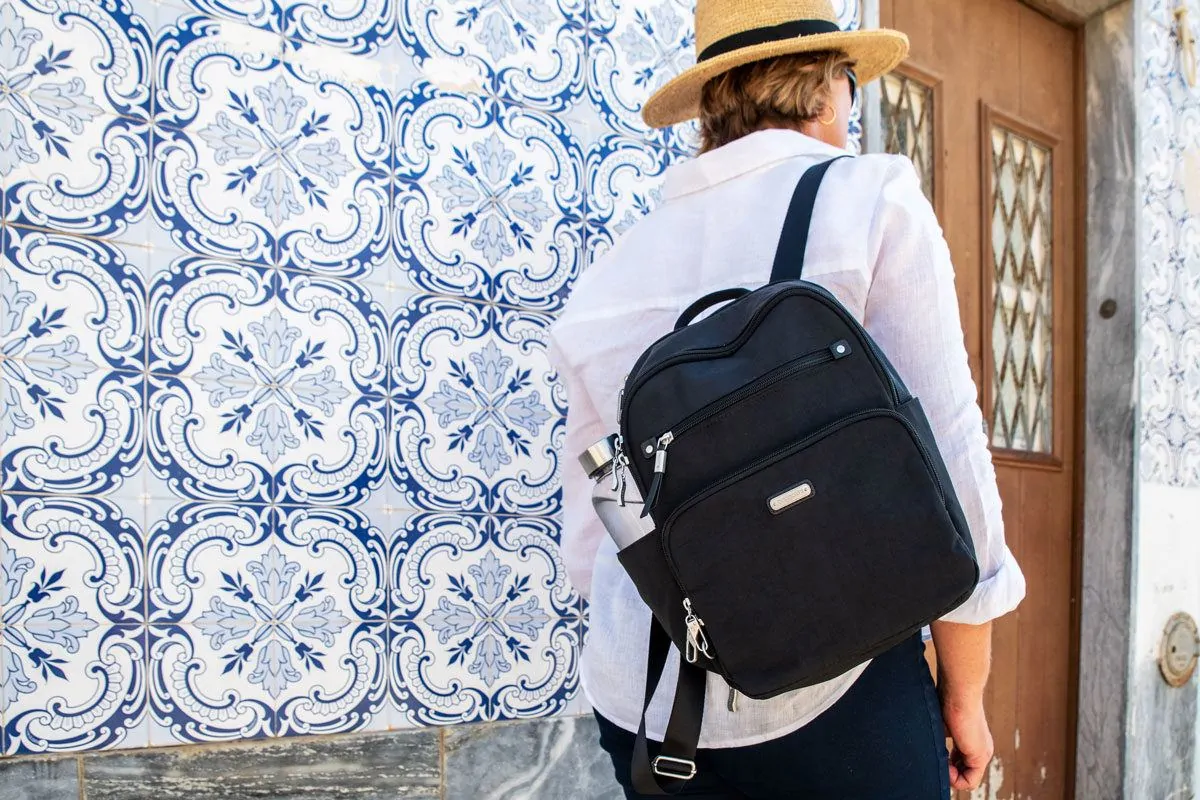 baggallini Explorer Backpack Features
Style & Look
I talk a lot about the size of this bag, but I do think it is perfect. It has loads of room but still maintains an elegant profile and is very manageable in crowded travel situations.
The key to this bag is the simplicity of the classic design — clean lines with neat, flush pockets, quality brushed metal zips and logo plate, and subtle leather-look accents on the front of the bag. A design that will work for many travel occasions, from day to casual evenings.
Another aspect of the design I love is the high contrast pale blue interior. It makes it so much easier to find things.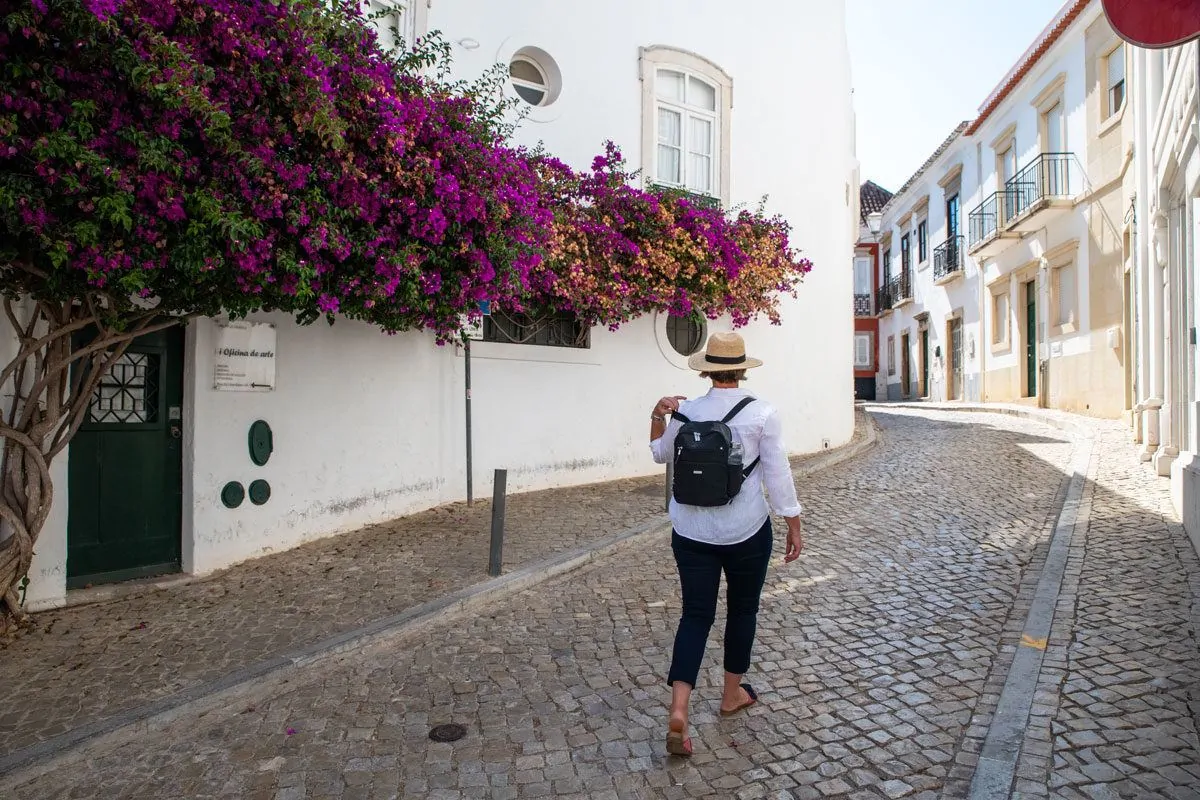 Versatility
The good thing about this style of handbag backpack is they work equally well for day to day use as they do for travel.
The backpack has all the right functionality required for travelling yet still has a stylish look suitable for everyday use.
I also like the fact the bag holds a nice shape when you use the top handle to carry it like a handbag. Simply shorten the adjustable straps right up if you were inclined to carry it like this often.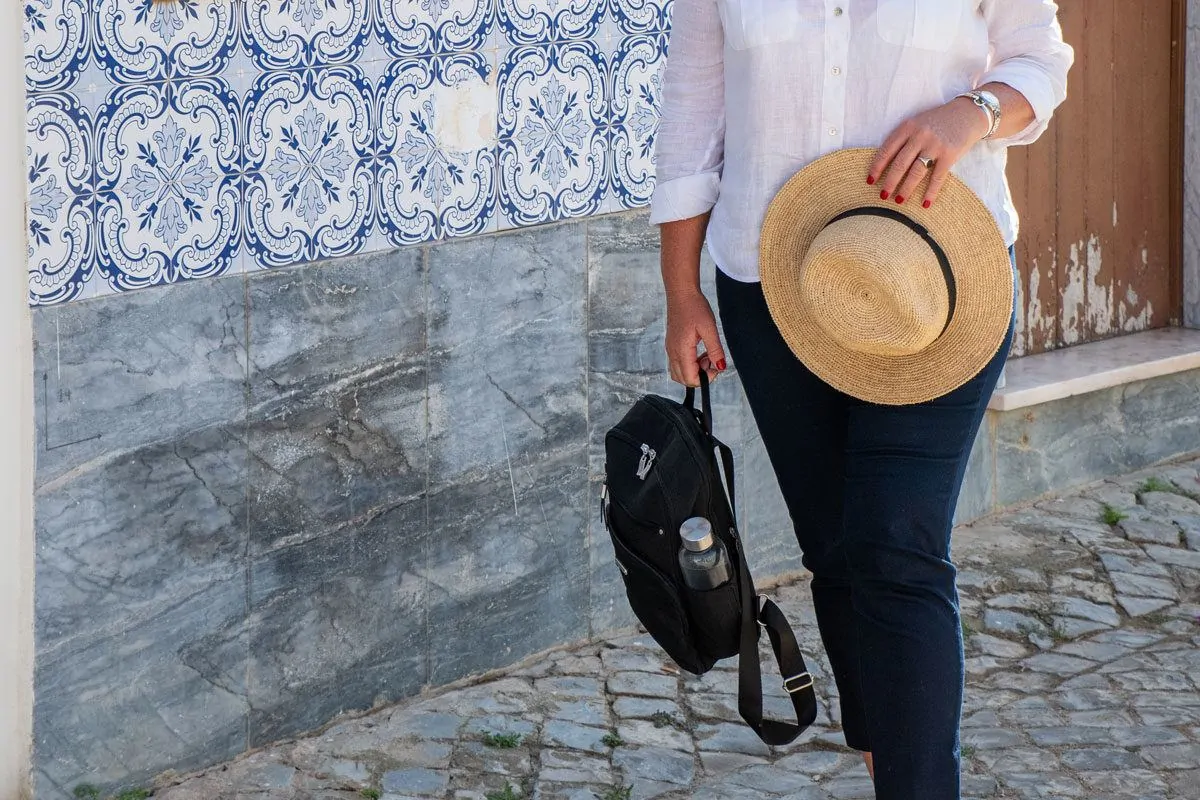 Practicality, Size & Compartments
The baggallini Explorer Backpack is a fantastic size for travel. It has loads of space and compartments to keep your things organised without being so big it loses that classic, feminine backpack handbag look.
I like that the bag retains its shape and sits upright when you want to access the compartments. There's nothing worse than trying to keep a daypack balanced on its end when you are looking for something. Or worse, having to lie it flat on its back to open it and search for things.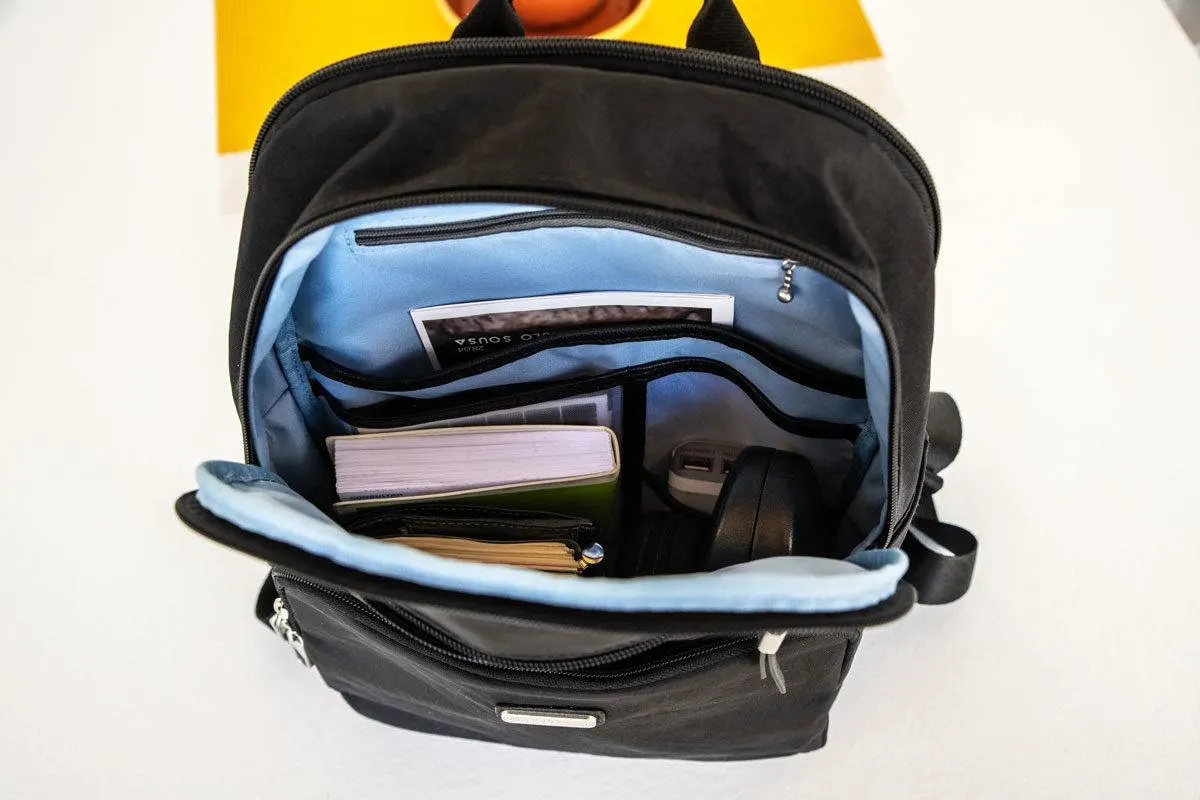 There are four main compartments and one secondary exterior pocket, all with zip closures. There are also two expandable side pockets for a travel drink bottle or travel umbrella –
Compartments
The main compartment with organisational pockets including a zip pocket for valuables.
A rear padded laptop or tablet device compartment.
A front access organisational pocket which includes RFID protected card slots.
A front zip pocket compartment with key clip. This pocket is deep enough to hold a Kindle or an iPad mini.
There is also a large rear outer zip pocket. I'm not sure if I would use this pocket much, but it could be useful for travel documents etc.
The two side expandable pockets for a water bottle or travel umbrella is one of my favourite features.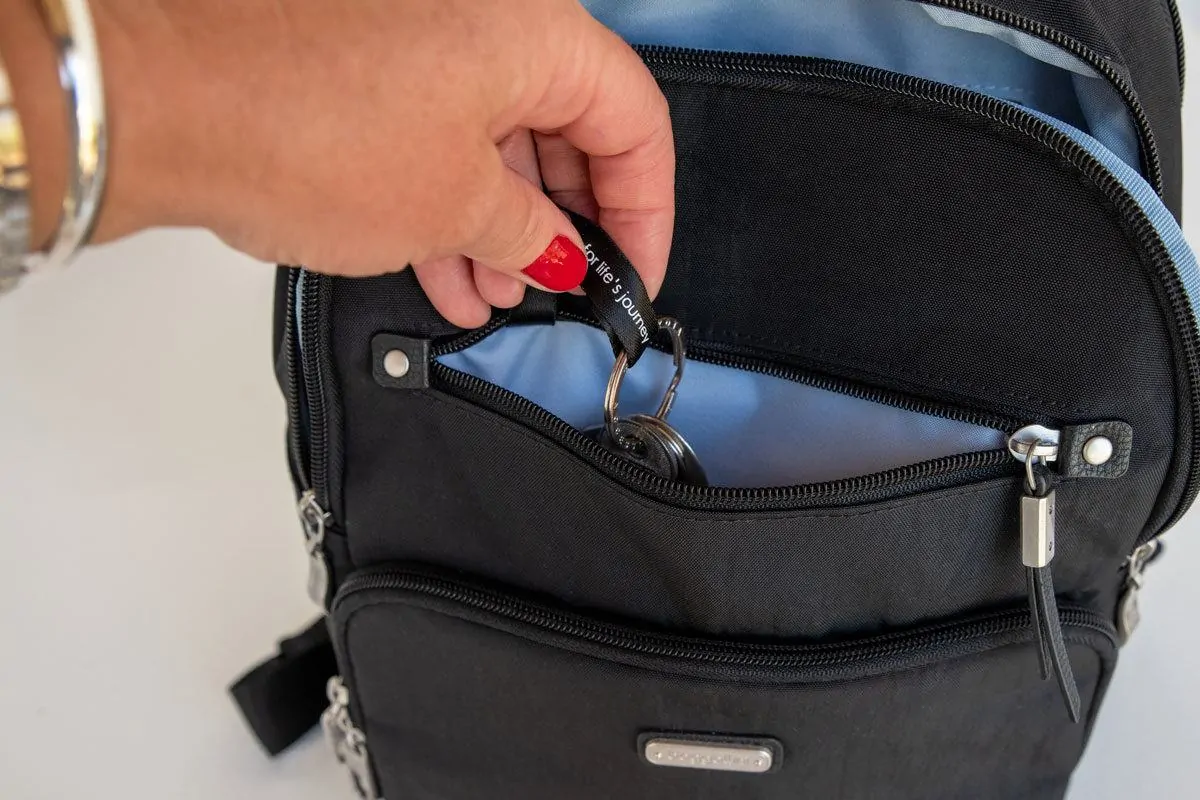 My 13″ Mac fits into the rear padded pocket which makes it great as an airline carry on bag for me, although it is a little tight. This pocket is probably more suited to a large tablet device or smaller laptop.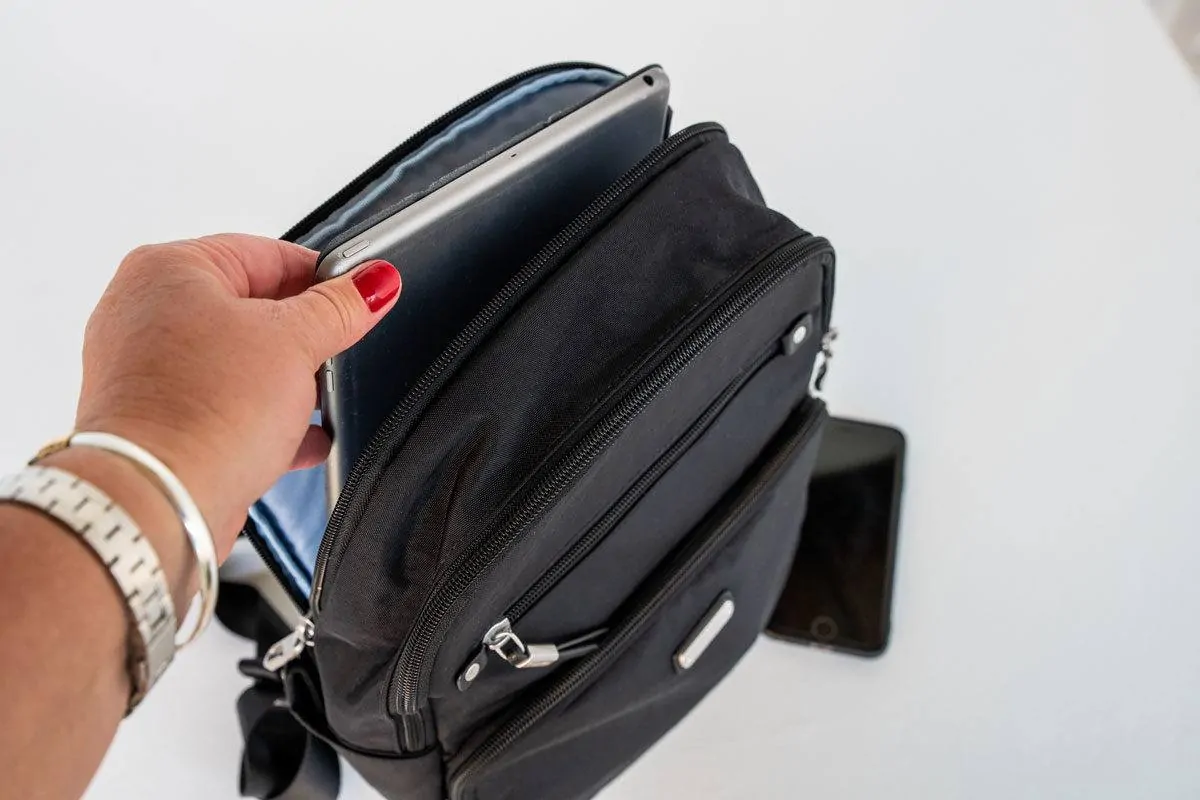 Anti Theft Features
The Explorer Backpack has RFID protected card slots to prevent identity theft in the outer front pocket, which also has locking zips.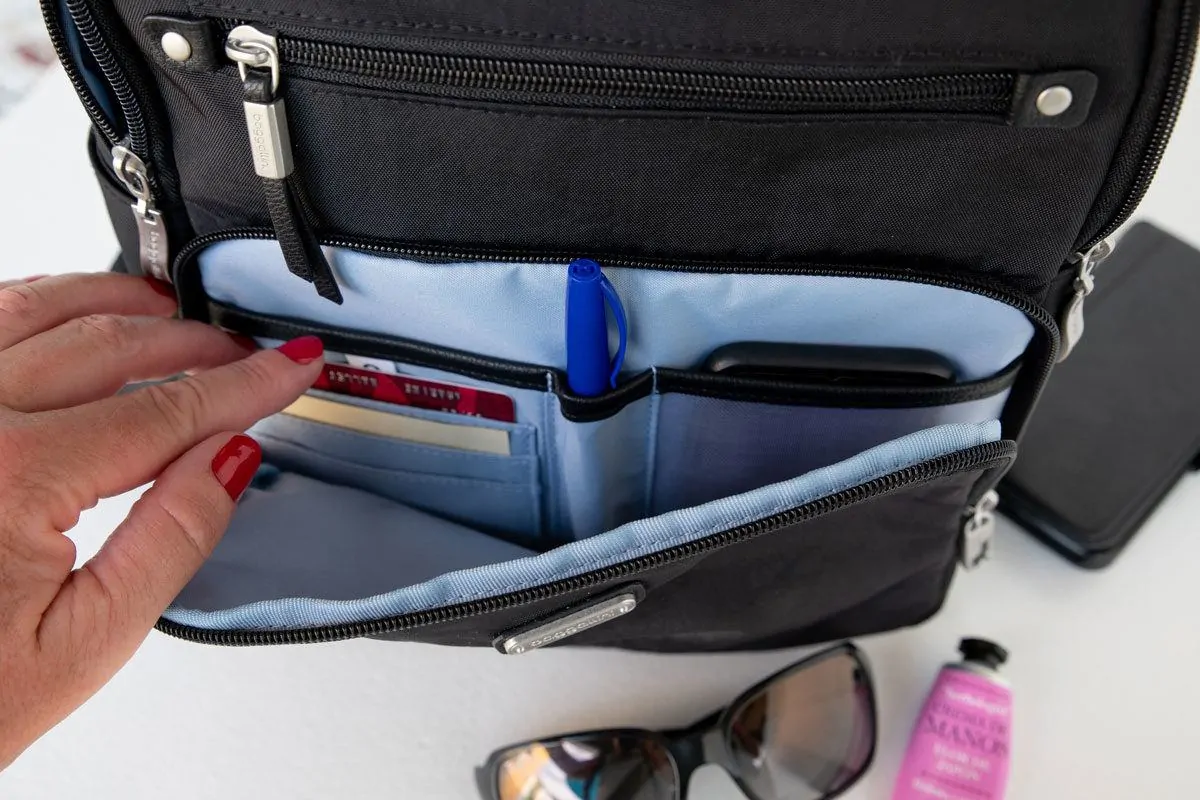 The rear padded pocket for a large tablet device or small laptop is also fitted with locking zips to prevent pickpockets.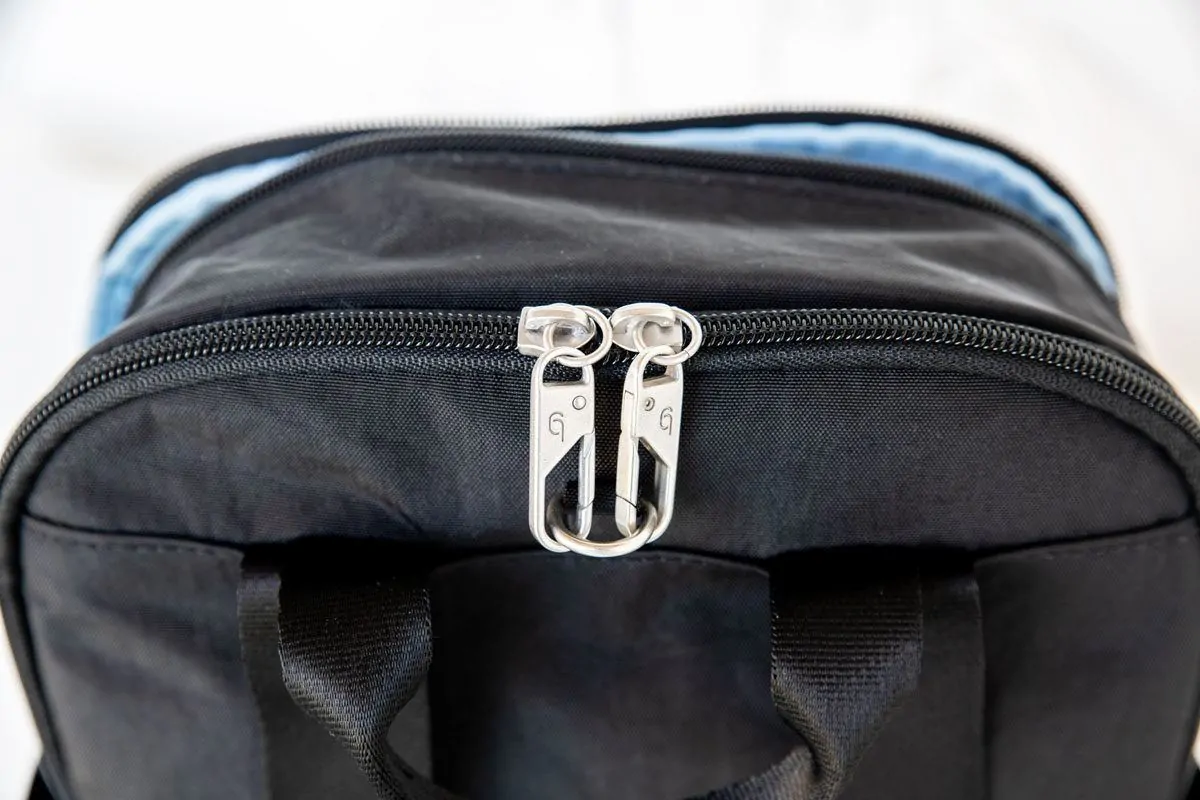 Related: THE BEST TRAVEL SAFETY TIPS & ANTI THEFT TRAVEL GUIDES
---
baggallini Take Two RFID Bryant Crossbody Bag Review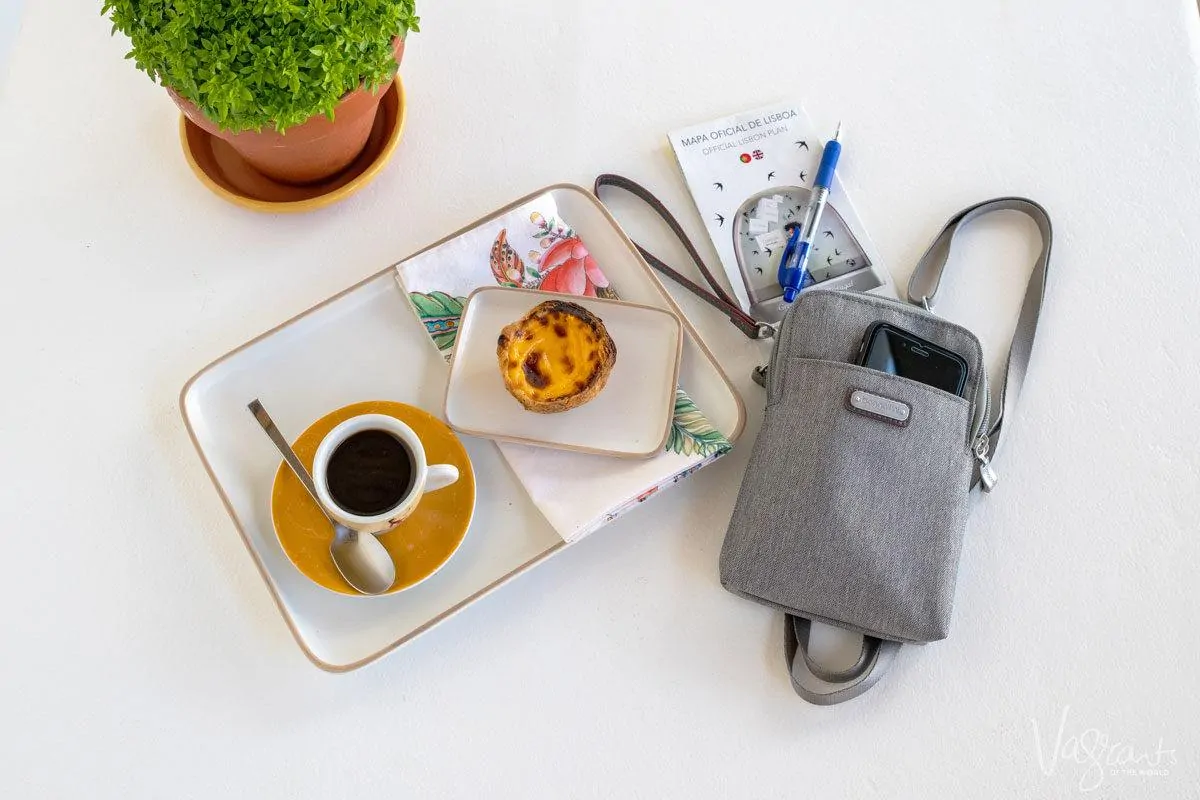 baggallini Take Two RFID Crossbody Bag Details
Size: The bag is 5 inches wide, a little over 7 inches high and maintains a slim profile at only 0.75 inches deep. ( 13cm w x 18cm h x 2cm d)
Anti Theft Features: 5 internal RFID blocking card slots.
Material: Water resistant nylon exterior. The fabric is lightweight so the bag only weighs 5.5 ounces (155g)
Colours: Comes in 10 colours and patterns
Overview
All in all, I love this little bag. I tend to carry a lot when I am travelling, even when I am sightseeing, so I usually lean towards a bag like the Explorer Backpack for day to day travel.
That said, I love the Take Two Crossbody bag as a secondary purse. It is perfect for evenings out when I don't want or need to carry a lot. It is also great when I have finished sightseeing and feel like leaving the camera behind. I can throw a few essentials in and not worry about a larger, heavy bag.
Thanks to its small size, it takes up virtually no room in my bag, sits nicely in an airline seat pocket for ease of access, and slips into the Explorer Backpack without sacrificing on space.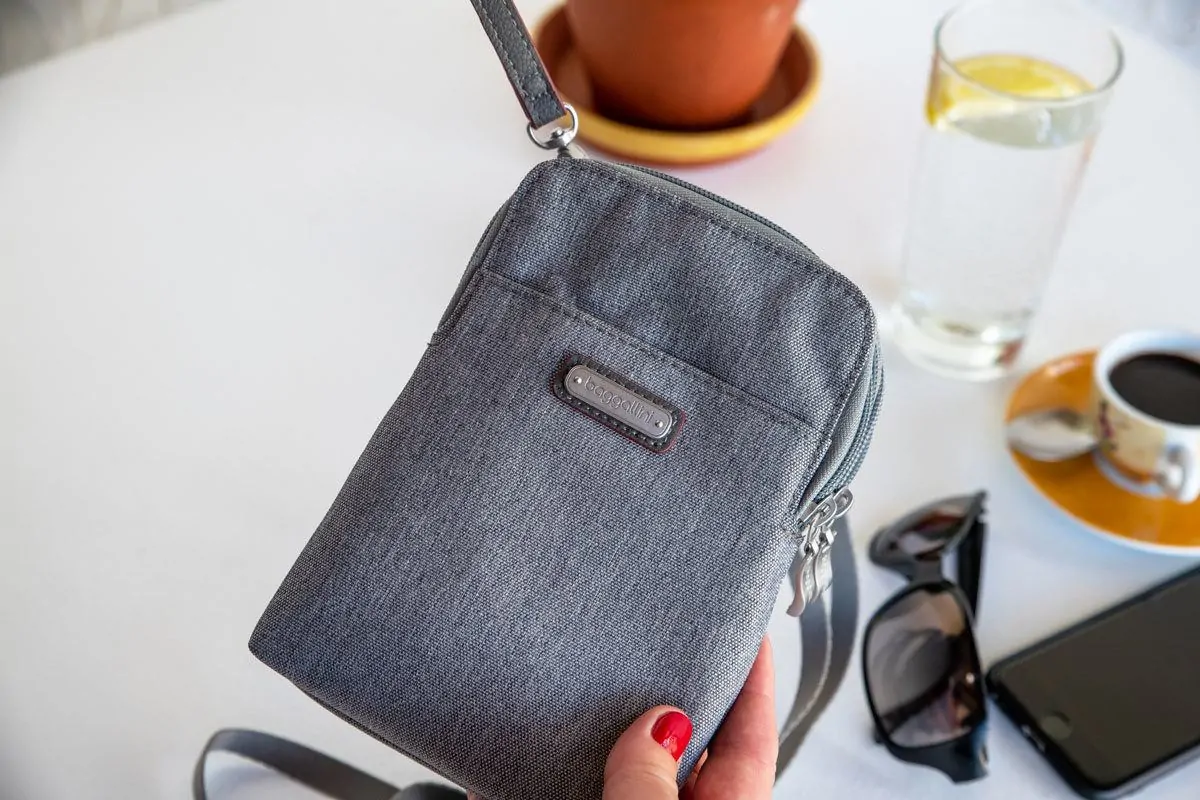 ---
Like a small and stylish anti-theft bag for travel? See our best pick for the most Stylish Fanny Packs and Crossbody Waist Bags for Travel.
---
Take Two RFID Crossbody Bag Features
Style & Look
I really like the slim profile of this bag and the classic design that works with any outfit or travel style. The classic design allows the smaller design features to stand out, giving the overall look a stylish and quality finish.
The metal branded logo plate mounted on leather forms the magnetic clasp for the front pocket while branded feature zips and quality brushed metal clasps for the straps give a nice finish.
I was very impressed with the lovely satin-like finish on the shoulder strap and the subtle two-tone leather wristlet.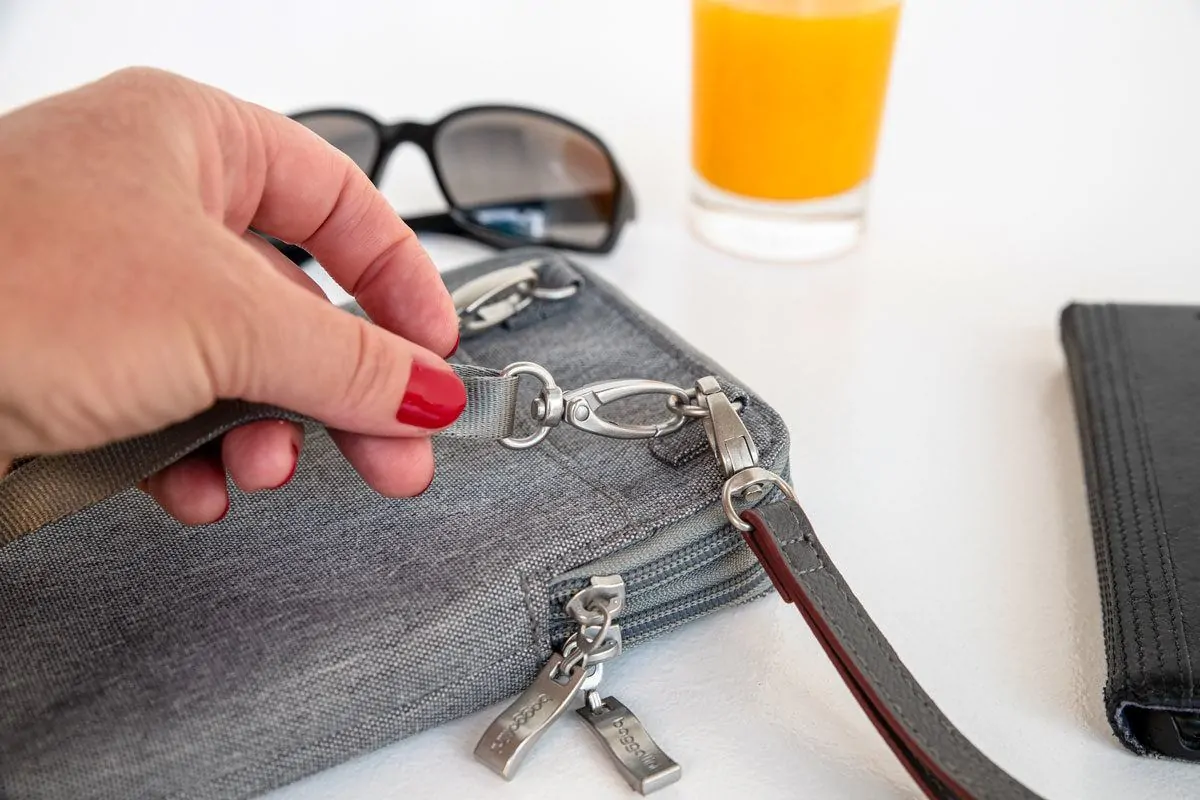 Versatility Easy To Wear 3 Ways
One of the main features of this bag I really liked – other than the compact size, was the versatility in the different ways it can be worn.
The Take Two bag easily converts from a crossbody bag to a wristlet purse without having to muck around with fiddly clasps. Simply unclip the shoulder strap and clip on the wristlet.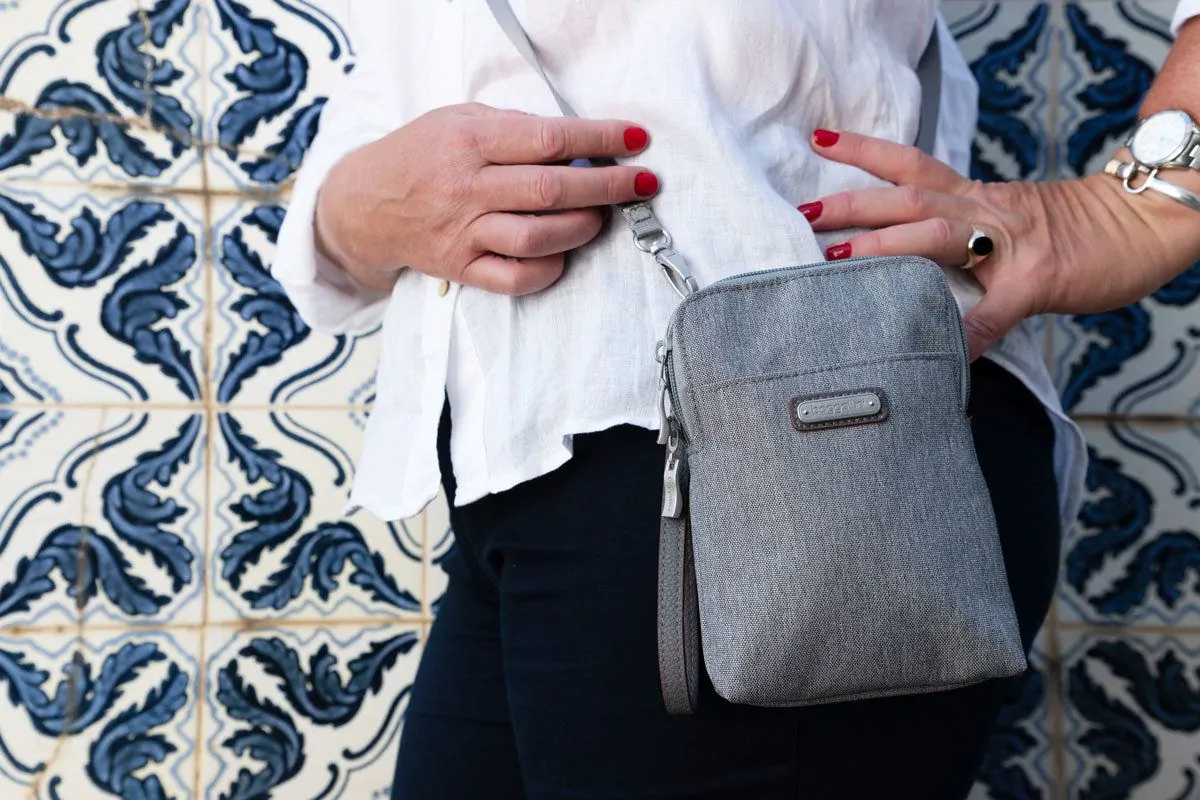 I find it really simple to leave both attached, and when I don't want to use the shoulder strap, it tucks neatly into the rear sleeve pocket without looking messy or bulky.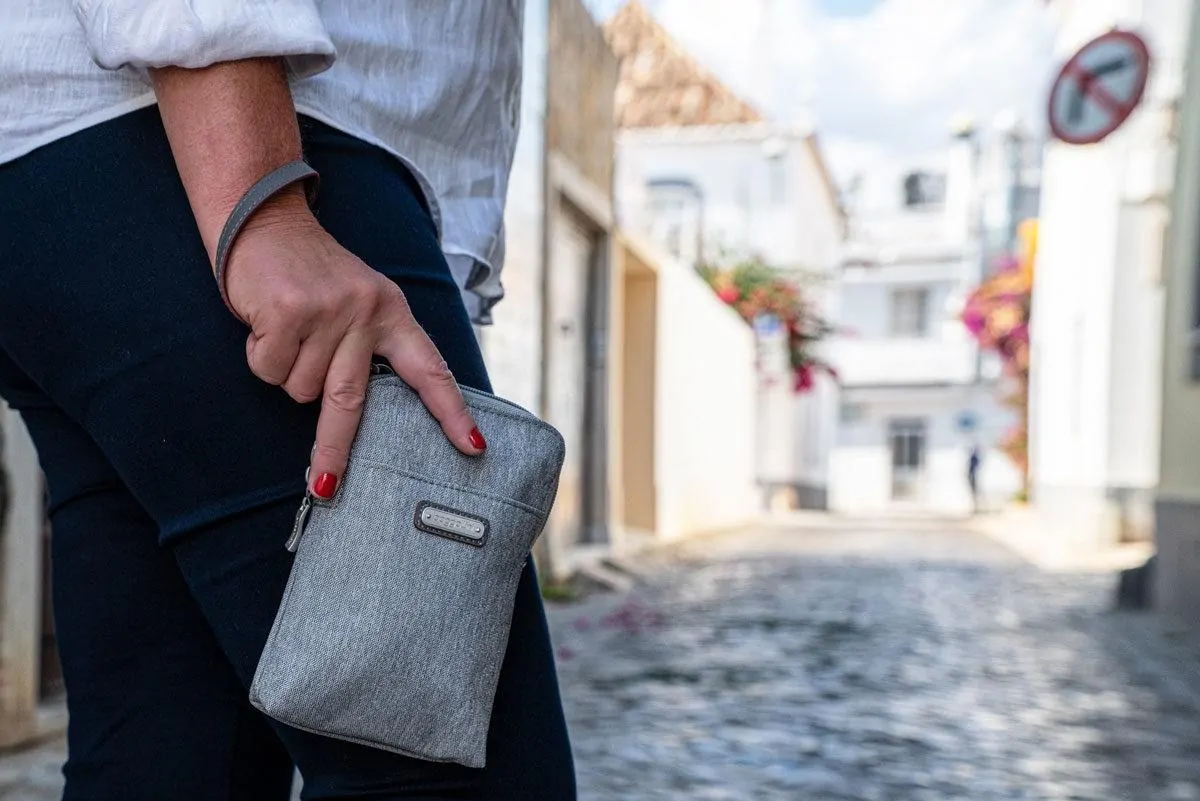 The Take Two can also be worn comfortably as a waist bag by shortening the shoulder strap.
I am personally not a fan of wearing a waist bag when I travel but can see how this makes a modern and stylish alternative to the traditional money belt style of waist bag.
Practicality, Size, & Compartments
The Take Two Crossbody bag has two main zippered compartments – one with 5 RFID card slots. One with internal sleeve. There are also two external sleeve pockets front and back. The front pocket has a magnetic snap closure.

It is an ideal bag for those who don't need to carry a lot with them and want a compact, lightweight option for the essentials.
The Take Two Crossbody bag has enough room for a large smartphone ( I have an iPhone 7 plus in a leather wallet style case) a small coin purse or pouch, cards, and a few other essentials such as glasses, lip balm, etc.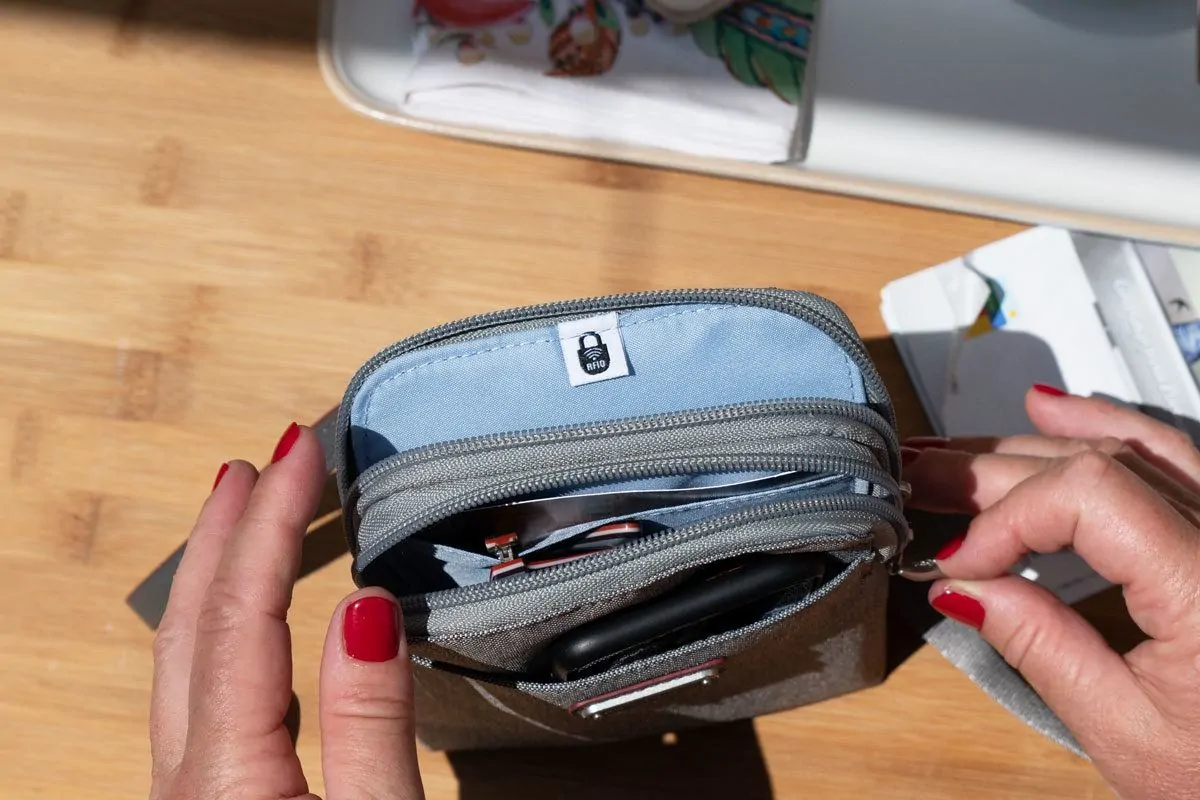 Anti Theft Features
The Take-Two crossbody bag has five internal RFID protected slots, so you are protected from identity theft.
Being a small bag, and when worn crossbody, it should be reasonably safe from pickpockets. However, I think there is room on this bag for locking zippers for added security without detracting from the look.
---
Want a Larger Purse for Travel? We've reviewed the Best Anti-Theft Purses for Travel here to take the guesswork out of choosing the best handbag for travel.
---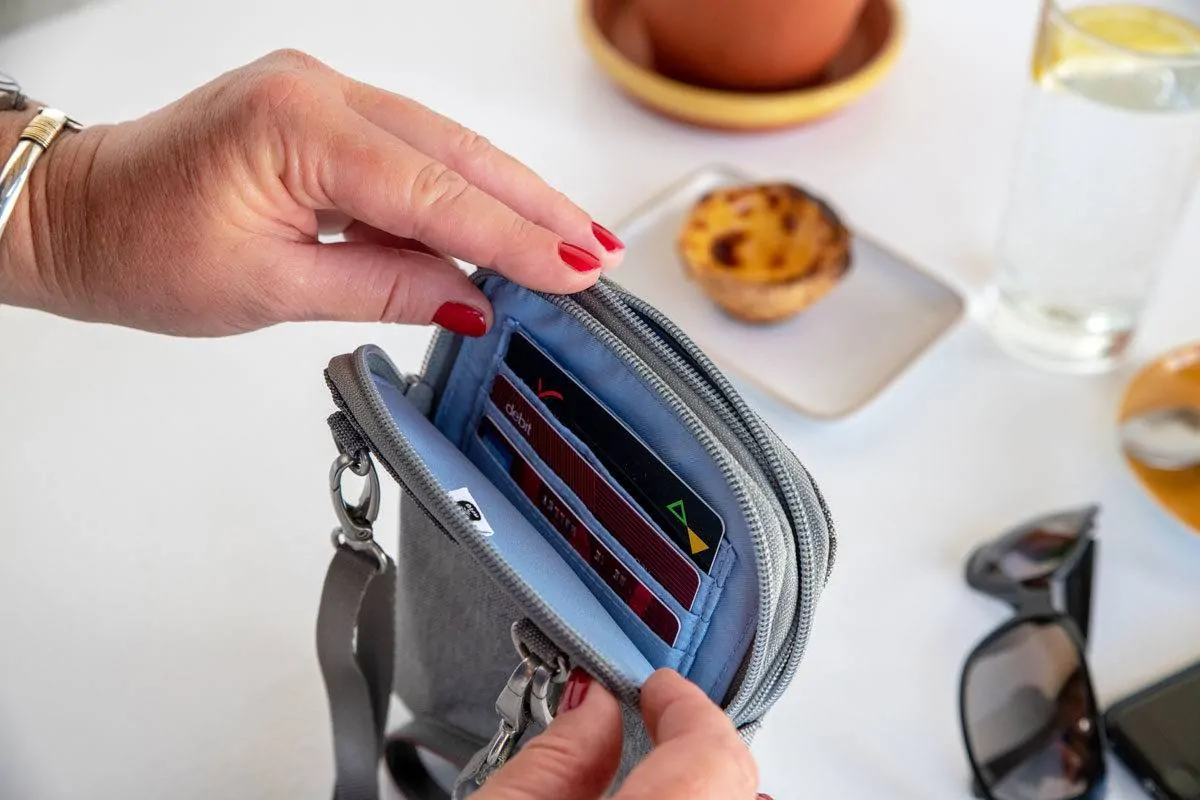 After using these bags, not just on my most recent trip, but for day to day use as well, I can say baggallini deliver quality, well researched, stylish, and practical products with the traveller in mind.
Shop the complete range of baggallini travel bags here. I hope you will be as impressed as I am.
---
Looking for the Ultimate Carry-On Luggage Set? baggallini Luggage Review – The Getaway Travel System. Mix and match luggage for those who like flexible and super organised luggage arrangements.
---
Disclaimer: While I received complimentary bags from baggallini, all opinions are my own and have not been influenced in any way. I genuinely think these are a great women's travel handbags. I hope you do too.