Travelling full time for over five years; my luggage has been much more than just a bag, it has been my home. So, it's not surprising I'm pretty particular when it comes to luggage and luggage organisers.
I had the pleasure of reviewing baggallini's travel bags for women on a trip to Lisbon last month. Naturally, I was thrilled to take the new Getaway Travel System on a trip to Portugal's Alentejo this month.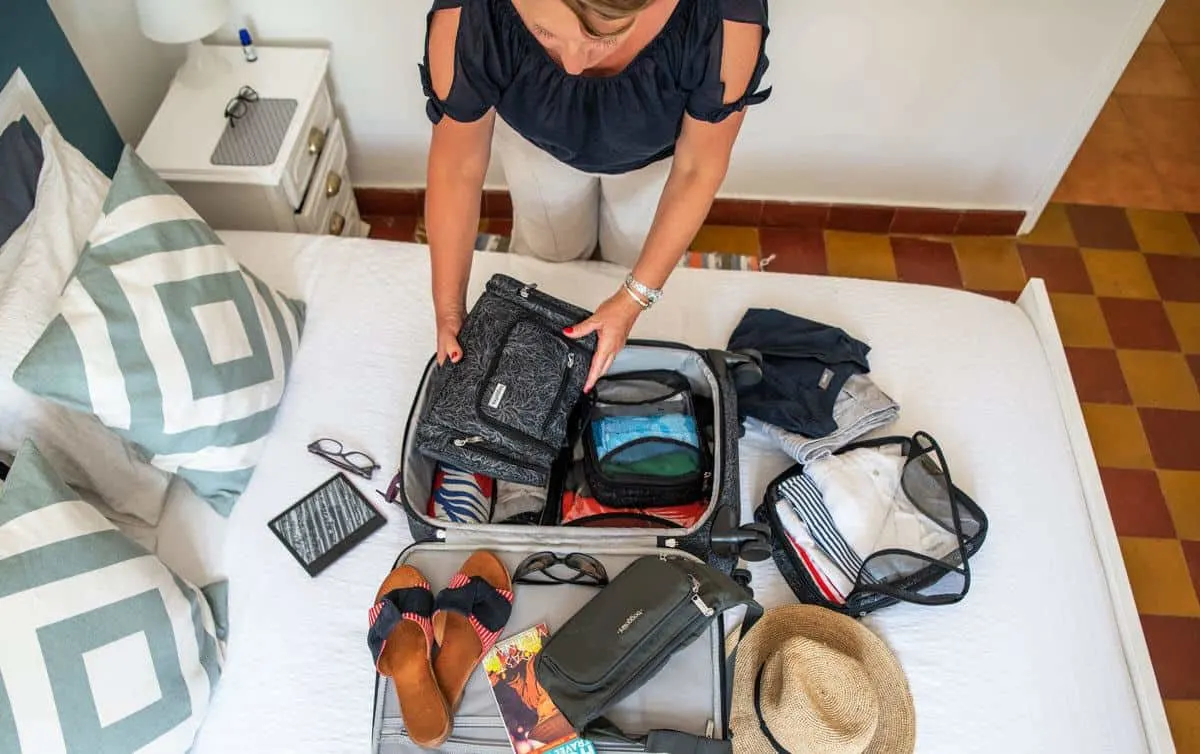 The Getaway Travel System baggallini Luggage Review
---
You might Also Like: Must Have Travel Essentials for Women
What I Look For in a Good Carry On Bag
I don't believe in gimmicky travel accessories or unnecessary add ons.
For me, great luggage has relatively simple design criteria. It needs to be good quality to stand up to the wear and tear of travel, lightweight, easy to pack and easy to maneuver through airports and streets.
In a nutshell, it needs to be a quality product that is practical for the purpose.
I don't want a bag with so many bells and whistles, I've blown my luggage weight allowance before I've packed. I want bags that have practical and helpful design features that don't impact my weight allowance or packable space.
I also don't want a bag that is difficult to manoeuvre. I need luggage that is easy to manage through all kinds of travel terrains – from the transit dash through the airport to looking for that quaint hotel in the bumpy, pedestrian-only backstreets of Venice.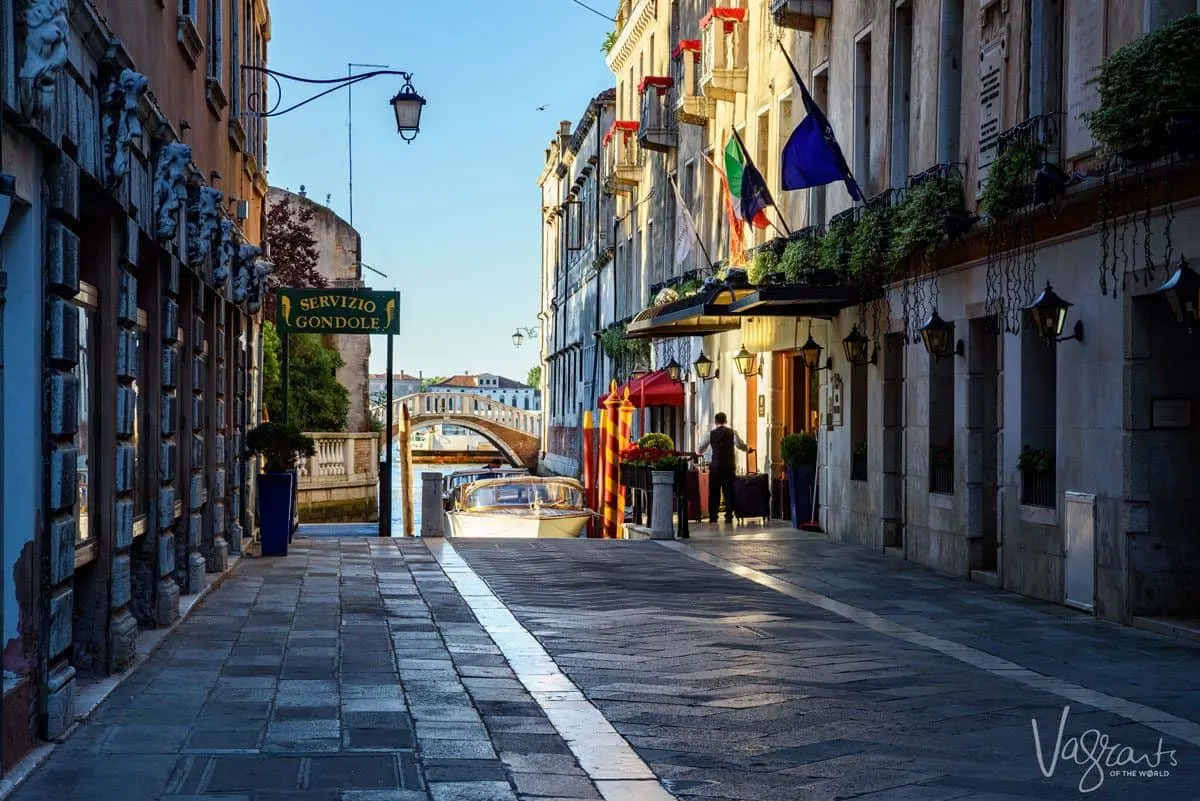 What Is The Getaway Travel System
The Getaway Travel System starts with three styles of carry-on luggage –
2-wheel under-seat carry-on: Designed to fit under most airline seats. Suitable for short trips of 2-3 days.
4-wheel rolling tote: Designed to meet most airline carry-on size allowance for mini getaways or extended business trips of 3-4 days.
4-wheel 22″ carry-on: Full size carry on luggage that meets most cabin baggage requirements but will see you through for a trip of 4-5 days
Choose the luggage that suits your style of travel and complete your travel set with packing accessories designed to simplify your packing and maximise your space.
---
4-Wheel 22″ Carry On Bag Review
I have been putting the new 4-wheel 22″ carry-on to the test along with packing accessories designed to fit perfectly for optimal organisation.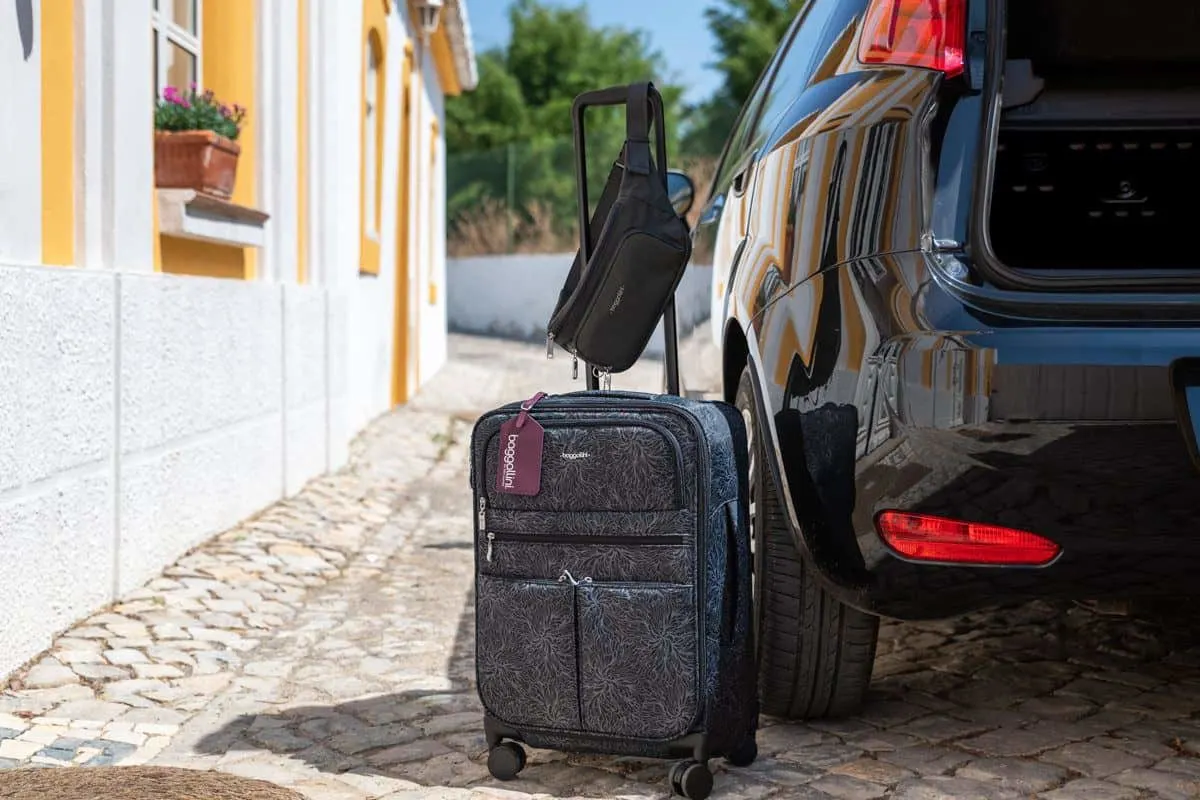 4 wheel 22″ Carry-on Details
Size: 14 inches wide, 22 inches high (hence the name), and 9 inches deep (35.5cm W x 56cm H x 23cm D) including the wheels and handle. These dimensions meet most cabin baggage size requirements.
The bag, made from lightweight, water-resistant nylon weighs 6 lbs 0.56 oz (2.9kg) which is about the standard in the lightweight luggage market.
It has 4 x 360° spinner wheels.
The telescoping handle adjusts to 2 heights.
A 1-year warranty protects against manufacturer's defects.
Comes in 3 colour designs.

I certainly like the look of this bag with the Midnight Blossom design. The bag is instantly more identifiable without having to tie bright ribbons on it, especially if you do decide to check it. I have always gone for standard black luggage, so this is a nice change.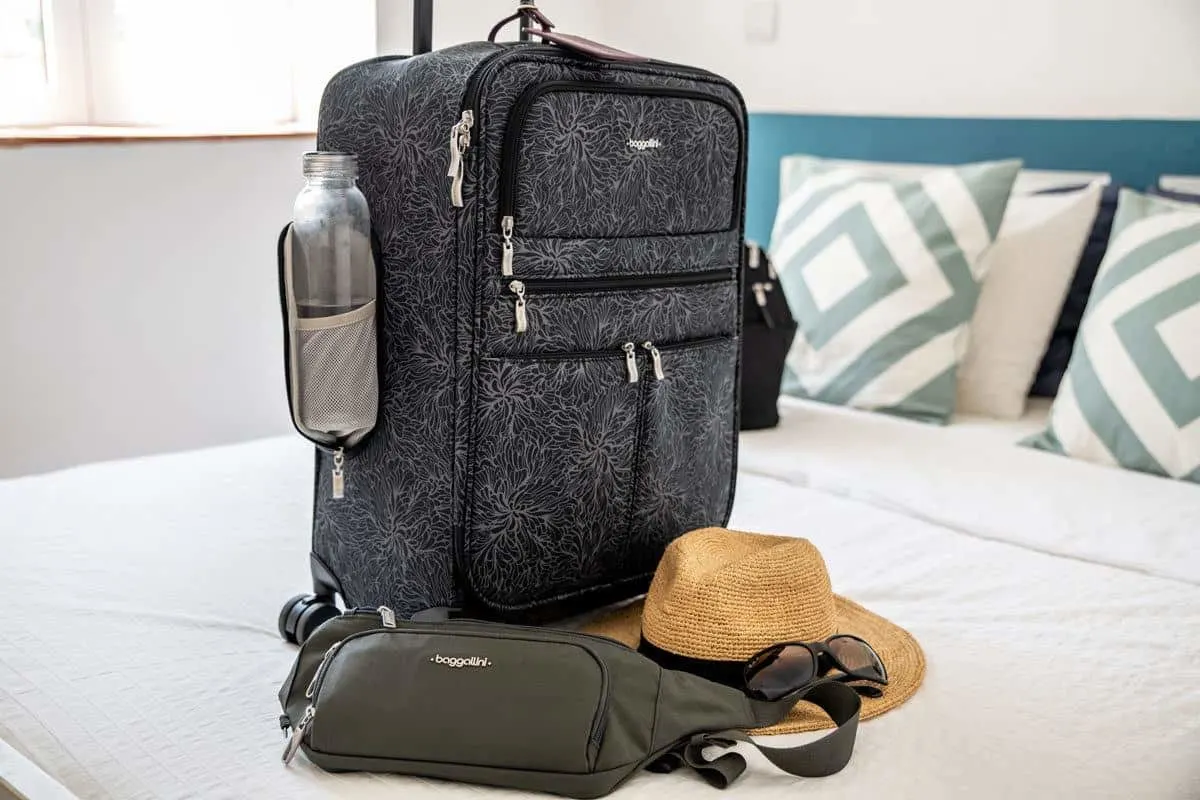 It has loads of room, (it feels deeper to me than my previous carry on) with lots of organisational pockets both inside and out including a new take on a quick access pocket.
The four spinner wheels are new for me as well. I have always been a two-wheel girl, and I find the manoeuvrability of these wheels fantastic. So much less strain on my shoulder when having to move the bag longer distances. I also love the choice of two heights on the telescopic handle.
Create Your Own Luggage Combo
For a great checked/carry on combo, pair the 4-wheel 22″ carry-on with the 2-wheel under-seat carry-on which has a luggage handle sleeve for carrying multiple bags.
If the 22″ carry-on bag exceeds cabin baggage allowance for a particular flight, but you don't want the burden of a big suitcase. These two pieces of luggage used in tandem would be the perfect travel set for an extended break.
It is this kind of luggage combination I will use for an upcoming trip to The Azores where small inter-island flights have restricted cabin baggage allowances. I want a bag that will be manageable in a tiny hire car but need a bit of extra weight allowance for hiking gear.
4 wheel 22″ carry-on Features
Pockets
The interior and exterior pockets, which I will look at more closely soon are a big feature of this bag. While suitcase pockets are not in any way an innovation, this bag has thrown in a few new, thoughtful pocket features.
A side, expandable water bottle holder (which I love) and quick rear access protective pocket for glasses or phones are certainly an excellent addition to the standard pocket design.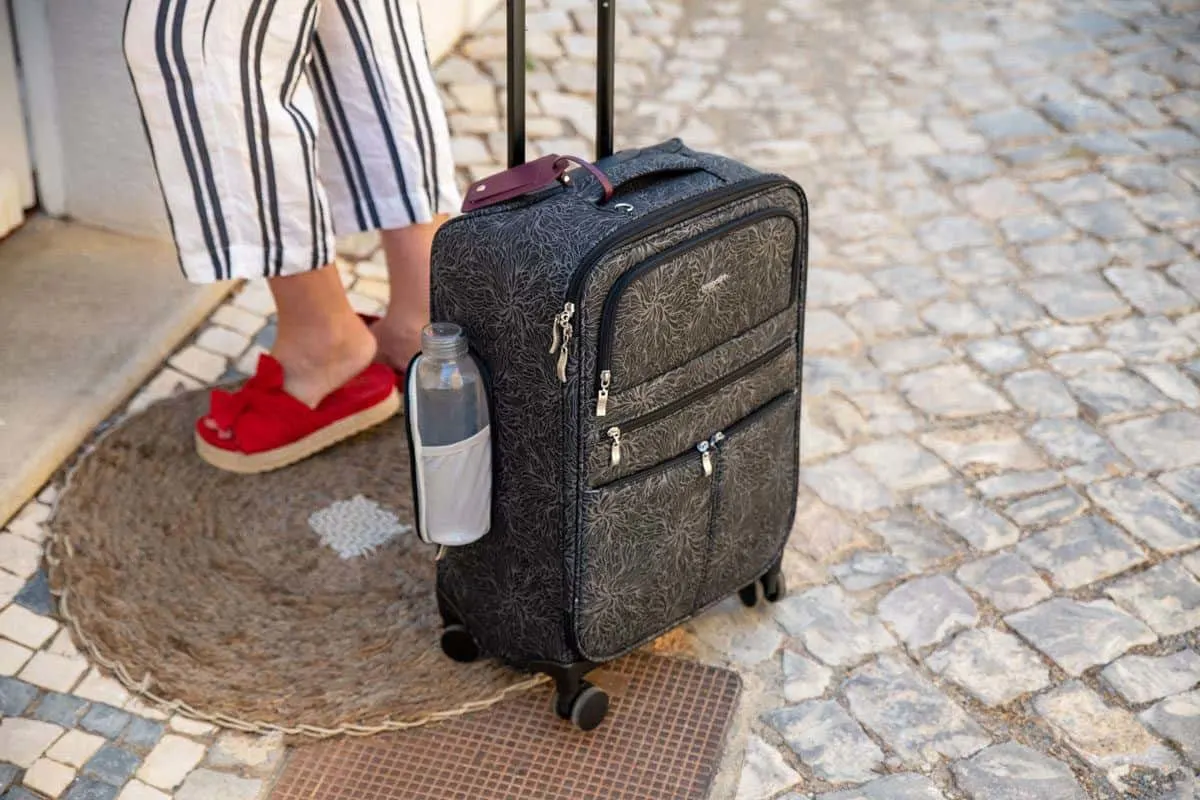 Adjustable Handle heights
The adjustable telescopic handle has two height settings. Like the water bottle holder, I also really like this feature. It makes it more flexible catering to different heights, but also for better manoeuvrability.
I tend to set the handle at different heights depending on how I am carrying the case – whether upright moving on all four wheels or dragging it on two.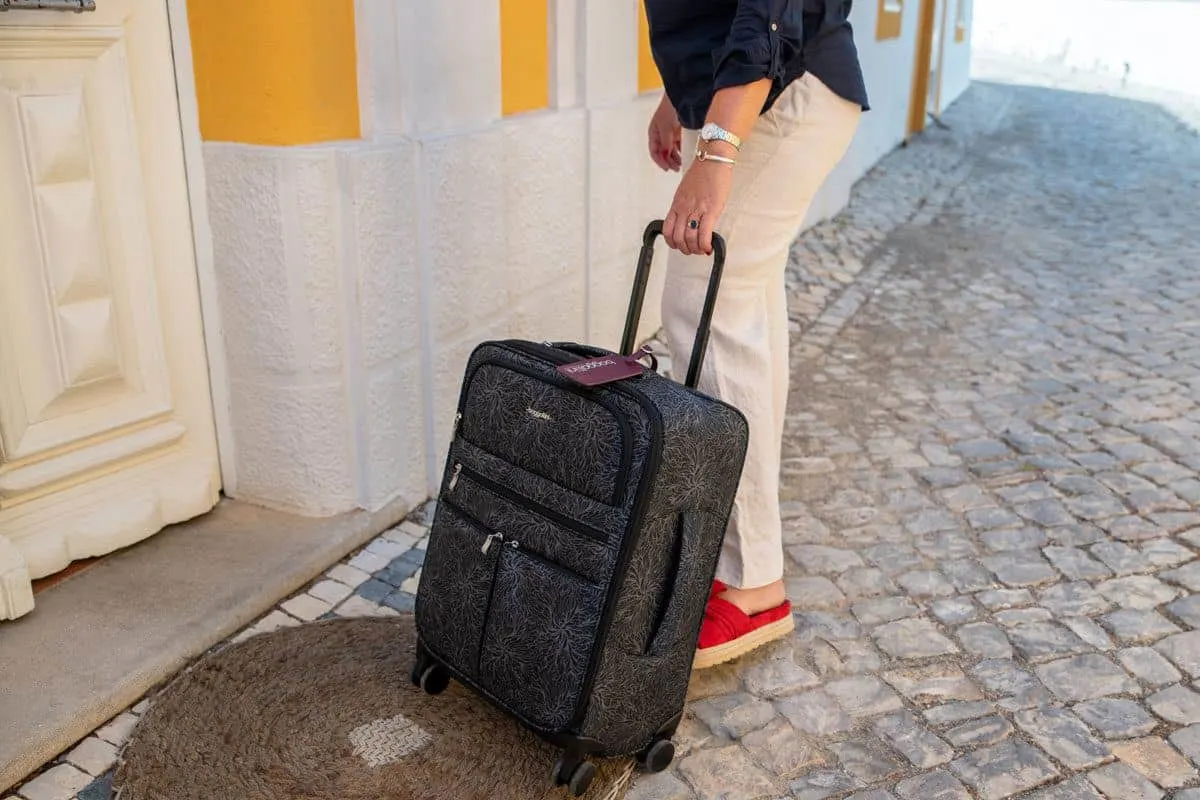 Compression Straps
One feature I am adamant my luggage has and so many luggage brands forget is interior compression straps. The 4- wheel 22″ has the elasticated straps with easy to click clasp to hold clothes in place when the bag is being moved around.
I hate it when I take the time to fold my clothes, so they don't wrinkle, only to feel them all slide in a heap to the bottom of the bag when I put it upright. Internal compression straps are a must.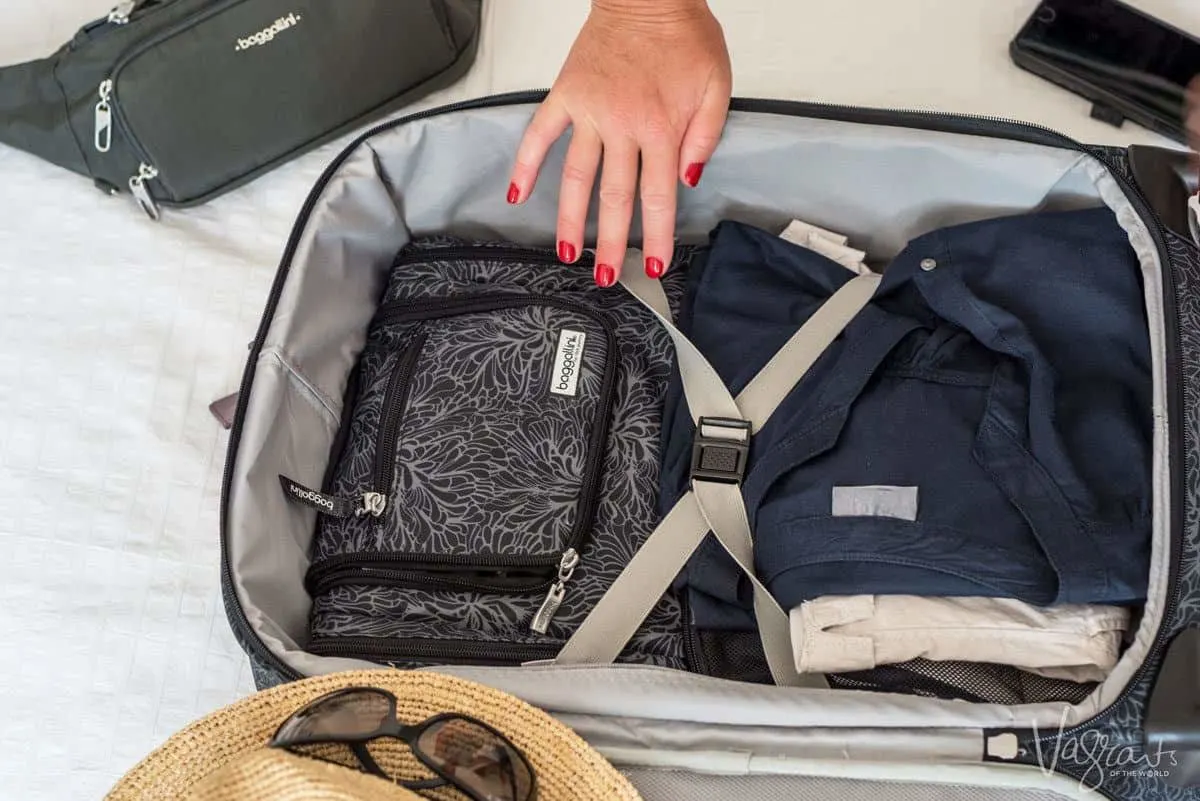 Style & Look
The bag comes in three colour designs – black, eggplant, and midnight blossom, which is my favourite. Overall, the bag has a quality, finished look.
Tidy, flush pockets, comfortable, padded carrying handles on both the side and top. There is even a dedicated loop for your baggallini luggage tag – nice touch.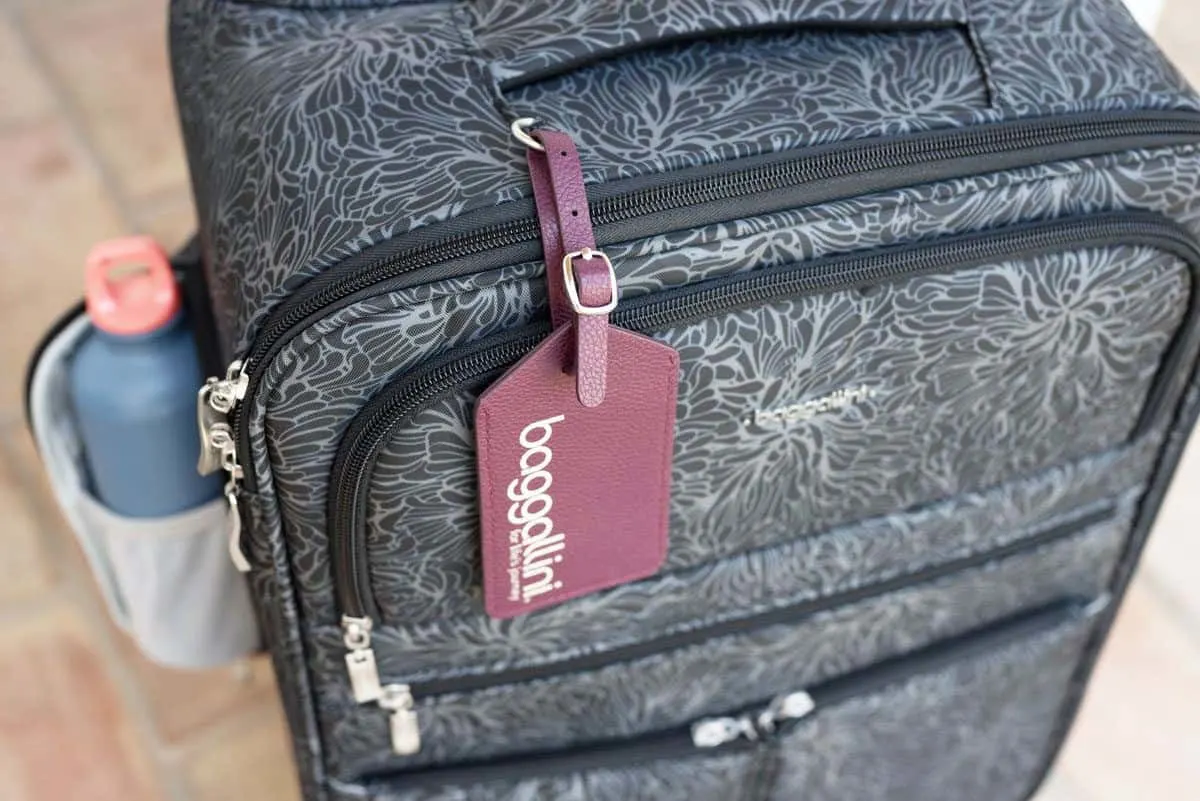 Practicality: Size & Compartments
Overall, it is a great size. It meets most airline cabin baggage size allowances, which airlines seem to be using as the standard these days rather than carry-on weight allowances.
Pockets and compartments– well it has plenty. Four outer front pockets, all bar one have sufficient padding to keep belongings protected. The other, which is large enough for a laptop, is protected by the outer two pockets which expand slightly from the centre for added space.
The interior has a small mesh zip pocket on the inner side and a large mesh zip pocket on the inner lid.
The main compartment zip has locking loops for a travel lock. I would have liked some additional locking capability on some of the outer pockets but this seems to be something all luggage brands overlook, even with large checked luggage.
---
Need New Luggage Locks for Your baggallini Luggage and Bags? Take the guesswork out of which are the best TSA luggage locks and luggage security systems for your next trip.
---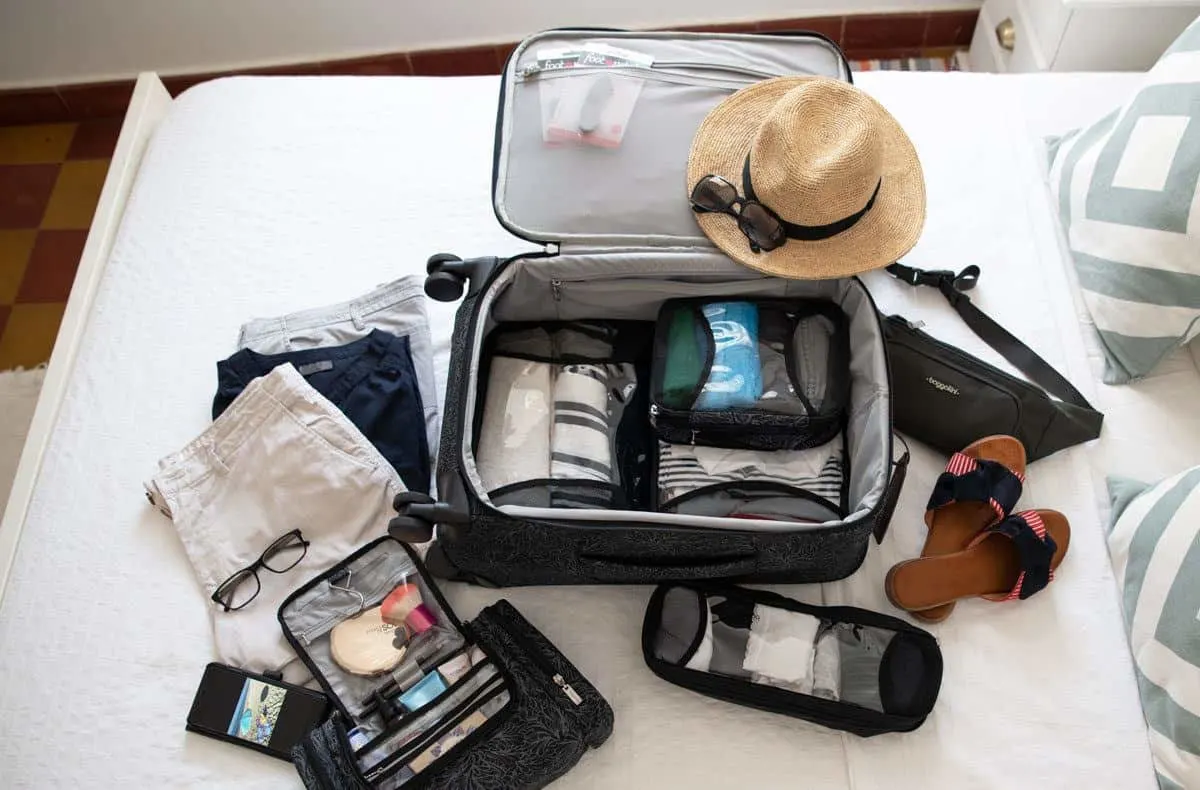 Two of the most innovative compartments on this bag are the side expandable water bottle holder and the rear pocket for glasses or smartphone, possibly both depending on the size.
The zip pocket which is hollowed into the back of the bag sits flush when zipped up. Padding inside and on the outer flap adds protection.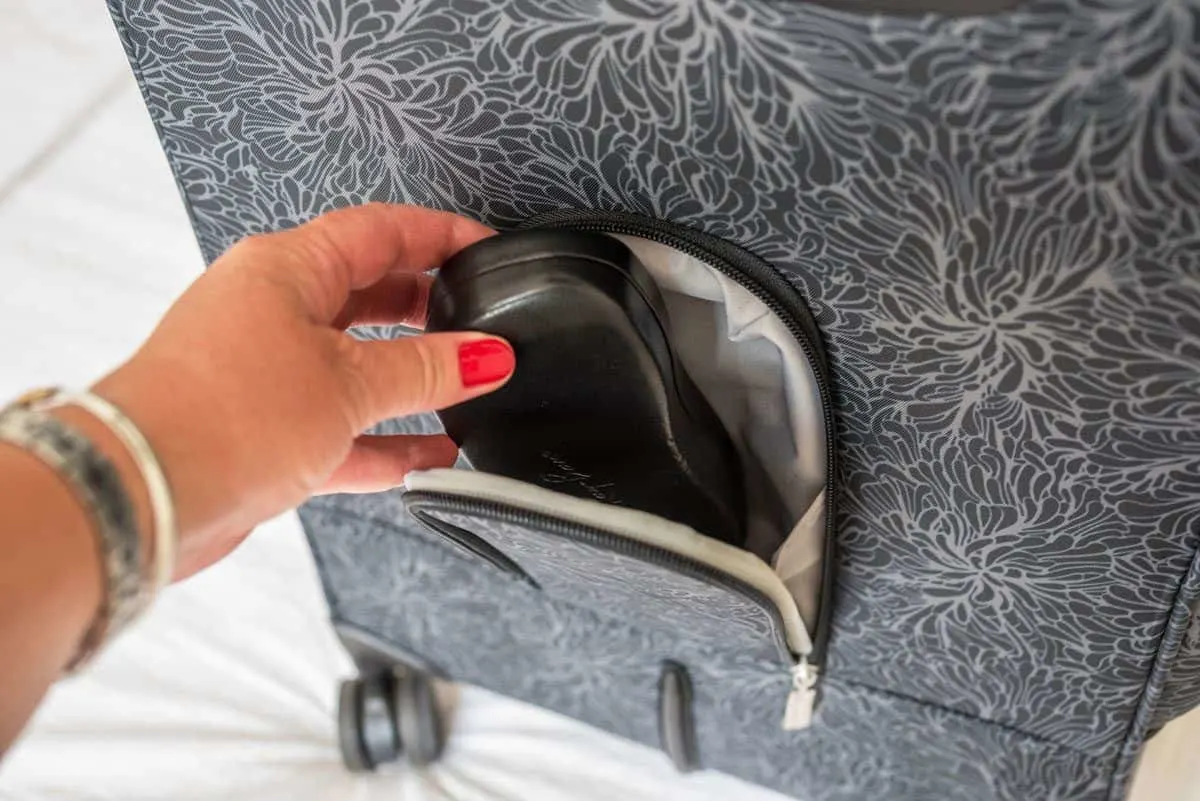 baggallini Getaway Travel System Luggage Accessories
The baggallini Getaway Travel System comes with loads of helpful luggage accessories to help simplify your packing and maximise your space.
Compression packing cubes, well thought out toiletries bags, money belts, and luggage tags. There are even shoe inserts to keep your footsies comfy on long travel days.
Compression Packing Cubes
The Getaway Travel System is all about versatile packing arrangements for maximum organisation. baggallini have a vast range of compression packing cubes – modular designs to fit perfectly inside whichever baggallini luggage you choose. Clear panels make finding things easy and mesh side panels keep your clothes airy and fresh.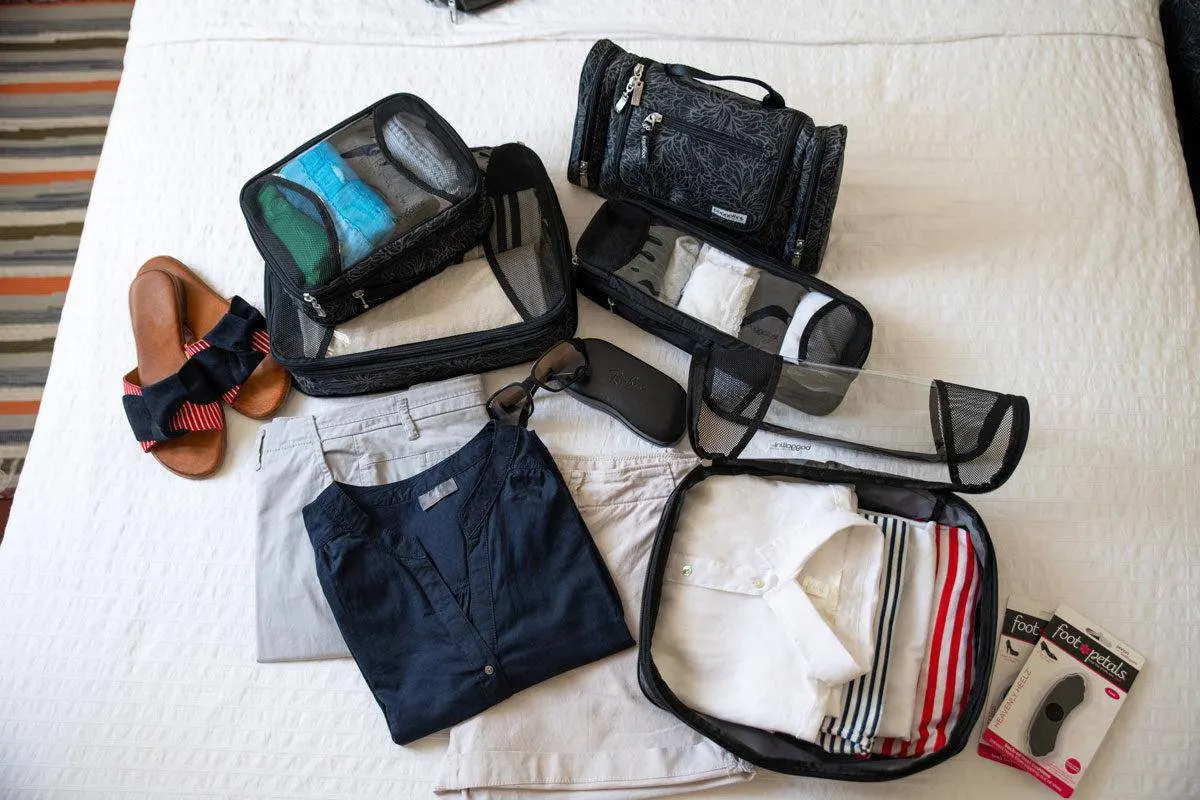 The zip compression design means you can fit more in your bag. Expand the cubes for easy packing and zip the compression zipper to compress cubes up to half their size.
I also like compression packing cubes for keeping clothes tidy while in transit — the less movement in the bag, fewer wrinkles at the other end.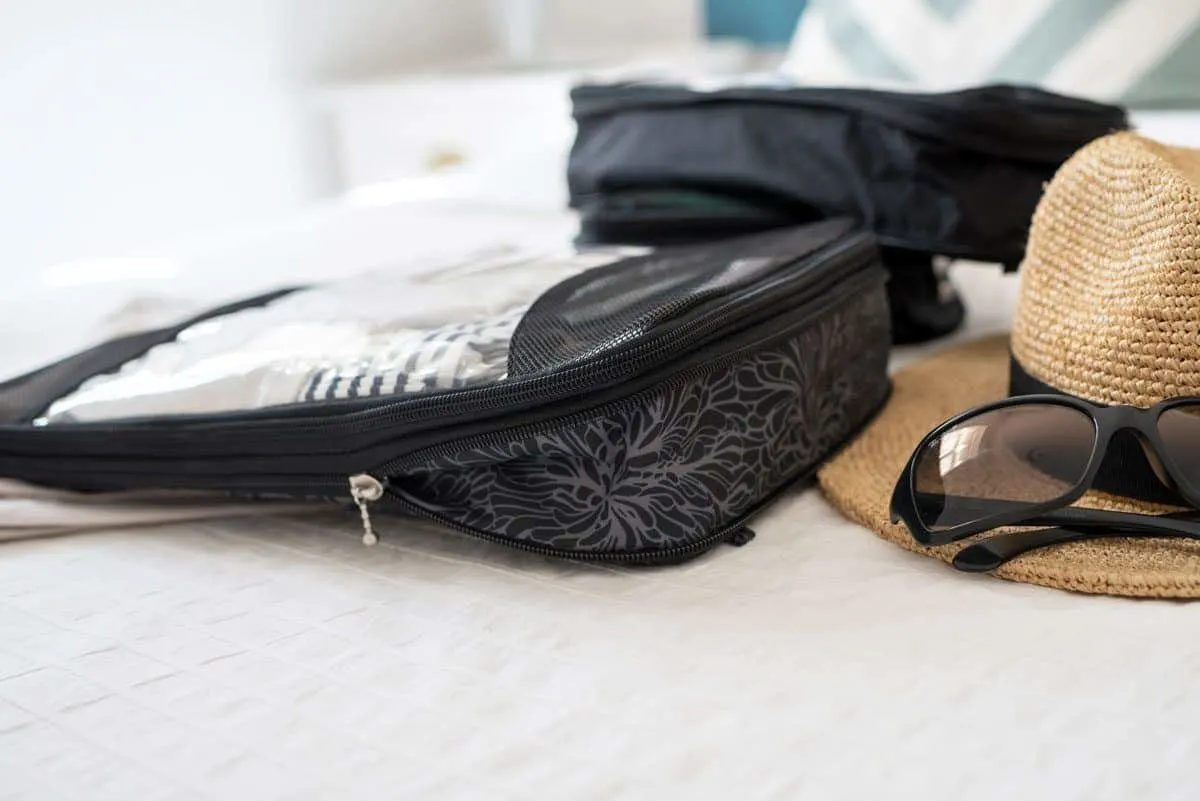 baggallini Hanging Toiletry Bag
Girls being girls, it is not surprising baggallini has a fabulous range of women's travel toiletry bags and cosmetic bags. They even have a TSA approved toiletry bag to simplify security.
I have the Getaway Travel System hanging travel toiletry bag. It is a lovely, well thought out toiletry bag for travel. The bag is quite compact so fits perfectly into the 4-Wheel 22″ Carry-On bag but still holds a lot. Even with my cosmetics, I can also fit my other half's manscaping bits and pieces in for short trips.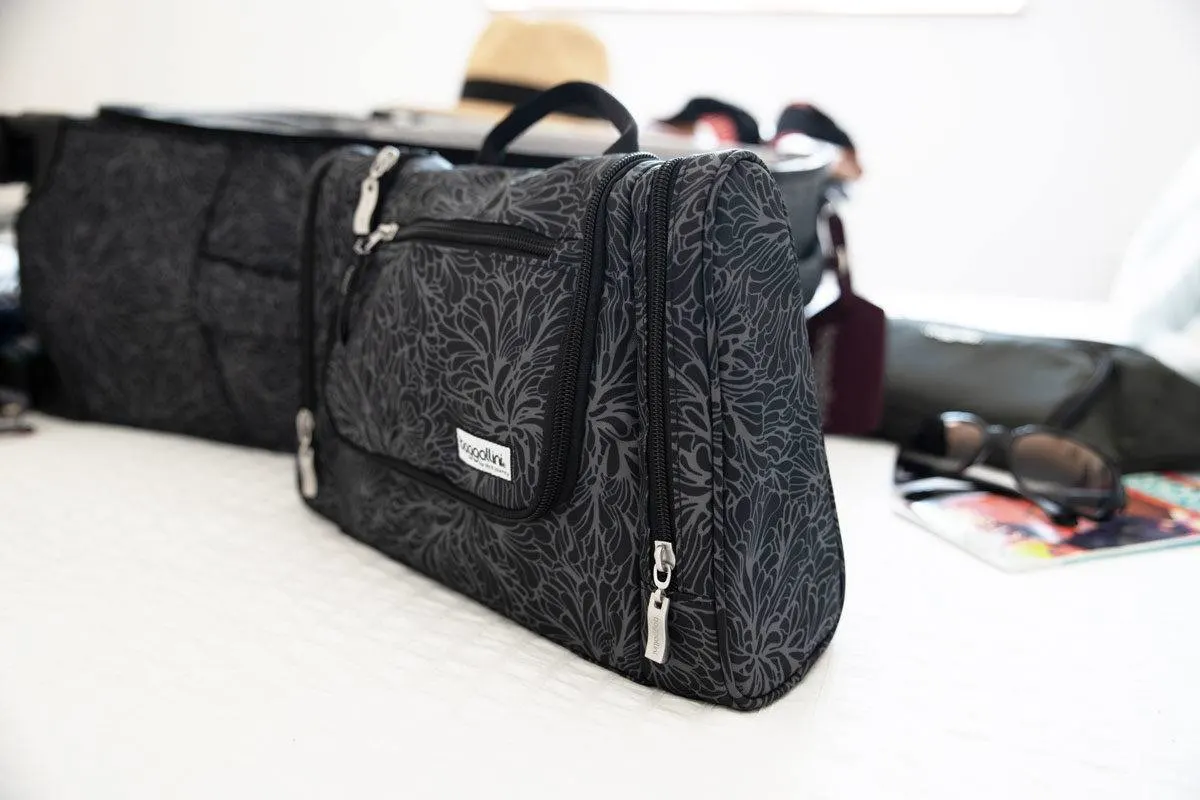 It has four external pockets for organising toiletries, jewellery, and accessories as well as clear zippered internal pockets sections which make things easy to find.
The big win with this travel toiletry bag is the hanging hook. Perfect for a cramped hotel bathroom or when travelling on a cruise with their notoriously tiny bathrooms.
Comes in three colours to match your luggage.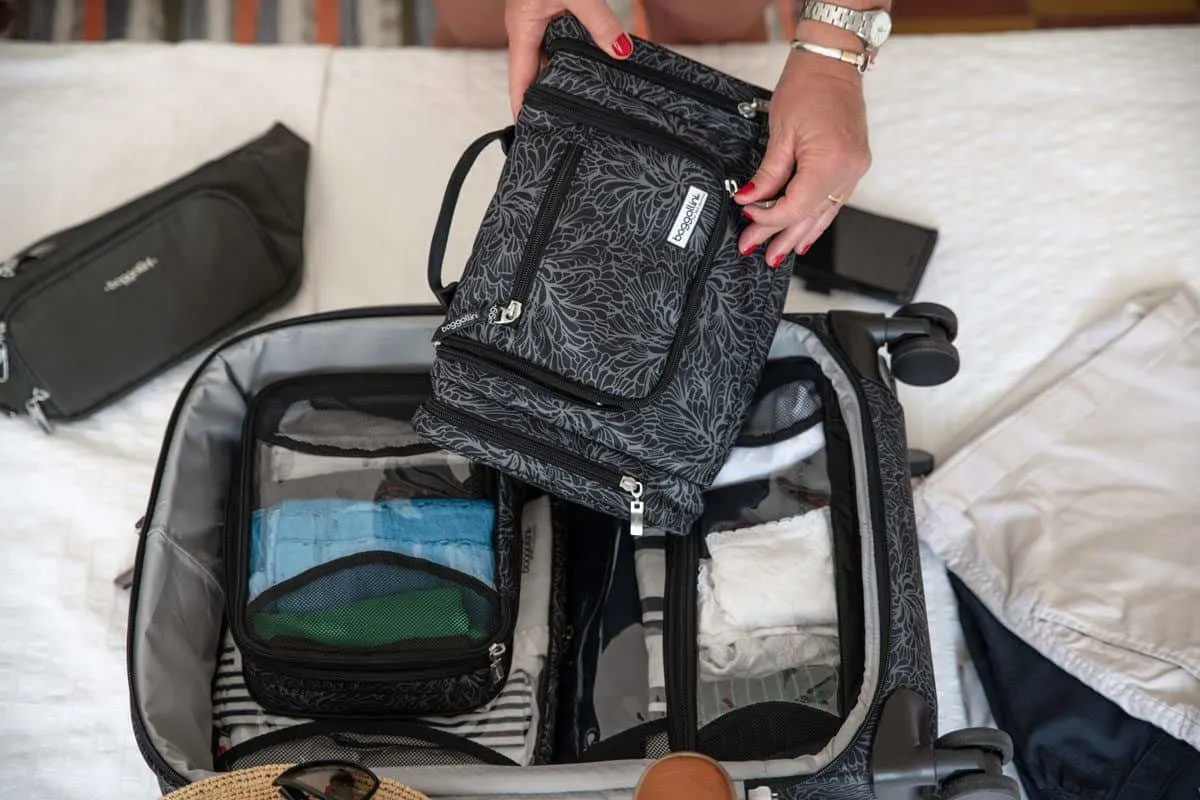 baggallini Hands-Free RFID Waistpack Bag
On a recent trip to Paris, ladies using waistpack bags as a fashion alternative to handbags caught my eye on several occasions. It would appear the waistpack bag is back in fashion for both travel and everyday use. Move forward a few months, and you can call me a convert. I love the ease of a hands-free waistpack bag.
I will be honest; I had never owned a waistpack bag, money belt, fanny pack, bum bag, or whatever you want to call them. I have even been known to scoff at the thought. However, I now find myself reaching for my baggallini waistpack bag more and more for all kinds of occasions.
---
Love a waist bag for travel? See our top picks for the most Stylish Wasit Bags and Fanny Packs for Travel. You'll be very surprised at how good they look.
---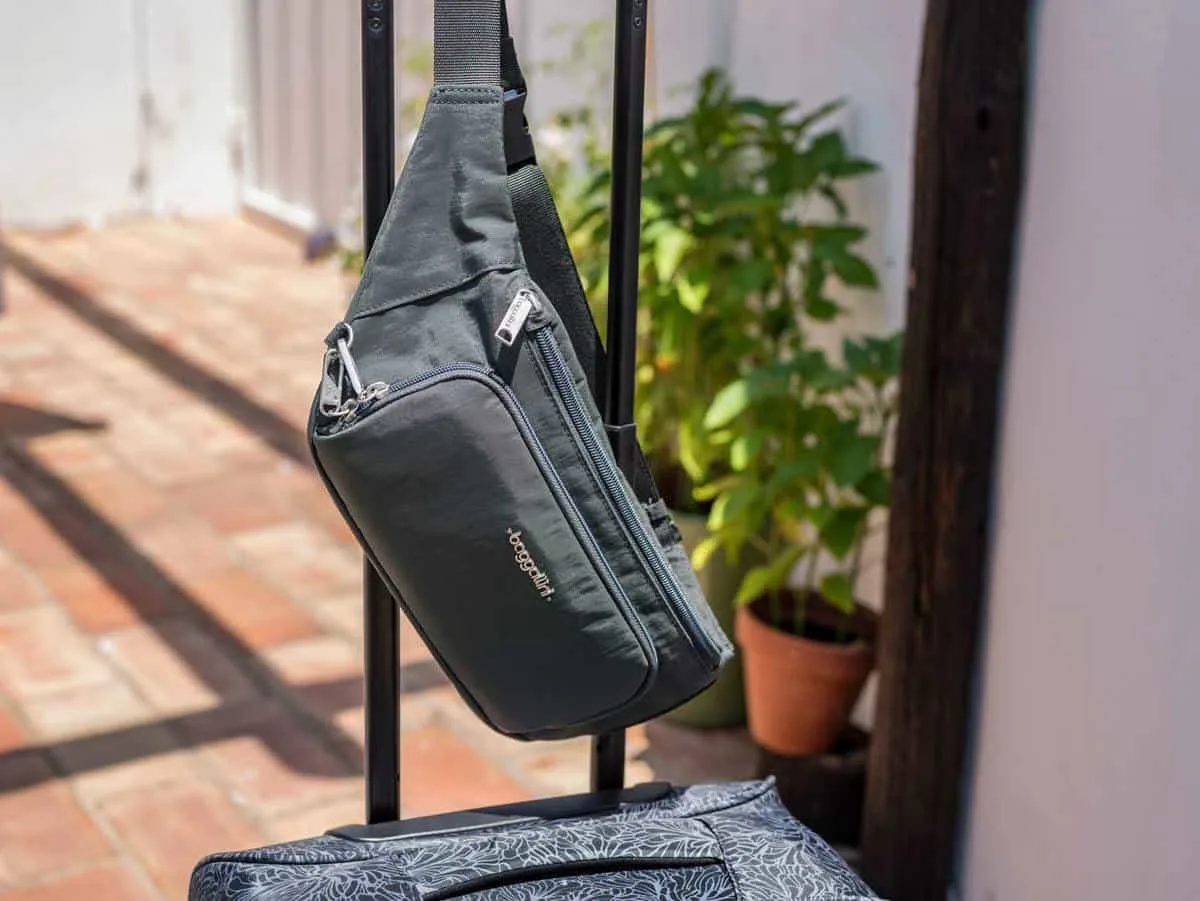 We love to walk for exercise, especially when we travel, the baggallini waistpack bag is the perfect walking companion. I can throw some money in, keys, phone, even a small water bottle fits in the rear pocket. It is the ideal hands-free bag.
For travel, the baggallini waistpack bag is excellent. It has two large main pockets with great organisational pockets within. Both include internal zippered compartments for extra safety. The rear pocket will fit a large smartphone comfortably plus a few other bits and pieces. It also has a lanyard clip for keys.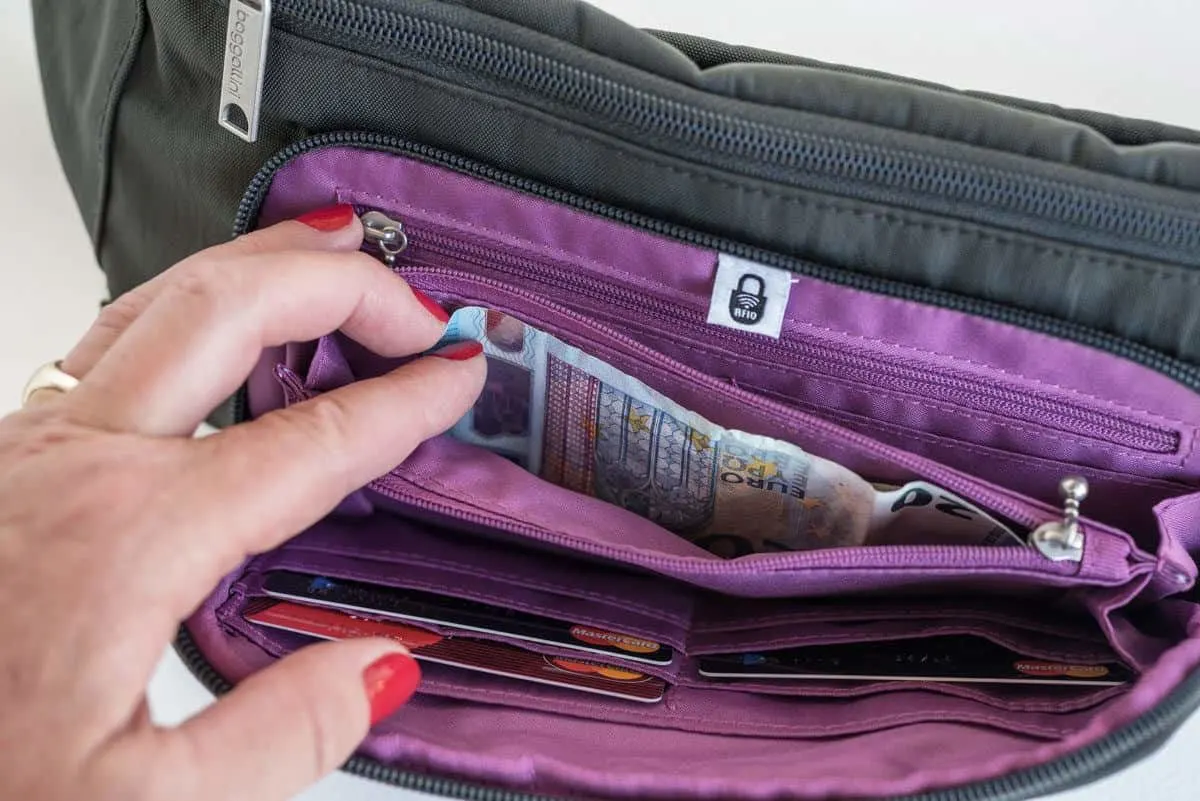 The front pocket is like a mini purse with space for a passport, cash, coins, and cards, which is RFID protected to prevent identity theft. It also has locking zippers for added security against pickpockets.
Contrast lining makes it easy to find things and the bag, while extremely roomy, maintains a slim profile, so you don't look bulky. It is also really comfortable to wear.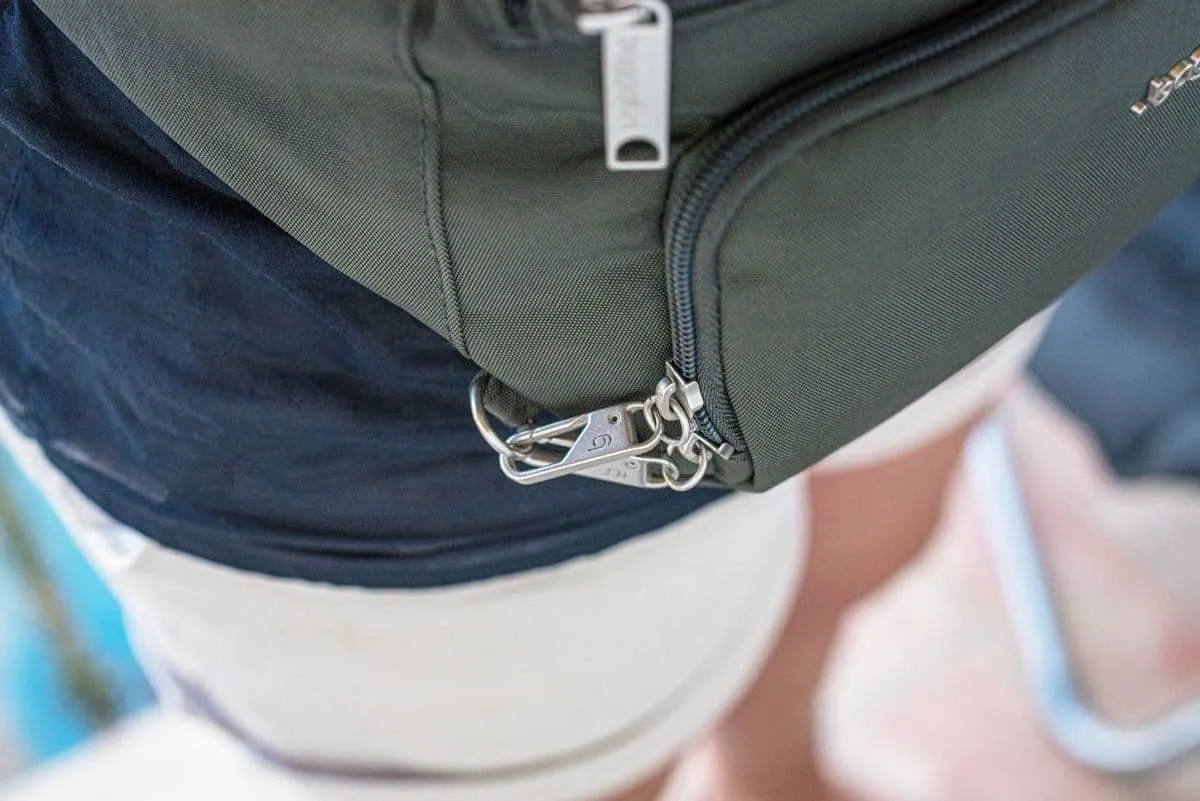 The baggallini Hands-free RFID Waistpack Bag comes in 4 colour designs to mix and match with the Getaway Travel System.
---
All in all, the baggallini Getaway Travel System is a perfect mix and match luggage line for those who like to have flexible and super organised luggage arrangements and value a quality travel product.
Shop the complete Getaway Travel System here.
Disclaimer: While I received complimentary products from baggallini, all opinions are my own and have not been influenced in any way. I genuinely think this is a great women's luggage system. I hope you do too.