Wondering What to do in Ho Chi Minh?
Ho Chi Minh City Vietnam; the former city of Saigon, has played a significant role in the modern history of the world. From a historical perspective, there are loads of Ho Chi Minh City attractions to keep you busy.
Discover important sites from the Vietnam war, Ho Chi Minh's monuments, museums, and of course, the fascinating Cu Chi Tunnels are a must.
Aside from the historical story of the city, You'll never be left looking for things to do in Saigon. There is a modern side to the city worth exploring, and of course, local street food in Vietnam doesn't get much better than in Ho Chi Minh.
Let's look at some of the best things in Ho Chi Minh City.
Don't Forget to Get Your Vietnam Visa Before You Go
You must have a visa to enter Vietnam. Previously you had to apply for an "approval letter" and then queue on arrival and pay an additional USD$25 for a "visa on arrival".
The process has been simplified and citizens from over 40 countries can now apply for their visa online. You can apply for your Vietnam Visa here but make sure you allow at least three business days before your departure date for processing.
Where to Stay in Ho Chi Minh
District 1 is the best area for visitors to Ho Chi Minh City to stay in. District 1 is where you will find most of Ho Chi Minh City's attractions and tours. Also, more often than not, tour companies will require you to meet in District 1.
Here are our top recommended places to stay in Ho Chi Minh District 1 to suit all budgets.
Thanh Thu Hotel – Located 150 meters from the city centre this is one of the highest-reviewed budget – mid-range hotels in the city.
Address: P. Q. 1, 34 Nguyễn An Ninh, Phường Bến Thành, Quận 1, Hồ Chí Minh, Vietnam
Check rates and availability here for Thanh Thu Hotel.
---
Rosa Hotel & Spa – With some of the friendliest staff we have ever met, we really loved staying here at the Rosa Hotel. Only 350 metres from the city centre, we highly recommend here.
Address: street, 55 Thủ Khoa Huân, Phường Bến Thành, Quận 1, Hồ Chí Minh 700000, Vietnam
Check rates and availability here for Rosa Hotel & Spa.
---
Hotel Continental Saigon – For a taste of the old-world charm of Saigon, the Hotel Continental is a historic landmark and integral to the history of Ho Chi Minh. Built in 1886, among many famous guests; the Hotel Continental is where then war correspondent Graham Greene holed up in room 214 for three years while he wrote The Quiet American.
Address: 132-134 Dong Khoi St., District 1, Ho Chi Minh City, Vietnam
Check rates and availability here for Hotel Continental Saigon. Room rates are much more reasonable than you would expect.
---
Best Things To Do In Ho Chi Minh City
Tour the War Remnants Museum
The War Remnants Museum is the most visited place in Ho Chi Minh city and a must on any trip to Vietnam. More than half a million people a year come to learn how a history of war has shaped Vietnam.
The museum was conceived by the Vietnamese Government in 1975 as an exhibition house to expose the real and exaggerated war crimes of the United States and the Puppet Government.
Following a tradition of similar exhibitions exposing war crimes of the French and Americans operating in Vietnam as early as 1954; the museum's inception which was politically driven, showcased propaganda highlighting the horror of war.
Over the years, thanks to diplomatic trade off's, the museum has undergone a few name changes. One thing remains, the horrors of war leave many visitors visibly moved.
Aside from the usual displays of military hardware, the museum has graphic images of the casualties of war prominently displayed as well as documentaries covering the long term effects of agent orange.
Some of the exhibits in The War Remnants Museum may not be for the squeamish. However, it is an important and stark look at the wars that have shaped Vietnam and the long term effects on all who fought in them. Allow at least a half-day for this museum.
Open Hours: Daily 7:30 am – 5.00 pm. The ticket window closes between 11.45 am – 12.00 pm. Last entry is at 4.30 pm.
Entry Fee: VND 40,000, (~ US$1.75 )
Tip for Visiting The War Remnants Museum
Shopping and Street Food at Ben Thanh Market
One of the oldest surviving structures in Saigon, the Ben Thanh Market is the shopping and street food mecca of District 1.
The market is one of Ho Chi Minh's liveliest areas. Bursting at the seams with traders hawking fresh produce and day to day items to locals as well as an equal abundance of souvenirs.
You will find everything from local handicrafts to great value knock off items such as sneakers, T-shirts, luggage, and activewear.
Be prepared to bargain regardless of any fixed price signs you see. Vendors are up for it and set prices high to accommodate. Just remember, you will always agree on the best price when the bartering stays friendly.
Head to the market in the afternoon when the market restaurants start to open inside. It is an excellent spot for a late lunch and a cold drink while watching the daily market trading.
Ben Thanh Night Market
Once the market closes, the perimeter of Ben Thanh becomes a vibrant scene of street food stalls and restaurants. Find a tiny plastic chair and enjoy a cold beer and some authentic Vietnamese street food. The outside market is open until around midnight.
Be very mindful of your personal belongings in the market. It is hectic, and distractions are everywhere – The perfect combination for pickpockets.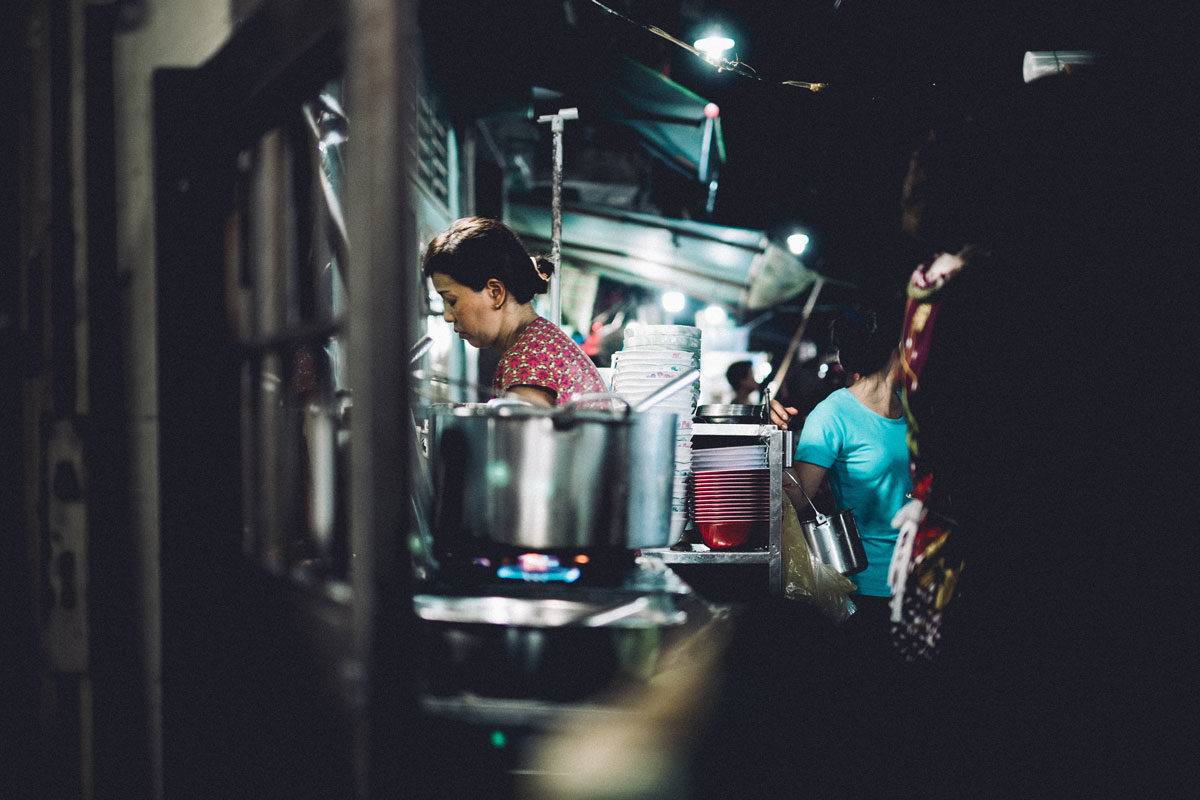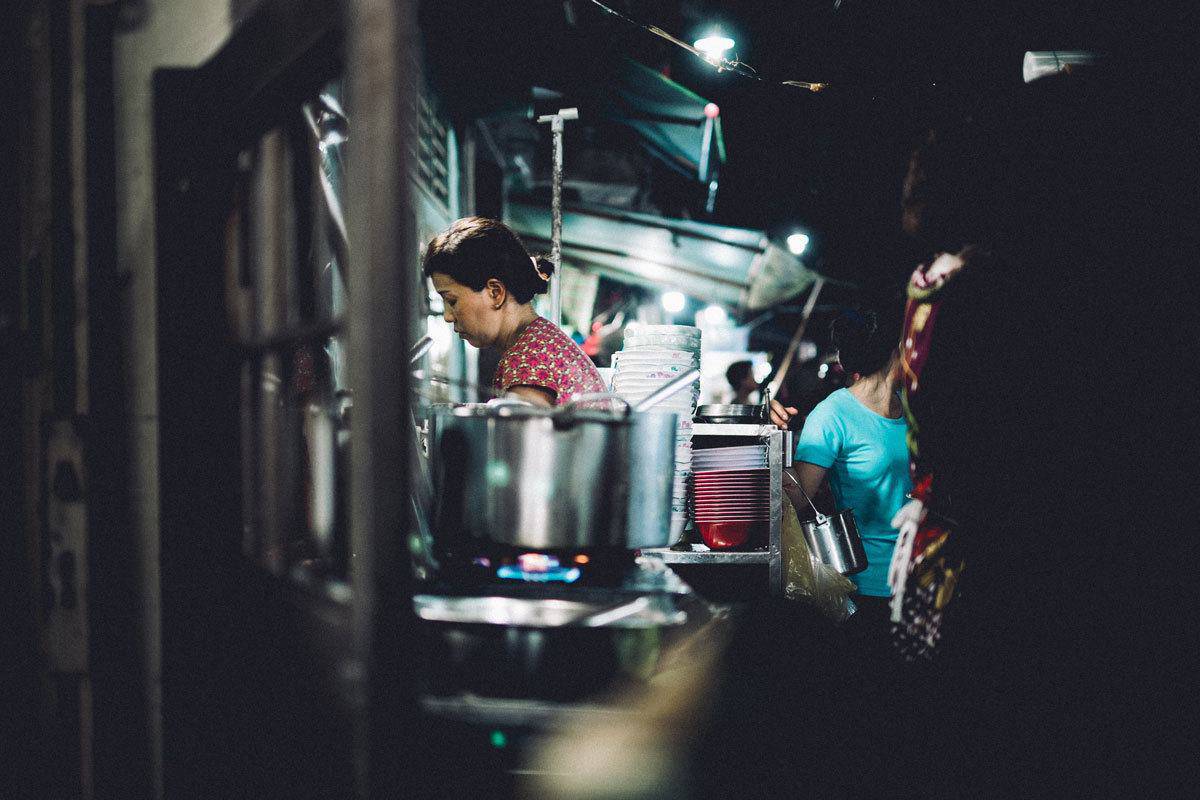 Vietnamese Street Food Tour Recommendation
Enjoy Saigon's famous street food on an evening street food and market tour. Sample a myriad of local dishes and delicacies at some of Ho Chi Minh's best local eateries. Tour lasts 3.5 hrs and includes all food, beer, coffee, and local guide. Prices start at VND 758,000 pp (~$USD 32). Get full
Saigon street food tour details here
.
Visit Saigon Notre Dame Cathedral Basilica
Constructed between 1863-1880 during the French colonial occupation of Vietnam, the Saigon Notre-Dame Basilica is one of the most iconic tourist attractions in Vietnam.
Modelled on the design of the original Notre Dame Cathedral in Paris, all the materials were shipped from France for the cathedral construction. The original church of Saigon was constructed from timber in 1863 which was quickly devastated by termites.
The current red brick structure was the result of a design competition won by French religious architect Jules Bourard. The winning idea was simply to build a smaller version of the Notre Dame in Paris.
The religious centre for more than 6 million of Vietnam's Catholics and pilgrims, the Saigon cathedral also attracts a daily trade of tourists as well as savvy locals with makeshift shops around the cathedral's perimeter.
The Saigon Cathedral is currently undergoing a massive restoration that began in 2017 and is expected to remain closed to tourists until at least the middle of 2020. So, much like the original Notre Dame in Paris, the cathedral may currently only be viewed from the exterior grounds.
The church does, however, still hold mass every Sunday at 9.30 in both Vietnamese and English.
---
Ho Chi Minh City Book Street
Book street is in Nguyen Van Binh, District 1, Ho Chi Minh City.
---
Take a Dinner Cruise on the Saigon River
Take a Bonsai River Cruise for a different view of Ho Chi Minh City as you float past some of Saigon's most historic monuments. Onboard the traditional 19th century dragon boat you can enjoy dinner and a relaxing evening away from the hectic pace of the city on Ho Chi Minh's premier river cruise.
You can pre-book dinner and cruise tickets here.
Tour Reunification Palace
During the Vietnam War, the Reunification Palace was the residence of the president of South Vietnam and the site of a dramatic finish to the Vietnam war. One of the most famous monuments of the Vietnam War, a free guided tour of the palace is a great way to glean an understanding of the culture and history of Ho Chi Minh City and South Vietnam.
Opening Hours: 7:30 am–11.00 am |1.00 pm –4.00 pm
Entry Fee: VND 40,000 (approx. US$ 2). Free tour guides can be arranged as you arrive.
Visit the Central Post Office
The Saigon Central Post Office is another iconic attraction in Ho Chi Minh city. Constructed from 1886-1891 in the classic Gothic, Renaissance and French colonial design many mistakenly credit Gustave Eiffel for the building.
Designed by French architect Alfred Foulhoux, the bright yellow building trimmed in white with elegant green shutters transports visitors to Europe.
The magnificent colonial interior has domed ceilings supported by ornate metal arches, (possibly the mistaken link to Eiffel), oil paintings, polished timber phone booths and original wooden countertops.
Two painted maps dating back to 1892 depict the postal route between southern Vietnam & Cambodia and the other, Saigon city and surroundings.
A large portrait of the father of modern Vietnam, Ho Chi Minh at the end of the great hall is the only reminder that you are in Vietnam.
Pham Ngu Lao Street Nightlife (Backpacker Street)
The hub of Vietnam's nightlife in Ho Chi Minh City for most travellers is Pham Ngu Lao Street.
Located on the western side of District 1, Pham Ngu Lao Street is a hot spot for backpackers. It is not surprising this is where you will find a myriad of hostels, affordable hotels, cafes, pubs, rooftop bars and western-style restaurants.
Although, thanks to its proximity to some of Ho Chi Minh's most popular attractions, Pham Ngu Lao Street attracts an eclectic mix of people beyond just the budget traveller.
Around Pham Ngu Lao Street is also where you will find loads of tour company offices and kiosks and no end of souvenir and artisan shops attracting travellers of all kinds.
Even if you don't fancy the nightlife of Pham Ngu Lao Street; spend an evening sampling the street food Ho Chi Minh is famous for, enjoy an icy cold beer roadside while people-watching, or, shop for some unique Vietnamese souvenirs.
Phuoc An Hoi Quan Pagoda
Dating back to 1902 Phuoc An Hoi Quan Pagoda is one of the most beautifully ornate temples in Ho Chi Minh City. Adorned with elaborate wood carvings, brass ritual ornaments, bright lanterns and spiral incense coils hanging from the ceiling; the temple is worth a visit if you are in the Cholon or Chinatown area.
Inside the temple is a lifesize figure of the sacred horse Quan Cong. Devotees make offerings to the horse, stroke its mane and ring the bell around its neck before departing on a journey.
Coffee at the Tao Dan Park Bird Cafe
Vietnam is world-famous for its coffee, so not surprisingly, it also has a thriving cafe culture. Tao Dan Park has a unique cafe culture that is well worth experiencing.
The 10-hectare park is Ho Chi Minh City's most attractive green space and a gorgeous reprieve from the constant honking and hustle of the motorbike congested city.
Not surprisingly, the tranquil and shady park attracts thousands of locals daily. Come early morning to see groups gather for tai chi or even a spot of badminton.
The biggest attraction at Tao Dan Park is the daily gathering of older Vietnamese men who bring ornate cages with songbirds to what is now known as the bird cafe.
Join the men for some freshly brewed Vietnamese coffee while they socialise over coffee, and more importantly, socialise their birds.
The point of the daily meeting is not just to meet with friends and show off their prized birds, but also for the birds to learn new songs from one another.
Eat Pho
Want to eat like a local in Ho Chi Minh, then head to the nearest street stall for a bowl of Pho (pronounced "fuh"), a traditional Vietnamese noodle soup.
Noodles are added to a clear stock soup with finely shredded meat according to preference. Finish with fresh chilli, basil, lime, and bean shoots to your own taste and this sweet, spicy, salty, comforting soup usually becomes a favourite of all visitors to Vietnam.
Eat the Original Vietnamese Banh Mi Sandwich
The humble Banh Mi is steeped in French Colonial history and Vietnamese ingenuity. The Banh Mi sandwich as we know it today originated in the streets of Saigon in the late 1950s when Vietnam split into two countries.
The Vietnamese had always eaten the French baguette as the French had dictated – with butter as an accompaniment to assorted cold cuts and cheese. Mr and Mrs Le, a clever couple who fled the north were the first to put the ingredients inside the bread to make a "to go" style sandwich to suit the busy Saigon lifestyle.
The simple airy baguette with shredded vegetables, cilantro, chilli, cucumber, and your choice of meat or pate has become a street food staple of Vietnam celebrated around the world.
The family of Mr and Mrs Le still run a Banh Mi shop called Banh Mi Hoa Ma in District 3. Read more about the history of the Banh Mi sandwich.
Vietnamese cooking classes
The food in Vietnam is one of the most exciting aspects of the country and what draws many to visit.
If you have time and want to do something different; a Vietnamese cooking class is a great way to experience another side of Ho Chi Minh.
Most Ho Chi Minh cooking classes include a local market tour. You will be guided through the market, selecting local fresh ingredients. A fantastic way to get a better understanding of both the dish you will learn to cook and local life in Saigon.
Farm to Table Vietnamese Cooking Class Recommendation
Spend a morning or afternoon on a farm to table cooking class. Vietnamese cuisine has long been considered one of the healthiest in the world. Learn about and harvest herbs, spices and vegetables from the medicine garden under the guidance of a pharmacist and chef. Discover different varieties of mushrooms and learn about rice cultivation. Once you have gathered your ingredients, a local chef will guide you through the preparation of healthy and delicious Vietnamese dishes. Prices start at VND 1,421,200 (~USD$60) pp. Includes Lunch, cooking class, guide, drink, transport.
Get full tour details here
.
Visit the Vietnam History Museum
Just inside the gates of the Saigon Zoo And Botanical Garden is the beautiful 1929 French colonial building that houses the Vietnam History Museum.
The museum explores the pre-war eras of Vietnam. The collection of artefacts covers the evolution of Vietnamese cultures, from the Bronze Age civilisation in 2000 BC, the Funan civilisation in the 1st to 6th centuries AD, to the Cham, Khmer and Vietnamese.
The museum includes a beautiful collection of Buddha statues, priceless relics from Cambodia's Angkor Wat, and some stunning Chinese styled mother of pearl inlays. You will even find the perfectly preserved mummy of a woman who died in 1869, her body excavated from Xom Cai in District 5.
The museum is a breath of fresh air for those who have had their fill of colonial and war history and the botanic gardens a nice reprieve from the tourist mill.
Open Hours: Daily 8:00 am – 11:30 am | 1:30 pm – 5:00 pm
Entry Fee: VND 15,000, (~ US$0.65 ). Note -photos are only allowed inside with the purchase of a VND 30,000 camera ticket.
---
Giac Lam Pagoda
Built in 1744, Giac Lam Pagoda is the oldest temple in Ho Chi Minh. A pretty garden with a large Bodhi Tree forms the Giac Lam Pagoda which means 'Feel the Woods Temple'.
The Bodhi Tree was a gift from a Sri Lankan monk who visited the temple in 1953. Surrounded by walls in the middle of the urban sprawl, the pagoda grounds are a delightful escape from the chaos of Ho Chi Minh City.
---
Recommended Travel Gear for Vietnam
Day Trips From Ho Chi Minh
Cu Chi Tunnels
Cu Chi is 60 km from Ho Chi Minh city. The scenic landscape of rice fields and water buffalo are a stark contrast to the sheer devastation that took place in what was called a "Free Target Zone" during the Vietnam War.
Few places are more symbolic of Vietnamese determination and tenacity than Cu Chi. A 220 km subterranean network of tunnels, underground storage facilities, hospitals, and command centres honeycomb their way from just outside Ho Chi Minh city to the Cambodian border. The tunnel systems enabled the Viet Cong to counter the growing American military effort.
It is not surprising the Cu Chi tunnels are one of the most popular things to do in Ho Chi Minh for visitors and an important site for Vietnamese. It is also a fun thing to if visiting Ho Chi Minh City with teenagers.
While some of the tunnel network is multiple stories deep, much of it is very small, narrow and dark so not recommended for the claustrophobic.
Cu Chi Tunnels Tours
Half-day Cu Chi Tour
Take a morning or afternoon tour of the Cu Chi Tunnels with a professional guide. The tour lasts approx 6 hrs, includes transport and even offers the opportunity to fire an AK-47. Prices start at VND 331,600 pp (~ USD$14 pp). Get half-day Cu Chi tour details here.
VIP Cu Chi Tunnels and the Mekong Delta Tour
Combine a Cu Chi Tunnels tour with a cruise down the Mekong Delta and a traditional Vietnamese lunch. The tour lasts approx 11 hrs, includes professional guides, VIP or limousine style transfers, all entry fees, boat cruise, lunch, and snacks. Prices start at VND 1,326,200 pp (~ USD$56 pp). Get Cu Chi Tunnels & Mekong Delta tour details here.
Explore the Mekong Delta
The Mekong Delta covers over 39,000 square kilometres of waterways and is one of the most densely populated areas in Vietnam. Starting in the Himalayas, the Mekong travels through China, Myanmar, Thailand, Cambodia and finally, Vietnam.
Responsible for more than half of Vietnam's rice cultivation and fishery, the river is vital to Vietnam's economy and day to day life.
Life in the delta region revolves around the river. Discover the incredible variety of food and livestock grown in the region.
Visit the famous floating markets and villages that dot the banks of the Mekong. It is along the mighty Mekong where you can learn so much about Vietnamese culture.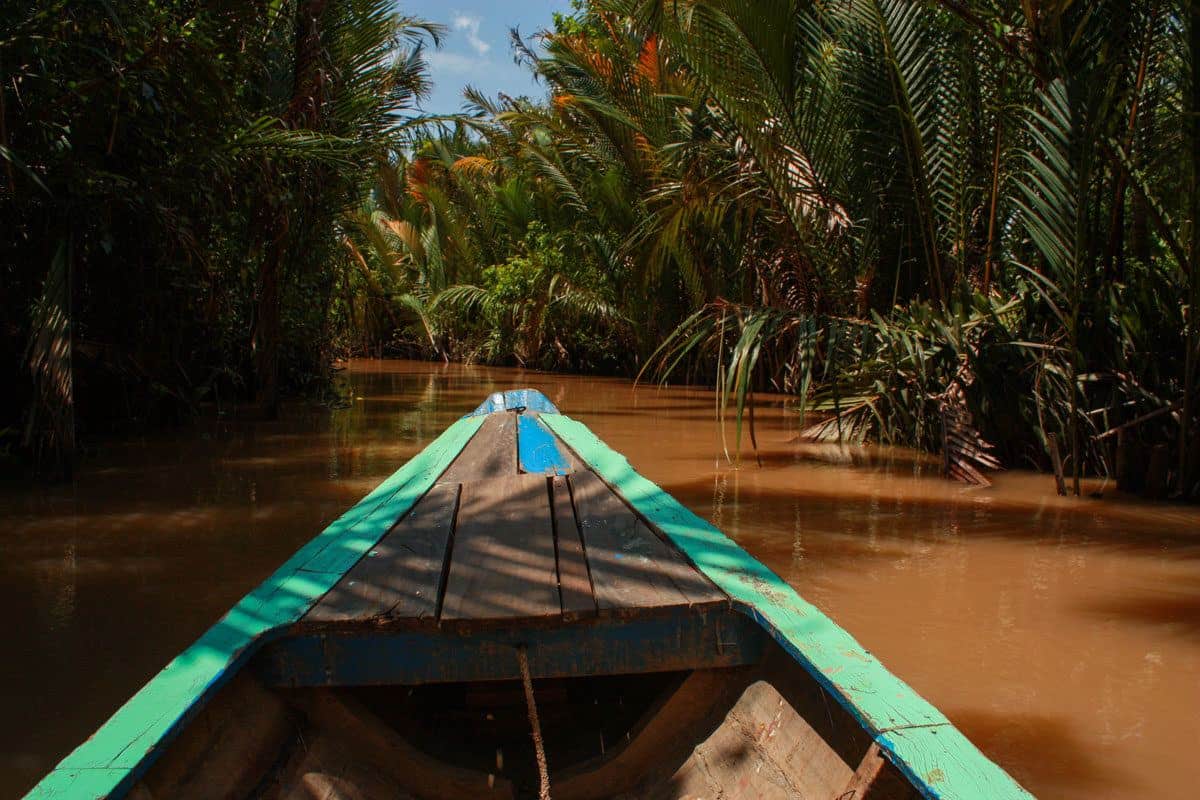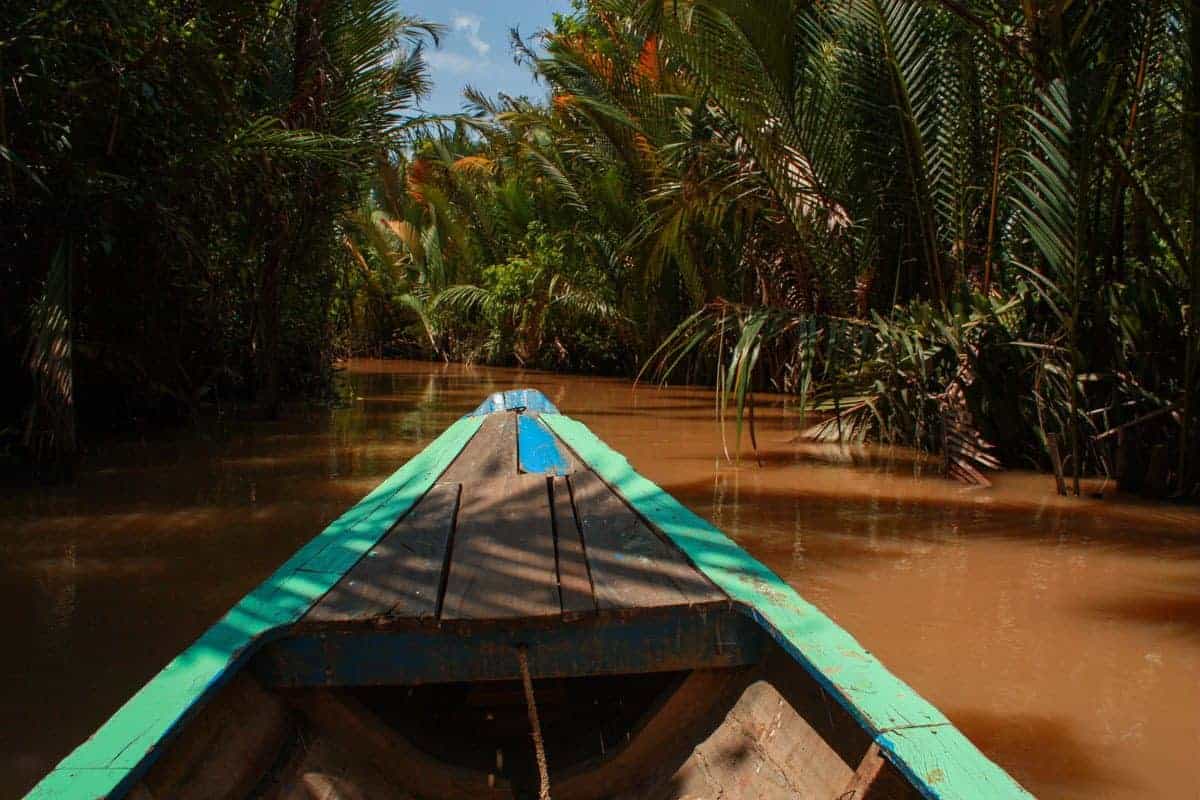 Helpful Packing Additions for Vietnam
We love these handy additions to our day pack or handbag for every travel situation. Perfect for day trips, especially countries like Vietnam.
Mekong Delta Tour Recommendations
1 Day Mekong Delta Tour
Experience the narrow canals, stilt houses and fishing villages of the Mekong. Visit the Vinh Trang pagoda and see the giant Buddha statue. Cruise along the Tien River and stop for lunch in an Orchid Garden.
Includes transfers, boat trip, lunch, snacks and guide. Prices start at VND 686,900 pp (~ USD$ 29). Get full 1 day Mekong tour details here.
2 Day Mekong Delta & Cai Rang Floating Market Tour
Visit Vinh Trang pagoda, the biggest pagoda in Mekong Delta. Take a boat trip along the Mekong from My Tho to see the fishing villages and experience life on the Delta. Spend the night in Can Tho before visiting the biggest floating market in the Mekong Delta – Cai Rang plus much more.
Tour includes transfers, Motorboat trips, small rowboat trip, Guide. all entrance fees, Most meals, and hotel stay in 3 or 5-star hotel. Prices start at VND 1,857,000 (~USD$ 80). See full 2 day Mekong tour details here.
3-Day 2-Night Mekong Delta with Phnom Penh Exit, Cambodia
Take a 3 day Mekong Delta tour from Ho Chi Minh City finishing in Phnom Penh Cambodia. Visit the Vinh Trang Pagoda, the Cai Rang Floating Market, Tra Su Cajuput Forest and so much more.
Tour includes All transfers, guide, Mekong Delta boat trip, Entrance fees, most meals and snacks, 2 nights accommodation, boat ticket to Phnom Penh from Chau Doc. Prices start from VND 2,960,800 (~USD$ 125). See here for full 3 days/ 2 night Mekong tour details.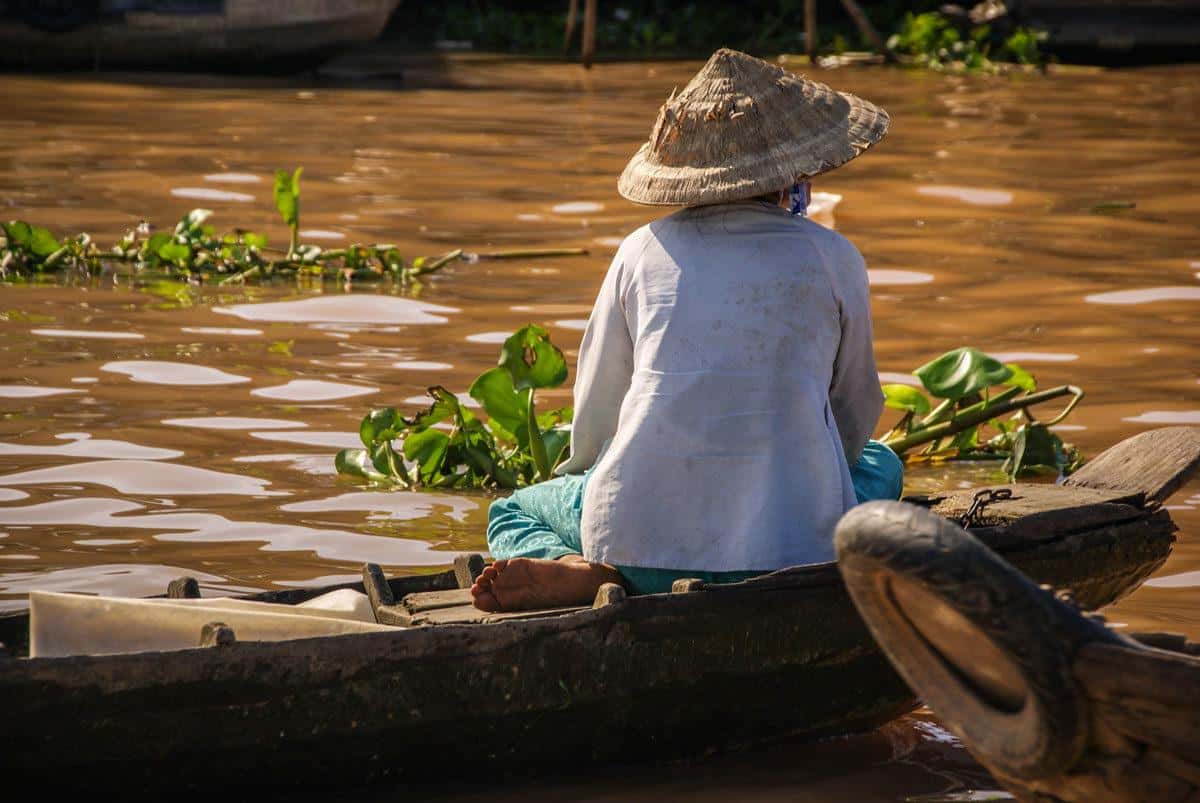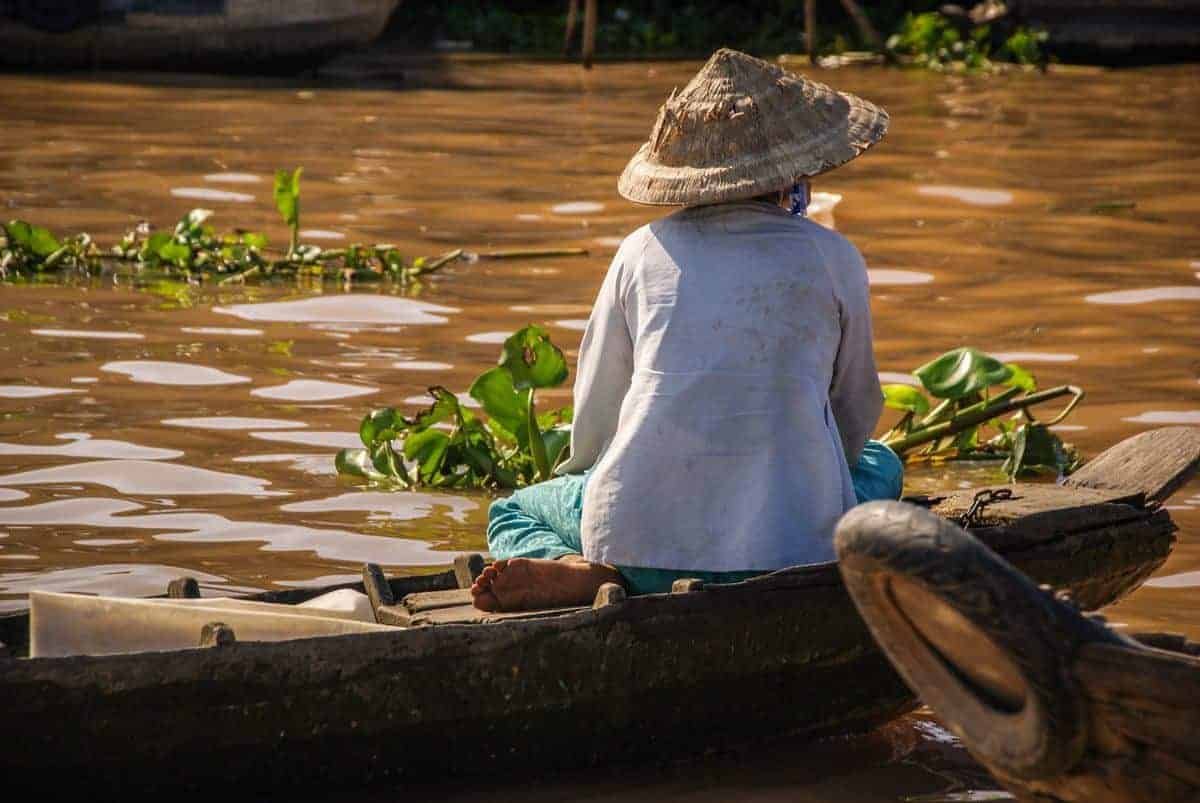 Visit Cao Dai Temple
One hundred kilometres northwest of Ho Chi Minh City, close to the Cambodian border, is the Cao Dai Temple.
The incredibly ornate and colourful temple was finished in 1955 following the Japanese occupation of Indochina when the Cao Dai Army formed.
Caodaists believe all religions ultimately seek to promote tolerance throughout the world.
The basis of Caodaism is to strive for world peace and harmony with beliefs steeped in several world religions. They honour Jesus Christ, Buddha, Muhammad and Confucius.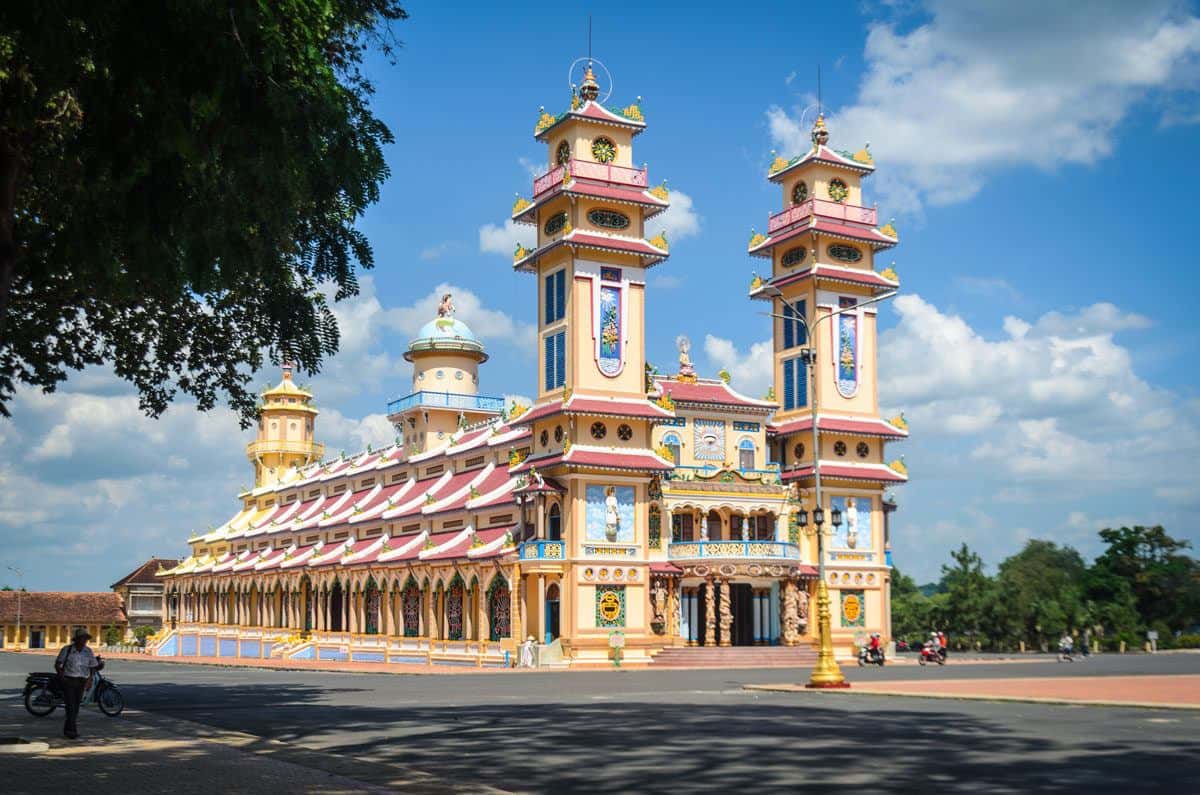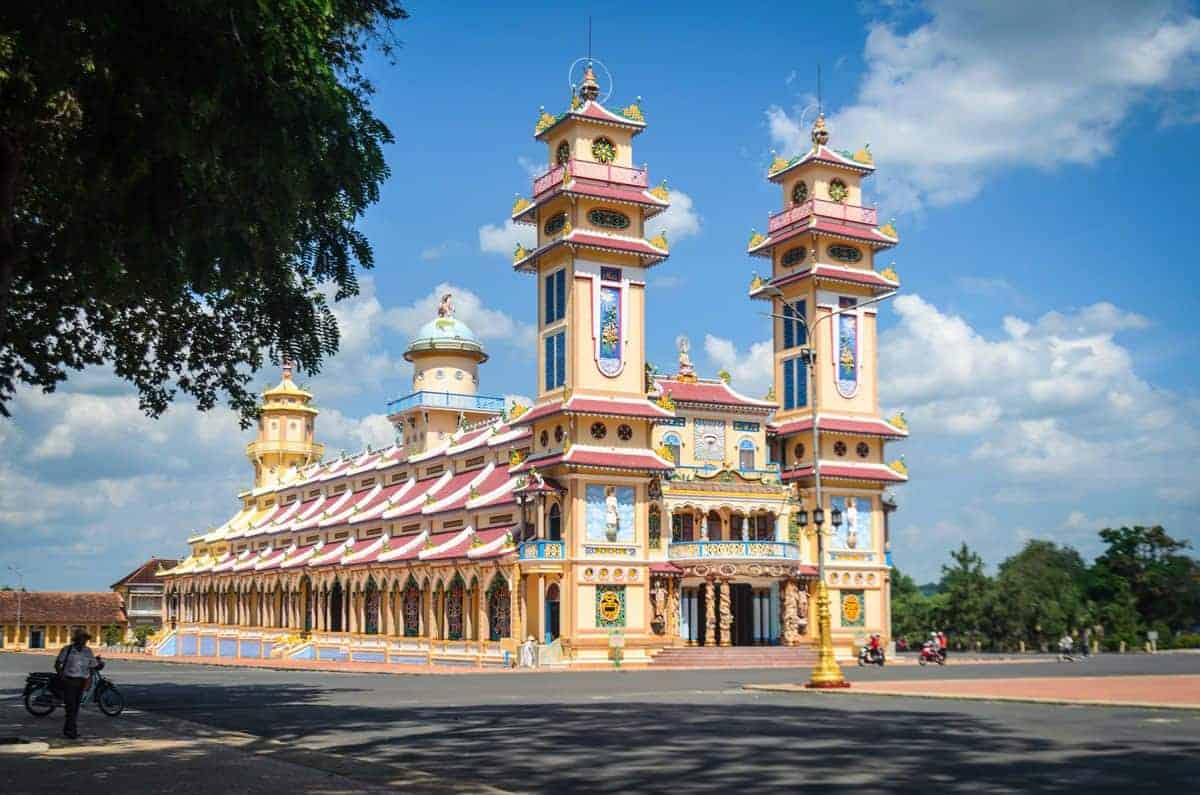 Prayer time is a highlight of visiting the temple. Thanks to the long flowing robes worn, it is a vivid display of colour accompanied by singing and music. Lay followers wear white, priests yellow, blue or red, and bishops have the Divine Eye embroidered on their headpieces.
Add a Visit to Cao Dai Temple Onto a Cu Chi Tunnels Tour
Visit the Cao Dai Temple as part of a Cu Chi Tunnels tour. Attend the midday ceremony and learn about the Cao Dai sect. After lunch, visit the subterranean world of the Cu Chi Tunnels. It is a full-day tour an includes entrance fees, transfers, guides, and lunch. Prices start at VND 592,200 pp (~ USD$ 25 pp). Get full Cao Dai Temple & Cu Chi Tunnels Tour details here.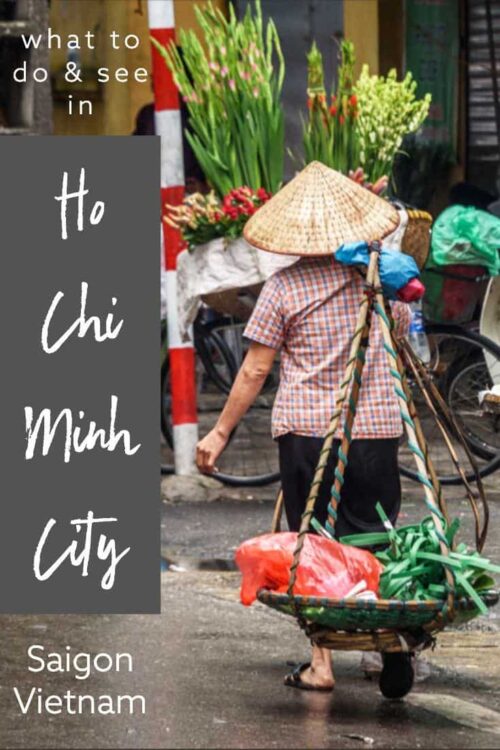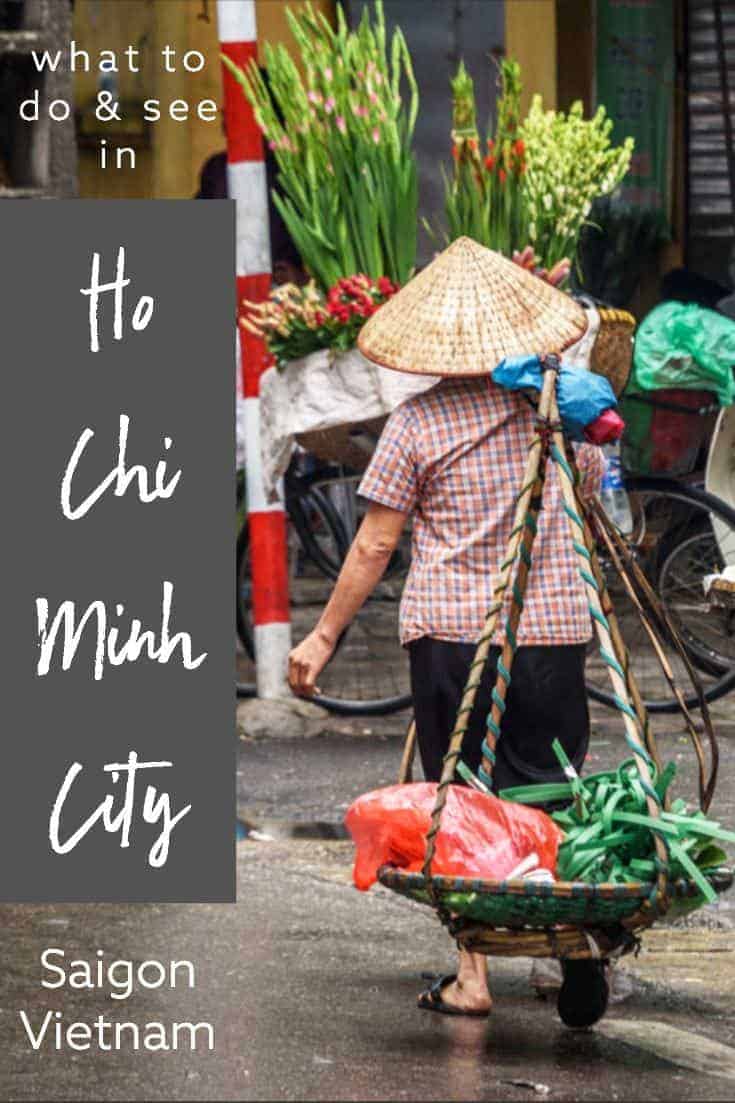 Thanks to contributing authors Jimmy & Tah full-time travellers and creators of Divert Living.