Halong Bay (Ha Long Bay) means "Bay of Descending Dragons." And so sets the scene for one of Vietnam's most beautiful and sought-after destinations. A place where thousands of towering limestone islands topped with rainforests shrouded in mist fill an emerald bay.
We've put together a complete guide to visiting Halong Bay with tips to help you choose the best Halong Bay cruise.
Tips to Plan a Halong Bay Cruise
About Halong Bay
According to Vietnamese legend, when a dragon descended from the mountains, the islands of Halong Bay were formed. The dragon's tail carved out valleys and crevasses as it moved toward the coast.
When the dragon reached the water, it flooded the area leaving nothing but the peaks of the islands visible in a beautiful bay.
Don't Forget to Get Your Vietnam Visa Before You Go
You must have a visa to enter Vietnam. Previously you had to apply for an "approval letter" and then queue on arrival and pay an additional USD$25 for a "visa on arrival.
The process has been simplified, and citizens from over 40 countries can now apply for their visas online. You can apply for your Vietnam Visa here but make sure you allow at least three business days before your departure date for processing.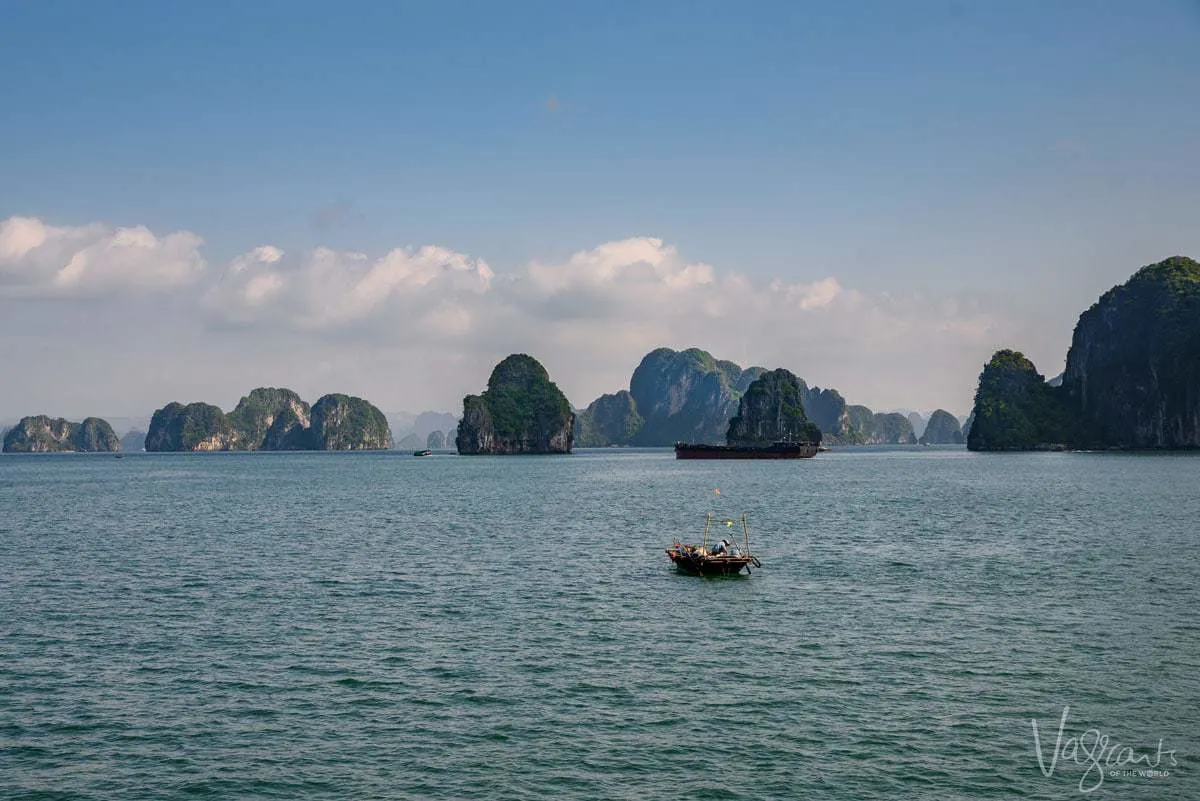 What is Halong Bay Famous For?
Ha Long Bay, Vietnam, is famous for its scenic rock formations. A UNESCO World Heritage site, it is often included in lists of natural wonders. Halong Bay is a magnificent feat of nature that rarely fails to impress.
As one of Vietnam's premier tourist destinations, the region is famed for its junk boat cruises and sea kayak expeditions. The region is also renowned for scuba diving, rock climbing, and hiking in mountainous Cát Bà National Park.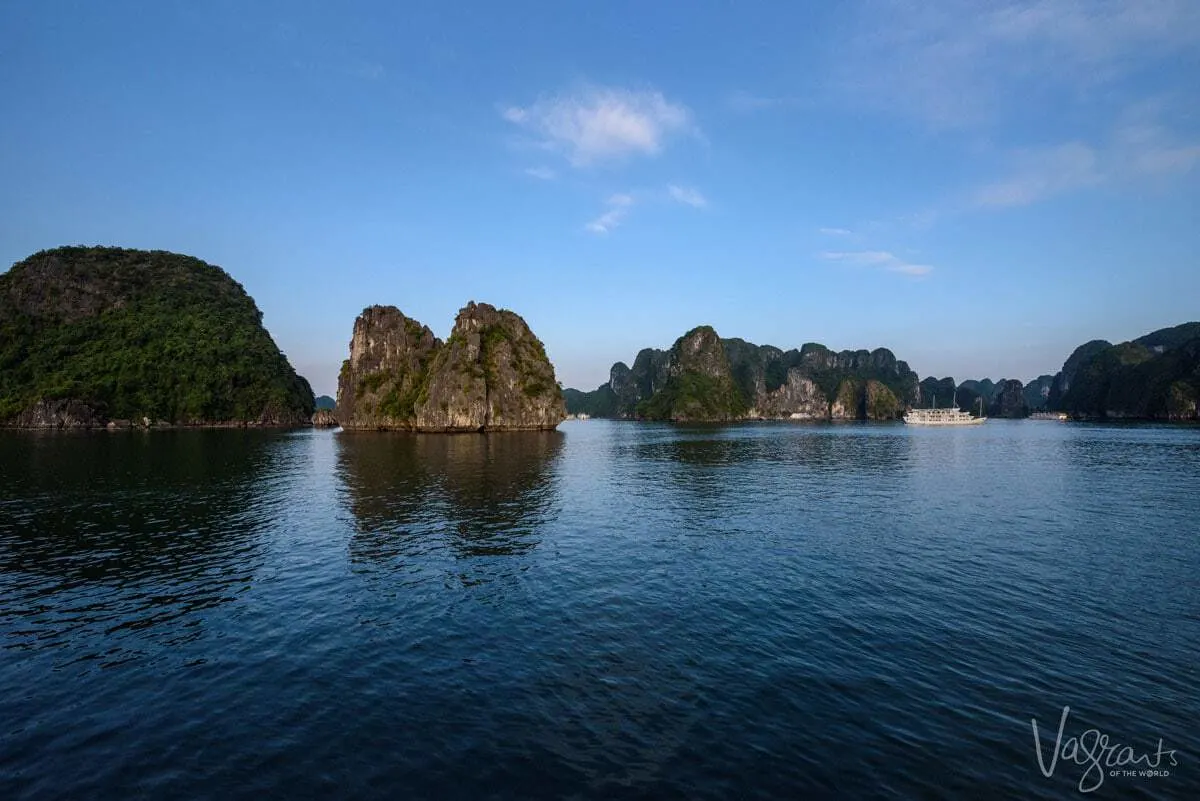 How Long to Spend in Halong Bay
We touched on this in our Trekking in Sapa article. We understand many visitors to Vietnam have time constraints and how much people would like to see and do in Vietnam. However, one of the best Vietnam travel tips is – some destinations deserve more than one night.
Much like Sapa and the ancient city of Hoi An, we feel it would be a shame to travel all the way to Halong Bay for just a day or even one night. Two nights in Halong Bay allows time to experience the complete beauty and atmosphere of the area. It's also a lovely break from the hustle of Vietnamese cities like Hanoi and Ho Chi Minh City.
Is One Day Enough In Halong Bay?
There are many options for day trips from Hanoi to Halong Bay, as there are 1 night/2 day tours and Halong Bay cruises. However, unless you are flying from Hanoi, if you factor in the travel time, we feel a day trip is just too short to enjoy the beauty of Halong Bay beyond the main tourist areas.
Our recommendation would be a 3-day/2 night cruise or longer. If you can't budget that time in your Vietnam itinerary, at least spend one night. A day trip would be very rushed.
You can see a selection of Halong Bay day trips from Hanoi here to get an idea if this is the right itinerary for you.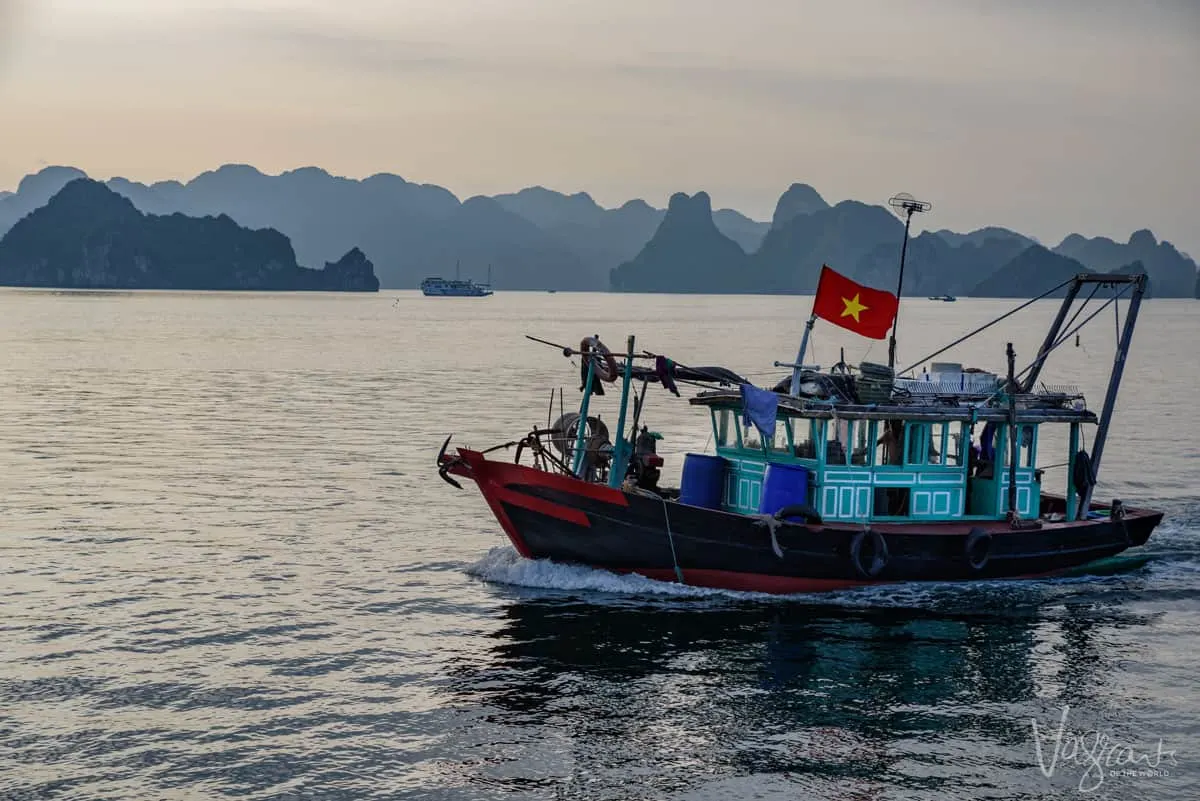 Suggested Travel Gear for Halong Bay
---
How to Get to Halong Bay
Situated in Northern Vietnam, Halong Bay is approx. 180 km (3.5 hrs) east of Hanoi.
Halong Bay Tour Transfers
The easiest way to get to Halong Bay is using the transfer shuttle included with most of the Halong Bay tours. Something to look out for when choosing the best Halong Bay Cruise for you.
The drive from Hanoi will take anywhere from 3.5 – 4 hrs, depending on traffic and stops along the way. Most tours include very comfortable minivan transfer services.
Traveling Independently from Hanoi to Halong Bay
Buses to Halong Bay
There are regular buses from Hanoi to Halong city. The journey is approx 160 km and 3.5 hours. You then need to get a bus from the station to the pier – About 15 mins.
Various minibus services are also running from Gia Lam, Hanoi, to Bai Chay, Ha Long. These buses take approx 4 – 5 hours as they regularly stop to pick people up and may not be very comfortable. Expect around $6 USD each way for a minibus.
Shuttle buses also leave from Hanoi Old Quarter but can take 4 – 6 hours, depending on the number of passengers and stops. Expect around $10 USD each way.
By Seaplane
Seaplane flights leave from Noi Bai International Airport, Hanoi, to Halong Bay. The trip will only take around 45 minutes and cost approximately $180 USD pp each way. However, the flight does offer spectacular views over the countryside.
For an added fee, flights can be extended to include an additional 15-minute scenic tour over Halong Bay, where you can view the thousands of limestone karsts jutting up from the emerald waters. Probably worthwhile if you're going to spend that kind of money in the first place.
Private Car or Taxi
A private car from Hanoi center to Halong bay will cost around $85 USD per car per trip. They can also be booked on a 2-day/1 night basis. Expect prices to start at $150 USD for this.
By Train
There is a regular and comfortable train service from Hanoi to Hai Phong, which is approx 40 min from Halong.
There is also a train from Hanoi to the terminal at Ha Long City near the Bai Chay bus station, about 5 km from the harbor. The service leaves Hanoi at 4.30 am and arrives at 11 am. The train offers hard sleeper berths at around $10 USD each way. However, this mode of transport is rarely recommended. The service is often delayed and is often canceled altogether.
You can find a more comprehensive guide to the various transport modes available to Halong Bay here.
Considering many have limited time to spend in Halong Bay, we highly recommend booking a tour with transfers from Hanoi.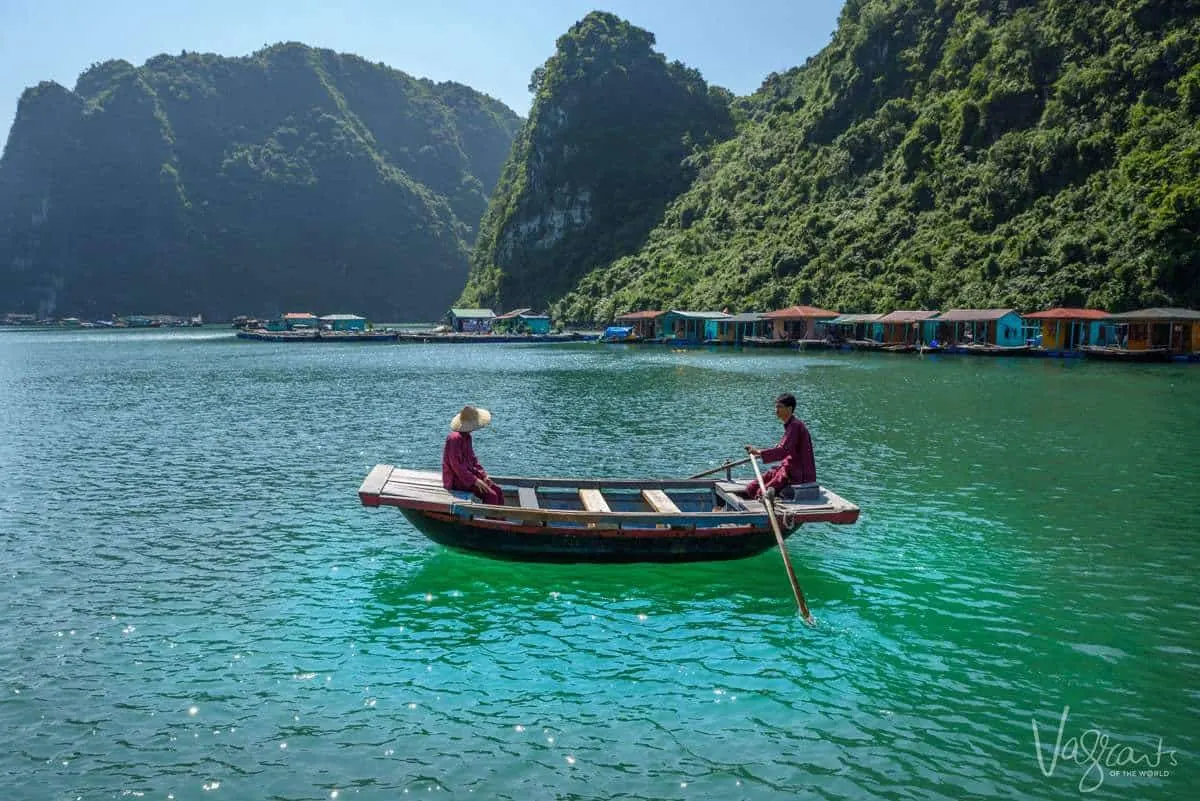 Halong Bay Overnight Cruises
The most popular way to experience Halong Bay is on an overnight junk boat tour. This makes sense as it is difficult to independently see Halong's best sights.
There are three main types of overnight cruises to choose from in Halong Bay.
2 day/1 night cruises
3 day/2 night cruises
4 day/3 night cruises
Tip for Choosing the Best Halong Bay Cruise: Pay attention to the itinerary of the cruise you are booking, as on some cruises, you may not actually stay on board at night. Some of the two-night cruises will include one night on board and one in a hotel or bungalow on an island such as Cat Ba Island.
---
Types of Halong Bay Cruises
Each Halong Bay cruise will offer different activities and levels of accommodation. These cruises will give you an idea of the best Halong bay cruise to suit your budget and interest.
---
Halong Bay Party Tours
Many of the 2-day/1 night "Party" tours will almost always have you stay in pretty basic island accommodation. This would make sense as the purpose of these cruises is to party, and the more groups on the island, the bigger the party. Not our thing, but we have heard mixed reviews about the quality of this type of tour.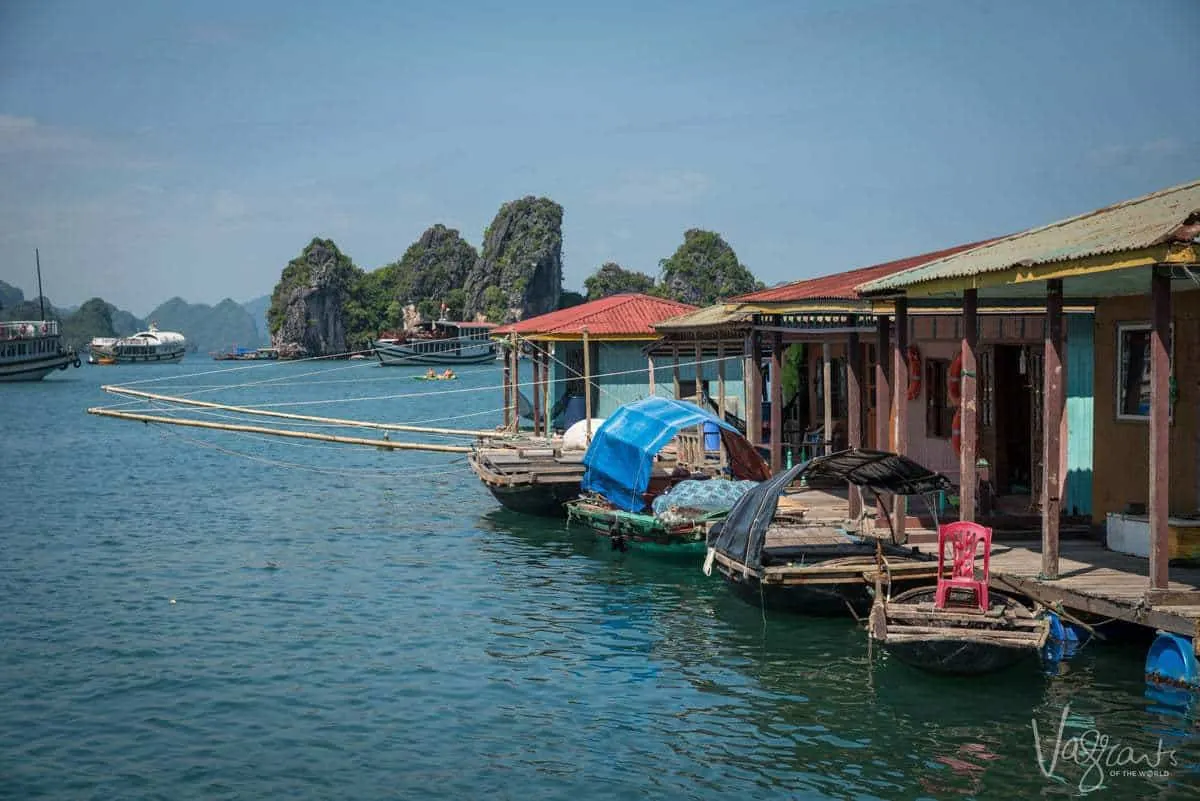 How Many Nights on a Halong Bay Junk Boat
The beauty of a Halong Bay overnight cruise is the time to relax and truly enjoy the scenery of Halong Bay. Remember, Halong Bay is also one of the biggest tourist attractions in Vietnam.
More than 6 million people visit each year, mostly on cruise boats. So, with this in mind, you may want to consider the type of Halong Bay experience you want.
What You Will See on a One Night Halong Bay Cruise
If you choose a one night cruise, you will most likely only see the most popular tourist route of Halong Bay.
A one-night itinerary will often only include the most crowded tourist places to visit, such as Ti Top Island and the Surprise Cave. Which is to be expected in only 24 hours.
Many of the junk boats also use these areas to anchor overnight as they are close to the boat terminal to collect more guests the next day.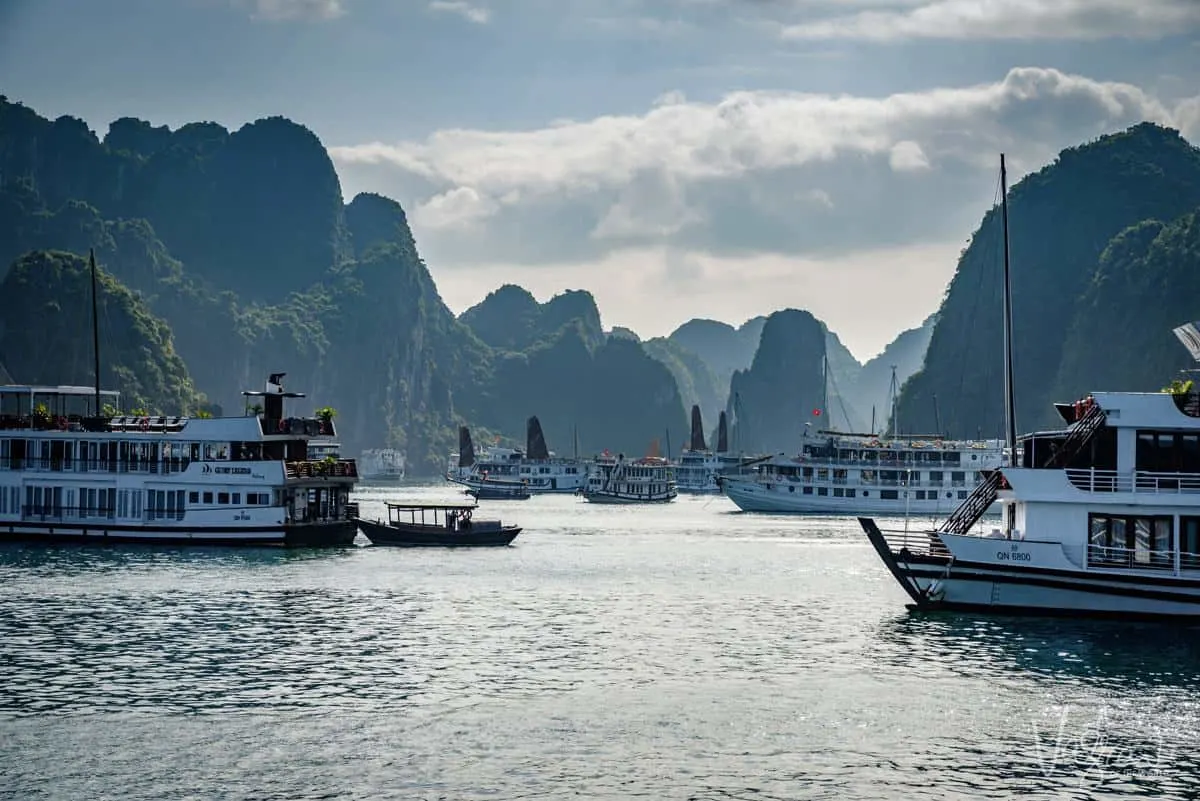 Packing Tip for Halong Bay
It is easier to travel light when going to Halong Bay. If possible, leave the bulk of your luggage at the hotel in Hanoi or with the tour agency and pack a small carry-on or backpack for the trip. Especially if your cruise has you staying in an island hotel instead of on the ship.
Suggested Travel Gear for Vietnam
Related: A Complete Guide to The Best Crossbody Bags for Travel
---
2 night/3 day Junk Boat Cruise Itinerary
On the two, three, or four-night Halong Bay cruises, you can visit the main tourist hot spots and explore areas away from the crowds.
We recommend a 2 night/3day cruise for two reasons:
The travel time from Hanoi to Halong warrants two nights. One night would be too rushed – more travel than the actual tour.
It allows you to experience a little more away from the hoards of hit-and-run tourist crowds.
Cruise Inclusions and Exclusions
All activities and meals should be included in the cruise price. Drinks from the bar are usually not included, although they are not expensive. Interestingly enough, tea and coffee are at an additional charge. This is quite common throughout Vietnam.
Here is a Glimpse of a Two Night Halong Bay Overnight Cruise Itinerary.
Day 1
It will be an early start from Hanoi, departing at around 7.30. You will not arrive at the cruise terminal until at least 1.30-2.00 pm. Once at the cruise terminal, you may still have a long wait to board the vessel as the boats are quickly turned over from previous guests who have not long disembarked.
Ti Top Beach
After cruising through Halong Bay, many of the tour vessels will stop at Ti Top Beach to swim and possibly climb to the lookout for a panoramic view of Halong Bay. First impressions of Halong Bay will not disappoint.
Ti Top Beach is famed for its clear water and white sand beach. Ti Top does have all the qualities of the quintessential island experience. An idyllic place where you can relax and enjoy a swim and a cocktail
Unfortunately, as it is one of the main stops on the day tours and one night cruises, some of the appeal is lost in the number of boats delivering and collecting groups from the shores. Each group dropped off for a predetermined amount of time as if to keep an allotted time slot. In peak season; the beach would be pretty hectic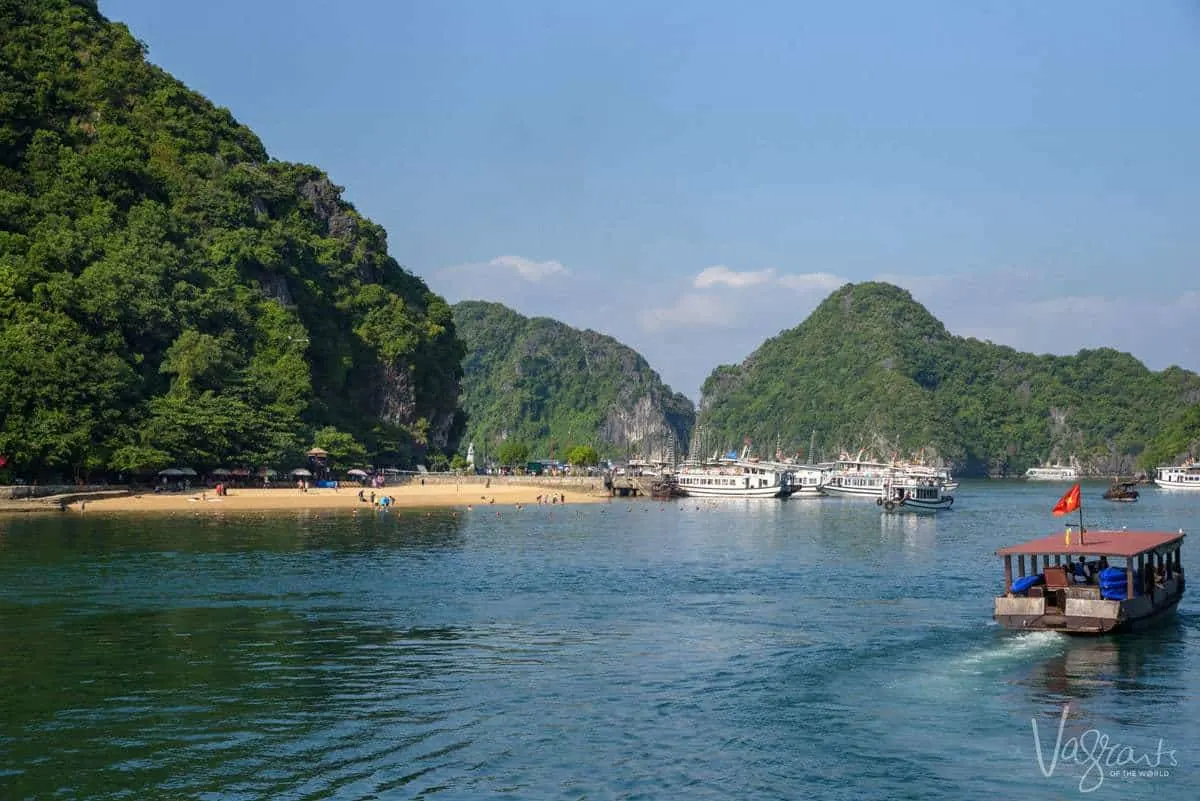 Pearl Farm Visit and Kayaking in Halong Bay
After our stop at Ti Top, we cruised to a bay where Halong Bay Pearls are farmed. Visiting the floating pearl farm, we were shown the entire process of growing and harvesting a valuable pearl.
The highlight of this stop for us was kayaking around the floating pearl farm and the bay. Our only complaint was we didn't have long enough. Given a choice, we would have preferred longer kayaking over either the pearl farm visit or the stop at Ti Top beach.
The views from the kayaks, being so low to the water, brought Halong Bay's majesty into perspective. It was also lovely to poke around the little caves along the shoreline and enjoy the quiet on the water.
You may want to consider this when booking your cruise, as each cruise will have slightly different itineraries and activities.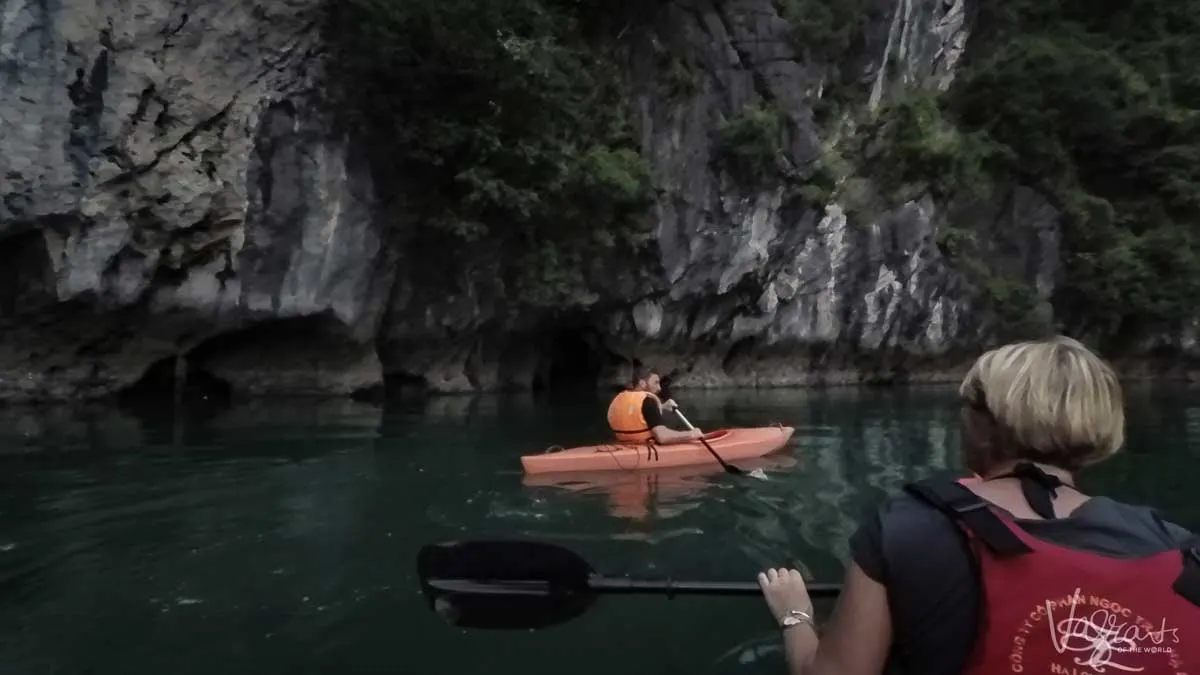 Activities On Board the Junk Boats
The Halong Bay Junk Boats are very spacious, and the majority are quite luxurious in an old-world kind of way. The size of the cabins is particularly impressive.
Vietnamese Junk boats also have lots of comfortable deck space and viewing areas, so relaxing and enjoying the scenery is easy. These cruises are a perfect break from a hectic Vietnam itinerary.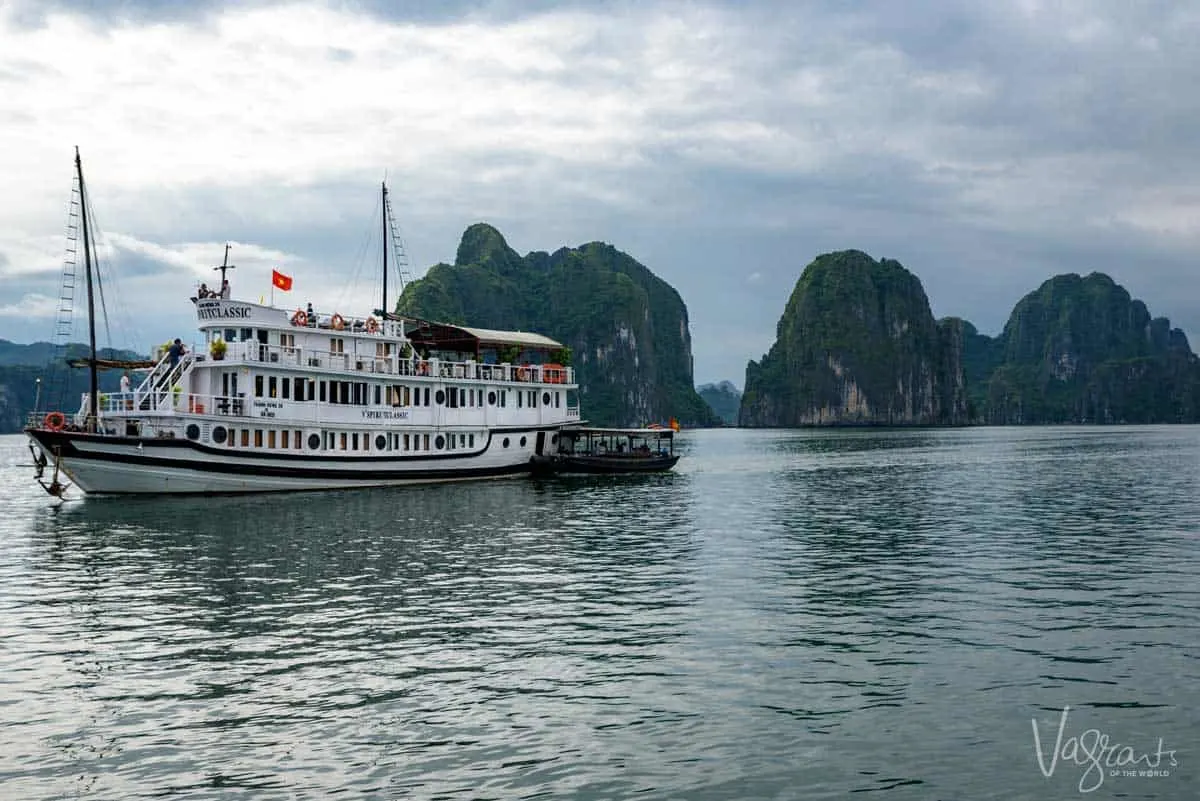 Cooking Classes and Dining
In the evenings, many of the cruises will have a pre-dinner cooking class on the deck which is quite good fun. Dinner is a sit-down affair in the main dining room, usually a three or four-course meal showcasing regional Vietnamese cuisine. The food was very good throughout the whole cruise, and lots of it.
Squid Fishing
After dinner, the crew is on hand on the deck for squid fishing. All fishing gear is set up for you, as is an instruction in the art of attracting squid for the uninitiated.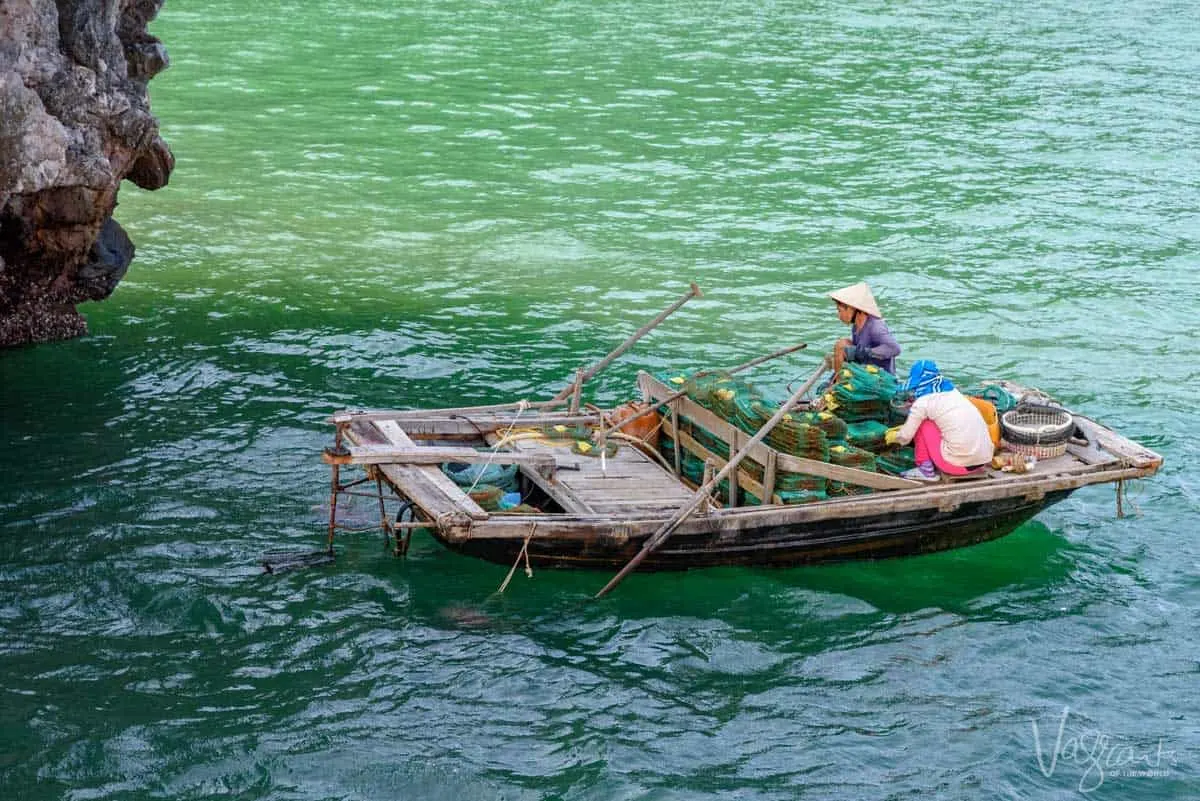 Tai Chi Classes
Many of the cruises will offer a Tai Chi class on the sundeck each morning. Tai Chi is very popular in Vietnam; you will often see it being practiced in public spaces in the cities early in the morning.
The class goes for around half an hour under the watchful eye of the ship's Tai Chi Master. Even for the novice, it is a lovely way to start the day surrounded by one of the world's wonders.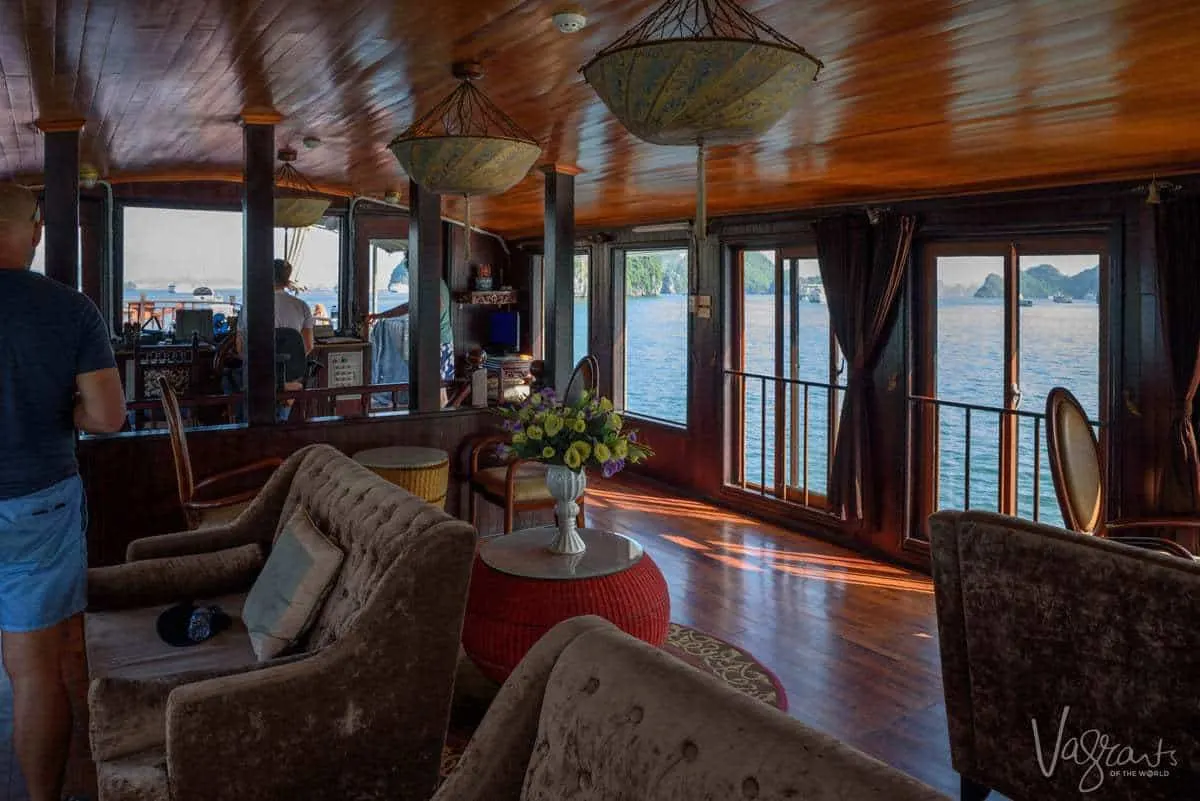 Day 2
On day two of the cruise, passengers are split up according to the length of the cruise booking. Passengers on a one-night cruise leave early in the morning for their final excursion before returning to the pier.
After a leisurely breakfast, the remaining two-night passengers (there were only five of us) are transferred to another vessel the same size as the main ship. This would be our "Day Boat" while the main ship returned to Halong to drop off and collect more guests.
We were so surprised at having this enormous and very comfortable boat to ourselves for the day.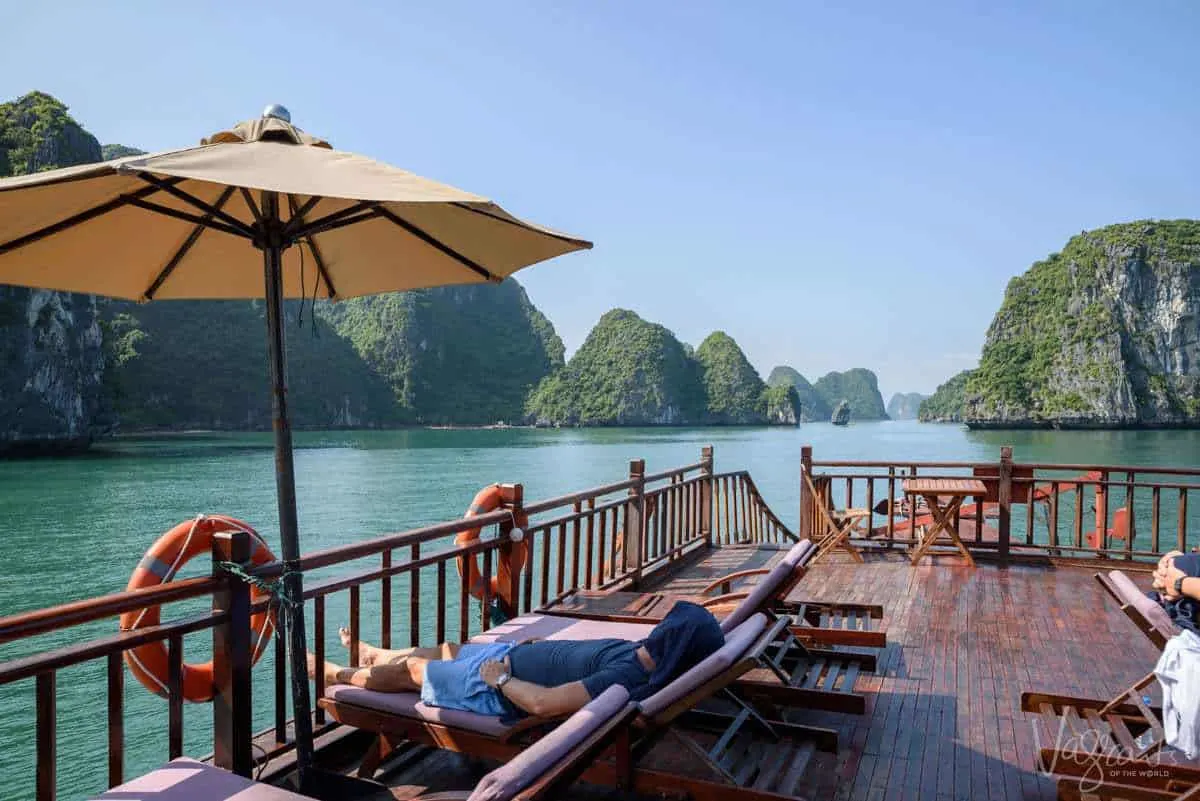 Cua Van Village
A relaxing morning is spent on board cruising deeper into Halong Bay, where you can see the small fishing operations. Squid boats on anchor waiting for the night's fishing, and small family-owned fishing vessels hard at work. A glimpse of the day-to-day industry of Halong beyond tourism.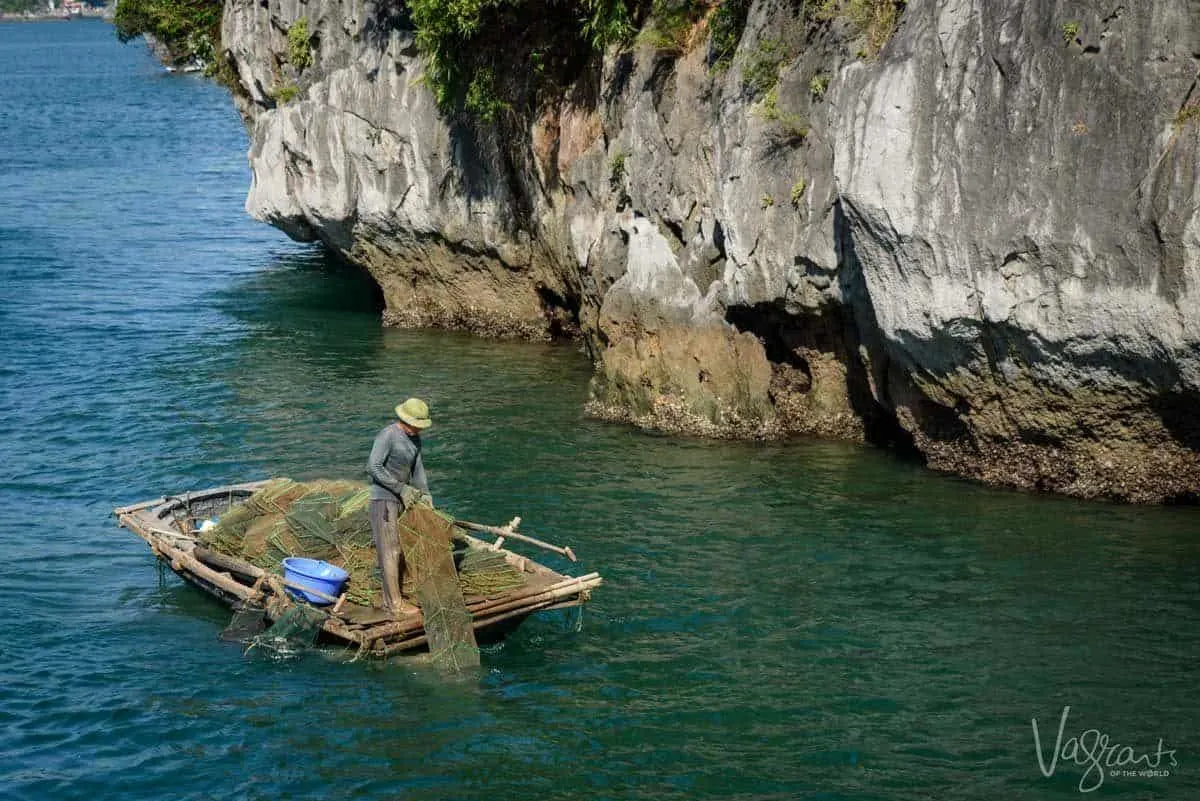 We traveled through to Cua Van Village at the foot of Ngoc Mountain. Cua Van is a small floating fishing village of around 700 residents. It is mostly made up of haphazard huts and houses floating on the sea or leaning from limestone cliffs.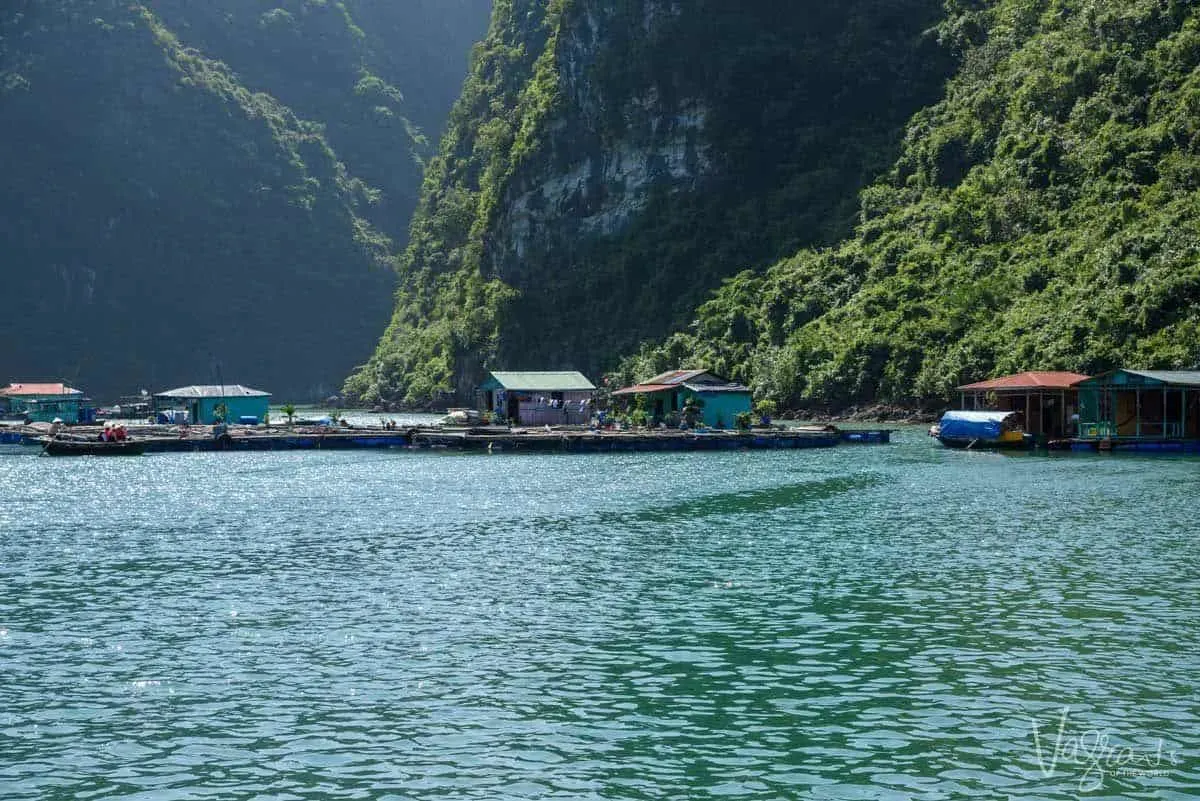 Cua Van is a fascinating look at a lifestyle dictated by the sea. The fishing boats are often their main houses, always on the move to earn a living, often traveling far from the village. When the weather is good, they fish. When it is rough, they find shelter until it is safe to return home.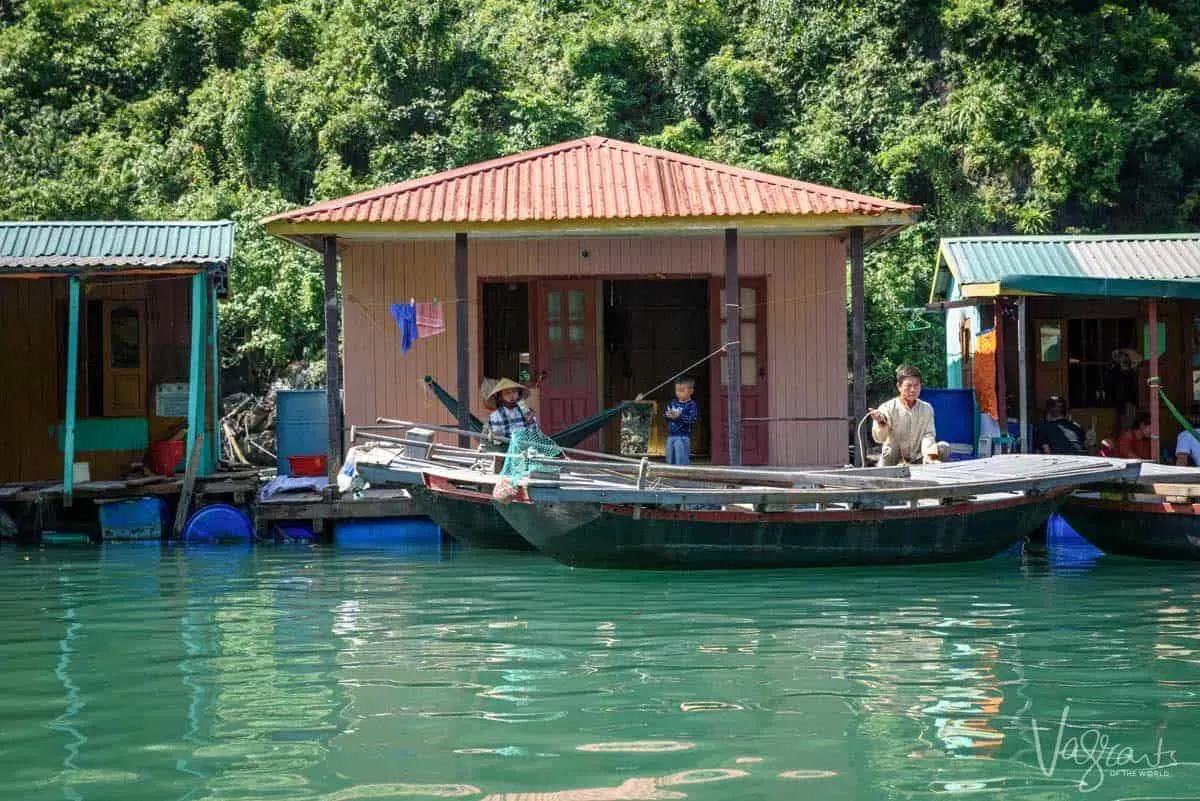 Thanks to the rise of tourism in Halong Bay, a school has been built for the children of Cua Van to ensure an education for the next generation of the village. Also, the first cultural center in Vietnam on a floating village was established to preserve and protect the history and culture of Cua Van.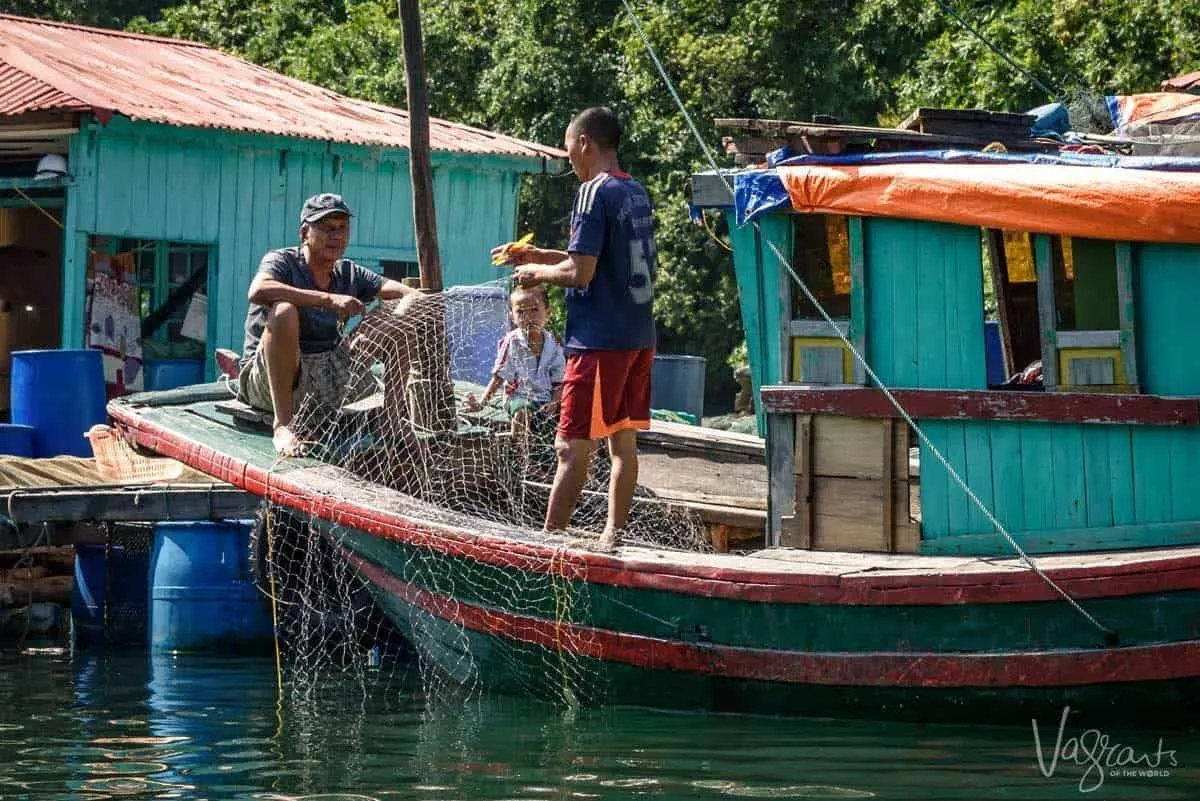 AT Cau Van, you can kayak through the village or take a bamboo boat rowed by a local woman. We opted for the latter to hear about the village's history from our guide.
There is a small additional charge for the bamboo boat ride by way of a tip to the lady who rowed the boat. About $2 -5 USD is expected. More is always appreciated.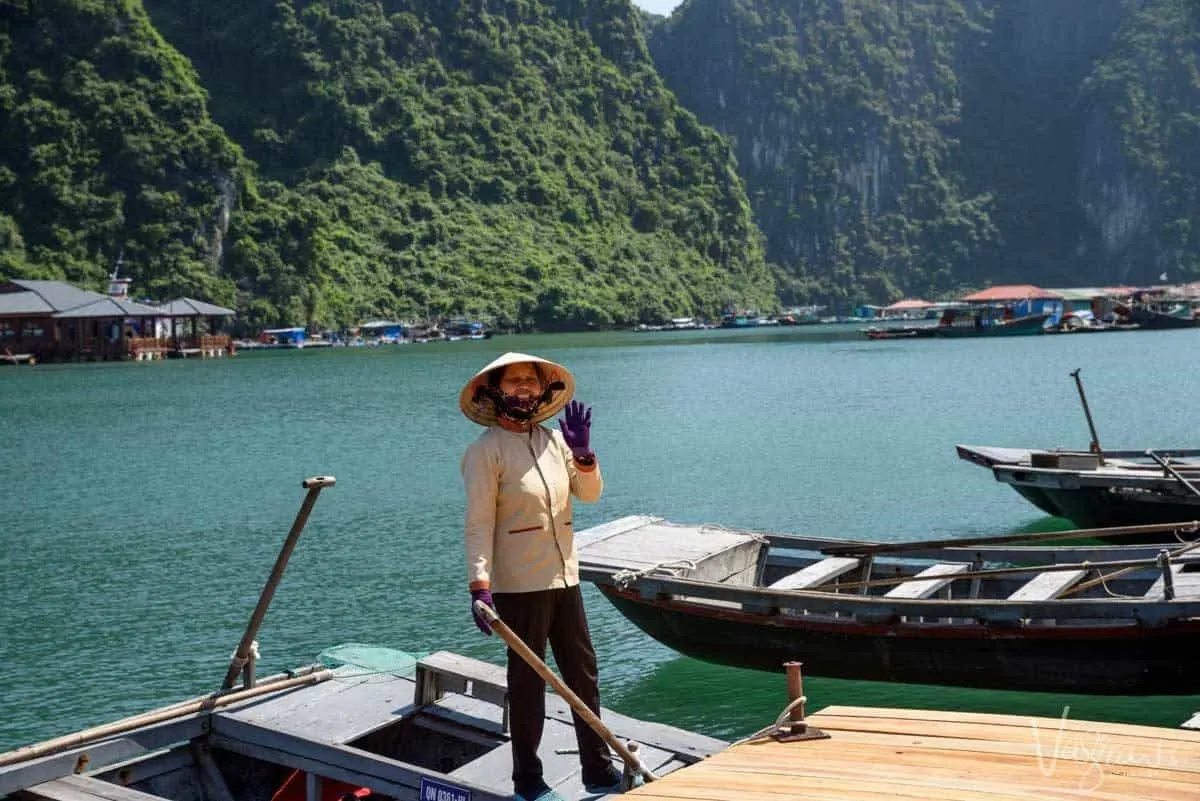 Bai Tu Long Bay
Cruising through Bai Tu Long Bay really cemented our decision to book a two-night cruise. When people talk about Halong Bay being completely overrun with tourists, you need to look at this in perspective.
Halong Bay comprises four areas: Halong Bay, Bai Tu Long Bay, Lan Ha Bay, and Cat Ba Island. Halong Bay proper is at the center and closest to the shore.
The area we discussed earlier is where the day boats and one-night cruise itineraries will visit. So, yes, Halong Bay can be overrun with tourist boats. Bai Tu Long Bay, further to the northeast, is as beautiful as Halong Bay but without as many tourist boats.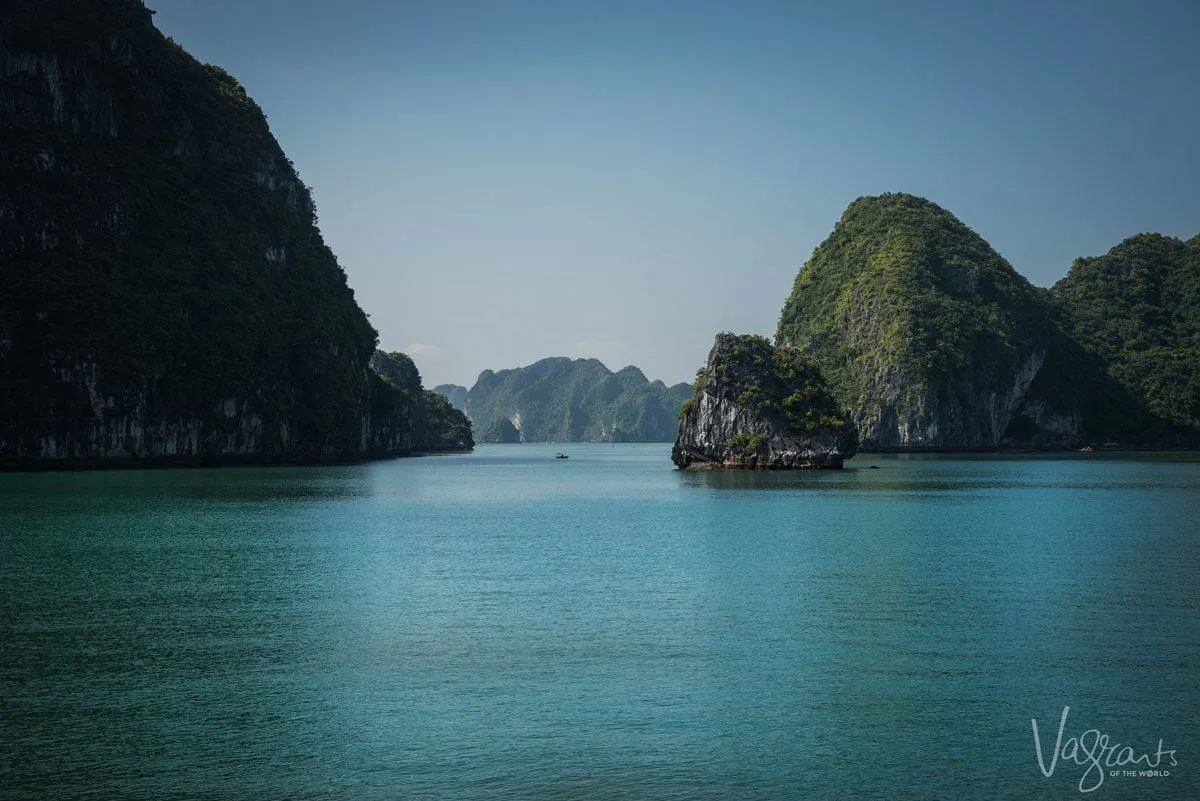 Swimming in Bai Tu Long Bay
Perfect weather enabled us to stop for a swim in a quiet and secluded bay. We could dive from the boat to swim or spend time ashore on our own private beach.
Swimming is not possible everywhere in Halong Bay due to strong currents and safety regulations applied to tourist boats. Specific areas are designated for swimming, shallow areas and beaches are the best.
Our swim at Bai Tu Long Bay was so much more idyllic than at the overcrowded Ti Top Island the previous day.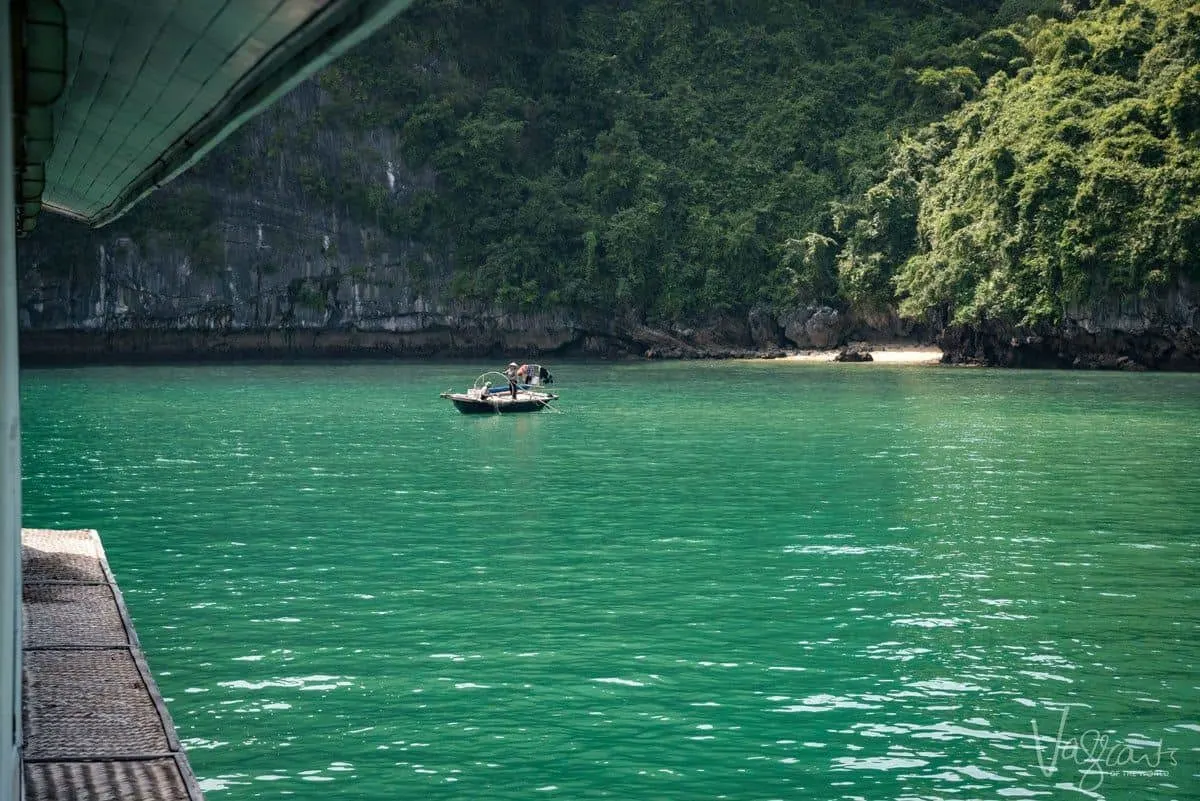 On board the day boat, we enjoyed a beautiful three-course Vietnamese seafood lunch using all local seafood. The rest of the afternoon is spent cruising through the beautiful Bai Tu Long Bay back towards Halong Bay to be positioned for our return the following morning.
On return to the main vessel, there will be a new group of passengers at the start of their one or two-night cruise.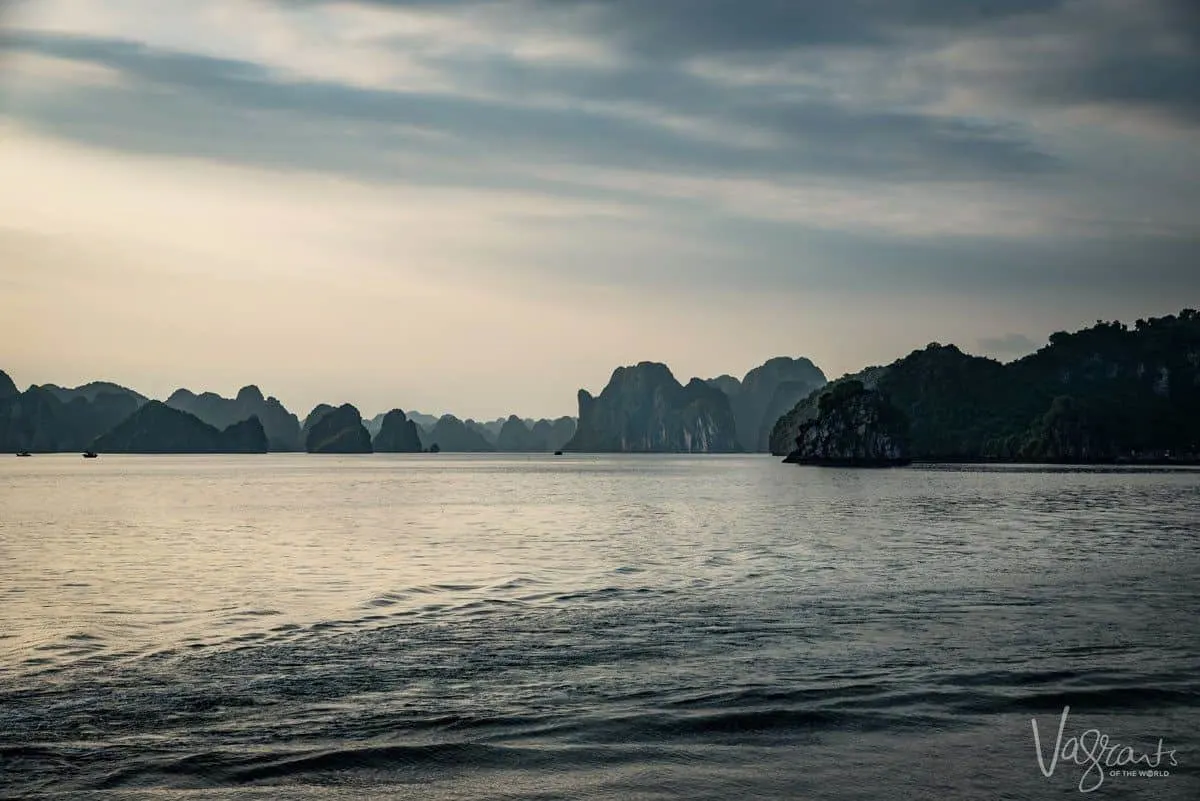 Day 3
An early morning Tai Chi class and another lovely breakfast of Vietnamese Pho, French pastries, and bacon and eggs before visiting Surprise Cave, the last shore excursion.
Visit Surprise Cave
First discovered by the French in 1901, Sung Sot (Surprise) Cave is one of the most spectacular and largest karst caves in Halong Bay.
At approximately 25m above sea level, the limestone cave occupies around 10,000 square meters and comprises two vast caverns.
The first chamber is known as the waiting room. It is around 30 meters high and provides a grand entrance to the larger second chamber, reached by a narrow path. It is in the second chamber the "surprise" in Surprise Cave becomes apparent.
An enormous space, large enough to hold over one thousand people, appears in front of you, decorated with magnificent stalactites, stalagmites, and columns formed throughout millions of years.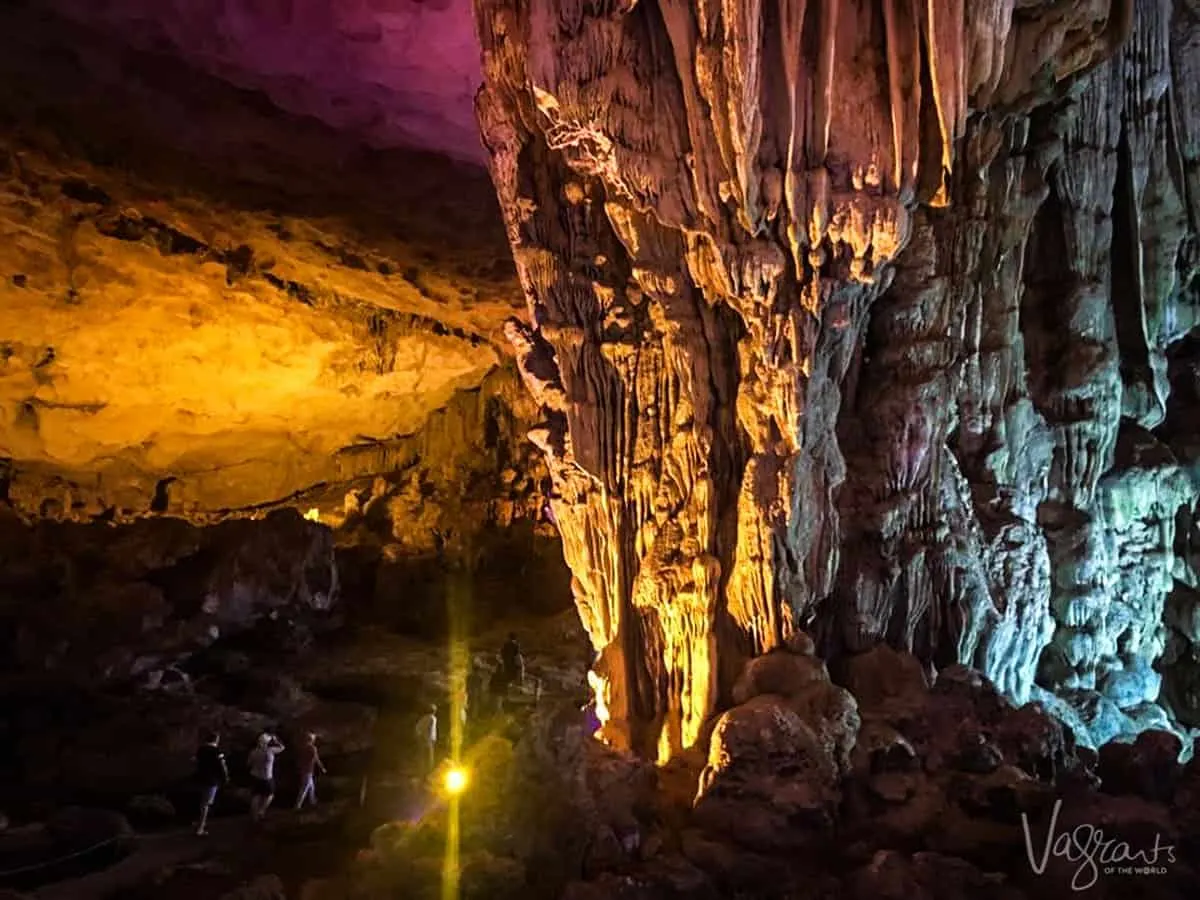 Halong – Hanoi
While cruising back to the central pier, we enjoyed brunch on board and our last views of Halong Bay. The end of the cruise is timed to allow for the boat to be turned over to greet new guests and to have departing passengers back in Hanoi by late afternoon.
FAQ's For Visiting Halong Bay
Should You Visit Halong Bay?
We hear and read a lot about Halong Bay being so touristy that people are inclined to miss it on their Vietnam itinerary. As we have outlined, Halong Bay is very touristy. It's one of Vietnam's crowning destinations, so one would expect it to be busy. Should you miss it because of this? NO!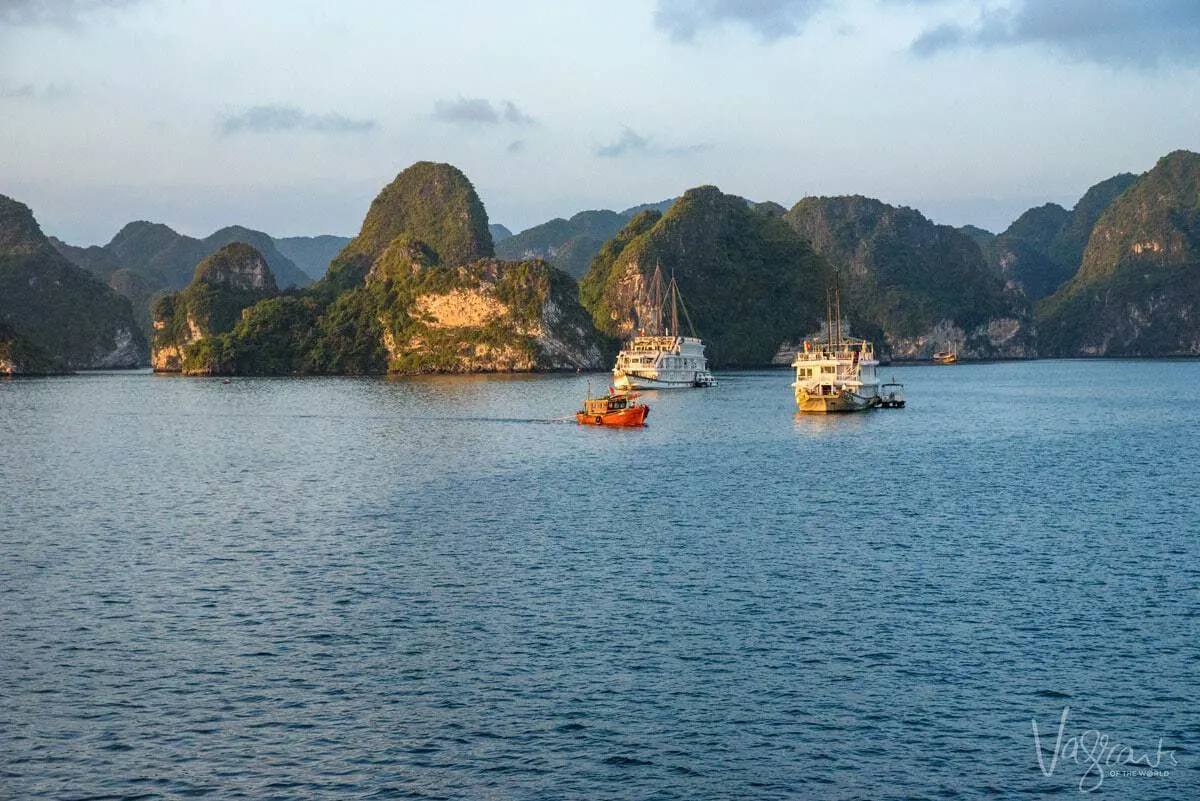 If you were to sidestep any of the wonderful things Vietnam has to offer because of over-tourism, you would miss the best things to see and do in Vietnam. Halong Bay is listed as a natural wonder for a reason – It is a wonder.
If you want to experience Halong Bay without crowds, think carefully about the amount of time you can spend there and the type of cruise or tour you want to do. It is possible to enjoy Halong Bay without the crowds, just give it the time it deserves because there is so much to do in Halong Bay.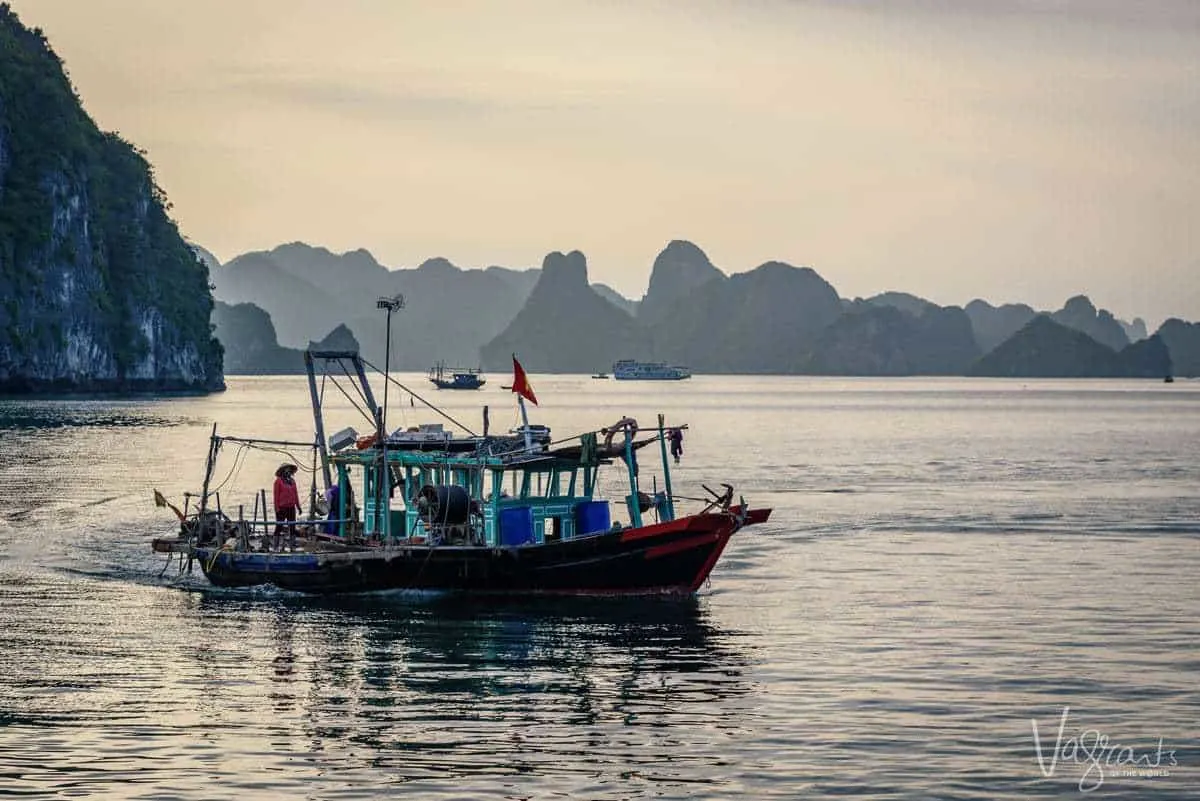 Best Time to Visit Halong Bay
Being in the north of Vietnam, Halong Bay experiences four seasons but is mostly referred to as a cold winter and hot, humid summer.
Peak Season – Best Weather
Spring and Autumn
Much like Sapa, the best time to visit Halong Bay is either Spring – March to May and Autumn – September to November.
The weather will be pleasant, around 25 ℃ with clear skies.
April, May, September, and October are the best months.
Winter
Winter in Halong Bay is from November to March.
The coldest and wettest months are January and February. Not ideal for swimming.
There will also be foggy days and the possibility of a strong monsoon. Temperatures will range from 12ºC to 20ºC.
December and January are also considered peak months as they coincide with Christmas and New Year's break.
Low Season – Look for Discounts
Summer
Summer in Halong Bay is from May to September.
Temperatures will be a minimum of 25ºC. Perfect for swimming and water activities.
Light-passing showers can be experienced during this time but usually pass quickly.
Be aware, during July – August, it is not uncommon to experience typhoons and storms, which may result in cruise cancellations or delays.
May and September are considered the low season, so many cruise ships offer significant discounts during this time. It is possible to save as much as 40% on a cruise.
---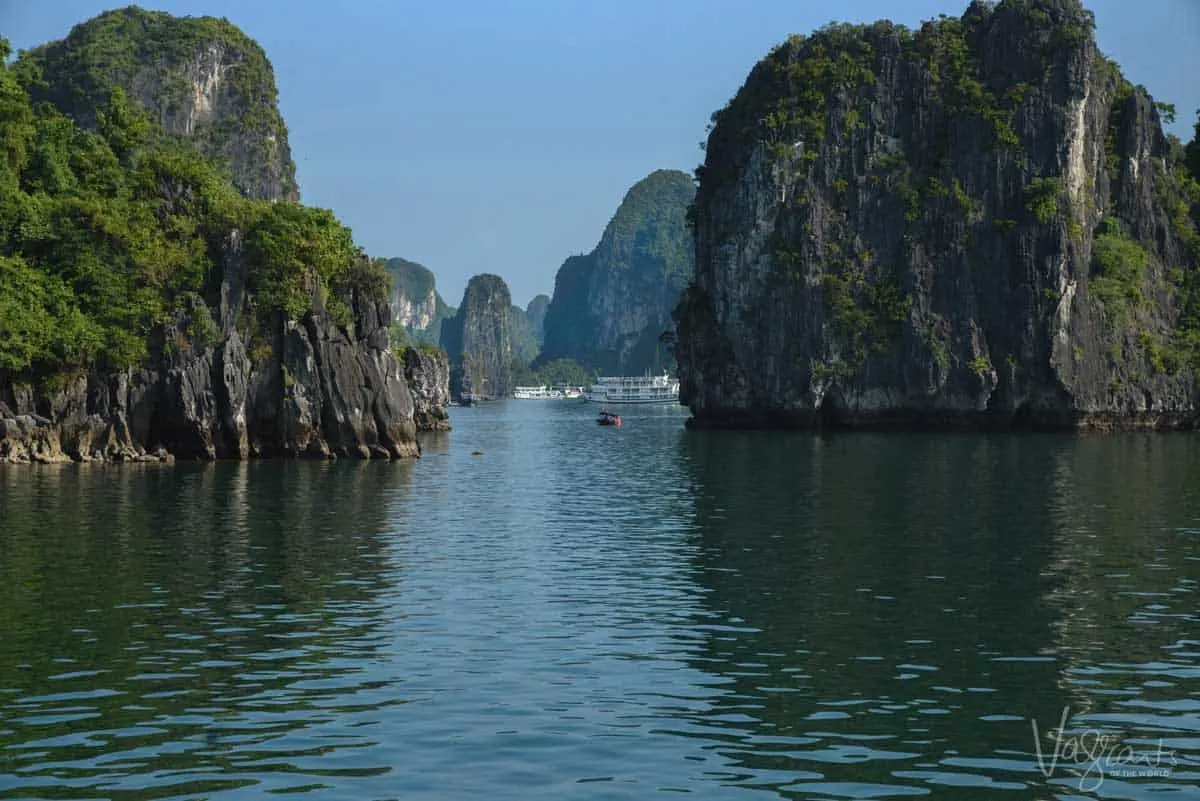 Halong Bay Cruise Facts
We chose what is called a mid-price range cruise with Glory Legend (we have no affiliation with this company). As we were a party of three adults, we booked a family deluxe cabin.
We paid $700 USD ($230 pp) for three people, which included –
Shuttle bus round trip Hanoi – Halong Bay – Hanoi
Family Deluxe Cabin suitable for four people ( 2 room cabin) – 2 night/3day cruise
All meals on board
English speaking guides
Kayaking
Sightseeing admissions
Our tour price also included a free Hanoi Old Quarter walking tour before or after the cruise date. It was a very good walking tour of around three hours.
We were very impressed with the size and layout of the cabins. Especially for the price. The cabin accommodated four people in two separate cabins with adjoining doors. Each cabin had its own bathroom. This was perfect for three adults or even two couples traveling together.
This is indicative of the standard of cruise and inclusions you can expect on Halong Bay. You can obviously opt for a more budget cruise or a more high-end luxury itinerary.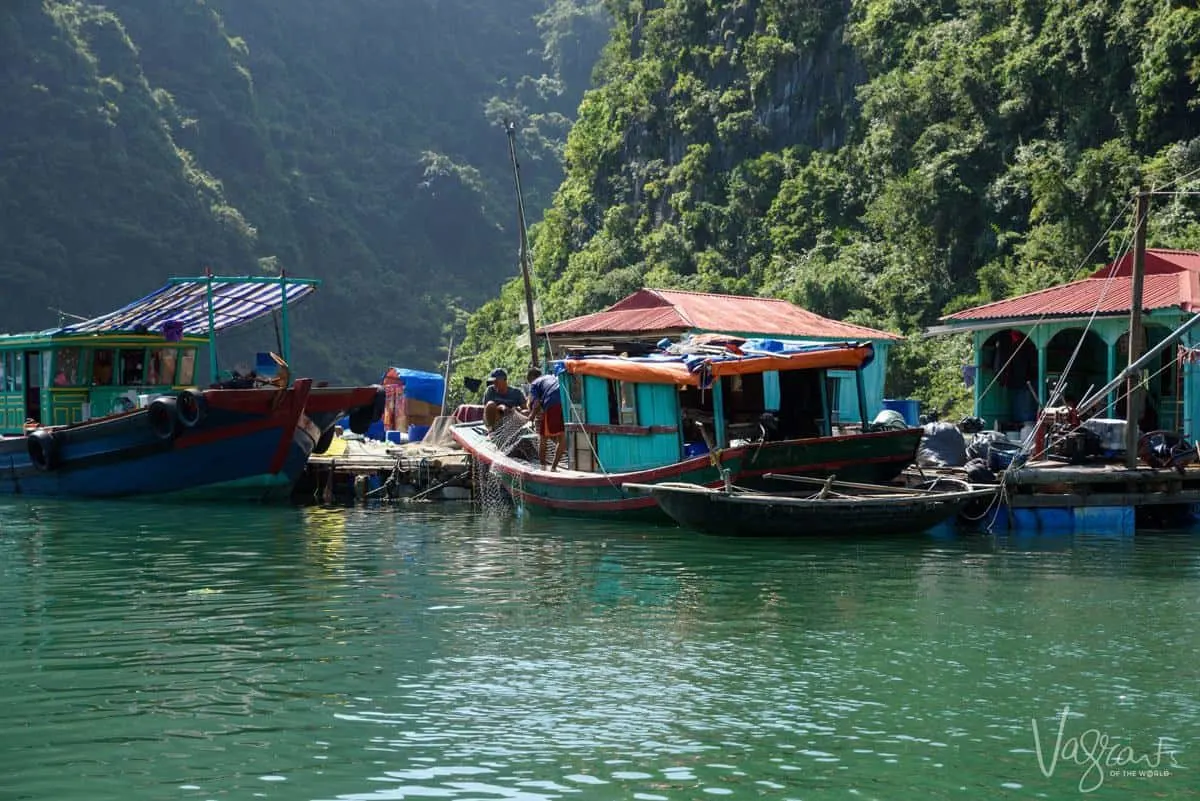 Plan More of Your Vietnam Itinerary