In the Hoang Lien Son mountain range in remote north-western Vietnam near the Chinese border, you will find Sapa, one of the most scenic regions in Vietnam.
Sapa (Sa Pả) delivers dramatic postcard landscapes that have been attracting trekkers since the early 1900s.
Once an undiscovered paradise reserved for only the most intrepid explorers, trekking in Sapa has become a must-do on every Vietnam itinerary.
What You Will Find in This Guide to Trekking in Sapa
In this guide, we share with you what to expect from a trekking trip in Sapa whether it is a one day hike or a three-day trek.
Insight into how many days might be suitable for your level of hiking interest and ability.
What kind of Sapa trekking tours you can expect and how to book them.
What to expect from a homestay experience in Sapa.
The best time to visit Sapa.
How to get to Sapa.
What to pack for a Sapa trekking tour.
Plus tips to make your trip more enjoyable.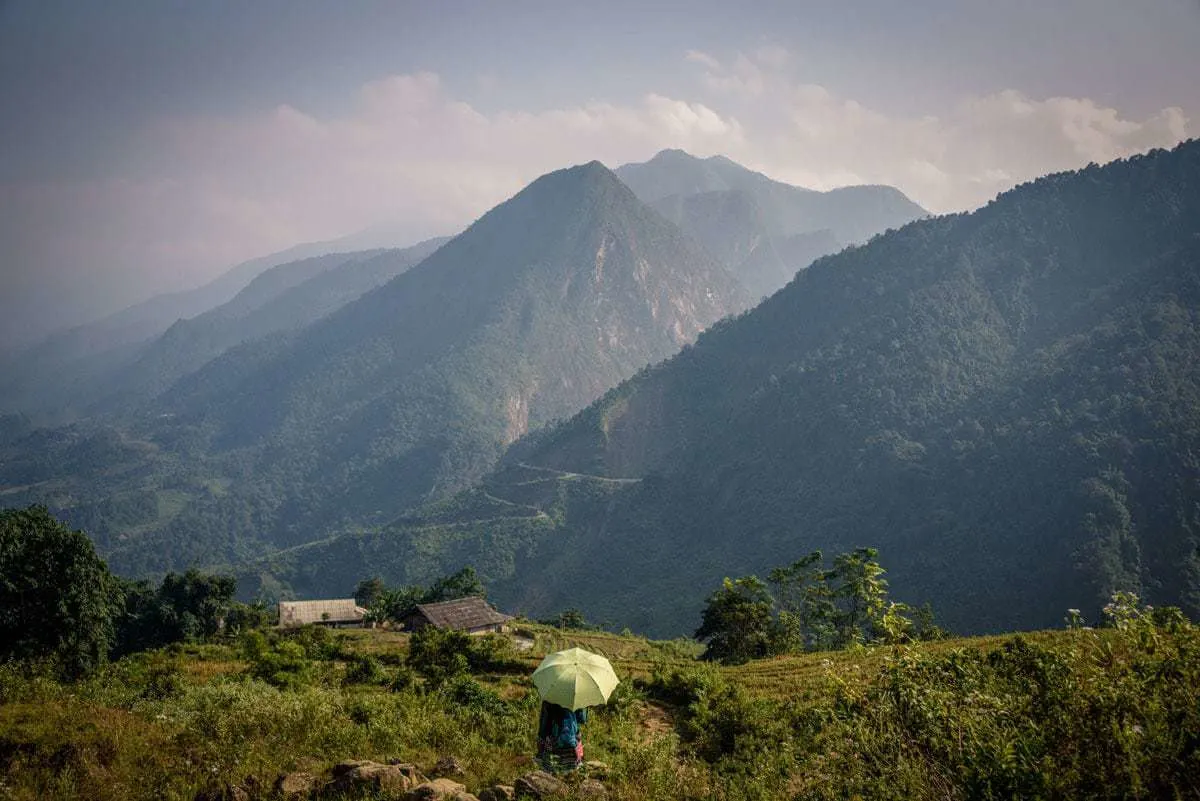 Don't Forget to Get Your Vietnam Visa before You Go
You must have a visa to enter Vietnam. Previously you had to apply for an "approval letter" and then queue on arrival and pay an additional USD$25 for a "visa on arrival.
The process has been simplified and citizens from over 40 countries can now apply for their visas online. You can apply for your Vietnam Visa here but make sure you allow at least three business days before your departure date for processing.
The Beautiful Landscapes of Sapa Vietnam
The region boasts some of the highest mountains on the Indochinese peninsula including Fan Si Pan, Vietnam's highest peak.
From the craggy mountain tops that puncture the clouds, vibrant hues of green and yellow terraced rice paddies cascade down the steep valley walls.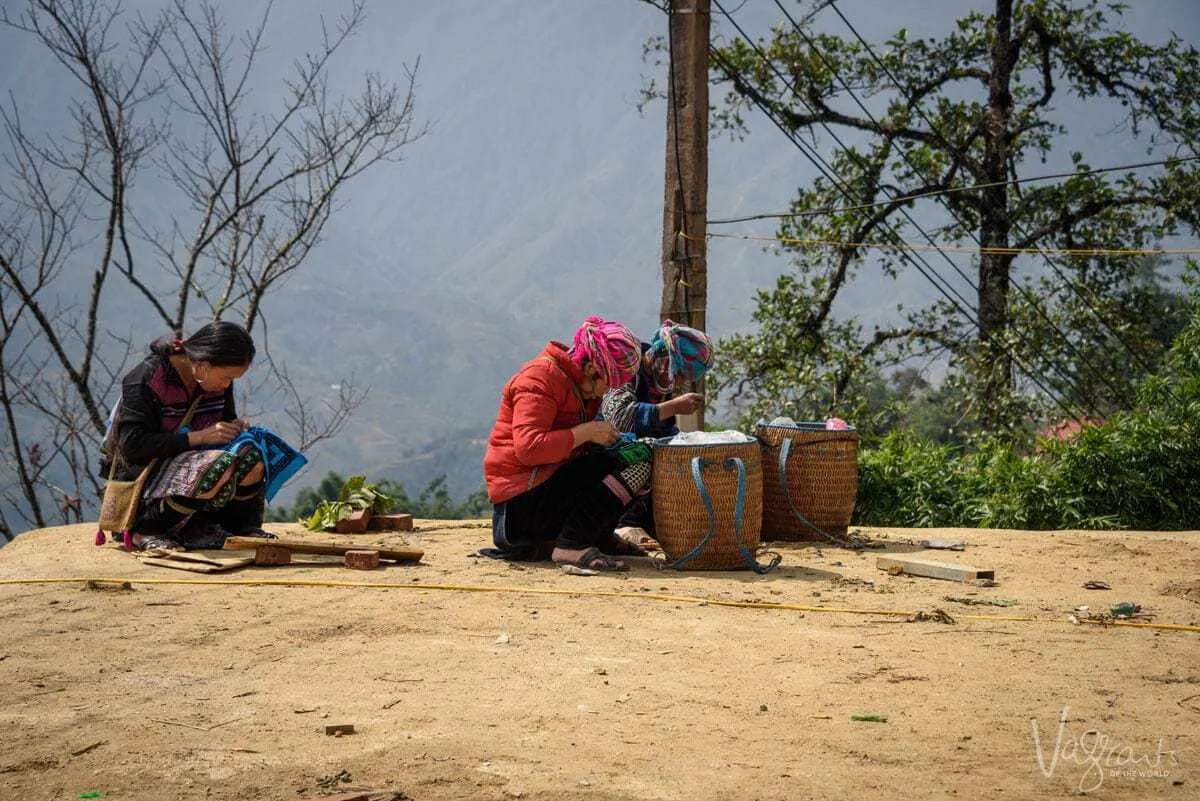 The Ethnic Minorities of Sapa
Sapa is home to a diversity of ethnic minorities such as the Hmong, the Dao and Tay. Here you have the opportunity to hike through breath-taking vistas of mountain scenery and experience local hill-tribe villages. Surprisingly the traditional way of life is not just a tourist attraction in the Sapa Mountains.
How Many Days in Sapa
How many days to spend in Sapa is entirely dependant on your Vietnam itinerary, how much time you have and what your interests are. Apart from the trekking, there isn't a great deal to do in Sapa itself.
Unless you are an avid trekker with specific treks in mind, we would suggest two to three days is sufficient. We were quite happy to return to civilisation after three days.
Read on for a Full Sapa Trekking Packing List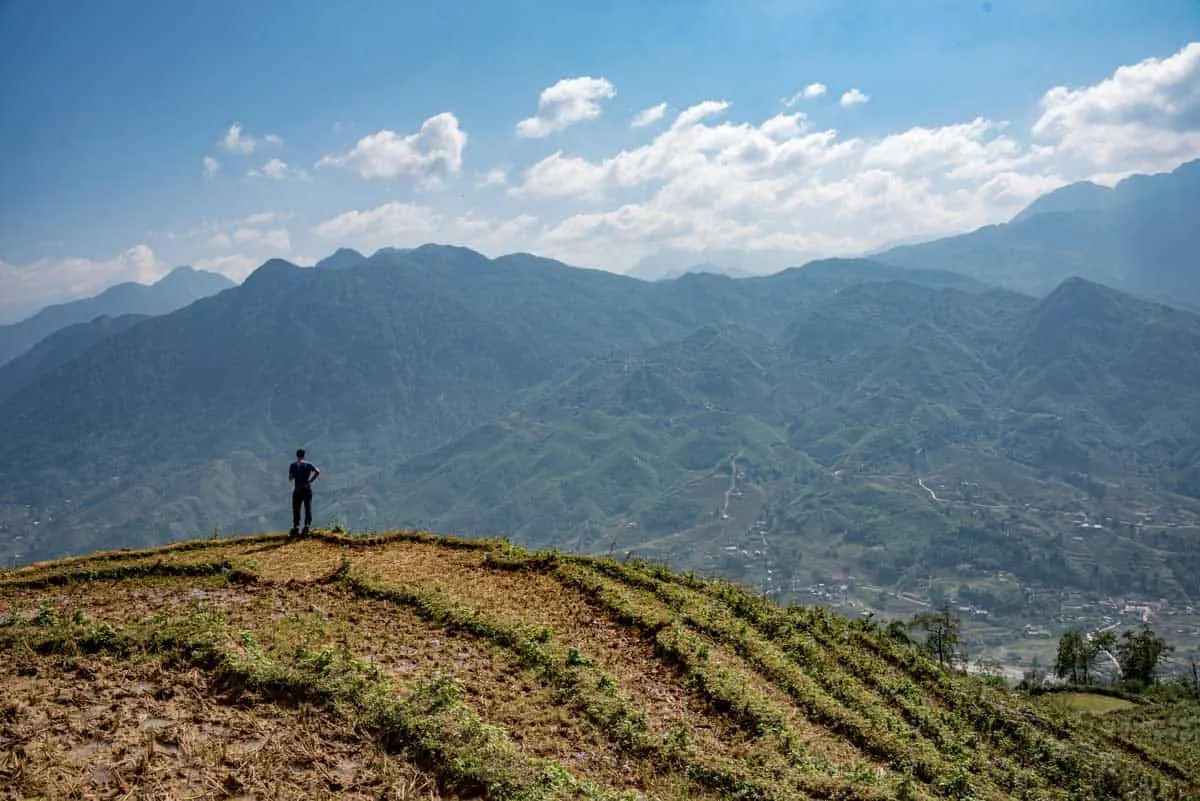 Is One Night in Sapa Enough?
In saying that, we felt travelling all the way to Sapa for a one night trek would be incredibly rushed. But, as slow travellers, we know we have the luxury of time on our side.
For those who are visiting Vietnam with time constraints, we know how much everyone wants to fit in, so a 1 night/2 day trek is probably better than missing Sapa altogether.
This is something we also noticed in Halong Bay. So many tourists are travelling all the way there to spend one night on a boat and leave the following morning. We cover this here in another article about the Halong Bay Junk Boat Cruises.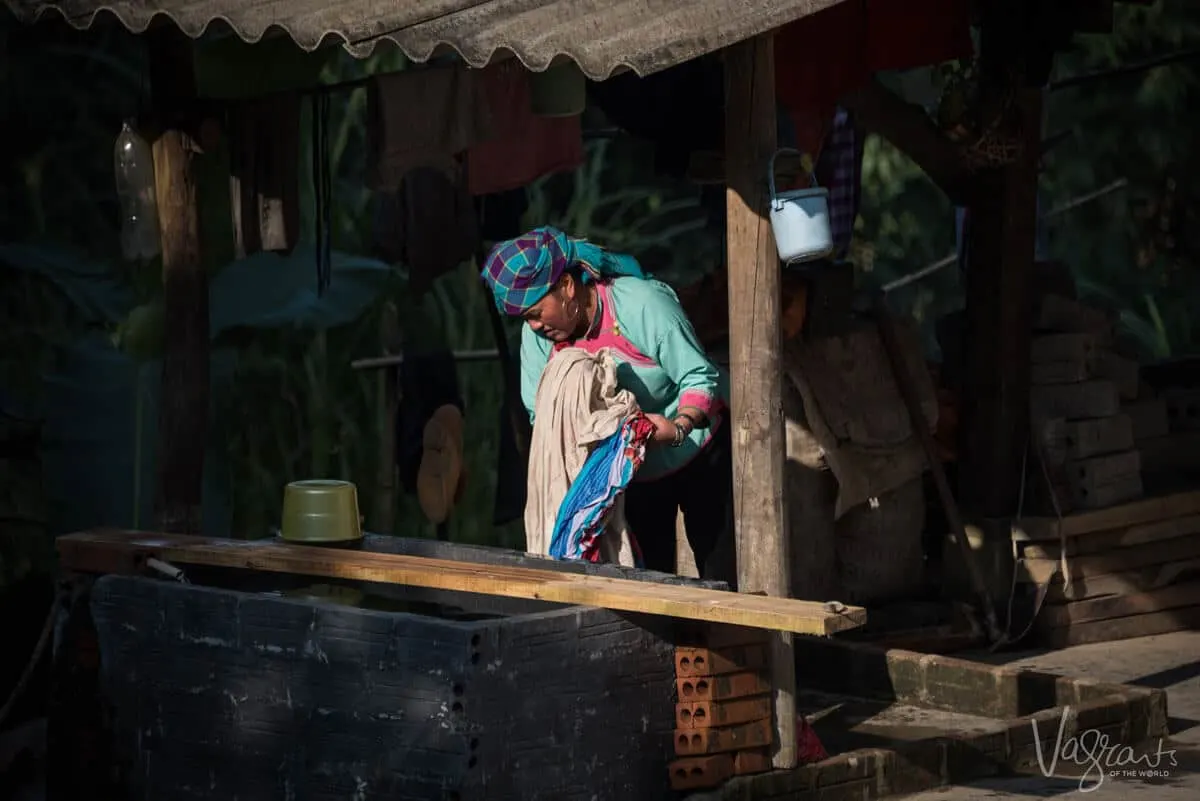 Trekking in Sapa
When we first started talking about trekking in Sapa many years ago, we had an idea, or rather a preconceived idea of what Sapa would be like – Hiking the hill country through remote villages, discovering ethnic minority groups who still live traditionally unencumbered by the modern world.
Many have this notion. A desire that Sapa will deliver an unexplored wilderness experience. A journey unique and original as experienced by the intrepid explorers of the early 1900s. Discard this notion, or you will be disappointed.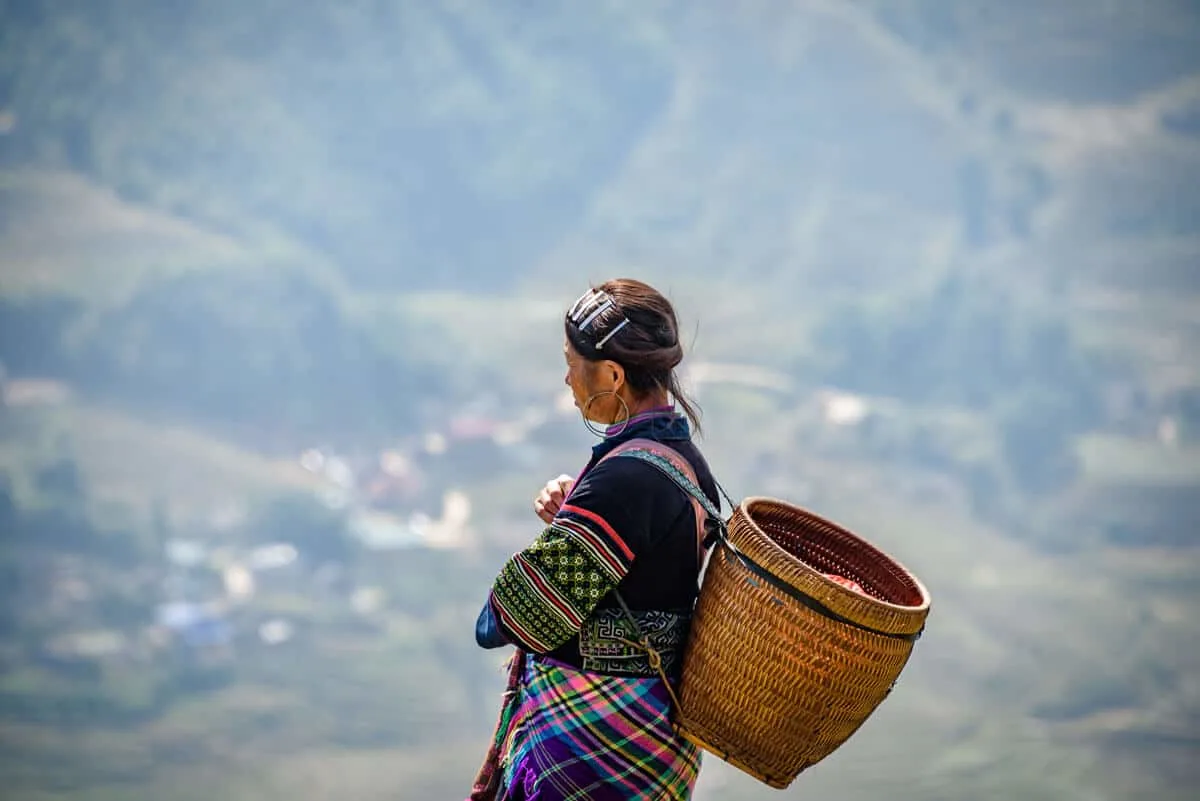 Sapa is Vietnam's Premier Trekking Destination
Instead, accept that Sapa is Vietnam's premier trekking destination, and tourism is becoming a prominent industry in the region, (thanks to some very fit and entrepreneurial local ladies).
While this might sound a little harsh, all is not lost. Adjust your expectations a little, be selective about the type of trekking tour you do and Sapa will still be a very gratifying and memorable experience.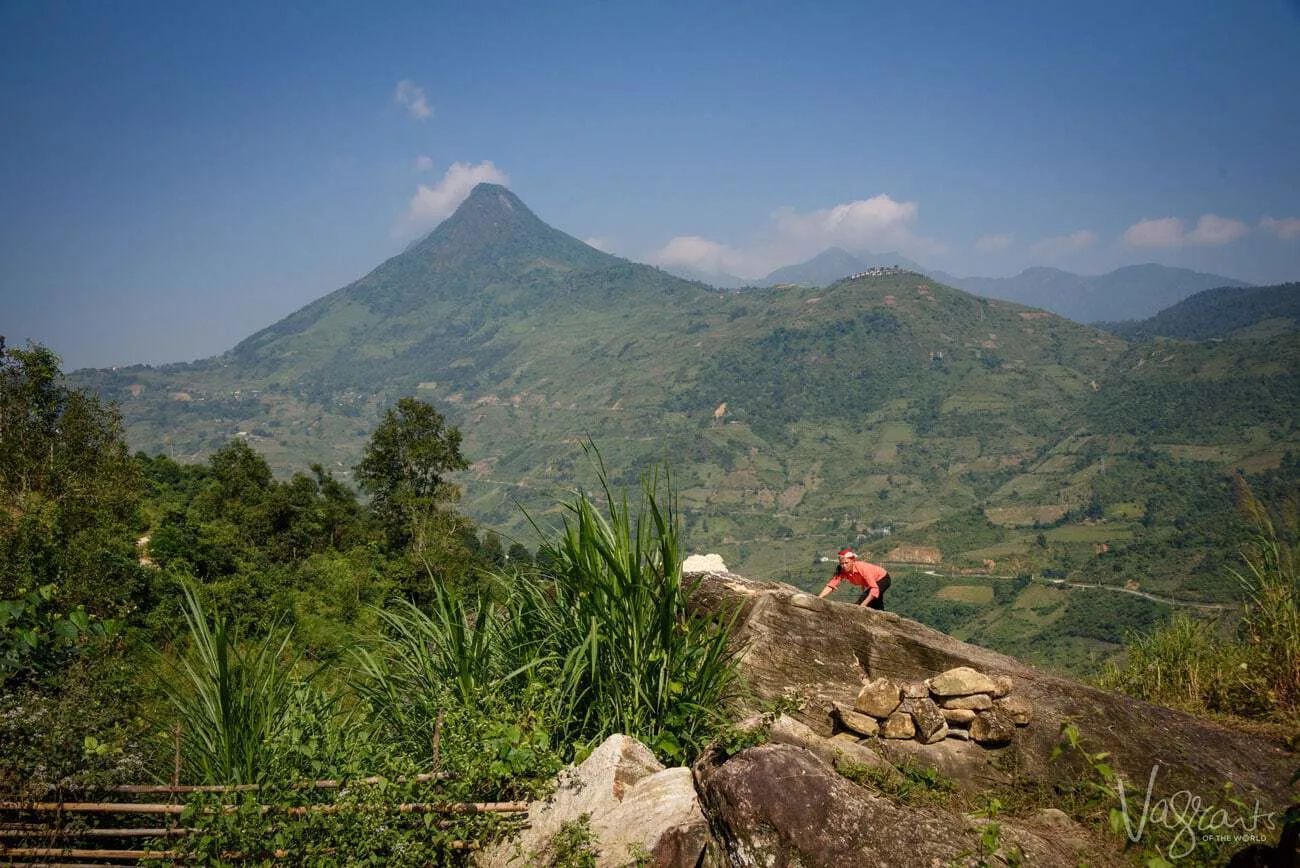 Sapa's vistas are some of the most beautiful in the world, the trekking still very challenging and there is the possibility to get off the tourist trail.
You will also find that regardless of the homestay industry in the mountains of Sapa, the ethnic minority groups still lead a very traditional life.
Sapa Trekking Tours
There are a number of ways to go trekking in Sapa with treks to suit all levels and interests. From a leisurely day stroll to a 3-day trek to an altitude of 3143m to reach the "The Roof of Indochina"- the peak of Fansipan Mountain.
There's even bicycle trekking on offer. A few companies in Sapa arrange cycling tours or will rent bikes and equipment for self-guided cycling tours.
The most popular way to trek in Sapa is with a guide. Whether it is a day hike or a 3-day trek, a guided trek is worthwhile and not as expensive as you might think.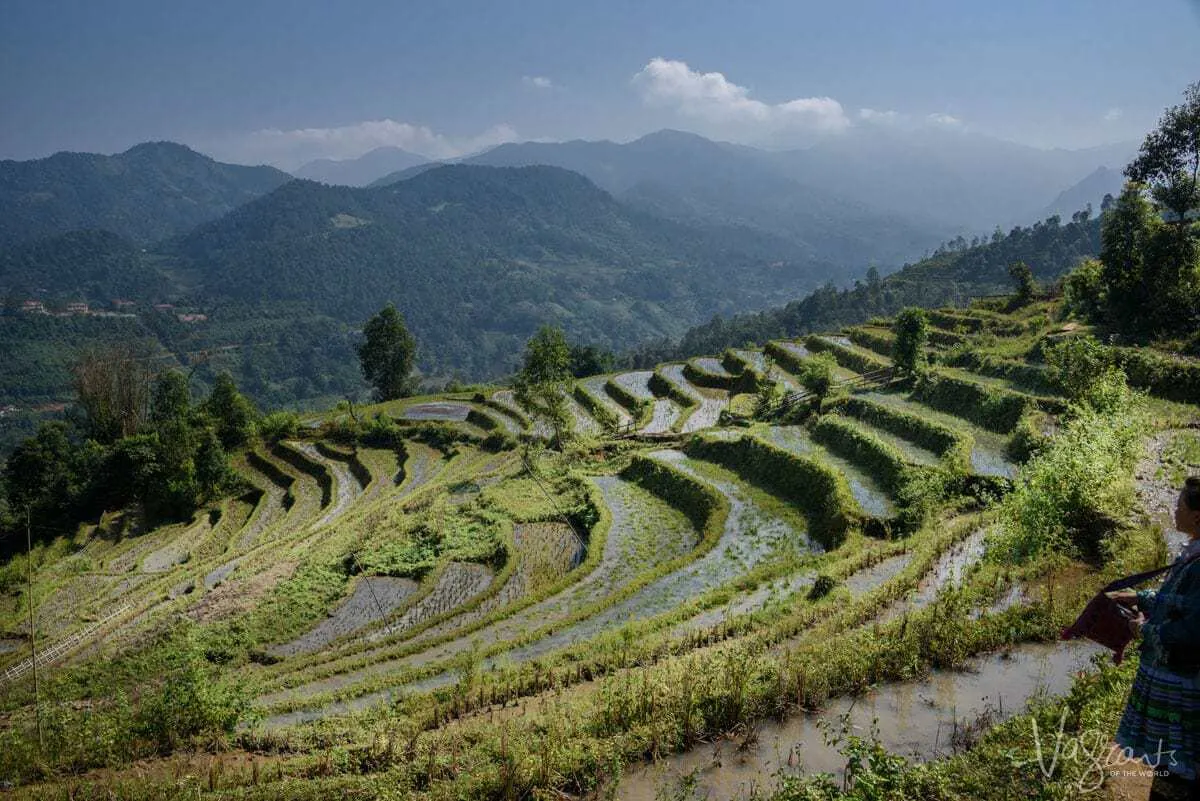 Trekking in Sapa Without a Guide
Except for trekking to Fansipan Peak, you do not require a guide for many of the treks in Sapa. Fansipan Peak is a very challenging hike that will take up to three days to complete. The trek requires an experienced local guide and porter who know the route and possible conditions.
Many people choose to base themselves in the central town of Sapa and do self-guided day hikes from there. Longer treks without a guide are certainly possible, but you may want to consider your accommodation before you leave.
It is possible to arrange a homestay along the route of your trek from town, or you could try your luck in any of the villages along the way.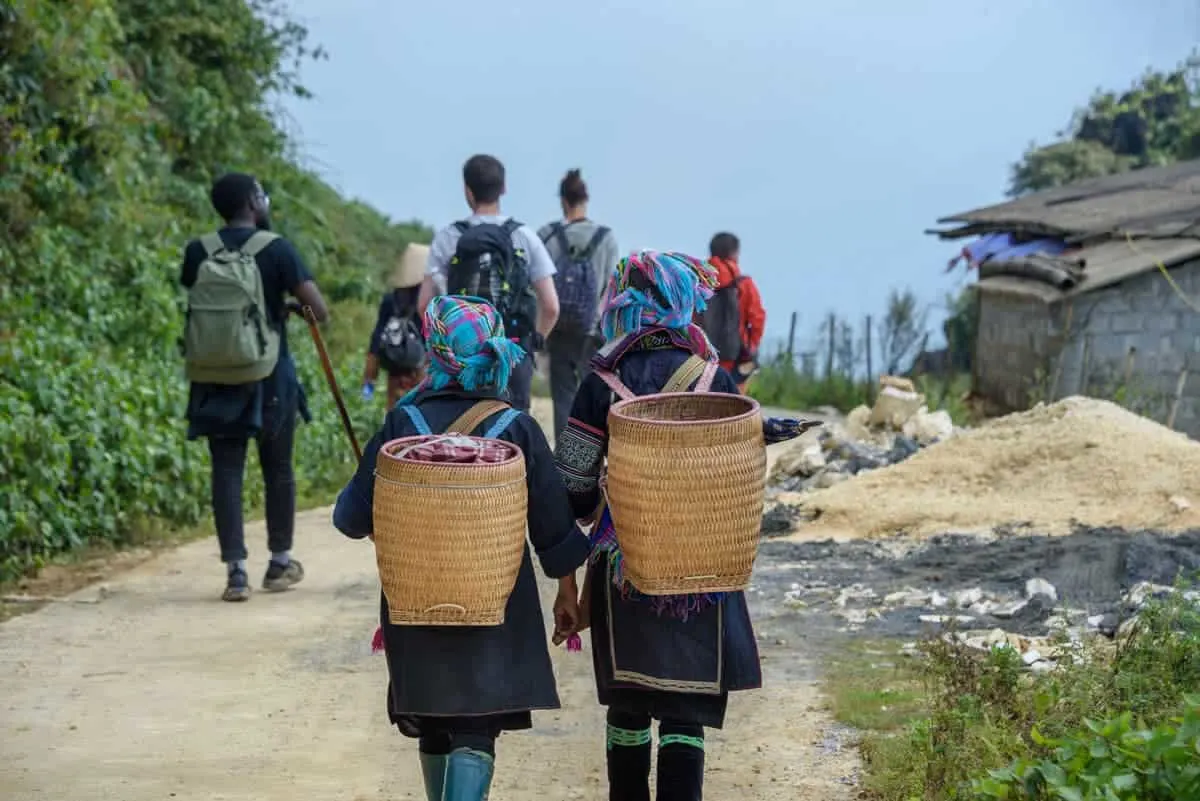 Avoiding the Tourist Crowds in Sapa
Our advice if you want a less tourist-dense experience; it is still possible to get off the beaten track with a small group or with a private guide. Even on a self-guided trek, you will, without a doubt bump into other hiking groups.
Why not take advantage of a local guides knowledge to take you on routes that will avoid the bulk of the crowds.
Day Treks in Sapa
There is the option of full-day and half-day hiking in Sapa. As we mentioned, either of these is possible with or without a guide. However, if you only have a day, a guide will definitely enhance your experience.
Being familiar with the routes, they will take you to the best lookout spots, and be able to give you greater insight into the local area. You can find some of the best hotels in Sapa here if you are planning on a one day Sapa trekking tour.
Search More Accommodation Options in Sapa Here
Finding a Guide
Depending on how long you have in Sapa, how and when you are arriving, you may want to arrange a guide when you get there. There will be plenty of guides offering their services once you arrive in Sapa.
If you are short on time and don't want the hassle, or the hustle of negotiating a guide in Sapa, you can arrange to have a guide waiting for you at the train or bus station.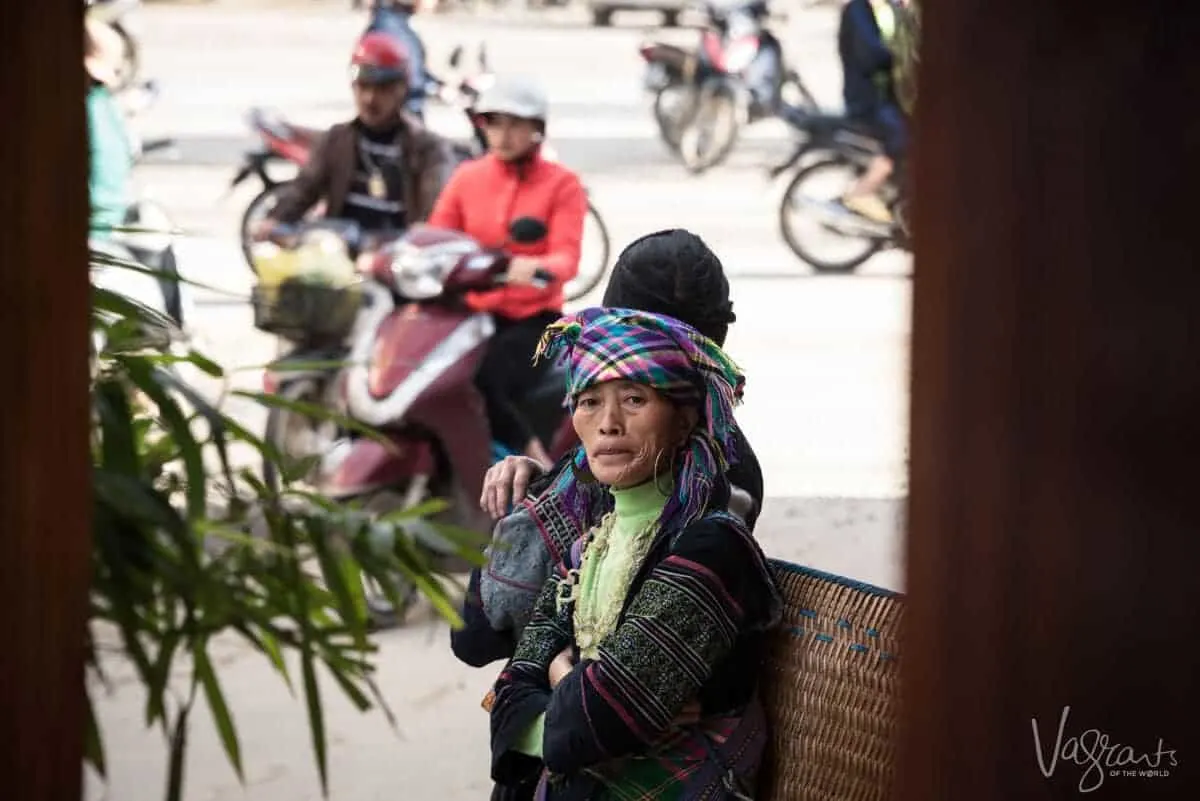 You can arrange a day tour from Hanoi before departure, or you can book one online before you go. Either way, unless you are on a very tight budget, in which case you might self-guide, you will find pre-booked tour prices reasonable and probably very similar to what you might negotiate in Sapa.
Overnight Sapa Trekking Tour with Homestay
We opted for the overnight trekking option with a homestay. Again, with this option, you have many choices –
Actually, you can hike for as many nights as you choose but these are the most common tour options. You will also have a choice of the type of route you would like to take and the level of difficulty.
There are the main trekking routes that attract the day hikers, larger tour groups and those looking for a more leisurely hike. Obviously, these routes will have lots of people on them. You can see a full range of Sapa hiking tour options here.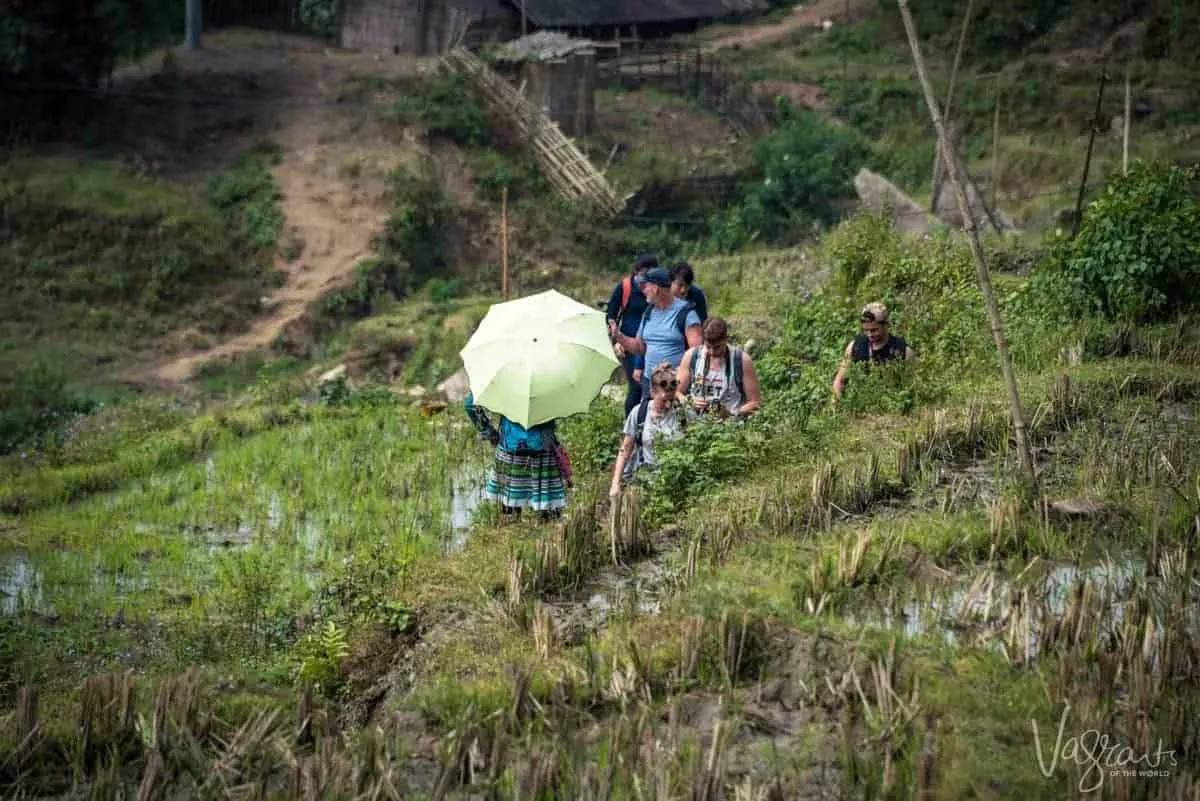 More Challenging Sapa Hikes
For those wanting a more challenging hike through the mountains away from the main tourist trail, more remote routes are also available on many of the tours. In saying that, this does not mean you will not encounter other trekking groups. This is virtually impossible in Sapa.
What to Expect from a 3 day 2 Night Sapa Trek
We opted for a 3 day/2 night trek preferring the route that would take us off the main tourist trails. A route considered to be medium trekking level. It was still challenging in parts.
Depending on your itinerary, if you are coming from Hanoi, a normal tour will include transport to and from Sapa. You will depart Hanoi on the overnight train or bus the night before your trekking tour, arriving at Sapa early the following morning.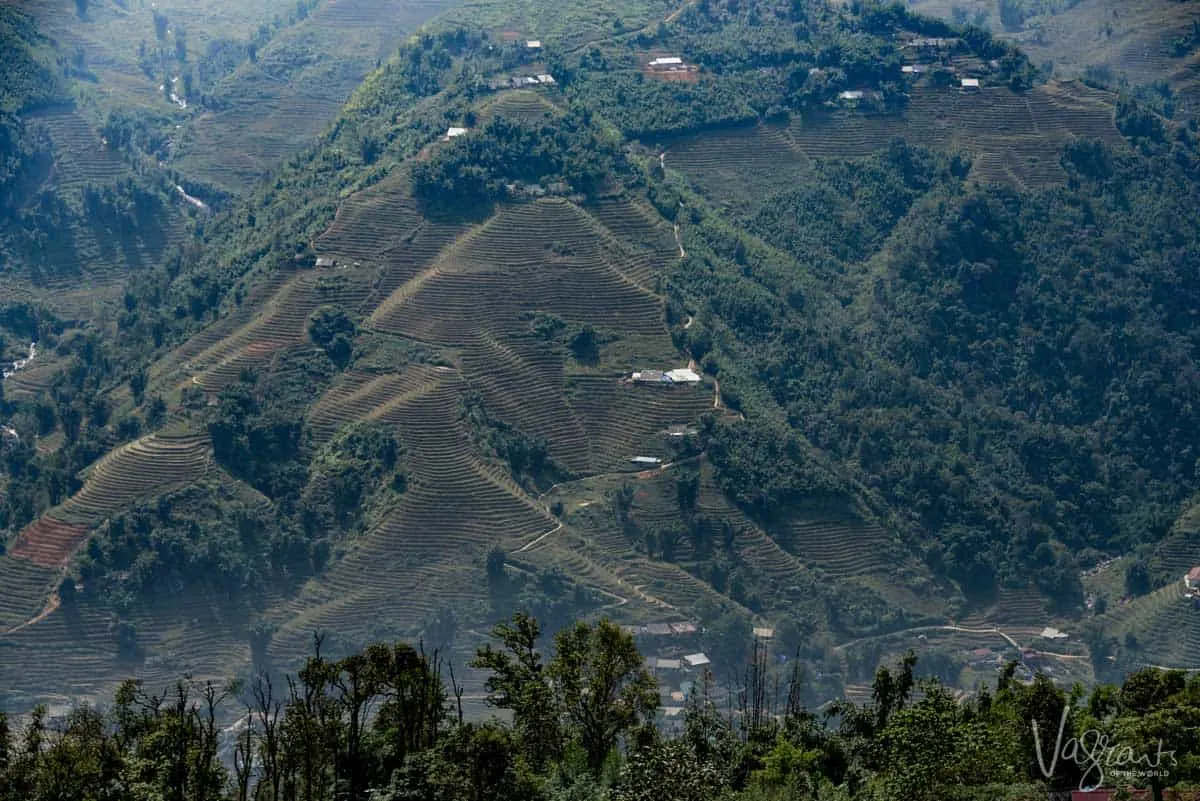 Trekking Day 1
A driver will collect you from the train station and drive you to the town of Sapa, approx 1 hour up the mountain. If you take the bus from Hanoi, you will arrive directly in Sapa. You will meet your guide, have breakfast (not included in your tour price) at a local cafe and then head off on your hike.
While you are trekking, any additional luggage you have will be portered to your homestay and be waiting for you when you arrive in the afternoon.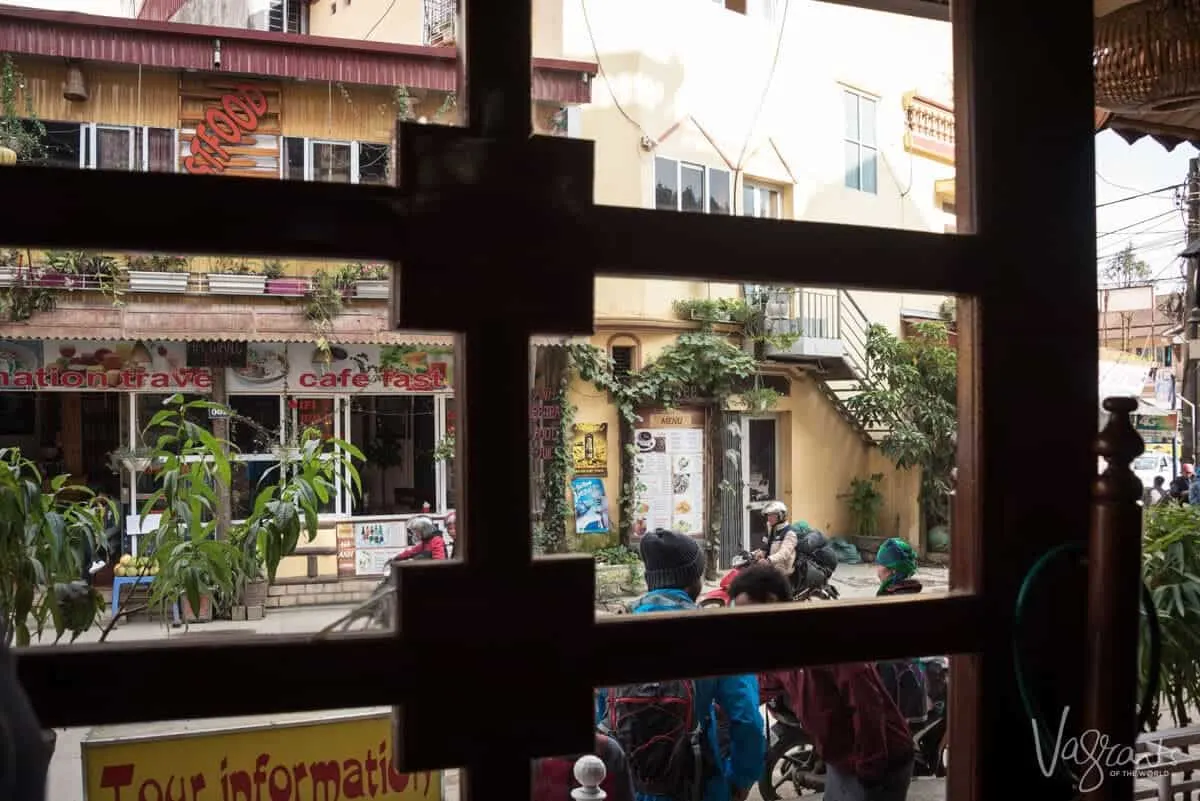 After hiking all morning with your guide, you will stop for lunch at a mountain village. Lunch (not included in the tour price) is at a very simple open restaurant where you will have a choice of two or three meal options.
Lunch will cost a couple of dollars with a drink. You will encounter many other tour groups at the lunch stop.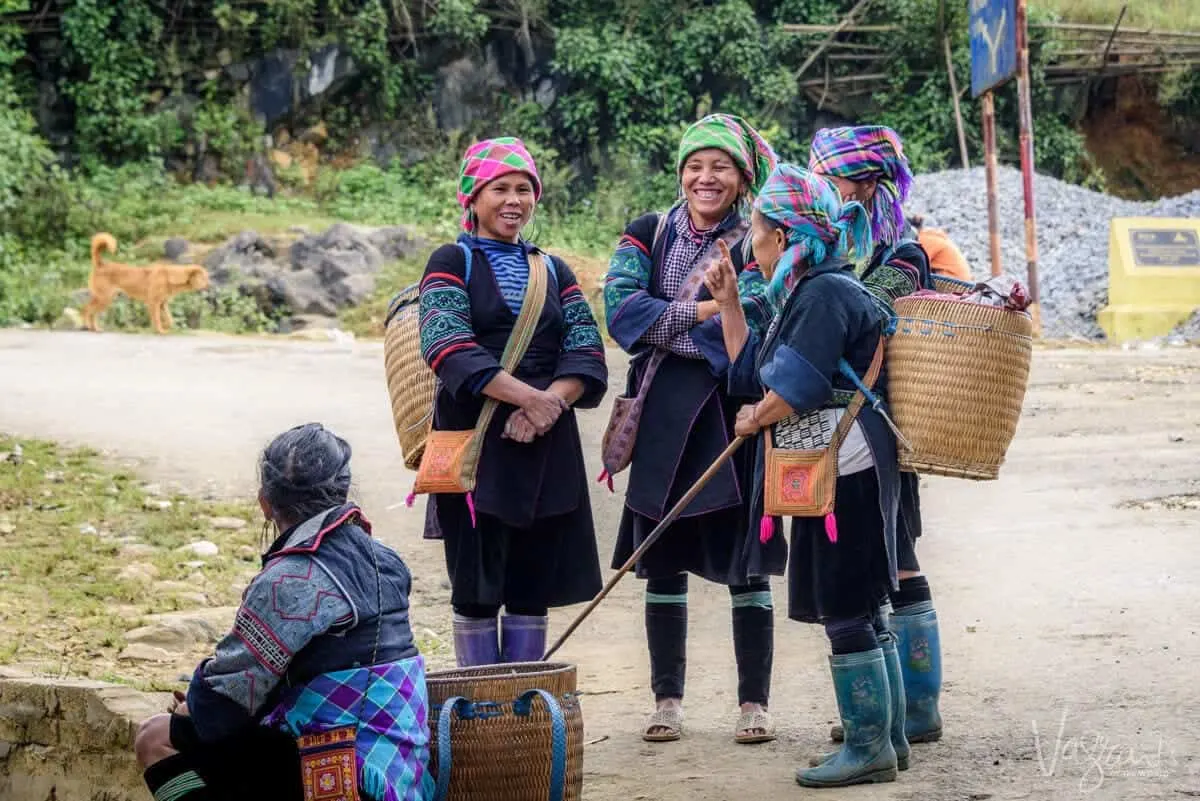 While you enjoy lunch and rest your weary legs. Yes, they will be starting to get weary by now, you have spent all morning going uphill. The trekking guides, all local women, will spend time catching up on gossip and sewing. Something they seem to do with every spare moment they have as handmade crafts are an integral part of Sapa's local culture.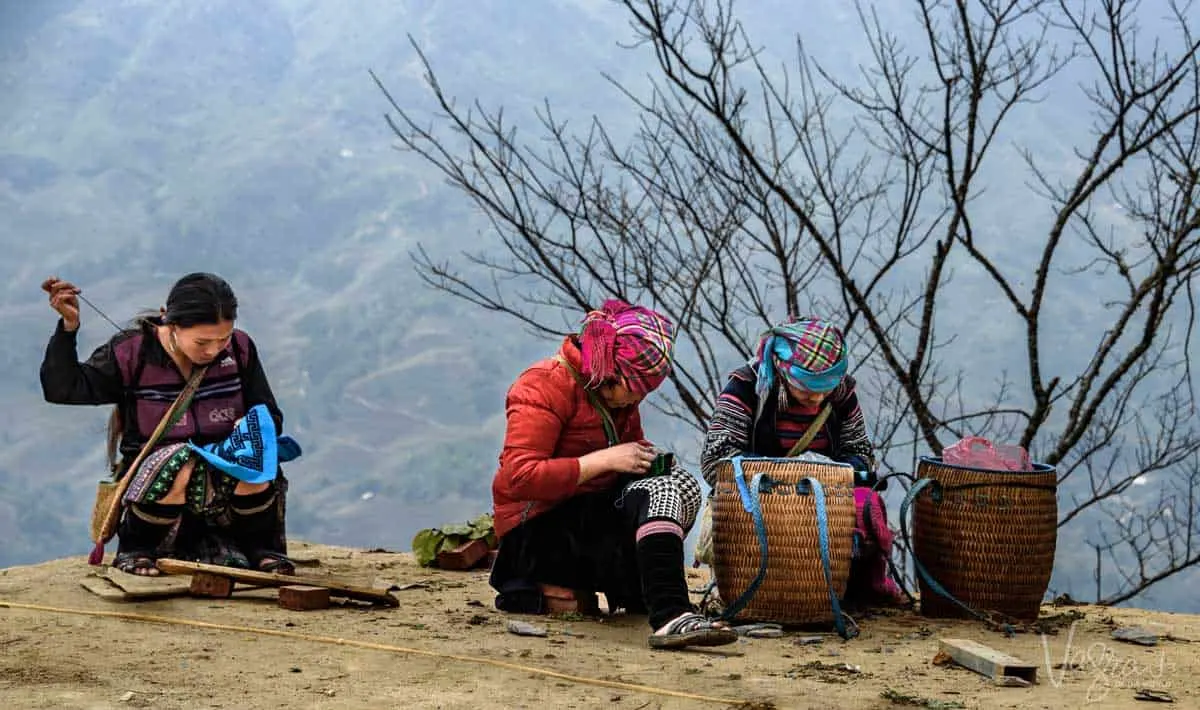 For the rest of the day, you will hike through the beautiful mountain scenery to the village where you will spend the night.
When you choose the route less travelled, you will encounter fewer tour groups on the trek but do not expect it to be entirely peaceful. Sometimes the ladies like to join groups so they can chat along the way.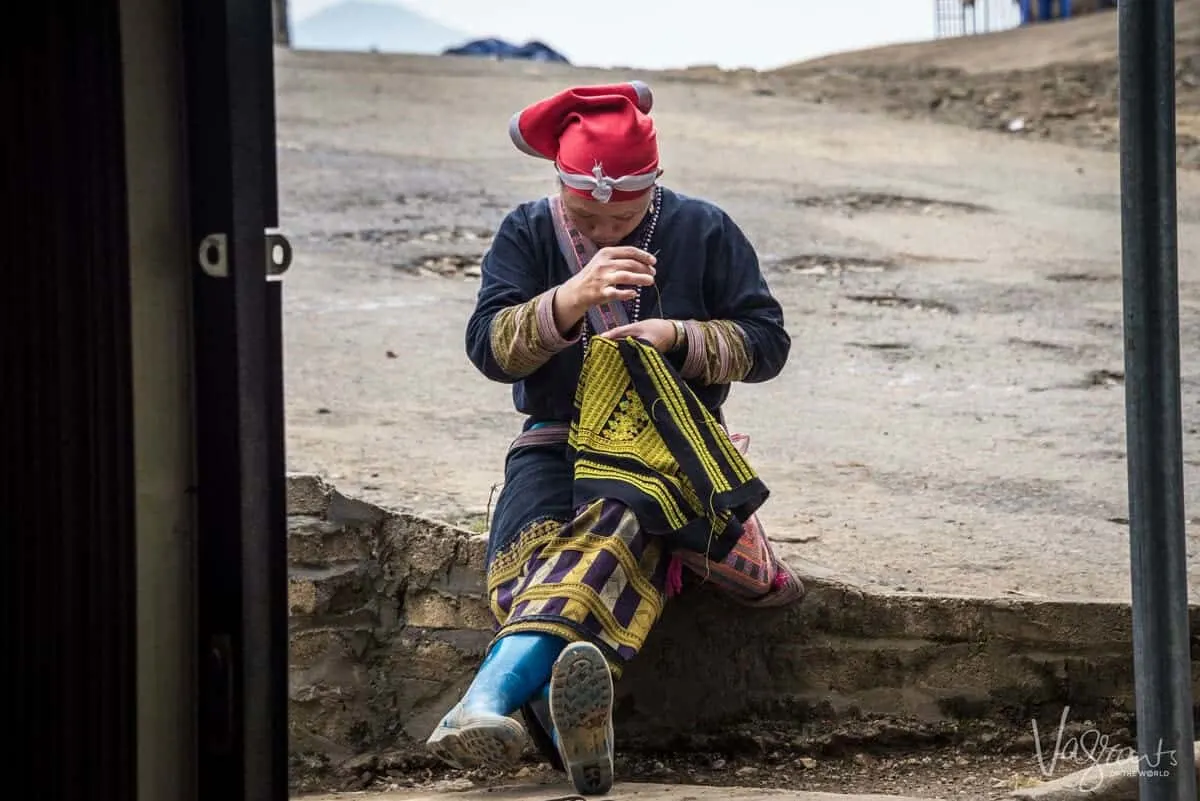 Beware Ladies (or children) Bearing Gifts
Other times, friendly old village women with blue dye stained hands will suddenly join you. You may think they are just going the same way as you or live in the village you are headed to. They are actually trying to sell you something.
They will walk with you for miles, sometimes over very rugged terrain before suddenly producing their goods and pestering you to buy.
Herein lies the need for incessant sewing. The ladies must produce more goods to peddle to the tourists. At least the items are homemade and original and you must admire the constitution of these old women.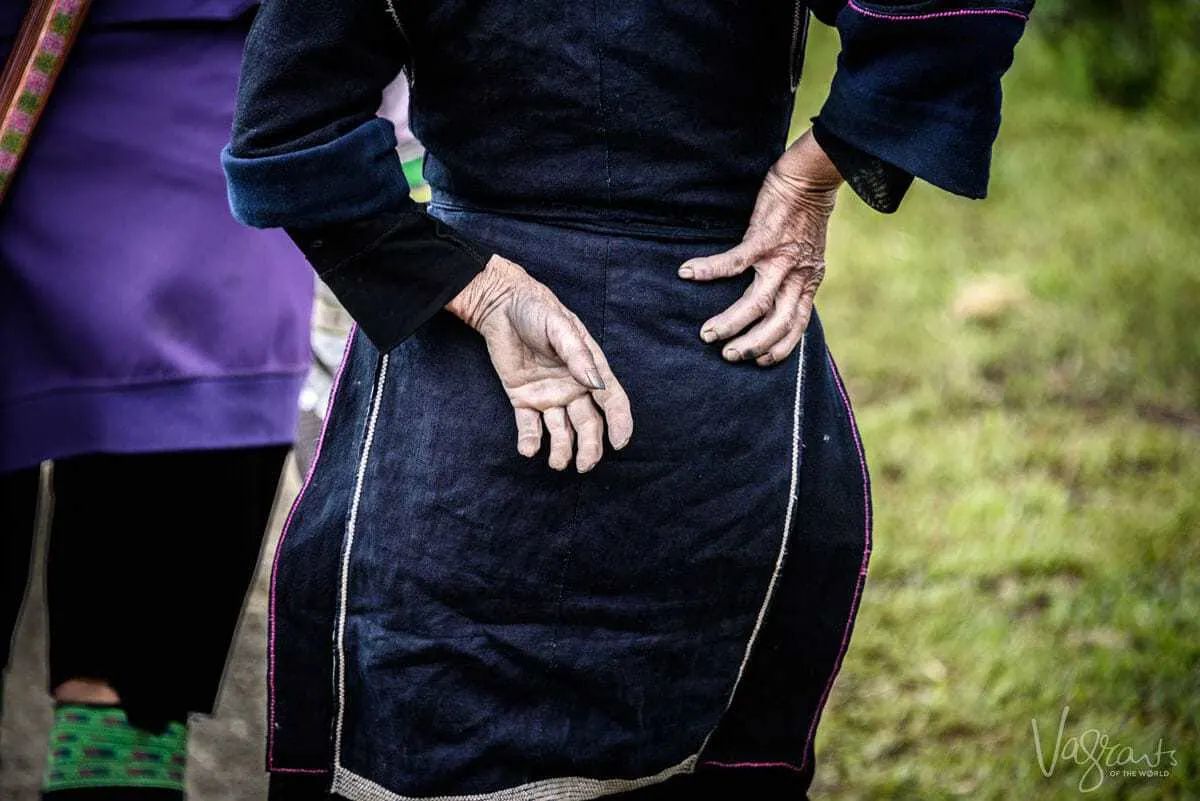 Do Not Encourage Children Begging or Selling Souvenirs
Much like the friendly ladies who will walk for hours with you to guilt you into a purchase, expect to be approached by young girls bearing woven bracelets for sale.
While they may be very cute, or you may feel sorry for them, in the name of "ethical tourism" (if there is such a thing) buying from them is not advised. This only encourages them to miss school in the hope of making money from tourists. You are not doing them any favours.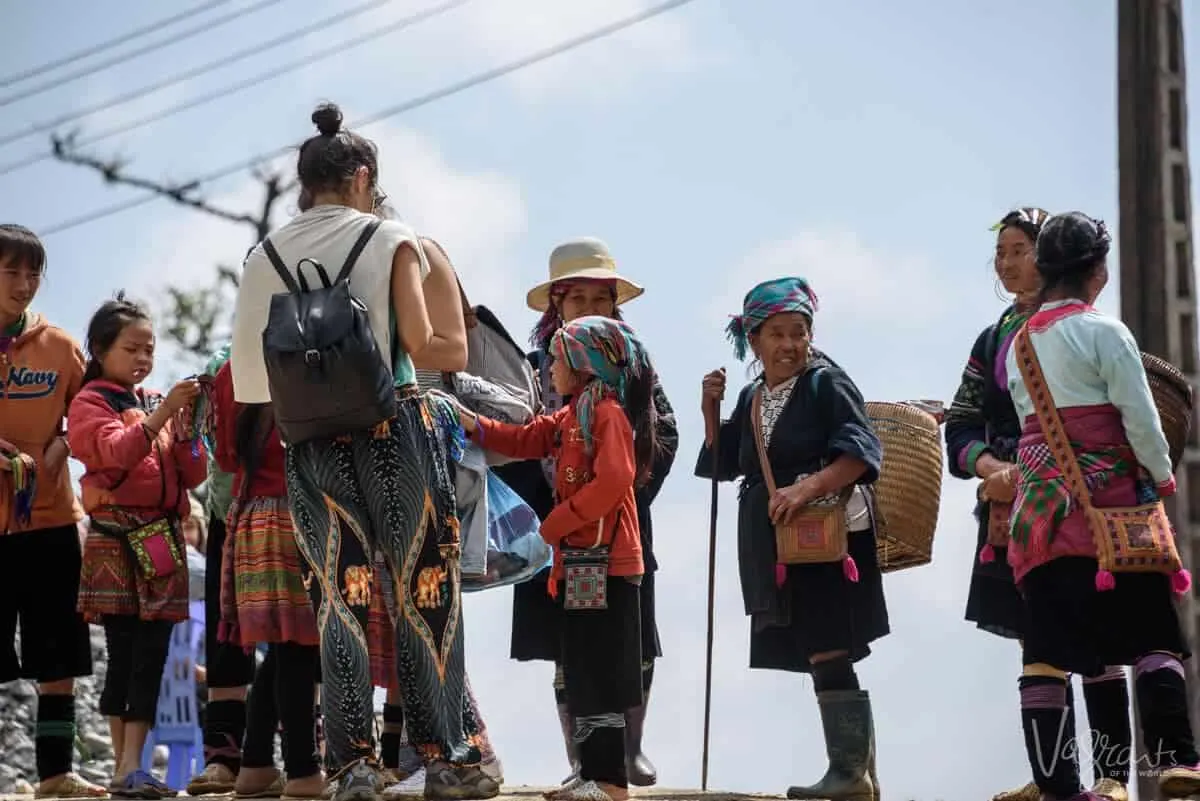 A Sapa Homestay What to Expect
When you arrive at the homestay, you will be glad to rest your feet. The accommodation in homestays is very basic. While the houses will vary, most will be a mattress on the floor with a mosquito net in a large shared room.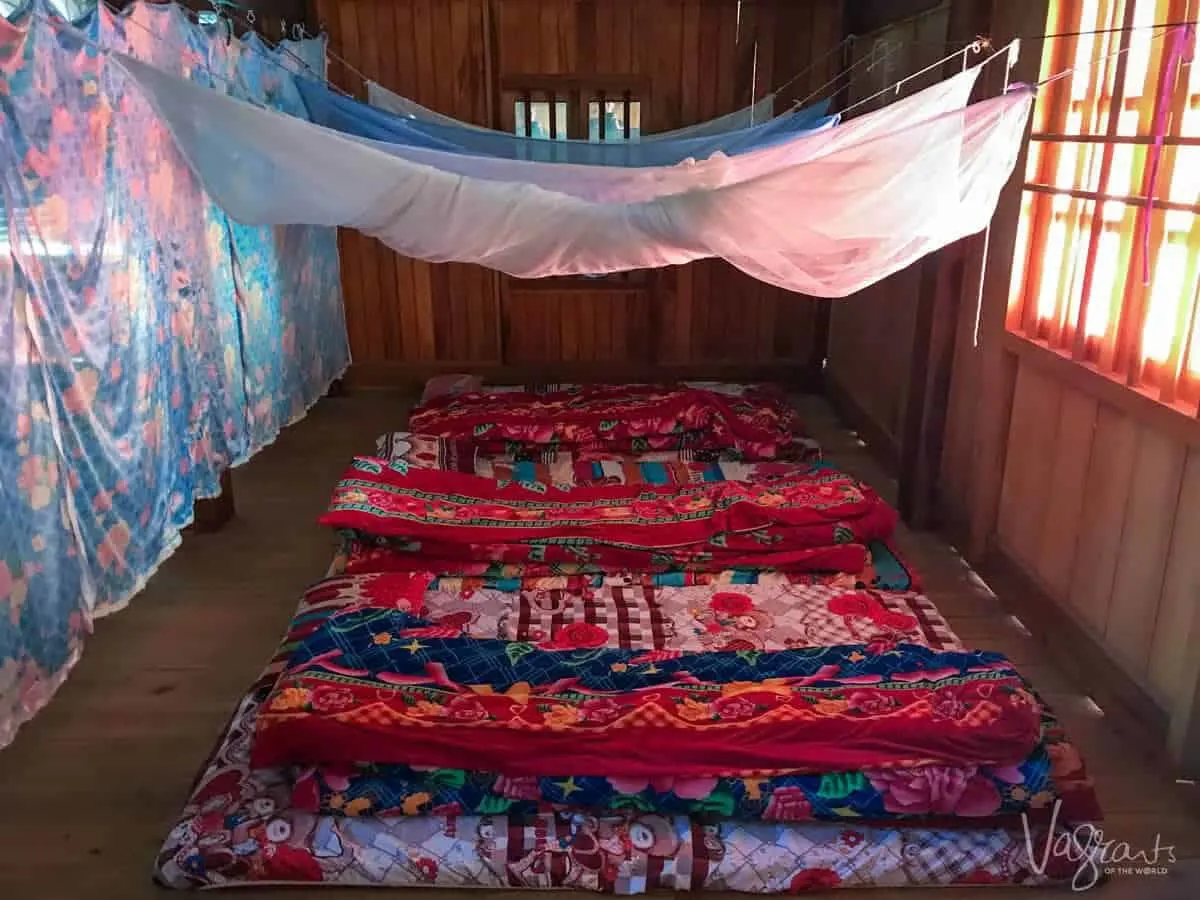 You may get a private room or an area curtained off. The houses are basic wooden structures with only one shower for everyone.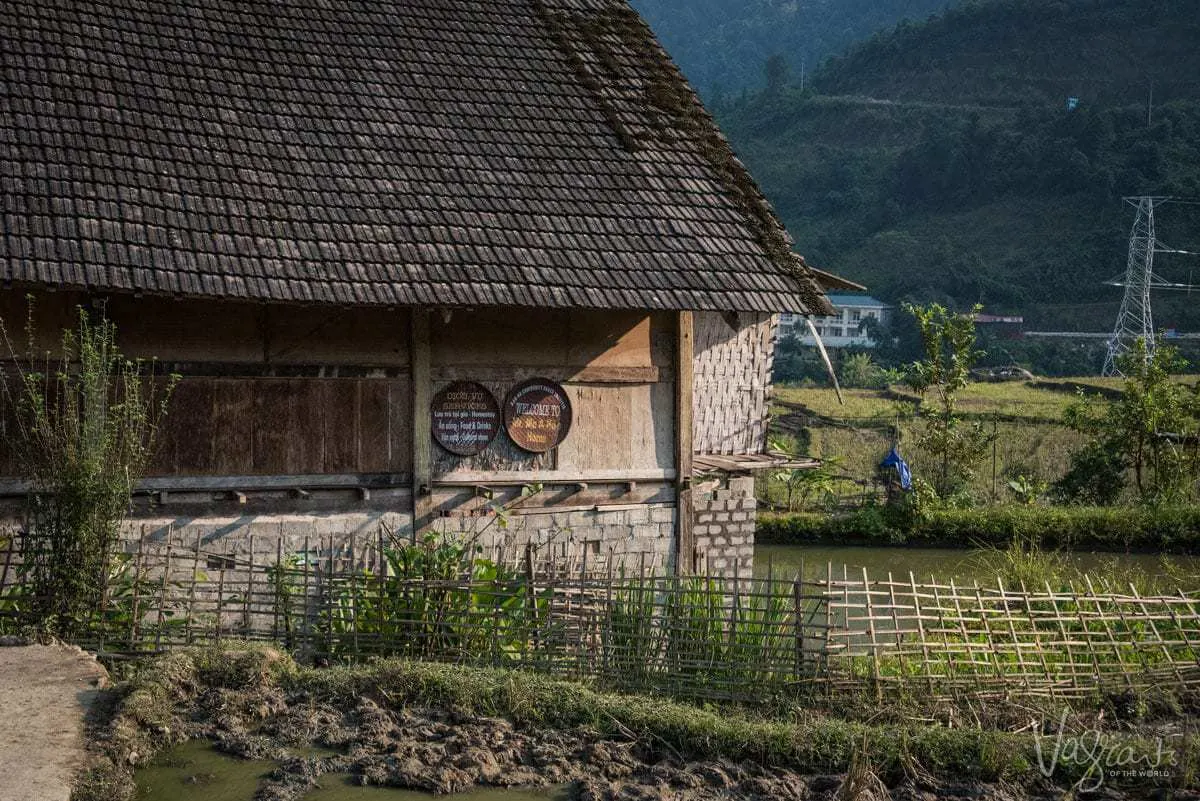 Each homestay may accommodate up to three or more groups a night. Or, it may just be the group you are in.
Our group changed from around eight people when we started to only three of us by the following day. It all depends on the length of your trek and the route or level you have chosen. People will join and leave you throughout your trek.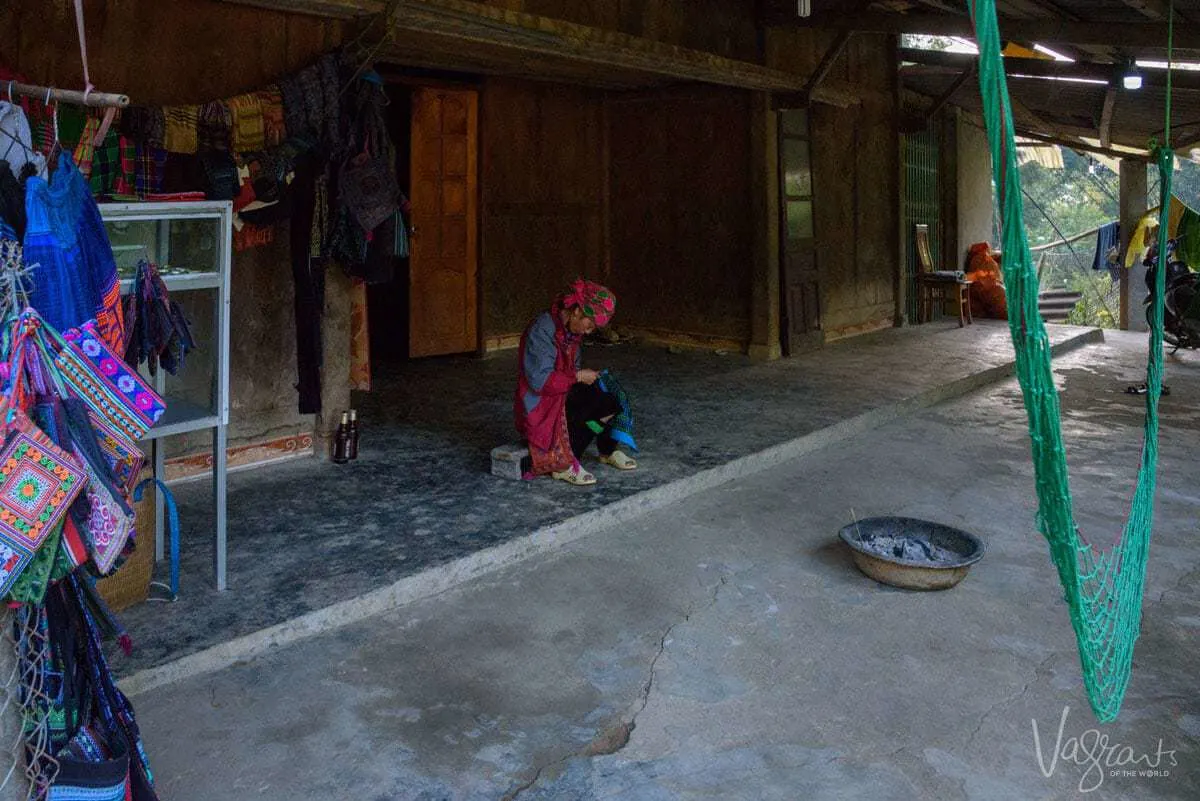 What is Included With Sapa Homestay Accommodation
At the homestay, you will be able to purchase water, soft drinks and beer. Meals will be prepared for you, dinner and breakfast as included in your tour price. The meals are always cooked fresh, traditionally over an open fire in a basic kitchen.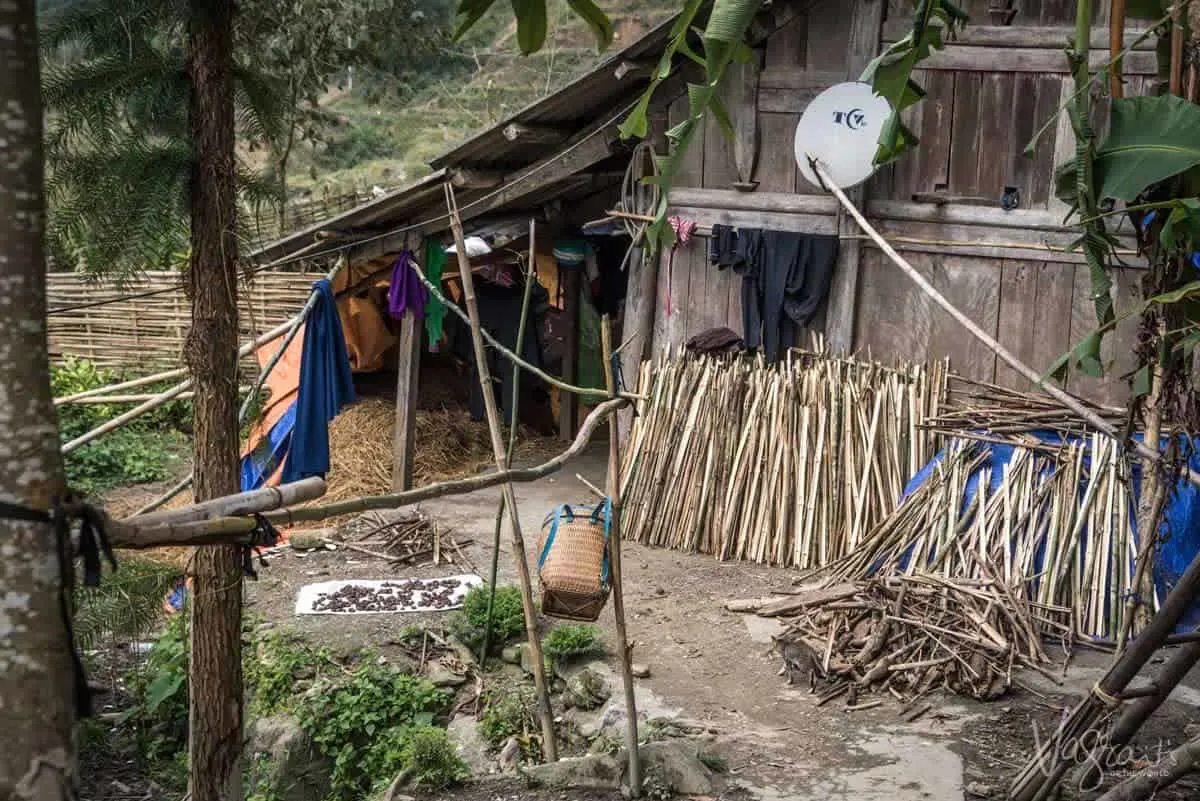 In our case, on both nights, we knew the food was fresh as they were plucking the chicken in the kitchen when we arrived.
The food is simple Vietnamese style but very good and there is lots of it. Breakfast seems to always be fresh banana pancakes and strong, sweet Vietnamese coffee.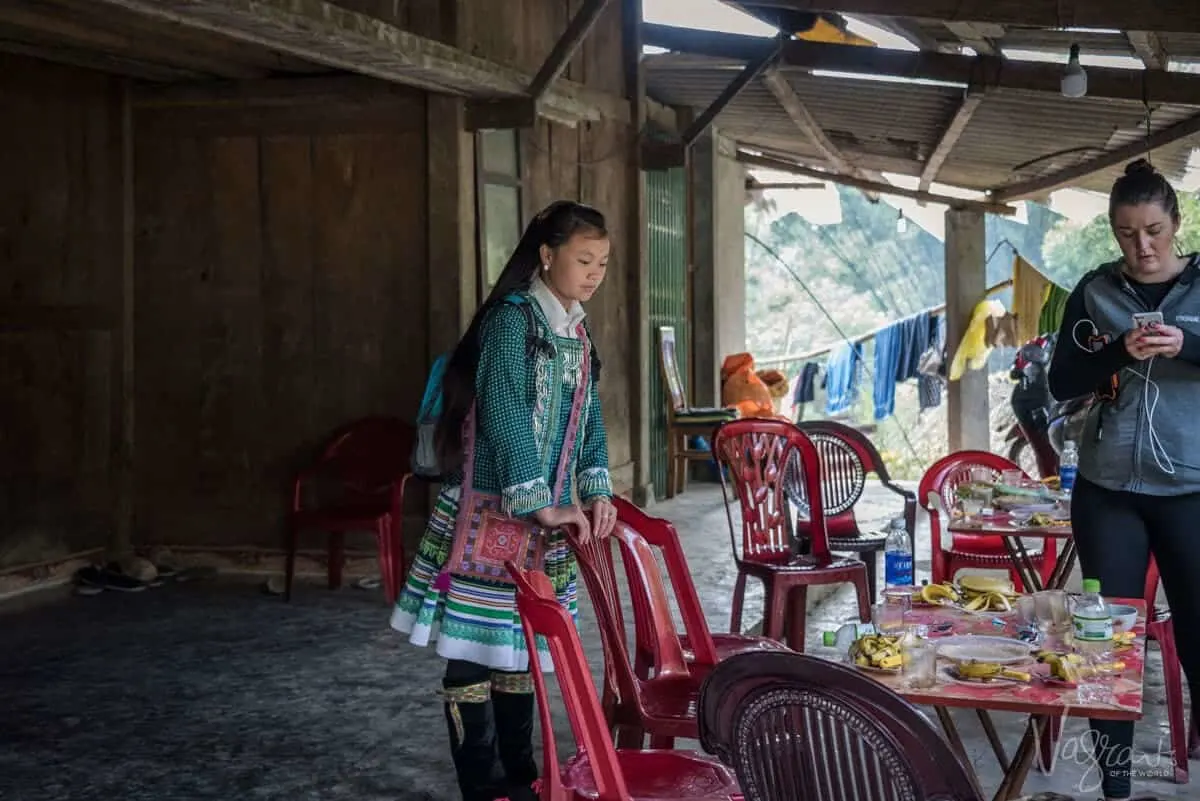 Trekking Day 2
After breakfast, and not too early, you will head off again. As we mentioned, your group may have changed. In our case, we set off with the same group as the previous day.
After lunch, we were joined by a second guide and three of us veered off in another direction as many of our group were only doing a 2 day/ 1-night trek.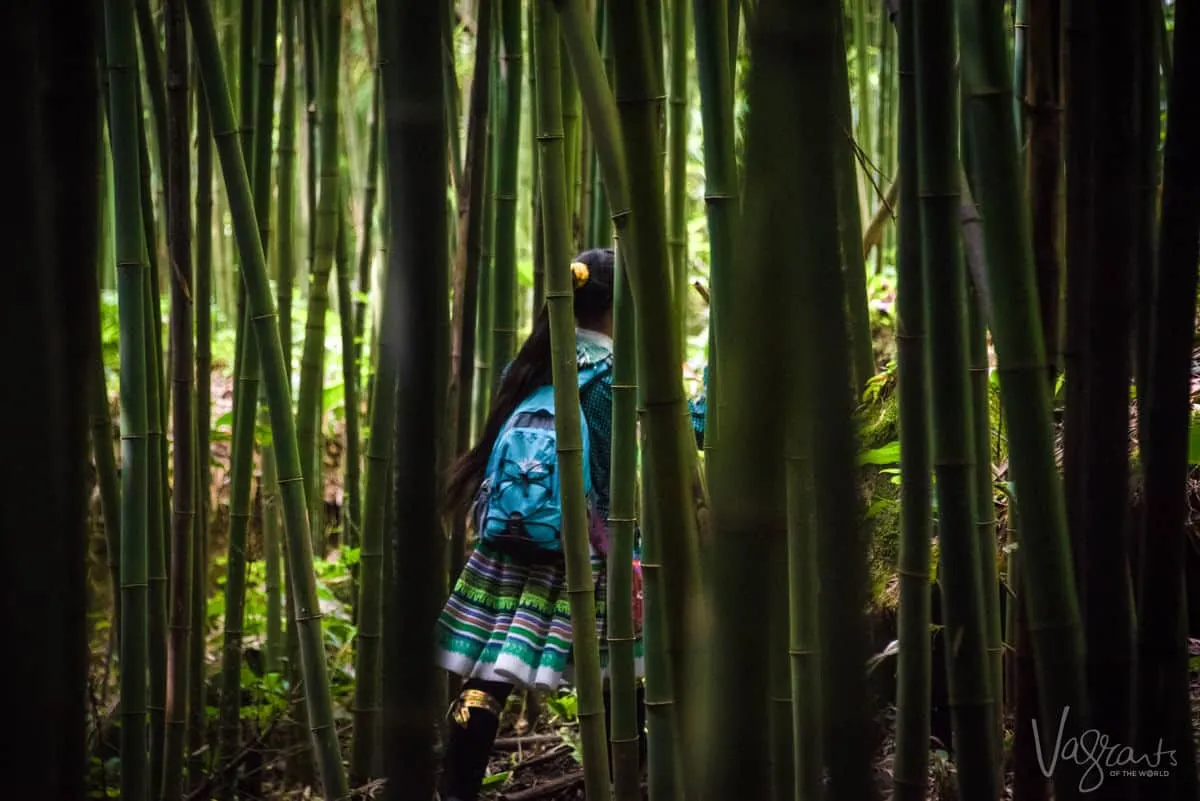 Day 2 will be much the same. You will hike through many different landscapes, stopping for lunch at a local village restaurant before making your way to a different homestay for the night.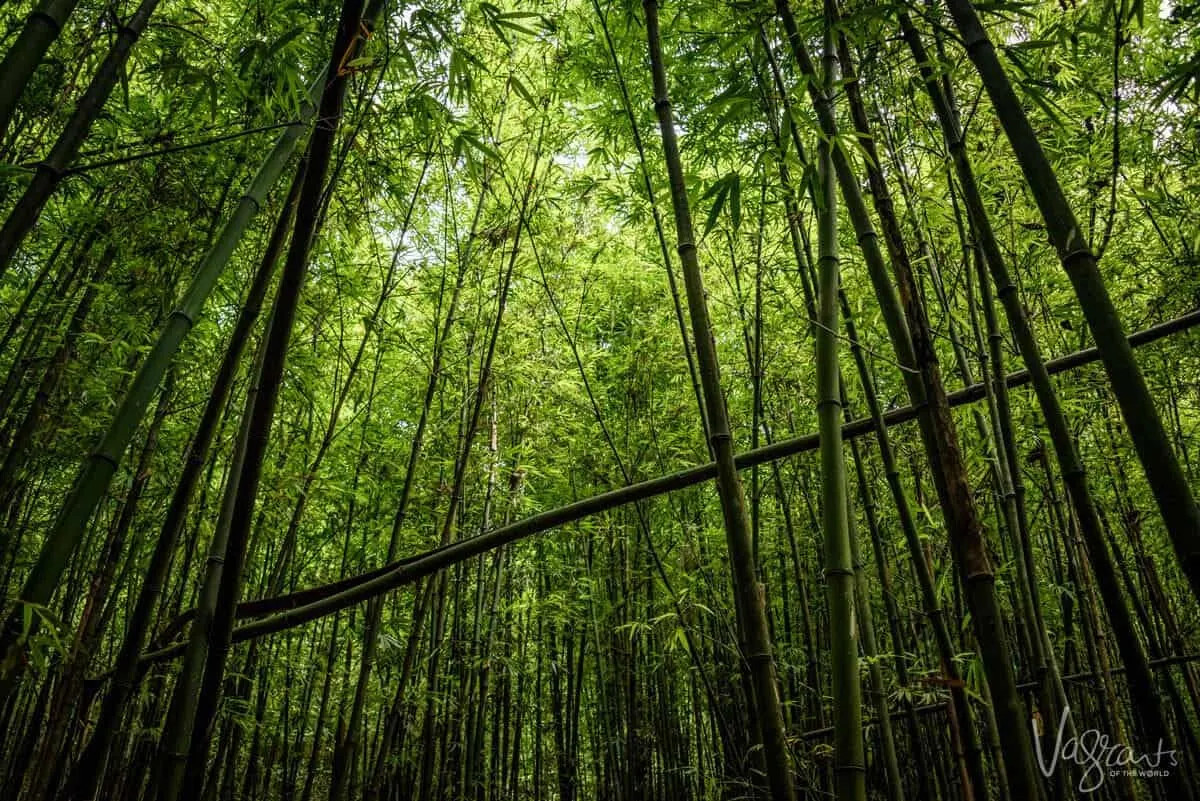 Trekking Day 3
On day 3 you will again have breakfast before heading off on a morning hike through the village to a local school further up the mountain, on through the rice fields and to a waterfall.
It is quite a pretty hike and very different from the previous 2 days. Although, we can honestly say we had very sore feet and our dodgy knees were worse for wear after so much downhill trekking in slippery mud the day before.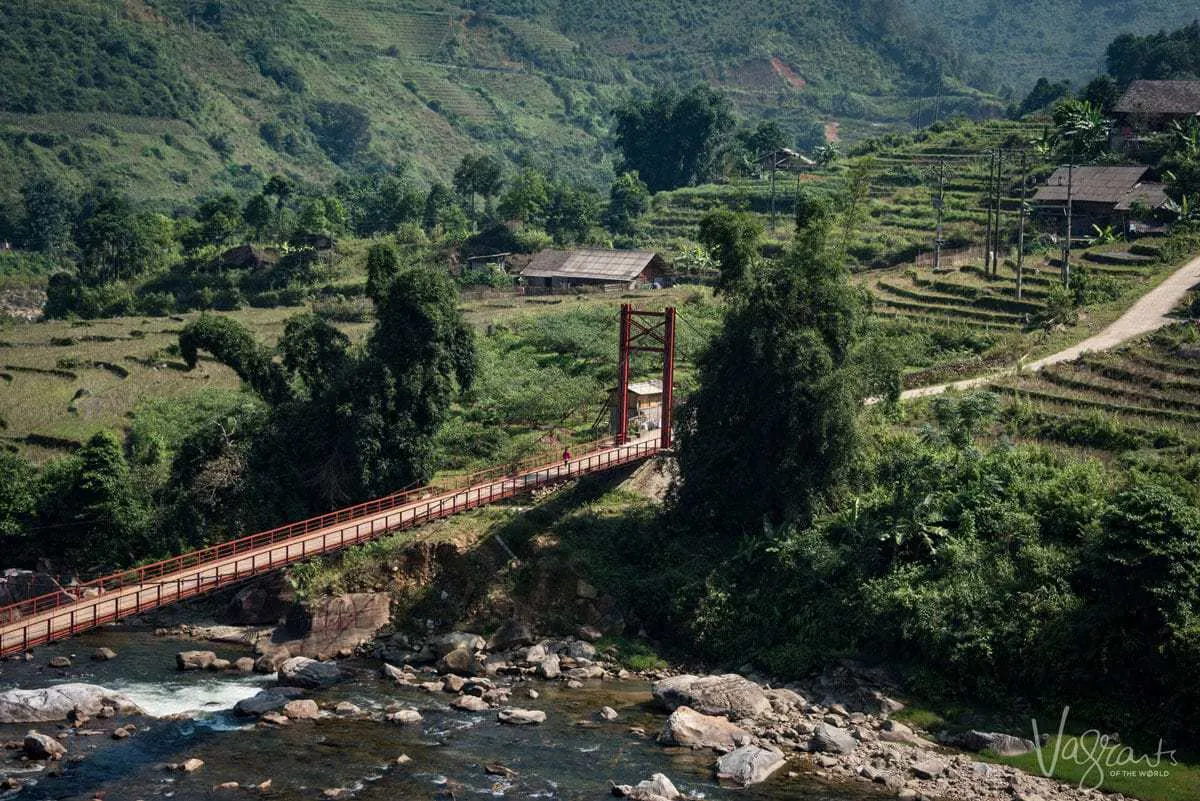 In our case, we returned to the same homestay for lunch (this lunch was included in the tour price) and a shower.
After lunch, we were collected by car and transported back down the mountain to meet the return bus to Hanoi. Most people will get the night train, but more on this later.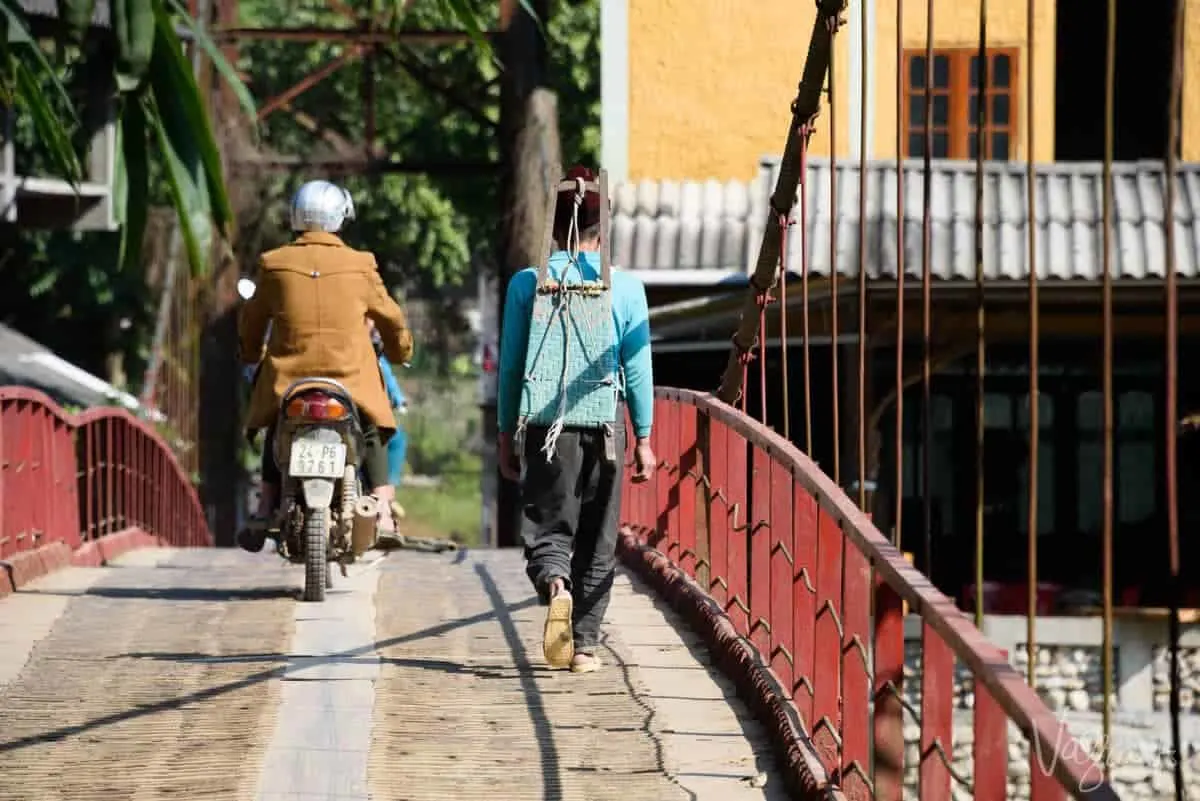 Booking an Overnight Sapa Trekking Tour
We booked our Sapa trekking tour in Hanoi and paid USD$122pp which included a train cabin upgrade (USD$110 without upgrade), more on this later.
What the 2 night 3 day trekking tour included:
Overnight train from Hanoi to Lào Cai station.
Transfers from the train station to Sapa town. Approx 1 hr drive up the mountain on very windy roads.
Trekking guide for all 3 days
2 nights homestay accommodation
2 x Dinners, 2 x Breakfast, 1 x Lunch.
Transfers from Homestay to Sapa bus station.
Return sleeper bus to Hanoi.
We felt, for an all-inclusive 3-day trekking tour with return transport, this was a very good price. For the backpacking set on a tight budget, this might seem pricey and sure you can do a trekking tour for cheaper, but you will get what you pay for.
---
---
How to Get to Sapa
Sapa is roughly 320 km from Hanoi, a 5 – 6 hour drive depending on traffic. Aside from driving, the easiest way to reach Sapa from Hanoi is by bus or train.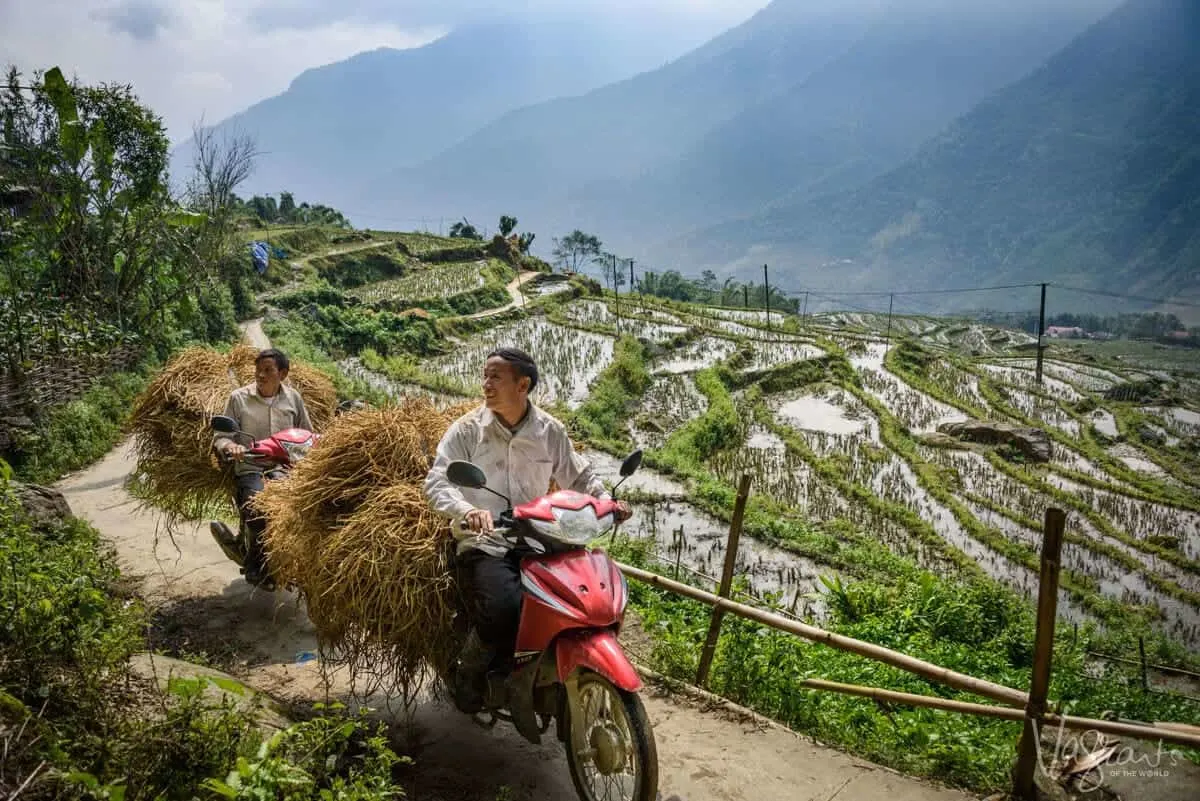 Overnight Sleeper Train from Hanoi to Sapa.
We took the Chapa Express overnight sleeper train. Prices as follows:
Deluxe Ticket: USD $42 pp (4 berth)
VIP Cabin: USD $169 USD per cabin (2 berth)
Suite Cabin: USD $176 USD per cabin (2 berth)
We opted for the Deluxe ticket but paid an extra USD $12 pp on our tour price (tour price USD $122 pp) to have the cabin to ourselves.
We thought this might ensure a better nights sleep if we didn't have to navigate climbing into top bunks or have others stepping on top of us during the night. Side note: a mild sleeping tablet did help for a sound sleep!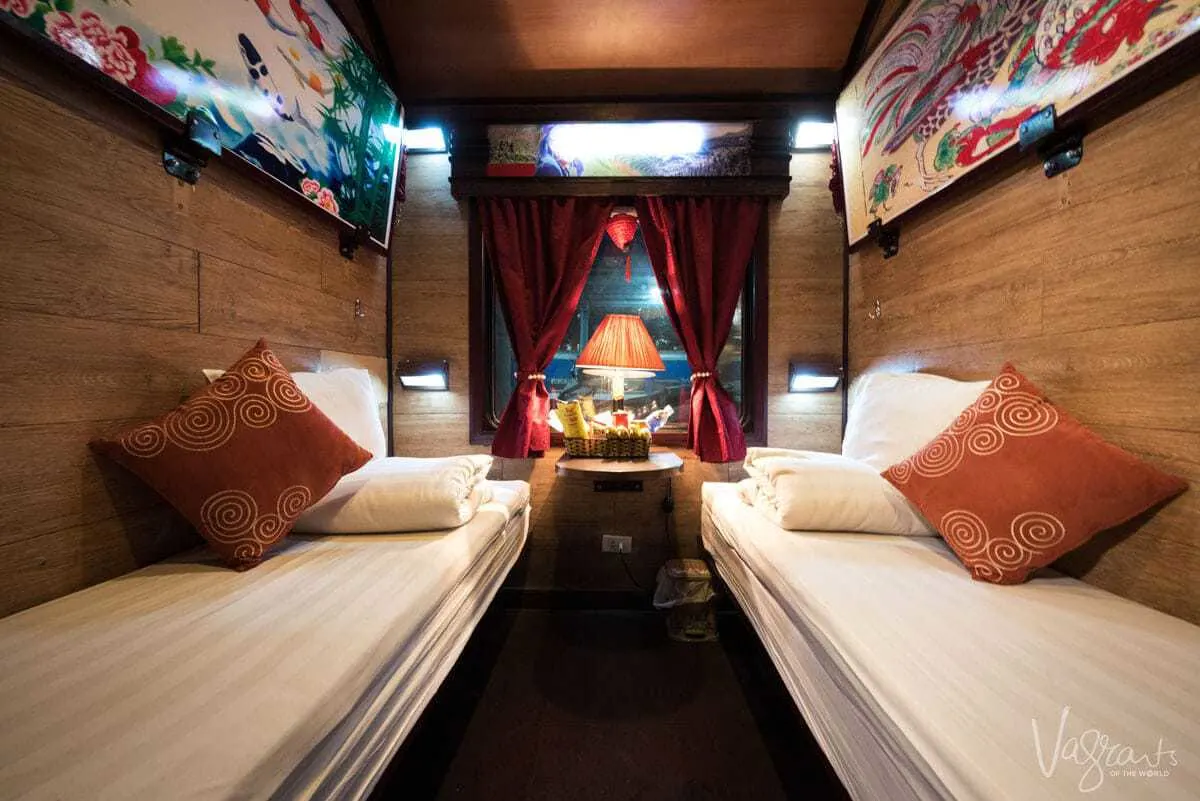 The overnight sleeper train is surprisingly comfortable. Each bed has clean sheets, comfortable pillows and duvets. There are power plugs to charge your devices. Cabins come with complimentary snacks and drinks. VIP and suite cabins also come with complimentary beer, wine and amenities packs.
Overnight Sleeper Train Facts
The overnight sleeper train leaves Hanoi at around 10.00pm and arrives at Lào Cai train station at 06.30 the following morning.
From Lào Cai station, if you don't already have transfers arranged as part of a tour, you will need to get a van or minibus to Sapa approx. 1 hr drive.
You will find plenty of drivers at the station, just be sure to agree on a price before you set off to Sapa.
Expect to pay around 40 or 50 thousand Dong, approx USD $2.00.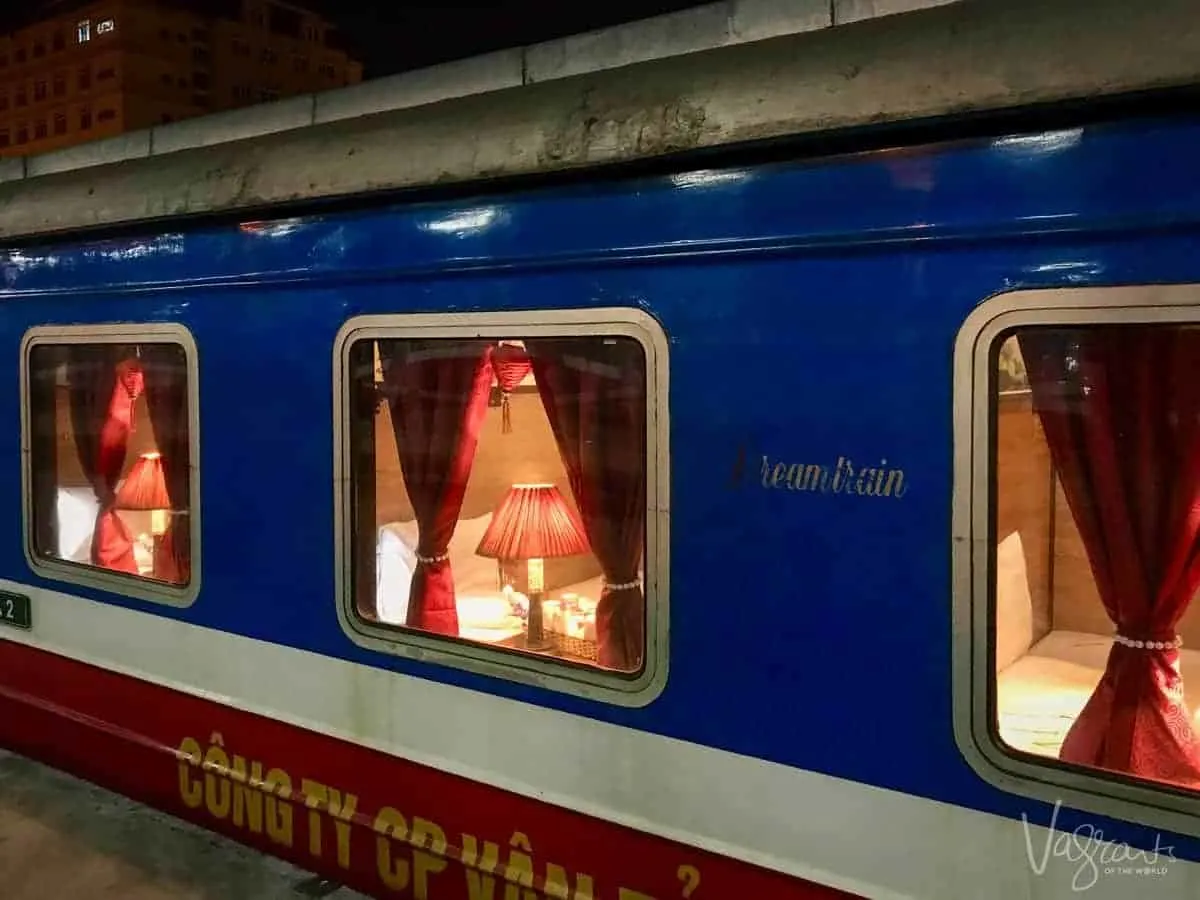 Hanoi to Sapa Sleeper Bus
The sleeper bus between Hanoi and Sapa at around USD $12 pp is much cheaper than the overnight sleeper train but we found the bus the best option for the return trip only.
While the sleeper bus is a great idea, it is nowhere near as comfortable as the overnight train to Sapa. The seats don't lie completely flat.
Depending on which service you catch, the overnight bus takes approx 6 hours from Hanoi so will arrive at Sapa at around 04.00 in the morning.
Although the bus does take you right into the middle of Sapa so you don't have the additional transport from the train station.
So Bus or Train to Sapa?
The short answer – Both! Our tour gave the option of either a return train ticket or return bus ticket with the tour price. We asked to mix it up and take the train from Hanoi to Sapa and Bus return to Hanoi.
Our reason for this was the return train did not leave Sapa until 10.00 at night arriving in Hanoi the following morning. What would we do after the trek was finished, just wait around the train station as some in our group had to do?
There is a sleeper bus leaving from Sapa at around 4.00pm which arrives back in Hanoi around 9.30pm the same evening. It was a very relaxing trip back and we were back in Hanoi in time for dinner.
Doing the train, bus combination we got a good night's sleep on the train before heading off on the 3-day trek. It means no unnecessary waiting around and also allows you the experience of Vietnams surprisingly good train service and very efficient bus service.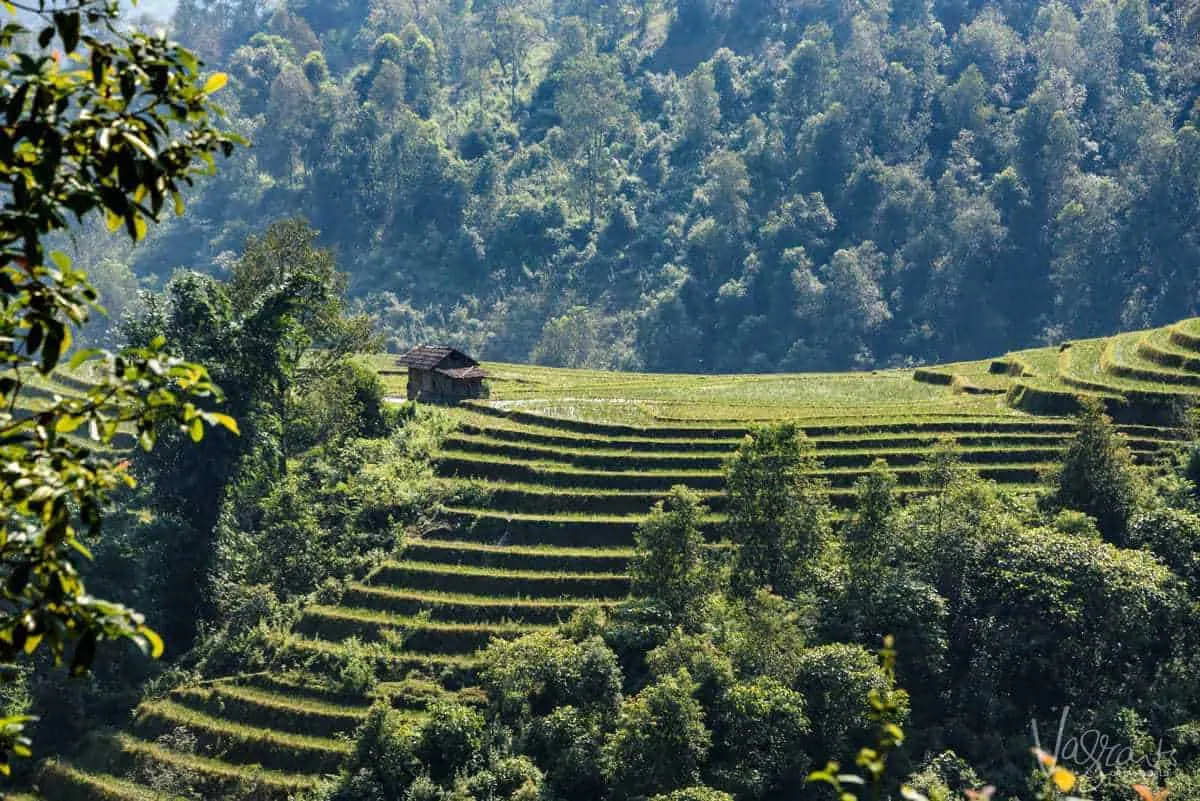 Best Time to Visit Sapa
There is no best time to travel to Sapa, just better months depending on what you want to see or do. Visiting Sapa for most is about trekking, but it will be to see the rice terraces for some. Bearing this in mind, this is what you can expect in Sapa throughout the year.
Best Weather for Hiking in Sapa
Many would say the best time to visit Sapa is – March to May and September to November. The weather is relatively stable during these times, with sunny days and cool nights, which is perfect for trekking.
In April and May, the terraces will be full of water, and there will be lots of farming activity in the fields. During this time you can enjoy beautiful scenes of flowers blooming and green fields. Many Vietnamese visit Sapa after the Lunar New Year to admire the blossoming cherry trees.
In September, you will see the Sapa Mountains change colours. The terraces will be shades of green, yellow and golden. This is also peak season in Sapa, so expect crowds.
If you want to see the rice fields in their most vibrant green, June is the best time. However, be prepared for rain and steamy weather.
The weather is quite warm in the summer, although it will not be as hot as other regions in Vietnam. This might be a nice reprieve for some.
In winter, from December to February, the weather in Sapa becomes very cold, especially at night. It is even possible to experience snow in Sapa during these months.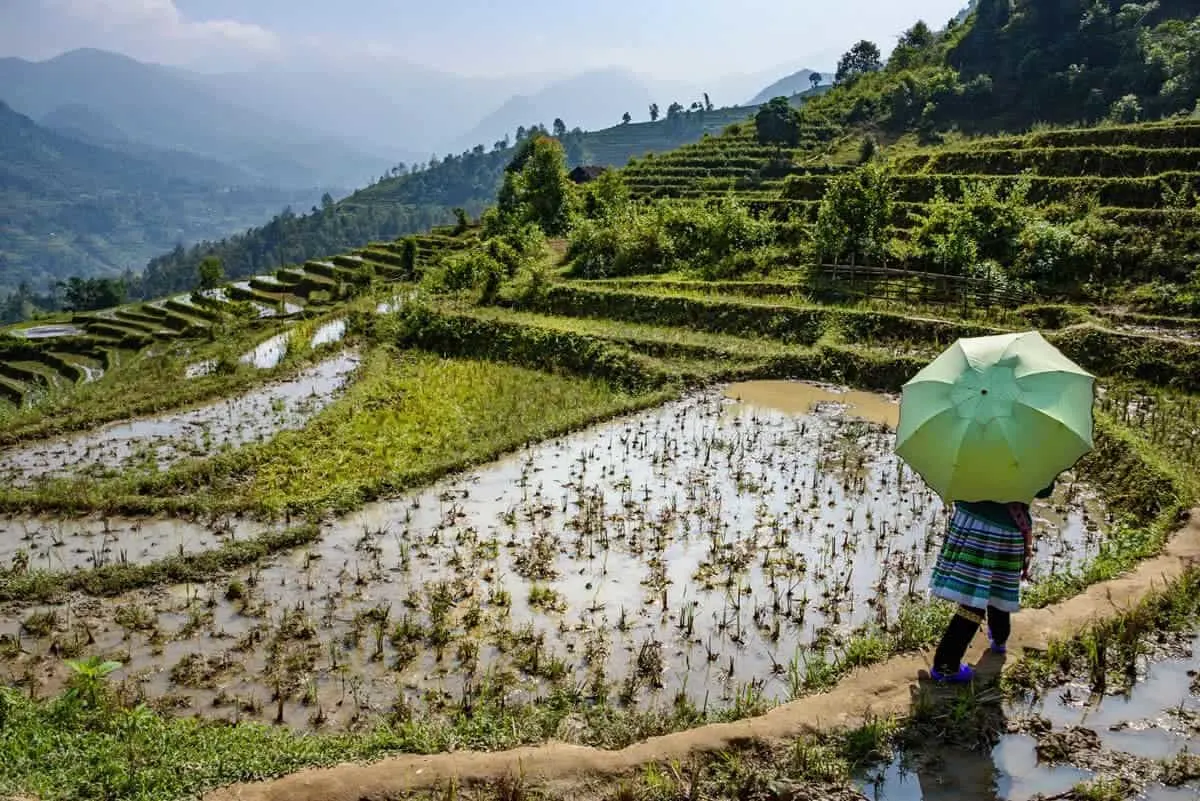 What to Pack for Sapa
Luggage
We would recommend one small bag for overnight and one daypack.
As we mentioned earlier, if you do a guided tour while you are trekking, they will arrange to have any additional bags portered to your homestay for the night. In saying that, if possible, arrange for the bulk of your luggage to be stored at your accommodation in Hanoi or at the tour office.
Depending on the time of the year, it would not be unusual to experience rain, sometimes quite heavy rain. With that in mind, we would recommend a waterproof or at least water-resistant daypack if you have one. A quality dry bag is also a good investment, especially for camera gear.
We love this lightweight foldable daypack. It is water-resistant, has concealed pockets and lockable zips, but mainly because it folds down into itself into a small 8×8″ pouch when you're not using it. It's great for lightweight travel.
Tip:
We highly recommend picking up some cheap North Face, (or "North Fake") knock-off wet weather gear in Hanoi or at the Sapa market. However, we wouldn't recommend trusting their so-called "Gortex waterproof" capabilities. Especially those of the fake "dry backpacks" if you are going to carry valuable tech gear in your day pack.
We have put this to the test, and Vietnamese North Face does and will leak. This is fine for a jacket, but not a bag in a downpour.
Plastic Bags
Throw a couple of plastic garbage bags in your day pack and, if you have them or can find them, some large zip lock bags. We never travel without assorted zip lock bags.
If you do find yourself in a downpour, the ziplock bags will be added security for your camera and/or phone. Garbage bags will be handy for wet, sweaty or dirty clothes at the end of the day.
Jackets – Stay Dry / Keep Warm
Again, depending on the time of year you are going to need a jacket of some kind. If you don't already travel with a quality lightweight rain jacket, grab a lightweight rain jacket from the North Face knock-off shops for around USD $15 – $20 depending on your bargaining prowess.
The same for winter. Hit the knock-off shops for a warm jacket or fleece, gloves and beanies. These will also come in handy in early spring and late autumn as the nights get very cold as soon as the sun dips below the horizon.
Embrace the Poncho
Even if you have got your North Fake knock-off rain jacket, we still recommend packing a poncho. Much like we did in Borneo and Nicaragua, we bought a couple of these reusable, foldable rain ponchos before we left, and just stashed them in our day packs.
On all of those trips, they came in handy more times than we counted. A poncho is excellent because it fits over both you and your daypack to make sure everything stays dry.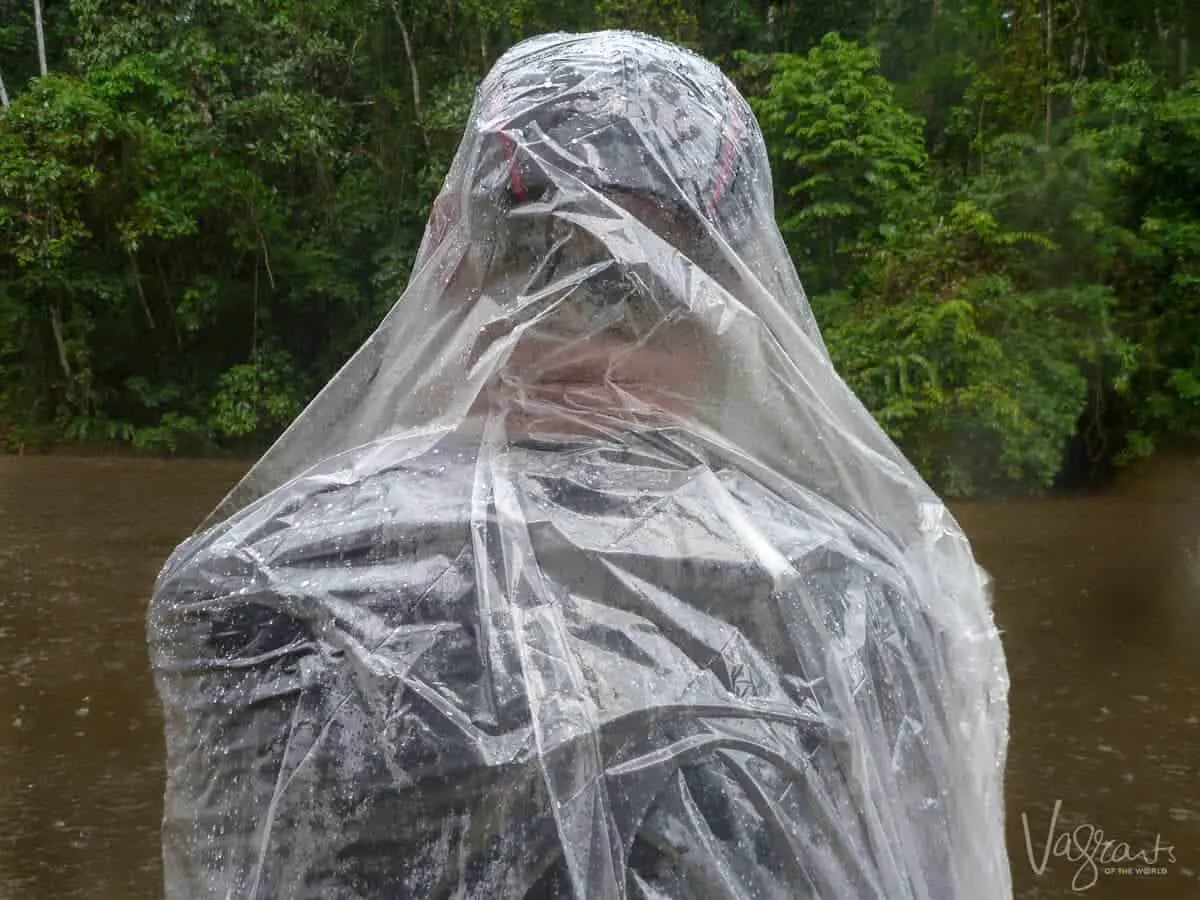 Clothing
Obviously, comfortable clothing is key when trekking in Sapa. Loose lightweight pants, shorts or even lycra legging style pants. Whatever is going to be most comfortable in the conditions of the season.
Hot Weather
Cover Up – Even though it will be hot, still consider a lightweight long sleeve top and even lightweight pants over shorts. The risk of sunburn at high altitudes is very high, even on cloudy days.
Cold Weather
Layers – As we said, winter can get very cold. It can even snow so make sure you have appropriate clothing. Opt for layers over heavy or bulky winter weights. Again, head to the knock-off North Face shops if you don't already have the appropriate clothing.
Grab yourself some good layers and lightweight, warm jackets like a fleece or puffy jacket. At least with layers, you can adjust during the day according to the temperature and not have to worry about carrying bulky excess clothing.
Spare Clothes
You are going to need a change of clothes depending on the number of days you are hiking, but also allow for wet or excessively sweaty clothing. A spare dry shirt in your daypack will go a long way to making the rest of the day enjoyable should you get hit by a sudden downpour. Another reason to carry some plastic bags.
Spare Socks
It goes without saying; you are going to need clean socks. However, we would recommend an extra pair or two on top of what you think you might need. Again, you may get caught in a sudden downpour during the day or not have waterproof hiking shoes suitable for stream crossings or thick mud. You may want to change your wet socks at lunchtime. Your feet will thank you.
Also, for those who didn't anticipate how cool the evenings can get, it's ok, socks and flip-flops are a common sight in Sapa – No shame.
Shoes
Hiking Shoes or Boots
We know hiking boots or shoes are not ideal for travelling light the way many do in Vietnam. In saying that, we do recommend at least a decent hiking style shoe, waterproof if possible for Sapa.
We made the mistake of thinking trainers would be sufficient for the expected weather and the type of hiking we would be doing. So, we stupidly left our hiking boots back in Hanoi.
Things to Consider When Packing or Buying Footwear for Trekking in Sapa
Without stating the obvious, hiking in Sapa does entail a lot of steep up and downhill climbs.
You will come across a lot of muddy paths. We are talking that thick, clay-like mud that you either sink into and it sticks in large clumps to your shoe or is firm but incredibly slippery.
There were also numerous stream crossings we didn't consider.
Not wearing proper shoes also meant a lot of pressure on our toes when coming downhill. Mark ended up with a very sore black toenail for three months after as a result.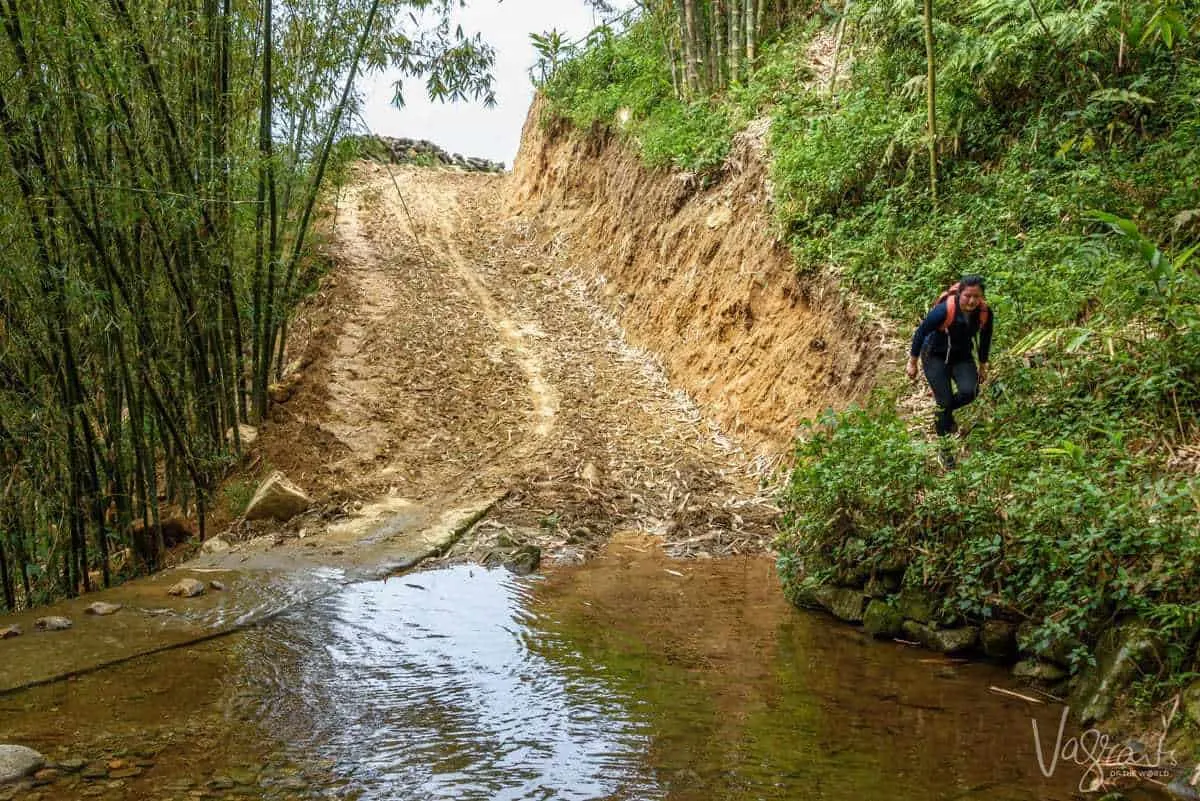 In hindsight, we wished we had taken our hiking shoes. After three days of trekking, we would have appreciated the grip, support and waterproof shoe. Our trainers were a sodden mess by the end.
Take a Lightweight Hiking Shoe or Boot That Can Double as a Casual Shoe
We always opt for a waterproof hiking shoe that is lightweight and can double as a casual shoe, so we don't have unnecessary additional weight in our bags.
Waterproof Leather Hiking Sneaker
Waterproof Hiking Sneaker Boot
Flip Flops
Make sure you have a pair of shoes such as flip-flops or similar to slip into at the end of the day. Again, your feet will thank you after a long day of up and downhill trekking.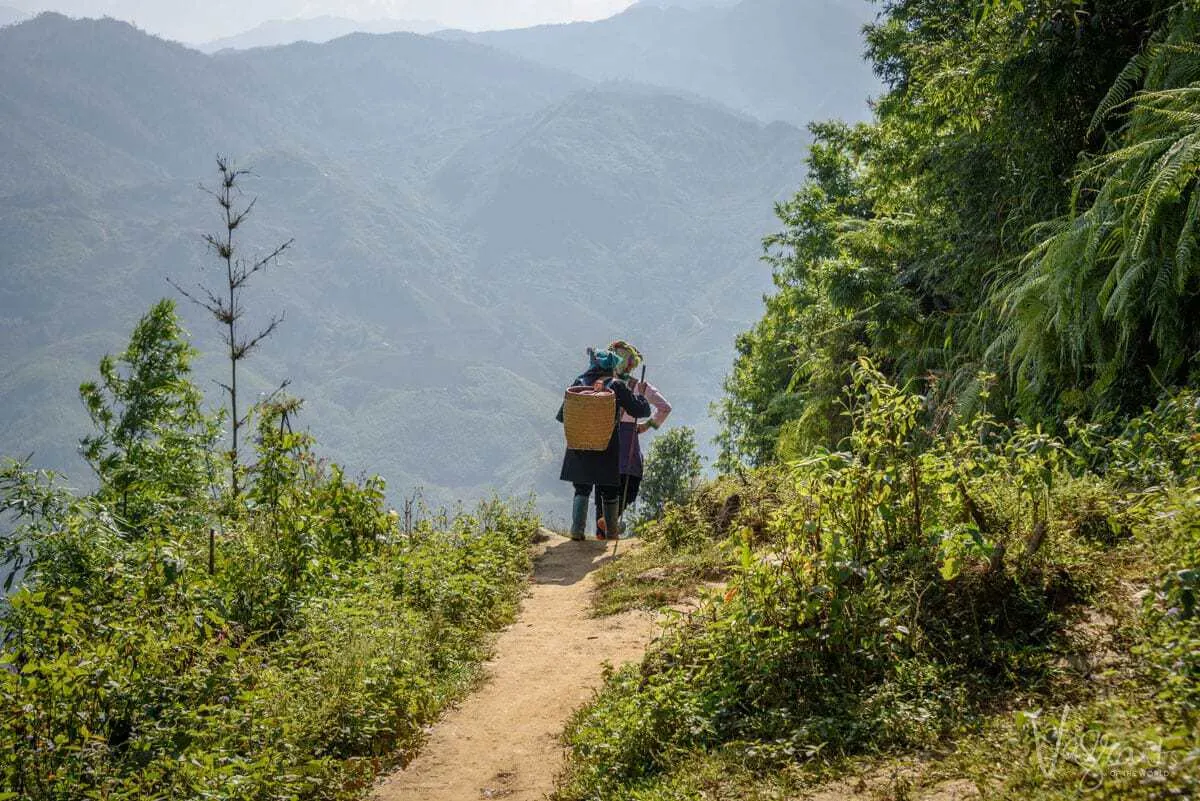 Trekking Poles
If you're anything like me and have dubious knees (mine are just that bit worse thanks to a volcano climb on Ometepe Island and now, since Sapa), you may want to consider a set of lightweight travel style trekking poles. Much like our hiking boots, these would have made the days where there was a lot of steep and sometimes slippery downhill trekking much more comfortable.
Light Weight Collapsible Walking/Trekking Poles
These are by no means an essential item for Sapa, but if you have something like this, they would be a good addition to this type of trekking.
Personal Items
Band-Aids – Did we mention the uphill and downhill trekking? Good chance, even with a good pair of worn-in hiking shoes you're leaving Sapa with a blister or two. Just don't let it ruin day two or three of your trek. Be prepared. A second pair of socks will help in this scenario too.
Wet Wipes – We always find a small travel pack of wet wipes is good for hiking, especially when it is hot. They will also be welcome with some of the bathrooms you might have to use in villages as well. You get our drift!
---
We love These Handy Additions to Our Day Pack or Handbag for Every Travel Situation.
Epic Wipes – Massive residue-free shower substitute, bamboo body wipes
Flushable, individually wrapped wipes for travel.
---
Sunscreen – Even in cold, cloudy weather. You are at high altitudes so expect the UV index to be more extreme.
Insect Repellant – Especially in the warmer months. You may not be able to get any once you leave the main town so be prepared. We always travel with insect repellant bands because they are so convenient, especially when travelling light.
Torch or headlamp – There will be electricity at the homestays, but it is relatively rudimentary. If you need to get up in the night and don't want to wake people or fall down a steep set of stairs, you'll be glad to have a headlamp.
---
While this is not a comprehensive packing guide to Sapa, we hope it saves others from making similar packing mistakes that we did. Did we mention the black toe? If you have hiking shoes – take them!
Finally
There is no doubt that Sapa has very much cemented itself on the well-worn tourist trail. That doesn't mean this beautiful mountain region doesn't still offer a wonderful experience.
And for the more adventurous or independent travellers and hikers, there are still unexplored and unique experiences to be had in Sapa. Just allow yourself the time to find them.