Home to the vibrant lantern street in Old Town, the vast white sandy stretch of An Bang Beach, and a seemingly endless choice of master tailors' shops. Hoi An is hands down the most charming and unique town in Vietnam.
Best Things to do in Hoi An in 2 Days
Listed as a UNESCO World Heritage Site, there's no wonder Hoi An attracts massive numbers of foreign visitors each day. It is also one of the most popular destinations for solo travellers to Vietnam. Some come to stay awhile and soak up the relaxed vibe of the ancient town. Others, sadly, come only for a day.
With so many extraordinary experiences on offer, we would recommend at least two days in Hoi An. Which, interestingly enough, is what most visitors to Vietnam allow for Hoi An.
While two days might not be enough to indulge in all Hoi An has to offer, this Hoi An itinerary is designed to ensure you incorporate all the best things to see and do so you don't miss a thing.
Don't Forget to Get Your Vietnam Visa before You Go
You must have a visa to enter Vietnam.
The process of obtaining a visa for Vietnam has now simplified meaning citizens from over 40 countries can now apply for their visa online. You can apply online for your Vietnam Visa here but make sure you allow at least three business days before your departure date for processing.
2 Day Hoi An itinerary
Getting to Hoi An
The nearest city to Hoi An with an airport is Da Nang. While it is possible to travel by bus to Hoi An from major cities in Vietnam, flying is a cheap and efficient way to make the most of your time. Vietnam's low-cost carrier Vietjet is the most budget-friendly, with lots of services daily.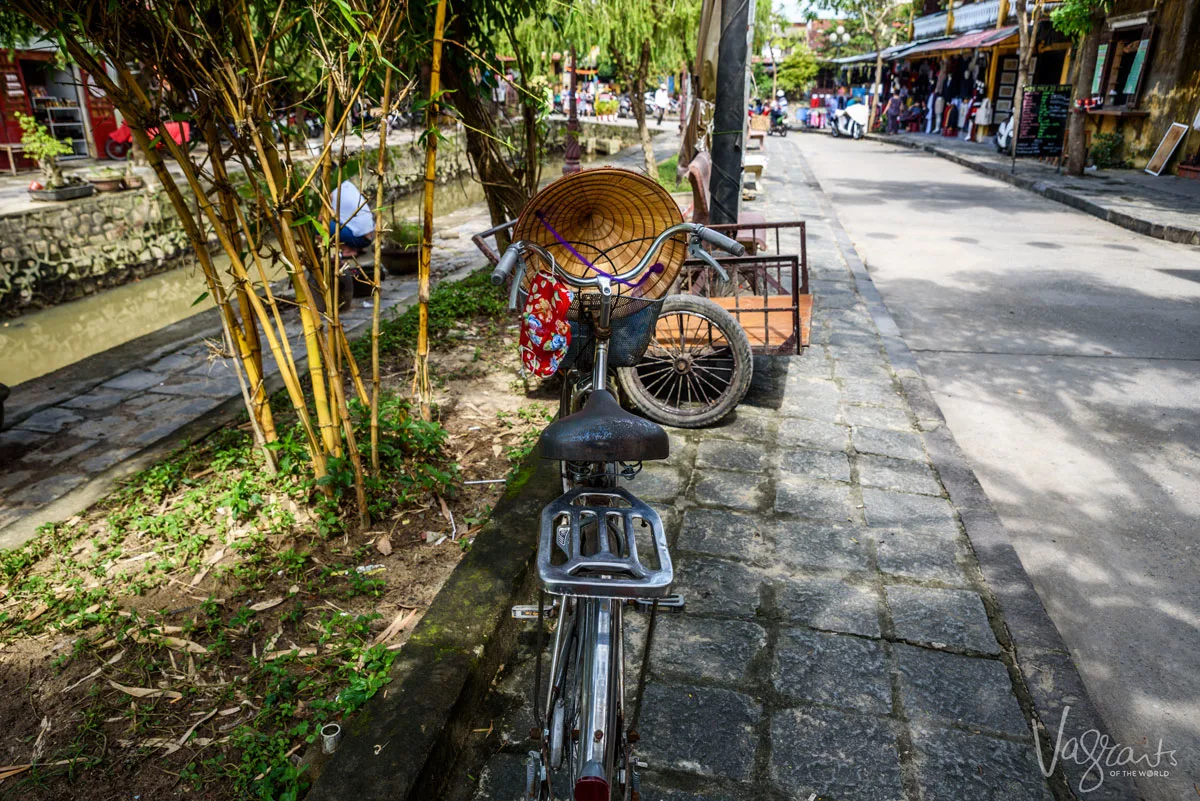 Getting From Da Nang to Hoi An
Private Shuttle
To get to Hoi An from Da Nang airport, you can pre-book a private transfer service for as little as VND 143,000 (~$6 USD) pp. You can get Hoi An shuttle details here.
Public Bus
Or, take the public bus – Bus No.1, which departs approx. every 20 minutes and takes around an hour. A one way trip will cost approx VND 30,000 (~$1.30 USD).
Taxi
Alternatively, you can take a Grab Taxi (SE Asia's version of Uber. We recommend you download the app before arriving in Vietnam) or a local taxi. Prices for taxis will depend on the time of day but will undoubtedly be the most expensive option. Expect anywhere from $15 USD to $25 USD.
Rent a Motorbike
If you're comfortable with riding a motorbike, it is possible to rent a motorbike in Da Nang and ride to Hoi An along the coastal highway. Renting a bike gives you the freedom to explore during your time in Hoi An.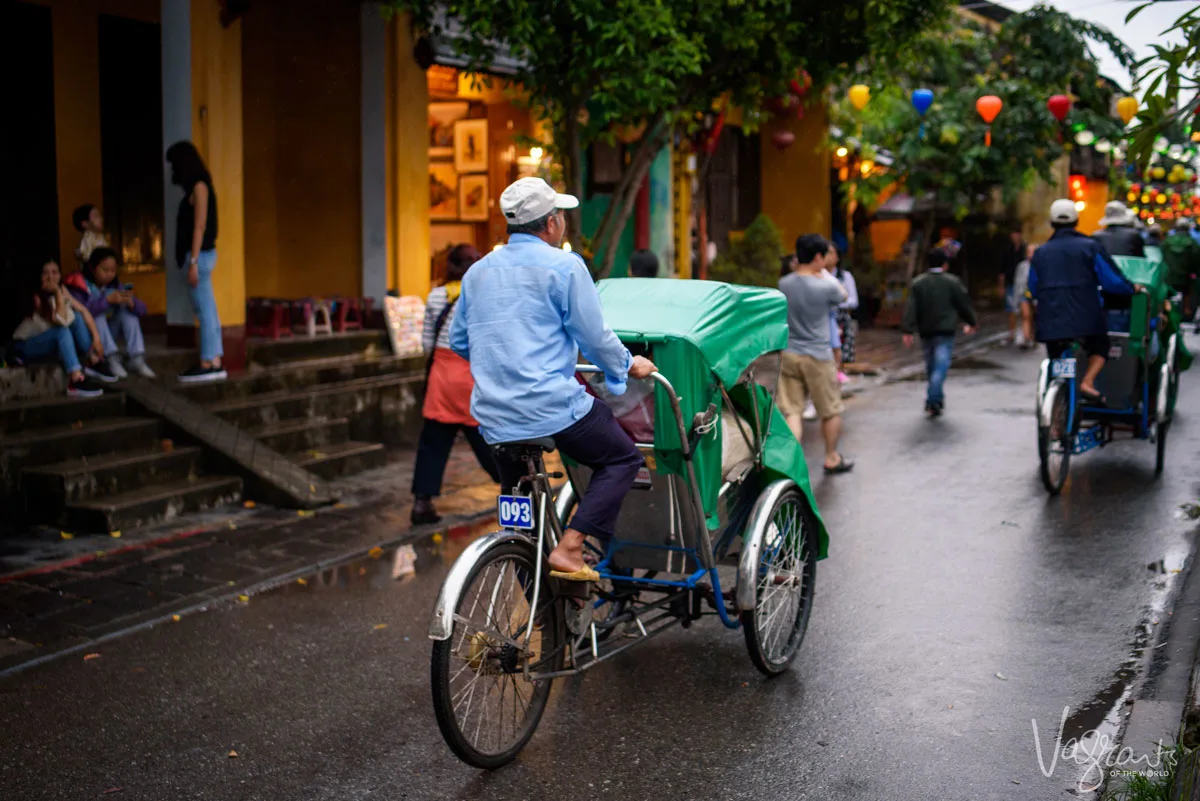 Day 1
Cao Lao For Breakfast
Cao Lao is the speciality dish of Hoi An, found only in Quang Nam Province of Central Vietnam. While you may find this dish in Hanoi or Ho Chi Minh City, you'll never find the same authenticity as the Cao Lao in Hoi An.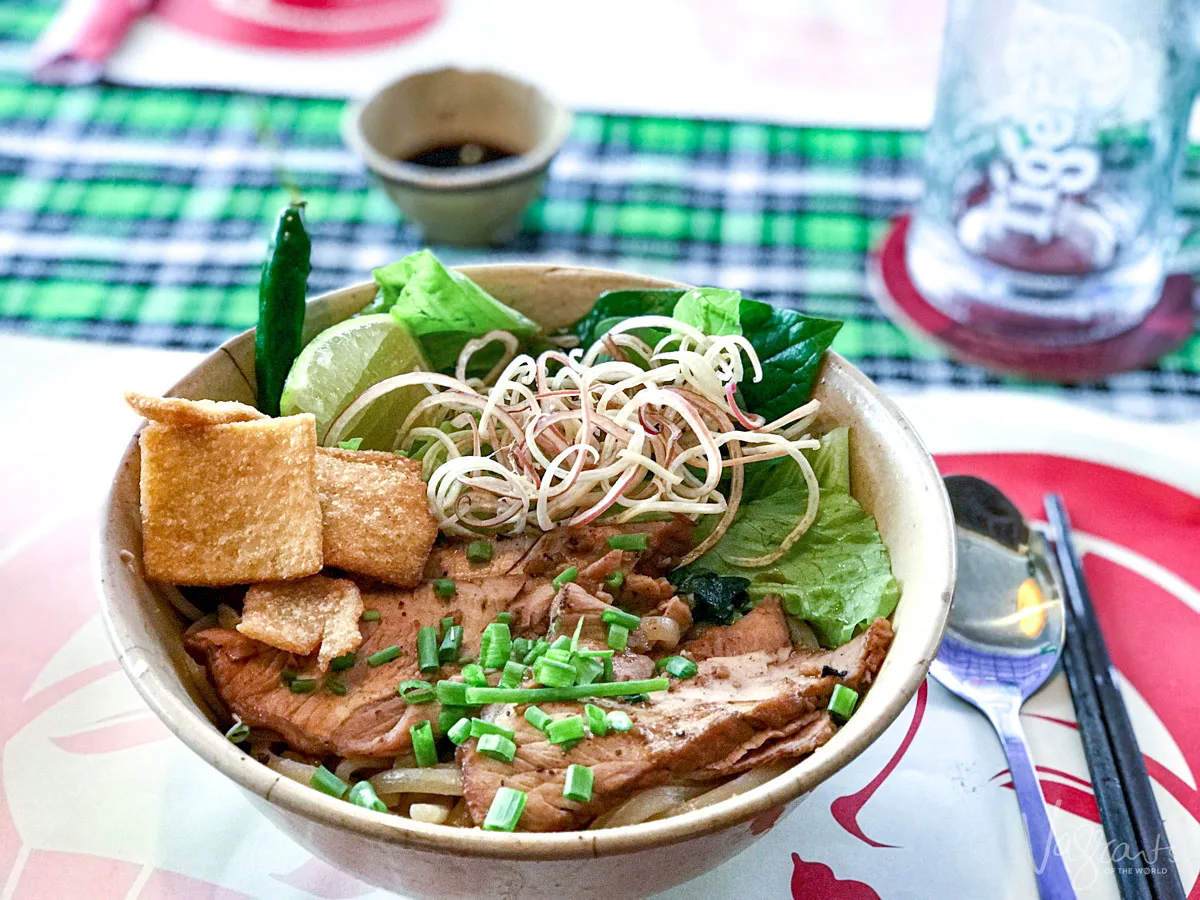 Cao Lao features thicker brown rice noodles with bbq pork slices, pork crackling, lettuce and fresh herbs, finished with a splash of stock – Not soup.
Cao Lao has a unique taste that cannot be replicated outside Hoi An. Some say it is because the water used to make the dish is drawn from a particular well in Hoi An and mixed with ash from a local tree giving the noodles a specific taste and texture.
Visit the Japanese Covered Bridge
The Japanese Covered Bridge in Hoi An Old Town holds such historical importance it is represented on the VND 20,000 note. The Japanese living in Hoi An built the 3-centuries-old bridge to enable them to reach the Chinese quarter across the water.
The bridge features intricate carvings, including two dogs and two monkeys symbolic of the Chinese years many Japanese Emperors were born. The bridge-building also commenced in the year of the dog and was completed in the year of the monkey.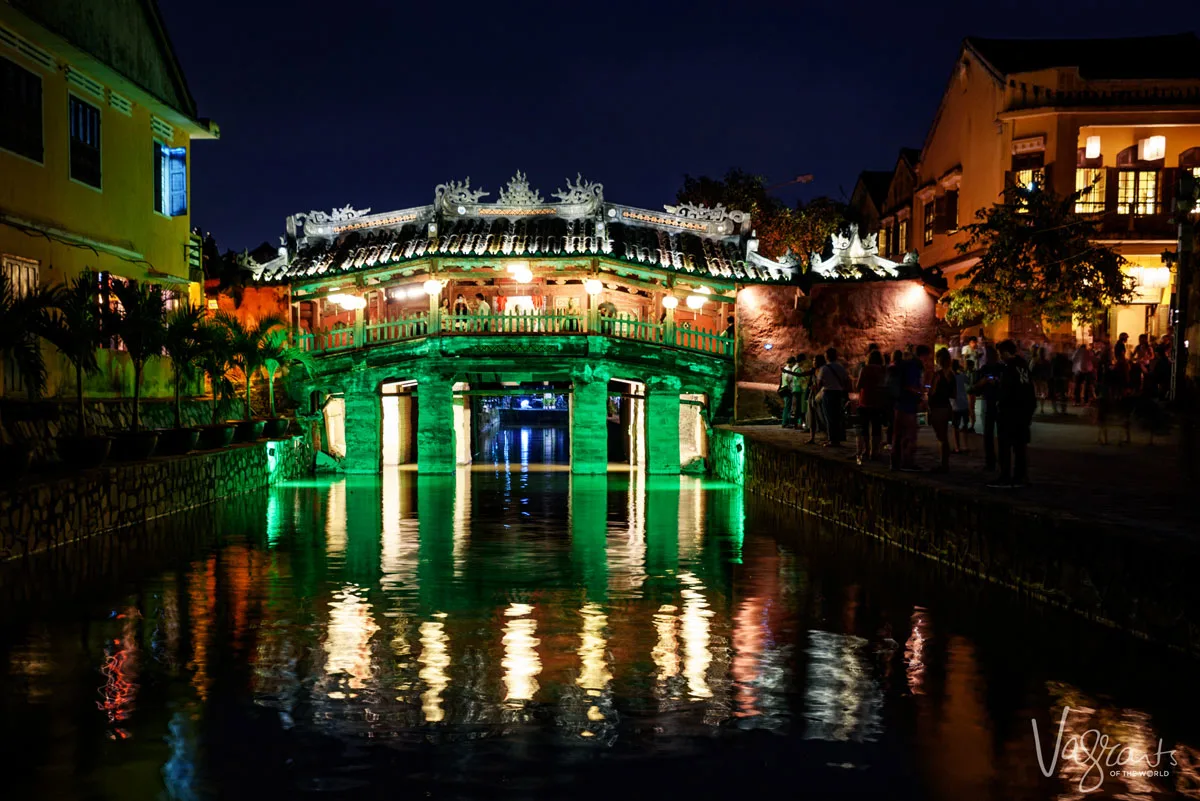 Hoi An Old Town Ticket
You may photograph the Japanese Covered Bridge, but if you wish to cross it, you must present your Hoi An Old Town Entry ticket, including entry to Hoi An's 22 best Old Town attractions.
The cost of the ticket is VND120,000 (US$ 5). The ticket system was introduced after the Old Town was granted UNESCO Heritage status to ensure the upkeep and restoration of heritage sites.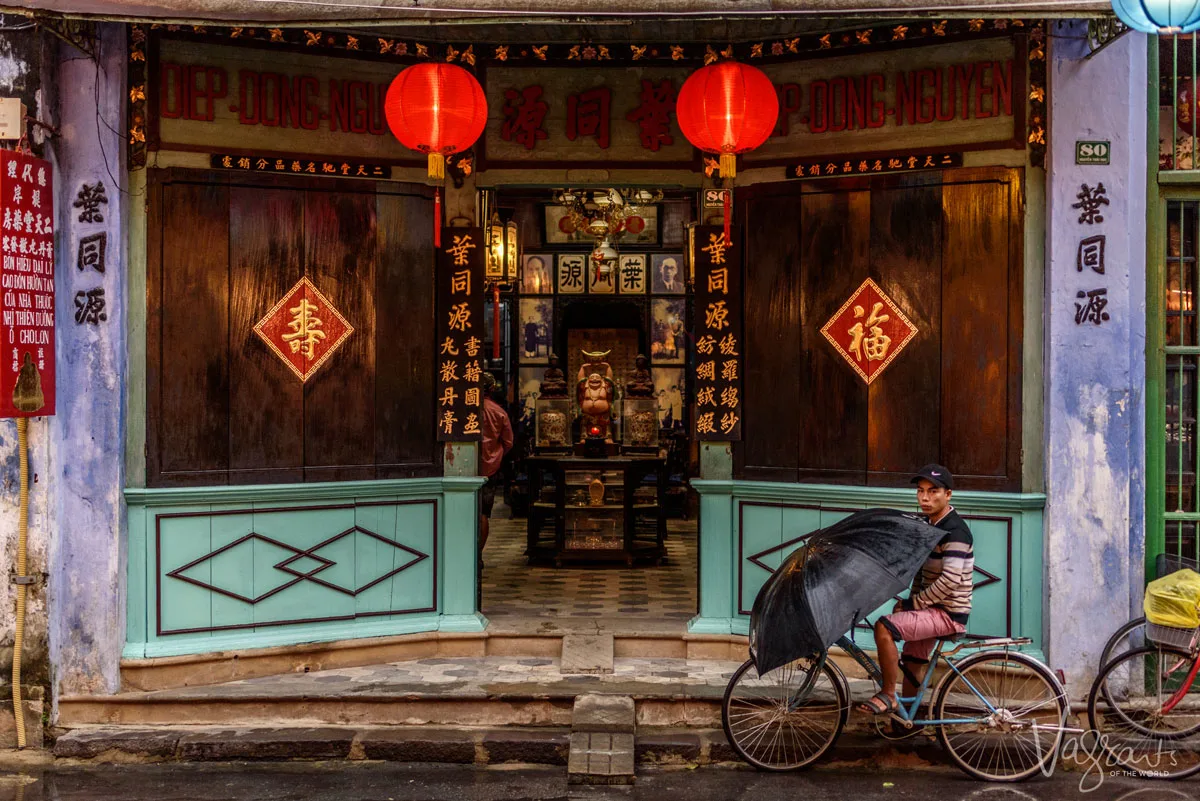 While purchasing a ticket before entering Old Town is compulsory, the system is rarely enforced, so many visitors are unaware of the requirement. You can find more information about the Hoi An Old Town Ticket here.
Shopping in Old Town for Handicrafts & Clothing
The main appeal of Hoi An is centred around Old Town, and shopping is one of its biggest drawcards. It is in the heart of the town where you'll find many tailor shops where you can have custom suits, dresses, gowns and more made to order. Many travellers make the trip to Hoi An specifically to have garments made.
While it may be possible at some tailor shops, most good tailors, especially the more famous ones, can take up to three days to complete an order depending on the item. Obviously, this is not ideal for a 2-day Hoi An itinerary.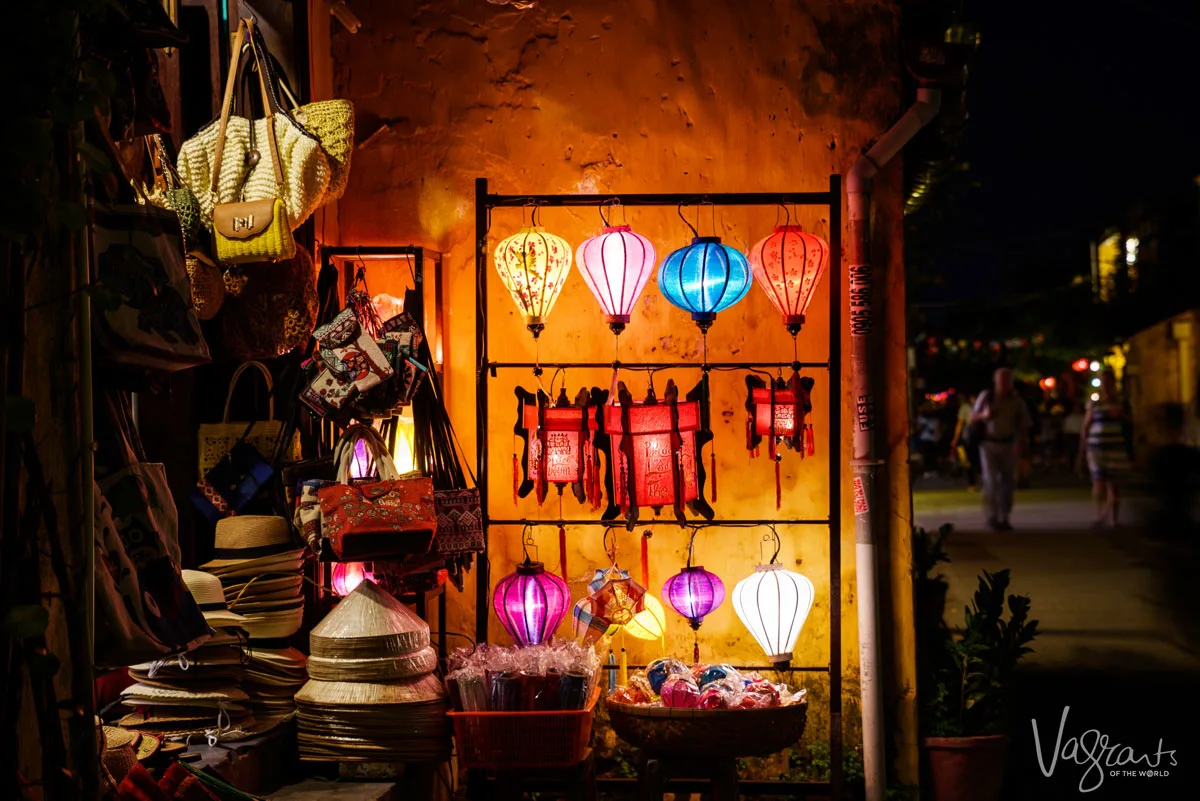 However, all is not lost. While some tailors advertise overnight service, there is also plenty of fantastic ready-made clothing in Old Town. You will also find lots of stalls selling handmade crafts, including the hand painted lanterns Hoi An is famous for. A beautiful souvenir of Hoi An.
Hoi An Old Town also has a very happening cafe scene, so there are plenty of places to stop for a coffee during your shopping spree.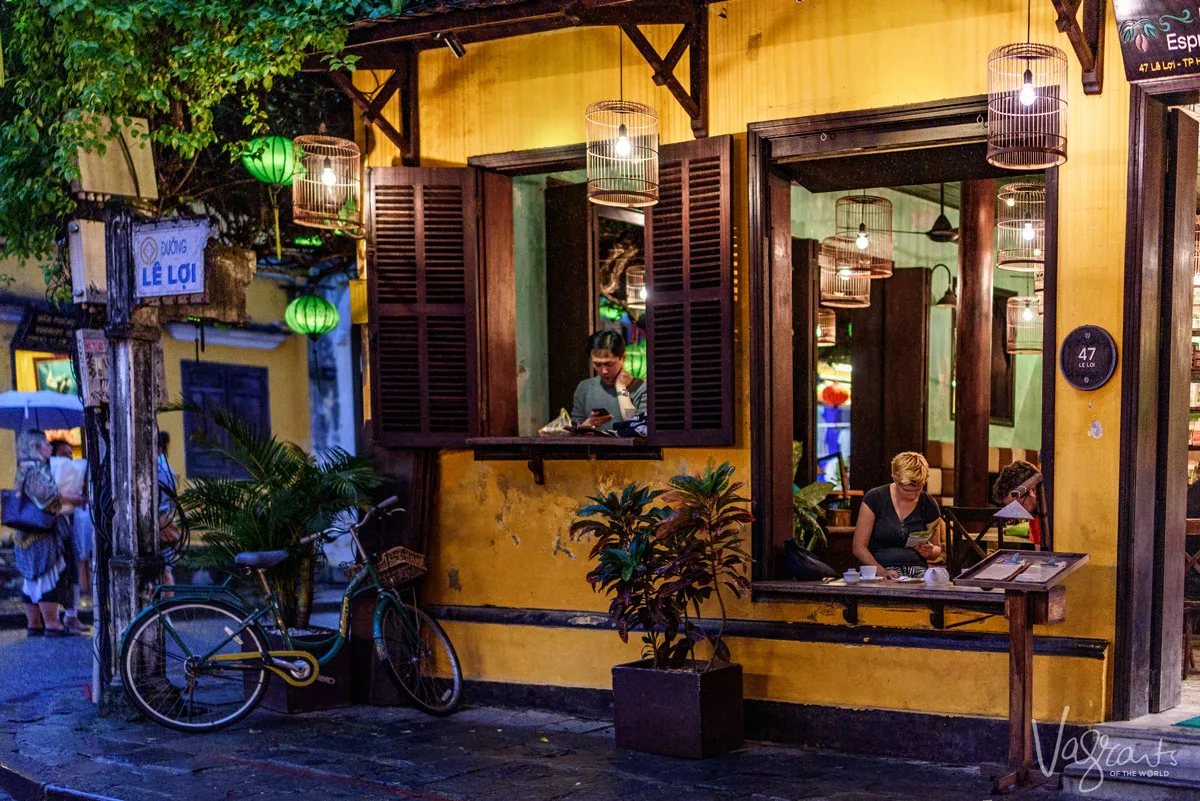 Enjoy the Lanterns in Hoi An Old Town
The best thing to do in Hoi An at night is stroll around the vibrant Old Town and enjoy the atmosphere of the lanterns that light the streets after the sun goes down.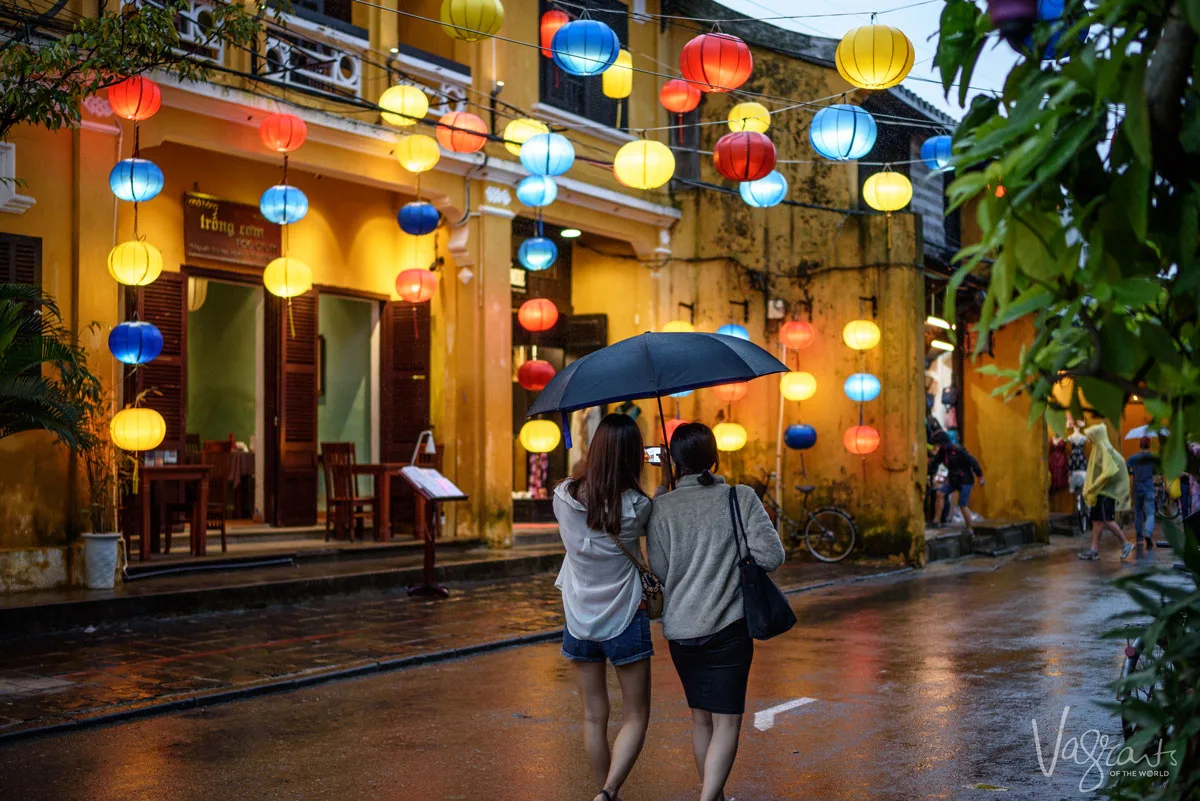 You'll find in Hoi An; travellers tend to slow their pace to simply enjoy the atmosphere. This a rare thing in this day and age of high-speed checklist travel.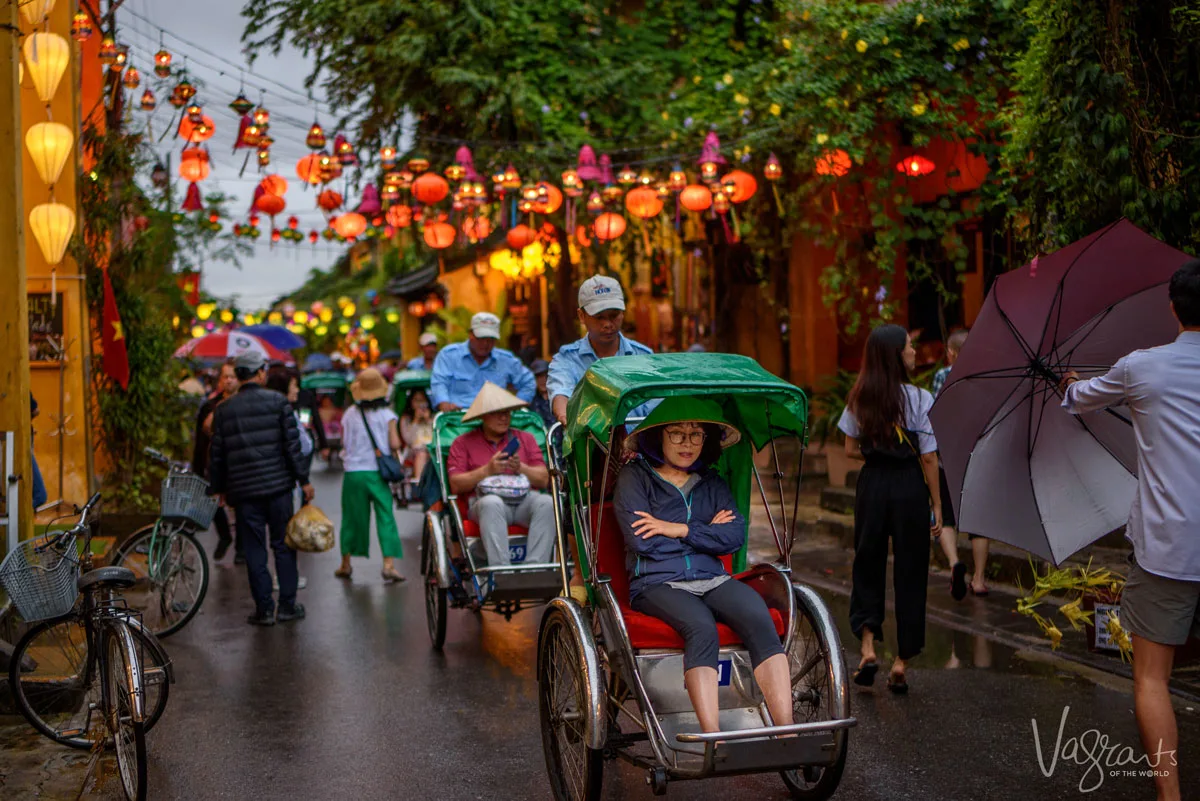 Enjoy dinner in one of the restaurants with a view of the street. Soak up the atmosphere of visitors strolling the streets enjoying the laid-back vibe of Hoi An and the parade of cyclo drivers peddling visitors around the ancient city. Maybe even take a pre-dinner cyclo ride yourself.
Take a Hoi An Food Tour for Dinner
Want some guidance in navigating Hoi An's remarkable culinary history and current food scene?
Consider a food tour as a dinner option on your first night in Hoi An.
2.5 hr Small-Group Hoi An Night Food Tasting Tour:
Starting at 5.00 pm join your guide for food lovers walking tour of Old Town. Sample some of Hoi An's typical dishes while learning the history of the towns unique culinary heritage. Includes: all food, bottled water and a beer or coffee. Prices start from VND 735,300 (~$31 USD) pp. See here for full tour details.
3.5 hr Hoi An Street Food Tour with River Boat Ride:
Be guided through Hoi AN's Old Town and market place discovering the flavours and specialities of the regions from local vendors, including some of Hoi AN's signature dishes. Finish the evening with a relaxing 1 hr boat cruise down the Thu Bon River. Includes: all entries, boat ride, food, transfers, and guide. Prices start from VND 925,100 (~$39 USD) pp. See here for full tour details.
---
Stay Safe in Vietnam: We've covered you with great Travel Safety Tips and the Best Anti-theft Travel Gear so you can relax while travelling.
---
Day 2
Banh Mi for Breakfast
In Vietnam, Banh Mi is the breakfast of champions. In Hoi An, countless Banh Mi stalls sell great food. However, there's one particularly popular Banh Mi joint made famous by Anthony Bourdain – Banh Mi Phuong.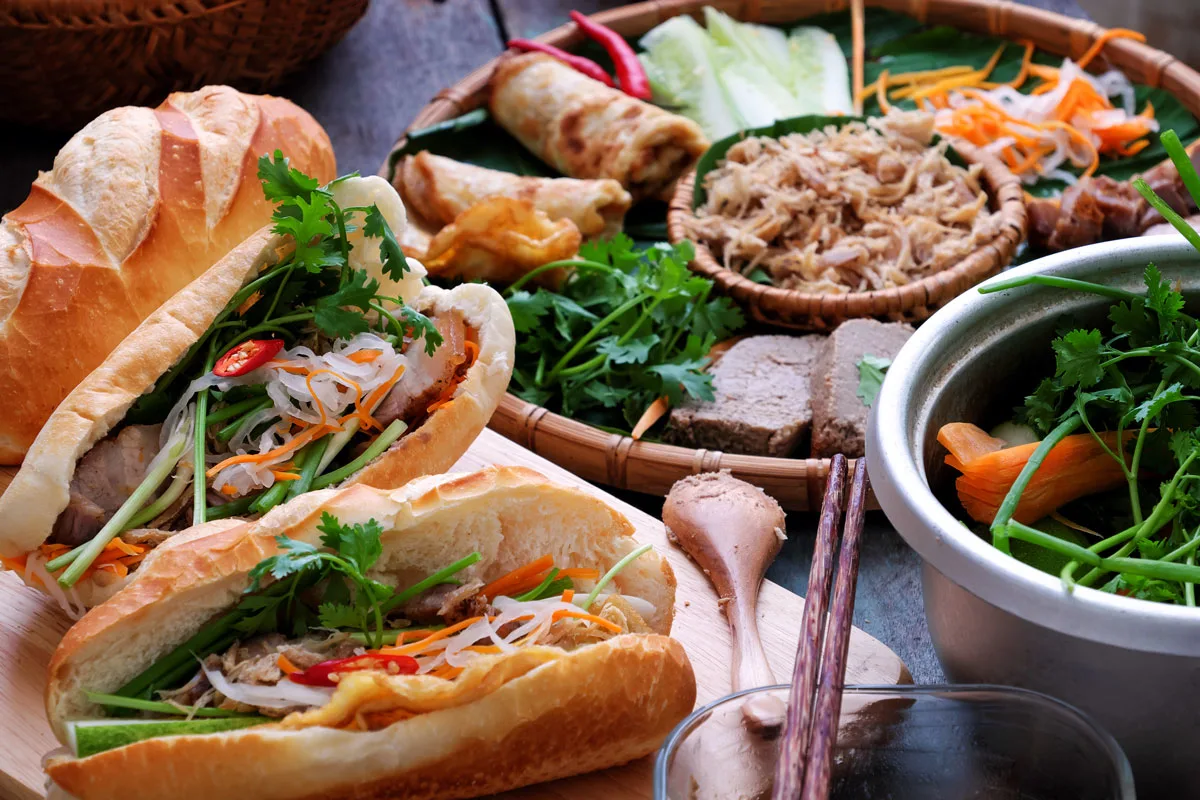 If you have no idea what a Banh Mi is – The Banh Mi originated from the French colonial era as the first "to go" sandwich, becoming a street food staple in Vietnam.
The airy, freshly baked French baguette is loaded with shredded vegetables – carrot, cilantro, chilli, cucumber, and your choice of meat, pate, or at breakfast time, a simple fried egg. The simple sandwich, which is celebrated all over the world, has a flavour that is uniquely Vietnamese.
Join the Locals in Hoi An Central Market
After breakfast, head straight to Hoi An Central Market, where the locals come to shop for their daily groceries. This is undoubtedly the most 'local' thing in this Hoi An itinerary.
Like other wet markets in Southeast Asia, you'll find fresh vegetables, spices, poultry, fruits, fresh fish straight from the dock, and more. You can even find some clothing stalls as well as some exciting souvenirs. The best time to visit the Central Market is early morning when it's the most crowded.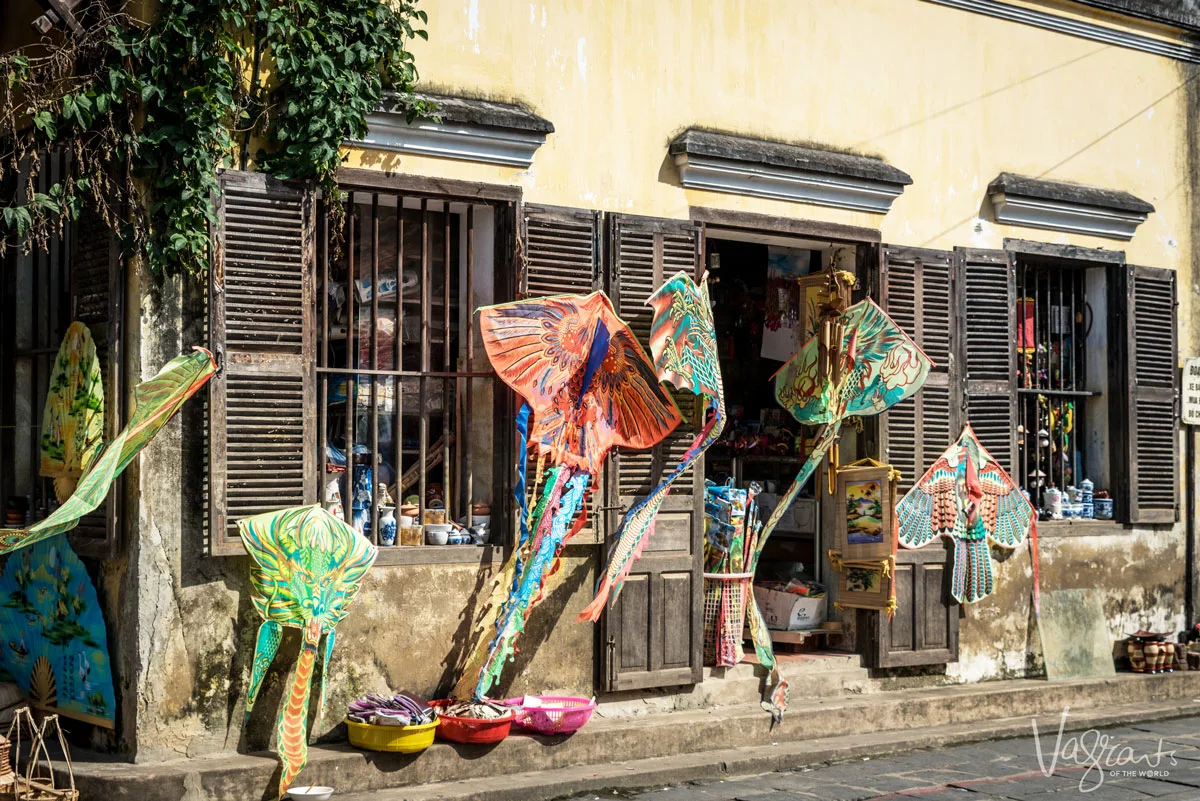 An Bang Beach
An Bang Beach is the most famous beach in Hoi An town. Located only 5 kilometres from the town, the vast stretch of white sandy beach is one of the last relatively undeveloped beaches in the area. You will find a few low key beach resorts, beachfront seafood restaurants and laid-back beach bars.
Most of the restaurants have sun lounges for rent. Expect to pay anywhere from VND 15,000 – VND 40,000 (~ $0.70 – $2.00 USD) depending on the establishment or free of charge if you dine there, which makes An Bang an excellent option for lunch. If you're riding a motorbike to An bang, you might need to pay a small fee for parking.
---
Discover Another of Vietnam's Best Beaches: A popular escape from Ho Chi Minh for both tourists and locals – the famous sand dunes are just one reason to visit Mui Ne.
---
Dinner in the Hoi An Night Market
For your final night, hit the Hoi An Night Market for some last-minute shopping and seriously good Vietnamese street food – BBQ sticks and Vietnamese banana pancakes, anyone?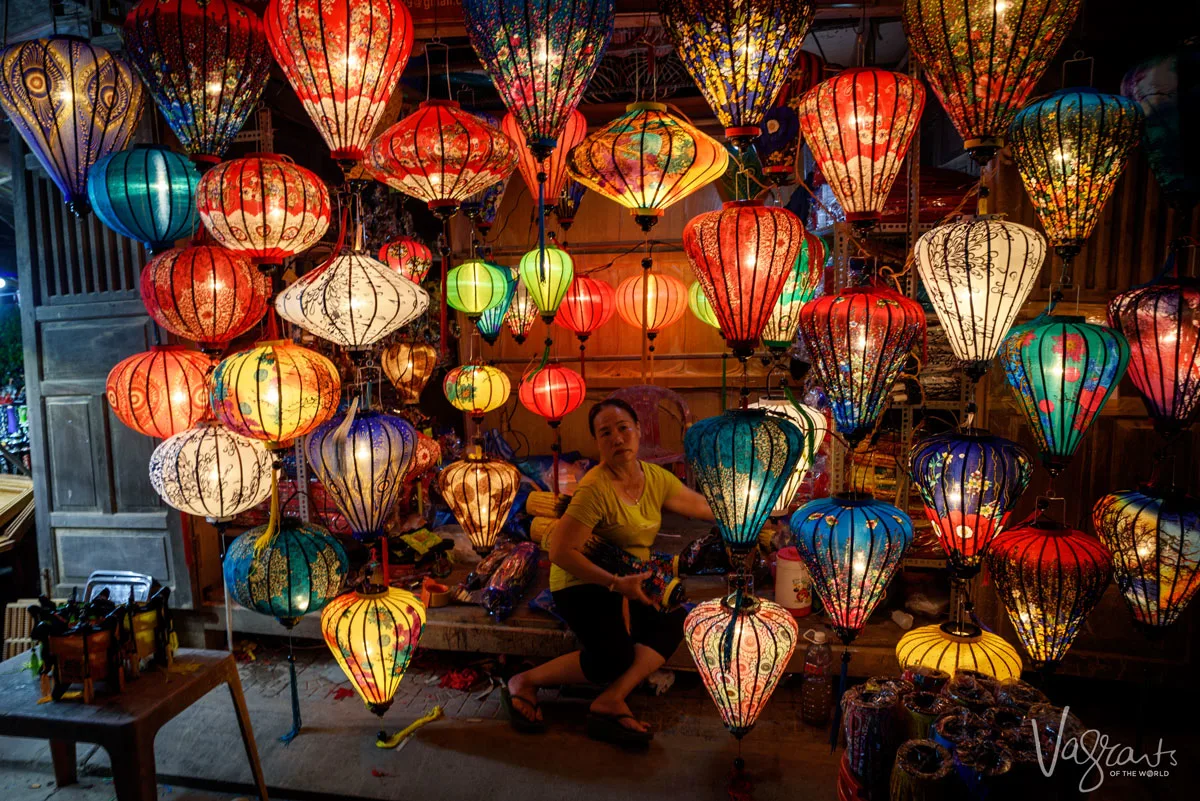 After dark, the night market is the most crowded spot in Hoi An. The area is bustling with souvenir stalls, street food carts, and massage stalls; you name it, it's happening at the night market.
Around the area, there is a myriad of bars, cafes and restaurants to choose from. Many restaurants offer alfresco dining, so you can enjoy the festive street atmosphere and views over the river.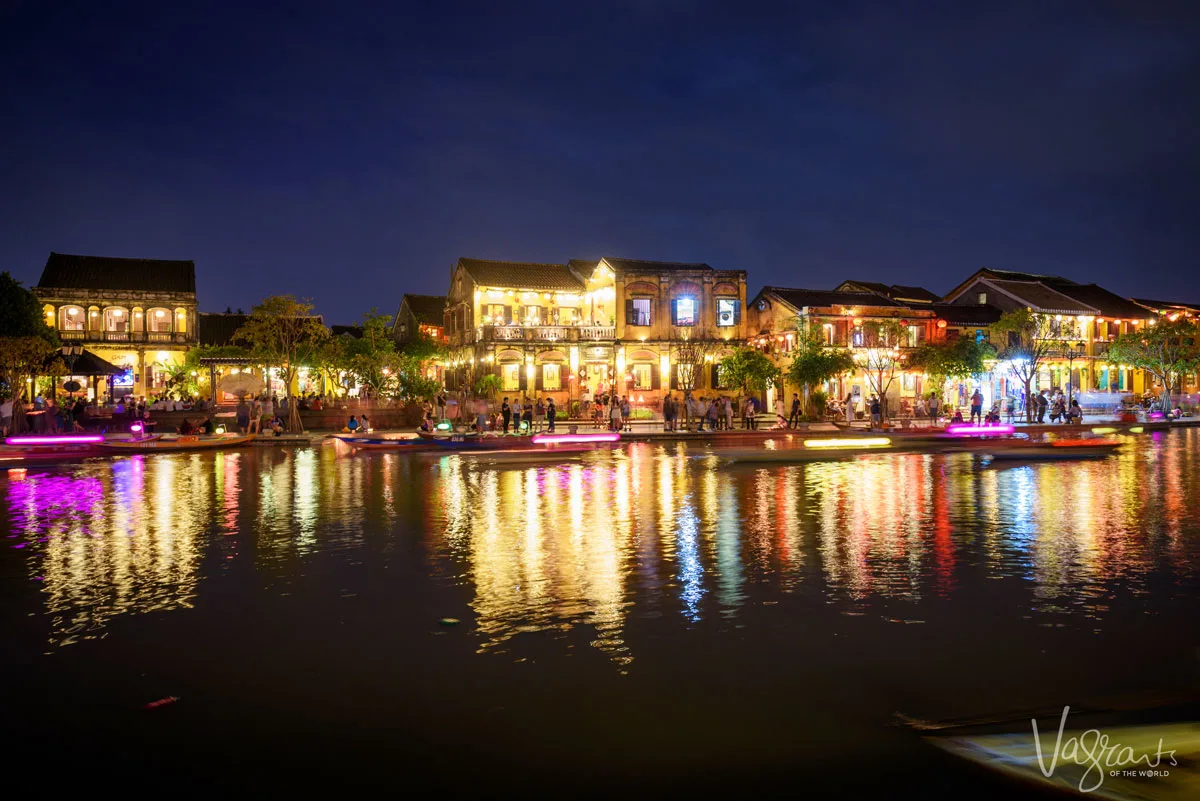 Are 2 Days in Hoi An Enough?
The charming town of Hoi An will always warrant more time. The atmosphere alone makes travellers want to slow the pace a little and spend an extra day or two. There is also so much to explore around the area.
Regardless of how little time you have, everything you should see or do in Hoi An has been covered in this itinerary, and best of all, you can still enjoy the best of Hoi An in two days without rushing.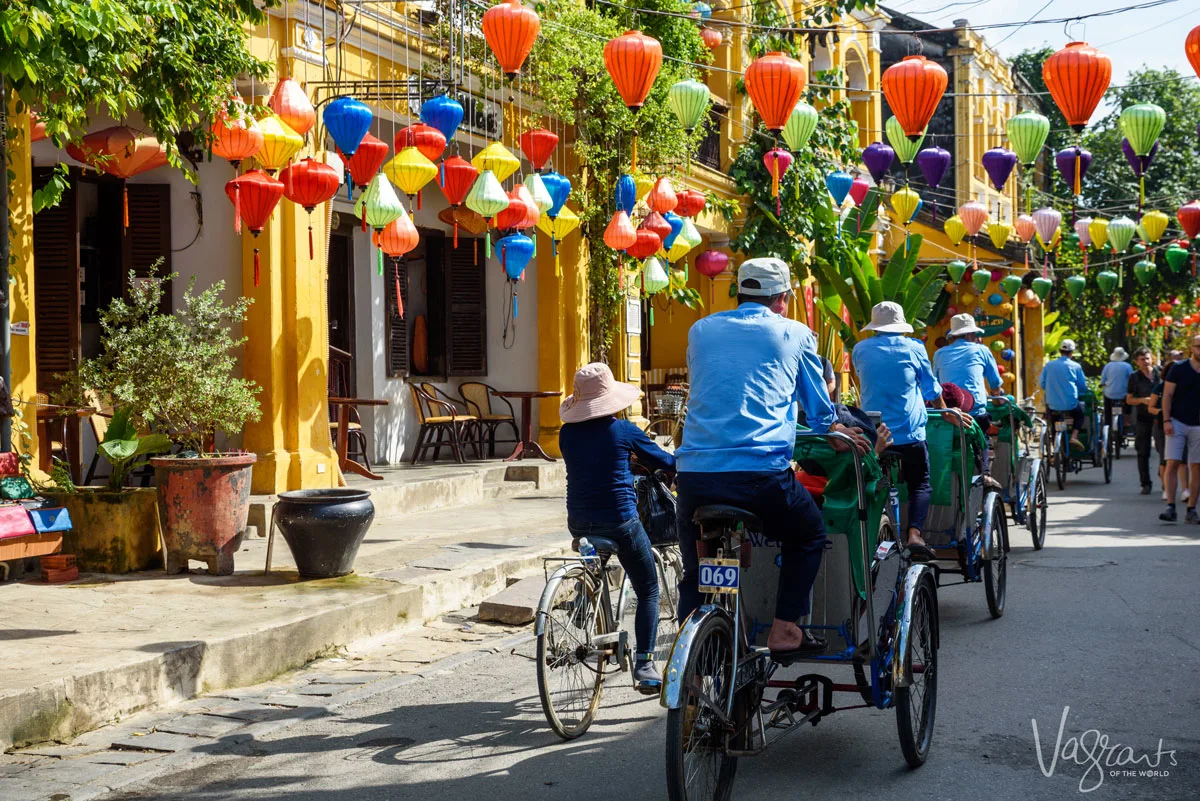 About the Author
Zheng Yen Ang
Yen is a Malaysian travel enthusiast who prefers to travel solo. He opts to travel for extended periods in each destination to learn and share the cultural differences, along with travel tips and guides in his travel blog, Wandering Journal.