Is This Sand Free Towel the Best Beach Towel Ever?
When we heard about a sand free beach towel, naturally we were intrigued. Could this possibly be the best beach towel ever?
While sitting on the beach in Portugal; famed for its long stretches of fine white sand, kilo's of which we had already unwittingly carted home; we began to wonder what kind of superpower this towel possessed that could keep sand at bay.
Was it a type of magnetic forcefield that would repel those tiny scratchy grains from its surface?
In fact; the answer is far simpler than the in-depth speculation and discussion we had given the topic.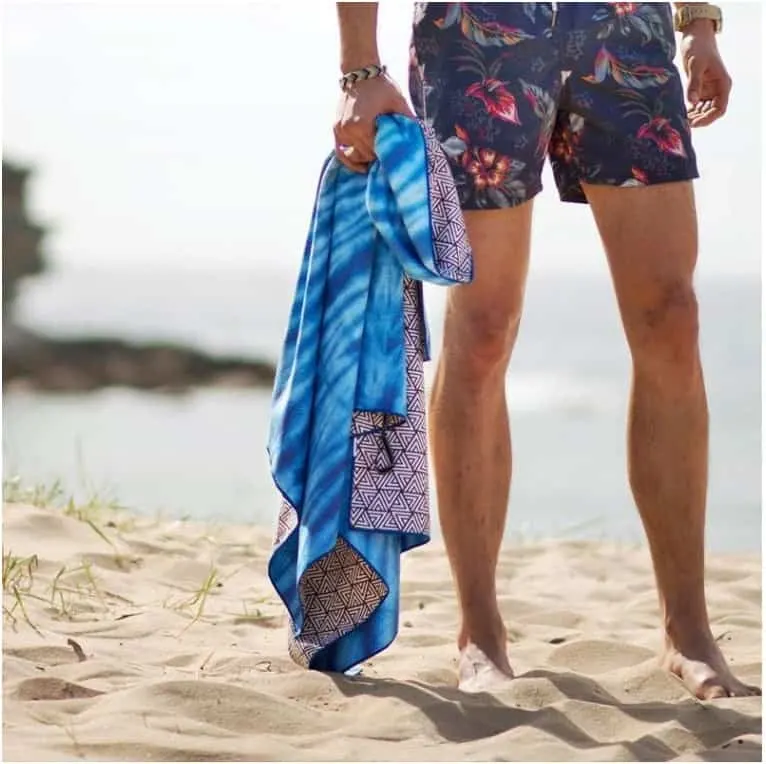 What Australian company Tesalate has done is design a beach towel that does not retain any sand. That's right – does not hold any sand.
The Tesalate Sand Free Beach Towel won't keep sand off your towel, but it has addressed each of the age-old issues the humble beach towel gets bad press for every summer, and it's not just a sandy towel.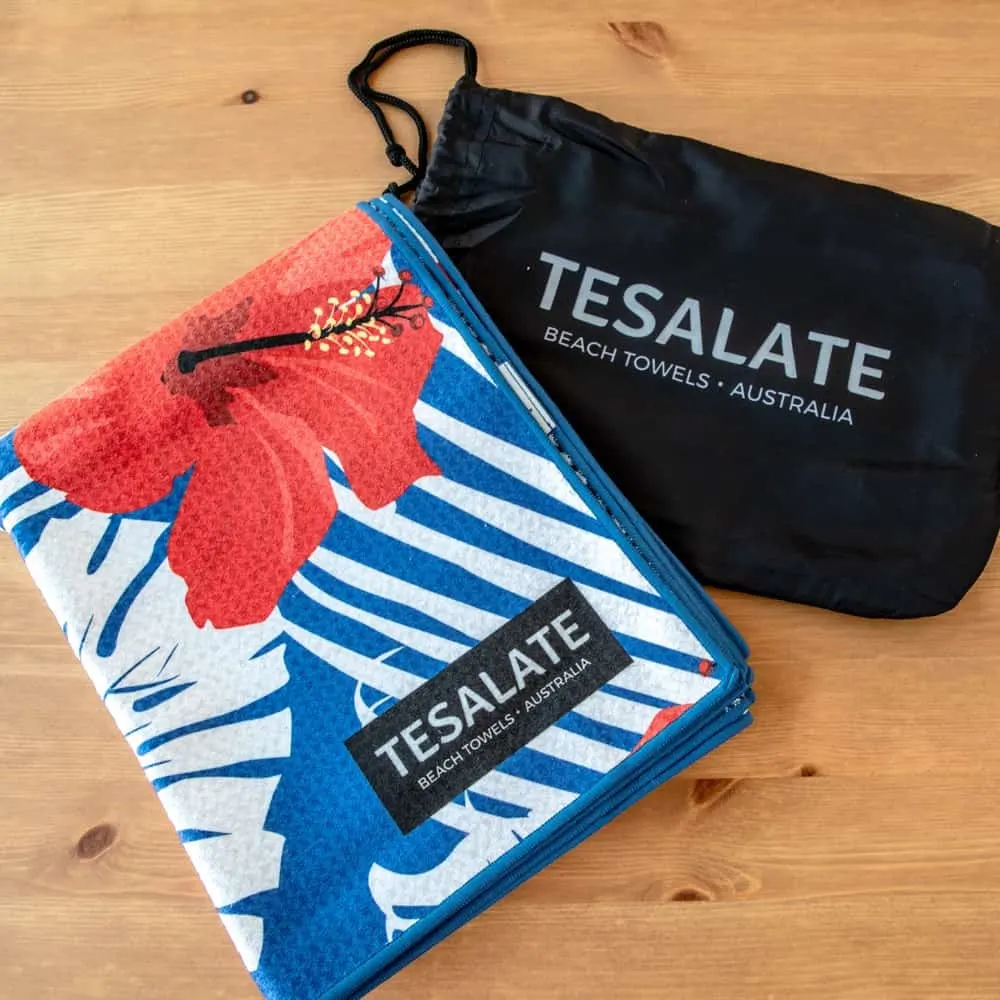 Sand Free Beach Towel
The biggest issue with a beach towel is its ability to harbour and retain nearly as much sand as you shook out of it before drying yourself or leaving the beach.
No matter how much you shake it, dry it, shake it again, it somehow still has sand embedded in its loopy fibres.
Contrary to our lengthy discussion of beach towel voodoo and magnetic forcefields; with a sand free beach towel you will still get sand on you; it just won't stay on the towel.
And best of all, you won't bring any back from the beach with you either. Well, not on your towel anyway.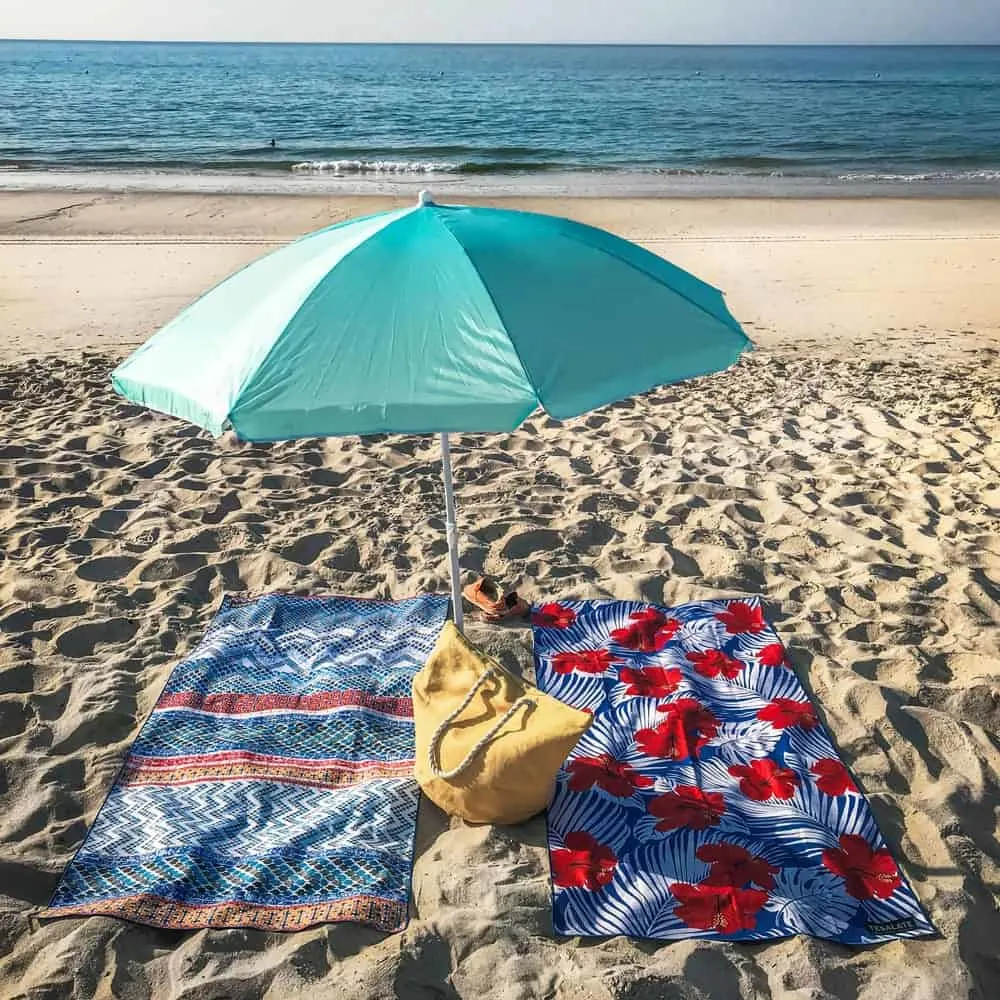 How Does a Sand Free Beach Towel Work?
Tesalate developed a fancy new textile called, AbsorbLite™ microfiber which is composed of 80% polyester and 20% polyamide. The microfiber fabric doesn't allow sand grains to get trapped in the fibre loops as it does in conventional towels. It just falls straight off after a shake.
We have tested this numerous times now, and the towels continue to remain sand free, even when they are soaking wet.
You also don't end up with that sodden sandy bum print in the middle of your towel that never quite dries and is always gritty. We were already impressed.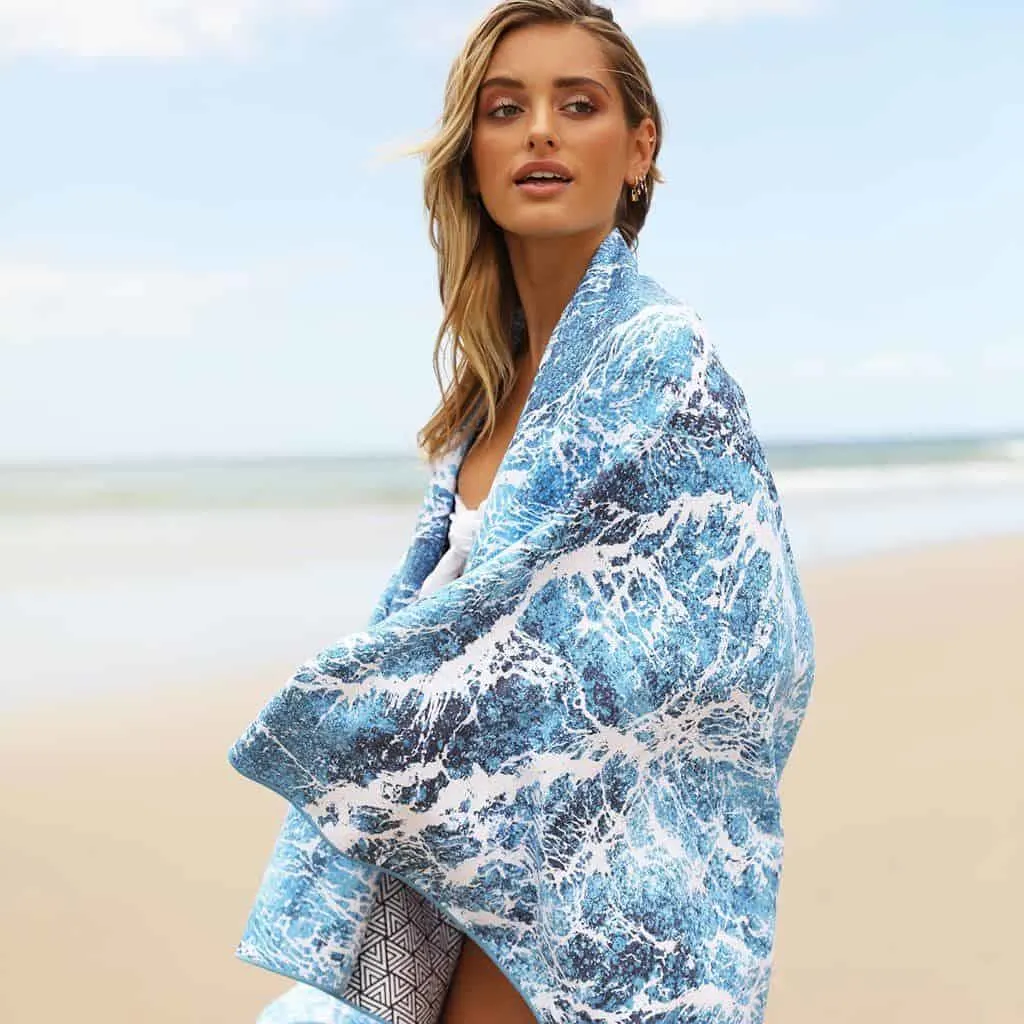 Meet the Super Absorbent Beach Towel
The AbsorbLite™ microfiber fabric the towels are made from not only repels sand from their inner fibre but are also super absorbent, soaking up as much as a litre of water.
We haven't actually poured a litre of water on them but can vouch for their absorbency.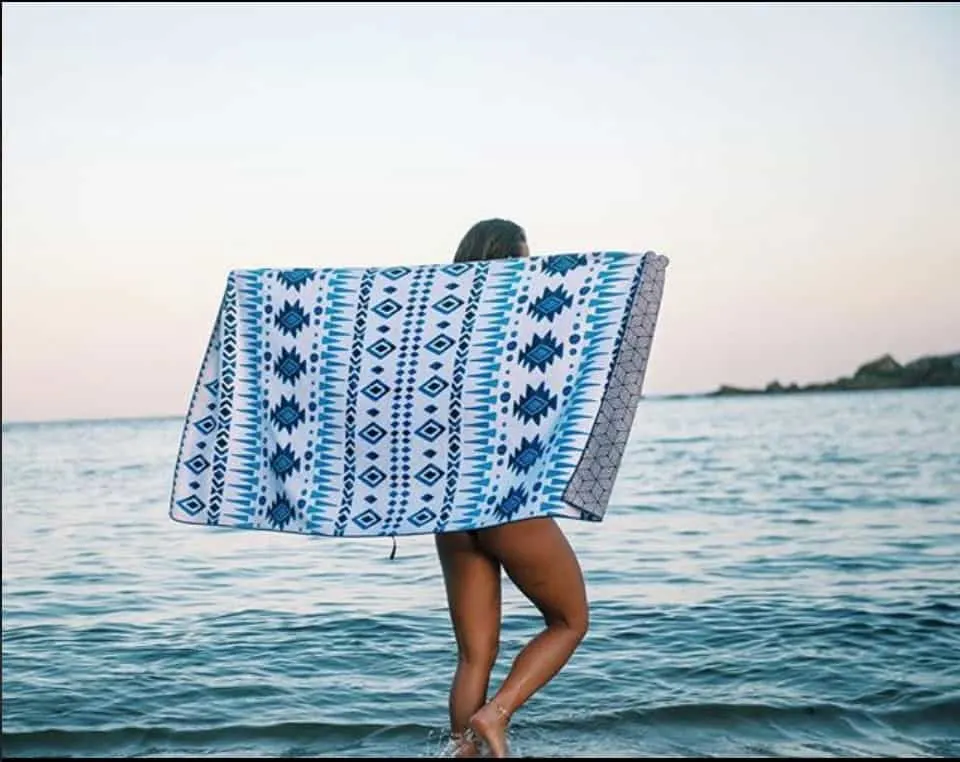 Who Doesn't Love a Quick Dry Beach Towel?
The microfibre nature of the towel is also engineered to dry in half the time of the average beach towel. Even with a litre of water in it.
Remember the manky wet sandy patch left by your wet swimmers? You can forget that.
Compact and Light
Forget the bulky, heavy beach towel of the past, this modern wonder of beach going is compact and light but still feels thick and durable.
They are designed to roll or fold up into their own little drawstring bag which fits nicely in a small beach tote.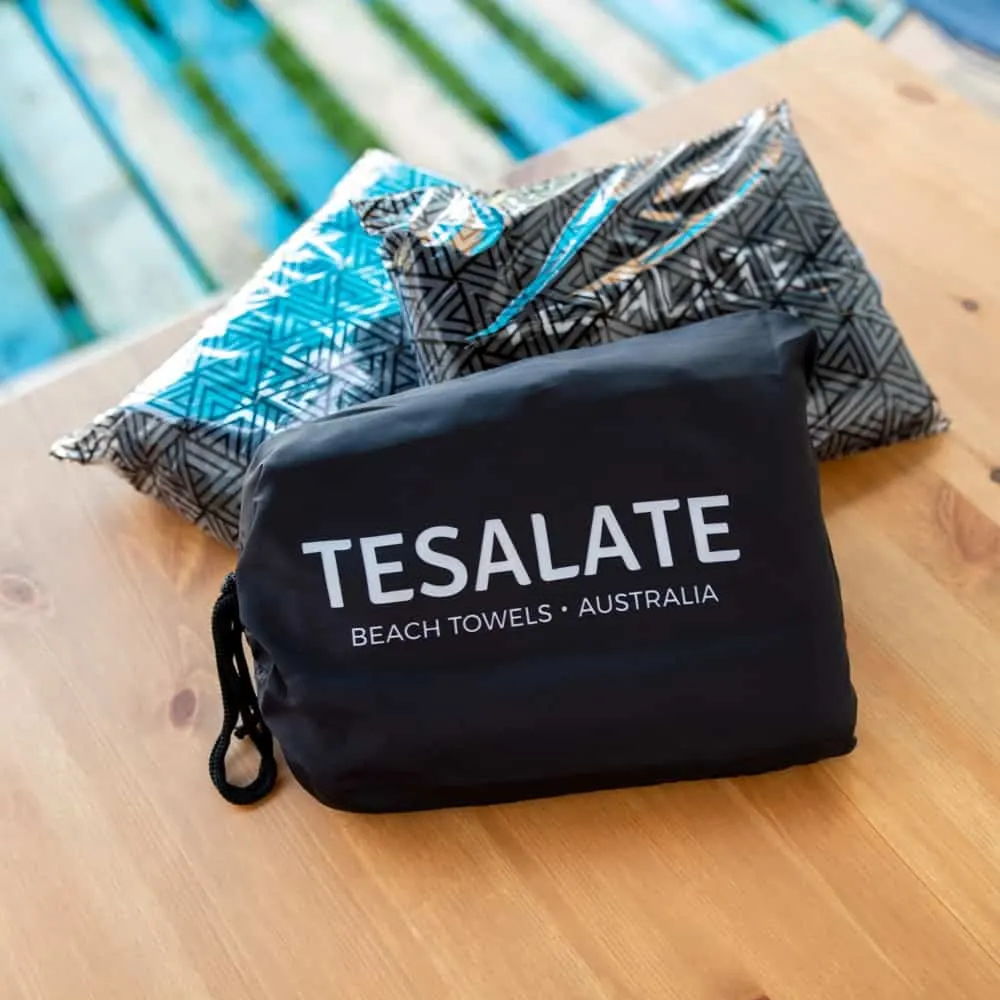 Is This the Perfect Travel Beach Towel?
These may be the perfect towel for travel. No more having to worry about substandard hotel towels or falling short on size using a tiny travel towel.
The Tesalate Beach Towel is a full sized beach towel at an impressive 160cm x 78cm / 63 x 31 inches and folds or rolls down to next to nothing.
Update – New Towel for Two
Since we first tried this amazing towel, which a year on, we still love, Tesalate has come to the party with a new sand free beach towel which is still perfect for travel – which we love. A new Towel for Two.


We found the original towel to be a perfect size, especially when worn as a sarong or for using as a towel wrap for wet hair. Achieve that saught after "effortless" beach wave look that is one of the top hair trends.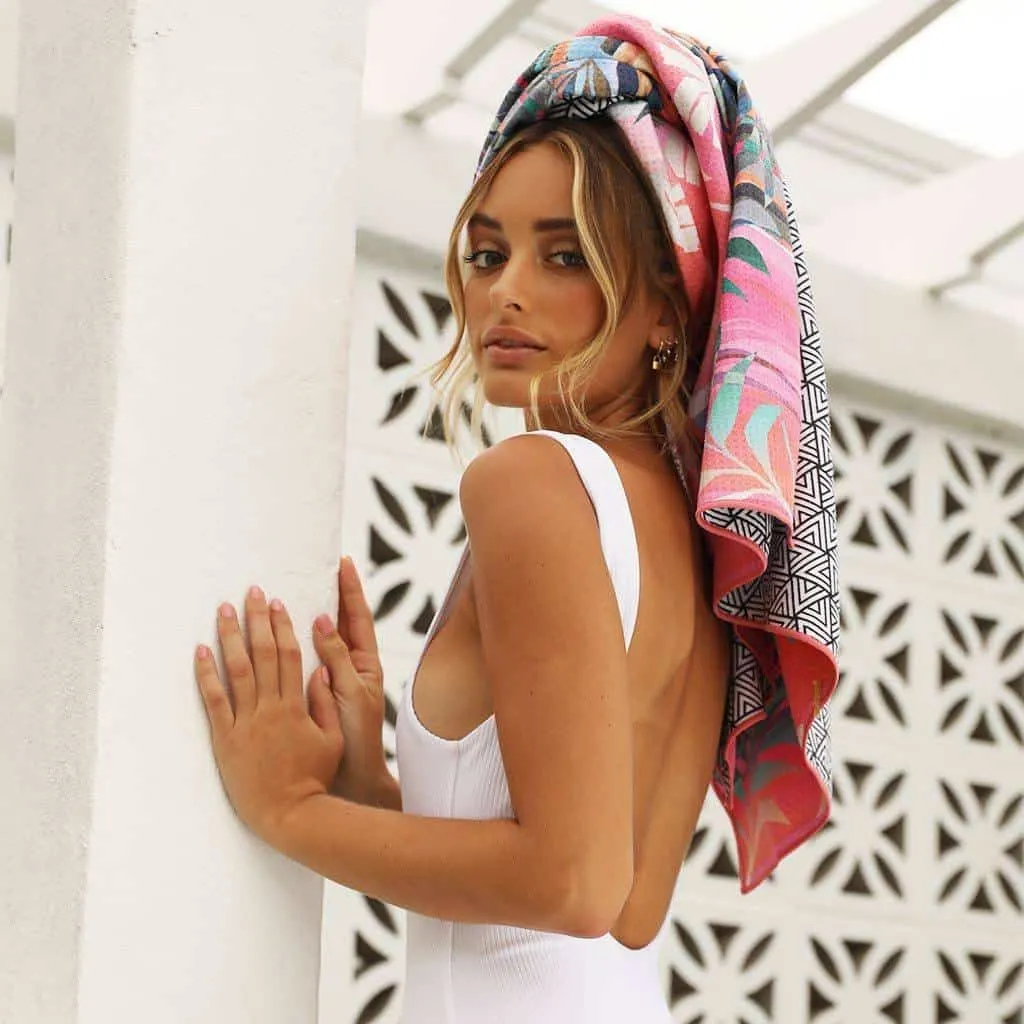 However, the new larger size is fantastic for those who like to have a supersize towel without the bulk or, for couples who really only want to carry one large towel for the beach.
We even see it as a great towel for park picnics. Much lighter than a cumbersome picnic blanket.
So How Big Is It?
The new double size Towel for Two comes in at an impressive 160cm x 160cm / 63 x 63 inches and can soak up to as much as two litres of water. (Again, we haven't actually poured two litres of water on the towel).
It also folds or rolls down to a very lightweight, compact and packable towel.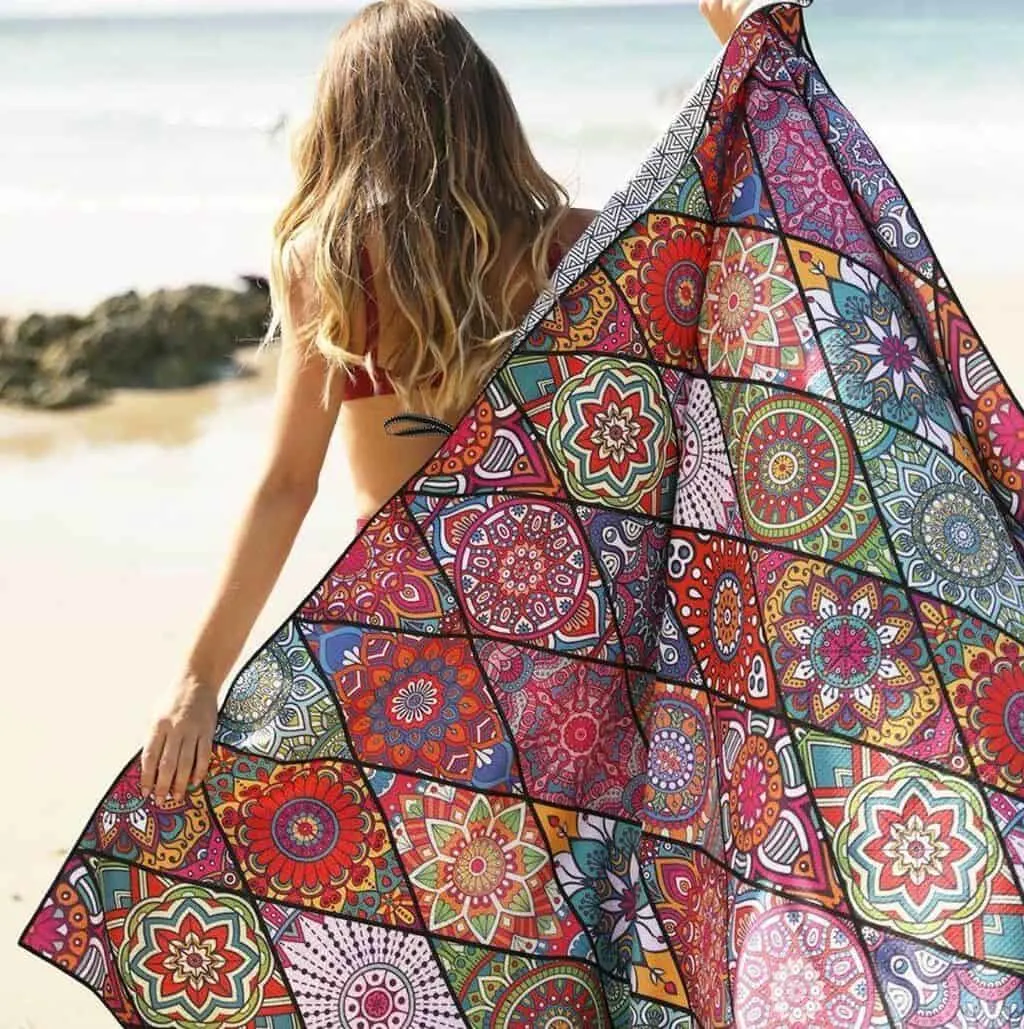 Practical and Stylish
Finally, if you weren't impressed already (we know you are) the towel is also very stylish with more than 36 designs, including 12 gorgeous new designs released early 2019.
From bright and beachy to boho beautiful (festival towel anyone?) there's a gorgeous design for all tastes.






The lightweight nature of the fabric also lends itself to being worn as a sarong. I have taken to wearing my towel home from the beach as it ties really well without falling down.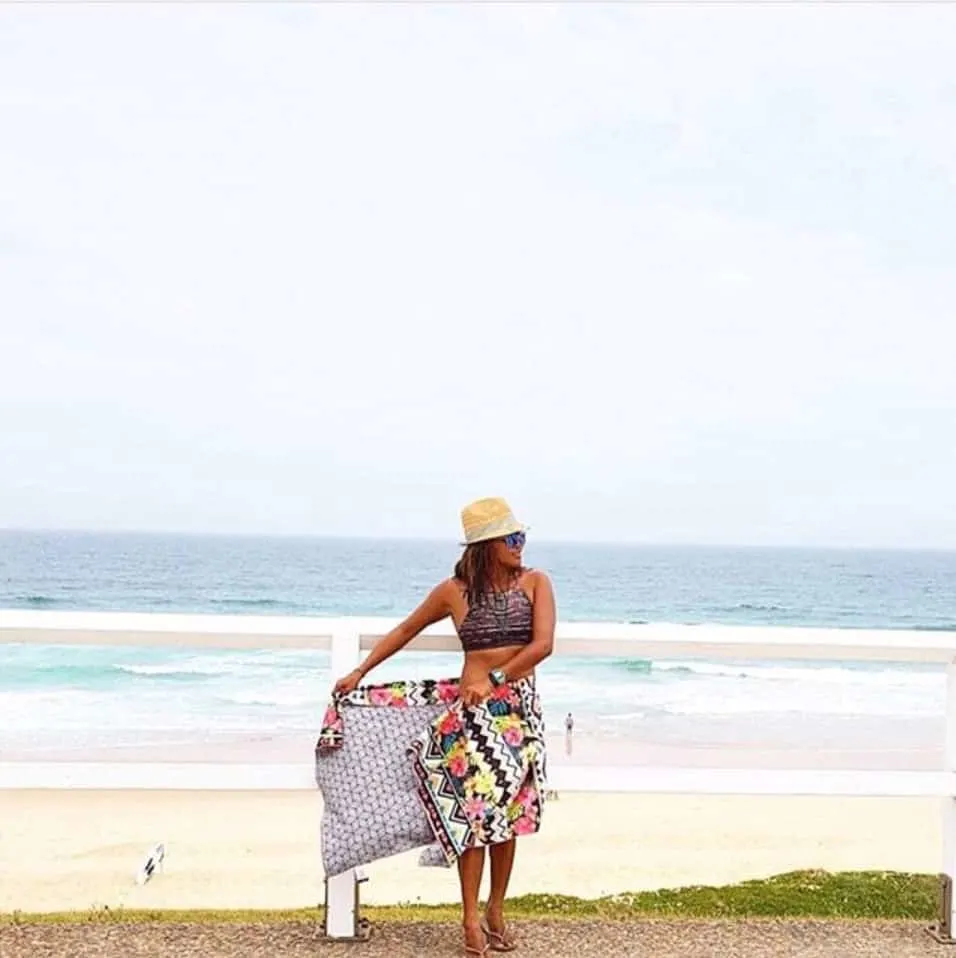 This towel didn't have the superpowers we speculated (dreamed) about while endlessly brushing sand from our old school (not in a cool way) beach towels. However, they are a lot better than we imagined.
We may have had a little "wow" moment when we first used ours on the beach after our morning swim.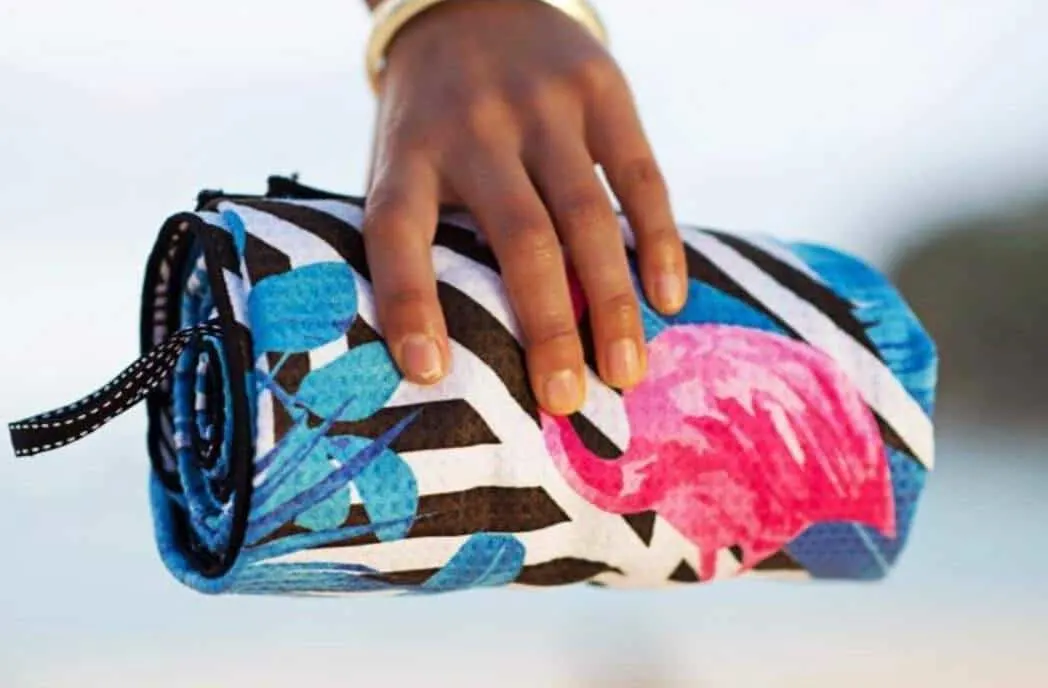 So, no more dragging half the beach home in your wet sandy towel. You can have a beautifully-designed towel that is compact, fast-drying, lightweight and most importantly- sand free.
If this towel isn't the best beach towel ever, it may just be the best travel towel ever.
Want to Buy a Sand Free Beach Towel?
Each standard size sand free beach towel costs $59 USD
Double size Towel for Two costs $99 USD
All purchases come with free worldwide shipping.
Available from the Tesalate Website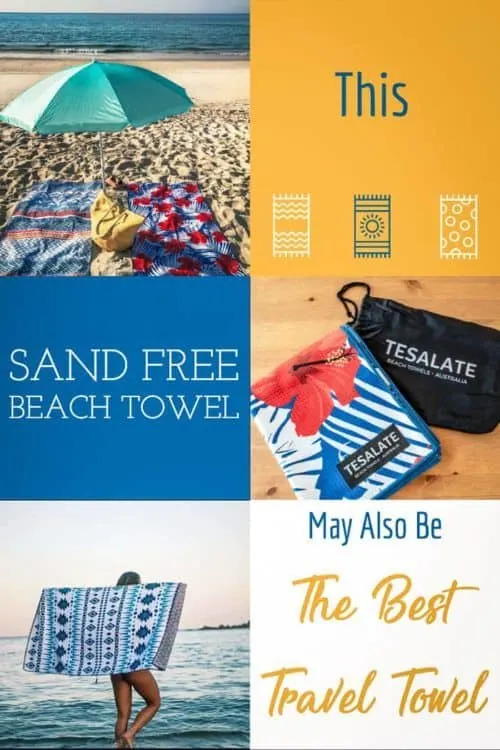 Disclaimer: While we received complimentary towels from Tesalate, all opinions are our own and have not been influenced in any way. We genuinely love these towels. We hope you do too.