One of the most popular cities in Switzerland; Lucerne is a must-visit destination characterised by arresting alpine panoramas and the charm of the medieval old town
The city of Lucerne has a sophisticated yet relaxed character. High end shopping, cosy restaurants and impressive historical sights and architecture.
While there is plenty to keep you busy over two days in Lucerne city, the surrounding region also offers a plethora of outdoor activities, from scenic lake cruises, hikes, mountain day trips, sledding and more.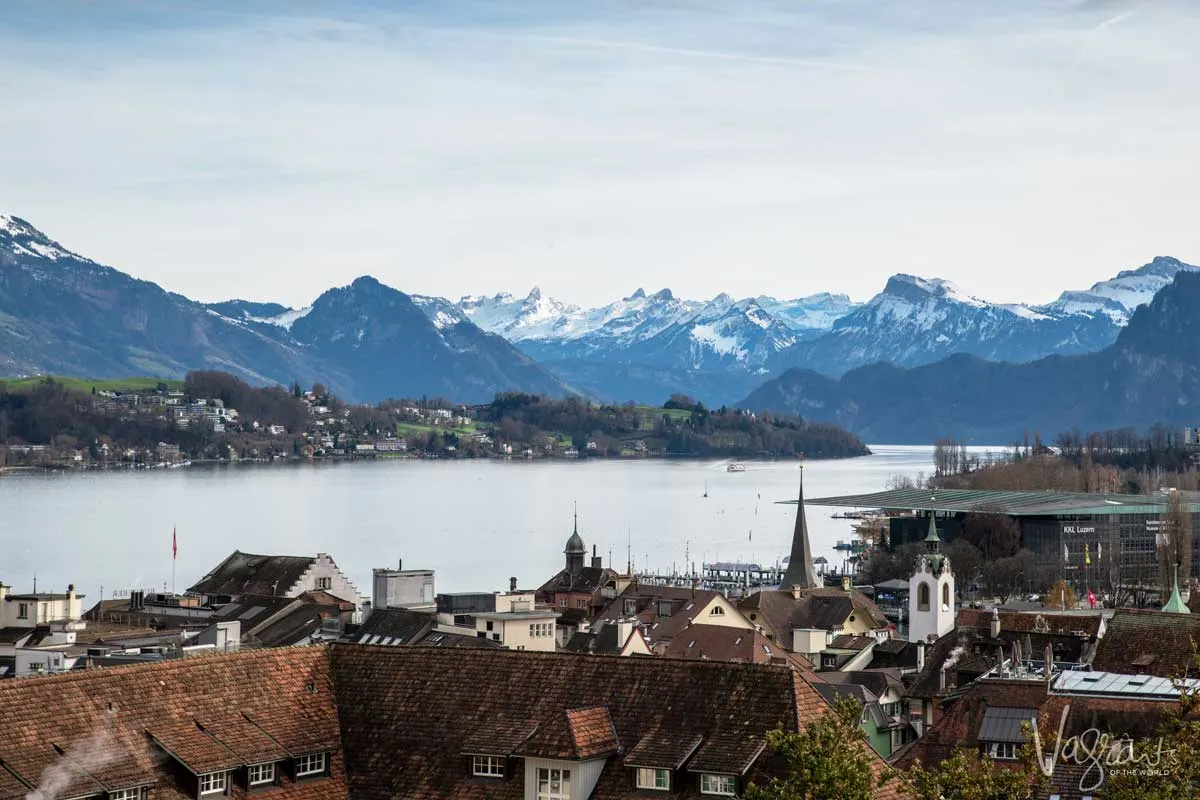 ---
When is the Best Time to Visit Europe? Know when the best time to plan your trip is based on what you want to see and do with our comprehensive guide to the Best Time to Visit Europe.
---
How to Get to Lucerne
Lucerne is in the heart of the country, the gateway to central Switzerland. The train is the best way to travel around Switzerland and to Lucerne whether you arrive via Genova or Zurich.
The Lucerne train station is conveniently located right in the centre of town close to hotels, so it is never too far with luggage. You can get all the information here in our Two Days in Switzerland Guide about train travel in Switzerland.
Lucerne is also where you will start or finish on the panoramic Golden Pass Train which travels between Lucerne and Montreux.
Where to Stay in Lucerne
The centre of Lucerne is split into Altstadt (Old Town) and Neustadt (New Town) connected by several bridges including the famous Kapellbrücke (Chapel Bridge).
Everything in Lucerne is close as the distance between the two parts of town is only a few minutes across the bridge. So where you choose to stay may be determined by style and budget. Be aware, accommodation in Switzerland is generally more expensive than in many other European countries.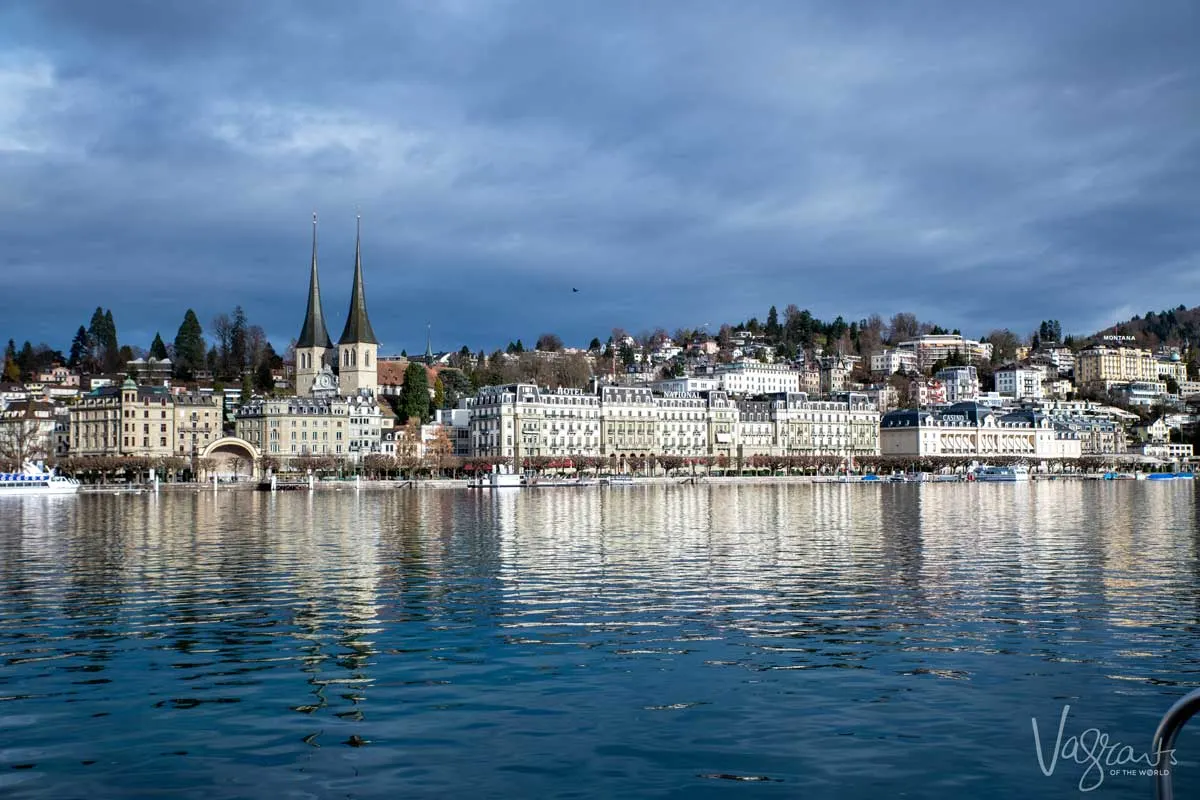 Old Town
The old town is the most visited part of the city with stunning architecture and convenient access to many of the best attractions. There are plenty of charming hotels in Old Town loaded with character. However, accommodation in Lucerne Old Town will generally come with a higher price tag.
If budget isn't an issue, Boutique Hotel Weisses Kreuz (which is an adults-only hotel) and the Hotel Des Alpes, a best seller in Lucerne, offer beautiful accommodation in the heart of historic Old Town.
New Town
Across the river, in New Town, you will find many of the cities bars and restaurants, which is perfect for anyone interested in Lucerne's nightlife. The train station is also on the New Town side.
If you're travelling on a tighter budget, the hotels in New Town may have better rates. You could also consider one of the hostels in Lucerne. If you're travelling alone, a quality hostel is a good way to avoid excessive room rates if you are on a budget.
2 Day Lucerne Itinerary
A popular day trip from Zurich, many quickly realise you could easily spend up to a week in Lucerne, exploring the city and incredible surrounds (Lucerne is also a great hub for day trips).
However, not everyone has unlimited time in Switzerland. This is why we have come up with a great 2-day itinerary so this gorgeous town isn't rushed, even on the tightest of itineraries.
Our 2-day itinerary will help you maximise your time so you can cover all the best things to do in Lucerne.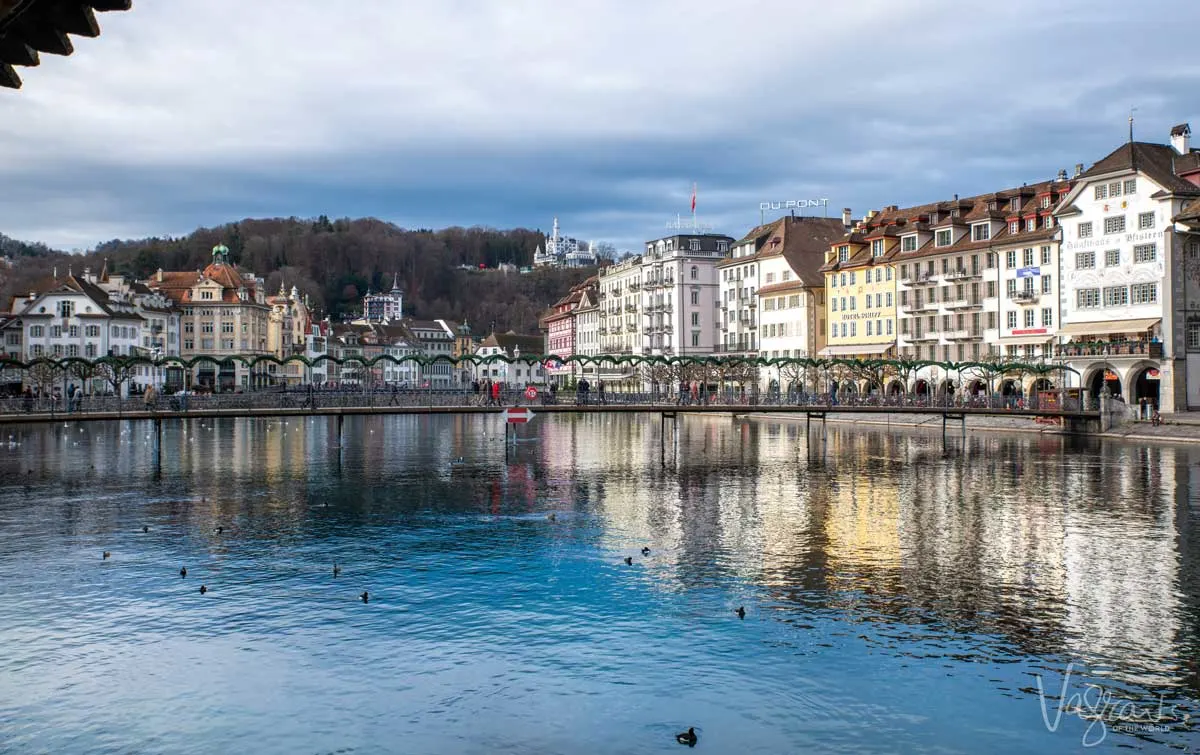 Day 1
Morning. Explore Old Town
On your first day in Lucerne, head off early to explore Old Town. These are some of the key attractions in Lucerne Old Town.
Lucerne Old Town Tour Option
If you prefer to take a guided tour of Lucerne Old Town including the Chapel Bridge, a 2 hr guided tour starts from as little as CHF 20 pp (~21 USD) Get full tour details here.
Chapel Bridge
Start your explorations of Old Town with the Chapel bridge. The iconic covered walkway, the oldest sheltered bridge in the world, is a symbol of Lucerne and one of the cities main tourist attractions.
Nearly lost to a fire in 1993, the bridge has undergone massive restoration work to ensure it remains a symbol of Lucerne's history and picturesque cityscape, hopefully for centuries to come.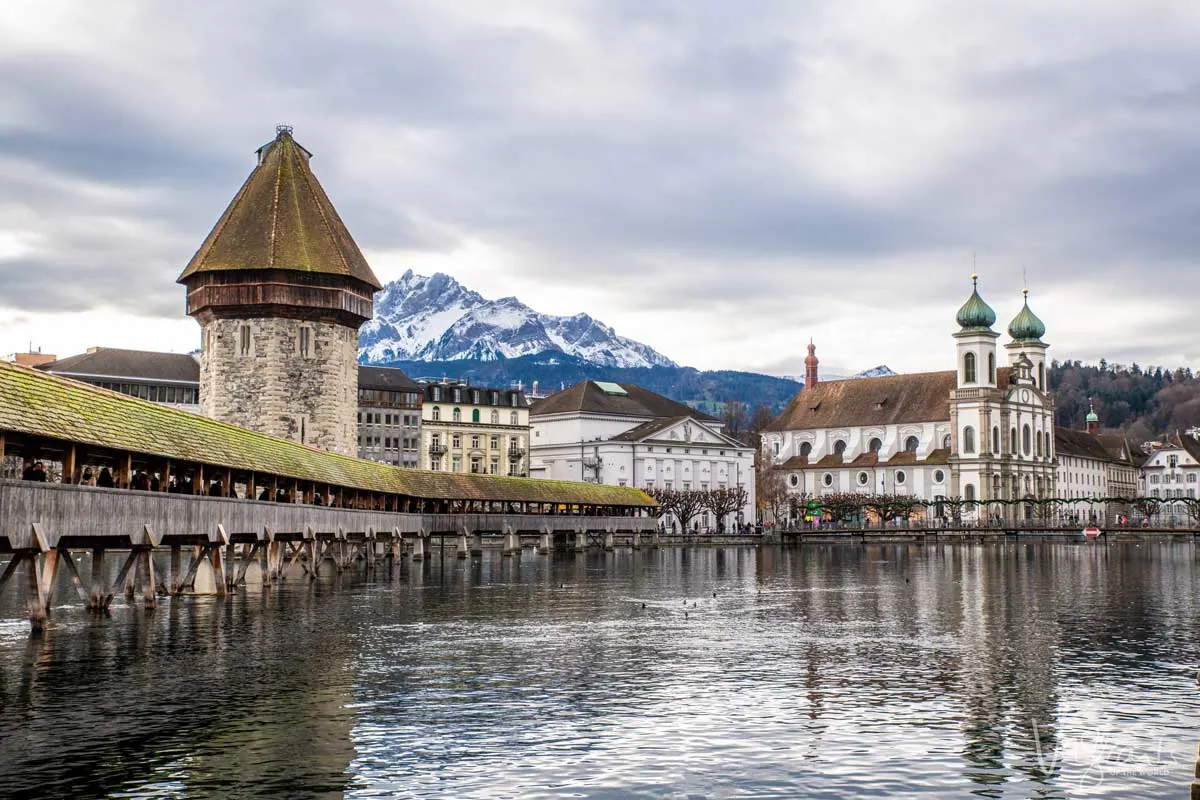 Jesuit Church
You'll spot this adorable baroque church across the river, a few minutes from Chapel Bridge. It was the first baroque church to be built in Switzerland north of the alps. While it cuts an impressive picture from the outside with the alps in the background, it is equally beautiful inside.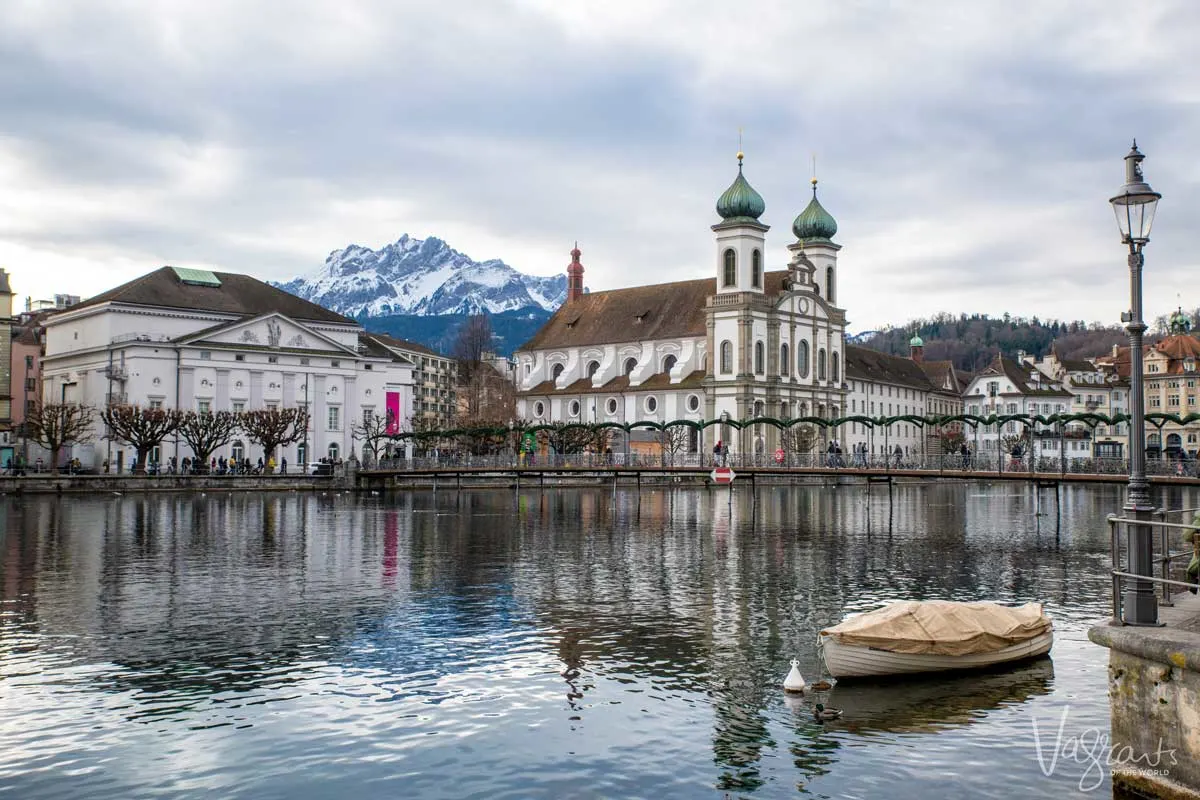 Lion Monument
Head deeper into the old town and browse the shops along the cobbled pavements. You'll eventually reach the Lion Monument. A magnificent monument carved into a natural cliff dedicated to the Swiss soldiers who lost their lives in the French revolution.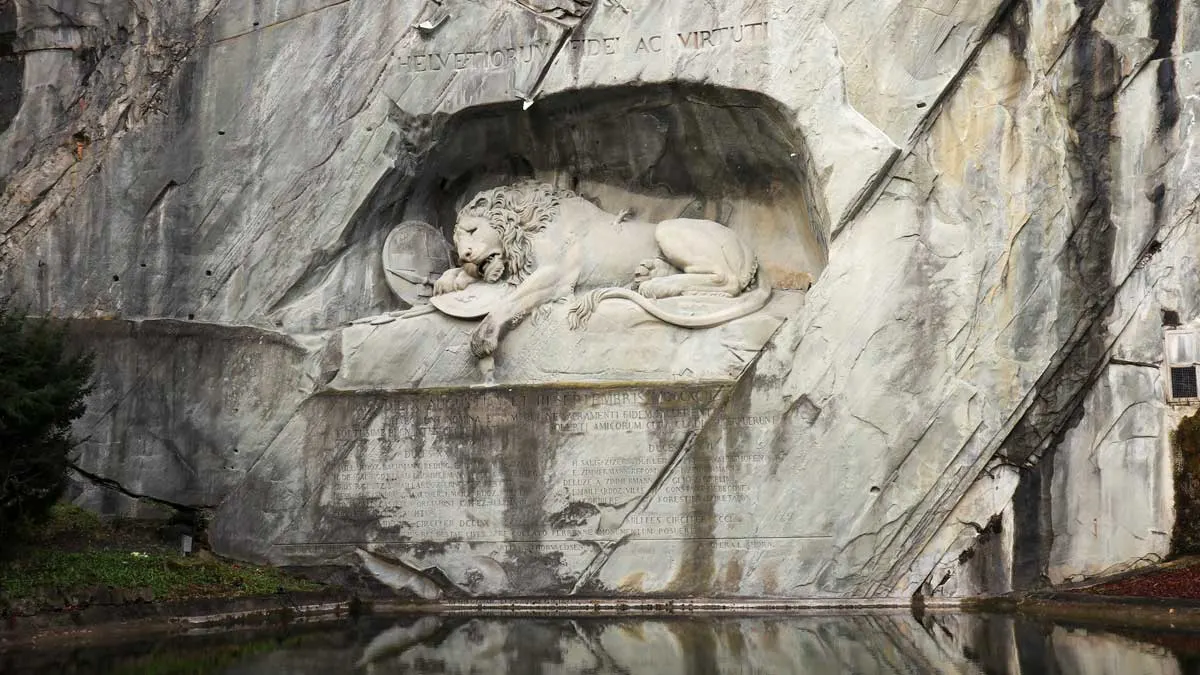 Glacier Garden
Directly next to the Lion Monument is the Glacier Garden which explains some of Lucerne's geological history. While this might sound dull, it is actually brimming with fascinating facts such as; Lucerne has been both a glacier and a subtropical desert. You can see glacier potholes and fossils in the garden exhibits from these periods.
For the kids, there is a mirror maze with over 90 mirrors to get lost in and an observation tower with views across the city.
The Church of St. Leodegar
The twin spires of Lucerne's main church are a dominant feature of the city's skyline. The church actually predates the city itself and played a key founding role.
Inside the church, you can see the magnificent organ which weighs over 30 tonnes and has 7,374 pipes. When it was built in 1640, it was recorded as having the tallest (10.7 m) and heaviest (383 kg) pipe in the world.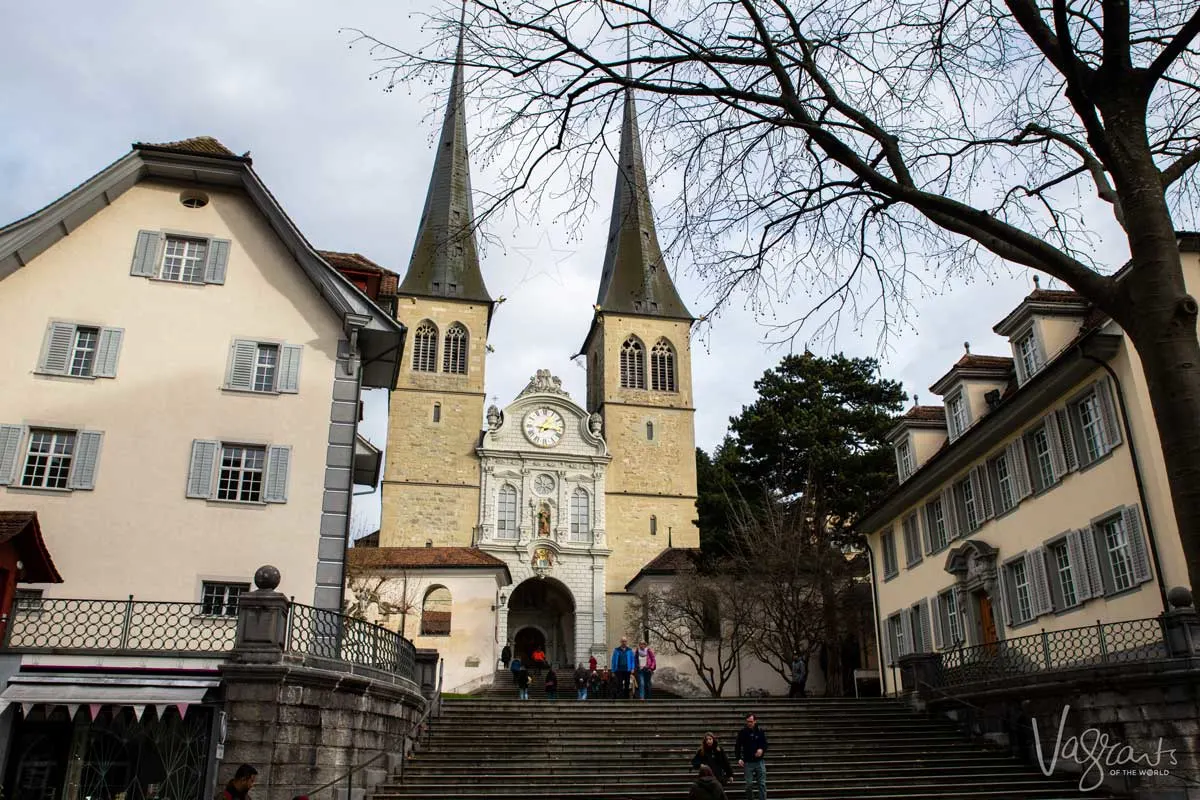 Musegg Wall
The Musegg Wall is the 870m, 14-century rampart with nine towers that once formed part of the cities fortifications. The views from the top over Lucerne are well worth the short stroll up from the old town.
Mid Morning Take a Boat Cruise
After a morning in Old Town, take a scenic boat cruise on board the luxury yacht MS Saphir. There is no better way to appreciate the incredible scenic beauty of Lucerne and the Swiss Alps than from the deck of a luxury yacht.
The one hour cruise around Lake Lucerne was a definite highlight of my time in Lucerne.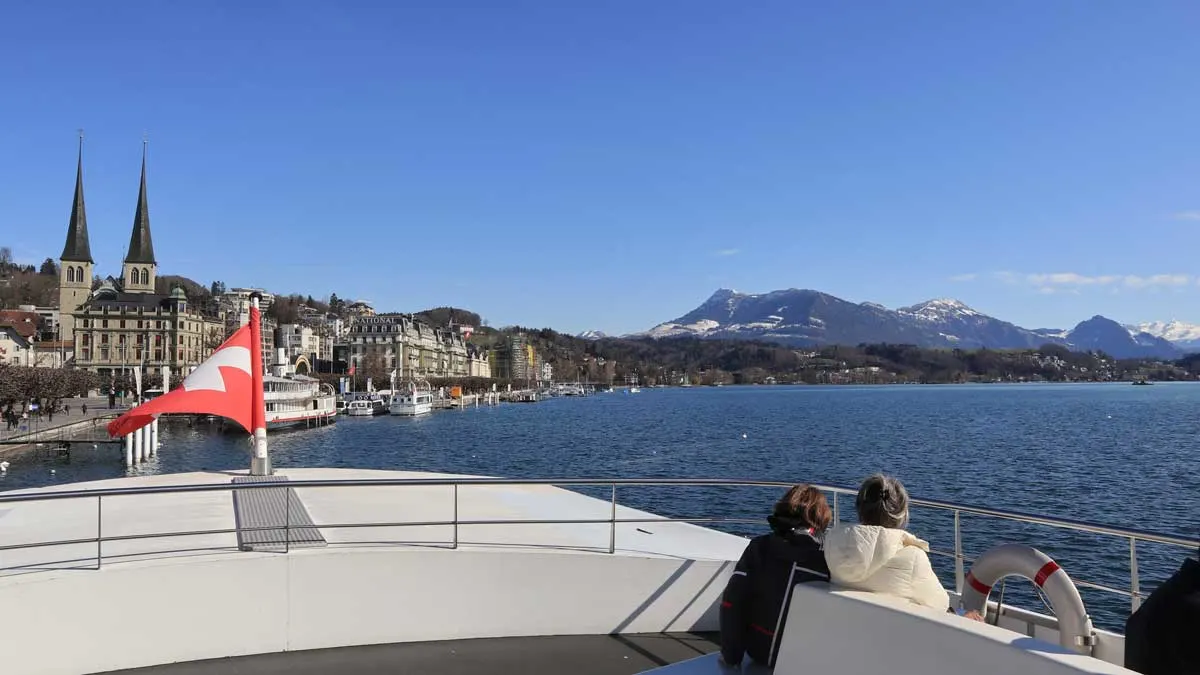 You have picturesque panoramic views from the deck of the boat passing some of Lucerne's most important historical monuments and famous attractions.
A pre-recorded audio tour, gives passengers an overview of Lucerne's history, information about some of the best things to do around Lake Lucerne and some interesting facts about the lake itself.
Prices start from as little as CHF 27 pp(~€26) for a 1-hour cruise on Lake Lucerne. See here for full cruise details and bookings.
Lunch
After the boat tour, there are plenty of great places around the pier for lunch.
Maris Gras is great for a quick bite and a coffee or Mill' Feuille if you're after a bigger meal. Also, check out Pura if you're looking for vegan options.
Afternoon Swiss Transport Museum
The Swiss Transport Museum, opened in 1959 is the most visited museum in Switzerland and for good reason.
The museum has fascinating and interactive exhibits spanning the history of the transport industry covering road, rail, marine and air and space travel.
The museum's car collection which covers vintage cars right through to the Red Bull Formula 1 racing car is reason enough to visit, even for those only mildly interested in automotive history.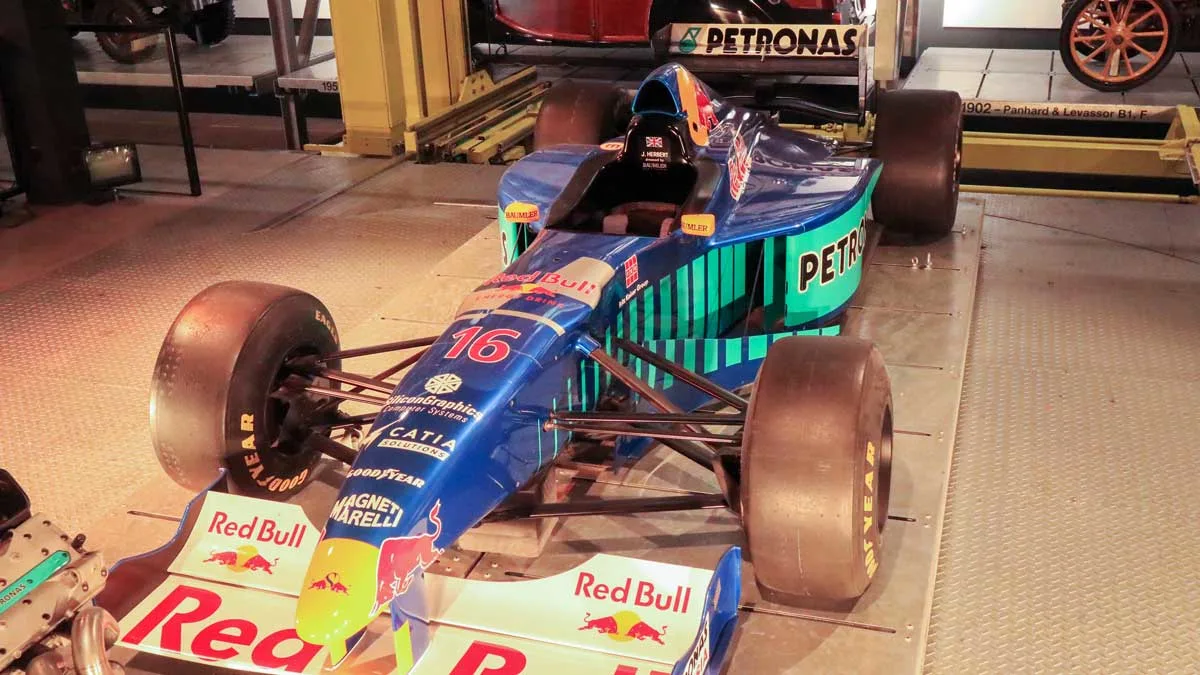 The space exhibits are also particularly impressive. See the mars rovers, the capsule used by Felix Baumgartner in the Red Bull Stratos space jump and experience what it's like to be in a space station in a huge revolving cube.
All of the exhibits are family-friendly with fun games and interactions throughout the tour. A great attraction for anyone travelling with kids.
Opening Times:
The Swiss Transport Museum is open 365 days of the year between 10.0 am – 6.00 pm in summer and 10.00 am – 5.00 pm in winter. Prices vary according to the attractions. See here for ticket prices.
Day 2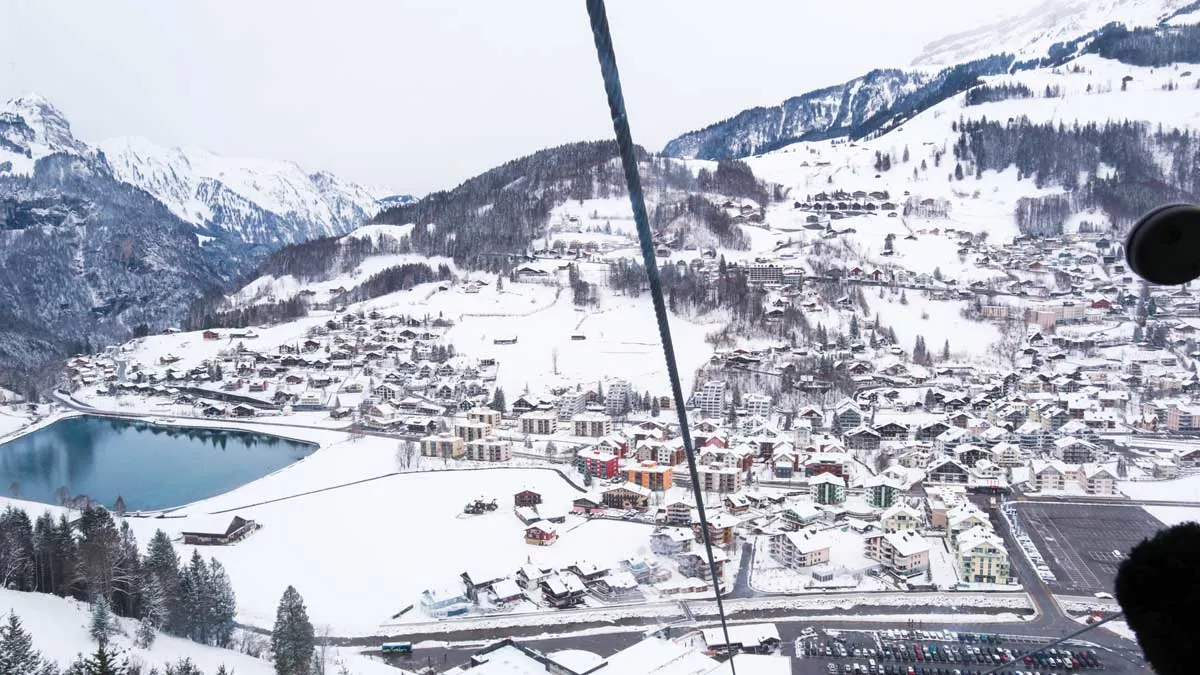 To reach the summit of Mount Titlis, you take a small cable car that glides through the lower parts of the mountain. If you visit in winter, you will be treated to gorgeous snow-covered alpine vistas.
From here you'll take two further cable cars to reach the summit. The second of these is called the Rotair which is the world's first revolving cable car. The car spins 360⁰ as it climbs, so you always have a panoramic view without leaving your spot.
Once at the summit, there are plenty of activities to keep you busy including:
The Glacier Cave
Take a walk through the 150m magical ice cave bathed in serene blue glacial light. The natural cave 10m below the surface of the glacier is estimated to be over 5,000 years old. It also features some very cool art installations created in the ice.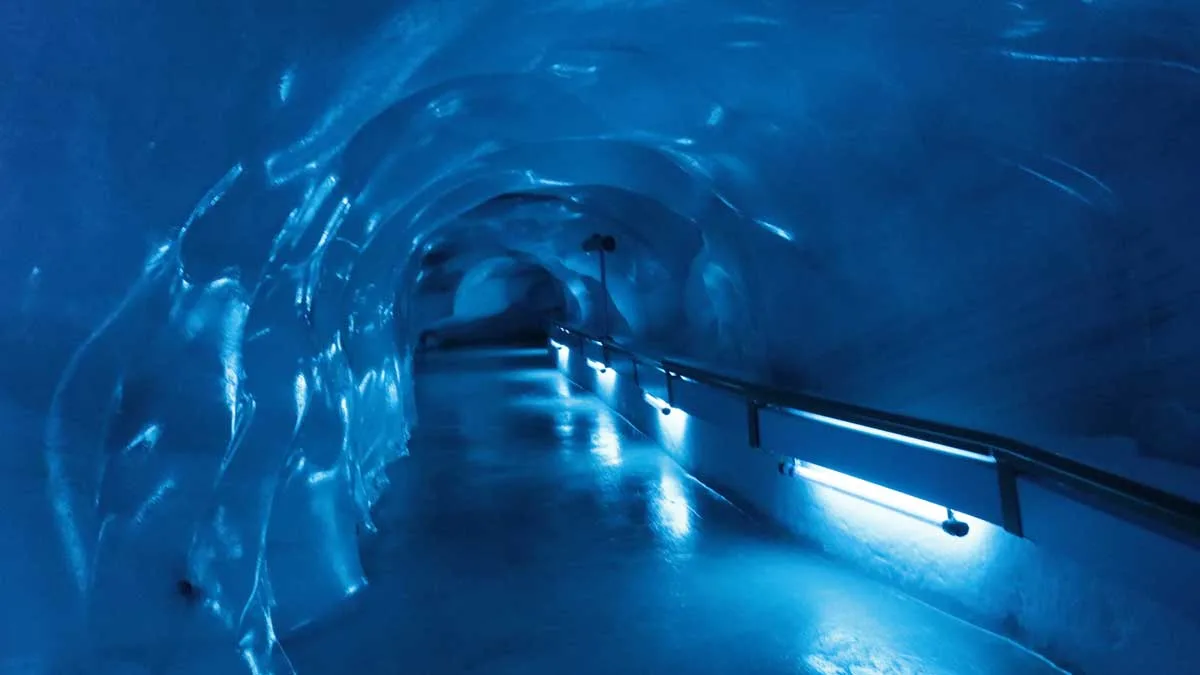 Cliff Walk
The highlight of the Mount Titlis summit is the Cliff Walk. The 100m suspension bridge connecting two summits is the highest suspension bridge in Europe. The bridge will close in poor weather, which sadly happened on our visit, so check online before you visit if it is high on your list.
Ice Flyer
The Ice Flyer is a chair lift that allows you to 'fly' over the glacier, offering you a thrilling and very different perspective of the glacier. The Ice Flyer costs an additional 12 CHF per person.
There are also several shops at the summit station as well as a restaurant serving full meals and snacks at reasonable prices.
Mount Titlis Tour Recommendation
Mount Titlis Eternal Snow Half-Day Trip from Lucerne
If you don't want to self-guide, the round trip from Lucerne to Mount Titlis can be completed as part of an all-inclusive 6 hr tour.
The tour includes:
Transfers with a professional guide.
Aerial cableway to Mt Titlis' summit with Rotair Gondola
Snow tubing at Glacier Park (May to October, in winter at Trübsee. Subject to snow conditions,)
Ice Flyer chair lift (weather permitting)
Titlis Cliff Walk & Glacier Cave (weather permitting)
See here for full tour details and cost.
Evening Enjoy a Typical Swiss Fondue
There is nothing better than a Fondue after an active day in the Swiss Alps. It is, after all, the food highlight of any trip to Switzerland. One could say if you didn't try some cheese on your visit to Switzerland, then did you even go at all?
The restaurant at Hotel Des Alpes is a great place for a typical Swiss Fondue. Sit on the terrace and enjoy the view of the Chapel Bridge while you indulge in delicious Fondue, served with chunks of fresh bread, mushrooms, olives and potatoes.
The cheese fondue is a meal in itself; however, if you fancy trying some other local dishes, the restaurant also does a very good Aelpler Magronen (Swiss-style macaroni) and Crispy Roesti.
A perfect finish to your two days in Lucerne. Fondue overlooking one of Switzerland's most beautiful towns.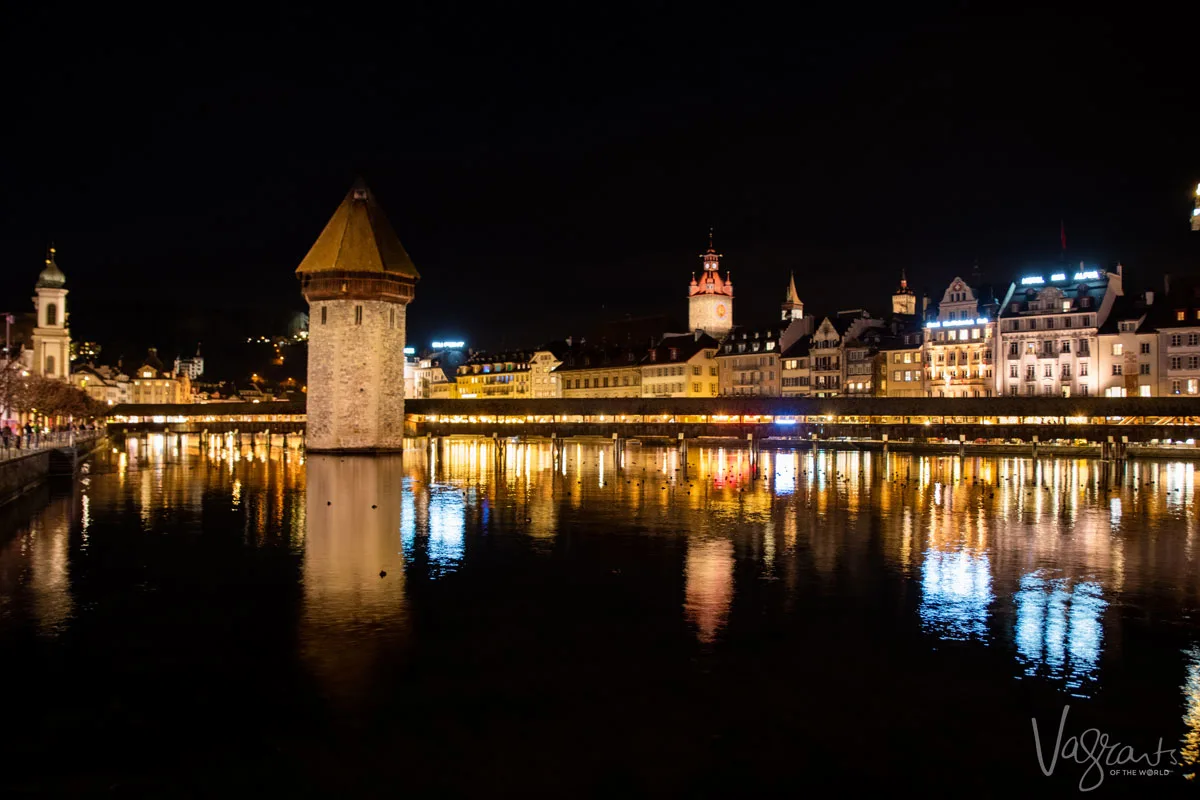 About the Author
Kieren is a 27-year-old from Wales with a love of exploring new places and making new friends along the way. He has spent many months backpacking through Europe and Southeast Asia, writing about his adventures along the way on his blog GotMyBackpack.com