Switzerland is considered one of the most beautiful countries in the world. Despite its small size, it has a lot to offer visitors. So, is two days in Switzerland enough?
Switzerland's cities are very walkable, and connecting travel is very efficient. With two full days in Switzerland (allowing three nights), it is possible to see many of Switzerland's main attractions and get a good feel for the country.
We have put together an itinerary that covers two of Switzerland's most popular destinations – Zurich and Lucerne. Both are very achievable destinations in two days without rushing.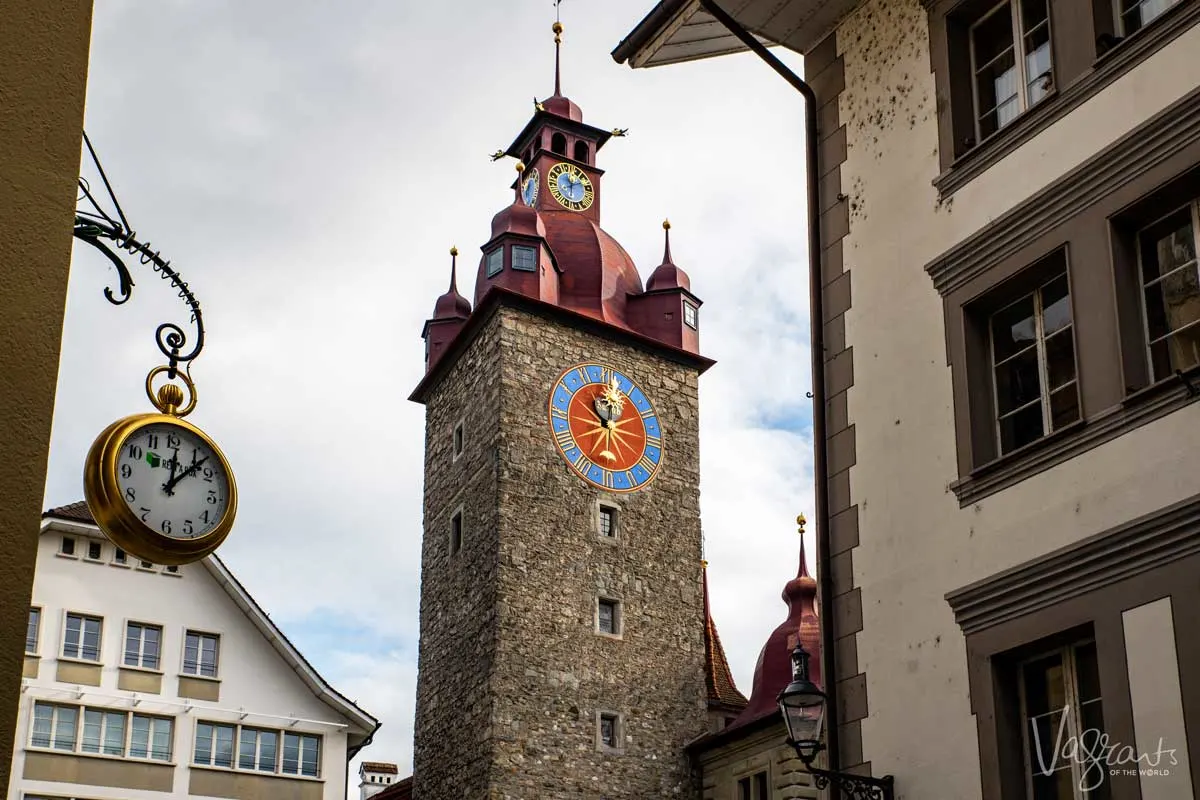 How to Get Around Switzerland
Public transport in Switzerland is the best way to get around. Trains, trams and buses are reliable, clean and easy to navigate. Train travel in Switzerland is the most efficient and enjoyable way to travel between destinations.
On a 2 day itinerary, especially one centred around Zurich and Lucerne, the train will be the most efficient way of seeing most of the country.
There are regular trains between Zurich and Lucerne, each arriving within the city, walking distance to the main attractions.
---
Add a River Cruise to Your Swiss Itinerary: A river cruise down the Rhine and Moselle between Paris and Zurich is a great addition to your Swiss itinerary.
---
Trains Between Zurich and Luzern
Trains run on average at least every half hour.
The journey takes 45 – 60 minutes.
Full price tickets from 30 CHF (31USD)
Swiss Travel Pass
The Swiss Travel Pass allows you to travel on all public transport – Trains, trams, buses, and boats for free. It also offers free and discounted entry to attractions, over 480 museums, and exhibits.
As the Swiss Travel Pass comes in 3, 4, 8, and 15 day passes, it is possibly not something we would recommend for 2 days in Switzerland unless you had a lot of big-ticket travel in mind.
A 2nd class 3 day Swiss Travel Pass will cost CHF 253.00 (263.000 USD). First-class- CHF 386.00 (400.00 USD).
Swiss Half Fare Card
The Swiss Half fare Card is precisely that – 50% discount on all travel within Switzerland including most mountain scenic railways.
Again, with only 2 days in Switzerland, we don't think this would be the best value.
The Swiss Half Fare card is valid for one month and costs ~ 120 CHF (125 USD).
Your total transport expenses would need to exceed 240 CHF (250USD) per person in the two days for it to be any value.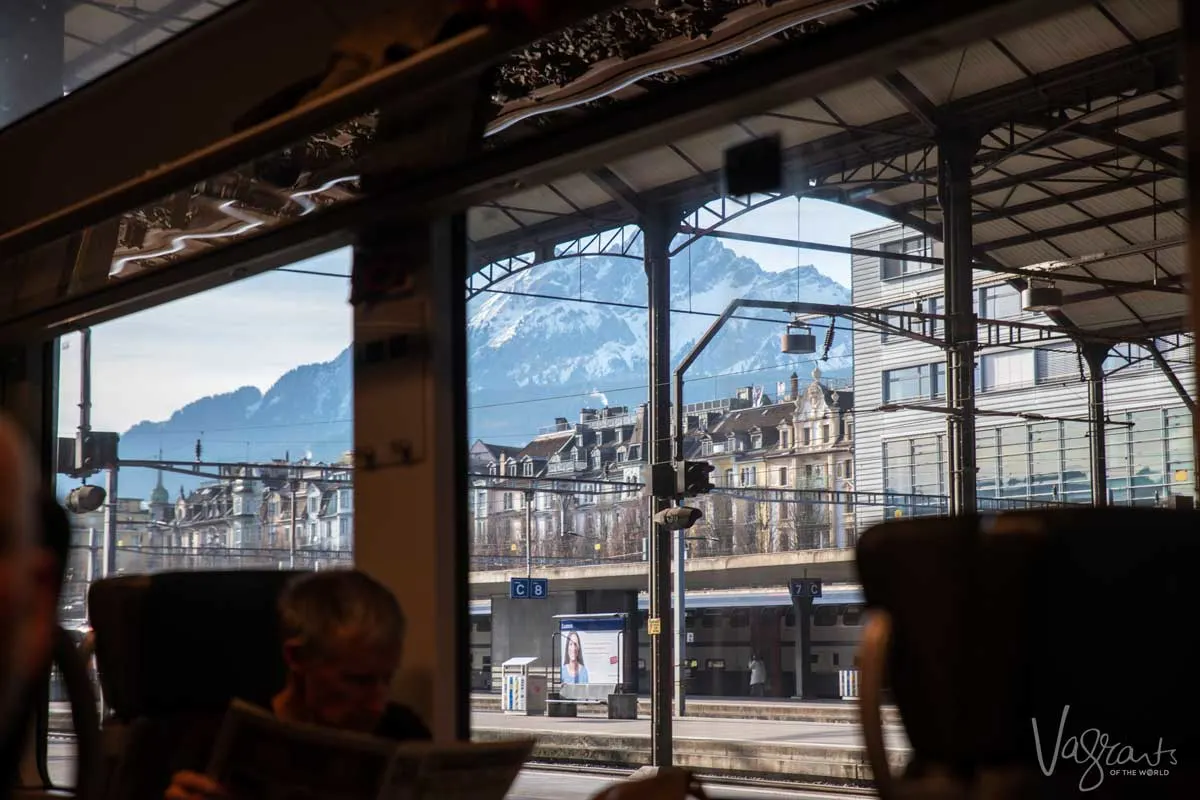 Where to Stay in Switzerland
Since Lucerne and Zurich are quite close to each other, you can stay in either Zurich or Lucerne for three nights and make a day trip to the other. We have given options for staying one or two nights at each destination. Flexibility for you to choose is key here.
Be aware, accommodation in Switzerland does tend to be more expensive than in many other European countries.
Luxury Accommodation
There is no shortage of luxury accommodation with all the perks you would expect from a 5-star hotel. Baur au Lac in Zurich or Schweizerhof in Lucerne are both excellent choices.
Mid Range Hotels
Mid-range hotels will still be comparatively expensive. In Zurich, you could look a little further from the centre if you don't want to spend a fortune on accommodation. Zurich's trendy West Quarter area is a great place to stay with easy access to the city centre by tram. The Renaissance Zurich Tower is an excellent mid-range option surrounded by great restaurants, hip bars, galleries, and shopping.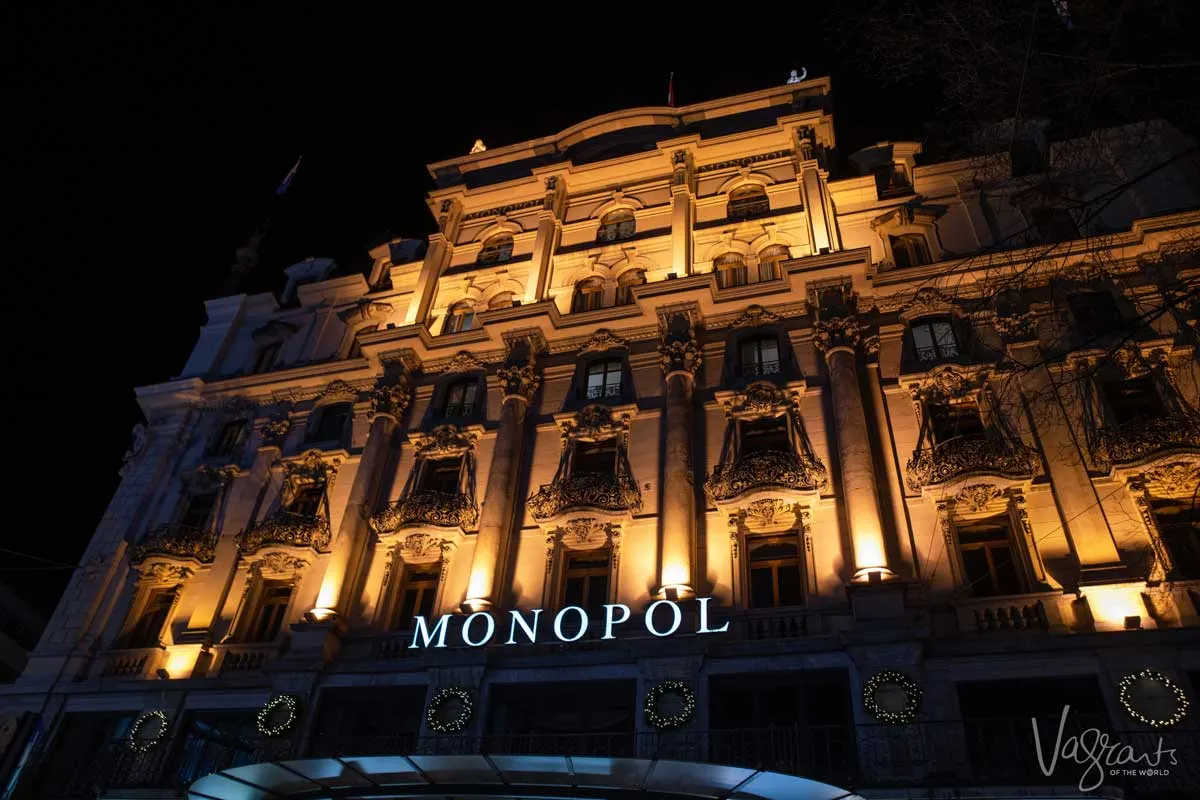 In Lucerne, you don't need to stray too far from the centre. Both Hotel Alpina Luzern and Hotel Monopol are very comfortable and charming hotels. Monopol has views over the river and Old Town and both are very close to the train station. The breakfast at these hotels is particularly good.
Budget Backpacker Accommodation
Both cities also have good value for money hostels – in Zurich check out Oldtown Hostel Otter Zurich and in Lucerne check out Bellpark Hostel.
---
When is the Best Time to Visit Europe? Discover the Best Time to Visit Europe based on where you want to visit and what you want to experience.
---
2 Days in Switzerland
The Zurich and Lucerne itinerary outlined here is based on having two full days free in Switzerland, which means allowing for three nights. Arriving in Zurich on your first night, take advantage of the evening, if time allows, to get a feel for the city and enjoy the sights by night.
In summer, you will still have plenty of daylight up until at least 9.30 PM, if not later. In winter, while it will get dark early, you have the Christmas Markets at night to enjoy.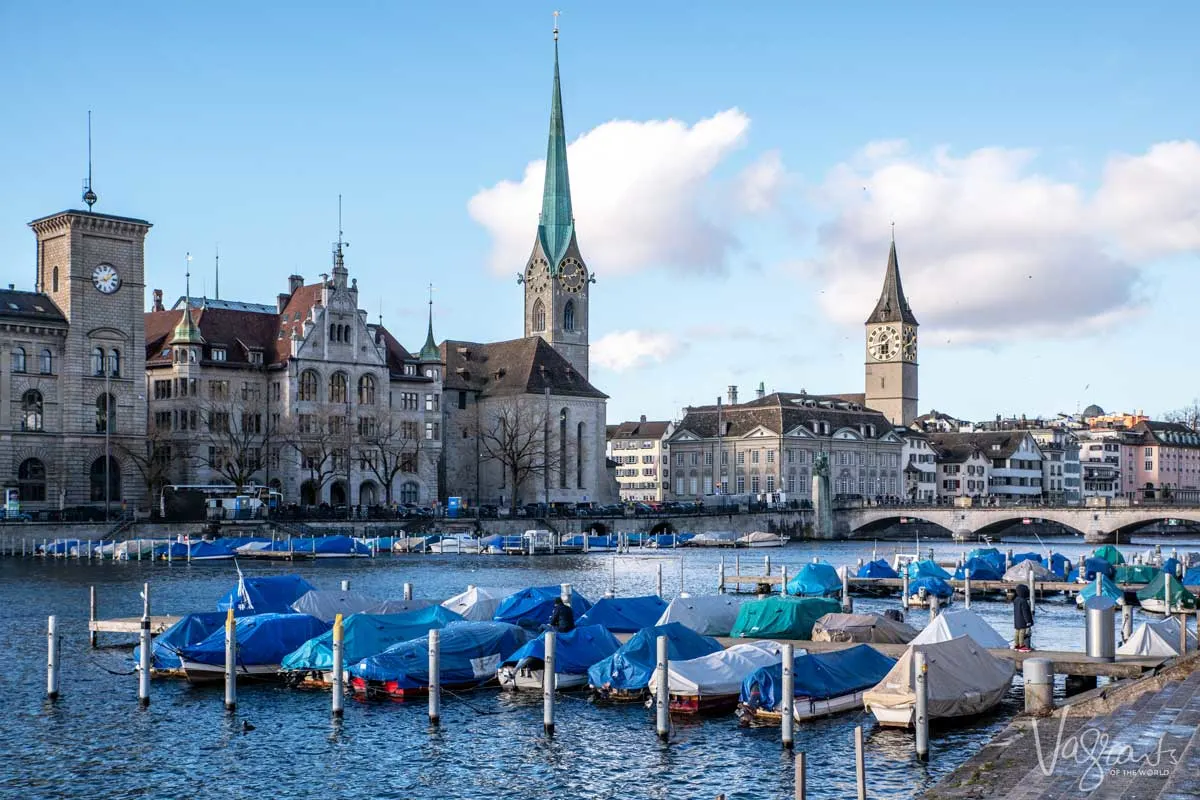 Day One 24 Hours in Zurich
Zurich, the biggest city in Switzerland. And, probably one of the best places to visit in Switzerland, especially if you are short on time.
While Zurich doesn't offer some of the breathtaking scenery found in other parts of the country, centred around Lake Zurich, it still cuts a very beautiful scene.
Remember, no matter where you are in Switzerland, the Swiss Alps are rarely out of view, even in Zurich. Add to this a sophistication to rival any of the world's top cities, a lively city life atmosphere and a historic centre that will delight visitors.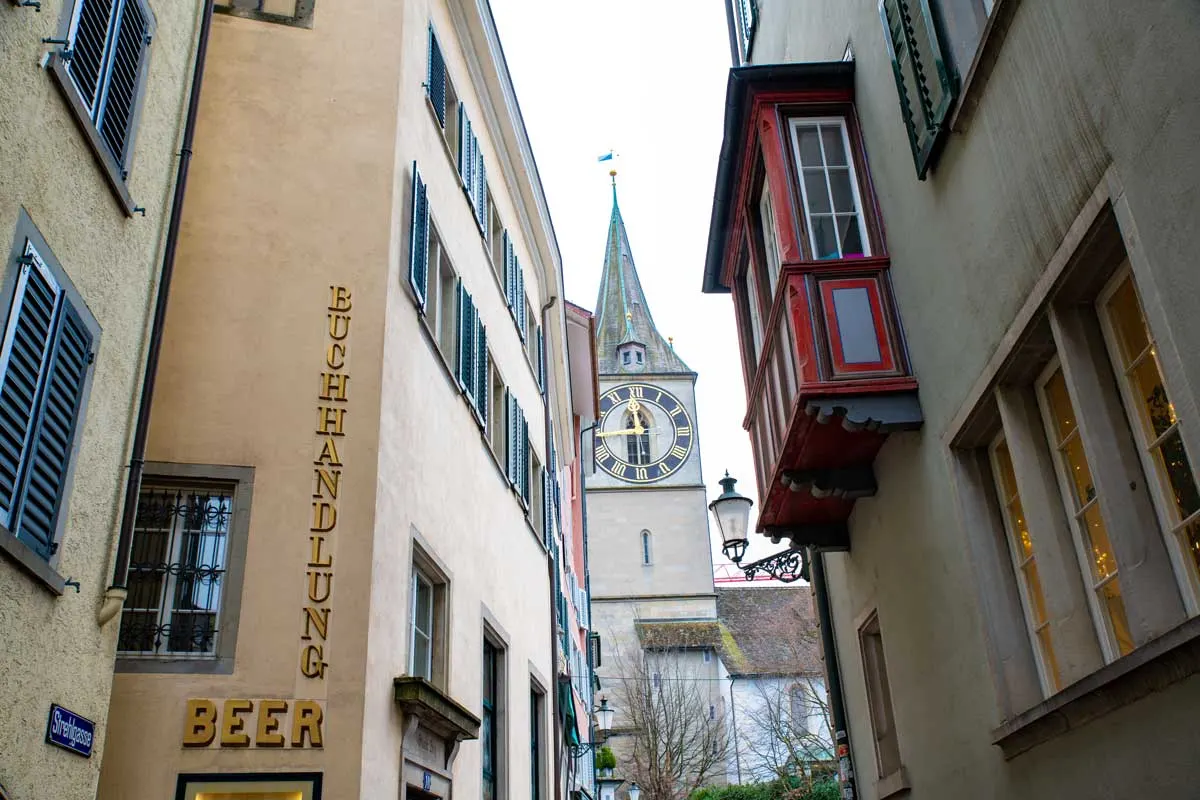 A very walkable city, 24hrs in Zurich is plenty of time to see a lot as many of the main attractions are within walking distance.
Alternate Zurich Extended City Tour Option - 4 Hrs
We have outlined below a lovely way to spend a day in Zurich, making sure you see the best the city has to offer. If you don't feel like self-guiding your way around Zurich, this 4 hr Extended Zurich City Tour covers off on the best things to do in Zurich.
Take an extended city tour through Zürich's Old Town and surrounding the city including St. Peters Church, the famous Bahnhofstrasse, the Limmatquai, and the Guild Houses.

Visit the Fraumünster Church

Take an aerial cable car ride to Felsenegg and marvel at the view over the lake and the Alps

Take a drive along Switzerland's "Gold Coast" to Meilen, where you will take a ferry across Lake Zurich.
Tour includes a professional guide, all admission fees and transport. Prices start from CHF 58 pp. See here for full tour details.
Stroll Bahnhofstrasse
On your first morning in Zurich, if you didn't get a chance the evening before, take a stroll down the Bahnhofstrasse. Bahnhofstrasse is the main street in downtown Zurich and is one of the world's most exclusive and expensive shopping streets.
Bahnhofstrasse is also the most expensive street in Europe for retail property and the third most expensive in the world.
While the prestige of Bahnhofstrasse is highly apparent, you will also find more budget-friendly chain stores alongside the luxury brands.
Explore Zurich Old Town
Duck off Bahnhofstrasse and take some time to explore Zurich Old Town. Zurich Old Town runs either side of the Limmat River which gives the city a quaint and intimate vibe.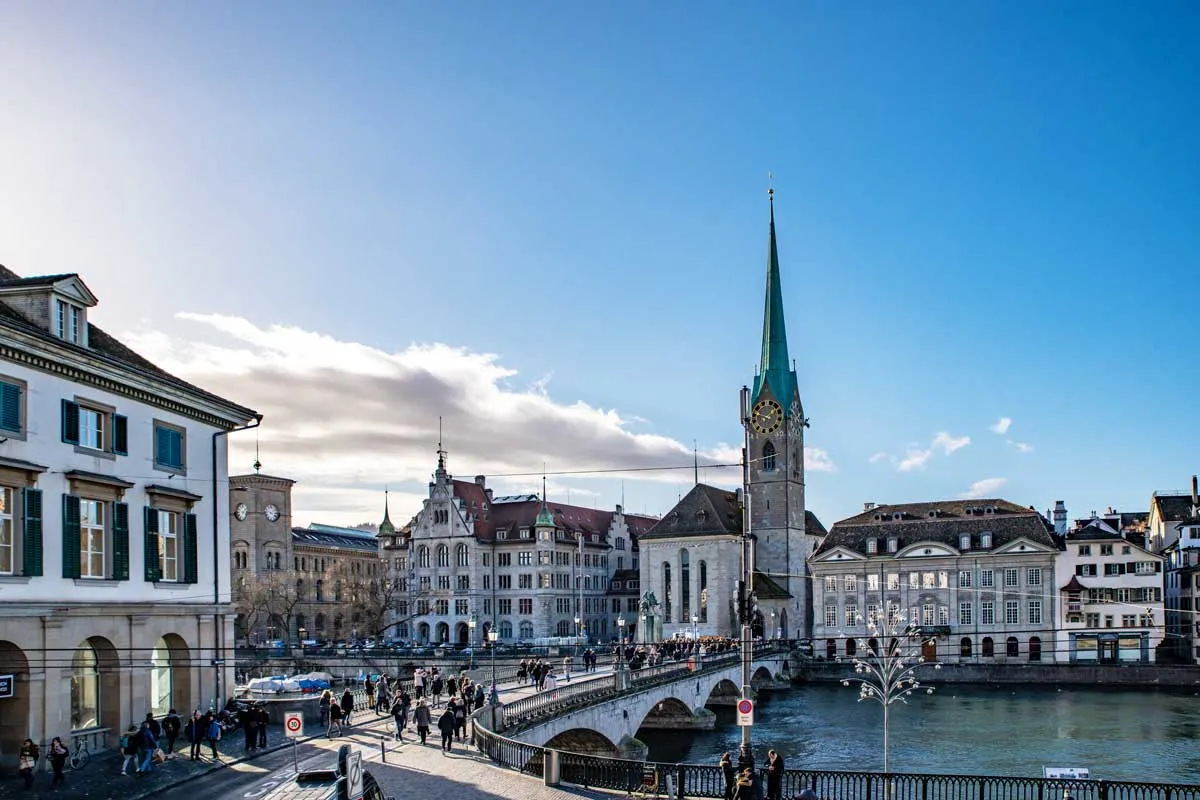 Colourful facades, guild houses and historic hotels dot the centre. Wander charming cobblestone streets punctuated with church spires to discover hidden corners with beautiful boutique shopping, traditional restaurants and cafes.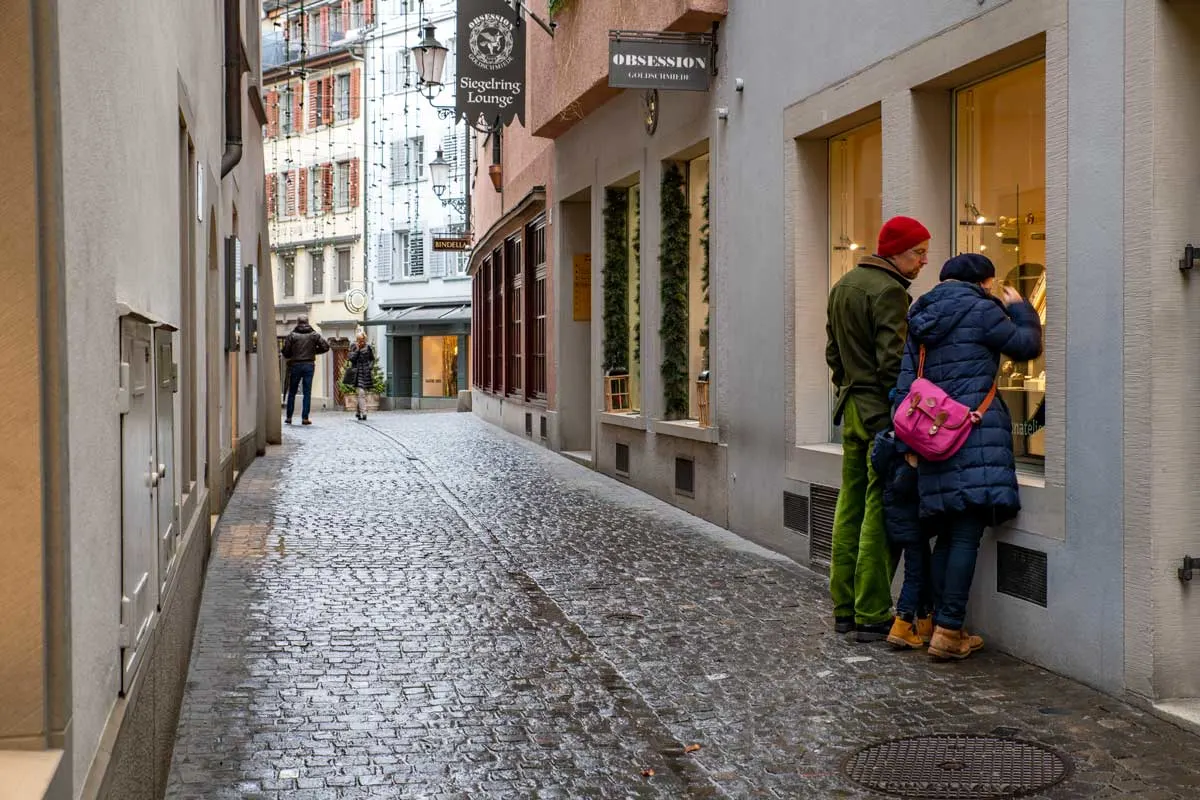 Explore the car-free alleyways of Niederdorf "Little village" in Old Town where artisan meets antiques for a fabulous shopping experience.
Take the 5-minute walk to Lindenhof to enjoy beautiful views over Old Town and the river.
Lake Zurich
Take a Dip
Coming from Bahnhofstrasse or Old Town, you will have a great view of the lake and the mountains in the background. On a sunny day, the areas around the lake will be buzzing with people and street artists. At Christmas time, you will also find one of Zurich's biggest Christmas markets on the lake.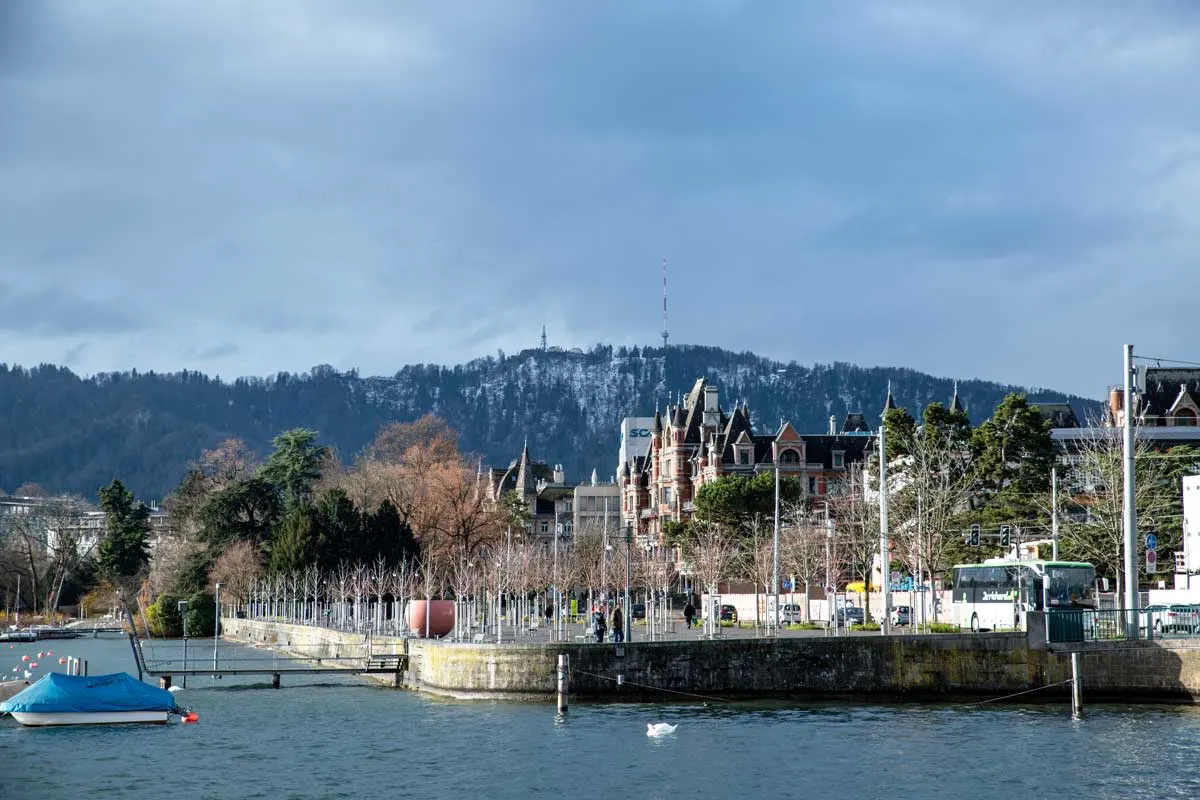 Depending on the season; if you are up for a sauna or a dip in the lake – take a right and head to Seebad Enge. Zurich has undoubtedly made the most of the crystal waters of Lake Zurich and Limmat River with some fantastic outdoor swimming and sauna venues. Seebad Enge offers a lake swim or sauna with views of the Alps.
Frauenbad am Stadthausquai offers a gorgeous ladies-only bathing spot during the day and Freibad am Schanzengraben, a bathing retreat for men. After sunset, both bathing houses open their doors as cool open-air bars to a unisex crowd. You can get a full rundown on all of Zurich's outdoor pools here.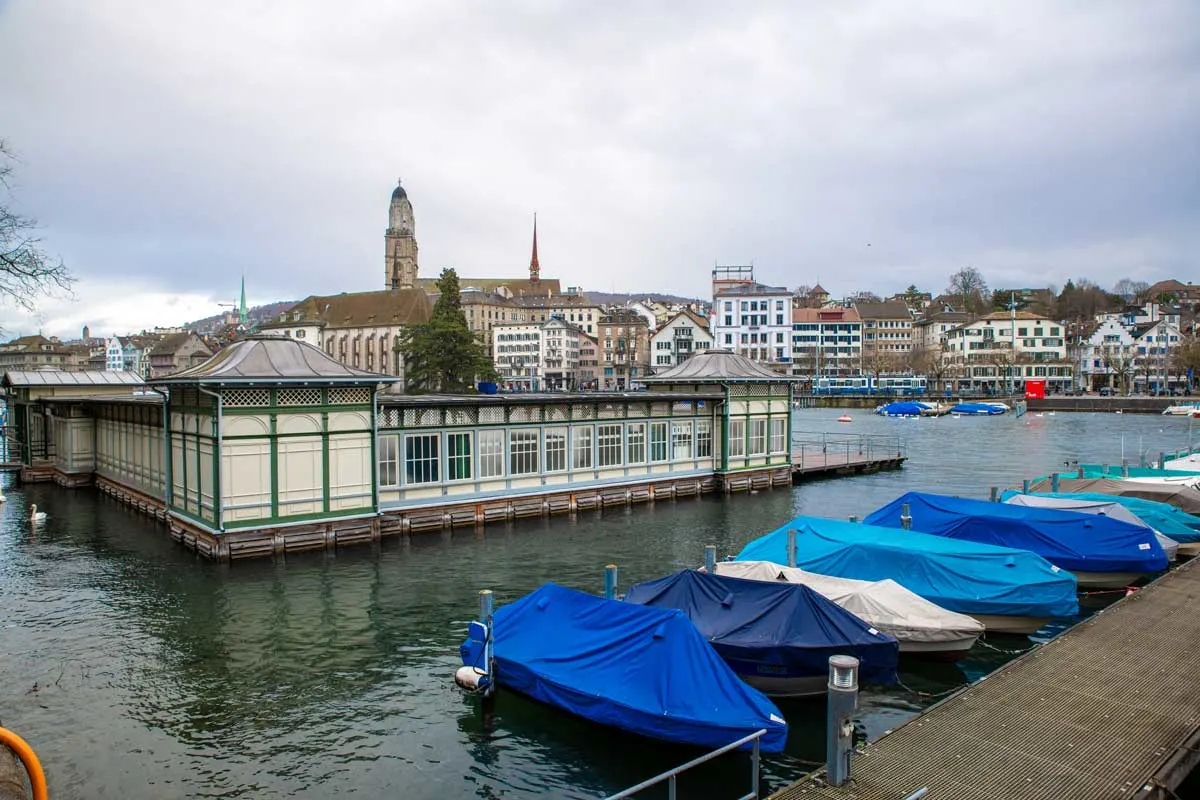 Take a Cruise
Head left from the end of Bahnhofstrasse where you can take a pleasant stroll along the lake, hire a paddleboat, or, take a cruise. We recommend the cruise.
The Lake Zurich boat tour, which is also the Lake Zurich ferry, will give you a great perspective of the size of the lake. On a clear day, you will also enjoy beautiful views of the Alps. It also offers the chance to hop on and off at any of the stops that interest you.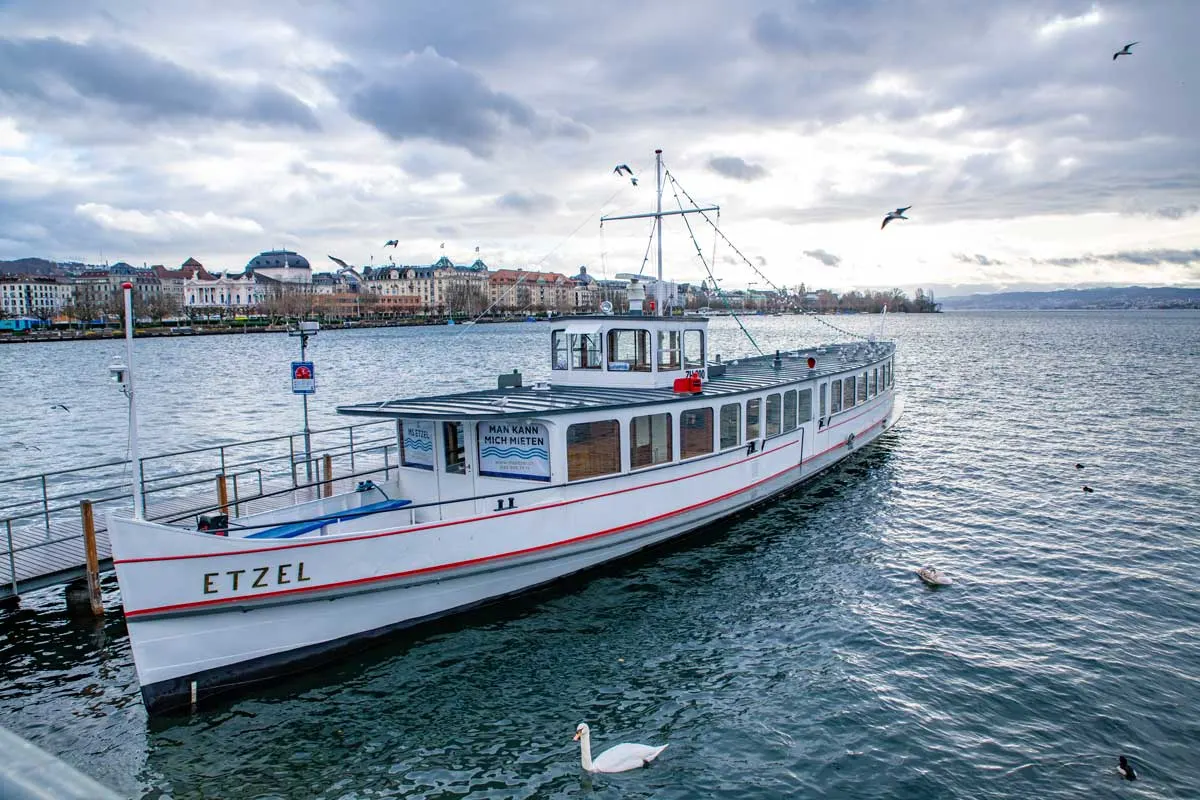 If you stay on for the entire circuit, a short lake cruise will take approx 2 hours depending on the season and boat — the long lake cruise up to 3 hrs.
Stop at
Rapperswil to Explore Old Town
We recommend jumping off at the town of Rapperswil on the south-western shores of Lake Zurich. Take a stroll through the enchanting old town. Allow at least an hour in the pretty yet tiny town before catching the ferry back to Zurich.
Alternate Ways to Finish Your Day in Zurich.
Option 1 – One More Night in Zurich.
If you feel like another night in Zurich; finish your day with a drink by the lake.
Then, head back to Limmatquai or Old Town for dinner at one of the many cafes or restaurants. In summer, the city area will be bustling quite late so there will be plenty to enjoy.
In winter, there is no shortage of places to cosy up with a drink or for a meal.
Option 2 – Take the Train to Lucerne
The train from Zurich to Lucerne takes less than an hour with services running every half hour.
As mentioned, both train stations are centrally located so while many make Lucerne a day trip from Zurich, a late afternoon transfer to Lucerne would not be a stretch. If you can leave Zurich for Lucerne in daylight hours, you can enjoy some beautiful views along the way.
Arrive in Lucerne well before dinner allowing for an additional night in Lucerne and an early start in one of the most popular places to visit in Switzerland.
Day Two. 24 Hours in Lucerne
Whether you arrive in Lucerne the night before or early on the morning of day 2, Lucerne is much smaller than Zurich and very compact, so you will have plenty of time.
If time allows in Zurich, we would recommend arriving the night before, especially if you have already had one night in Zurich. An early start in Lucerne will definitely be advantageous.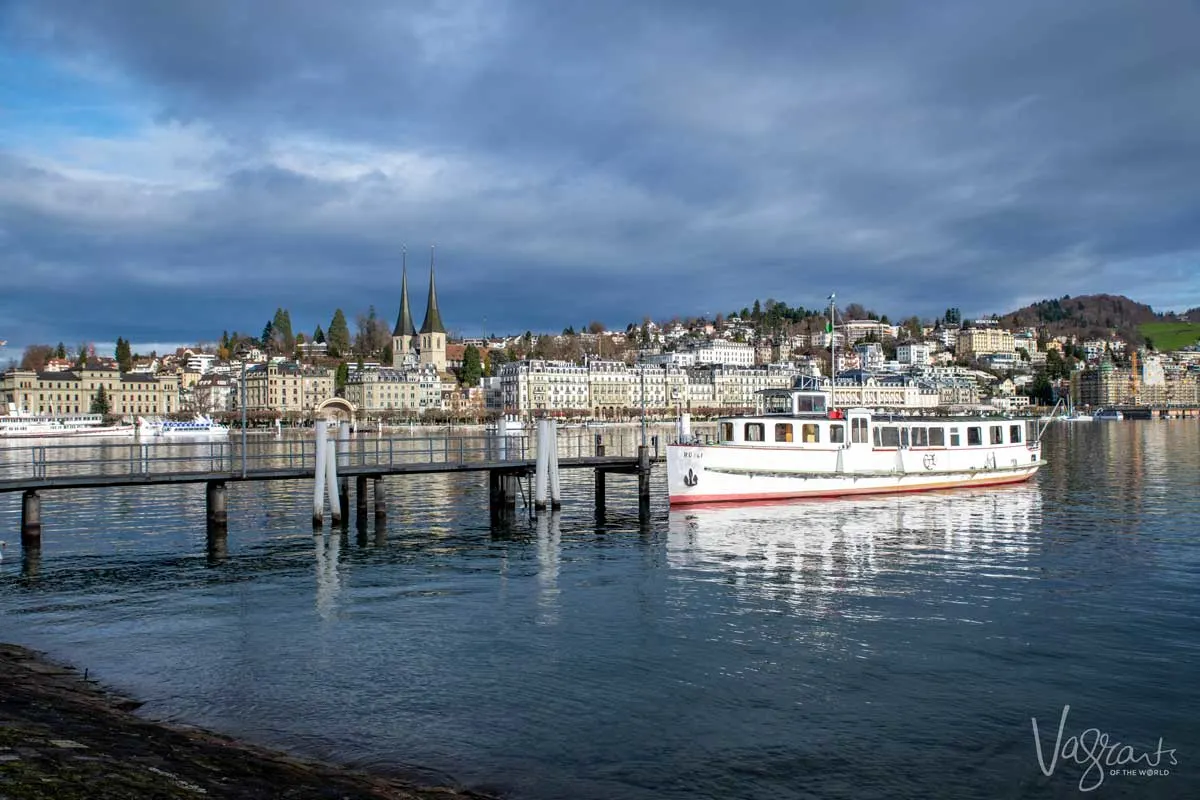 As soon as you arrive, you will realise why Lucerne is the most popular travel destination in Switzerland. Surrounded by the striking panoramas of Mount Rigi and Pilatus, Lucerne offers a myriad of experiences no matter your interest. Even in one day, it is possible to tick off many of the best things to do in Lucerne. We have a fabulous 2 Days in Lucerne Itinerary if you can manage the extra time in Switzerland's most popular city.
Chapel Bridge
Across from the train station head to the famous Chapel Bridge – The Kapellbrücke. The covered wooden bridge spanning the river Reuss dates back to the 14th century and is one of the main tourist attractions in Lucerne. Chapel Bridge and its watchtower once formed part of Lucerne's fortifications; it is the oldest surviving truss bridge in the world.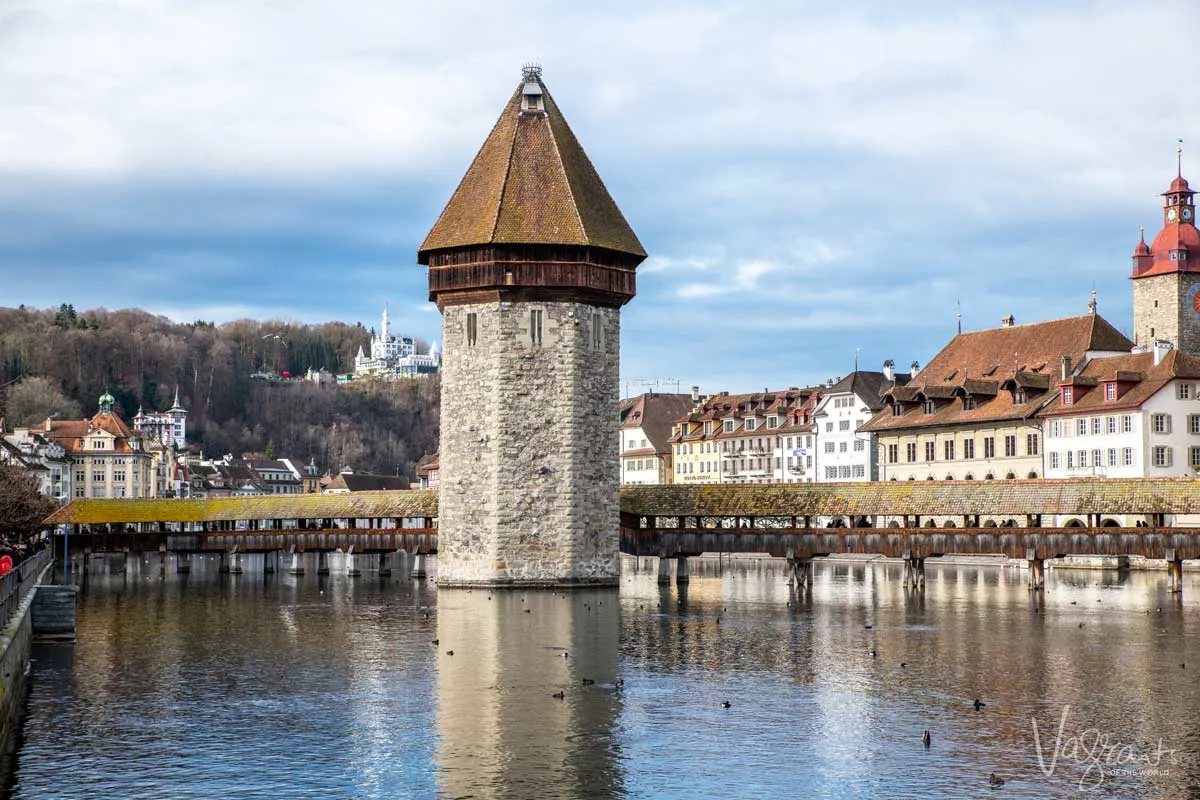 Wander across the bridge and enjoy the most beautiful views of Lucerne set against the Swiss Alps. You will quickly realise why Lucerne is often named one of the most beautiful cities in Switzerland.
Lucerne Old Town
Crossing the Chapel Bridge from the "New Town" on the south bank, you will reach the Old Town on the north bank. Wander the charming traffic-free streets and squares of Old Town.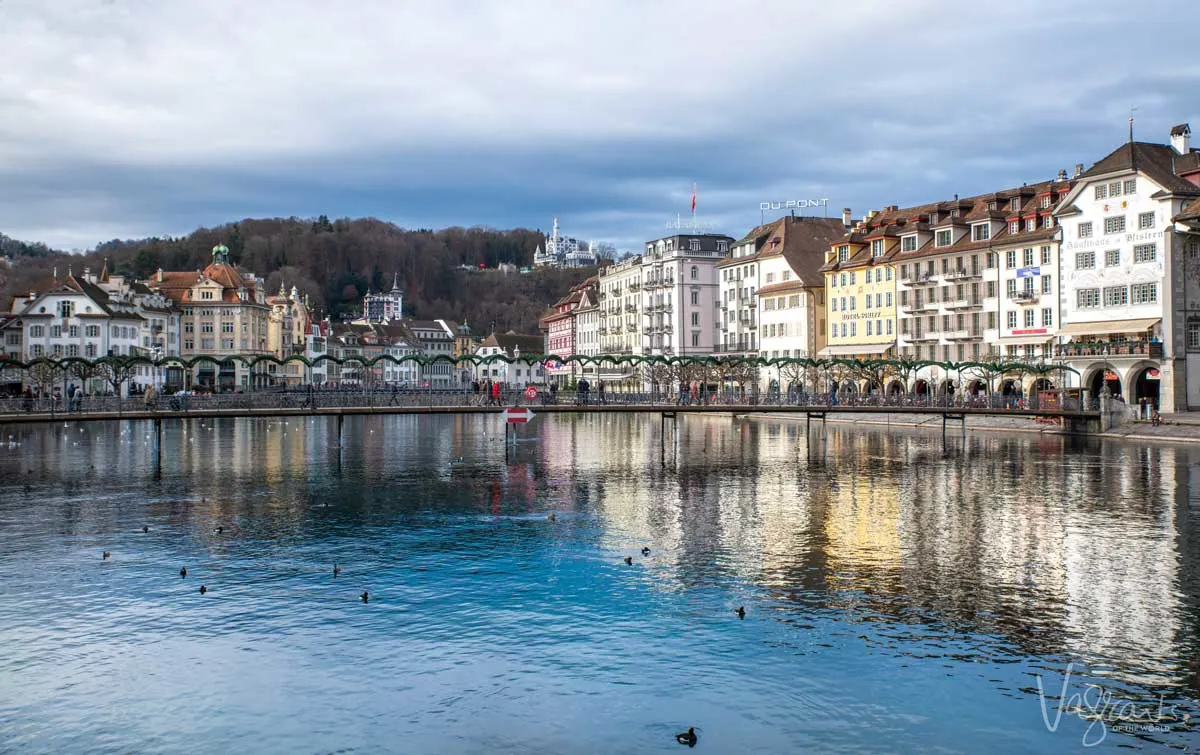 Walk the length of the Musegg Wall, the 870m, 14-century rampart with nine towers. The views from the top over Lucerne are worth the short stroll up. See the famous Zytturm (clocktower). The 52-meter high tower holds the oldest clock in the city which dates back to 1535.
Stop by the Lion Monument – a monument dedicated to the Swiss Soldiers who died in the French Revolution.
Lucerne Old Town Tour Option
If you want to take a guided tour of Lucerne Old Town including the Chapel Bridge, a 2 hrs guided tour starts from as little as CHF 20 pp (~21 USD) Get full tour details here.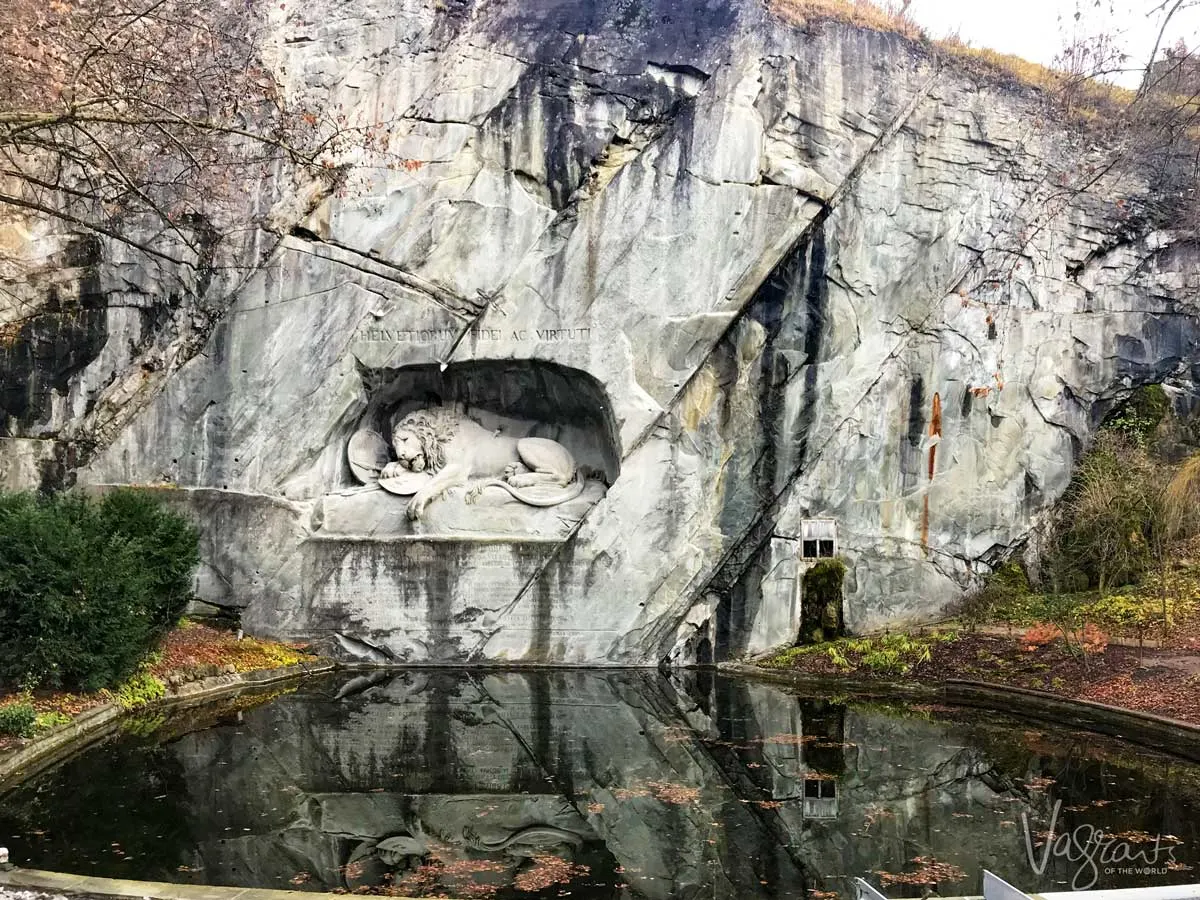 Lake Lucerne: Vitznau, Weggis, and Mount Rigi
Lake Lucerne is rated as one of the most scenic lakes in Switzerland so time on the lake will never disappoint, no matter the season. Combine this with the vistas from Mount Rigi, and you have one of the most quintessential Swiss experiences.
Take a scenic cruise on Lake Lucerne to Vitznau. (It is possible to take a bus or train if you prefer). Ferries run every few hours and take less than an hour to reach Vitznau.
From Vitznau, catch the cogwheel train to Rigi Kulm, the highest peak on Mount Rigi. The train ride to the summit offers postcard Swiss landscapes. From the peak, you have to most dramatic views of no less than 13 lakes, including Lake Lucerne.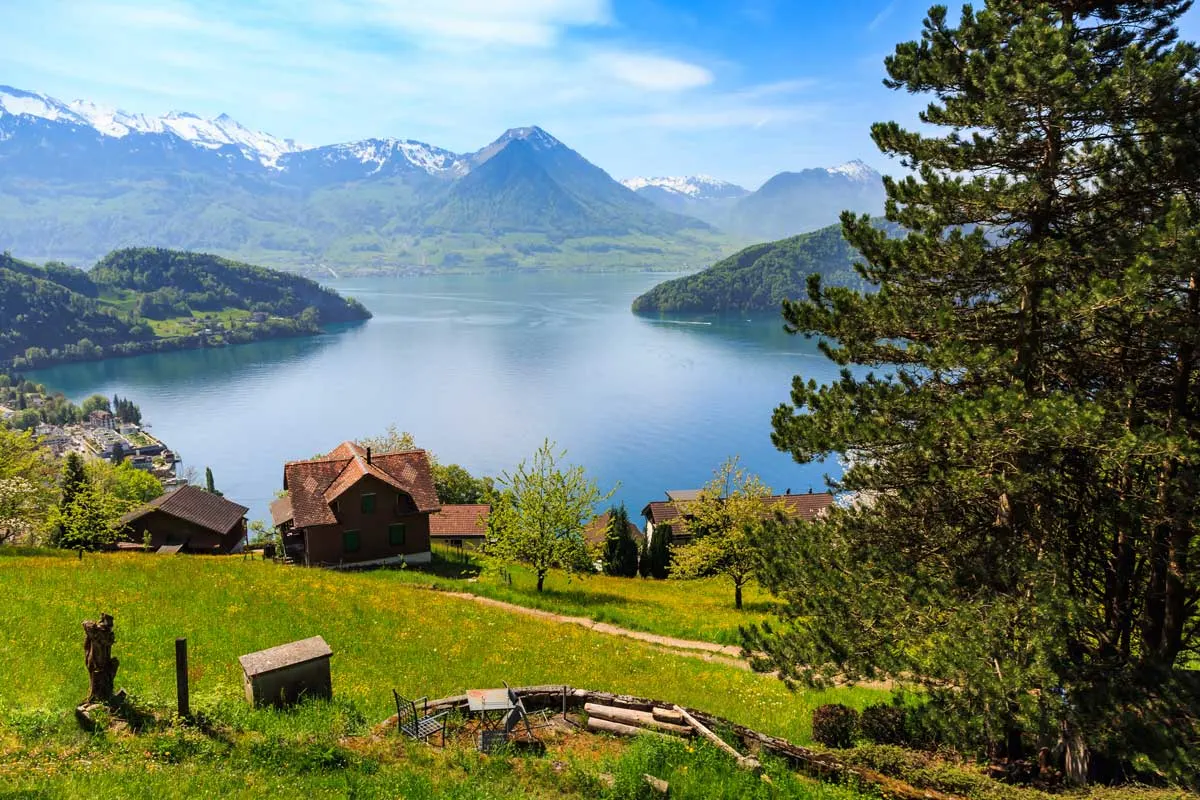 From the top of Mount Rigi, there are many hikes you can do, or you can stop for a drink or a meal at one of the mountain restaurants. Mount Rigi is also a spectacular spot for sunset.
If you choose to stay for sunset, make sure you check the times for the last train, cable car and ferry times, so you don't get stranded.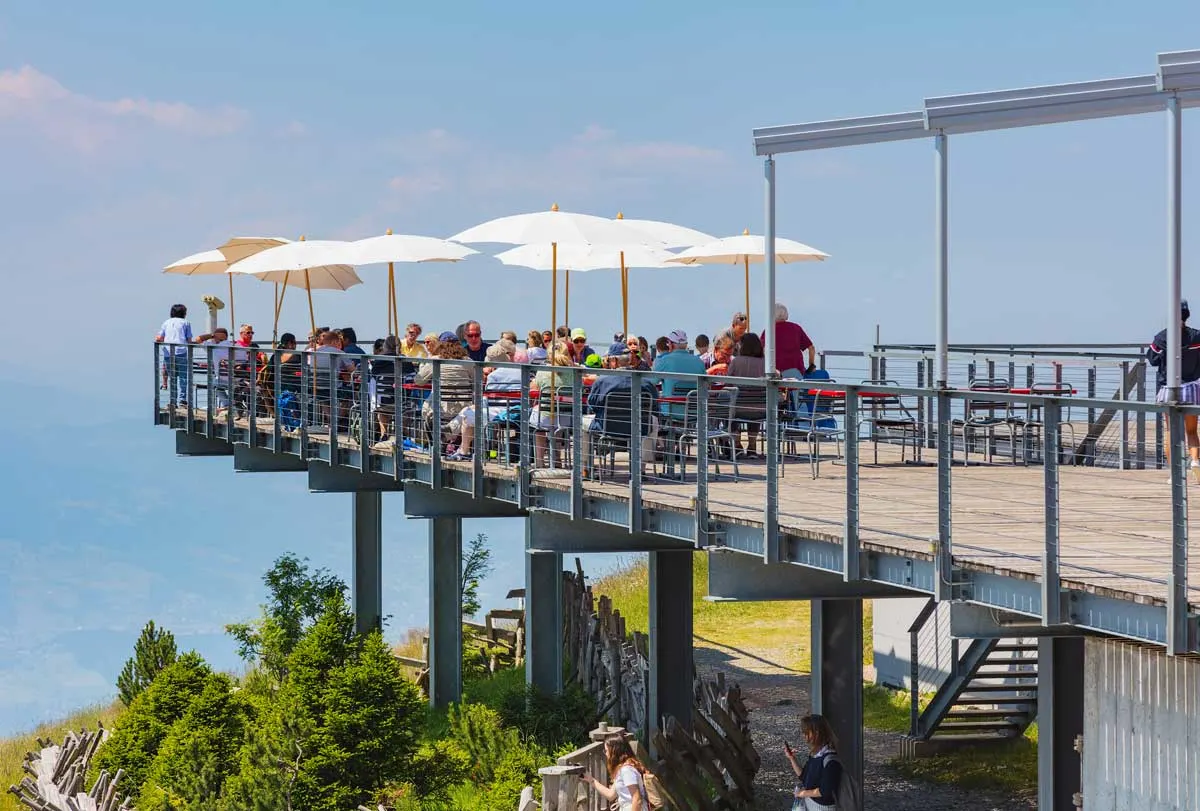 Take the cogwheel train down to Rigi Kaltbad and change to the aerial cable car down to Weggis. From Weggis, you can again meet the ferry for your return to Lucerne.
If you make it back to Weggis in time, and you are prepared, spend some time at the lake and maybe even take a dip.
Rigi Mountain Tour Recommendation
Classic Rigi Round Trip from Lucerne
If you don't want to self-guide, this round trip from Lucerne to Rigi Mountain can be completed as part of a full or half-day tour. The tour includes all boat, rail and cable car transfers. See here for full tour details and cost.
Alternate Ways to Finish Your Day in Lucerne.
Option 1 – One More Night in Lucerne.
If you didn't take the afternoon train from Zurich on day one or, feel like another night in Lucerne, enjoy the ambience of Old Town from one of the riverside cafes. It is an excellent opportunity to try your hand at a traditional Swiss fondue. Think of it as a fondue with a view. You can catch the train the following morning back to Zurich for your departure.
Option 2 – Return to Zurich
Whether you have an early departure or have already enjoyed one night in Lucerne, you can quickly jump on a train and be back in Zurich in time for dinner. Thanks to the frequent train services and proximity to Zurich, it is also possible to have dinner in Lucerne and return to Zurich for a nightcap.
Switzerland's efficient transport system and the nature of a small country offers such great flexibility to your itinerary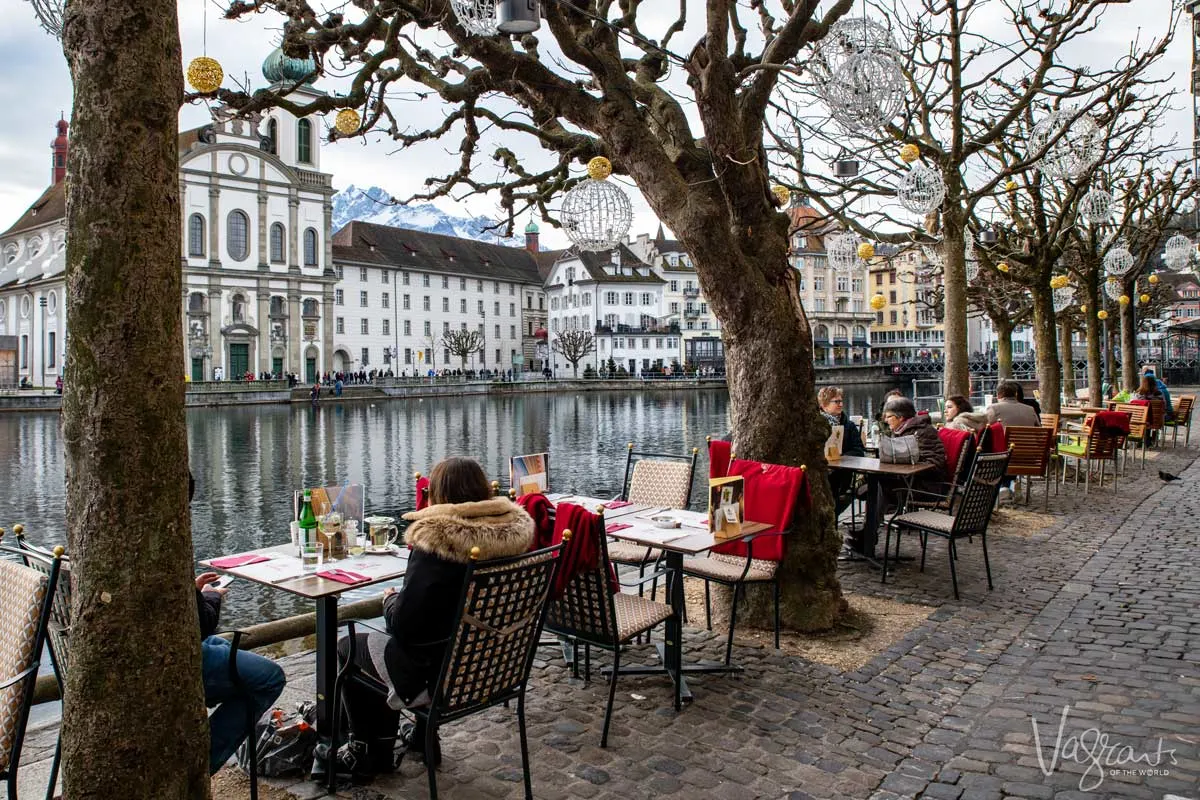 As you can see, 2 days in Switzerland will allow you time to get a feel for the country and tick off some of Switzerland's biggest attractions.
After two days, we challenge you not to want to return to see more. For a tiny country, there is no denying Switzerland packs a punch when it comes to natural attractions, history and culture.
---
Want to Extend Your 2 Day Switzerland Itinerary? Find you haven't had enough or want to add a day to your Switzerland itinerary? Take the magnificent Golden Pass Train from Lucerne to Montreux for a few days and then on to Geneva.
---
About the Author
Arzo is a solo female travel blogger from Germany (originally from Afghanistan). Creator of Arzo Travels, Arzo
covers many different destinations but has a strong focus on Switzerland. Switzerland is the country she lost her heart to. Arzo spends a lot of time in Switzerland, taking road trips around the country almost every year. Often accompanied by her little dog, who is also a Switzerland fan.