There is so much more to Joshua Tree than the intriguing landscape that for decades has lured famous musicians on a spiritual pilgrimage. Or the unique flora that inspired artists such as Dr. Suess to create characters to tickle our imaginations.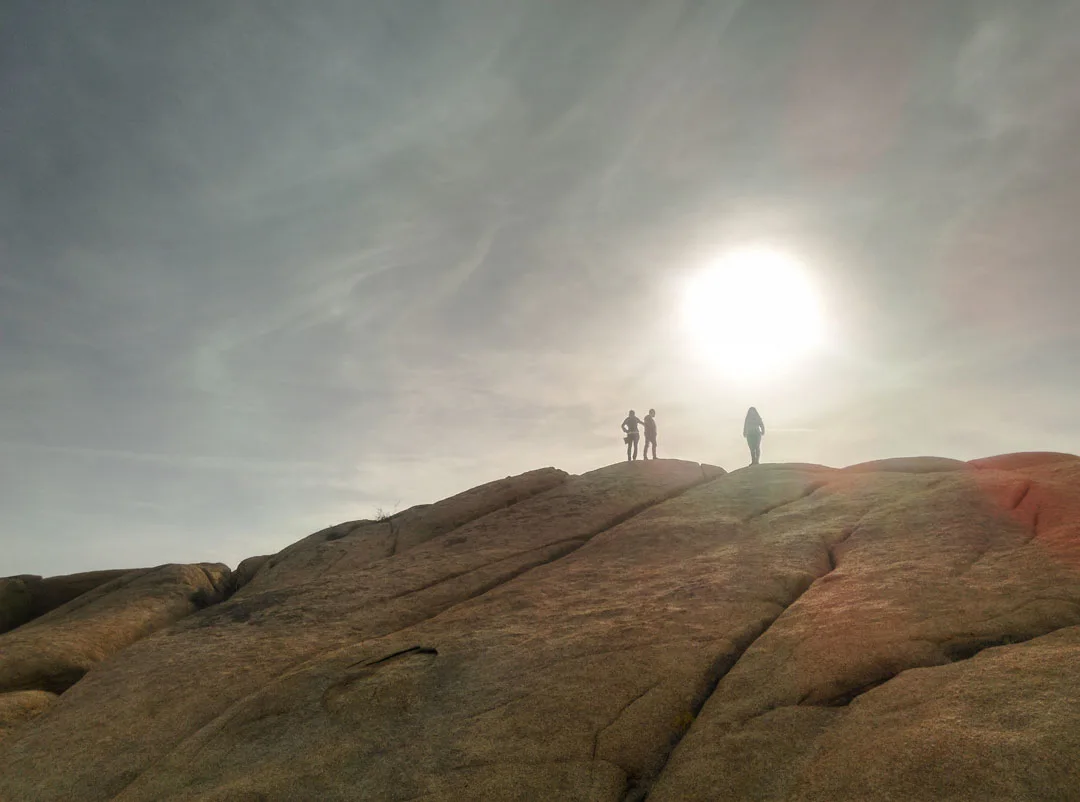 You Might Also Like: Plan the Perfect Picnic Day Trip in LA
Joshua Tree National Park represents the beauty of California deserts in all their unique glory. And, the only way to truly experience the allure of the unique desert landscape is to see it first hand. When planning a Joshua Tree road trip, a weekend (or more) is ideal. However, it's feasible to make a day trip to Joshua Tree from Los Angeles.
If you plan only to have a day in Joshua Tree, it is advisable to map out your itinerary and stops in advance to maximize your time in the unique national park. This is where this guide comes in.
This Joshua Tree day trip guide gives you everything you need to plan the perfect day trip to California's southernmost national park.
Rather than creating a strict itinerary of where you have to go in Joshua Tree in one day, this guide takes you through how to plan a Joshua Tree day trip to suit your style.
Pick and choose from all the different activities in the park to make a day trip that most appeals to you.
Heading off as early as possible is highly recommended so you can fit in as many of these recommendations as possible.
Grab your favorite travel bag and get ready to explore one of California's most beautiful national parks. This is the ultimate guide to the perfect Joshua Tree day trip.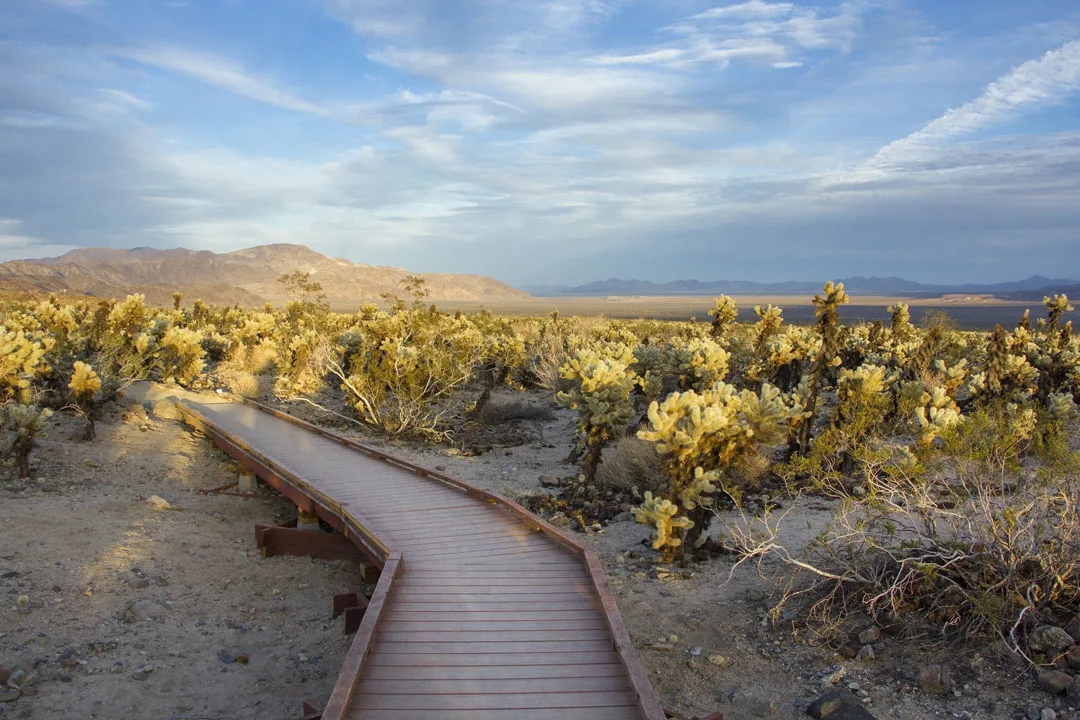 Tips for Planning a Joshua Tree Day Trip from Los Angeles
Plan your stops ahead of time – Joshua Tree National Park is 1,235 square miles. If you only have a day in the park, it's worthwhile prioritizing the must-visits and would-like-to-visits before you leave. It's also good to plan where you're going to eat, fill up with gas (there aren't any gas stations in the park), and what you plan to bring with you.
Stop by the Joshua Tree Visitors Center First – Grab a free Joshua Tree National Park map and purchase your park pass from here. It will cut down the time you have to wait in your car at the entrance gates. You can find all the Joshua Tree NP entry fees and opening hours here.
Start from the West Entrance – The landscape and attractions in the northwestern side and the southeastern side of the park are very different. The reason is Joshua Tree covers two California deserts – the Mojave and the Colorado Desert.
Most visitors start from the west entrance, so there will be more traffic entering from this side. But, if you only have a day, the northwest side is where the majority of the top attractions and best Joshua Tree hikes for day-trippers are. Try to be in the park early. It will ensure you get to as many of these attractions and hikes as possible.
The west entrance is also right next to the visitor center, so convenient for grabbing your park pass and map before entering the park.
Cell Service is Spotty – Cell service throughout the park is hit and miss. Make sure to download any maps or information you need ahead of time. Don't expect always to have data as you explore Joshua Tree, especially when you're hiking.
Bring Plenty of Water and Sunscreen – The desert is dry and hot. More than people anticipate. Bring extra water, slather on sunscreen, keep your sunglasses handy, and wear a hat while you're hiking to cut down on direct exposure. There isn't always a ton of shade on the trails, so it's also good to avoid hiking in the hottest part of the day if possible.
Know Your Accommodation Options If You End Up Wanting to Stay Overnight – Make sure you do your research ahead of time for possible nearby accommodation options. Check out this post for a detailed look at the best accommodation around Joshua Tree, including favorite budget campsites and luxury hotels.

How to Get to Joshua Tree from Los Angeles
Although it's a decent trek to get to Joshua Tree from Los Angeles (131 miles), especially with LA traffic, some planning will make the trip less daunting.
Driving to Joshua Tree
If you plan to drive to Joshua Tree from Los Angeles, leave as early as possible. The drive usually takes 2-2.5 hours with no traffic.
Since it's good to get to Joshua Tree no later than 8 am or 9 am to give yourself a full day at the park, you should leave Los Angeles no later than 6 am or 7 am. Sure, it makes it a long day, but certainly doable.
To get to Joshua Tree from Los Angeles by car, take I-10 E to CA-62 E/29 Palms Hwy to the visitor center.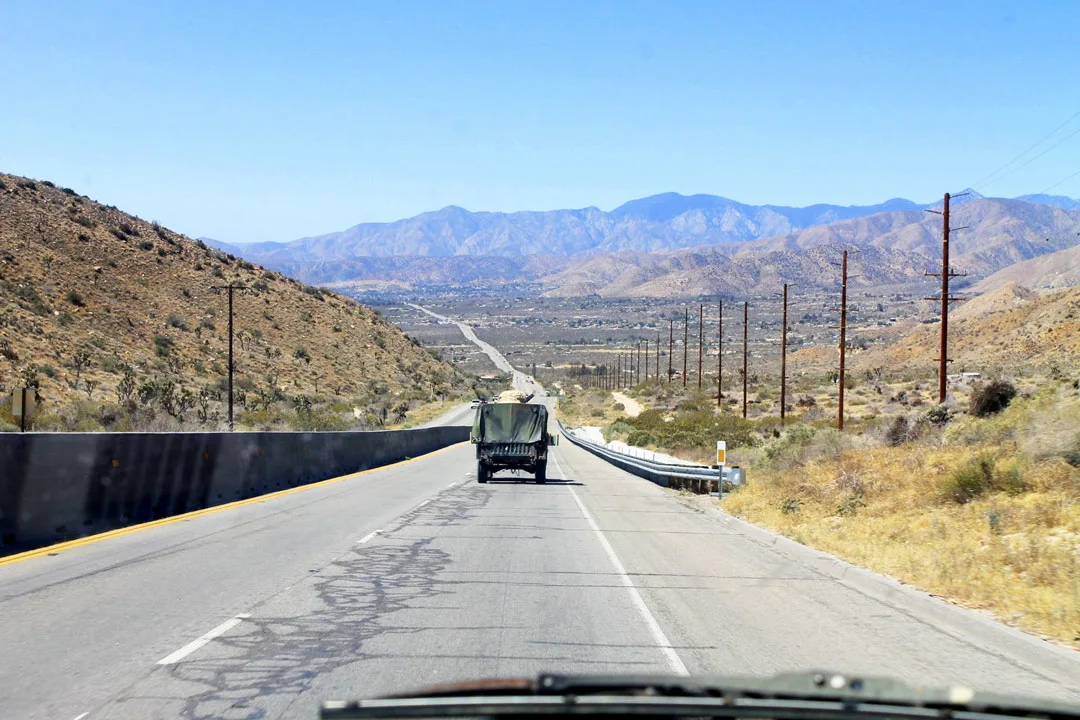 Guided Tour to Joshua Tree
If you want to do a guided Joshua Tree day tour, I'd recommend driving to Palm Springs (107 miles | 1.45 hrs from LA) or Palm Desert (123 miles | just under 2 hrs from LA) where you'll find a better offering of guided tours. There isn't a great selection of Joshua Tree day tours from Los Angeles.
If you are a first-time visitor to Joshua tree, a guided tour is a great way to maximize your experience in the park and learn about the diverse history and fascinating flora and fauna.
Joshua Tree Tour Recommendations
From Palm Springs: Take an extensive 5-6 hr tour of Joshua Tree in a climate-controlled SUV with an experienced naturalist guide.
The tour includes: Return transport from Palm Springs | Naturalist guide | Entry to Joshua Tree National Park | Picnic lunch. See here for full tour details.
From Palm Desert: Take a 4.5 hr van tour of Joshua tree National Park with an experienced guide and take advantage of two optional nature hikes.
The tour includes Park entry fees | Bottled water | an Experienced guide and driver | Transfers from Palm Desert. See here for full tour details.
Public Transport to Joshua Tree
In terms of public transit, there aren't any good options from Los Angeles to Joshua Tree in under eight hours.
Also, unlike other national parks in the state, Joshua Tree doesn't have a public shuttle to take visitors around. So, you wouldn't be able to get around the park once you arrived at the visitors center.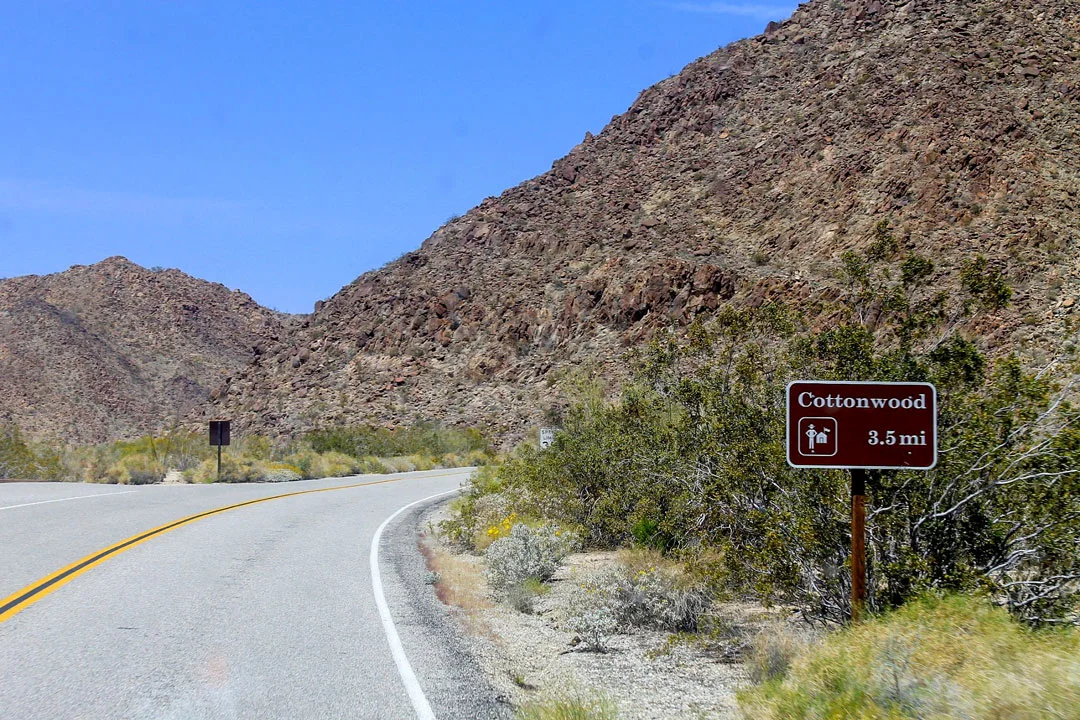 Best Things to do in Joshua Tree
Based on only having a day in Joshua Tree National Park, these are my picks for the best activities and sights to include on a day trip.
Hiking
The most obvious thing to do in Joshua Tree is hiking. There are numerous trails throughout the park for all fitness levels. Although most of the day hikes tend to be on the more accessible side.
A few favorite hikes in Joshua Tree include Hidden Valley, Barker Dam, and Lost Horse Mine.
You can find a full list of the best Joshua Tree hikes for first-timers here. If you want to explore the desert landscape to its fullest during your day trip, plan for 2-3 short-to-medium hikes.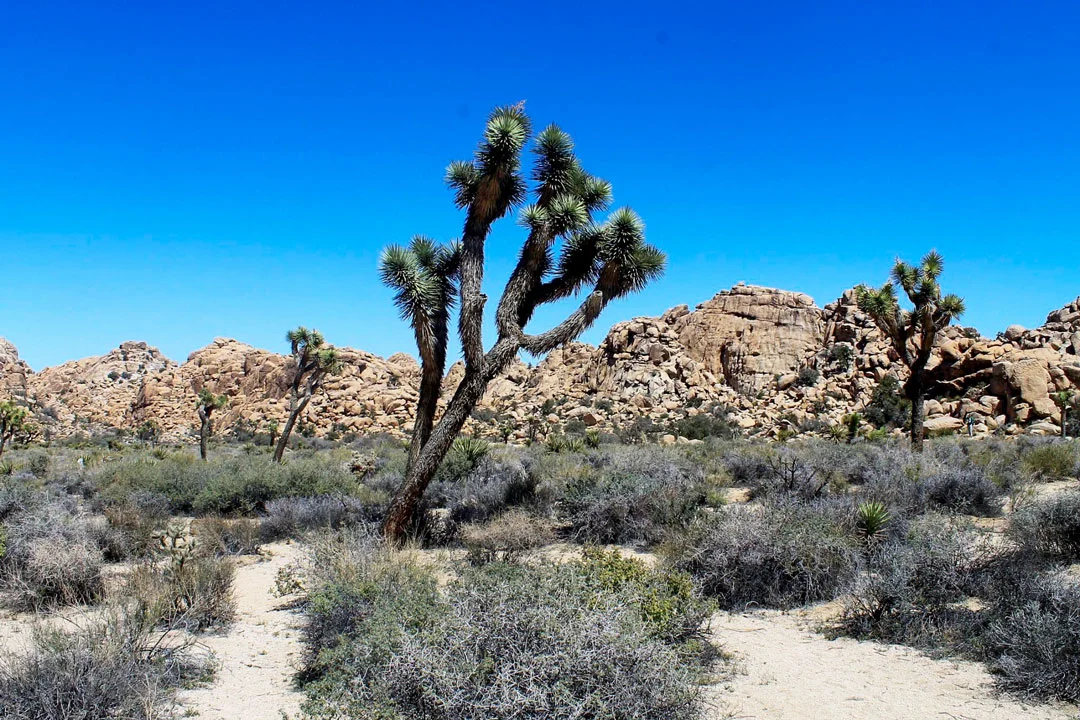 Rock Climbing
With the number of jumbo rocks around Joshua Tree National Park, it's no surprise the park is a popular haven for rock climbers.
If you have some experience already, a few popular beginner climbing sites include:
Intersection Rock
Quail Springs Rock
Atlantis Wall
Thin Wall.
Take a Guided Rock Climbing Tour
Alternatively, you can sign up for a guided rock climbing experience in Joshua Tree.
The rock climbing tour is around four hours, which still leaves you plenty of time to see other highlights before heading back to Los Angeles.
The tour includes all equipment and one on one instruction with a certified rock climbing guide. Choose between morning or afternoon tour times. See here for full rock climbing tour details.
Skull Rock
There are tons of interesting rock formations throughout Joshua Tree, but Skull Rock is one of the famous thanks to its uncanny resemblance to a skull.
Skull Rock is a quick stop easily be done in 5-10 minutes allowing time to walk around the rock and take some pictures.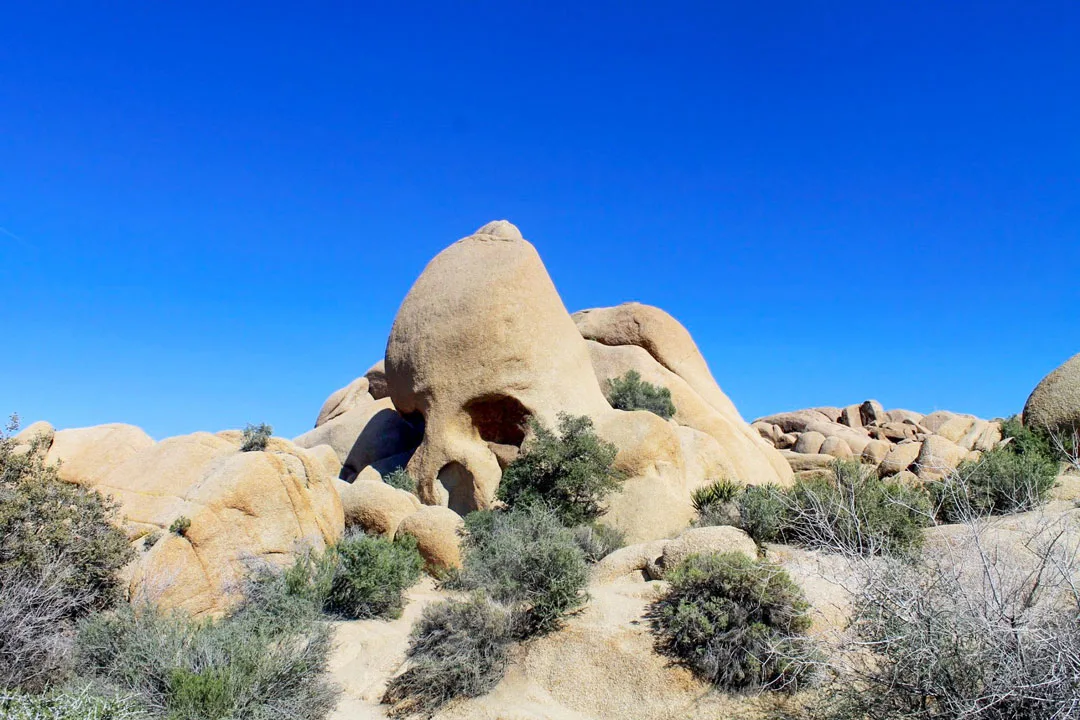 Cholla Cactus Garden
For all the cactus enthusiasts out there, the Cholla Cactus Garden is one of the more unique attractions to visit in Joshua Tree.
The teddybear cholla, also known as the "jumping cholla" is the main feature of the garden. However, be aware. The Jumping Cholla cactus spines can easily latch onto you, so, give it a wide berth.
Take a walk along the wooden boardwalk through the 10-acre cactus garden to admire some of the more alien-looking plants in the park.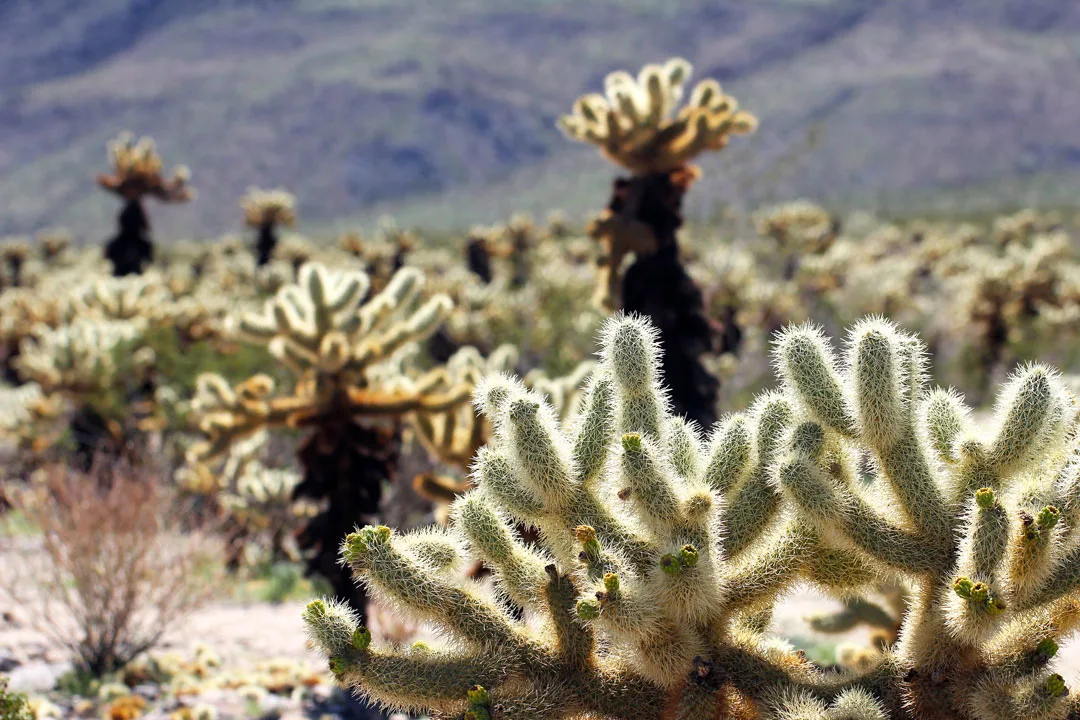 Keys View
One of the best views in Joshua Tree – Keys View is a 20-min detour off the main road but well worth the journey for the impressive vista from the lookout point.
At Keys View, you'll get an expansive view of the Coachella Valley, San Andreas Fault, and on a clear day, you can see Mexico.
Make sure to bring a light sweater. It can be breezy from the high perch of the lookout.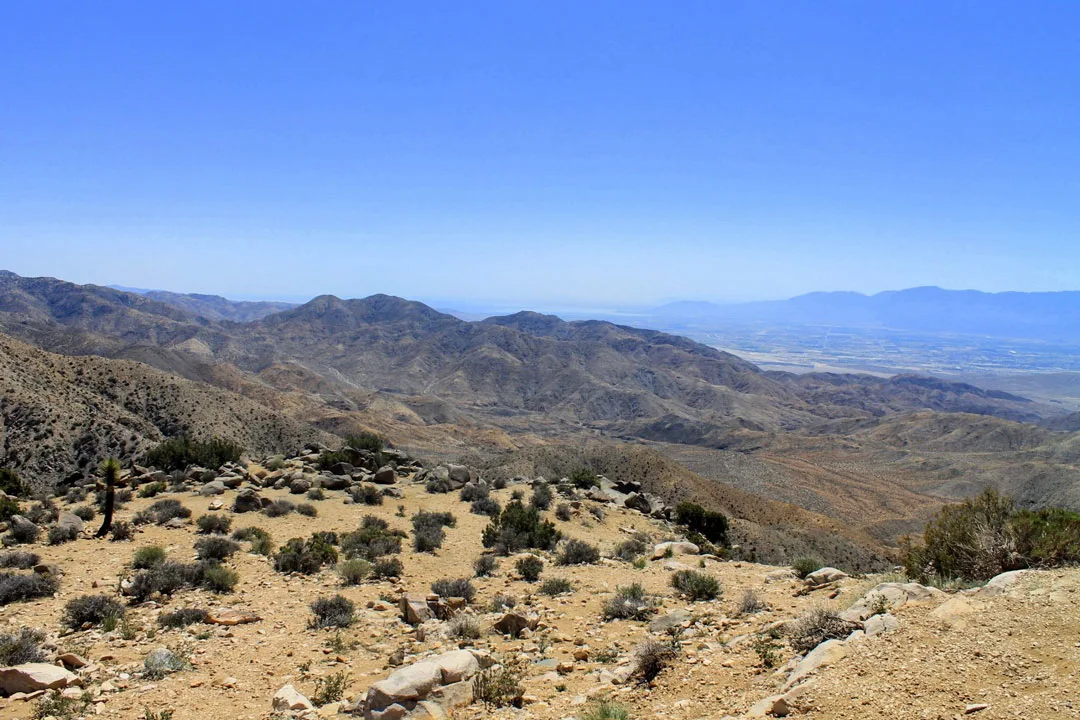 Keys Ranch
Keys Ranch is one of the historic sites in the park, once owned and run by William F. Keys and his family for over 60 years. It offers a fascinating insight into the history of cattle ranching, mining, and homesteading in the Joshua Tree area.
There are 90-minute ranger-led tours of the ranch that give an interesting look into the hardships and rugged nature of living in the Mojave Desert. Tours cost $10 pp.
Note that tours only operate from October to May due to the extreme heat during summer in Joshua Tree.
Other Notable Places to Visit Near Joshua Tree (If You Have Extra Time)
Noah Purifoy Outdoor Desert Art Museum
Cabot's Pueblo Museum
Coachella Valley Preserve – Thousand Palms Oasis
Palm Springs
Whitewater Preserve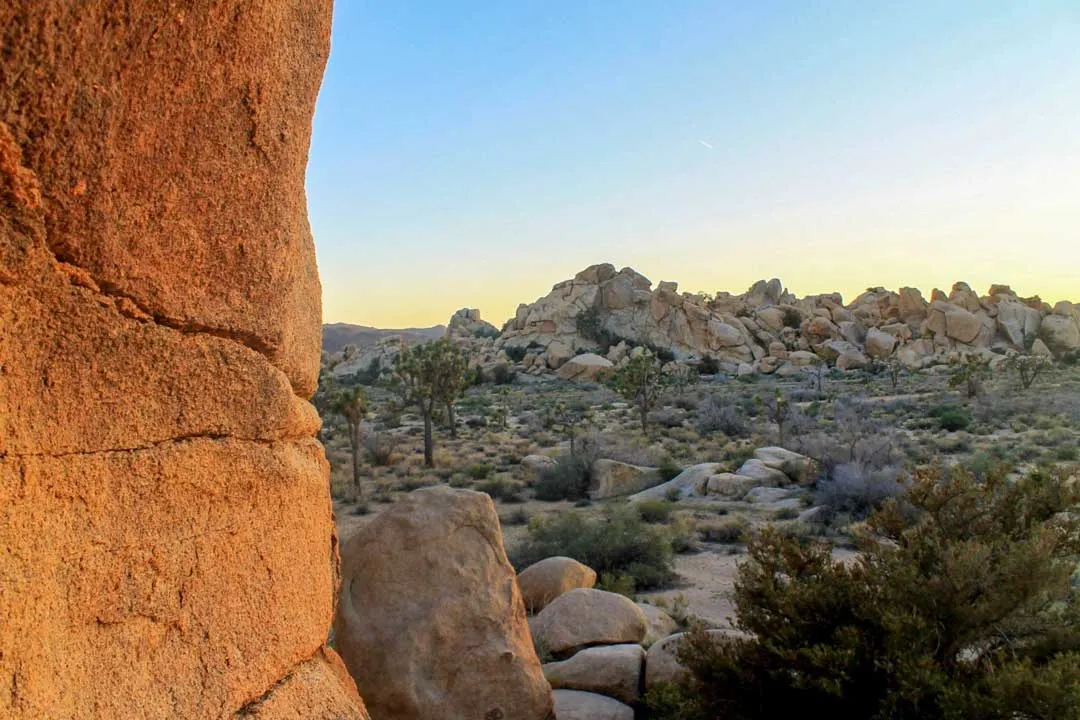 Where to Eat on the Way to and From Joshua Tree
In-N-Out
If you're looking to indulge in American fast-food and a California favorite; a California road trip isn't complete without a stop at In-N-Out.
The popular burger joint is found throughout California, especially in Southern California and there are numerous In-N-Outs en route from Los Angeles to Joshua Tree.
The most convenient In-N-Out on your way to or from the park is on Seminole Dr. in Cabazon.
Pappy & Harriet's
Located in the novel Pioneertown, Pappy & Harriet's has been a popular food spot near Joshua Tree for decades.
It's better to visit Pappy & Harriet's on a weekend since Pioneertown tends to be mostly closed during the week.
Pappy & Harriet's often have live music on weekend evenings which makes it an excellent stop for dinner before heading back to Los Angeles.
Joshua Tree Coffee Co.
Looking for a caffeine kick after the long drive or for the long journey ahead? Joshua Tree Coffee Company is the place for a solid cup of coffee.
Along with some very decent strong organic coffee, they offer the usual cafe fare such as pastries and sandwiches.
Don't be surprised if there's a line out the door when you arrive, their coffee is that good. Thankfully, they move 'em through quick.
What to Bring on Your Joshua Tree Day Trip
The California Desert is all about extremes. From hot days to freezing nights in an overall harsh environment. Be prepared for extremes so you can enjoy your Joshua Tree day trip to the fullest.
The following is a list of recommended items for a day trip to Joshua Tree.
Plenty of water
Sunscreen
Sunglasses
Good hiking shoes
Hat for hiking
Food and snacks for the drive and hiking
Light jacket/sweater – mornings and evenings can be cool to freezing depending on the time of year
Day pack
Hiking clothes – preferably moisture-wicking and UPF-50
Camera / GoPro
First aid kit
Travel insurance
There's no doubt; that it'll be a full day taking a day trip to Joshua Tree from Los Angeles. But, if you only have one day to explore California's natural wonders – a day trip to Joshua Tree is well worth it. There's nowhere else in the world quite like Joshua Tree.
More Great California Outdoors Vacation Destinations
About the Author
Mimi McFadden
Mimi is a travel blogger, avid yogi, and paneer enthusiast. Originally from California, she has been slow traveling the world since 2013.
After living abroad for five years in Australia, New Zealand, Thailand, Greece, and Portugal, she has finally found a home in San Francisco, California. You can find her on Instagram, Facebook, and her blog, The Atlas Heart.