LA is blessed with picnic weather all year round, which means alfresco dining is always a great option.
Los Angeles also boasts a fabulous array of picnic options from downtown to high above, the best parks in Los Angeles for picnics and even on the grounds of a famous actors estate.
So, whether you live in LA or are just visiting, there are plenty of great reasons to pack a picnic hamper or a portable feast and soak up some of LA's best picnic locations.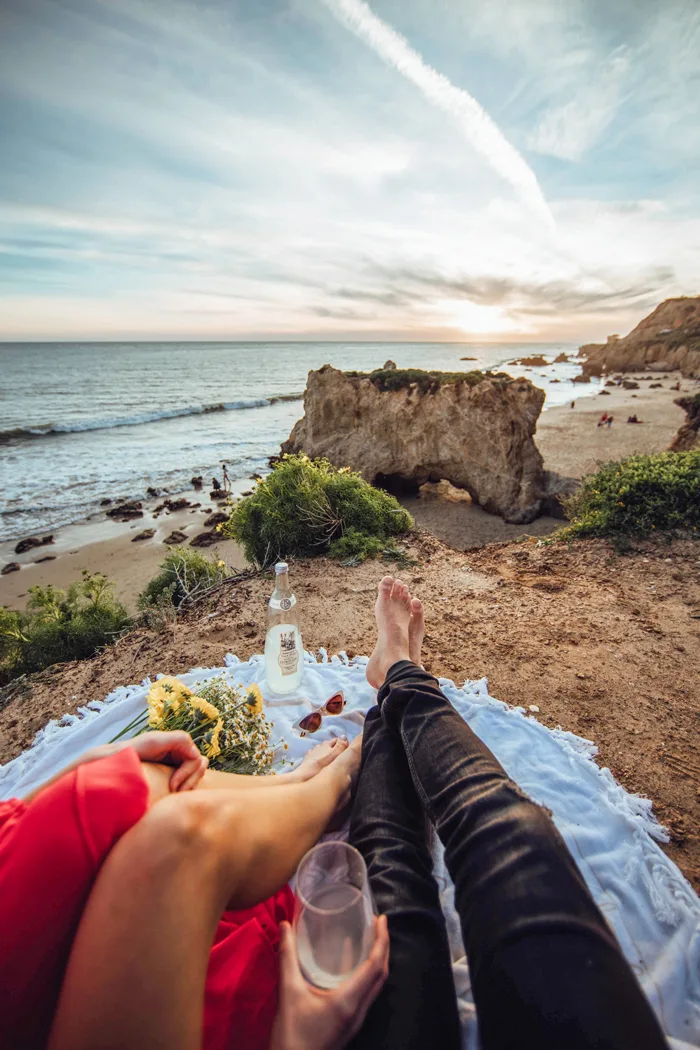 These are some of the best picnic spots in Los Angeles.
---
Grand Park
The Grand Park in Downtown Los Angeles is a great spot to picnic or relax between sights.
This 12-acre park, located between Spring Street and Grand Avenue, has an excellent location in the heart of the city's Civic Center. It is surrounded by iconic attractions such as the Dorothy Chandler Pavilion, the Walt Disney Concert Hall, the Broad Museum, and the City Hall.
The part of the park closer to Spring Street is equipped with playgrounds, a dog park (dogs are allowed on leash in other areas of the park), restrooms, and potable water fountains.
You are free to explore the gardens, memorials, and public art installations scattered around the park. It really is one of the best parks for picnics in Los Angeles.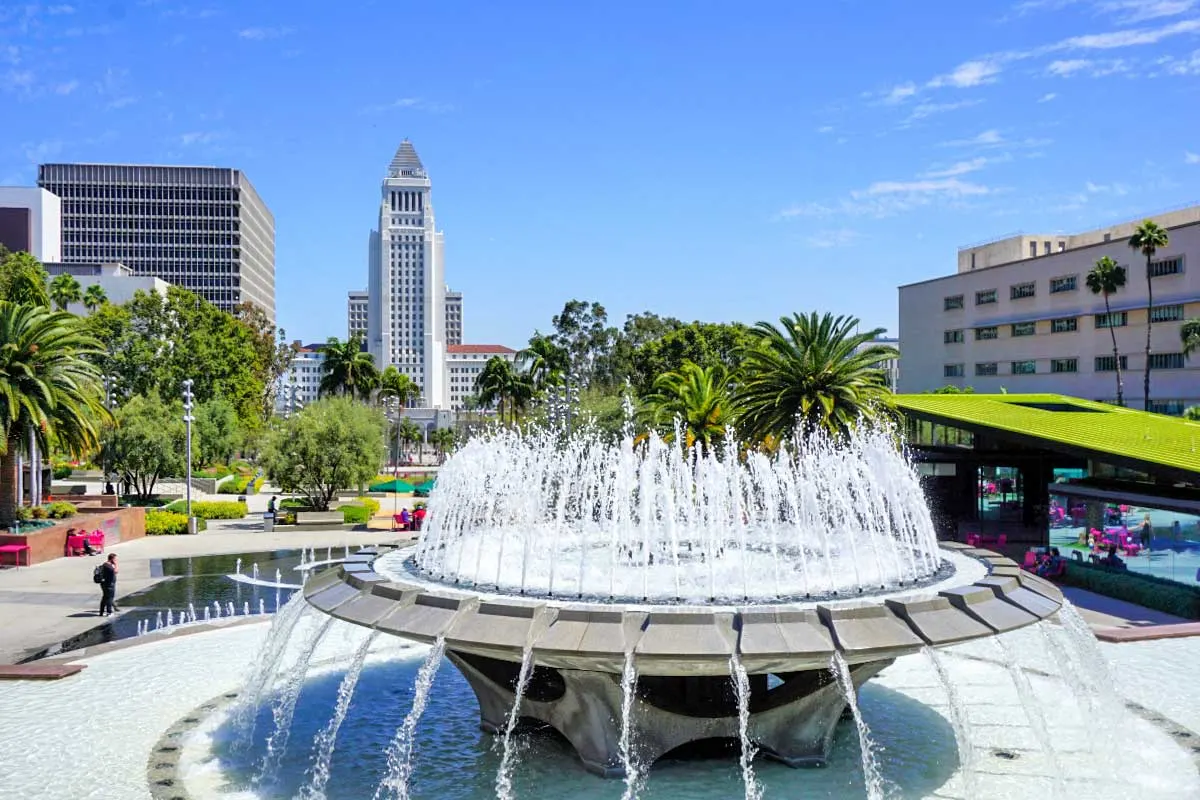 You should pay special attention to the upper part of the park where you will find the Arthur J. Will Memorial Fountain, a coffee shop, and the park's unique bright pink furniture.
The fountain base is used as a splash zone for kids, or even big kids if they choose. From here there is also an incredible view of City Hall.
You can head to the Grand Central Market for picnic supplies, which is a 3 minutes walk away. Grand Central Market has some fantastic establishments specialising in cheese, charcuterie, and fresh bread. Or you can buy a meal (pizza, tacos, BBQ) and take it to the park.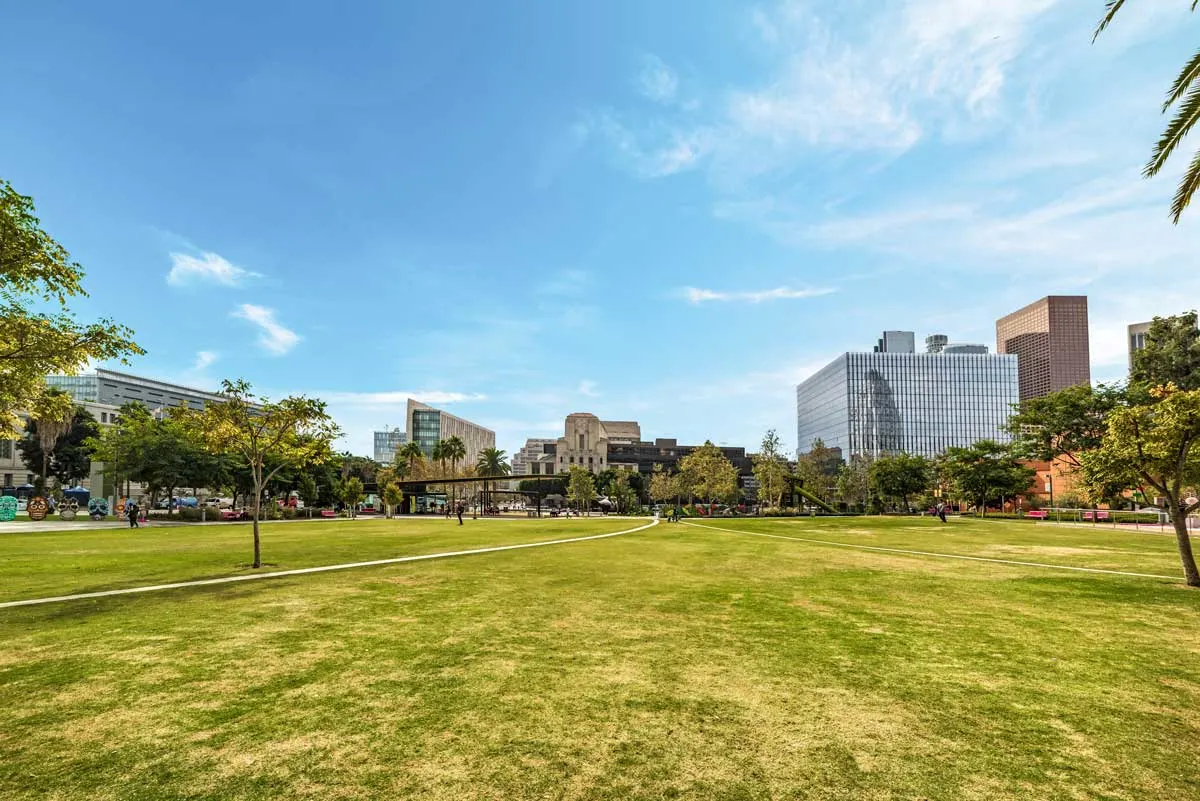 The Grand Park hosts a variety of events throughout the year. Do not be surprised if you find a market, celebration, display, or concert on the grounds. You will often get lucky with food trucks and vendors at these events.
The park can be accessed by public transport – the Metro's red line has a Civic Center/Grand Park station. Or, if you drive, there is plenty of parking in the area.
By Ruth | Tanama Tales
---
Light and Easy Picnic Essentials
---
The Kenneth Hahn State Recreation Area
The Kenneth Hahn State Recreation Area is a prime spot to enjoy Los Angeles' natural open spaces. With an extension of 401-acres, the urban oasis offers visitors a plethora of amenities.
The park is hilly, surrounded by flat terrain with more than seven miles of walking and hiking trails. The trails offer impressive vistas of the Hollywood Sign, the Santa Monica Mountains, Downtown Los Angeles, the international airport, and the Pacific Ocean.
Facilities
Kenneth Hahn has more than 100 picnic tables, BBQs, volleyball courts, basketball courts, a disc golf course, soccer fields, gardens, and playgrounds. The lake is stocked with rainbow trout or catfish (depending on the season).
There are plenty of supermarkets nearby where you can pick up picnic or BBQ supplies. If you prefer not to DIY a picnic, many restaurants in the area serve dishes from different cuisines. There is also an on-site concession that sells simple food.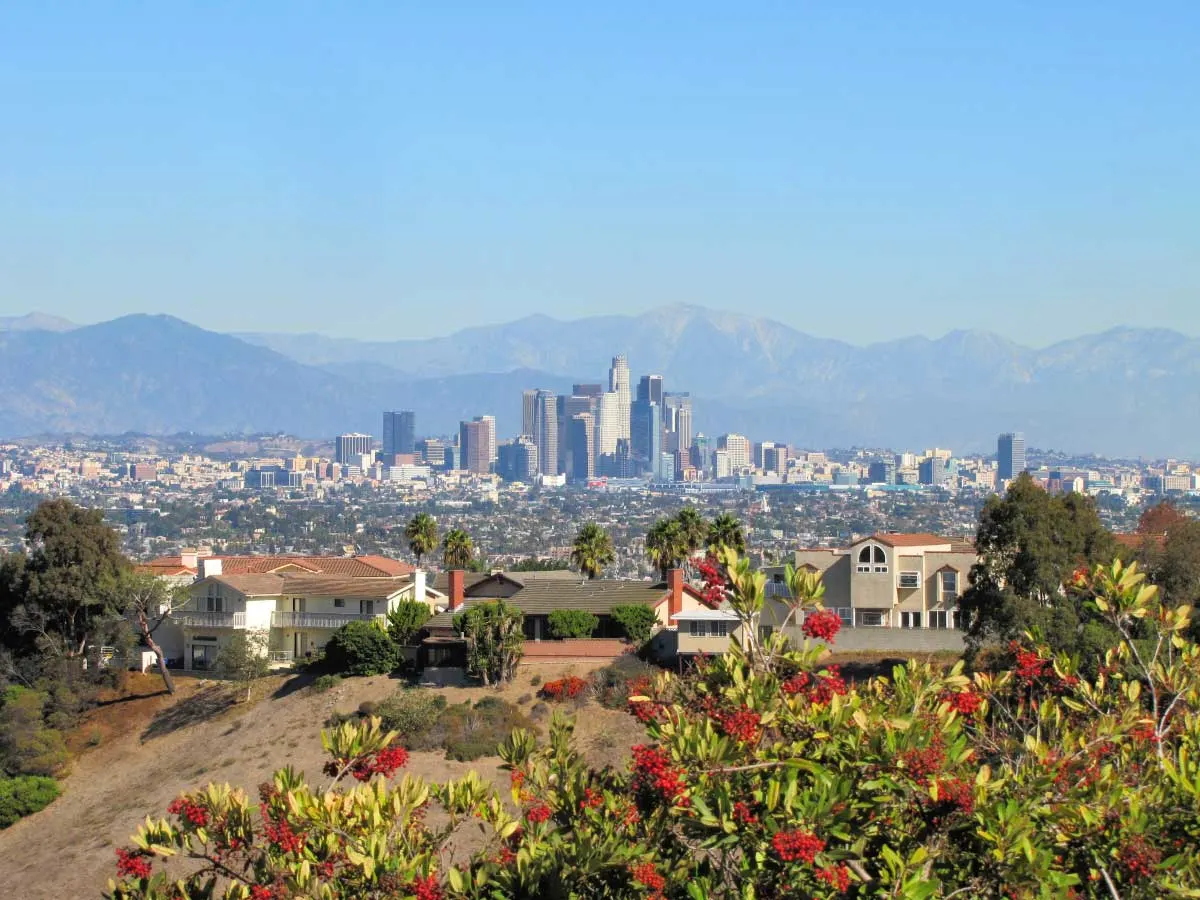 Kenneth Hahn State Recreation Area is better accessed by car. The closest train station is Jefferson/La Cienega on the Metro's Green Line.
---
Rent a car in LA to make the most of a picnic day trip. Discover Cars have great Car Rental Deals with no fees and free cancellations.
---
As a reference, Kenneth Hahn is located 10 miles from Downtown Los Angeles, 15 miles from Santa Monica, and 17 miles from Venice Beach. There is a $6 fee on weekends and holidays.
Nearby attractions include the Baldwin Hills Scenic Overlook, Downtown Culver City, Sony Studios, and the Natural History Museum.
By Ruth | Tanama Tales
---
You Might Also Like: Plan a Day Trip from LA to Joshua Tree
---
Griffith Park
Looking for parks in Los Angeles for picnics at sunset? One of the most scenic spots in Los Angeles is also one of the best places to throw down a picnic blanket and admire the city from above. A sunset picnic at Griffith Park to see the Los Angeles skyline cloaked in every hue of pink is such a unique experience.

Choose an evening with clear skies in the forecast, and as night falls, you'll see the city lights turn on to mimic the stars above. After your alfresco supper, wander into the Griffith Observatory to peer into the telescope and admire the cosmos above.
The entrance is free for visitors. There are plenty of educational exhibits that make a day visit to the Griffith Observatory worthwhile.
If you have more than just a few hours to spare in Los Angeles, turn your picnic into a full day at Griffith Park. Pack your picnic into a backpack and start your experience at the Hollywood Sign.
It will take you a little over an hour walking along Mount Chapel Trail through Griffith Park to reach the Griffith Observatory.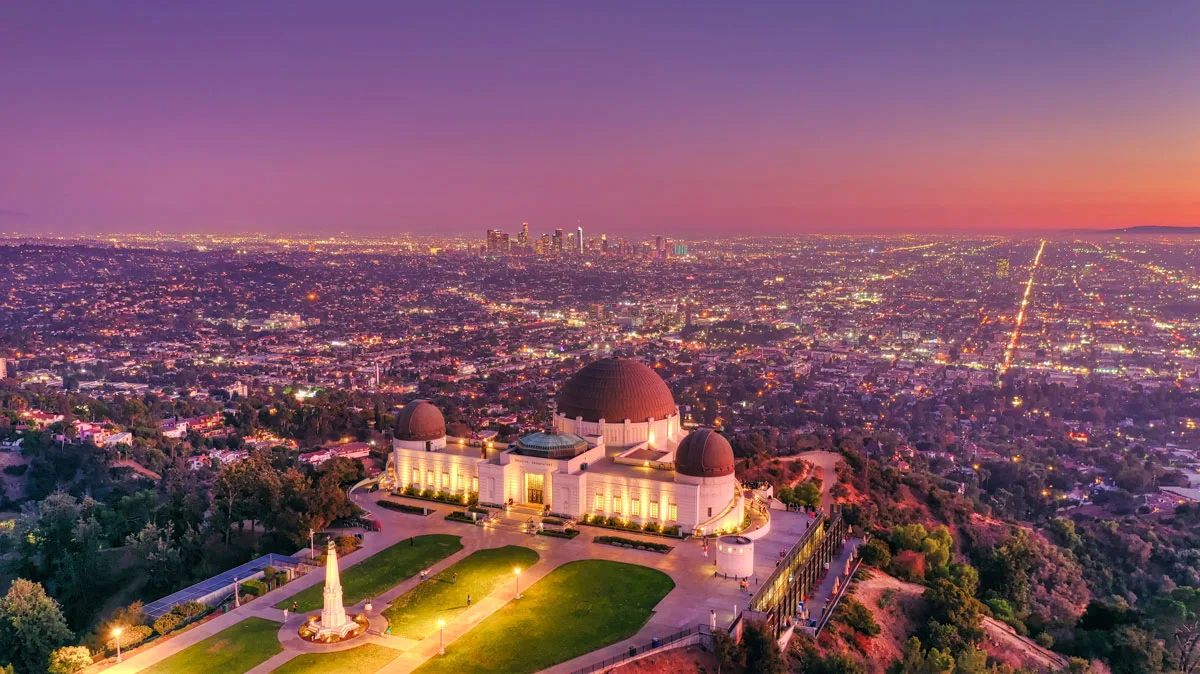 As you move away from the Hollywood Sign, you'll be able to see it in its full, iconic glory. Or, for a more offbeat travel adventure, take a leisurely hike on one of the many other trails in the park that stretch out to the Santa Monica Mountains.
Griffith Park is one of the largest urban parks in the United States, so there are loads of picnic and hiking options.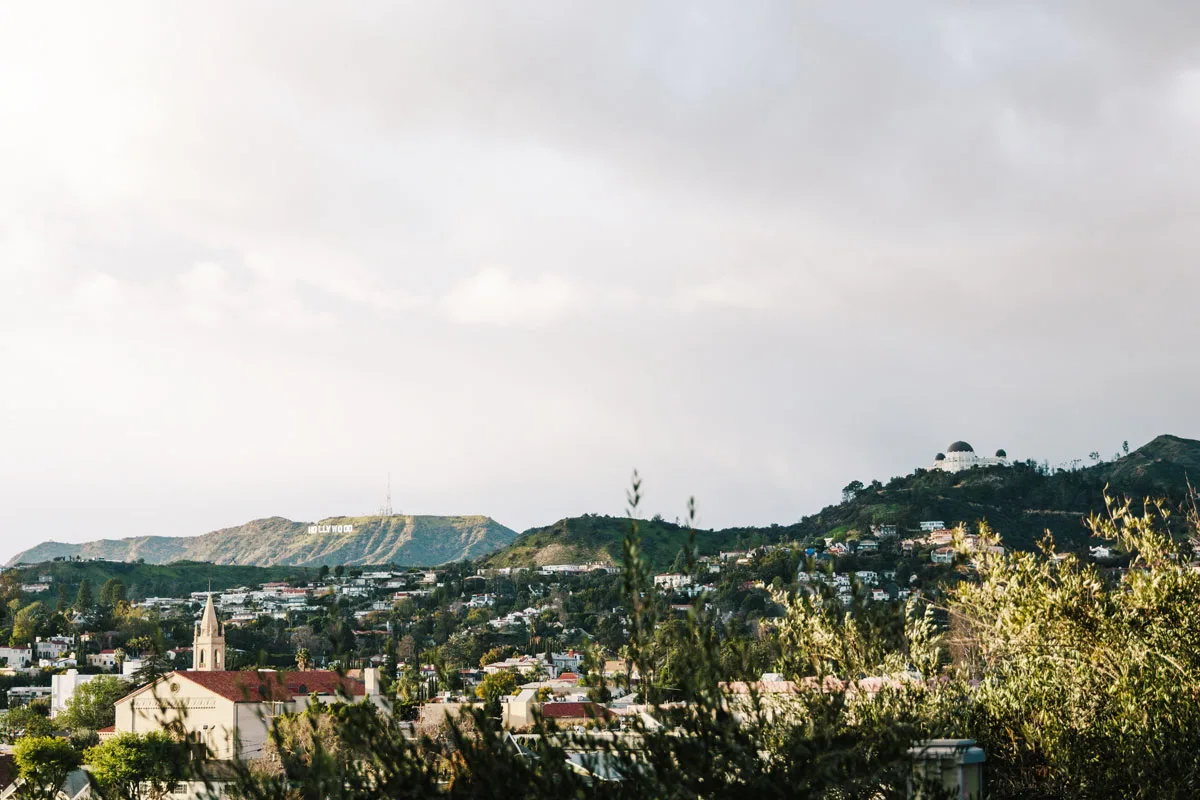 Facilities
Public restrooms can be found throughout the park, but close at around 9 pm each evening. There are a handful of picnic tables as well, though it's best to pack a blanket and find a scenic spot in the grass.
By Chantae Reden | Chantae Was Here
---
Will Rogers State Historic Park
The former Pacific Palisades Estate of actor and first honorary mayor of Beverly Hills Will Rogers is one of the most unique and delightful picnic spots in LA.
The property is beautifully maintained as it was in the 1930s. The 186 acres of grounds offer access to some great hiking trails including one which takes you to Inspiration Point for sweeping vistas of the sea and mountains.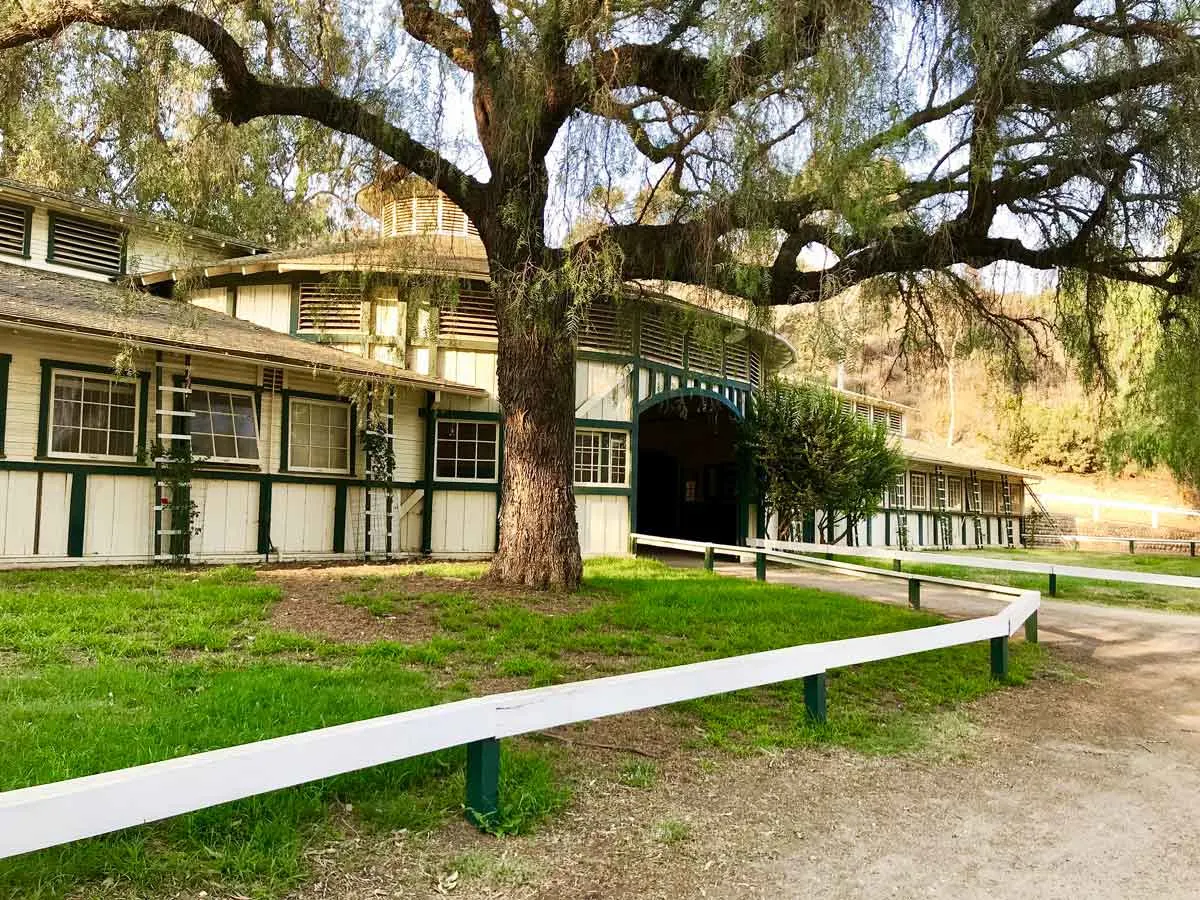 In addition to exploring the grounds and historic ranch, on the weekends you can enjoy a polo match on LA County's only outdoor polo field. You can also take riding lessons.
Facilities
The state offers many picnicking opportunities. Throw a picnic blanket out on the beautifully manicured lawn, or take advantage of the picnic tables and grills available. It is also possible to reserve a section of the picnic area or upper ranch house lawn by contacting the Will Rogers State Historic Park.
You will find the Will Rogers State Historic Park at 1501 Will Rogers State Park Dr. in Pacific Palisades.
---
---
Barnsdall Art Park
Barnsdall Art Park might be easily overlooked, but this steller picnic spot in LA should not be missed.
Purchased by oil heiress Aline Barnsdall after WWI, the property centres around the recently renovated Hollyhock House, one of the most famous houses designed by Frank Lloyd Wright.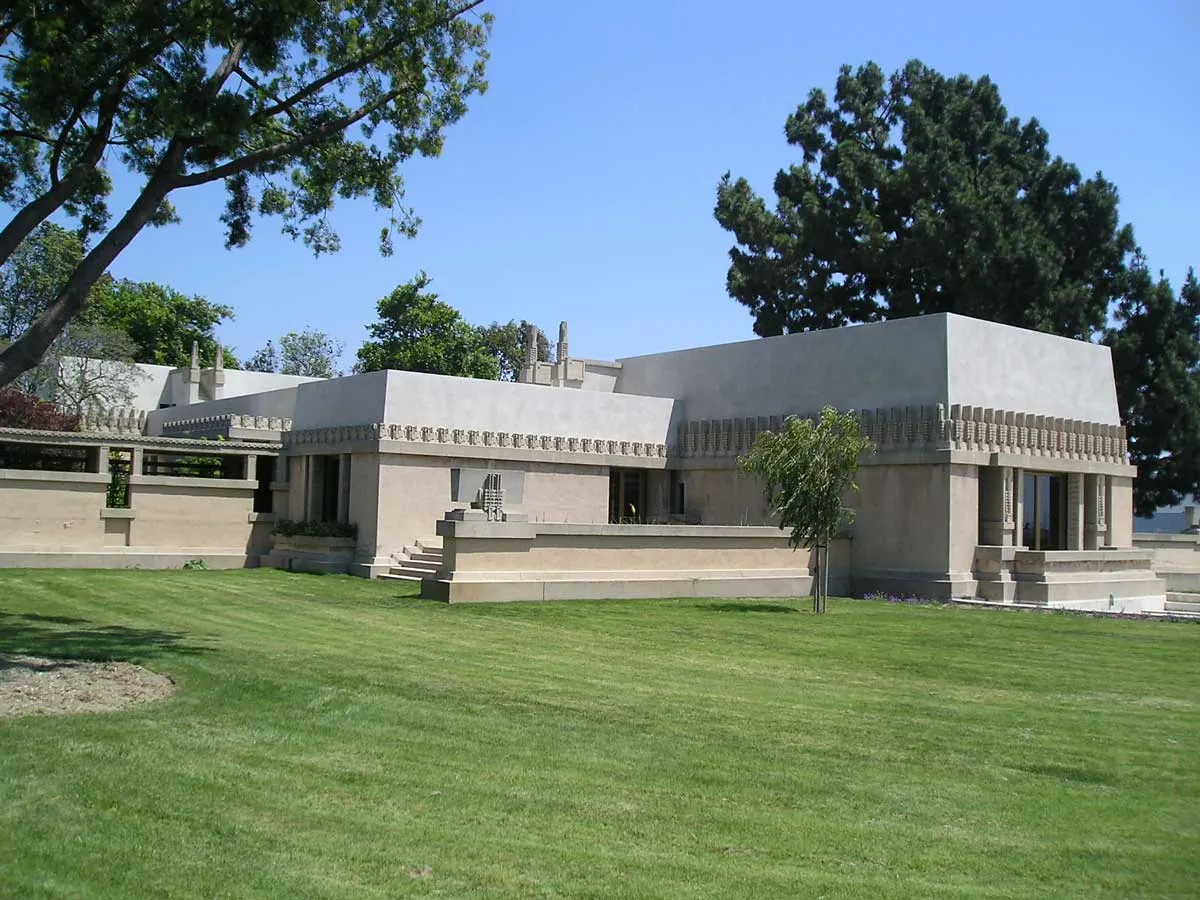 Alongside Hollyhock House Barnsdall's proposed home, the complex was to include a cinema, a theatre and art studios. The project was never completed, and she never moved in. Instead, she donated the 11-acre property to the city on the condition it remains an art park for the public.
The park still fulfils this purpose with gallery spaces and exhibitions, outdoor cinema nights, Friday night wine tastings in the summer and a bevvy of cultural events.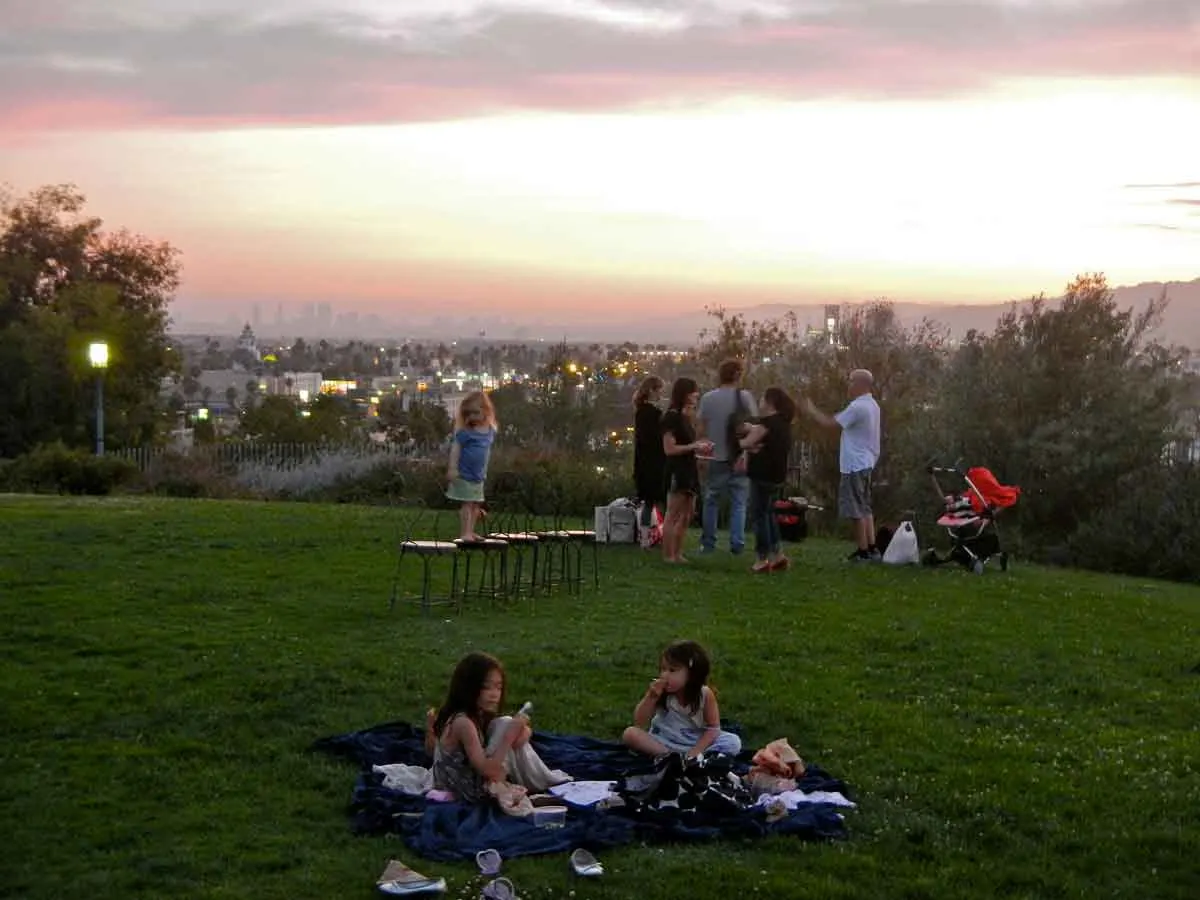 Barnsdall Park also offers beautiful grounds of manicured lawns and shady groves to roll out a rug and stunning views from the top of Olive Hill, including Hollywood and the Griffith Observatory, which are incredibly gorgeous at sunset.
A farmers market is the perfect opportunity to fill your picnic basket with local produce and picnic treats on Wednesday afternoon.
Tours of Hollyhock House are available from Thu-Sun, 11 am-4 pm – $7pp
Barnsdall Art Park is at 4800 Hollywood Blvd.