San Francisco brings together open spaces, iconic views and incredible food and produce like no other city in the US.
What better way to enjoy everything San Francisco does so well than on a picnic.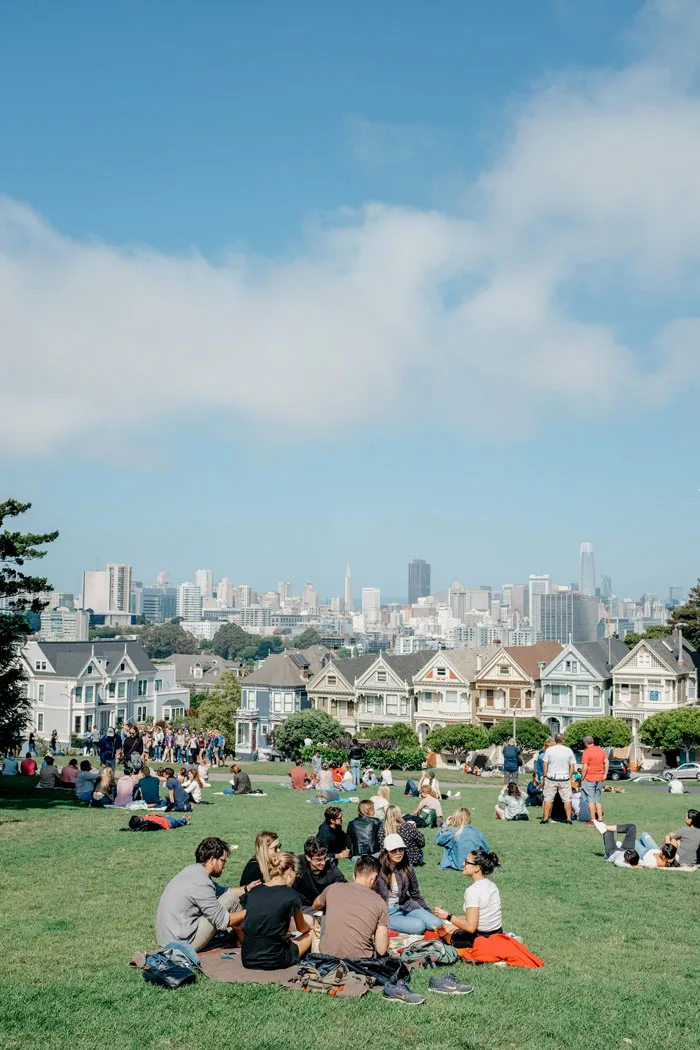 We've rounded up the best picnic areas in San Francisco so you can enjoy the cities greatest assets on an alfresco dining adventure.
Great San Francisco Picnic Spots
---
Crissy Field
Crissy Field, a former military airfield, now attracts a significant number of locals and tourists. Part of the Presidio, Golden Gate National Recreation Area, it has everything you need for a great day outdoors including many beautiful spots for a picnic.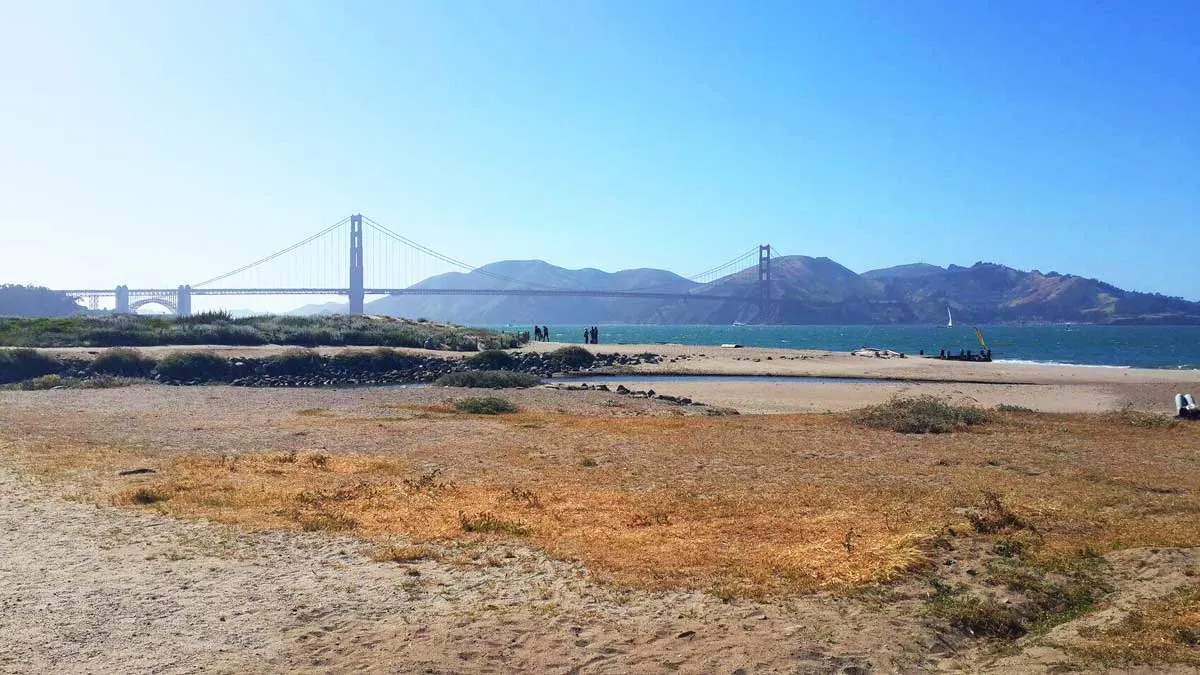 East Beach Picnic Area
If you're spending a day at Crissy Field, strolling the pathways, building sandcastles, or biking along the Golden Gate Promenade, East Beach is an excellent place for a picnic. Either throw a blanket on the grass or snag one of the nearby benches.
Facilities
The area offers picnic tables, grills, and restrooms. You're also a stone's throw from bird watching hot-spot at nearby Crissy Marsh and in the perfect place to take the two-mile walk to Fort Point National Historic Site.
West Bluff Picnic Area
The West Bluff Picnic Area at the west end of Crissy Field provides the perfect place to enjoy an outdoor picnic. An equally lovely beach, enjoy a picnic with stunning vistas of the iconic Golden Gate Bridge, distant views of Alcatraz, and the San Francisco skyline.
If you're visiting the Gulf of the Farallones National Marine Sanctuary Visitor Center with kids, the west end is a great place to stop and take a break or for an alfresco lunch.
---
You Might Also Like: Budget-Friendly Tips for Travel in Northern California: The Best Free Things to do in Northern California with Kids
---
Locals and visitors flock here to throw Frisbees on the grassy field where aeroplanes first started landing one hundred years ago.
Keep in mind, the same bay breezes that make excellent frisbee conditions can suddenly become quite cold. Dress in layers as the fog could roll in at any time of the day or night.
Facilities
If the weather forecast looks promising, enjoy a bite in the park's picnic areas, or relax around one of the many BBQ pits. Local amenities include bayside picnic tables and restrooms. The Warming Hut is also within arm's reach for any additional refreshments, delicious lunch, or hot cocoa.
By Ivan Tannenberg | Mind the Travel.
---
Want More Picnic Options? These 5 gorgeous Bay Area picnic spots will have you reaching for the picnic hamper.
---
Alamo Square
Alamo Square is one of the best picnicking areas in San Francisco and a must-visit on every San Francisco itinerary.
Aside from having the beautiful Painted Ladies as a backdrop, it also has great facilities for picnickers.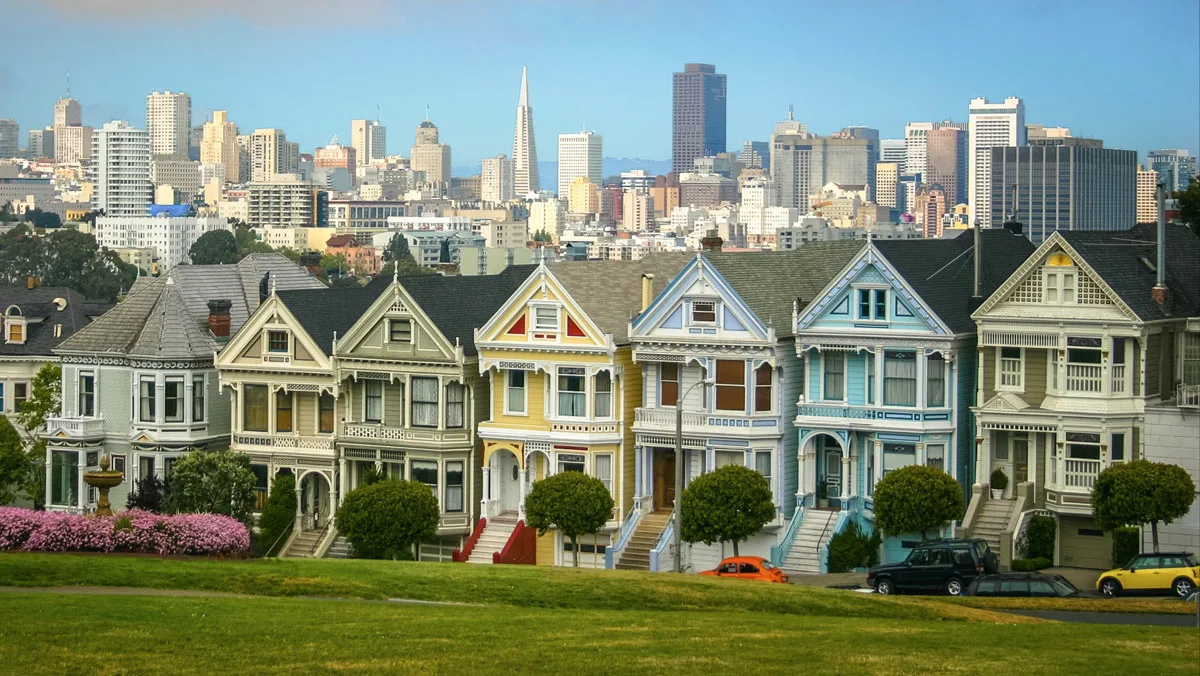 The famous San Franciscan landmark, Alamo Square, is an especially great picnic spot for fans of the Full House television series. The park is prominently featured in the opening credits and you too can picnic on the lawn like the Tanner family.
Alamo Square has tennis courts and a playground if you need to keep the family entertained or feel like a pre picnic match. Take a leisurely stroll around the park and take in Postcard Row. The buildings of downtown line up above the Painted Ladies for a picture-perfect view of the city.
If you're itching for some caffeine, the Lady Falcon Coffee Club truck is usually parked right by the tennis courts Fridays through Sunday.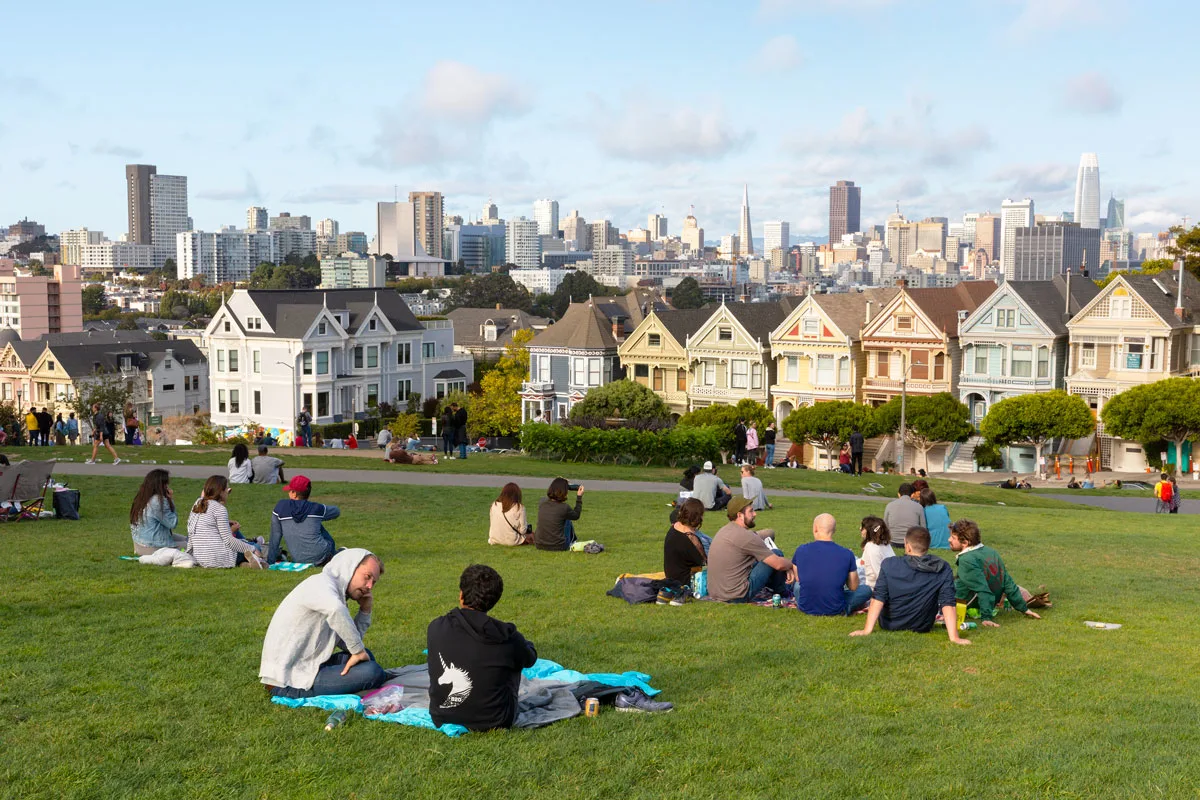 Facilities
Alamo Square Park has quite a few picnic tables where you can set up and even though they don't provide grills, you can bring your own charcoal grill. There are also plenty of bathrooms.
By Constance | The Adventures of Panda Bear
---
Poplar Beach – Half Moon Bay
Located only about 45 minutes from San Francisco is the beautiful coastal town of Half Moon Bay. Known for beaches including Half Moon Bay State Beach and Poplar Beach, these areas are easily accessible from San Francisco and are perfect for picnics, hikes and nature walks.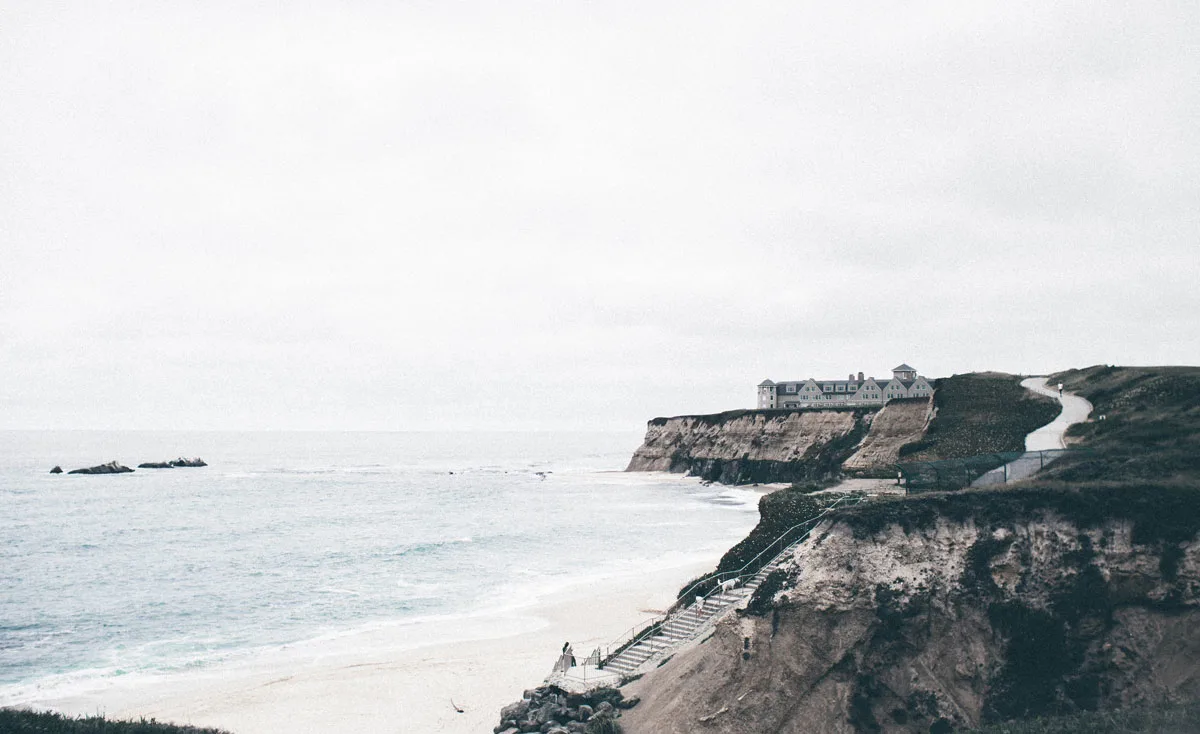 Poplar Beach, as the name suggests, is the most popular. Other than picnic and sun-bathing at Poplar Beach, you can also go for a hike on the Coastal Trail. It links Poplar Beach to Half Moon Bay State Beach along the top of a bluff, offering scenic views of the Pacific Ocean and the Mavericks surfing location.
Mavericks is a surfing destination and is quite popular in the winters and is considered to have one of the world's best big wave surfers.
The town centre of Half Moon Bay is quaint and beautiful. There are ice cream salons, cafes and restaurants where you can stop by for a meal or use washrooms.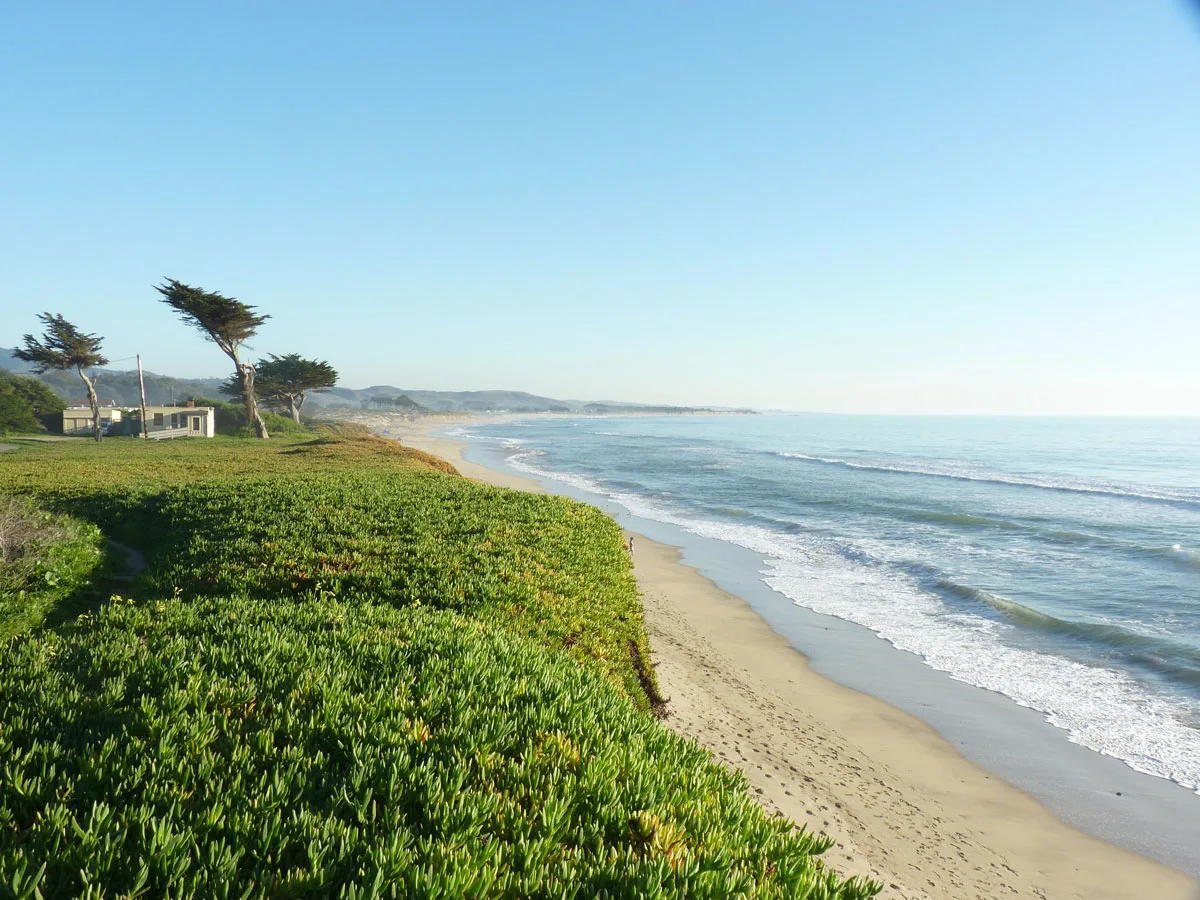 Facilities
Popular Beach has a parking area and allows entry for horses and leashed dogs. As the beach is located near a residential area, it is for day use and only opens until sunset.
Entry to the beach is completely free. For parking, there is a $2/hour fee, and there are no washrooms on-site.
Mayuri Kashyap | To Someplace New
---
Battery Spencer
Battery Spencer is one of the most famous picnic spots in San Francisco offering some of the best views of the Golden Gate Bridge.
As part of our California road trip, we spent the whole afternoon at Battery Spencer and enjoyed one of the most romantic sunset picnics.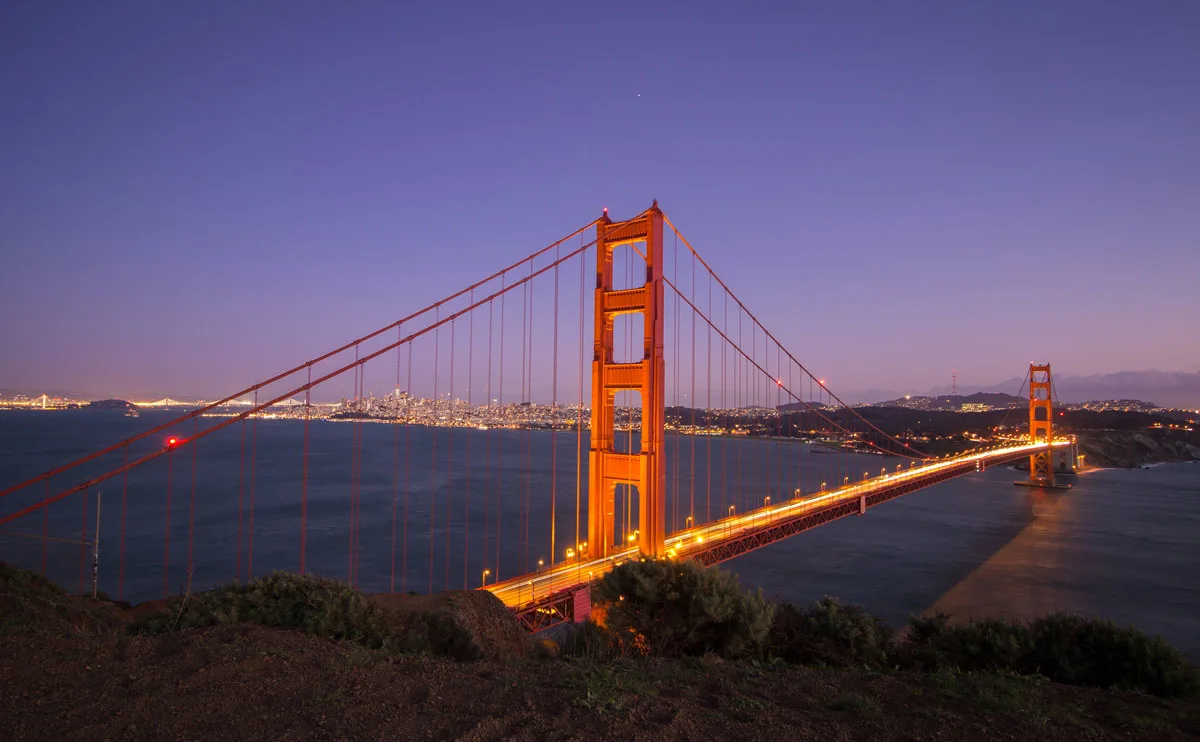 Throw a rug down for one of the most iconic views of the Golden Gate with the San Francisco skyline in the background. You can also explore the abandoned military buildings which date back to the early 1900s when Battery Spencer was a main protection point for the San Fransisco Bay.
Battery Spencer is reachable by bus. If you do plan to drive for sunset, arrive quite early as parking is limited.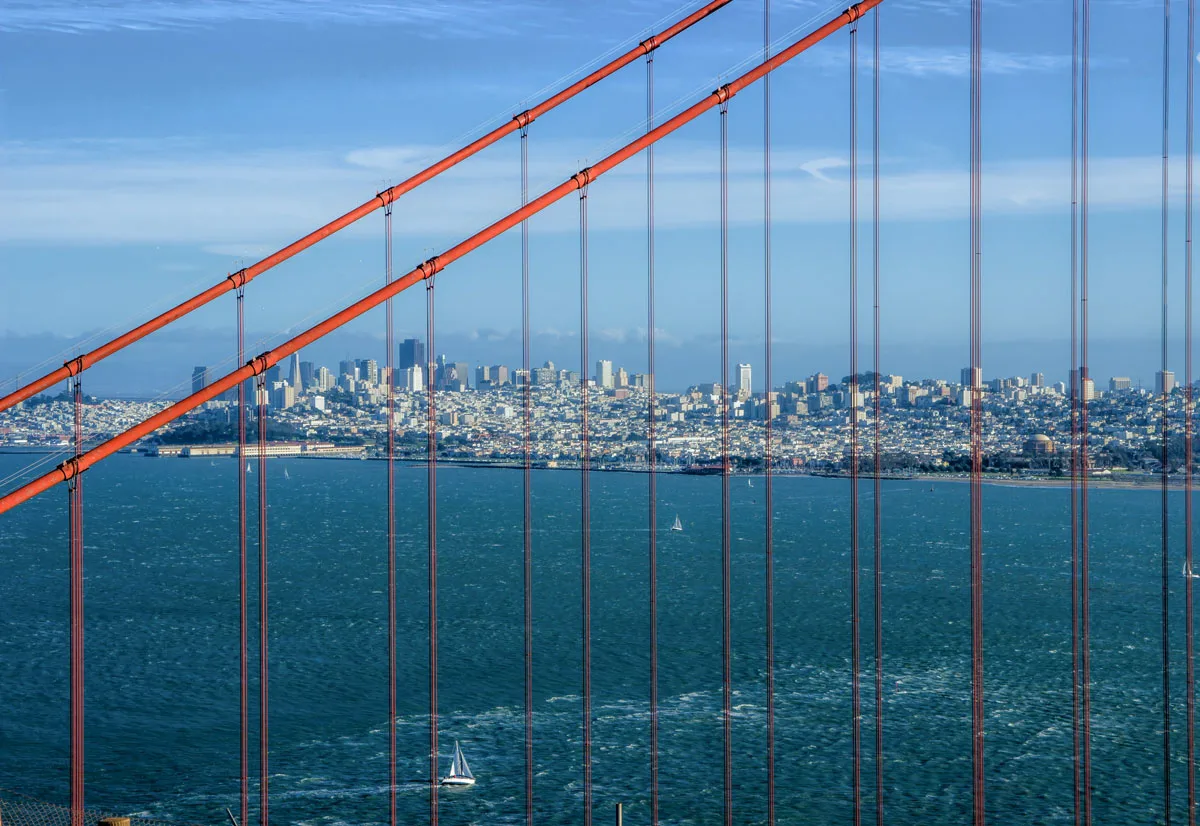 Facilities
There are no facilities at Battery Spencer such as tables or toilets. Bring a camp chair or rug for your picnic with one of the most iconic views in the USA.
By Achraf Aouadi | Walk Beside Me
---
Lightweight Picnic Essentials
---
Battery East
Presidio Park sits on the northern tip of the San Francisco Peninsula.
It has been fortified for over 200 years because of its strategic location at the mouth of San Francisco Bay. However, in 1994, it was transferred to the National Park System because of its extreme beauty.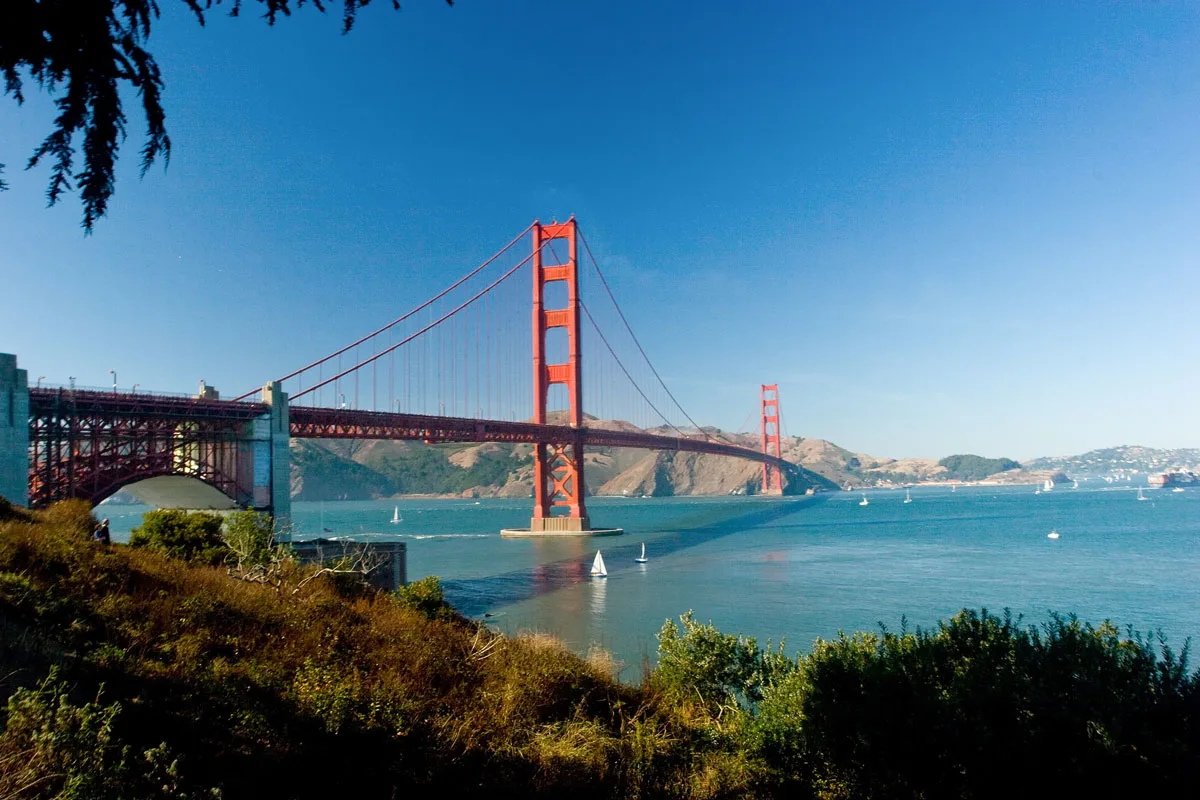 The sweeping vistas are now one of the best picnic spots in San Francisco. Entry into Presidio is free, 24-hours a day. There is some metered parking available. However, it's close enough to everything to reach in a San Francisco walking tour. You can even take the free PresidiGo shuttle to downtown.
The Presidio is full of history and nature, but its amazing views make it so unique for picnics. There are several spots with grill and picnic tables. However, those willing to bring a blanket are rewarded with secluded romantic views from Battery East to Battery Lancaster. The aptly named vista Golden Gate Postcard View tells visitors what to expect.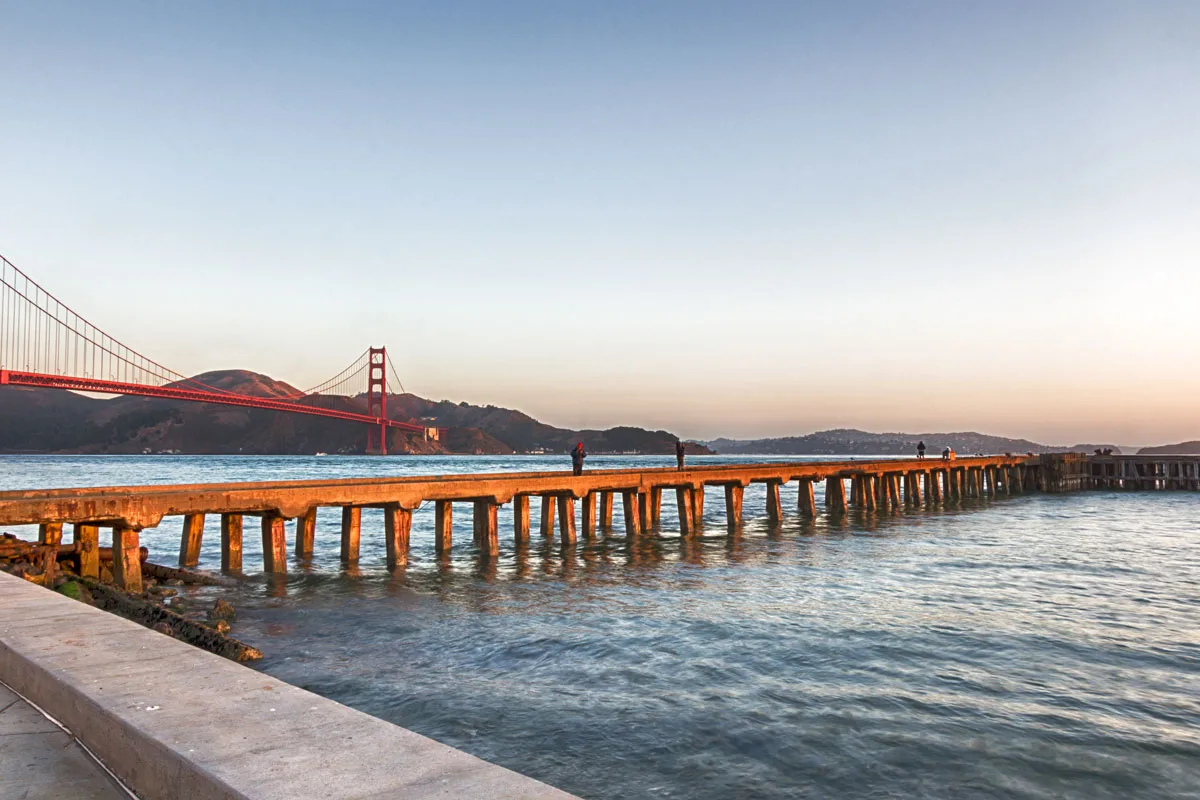 Restrooms are available at the Golden Gate Bridge Welcome Center, which is adjacent to Battery Lancaster. While you're there, you can walk along the pedestrian walkway on the Golden Gate Bridge for a sunset stroll. Or, take the trails down the bluffs to the torpedo wharf at the waterfront.
By Jenn and Ed Coleman | Coleman Concierge
---
Mission Dolores Park
Whether you are in California for a weekend or a week, a picnic is a great way to discover local vistas and iconic sites. San Francisco boasts an abundance of great picnic spots with incredible views.
To experience the real essence of San Francisco – pack some wine, cheese and grab some of the famous sourdough bread from Boudin Bakery and head to Mission Dolores Park.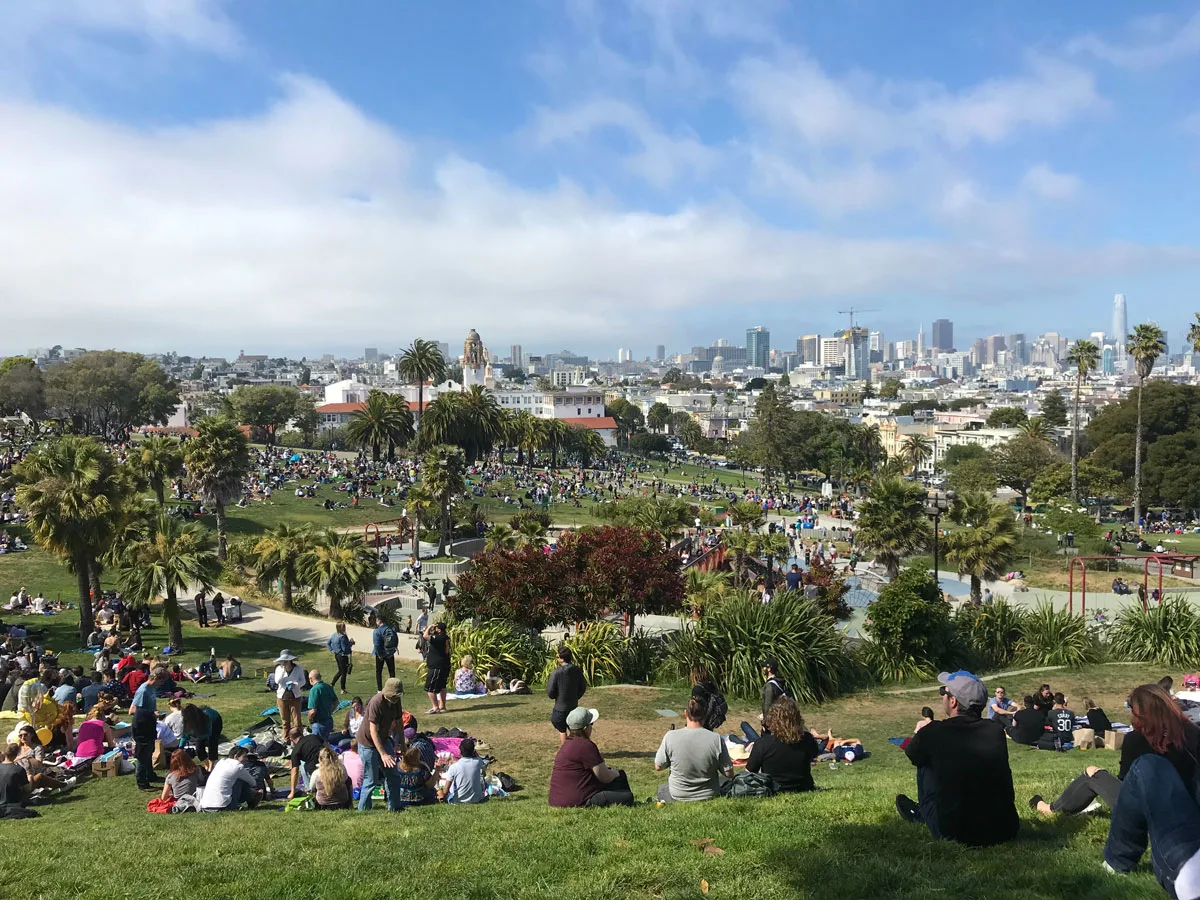 Popular with locals – Dolores Park is loved equally by couples and families. There is a playground for kids, tennis courts and basketball courts. It also draws a pretty colourful crowd. Don't be surprised if you run into someone selling cannabis. It is an excellent place for an afternoon of people watching.
Dolores Park is about two blocks south of Mission Dolores. Stop to look at the vibrant murals in Clarion Alley in Mission District before you get to the park. One block of the inner Mission District is home to Clarion Alley Mural Project (called CAMP) which was established in 1992 by a collective of six residents and artists.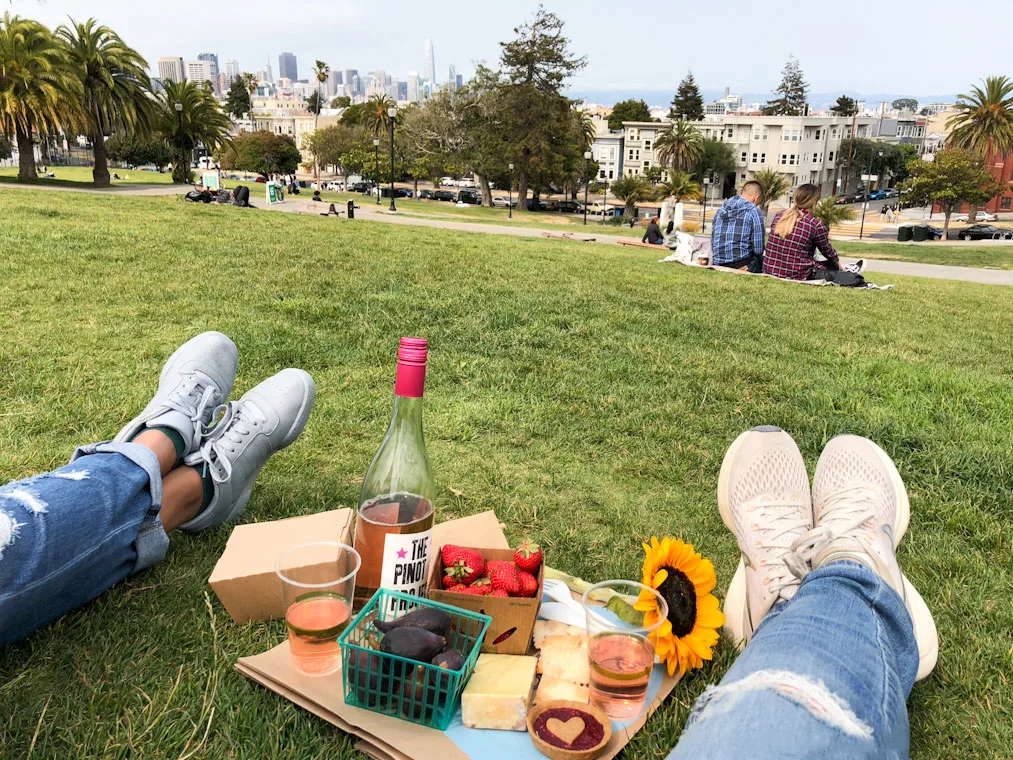 Then, walk over to Mission Dolores Park at the western edge of the Mission District. Climb up the hill for the best picnic spots and views of the San Francisco city line.Do
There are no grills or vendors on the park. You can buy some treats from Tartine bakery on Guerrero St and picnic supplies like California figs and other fruits from Bi-rite on your way to Mission Dolores Park.
By Priya Vin | Outside Suburbia
---