The UNESCO-recognized Cultural Landscape of Sintra is a unique mix of natural and cultural sites.
One of the most popular day trips from Lisbon, in Sintra, you'll find unimaginable fairytale palaces, a medieval castle, magnificent gardens with hidden treasures, and a beautiful historic center. A day trip to Sintra is so unique it may even make you consider moving to Portugal.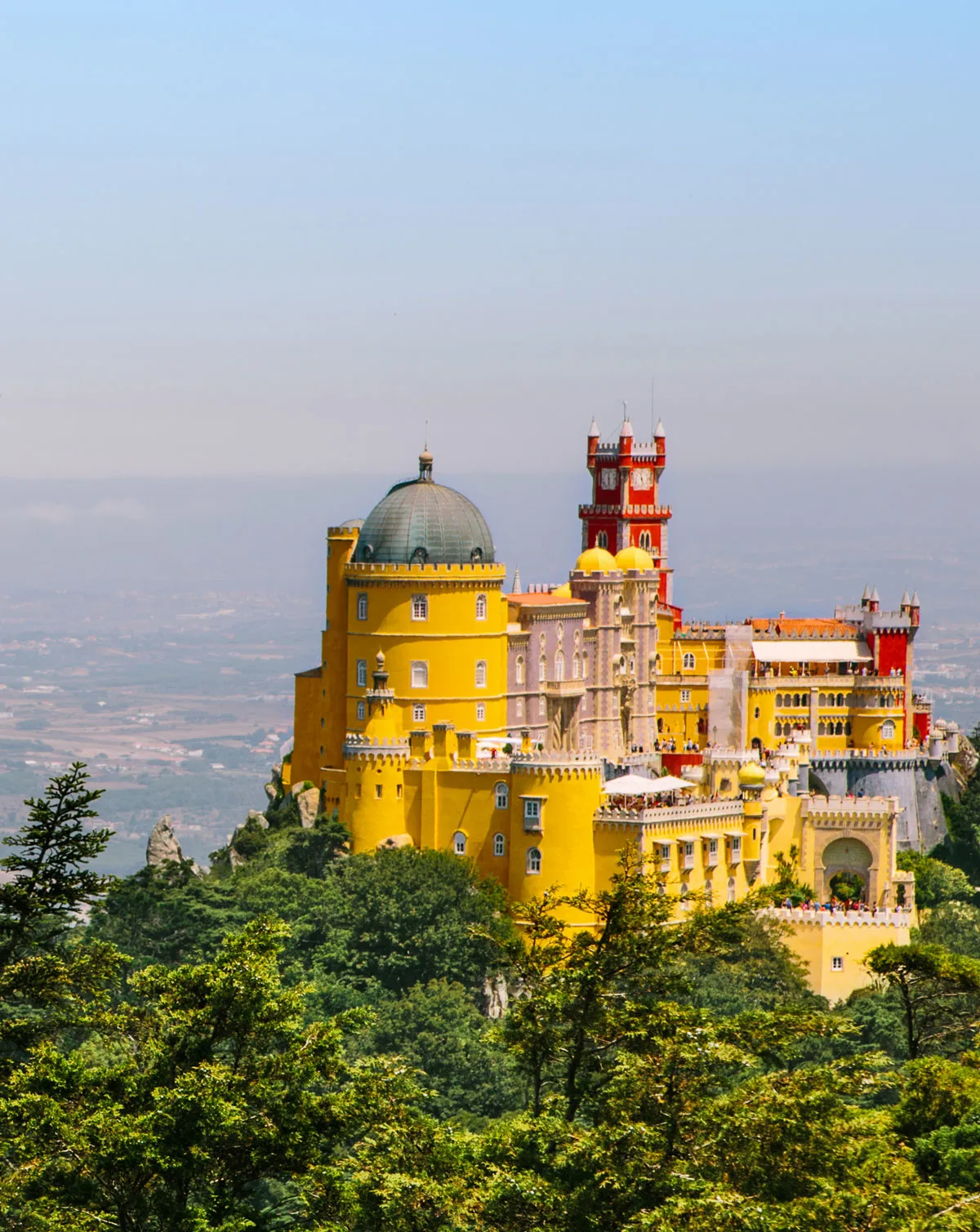 Where is Sintra
The Cultural Landscape of Sintra is approximately 30 kilometers west of Lisbon, in Portugal's central region on the most western point of the Iberian Peninsula. Sintra town is nestled in the hills of Serra de Sintra, a few kilometers from the Atlantic Coast, where you'll find some of the best beach towns in Portugal.
Tour Recommendation: If you don't want to travel independently to Sintra, take a Sintra Hights Tour with return transportation from Lisbon in an airconditioned mini bus, stopping at all the highlights, including Pena Palace, Quinta da Regaleira, and Monserrate Palace with plenty of free time to explore Sintra town. Each stop includes a guided tour inside the monuments. See here for full details.
When to visit Sintra
One of the most beautiful places in Portugal, Sintra is popular. Extremely popular. For good reason, of course. But be forewarned—it will be busy.
Be prepared to wait in lines, especially if you plan to buy your tickets on-site at the most popular attractions. This is why pre-buying skip-the-line tickets online is highly advisable for Sintra. Pre-booked tours will also give you priority entrance, and some offer excellent value.
Sintra is small and compact at its core. Try to visit when it's not quite so inundated with tourists, so crowds don't make your visit more stressful than fun.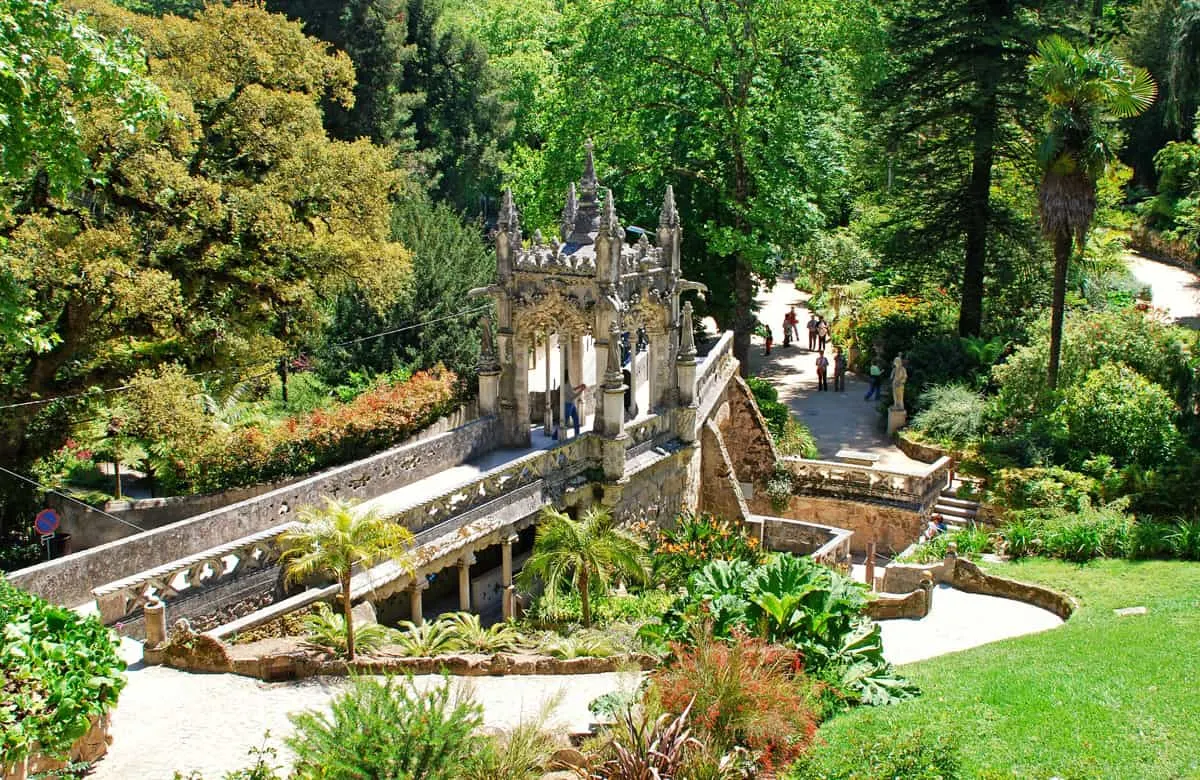 The best time to visit Sintra is during the off-season – winter. Peak summer tourist season and the shoulder seasons of later summer/early fall and late winter/early spring can be seriously hectic if you don't plan accordingly.
If you don't want to visit Portugal in winter, spring and fall are good alternatives to avoid the biggest summer crowds.
If you must visit during peak season, try being in Sintra very early or, conversely, late, to avoid crowds. Also, ensure you arrive at your chosen lunch or dinner spots just as they open if you haven't made a previous reservation.
Mid-week can offer some reprieve from the crowds, although every day is Saturday in peak season.
The best advice when planning a day trip from Lisbon to Sintra is to get as early a start as possible.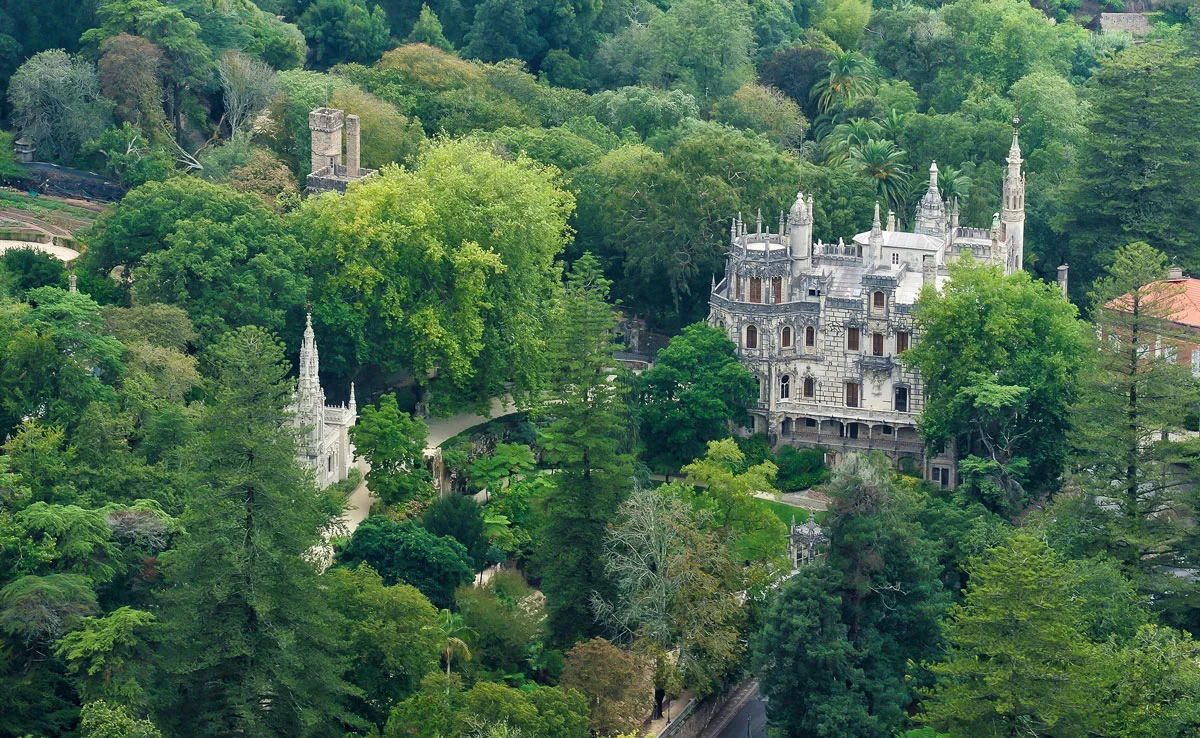 How to Get to Sintra from Lisbon
By Train
The train is the best way to get from Lisbon to Sintra if planning an independent visit. There is limited parking within the compact city of Sintra. The train takes the stress out of finding parking in the steep, winding streets or getting a ticket, which is likely.
There are two train routes from Lisbon to Sintra:
The first leaves from Rossio Station and is the most popular for people who are staying in the center.
The second leaves from Orient Station and is more popular for those arriving at or staying near the airport.
Fares are pretty cheap at 2,30€/1,15€ (adult/child) each way, and the journey takes approximately 40 minutes from Rossio Station and 47 minutes from Oriente.
By Car and Where to Park
Driving to and through Sintra is not for the faint of heart. But driving to Sintra is doable if you're comfortable with the tight windy roads Europe likes to dish up.
Parking is easy at the train station outside the center, and you can walk or take a taxi. There are also parking areas in Sintra if you don't mind heading into the historic center. A few small, if not precarious, car parks exist, and there is metered street parking throughout the town. The car parks fill up early, so plan to get there first thing to get a spot.
Rua Volta do Duche is a long and wide street that leads to the center and has parking all along the righthand side. This is your best bet if you want to find street parking.
By Bus
While bus routes from Lisbon exist, the train is much easier, quicker, and recommended.
Sintra Tip: Get around Sintra the easy way with a Sintra and Cascais 24 hr Hop-on Hop-Off Bus Travel Pass. Discover the best of Sintra and Cascais at your own pace with unlimited bus access for 24 hours.
The hop on hop off bus pass follows the route of all the Sintra highlights, including Cascais Bay • Boca do Inferno • Guia Lighthouse • Guincho Beach • Cabo da Roca • the Moorish Castle • Pena Palace • Sintra Town & National Palace • Quinta da Regaleira Palace • Monserrate Palace • Azenhas do Mar.
A 24-hour pass is around €11.50 pp. See here for full details.
Why Visit Sintra
Sintra's mix of beauty and history is unmatched in Portugal. You cannot visit Portugal without visiting Sintra town and at least one of the majestic palaces, castles, or gardens.
With more palaces, castles, and beautiful buildings than you have fingers, it's impossible to see it all in a day. To help plan your day, I've listed five of Sintra's most famous castles and palaces. Choose two, or three at most, strap on your comfiest shoes, and prepare to be amazed.
5 Most Popular Castles and Palaces to Visit in Sintra
1. Pena Palace | Palácio da Pena
Known for its brightly colored facade, the mountaintop UNESCO Heritage Site of Palácio da Pena sits atop Serra de Sintra as if hovering in the clouds. The famous yellow and red palace glows in the sun, and the ornate interior wows visitors.
One of the most beautiful palaces in Sintra, the eclectic mix of styles was commissioned by Ferdinand II in the 19th century – a summer house where the royal family could escape the heat of Lisbon. Pena Palace is said to be one of the world's best examples of 19th-century Romanticism.
Pena Palace is surrounded by Jardins do Parque da Pena, 200 hectares of gardens, and a maze of paths through ancient woodland designed by King Ferdinand II to enthrall his guests. The park is wonderful to explore if you have the time and energy.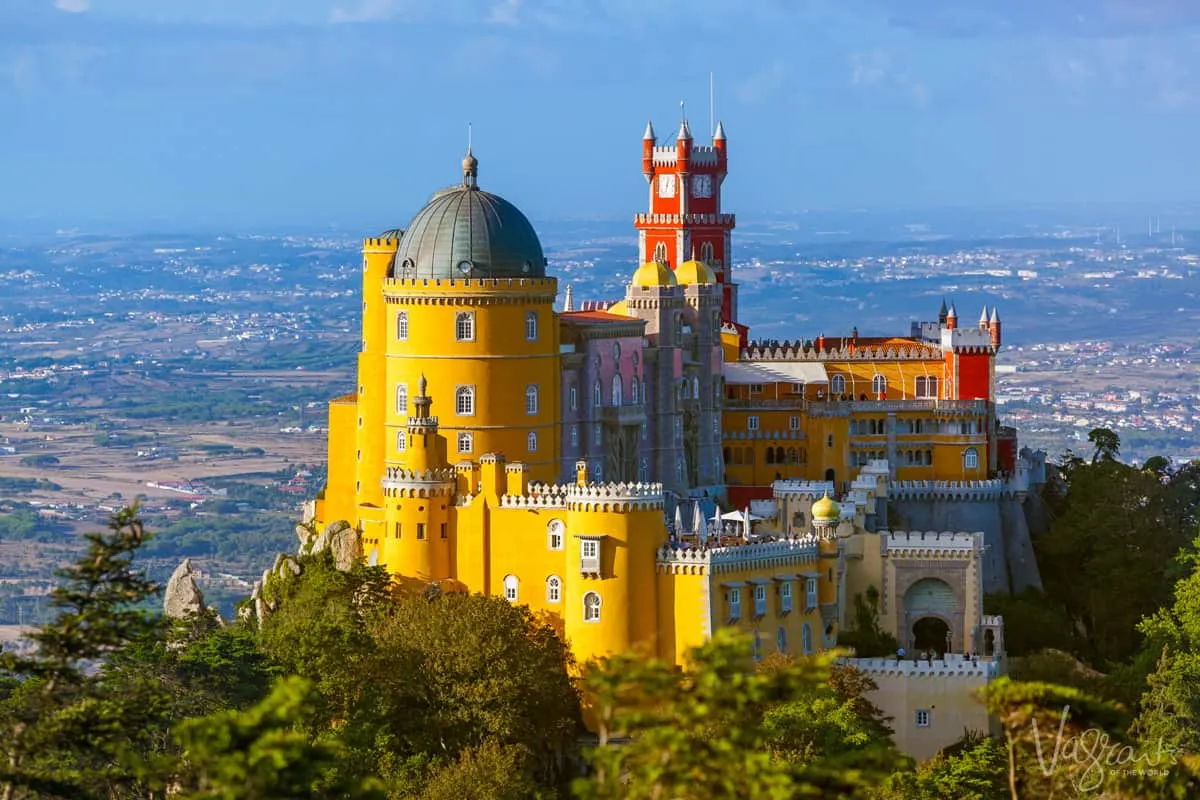 Tips for Visiting Pena Palace
Book a time slot ahead to avoid long lines for tickets
The walk from the main entrance to the palace is approximately 30 minutes, so make sure to account for this when planning your entry time, as that is the time you are allowed entry to the palace, not the grounds.
You can pre-book a bus from the entrance to the palace when you buy your ticket.
The palace is located up a steep hike from the historic center, but you can hire a tuk-tuk for 5€ per person to take you to the entrance.
Opening times
Park: 09H00 – 19H00. Last ticket and last admission – 18H00
Palace: 09H30 – 18H30. Last ticket and last admission – 17H30 | 18H00
Prices (Palace and Park)
Ticket for adults (18 – 64 years) – 14€
Ticket for youths (6 – 17 years) – 12,5€
Ticket for seniors (over 65 years) – 12,5€
Family ticket (2 adults + 2 youths) – 49€
Automatic ticket vending machines are available.
2. The Moorish Castle | Castelo dos Mouros
You can catch a glimpse of the Moorish Castle from the streets of Sintra, as well as from Pena Palace. But the magic lies at the top of the mountain. While the castle is mostly in (beautiful) ruins, walking along the walls will transport you to another time. Take in the sweeping views in all directions the same way protectors of the past did.
Being so close to Pena Palace, Castelo dos Mouros is a great addition to your itinerary should you choose to tackle both.
Tips for Visiting Castelo dos Mouros
If you can handle the steep walk, climbing to the Castle of the Moors is just as magical as the castle itself.
If you're not up for the challenge, you can take a taxi, tuk-tuk, or bus from the center of Sintra.
You can combine your ticket with a ticket to Pena Palace if you plan to visit both.
Pre-book a Skip the Line Moorish Castle Entrance E-Ticket With Audio Tour and Offline Content (text, audio narration and maps)
Opening times
Castle: 09H30 – 18H30. Last ticket and last admission: 18H00
The ticket office is closed from 12 pm to 1 pm
Automatic ticket vending machines are available.
Prices
Ticket for adults (18 – 64 years) – 8€
Ticket for youths (6 – 17 years) – 6,5€
Ticket for seniors (over 65 years) – 6,5€
Family ticket (2 adults + 2 youths) – 26€
3. Quinta da Regaleira
Renowned for its immaculately landscaped gardens with hidden passageways and vertical tunnels, the Quinta da Regaleira estate never ceases to impress. Wander through the winding paths, climb up the narrow lookouts and step through the myriad of caves found throughout the property.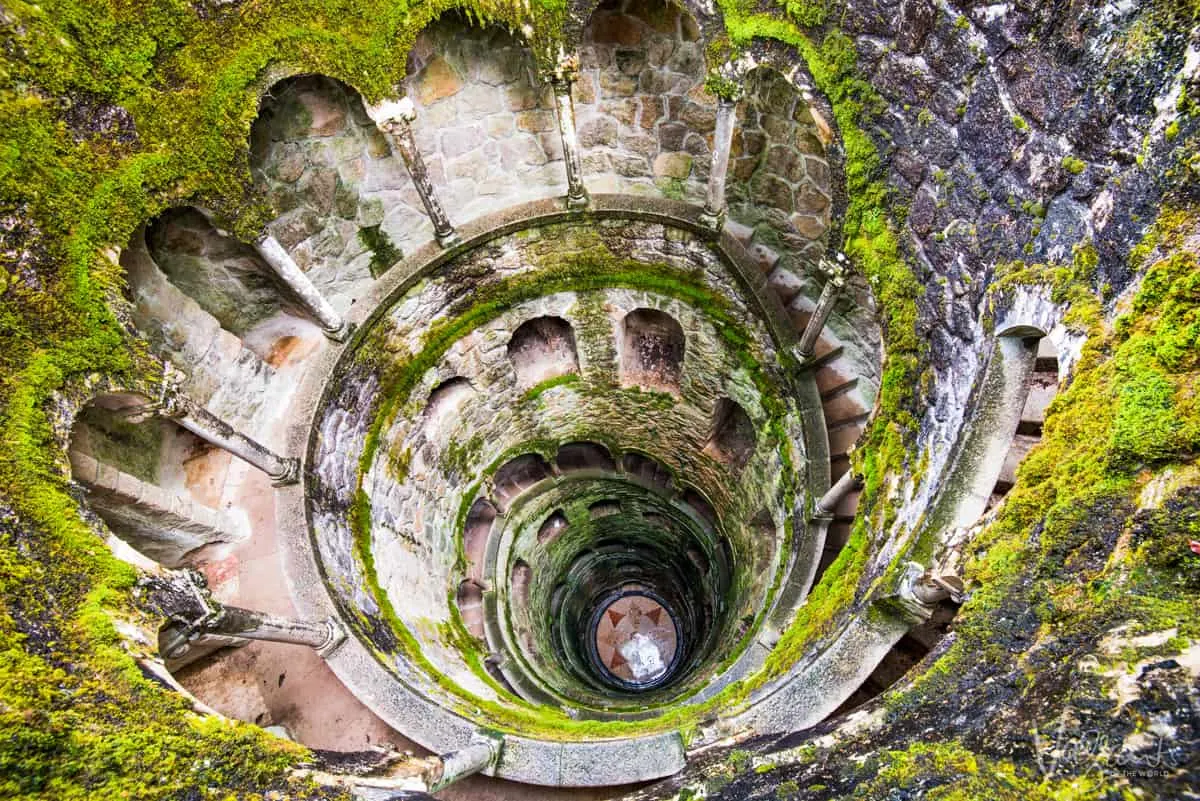 Tips for Visiting Quinta da Regaleira
Grab your map and head to the top of the property.
Make your way winding back and forth until you reach each of the secret grottos, vertical initiation tunnels, gardens, and mysterious caves.
When you reach the bottom of the property, stroll through the palace and ensure you don't miss the intricately carved chairs.
Pre Book a Quinta da Regaleira Skip-the-Line Entry & Audio Tour
Opening times
JAN – MAR:10H00 – 18H30
ABR – SEP: 10H00 – 19H30
OCT – DEC:10H00 – 18H30
Throughout the year, the Last ticket and last admission are 17H30, and the Palace, the Chapel, and eventual exhibition spaces close 30 minutes before the garden.
Prices
Ticket for adults (18 – 64 years) – 10€
Ticket for youths (6 – 17 years) – 5€
Ticket for seniors (65 – 79 years) – 5€
Children up to 5 years old and Seniors > 80 years old have free admission but require a ticket
Family ticket (2 adults + 2 youths) – 25€
4. National Palace of Sintra
The National Palace is likely the first monument you notice as you enter the historic center of Sintra, its two white cones punctuating the town's skyline. As one of the best preserved medieval residences in Portugal, the impressive rooms within are the perfect way to spend a rainy day in Sintra.
Its central location also makes it easy to enjoy this palace quickly and without straying too far from town.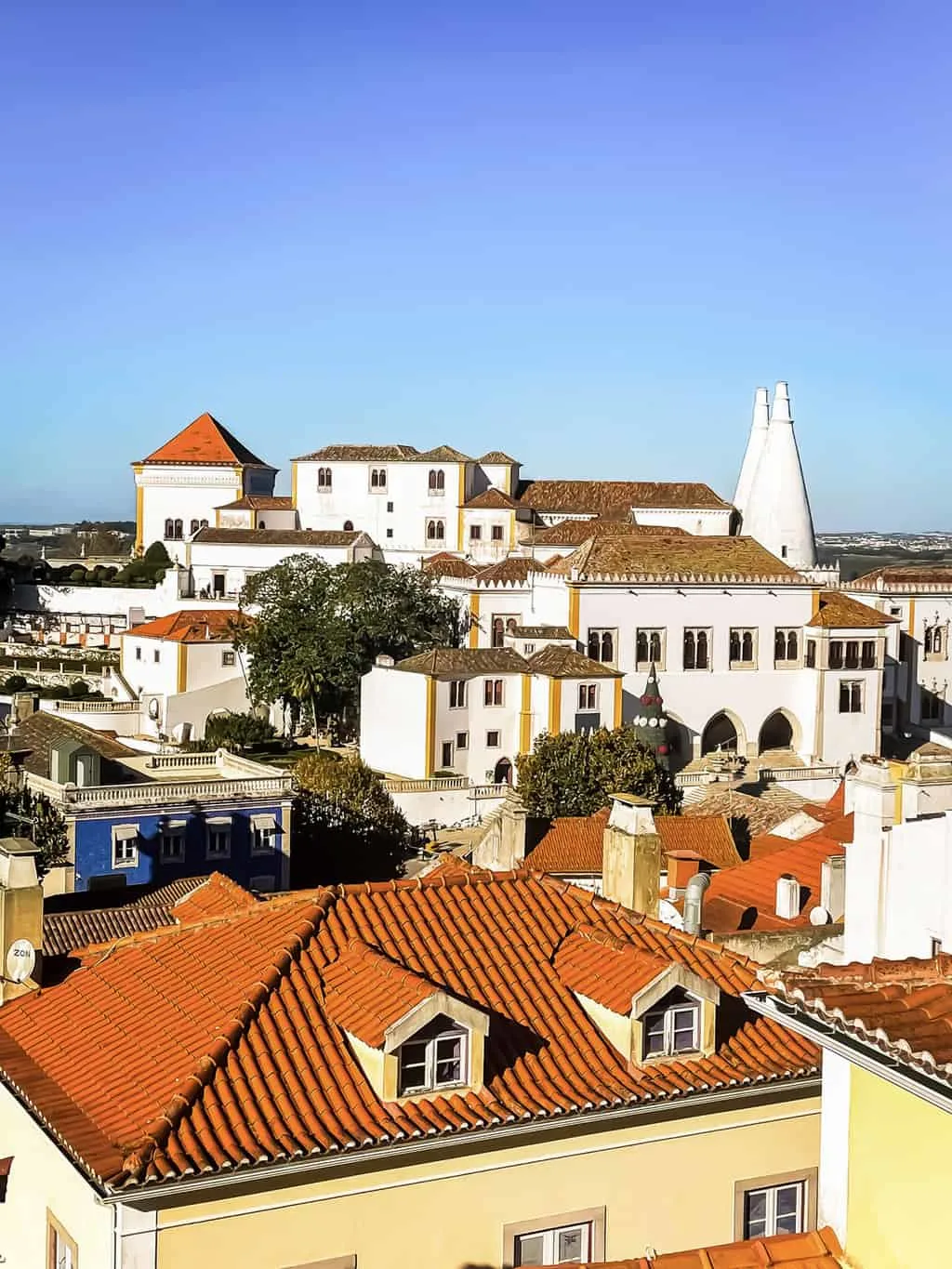 Tips for Visiting the National Palace of Sintra
This attraction is mainly indoors, so is a perfect rainy-day activity.
Centrally located in Sintra, it's an easy visit after lunch before heading back up the mountain or out of the center.
Check out the history of the National Palace if you're interested in Portuguese royal drama.
Opening times
Palace and Gardens: 09H30 – 18H30.
Last ticket and last admission: 18H00
The ticket office is closed from 12 pm to 1 pm
Automatic ticket vending machines are available.
Prices
Ticket for adults (18 – 64 years) – 10€
Ticket for youths (6 – 17 years) – 8,5€
Ticket for seniors (over 65 years) – 8,5€
Family ticket (2 adults + 2 youths) – 33€
Entrance to Garden – FREE
5. Monserrate Palace | Palácio da Monserrate
The gorgeous Palácio da Monserrate estate is often overshadowed by the previously mentioned attractions, but still worth visiting if you have the time. Once written about by poet Lord Byron, its incredible beauty will make you glad you took the time.
The stained glass windows, marble columns, symmetrical and geometric details, and impressive Islamic-inspired design offer multiple Instagram-worthy photo ops throughout the property.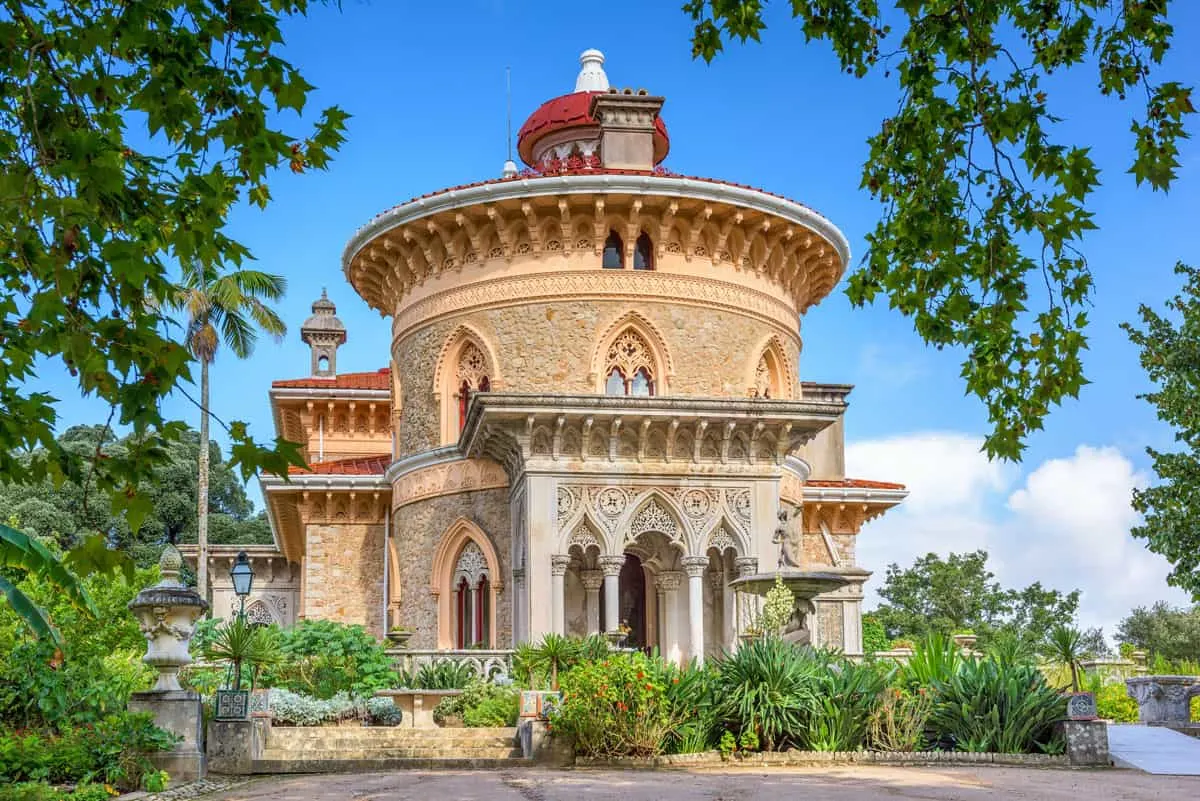 Tips for Visiting Palácio da Monserrate
A bit further outside the center of Sintra, the palace grounds can be reached by a short taxi/uber ride.
Avoid the crowds at other popular sites by visiting this less frequented palace during peak hours.
Opening times
Park: 09H00 – 19H00. Last ticket and last admission: 18H00
Palace: 09H30 – 18H30. Last ticket and last admission: 17H30 | 18H00
The ticket office is closed from 12 pm to 1 pm
Automatic ticket vending machines are available.
Prices
Ticket for adults (18 – 64 years) – 8€
Ticket for youths (6 – 17 years) – 6,5€
Ticket for seniors (over 65 years) – 6,5€
Family ticket (2 adults + 2 youths) – 26€
Tips for Visiting Sintra
Where to Buy Tickets for Sintra Attractions
The main Tourist Office in the historic center of Sintra sells tickets to all locations, or you can buy combi-tickets to multiple attractions at a discount. You can also buy tickets directly from any of the palaces and castles.
Pre-book tickets and tours are available online at several websites. Buying tickets online or booking a tour gives the advantage of skip-the-line access, which is great in peak season. As mentioned, some tours offer exceptional value and visit multiple locations.
Some of the castles and palaces in Sintra require a pre-booked time slot and will only allow you in at that time, while others are more flexible.
Where to Eat in Sintra
There is no shortage of places catering to tourists in Sintra, especially in the center. Many are average, but some standouts are worth mentioning.
Casa Piriquita
Pop into this bakery when you first arrive in the historic old town for coffee and a pastry to start your day. They have a few locations in town. Make sure you try the queijada—a local specialty that reminds you of a cross between cheesecake and buttermilk pie.
Tascantiga
On your way up to or down from Pena Palace, you'll find this cute restaurant with outdoor seating just off the main street. It serves delicious Portuguese specialties as well as tapas and petiscos, which is the Portuguese version of tapas. It's advisable to make a reservation.
Tasca Saloia
A relaxed, pub-style restaurant serving small and large plates of typical Portuguese dishes. Order a large frosty cold beer in a metal stein, and try the toast with Azeitão cheese and pumpkin jam. You won't be disappointed.
Villa Craft Beer & Bread
If you're a craft beer lover, this place is for you. They serve pick-your-own beer flights along with traditional Portuguese snacks. Their main food specialties are wood-fired stuffed bread with fillings like spicy sardines and Portuguese sausage.
What to Drink
If you've never tried Ginja/Ginjinha, you have not tasted life. A sour cherry liqueur, many places in Sintra sell this specialty served in small chocolate cups. You'll also come across a pastel de nata liqueur, which tastes like a sip of boozy dessert.
What to Buy
You'll find shops and vendors selling all kinds of Portuguese products along the streets of the unmissable historic old town. Most notable are the shops selling all manner of goods made of cork – a national export, local ceramics, textiles, and Portuguese delicacies like canned sardines and olive products such as oils and soaps.
What to Consider When Planning a Day Trip to Sintra
Wear Layers
Sinta has its own microclimate. Even if it's hot in Lisbon, it could be cold in Sintra. If it's cold in Lisbon, it could be sunny and warm, or even colder in Sintra. Plan ahead and bring an extra layer and maybe an umbrella or light rain jacket just to be safe.
Bring Sunscreen and a Hat
While there is plenty of shade walking around the gardens of palaces, there are also many exposed areas where you'll be glad to have that extra layer of sun protection.
Wear Comfortable Walking Shoes with Good Tread
Sintra is incredibly hilly, with lots of stairs and slippery terrain. Come prepared to climb, climb, climb. And remember, what goes up must come down.
Pack Water and Snacks
All that climbing makes for a thirsty, hungry tourist. Enough said.
Don't Forget Your Camera
Phone cameras work just fine, but if you really want to capture the beauty of this historic town, bring your favorite camera.
Places to Visit Near Sintra
If you still have energy after a day in Sintra, there are lots f great attractions in the wider Sintra area worth visiting. Consider checking out these additional popular sites nearby. It's also possible to book a Sintra day tour with stops at some or all of these popular places to visit in Portugal.
See all the Sintra highlights on a Pena Palace, Sintra, Cabo da Roca, & Cascais Daytrip from Lisbon, including transport from Lisbon, Pena Palace entry and guided tour, free time in Sintra and Guincho beach. See here for full tour details.
Cabo da Roca
The Cobo da Roca lighthouse represents the most western point of continental Europe. It's free to walk around the cliffs and take in the scenery, and it's a magnificent place to watch the sunset over the Atlantic Ocean.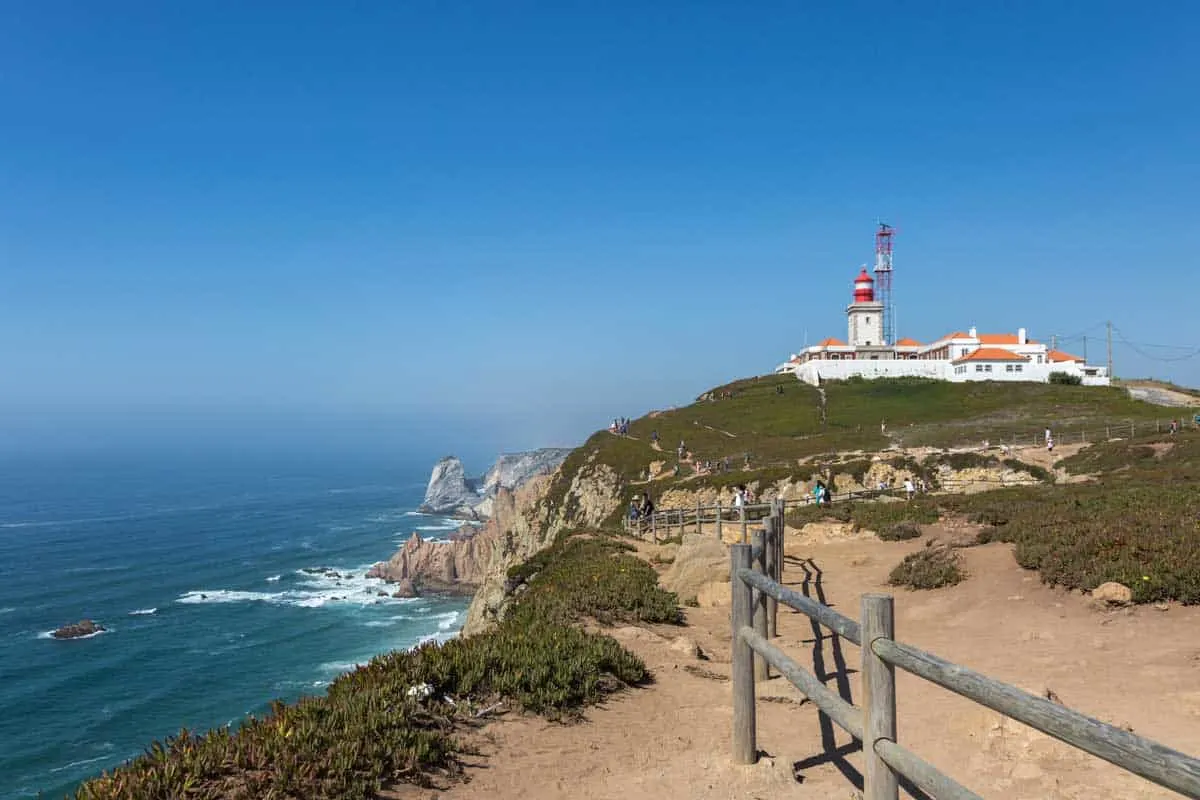 Azenhas do Mar
This sweet little cliffside town is a marvel to look at. There's an amazing seafood restaurant with stunning views overlooking the ocean. Stop for a quick photo op or dinner, you won't be disappointed.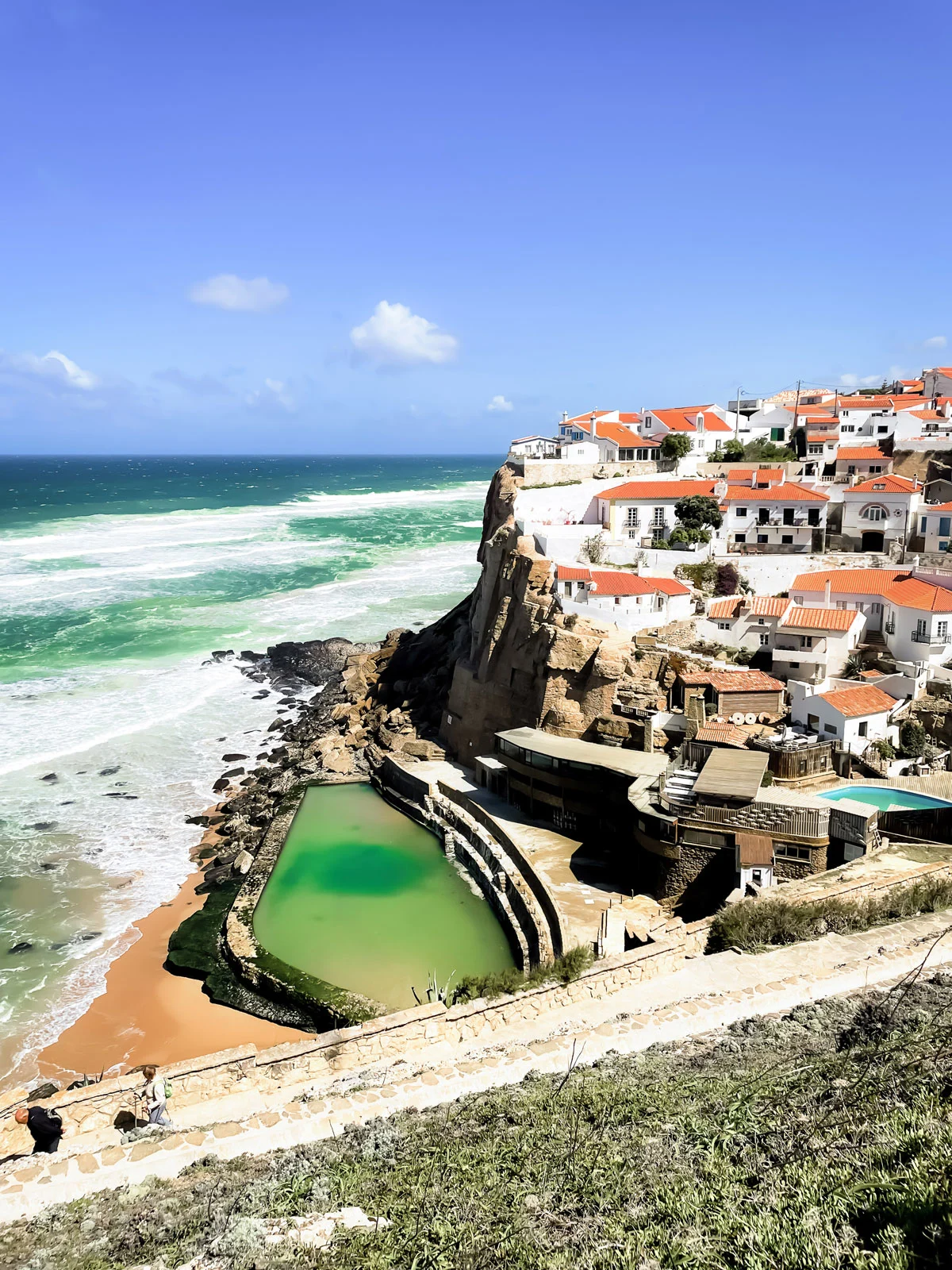 Praia do Guincho
The wide, sandy beach of Praia do Guincho with big waves offers a great place to grab a sunset drink to end your day before heading back to Lisbon.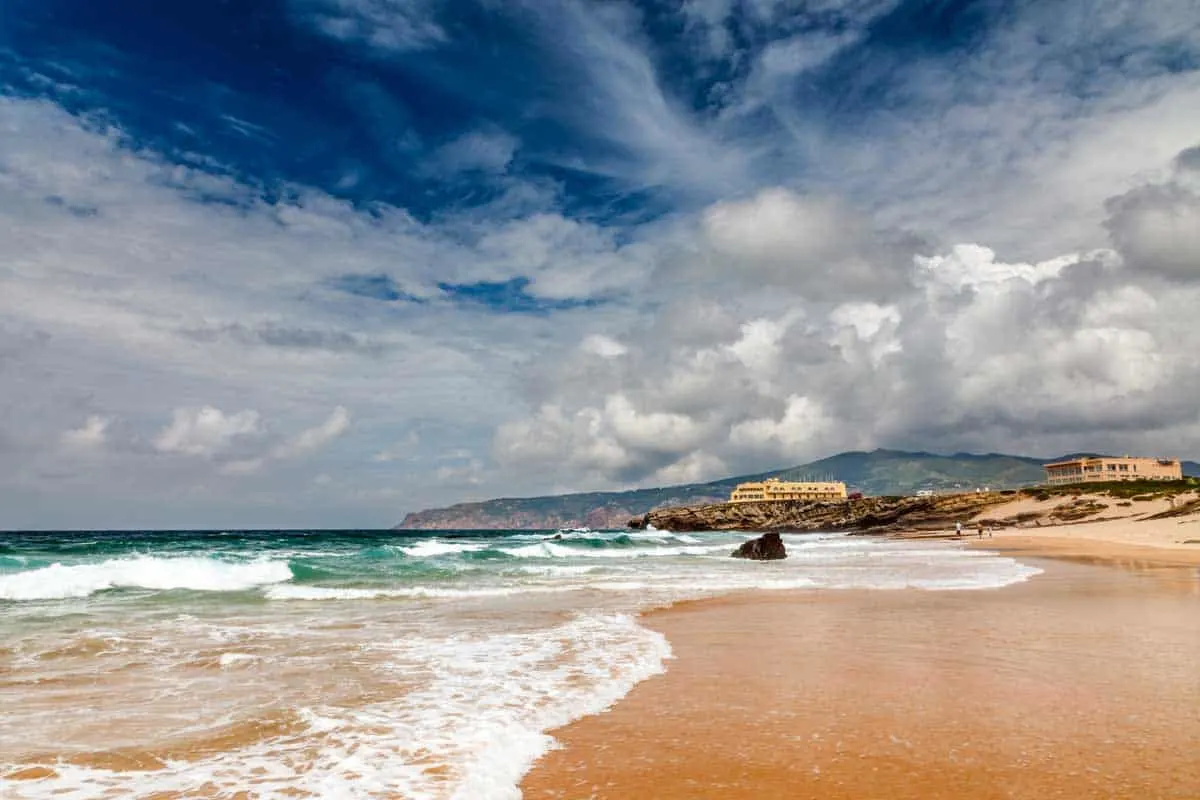 Cascais
Only 15 minutes from Sintra is the posh seaside village of Cascais. The historic downtown is filled with boutiques, restaurants, and bars. End your day with dinner at Hifen for a modern take on Portuguese classics while staring out at beautiful Cascais Bay.
Bonus: If you took the train to Sintra, just hop in an Uber or Bolt (Portuguese ride-share company) to Cascais. From there, you can take the 40-minute train back to Cais do Sodre station on the Lisbon waterfront.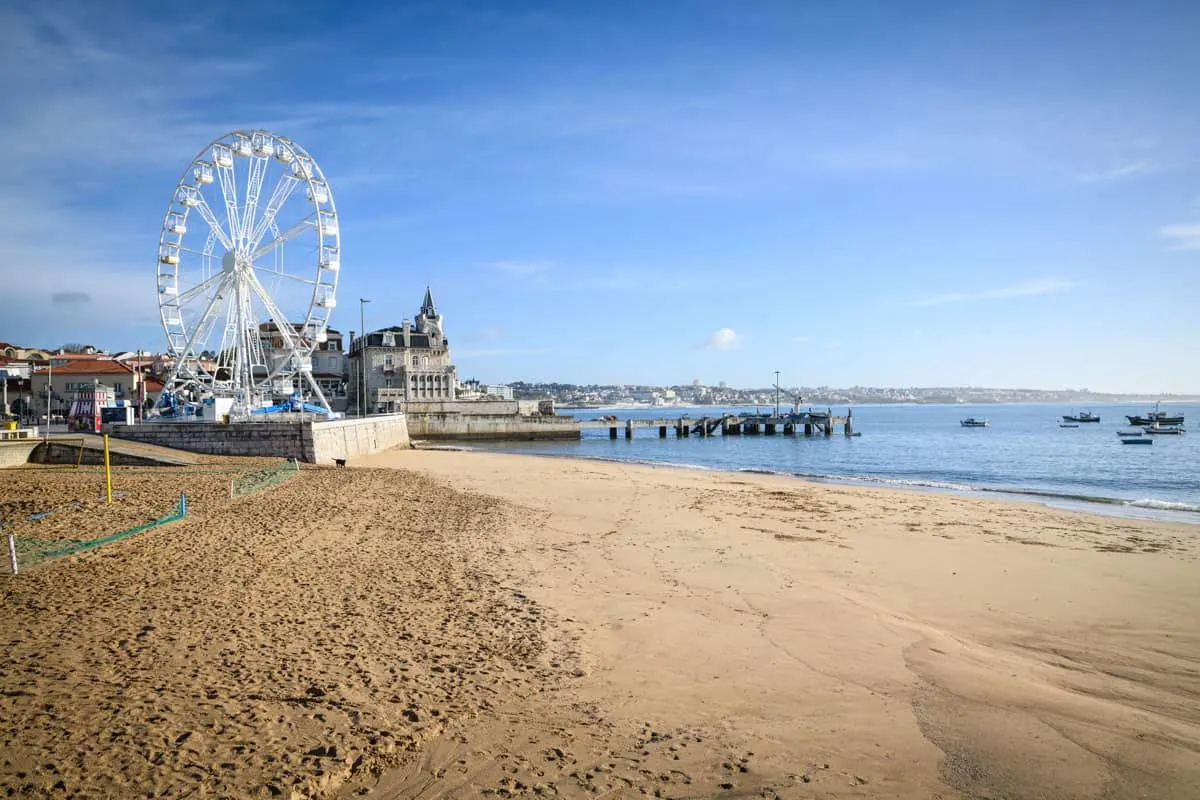 Summary
A trip to Portugal is not complete without a visit to Sintra. Whether to see one palace or five, Sintra will leave you feeling like you just stepped out of a storybook. If you only plan one day trip from Lisbon, ensure you don't miss the idyllic fairytale town of Sintra.
________________________________
About the Author
Allison Baxley
Allison is the creator of Renovating Life, a blog with everything you need to know about moving to and living in Portugal. She moved from Brooklyn, New York, to Cascais in 2021 with her husband and two children. When she's not writing for her blog, she enjoys discovering new corners of Portugal and planning her next European getaway.