Maine is undoubtedly one of the most beautiful and scenic states in the US and one of the top destinations on any East Coast fall foliage itinerary.
Rocky coasts, lighthouses, lobster, quaint boutiques, sandy beaches, and plenty of ocean views. One of the best outdoor destinations in the US, Maine is the perfect road trip destination for three days of nature and adventure.
Whether it's your first time visiting Maine or your hundredth, the beauty of the coast of Maine will always leave an impression.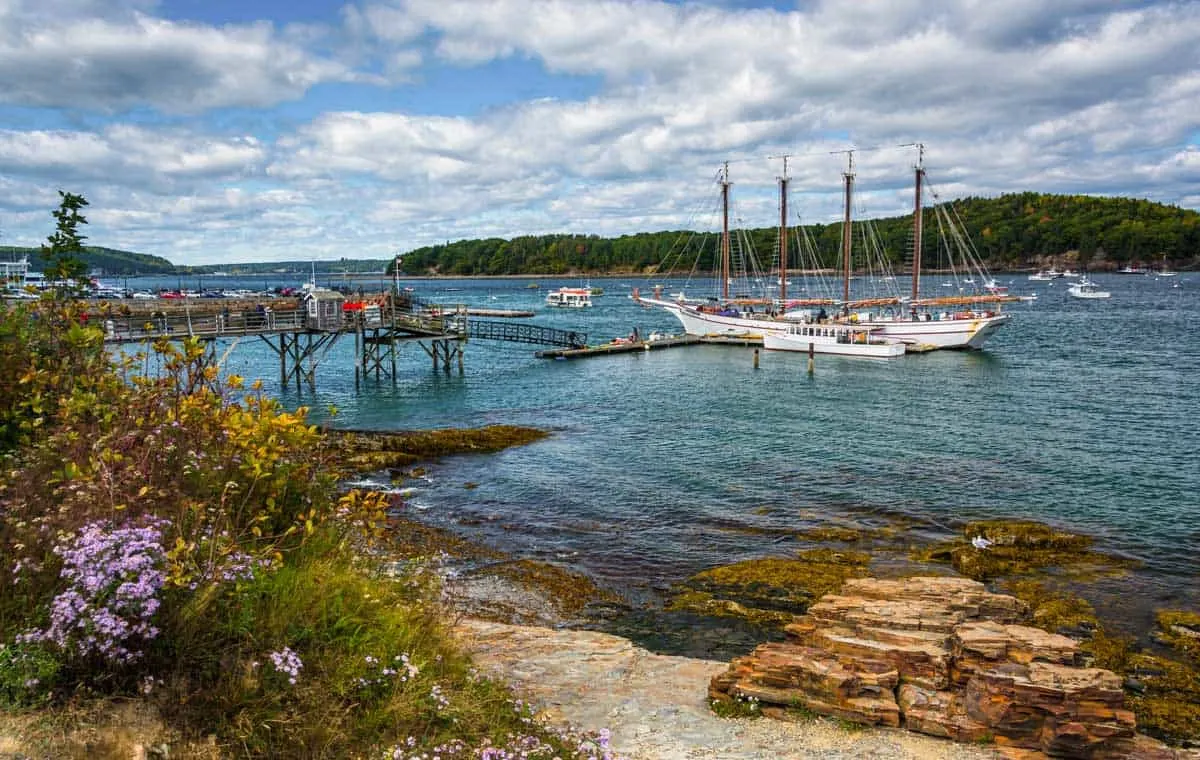 3 Day Maine Coast Itinerary
This 3-day Maine Coast Itinerary will take you from the lush wilderness and rocky coastlines of Acadia National Park to Kennebunkport's charming, seaside fishing village. Along the way, you will be treated to some of the most charming, small towns with that New England feel.
Day 1: Bar Harbor and Acadia National Park
Bar Harbour
Begin your 3-day Maine coast itinerary in Maine's Bar Harbor area. Bar Harbor is the picturesque seaside town on Mount Desert Island bordering Acadia National Park, considered one of the best national parks in the United States. Home to some of the best lobster and seafood restaurants in the state, the main street is full of quaint local shops and easy access to the waters of Frenchman Bay.
A day well spent in this area will include some time strolling the streets of Bar Harbor after exploring the wilderness and coastal edges of Acadia National Park. Your 3-day Maine coast itinerary would not be complete without a day spent in Bar Harbor.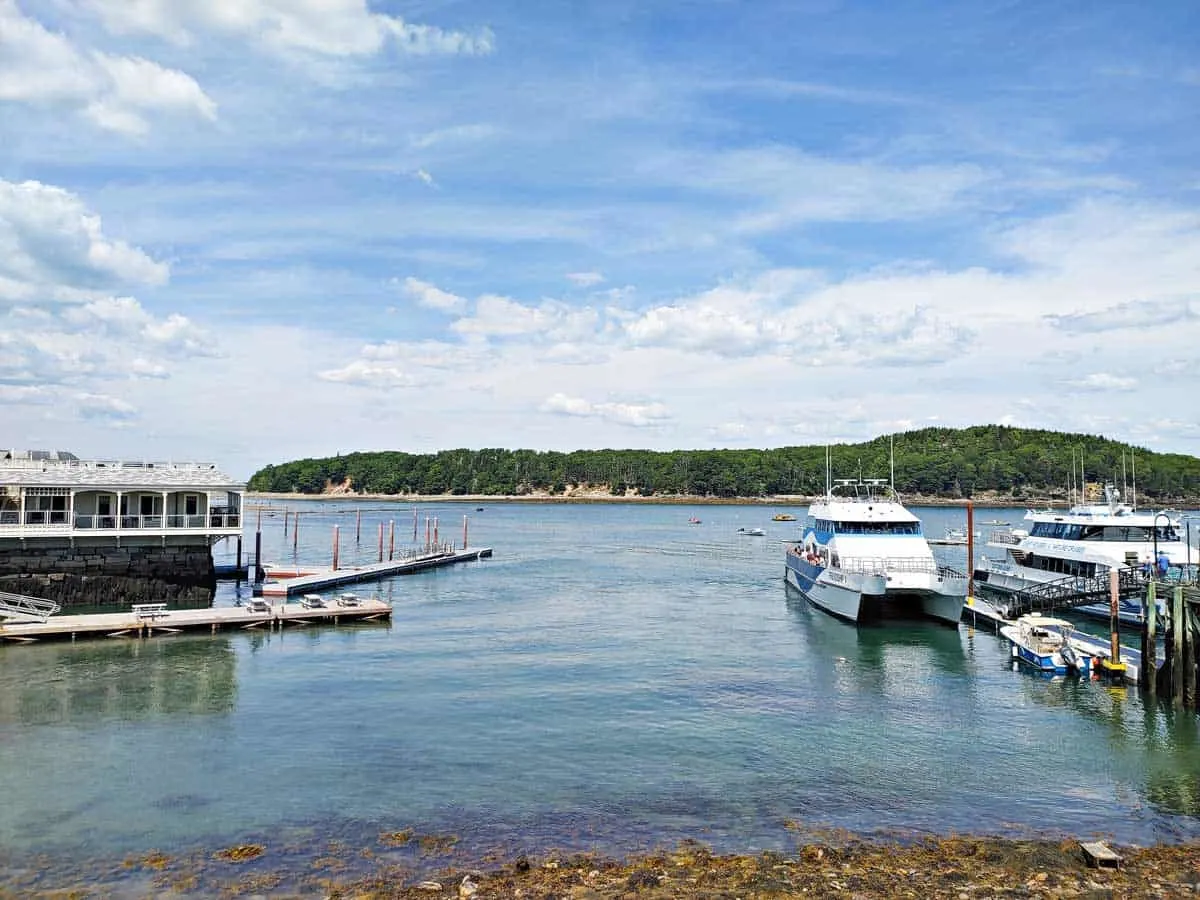 Drive Park Loop Drive
Take a drive along the Park Loop Drive in Acadia National Park. The 27-mile loop road through the park takes you past many of the park's highlights, including many observation points, Thunder Hole, Jordan Pond, the top of Cadillac Mountain, and Sand Beach.
The scenic drive can take you as little as an hour if you drive straight through, a half-day, or a full day with stops, depending on your chosen itinerary for your time in Acadia and Bar Harbor. If you only have one day in Bar Harbor, splitting the time between Acadia National Park and Bar Harbor is recommended.
The Park Loop Drive is a great introduction to the park and can help you decide how to spend the rest of your time here. Great options include spending some time at the top of Cadillac Mountain, the highest point on the East Coast, relaxing at Jordan Pond and grabbing a bite to eat at the Jordon Pond House, going for a swim at Sand Beach, and simply taking in the countless breathtaking views.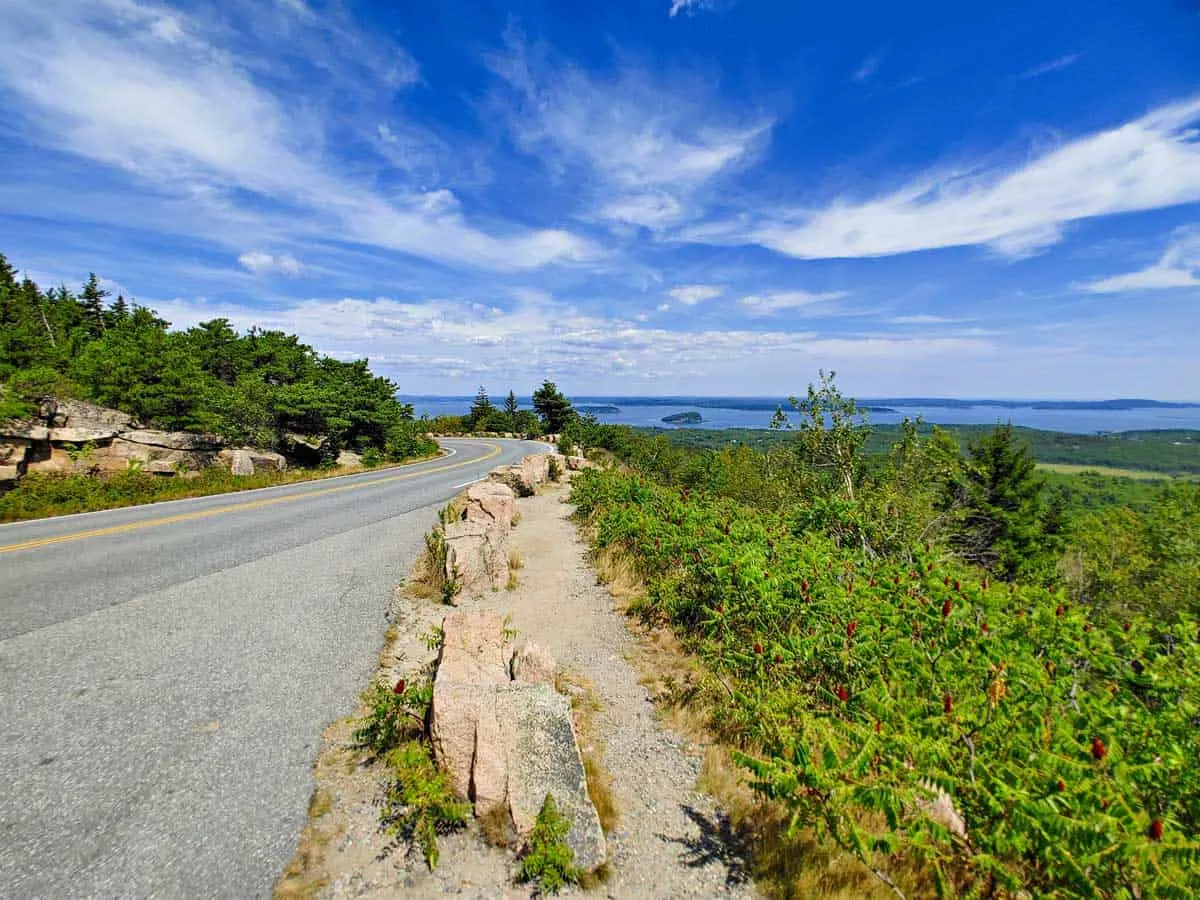 Go for a Hike
Acadia National Park is one of the top hiking destinations in the US, so it makes sense to make time for a hike. There are loads of hiking trails to choose from to suit all hiking abilities and itineraries. For those looking for beginning level hikes, Bubble Rock, the Ocean Path, the Wonderland Trail, or the Great Head Trail are great options.
For experienced hikers or those looking to spend more time in the wilderness around Acadia National Park, options include the Precipice Trail, the Beehive Trail, the Dorr Mountain Trail, or a hike to the Cadillac Mountain summit. Whichever option you choose, hiking in Acadia National Park is one of the most authentic Maine experiences you can have and one not to be missed on your Maine coast itinerary.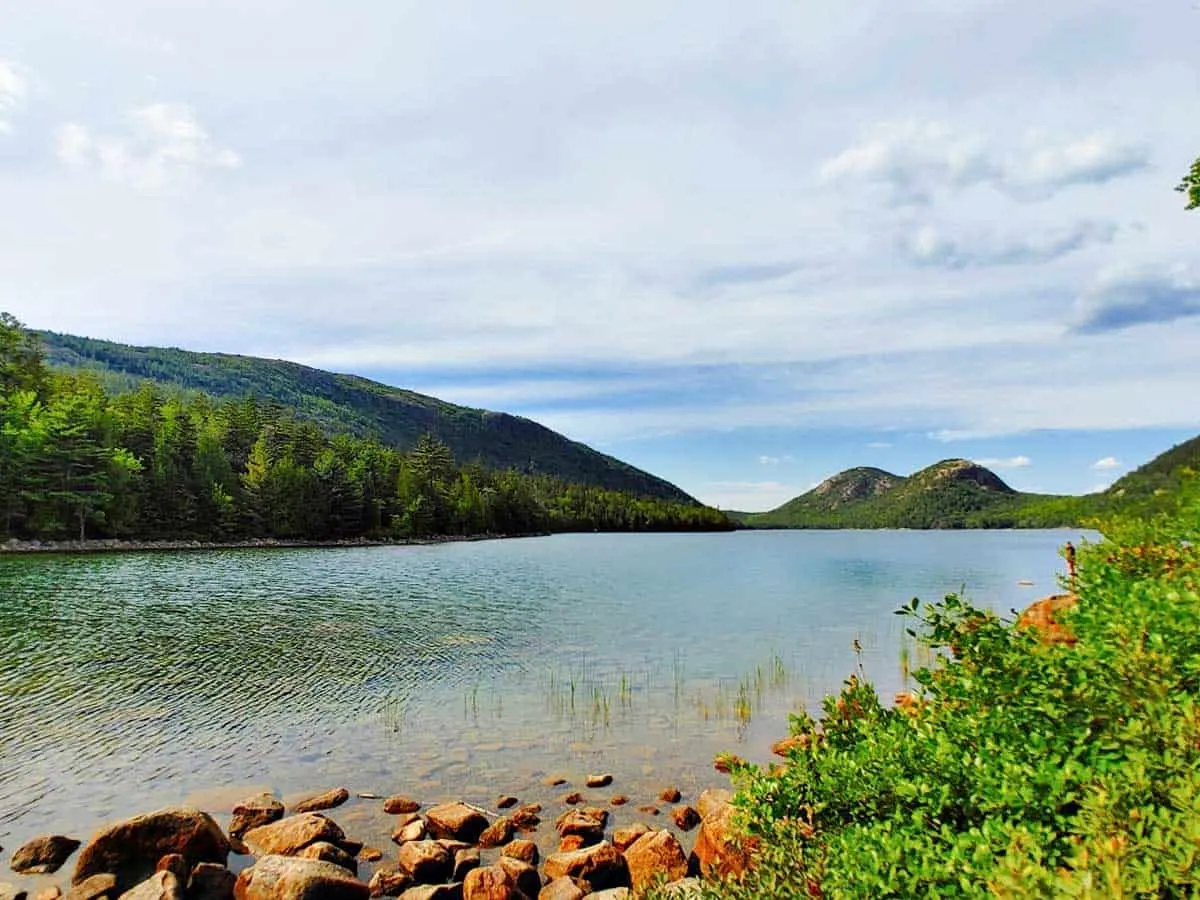 Grab Dinner and Explore Downtown Bar Harbor
After exploring Acadia National Park, you'll surely be ready for some of Maine's famous local seafood. Visit the heart of Bar Harbor for plenty of dining options, including the Chart Room Restaurant for delicious seafood, The Stadium Bar Harbor for lobster rolls and baked goods, or seafood dishes combined with local craft beer at Leary's Landing Irish Pub.
After dinner, enjoy a stroll along the waterfront or relax in the village green. Find yourself some unique, handcrafted souvenirs along Main Street, or visit the Bar Harbor Cellars Winery for a post-dinner wine tasting and locally made treats in the chocolate room.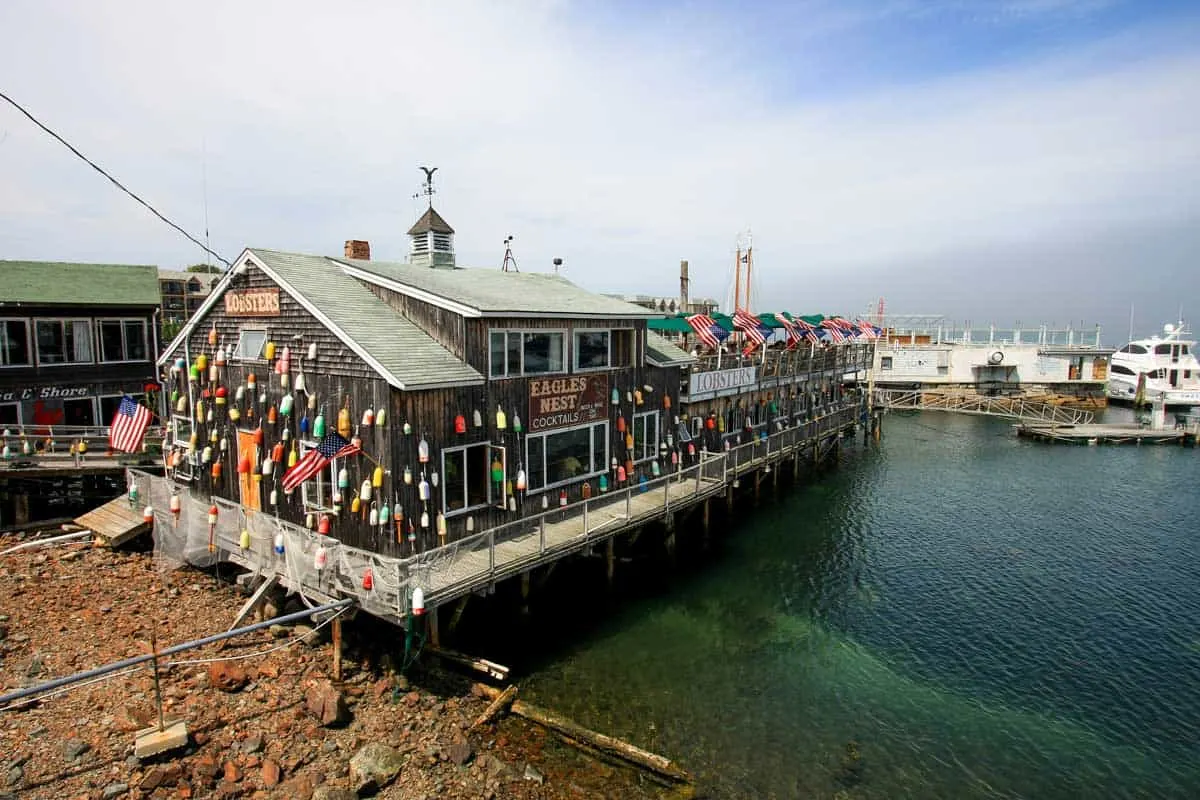 You Might Also Like: If you have an extra day or two, consider exploring some of beautiful New Hampshire, less than an hour south of Portland.
Day 2: Portland
Portland, Maine, is the second stop for this Maine coast itinerary. One of Maine's biggest cities, Portland has lots to offer visitors, from strolling the Old Port, finding unique gifts and treasures at local boutiques, and visiting some of Maine's most scenic lighthouses. Portland will leave you feeling like you have truly experienced the beauty of Maine.
The drive from Bar Harbor to Portland is about 3 hours, so plan on heading out early to make the most of your time in beautiful Portland.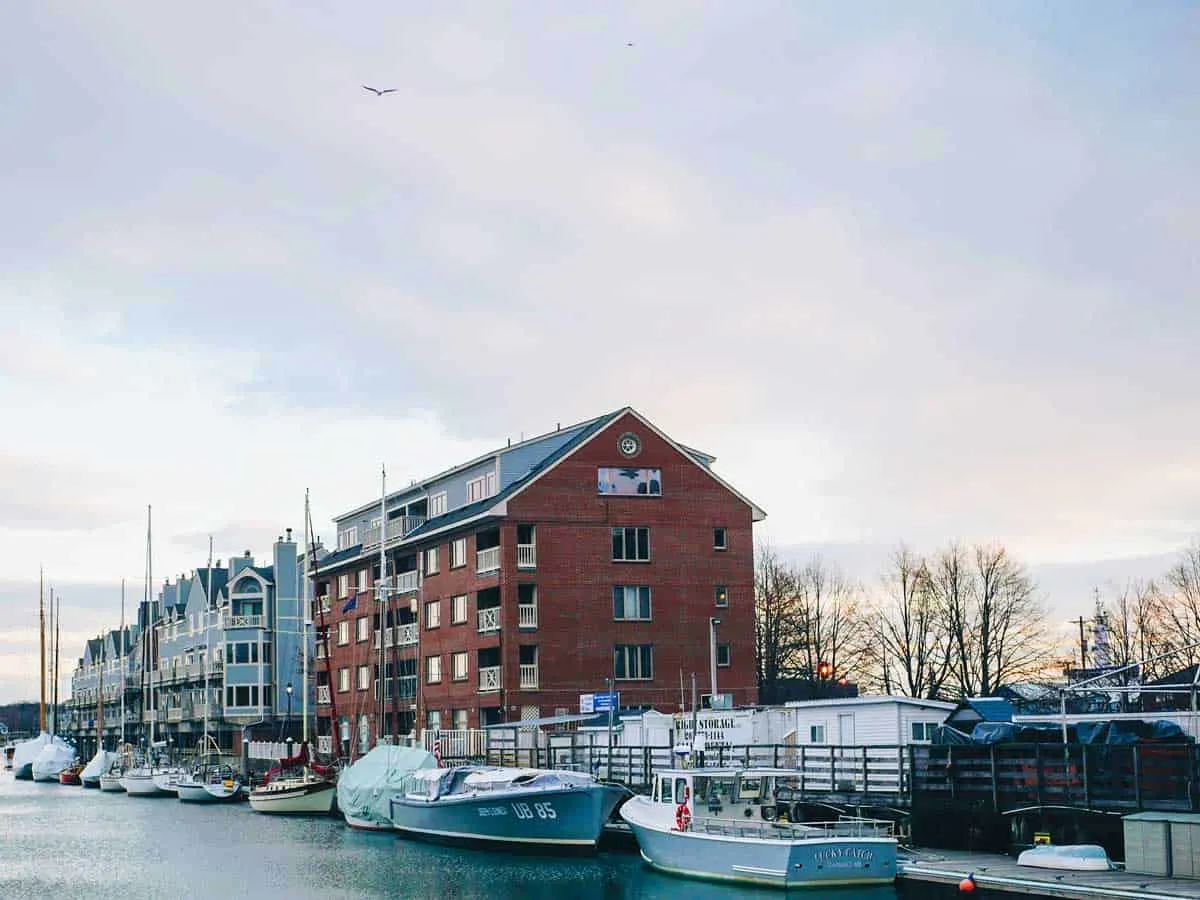 Old Port
Step from the modern-day city to the historic, cobblestone streets of Old Port as you spend your morning sightseeing, shopping, and enjoying the history and culture of Portland. You will find a combination of local and brand-name shops along the old streets, including clothing, galleries, gourmet food stores, pottery, jewelry, and more.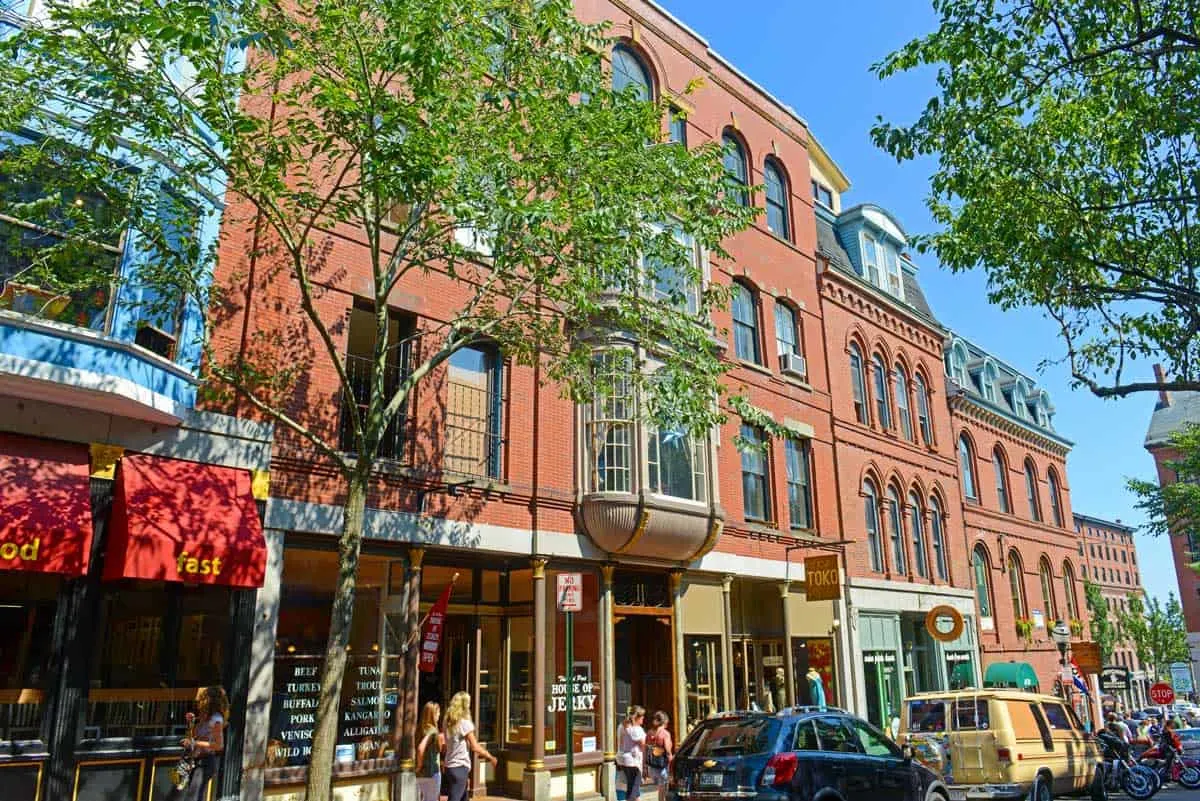 Old Port is also blessed with many popular and quality restaurants, from quick service to fine dining style restaurants. For Italian food lovers, check out Paciarino. Old Port Sea Grill & Raw Bar, Street & Co, or Eventide Oyster Company are the places for authentic seafood. If it's sweets you crave, visit DuckFat for a milkshake or donuts.
If you want to get out on the water, join a 2-hour sail with the Portland Schooner Co. on an early 1900's Windjammer for a sightseeing cruise taking in the famous local lighthouses and wildlife. See here for cruise details.
Recommended Tours in Portland Old Town
Old Port Culinary Walking Tour – 3-hour tour learning about Maine's famous culinary scene. Includes guide, food samples from locale restaurants and eateries, and beer tasting. See here for full tour details.
History Walking Tour with Sweet Treat – 2 hour tour exploring the key landmarks of Portland and its 200-year history. A great way to get your bearings in Portland. Includes local guide and typical Portland sweet treat at the end. See here for full details.
Cape Elizabeth
When visiting Portland, you will want to take the 20-minute drive to nearby Cape Elizabeth. Home of the Portland Head lighthouse inside Fort Williams Park, one of the most well known and photographed lighthouses in the US.
You can't go inside the lighthouse, but there are plenty of areas for stunning views of the lighthouse overlooking the Atlantic Ocean. There are also walking trails around the lighthouse to enjoy the amazing scenery and the ocean breeze.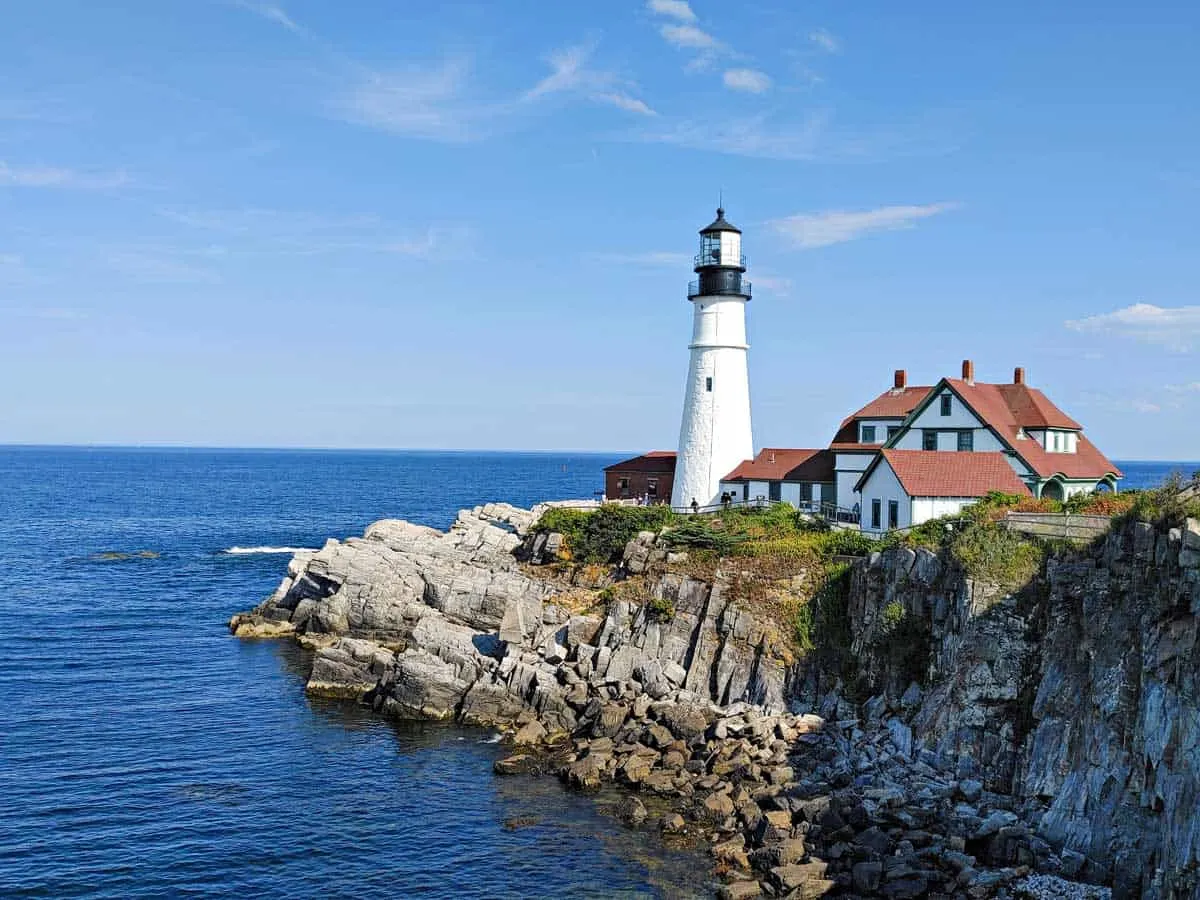 Aside from the lighthouse, you can also visit the battery ruins in the park, which you are free to climb on and explore. Although designed with children in mind, a walk through the Children's Garden is a great visit for any age for the colorful display of flowers and plants. If visiting on a hot summer day, you can also hit the beach area for a swim with views of the Ram Island Ledge Light (Beware, though, even in summer, the water will be cold).
If you are a lighthouse lover, you may also want to visit the neighboring Two Lights, State Park. Although not technically located within the state park, the twin lighthouses are located at the end of Two Lights Road. One is visible from a parking and a small beach area. One of the lighthouses is now privately owned, so you will have to admire it from afar. Within the park, you can enjoy walking trails, a rocky coastline with views of Casco Bay, picnicking, and exploring the remains of a WWII fort.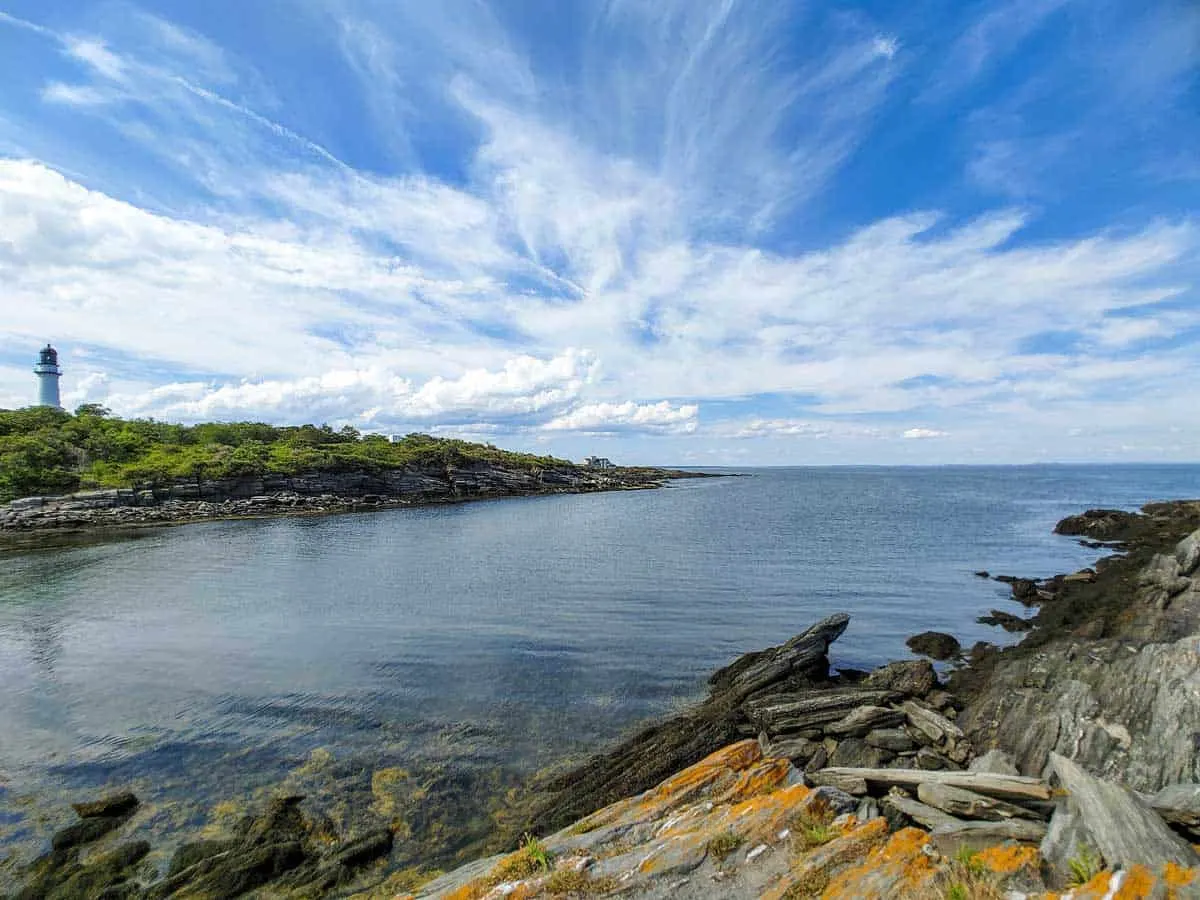 Brewery Tour
For many, Portland is often synonymous with beer. With over 70 breweries within the city limits, a brewery tour should be on your 3-day Maine coast itinerary. There are plenty of unique tour options, from a Haunted Pub Crawl, pedal bike tours, party bikes, bus, and private tour options. Alternatively, you can research Portland's many breweries and take a self-guided brewery tour.
If you choose the latter, some of the breweries you absolutely do not want to miss include the Allagash Brewing Company, well known for its Allagash White, Banded Brewing Co. for their Jolly Woodsman, made with espresso, cranberry, chocolate, and orange, and Bissell Brothers Brewing Co. for their Substance Ale, a hop IPA.
Recommended Beer & Brewery Tours
Bike and Brew Tour – 1.5-2.5 hour options. Discover Portland and the local brew scene by bike. Choose between a morning coffee tour, an afternoon brewery tour, or an early evening beer, wine, and spirits tour. Includes all cycling gear, a local guide, and a selection of craft beverage samples. See here for full tour details.
Sea Harbor Brews Cruise – 1.5 or 2 hours. Enjoy beers and boats on the waters of beautiful Portland Harbor and Casco Bay on a brews cruise. Sip local craft beers onboard the beautiful Elizabeth Grace for a 1.5-hour harbor tour or 2-hour sunset cruise. Includes cruise, guide, and 2 local craft beers. See here for full details.
Tasting Tour to Local Breweries – 3 hours. Sip and taste your way through historic Portland on this walking brewery tour. Visit the city's well-known breweries and enjoy samples at each stop along the way while learning about Portland's beer history. Tour includes local guide, stops at three local breweries with three samples at each brewery and a light snack. See here for full tour details.
Alternate Portland Itinerary: Casco Islands
While Portland is enough to keep you busy for more than a day, if a larger city is not your cup of tea, there is an alternative. If you want to get out of the city and explore the surrounding waters, spend the day island-hopping the Casco Bay Islands. While there are over 700 islands in Casco Bay, there are six easily accessible islands via ferry.
You can enjoy various activities on the islands, including kayaking, museums, art galleries, shopping, hiking trails, sandy beaches, delicious restaurants, biking, historic forts/structures, fishing, and motorboating. Whichever island/s you choose, you notice the pace is a lot slower on the Casco Islands, and relaxation is a priority. A perfect chilled-out escape from Portland.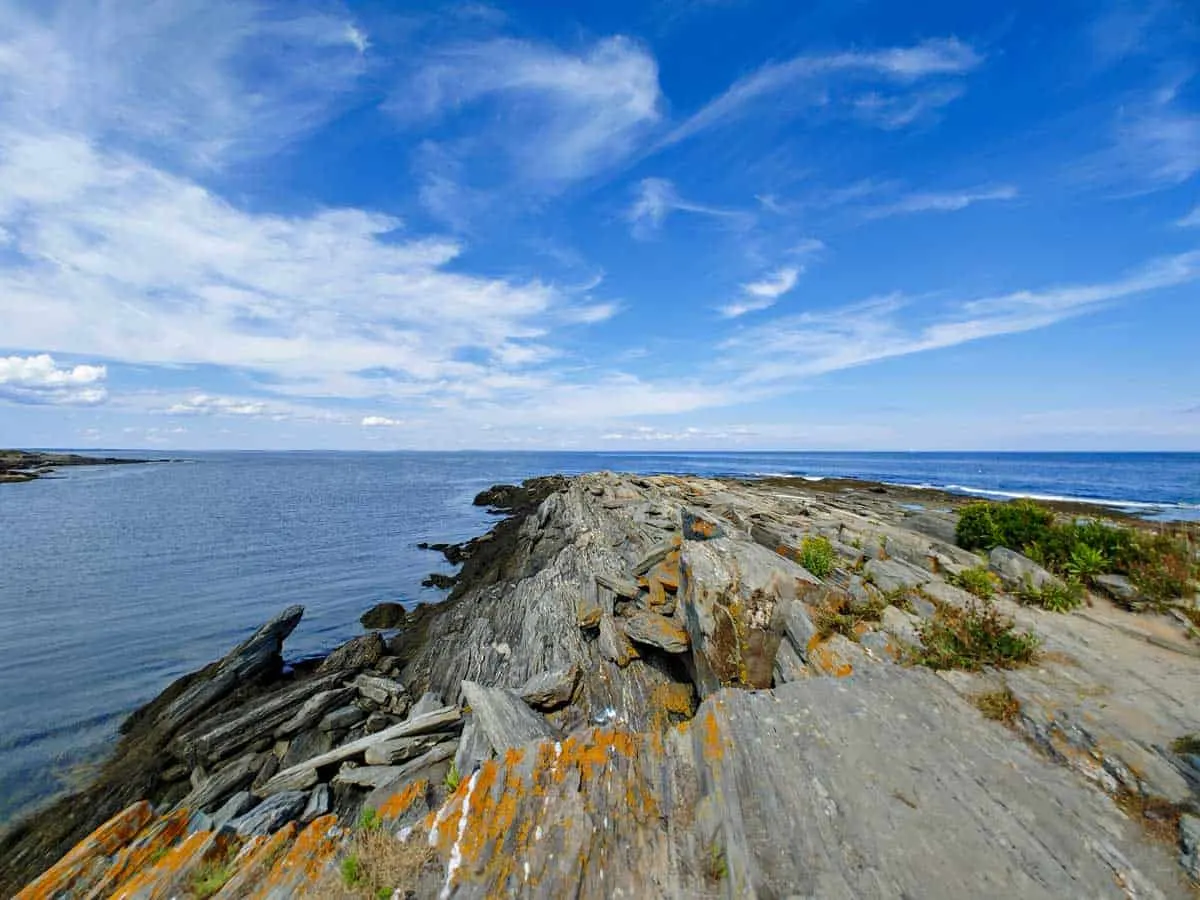 Day 3: Kennebunkport
For the final day, continue Southward along the coast to the seaside town of Kennebunkport. Although Kennebunkport is famous for being the summer home of President Bush, it is worth a visit for so many other reasons. Kennebunkport is home to a quaint shopping district, gorgeous beaches, and a working fishing harbor.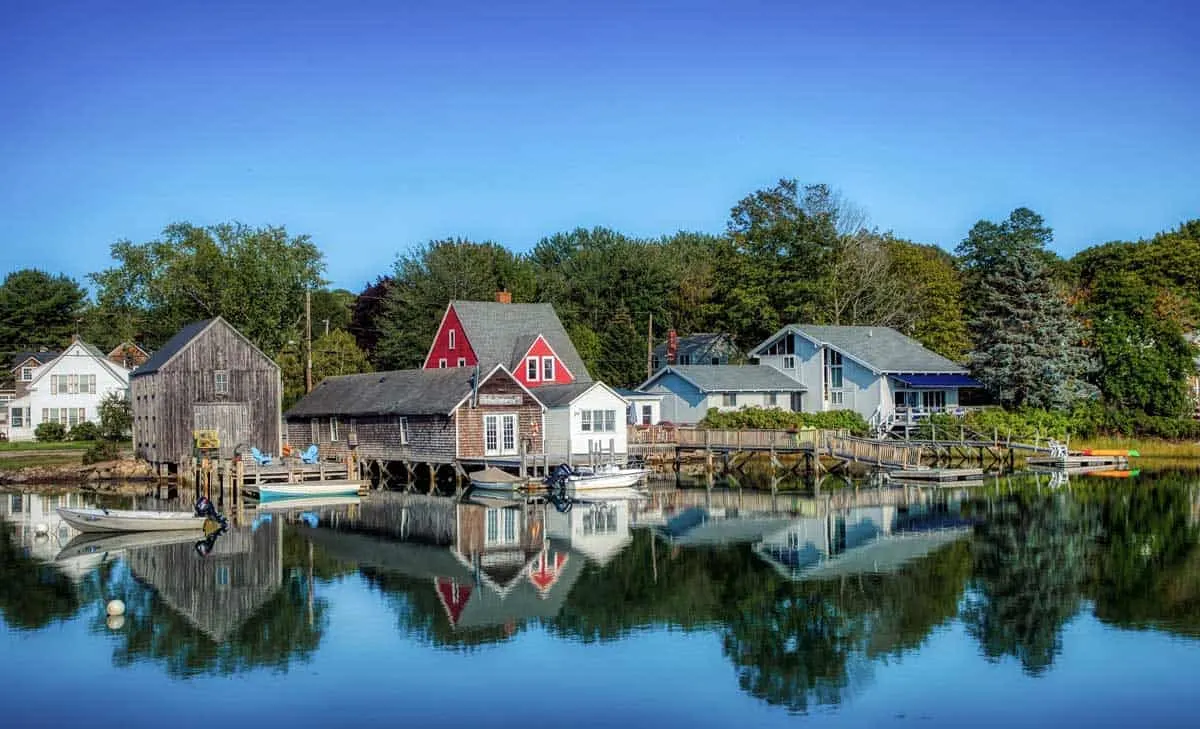 Relax at the Beach
A Maine coast Itinerary would not be complete without some time relaxing at the beach. Kennebunkport is home to some of Maine's best coastal beaches for sunbathing and swimming.
Kennebunkport Beach is a great swimming beach with options for getting out on the water in a kayak. If you are looking for a more relaxed beach, you will find calmer waves at Goose Rocks Beach with a very well-maintained shoreline. Hit the beach for a quick swim before heading out to see all that Kennebunkport has to offer, or choose to spend a few hours relaxing before moving on.
Dock Square
Dock Square is the picturesque seaside neighborhood on the Kennebunkport River often seen in photographs associated with the area. The town features colorful, unique buildings with views overlooking the river. Shopping is a prominent activity in Dock Square. Along the neighborhood's streets, you can find local shops with clothing, souvenirs, homemade crafts, taffy, fudge, art, and specialty foods. For lunch, stop at the Clam Shack for some Food Network famous lobster rolls or fried clams.
Cape Porpoise
Cape Porpoise is a working fishing harbor just five minutes outside of Dock Square. You can watch the fishing fleets cruising in and out of the harbor, observing the different traps and bait barrels used. Like many other destinations along the coast of Maine, Cape Porpoise is a great stop for fresh seafood dining – the Cape Porpoise Chowder House is one of the best options.
If you are looking to get out on the water, there are many options for kayak rentals and tours from Cape Porpoise. From the end of the Cape Porpoise Pier, you have great views of the Goat Island Lighthouse.
If you have the time, a boat tour out to Goat Island to see the Goat Island Lighthouse is a worthwhile trip, The tour includes a narrated history tour and, afterward, takes you past Bumpkin Island, where you can spot seals sunbathing on the shores.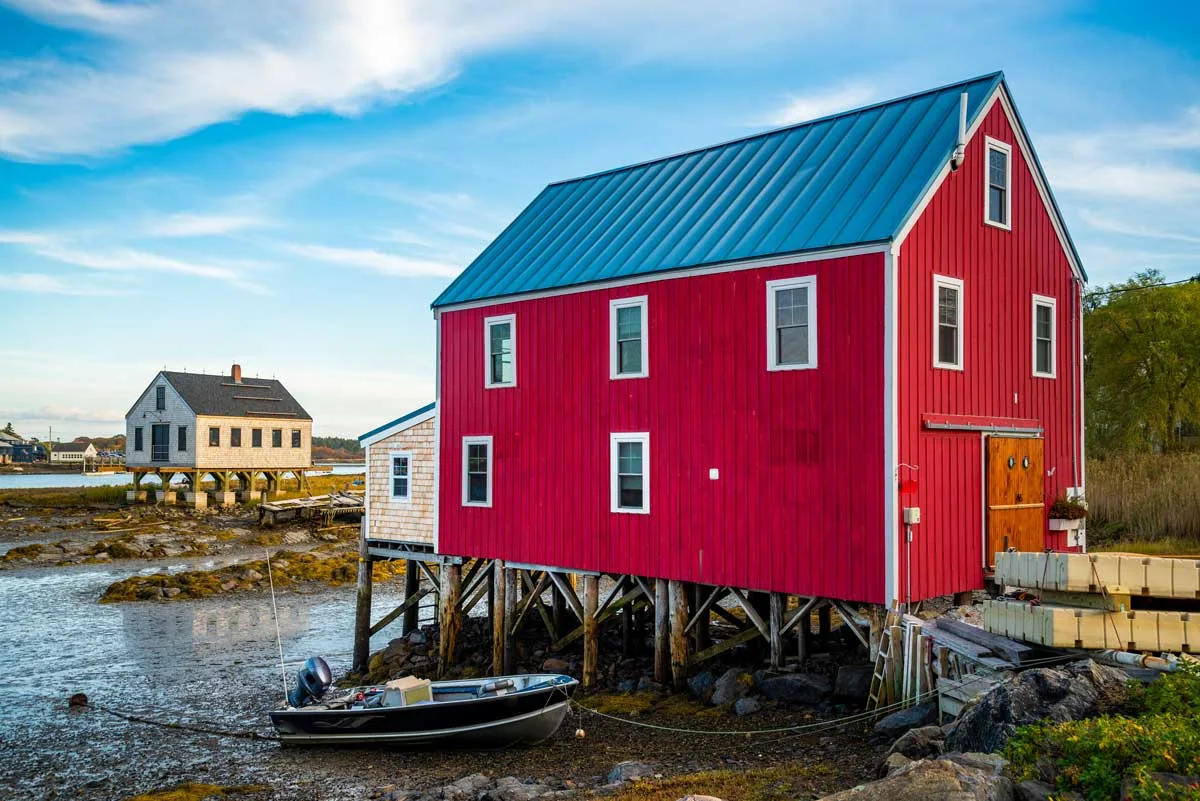 Catch a Show at Vinegar Hill Music Theatre
Finish up your day in Kennebunkport at the Vinegar Hill Music Theatre to catch some live entertainment. The theater is set in a renovated barn that currently offers live shows and a variety of concerts, from jazz, blues, rock, pop, and funk. The Theatre also has a bar where you can enjoy cocktails to start the night.
About The Author
Melissa Luther
Melissa is the writer and photographer behind Navigation Junkie, a family-focused travel blog. She writes about her travel experiences with her 6-year-old daughter and provides tips and tricks learned during those travels to help improve the experience of families from around the world hoping to create memories through travel.