We had bumbled around Kruger National Park for a few days on our self-styled, self-drive Kruger safari. Like most, we wanted to see the big five. Could we tackle the big five on our own, or is a guided, private Kruger safari the better choice?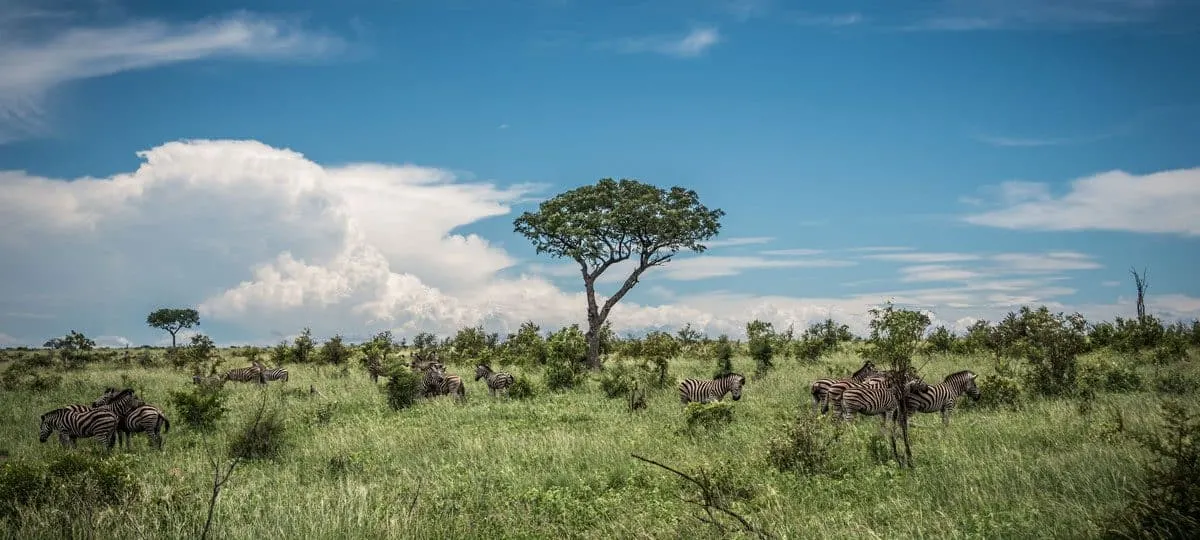 We marvelled at the almost Jurassic Park style of Kruger National Park. Herds of pretty Impala ran through lush green fields. Zebra grazed alongside countless wildebeest and giraffe walked elegantly down the centre of the road. There was even a number of close encounters with herds of wild elephant. All of this on day one.
Private Safari – Kruger National Park
The animals in the Kruger National Park far exceeded our expectations. However, we were quickly beginning to realise, the abundance of fauna at every turn wouldn't mean we would net Africa's famous big five by our own novice wits.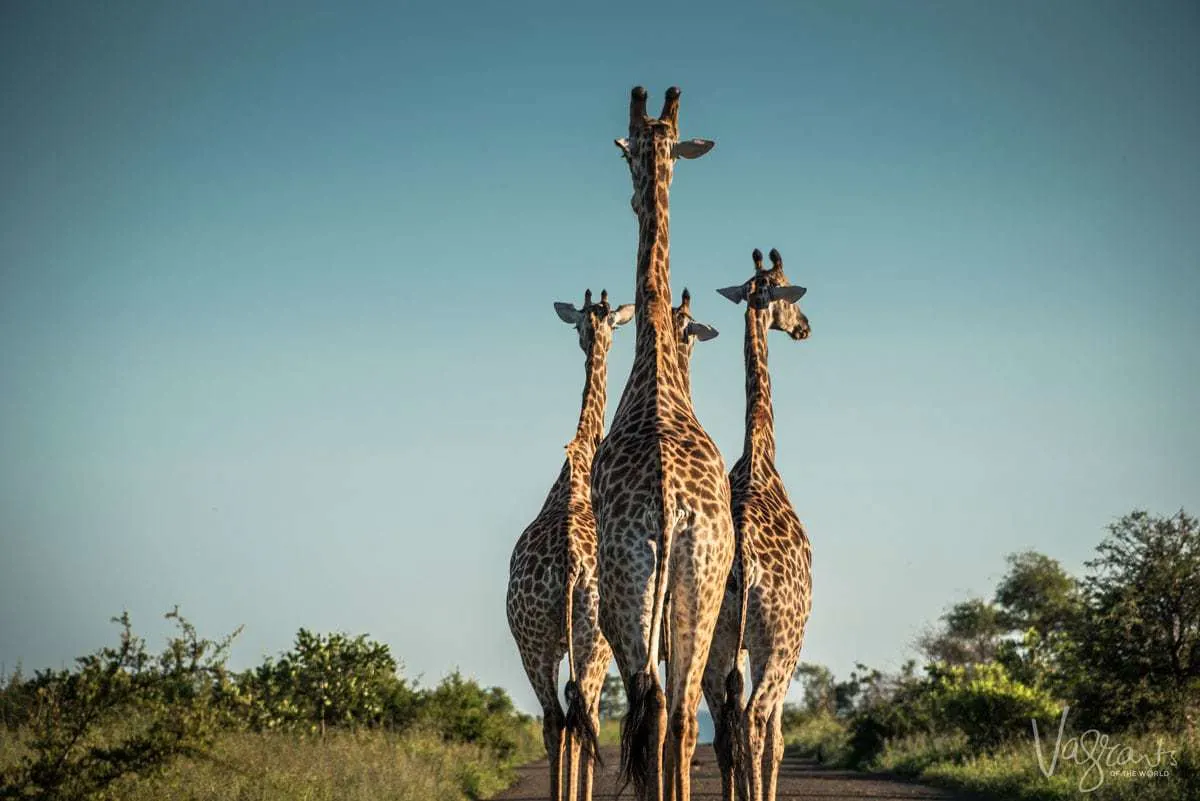 We had done everything by the guidebook. Setting off before the sun rose. Driving at snail's pace surveying the bush to the point of eye strain. Scrutinising the sightings boards and following the late afternoon pilgrimage in search of the prize.
We checked off elephant from our list, after all, they were hard to miss. Counted the rhino butt we saw poking out of a bush far in the distance as a win. We even got lucky and stumbled across a lone buffalo taking a soak in a creek. But the final two, the big, cats evaded us.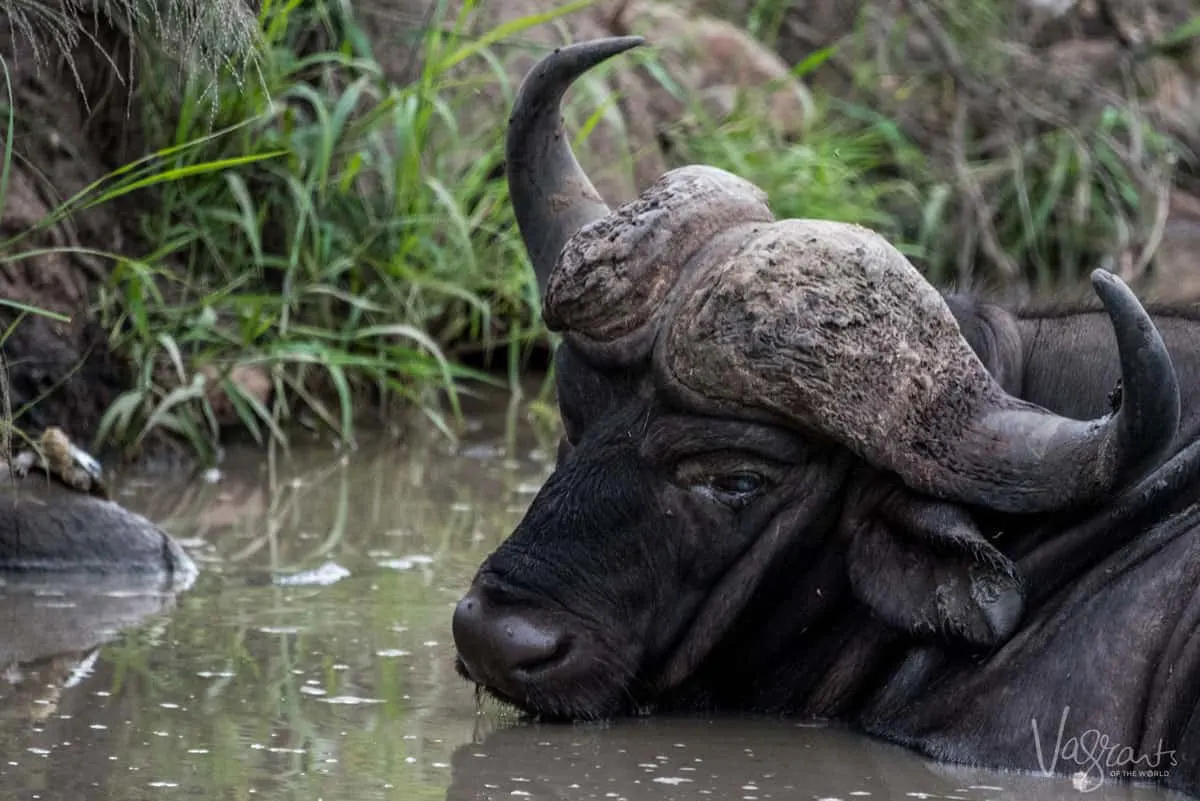 Day after day the sightings boards reported leopard, lion and even cheetah on the very roads we had traveled. Our hope of checking off the big cats and completing our big five was quietly being placed in the hands of Private Kruger Safaris, who we had booked for a full-day game drive.
The Kruger Safari
We were picked up from Skukuza camp in Kruger at 6:30 am. This was a whole 2 hours later than we had been setting off. We quietly wondered if we were setting off late or, had we fallen victim to some Kruger first-timer joke of leaving before sunrise?
Nevertheless, we felt much more confident in the possibility of seeing at least one of the big cats and maybe even seeing more than a rhino's butt. After all, our guide was experienced in the behaviors and habitats of the animals in Kruger.
---
Recommended Travel Gear For Safari in Kruger National Park
---
We jumped in the purpose-built safari jeep and realised our inexperience was not the only issue in netting the big five. The elevated, open safari vehicle shed a whole new perspective on the overgrown bush.
As it was the middle of the wet season, the grass was high so our vision limited to how far beyond the grass tops we could see. We could now spot zebra and impala way beyond our former line of sight.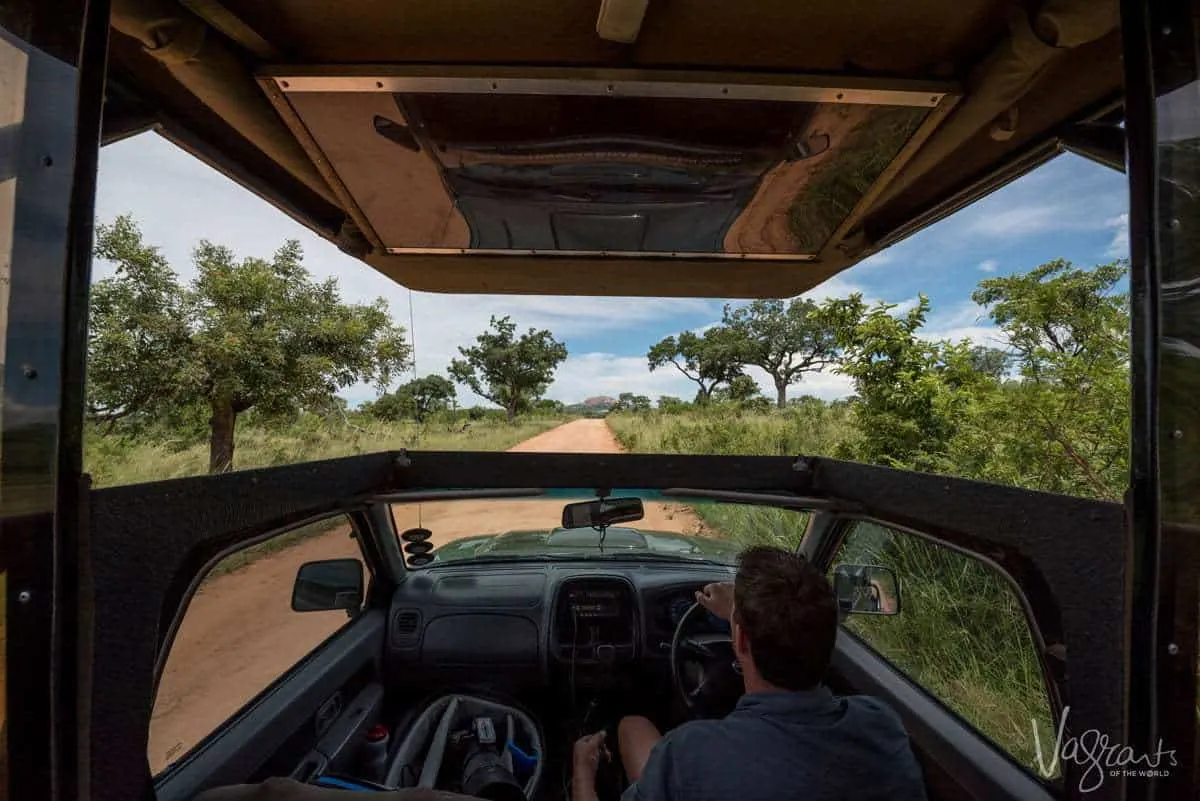 "What animals would you most like to see?". Tongue in cheek we put in our order – lion and rhino up close. Although we knew with wildlife, there were never any guarantees. "What about leopard?". We would never have thought to be so demanding as to ask for the most elusive of the big five but our guide gave the impression this was not such a big ask. After all, these cats were his favourite.
"Better get a move on, there are lions down the road so we need to get there before they move". We were grinning from ear to ear with the possibility of seeing just one big cat and he said "they".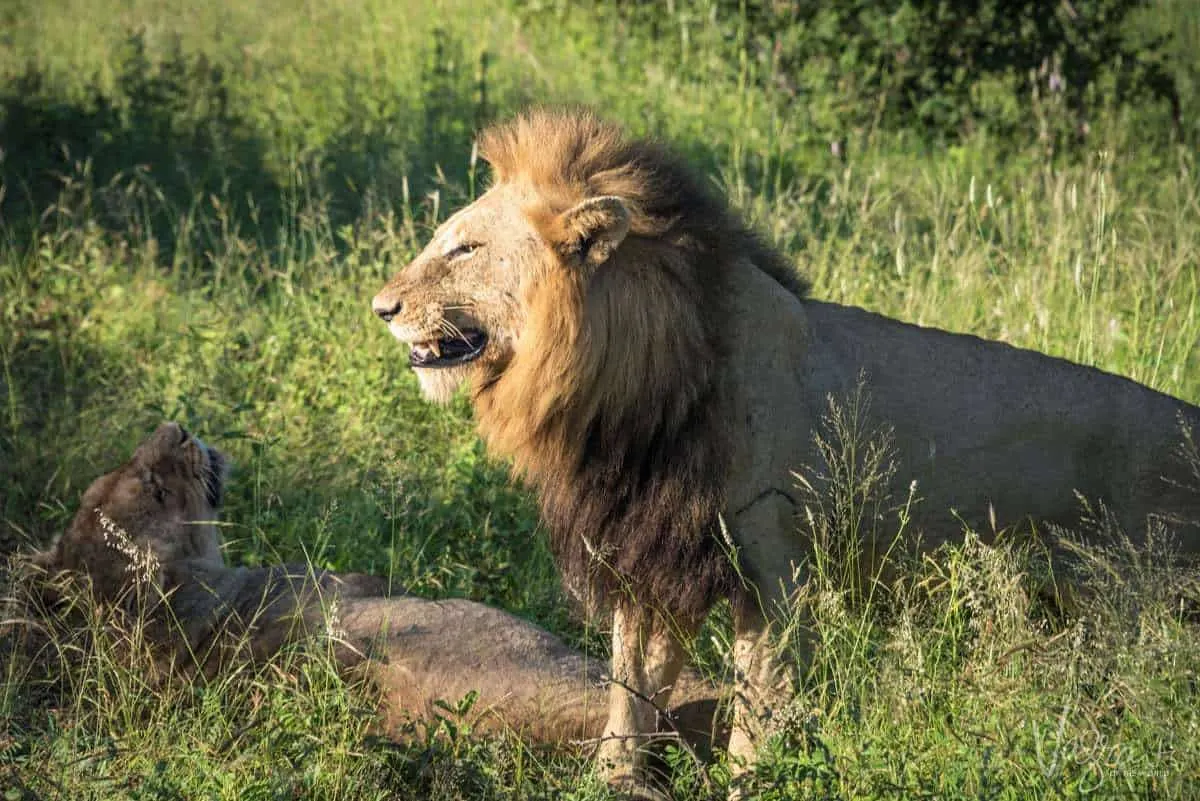 Within five minutes of leaving camp, we were a few metres from a mating pair of lions lying just by the side of the road. They had moved from the middle of the road not long before to escape the rising sun.
Had we turned around and returned to camp there and then, we would have been very happy. He asked what we wanted to see most and delivered not one, but two lions doing what mating lions do.
But we had to press on. We had rhino and leopard to find.
The Benefits of a Private Safari Tour
Wildlife Safari Expertise
Even if you are doing your own self-drive safari through Kruger, we highly recommend booking at least one private safari. We say private because this will give you a much better experience all around than being crammed into a vehicle with a large group such as the ones run by bigger tour companies or from the camps.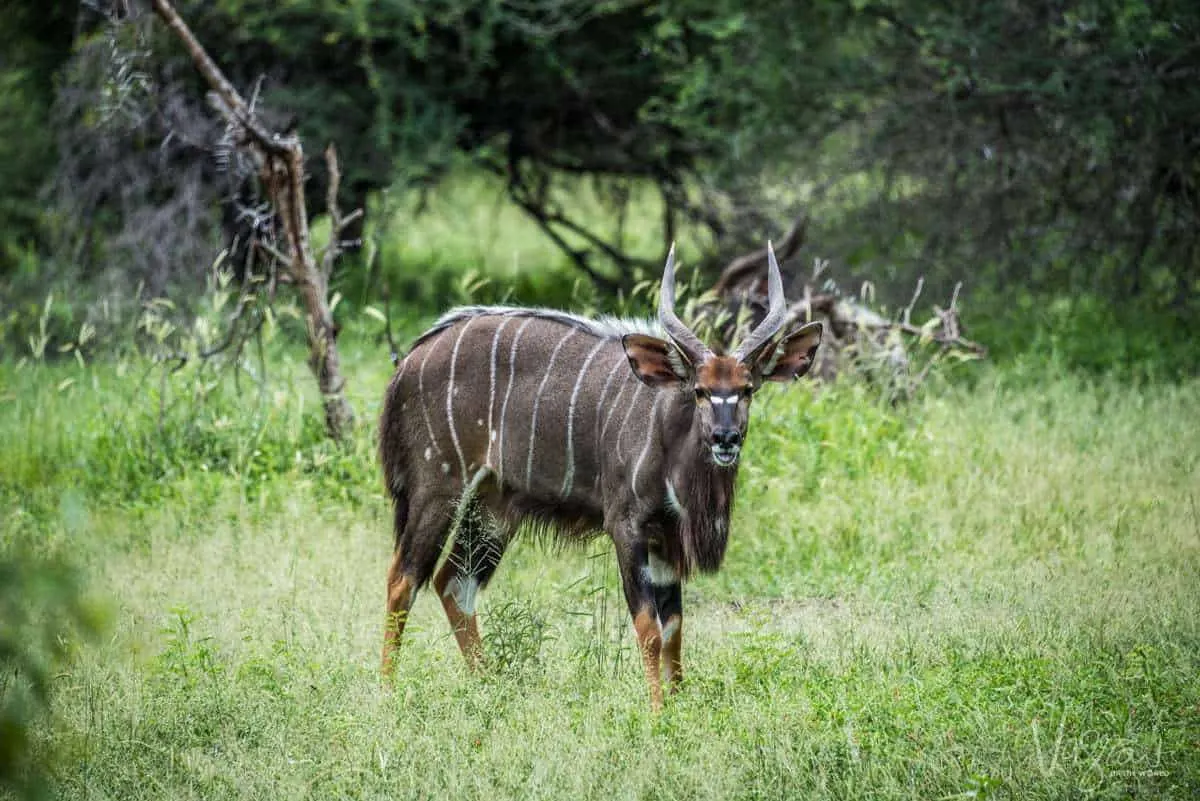 A full or even half day with an experienced guide will not only increase the possibility of wonderful wildlife sightings, it will also help you to learn techniques for finding and spotting wildlife. If your interest lies in a certain area such as birding, your guide will be able to focus on the species you want to find and learn about most.
On our quest for leopard, our guide suddenly pulled the car over and listened intently to the call of a Francolin bird. He informed us the possibility of a predator in the area was high as signalled by the bird.
The bird's call also lured another guide to pull over in hope of sighting one of Kruger's predators. We would never have known that the birds will call when danger is close, whether it be lion, leopard or even a snake.
Local Knowledge
Experienced guides have a good knowledge of the park and the habitats of certain animals, so know where to look. They will also be in contact with other guides via radio and will share sightings. This is great for cats such as lion who move very little during the day but will hide in the shade of trees and grass.
Thanks to radio contact, we were hot on the tail of leopard throughout the day and managed to get our close up with not one, but two rhino grazing on the side of the road. We were starting to feel less guilty for the order we placed early that morning.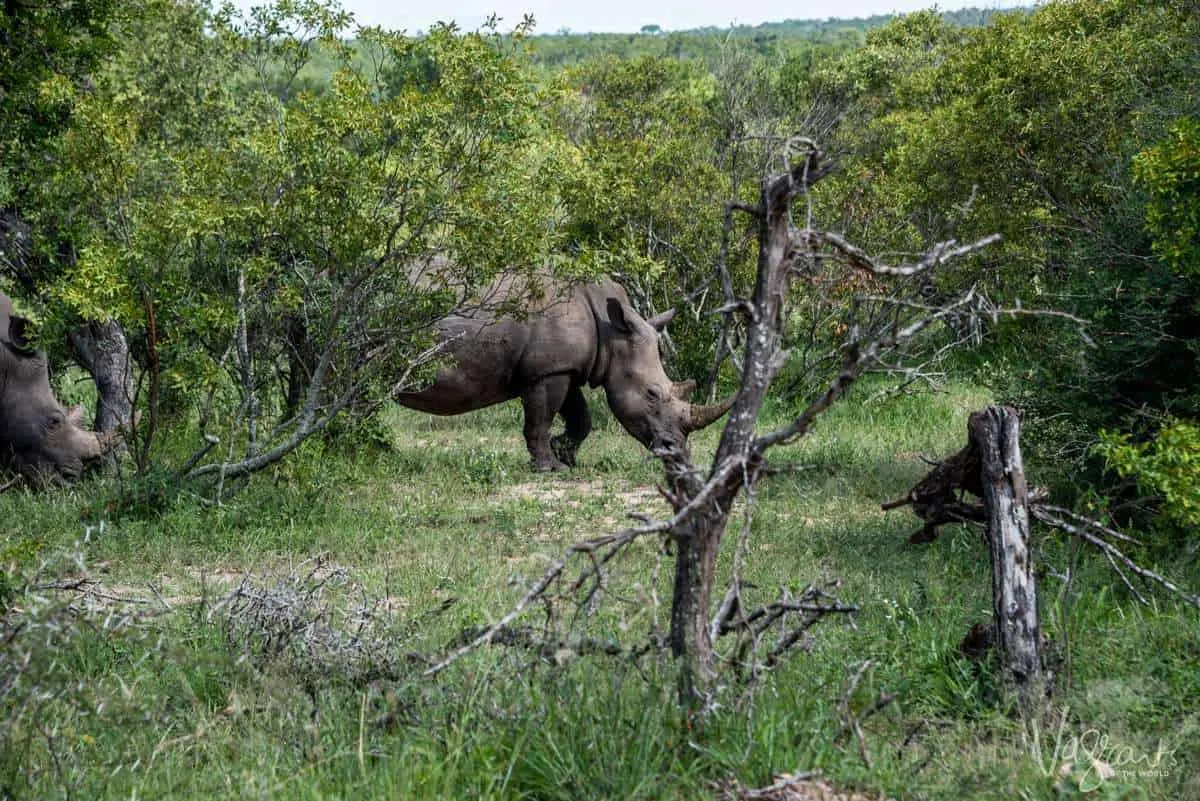 Being on safari is not just about experiencing the animals in Kruger National Park but about experiencing the natural landscape of the African bush. Our guide took us to some of the best vantage points in the park to experience the never ending landscape.
From one of these vantage points, we were able to spot a herd of buffalo moving across a field. Already in one day, we had netted four of the big five. We were feeling pretty pleased.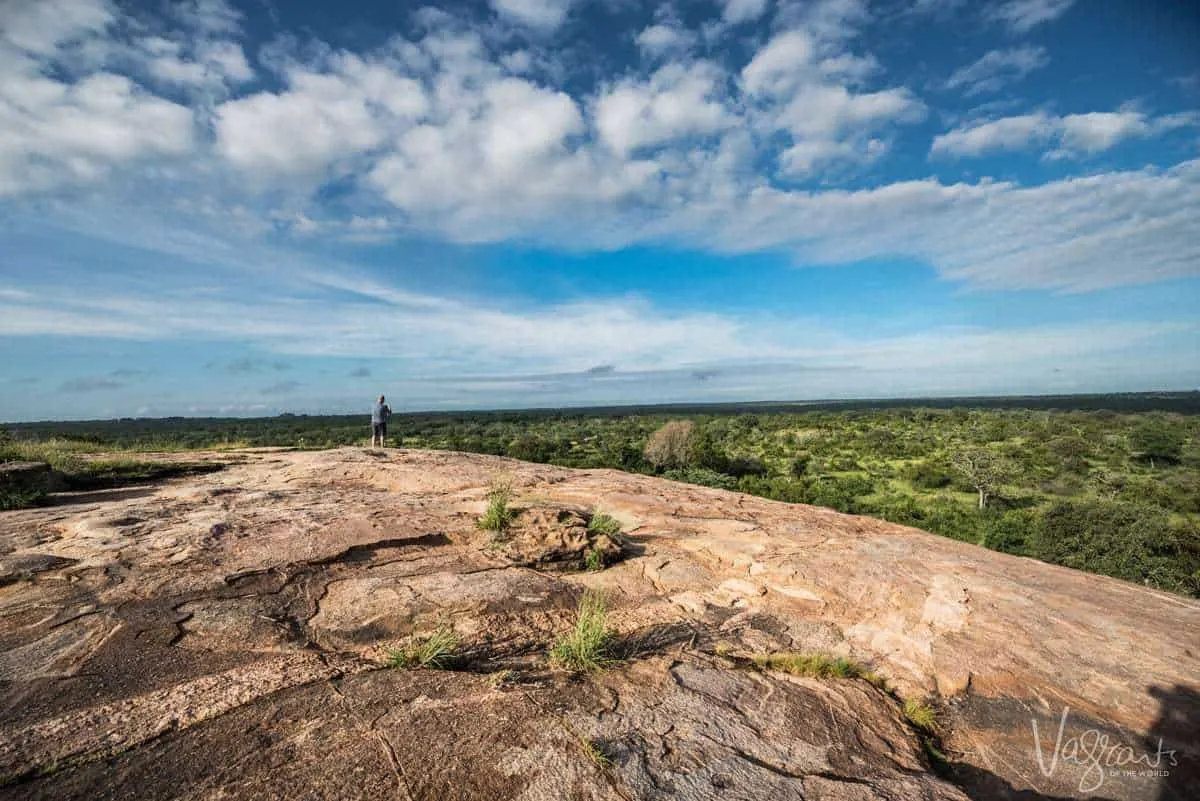 The Best Equipment and Expertise
Going on safari is unlike normal national parks tours. A wildlife safari is best when you have the right gear for the job. Private Kruger Safaris offer comfortable open safari vehicles meaning you have an unobstructed, elevated view at all times.
A good private safari company understands the importance of wanting to nail those National Geographic worthy pics or spot that elusive species of bird and will offer equipment hire to get the job done.
Private Kruger Safaris also specialise in photographic safaris so, as part of the service can arrange for camera, lens, binocular and photography equipment hire for your use. This means not having to purchase expensive gear or lug heavy equipment with you.
Whether you are a professional photographer or novice who just wants to get some great snaps, guides will aim to find you the best sightings and get you in the right position for the best shot. Having an experienced wildlife and landscape photographer on hand means you have access to tips and techniques to help you shoot like a pro.
Knowledge of the Animals in Kruger National Park
A knowledge of the habitats of the animals in the park may help get you to the best sightings, but what about when you do sight the animal? An experienced guide will have a good knowledge of each species in the park beyond being able to find them.
While admiring elephant on the side of the road, our guide heard a lion roar in the distance. He knew this was probably a mating roar as lions won't usually expend any unnecessary energy during the heat of the day. We headed in the direction he thought they would be. When we got there, other vehicles had given up hope of a clear view of the pair and were moving on.
He knew the pair would mate again soon. Every 15 minutes or so apparently! So, patiently we sat, eyes peeled in the area he thought they might be. Suddenly we saw an outstretched paw above the grass line. They were moving. Then it happened. The pair rose and began the ritual where the lioness tries to fight the male off before mating.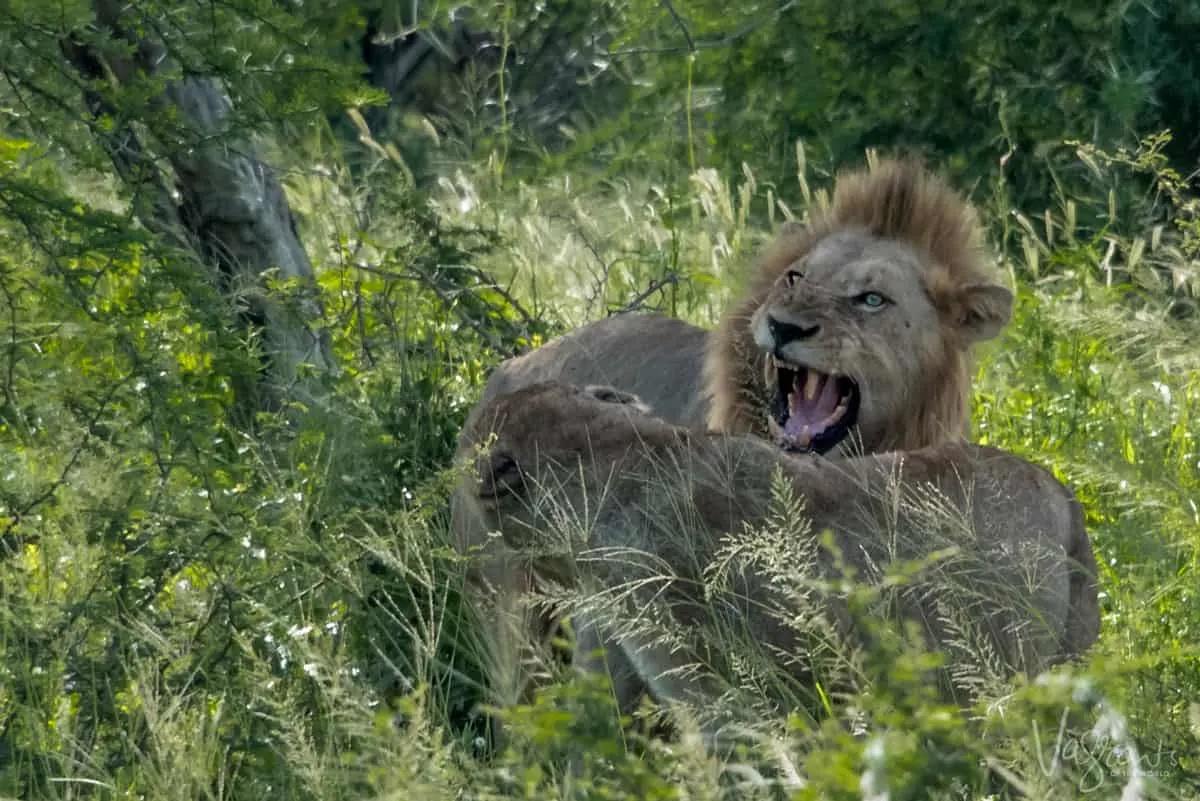 After the lion spectacle, driving down the road on our way back to camp, our guide sighted something in the tree by the side of the road. Leopard!
The roar of the mating pair of lions had startled a leopard close by, sending him up the nearest tree. We couldn't believe our luck. The big five plus so much more in one day. Had we not waited patiently for the lions to mate again we would have missed this very special sighting.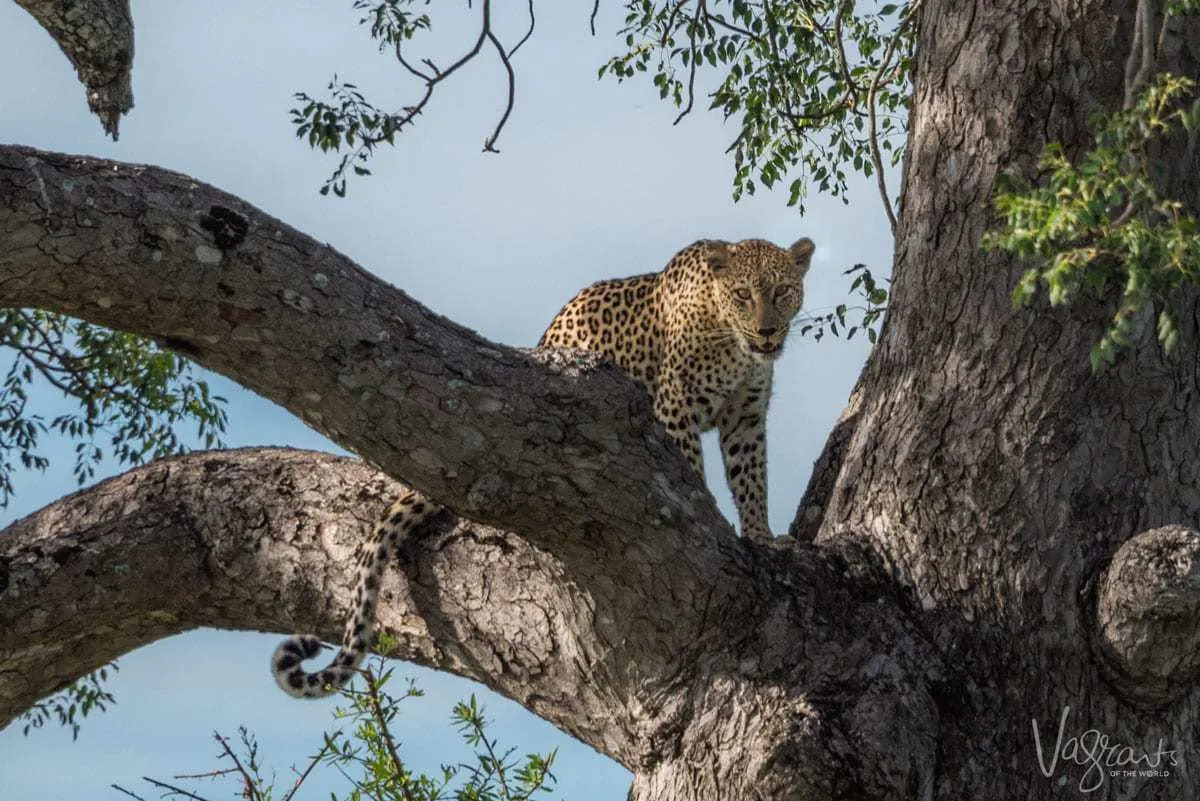 Private Kruger Safaris offer an affordable way for people to experience a real safari in South Africa, making the safari experience much more accessible to any timeframe or budget.
We truly believe a private safari with an expert guide is the perfect way to experience Kruger National Park, especially if you only have a day or two to explore the park. It is also a fantastic way to enhance your experience if you have longer and are doing a self-drive safari in Kruger National Park.
Private Kruger Safari Facts
Cost
Private Kruger Safaris offers a range of private safaris to suit –
Half-Day Safari – Morning or afternoon. Prices start at ZAR 1080 pp (~USD $82)
Full-Day Safari – Prices start at ZAR 1380 pp (~ USD $104)
Photographic Day Safari – Prices start at ZAR 2400 pp (~ USD $180)

Overnight Safaris ranging from 2 – 10 days. Rates on Request.
Normal Inclusions
Open safari vehicle.

Experienced guide.

Mounted photographic arm and bean bag for photographic safaris.

Some safaris will include tea /coffee/mineral water.
Exclusions
Breakfast and lunch stops are at your own cost. Restaurants in Kruger National Park are very reasonably priced and the food is pretty good.

Kruger Park Entrance Fee – Expect fees starting at – ZAR 304 per day for adults (~ USD$23) ZAR 152 per day for children (~ USD$12) *these fees will be subject to change.

Additional photographic equipment.
Pick Up and Drop Off Points
Private Kruger Safaris depart from Hazyview outside of the Kruger National Park. Pickup can be arranged from the main rest camps within the park. Assistance with accommodation bookings is available on request.
Additional Facts
While the open safari vehicle has a canvas roof, hat and sunscreen will still be required.
It is always wise to bring cash for any purchases or fees as cash machines can be down at any time within the park.
Morning and full-day safaris will depart around sunrise, as this is the best time for animal sightings, so plan for an early start.
Planning on staying in the park? Camps in Kruger National Park are reasonably priced and offer very good facilities such as shops and restaurants for those not wishing to self-cater.
Bookings can be arranged through SAN Parks or enquire with Private Kruger Safaris. Advance booking is advised.
Contact the guys at Private Kruger Safaris for bookings or enquiries.
Find out more about holidays in South Africa or luxury safaris beyond Kruger
---
We would like to thank Private Kruger Safaris for hosting us for the day. As always, all opinions expressed are our own and have not been influenced in any way.