Have you ever dreamt of a luxury African safari? The wildlife safari of your dreams may be more attainable than once thought.
Safari lodges in South Africa have a reputation for some of the finest safari accommodation and best wildlife reserves in the world. This reputation remains true with an affordable wildlife safari experience offered by Africa on Foot in the Klaserie Private Nature Reserve in Greater Kruger.
Africa on Foot offers an authentic safari experience with refined touches that put a whole new spin on life in the bush. While the focus of this eco-friendly camp is on an authentic bush experience, the traditional old-school safari experience hasn't been forgotten.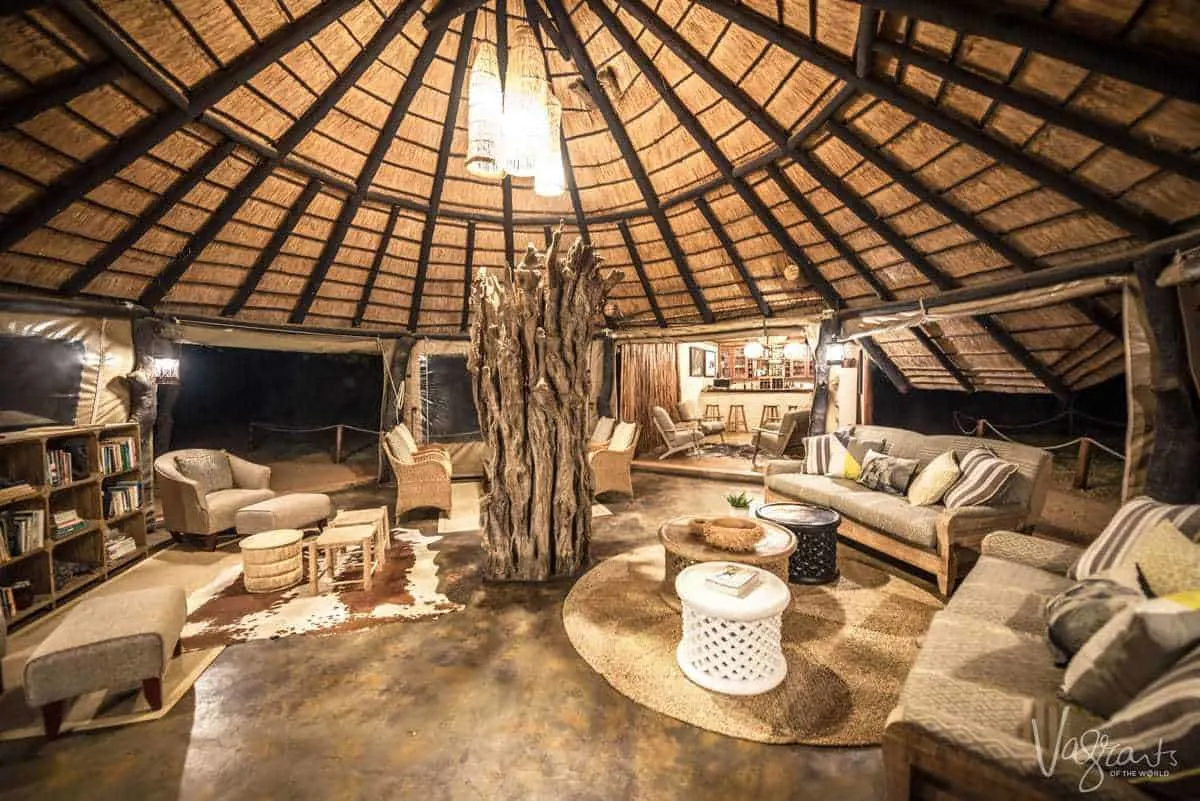 Africa on Foot encompasses the adventure of bushmen and explorers of times past while retaining old-fashioned bush charm. A refined experience set against a wild and natural landscape.
The Klaserie Private Nature Reserve shares unfenced borders with Kruger National Park allowing wildlife to roam freely between the two. The camp itself is also unfenced which can make for some very exciting wildlife encounters. Elephants have been known to come to drink from the pool. Always a highlight for unsuspecting bathers.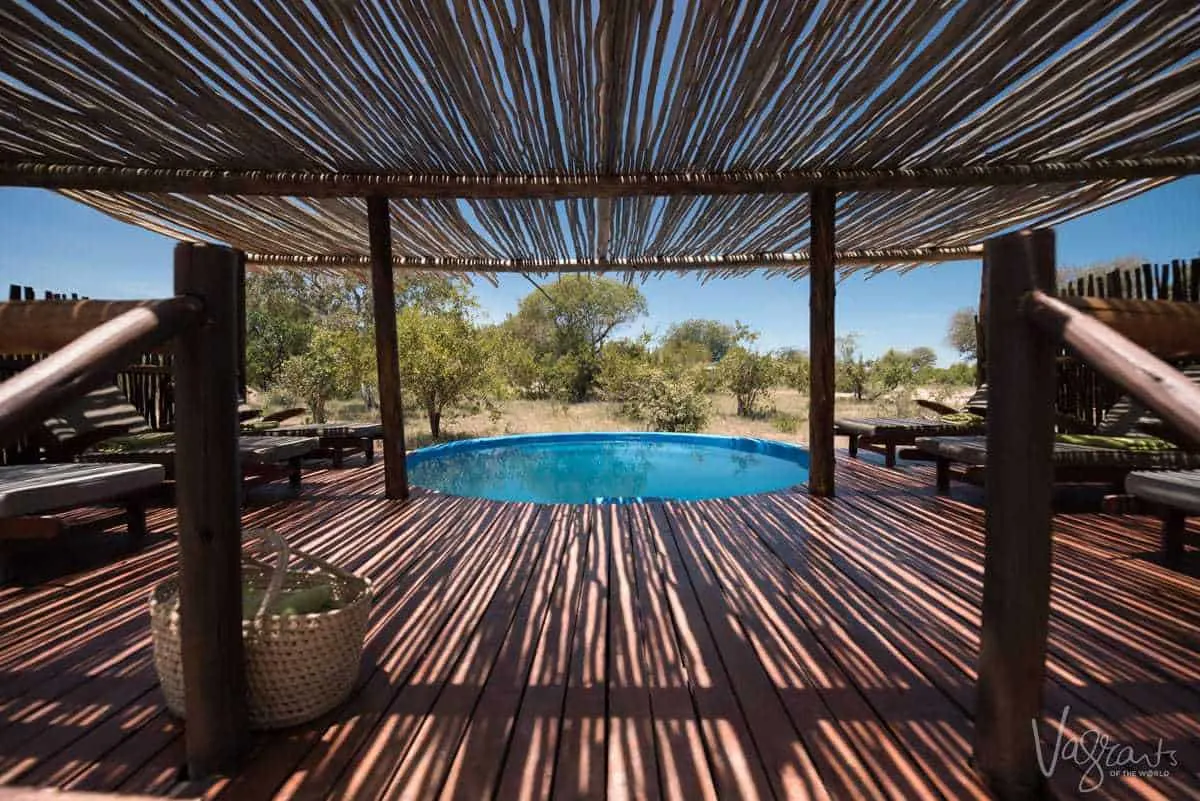 ---
Before You Go – Recommended Travel Gear For Safari In South Africa
---
The Safari Experience
Walking Safaris
The highlight of the authentic bush experience offered by Africa on Foot is the daily walking safaris. This is an experience you won't find at just any of the South African lodges. While the thrill of tracking big game in a safari vehicle is an experience not soon forgotten, a morning walk through the bush with a professional tracker is an experience never forgotten.
Discover More of Africa with With Walking Safari's in Zambia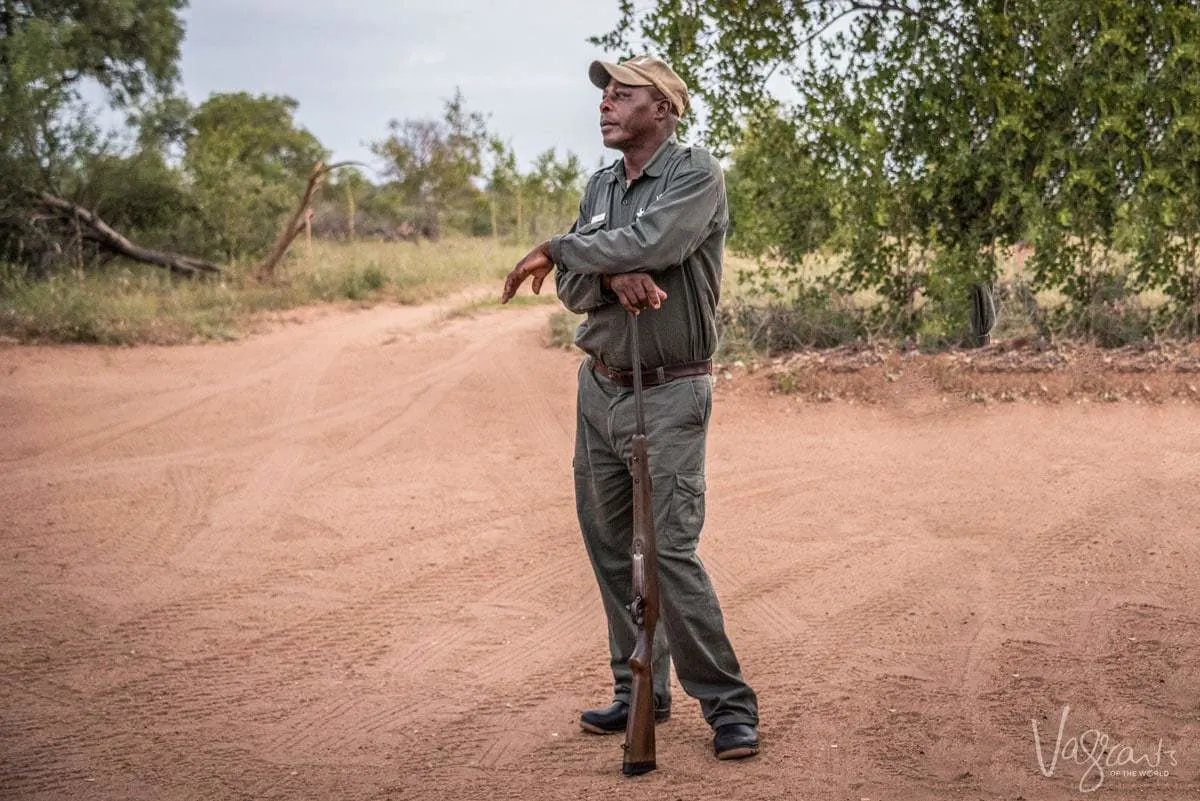 Early in the morning, as soon as the sun was high enough, we set off on foot with an armed tracker for a 3-hour walk through the African bush. Detailed instruction on how we should walk, talk or react in case of any encounters, made us very aware of how vulnerable we were in this wild landscape.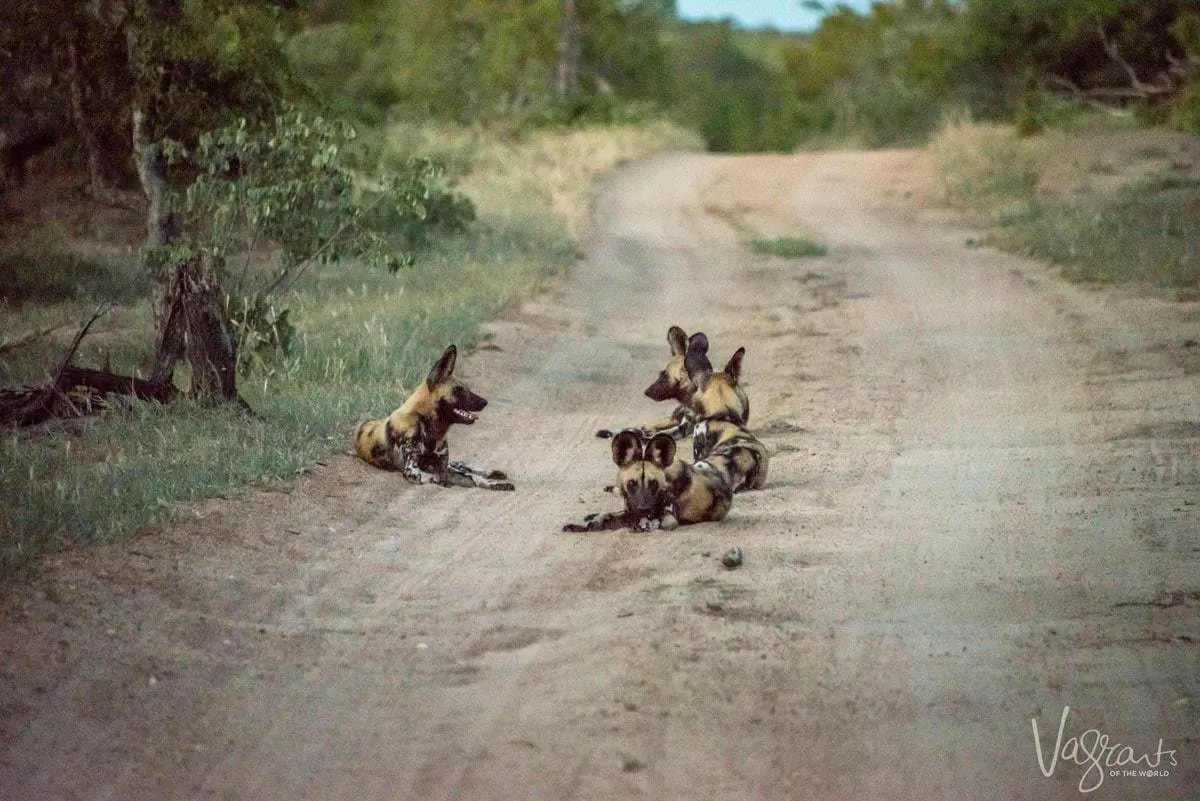 In hushed tones, we discovered the smaller species that also inhabit the bush and discussed various animal tracks in the dirt. We learned buffalo had passed through the area during the night followed by wild dogs earlier in the morning.
While admiring giraffe peering at us curiously over the treetops, the deep guttural growl of a big cat in the distance saw us move quietly and purposely to higher ground for a better view of our surroundings.
To be at ground level on a walking safari, completely exposed gives you a whole new perspective and appreciation for the bush.
Safari Game Drives
Daily morning and evening game drives are part and parcel of the safari adventure. Tracking Africa's big game and predators is where the thrill of a wildlife safari comes alive. One of the highlights of the daily game drives for us was being able to explore the bush by night. Something not possible on a self-drive safari in Kruger National Park.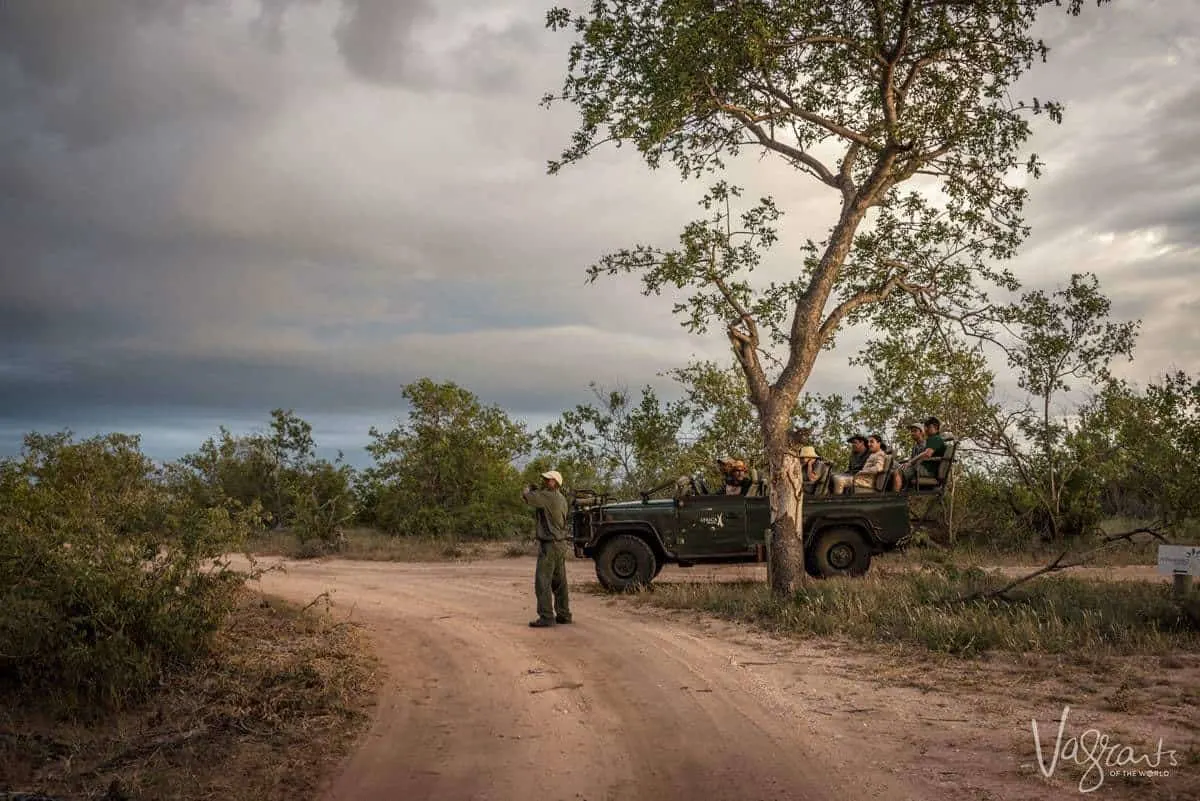 Trackers using spotlights illuminate the bush as it comes to life again after the heat of the day. Not only do the big predators start to move, but a myriad of nocturnal animals also come to the fore. Being in a private reserve as opposed to the national park means the ability to go off-road and traverse through the bush. This means a wider scope of wildlife spotting possibilities.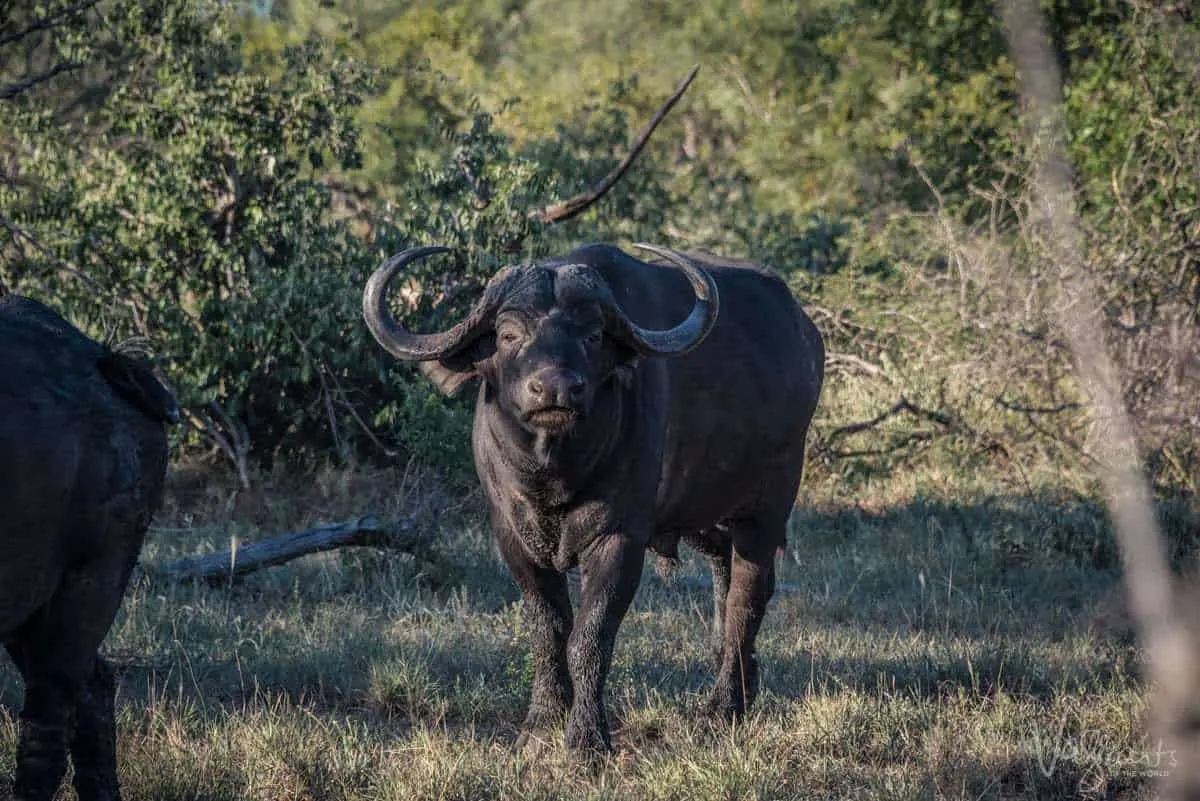 In the setting sun, we found ourselves in the middle of a large herd of buffalo on the move and only metres from a female rhino grazing with her calf. These are the experiences you can expect in South African private game reserves when accompanied by a highly-skilled tracker.
And no evening game drive would be complete without stopping to catch the last of the sun while enjoying an icy cold sundowner. This is one of the small traditions of safari that speaks volumes about the charm of life in the bush.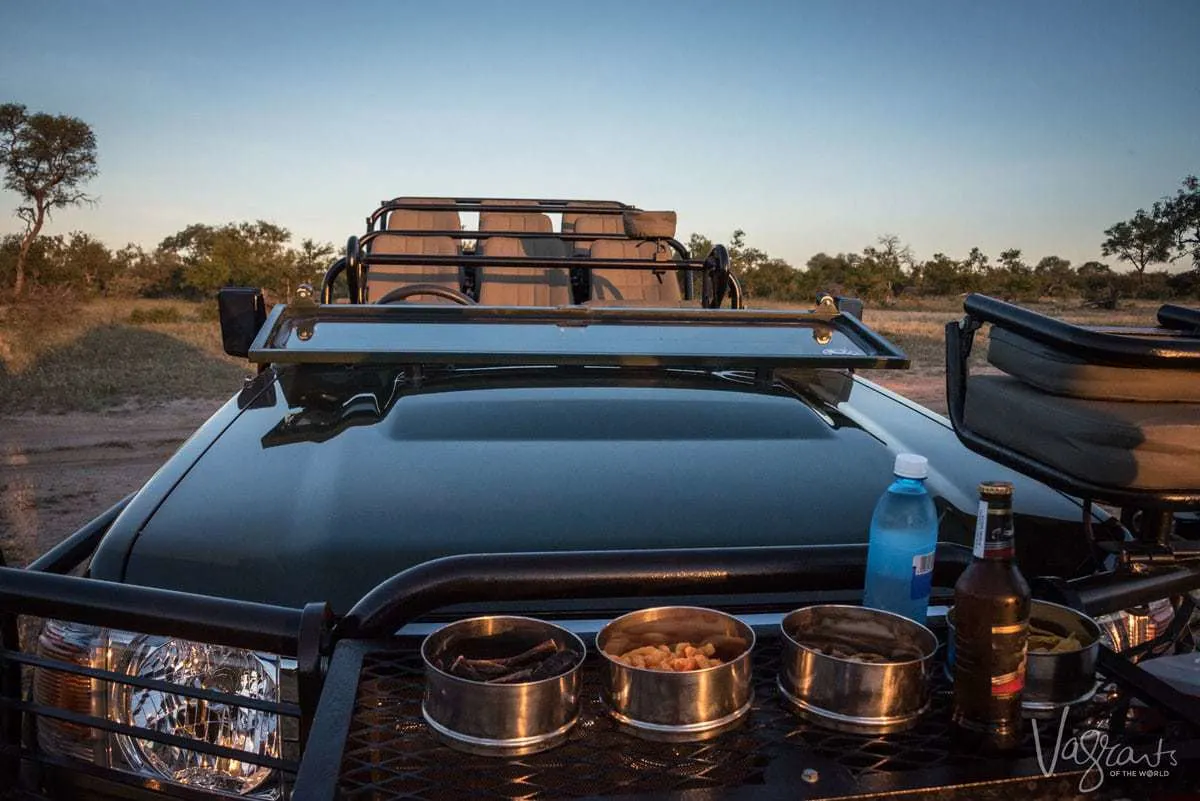 Safari Accommodation
Africa on Foot has managed to incorporate the authenticity of life in the bush with an eco-lodge oozing luxury and charm. A small camp of only five chalets offers a boutique experience, where one feels more at home than a guest.
Each chalet is serviced solely by solar power but still beautifully appointed with everything you would require for a night or two in the bush. Much like a quality boutique hotel, expect rooms serviced daily, turn down and wake up calls for early morning game drives.
Of the five rondavels, two are subdivided into two rooms suitable for families or groups.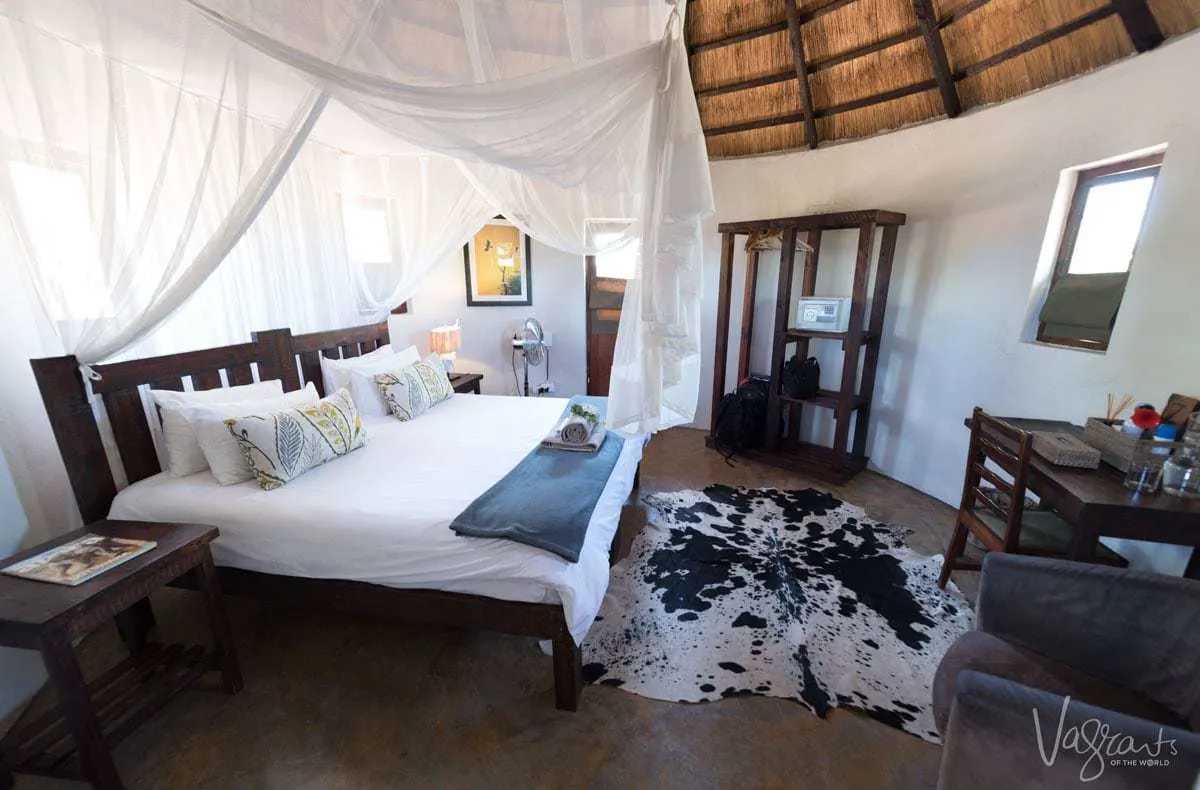 Of course, each rondavel has an ensuite. Although, in keeping with the back to nature ethos of Africa on Foot, two boast gorgeous outdoor bathrooms with views of the endless African sky.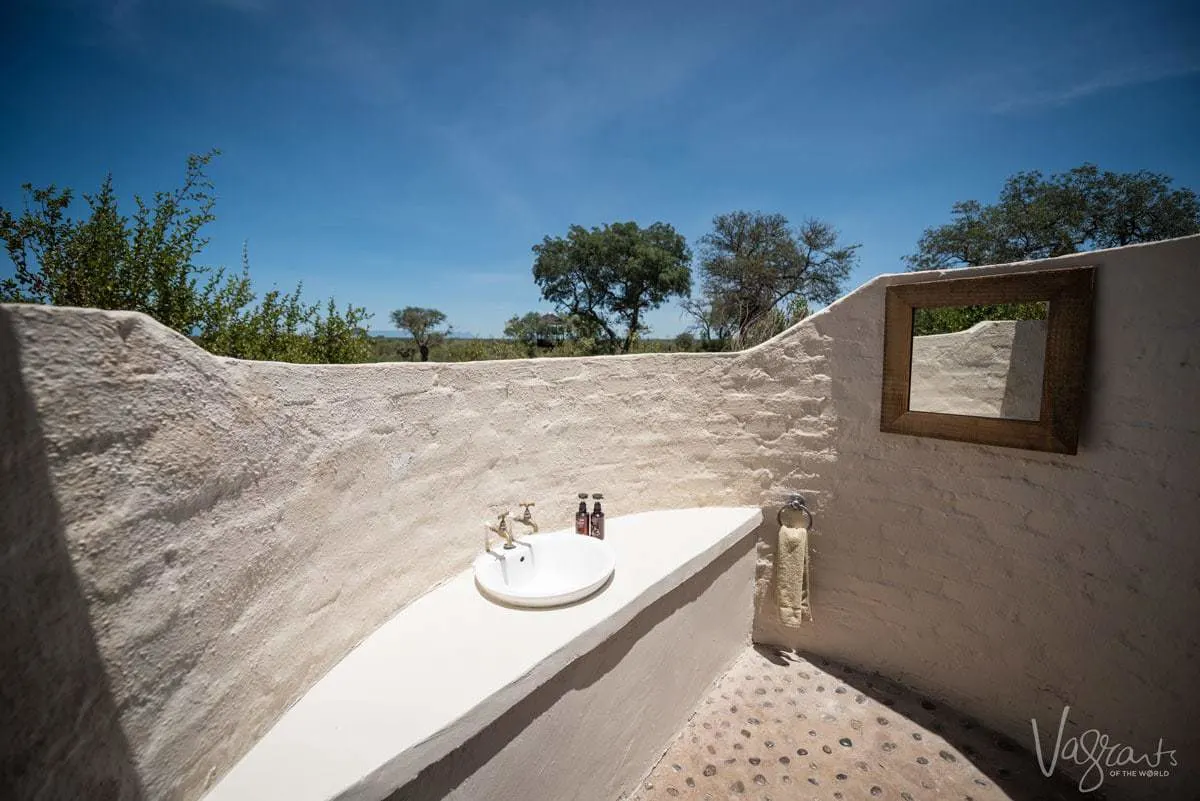 Treehouse Safari Accommodation
For the more adventurous, Africa on Foot has a purpose-built two-storey treehouse complete with a lounge on the first floor and a double bedroom on top. With unobstructed views of the surrounding bush, it is possible to conduct game viewing from bed. What better way to experience the African bush than nestled in the treetops in a luxury bed.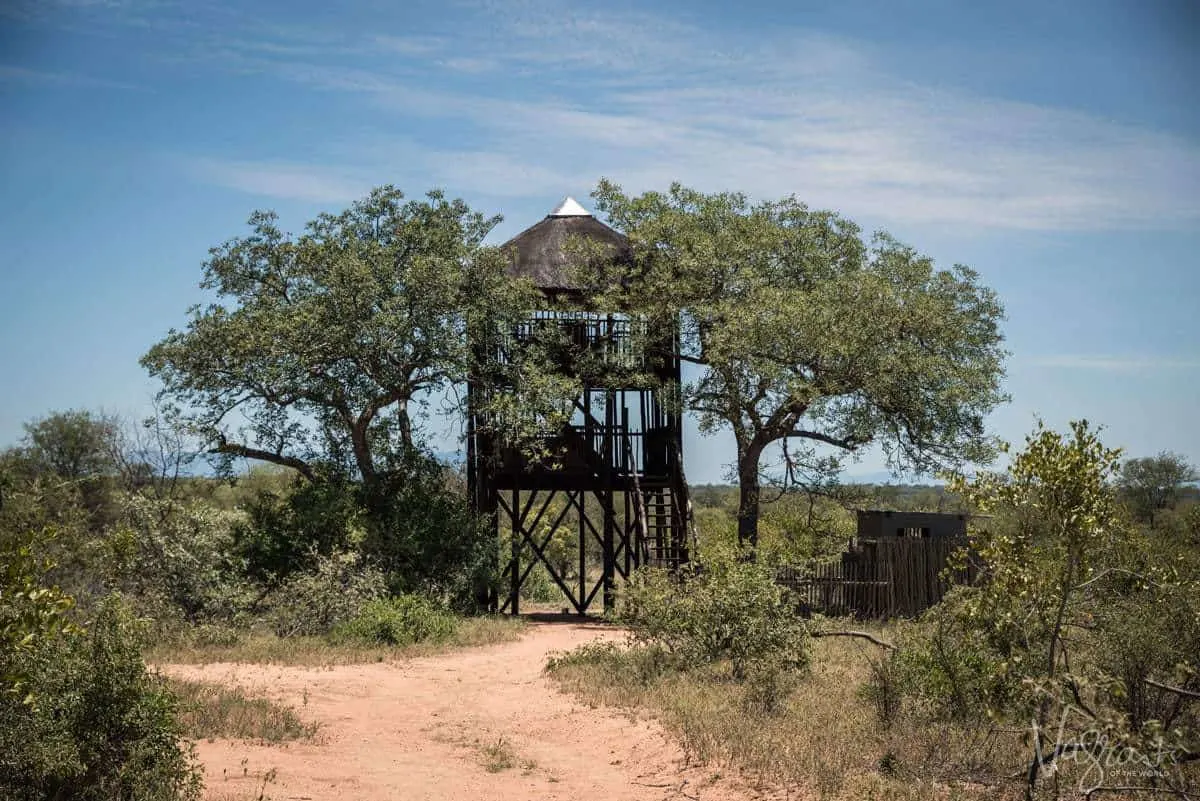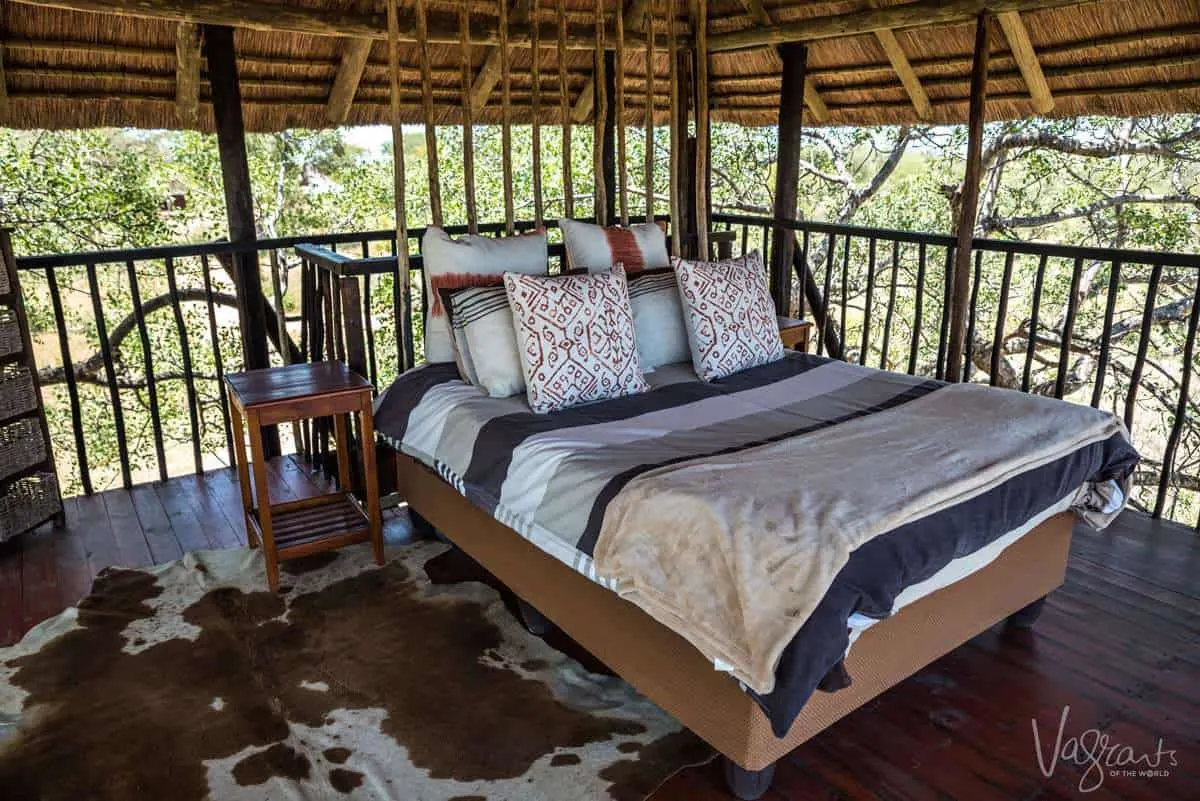 A further nod to the vast landscape and the integral theme of bush life, the main communal areas of the recently refurbished camp offer beautiful open spaces to relax and enjoy the peace of the bush. Being an eco-camp, everything runs on solar so there are no noisy generators or unnecessary lighting to interrupt the experience.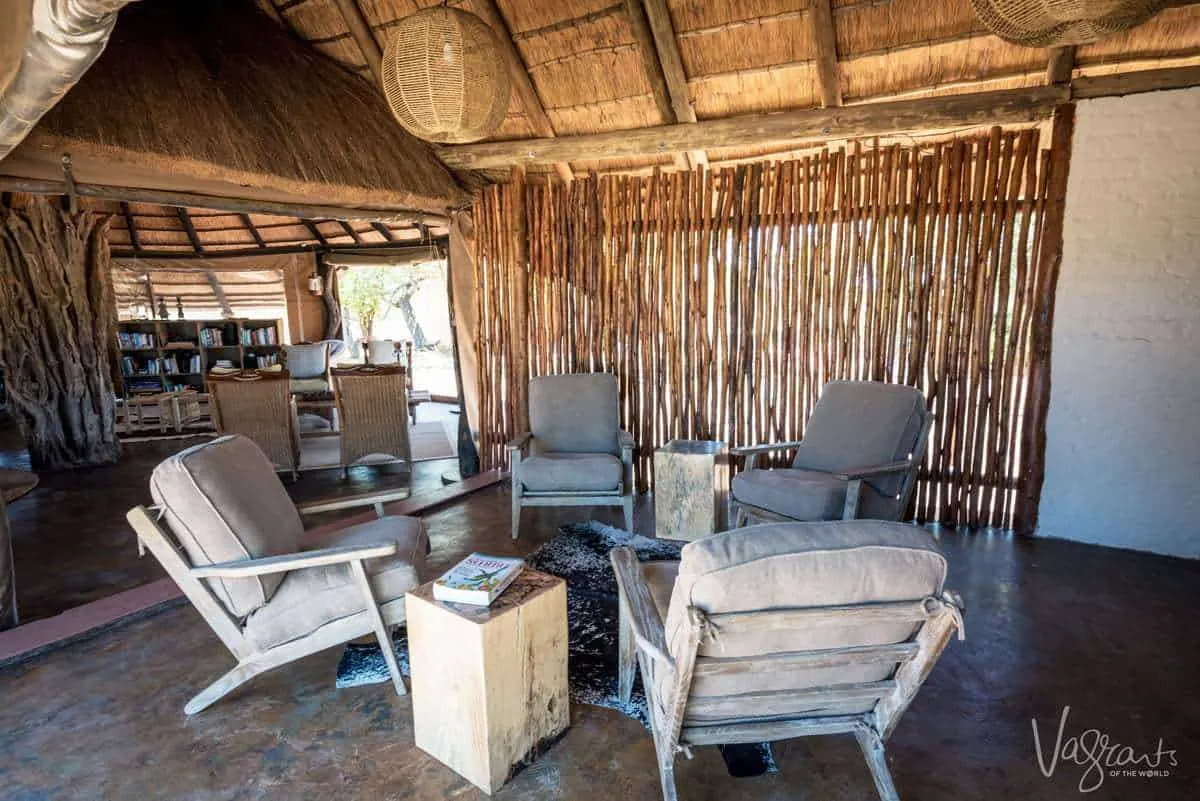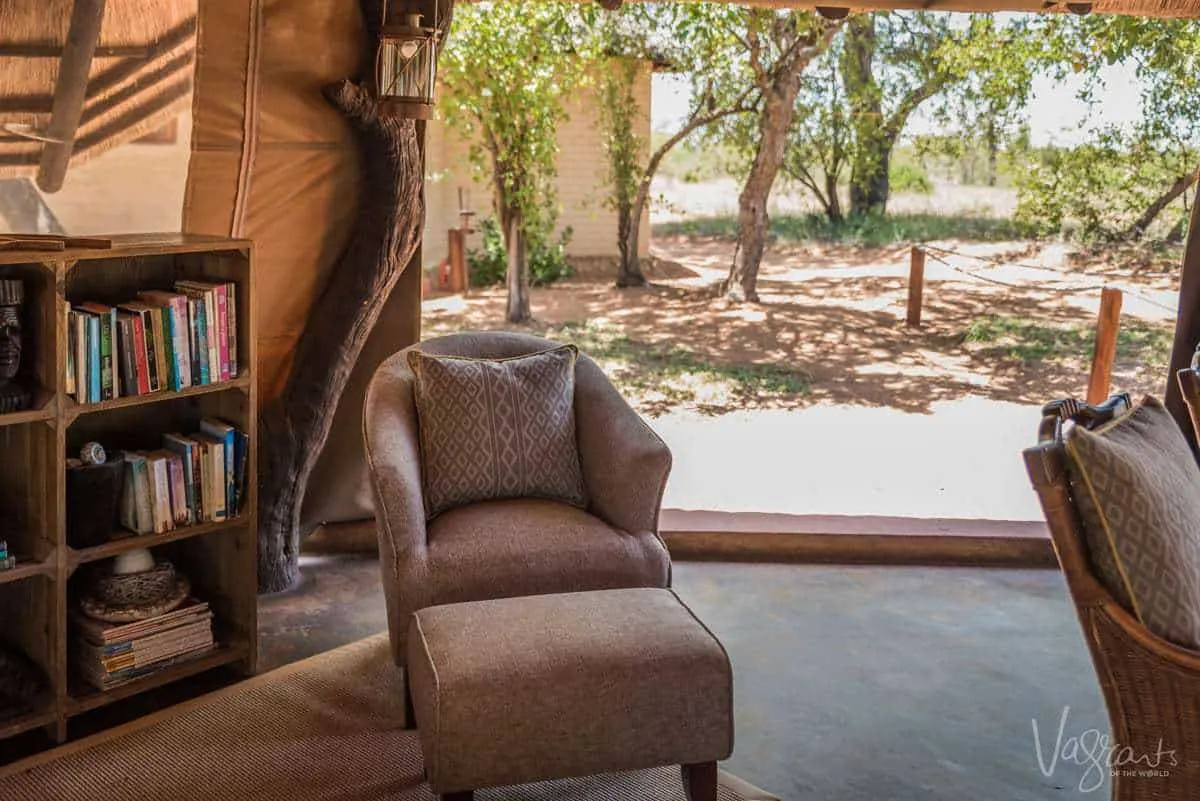 To complement the "at home" style of the camp, dining is a communal and casual affair. An opportunity to exchange stories of the day and talk with guides and trackers about the wildlife and the bush.
After dinner, relax in the boma area around the campfire and enjoy the sounds of the bush at night. Don't be surprised if a critter or two strolls through.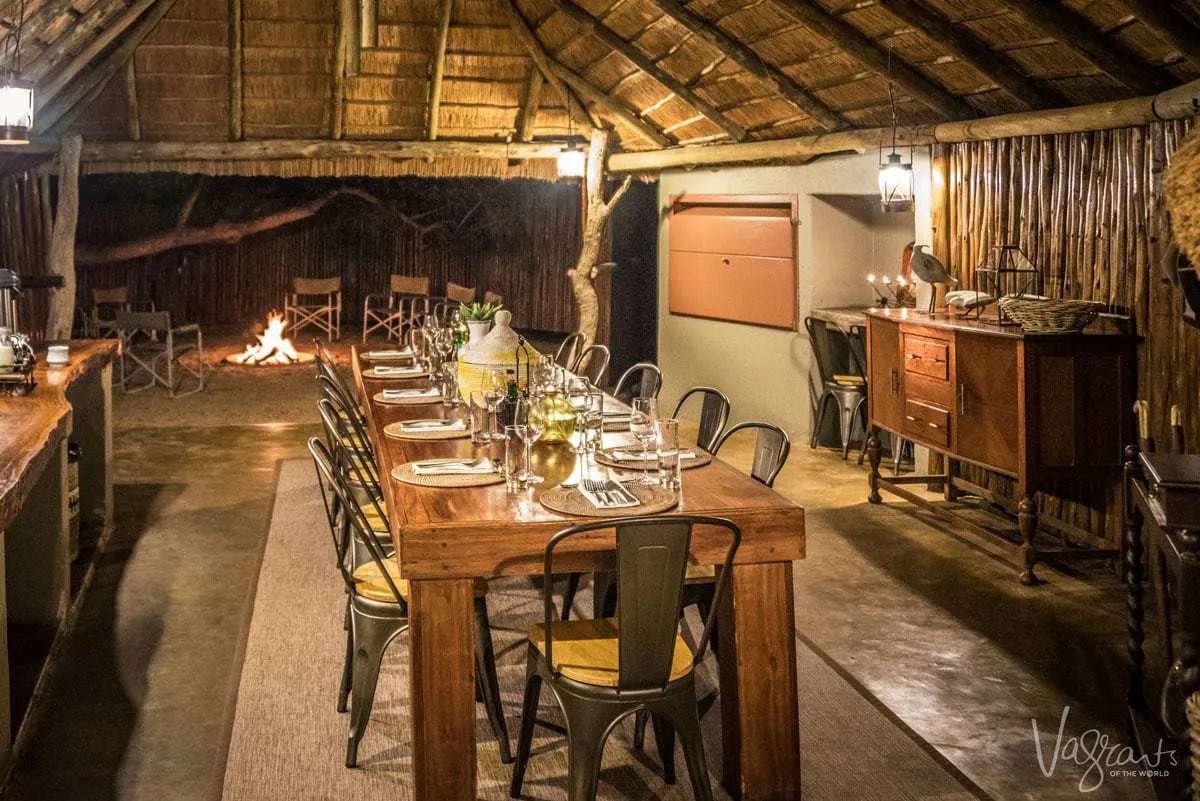 ---
---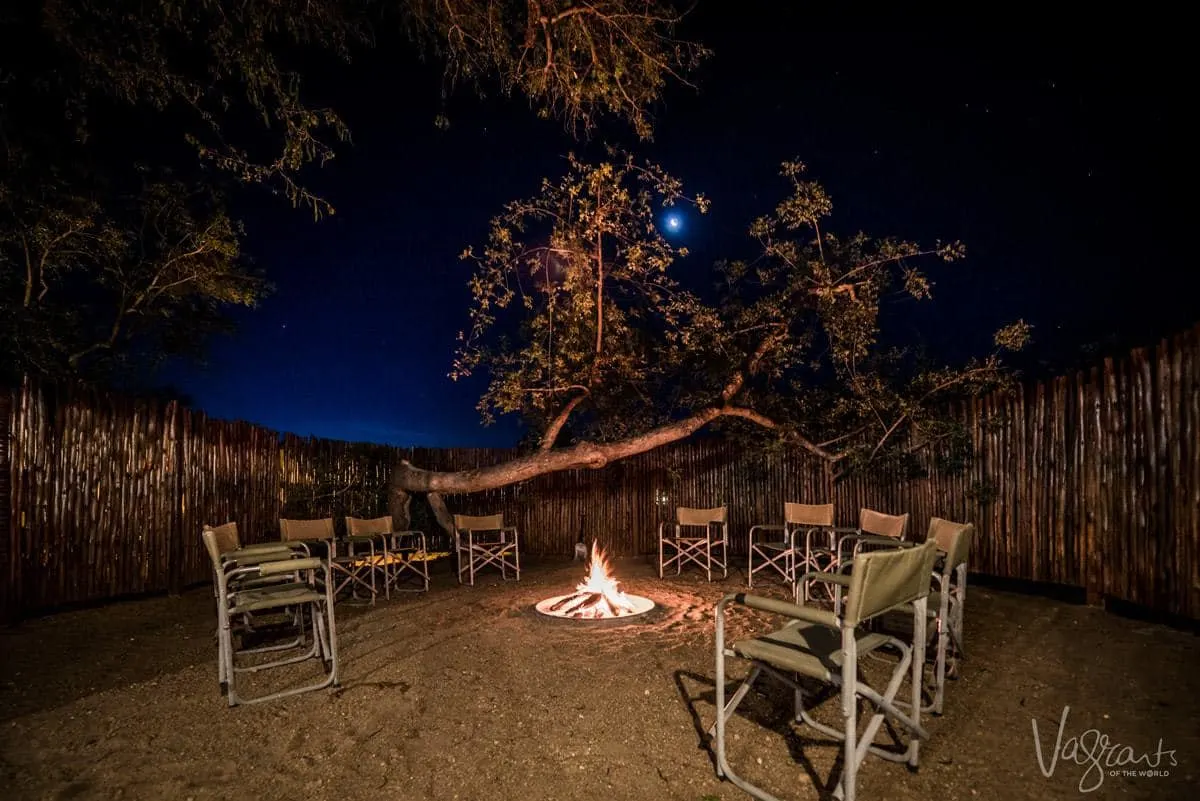 One of the highlights of our stay at Africa on Foot was the staff. The guides and trackers were not only extremely knowledgeable but passionate about their work and wildlife conservation. This made the game drives not only interesting but exciting. The guides were as excited as we were in the thrill to find the big game.
Africa on Foot offers exceptional value for those looking for a complete safari experience without the hassle of a self-drive safari in Kruger National Park.
Adding a one or two-night stay to an existing self-drive itinerary also offers a nice complementary experience. The all-inclusive nature of the lodge, the experience of the guides and the flexibility of the game drives is an experience that cannot be replicated on a self-drive itinerary.
If you are looking for a slightly different affordable luxury safari experience, discover Africa on Foot's sister lodge, nThambo Tree Camp.
---
Facts for Africa on Foot
For more detailed information or booking enquiries, contact Sun Destinations.
Inclusions
Full Board Rates Include-
All meals.
Two game drives daily and bush walks.
Tea & coffee.
All Inclusive Rates Include –
All meals.
All drinks – Alcoholic and soft drinks
Two game drives daily and bush walks.
Tea & coffee.
Exclusions
The Klaserie Conservation Levy of R200 (~$15 USD) per person per stay.
The Timbavati Gate fee of R140(~$10 USD) per vehicle if self-driving.
Rates
(Rates are subject to change)
Full Board Rates
R2, 595.00 (~$197 USD) per person per night
All Inclusive Rates
R2, 895.00 (~$220 US) per person per night
No Single Supplement Rate Applies
Children's Rates
Children aged 12 and over pay full rate.
Children under 12 pay 50% of the adult rate.
*Note – Only children 5 yrs and up are accepted. The age limit for the walking safari is 16yrs and over.
Getting There
Africa on Foot is located in the Klaseri Private Nature Reserve in the Greater Kruger. There are three main options for accessing the camp.
Self Drive
Fly to Hoedspruit or Nelspruit Airports from any of the major city airports and request road transfer.
Daily shuttle service from Pretoria, Johannesburg and OR Tambo departing 06.00 arriving 13.00 at Timbavati Gate.
All road transfers can be requested at time of booking with Sun Destinations
We would like to thank Sun Destinations and Africa on Foot for hosting us. All opinions expressed are our own and have not been influenced in any way.