The magnificent Panorama Route in South Africa's Mpumalanga province is one of the continents great natural wonders and one of the world's most beautiful driving routes.
The mountainous escarpment of the Mpumalanga highlands is famed for the stunning views of the Lowveld and some of the province's most spectacular scenery.
Centred around the Blyde River Canyon, the world's third largest canyon, the Panorama Route offers a dramatic terrain of lush mountain peaks scarred with ochre cliff faces. Dozens of magnificent waterfalls, raging rivers and one of the largest afforested areas in South Africa.

Kruger Park and Panorama Route Itinerary
While many may take the Panorama Route as an afterthought to the undeniable lure of the regions game parks, its proximity to Kruger National Park and other famous private reserves make it a perfect addition to any safari holiday.
Another option is to take a few days and drive the Panorama Route from Johannesburg to Kruger National Park.
More than just awe inspiring landscape, South Africa's Panorama Route also offers plenty of activities too.
Planning A Panorama Route Drive
How Long to Spend on the Panorama Route
2-3 Day Panorama Route Itinerary
Wondering how long to spend on the Panorama Route? With so much to see along the route, the area deserves at least two to three days to spend enough time at each place and enjoy the region. To rush the Panorama Route would be to miss so much of the beauty.
1 Day Panorama Route Itinerary
If you only want to see the big ticket attractions, the main sights are clustered in three areas. Within these clusters, many of the attractions are just a short drive to the next. So, if you were short on time, it is feasible to tick off the highlights on a good, albeit long day trip itinerary.
A one day Panorama Route tour is better than missing the Panorama Route all together and an excellent addition to a Kruger National Park itinerary. Especially those who are only allowing one night and day for Kruger.
However, if you do have the time, there is much to be seen and experienced on the Panorama Route beyond the main natural attractions.
Panorama Route Tours
There are many full and half day trips leaving from Hazyview. Prices for Panorama day tours start at around USD $70. You can get more details here.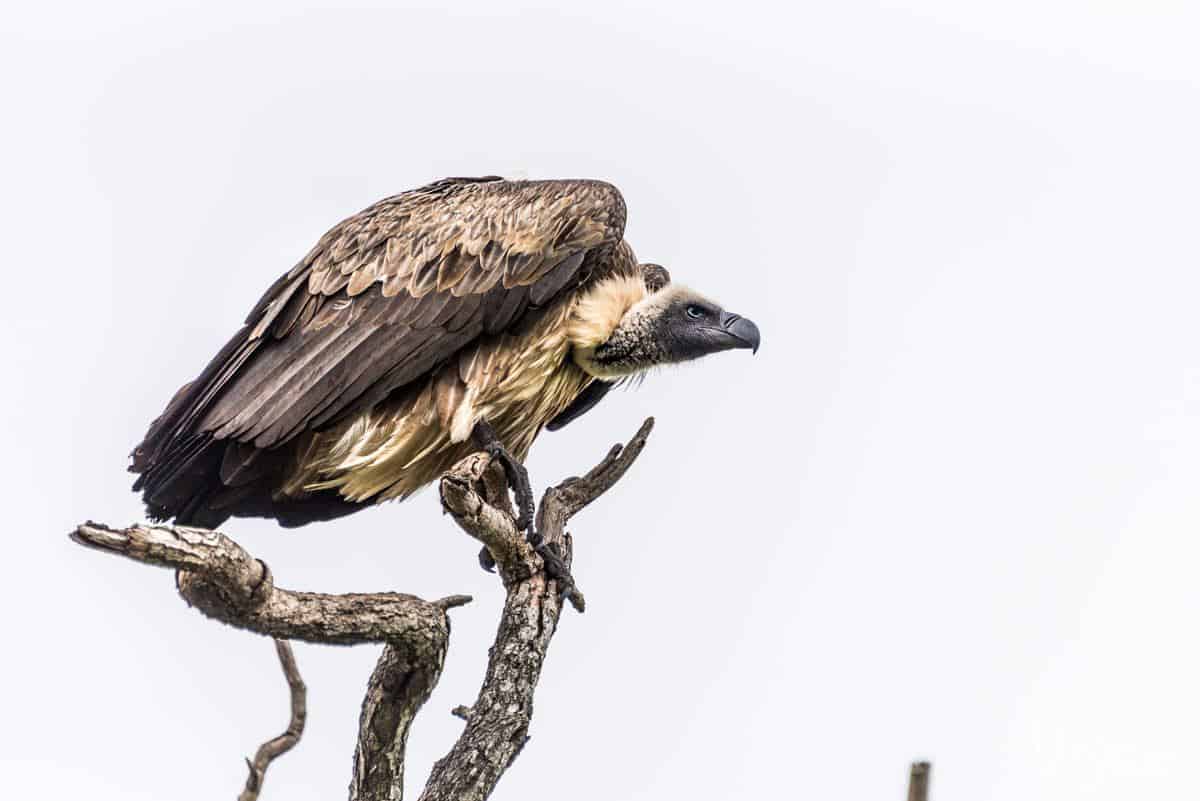 Panorama Route Self Drive
Hazyview, Sabie and Graskop are often the most popular towns to base yourself if you do plan a self-drive Panorama Route itinerary over a couple of days.
However, for our Panorama Route accommodation, we found a semi self-contained B&B in Ohrigstad ideally positioned for exploring the most famous stretches of the Panorama Route and Blyde River Nature Reserve. It was a much less tourist-dense experience than say Graskop and located in some stunning countryside.
The perfect place to chill around the braai (South African BBQ) after a day of exploring.
We allowed ourselves three nights based on driving from Johannesburg. This gave us plenty of time to explore more than just the main attractions without rushing.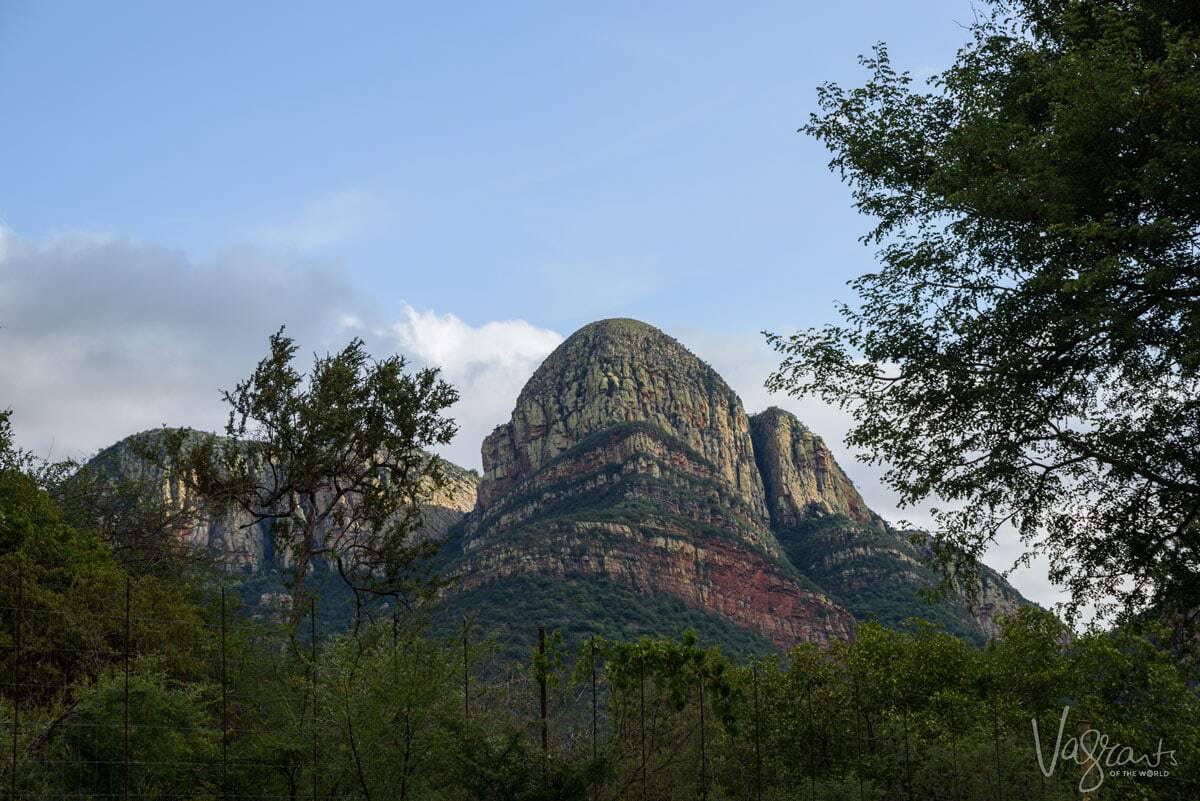 Get a Panorama Route Map
Grab yourself a Panorama Route Map before you head off. While the signage in the area is okay, a map with good detail of the attractions and landmarks is invaluable in planning your itinerary and the route you will take.
For people who usually rely on smartphone navigation, our map was threadbare by the time we finished driving the Panorama Route.
Mpumalanga & Kruger National Park includes panorama route road map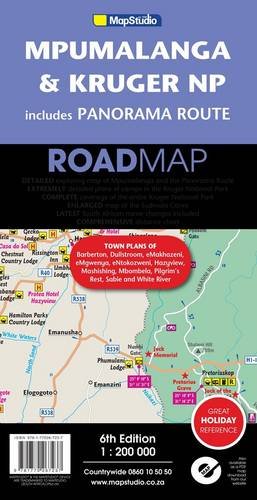 Panorama Route Attractions
The most popular stretch of the route is the R532 that runs from the town of Sabie past some of the areas most spectacular waterfalls to God's Window, the Blyde River Canyon, the Three Rondavels and Bourke's Luck Potholes.
The famous Lowveld View is less than 5 km north of Bourke's Luck Potholes. A spectacular view, 1 219 metres above sea level over the canyon where the Blyde River cuts its way through the valleys with the Blydepoort Dam in the distance.
Aside from the main natural sights, there are also many other attractions worth visiting. Far more attractions than can be seen in one day. Some of these are:
The Hoedspruit Endangered Species Centre was one of our favourite experiences.
The Moholoholo Animal Rehabilitation Centre.
The beautiful 24 Degrees South Country Estate.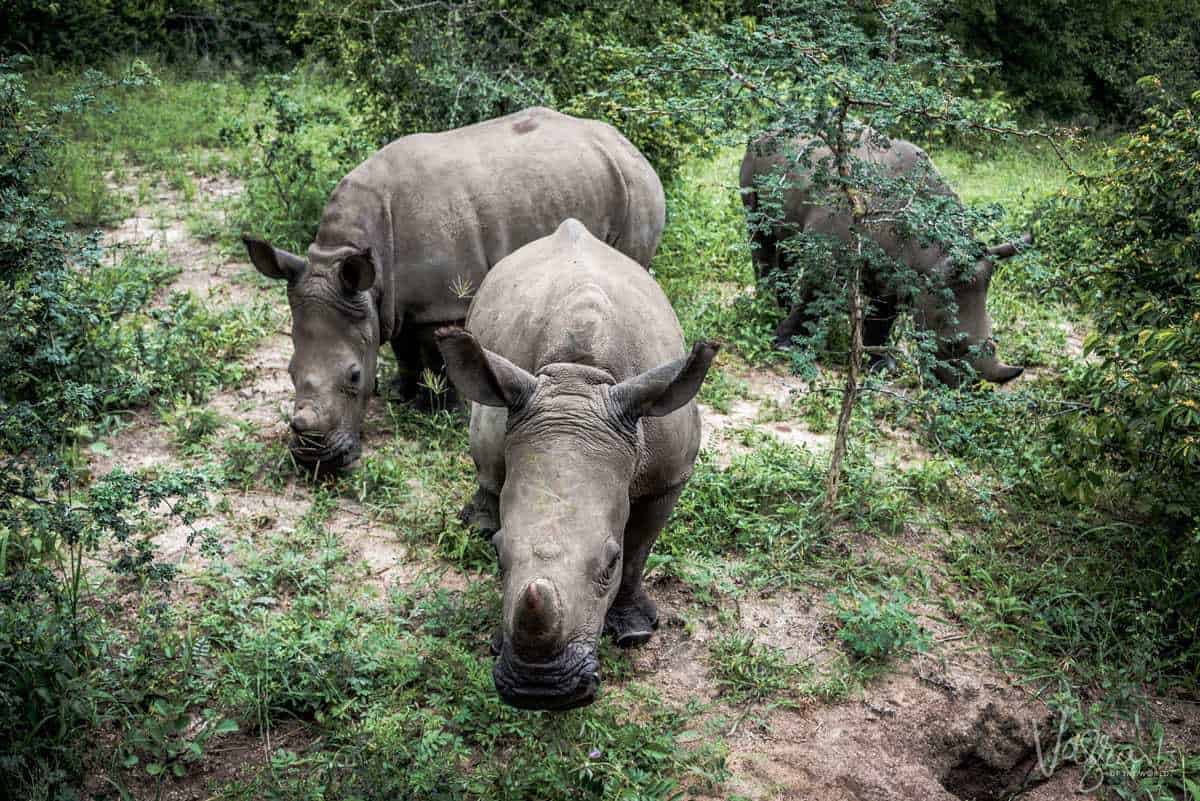 Blyde River Canyon
The Panorama Route's popularity is not just its proximity to Kruger National Park. It is the gateway to one of the province's major scenic draw cards, the Blyde River Canyon Reserve.
One of the largest canyons in the world and the second largest on the continent. This is one of South Africa's most impressive natural landmarks, up there with Table Mountain.
Whether marvelling at the canyon itself or the Three Rondavels, without a doubt, this is the most awe-inspiring stop along the Panorama Route.
A magnificent vista of rocky peaks and deep valleys of dense forest where cliff edges can drop a staggering 800 metres. The Blyde River snakes through the canyon until it reaches the pristine Blydepoort Dam, a bright contrast of blue in the lush forest that surrounds it.
Best Time to Visit Blyde River Canyon
Early morning or late in the afternoon are the best times for this lookout. As the area is such a major tourist drawcard, it can get hectic. It is much nicer to enjoy the view without crowds of tour groups.
The afternoon offers better light for photographers.
Three Rondavels
Three Rondavels, also called the Three Sisters are three massive rock edifices of dolomite rock rising from the Blyde River Canyon. One of the three iconic landmarks in Blyde River Canyon Reserve.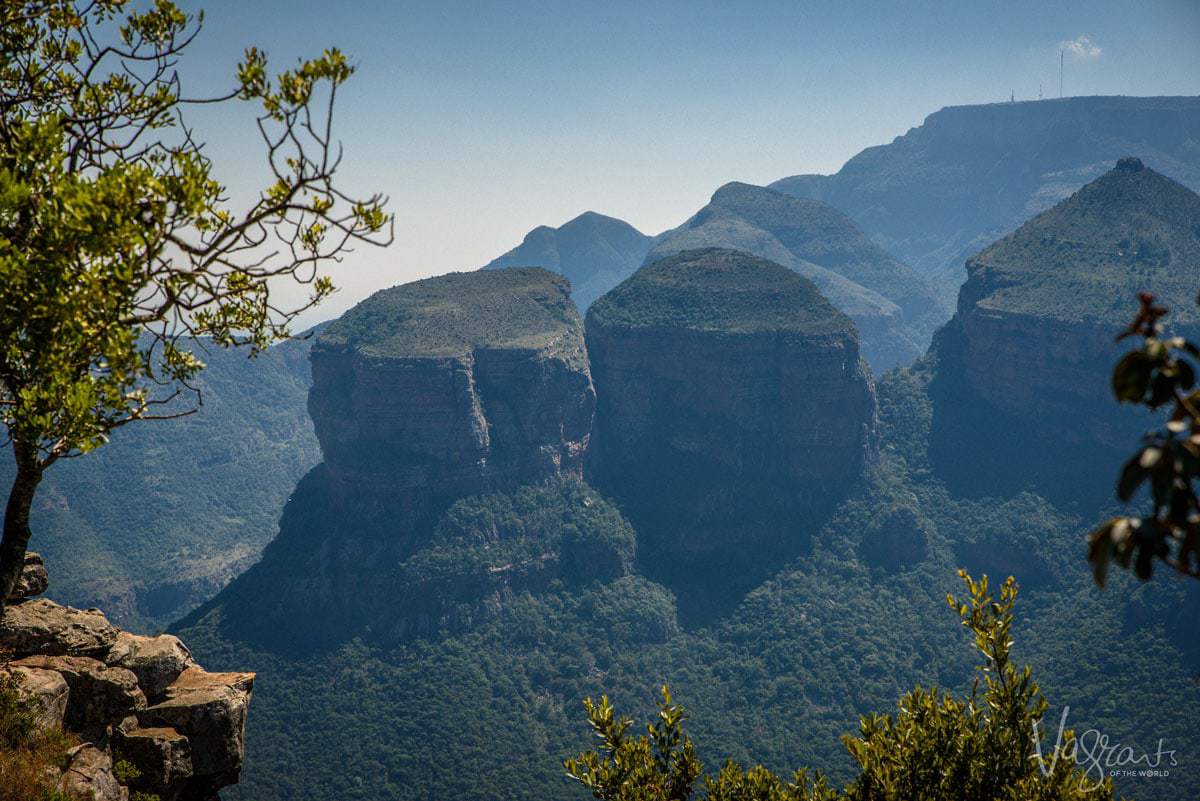 The Three Rondavels take their name from the traditional African huts they resemble. An overwhelmingly beautiful view formed by the slow erosion of the underlying soft stone, leaving exposed quartzite and shale that form the 700 meter high rondavels.
Entrance Fee to the Three Rondavels:
R10 – R30 per vehicle depending on the size. R50 for buses.
Burke's Luck Pot Holes
One of South Africa's most fascinating geological formations, Bourke's Luck Potholes in the Blyde River Canyon Nature Reserve is a striking natural phenomenon formed over millennia.
Churning whirlpools at the confluence of the Treur and Blyde rivers have gradually etched away at the rock-faces leaving cylindrical potholes in the bedrock. The Potholes are named after the gold digger Tom Bourke, who staked a claim nearby.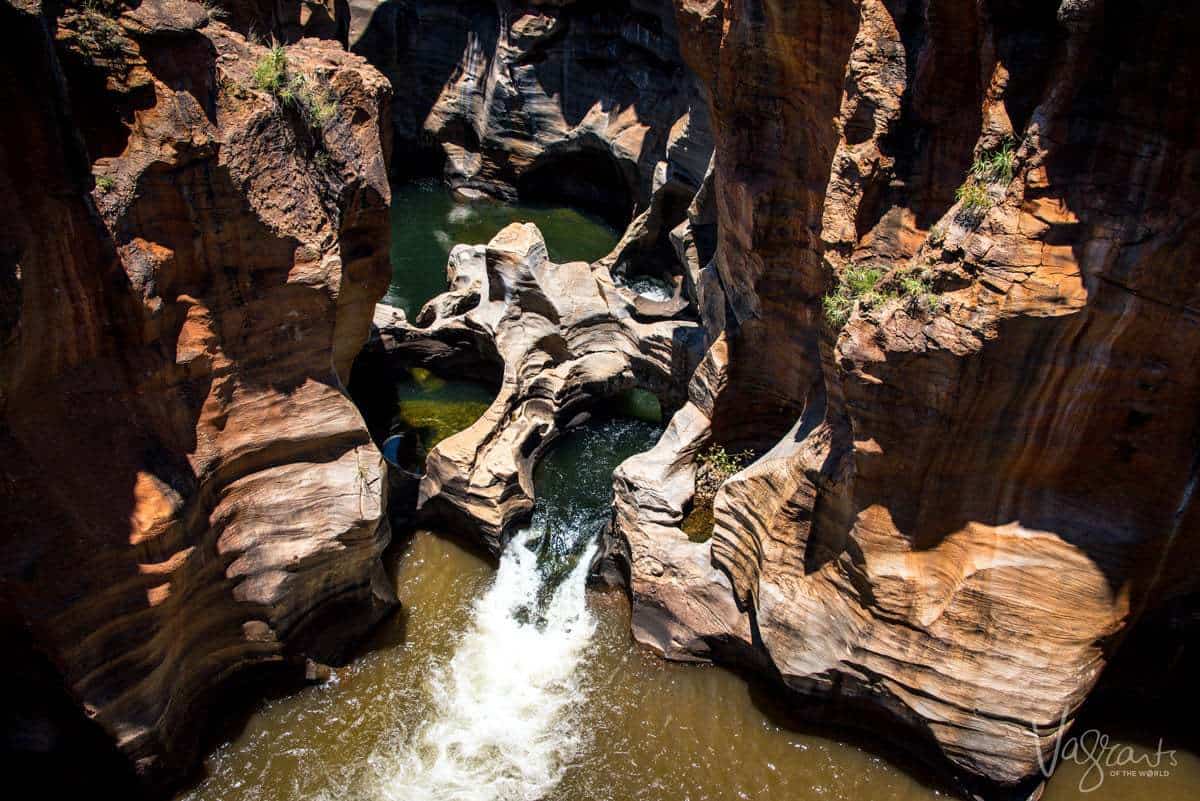 A series of bridges allow visitors to walk above these beautiful pools as the river continues to carve away at the rock twenty metres below. This spot is a must for photographers.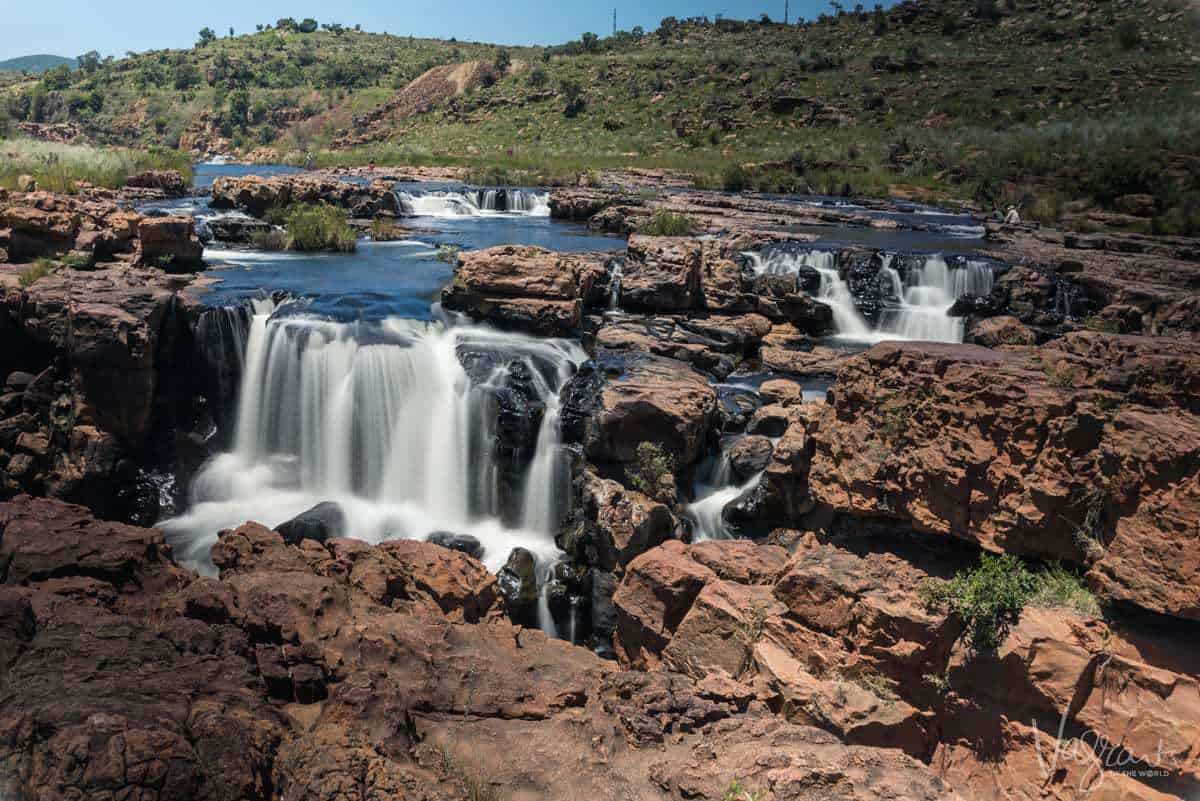 Bourke's Luck Potholes Visitor's Centre and Picnic Spot
The Bourke's Luck Potholes area has a large picnic site, and visitor's centre so is an excellent spot to stop for lunch or refreshments. As with many of the stops along the Panorama Route, monkeys can be a problem. Be sure to lock your car and watch your belongings.
Entrance Fee to Bourke's Luck Potholes:
R30 per person plus R20 per car – R50 per van – R70 per bus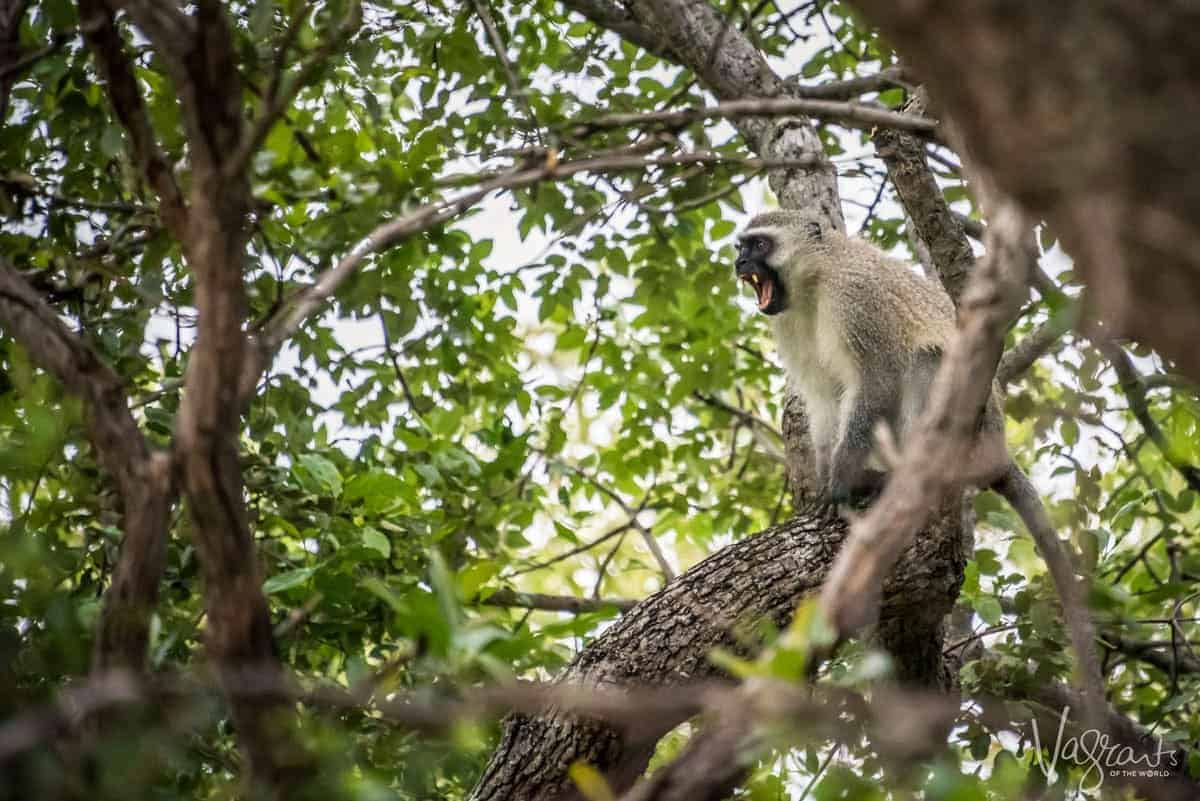 Waterfalls on the Panorama Route
The Panorama Route's high altitude and rocky landscape make it the perfect environment for no less than ten awe-inspiring waterfalls.
The most dramatic, at over 90m, Lisbon Falls is the highest in the Province.
Declared a national monument, the beautiful Mac Mac falls has a viewing platform so the entire 70-meter drop can be viewed from above.
The Berlin Falls is a stunning 45-metre drop of water cascading down impressive ochre cliffs into a sapphire pool.
And that's just the start.
Many of the waterfall stops make great places for a picnic or braai. There are several swimming spots as well as barbecue and picnic facilities at the base of Mac Mac Falls. A popular spot, as there is also a 3km bird trail here popular with hikers and twitchers.
Entrance Fee to waterfalls on the Panorama Route:
Expect to pay a minimum of R10 per car to access the waterfalls.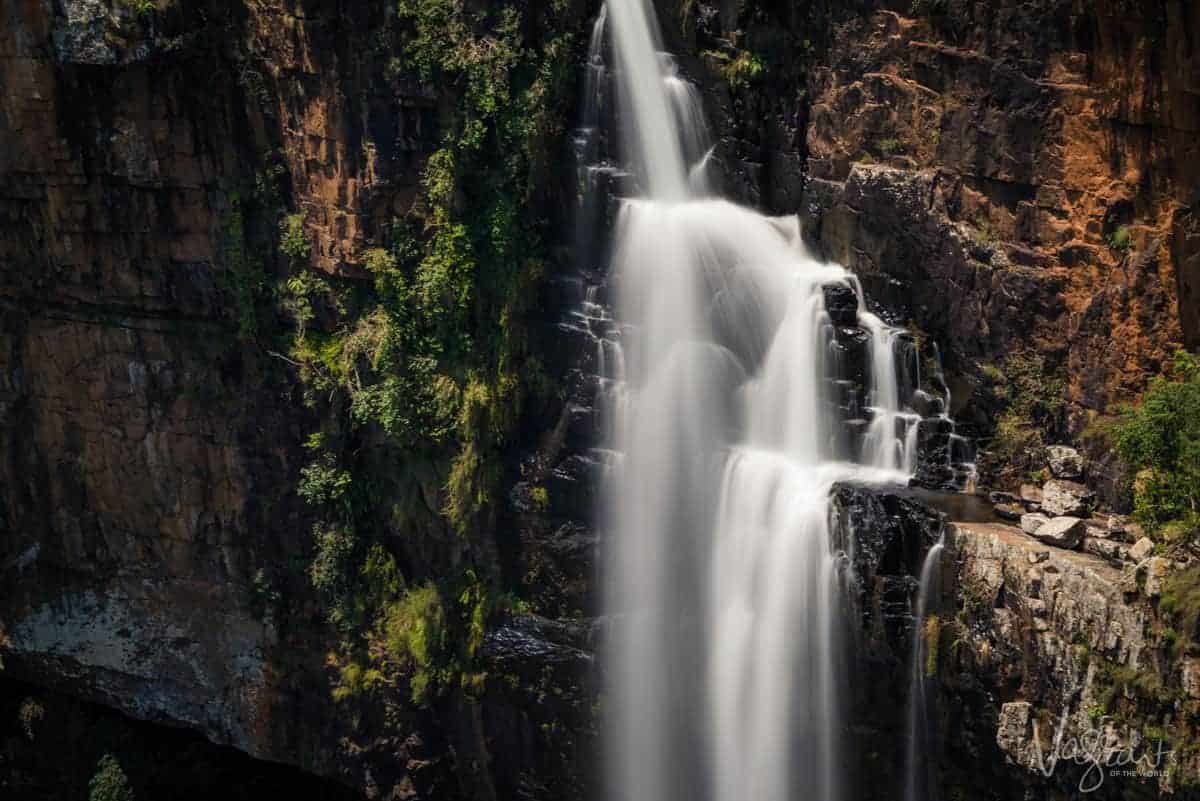 Mac Mac Pools
Roughly 2km from Mac Mac falls you will find Mac Mac pools. A picturesque, organised picnic site tucked under pine trees alongside the Mac Mac River named for the Scottish miners who panned for gold there.
The river flows into crystal clear rock pools where visitors can swim in the crisp mountain water. The area also has picnic areas, braai and good clean toilet facilities. One of our favourite spots for a relaxing lunch and swim.
Entrance Fee to Mac Mac Pools:
R20 per person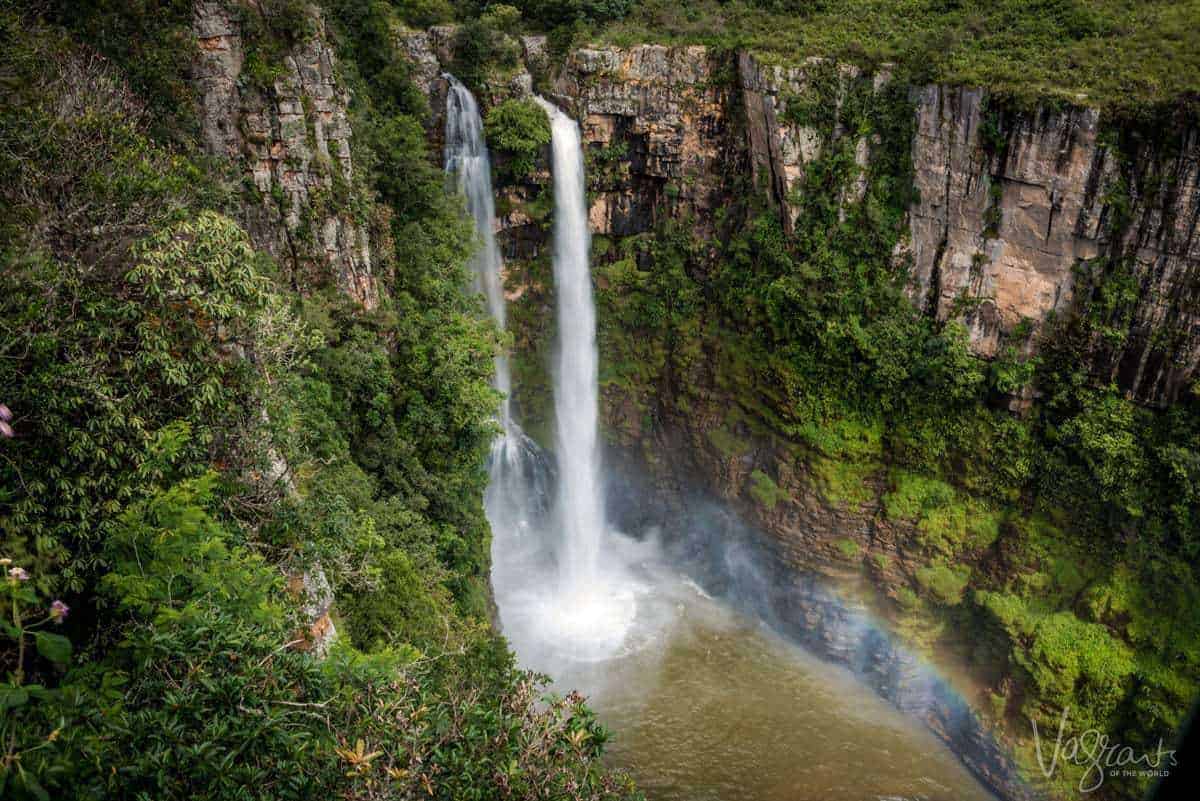 What to Take on a Panorama Route Drive
We used our insulated travel tote bag with gel ice packs for carrying drinks and some BBQ lunch basics while we were driving the Panorama Route. The gel packs are great for refreezing each night and don't leak.
A cooler bag was also a godsend on our self-drive Kruger Safari for those long mornings spent in the car game viewing.
Lofty Views – God's Window, The Pinnacle, The Wonder View
North of Graskop, take a turn onto the R534 and drive a loop past three spectacular lookout points on the edge of the Mpumalanga Drakensberg escarpment. The R534 loop ends 4km past the Wonder View bringing you back onto the R532.
Make sure you reach for the wide angle lens or switch to panorama view on your camera for these stops.
The Pinnacle –
A freestanding natural skyscraper of rock rising vertically out of the dense forest. Two separate viewing decks give you different perspectives of this impressive vista.
Entrance Fee to the Pinnacle:
R10 per car
God's Window –
A 900m high viewpoint where the entire Mpumalanga Lowveld stretches spectacularly out through a lush forest clad ravine. On a bright day, the view reaches all the way to Mozambique, over 200km away.
Entrance Fee to God's Window:
R10 per car
Wonder View –
The highest viewpoint on the Panorama Route at 1730m above sea level, The Wonder View delivers a vista of the Lowveld on par with God's Window.
No Entrance Fee to Wonder View:
Just pull over on the side of the road.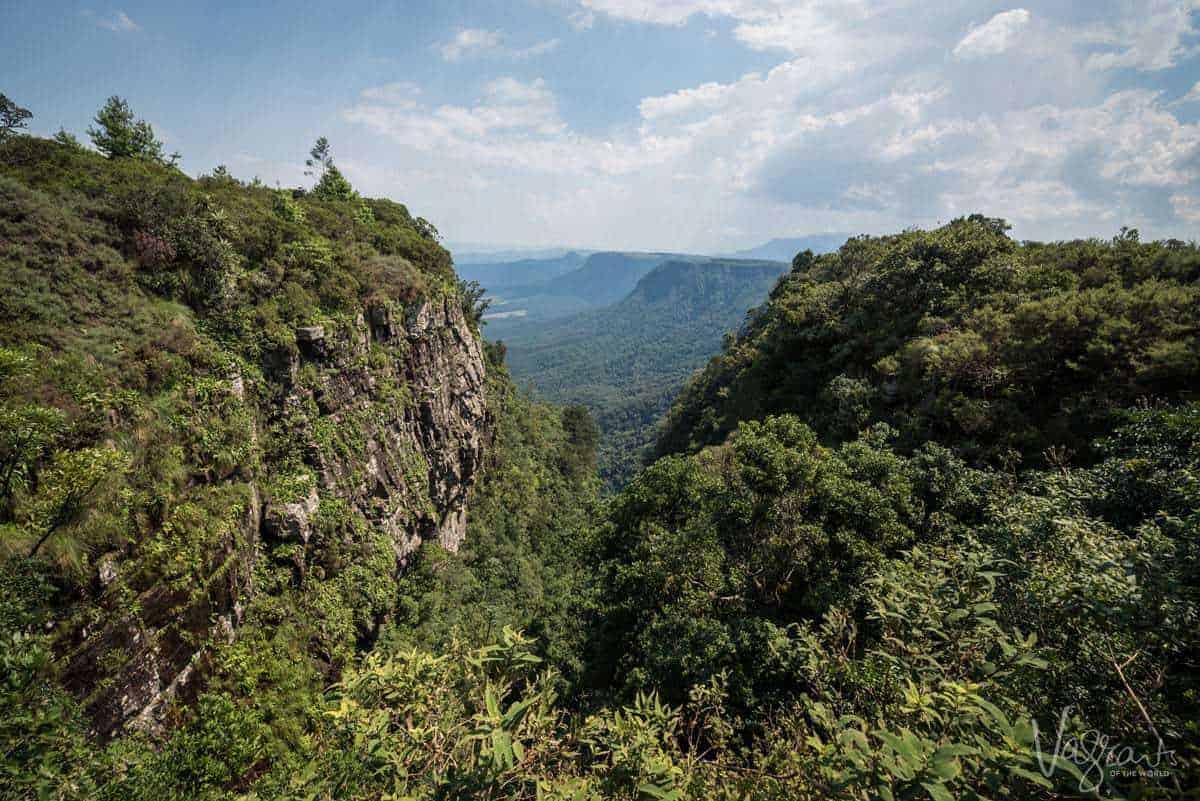 Pilgrim's Rest Mpumalanga
Pilgrim's Rest is one of few towns in South Africa to have kept its historical legacy intact. So much so, Pilgrim's Rest has been declared a national monument.
Pilgrim's Rest History
The history of Pilgrims Rest dates back to 1873 when a miner, Alex Patterson, discovered alluvial gold. Although he kept his discovery secret, the second discovery by prospector William Trafford spurred the inevitable.
It wasn't long before optimistic panners, and prospectors from all over South Africa, and the world came to the area. By later that year, Pilgrim's Rest was proclaimed a gold field, and the initial scatter of tents and shacks soon grew into a flourishing little village.
Pilgrim's Rest Attractions
Pilgrim's Rest has an abundance of historical buildings and museums. Arts and crafts shops and plenty of places to stop for a meal or a drink including the Royal Hotel or the old saloon bar.
A favourite lunch stop with day tourists to the area and base for those driving the Panorama Route over a number of days.
Image South Africa Tourism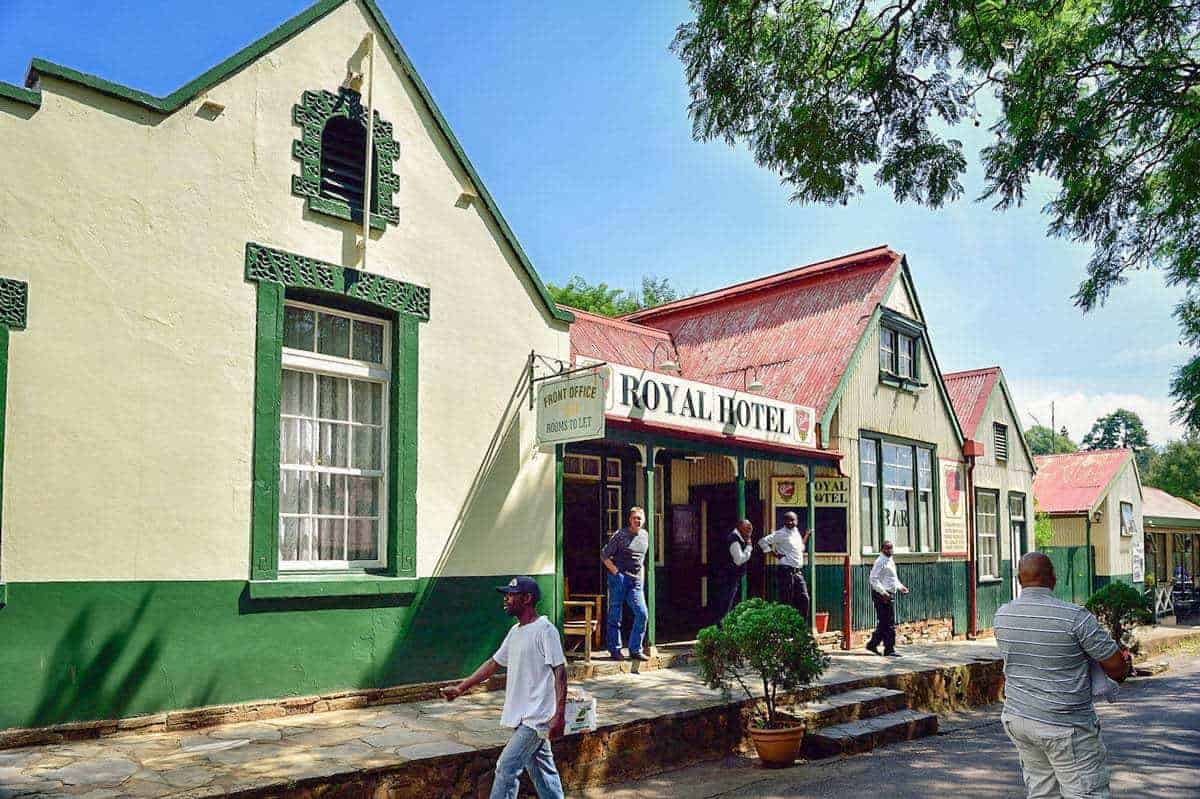 Graskop Mpumalanga
Established in the 1880s as a gold mining camp, Graskop now serves as a tourist destination and the timber industry. Graskop does not quite have the same charm as Pilgrim's Rest, but by it's sheer proximity to some of the Panorama Routes premier sites, it is worth a visit.
Graskop Attractions
We found the big draw card to Graskop was the ability to stock up on a few self-catering essentials for our evening Braai. The allure for tourists who aren't basing themselves in Graskop is a lunch stop at the famous Harries Pancakes on the main street.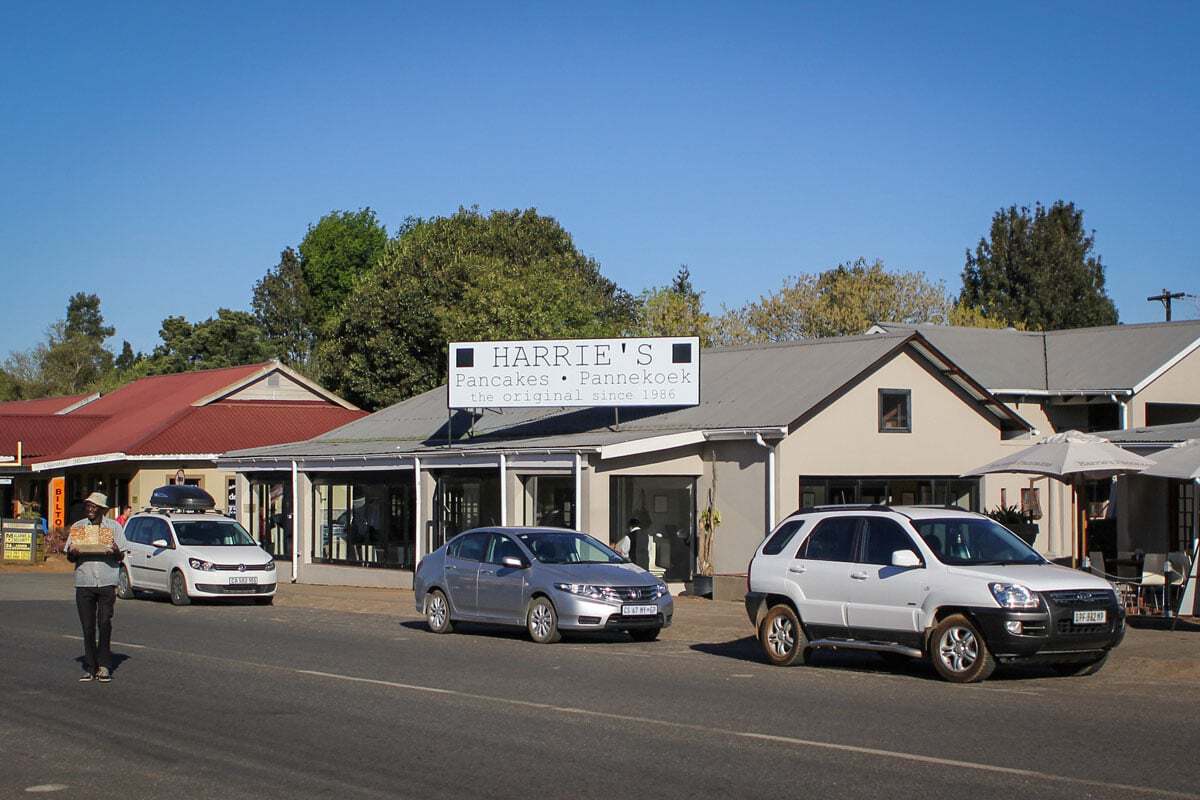 Image Jochem Koole
They say you won't find better pancakes in South Africa than at this iconic restaurant. While Harries is touted as one of those "must do" things on the Panorama Route, we weren't as enchanted with the overpriced restaurant chain as we felt we should have been. If you are self-driving, a picnic or braai at one of the designated picnic spots is far more pleasing.
If you are thinking of basing yourself in Graskop, it is in a convenient location and has plenty of accommodation, shops and restaurants.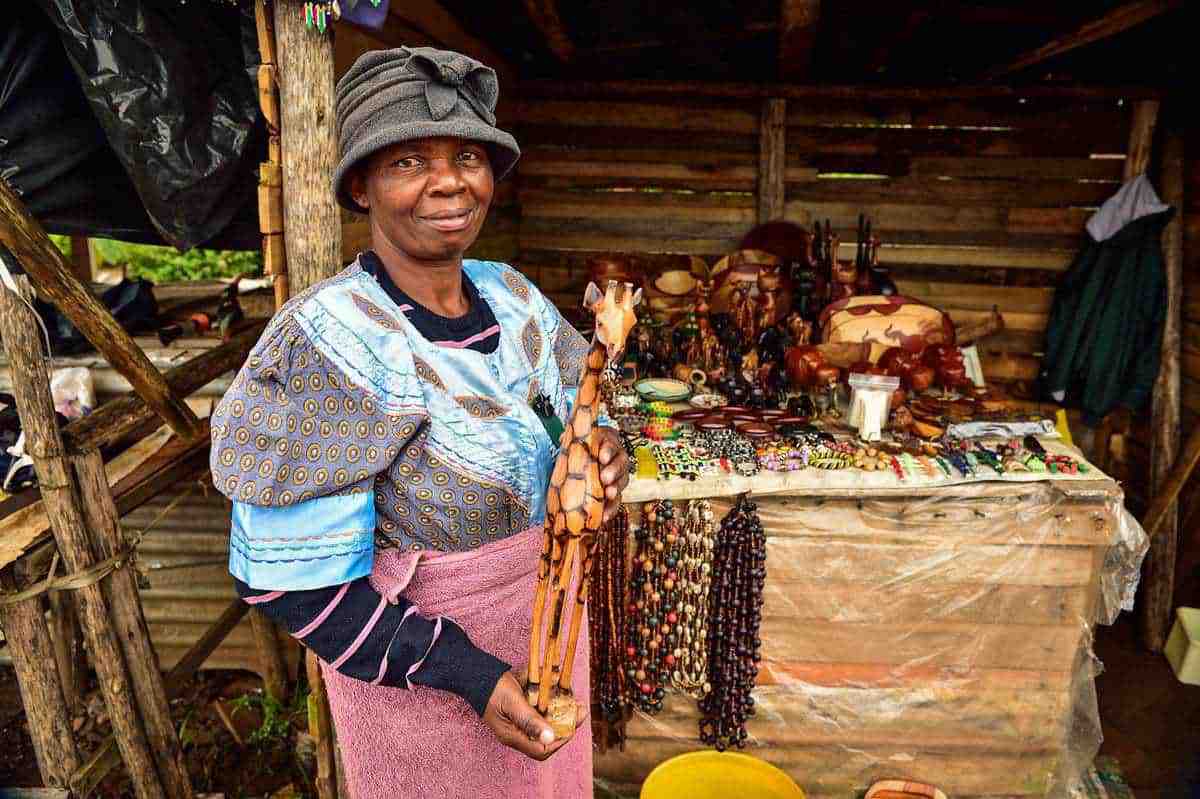 Image South Africa Tourism
Best Time to Visit the Panorama Route
Much like Kruger, the best time to visit the Panorama Route is in the cooler months of winter when there is less rain. Bu also much like Kruger, each season brings it's own unique viewing opportunities.
While the Panorama Route is primarily known for its scenic attractions, there is also abundant wildlife, if you are on the lookout. The colder months mean lower grass and less foliage on trees so more opportunity for wildlife sightings.
Winter
The best time to take a trip to the Blyde River Canyon Reserve and the Panorama Route is in the cooler dryer months between May and August. The driving conditions will be better and the views clearer.
Summer
The summer wet season brings with it rain and mist which can make driving unpleasant and can hinder some of the more spectacular views. Summer is the best time for brilliant displays of white and pink wildflowers.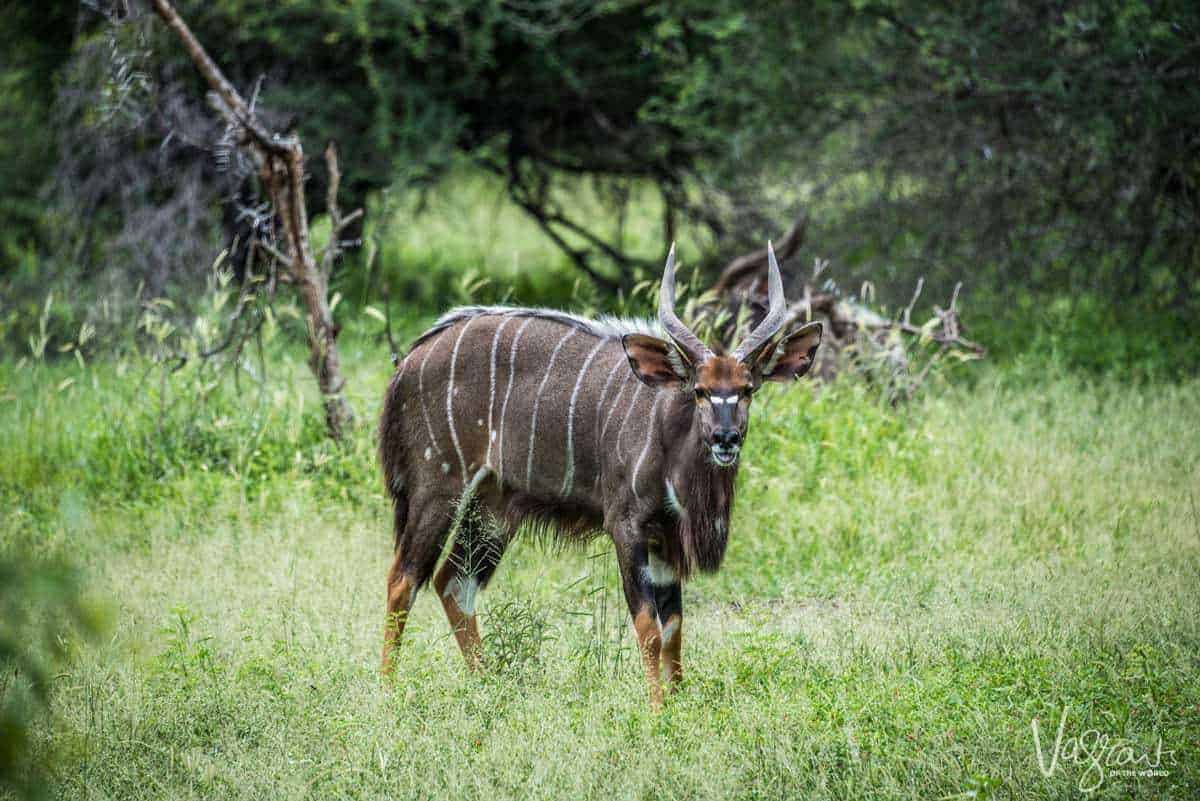 Hiking the Panorama Route
While it may be one of South Africa's most scenic self-drive routes, it doesn't mean the Panorama Route can only be explored by car.
From short and easy half-day trails to more advance 5-day hikes through the Blyde River Canyon itself. The Panorama Route and the Blyde River Canyon Reserve offer hiking trails to suit all kinds of hikers and fitness levels.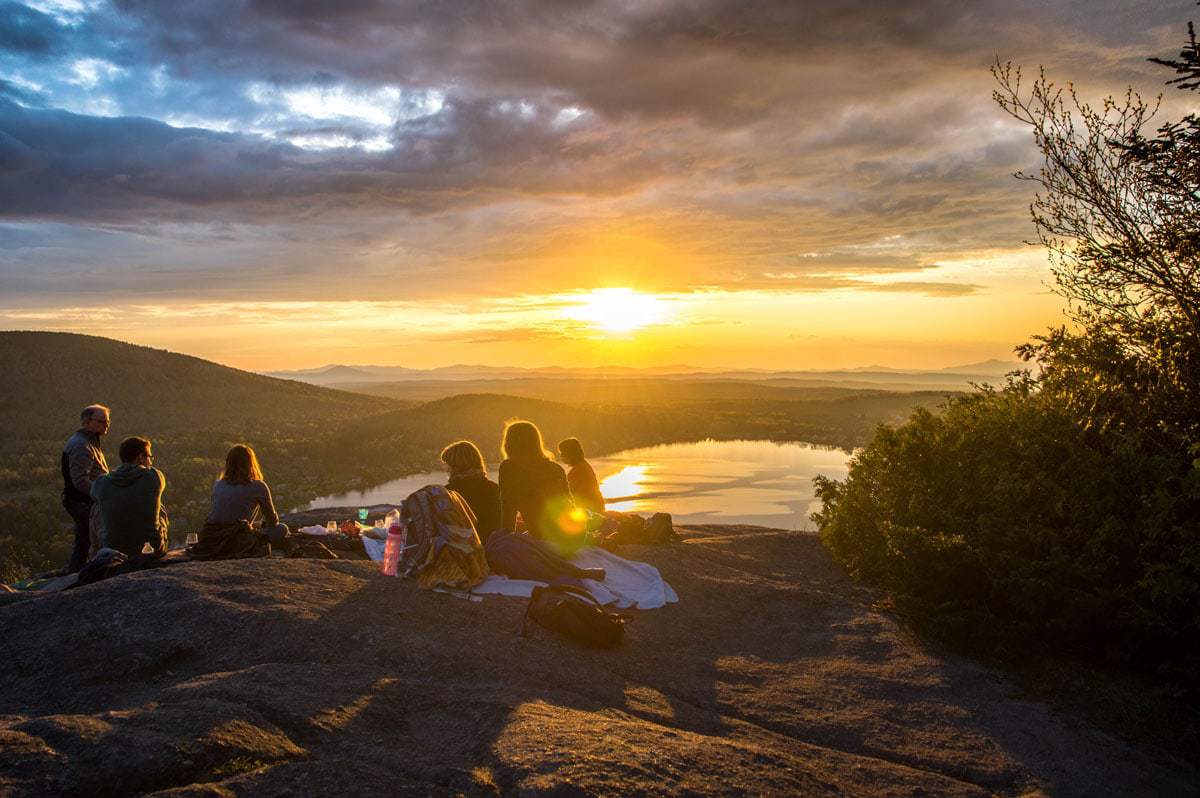 Just as spectacular waterfalls are plentiful, so are hiking trails. Many of which go hand-in-hand such as:
The 3.5km hike to the bottom of the Forest Falls
The 3km Secretary Bird Trail from Mac Mac Falls.
The 2 km Kadishi Trail into the picturesque ravine of the Canyon is a great hike for any age or fitness level. Dotted with waterfalls and swimming holes, it offers many swimming and picnic opportunities.
For a full day hike, take the circular Loerie Trail. 14 km of mostly level hiking that takes you through stunning pine plantations. Or, for something more advanced, the Fanie Botha Trail and Blyderivierspoort Hiking Trails offer 3 – 5 day hikes.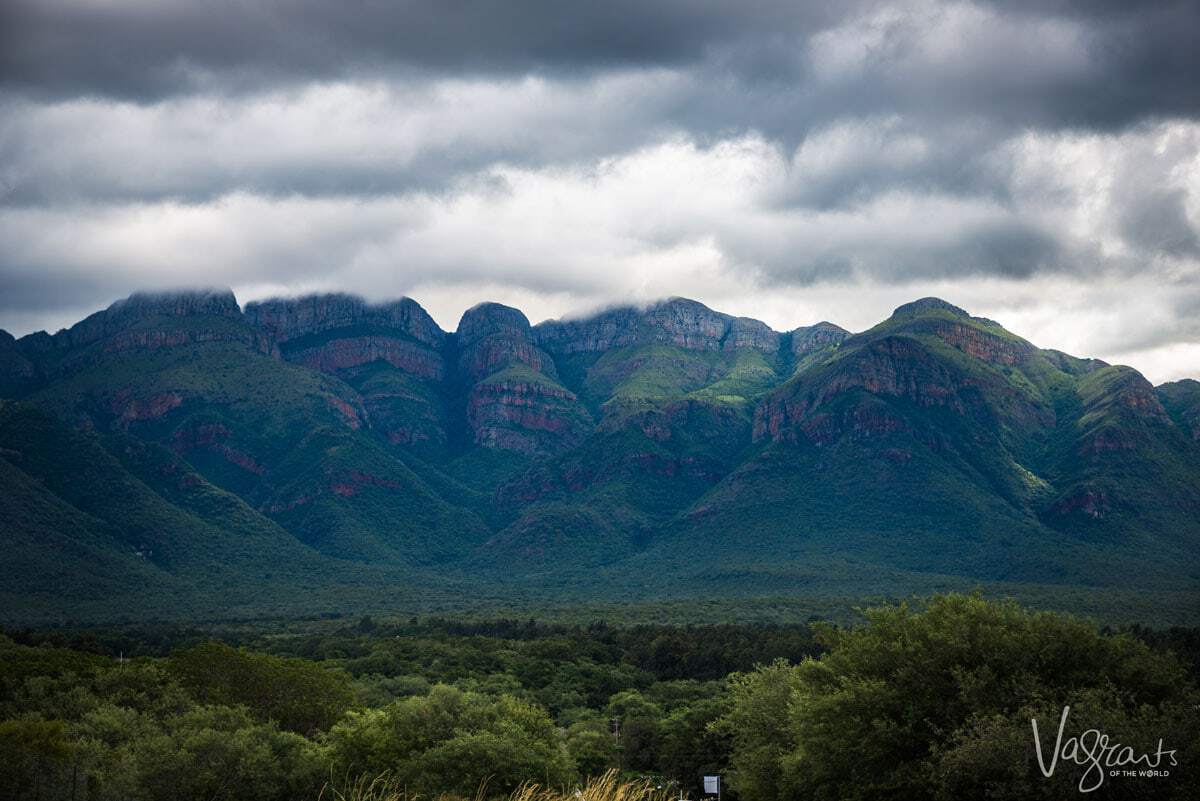 Where to Stay on the Panorama Route
Your Panorama Route accommodation choice depends on how you choose to do the route and how long you have. In addition to the main towns, you will also find various styles of guesthouses and B&B accommodation scattered throughout the area for those who want to get away and appreciate the landscape.
Graskop
Graskop is closest to the main attractions and considered the best place to base yourself. It has plenty of accommodation catering to all styles of traveller and budgets and offers the convenience of town for those who do not wish to self-cater.
Search Accommodation Options in Graskop here
Sabie and Hazyview
If you are coming to or from Kruger; Sabie and Hazyview may be more convenient. Although, they are further from the main attractions of the Panorama Route.
Hazyview has the best facilities in the area for fuel and supplies.
Ohrigstad
As mentioned, we chose to stay in Ohrigstad in a beautiful B&B. We had a large self-contained apartment with terrace and braai facilities. The included breakfast is excellent, and the property has a lovely pool area.
Ohrigstad is away from the central tourist places but still in a good location for easy access to all the major and not so major attractions. The only downfall, if you wish to self-cater. You need to plan and purchase provisions in advance or along your drives as the town itself only has very basic general stores.
How to Get to the Blyde River Canyon Reserve and the Panorama Route
Driving from Johannesburg to the Mpumalanga Province will take around five hours.
Alternatively, you can fly into closer cities such as Nelspruit and Hoedspruit and hire a car from there. Many visitors going to Kruger National Park do this and incorporate the Panorama Route in their itinerary.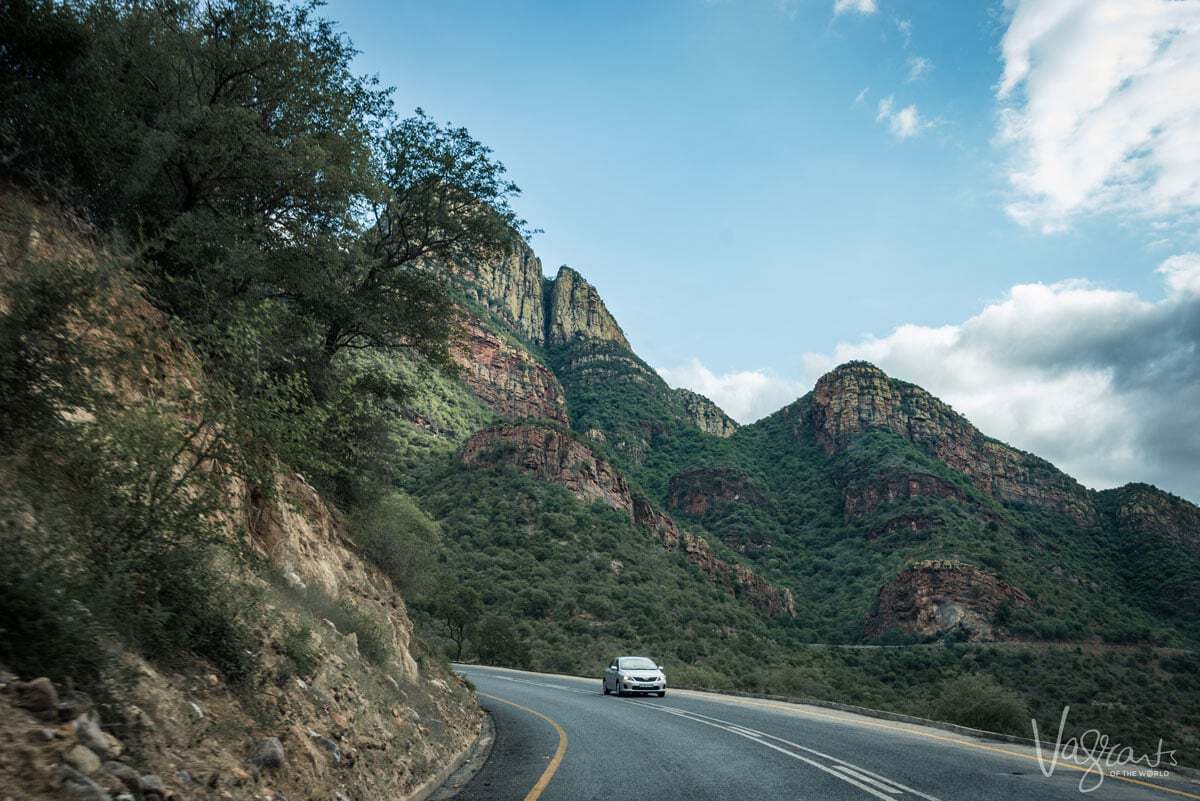 Road Conditions on the Panorama Route
For the most part, the roads around the Panorama Route are in overall good condition, so driving is not stressful. Just keep an eye out for roadworks and the occasional pothole.
You can also visit the Panorama Route as part of an organised tour. These are just a few ideas of what is available.
Car Hire in South Africa
It is possible to rent a car from Johannesburg for as little as USD $70 for 5 days in peak season for a compact 4 door vehicle with no booking or credit card fees.
Car Rental Insurance in South Africa
We often get asked about car rental insurance, especially for South Africa and Kruger National Park. Mostly, we choose to forego the additional car rental company insurance as car rental accident or damage is included with our travel insurance.
World Nomads Travel Insurance is our usual preference for travel insurance as we find they are the cheapest. They are also more flexible than many other travel insurance companies, especially for more extended policies or away from home renewals.
You can choose to have car rental insurance included or not with your travel insurance policy; it doesn't come as standard. As any damage to a car could also include a travel insurance claim for loss of property or injury, we find it is easier to keep the claims together. Touchwood, we haven't had to claim for car damage yet.
We suggest you check any policy carefully as we are not aware of any insurance policy that covers car damage sustained by wild animals. Yes, this is a real possibility.

Don't Forget Travel Insurance For South Africa
The most important travel purchase you should make is travel insurance.
Get a Free Quote From World Nomads Travel Insurance.
What to Pack for The Panorama Route
While this is not an extensive packing list, these are a few items you may want to pack to make your drive of the Panorama Route more enjoyable. These things will also hold you in good stead if you are also planning on visiting Kruger National Park.
We have compiled a more extensive list of what to take on a Kruger self-drive safari here. Much of this will also be relevant to a Panorama Route itinerary.
Comfortable Walking Shoes
It goes without saying; you are going to need some comfortable shoes when visiting South Africa. Make sure you have sensible, comfortable shoes appropriate for the season and the activity you are going to undertake.
These are some of our favourite shoes for travel that don't completely forgo form for function and work equally well in Cape Town as for safari or driving the Panorama Route.
---
Dress for Climate & Conditions
Sun protection in Africa is an obvious requirement. It is also important to note Malaria is endemic in the Lowveld of Mpumalanga and Limpopo provinces, including the Kruger Park.
Malaria in the Mpumalanga Region
While the risk of contracting Malaria on the Panorama Route is low, especially in the dry season – roughly May to October, it is still prudent to take preventative measures. If also planning on visiting Kruger Park, it would probably be even more prudent, particularly during the high-risk months of summer.
We did not bother with costly anti-malaria medication until we were travelling through the Caprivi Strip in Namibia and the Okavango Delta in Botswana. Of course, this is an entirely personal choice.
---
---
Malaria Prevention
We did, however, take extra precautions to prevent mosquito bites in the northern parts of South Africa. Bite prevention is still the main defence against contracting malaria. As malaria-carrying mosquitos are most active between dusk and dawn, covering up is your best defence.
In addition to using insect repellents, mosquito coils and nets, clothing plays a significant role in keeping mosquitos from biting.
We found a couple of brands of clothing that are comfortable for travel, lightweight, easy wash and dry and offer SPF protection. Most importantly, they have odourless insect shielding which repels biting and potentially disease-carrying insects for up to 70 washes. And, they look as good as any of the better end outdoor brands. Search Bugsaway and Solstice Apparel clothing brands to find out more.

Mosquito bands are also an excellent way to stay protected if you forget or get caught without spray. You can also keep them in your luggage without having to worry about liquids or aerosols when you fly.
---
Car & Travel Essentials for the Panorama Route
On any driving trip, a few car essentials go along way to making a trip easier and or more enjoyable.
There are a few towns along the Panorama Route where you can plan a lunch stop. However, they may not always be convenient to your itinerary. Why not take advantage of all the lovely picnic spots for a good old South African braai.
We love an insulated travel tote for this. This one meets airline regulations for carry-on luggage and also has a separate cooler compartment with ice pocket. Keep drinks and lunch cool in the same bag as your electronics and other belongings without fear of condensation damage. It also has detachable backpack straps for hiking. A very handy all-around travel tote.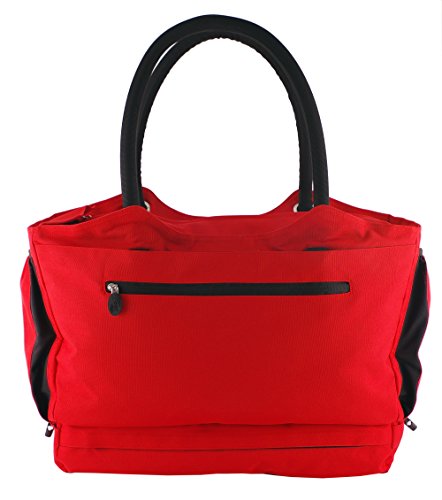 Travel Tote With Insulated Cooler Compartment
We also found our cable luggage locks came in very handy. As we hired a two-door 4×4, our belongings were visible in both the front and back of the vehicle.
Crime in South Africa is a problem, so visibly locking our bags to the interior of the car gave us additional peace of mind when away from the vehicle. Especially in isolated parking areas and at times when we had all of our luggage with us.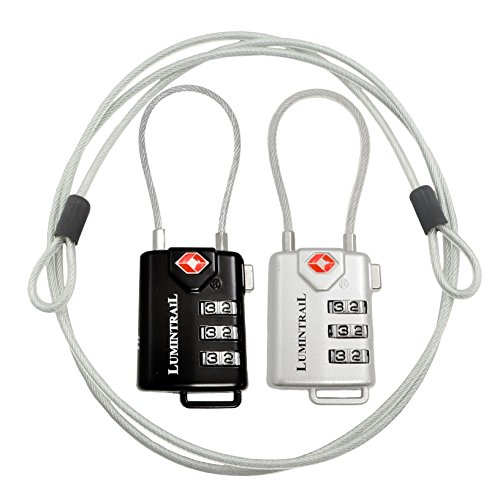 Steel Cable Travel Security Lock
Don't forget to always have plenty of fresh drinking water with you in the car and don't forget to keep a map of the Mpumalanga regions handy.
Some areas may not be clear on sat navs and mobile reception can be sketchy at best for Google maps. We are normally electronic maps people but so glad we had a paper map for this trip.
---
We hope this helps you know what to expect and plan your Panorama Route self-drive or tour. As always, we would love to hear any more tips from other people's experience visiting the Panorama Route.
---