Sometimes a single image can captivate the imagination so much; a person is compelled to see this place for themselves. Kolmanskop Ghost Town in Namibia is such a place.
Many have been motivated to seek out the small abandoned diamond-mining town of Kolmaskop, swallowed by the Namib Desert because of a single image.
Kolmanskop Ghost Town attracts photographers from all over the world for its unique photographic opportunities. And while Namibia is a country filled with striking landscapes, Kolmanskop remains the most famous photographic attraction in Namibia.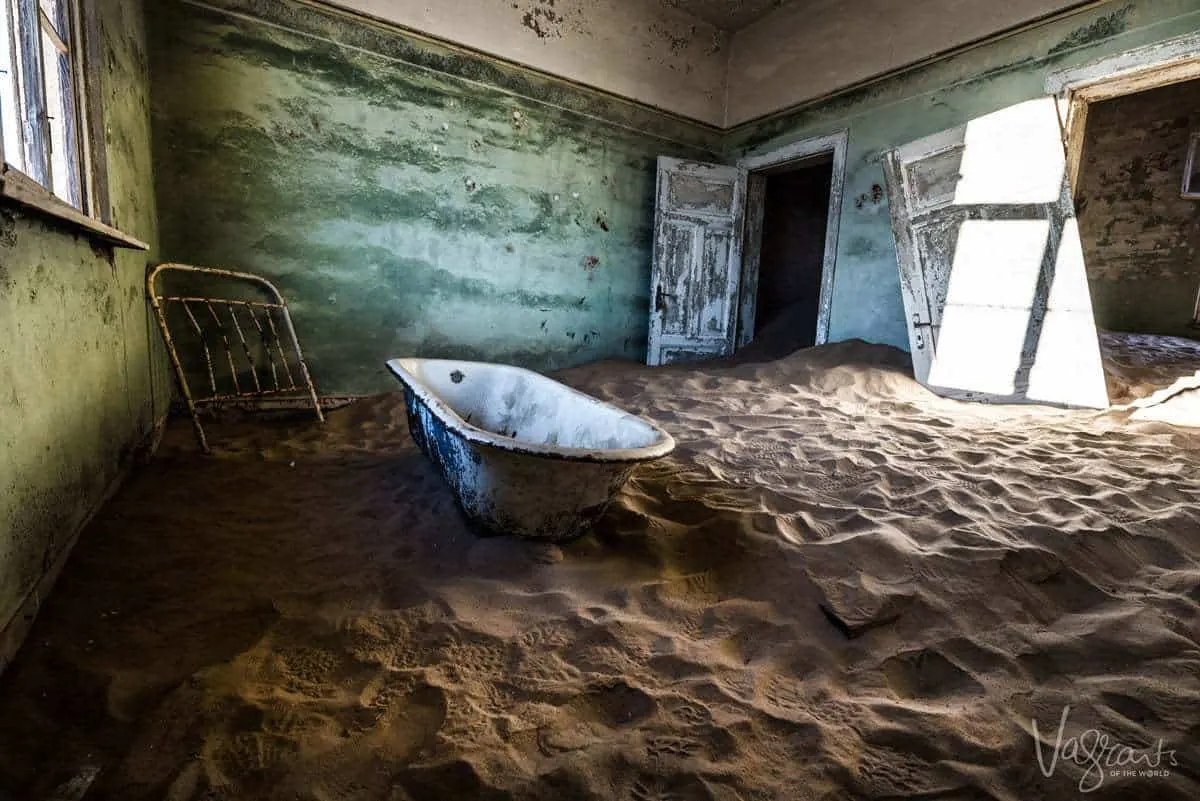 What You Will Find in This Guide to Kolmanskop Ghost Town in Namibia
Here you will find a complete guide to visiting Kolmanskop Ghost Town for both photographers and general visitors.
You will get lots of handy tips on what to expect when visiting Kolmanskop.
A brief history of the Kolmanskop mining town and its demise.
Information about Kolmanskop tours.
How to get permits to visit and photography permits.
The cost of permits and tours.
The best time to visit.
What to take and what to wear (including safety advice).
Photography tips for gear, best times, lighting and environmental issues.
How to get to Kolmanskop and where to stay.
You'll travel a long way to get to Kolmanskop so putting a little bit of planning into your visit to this extraordinary ghost town will certainly pay off when you finally get there.
About Komanskop Ghost Town
Kolmanskop is an eerie reminder of a moment in time. Sand creeps into every space and crevice like liquid. An entire town almost entirely swallowed up and reclaimed by the desert. The story of Kolmanskop is a fascinating tale of incredible wealth and prosperity followed by a sudden and rapid decline.
Kolmanskop History
Established in 1908 when railroad worker Zacharias Lewala first discovered diamonds at the site, Kolmanskop quickly grew into a prosperous mining town supporting more than 1,200 very wealthy residents.
Legend has it the precious stones were so plentiful one could find diamonds lying in the sand by moonlight. Prospectors would lie on their bellies, and crawl across the sand, collecting diamonds by the dozen.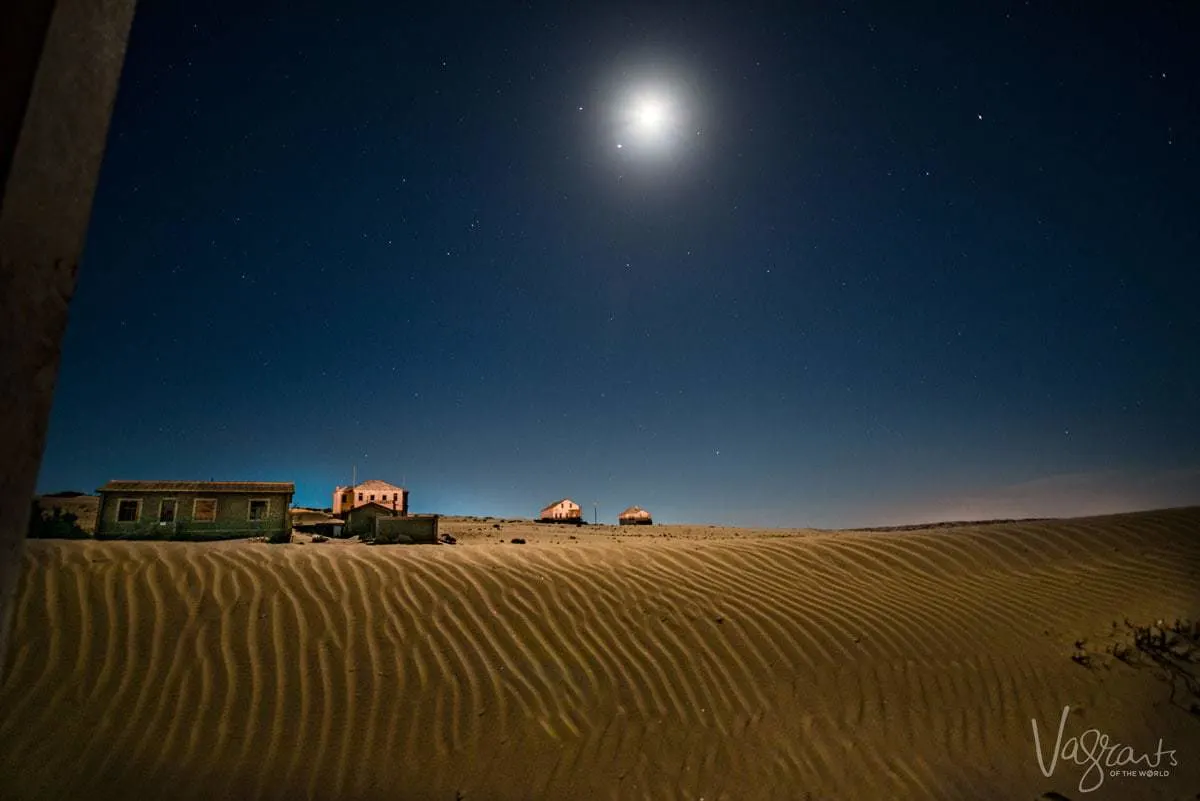 Kolmanskop the Mining Town
The town boasted a theatre and ballroom, hospital, school, general stores, even a casino and bowling alley, designed around the German architectural style of the time.
With the wealthy residents in mind, buildings in the town were brightly coloured and lavishly decorated with the best furnishing and fittings. These features can still be seen today in peeling and faded wallpapers hanging on regardless of daily sandblasting.
The Demise of Kolmanskop
Within 40 years, after World War I and over 1,000 kilograms of diamonds later, the prosperity began to waver. The price of diamonds dropped, and the resource depleted, so residents simply left, leaving their houses and belongings behind. By 1954 the entire town was officially abandoned leaving behind a fascinating insight into the history of the Kolmanskop diamond mining boom and the power of the desert.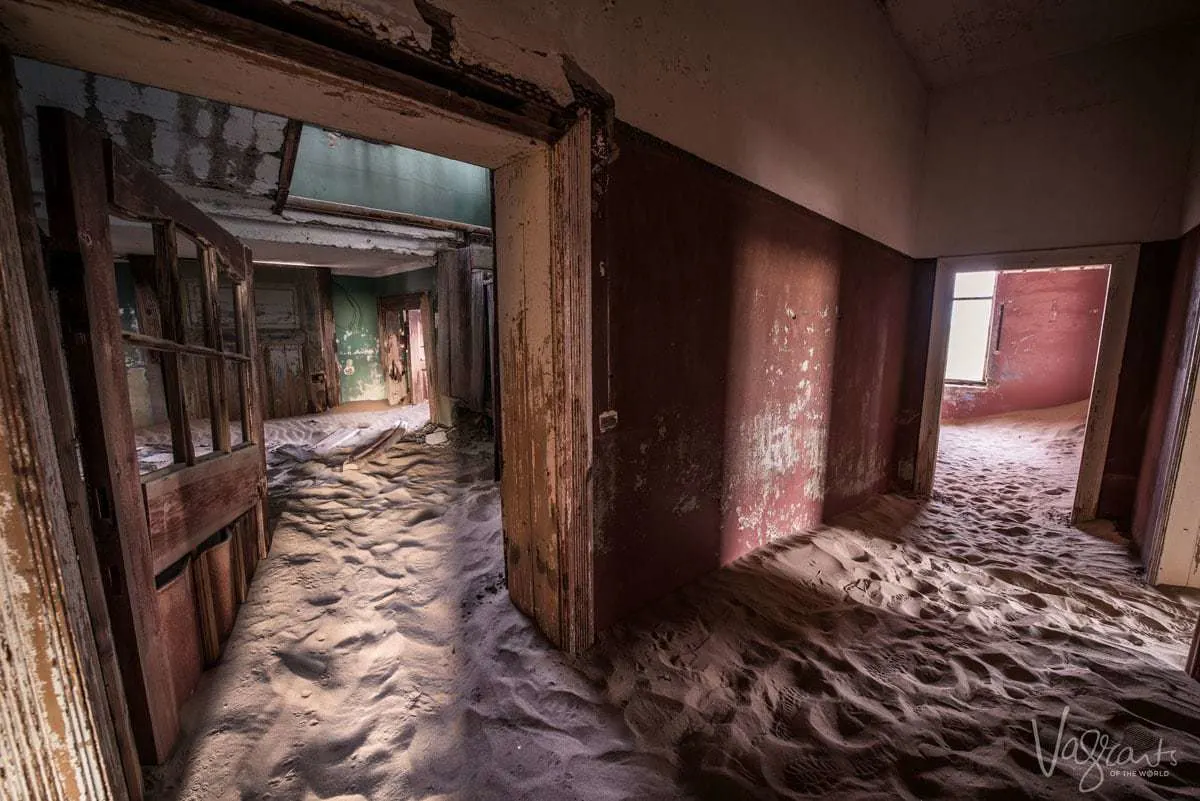 Where is Kolmanskop Ghost Town.
Kolmanskop is located approx. 12 km's from the coastal port town of Luderitz, almost directly opposite Luderitz airport.
Visiting Kolmanskop Ghost Town – Kolmanskop Permits
There are two ways you may visit Komanskop Ghost Town, but both require you to purchase a Kolmanskop Permit.
General Visitors Permit:
This permit is for those just wishing to visit Kolmanskop Ghost Town and grab a few snaps-
Kolmanskop is open daily between 08.00 and 13.00.
Kolmanskop Ghost Town Tour:
Daily at 09.30 and 11.00 Mon-Sat and 10.00 only on Sunday.
Permit Cost:
Adults – N$85.00 pp (~ USD$6.00) Children: (6-14) N$50.00 pp (~ USD$3.50) Under 6 yrs: Free
Ghost Town Tour is included in this cost and allows for unlimited photographs.
Kolmanskop Photo Permit:
The Kolmanskop "photo permit" is available for "amateur photographers" to visit outside of the regular hours. The permit is available from sunrise to sunset.
We say "amateur photographers" as this permit is not available to commercial photographers. You will be asked to sign a waiver form stating you are not photographing Kolmanskop for commercial purposes.
Commercial photographers are required to obtain a separate permit at approx $500/day.
The Photo Permit costs:
N$230 pp (~ USD$17.00) and is valid only for that day. The 09.30 am or 11.00 am guided tour is also included in this fee.
Buying the Photo Permit:
Kolmanskop permits can be purchased at the gate or at Luderitz Safari and Tours on the main street in Luderitz.
If you are opting for the photo permit, we advise you purchase your permit the day before at Luderitz Safari and Tours as there will be nobody at the gate until 08.00.
When visiting outside of regular opening hours using the photo permit; you will be instructed to leave your permit on the dash of your car for easy identification by security.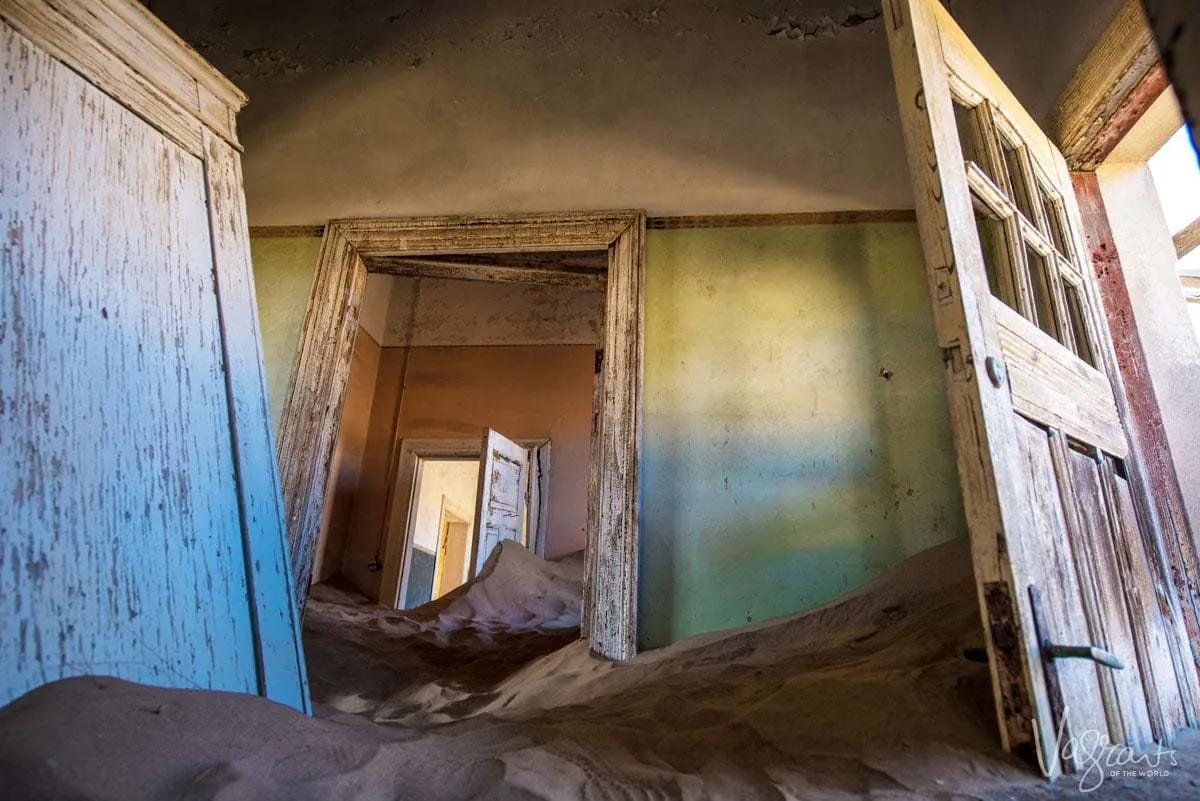 Photographing Kolmanskop Ghost Town.
We visited Kolmanskop mid-March, as luck would have it, on the full moon. We arrived at the site at 05.00am, around an hour and a half before sunrise.
Even though it was still pitch dark, this was the perfect time for shooting the exteriors, emphasising the eerie aspect of the town.
If you arrive at this early hour, more often than not, apart from a chance meeting with the brown hyena's that inhabit the area, you will find yourselves the only ones there. To be there alone is an experience in itself.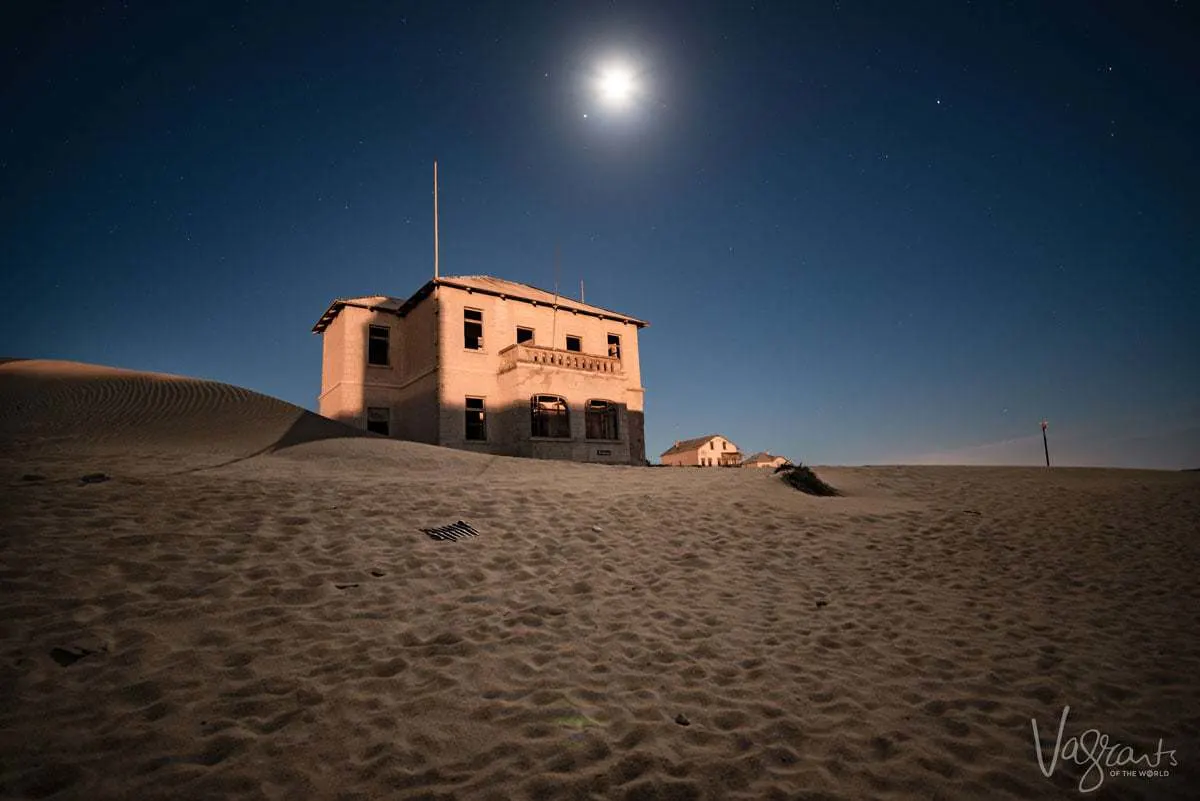 We felt sunrise offers the most photographic advantages for a number of reasons.
The town has an easterly facing which provides the best light for building facades in the blue hour and just as the sun rises.
It also gives fabulous light for internal shots in the few hours after sunrise as most of the buildings have the best windows facing east. The sun so low in the sky creates great shadow and lighting of details.
Kolmanskop is also notoriously windy. The wind will usually be stronger in the afternoon, which sometimes makes visiting Kolmanskop at sunset impossible. After a very calm morning, we returned at sunset and were unable to leave the car without being sandblasted. Not a pleasant experience and potentially fatal for your gear.
If you are fortunate to visit the morning after a strong sandstorm, footprints in the sand from previous tourists may be swept away leaving beautifully smooth dunes inside and around buildings. We weren't this fortunate.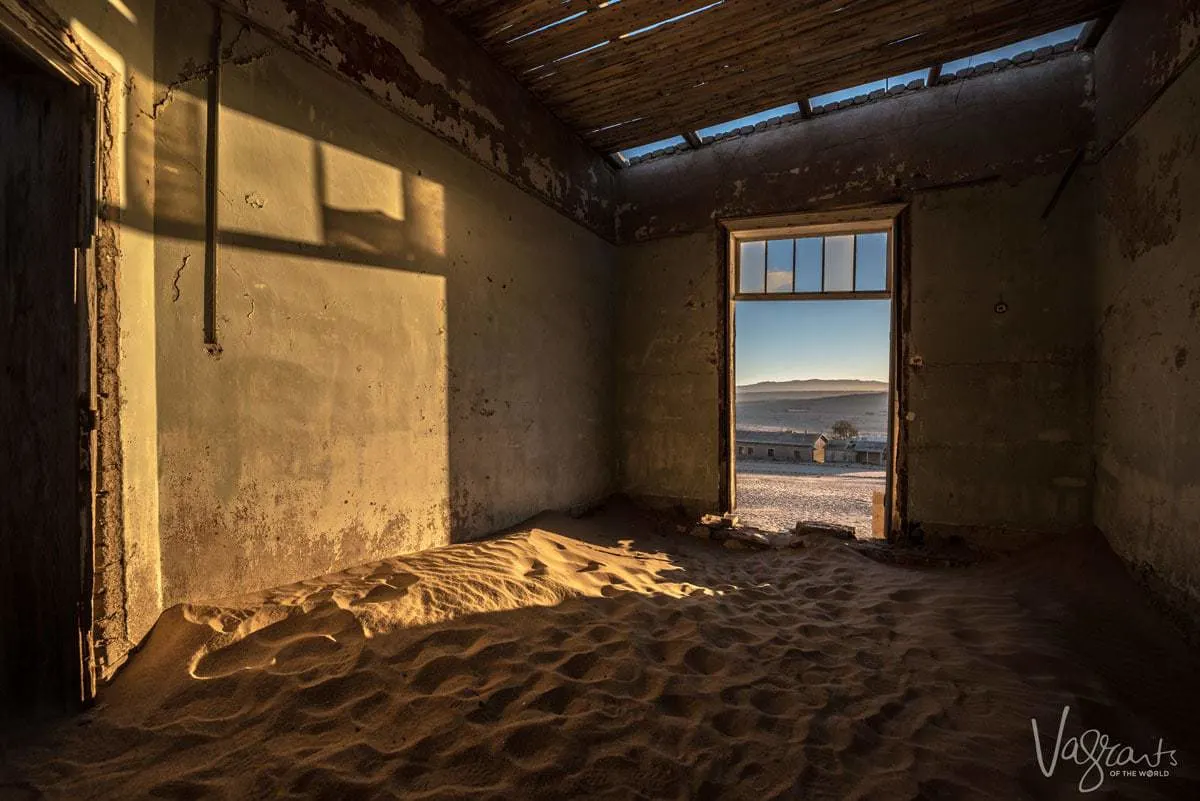 We spent just over 3 hours in the morning photographing the exteriors and interiors of the smaller buildings along the front of the town. After returning to our hotel for a quick shower and breakfast, we came back to join the 09.30 guided Kolmanskop Tour.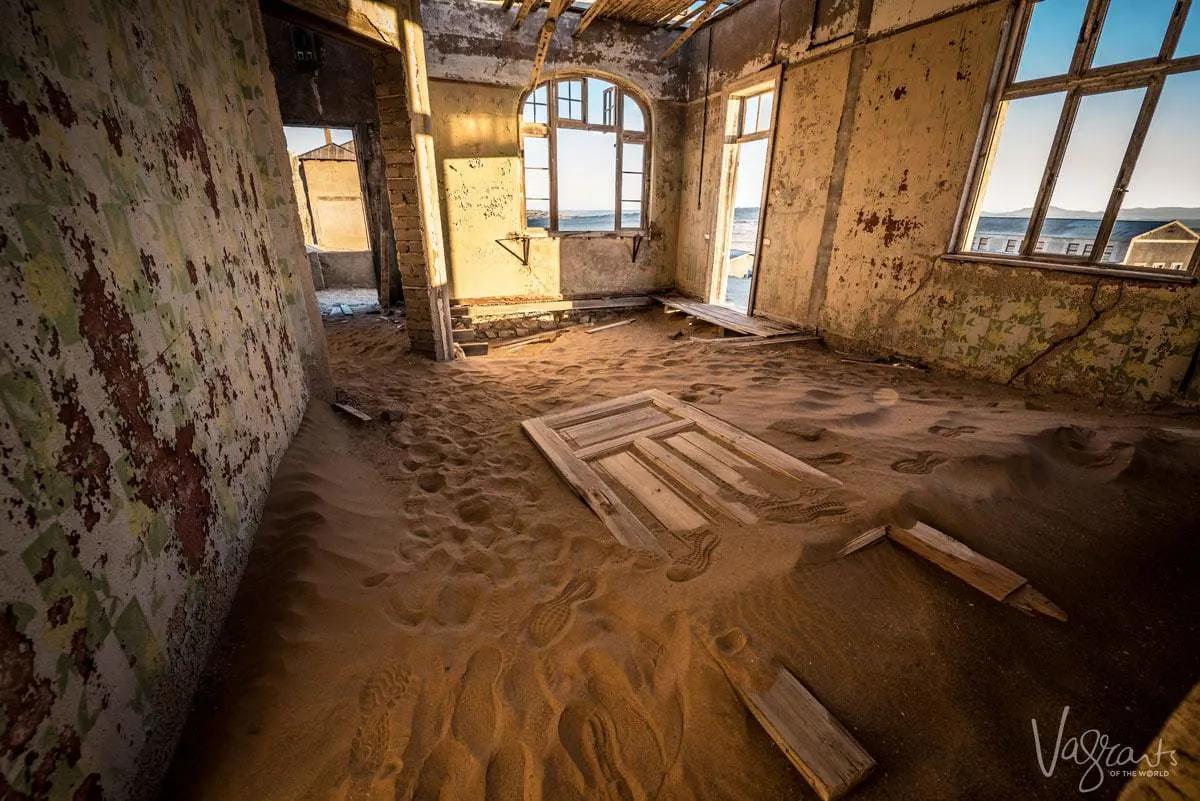 We can highly recommend doing this as it not only gives you insight into the town's history, it also gives you access to some of the buildings not open outside of regular hours. Buildings such as the ballroom, theatre, bowling alley and ice factory. The only buildings to have undergone some preservation.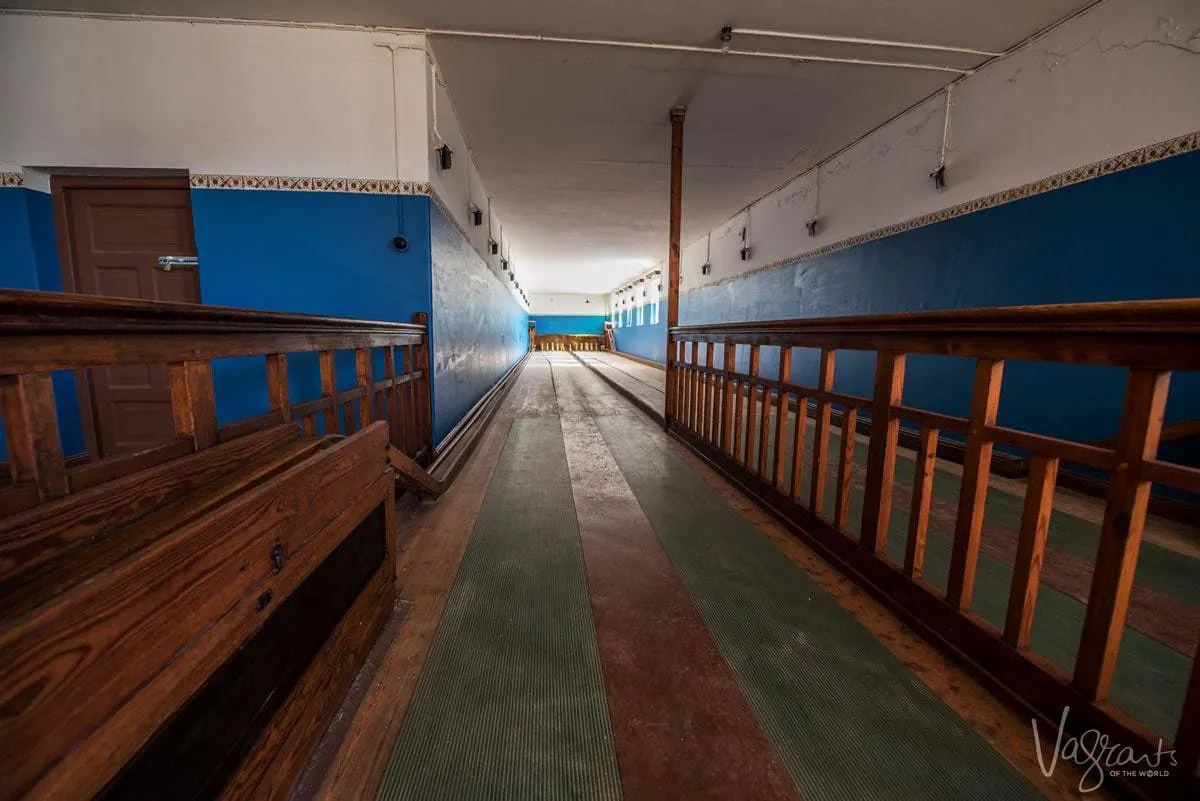 During the tour, you will also pick up some tips on how to find little hidden gems like Miss Kolmanskop, a drawing, much like the faded paint and wallpaper, is still hanging in despite daily abuse from sand.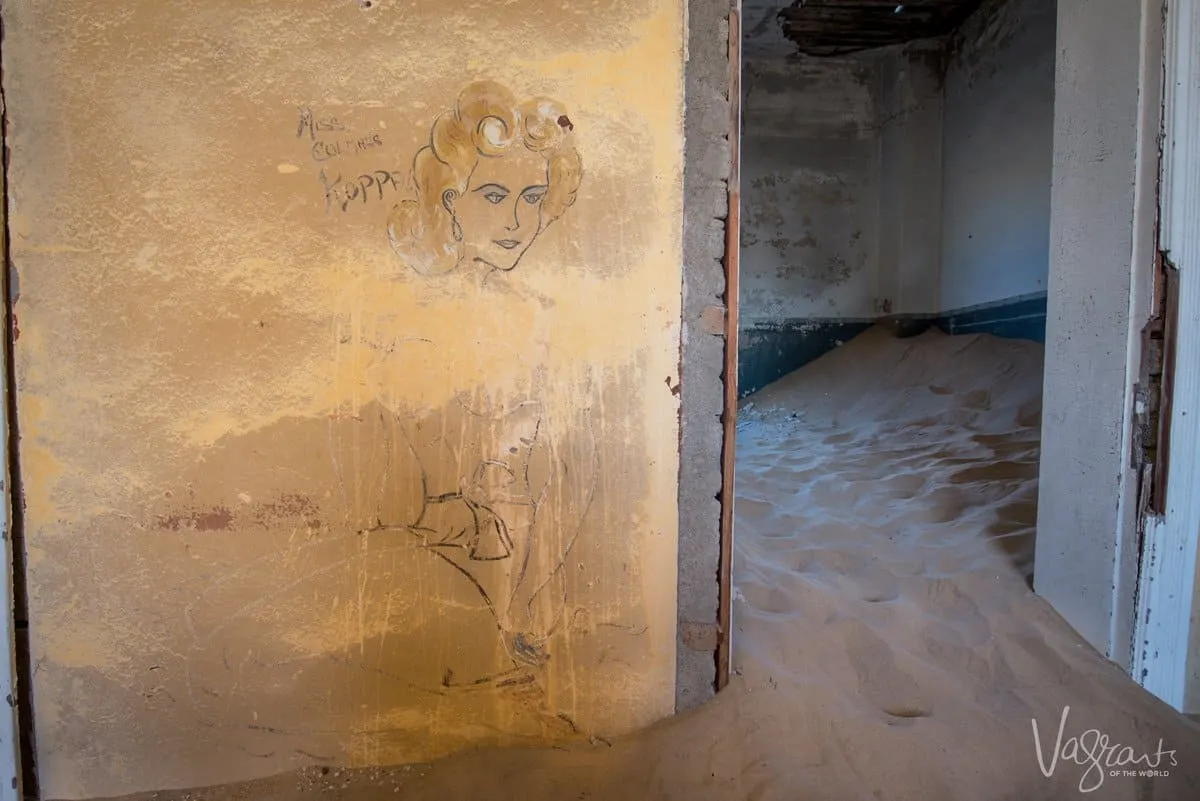 Later in the morning, when the sun is quite high is perfectly fine for photographing some of the larger houses on the northern side of the town. As they mostly have a northerly facing, you will not miss out on any lighting opportunities.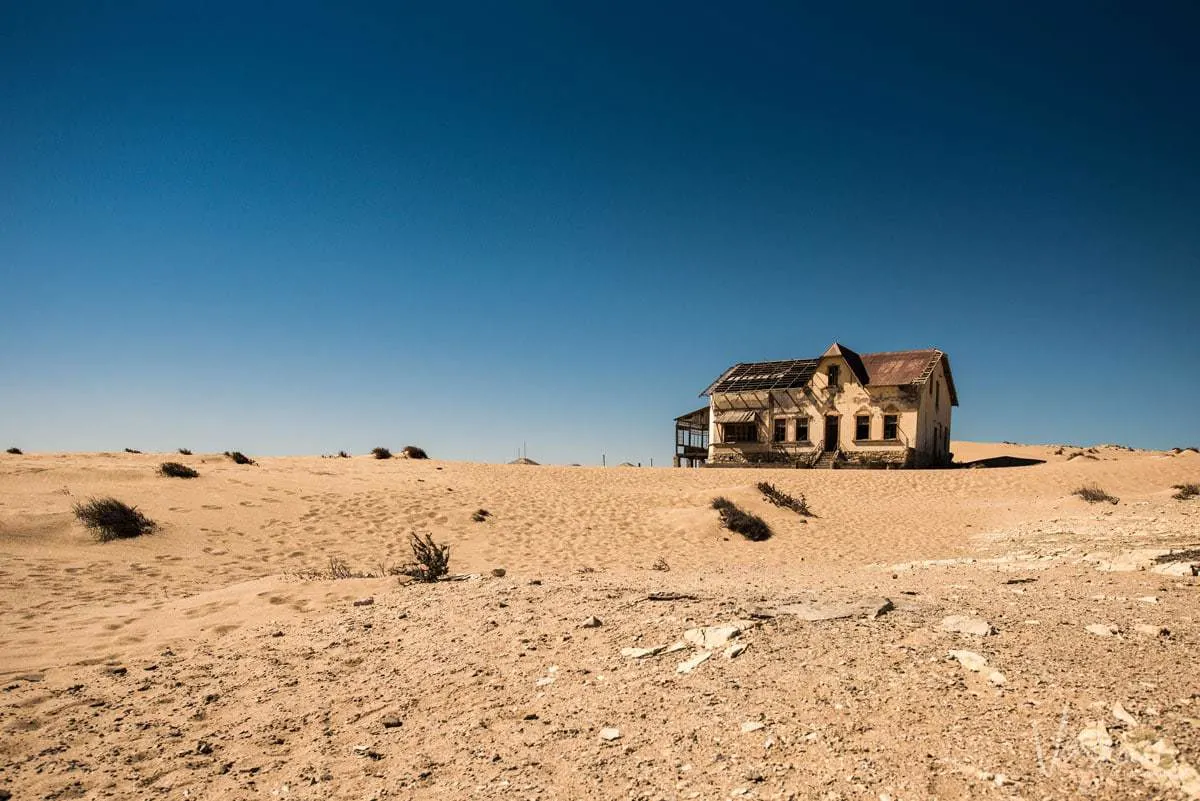 These buildings have not suffered as much damage as some of the smaller ones and are not nearly as inundated with sand but still offer some excellent photographic opportunities.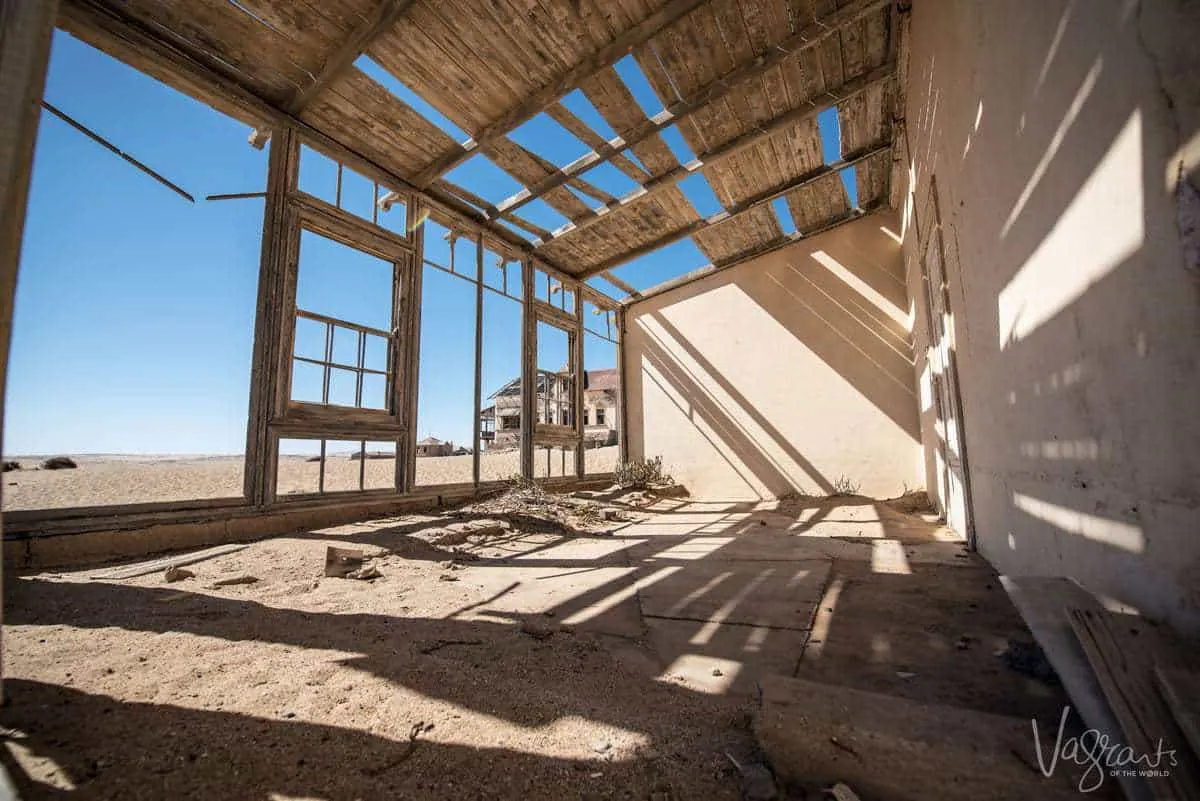 Camera Gear
Photographing Kolmanskop offers many excellent opportunities to play with light and shadows. With that comes the challenges of low light shooting and dynamic range. Many people opt to bracket their images whereas we found longer exposures and careful exposure metering worked well enough.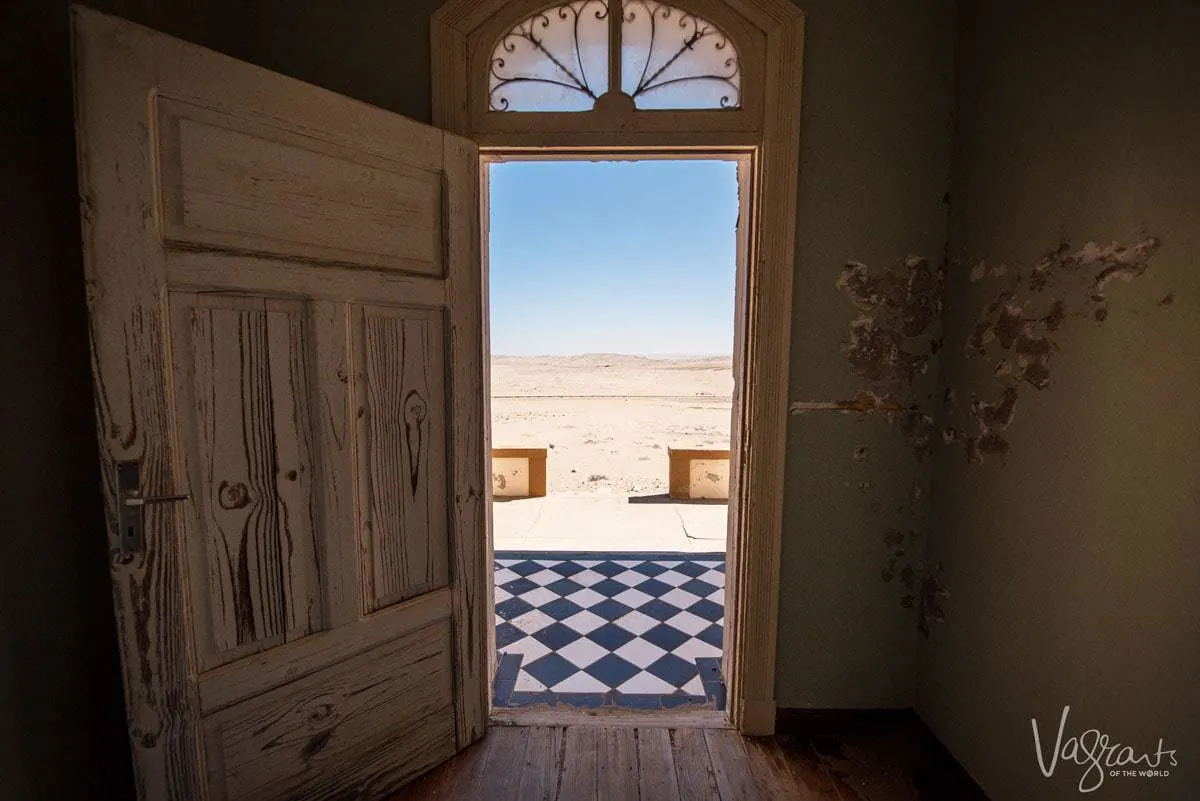 Take a Wide Angle Lens
A wide-angle lens, if you have one is perfect for shooting Kolmanskop, as is a camera body with a full-frame sensor. In addition to the low light conditions of the early morning, or in our case, the night, you will find yourself up against the wall in some of the small rooms.
A wide angle lens is going to give you the best chance of capturing the internals as well as coping with the low light situations. I used a 14-24mm lens for nearly all of my shots at Kolmanskop.
Tripod
Obviously, in these low light, conditions, a tripod is going to be necessary. If you don't want to carry around a full-size travel tripod, a Joby Gorilla Pod will work well for resting on ledges or even rested against your own body. They are fantastic for travel when a full-size tripod becomes a little cumbersome.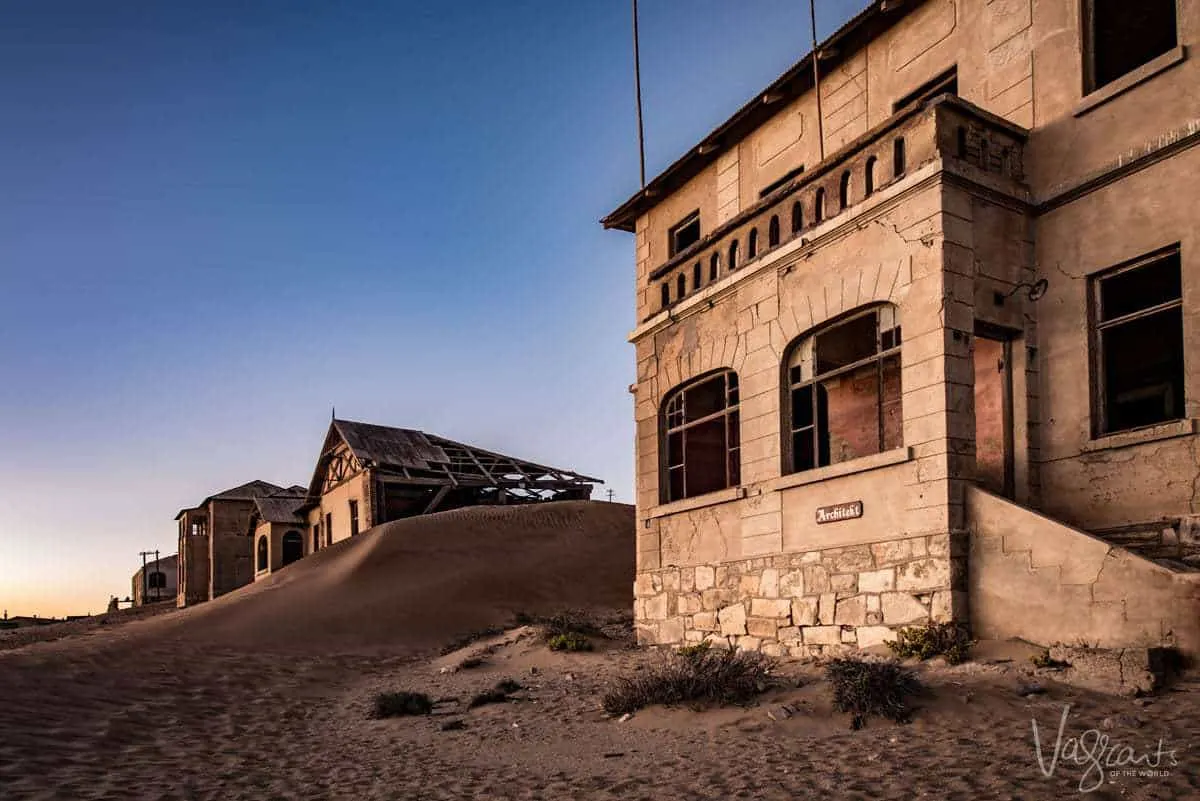 Protect Your Camera Gear
It goes without saying; be extra careful with your gear in all that sand, especially if there is any wind. Namibian sand has a talent for getting in everywhere, no matter how careful you are. You may even like to consider returning to the car for any lens changes.
Take a Towel or Scarf for Covering or Wiping Gear
Carry a towel or scarf with you to wipe down lens barrels and tripod joints. While we had no issues with gear after visiting Kolmanskop, we have heard of other people who's cameras have played up while photographing Kolmanskop, a problem they have attributed to possible sand ingress. Other issues may be tripod joints sticking or those ever annoying dust spots on your sensor.
Backpack or Sling-Style Camera Bag
If you don't already have a backpack style camera bag, you may want to consider transferring any essential camera gear to any backpack or sling style bag you have so you don't have to put bags down in the sand.
We have a Vanguard backpack but also carry a lightweight waterproof sling bag that comes in handy if we don't need to carry too much extra gear and want to keep water or dirt out. Perfect for these types of photography trips. You can also swing this around to your chest when climbing in and out of windows.
A Small Torch or Head Lamp
A small torch is also very handy. It's essential for finding your way and your stuff before the sun has come up and is also ideal for creating additional light or lighting particular items or scenes in extremely low light. We carry a pocket torch with us all the time. They're very handy for travel, not just for travel photography.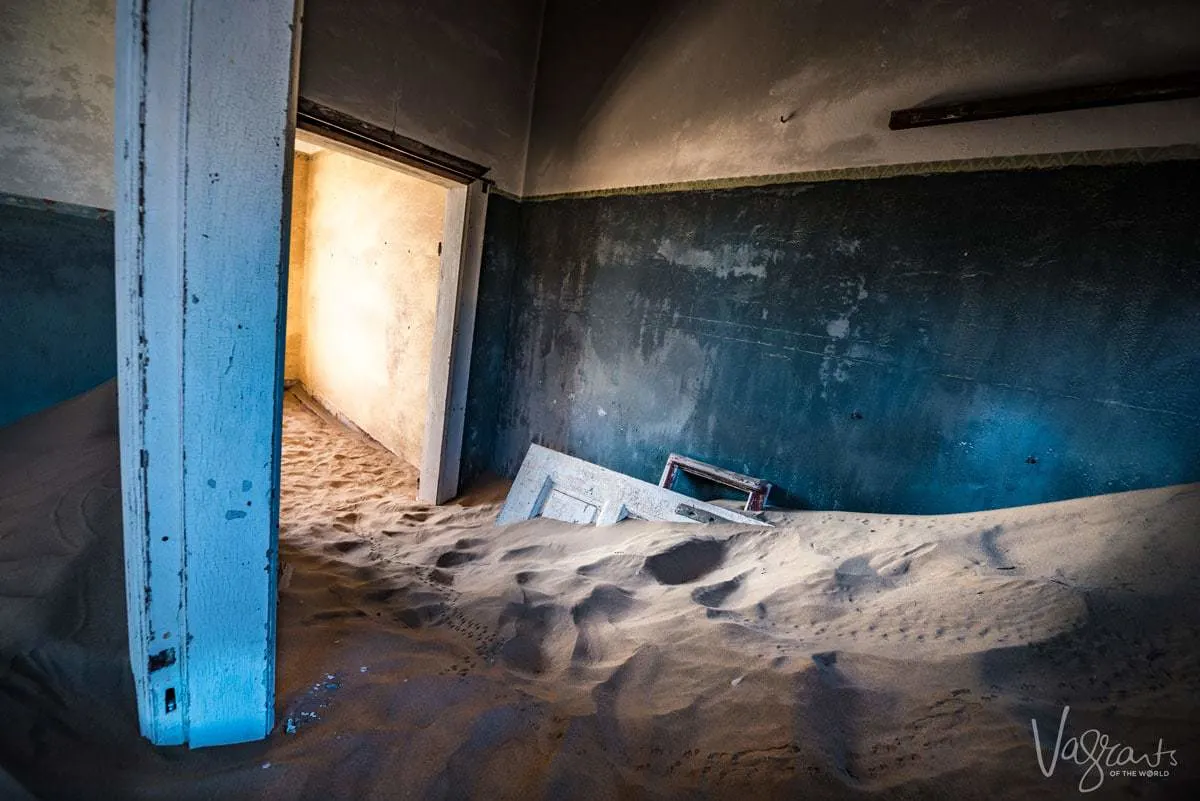 What to Bring.
In addition to your camera gear, there are a few other essentials you may want to pack.
Your Photo Permit – Very important and don't forget to leave it on the dash of the car.
Water. Even in the cool of the early morning, it's hard work ploughing through all that sand.
A lightweight scarf. If it's windy, you may want to cover your face; it's also handy for protecting and wiping down your camera. Although, from our experience, you won't want to be there if it's too windy.
What to Wear at Kolmanskop.
First and foremost – sensible closed in shoes. There is a lot of sharp debris lying around in the sand such as broken glass, nails, and metal. A sturdy shoe will also make trudging through the sand easier.
We recommend layers. Even in the summer it can be quite brisk in the early morning but will heat up quite quickly once the sun rises. Think lightweight, long pants and sleeves and perhaps a light windbreaker.
Sun protection. Hat, sunglasses, etc.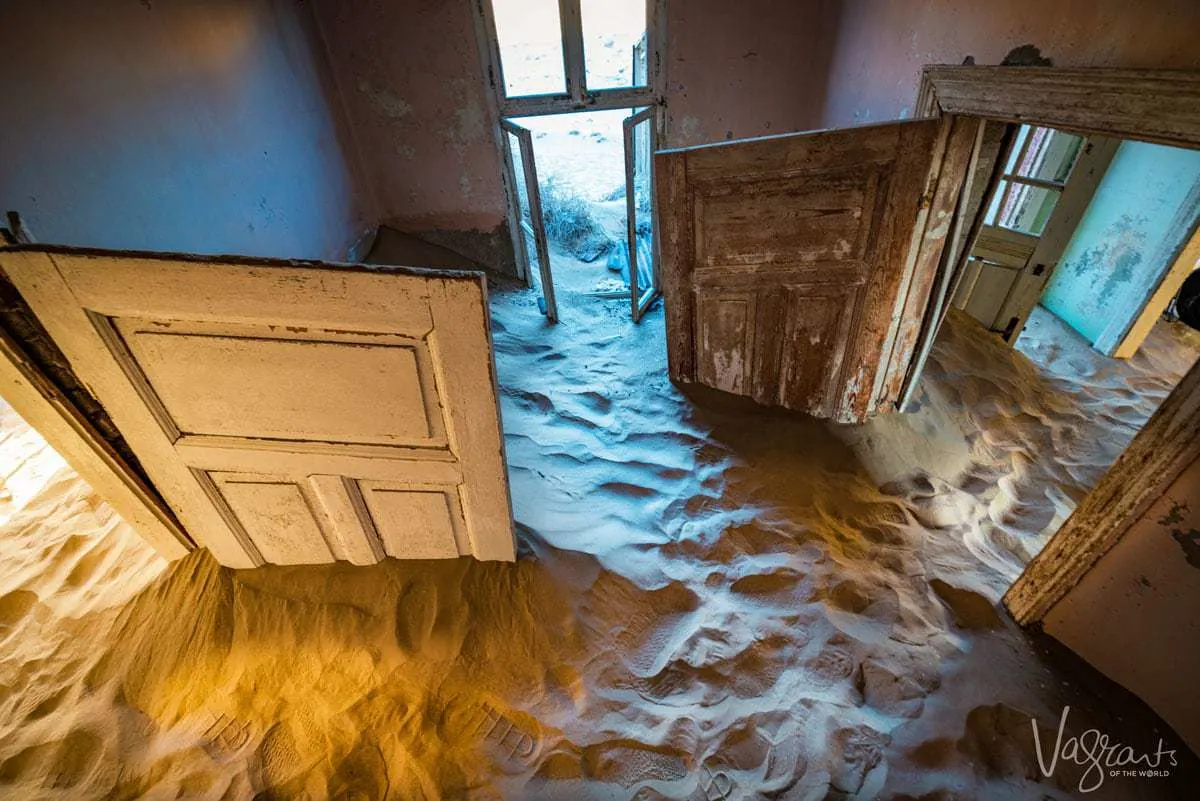 Safety Considerations.
While Kolmanskop is a tourist attraction, it is not managed in a way most people would expect. People may enter almost all of the buildings regardless of the varying states of extreme disrepair. Floors, walls or ceilings could collapse at any time so you do need to use care and common sense when exploring. Some buildings will require you crawl through small spaces or even windows to enter so watch out for nails, broken glass and sharp metal.
The area also has populations of wild brown hyena and many snakes so be on the lookout for wildlife, especially when you are there on your own.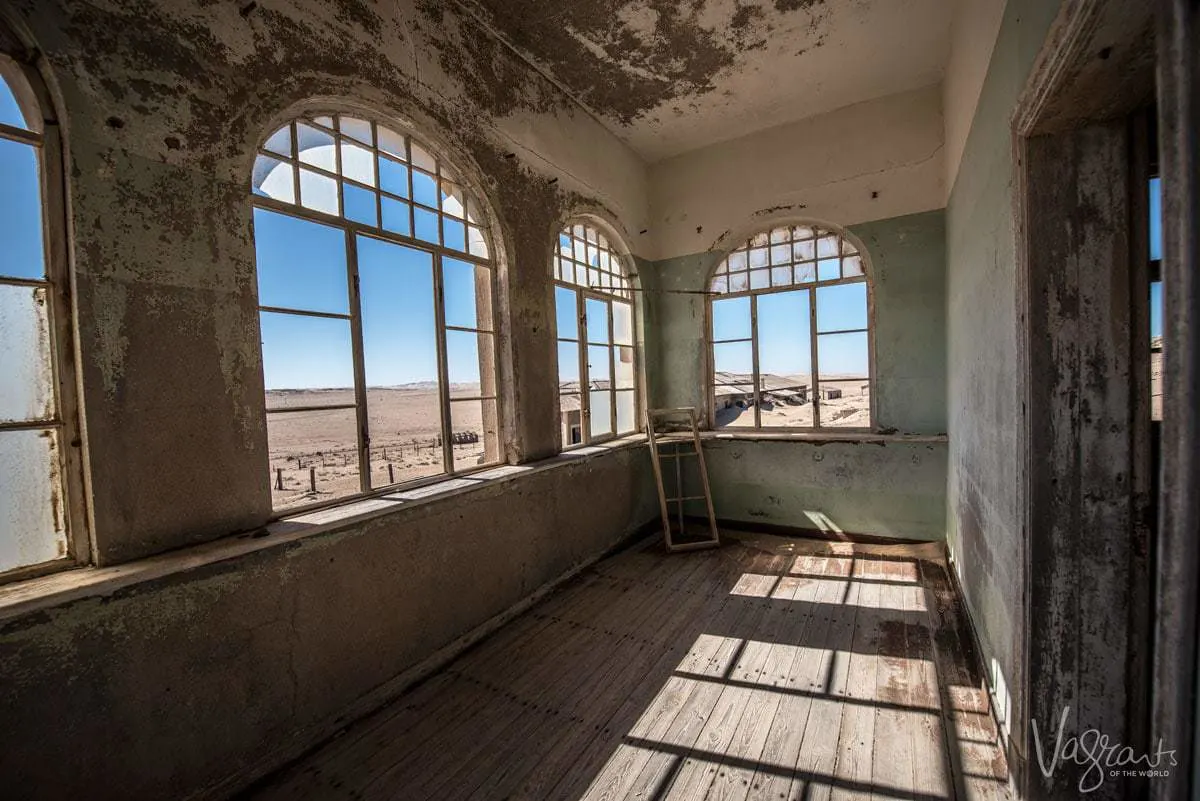 Getting to Kolmanskop.
Fly:
Air Namibia flies from Windhoek, Namibia's capital to Luderitz, although check schedules in advance as there may only be two or three flights a week.
Drive:
Luderitz is easy to find via the B4 highway. We came from the south after crossing from South Africa. Bear in mind if driving, whether from south or north, distances between towns and cities in Namibia are vast. Expect at least 5- 6 hours driving between destinations.
Tours:
Most of the overland tours through Namibia include Luderitz and Kolmanskop in their itineraries.
Accommodation in Kolmanskop:
You will not find any accommodation in Kolmanskop itself but plenty of great options in Luderitz. We opted for a B&B, but there are also a few larger hotels. Check out latest accommodation rates for Luderitz.
Tip: Where to Eat in Luderitz
For excellent value and great food, head to Barrels Restaurant in Luderitz. They have some of the freshest and cheapest crayfish we have had anywhere in the world. They also offer a great value set menu which changes daily.
Discover More of Namibia: Top 10 Highlights of Namibia