Wondering what to do in Bulgaria?
We have handpicked some of the best places to visit in Bulgaria, including the main Bulgarian cities; starting with the nation's capital, Sofia. Each has something different to offer, but all have one thing in common- they are great destinations in any season.
Best Places to Visit with Things to do in Bulgaria – Quick Guide
Sofia – The Capital of Bulgaria
Belogradchik Rocks – Famous Bulgarian Landmark & Fortress
Sozopol Beach – Beach Resort on the Black Sea
Ruse – Second largest city and gateway to Romania
The Rock-hewn Churches of Ivanovo
Veliko Tarnovo – Historic Town & Fortress
Plovdiv – The Bulgarian Capital of Culture
Bansko – Hiking & Skiing
Smolyan – Main Town of Rhodope Mountains
Pamporovo – Hiking & Skiing
The Rhodope Mountains – Hiking & Skiing
Devin – Hiking and Thermal Spa's
Lovech – Old Town, Waterfalls & Caves
The Troyan Monastery
The Seven Rila Lakes & Rila Monastery
Read on for details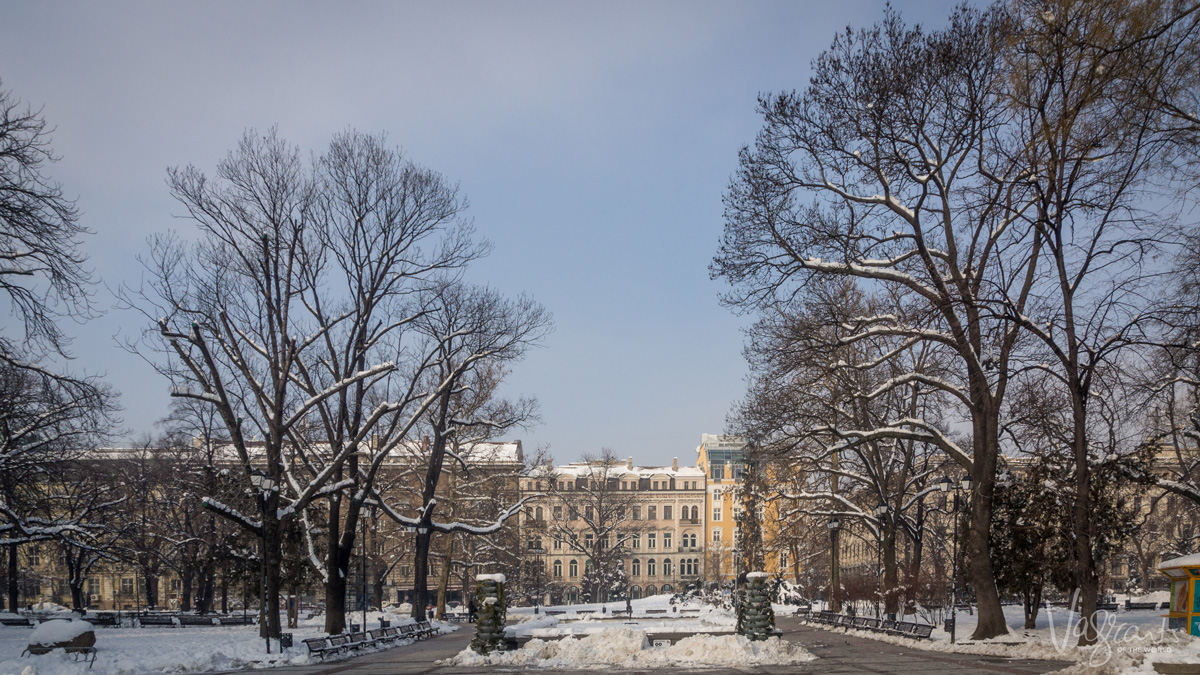 Whether you only have a short visit or are planning an extended holiday in Bulgaria, you will, without a doubt, find this Balkan country fascinating.
These cities and towns offer a diverse and wonderful insight into this beautiful and intriguing country, and some might be just a little off the tourist trail.

The Capital of Bulgaria – Sofia
Often overlooked in favour of heading to the beach or hitting the slopes, it is worth a day or two in the capital Sofia. If fo nothing else than to understand the colourful history of this charming Balkan nation. A history rooted in Ottoman tradition and Socialist struggle, Sofia sheds light on the friction, grit and perseverance that has shaped Bulgaria.
The second oldest settlement in Europe, Sofia may be no grand city but certainly shines in cultural richness with a plethora of galleries, museums, parks and nightlife.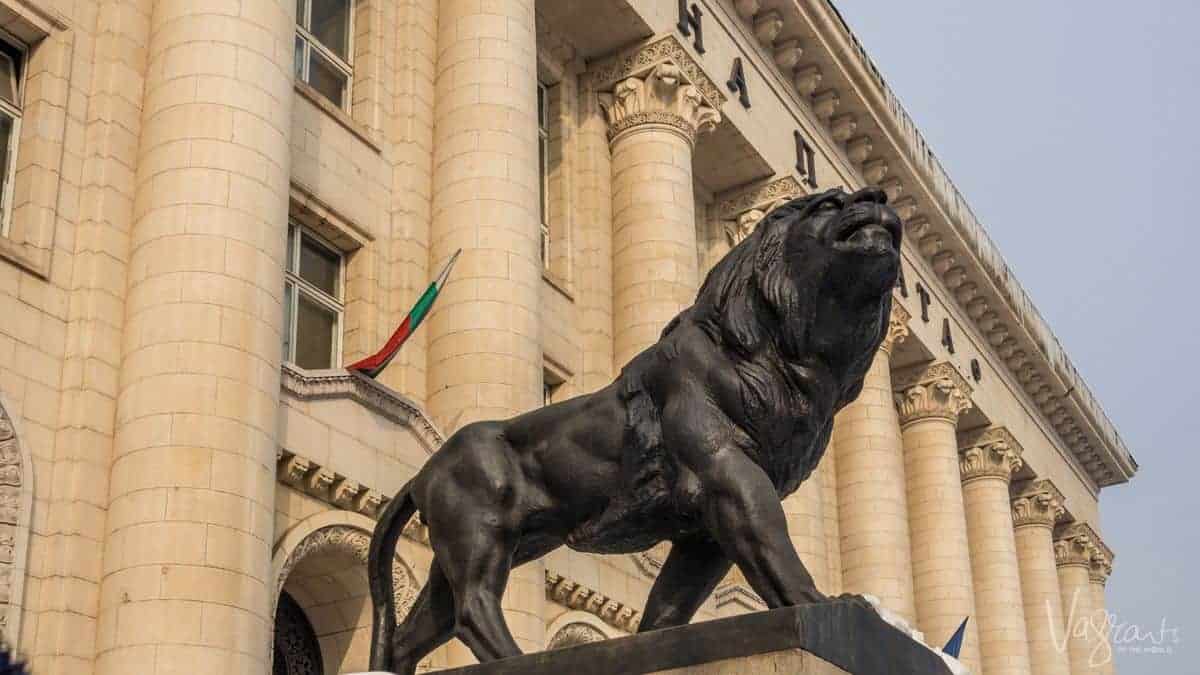 Sprinkled with onion-domed churches, Ottoman mosques, Red Army monuments and a treasure trove of 2000-year-old Roman ruins, the modern and youthful city feels somewhat eclectic with a dash of the exotic.
Wide boulevards lined with alfresco cafes, spacious parks and manicured gardens make Sofia a pleasant city experience.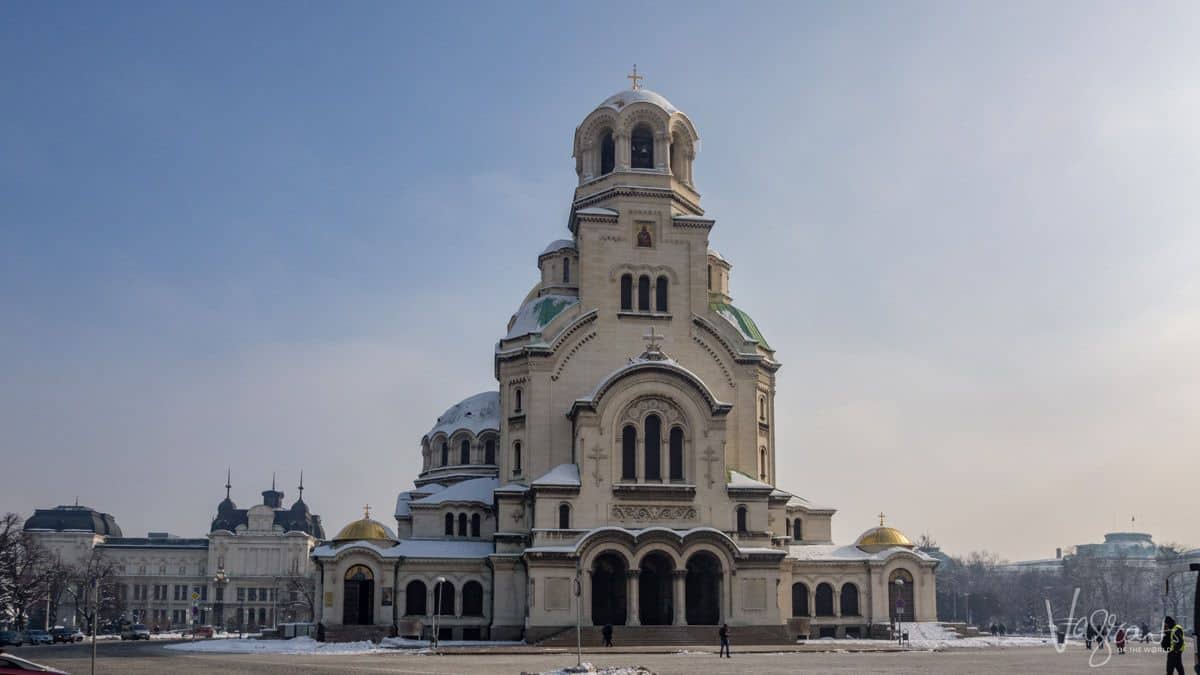 Enjoy Skiing and Hiking Near Sofia
Want a reprieve from the city? Only a short bus ride from the centre, you can hike the trails of Mt Vitosha taking in the panoramic views of Sofia. Or, you can be on the slopes in Borovets in just over an hour. Bulgaria's most famous ski resort renowned for its world-class skiing.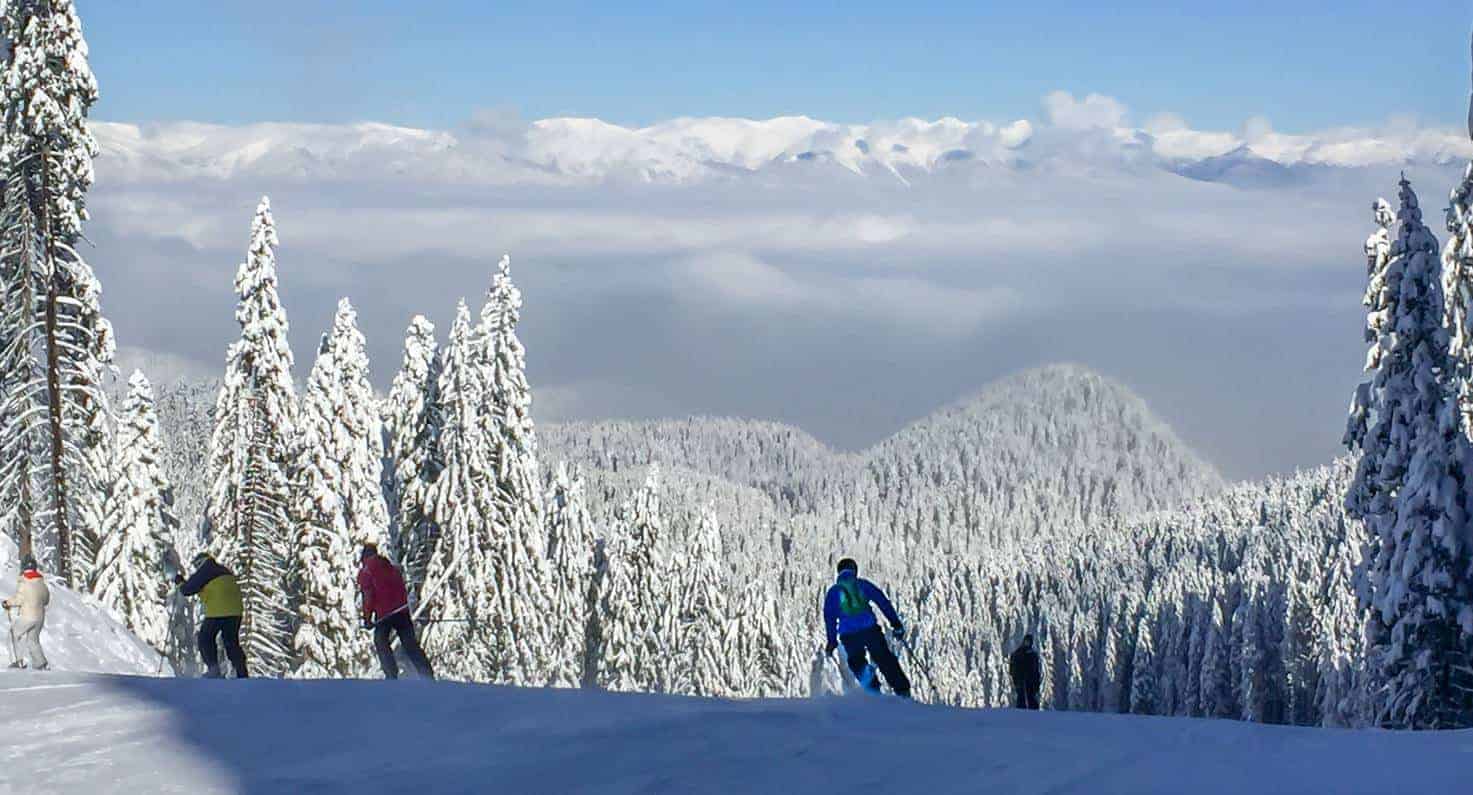 Take a Sofia Walking Tour
We can highly recommend a walking tour of Sofia when you first arrive. On our first trip to Sofia, of which there have been many, we did a city walking tour in minus 20°C.
While we all nearly froze to death, it was a fantastic introduction to Sofia and the history of Bulgaria. It also helped us get our bearings for visits to come thanks to some local insight on the best places to eat and drink.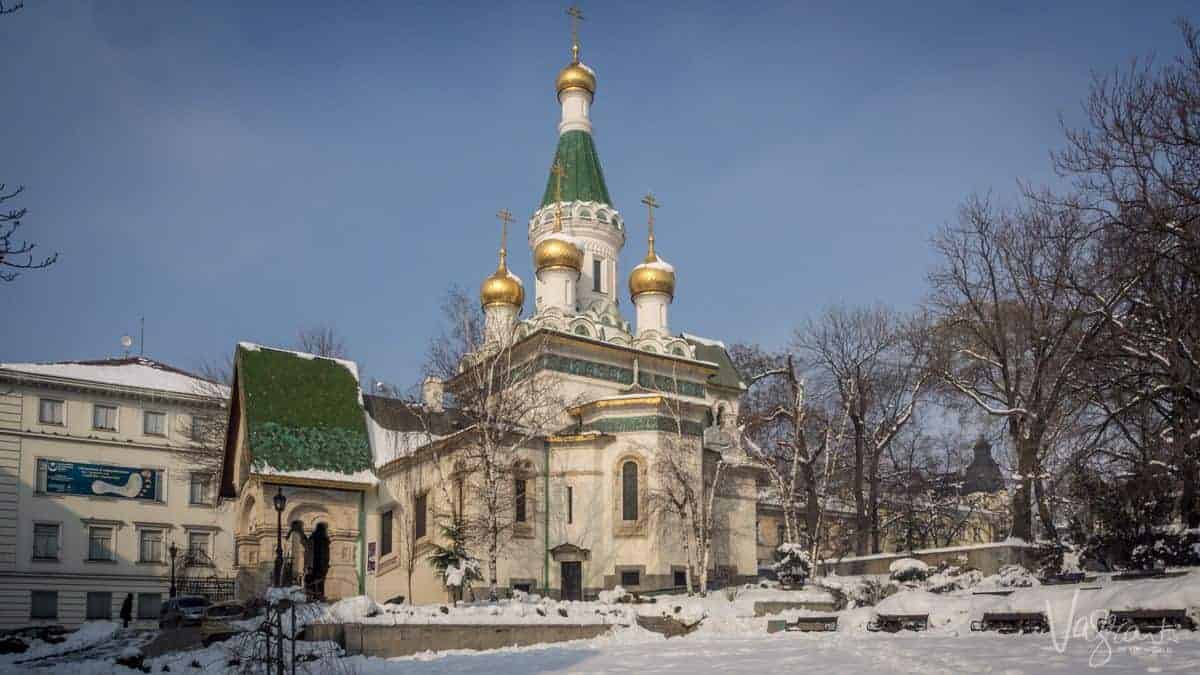 Sample Traditional Bulgarian Food
Bulgarian's are very hospitable especially when it comes to dining. Bulgarian food is homely, fresh and plentiful so do take time to sample some traditional Bulgarian fare while in Sofia.
Being quite a modern city, Sofia has an exciting new cafe, restaurant and bar scene emerging which is reshaping the city centre and putting a new spin on Balkan cuisine. As a result, there are now some fabulous food and wine tours available from Sofia which is a great way to experience both the traditional and modern aspects of Bulgarian culture.
Experience a full day history tour with wine tasting and lunch or for the night owl, a pub crawl of Sofia's hidden bars.
Where to Stay in Sofia
There are plenty of great hotels in Sofia ranging from high end to excellent value.
Sofia Place Hotel
When we stay in Sofia, we often choose to stay at the Sofia Place Hotel in the middle of the city. It's a lovely boutique hotel, with large, comfortable rooms and an excellent breakfast. In addition to an excellent on-site casual restaurant, there are many good restaurants nestled in the back streets nearby. A perfect opportunity to explore some of Sofia's new dining scene.
Hotel Jasmine
If you are planning on renting a car for your holiday in Bulgaria, as we often do, we find the Hotel Jasmine is perfect for a no hassle stay where parking is required. Situated at the foot of the Vitosha Mountain in one of Sofia's most prestigious suburbs is the Hotel Jasmine.
The hotel has large comfortable rooms and a very nice restaurant on the premises. It is also excellent value for money. We recommend booking in advance as it can often be booked out.
Search Latest Hotel Deals in Sofia Bulgaria
---
Belogradchik Rocks
On the western slopes of the Balkan Mountains, a stunning landscape of rocks sculptured through millennia hides a medieval fortress with a history dating back to Roman times through to the Bulgarian tsars and Ottomans.
Declared a Natural Landmark by the Bulgarian government, the scene is vaguely reminiscent of the whimsical landscape of Cappadocia in Turkey. The spectacular rock formations of the Belogradchik Fortress are nearly as impressive as the view from the top.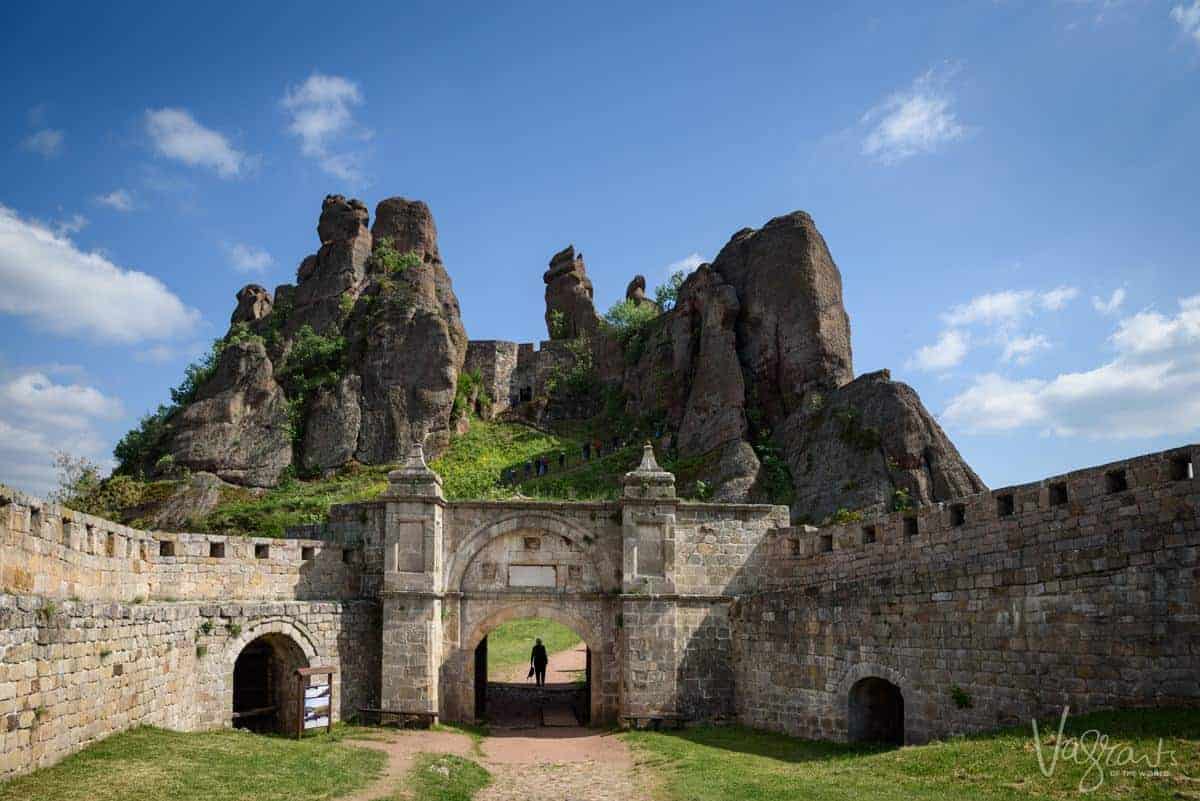 The rocks, primarily sandstone form a mystical landscape that has given rise to many local legends. Many of the stones have earnt the titles of things they are thought to resemble, such as The School Girl, The Bear, The Madonna, The Pine Stone etc. legends local guides will be eager to share with you.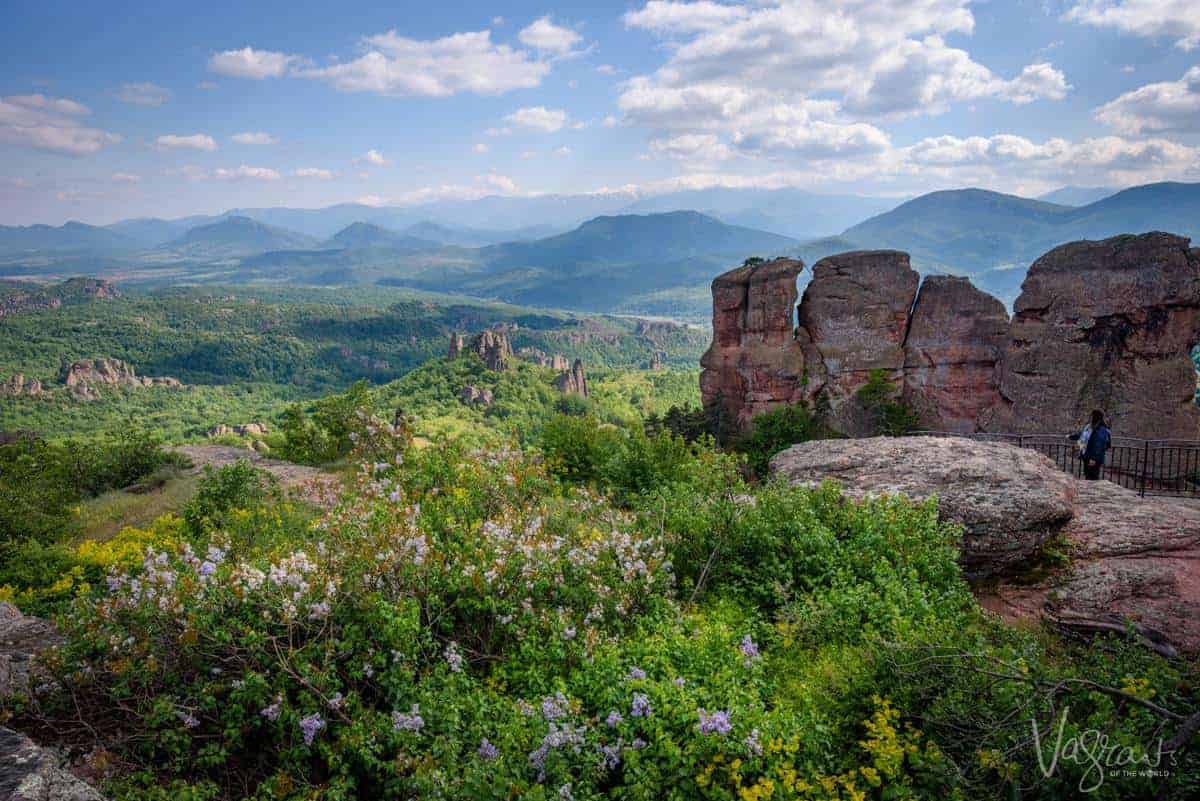 You can read more about the legends of the Belogradchik Rocks here. It is easy to see why the Belogradchik Rocks are quickly becoming one of Bulgaria's top natural tourist attractions.
Getting to the Belogradchik Fortress
Belogradchik is in northwestern Bulgaria in the Vidin Province. A 2.5 – 3-hour drive from the capital, day tours to Belogradchik from Sofia are entirely possible.
If you prefer to stay in Vidin on the banks of the Danube, 50km's to the north; regular buses run all day between Belogradchik and Vidin.
Trip time is approx. 1 hour from Vidin to Belogradchik.
Belogradchik Rocks and Fortress Opening Hours:
1 April – 30 September: Daily from 9.00 am – 6.00 pm
1 October – 30 March: Daily 9:00 am – 5:00 pm
Belogradchik Entry:
Adults: 4 Lev
Students & Seniors: 2 Lev
Guided tours: 5 Lev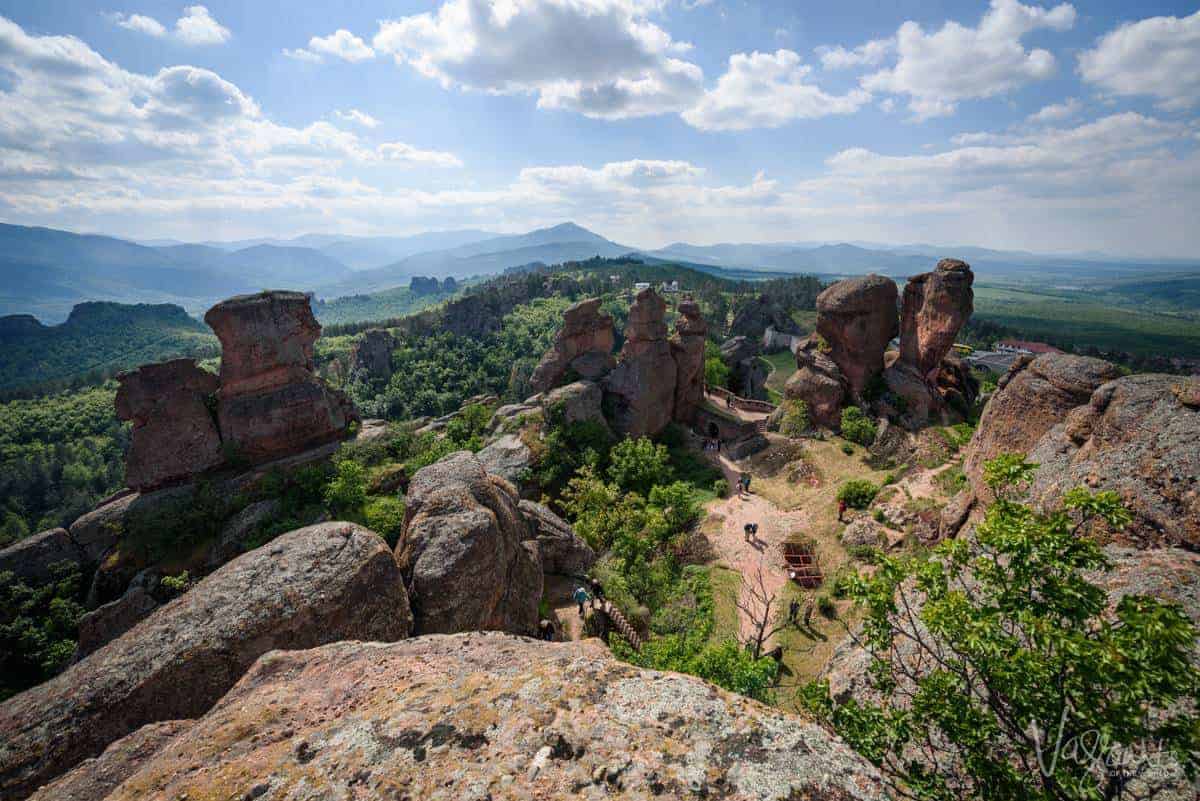 ---
Sozopol Beach
Sozopol Beach is a beautiful ancient fishing village on a narrow peninsula 35 km south of Burgas on the Black Sea coast. Bulgaria has some popular, highly commercial coastal resort towns such as Sunny Beach or Varna.
Sozopol, on the other hand, appeals to the more discerning beachgoer with it's laid back atmosphere and picturesque setting.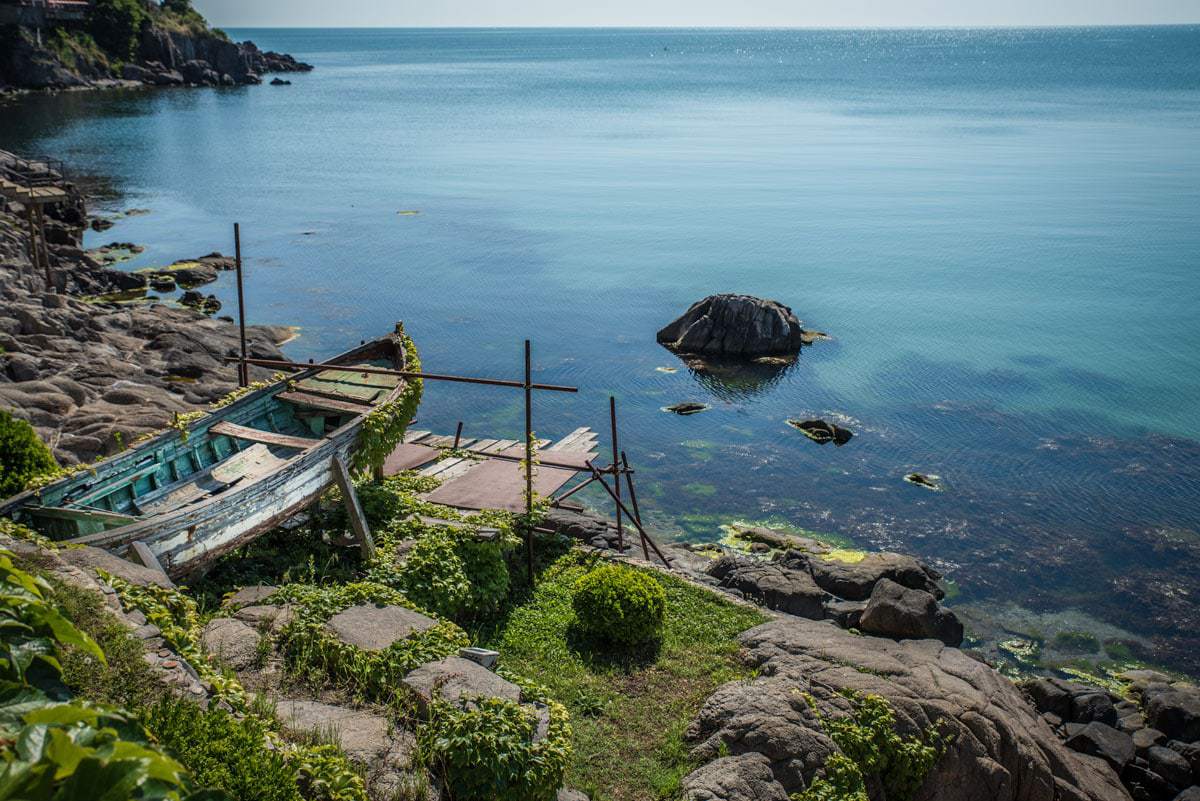 Discover Antique Sozopol
Sozopol is brimming with natural and historic beauty. In addition to clean stretches of white sand and crystal clear water, the town has been declared an architectural and archaeological sanctuary – a museum-reserve.
"Antique Sozopol" is a meandering maze of picturesque cobbled streets lined with the 18th century Bulgarian Revival houses declared monuments of culture.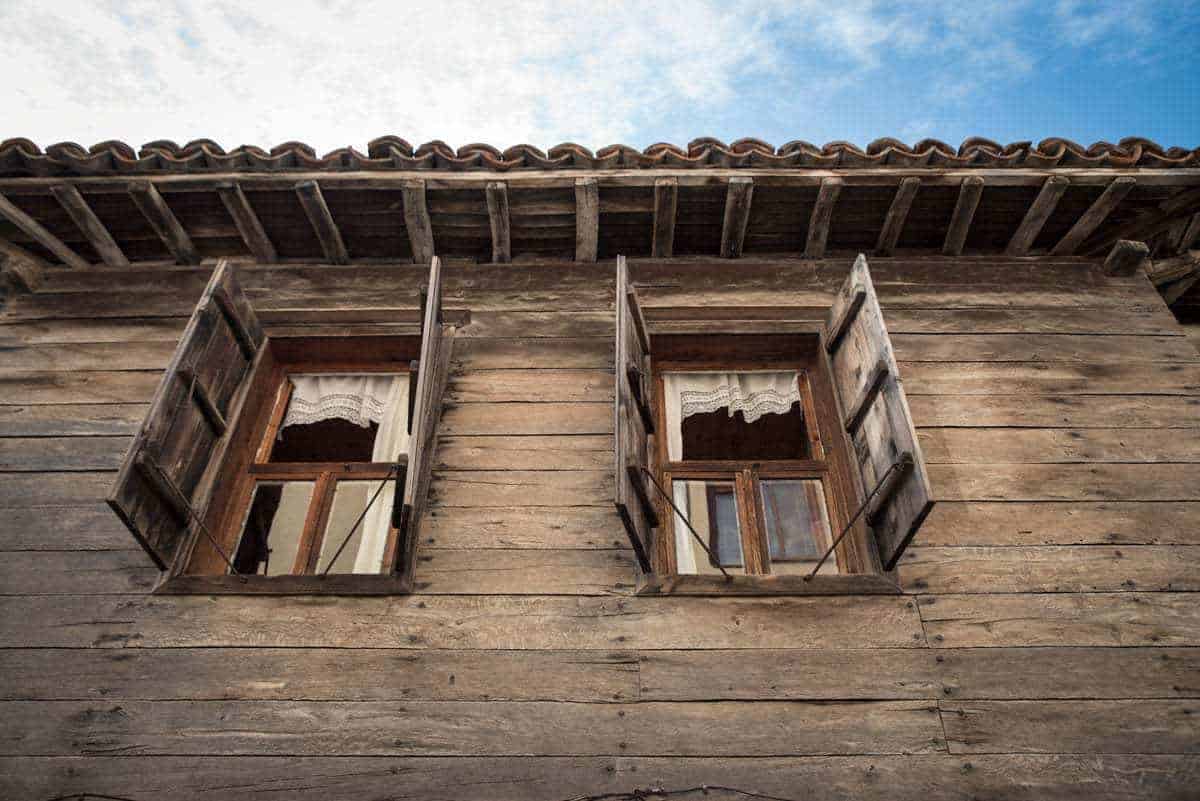 The remains of the 5th-century fortification on the southeastern end of the peninsula have been restored to serve as a lovely clifftop boardwalk along the seafront. Historical monuments, restaurants and boutique accommodation houses are tastefully incorporated into the length of the historic wall.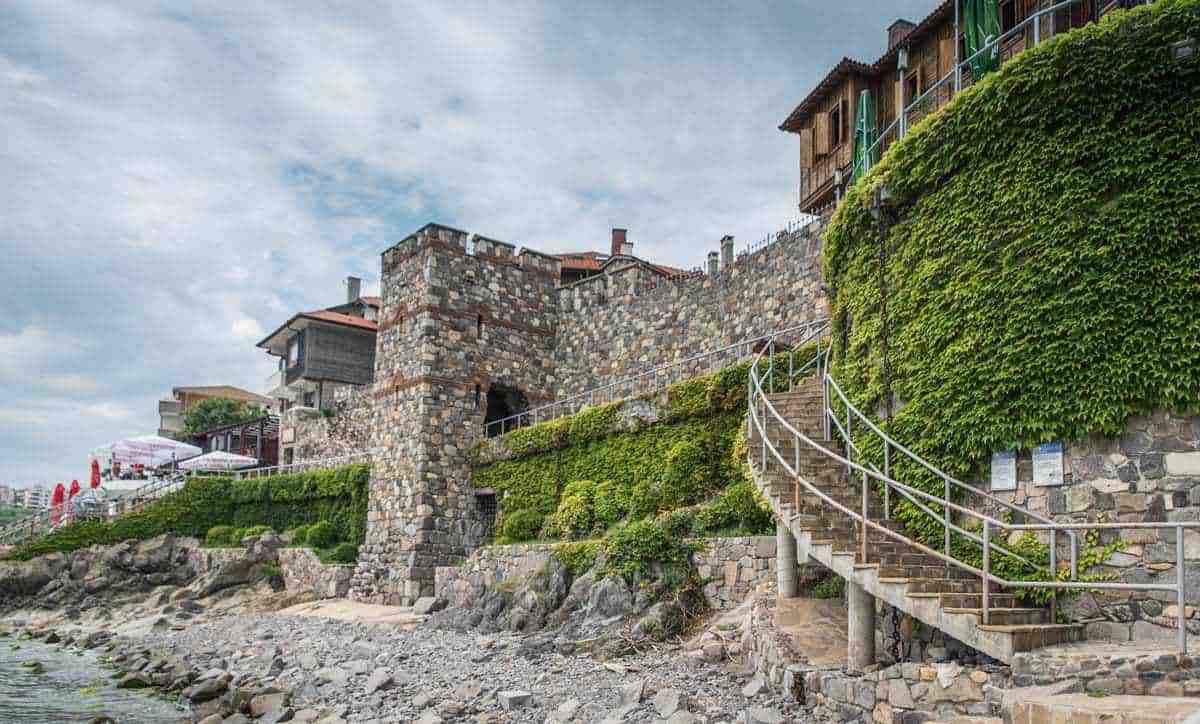 Sozopol's Greek Heritage
In the 7th century, Sozopol was a Greek fishing village by the name of Antheia, then shortly after, renamed Apollo. The town is now famous for the Apollonia arts and film festival named after its Greek heritage.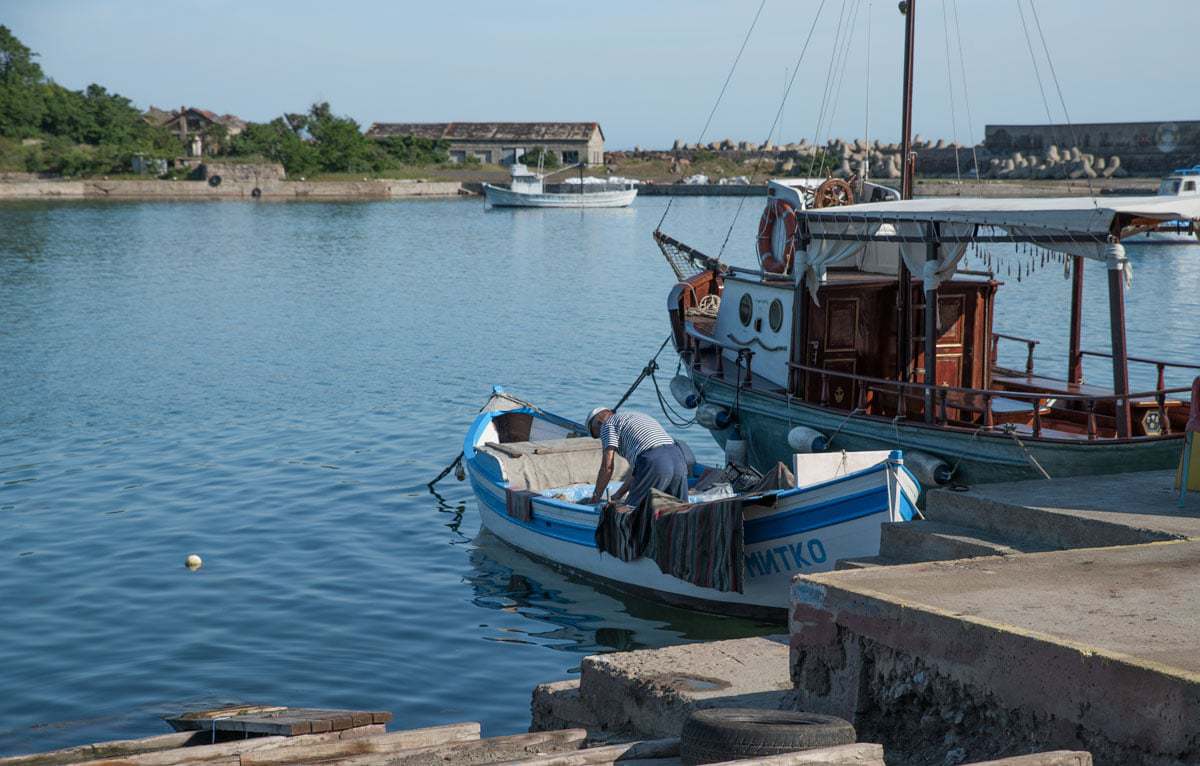 Throughout the summer months, May to September, Sozopol is alive with tourists from around the world who come to enjoy the sandy beaches, history and culture, the Mediterranean, Balkan fusion cuisine, and most of all – the atmosphere.
You can read our complete article on Sozopol here.
---
Ruse
Ruse is Bulgaria's fifth largest city. Roughly 300km north-east of Sofia on the banks of the Danube River, just 75 km's south of Bucharest, Romania. Often referred to as Little Vienna, this is one of Bulgaria's most elegant cities.
Imposing 19th and 20th-century Neo-Baroque or belle époque architecture gives Ruse a sense of grandeur unlike any other city in Bulgaria. Leafy streets, promenades and squares play second fiddle to the cities grand centre, Plaza Svoboda.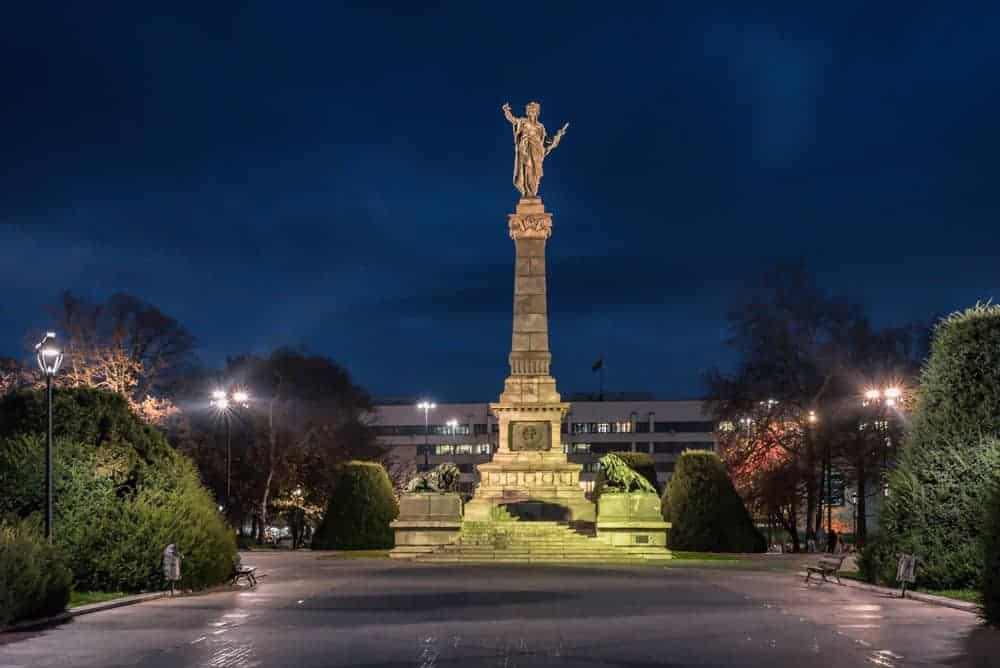 The striking central feature, an enormous Monument to Freedom is set against the backdrop of the glorious Viennese designed building known as The Profit Yeilding Building.
Around 18 streets radiate from the central square which is where you will find all of Ruse's points of interest making this city very easy to explore.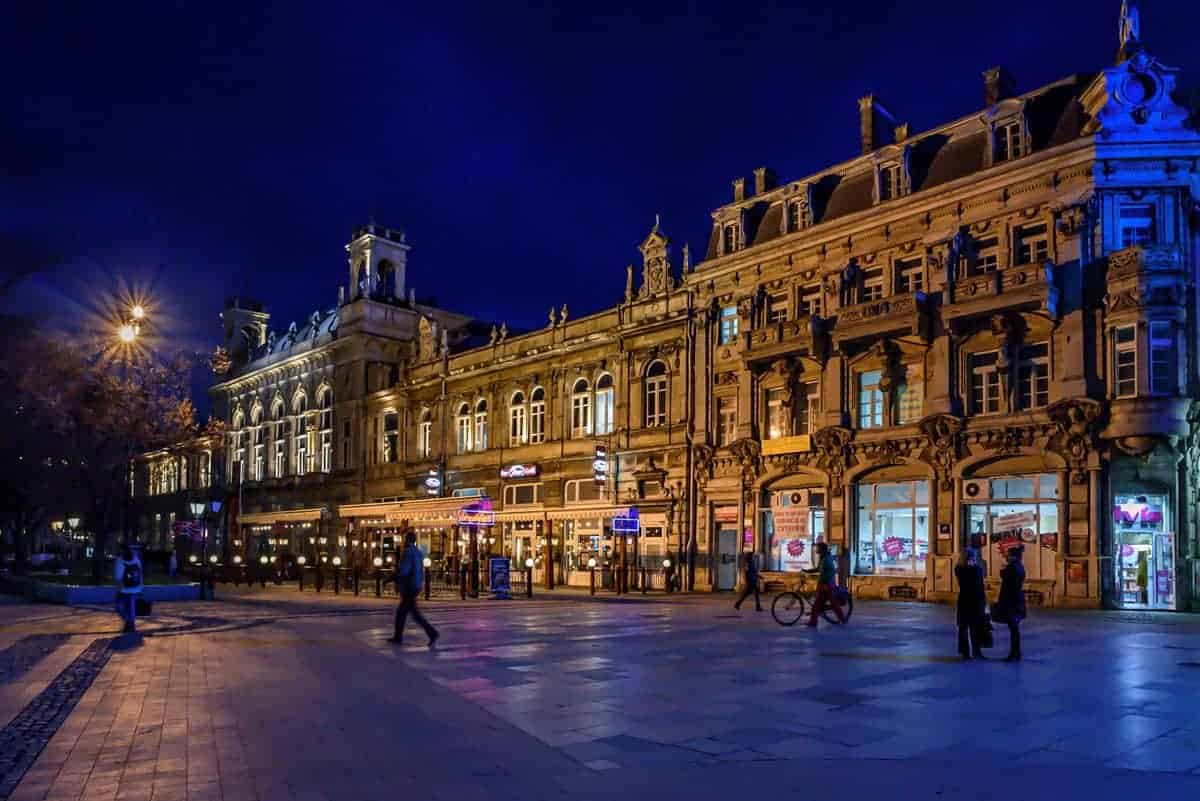 Day Trips to Bucharest from Ruse
The Danube bridge crosses in Ruse making this an easy transit point for those wishing to visit Romania, even for a day trip.
If you wish to cross by car via the bridge expect ~ 4 Bulgarian Lev (~€2) from Ruse and 13 Romanian Lei (~€3) from Giurgiu on the Romanian side.
The bridge can get very busy with trucks, especially from the Romanian side so anticipate delays.
Travel time from Ruse to Bucharest is approx. 1 h 20 min.
If coming from Romania, there are day trips from Bucharest to Bulgaria perfect for those short on time or without a car. You can find out more about these here.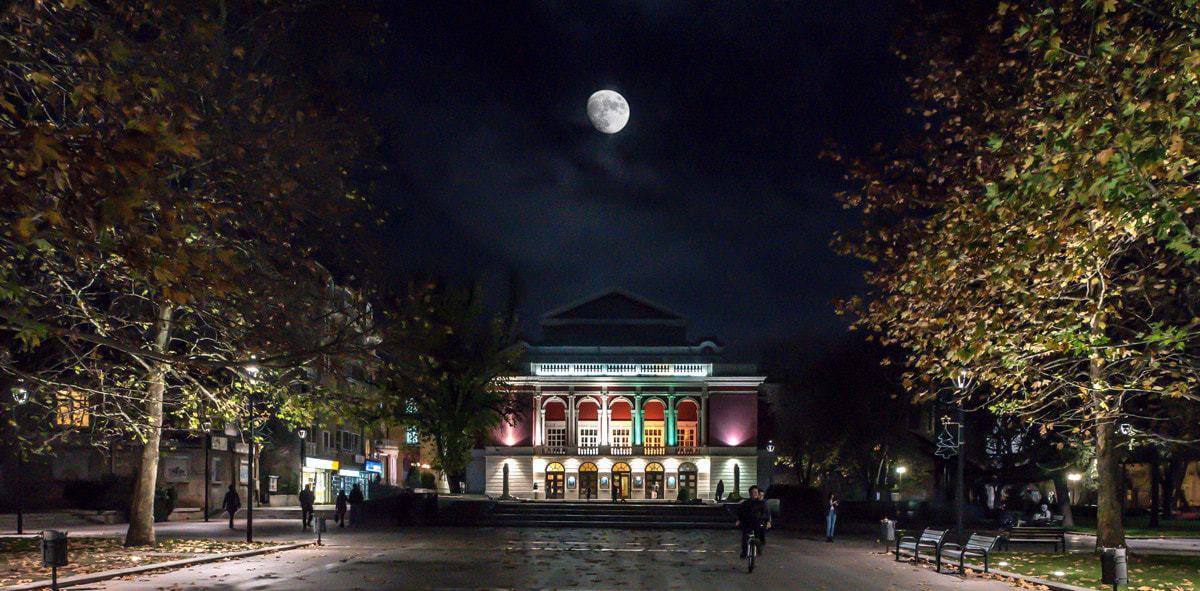 ---
Visit the Rock-hewn Churches of Ivanovo
Ruse's other big draw card is less than a half hour drive from the city centre. The UNESCO listed rock-hewn churches of Ivanovo and the Basarbova Rock Monastery.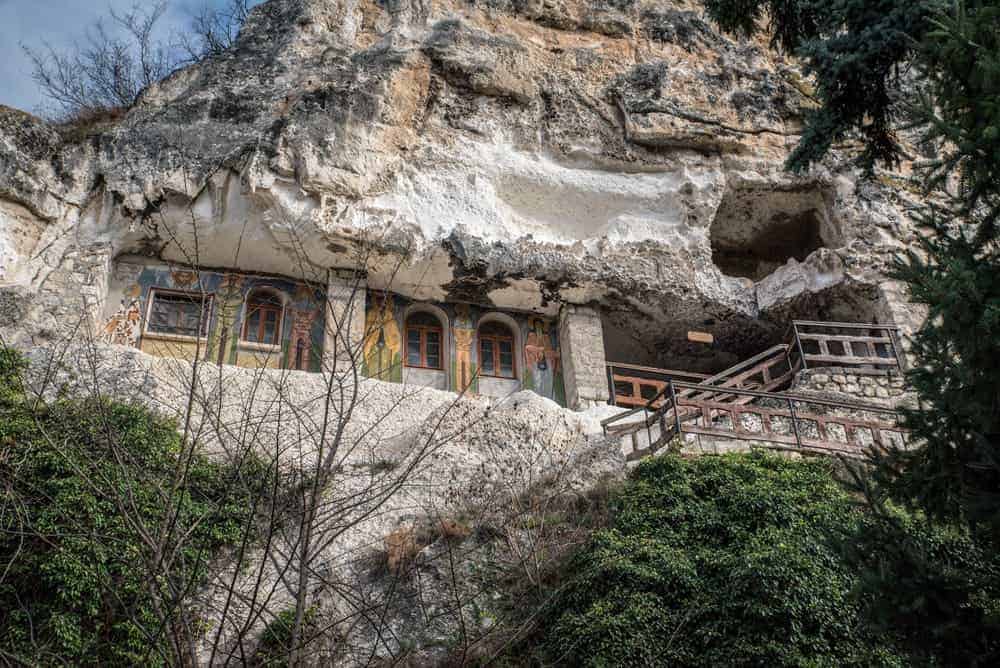 These incredible 13th-century churches are carved into rock faces and cliffs with some of the most impressive frescoes we have seen anywhere in the world.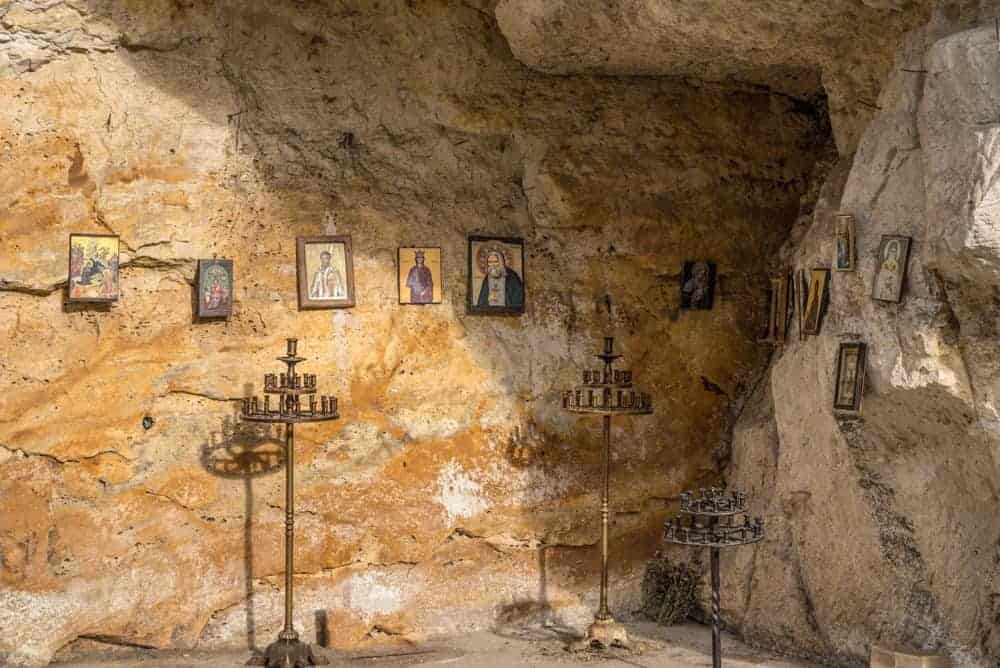 Opening Hours for the Rock-hewn Churches of Ivanovo
Daily from 09.00 – 18.00
Entrance Fee:
Adults: 5 Lev
Students: 2 Lev
Groups over five persons: 4 Lev pp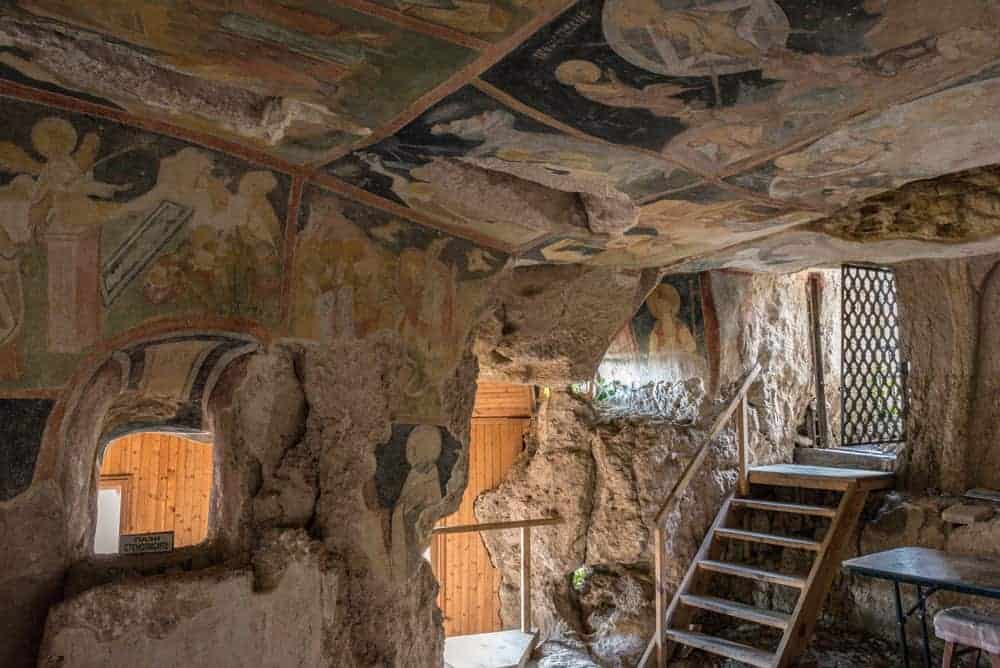 Where to Stay in Ruse
Being so cosmopolitan, you will find an abundance of good quality hotels and restaurants in Ruse. Some have been awarded the best in the country and like the rest of Bulgaria, are very reasonably priced like the Grand Hotel Riga.
We found it to be exceptional value for money, especially the hotels Panorama Restaurant. Awarded one of the best restaurants in the country, it offers outstanding fine dining at incredibly low prices. The hotel also offers free parking and some of the most spectacular views of the Danube, especially at sunset.
You can check rates and availability of more hotels in Ruse here.
---
Veliko Tarnovo
200km's to the east of Sofia, the historical capital of the second Bulgarian Empire; Veliko Tarnovo is Bulgaria's oldest city.
The approach to this medieval town is a sight you will not soon forget when you first glimpse the medieval fortress, Tsarevets.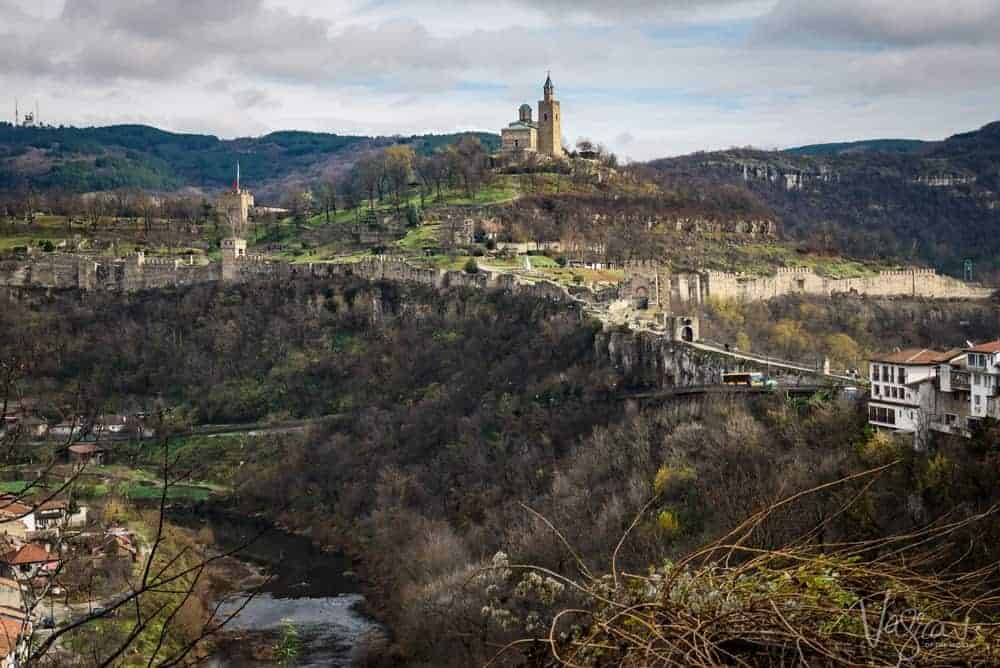 Visit Tsarevets Fortress
Tsarevets is surrounded on three sides by the winding Yantra River, with the Patriarchal Cathedral perched high on the hill. Your first impression is of a lone castle on an island. Within the walled city was where nobility and the Patriarchate resided.
It will take a good few hours to work your way around all the sites within the walls of Tsarevets fortress so make sure you allocate enough time.
Tsarevets Fortress Opening Hours:
November – March: Daily from 9 am to 5 pm
April – October: Daily from 8 to 19 pm
Tsarevets Fortress Entry Fee:
Adults – 6 lv.
Students – 2 lv.
Family (up to 3 children) – 6 lv.
See the Tsarevets Light Show
At night, the Tsaravets fortress is lit up in a light and sound spectacular usually starting from around 6.00pm depending on the season.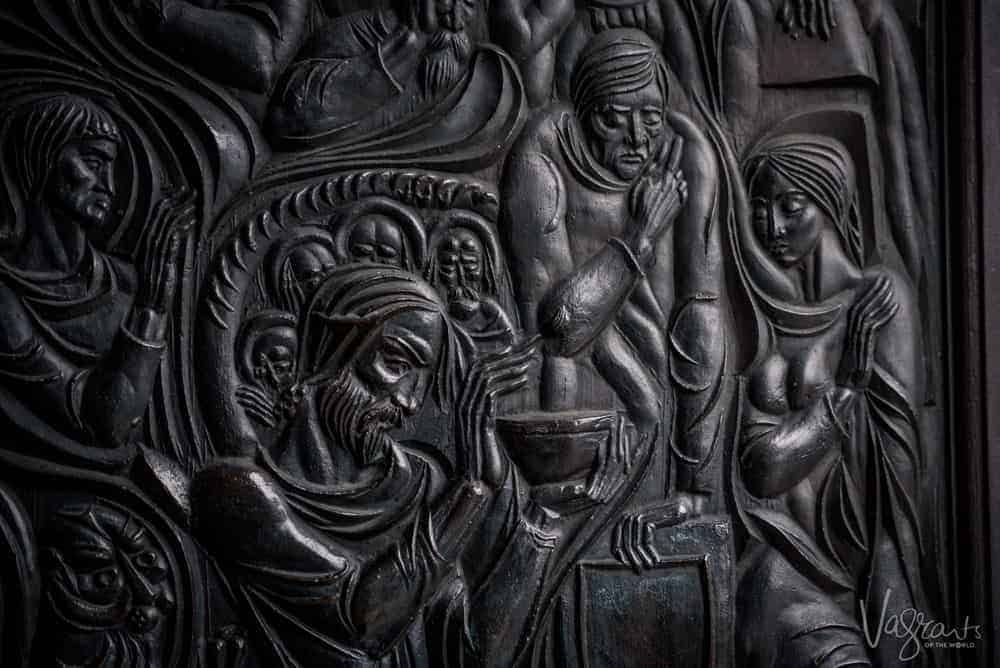 Explore the Varosha Quarter
Wind your way into town to the Varosha quarter and more importantly, Gurko Street. Traditional Bulgarian homes cascade down the hillside towards the river with winding, cobblestone streets and narrow stairways leading up, and down the hill. The old town of Veliko Tarnovo is a perfectly quaint display of terracotta roofs, potted geraniums and little hotels and tavernas tucked away in quiet corners.
Retaining the original facade; Gurko street is the oldest and most picturesque street in town. It is the street you want to stay in to soak up the gorgeous atmosphere of Veliko Tarnovo.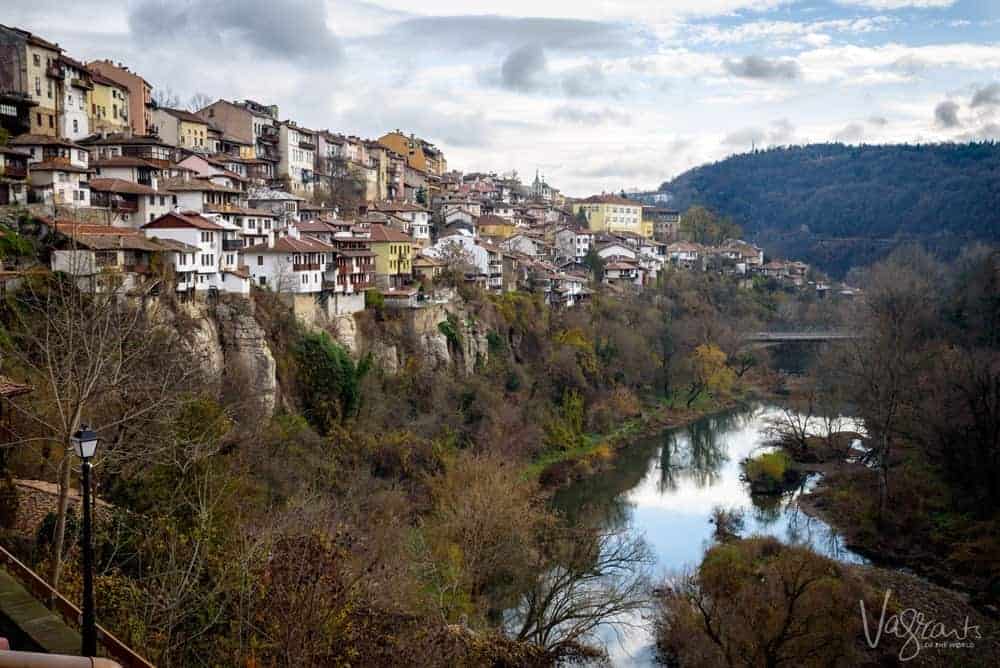 Enjoy the Lively Atmosphere of Veliko Tarnovo
Don't think for a minute Veliko Tarnovo is just ancient walled cities and history. Home to one of Bulgaria's most prestigious universities and a major stop on the Bucharest – Istanbul train route, Veliko Tarnovo has a youthful vibrancy and is a favourite stop with the backpacking scene.
It is also a favourite romantic getaway for Bulgarian's. So expect a mix of lively nightlife to rival the bigger cities and a good offering of chic boutiques, classy hotels, cafes and restaurants.
Veliko Tarnovo is an all-around crowd pleaser and a "must do" on any Bulgarian itinerary.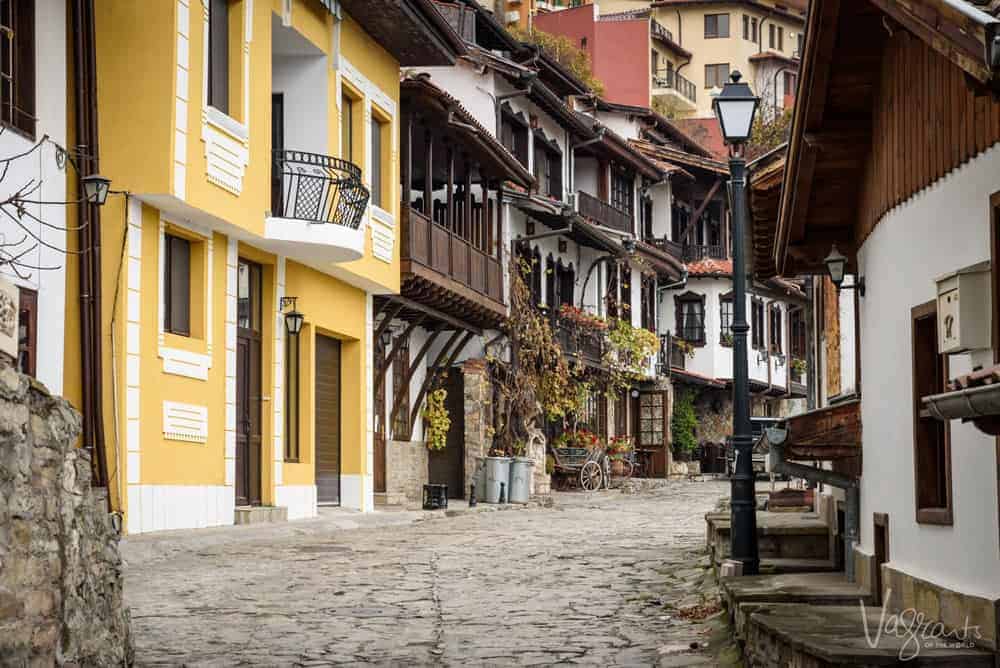 Where to Stay in Veliko Tarnovo
As you would expect from a historic university town that attracts both backpackers and the more sophisticated traveller, Veliko Tarnovo has a good offering of accommodation options to suit all budgets.
While there is plenty of hostel style accommodation starting at around €10 per night, such as the popular Hostel Mostel, you will also find some very reasonably priced boutique style accommodation.
Our picks for accommodation in Veliko Tarnovo are Boutique Hotel Tsarevets, Hotel Studio and finally, our favourite, Gurko Hotel.
All of these hotels are great value for money, very well located and offer wonderful views. Hotel Studio, in particular, offers views of Tsarevets from some rooms and the roof terrace. Perfect for viewing the nightly light spectacular.
You can search more accommodation options for Veliko Tarnovo here.
---
Plovdiv
Less than 150kms south of Sofia, Bulgaria's European Capital For Culture is an easy day trip or weekend away from the capital.
Plovdiv Old Town is where the cities main appeal lies. Vibrant cafe's, bars and restaurants buzz alongside Byzantine, Roman and Bulgarian antiquities including; the most impressive Roman amphitheatre in the Balkans; still in use today.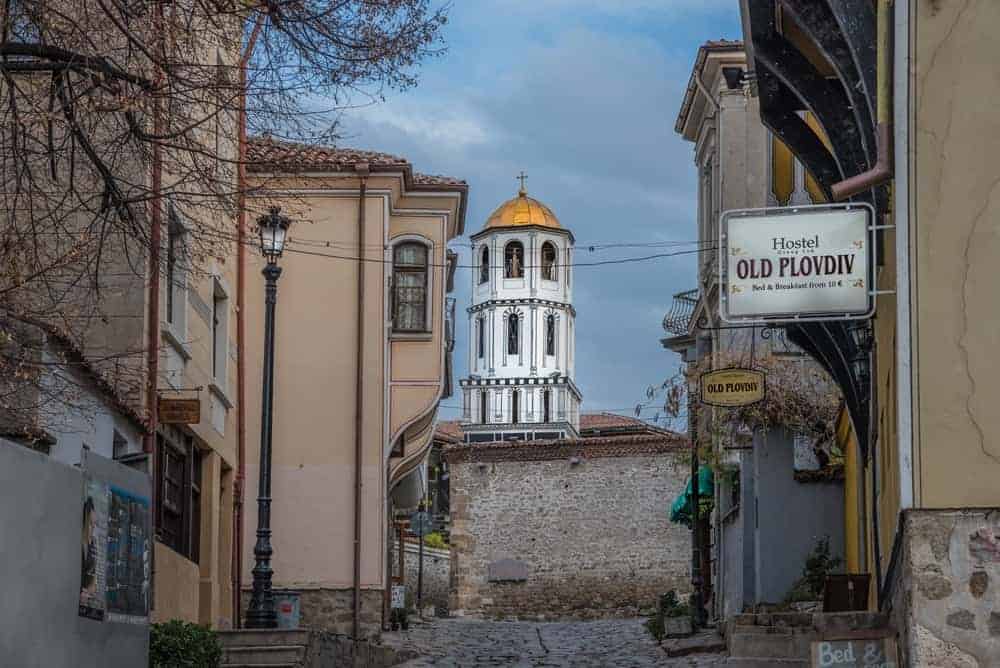 Winding cobbled streets reveal museums and galleries where eminent artists are still in residence. We fell in love with Plovdiv and its lively and infectious atmosphere of creativity mixed with laid-back, youthful confidence.
You can read our complete article on Plovdiv; Bulgaria's second-biggest city Here.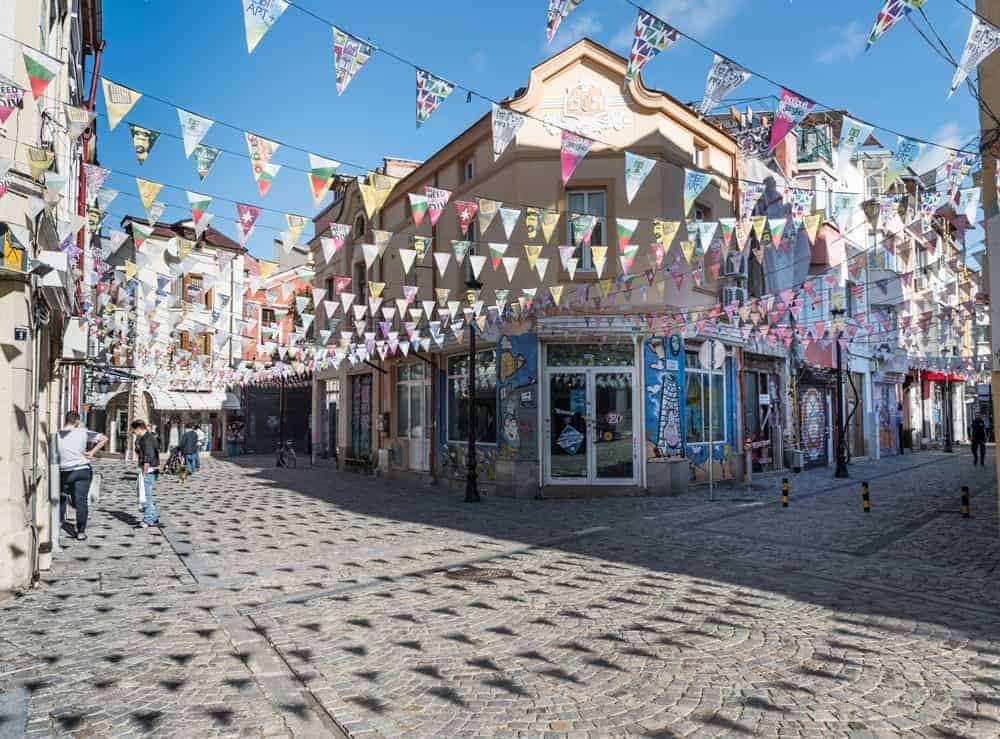 Things to do in Plovdiv Bulgaria
---
Bansko
Bansko is primarily known as one of Bulgaria's premier ski resort at the foot of the Pirin Mountains in the Pirin National Park, southwest Bulgaria.
Bansko's budget-friendly skiing at altitudes ranging from 900m to 2600m attracts an increasing number of Bulgarians, Brits and Europeans, mostly Russians each year. It is one of Bulgaria's hottest destinations in winter.
You can read our complete article about skiing in Bulgaria here.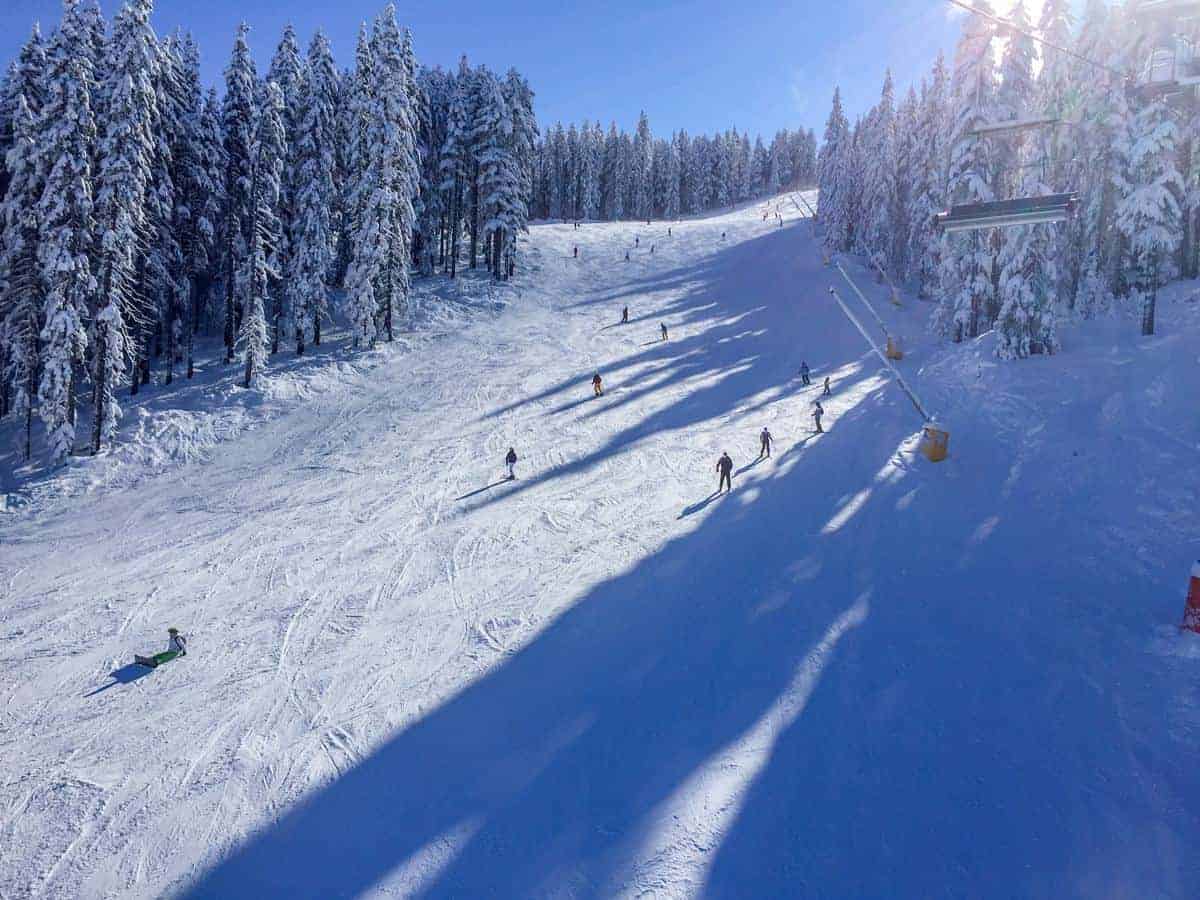 Hiking in Bansko
It is not just skiing that makes Bansko one the best places to visit in Bulgaria. Bansko doesn't shut down after the winter crowds have left which makes it the perfect base to explore the pristine Pirin National Park.
A stunning alpine landscape with forested ridges and stunning glacial lakes, home to bears and wolves.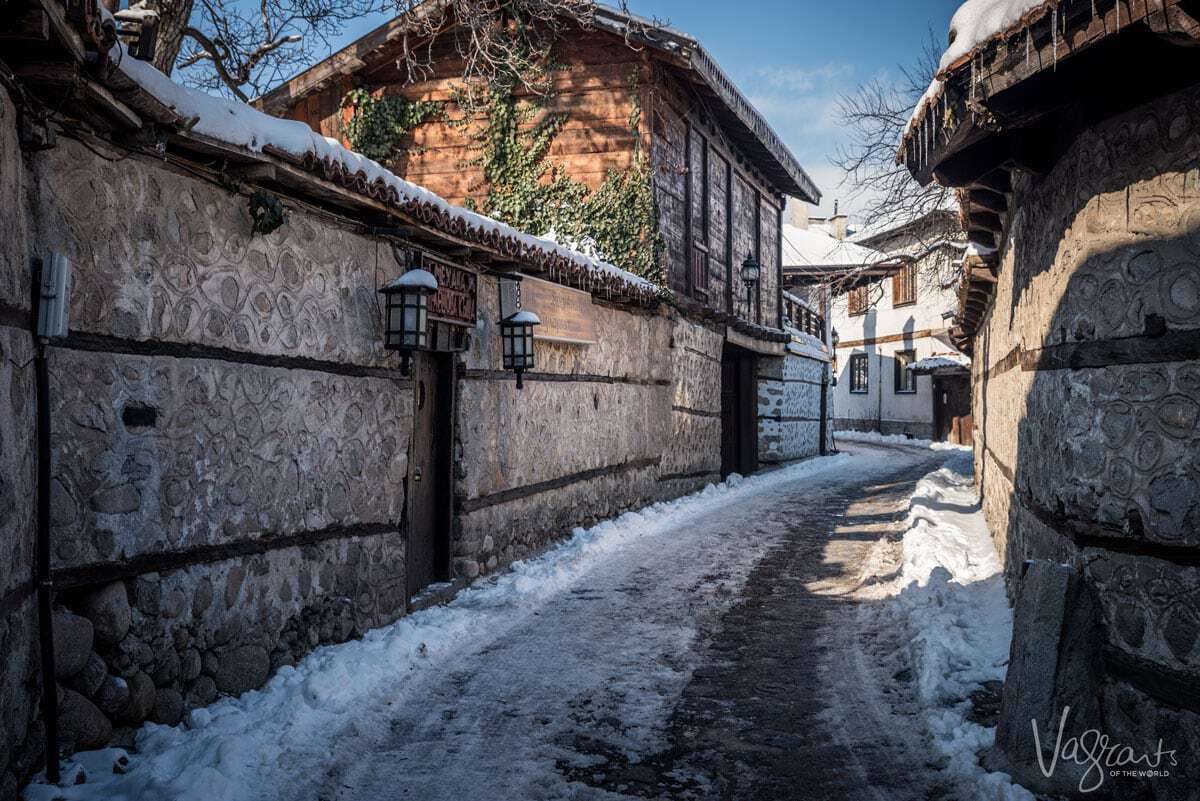 Explore Bansko Old Town
Away from the main ski resort, the cobblestoned old town delights with 19th-century National Revival mansions and museums. The stone-and-timber houses once supported by fortress-style walls with hidden escape routes to protect the inhabitants from the Turks.
The old town of Bansko rivals those of Sozopol or Veliko Tarnovo.
Getting to Bansko
Bansko is 160km's south of Sofia.

Buses leave daily from the capital.

There is also a Bansko Shuttle Service that runs from Sofia Airport to your accommodation in Bansko for approx €20 pp.

Expected travel time 2.5 – 3 hours.
---
Smolyan
Close to the border of Greece, 240kms south of Sofia is the town of Smolyan. Nestled in the Rhodope Mountains, it is the highest in Bulgaria. Smolyan is where Bulgarians come to escape, summer or winter.
An amalgamation of four villages, there is nothing overly endearing about the town of Smolyan itself, but what surrounds the town is well worth coming for.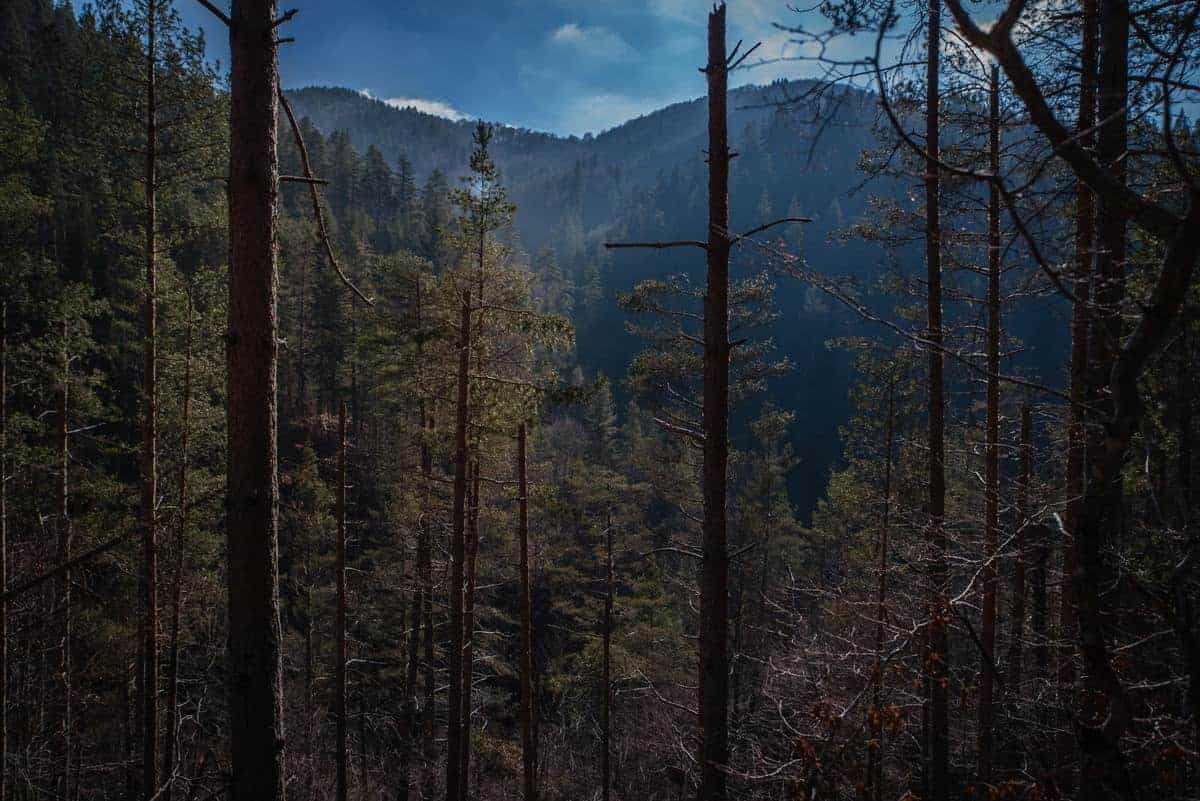 Skiing and Hiking Near Smolyan
Pamporovo
15 km's from the centre of Smolyan is the village of Pamporovo, Bulgaria's premium ski resort. One of the best known in Southeastern Europe.
Rhodope Mountains
The Rhodope Mountains surrounding the town offer pristine hiking trails, small villages, lakes, caves and an endless vista of unspoilt woodlands.
When you say to Bulgarians you are going to Smolyan, more often than not they will whisper "ahh, paradise". The perfect all season getaway for nature lovers, hikers and skiers.
Smolyan is also the perfect gateway for exploring surrounding villages such as the very pretty Shiroka Laka en route to our next town, Devin.
You can search for accommodation in the Smolyan & Pamporovo area here.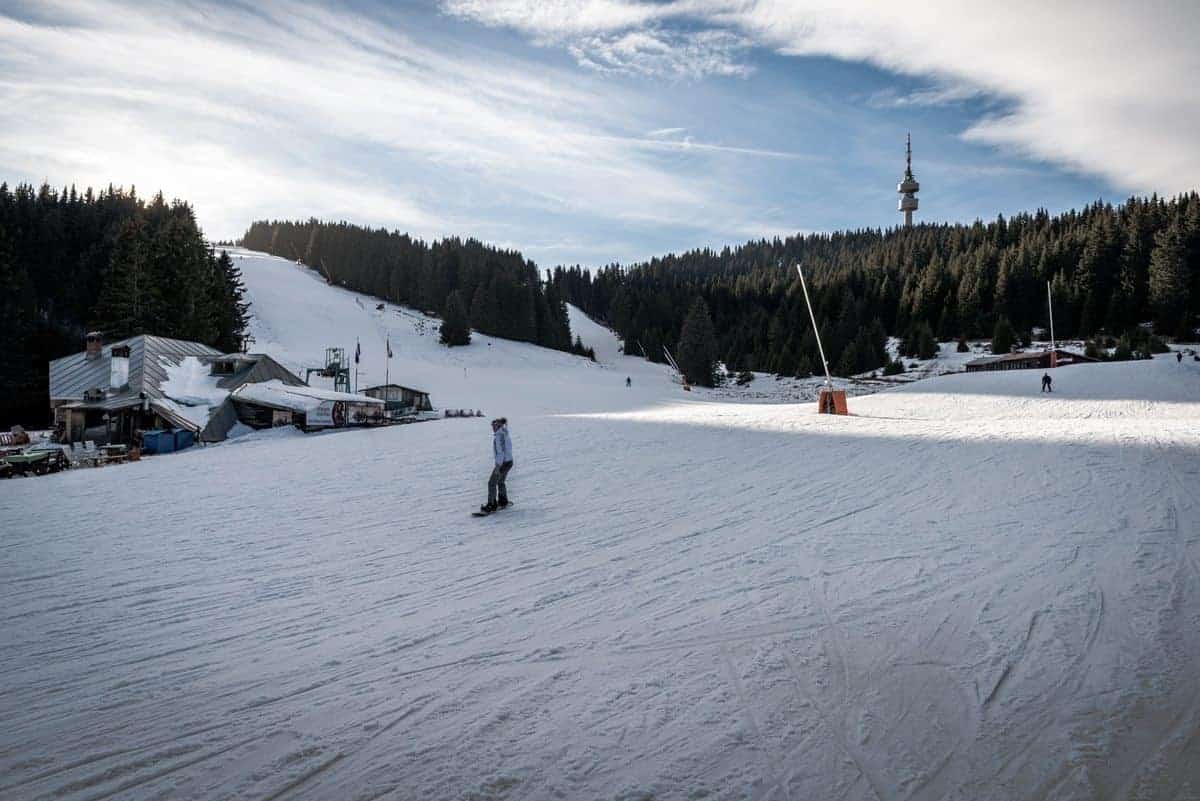 ---
Devin
Still within the Smolyan Province, just over an hour from the centre of Smolyan or, 200kms from Sofia, is Bulgaria's best spa town – Devin.
Set against the beautiful Rhodope Mountains, Devin has several mineral water springs with temperatures around 44 °c and higher. Devin is where the upper echelon of Sofia come to take the waters in luxury spa resorts.
You can also enjoy these mineral thermal springs inexpensively at outdoor establishments.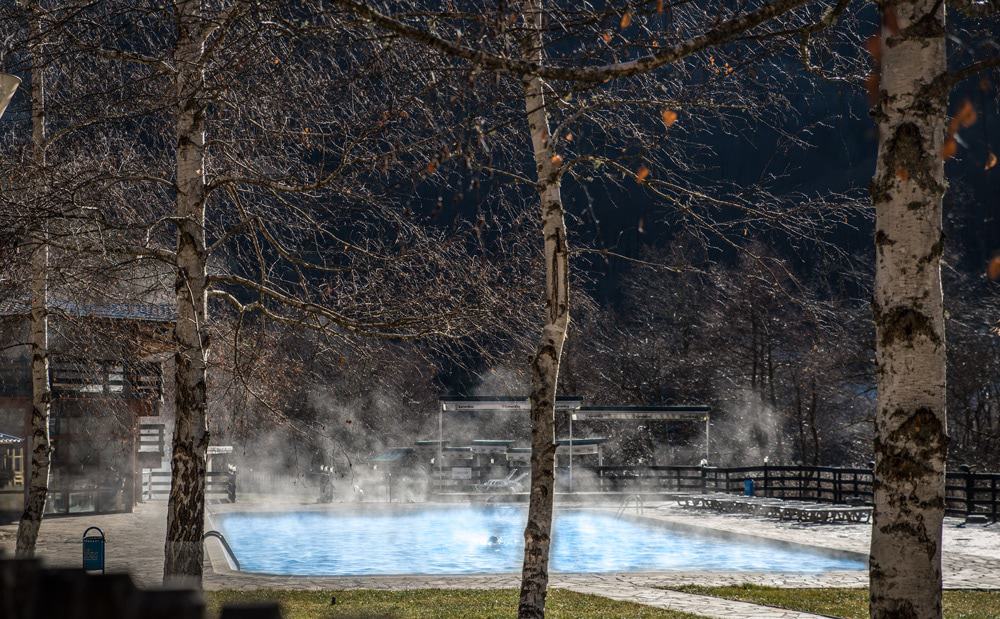 Hiking & Trekking in Devin
Devin is not just known for its spa qualities; it is also a base for some of Bulgaria's best hiking and exploring. On the outskirts of town, next to the thermal pools, is the Devin Eco Walk, a beautiful 7 km trail running along the river past waterfalls and through gorges.
The Trigrad Gorge, Devils Throat Cave, the Haramiyska Cave and the rock formation called The Elephant are just some of the natural attractions that bring outdoor enthusiasts from all over the world to this region.
There are a number of tour operators in Devin offering guided hikes, fishing tours and even bear watching from designated hides.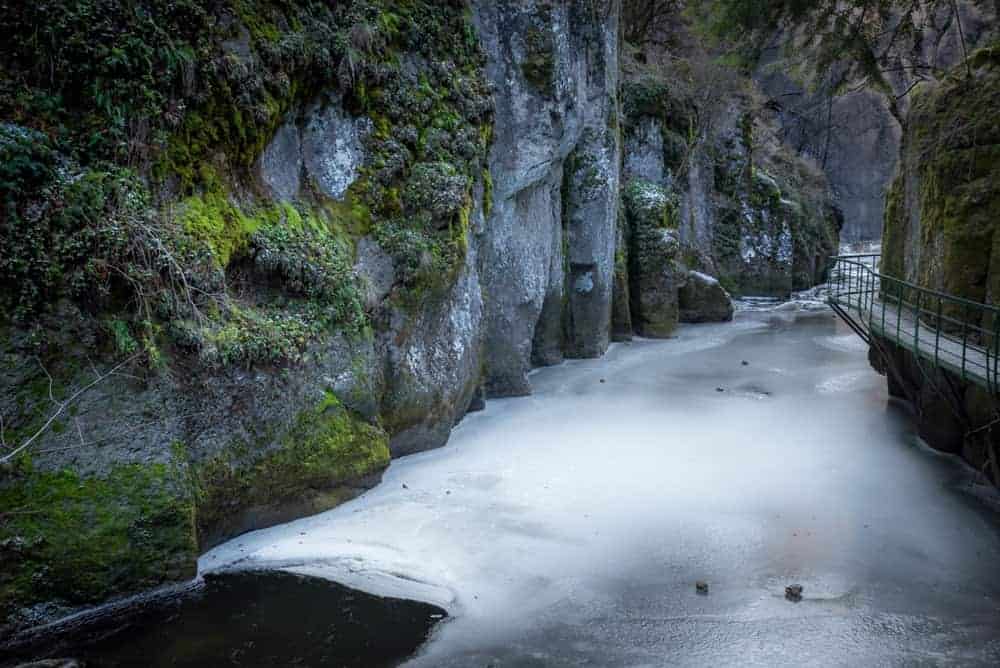 ---
Lovech
Only 150kms northeast of Sofia is the town of Lovech.
The Lovech region has a lot to offer but none more than the town itself. The most prominent feature of Lovech is its famous covered wooden bridge across the Osam river.
Originally built in 1874 and rebuilt three times, the Lovech bridge is one of only a handful of bridges in the world to have shops across its full span on both sides.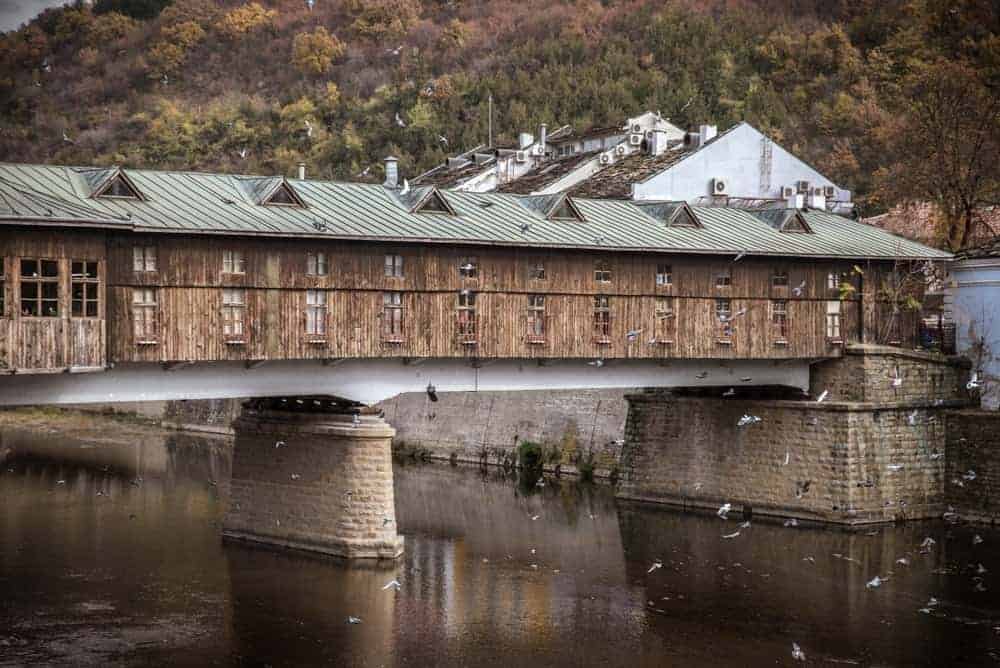 This charmingly restored town has so much to offer for a full day. Explore the Varosha quarter, visit the Hisarya fortress overlooking the town, the historical museum or the interestingly restored old Turkish bathhouse.
Once you have walked the town, settle down for lunch in one of the lovely restaurants that occupy the gorgeous candy-coloured buildings with views over the river and central square of the old town.


Visit the Troyan Monastery
Another reason to head to the Lovech region, other than some notable waterfalls and caves, is the Troyan Monastery. Only a half hour south of Lovech the Troyan Monastery is a truly tranquil place.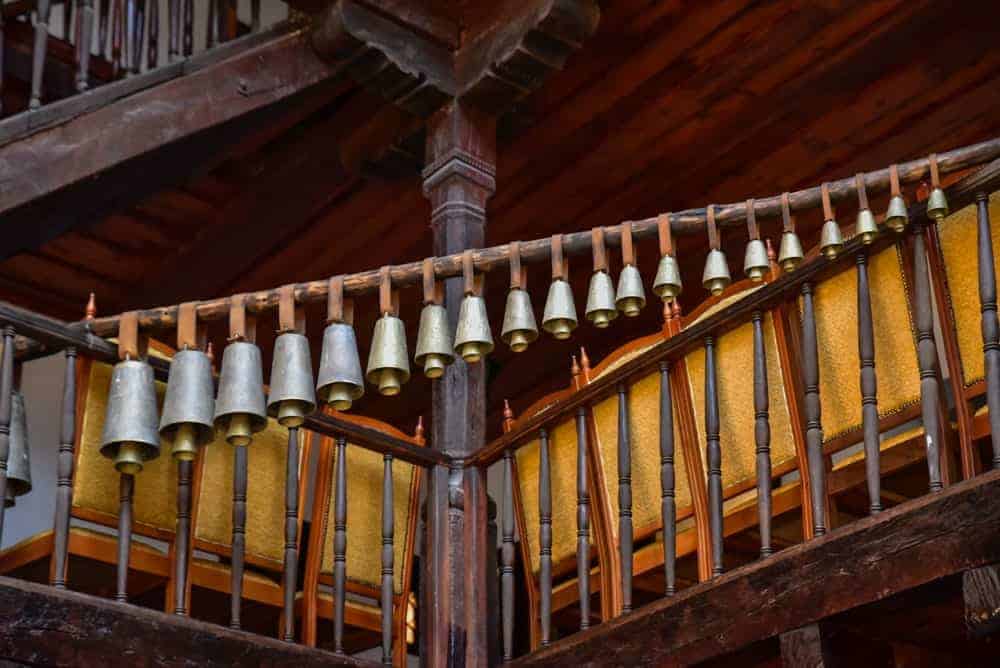 Said to be founded in 1600, this beautiful monastery also offers accommodation to tourists, but book in advance as this beautiful place of pilgrimage is very popular.


Day Tours to Lovech
You will find day to tours to Lovech available from both Sofia and Bucharest, Romania.
In addition to exploring Lovech Old Town and Hisarya Fortress, most tours will include Krushuna, an area famed for its beautiful waterfalls and caves and The Devetashka cave, Bulgaria's deepest cave.
Expect upwards of €150 pp for a Day Trip to Lovech with Waterfalls and Caves from Bucharest
and prices starting from €50 pp for a Lovech Full Day Tour from Sofia
---
The Seven Rila Lakes & Rila Monastery
The undisputed natural wonder and most iconic attractions in Bulgaria is the Seven Rila Lakes.
Located in the northwest of the highest mountain range on the Balkan Peninsula – the Rila Mountains, the area, has fascinated mountaineers for over a hundred years. It has even inspired The Universal White Brotherhood religious cult whose followers gather there every year in mid-August.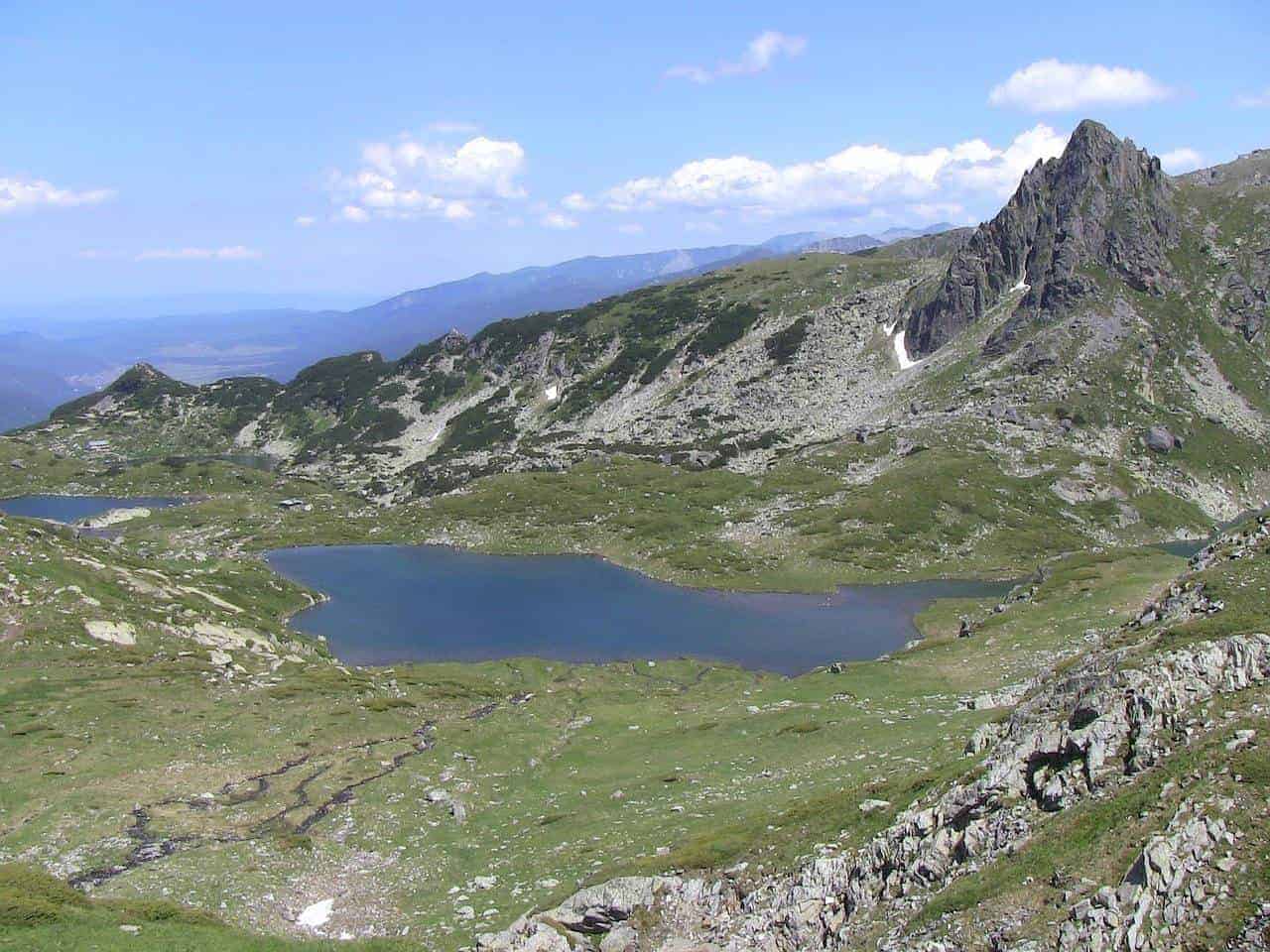 Only 1.5 hours drive from Sofia the area is popular with hikers and day tourists. Previously, The Seven Rila Lakes was only accessible by a steep 2-hour hike from Pionerska Hut near Panichishte. Now, a chairlift leading from the asphalt road near Pionerska Hut directly to the lakes provides easy access for the less enthusiastic hiker.
Seven Rila Lakes Chairlift
Expect around 10 Lev one way / 18 Lev return (~€6 / ~€9).
Getting to Seven Rila Lakes
The best way to get to Seven Rila Lakes is either to drive or take an organised tour.
While there is no direct bus to Rila, there is a shared shuttle service from Sofia.
If you are planning on visiting or booking an organised tour, check seasonal availability as some tours or services may not operate throughout winter.
Accommodation at Seven Rila Lakes
If you are planning to spend more than a day at Seven Rila Lakes make sure you book in advance. While the area is a hiking mecca, camping is forbidden.
The Rilski Ezera Hut and Malka Yurta Hut are most conveniently located next to chairlift.
Make sure you book in advance, especially in August when the White Brotherhood New Year's celebrations can see crowds of several thousand descend on the area.
---
Rila Monastery
The Rila Monastery or Monastery of Saint Ivan of Rila is considered one of the most important cultural, historical and architectural monuments in Bulgaria.
So much so it is depicted on the 1 Lev note. It is also one of Bulgaria's most popular tourist attractions receiving nearly one million visitors each year. Situated in the southwestern Rila Mountains, 117 km south of the capital Sofia the monastery houses around 60 monks.
Staying at Rila Monastery
There is also the possibility of overnight accommodation at the Monastery but make sure you enquire in advance.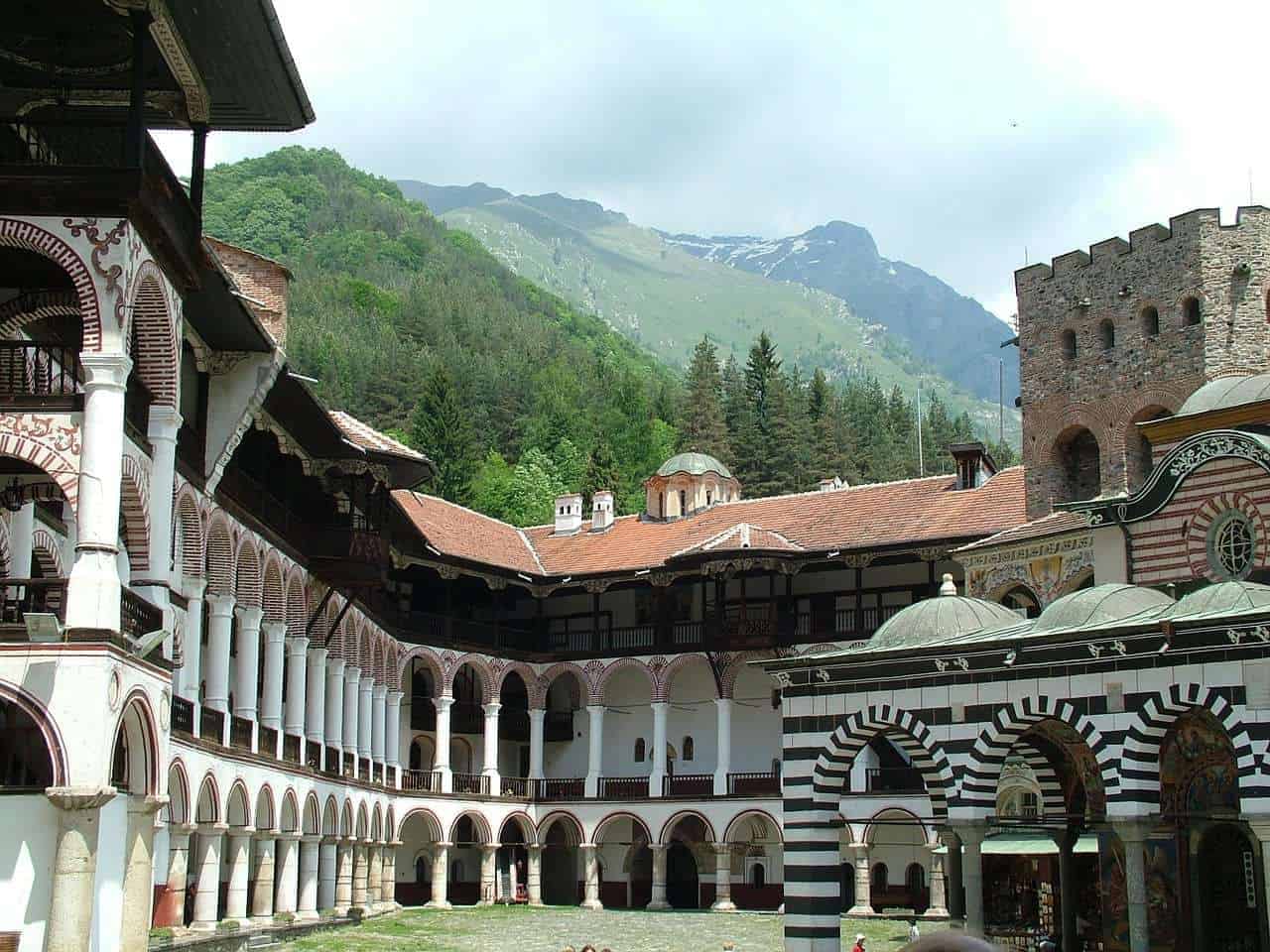 Getting to Rila Monastery
Even though the Rila Monastery is one of Bulgaria's most famous tourist attractions, it's not that easy to get to.
Bus to Rila Monastery
There is only one direct bus daily from Sofia leaving mid-morning which may or may not be reliable as is the way with public transport in Bulgaria. There is, however, a Rila Monastery shuttle service which costs around €19 per adult.
Hike to Rila Monastery
You can also hike to the Rila Monastery from the Seven Rila Lakes but expect anywhere upwards of six hours hiking.
Drive or Day Tour to Rila Monastery
Probably the most efficient and possibly cost-effective method, if you want to incorporate both Rila Monastery and the Seven Rila Lakes, is either by car or with an organised tour.
One-day car rental from Sofia for around €30/day in peak season. You can check the best car rental rates here with no added fees.
---
Books to Read Before You Visit Bulgaria
---