Bulgaria is becoming an increasingly popular ski destination. Word is getting out about the very affordable prices and stunning wintery landscapes.
The Bulgarian ski season runs from approx mid-Dec – mid-May with heavy snowfall on the highest peaks, sometimes right into June. Throw in extensive snowmaking facilities, and you know why Bulgaria is attracting skiers in the know, from families through to world champions.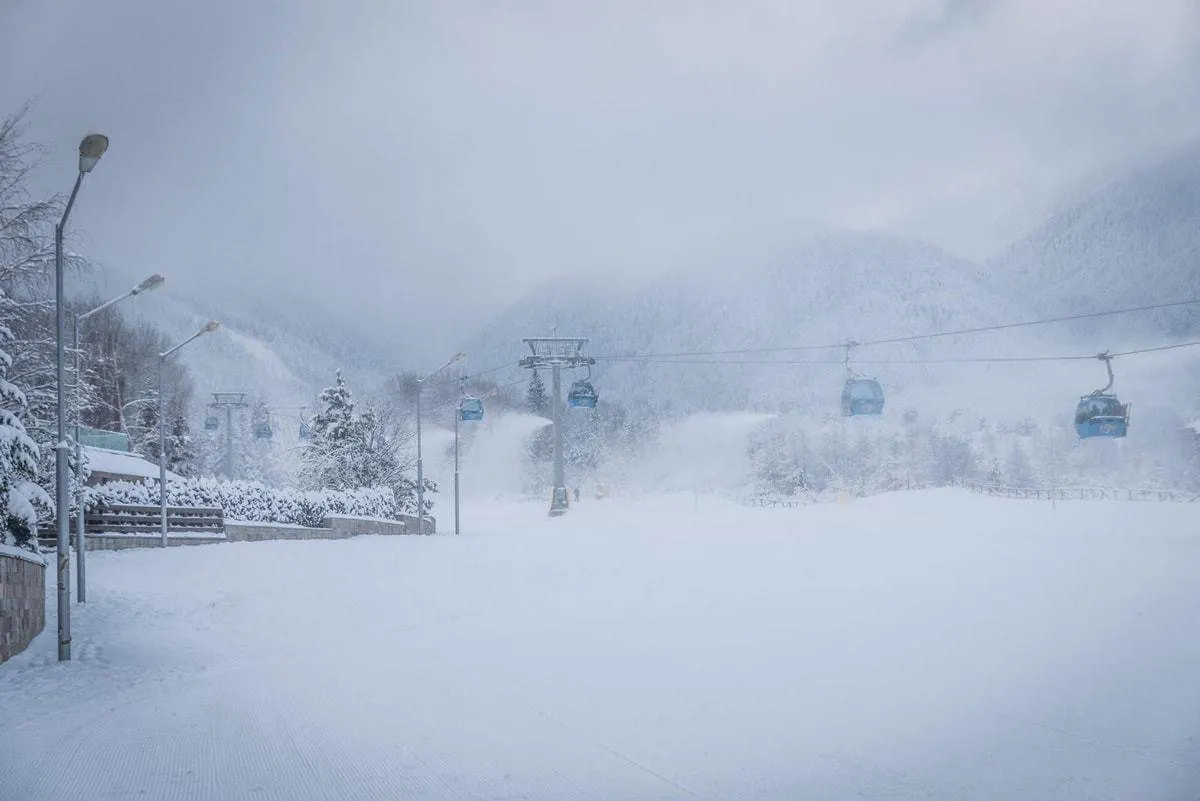 Skiing in Bulgaria offers a good choice of beginner runs through to the most challenging slopes and fantastic après ski facilities. Bulgaria offers world-class skiing at half the cost of the more popular European destinations and without the maddening crowds leaving you more cash to splash on a fancy new ski jacket or even a longer ski holiday. These are just some of the things making cheap ski holidays in Bulgaria increasingly popular.
Related: Best time to travel to Europe for ski holidays and winter retreats.
Pamporovo Ski Resort
Pamporovo is one of the best known and undoubtedly, one of the most beautiful ski resorts in Southeastern Europe. Located in the heart of the Rhodope Mountains, Pamporovo is surrounded by magnificent virgin pine forests giving this ski resort the spectacular winter landscape it is famous for.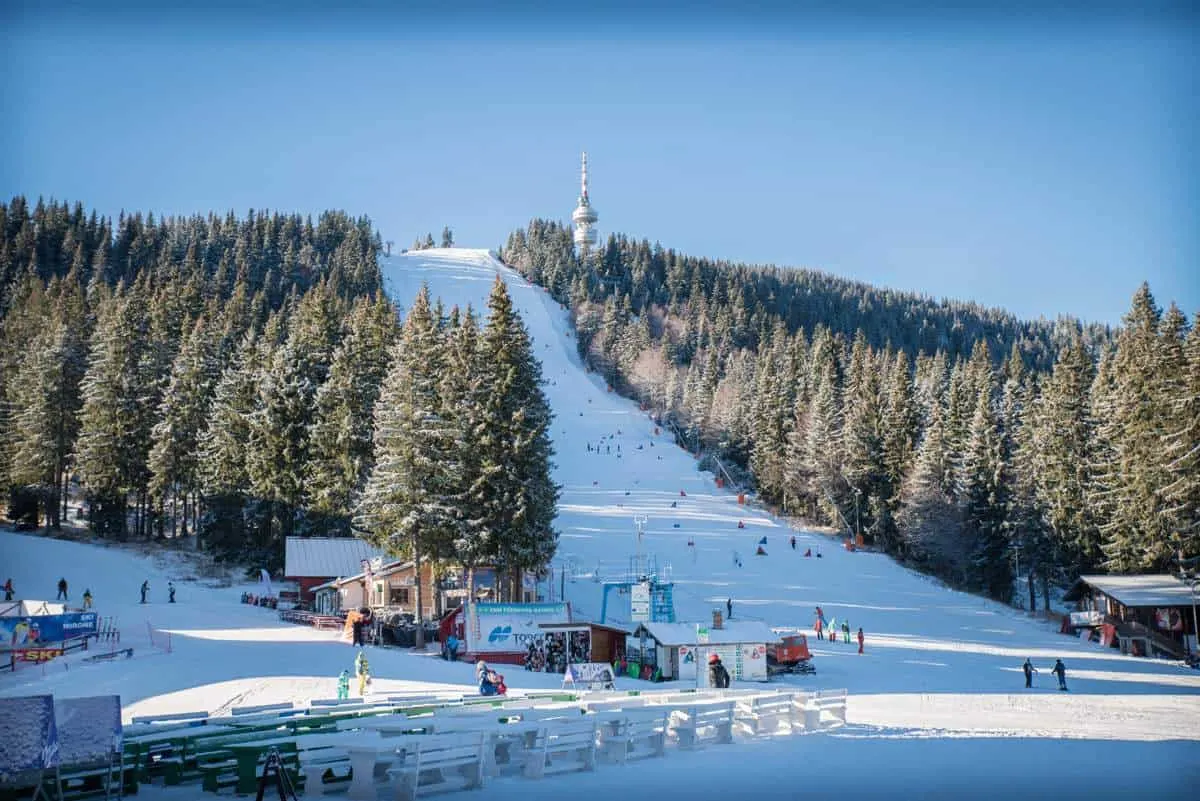 Famed for being the sunniest Bulgarian mountain resort, Pamporovo lays claim to more than 120 sunny days in winter making for some very comfortable and scenic skiing.
While Pamporovo's rounded mountain slopes and summits give it a reputation as a beginner-intermediate resort, it also has a number of challenging or black runs, like "The Wall", for advanced skiers and boarders. Skiing Pamporovo is breathtaking with long winding runs through the forest and a vista over surrounding mountain ranges.
Pamporovo boasts 37 km's of runs, new snowmaking facilities comprised of 80 snow cannons covering 90% of the runs, a new 3740m long ski run with a unique six chair open lift. Reduced queuing due to modern up to date systems offering 11,600 persons/hr, a new 100m half-pipe for snowboarders and an LED-lit night run.
We skied here in December and there was hardly anyone on the slopes, there are however enough runs to cater for larger crowds, if, there ever are any.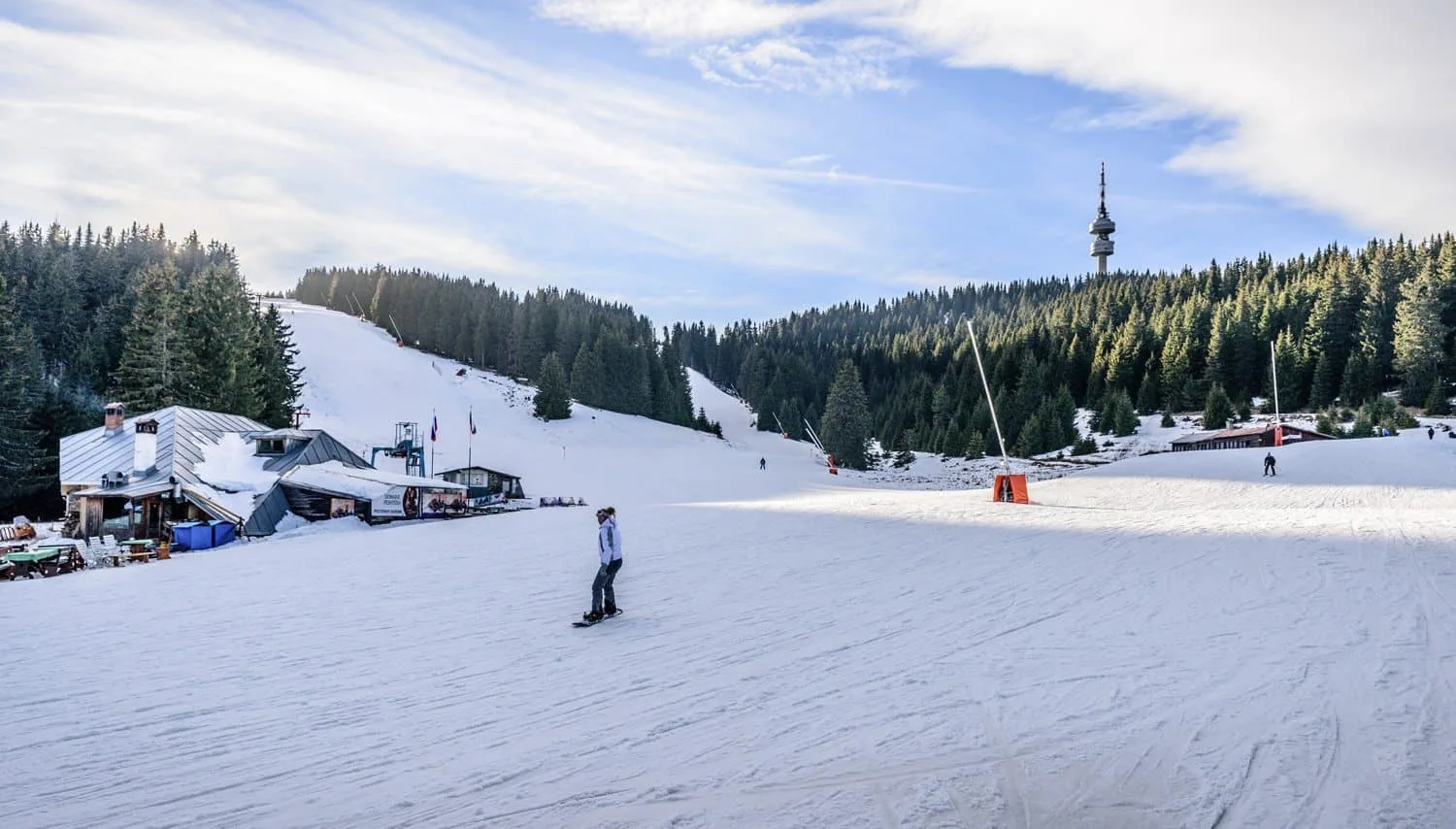 With a friendly relaxed village atmosphere, there is plenty of good accommodation on and off the slopes, and you get far more bang for your buck than in other European ski destinations.
We stayed at The Grand Monastery Pamporovo the largest property at the main ski centre, only 50 meters from the main lifts and walking distance to shops and excellent restaurants. A large one bedroom self-contained, ski in – ski out apartment will set you back around 85 Lev per night (~€44). The hotel has everything you need for a complete holiday, including a bowling alley.
As you would expect, food can be a little more expensive on the mountain, but with a self-contained apartment you can provision for basics in Smolyan or there are small supermarkets next to the resort or in the town of Pamporovo 10 minutes by car. Regardless, much like the rest of Bulgaria, comparatively, the cost of a restaurant meal is still very reasonable and there are ample options close by for takeaway meals.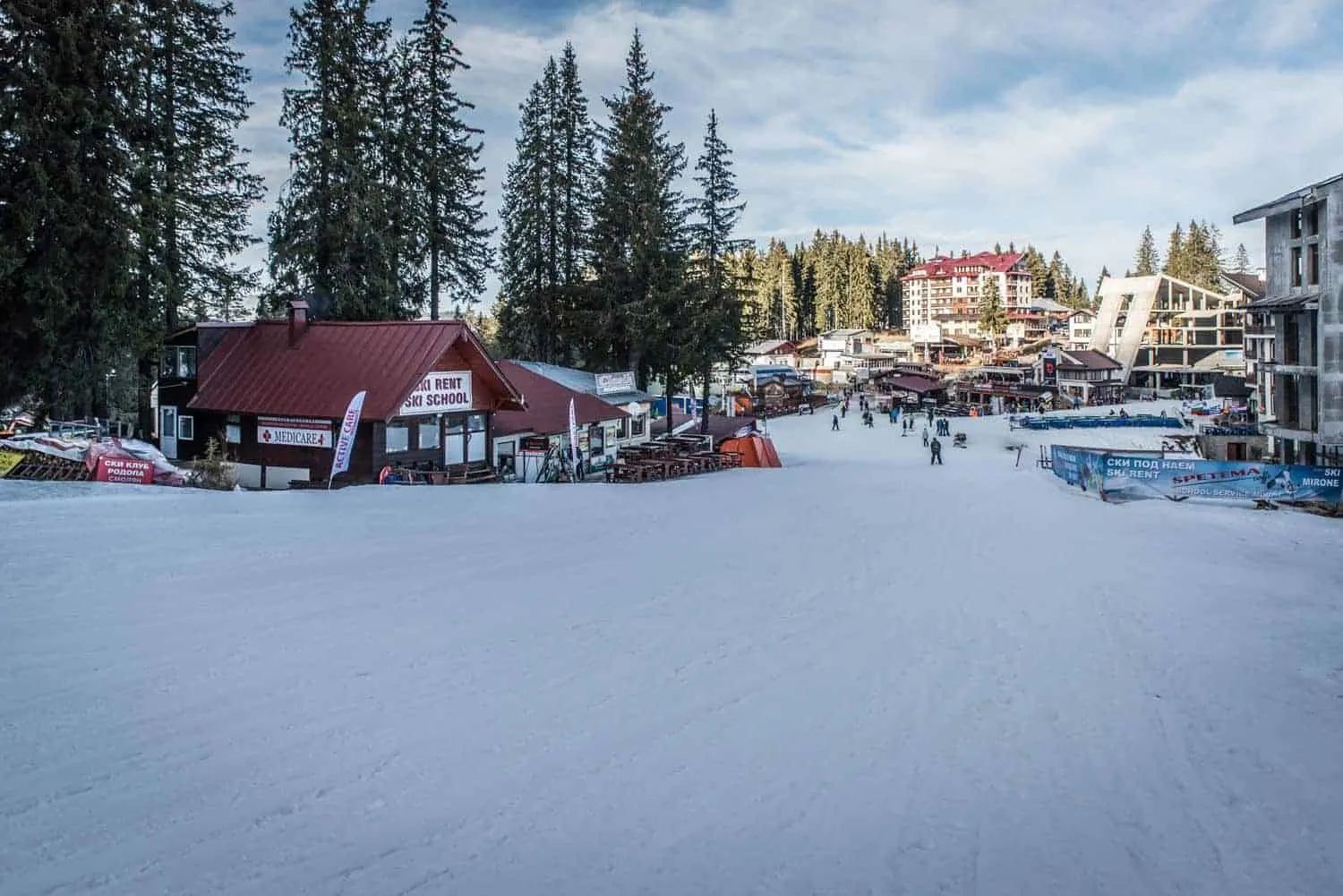 We enjoyed the laid back, slightly less touristy atmosphere of Pamporovo and the skiing was as good, if not better than some of the famed, more expensive resorts.
Pamporovo Lift Passes 53 Lev/day (~€27) and ski hire 10 Lev per day (~€5). Discounts apply for multiple days.
For four nights in Pamporovo, including a ski in – ski out self-contained apartment, lift passes and ski hire, all meals, including restaurant meals and drinks, expect to pay around 1000 Lev (~€500) for two people.
How to Get to Pamporovo Ski Resort
Pamporovo is 240 km's from Sofia or 85 km's from Plovdiv. Both have major airports and bus/shuttle connections to Pamporovo. The nearest major town is Smolyan 15 km's away.
If you take a taxi from Smolyan to Pamporovo, beware the taxi prices. Some cab drivers have been known to hit tourists up for as much as 100 Lev for a fare to the mountain. You should pay no more than 20 Lev as the rate is 1 Lev/km.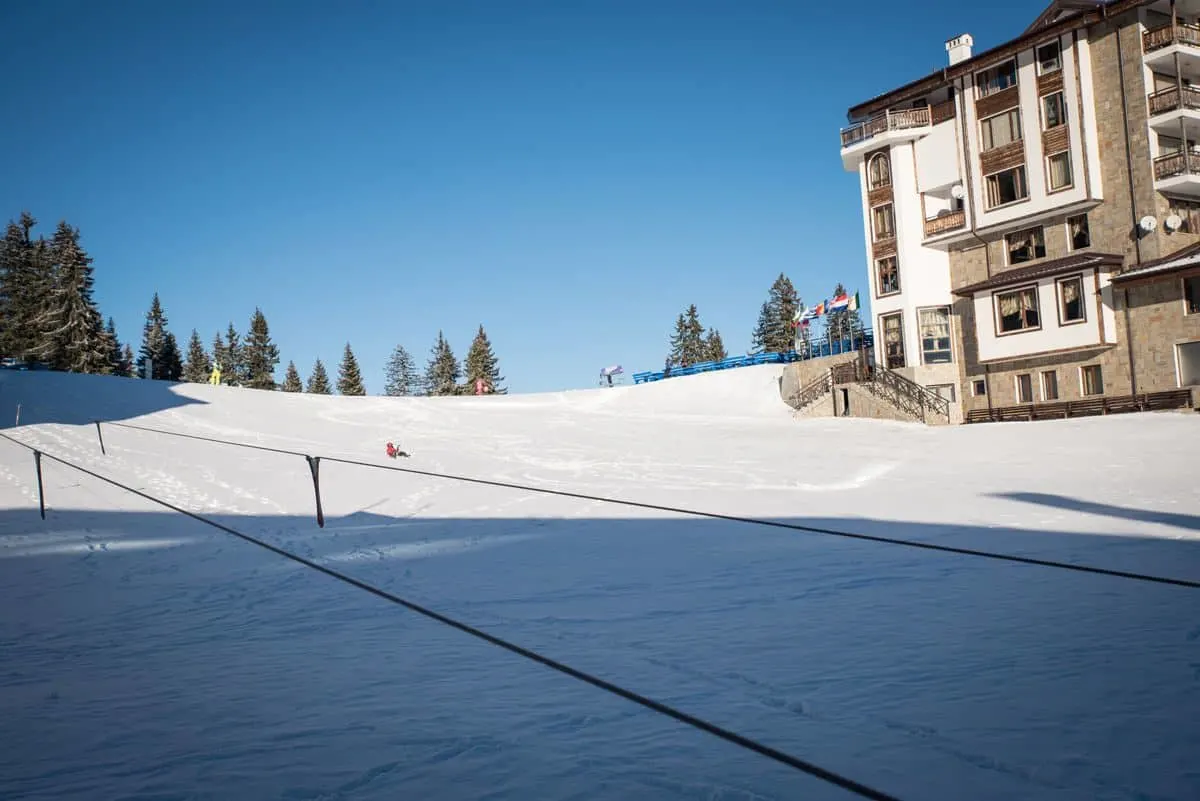 Bansko Ski Resort
Located at the base of the Pirin mountains, Bansko ski resort was awarded "Best New European Ski Resort". With over 65 km of slopes, it is credited with the longest slopes in Bulgaria and the most extended season, running from mid-December to mid-May.
Huge investment in the town has seen rapid development bringing new luxury hotels and a fast six-person chairlift upgrade making Bansko Bulgaria's most modern and popular ski resort. Bansko also regularly plays host to both local and international alpine and biathlon events such as the FIS World Cup Alpine Ski Races.
Skiing Bansko is fantastic with plenty of beginner and intermediate runs as well as some very challenging black runs. The top side of the mountain is a playground for all skiing levels with long moderate runs combined with magnificent mountain views. Even when busy, which it isn't compared to other ski resorts, there are plenty of runs to keep the skiing experience uncrowded and enjoyable.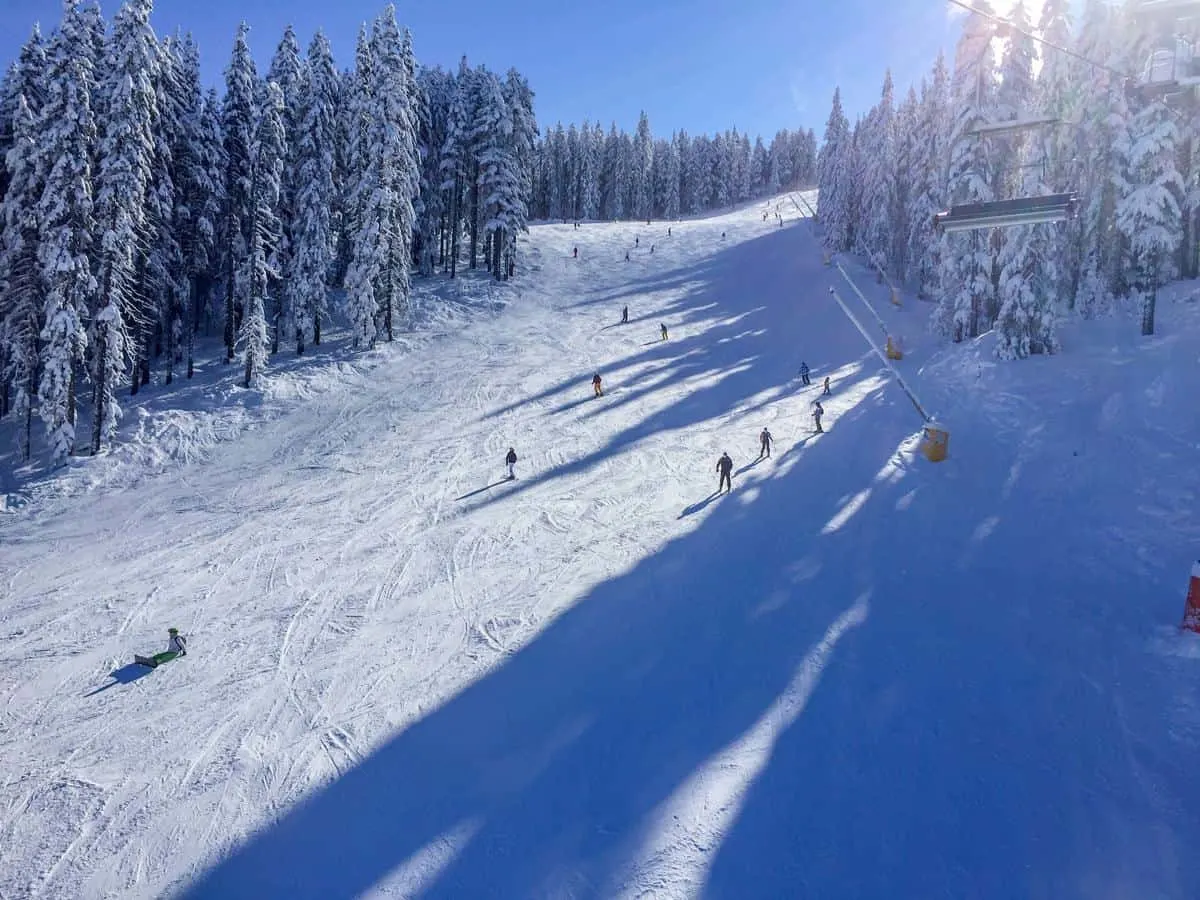 The downside to Bansko is the only way up the mountain is the gondola which is a walk or drive from all accommodation. This means carrying your gear up and down each day. There is a great little ski hire just opposite the gondola car park. They had good equipment at a reasonable rate and will also store everything including your boots each night, which takes the hassle out of having to carry all your kit up and back each day.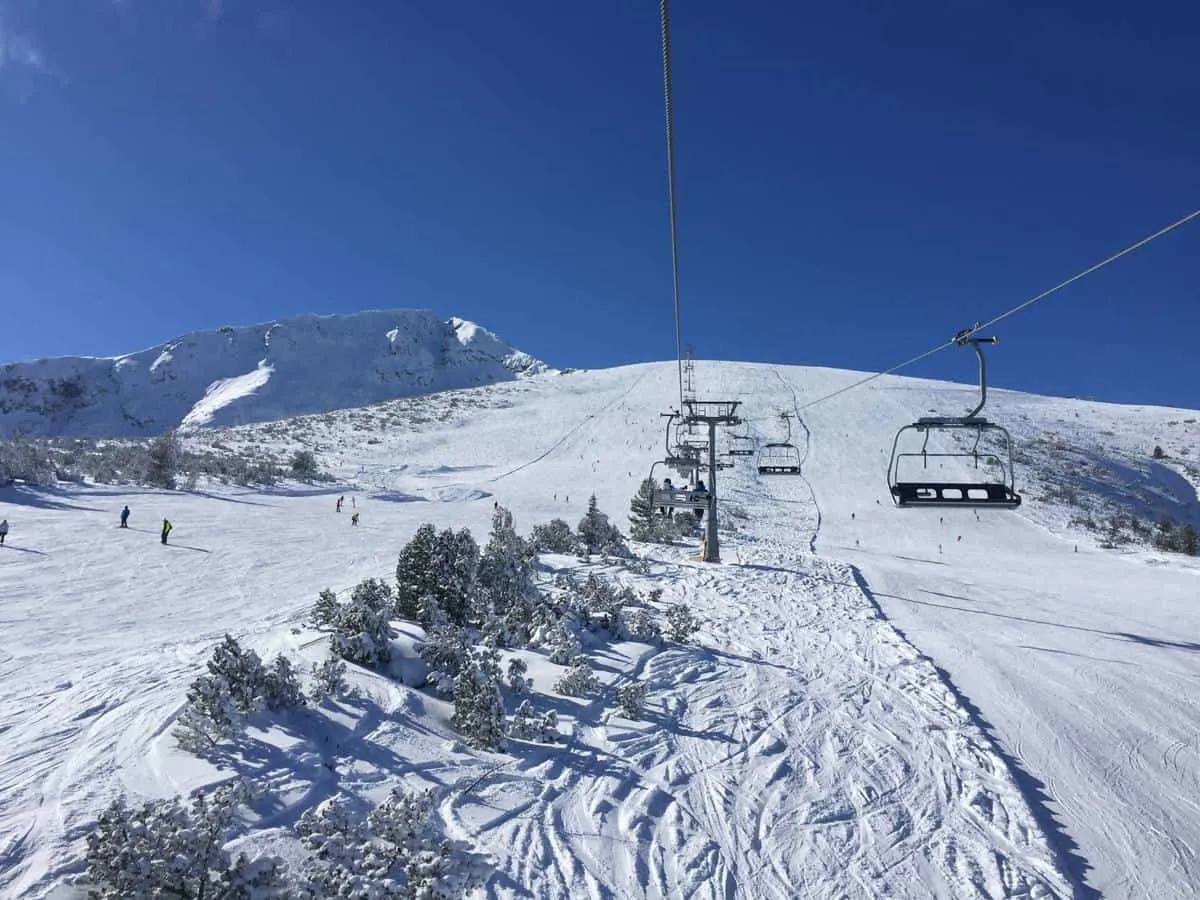 Bansko is a much more lively and perhaps touristy town than Pamporovo. It is geared more towards the international tourist market. The main tourist drag is within walking distance to the gondola as are most accommodations making it a very centralised ski town.
Unlike Pamporovo, Bansko doesn't have any ski in – ski out accommodation but there is plenty within walking distance to the main gondola. We stayed at Hotel Gazei, a comfortable family-run hotel with large rooms and breakfast included on the main strip, a 5 min walk from the gondola.
While it was excellent value at 85 Lev per night (~€45), compared to our self contained one bedroom apartment right on the slopes in Pamporovo, Bansko is a little more expensive.
Along the main strip you will find no end of English themed pubs, Bulgarian restaurants, and plenty of take-away Fast Food, and, of course, a plethora of ski shops as well as an ice skating rink and the occasional strip joint. So, if it's nightlife and shopping you want, Bansko is the place for you.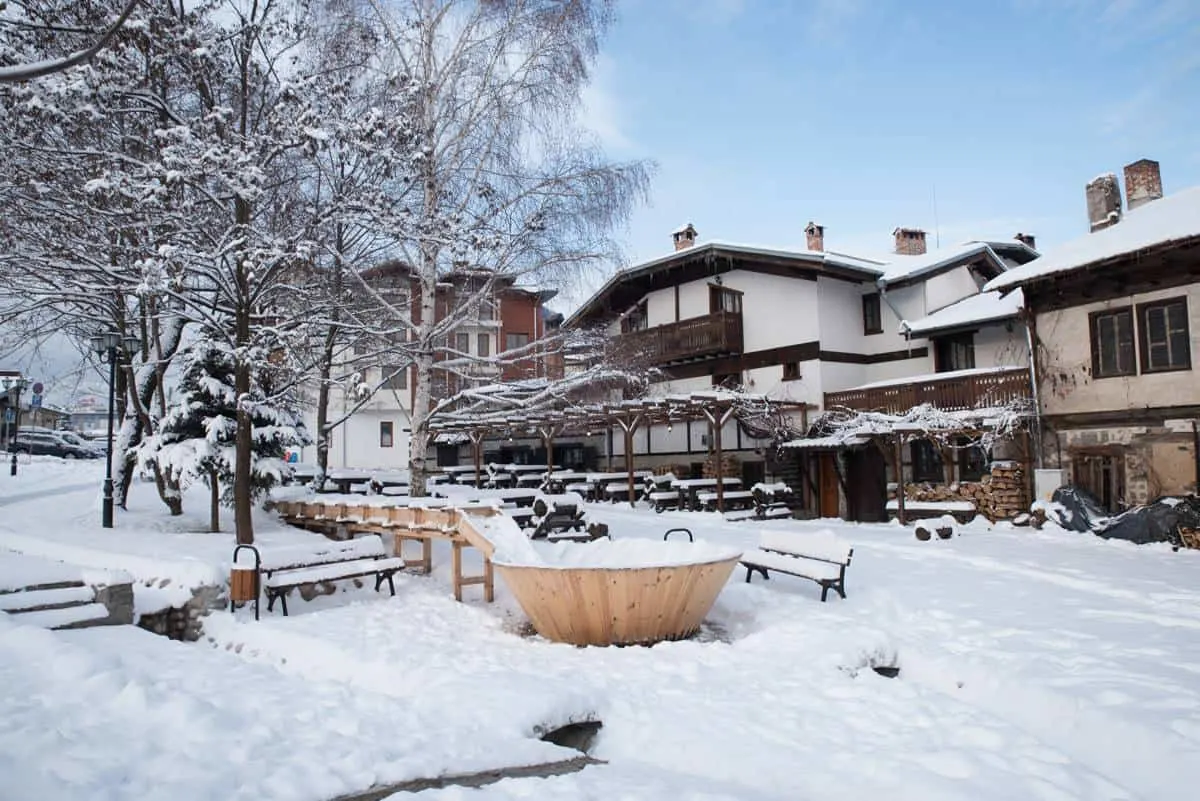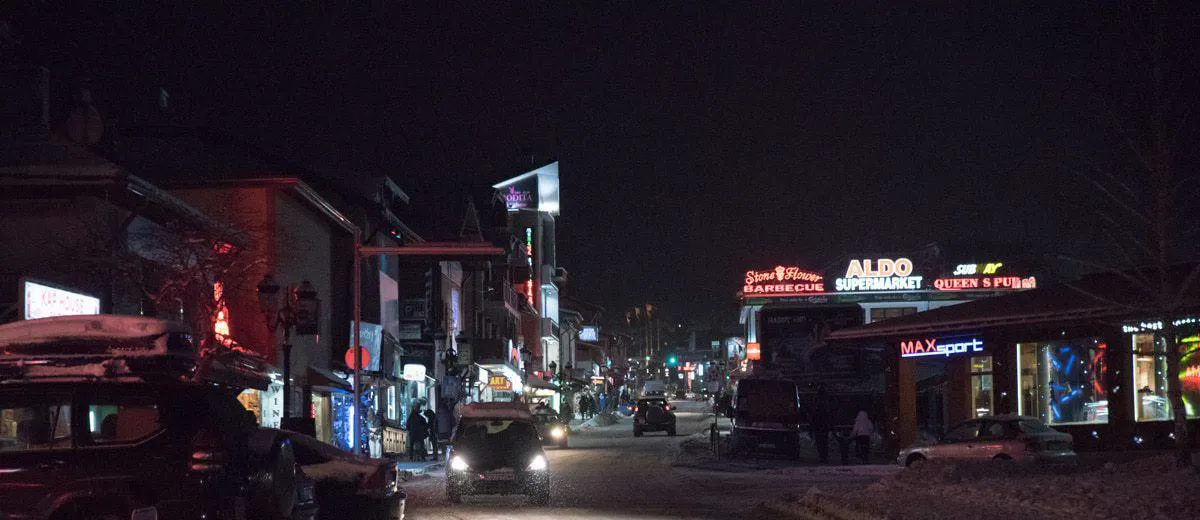 While Pamporovo has lots of taverns and cafes scattered all over the mountain offering good value lunch options, you may find Bansko more limited on this front and a little on the expensive side. Expect to pay 14 Lev for a small bowl of soup on the mountain as opposed to 15 Lev for a 3-course lunch at Pamporovo. You can also expect restaurants and bars in town to be slightly more expensive than Pamporovo but again, compared to other European destinations; very reasonable.
Bansko Lift Passes 58 Lev/day (~€30), and ski hire 12 Lev/day (~€6)
For four nights in Bansko, including a hotel room with breakfast 5 min walk to the Gondola, lift passes and ski hire, all meals, including restaurant meals and drinks, expect to pay upwards of 1000 Lev (~€500-600) for two people.
Unless you are staying right on the gondola for convenience, next time we would probably choose to stay in the Old Town which is still only a 10-15 minute walk from the Gondola. There are plenty of restaurant and nightlife options but with a far more authentic and slightly less touristy atmosphere.
Getting to Bansko Ski Resort
Bansko is 160km's south of Sofia. Buses leave daily from the capital. There is also a Bansko Shuttle Service that runs from Sofia Airport to your accommodation in Bansko for approx €20 pp. Expected travel time 2.5 – 3 hours.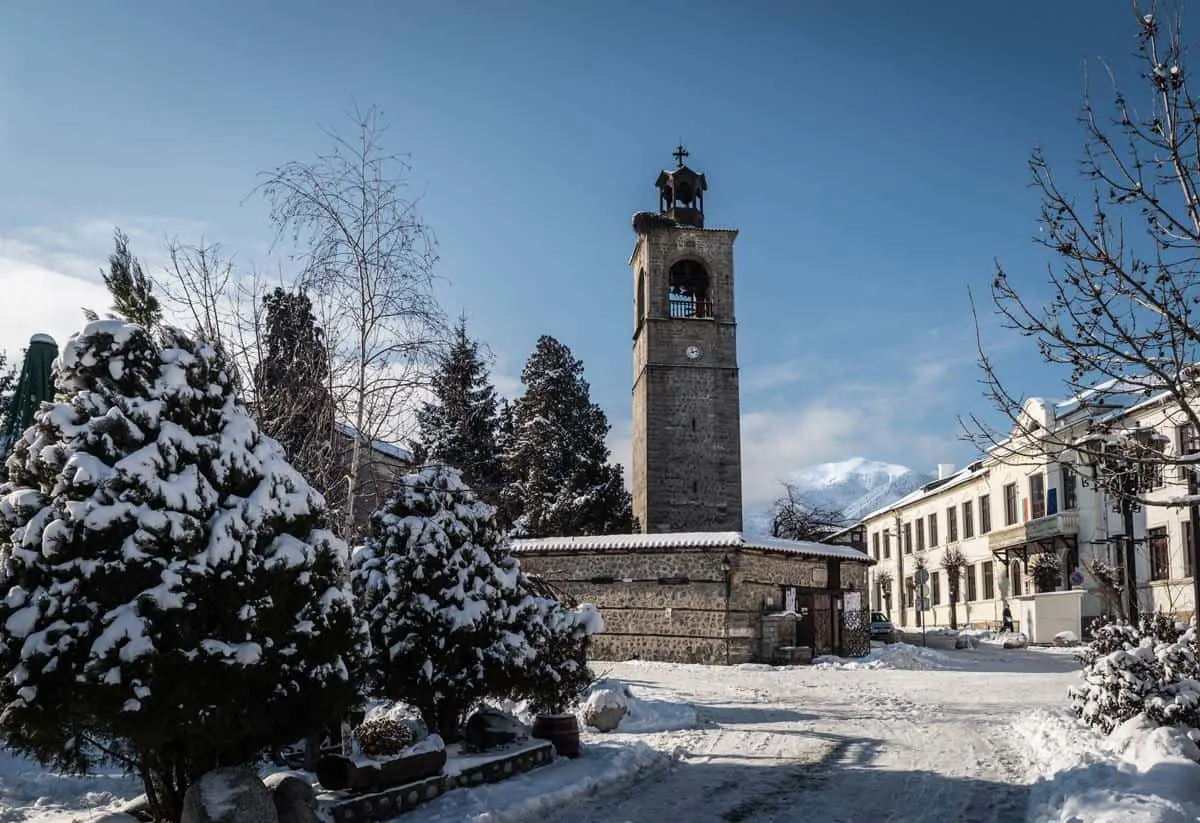 Borovets
Borovets ski resort, located in the Sofia Provence, is the largest and most established resort in the country boasting some of the best ski-in, ski-out accommodation. Used for world ski events and a little over an hour from Sofia, Borovets can't be beaten for world-class skiing and a very vibrant nightlife. The resort has twice hosted World Cup competitions.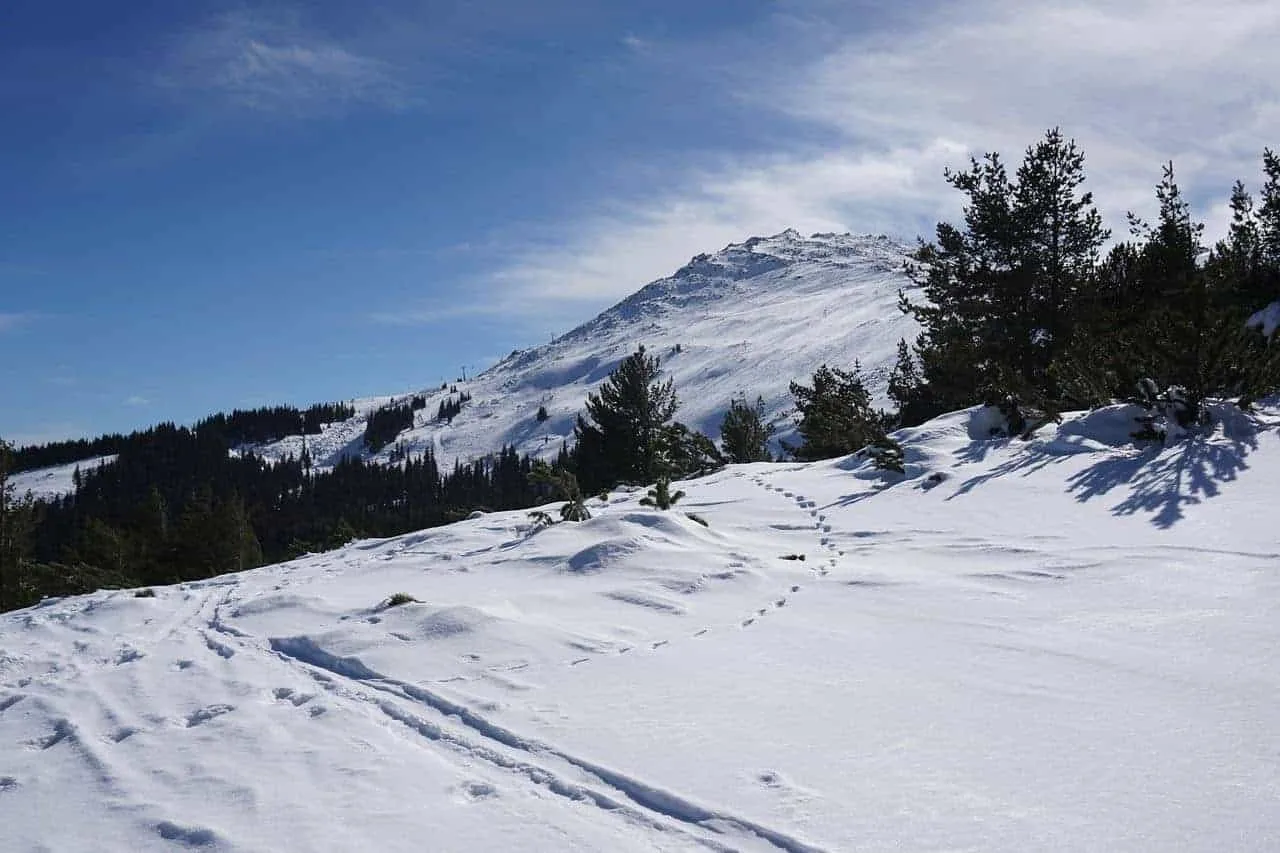 Reaching a height of 2,600m Borovets boats 58 km of slopes serviced by a well-organised 13 lift system of chairlifts and gondolas. Surrounded by forests on Rila Mountain, Borovets features picturesque alpine-style runs lined with pine trees.
From December to May, Borovets boasts a steady snow cover with crystal clear conditions. In January all ski trails and slopes are marked and groomed. There is a good range of runs available suited for beginners through to expert skiers although particularly well-suited to intermediates.
Borovets ski resort is divided into three zones: pistes of Sitnyakovo – Martinovi Baraki region; 4 pistes of Markudjik region and three pistes of Yastrebets region. The best ski slopes are those of Yastrebets ski centre where all winter sports competitions take place. There is cross-country and biathlon tracks 2km from the resort along with the cross-country tuition tracks.
Borovets Lift Passes 55 Lev/day (~€28)
The town centre is modern with a good choice of modern hotels, restaurants, shops, nightclubs and bars.
---
Getting to Borovets Ski Resort
Borovets is just over an hour from Sofia.
Our recommendation – With the money you will save on ski holidays in Bulgaria, why not treat yourself and try out each of these great resorts.