Is Plovdiv, Bulgaria's culture capital?
Named the European Capital for Culture 2019, It is quite likely Plovdiv will surpass Sofia as Bulgaria's new cultural capital.
The second largest city in Bulgaria, we were immediately enamoured with this pretty city. Much in the way Riga, Latvia's culture capital won our hearts.
Let's look at the best things to see and do in Plovdiv and why you might want to include this vibrant city on your Bulgarian itinerary.
Best Things To Do In Plovdiv Bulgaria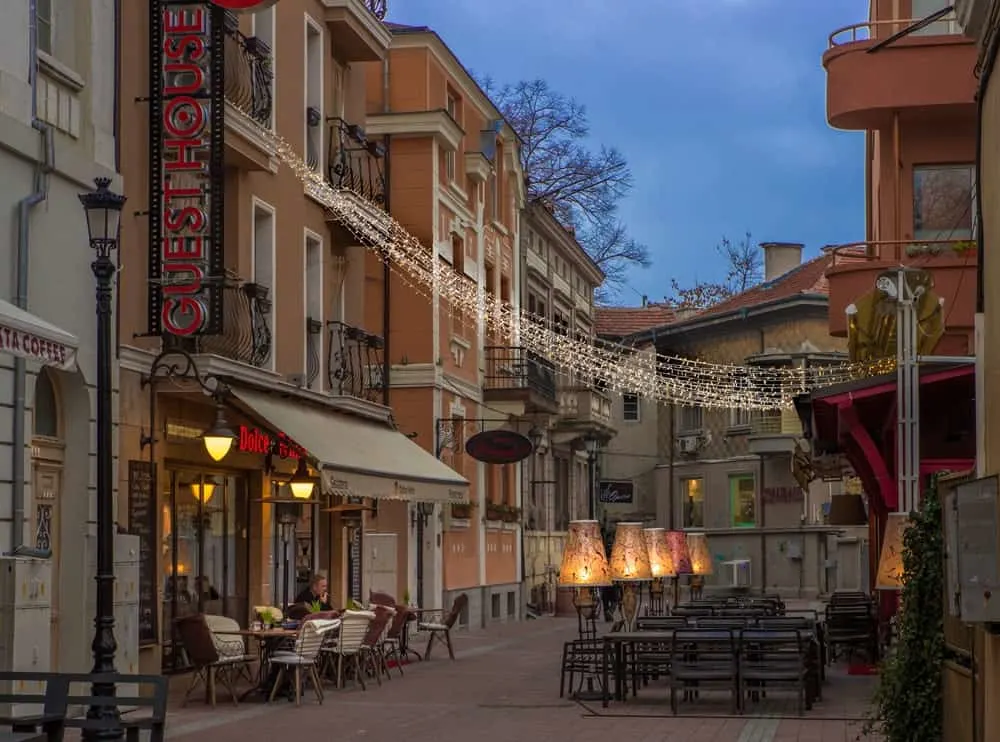 Plovdiv's new art district is creating an exciting social, cultural and economic flow on for the city.
---
Free Things to Do in Plovdiv – Explore Plovdiv Old Town
The cities main appeal is in the beautifully restored Plovdiv Old Town. Cafe's, bars and restaurants share real estate with Byzantine, Roman and Bulgarian antiquities including; the most impressive Roman amphitheatre in the Balkans which is still in use today.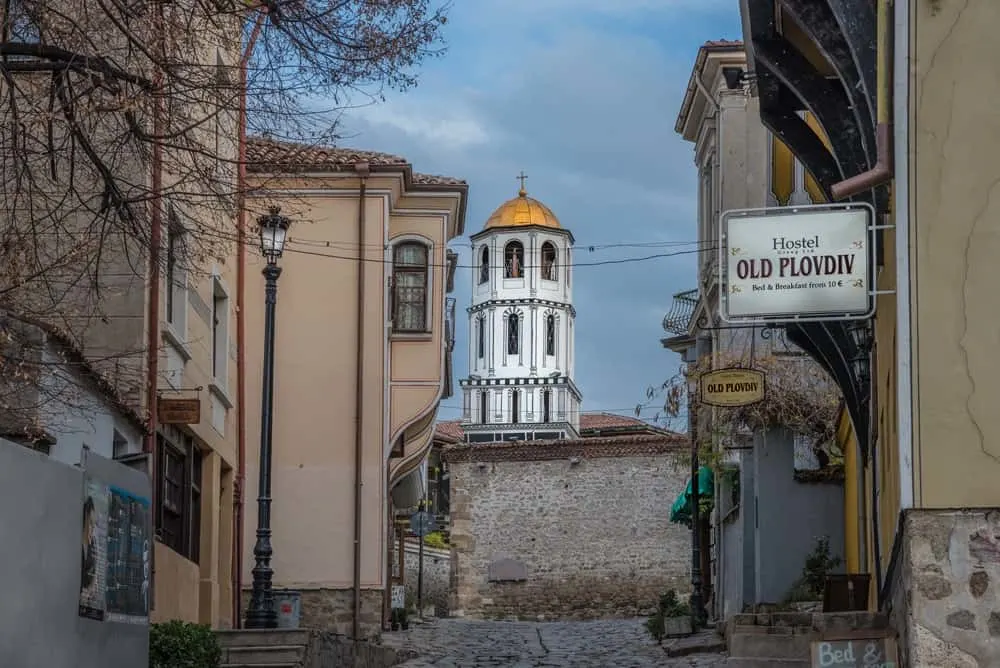 Winding cobbled streets boast museums and galleries where eminent artists are still in residence. A lively and infectious atmosphere of creativity mixed with a laid-back, youthful confidence befitting a city sure about its future.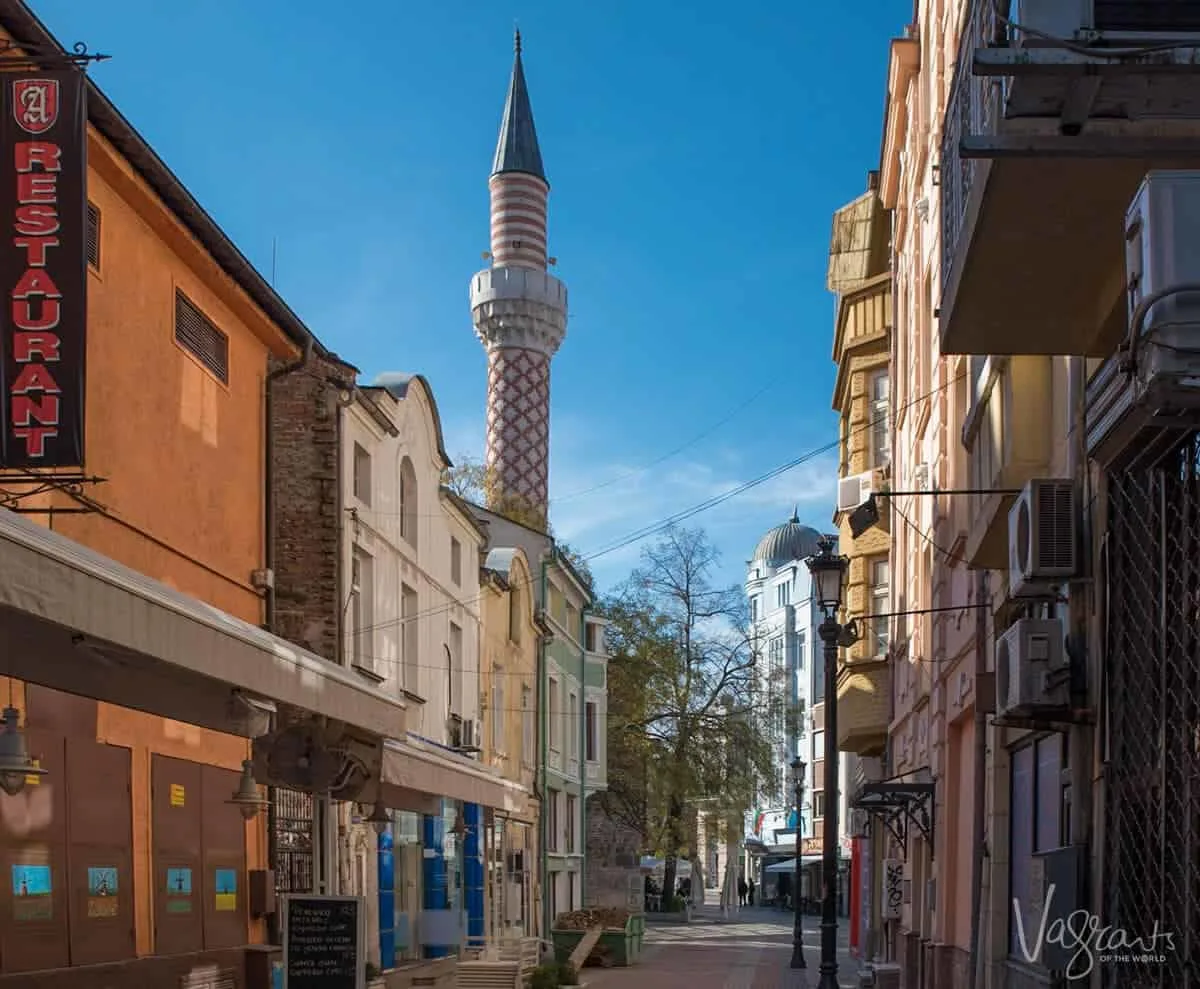 As soon as you arrive, Plovdiv gives you a feeling of wanting to be a part of it, whatever that is. This is the reserve of smaller cities, and even then, it is a small few that hit the mark. An atmosphere the big ticket cities could never emulate.
Get Lost in The Trap
Five centuries ago, the area of Kapana or "The Trap" in Bulgarian, so named for the many little-tangled streets was a centre for craftsmen. Neglected until recently, The Trap is being revived.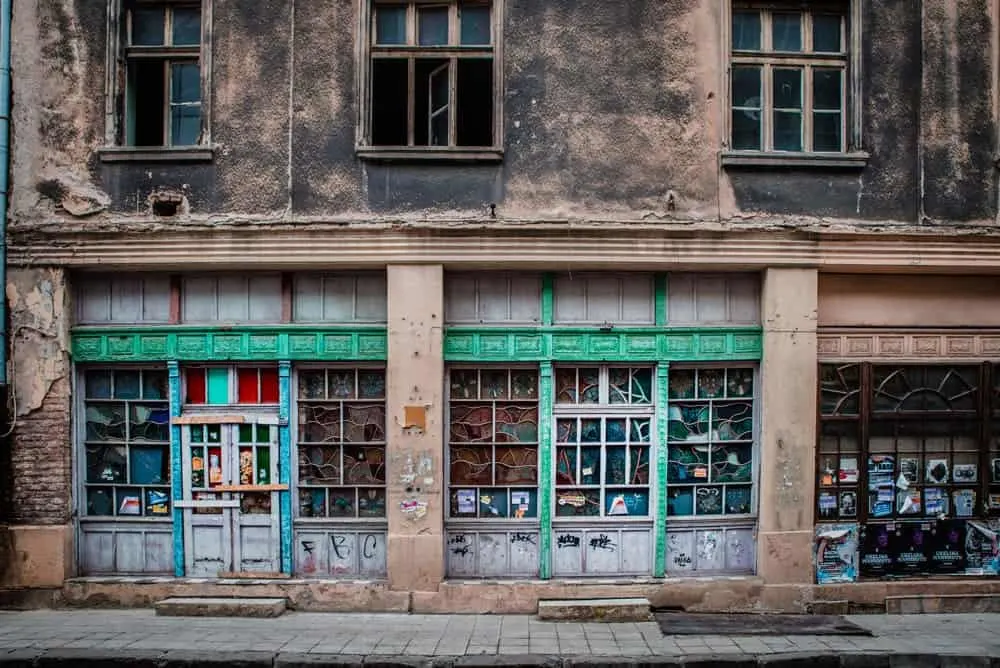 Closed to traffic, this pedestrian district of Plovdiv Old Town is now dedicated to creative industries including new and contemporary cafe's and wine bars, a boutique "hipster" hotel, a culinary crafts workshop, studios, fashion and many arts, craft and bespoke concept shops.
So, if you are wondering what to do at night in Plovdiv, then this is the district to visit.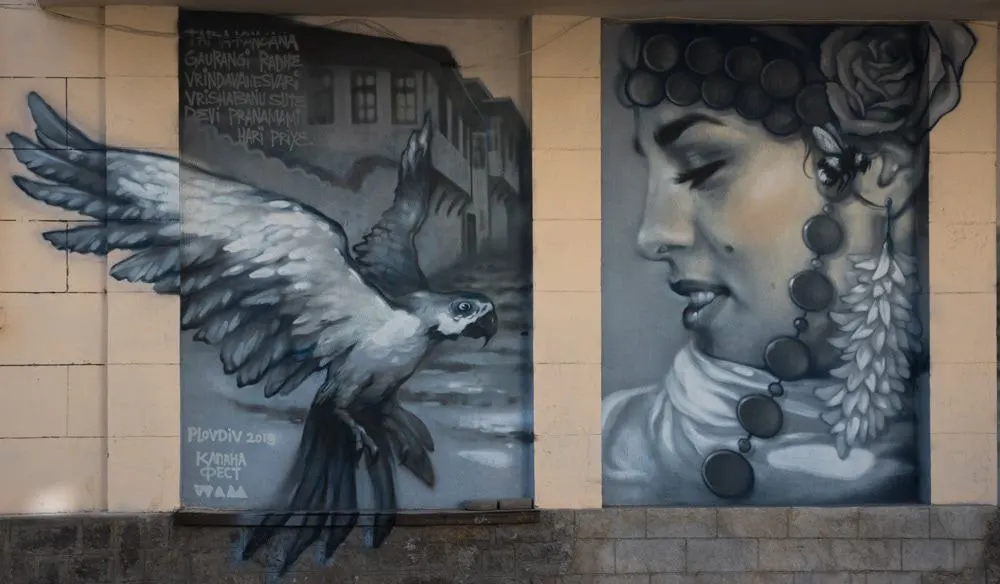 More than a creative commercial centre, Plovdiv's new art district is creating an exciting social, cultural and economic flow on for the city with festivals, exhibitions, workshops and so much more.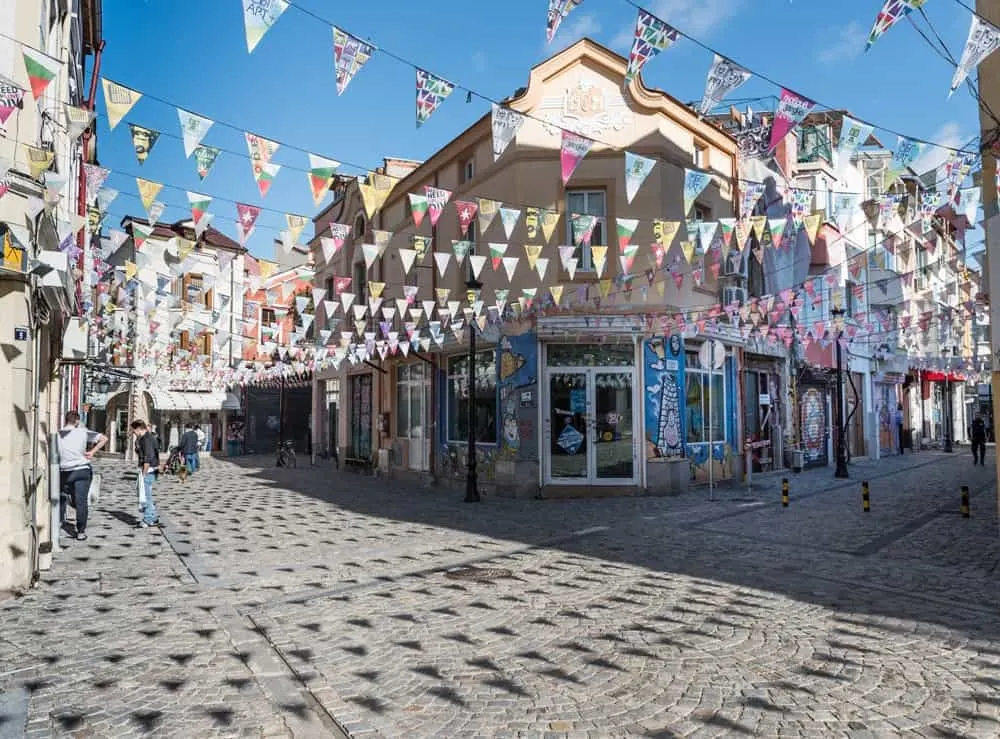 Beautifully Preserved History
Head further into the Old Town, past The Trap and you can see why Plovdiv has always been one of Bulgaria's wealthiest and most cosmopolitan cities.
A history dating back 6,000 years ranks Plovdiv as one of the world's oldest cities, beautifully preserved and begging to be explored.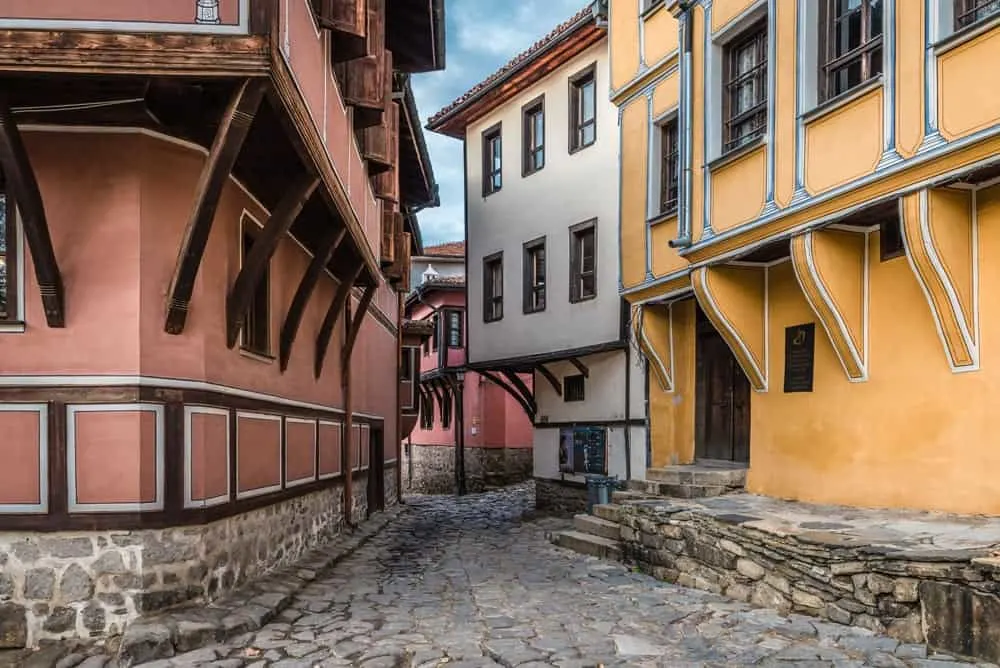 Splendid Bulgarian Revival style wooden houses dating back to 18th and 19th-century tower over narrow and ancient laneways. Antiquated churches and remnants of old trade routes between Europe and Asia blend with museums and art galleries.
Regional Ethnographic Museum
Built in the mid 19th century; the house belonged to merchant Argir Kuyumdzhioglu from Greece.
The second largest specialised museum of this type in Bulgaria, more than 40,000 items relating to Bulgarian folk culture over the centuries are on display there. You'll find authentic musical instruments, fabrics, clothing, handicrafts and farm tools.
The museum was established in 1917 and has been located in Kuyumdzhieva house, a cultural monument of national significance since 1938.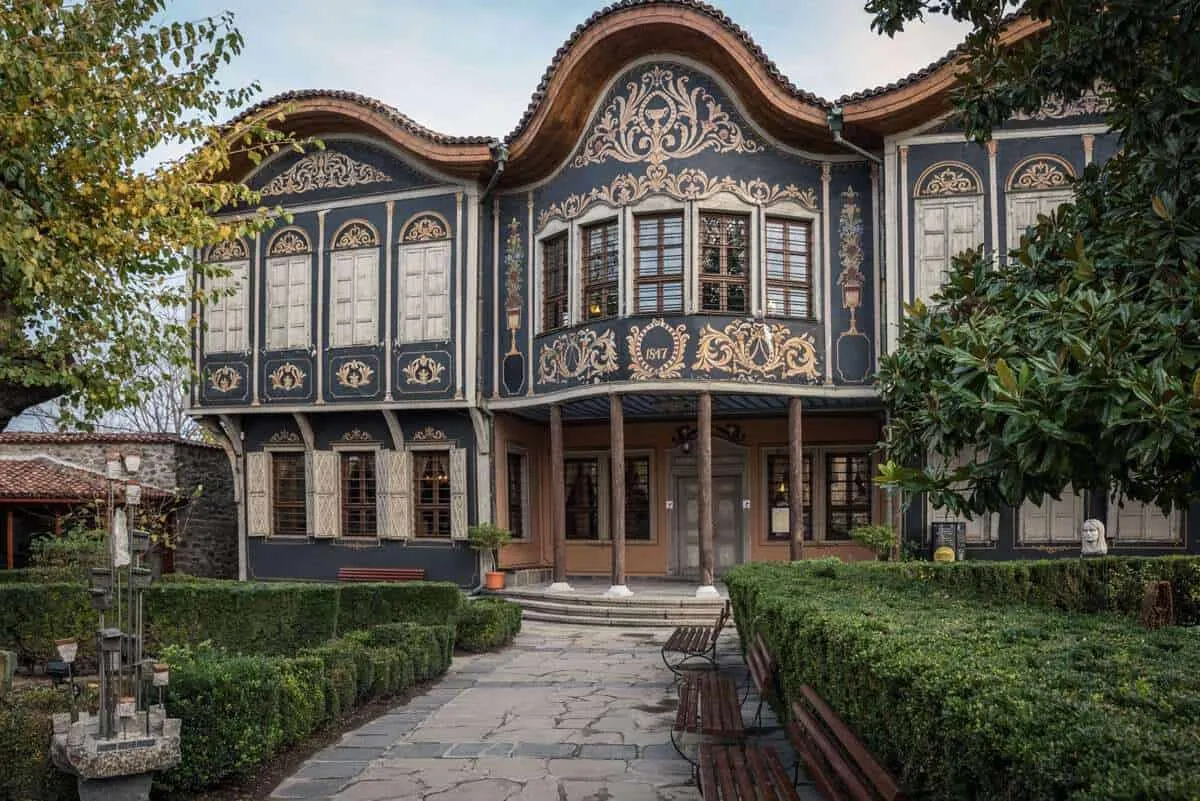 The Church of St. Konstantin and Elena
The church of St. Konstantin and Elena is one of the oldest Christian churches in the city of Plovdiv dating back to the 4th century.
Situated in the centre of Old Town town, right on the wall of the Acropolis, it forms part of the Architectural complex "The Old Plovdiv."
The church was erected to honour the place where the martyrs Severin and Memnos were beheaded in 304 for professing their Christian faith when paganism was still prevailing. 38 other martyrs of Plovdiv had died before them because of their religion.
The interior of the church is from the Bulgarian National Revival period in the 1800's, decorated in a lavish neo-baroque style.

A City of Ancient Roman and Turkish Antiquities
Plovdiv Roman Stadium
Right in the middle of the main strip lies the partially excavated remains of The Stadium Trimontium – The Roman Stadium.
Built at the beginning of the 2nd century, it is one of the largest Ancient Roman structures in the Balkans seating 30,000 spectators.
Excavated in the 20th century; the stadium sits beneath Plovdiv Old Town, this is why today you can only see parts of the structure. Drop by the visitor's centre for a complete history and walk down one of the vaulted passageways underneath the northern curve.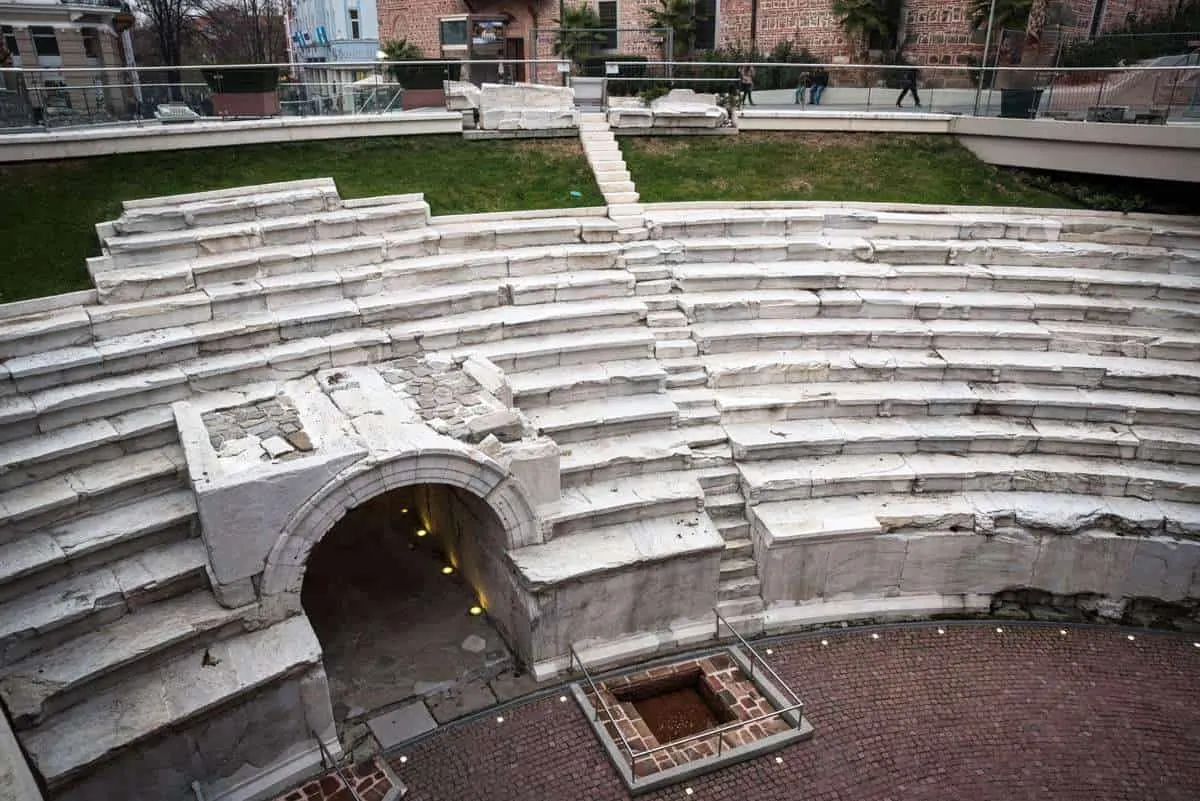 Surrounded by the Turkish Dzhumaya Mosque built in 1363 and a myriad of pretty neoclassical buildings, you get a real sense of Plovdiv's incredible history.
Dzhumaya Mosque
The Ottomans built the Dzhumaya Mosque over the top Sveta Petka Tarnovska Cathedral Church when they took the city in the 1300's. In the 1400's during the reign of Sultan Murad II, the old building was demolished and replaced by the mosque you see today.
Dzhumaya Mosque is one of the oldest and biggest Ottoman religious buildings on the Balkans.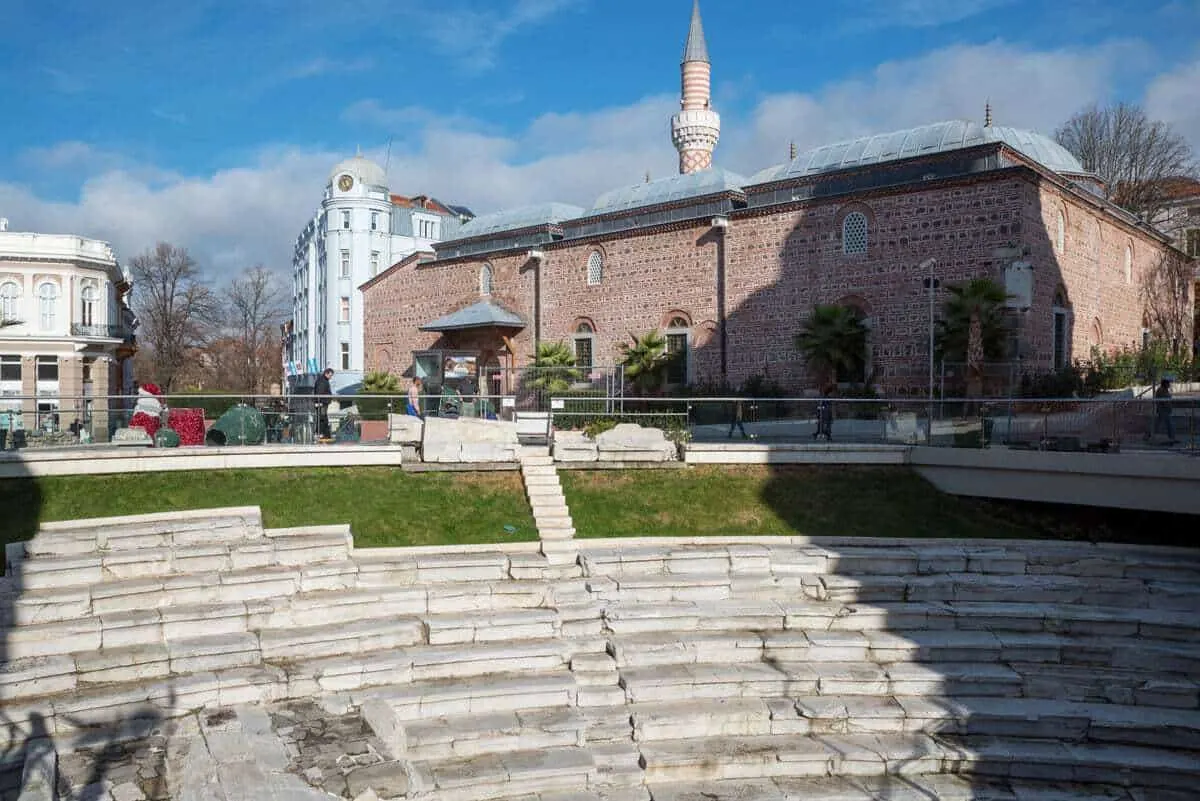 Ancient Philippopolis – The Roman Forum
The Odeon of Philippopolis is situated in the Northeast corner of the city, next to the Plovdiv post office. The remnants of the ancient Odeon served as the home of the City Council in Philippopolis. The structure has 300 – 350 seats which indicate the great importance of Philippopolis as a cultural and political centre.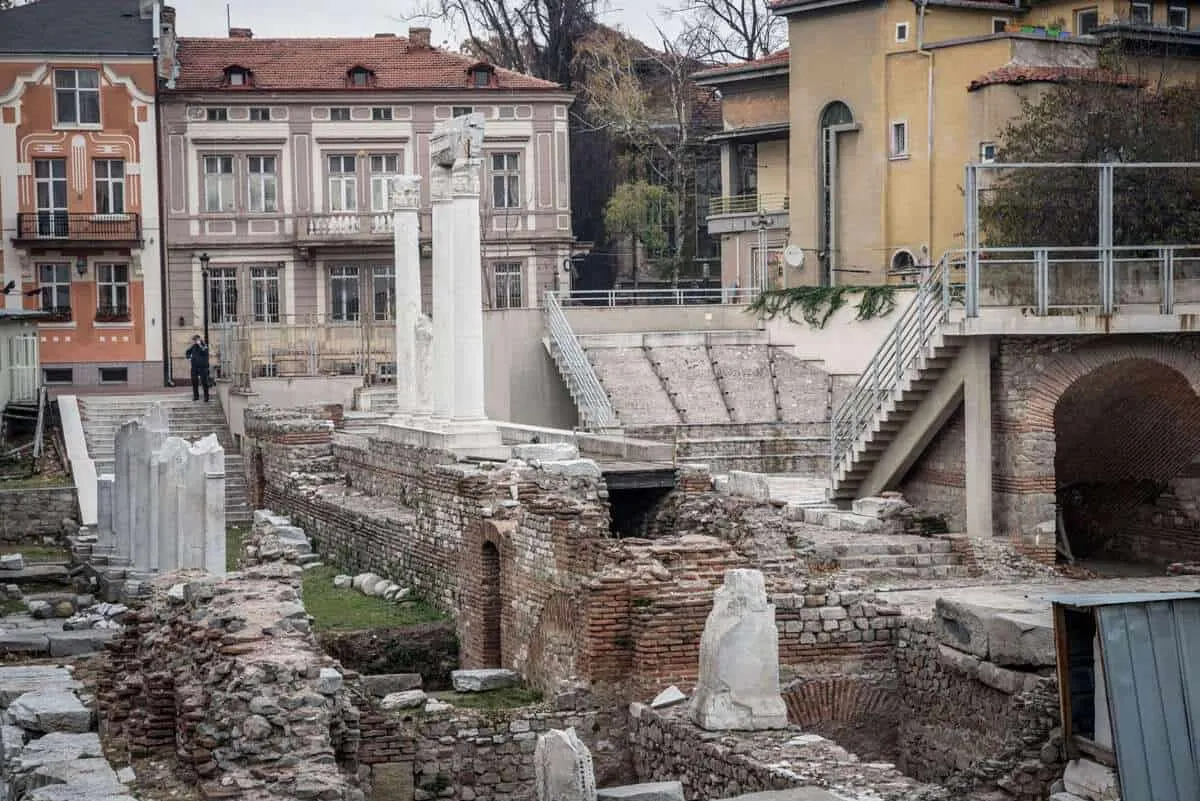 When the building was no longer used as the city's town hall, it later became a theatre. Today, the Odeon is used for theatrical, musical and literary events.
See The Ancient Roman Theatre
Still in use after almost 2000 years, the Plovdiv ancient Roman Theatre is one of the world's most complete Ancient theatres.
Discovered in the 70's thanks to a landslide on the hill the 7,000 person capacity theatre has sweeping views of the city and the Rhodope Mountains.
During the summer, the Ancient theatre hosts opera and theatre performances.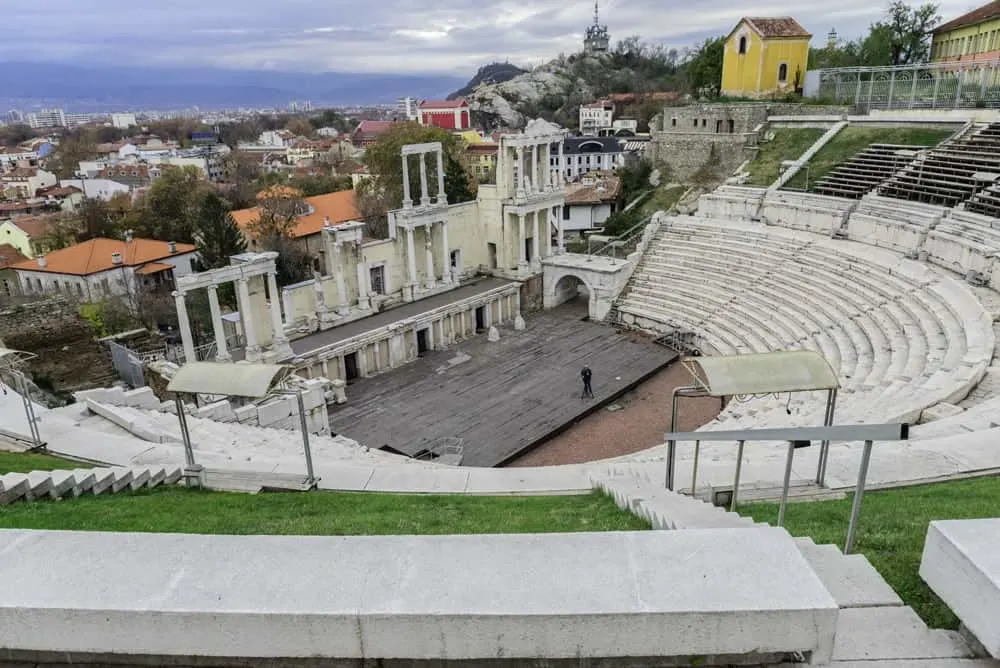 A Full Cultural Calendar
Add to this creative and picturesque city a laid back and friendly local attitude and a calendar full of festivals and events and it's easy to see why Plovdiv has been chosen as the 2019 European Capital Of Culture.
A few days in Plovdiv is great. Time enough to take in the sights, soak up the atmosphere and maybe even indulge in a show or exhibition. Equally, Plovdiv can make a great day trip, especially from Sofia.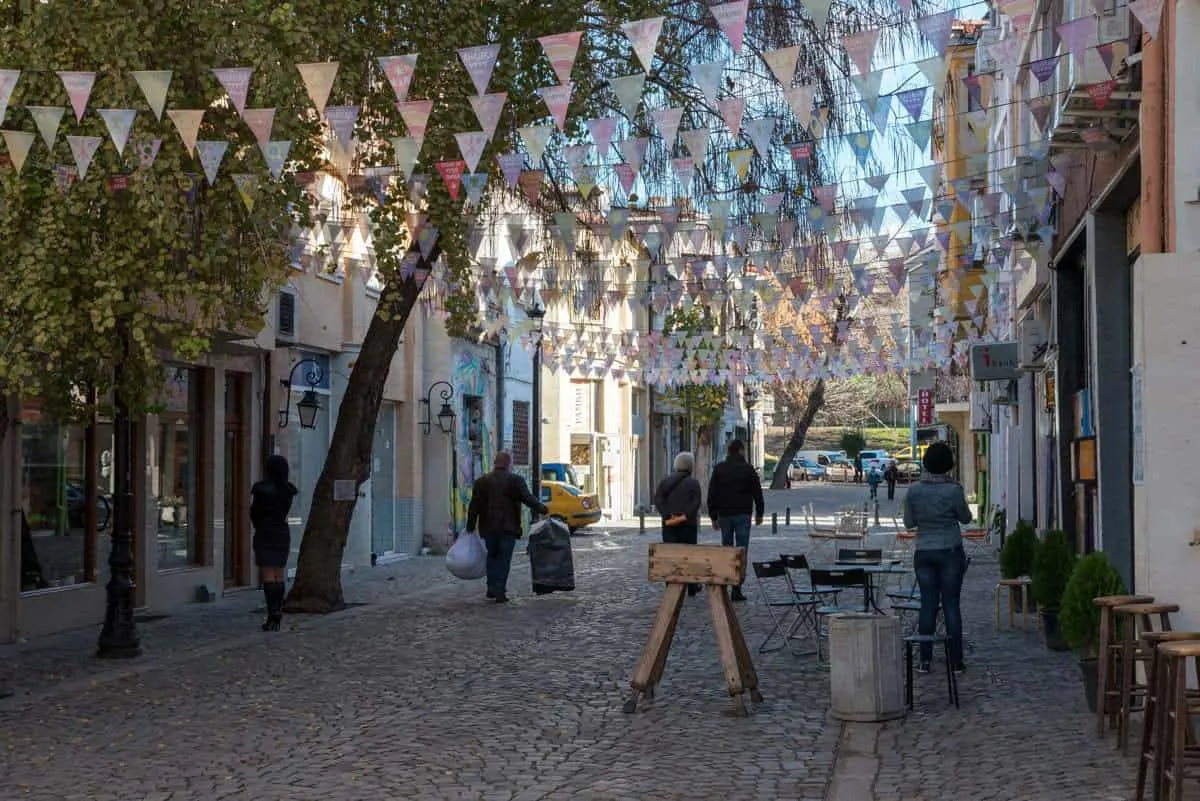 Best Free Thing to do – Plovdiv Walking Tour
Whether one or three days, we highly recommend taking the free Plovdiv walking tour offered by Association 365 a Bulgarian non-profit, non-government organisation for tourism and culture. Association 365 also operate free tours in Sofia and Varna.
Much like the free walking tour we took in Oxford, this was highly entertaining and a great way to get your bearings in the city as well as some good local information on where to eat and drink.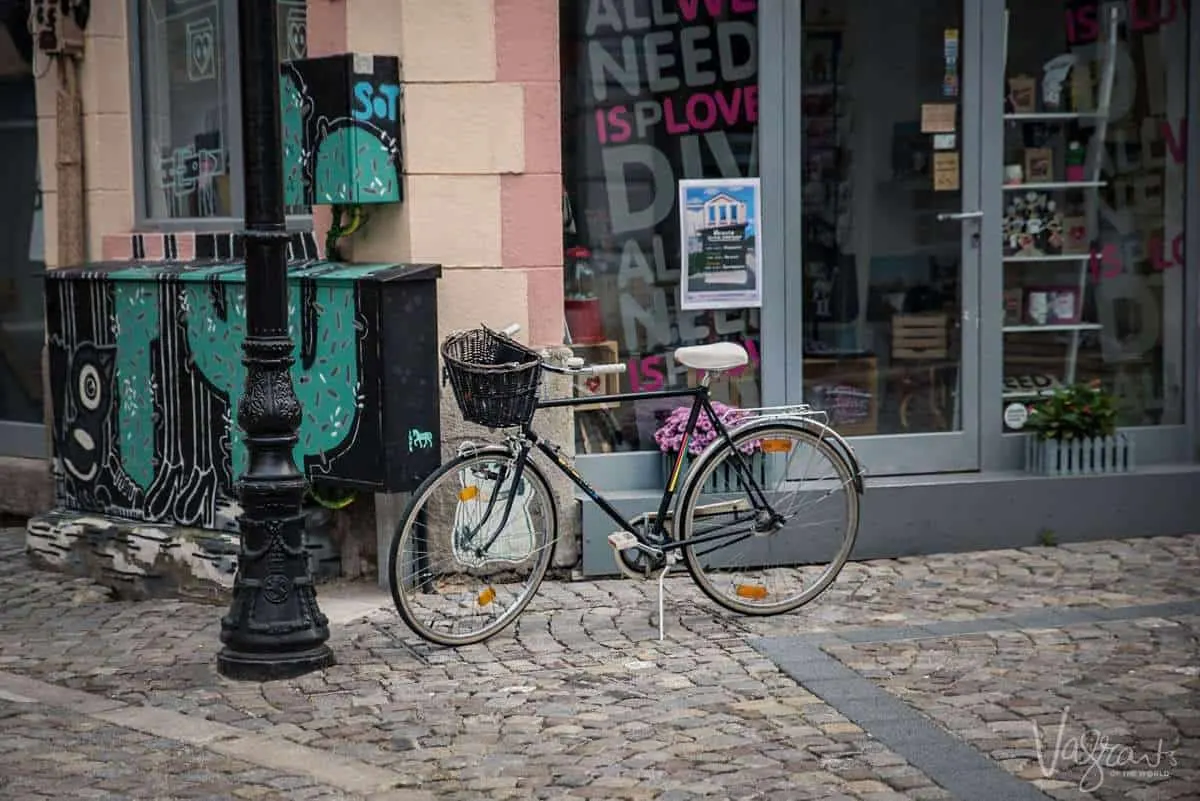 While the tour is free, a tip is always appreciated by the very professional tour volunteers, so pop some spare Lev in your pocket. Most hotels will have information on tour times, otherwise, pop into the Tourist information centre along the main pedestrian strip.
Enjoy Fabulous Pedestrian Only Outdoor Spaces
Plovdiv now also boasts the longest pedestrian zone in Europe. A total length of 1750 meters beats the previous record holder, Copenhagen at 1500 meters.
Competition aside, what this means is fantastic outdoor spaces. The pedestrian strip is full of great shopping, parks, cafes and restaurants and, incredible architecture and artefacts.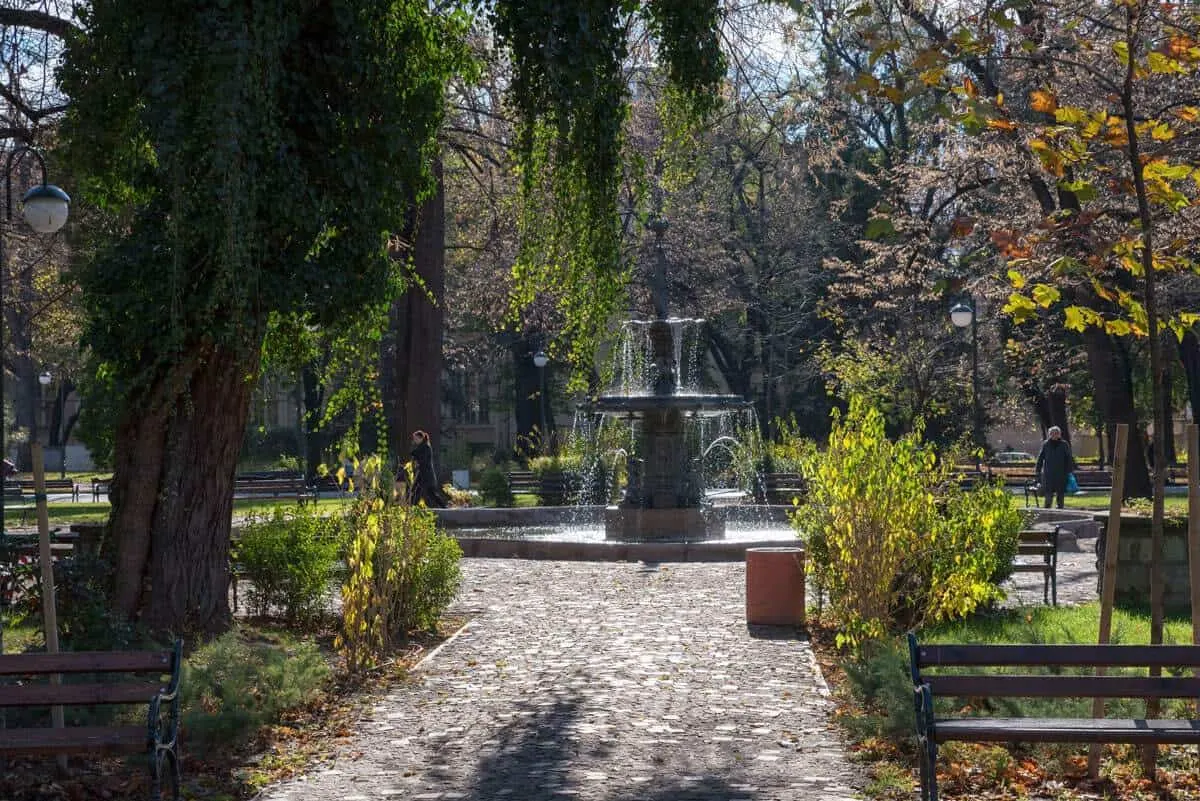 Things to do in Plovdiv
Plovdiv Travel Facts
Bulgaria as a whole is very cheap so expect great value, even in popular tourist areas such as Plovdiv. You can find out more about the best places to visit in Bulgaria here.
A 2-course meal for two including wine in a nice restaurant serving Bulgarian cuisine should not set you back more than ~50 Lev (€25.00).
We enjoyed a 3-course meal including drinks at an award-winning silver service restaurant for 110 Lev (~€55.00).
Local and European beer will set you back as little as €1.00 in a restaurant or bar.
Expect €30.00 – €50.00/night for a mid to high range hotel including breakfast. For the budget traveller, good quality hotels and rooms can be found for as little as €10.00/night.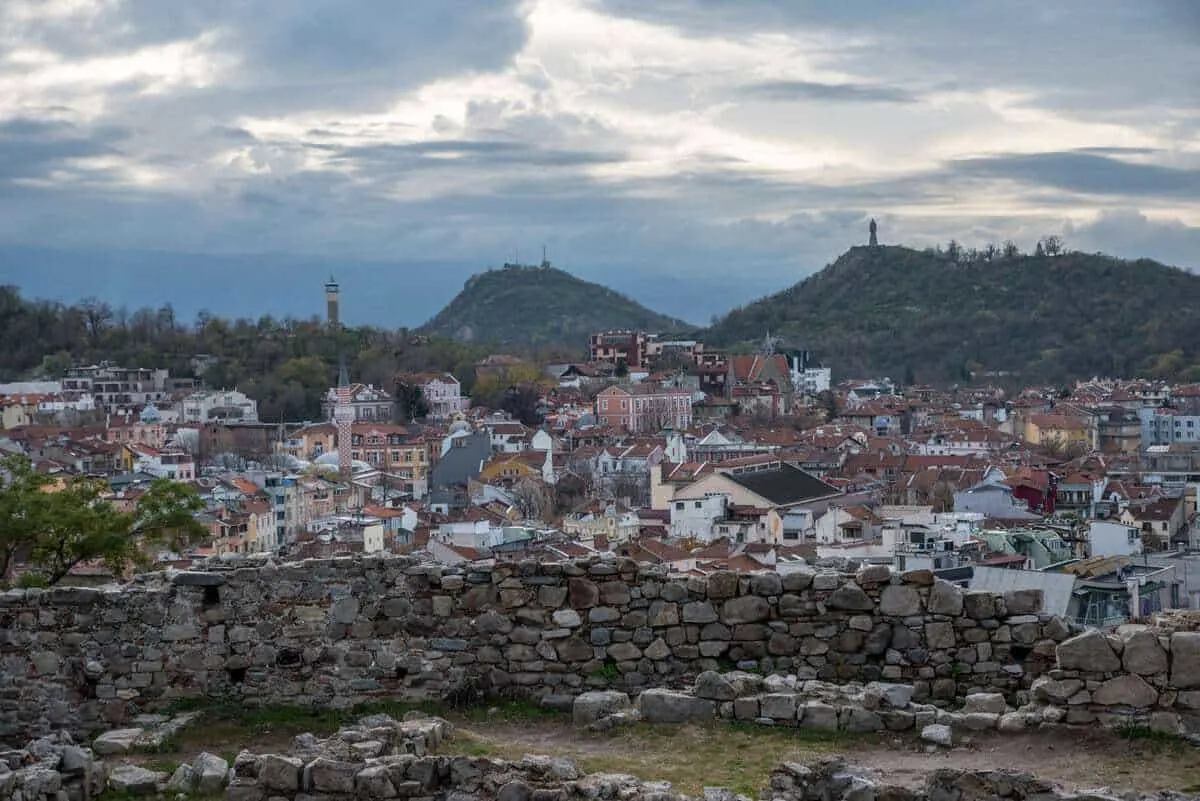 Getting to Plovdiv
Sofia to Plovdiv is less than 2 hours by car making it very accessible for day trips from Sofia.
Buses and trains depart regularly throughout the day from Sofia. Prices start at ~9.00, Lev. Travel time ~2.5 hrs.
Day Trips to Plovdiv from Sofia
Where We Stayed – Accommodation in Plovdiv
Hotel Ego – A modern boutique hotel 5 minutes from the Old Town with spacious rooms and all the mod cons. Hotel Ego was both great value and in a great location. There are a number of excellent, well priced Bulgarian restaurants within walking distance, a beauty salon and hairdresser, onsite parking and a very reasonable laundry service.
Expect around €42 /night with a full breakfast included.
There are also some excellent hotels and guest houses right in the middle of Old Town to suit all budgets. You can find more places to stay in Plovdiv here.
Getting Around Plovdiv
Getting around Plovdiv is easy as the main attractions are all very walkable. There are plenty of local buses and taxis, much like the rest of Eastern Europe, are a very affordable means of transport.
Discover More About Travel Through Bulgaria
Want to know more about travel in the Balkans? Check out these Balkan Travel Tips
---
Take This Guide With You to Read Offline – Download it Here



---