Dubbed one of the most scenic cities in the world. Cape Town may be defined by the spectre of its flat-topped mountain, but South Africa's Mother City is more than just striking landscapes and long stretches of pristine coast.
Cape Town is a cosmopolitan, cultural melting pot. A city with a cool urban edge and a dash of sassy chic that lures and inspires artists and designers from around the world.
It is an adrenaline rush of adventure activities and a celebration of food and wine. So, If you want to know what to do in Cape Town, a better question might be where to start.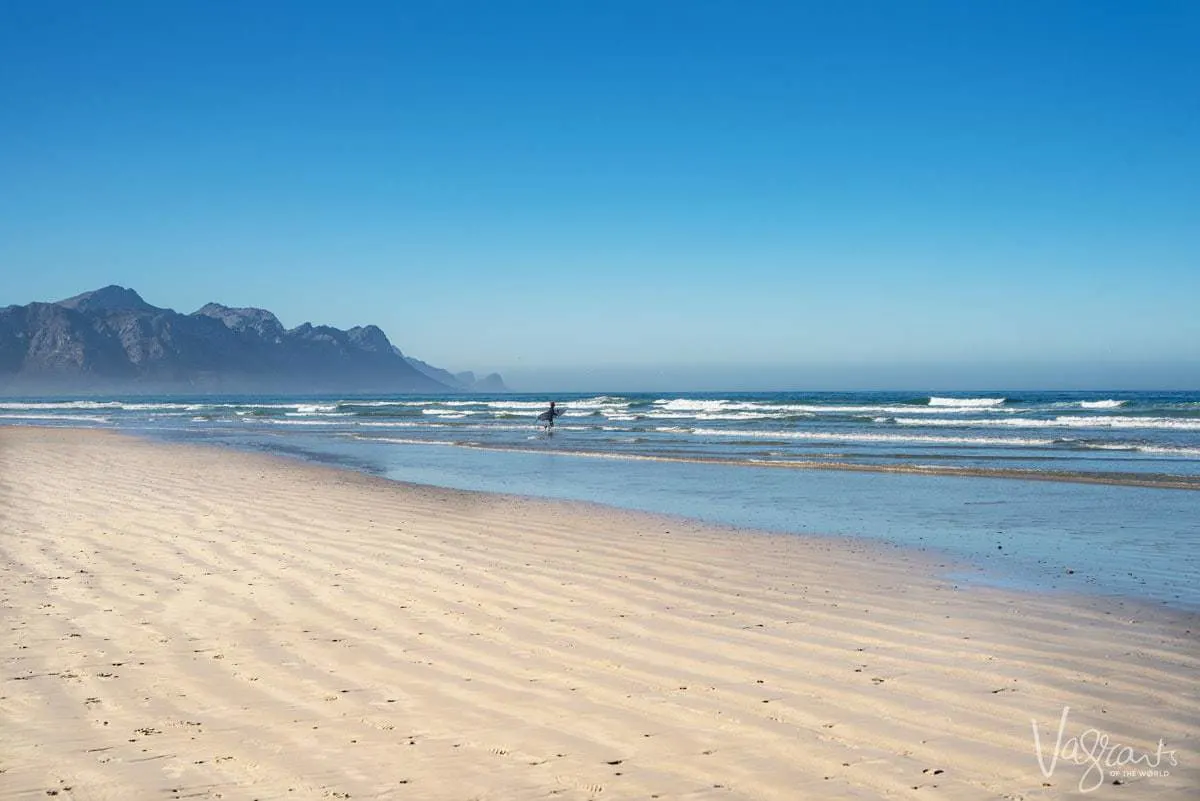 What to do in Cape Town
Get Your Bearings on the Hop on Hop off Bus.
We've said this about many cities, one of the best ways to get your bearings and an excellent way to see the most of a city is on the Big Red Bus. The hop on hop off Cape Town City Sightseeing Bus is no different.
Some of the attractions in Cape Town are spread a little far apart, and as with any city, parking can be an issue. The hop on hop off bus gets you to all the major attractions around town without any hassle and, helps you get your bearings for further exploration.
If you want to fine-tune your Cape Town sightseeing, there are multiple hop on hop off routes available. The Red City Tour which covers off on all the major attractions in Cape Town, A purple hop on hop off wine tour bus, the Yellow Downtown Tour and Blue Mini Peninsula tour.
Hop On Hop Off Bus Cost:
Prices start at ZAR170.00 (~USD $18) for a 1 Day ticket and ZAR270.00 (~USD $28) for a 2 Day ticket. Buy tickets online here.
Soak Up the Atmosphere at the V & A Waterfront.
The oldest working waterfront in South Africa, the Victoria & Alfred Waterfront is a destination in its own right and a Cape Town must-see. With Table Mountain in the background and stunning ocean views, the V&A sets a fantastic stage for a constantly changing festive atmosphere.
With first-class shopping and restaurants as well as some of the best Cape Town attractions and activities, you'll feel one day is barely enough.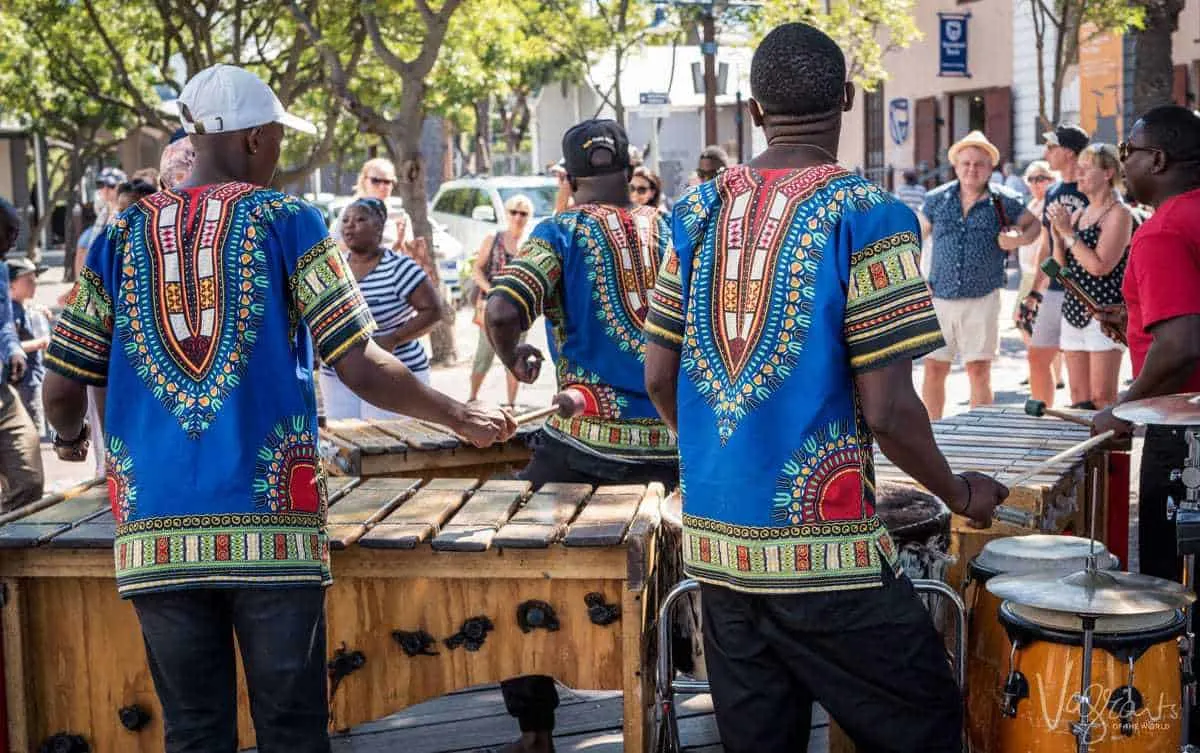 Ride the Cape Wheel
Ride the Cape Wheel for a bird's eye view of Table Mountain and Robben Island. Take a harbour boat cruise or visit the Two Oceans Aquarium. There is just so much to do at the V&A Waterfront.
Robben Island Ferry
Robben Island ferries also leave from the V&A Waterfront. Ferries depart three times a day for the Robben Island tour. Tickets should be bought in advance as it sells out fairly quickly.
Tip:
The City Sightseeing hop on, hop off bus also has a City Sightseeing Harbour Cruise departing from the V&A. The two-day City Sightseeing Bus Tour ticket includes the harbour cruise.
An iVenture City Pass is also a great way to include many of the tourist attractions in Cape Town in one pass, including The City Sightseeing Bus.
---
See more of South Africa with these fantastic Day Trips from Cape Town
---
Get the Best Views in the City at Table Mountain.
While Table Mountain is visible where ever you go in Cape Town, you couldn't visit The Mother City and not take a trip to the top.
A ride in the famous Table Mountain Aerial Cableway is one of the top things to do in Cape Town, and for a good reason. The views from the top are spectacular. You will also find some of the best hiking in Cape Town on and around Table Mountain.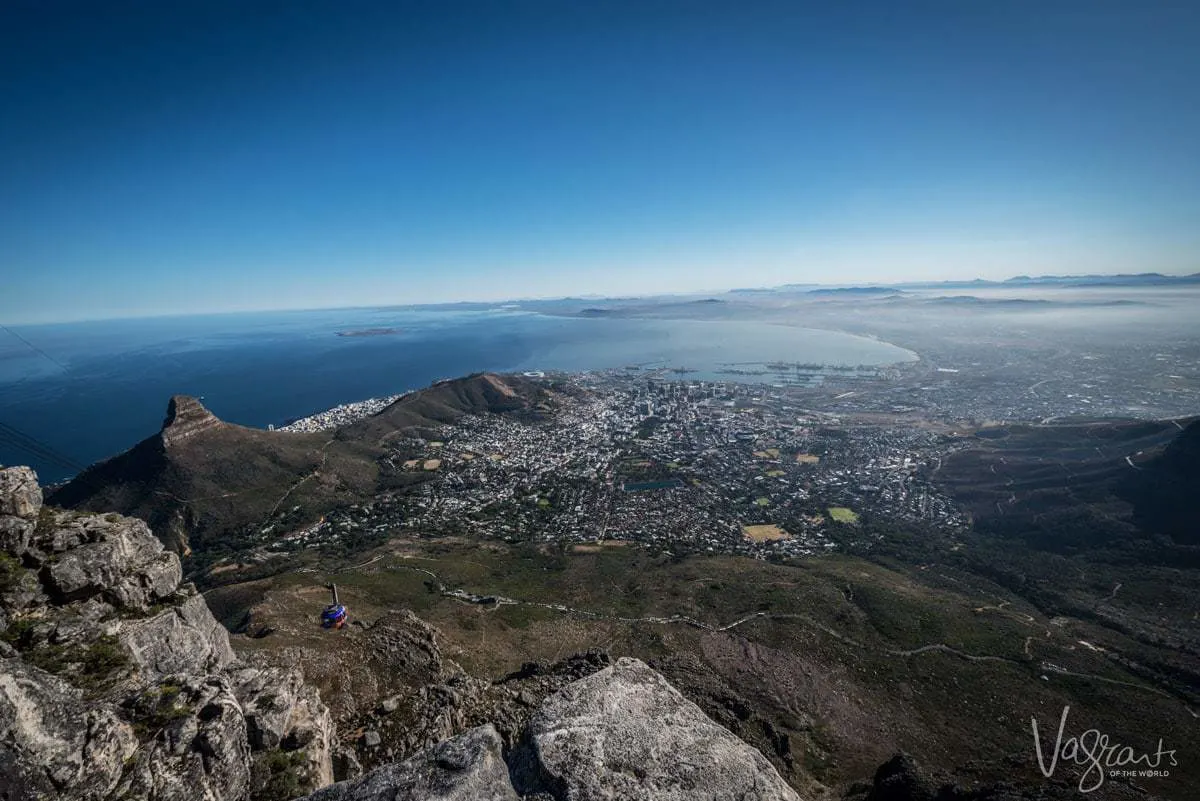 Table Mountain Cost:
If you're feeling fit and don't want to fork out the ZAR 255 (~USD $19) for a return ticket, you can hike up the mountain for free. There are a few different tracks to choose from, the shortest taking around 2 hours.
If a one way hike is more your speed, a one way ticket on the cableway will set you back around ZAR 135 (~USD $11).
At the top, you will find a cafe and restaurant to relax and enjoy the vista. The cableway is weather dependent, so make sure to check the weather when planning your visit. You will find some great tips for visiting Table Mountain at the official Table Mountain site.
Tip:
Take advantage of the sunset hours, tickets are half price from 6.00pm.
Don't worry about getting a good spot when you board the cableway as the carriage will rotate 360 ° on the way up, giving everyone a great view.
Brighten Your Day at Bo-Kaap.
One of the most colourful places to see in Cape Town, on the slopes of Signal Hill is Bo-Kaap, an area once known as the Malay Quarter. A former township, home to the cities slave population, the traditionally multicultural district is now known for its colourful houses and quaint cobblestoned streets.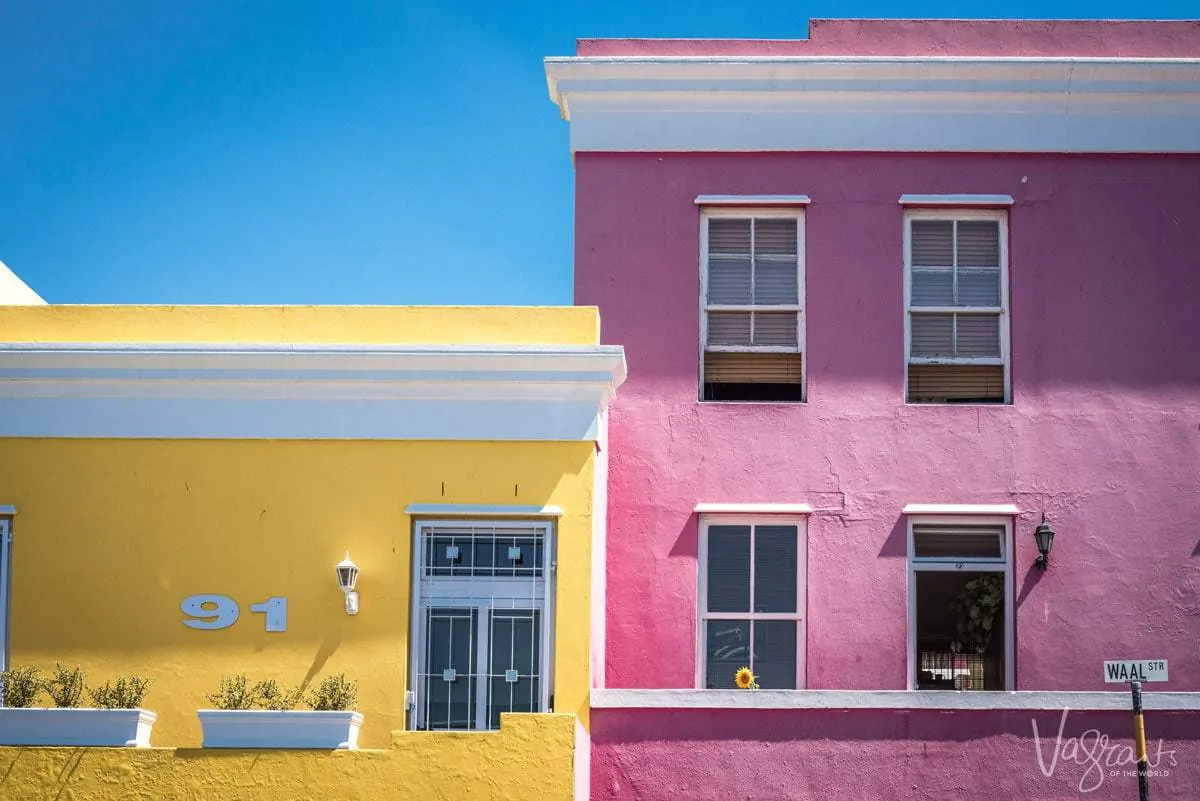 Bo-Kaap is also famous for the Auwal Mosque, the first in South Africa. Many also come for the exotic spice shops and Cape Malay restaurants in the area.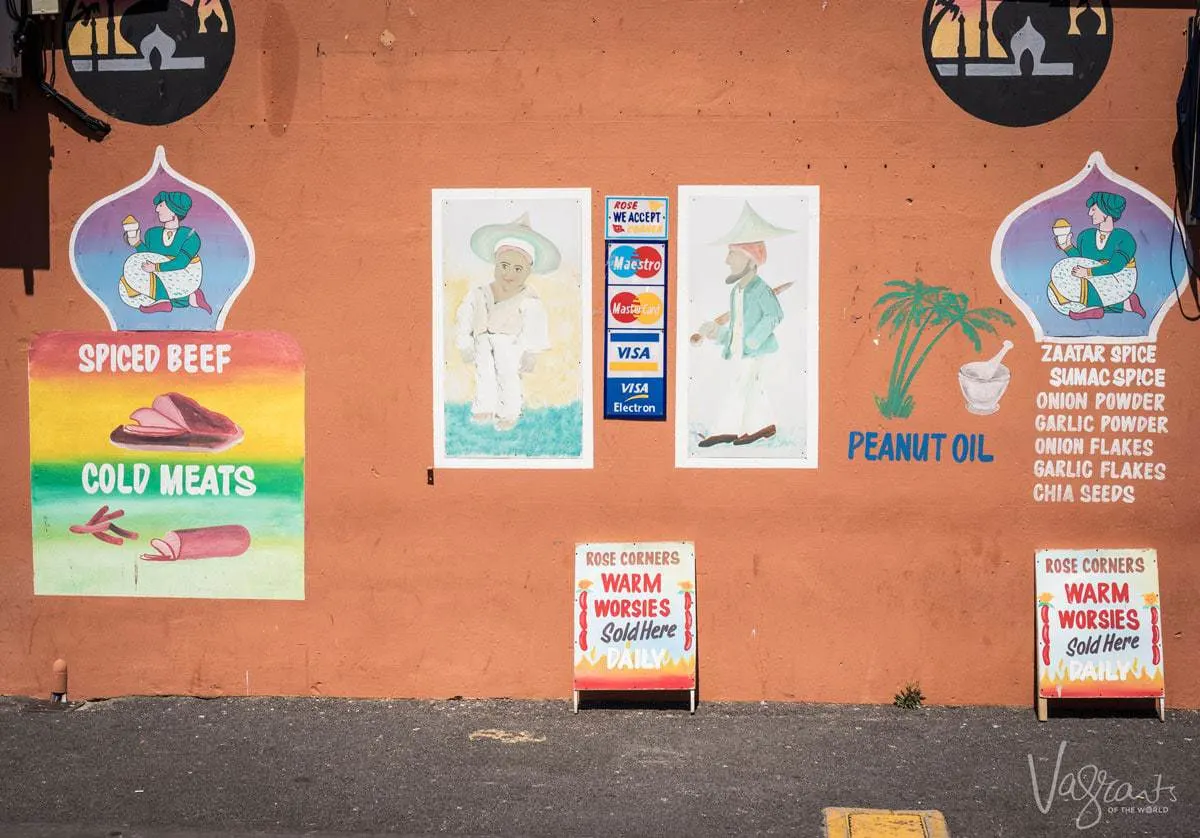 Head South to Cape Point.
Take one of the most scenic coastal drives in South Africa to Cape Point National Park to see where the Atlantic and Indian Oceans meet at the Cape of Good Hope. Take The Flying Dutchman Funicular up to the lighthouse at Cape Point for a view of where the legend of the Flying Dutchman began over three centuries ago. The national park is a nature lover's paradise with loads of hiking trails and plenty of flora and fauna to discover.
Cape of Good Hope Nature Reserve Cost:
Entry to the Cape of Good Hope Nature Reserve is R135 (~USD $10) per adult.
A return trip on the Funicular is R65 (

~USD

$5) per adult.
If you already have a San Parks Wild Card, entry to the park is free.
Tip:
The Cape Town City Sightseeing Bus has a full day Cape Point Explorer tour which also includes Boulders Beach entry, home to a large African penguin colony.
Cost: R530 (~USD $40) or included in the iVenture City Pass.
Discover the Coast of False Bay
Lunch with the Seals at Kalk Bay.
An outer suburb of Cape Town, this sleepy and slightly bohemian fishing town on the coast of False Bay is one of Cape Towns coolest seaside villages.
Kalk Bay has a perpetual holiday atmosphere. And while there is no shortage of superb restaurants and cool boutiques, Kalk Bay is still a working fishing town.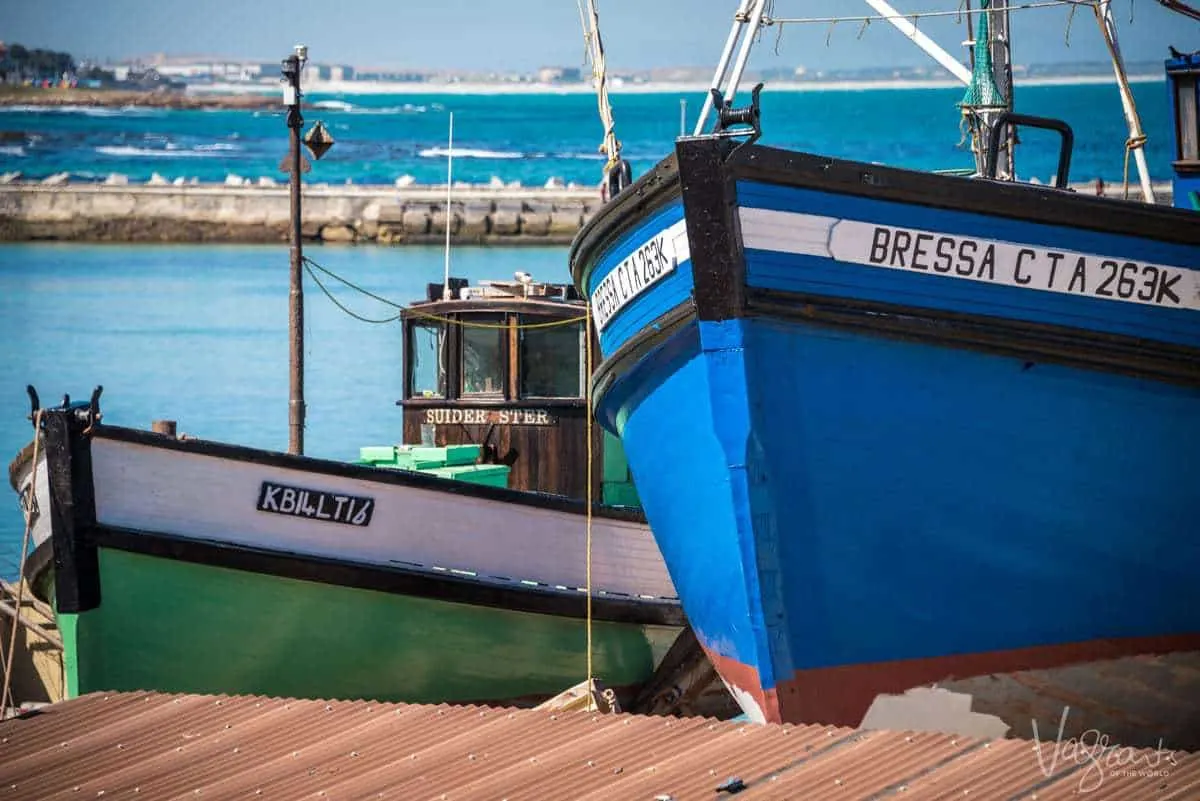 Head to the harbour when the boats return to pick up something fresh from the day's catch. Although, you may have to navigate a seal or two vying for scraps on the dock.
Enjoy seals frolicking outside the window while dining on fresh from the boat seafood or enjoy a cold beer while watching surfers ride the breaks. During the cooler months, you may even spot Southern Right Whales off the shore. Kalk Bay is abuzz with character and atmosphere, a town that feels like a world away from Cape Town.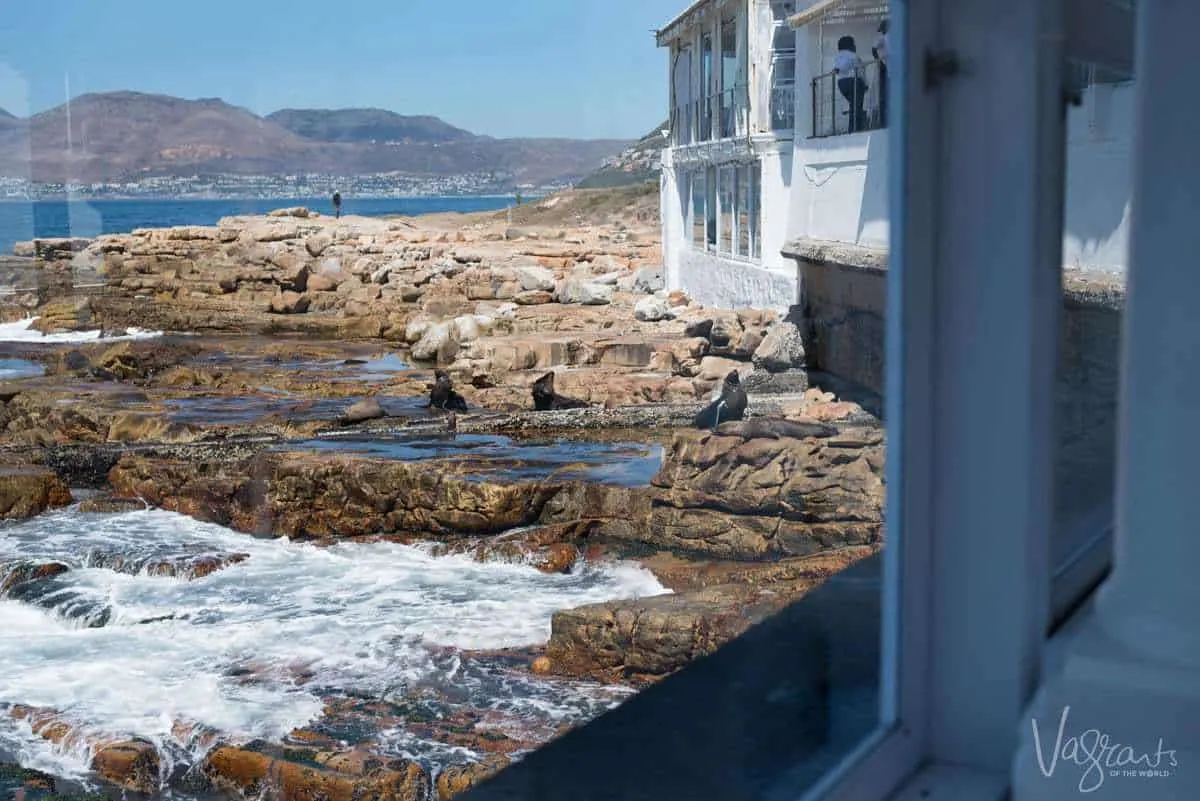 Channel Your Inner Beach Bum at
Muizenberg

Beach.

While Kalk Bay may have a slightly bohemian vibe, Muizenberg has it in the retro stakes. Considered South Africa's birthplace of surfing, Muizenberg still boasts the colourful Victorian bathing boxes and an old-style beach pavilion undoubtedly cemented in many South Africans childhood holiday memories.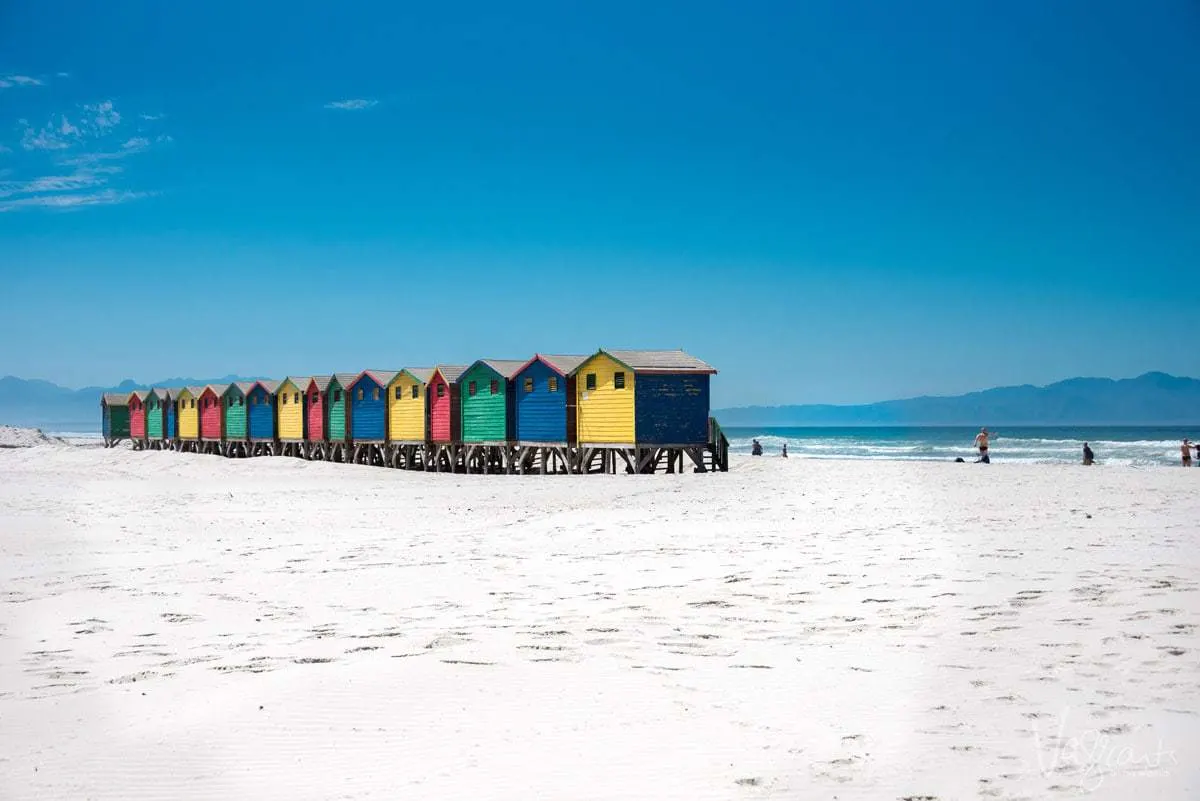 Muizenberg, a Blue Flag beach is still a family favourite and still considered the home of surfing. Even the famous author and playwright Agatha Christie frequented Muizenberg to surf while living in South Africa briefly after the war. A sport she took to with some gusto.
Much like Kalk Bay, Muizenberg Beach boasts a laid back summer vibe with plenty to do other than surf. Although, if you would like to surf, this is the place to take a lesson or rent some gear.
Surf Lessons Cost:
Expect around ZAR600 (

~USD

$445) for a 90-minute private surf lesson with all equipment and instructor.
Around ZAR120 (

~USD

$9) for 90-minute wetsuit and board hire.
Take the Wine Routes
Cape Town has a reputation for great food and even better wine. In less than an hour by car, you can trade the urban landscapes and cool beach towns for the world renown wine regions such as Stellenbosch and Franschhoek.
Situated amongst some of South Africa's most breathtaking scenery, Cape Towns wine scene is much more than just a "Cellar Door" it's a proper epicurean affair. A culinary celebration. Savour long lazy lunches next to the vines in the shade of an old tree.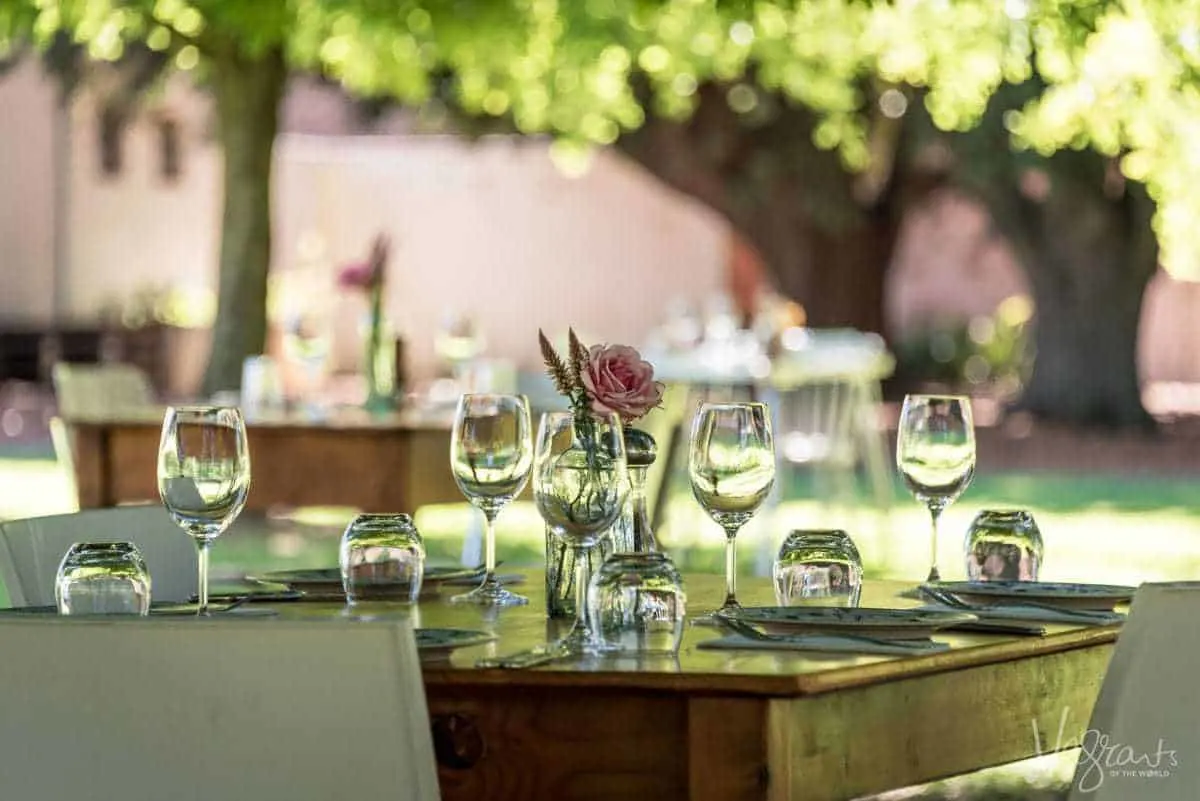 Create your own food pairings at festival style food markets and pop-up stalls designed to encourage weekend picnics on winery grounds. Or just enjoy a door to door tour indulging in wine and food pairings for a fraction of the cost one would expect of a such a celebrated region.
The wine regions in South Africa have not only made a name for themselves for producing a good drop, but they have also made the wine regions accessible to everyone. There are few stiff upper lip wine snobs to be found, just a vibrant and social food and wine scene.
The wine routes are a very organised tourist industry in their own right. Alive with activity and many possibilities for getting around and making the most of the region.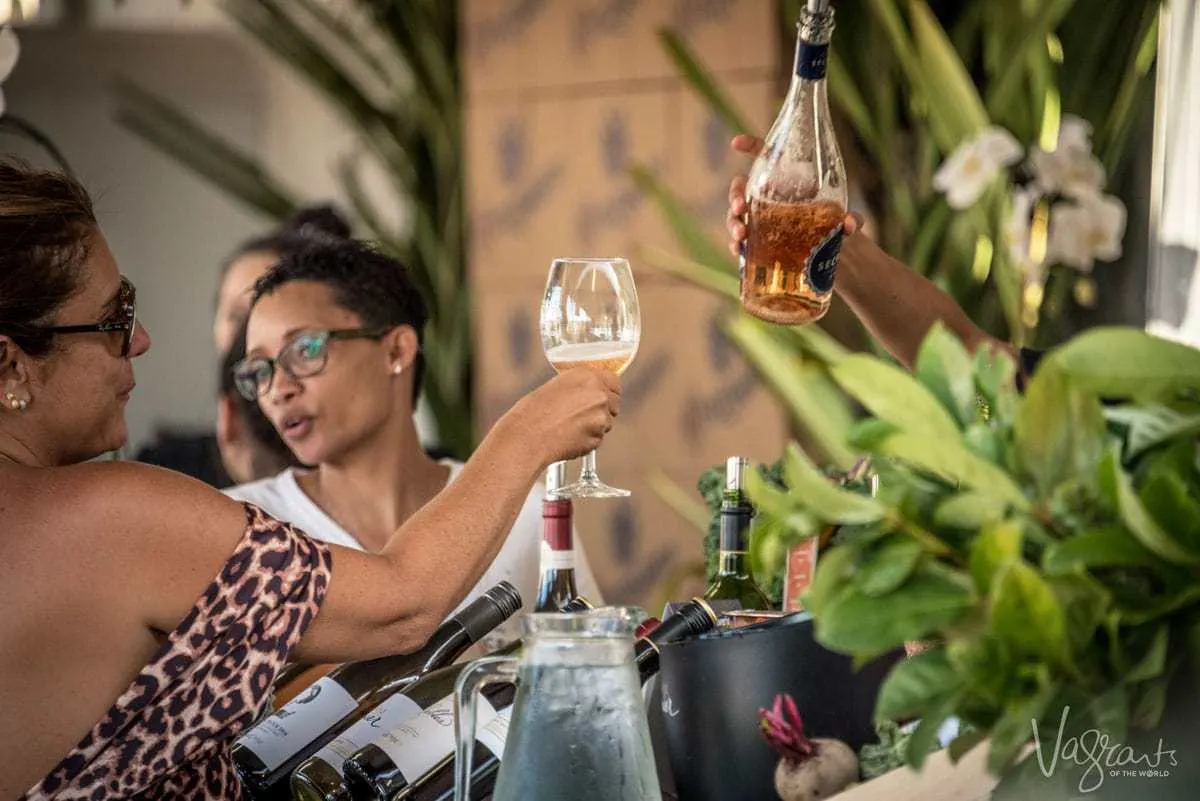 Whether you plan to do an entire wine route tour or just venture out to explore the weekend activities, you will find plenty of fabulous accommodation on offer in the wine regions. Luxury in South Africa is quite affordable, and the wine regions are no exception. We have a complete guide to the best wineries in Cape Town to help you plan a fabulous South African winery itinerary.
If you ever wanted to treat yourself to an indulgent wine tasting vacation, Cape Towns wine regions offer plenty of bang for buck. Even if your interests lie beyond sampling a good drop, there is plenty to do in Stellenbosch beyond the vines.
Check latest accommodation deals for Stellenbosch and Franschhoek or find out about some of these one day wine tasting tours from Cape Town.
And finally, a
Sundowner

.

We learnt very quickly about the tradition of a sundowner in South Africa. On our first safaris, we found the sundowner to be an almost ceremonial affair, a tradition as time honoured as safari itself. A way to toast the day and enjoy a magnificent African sunset.

Cape Town offers so many fantastic vantage points from which to toast the day and enjoy the setting sun, why not settle in and raise your glass to the Mother City.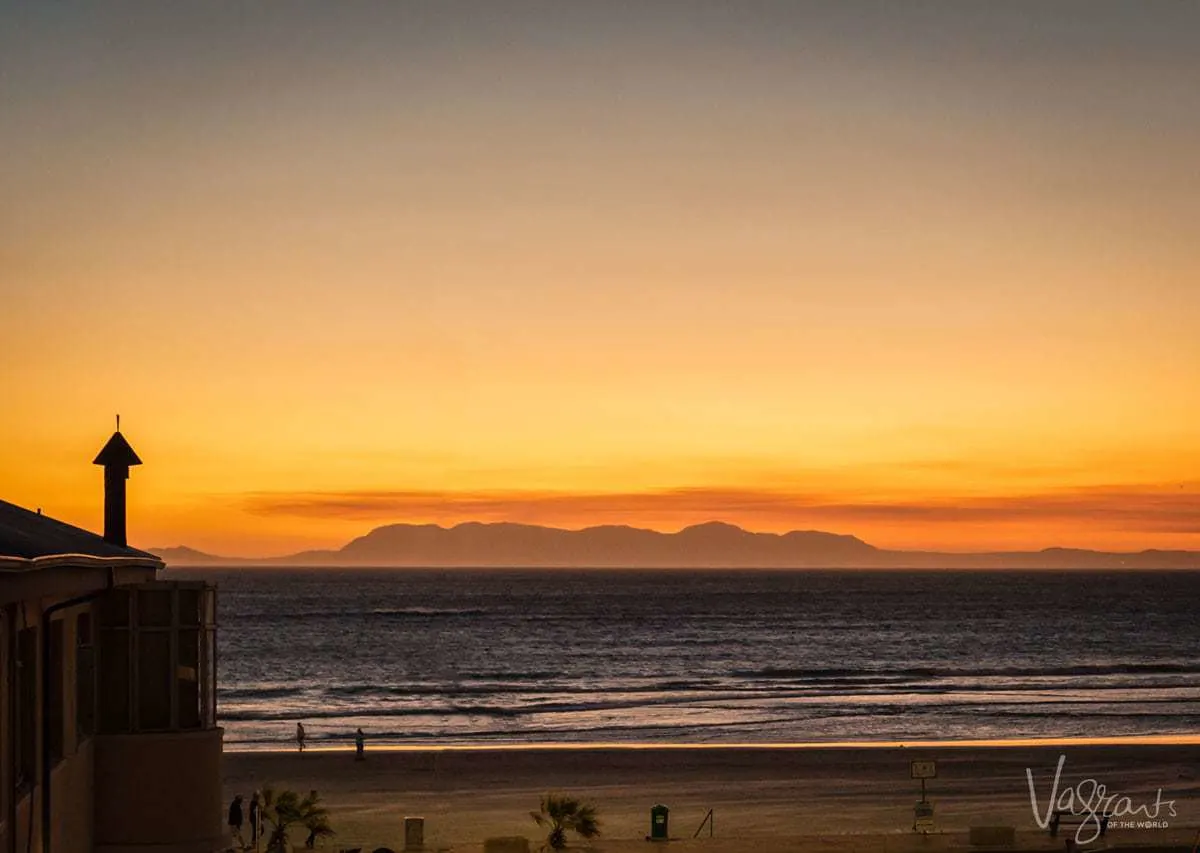 ---
---
Car Rental in South Africa: We recommend Discover Cars in South Africa. We have always found them to have the cheapest rates with no fees. *Note – You may not hire a car in South Africa for longer than one month at a time and if you are planning to head into other countries such as Namibia or Lesotho, you will need special border papers which will incur a small additional fee.